This site is about the Big Brother 20 feeds and contains spoilers! It isn't necessarily thorough: it's what I catch and/or what interests me. It's about watching hamsters: who's doing what and why. Thanks for encouraging my behavior.
Your pal, dingo



PROTECT YOUR ONLINE PRIVACY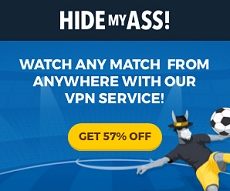 Watch BB Canada, BB UK, Survivor New Zealand, and other non-USA shows






VIEWER VOTING: BB APP STORE



WINNERS: POWER APPS
Re-Draw - not used
Bonus Life - #1 Sam
-Can give one of first 3 evictees a chance to return to the game. If unused, 4th evictee automatically gets a chance.
Upgrade - not used
The Cloud - #2 Tyler
-Immunity for any one noms or veto meeting within 2 months
Identity Theft - #3 Bayleigh
-Can replace noms one time before final eight.

LOSERS - CRAP APPS
Yell! - #2 Rachel
-24 hours getting yelled at
Fake News - not used
Read It! - #3 Haleigh
-Read Hamlet in costume
Hamazon - #1 Faysal
-Periodic [vegan] ham deliveries, must all be eaten
Spammed - not used

Limit one per hamster, whether winner or loser - Voting info & rules
Final vote has closed







BB20 DRINKING GAME


ONE MORE TIME Take a swig whenever someone cries







QUICK LINKS & BOOKMARKS



-SIGN UP for feeds
-WATCH the feeds
-BB20 official site
-Live show tickets

-Feeds updates by @UGotBronx
-My Twitter - my screencaps
-Amazon portal USA or Canada

-Dick at Night with @EvelDick

-BB Viewer by @liquid8d
Requires All Access account

-BB20 Wiki

-Hamster Twitters
BB USA - BB Canada

-Advice for cast friends/family

-VPN to watch BB UK and/or to protect your online privacy







EAST COAST AIR SHOWS



CanadaTV for Roku
$2/month - Global airs BB USA

East coast air show live streams:
- 1 - 2 - 3
NO DOWNLOADS NEEDED - BEWARE OF CLICKING POPUP ADS OR WARNINGS




Donations via Paypal are gratefully accepted!


Watch Big Brother
Seasons 1 thru 20
Plus tons more CBS content






BIG BROTHER SEASONS



CBS All Access
Seasons 1 thru 20

Amazon DVDs BB4 - BB3

Amazon Instant Video
BB18 - BB17
- BB16
- BB15
- BB14
- BB13
- BB12
- BB11
- BB10
- BB9
- BB8
- BB7





BIG BROTHER 20 FEEDS EXCLUSIVELY ON CBS ALL ACCESS
All Big Brother USA seasons + most CBS shows past or present are included
$5.99 PER MONTH INCLUDING 1 WEEK FREE TRIAL or $9.99 AD FREE
COMPUTER - MOBILE - ROKU - CHROMECAST - APPLE TV - ANDROID TV - FIRE TV - XBOX 1/360 - PS4


>> >> >>

>> >> >> >> >> >>

>>

Amazon USA
- Amazon Canada
July 2018
Power Status
Feeds are underway and they are the real show - SIGN UP NOW and get a one-week free trial! No promo code needed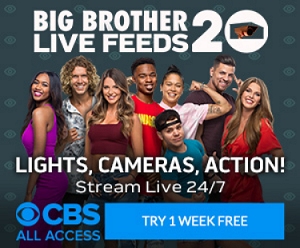 Sam is Head of Household
Haleigh and Kaitlyn were nominated
Fessy won veto, used on Haleigh
Kaitlyn and Rockstar are nominated

Bayleigh, Kaycee, Rachel, Scottie are Have-not

-

Sam can give 1st, 2nd, 3rd evictee a 'chance' to return to the game

- 4th evictee automatically gets a 'chance' to return
-Tyler has one-time immunity, to be used anytime within two months from July 6
-Bayleigh can secretly change noms before noms ceremony one time until final eight


Upcoming Events
All week: Drama
Thursday night: HOH comp, HOH room
Friday: Nominations
Saturday: Veto comp

August 17: Celebrity BB UK


Next Shows
Wednesday 7/25 8pm - Veto comp, veto meeting
Thursday 7/26 9pm - Live eviction, Bonus Life challenge, HOH comp?
Sunday 7/29 8pm - HOH comp?, nominations

CBS schedule is Sundays 8pm, Wednesdays

9pm

8pm, live eviction Thursdays 9pm - stream links to watch East Coast airing online are posted in Quick Links & Bookmarks on the left sidebar

After Dark airs for three hours every night on Pop - times vary by area and provider, check your cable guide


Other News
Alliance charts by @89razorskate20: Day 30 - Day 34

Hamsterwatch Forum for real-time feeds updates, screencaps, and air show recaps by @UGotBronx

Diary segment tally by @clamperls

Week 3 popularity poll results #1 Bayleigh, #2 Rockstar, #3 Sam
Follow @89razorskate20 on Twitter to participate: weekly polls launch every Monday 4pm PT/7pm ET

Post-eviction shows are hosted by BB Celeb runner-up Ross Mathews and winner Marissa Winokur, Fridays on Facebook Watch. The first (no eviction) ran June 29.

Ratings Watch Thursday's live show won the hour with 1.6 rating, 7 share, 5.56 million viewers, ahead of The Four: Battle for Stardom on FOX with 0.9/5/2.83, Match Game on ABC with 0.6/3/2.97 and two Trial and Error episodes on NBC with 0.6/3/3.26 and 0.5/2/2.69.

Sunday's show won the hour with 1.4 rating, 6 share, 5.44 million viewers, ahead of (but fewer viewers than) Celebrity Family Feud on ABC with 1.1/5/5.99, America's Got Talent rerun on NBC with 0.6/3/4.11, and The Simpsons and Bob's Burgers reruns on FOX with 0.4/2/1.25 and 0.4/2/1.21.

Wednesday's show won the hour with 1.5 rating, 6 share, 5.64 million viewers, ahead of World of Dance on NBC with 1.0/5/4.88, Masterchef on FOX with 1.0/5/3.65, and two The Goldbergs reruns on ABC with 0.6/3/3.11 and 0.6/3/2.45.

Rating and share: adults 18-49 - Rating: % of all TV households - Share: % of households watching TV


Week 4 - Days 30 thru 36 - July 19 thru 25, 2018
Daily and Noteworthy Events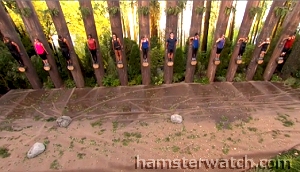 Evicted: Winston
Head of Household: Sam
Have-nots: Bayleigh, Kaycee, Rachel, Scottie
Original noms: Haleigh, Kaitlyn
Veto winner/outcome: Fessy/used on Haleigh
Final noms: Kaitlyn, Rockstar
Evicted: Kaitlyn 9-1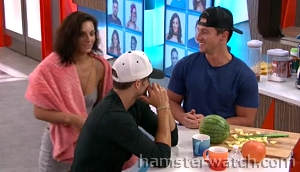 Day 30 Thursday July 19
Rachel and the bros had another farewell over coffee, and Sam and Kaitlyn had a chat about their issues and Sam's power - well, Kaitlyn chatted about her issues, her intuition, her feelings, Brett's speech, etc. Sam again reiterated that her power expires tonight (technically, it expires for her) and that she didn't want to use it as it "wouldn't be fair." Tyler was temporarily TKO'd by Scottie in a foosball shot to the groin, and assorted primping plus Sam's Salon kept the downstairs bathroom busy. Haleigh told Bayleigh and Kaitlyn she had "a weird feeling" about the vote, but Kaitlyn assured them Tyler will vote the way she wants him to.. okay then.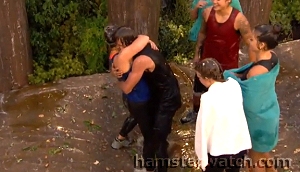 Sam did not invoke her power and Winston was evicted 6-5 as expected (by us, but not by some of them), with Kaitlyn, Rockstar, Fessy, Bayleigh, Haleigh the five minority votes. Brett's nominee speech included saying that Rockstar was going to flip her vote and blame it on Kaitlyn, and we had quite a bit of Rockstar yelling "on my daughter's birthday?!" at him after Winston walked the plank. All that, and it turned out her daughter's birthday isn't til tomorrow - go figure.

Julie sent them out to Out on a Limb wall comp and officially started them at 6.53pm. Drops in order and times of falls were: 7.16pm Rockstar; 7.22pm Fessy; 7.25pm Brett; 7.25pm Bayleigh; 7.32pm Angela; 7.32pm Rachel; 7.41pm Haleigh; 7.44pm JC; 7.53pm Kaitlyn; 7.53pm Kaycee; 7.54pm Tyler leaving Sam as the winner at just over one-hour mark. Along with tilts of the apparatus, they had the usual rain, wind + flying leaves, "honey" dripping, and guano flung at them.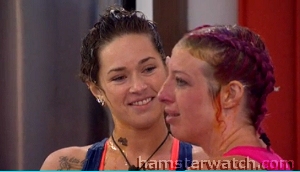 When feeds returned, Rockstar was crying about Brett's speech plus her poor comp performance, and she later cried to JC and Fessy, repeatedly saying "it's not right" - the latter after she was in Diary. Sam said she'd wait to eat when her fellow Have-nots can too, and Tyler said she should eat, she earned it. She said no, but if there's booze in her HOH basket she'll drink that. Kaitlyn challenged Haleigh about her vote, called her a liar, and told her to swear on her mom she didn't flip. Haleigh said she didn't flip but she wasn't swearing, and that she was tired of Kaitlyn always putting her on the spot, especially in front of other people. Brett was one of the people present, and Kaitlyn was on his lap for some of the post-comp chatter. JC did his busybody routine with Fessy (who looked DONE) and Tyler, and various others - I didn't follow.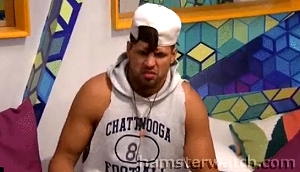 Haleigh told Bayleigh about her Kaitlyn convo and Bayleigh said she was tired of being left out of the loop, and did Haleigh want her to go hit Kaitlyn in the face? (She didn't.) Bayleigh also said that JC told her just before the vote Kaitlyn was going to flip, and that she's playing everyone for a fool and is going to turn on them one by one, and that Brett was cheering for Tyler in the comp. Bayleigh and Haleigh went on to work Fessy against Kaitlyn, and they asked him why he wasn't angry at Kaitlyn for flipping her Swaggy vote. Bayleigh went on to tell him she regretted telling him about her power, acknowledging he hadn't told anyone but she was afraid for when people press him about it later. Fessy seemed to be really struggling to catch up and keep up with everything, and came close to losing his mind. JC had a round with him later telling him Kaitlyn and Haleigh were the flipped votes tonight. That isn't true (and JC knows it) but Fessy took it badly, and it didn't get easier with all of JC's additional revelations.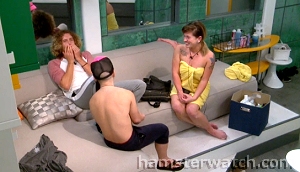 Sam announced she was going to stick to what she'd said previously, that no one could hang out in her room this week. She also said she wouldn't be holding one-on-one meetings, but she'll announce her noms at her room reveal. She asked Brett if what he said about Rockstar in his speech was true and Brett said yes. Angela later told Brett that Rockstar deserved an Academy Award for her performance. Tyler had a peptalk round with a whimpery Kaitlyn, telling her to basically suck it up, that she was still in the game. Tyler, JC, Sam met to congratulate themselves and each other, and she asked each of them who they would have put up. JC said Brett and Kaitlyn, Tyler didn't say, but he did tell Sam she wasn't allowed to straight up tell her nominees they're going up, and that production had gotten on his case about that during his HOH week -cut to fishies. The entire habitat pretty much exploded with activity, investigations, accusations, shock and horror, and it was a very good time for fans of chaos or popcorn.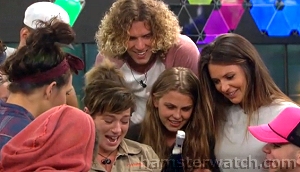 Sam got her room around 11.45pm with pics, a straw hat, cornbread, grits, BBQ sauce, cocoa, a meatloaf, Zebra cakes, earplugs, sleep mask, booze! James Brown music! and a letter from her momma. She said everything moves so fast they don't take time to think about everything and everyone, including Steve, Swaggy, Winston. She told them she wasn't doing one-on-ones, and she knew her noms but wasn't allowed to tell them, so they should all just relax until the veto comp. She also announced it's her room and nobody's allowed in unless she lets them, especially if she isn't there - and it worked! They all left. Brett popped back in for a bit, as well as JC and Rachel, and they got sips of her booze, as did Bayleigh who knocked and asked after they left.

Fessy went back to his confusion loops and had a little spat with Kaitlyn, plus Rockstar chiming in. Bayleigh told Fessy she might tell Sam about her power, and Fessy said that'd be a good idea. Kaitlyn decided Sam used her power and nobody flipped their votes, and she said her intuitions and spirit guides were going nuts and now she knows why, and that made the rounds.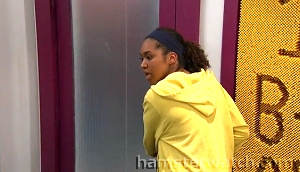 Bayleigh challenged that theory, which upset Kaitlyn, and Bayleigh said she thinks two people are lying. Kaitlyn didn't like that either and rattled off about her family/boyfriend/lifecoach business. Bayleigh said Kaitlyn always gets defensive, Kaitlyn went back to her original vote lie/flip and said Bayleigh knew about that but "put her under." Bayleigh suggested other ways for Kaitlyn to handle it and said she's tired of the drama and getting pulled into it (referring Kaitlyn openly asking Bayleigh about her vote earlier). Kaitlyn said "okay I'm sorry," Bayleigh said that wasn't sincere, and she walked out saying "don't go around bullying me and making me do things I don't want to do." Kaitlyn said "Bullying?!" but Bayleigh was gone. Bayleigh then retold to Tyler and Rockstar, with tears and frustration, and Kaitlyn retold to Scottie with whimpers and babytalk.

As if that wasn't enough for one night, Rockstar did pots 'n pans (actually a spoon on a frying pan) and banged it all around the habitat, chanting at Brett. To her credit, she acknowledged that Evel Dick originated the "strategy" after others cited Josh (no one mentioned Dallas). Brett handled it pretty well at first, but it looked like it was getting to him after awhile. Sam finally talked Rockstar off the ledge, saying it was late and enough was enough. Later Angela and JC told Brett he should complain to Diary that Rockstar touched him inappropriately when she was sitting on/by him. Yep, that JC, who's already been on TMZ for same, and was egging on Rockstar at the time. You cannot make it up!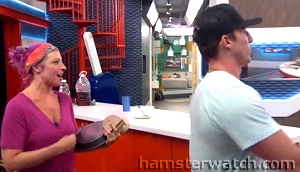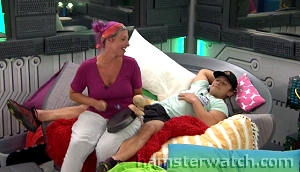 How Sam will handle noms with her power going automatically to next week's evictee will be interesting - GET THE FEEDS to watch it unfold, and catch up what you missed on my previous week's page, and/or Hamsterwatch Forum thanks to @UGotBronx, and please remember to use my Amazon link for any Amazon shopping anytime, USA or Canada - thanks!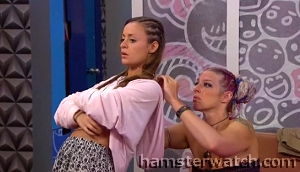 Day 31 Friday July 20
Morning saw some Kaitlyn and Rockstar rehash loops about Brett, with Rockstar saying Kaitlyn had hung out with him even after that veto meeting but she's "the kind of person" who doesn't surround herself with negativity, and Kaitlyn saying she's "the kind of person" who forgives and "I like that about myself." Rockstar swore what Brett said about her vote wasn't true, and Kaitlyn said she didn't like being drawn into it and "just try to be sensitive." Rockstar said Brett drew her into it when he made fun of her with his veto speech, and Kaitlyn replied "Exactly! So just try to be sensitive that I'm still sensitive." If it all wasn't absurd enough, Fessy was right there between them, getting further confused by the minute. The two crystal girls had enough of a tentative truce that Kaitlyn allowed Rockstar to do some adjustments. Rockstar also implied Diary had checked on her to ensure she was okay, and that had meant something, to know somebody cares.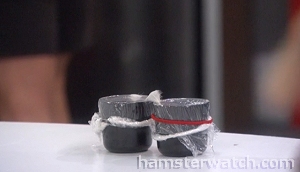 Sam talked at length about dogs and horses over coffee and captive spiders, and later repeated to Brett, Kaycee, Rachel that she's not announcing her noms ahead of time, but she had told Rockstar she's not going up, because why waste it on something that will "inevitably happen next week." She said she was going to move back into Have-not room after her HOH and they agreed it was the best room this year as it's quieter than most and provides "a false sense of privacy." Rachel, Bayleigh, Kaycee, Scottie had already agreed to volunteer as Have-nots for the upcoming week.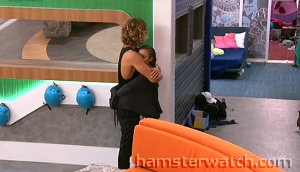 Noms were held earlier than usual, in what had been the approximate App Store taping time. Sam put up Haleigh and Kaitlyn, and Rockstar said "that fucking smug bastard [Brett] was sitting there laughing." Tyler gave Kaitlyn a hug and she seemed okay, until Fessy asked her how she was doing (and added that he didn't know what was going on) - that brought out Kaitlyn's tears and babytalk. She said she was empathetic about the situation he'll be in if he wins veto or is even picked for a Houseguest Choice chip. A few minutes later she told Tyler and Kaycee she was crying because she didn't like what Sam said: "she questioned my female empowerment, and she said I disrespected men."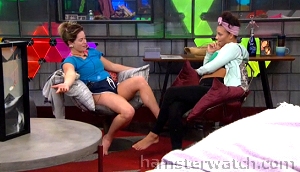 Later Sam told Rachel additional reasons for her noms were the two girls dressing inappropriately and being disrespectful about other people's possessions and areas. Rachel asked her about a renom if needed, and Sam again said she hadn't thought that far ahead (of course she has). Sam said she'd probably have to put up Rockstar as a game move only, and while she respected her as a mother she didn't approve of what she'd done last night. She added that Haleigh flirting with and sleeping with Scottie, and it turns out to be nothing real for her, "could scar Scottie for the rest of his life possibly," and said she didn't like the way both girls "lay all over" the guys all the time, which could affect Fessy, Scottie, Tyler later on. Rachel said she supported Sam's speech and her noms, and Sam commended her and Angela for being "ten times hotter" than Haleigh and Kaitlyn, but they've conducted themselves much better.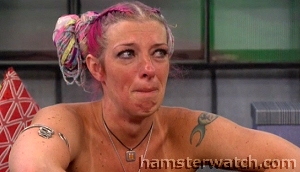 Next up was Rockstar, who challenged Sam on her stance about "bullying" so why did she let the big one downstairs off the hook? Sam diverted, and went into lengthy explanations about her noms, and asked what game events would be Reasons to put up Brett. Rockstar squeaked and cried and retold the crimes his against her, and Sam said Rockstar will have to either get along with him, or get fired up enough to get him out. Rockstar countered Sam's Reason about the girls laying on the guys all the time that Tyler was in on that as well, and Sam replied "he's a man and can't help it." Meanwhile Brett "explained" things to Fessy and Kaitlyn, perpetuating his lie about the votes, of course.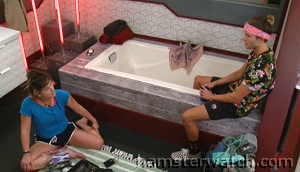 There were several talks about the noms and Sam's speeches. I don't think much was accomplished them, but you be the judge: Flashbacks are 7/20 6.18pm for Sam/Haleigh with Bayleigh, Rockstar, Scottie present; 6.48pm for Sam/Kaitlyn; and 7.13pm for Sam/Haleigh alone.

Later Sam met with Tyler, who said he'll do what Sam wants if he plays and wins veto. Sam said she'll let the veto winner pick the renom, but Tyler didn't like that idea. She said if she wins she won't use it (I believe she told that to both nominees also), and she said she put up the two weakest girls [comp-wise] in hopes they wouldn't win. She then said once noms are finalized, she'll tell the final nominees the reason they have an option to come back is because of her, and she added she's glad she got this opportunity now [pre-jury] before things get ugly later. JC joined them after much ding-donging of the doorbell, and the three pretty much repeated what Sam and Tyler had discussed, plus Tyler announced many feedsters watch so we can live vicariously through them. Huh.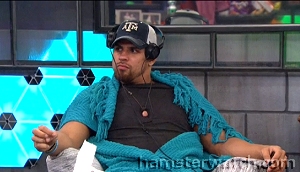 Meanwhile Scottie told Fessy he thought Tyler was one of the mystery votes, and Fessy went on a monologue about being lost, confused, and disappointed with his comp performances. Later he asked Sam what she thought the two girls' true feelings for him were, and Sam basically said to go with his gut. She also gave him a very long hug goodbye. Rachel told Kaycee that she'd heard Winston kind of liked her, and she didn't know what to do with that. Kaitlyn told Tyler the real reasons she's there are to fund and make connections for her Zen Den idea, but also because her dad's safe deposit box was one of 15 cleaned out in a high profile New York bank robbery.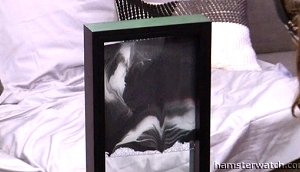 Tyler, Rachel, Angela, and later Brett had a chat about throwing the veto to either nominee if possible, so Rockstar would go up and out. This came after Rachel and Angela agreed it'd be easier to handle Haleigh if Rockstar was out of the picture. Sam excitedly called everyone to HOH for what turned out to be something she saw in the resident sand painting. JC stomped back to bed muttering "that bish, I thought there was a fight." Sam had a chat with Brett about his feud with Rockstar, repeating what she'd said earlier to Rockstar about her being a mom, her kids were watching, etc as well as Brett being someone's son, etc. Brett said nothing he'd said was personal but he didn't care if Rockstar wanted to take it there.

Tempers are running high and Sam's power going automatically to the next evictee will be interesting - GET THE FEEDS to watch it unfold, and catch up what you missed on my previous week's page, and/or Hamsterwatch Forum thanks to @UGotBronx, and please remember to use my Amazon link for any Amazon shopping anytime, USA or Canada - thanks!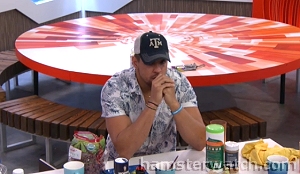 Day 32 Saturday July 21
Fessy, JC, Rockstar were picked to play for veto, with Rachel as host. Fessy was a little freaked out (again), knowing he'd have to leave one or both of his girls hanging if he won (especially since Haleigh picked him as HG Choice) or face shame and/or the block if he didn't. He asked Bayleigh what to do and she said she can't deal with him and all his girlfriends. Kaitlyn went to work on him shortly after, grilling him hard about what he'll do. He didn't commit one way or the other, which didn't help matters. In other news, they got a crockpot which Sam happily put into use. Several of the girls continue to have frequent wardrobe and towel misfunctions, including Rachel 7/21 8.29am and JC 7/22 12.02am, for those interested.


I don't know about Kaitlyn, but I keep seeing auras in there, including this one on Tyler (thanks to the neon decor items). They sat around and laid around psst-pssting as they waited for the veto comp. Brett and Rockstar ran their angry loops about each other to whoever would listen, Angela told Brett that Sam's power will be used automatically on this week's evictee, and Kaitlyn swore "100%" to Tyler it was used last week. Bayleigh told Kaycee that Fessy would probably go after Brett or Tyler if he ever gets in power, Kaycee said Brett's probably the top dog on that side and Bayleigh said Tyler probably is. So on and so forth until feeds finally went down around 3.30pm for their comp.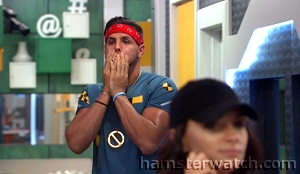 Feeds came back around 5.45pm and the guy who didn't even want to play it, let alone win it, did. Fessy's head will surely explode this week as his two cuddle buddies work on him to save them. The comp was memory/pattern sequences involving chop, bonk, spank, pinch, jump, which sounds similar to the one Bobby Moynihan hosted last year, and they were dressed in teal shirts and shorts with yellow/black emergency symbols. The other Vegas Rachel - Reilly - came in to host and Fessy was thrilled she called him Fessy when the script she was reading had Faysal, implying she's been watching and knew him.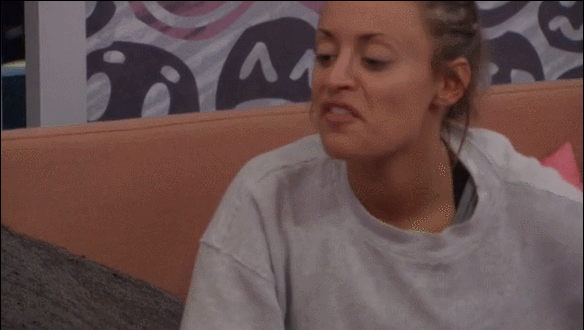 Haleigh said she was trying to not get in Fessy's face as she knew he was stressed but meanwhile Kaitlyn was right in his face. He told her he's close to both of them and when she'd gotten closer to Tyler, he'd gotten closer to Haleigh. Kaitlyn squeaked almost silently "I don't even like him," and she pressured Fessy about a convo where he'd apparently promised to use the veto on her if he won it. At one point he said "what do you want me to do, Haleigh? I mean Kaitlyn" - oops! She said that prior promise was why she (supposedly) threw the comp by missing the last question, and he said she didn't throw it. She said "I fucking did! Are you out of your mind? Do you not remember that conversation?" and she grabbed him by the face to remind him.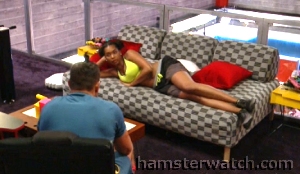 Kaitlyn's squeak-whisper got to the point where only dogs could hear it, and she sulked off to Diary to ask if she could go home. Fessy sat down with Bayleigh who told him Haleigh was frustrated because he'd begged her to pick him, and she would have picked someone else if she'd known he was going to be so torn about what to do. Fessy said "I just want outside to open," and Bayleigh counselled him that Kaitlyn "says a lot of things" and he shouldn't take them all seriously, and "for me and for a few other people, I'll be honest, I don't know what you see in her." Bayleigh also reminded him about Kaitlyn's flipped vote, and that Sam's power wasn't the reason for that. Finally, she told him Kaitlyn didn't have his best interests at heart, she had her own, and the same was probably true for Haleigh as well. She did say they both care about him.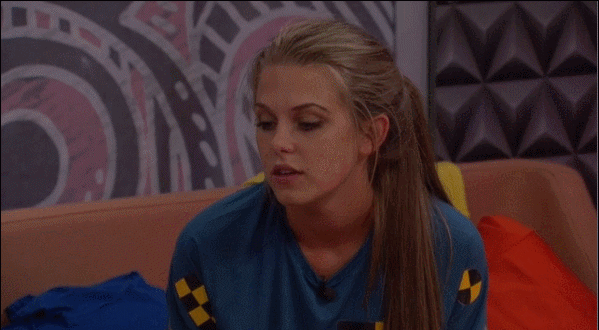 Kaitlyn came back from Diary of course, and got JC and Rachel to fuss over her about removing her braids. Fessy sat down with Haleigh, who told him Kaitlyn can't be trusted in there and reminded him she'd sent Swaggy home. She said she'll probably be okay if he doesn't use it on her, and "do what you want but I won't have you the rest of the game" [if he doesn't use it on her]. He replied "are you threatening me?" but finally said "I'm taking you off the damn block, now be happy - just don't act happy" and he tugged her onto him, saying "now let's celebrate." She gave him a cheek peck, and he added "when I use it, you BETTER remember that shit for the rest of the game." The difference between the two gifs here make it pretty clear he will use it on Haleigh, but Kaitlyn's not going to make it easy.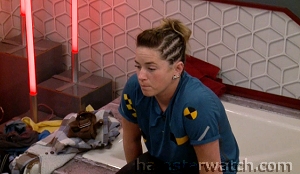 Fessy had a chat with Tyler, who then went to meet with Sam and told her Fessy's stuck between a rock and a hard place. Sam said if he uses it on either girl, she'll say at the veto meeting she wasn't expecting that and she'll act like she's picking someone right then. She'll also explain the rumors were false, her power expired for her but this week's evictee will get a chance to return, and hopefully that'll ease the sting for the final nominees. She told Tyler she knows now who her renom will be but she wasn't going to say, only that she wants Kaitlyn gone and will put up someone to ensure that happens. Previously she'd told both Tyler and Rachel that Rockstar would be renom if needed, and they both knew Kaycee knew that as well, and Tyler tried to say Rachel told Kaycee but I think he actually did. But Sam now said Rockstar's not a threat, she sucks at comps, and leaving her in would make things easy for the next HOH who could send her home.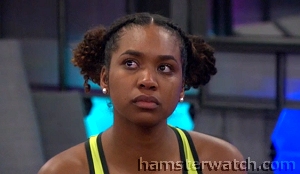 Tyler was sort of nudging the idea of Bayleigh as renom, saying he'd never talked game with her and didn't know where she stood when she arrived, crying, saying she's "angry at the fact nobody here understands me, I'm not scary, I'm not intimidating" and she vented a stream of frustrations about having lost her numer one, everyone else has a number one, and she might as well be the "angry black woman" because that's what everyone thinks she's being anyway. I don't know if something specific happened tonight that brought that on or not: if so, apparently it wasn't on feeds. Sam and Tyler both peptalked her, especially Sam, and said she's doing fine, they're all reaching breaking points, and they understood. Tyler left, Bayleigh calmed down, and confided to Sam about being the first black Miss Missouri USA and that her goal coming in had been to be the first black woman to win BB. She also told Sam about her and JC's "words" convo, so apparently they did not do a group sit-down about that for Sunday's show segment.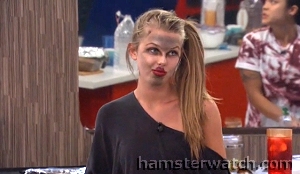 Meanwhile Kaitlyn was squeak-whimpering at Fessy again/still, and saying she regretted booting Swaggy on her HOH - ironic, considering all the gloaty retells she did about her accomplishments that week. Fessy reminded her she'd promised Swaggy a $5,000 check if he went home that week, and I think Kaitlyn told Fessy she's in love with him (I didn't hear that myself, luckily - I might have spewed). Haleigh revealed her new look, courtesy of JC, so of course Kaitlyn asked him to do her "makeup" too. Incidentally, JC had previously sprayed shaving cream into the shower while Kaitlyn was in it. Ever problematic, that guy.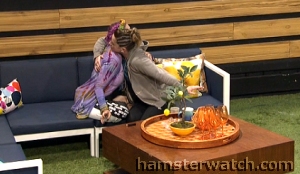 Midnight arrived and the sloppers got to eat. Hamsters cooked up pretty much everything, along with all the food Sam, Angela, and others had been making all day, and most of them sat down together to enjoy the feast. Kaitlyn and Rockstar stayed in the pink room rehashing and griping, and Kaitlyn asked why she and Bayleigh were both wearing Swaggy C shirts. She said it made her look bad, and that Fessy had been talking about what she did to him all evening. The yard finally opened and Rockstar and Sam sat down for a smoke and a chat. Rockstar told her she'd tried to apologize to Brett for popping off at him on the live show but he refused to talk to her. UPDATE: It turned out that apology attempt happened off-feeds, just before the veto comp. Sam congratulated her for trying, and they shared an awkward-looking cigarette hug.

GET THE FEEDS to watch it all unfold, and catch up what you missed on my previous week's page, and/or Hamsterwatch Forum thanks to @UGotBronx, and please remember to use my Amazon link for any Amazon shopping anytime, USA or Canada - thanks!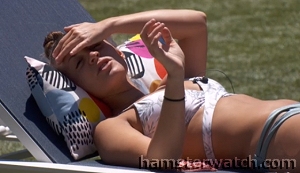 Day 33 Sunday July 22
Sam did some morning fishing, asking Angela over coffee who she thinks she should renom if needed, and Angela said Rockstar. Rachel and Kaycee picked out their satellite dishes for the new Have-not week before it was formalized, as they're all expecting a volunteer plan again.

Kaitlyn launched right into her loops with Rachel, saying the only downfall about being a "very, very connected intuitive" was not always wanting to know when she's being spoken about. Rachel gave some noncommittal "gotchas" as Kaitlyn went on to describe:s "you almost get like an alarm, like an Amber Alert when someone's talking about you in another room." Rachel asked if Fessy was still undecided and Kaitlyn said yes, and that she wasn't going to talk to him about it today.. we'll see how long that lasts. She then told Tyler that Haleigh has Bayleigh and Rockstar's support, and he told her she'd done too much running back and forth and it's cost her, and she couldn't expect support from the other side after backdooring their leader, but he said he'd talk to Fessy.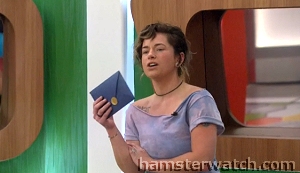 Kaitlyn pestered a sleepy Fessy about his decision, so that definitely didn't last long. Sam came out with the card to formalize her "picking" of Have-nots, and she formalized the four who had arranged to volunteer several days ago: Bayleigh, Kaycee, Rachel for their first time, plus Scottie. Rockstar had a chat with Sam but I don't think there was anything finalized about renom or not, unless it happened during the mic-blocking hug where Sam's voice sounded like Charlie Brown's teacher on a kazoo. Sam had previously told Bayleigh she would not be renom.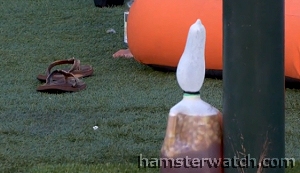 Sam made up a bubbles solution and Rockstar spent a couple hours happily blowing oversize bubbles around the backyard, with others joining in here and there. The door handle on the sliding glass door broke off so they were all sent to HOH and feeds were sent to prior seasons while that got looked at, while the air show was on in the East. Otherwise it was a relatively quiet day, with the usual rehashes, what-ifs, gossip, laying around, sunbathing, working out, eating, napping, and more gossip. Sam donned one of Rockstar's hair festoons and tied on a rainbow tail/skirt to play bubbles with Rockstar, and she later did yoga with Bayleigh, being a chameleon in plain sight with the two she'd told won't be going on the block tomorrow. Meanwhile the camera crew checked in on her condom still now and then: it's still there, still fermenting.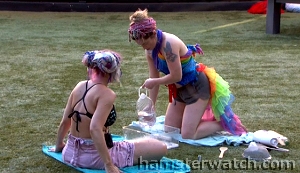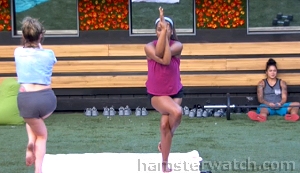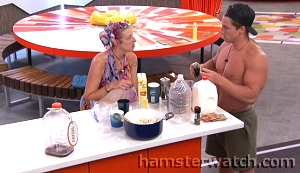 Rockstar gave it another shot and apologized to Brett for reacting like she did, and he accepted it. It was polite and formal, and didn't seem particularly heartfelt on either side, but they said the words. It should be noted he did not apologize for his part. Of course Sam had suggested to Rockstar that she try again and Sam had suggested to Brett that he accept it, so at least her peace and harmony campaign had one positive result. Rockstar then left but came right back with a PS that she appreciates the fact that Brett's "a bright light" in there for many of them, and she likes that he's a musician. Sam approached Fessy, who was hammocking with Bayleigh, and asked if he knew what he's going to do so she'll be able to prepare her renom choice and Reasons. He said he still didn't know but he was "leaning" towards using it. Sam reiterated what Bayleigh had just been telling him: if he uses it, he'll take a chance on pissing off a lot of people as well as the nominee he doesn't save, and he better ensure the one he doesn't save goes home or he'll be in a world of hurt going forward. He told her he'll let her know first thing in the morning.

Feeds should be hopping after Monday's veto meeting: SIGN UP to watch it all unfold, and catch up what you missed on my previous week's page, and/or Hamsterwatch Forum thanks to @UGotBronx, and please remember to use my Amazon link for any Amazon shopping anytime, USA or Canada - thanks!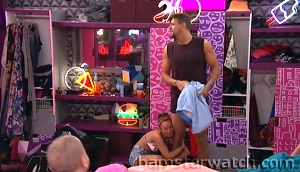 Day 34 Monday July 23
BB let them sleep late but Kaitlyn didn't. She climbed into bed with Fessy and JC, and pulled at Fessy's eyeshade bandana like a toddler trying to wake up a sleepy parent. She then squeezed herself into the bed between them, with JC staring into angry space. When Fessy finally got up, Kaitlyn hollered "OMG skinny legs 9000!" and squealed how cute they were and they reminded her of her grandma's legs. Fessy said "stop!" but she grabbed onto them as he tried to make his way out of the room.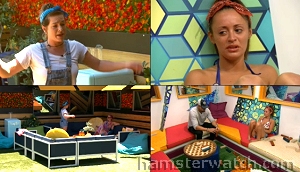 Fessy used his veto on Haleigh and Sam put up Rockstar in her place. Feeds came back to Kaitlyn crying at Fessy about having promised it to both of them, and Sam explaining her power elsewhere. Apparently Rockstar said something about the power, and that Kaitlyn had told her/them Sam's power had already been used to flip the Winston vote. Sam loudly explained to Rockstar she'll have a chance to return if she's evicted, and that she (Sam) didn't know what would entail. Most of them are now assuming it'll be a battle back with the previous evictees, even though that makes no sense for a power. Sam began crying to a group in the kitchen, again explaining her power and saying she'd almost used it on Winston, and much drama ensued all over the habitat. JC and Tyler had a whispery meeting and were joined by Rachel and Kaycee. It sounded like JC thought he was going to be the renom since Sam said "my best friend," and maybe he objected at the meeting? We'll find out on Wednesday's show, but for now it's all drama, all chaos, and all the popcorn.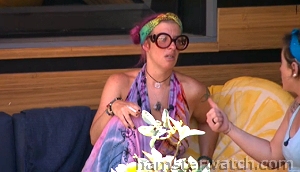 Kaitlyn squeaked at Fessy for a very long time, guilt-tripping and whining and crying. Even when he explained she'd kept him "in the dark three or four times" and Kaitlyn corrected that to "twice," she still kept going as if twice was okay. Rockstar finally cried to Sam over a cigarette and asked why her? Sam reaffirmed they will remain friends, they'll go to faery festivals and blow bubbles, meet each other's families, etc. Sam said she's pretty sure Rockstar would be voted back in (if her power's "chance" means a vote), and added "I was pretty fuckin sure that JC would too, but I looked at him, and I broke down, I couldn't do it." So it sounded like Sam changed renom horses in the middle of the meeting (or at least tried to appear to do so.) Sam also reminded Rockstar that "next week you're voted out forever" and at least she's got that "chance" this week. Remember Sam had previously said she'd boost that angle to her renom if necessary, and it was necessary.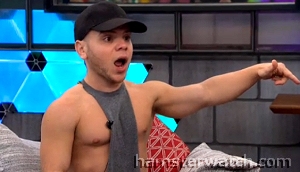 JC had an "I told you not to use the veto" talk to Fessy, and said he wasn't going to talk game with him anymore. Fessy listened silently, got defensive, got silent again, like he does. Rockstar shifted to telling various hamsters she's relieved in a way, as every time she's voted it had gone the wrong way, and she also said if she gets the boot, at least she gets to go home to her kids. Haleigh told her not to be mad, but she'll bring up the fact that Rockstar hadn't won any comps and Kaitlyn had, if and when she's confronted about who she's voting for. Rockstar joined JC and Fessy and said she's moved out of her pity party phase and isn't going to ask people for their vote, "everyone knows who they're voting for."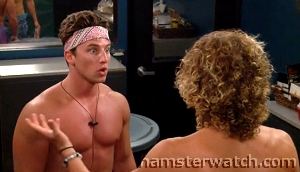 Rockstar started crying again, to Fessy, after a talk with Bayleigh. Brett and Tyler had a quick pantry check-in, with Brett visibly expressing shock that Sam almost put up JC. Tyler said Fessy's angry at JC but not Sam, and Brett said it'll be an uphill battle to keep Kaitlyn. Tyler said "the only problem is getting the sixth vote out of JC, and get Sam to not be pissed about it."

Kaitlyn joined Bayleigh and Kaycee in the Have-not room and Bayleigh told her they were trying to "avoid the house" and that she doesn't like it when the energy shifts. Kaitlyn replied she was fine, she meditated for an hour. Bayleigh said "you're not your bubbly, screaming, running around the house either," to which Kaitlyn replied "no, but I'm gonna try to be tomorrow." You couldn't make it up if you tried. Rachel, Kaycee, Angela also discussed keeping Kaitlyn, and Brett joined Rachel and Kaycee to promote that agenda.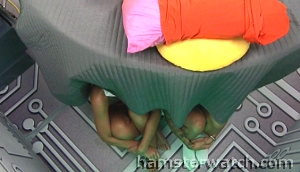 Rachel and Kaycee went under the satellite dish bed to talk about the votes and gossip, one of the true cam-free zones in there (unlike the hallway spot JC keeps changing because he thinks he can't be seen there). Rachel and Angela had a talk in the lounge, with Rachel saying her crying last night was real but she was acting, and that she was worried Angela had something going with Brett. Angela swore she didn't, they did a "me and you to the end" pinkyswear, and christened themselves Vixens. Hayleigh, JC, Scottie discussed astronomy, politics, and social justice warriors; JC and Tyler had a near-heated debate about Kaitlyn or Rockstar; and countless other convos took place in twos and threes with the usual rehashes, what-ifs, vote plans, powers speculation, and gossip. Pace yourselves, Hamsterwatchers, it's only Monday. All of them are working their individual agendas, and both nominees are campaigning on a "do it for me" platform, rather than "what can I do for you?"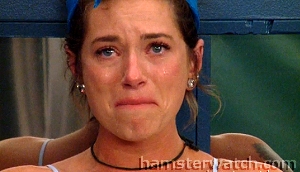 Sam had a moment in the pantry, alone, like she used to do as Sambot (her HOH room was locked for some reason). She cried a fair amount and didn't say anything except "I want to go home" at one point. She blew her nose, wiped her tears, and left, running into JC in the hallway. He joined her in the pantry like he used to do with Sambot, and she explained she felt bad about how everything turned out today. JC told her a tie might be brewing that she'd have to break, and she said if it came to that, she'd evict Kaitlyn - and of course she told him to keep that to himself. Rockstar and Kaitlyn had a block party in the hammock, talking themselves and each other up and down, like nominees do. Scottie confessed to Bayleigh that he voted out Swaggy.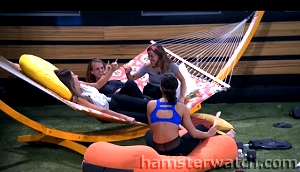 Fessy and Kaitlyn went another round that was painfully reminiscent of last summer's dysfunctional couple-talks with Mark and Elena. Fessy finally told her she'd "fucked up" by getting rid of Swaggy, and she point-blanked asked if she has his vote and he said yes. Later his frustration was clear when he retold to Haleigh, including "what was I supposed to say?" about his vote. Haleigh said she needed Fessy to "get that fixed" and regain Kaitlyn's trust in case she stays, and that she'd heard a rumor that Kaitlyn would put up Fessy if she stays and wins HOH, and Fessy said JC told him the same. In between, Kaitlyn rebounded as if nothing was wrong, and she formed The Lil Fartlettes with Haleigh, Rachel, Angela based on a giggle session at the hammock. Kaitlyn and Rachel turned that into a musical revue and sang it throughout the habitat. Much later (7/24 1.01am) Bayleigh gave Rockstar a hammock peptalk, telling her bluntly she needed to stop saying she wants to go home or she'll be sent home, and to stop whining about the trust fund babies on the other side, since they were there to play. Haleigh, Fessy, Scottie were also present.

GET THE FEEDS to watch it all unfold live, and catch up what you missed on my previous week's page, and/or Hamsterwatch Forum thanks to @UGotBronx, and please remember to use my Amazon link for any Amazon shopping anytime, USA or Canada - thanks!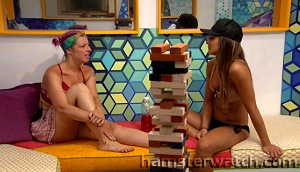 Day 35 Tuesday July 24
Brett and Brett/Kaitlyn got busy overnight and added themselves to the sex events tally below, with Flashback times for those interested. Both nominees continued campaigning in vocal ways as well, including Rockstar with Brett, and Rockstar with Angela. The latter said "people that don't talk to me don't get to know me" which maybe explained a lot for us out here? Angie Rockstar went through her usual spiel (busted alliance/wrong side of the votes/kids/camping/festivals) and Angela Who said she thinks it's "artificial" when people talk to her the first time, especially when on the block, but she knew that wasn't the intention here. Okay then. She also said Angie Rockstar had "really changed her view and perspective" and they both agreed all the petting and flirting in there wasn't for them, and it wasn't a good look.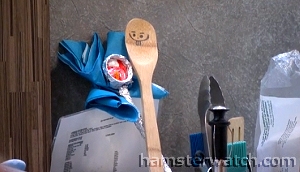 Tyler and Kaycee made a Winston shrine, which they moved from this counter spot to the floor. They added a couple more items plus a cup of coffee, and said they'll give him a fresh cup every day. Brett wasn't really interested when he saw it, and wouldn't pay homage to it. Kaitlyn croaked to Fessy some more, bringing out all her dead horses and beating them to pulps again, and she added a new one "it's like you're fed up with me." So maybe she does have some accurate intuitive skills after all? However she didn't seem to get a "hit" about Tyler grabbing and throwing Haleigh around in the pool.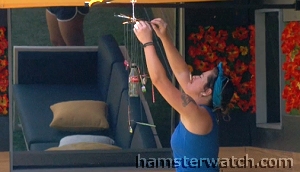 Kaitlyn had a sit-down with Kaycee saying she still wants to work with girls, if she wins HOH next week she won't put up Kaycee, Angela, Haleigh, Rachel, "oh and Tyler," and said she already has votes to stay from Angela, Fessy, Rachel, Tyler. Kaycee didn't commit her vote but she did say Kaitlyn would be more beneficial for her than Rockstar, and she has more of a connection with her as well. Angela and Rachel agreed they want to vote out Rockstar because they thought Kaitlyn would go after Fessy and Scottie going forward, and Bayleigh told Fessy that Kaitlyn's been telling people she wants to go after him. Meanwhile Sam made a wind chime for the backyard - a first I think? She tied on bottle caps, washers, a Coke bottle, and silverware and it really had a nice tinkly sound.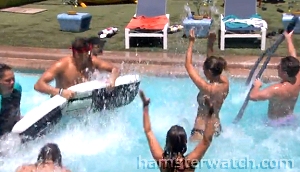 Apparently they got a go-ahead to use the pool again (I think it was having chemical issues), and most of them broke character and dropped the gametalk for a bit to splash around and have fun. They made a lot of noise making wave pools, dunking each other, and playing games. Along the way, Fessy tossed non-swimmer JC pretty high into the air, and Rachel almost lost her bottoms. Afterwards they went right back to psst-pssting in twos and threes, but it was a good time and a much-needed break just to be silly, for them and for us. Gametalk started up again, including a long Scottie/Bayleigh convo. He suggested she get closer to, and the two of them work with, the Level 5 girls going forward, and Bayleigh said maybe she'll have to vote with them this week. Bayleigh said if she wins HOH and Kaitlyn stays, she'd put up Brett and Tyler as they'd fight hard to win veto, and she'd put up Kaitlyn as a backdoor target.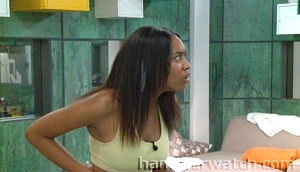 Fessy and Bayleigh had a quick but heated spat in the bathroom, starting with Fessy telling her not to talk about his vote. Bayleigh said "you need to convince them we might vote to keep her," and Fessy said "don't run your mouth." She came back angry, "I don't talk to fucking anybody, I'm not running my mouth!" Fessy said she told Angela and Kaycee, and Bayleigh said "about you? No!" Of course Messy Fessy doesn't know when to stop when talking to females, and he kept going "I'm just letting you know," to which Bayleigh replied "yeah, but don't piss me off." Bayleigh then told Kaycee what happened, that she didn't like how he'd talked to her, and said she doesn't know who might be telling him things. Later Bayleigh retold to Haleigh, who made superb reaction faces.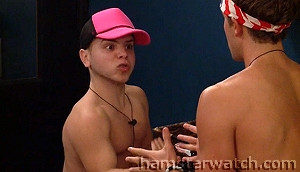 JC and Tyler had a lengthy, heated discussion in the pantry about the vote. Remember yesterday when Tyler told Brett it'd be hard to get the sixth vote from JC? He was right -Flashback 7/24 6.08pm. They went back and forth, back and forth, until JC said "you're thinking with your dick right now!" Tyler slammed back "I'm not bro, I don't have a fucking ounce of feelings for that dumb girl! I know I can control her, she's a fuckin puppet for me! I got her dumb ass to flip on Swaggy!" (referring to Kaitlyn of course). At the same time, Rockstar and Fessy were talking and he told her Kaitlyn had said yes she came in with a boyfriend but then decided Fessy's her soulmate, and they talked about the stories going around that maybe there isn't even a boyfriend at all. A bit later, Haleigh confirmed to Tyler that Kaitlyn had been saying Tyler will vote for, and do, whatever she tells him to.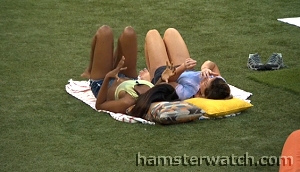 Kaitlyn said to Brett, in front of several others, "so I take it you're not going to sleep with me anymore, after last night's festivities?" He said "you or JC or ..." and she replied "who's better, who's better?" Sam and Bayleigh had a long chat, with Bayleigh telling Sam everyone's scrambling to prevent a tie, and Sam said Kaitlyn hasn't even approached her yet, but Rockstar has "a million times." They also talked about having been approached to do the show, saying it was last minute for both, and both of them turned it down at first. Angela told Kaitlyn there's still a lot of vote shuffling, and that they don't have JC or Fessy. Kaycee told Bayleigh she thinks she has a power but Bayleigh didn't admit she does, Kaitlyn and Rockstar picked out and coordinated their eviction outfits, and JC told Kaitlyn she looks like Gollum.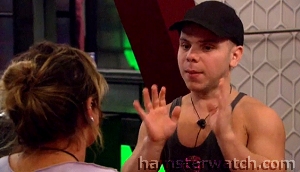 JC acted on his toubling-to-him convo with Tyler by dropping in on Sam, the third in their trio. He said he's concerned because Kaitlyn's been manipulating Tyler by telling him she has feelings for him, and that she told Fessy the same thing, and she told Tyler that Fessy said he has feelings for her in return, "but that's not true." He added that Kaitlyn's a liability for them and Rockstar's playing a loyal game, and he urged Sam to evict Kaitlyn if there's a tie. Sam asked what about Fessy and Haleigh, JC said that's a different story, and he added about Kaitlyn "this girl's going around like a little ant, game-related it's better for us to just take her out." Sam said she won't do what JC tells her to, and repeated she doesn't want to break a tie, but added if it comes down to it she can ask Bayleigh to vote the way she wants, and she will. JC later took all that to Angela, and will probably take it to the others also. Meanwhile Kaitlyn croaked at Tyler, and he told her it makes him a little upset when she hangs out with Fessy, and she said she's using him.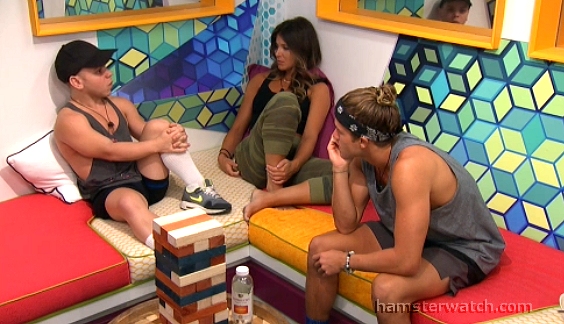 Kaitlyn finally approached Sam about a tie, but Sam wasn't very receptive to what she had to say. Kaitlyn told her bank robbery story, now escalated to "we lost everything" including bonds (no, those would be on record, so no loss). Sam asked about FDIC insurance and Kaitlyn said when you sign for a box, "it clearly states they are not responsible, which is not something you ever know." Huh. Sam said she believes two things: "if you're going to say it, you're only as good as your word, and actions speak louder than words." Kaitlyn said "I think they're both so true," so she missed that point. Sam also said she's heard Kaitlyn's going after her if she stays. Kaitlyn said that wasn't true, but she turned around for an immediate retell to Bayleigh and said she's only told two or three people she'd go after Sam, so she was confused how Sam found that out. Meanwhile JC took his anti-Kaitlyn campaign to Angela and Tyler, and later Rachel replaced Tyler. So that's two gametalks Angela's been in, so she might get some air time on the show.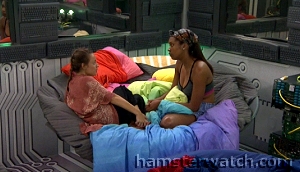 Feeds cut in suddenly on a serious convo between Kaitlyn and Bayleigh, talking about a shared experience that sounded like sexual assault, although that wasn't said -Flashback 7/24 11.08pm. Bayleigh mentioned "a traumatic event that completely changed the course of my life" and she'd "never want any girl to go through that, or blame themselves." Kaitlyn said only her boyfriend Joe and her cousin know what happened to her, and she hadn't found the courage to write about it on her blog yet. (It'd be easy to get cynical about this, all things considered, but let's not.)

Other than that, the same gametalk loops went on and on in different combos, and they'll likely continue tomorrow. All this for an eviction that might be moot, if whoever walks the plank passes their "chance" and rebounds right back in.

It's getting messy in there! GET THE FEEDS to watch it all unfold live, and catch up what you missed on my previous week's page, and/or Hamsterwatch Forum thanks to @UGotBronx, and please remember to use my Amazon link for any Amazon shopping anytime, USA or Canada - thanks!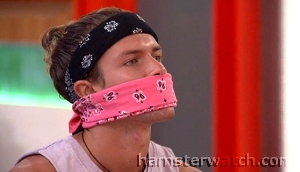 Day 36 Wednesday July 25
Tyler was just clowning with bandanas but it made me think they could use a few muzzles in there, between the endless ineffective campaigning and the endless retells. Both Kaitlyn and Rockstar keep going on save-me filibusters, but most of the voters are stuck in loops about which is better for them to keep. Not to mention whoever goes tomorrow will probably come right back in.

I had some real world situations to deal with so wasn't able to keep up today, but I did happen to catch a funny moment. Tyler was talking to Sam in HOH when Rockstar arrived. Sam told Tyler to hide under/behind the bed, and he did. Sam and Rockstar had their chat, Rockstar left, and then Sam and Tyler had to arrange to get him out of there unseen.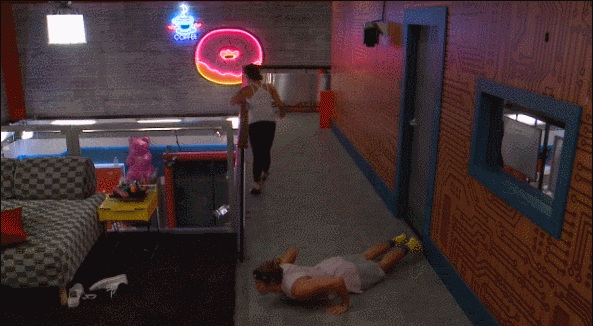 It was a successful covert operation, and a comical one. Otherwise I gather it was all day waffles with a lot of minds being changed back and forth, and a whole lot of whispers and what-ifs. Sam told several that if it's a tie, she'll pick from two dots in a hat but like last time she did that, it's just a front: she'll evict Kaitlyn if it comes to that. I don't think it will come to that, even with all the back and forth I think they'll stick to where they started, Kaitlyn going, but maybe not for long.

GET THE FEEDS to watch it all unfold live, and catch up what you missed on my previous week's page, and/or Hamsterwatch Forum thanks to @UGotBronx, and please remember to use my Amazon link for any Amazon shopping anytime, USA or Canada - thanks!



Ratings - Fessy's Choice edition
Ratings are Sunday's, based on entertainment value?
VTE = Voted to evict




Julie said Sunday's show would have a 'cultural sensitivity' segment. Instead it ran an exploitive segment, which probably didn't solve anything in the habitat but proved to be an incendiary device for the dumpster fire that was already burning out here. It's interesting that they made a statement that they wouldn't run the previous inappropriate items on the air show, but they chose to run this one. Why? And why not include the prior items by JC, Angela, Rachel since they aired this one? And if they're going to air any of it, why not have a discussion with all of them, maybe even <gasp> educate a few people in there and out here? But no. This is the same show that looked the other way for weeks while one-half of the BB15 cast said things they shouldn't before finally acknowledging something was going on, and then they heaped all the blame for all of it onto Aaryn and let the others escape relatively unscathed.

But the real question is WHERE'S THE BOOZE?!





Won: Nothing yet
HOH 0 - Veto 0 - Noms 0 - HN 1

VTE Kaitlyn
She's mostly in the 'Who?' category, but she cooks sometimes, and she says something nasty sometimes. This week it was about Kaitlyn's HOH week, saying she 'stomped around the house like a fucking queen. I wanted to throw her down the spiral staircase in her little HOH robe. Die bitch!' So we can't say never a dull moment with Angela because while most of them are dull, she makes a headline once a week or so.





Won: 1st eviction immunity
HOH 0 - Veto 0 - Noms 1 - HN 1

No vote (nominee)
See Brett. Yes it was a dirty trick and yes it was sprung with serious bad timing (the live show, not the eve of the daughter's birthday), but Rockstar did protest too much. If she'd put half the effort into the game that she puts into talking about herself, her festivals, and her resentment of whoever she resents today, she'd be able to figure out what's going on in there and do something about it.





Won: Power App #3 Identity Theft
HOH 0 - Veto 0 - Noms 0 - HN 1

VTE Kaitlyn
The entire exchange with JC shouldn't have happened the way it did but since it did, I think they both handled it as well as they could under the circumstances. She's had some crashes and tempers and tears, but she rebounds almost instantly and that's saying a lot. She seems to have recovered 100% since losing Swaggy and that's not only commendable, especially compared to some showmance widows past, but she's rebounded like a champ and put herself in a very good position game-wise. Plus she still makes the best facial expressions for all occasions, she's forming a lot of solid one-on-one bonds, and she's got a wide range of conversations revolving around game, personal, and other topics. And she laughs a lot! She's the total package for my ups criteria.





Won: 1st eviction immunity
HOH 0 - Veto 0 - Noms 1 - HN 2

VTE Kaitlyn
We've seen some dirty tricks on this show but rarely has such a dirty one been sprung during a live show. Without Winstonbro to keep him going, Brett's pretty much a non-entity in there, but wow does he give speeches to remember. I think they should nominate him every week just to see what else he'll come up with.





Won: 1st eviction immunity; Crap App #1 Hamazon
HOH 0 - Veto 2 - Noms 0 - HN 1

WON VETO/USED ON HALEIGH
VTE Kaitlyn
I've joked in the past about hamsters who think BB is a dating show, but I really think he thinks it is. He's hanging on Haleigh every chance he gets, and Kaitlyn hangs on him every chance she gets, but since he's not getting anywhere with either of them why did he win that veto? That 'win at all costs' jock ethic is very strong in this one, and it's costing him plenty. Ups for unintentional comedy and head-explody.





Won: 1st eviction immunity; Crap App #3 Read It
HOH 0 - Veto 0 - Noms 1 - HN 1

VTE Kaitlyn
She took great offense to Sam's speech, but turned around and said the same things about Kaitlyn because she has a boyfriend. I guess if you add a qualifier to take that spotlight off yourself, it's fair game. Or something. I think Fessy will use his veto on her and if he does, he better not pressure her about owing him something for it.





Won: Nothing yet
HOH 0 - Veto 0 - Noms 0 - HN 1

VTE Rockstar
He should really go by JPC because Problematic is his middle name. The entire exchange with Bayleigh shouldn't have happened the way it did but since it did, I think they both handled it as well as they could under the circumstances. Meanwhile he's still a busybody, running here and whispering there, complicating everything all the time. The longer he stays, the worse that will get, and his attitude towards BB scolding him will also get worse.





Won: Nothing yet
HOH 1 - Veto 0 - Noms 1 - HN 1

EVICTED 9-1
FAILED BONUS LIFE CHALLENGE
It's Kaitlyn's show and Kaitlyn's the star. Kaitlyn's the reason for this season and Kaitlyn's the only one that matters. Every one else in there has one job and that's to build Kaitlyn up, listen to Kaitlyn's stories, comfort Kaitlyn's crying, and pay attention to Kaitlyn. How did you not know this? Haven't you been listening to Kaitlyn? Poor, poor Kaitlyn. It will really hurt her when she finds out you didn't listen to her. You better do something to make it up to her. She won't forget this, you know.





Won: 1st eviction immunity; 2 weeks Pinwheel
HOH 0 - Veto 0 - Noms 0 - HN 1

VTE Kaitlyn
She's consistently pleasant, problem-free, and in good standing with many, if not most of them, both personally and game-wise. She hasn't caused any scandals, she hasn't had any hissyfits, and she hasn't featured in any fights. That's saying a lot with this batch.





Won: 1st eviction immunity; Crap App #2 Yell!
HOH 0 - Veto 0 - Noms 0 - HN 1

VTE Kaitlyn
She performs a lot and she can be pretty fun when she does. When she's not performing, she talks about how she's a performer, how she's sensitive, and how people don't understand her. That's about all I got on her, but we're only a third of the way through.





Won: 2 weeks Robot; Power App #1 Bonus Life
HOH 1 - Veto 0 - Noms 1 - HN 1

No vote (HOH)
She basically called the two youngest girls sleazy and said that's why she nominated them, and later she laid all the laying and rubbing blame on those girls because 'the guys can't help it.' That's ridiculous but nobody in there challenged it. Many out here were saying the same (actually a lot worse) about Kaitlyn and Haleigh before all that, only to rally behind them when they heard how awful it sounded, but that's another story (don't get me started). But was Sam sincere about all that or just saying it for game reasons? We may never know (unless there's some revealing Diaries about it on Wednesday's show - ha ha, I kid.) Big picture, Sam continues to cement her individual relationships in there, and polarize the fanbase out here like few others before her. People love her or hate her, and very few feel indifferent about her. It's fascinating.





Won: 1st eviction immunity; Greece trip
HOH 1 - Veto 1 - Noms 1 - HN 2

VTE Kaitlyn
I'm always pleased when the outgoing HOH and the fallen cheer the ones who are still going in an endurance comp, but his cheering, while enthusiastic and sincere, has made me question that stance. It was more screechy than cheery. I've barely seen him since his week at the top but he's still good for one or two killer lines on any given day.





Won: $2500 (on TKO); Power App #2 The Cloud
HOH 1 - Veto 1 - Noms 0 - HN 1

VTE Kaitlyn
The Teflon hamster got a new non-stick coating with the whole Brett vs Rockstar situation, since Rockstar's radar was zeroed in on Tyler until all that happened. If she'd kept her temper, or lost it and moved on, she might have moved back to Tyler, but her derailment was his gain. At least for now.





Won: Nothing
HOH 0 - Veto 0 - Noms 2 - HN 1
3rd evicted 6-5 Day 30

He too came in saying all the right things: he wasn't here to get a girlfriend or Twitter followers, and I had him pegged as either a dark horse who'd go far, or a too-hard-too-soon kind of guy. Turned out he was the latter, probably because he just discovered BB last summer and binged several seasons since without realizing there's a lot more to it than the show edits let on. He spent most of his time playing Jenga and broing around with Brett, and the two of them provided a lot of unintentional comedy in the form of buffoonery. He made manic facial expressions while going on angry whisper rants, he threatened speech call-outs but didn't follow through, and for all his jock/winner self-hype, he failed every comp.





Won: 1st eviction immunity
HOH 0 - Veto 0 - Noms 1 - HN 0
2nd evicted 8-4 Day 23

Pre-season he said all the right things (albeit in his own unique, third person way), but he started off way too strong and way too Swaggy for his own good. He gave us great shockface when Steve was evicted but it didn't sink in that he wasn't fully plugged in, so he gave us another when he went up as backdoor renom. To his credit, he campaigned his brains out to stay rather than lay down to die, but it didn't help. His pre-show QAs said he was wary of showmancing but he fell for Bayleigh anyway, and together they were one of the cuter 'mances to watch - it helped that they didn't slurpydurp too much. Swaggy C was a good character for TV, but Chris was a good hamster and will be missed.





Won: Nothing
HOH 0 - Veto 0 - Noms 1 - HN 0
1st evicted 7-6 Day 16

The Summer of Steve™ ran just a couple weeks and his job lie(s) didn't help him any. He might have been better off if he'd been open about his undercover past and teaching present as both would have let him share more stories, or if he'd gotten in with Kaitlyn and Rockstar via his wife's new age interests and books. He and Scottie buddied up but otherwise he was odd dad out. He didn't keep up so believed he was safe, and he didn't really campaign to stay. It might not have helped if he had because all the scurrying was elsewhere, but it wouldn't have hurt. He didn't get his required nightly baths but he learned to clean his ears, and early risers in particular will miss him.



Lines and Links of the Day
Lines

Tyler about Kaitlyn: She's so fuckin annoying for bringing me into this

Fessy: I don't give a damn about the game 'cause obviously I don't know how to play it

Bayleigh: I'm proud of myself I haven't popped off
Fessy: I'm about to pop off

Angela: I had a dream that I was eating something
Brett: Cool story, Angela!

Fessy: This game is fucked up, man! How the fuck did I win a memory comp? I'm the dumbest guy in here

Fessy: When I was in there and I got least trending, I had zero reaction and they were like 'can you react?'

Fessy: I never thought it'd be this hard of a game

Bayleigh: I finally get Hamsterwatch, we're like guinea pigs

Haleigh: Why can't everyone be like you?
Scottie: Then there'd be no more people

Sam about BB: Everything sucks and then you leave

Rockstar: I've tossed around running for president

BB: Brett, are you wearing someone else's microphone?
Brett (checks mic): Oh, yeah I am, Tyler's

Brett: These fuckin ants are in our fuckin silverware


Links

GET YOUR FEEDS

Use my links for any Amazon shopping, anytime, at no extra cost - just start your shopping trip by clicking Amazon USA or Amazon Canada

Live like a hamster! Available from Amazon:
-17-inch Orwell owl Amazon USA or Amazon Canada
-Nanoleaf LED light system like HOH room Amazon USA or Amazon Canada
-Emoji pillows, individual or sets (read descriptions carefully, some sets are random) Amazon USA or Amazon Canada
-Gradient duvet/sheet sets pink/purple or blues
-Minion plush toys Stuart - Bob - Tim - loads of others
-New age books by Sahvanna Arienta, Steve's wife

Sam's nominations by @em__BB

BB By the Week for Week 4 by @aubramariebb



Tally Items

Season Stats
HOHs in order: Tyler; Kaitlyn; Scottie; Sam

Veto winners in order: Faysal; Tyler; Scottie; Faysal

Evictions in order: Steve 7-6; Swaggy 8-4; Winston 6-5

Pre-jury Twitters: @bb20Steve; @SwaggyCTV; @BB20WinstonH
More social media links in cast folders at Hamsterwatch Forum








Linking to any page here is fine. Please don't repost content from this site (or any other) without permission, and don't repost or hotlink images.



THE REAL SHOW IS THE FEEDS


SAME DAY AIR SHOWS
Live air shows in some areas
BB1 thru BB19 and many other CBS shows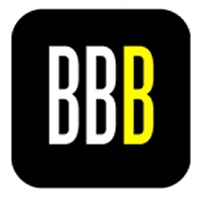 BIG BROTHER BUDDY
Get push notifications for all the big feeds events - iOS or Android


HAMSTERWATCH SWAG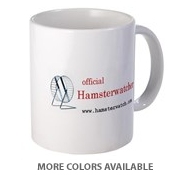 Mugs, shirts, more
Visit my Cafe Press shop






Big Brother 20 SEASON FAQ


Day 1 Move-in was June 20
Day 8 CBS premiere is June 27
Day 9 Feeds begin June 28
Day 99 Finale will be September 26

Feeds are streamed by CBS, and Flashback is accessible via All Access subscription. Call 888-274-5343 for account help, including cancellation.

Air shows on CBS (Global in Canada) are Sundays 8pm, Wednesdays 9pm, eviction Thursdays 9pm.

Big Brother After Dark on Pop TV is every night midnight to 3am, except Thursdays 1am to 3am. The aired blocks are live (or recorded earlier the same night, depending on your cable provider).

The CBS app (by CBS Interactive) plays BB air shows and other CBS shows, as well as feeds, or you can use your browser to watch feeds on mobile devices. The same All Access link used to subscribe will lead to the feeds viewing page if you're already signed up.

BB20 prizes are the same: $500k for the winner and $50k for 2nd place. Stipend for the others is $1,000 per week again, including pre-show hotel and jury sequester.

The habitat has 94 HD cameras (up 7) and 113 microphones.

The recorded in-house announcements are the voice of producer Don Wollman. He and Julie Chen are the only staffers who have been there since Big Brother 1.