This site is about the Big Brother 20 feeds and contains spoilers! It isn't necessarily thorough: it's what I catch and/or what interests me. It's about watching hamsters: who's doing what and why. Thanks for encouraging my behavior.
Your pal, dingo



PROTECT YOUR ONLINE PRIVACY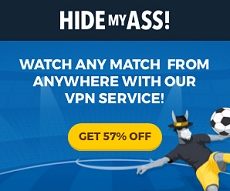 BIG BROTHER UK BEGINS SEPTEMBER 14
Watch BB Canada, BB UK, Survivor Australia, Survivor New Zealand, and other non-USA shows with HMA






BB20 DRINKING GAME


Take a swig whenever one goes to Diary or shower and the other two pounce on each other





VIEWER FAVORITE $25k

Voting and rules at CBS site





HACKER COMPETITION TWIST

Each week's Hacker Comp winner could replace one nominee, select one veto player, and nullify one vote

#1 Haleigh
-Replaced Scottie with Tyler
-Picked Kaycee to play veto
-Nullified Tyler's vote

#2 Kaycee
-Replaced self with Rockstar
-Picked Tyler to play veto
-Nullified Fessy's vote





APP STORE VIEWER VOTE TWIST

WINNERS - POWER APPS
BONUS LIFE #1 Sam
-Could give 1st, 2nd, or 3rd a chance to return to the game
-If unused, 4th evictee automatically got a chance
-Kaitlyn failed to complete the puzzle
THE CLOUD #2 Tyler
-Immunity at any one noms or veto meeting within 2 months
-Expired unused
IDENTITY THEFT #3 Bayleigh
-Can replace noms one time before final eight
-Was not used

Not selected: Re-Draw, Upgrade

LOSERS - CRAP APPS
HAMAZON #1 Faysal
-Periodic [vegan] ham deliveries, had to eat it all
YELL! #2 Rachel
-24 hours getting yelled at
READ IT! #3 Haleigh
-Read Hamlet in costume

Not selected: Fake News, Spammed

Limit one per hamster, whether winner or loser - Voting info & rules







QUICK LINKS & BOOKMARKS



-SIGN UP for feeds
-WATCH the feeds
-BB20 official site
-Live show tickets

-Feeds updates by @UGotBronx
-My Twitter - my screencaps
-Amazon portal USA or Canada
purchases help me a bit

-Dick at Night with @EvelDick

-BB Viewer by @liquid8d
Requires All Access account

-BB20 Wiki
-UK BB 19 Wiki
-UK CBB 22 Wiki

-Hamster Twitters
BB USA - BB Canada

-Advice for cast friends/family

-VPN to watch BB UK and/or to protect your online privacy







EAST COAST AIR SHOWS



CanadaTV for Roku
$2/month - Global airs BB USA

East coast air show live streams:
- 1 - 2 - 3 - 4 - 5
NO DOWNLOADS OR SIGN-INS NEEDED - BEWARE OF CLICKING POPUP ADS OR WARNINGS




Donations via Paypal are gratefully accepted!


Watch Big Brother
Seasons 1 thru 20
Plus tons more CBS content






BIG BROTHER SEASONS



CBS All Access
Seasons 1 thru 20

Amazon DVDs BB4 - BB3

Amazon Instant Video
BB18 - BB17
- BB16
- BB15
- BB14
- BB13
- BB12
- BB11
- BB10
- BB9
- BB8
- BB7





BIG BROTHER 20 FEEDS EXCLUSIVELY ON CBS ALL ACCESS
All Big Brother USA seasons + most CBS shows past or present are included
$5.99 PER MONTH INCLUDING 1 WEEK FREE TRIAL or $9.99 AD FREE
COMPUTER - MOBILE - ROKU - CHROMECAST - APPLE TV - ANDROID TV - FIRE TV - XBOX 1/360 - PS4


>> >>

>> >> >> >> >> >>

>>

ANY AMAZON PURCHASE MADE THRU THIS LINK HELPS ME A BIT
Amazon USA
- Amazon Canada
September 2018
Power Status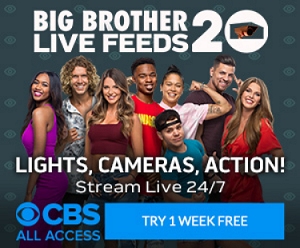 Feeds are wrapping up but they are the real show - SIGN UP NOW to see anything/everything from the season - get a one-week free trial! No promo code needed

Kaycee evicted Angela

Tyler won Part 1
Kaycee won Part 2

Upcoming Events
Wednesday morning: Feeds end, with F3 farewell to us
Wednesday night: Backyard interviews live with Ross and Marissa


Remaining Shows
9/26 Wednesday 9.30pm - Live 90-minute finale

CBS schedule was Sundays 8pm, Wednesdays

9pm

8pm, live eviction Thursdays 9pm - stream links to watch East Coast airing online are posted in Quick Links & Bookmarks on the left sidebar

After Dark aired for three hours every night on Pop - times vary by area and provider, check your cable guide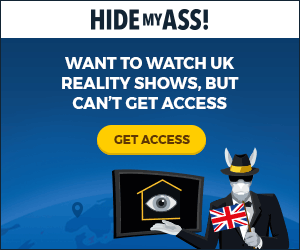 BIG BROTHER UK IS UNDERWAY
Watch live or archive shows with HMA safe, easy, secure

-Watch live at Channel 5's online live stream
-Outside UK use HMA to get around geoblocking, and protect your online privacy at the same time
-Shows are usually daily but check the air show schedule for 5 and 5Star - UK time is 8 hours ahead of Pacific and 5 hours ahead of Eastern
-The BB official site has archive air shows and talk shows, highlights, previews, and info


Other News
Hamsterwatch Forum for real-time feeds updates, screencaps, and air show recaps by @UGotBronx

Diary segment tally by @clamperls

Week 12 popularity poll results #1 Tyler, #2 Kaycee, #3 Angela
Follow @89razorskate20 on Twitter to participate: weekly polls launch every Monday 4pm PT/7pm ET

Post-eviction shows are hosted by BB Celeb runner-up Ross Mathews and winner Marissa Winokur, Fridays on Facebook Watch. The first (no eviction) ran June 29.

Ratings Watch Thursday's eviction show won the hour with 1.6 rating, 7 share, 6.19 million viewers, ahead of Law & Order SVU rerun on NBC with 0.8/3/3.61, Station 19 rerun on ABC with 0.4/2/2.51, and The Gifted rerun on FOX with 0.4/2/1.50.

Sunday's clips show placed third with 1.3 rating, 6 share, 5.51 million viewers, behind pregame and football on NBC with 4.3/17/13.56 and 5.7/23/17.21, and 9-1-1 premiere on FOX with 2.3/9/8.47, and ahead of Celebrity Family Feud finale on ABC with 0.6/3/4.07.

Rating and share: adults 18-49 - Rating: % of all TV households - Share: % of households watching TV


Week 13 - Days 93 thru 99 - September 20 thru 26, 2018
Daily and Noteworthy Events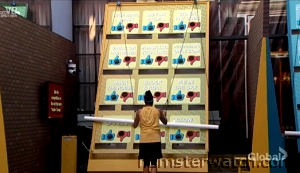 Head of Household: JC
Original noms: Angela, Tyler
Veto winner/outcome: Kaycee/did not use
Final noms: Angela, Tyler
Evicted: Angela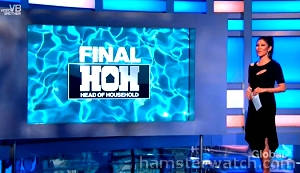 Part 1: Tyler
Part 2: Kaycee
Part 3/Final HOH: TBA
Evicted: TBA

Season winner: TBA
Runner-up: TBA
Viewer favorite: TBA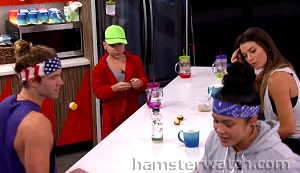 Day 93 Thursday September 20
The final four gathered for breakfast, which they ate at the counter as usual rather than their new tiny table, before they moved on to prepping, primping, and packing for tonight's eviction. Tyler joked with JC that his HOH only lasted a little longer than Tyler's quickie during the double (but he had that two-week reign at the start, so it kind of evens out). All indications are that Kaycee will stick with her Coast 2 Coast deal with Tyler and evict Angela, but we'll find out soon enough.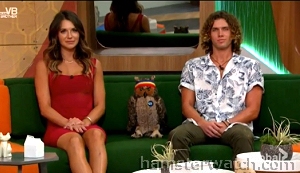 Julie gave us two jury house segments with the latest evictees trotting in, and random edit snippets of the various jurors commenting on who arrived and who didn't. Sam told them about her Day 3 final two with Tyler and Brett told them about his as well. The final veto comp was Down to the Wires, maneuvering a ball on a crossbar up a vertical wall to drop in the correct pocket to answer season comp questions. JC was out first, then Tyler, then Angela, and Kaycee won after six rounds. Julie announced the $25k viewer favorite poll was open, to include all the cast rather than just jurors as some seasons have been.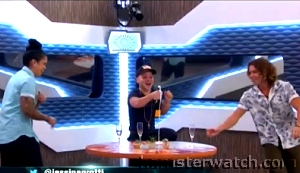 Angela and Tyler each gave their first eviction night speeches, with love for each other and Kaycee and JC. Kaycee evicted Angela as planned, after an overlong and emotional speech, and both Kaycee and Tyler told her about their Day 2 finals deal in their farewells. Tyler also included his power app in his farewell, and said he didn't expect to fall in love but he had. Julie announced the two remaining shows would be as they have been in recent seasons (as described above in "Remaining Shows" section above), and she said Jeff would make an appearance on Sunday's. The final three popped their well-earned champagne as the credits rolled.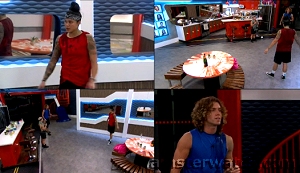 Feeds came back to the three of them chatting and reminiscing, with JC taking credit for most everything that happened all season. Tyler and Kaycee talked about the final comps, with Kaycee saying she's better at the physical ones, more or less asking him to give tonight's to her and then he'd go against JC for Part 2 - Tyler didn't commit to that. Feeds went down around 9.50pm for the endurance Part 1 comp and came back at 12.43am, and Tyler had won Part 1. It was a hanging comp with jetpack theme, which they said was very hard, and they had blue goo spattered on them. JC came off first and Kaycee right after him. Kaycee was extremely sore, especially her arms. She said she'd never felt that kind of numb soreness before, and she could barely do up her bun. JC gloated to Tyler some more, and Tyler had to argue a bit that he'd done some things to get them to this point.

GET ALL ACCESS to watch anything/everything from the season's feeds, and catch up what you missed on my previous week's page, and/or Hamsterwatch Forum thanks to @UGotBronx, and please remember to use my Amazon link for any Amazon shopping anytime, USA or Canada - thanks!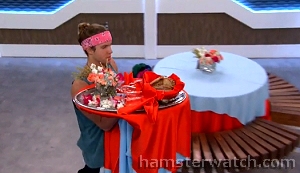 Day 94 Friday September 21
Feeds went down for their guided memories brunch around 9.15am, with Jeff in attendance, and they returned around 12.4pm. They cleared up the dishes and decor, and Tyler made an easy task of carrying the loaded little serving table to the pantry, saying he used to be a waiter. They said they'd had a good meal (including mimosas) and a good time, and then they went to their beds to catch up from a strenuous late night, little sleep, and three champagne deliveries in 12 hours. They slept til late afternoon.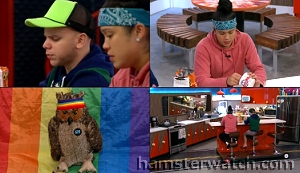 When they started rattling around, it was mostly to eat, chat, count the hours til they could go back to bed, and talk about how bored they were with nothing to do. From out here, feeds looked pretty much the same as usual, just with fewer of them, but their sudden and total boredom proved how much gaming they'd been doing in their heads all along, now that there wasn't much left for them to do. Tyler worked out while JC and Kaysee read labels, and Orwell had a dedicated feed for much of the day. Later Kaycee crashed, still having arm/shoulder problems, and Tyler had JC go through the cast to say something nice about each. That was a funny segment, but it evolved into gametalk and another rehash of the season, with JC taking credit for most of it.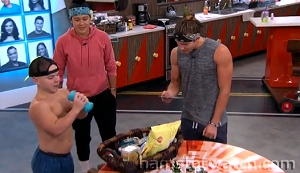 Tyler helped Kaycee study days for tomorrow, and they reiterated they have to be careful what they say to JC in the coming days about the ultimate decision. All three were called to the pantry but alas it wasn't booze. Instead it was another post-comp relief basket from Pop, with facial masks and mists, a foot roller, scalp massager, and snacks. They sat down to family dinner of salmon at the tiny table, and then they had tea in the living to rehash the season. Again. And then back to bed.

GET ALL ACCESS to watch anything/everything from the season's feeds, and catch up what you missed on my previous week's page, and/or Hamsterwatch Forum thanks to @UGotBronx, and please remember to use my Amazon link for any Amazon shopping anytime, USA or Canada - thanks!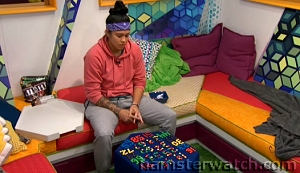 Day 95 Saturday September 22
Kaycee set up a Skittles calendar to study for the Part 2 comp, quietly whispering to herself the various events for each day. Tyler came along to check in, and he was impressed with her layout. If JC did any studying, it was silently to himself and without props.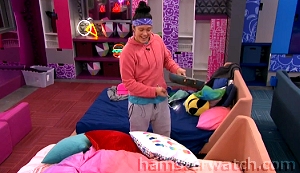 JC went back to bed and hollered at Tyler and Kaycee to be quieter. They were making lunch in the kitchen, making ordinary kitchen sounds, but after he hollered, Kaycee banged a spoon on a pot. JC hollered some more, so she let him have it will full-blown pre-comp in-yer-face pots 'n pans right over his head, à la Evel Dick on Dustin. She and Tyler were laughing throughout - JC not so much. He eventually got up and asked Tyler "what if she wins?" Tyler gave him a hug and told him to calm down. Meanwhile Kaycee studied faces on the photo wall.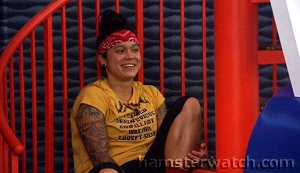 Feeds were down from 6pm til 9.10pm for Part 2 and when they came back, Kaycee had won - surprising absolutely nobody. They had comp shirts that said I CLIMBED MOUNT EVICTUS AND ALL I GOT WAS THIS LOUSY T-SHIRT. All three seemed low energy: they'd sipped some champagne on top of the massive relief of having all comps behind them with the exception of Tyler versus Kaycee for Part 3, which be live on the finale. The low energy was also to throw off JC but when he stepped away, Kaycee and Tyler finally had a silent celebration, mouthing "final two" to each other with big smiles. It sounded like the usual veto-like Part 2 comp, with a climbing component included, and later JC was off grumping and cussing to himself about there having been too many physical comps rather than a mix of physical and mental. (He had been known to shimmy up the living room rock wall pretty quick though, when he was doing that.)

GET ALL ACCESS to watch anything/everything from the season's feeds, and catch up what you missed on my previous week's page, and/or Hamsterwatch Forum thanks to @UGotBronx, and please remember to use my Amazon link for any Amazon shopping anytime, USA or Canada - thanks!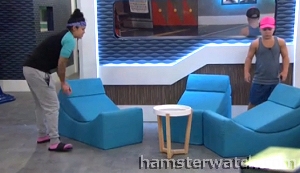 Day 96 Sunday September 23
After going to bed thinking and hoping finale was today, it sounded like they might have been told it's Wednesday. Kaycee and JC set up a comfortable seating area for the main area, and the three of them did another season rehash but this time it was comedy highlights, and a good time. Tyler and Kaycee had talked about whether to tell JC about their partnership and when, but that hadn't happened as of yet.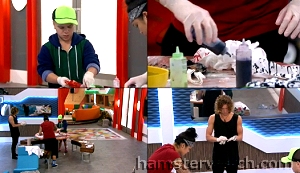 They got tie-dye kits with shirts and bandanas, so that used up some of their seemingly endless free time. Since they set up their new seating area facing the photo wall, most of the day was taken up by multiple variations on the same theme: their former roomies and the time they spent with them. Later tonight After Dark will be sending them an oversize game to play, either bowling or Connect 4, so that will give them something different to do.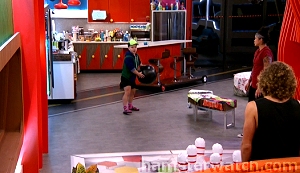 After a long day of rehashing, reminiscing, and eating, they finally noticed 10pm had come along and they could go to bed. They had their bedtime tea and then the After Dark inflatable bowling arrived. They had some fun with it, but they may have had more fun with a lot of their reminiscing today, as much of it was pretty funny and accompanied by laughter from them all. Bowling picked up when they tried to blow the pins over, with JC failing repeatedly, and all three of them in hysterics.. maybe you had to be there. The same goes for Jc plus Kaycee pressuring Tyler to use the tie-dye dye on his armpit hair - he refused, but he did agree to shave a bit of it.

GET ALL ACCESS to watch anything/everything from the season's feeds, and catch up what you missed on my previous week's page, and/or Hamsterwatch Forum thanks to @UGotBronx, and please remember to use my Amazon link for any Amazon shopping anytime, USA or Canada - thanks!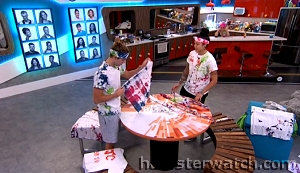 Day 97 Monday September 24
Tyler and Kaycee donned tees and bandanas they made for Tie Dye Monday, the new national event they created last night. Late riser JC hadn't put his on yet, so it just made the still-secret Coast 2 Coast alliance that much more visible to us, and added a new touch to their usual tee, bandana and buns uniforms. JC later did put on his tie dye shirt and bandana, but he griped about bandanas not looking good on his head, so he put it over his hat. When Kaycee went to Diary, JC and Tyler argued over how and when the jury deliberation with Dr Will happens (JC had it wrong), and JC asked Tyler to please let him know if he changes his mind about taking him to the end, so he isn't blindsided. He said he wouldn't be mad and he didn't want Tyler to cry on the finale. Later Tyler retold that convo to Kaycee.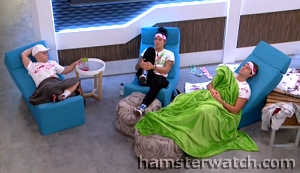 They again spent much of the day in their new "porch" area (that's what I'm calling it anyway) chit-chatting, rehashing, discussing/arguing ridiculous topics, laughing, talking about their former roomies, and making plans for tomorrow. They figure they'll pack, do a house memories tour, climb the rock wall, play foosball and Jenga, and a half dozen other things. Time will tell how much of that they actually get around to. Tyler and Kaycee still haven't told JC their secret, or made definite plans to do so. They got origami kits a little after 10pm but they weren't thrilled, or even interested, mostly since they were hoping for booze when BB called them to the pantry, or sushi, or fast food. Tyler and Kaycee went to bed, JC pestered them like a bratty little kid until he finally ran out of gas, and they were all asleep by 11pm.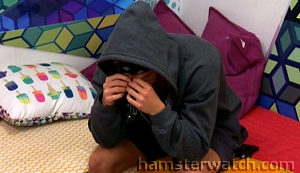 Tyler was up around 1.20am and venting aloud in the lounge. He said he hoped nobody was watching, but he was worried about Angela, and "I genuinely love that girl and I really hope I didn't fuck it up." He said he can't tell JC or Kaycee, but he had to "speak it out loud so it would go away." He said he was too distracted to properly prep for his finals speech, his friends told him not to throw away half a million for a girl, but he can't get past it, she's all he can think about, and he was worried she won't talk to him after all this - partly because JC keeps telling him that. "I really do love that girl." He gave a nod to feedsters, knowing we're watching and listening, and said he was worried he screwed up either with his game or his girl or both.

GET ALL ACCESS to watch anything/everything from the season's feeds, and catch up what you missed on my previous week's page, and/or Hamsterwatch Forum thanks to @UGotBronx, and please remember to use my Amazon link for any Amazon shopping anytime, USA or Canada - thanks!



Ratings - All Obits edition
Ratings will be finalized when all's final
VTE = Voted to evict










Won: Nothing yet
HOH 1 - Veto 0 - Noms 2 - HN 3

No vote (HOH)






Won: 1st eviction immunity; 2 weeks Pinwheel; 1 week Peanut; Hacker #2; Hacked self off the block Week 7
HOH 1 - Veto 5 - Noms 3 - HN 2

VTE Angela
WON PART 2






Won: $2500 (on TKO); Power App #2 The Cloud (unused); Hawaii trip; Week 6 vote nullified
HOH 3 - Veto 3 - Noms 2 - HN 3

No vote (nominee)
WON PART 1






Won: $7,000 4th place bonus
HOH 3 - Veto 2 - Noms 2 - HN 1
8th juror/12th evicted 1-0 Day 93

EVICTED 1-0
She was in the 'Who?' category for weeks, and many referred to her as The Furniture because she was so barely there. Then she turned on her bestie Rachel and followed that up with an HOH reign that booted Bayleigh. Either or both of those events would normally bring fireworks, especially as Angela's game moves often seemed highly personal, but while she didn't pull any punches with her speeches, she didn't follow up with face-to-face confrontations. She also won a late HOH and two vetos, giving her an excellent comp record. She fell for Tyler and vice versa, but fortunately for our ears, they weren't too smacky or slurpy. (They didn't seem very passionate either, but that's their business.) She wasn't a big conversationalist, often retelling her gymnastics and pole-vaulting background, her keen sense of smell, and the need to do her taxes, and she also said some things she shouldn't have. She was often horizontal, with or without Tyler, and she was highly photogenic, not surprisingly since she's a professional model. She was allied well, earned her way to Final Four, and she gave some harsh farewell messages, but entertaining feeds, not so much.





Won: $5,000 5th place bonus; 2 weeks Robot; Power App #1 Bonus Life
HOH 1 - Veto 0 - Noms 4 - HN 3
7th juror/11th evicted 2-0 Day 91

One of the most unique hamsters ever, she got a lot of criticism for 'not playing the game' and a lot of speculation as to whether she was crazy like a fox or just plain crazy. A recruit who didn't do much homework, she didn't know what she was getting into and she let Tyler lull her into staying largely uninvolved in the game. She trusted him implicitly until he voted her out, but she'd said that would be okay if it would help him get the win. She was a great robot (and we got to share Sambot's point of view), and while she didn't use that to her best social advantage, she did BB-marry JC while she was still on wheels. She was often first up in the morning and last to bed at night, and she kept herself busy by making bird feeders, wind chimes, and more with found materials and bits of decor. She transformed Tyler, Kaycee, Brett with hair makeovers, and she won the first power app (but didn't use it) plus a brutal wall endurance comp, and by the end she went a little ways around the bend. She was a mostly fun hamster and I'm glad she was on our feeds.





Won: 1st eviction immunity; 24 hours InstaGranny
HOH 0 - Veto 1 - Noms 4 - HN 2
6th juror/12th evicted 3-0 Day 86

He and Winston were inseparable bros at first, sometimes offensive, often comical and often obnoxious, but he survived Winstonbro's early eviction and went far, mostly due to being in the strong Level 6 alliance. He was a good spy for them, first setting up to be a perceived outcast and then as a double agent, and he did well infiltrating the other side. But he didn't pull his weight comps-wise and when he started trying to work Tyler against Kaycee and Angela, they decreed he had to go. He gave three unexpected and extremely memorable nominee speeches but when he was the double eviction blindside renom and evictee, he went quietly. Along the way he gave us ANALLICE, broke the front door with a prank gone wrong, started an oven fire, and created an alter ego named River Dan when he found Angela's stunt hair. He dominated the grill for its one-night-only appearance (disappointing BBQ Smackdown fans), and he provided far more than his share of comedy lines and overall fun feeds.





Won: 1st eviction immunity; Crap App #3 Read It; Hacker #1
HOH 1 - Veto 0 - Noms 4 - HN 2
5th juror/11th evicted 4-0 Day 86

She was a charter member of the doomed FOUTTE alliance and later the Hive, and she was close to figuring things out with both Rockstar and Bayleigh, but she inexplicably seemed to forget what was going on each week and started over from scratch, leading to repeated blindsides. But she survived the longest of her teamies and did well considering the opposition she was up against. She read Hamlet with a peculiar accent, and she featured in several crush triangles, getting cozy with Brett, Scottie, and Fessy. She settled on Fessy even though they had a rocky start, magnified by a sippy game of Would You Rather that he didn't like. Their relationship continued being rocky, alternating makeouts with bickering, and she bashed him after he left but that may have been for game purposes, as she'd continuously denied being showmancy with him. Her comp performance was inconsistent, sometimes great and sometimes awful, and she wasn't able to win when she had to. She featured in several tally items, and her house meeting to confess being the first Hacker set off the biggest fireworks of the season.





Won: $5,000; 1st eviction immunity; Greece trip; Hacked off the block 6th week; 1 week revival
HOH 1 - Veto 1 - Noms 4 - HN 4


3rd juror/8th evicted 6-0 Day 65

- Revived Day 72 - 4th juror/10th evicted 5-0 Day 79

He came in a fan but partnered up with only Steve and was on his own Day 15. Then he cast a hinky vote and was blamed for all the stray votes going forward. But he lasted quite awhile despite all that, and he played something of a 'floater' game (floating side to side) which contributed to his first eviction. He fell for Haleigh and while he didn't do or say anything out of order with her, that was the other (bigger?) reason Fessy put him up - never mind that Level 6/5/4 had engineered it that way. But it was fun to watch Scottie fall head-over-heels, and touching when he finally admitted he had feelings for her that he didn't know how to process. His revival week didn't go any better and he went right out again (with a Hilton Head bang), but disastrous game aside, he was often a star for Team Fun Feeds, contributing more than his share of Lines of the Day and constantly doing unexpected and very random things. Last but very far from least, he broke up the Brett/Winston bromance on his HOH.





Won: 1st eviction immunity; Crap App #1 Hamazon
HOH 1 - Veto 2 - Noms 1 - HN 3
3rd juror/9th evicted 4-1 Day 72

He provided a lot of comedy, but most of it was unintentional. He was vocal about hoping this would open doors for followers, advertising offers, and other shows, and it might. But he was unable to figure out how this show worked, even after being blindsided week after week. He got stuck on the Week 2 Brett vs Winston vote and held onto that all season, and even when Haleigh told him there were two sides playing, he promptly forgot and fell right into the same traps, as did she. He put up his ally Scottie on his HOH and said it was the 'biggest move in BB history' but oops, not so much. He liked Angela at first, then Kaitlyn and Haleigh, but he finally gave his rose to Haleigh. She balked a little at first but they finally kissed and from there it was alternating bickering and slurpydurp when they were together. Fessy slept a lot, ate a lot, broke the HOH sink, and made a lot of messes that ticked off some of his roomies, but he won some comps and doesn't seem like a bad guy overall, just a little clueless in some areas.





Won: 1st eviction immunity; 1 week Food and Fitness program
HOH 0 - Veto 0 - Noms 3 - HN 1
2nd juror/7th evicted 5-1 Day 58

She filled the requisite 'weirdo' casting slot but as with many hamster weirdos before her, she was pretty 'normal' despite her alternative appearance. She had issues early on with Angela and Brett in particular, and she held on to those issues so tightly they got in the way of her logic. She got continually hung up on her theories of what was going on but unfortunately for her, those theories were mostly wrong. She and Haleigh did see Tyler as a game threat fairly early, but they weren't able to do much about it until Haleigh's HOH week, but they didn't plan around enough Hacker scenarios and Rockstar went out on her one-time bestie's HOH. Her first nomination was messy but she handled her second well, partly due to Jessie's Food & Fitness program which she also handled pretty well. She griped a lot, with odd and ever-changing accents, and while she handled most things well at first, she was a good sport about them eventually, even Brett's horrible speech accusation 'on [the eve of] her daughter's birthday.'





Won: Power App #3 Identity Theft (unused)
HOH 1 - Veto 0 - Noms 1 - HN 1
1st juror/6th evicted 6-1 Day 51

She was very watchable and gifable, with the best facial expressions no matter what, including multiple shockfaces. She was isolated with Swaggy the first couple weeks even though he was busy running around, but rather than becoming a gloomy showmance widow, she came out swinging when he left and embedded herself well all around - a little too well, as that moved her quickly up the target ranks to the tippy top. She said some controversial things and may have had the first in-house pregnancy? That hasn't been officially confirmed. She won a power that went unused, partly because she blabbed she had it, and that was the real reason she went out when she did. She did a slow simmer when she went on the block as blindside renom, but Hurricane Bayleigh made landfall two days later, as a Category 5, in a spectacular outburst of anger and frustration that culminated in 'spewing blood' after she bit herself. The kicker? Her anger at Tyler was mostly due to an inaccurate retell. The 29th consecutive North American hamster to enter the habitat first and not win their season.





Won: 1st eviction immunity; Crap App #2 Yell!
HOH 0 - Veto 0 - Noms 1 - HN 1
5th evicted 5-4 Day 44

Her blindside stung more than some because much of it was due to a pack of lies plus betrayal by her BB bestie Angela but hey, welcome to Big Brother. And she did buy some of it herself by losing her mind on the block, and that was after she agreed to go on it. She had nip slips and towel flashes almost daily, for those interested. She said she's a performer almost daily too, sometimes multiple times a day, and she did come alive when she was acting out skits, dancing, or singing ('please stop singing') but the rest of the time she seemed guarded and I don't feel we got to know who she really is at all. Her rough 'n tumble friendship with JC was fun, especially when they'd break serious convos for their quick-and-done J's Party dance. Her pal Jackie didn't fill her in enough about the rotten meat and rancid potatoes of this game, but she held her own pretty well until she didn't. Her birthday was memorable, thanks to Kaitlyn using the occasion to yell at Brett.





Won: Bonus Life 'chance' (failed)
HOH 1 - Veto 0 - Noms 1 - HN 1
4th evicted 9-1 Day 37

It's safe to say we knew more of her backstory than any hamster ever, since she seemed to bring it into every convo. She talked a very lot, and she squeaked, whimpered, babytalked, croaked, and cried a lot too, plus she canoodled with three guys (Tyler, Brett, Fessy). She caused a lot of chaos which is good, but she was often exhausting about it. New age interests are fine, some clairvoyance is trippy and fun, but her 'intuition' was nearly always wrong. It's probably just as well she failed the Bonus Life puzzle since she'd gotten to the point of getting 'hits' from shampoo labels. It was Tyler's doing, but she still gets the credit in the books for backdooring Swaggy and breaking up a showmance in the second week: something most seasons haven't been able to manage til the end, if at all.





Won: Nothing
HOH 0 - Veto 0 - Noms 2 - HN 1
3rd evicted 6-5 Day 30

He too came in saying all the right things: he wasn't here to get a girlfriend or Twitter followers, and I had him pegged as either a dark horse who'd go far, or a too-hard-too-soon kind of guy. Turned out he was the latter, probably because he just discovered BB last summer and binged several seasons since without realizing there's a lot more to it than the show edits let on. He spent most of his time playing Jenga and broing around with Brett, and the two of them provided a lot of unintentional comedy in the form of buffoonery. He made manic facial expressions while going on angry whisper rants, he threatened speech call-outs but didn't follow through, and for all his jock/winner self-hype, he failed every comp.





Won: 1st eviction immunity
HOH 0 - Veto 0 - Noms 1 - HN 0
2nd evicted 8-4 Day 23

Pre-season he said all the right things (albeit in his own unique, third person way), but he started off way too strong and way too Swaggy for his own good. He gave us great shockface when Steve was evicted but it didn't sink in that he wasn't fully plugged in, so he gave us another when he went up as backdoor renom. To his credit, he campaigned his brains out to stay rather than lay down to die, but it didn't help. His pre-show QAs said he was wary of showmancing but he fell for Bayleigh anyway, and together they were one of the cuter 'mances to watch - it helped that they didn't slurpydurp too much. Swaggy C was a good character for TV, but Chris was a good hamster and will be missed.





Won: Nothing
HOH 0 - Veto 0 - Noms 1 - HN 0
1st evicted 7-6 Day 16

The Summer of Steve™ ran just a couple weeks and his job lie(s) didn't help him any. He might have been better off if he'd been open about his undercover past and teaching present as both would have let him share more stories, or if he'd gotten in with Kaitlyn and Rockstar via his wife's new age interests and books. He and Scottie buddied up but otherwise he was odd dad out. He didn't keep up so believed he was safe, and he didn't really campaign to stay. It might not have helped if he had because all the scurrying was elsewhere, but it wouldn't have hurt. He didn't get his required nightly baths but he learned to clean his ears, and early risers in particular will miss him.



Lines and Links of the Day

Tally Items
Extracurricular Tally

Minor fights: 3
8/2 11.09pm Bayleigh vs Rockstar
8/11 (8/15 show - wasn't on feeds) Kaycee vs Rockstar
8/11 11.28pm Haleigh vs Fessy

Major fights: 1
8/8 12.25pm Bayleigh vs Tyler

Revive-a-Hamster: 1
Scottie

Blindside evictions: 6
Steve
Swaggy
Winston
Kaitlyn
Rachel
Brett

Fires: 1
Brett's oven bacon

Broken sinks: 1
Fessy

Broken front doors: 1
Brett

House meetings: 3
Kaitlyn's about Brett 7/15
Sam's about Hacker Comp 8/2
Haleigh's Hacker confession 8/8

Nominee speech scorchers: 5
-Brett at Week 3 veto meeting (shading Kaitlyn)
-Brett at Week 3 eviction (saying Rockstar would flip her vote and blame it on Kaitlyn)
-Brett at Week 5 eviction (saying Rachel told him about Bayleigh's power, and was head of girls' alliance)
-Fessy at Week 9 eviction (dragging Angela)
-Scottie at Week 10 eviction (dragging Tyler and Angela)

Robot weddings: 1
JC and Sambot

Makeout pairings: 3
Bayleigh/Swaggy
Haleigh/Fessy
Angela/Tyler

Alleged sex events: 5
(subject to interpretation)
7/2 4.45am Bayleigh/Swaggy
7/7 3.55am Fessy (self-service)
7/12 12.27am Bayleigh/Swaggy
7/24 6.26am Brett (self-service)
7/24 7.27am + 7.45am Brett/Kaitlyn

Injuries, illnesses, etc: 44
Steve's cut toe and belly welts from 1st veto comp
Sam's leg bruises from 1st veto comp
JC's burned finger from the stove
Kaycee's burned hand from hot oil spatter
Winston's tossed (something) hitting his face
Winston's foot blisters
Haleigh's sore neck (from braids?) and blurred vision
Bayleigh's pulled leg muscle from tripping on stairs
Swaggy's smashed thumb
Winston's/Scottie's skinned knees from spinny veto
Rachel's bashed toe from Have-not door
Kaitlyn's cut finger from wall endurance comp
Kaitlyn's sore neck and trouble swallowing
Haleigh's mysteriously bleeding finger
Rachel's scraped back from a fake lemon
Rachel's bloody lip from JC's play-smack
Rockstar's bee sting
JC's sore shoulder
Sam's bacon spatter during her anti-Hacker house meeting
Bayleigh's bitten cheek or tongue during Haleigh's house meeting
JC's cut leg from bathroom couch
Rockstar's banged up hands from OTEV comp
Haleigh's cut finger from OTEV comp
Fessy's sore knee from OTEV comp
Tyler's sore back from lifting
Fessy's sore back from tripping over Rockstar's bag
Fessy's sore back made worse from slippy slide HOH
Angela's sore back from slippy slide HOH
Brett's sore feet from slippy slide HOH
Sam's allergic reaction to tuna and/or hemp seeds in it
Brett's sore knees from hide 'n seek veto
Scottie's sore arm from hide 'n seek veto
Haleigh's bleeding finger from chewing it
Tyler's belly burn from a slop cooking spatter
Haleigh's swollen lymph nodes
Haleigh's hurt finger from spinny HOH comp
Brett's cut hand and rolled ankle from Comics veto
Kaycee's sore knees from Comics veto
Brett's cut finger from double eviction veto
JC's mysteriously swollen finger
Angela's cough from the maze veto fog
Kaycee's sore/numb arms from Part 1 comp
JC's sore throat after Part 1 comp
JC's bitten tongue after Part 2 comp

Pinkyswears: 34
7/1 Kaitlyn/Tyler
7/2 Kaitlyn/Faysal
7/3 Kaitlyn/Haleigh
7/4 Sam/Scottie
7/5 Kaitlyn/Tyler
7/6 Sam/JC
7/6 Kaitlyn/Tyler
7/9 Kaitlyn/Tyler
7/10 Kaitlyn/Tyler
7/10 Bayleigh/Rockstar
7/13 Haleigh/Scottie
7/13 Kaitlyn/Tyler
7/13 Sam/Scottie
7/15 Bayleigh/Kaycee
7/17 Angela/Rachel
7/23 Angela/Rachel
7/23 Lil Fartlettes four-way
7/27 Bayleigh/Rachel
7/28 Bayleigh/Rachel
7/31 Angela/Sam
8/4 Tyler/Kaycee (air pinky)
8/5 Sam/Tyler
8/7 Sam/Rockstar
8/8 Haleigh/Fessy
8/9 Angela/Scottie
8/9 Sam/Rockstar
8/10 Tyler/Haleigh
8/10 Tyler/Haleigh
8/16 Sam/JC
8/17 Sam/Brett
8/18 Sam/Fessy
8/28 Fessy/Haleigh
9/12 (9/16 show) Tyler/Angela
[unsure when] Tyler/Angela

Scandals & controversies outside our BB world: 13
JC's ice cream scoop + inappropriate grabby
Angela's & Rachel's over-tanning comments
Kaitlyn's n-word lyric
Kaitlyn's boyfriend
JC vs Bayleigh vocabulary incident
JC asking Rachel if she's transexual
Sexual harassment allegations against Les Moonves (could affect BB in the future?)
Bayleigh's pregnancy scare(?)
JC finding out about #MeToo
JC cuddling & pit-kissing sleeping Tyler
JC blocking the toilet door open on Haleigh
Scottie's second eviction speech
'I'm Julie Chen Moonves' signoff on 9/13 show

Pre-season fanbase + alum dramas: Too many to list

Pre-season Minion abuse events discovered: 1 JC



Production Goofs

1 CBS site lost the cast after reveal for at least 12 hrs
2 Staff seen prepping the stage (maybe intentional)
3 Its/it's error
4 Ceiling issues in official press pics
5 Several staffers seen in Julie's house tour
6 Misspelled JC's last name on BB site & press materials
7 JC's bio mixed up Cuba with Spain
8 Allison mixed up 20 seasons with 20 years
9 Messenger Bot still needs tweaking
10 Several misspellings in move-in press photos
11 Random guy onstage in move-in press photos
12 Misspelled Brendon on premiere
13 Messenger Bot crashed upon launch
14 Feeds countdown was off varying minutes on launch day
15 More misspellings in press photo captions
16 Sambot malfunction
17 After Dark tweeted eviction when it's not
18 Video promos have last year's show schedule
19 Quads crashed Day 13
20 PS4 feeds has a show tonight (on Monday=no) plus Celebs disclaimer
21 Forgot to remove placeholder text in new batch of press pics
22 No audio for Julie talking to us after recap clips on July 5 live show
23 Quick shot of Bonus Life comp setup during July 5 live eviction
24 Conflicting how-to-vote info for BB App Store voting
25 Forgot to change the automated image for the voting URL
26 Staffer's reflection seen on feeds
27 Broken awning
28 Wrong show day and time on Youtube promo
29 Another reflection from inside the walls showed up
30 HOH comp setup glimpsed by a few a day early
31 Misspelled Ross's & Marissa's last names in press pics
32 Problematic headline grammar
33 Press release said time change for 7/11 only, but it also applied to 7/18
34 Misspelled sponsor 'Mamma Mia' in press pics
35 'About BB' page has wrong BB1 premiere date
36 Your/you're error on 7/22 show
37 Misspelled Sam's and JC's names in press pics, plus Wednesday time change not incorporated
38 Wrong season for Nicole's win
39 Allison mixed up 20 seasons with 20 summers
40 Labelled Haleigh's pic as Kaitlyn
41 Labelled Bayleigh as Celebrity BB
42 Apostrophe error in 8/1 show subtitles
43 Another quiz error (Faysal is correct)
44 Press pics captions again: comp title + time change still not updated
45 The Cloud power app icon appeared on intercom monitors
46 Used a jury house pic with "within the Big Brother house" headline
47 Press pic caption shows Orville for BBAD's Orwell
48 Erroneous placement tally in Hacker Comp #1
49 Press pics again: veto comp title plus Wednesday show time
50 Hamsters couldn't hear Julie talking to them on 8/9 show
51 Allison again with '20 summers' (see #39)
52 Wrong-size shirts with their names were left behind after OTEV comp
53 Misspelled Haleigh's name on in-house nametags
54 Misspelled Angela's last name in press pics
55 Angela's last name and its/it's again, Wednesday time wrong still, 'Big Brother' repetition
56 Merch promo implies Hacker twist is still going, a week after it ended
57 Staffer visible in HOH comp press pics
58 Tagged the wrong person in HOH QA
59 Misspelled Faysal's name in press pics
60 Commercial featured final nominees before veto meeting aired
61 Mixed up HOH with veto, and misspelled 'even'
62 Leaked Battle Back comp setup
63 Staffers seen during Fessy's exit interview
64 Staffers seen during Battle Back comp
65 Diary audio leak about Tyler's nom plans
66 Wrong description for BB8 veto highlight
67 Staffers seen on feeds
68 Misspelled Scottie's last name
69 Calendar issues in Flashback
70 Diary audio leak about Kaycee's HOH room
71 Wrong season for Victor
72 Misspelled Angela's name
73 Diary audio leak, Kaycee in there again
74 Julie called Brett 'Brent' on 9/13 show
75 Misspelled comp title in press pic caption
76 Grammar error in press pic caption
77 Bebe Rexha's guitarist getting set up on feeds
78 Conflicting start times for 8/16 show
79 Staffer face reflection during whip cream fight
80 Misspelled Angela's last name, again
81 Comp prep stand-ins seen on After Dark
82 Audio leak of Julie rehearsing her lines
83 Revealed final noms before the show aired
84 AFP drop-in image not updated + wrong date
85 Misspelled Angela's last name again, twice
86 Quick flash of jury round table on feeds & After Dark
87 Staffer face reflection on the fridge again
88 Mixed up another HOH with veto



Season Stats
HOHs in order: Tyler; Kaitlyn; Scottie; Sam; Bayleigh; Angela; Haleigh; Faysal; Angela; Tyler; Kaycee; Tyler; Angela; JC

Veto winners in order: Faysal; Tyler; Scottie; Faysal; Tyler; Angela; Tyler; Brett; Kaycee; Kaycee; Kaycee; Angela; Kaycee; Kaycee

Evictions in order: Steve 7-6; Swaggy 8-4; Winston 6-5; Kaitlyn 9-1; Rachel 5-4; Bayleigh 6-1; Rockstar 5-1;

Scottie 6-0;

Faysal 4-1; Scottie 5-0; Haleigh 4-0; Brett 3-0; Sam 2-0; Angela 1-0

Pre-jury Twitters: @bb20Steve; @SwaggyCTV; @BB20WinstonH; @kaitcoaching; @rachieswin
More social media links in cast folders at Hamsterwatch Forum








Linking to any page here is fine. Please don't repost content from this site (or any other) without permission, and don't repost or hotlink images.



THE REAL SHOW IS THE FEEDS


SAME DAY AIR SHOWS
Live air shows in some areas
BB1 thru BB19 and many other CBS shows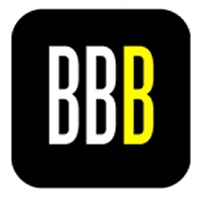 BIG BROTHER BUDDY
Get push notifications for all the big feeds events - iOS or Android


HAMSTERWATCH SWAG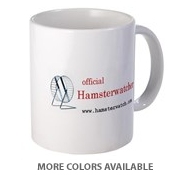 Mugs, shirts, more
Visit my Cafe Press shop






Big Brother 20 SEASON FAQ


Day 1 Move-in was June 20
Day 8 CBS premiere is June 27
Day 9 Feeds begin June 28
Day 99 Finale will be September 26

Feeds are streamed by CBS, and Flashback is accessible via All Access subscription. Call 888-274-5343 for account help, including cancellation.

Air shows on CBS (Global in Canada) are Sundays 8pm, Wednesdays 9pm, eviction Thursdays 9pm.

Big Brother After Dark on Pop TV is every night midnight to 3am, except Thursdays 1am to 3am. The aired blocks are live (or recorded earlier the same night, depending on your cable provider).

The CBS app (by CBS Interactive) plays BB air shows and other CBS shows, as well as feeds, or you can use your browser to watch feeds on mobile devices. The same All Access link used to subscribe will lead to the feeds viewing page if you're already signed up.

BB20 finalist prizes are the same: $500k for the winner and $50k for 2nd place. Stipend for the others is $1,000 per week again, including pre-show hotel and jury sequester. Top finishers get bonuses this season: $5,000 for 5th place, $7,000 for 4th, and $10,000 for 3rd.

The habitat has 94 HD cameras (up 7) and 113 microphones.

The recorded in-house announcements are the voice of producer Don Wollman. He and Julie Chen are the only staffers who have been there since Big Brother 1.