This site is about the Big Brother 20 feeds and contains spoilers! It isn't necessarily thorough: it's what I catch and/or what interests me. It's about watching hamsters: who's doing what and why. Thanks for encouraging my behavior.
Your pal, dingo



PROTECT YOUR ONLINE PRIVACY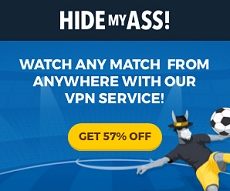 Watch BB Canada, BB UK, Survivor New Zealand, and other non-USA shows






VIEWER VOTING: BB APP STORE



WINNERS: POWER APPS
Re-Draw - not used
Bonus Life - #1 Sam
-Can give one of first 3 evictees a chance to return to the game. If unused, 4th evictee automatically gets a chance.
Upgrade - not used
The Cloud - #2 Tyler
-Immunity for any one noms or veto meeting within 2 months
Identity Theft - #3 Bayleigh
-Can replace noms one time before final eight.

LOSERS - CRAP APPS
Yell! - #2 Rachel
-24 hours getting yelled at
Fake News - not used
Read It! - #3 Haleigh
-Read Hamlet in costume
Hamazon - #1 Faysal
-Periodic [vegan] ham deliveries, must all be eaten
Spammed - not used

Limit one per hamster, whether winner or loser - Voting info & rules
Final vote has closed







BB20 DRINKING GAME


Take a swig whenever someone says they are or aren't 'the type of person who..'







QUICK LINKS & BOOKMARKS



-SIGN UP for feeds
-WATCH the feeds
-BB20 official site
-Live show tickets

-Feeds updates by @UGotBronx
-My Twitter - my screencaps
-Amazon portal USA or Canada

-Dick at Night with @EvelDick

-BB Viewer by @liquid8d
Requires All Access account

-BB20 Wiki

-Hamster Twitters
BB USA - BB Canada

-Advice for cast friends/family

-VPN to watch BB UK and/or to protect your online privacy







EAST COAST AIR SHOWS



CanadaTV for Roku
$2/month - Global airs BB USA

East coast air show live streams:
- 1 - 2 - 3
NO DOWNLOADS NEEDED - BEWARE OF CLICKING POPUP ADS OR WARNINGS




Donations via Paypal are gratefully accepted!


Watch Big Brother
Seasons 1 thru 20
Plus tons more CBS content






BIG BROTHER SEASONS



CBS All Access
Seasons 1 thru 20

Amazon DVDs BB4 - BB3

Amazon Instant Video
BB18 - BB17
- BB16
- BB15
- BB14
- BB13
- BB12
- BB11
- BB10
- BB9
- BB8
- BB7





BIG BROTHER 20 FEEDS EXCLUSIVELY ON CBS ALL ACCESS
All Big Brother USA seasons + most CBS shows past or present are included
$5.99 PER MONTH INCLUDING 1 WEEK FREE TRIAL or $9.99 AD FREE
COMPUTER - MOBILE - ROKU - CHROMECAST - APPLE TV - ANDROID TV - FIRE TV - XBOX 1/360 - PS4


>> >> >>

>> >> >> >> >> >>

>>

Amazon USA
- Amazon Canada
July 2018
Power Status
Feeds are underway and they are the real show - SIGN UP NOW and get a one-week free trial! No promo code needed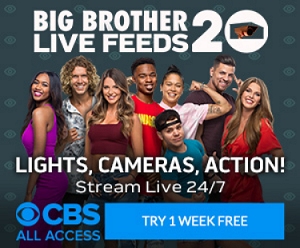 Baleigh is Head of Household
Tyler won veto/did not use
Brett and Rachel are nominated

Fessy, Scottie, Tyler are Have-not

-Tyler has one-time immunity, to be used at any noms or veto meeting within two months from July 6
-Bayleigh can secretly change noms before noms ceremony one time until final eight


Upcoming Events
All week: Drama, paranoia, chaos
Thursday night: HOH room
Friday: Nominations
Saturday: Veto comp, Have-nots end

August 17: Celebrity BB UK - Watch live or archive shows with HMA safe, easy, secure


Next Shows
Thursday 8/2 9pm - Live eviction, HOH comp
Sunday 8/5 8pm - Nominations
Wednesday 8/8 8pm - Veto comp, veto meeting

CBS schedule is Sundays 8pm, Wednesdays

9pm

8pm, live eviction Thursdays 9pm - stream links to watch East Coast airing online are posted in Quick Links & Bookmarks on the left sidebar

After Dark airs for three hours every night on Pop - times vary by area and provider, check your cable guide


Other News
Alliance charts by @89razorskate20: Day 41 - Day 38 - Day 34

Hamsterwatch Forum for real-time feeds updates, screencaps, and air show recaps by @UGotBronx

Diary segment tally by @clamperls

Week 4 popularity poll results #1 Haleigh, #2 Bayleigh, #3 Scottie
Follow @89razorskate20 on Twitter to participate: weekly polls launch every Monday 4pm PT/7pm ET

Post-eviction shows are hosted by BB Celeb runner-up Ross Mathews and winner Marissa Winokur, Fridays on Facebook Watch. The first (no eviction) ran June 29.

Ratings Watch Thursday's live show won the hour with 1.5 rating, 6 share, 5.39 million viewers, ahead of The Four: Battle for Stardom on FOX with 0.9/5/3.11, Match Game on ABC with 0.6/3/3.32, and two Trial and Errors on NBC with 05/2/2.17 and 0.4/2/1.79.

Sunday's show won the hour with 1.4 rating, 6 share, 5.41 million viewers, ahead of Celebrity Family Feud rerun on ABC with 0.8/4/4.75, America's Got Talent rerun on NBC with 0.6/3/3.9, and The Simpsons and Bob's Burgers reruns on FOX with 0.4/2/1.17 and 0.4/2/1.08 respectively.

Wednesday's show won the hour with 1.5 rating, 6 share, 5.57 million viewers, ahead of World of Dance on NBC with 1.1/5/5.26, Masterchef on FOX with 0.9/5/3.48, and two The Goldbergs reruns on ABC with 0.7/3/2.96 and 0.6/3/2.37.

Rating and share: adults 18-49 - Rating: % of all TV households - Share: % of households watching TV


Week 5 - Days 37 thru 43 - July 26 thru August 1, 2018
Daily and Noteworthy Events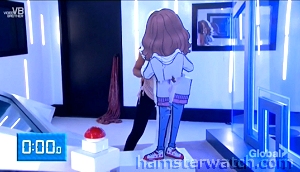 Evicted: Kaitlyn
Head of Household: Bayleigh
Have-nots: Fessy, Scottie, Tyler
Original noms: Brett, Rachel
Veto winner/outcome: Tyler/did not use
Final noms: Brett, Rachel
Evicted: Rachel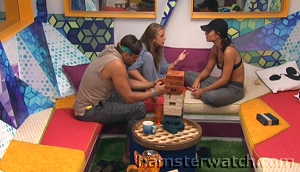 Day 37 Thursday July 26
Overnight Fessy told Haleigh all of Kaitlyn's secrets and retells, including her "feelings" about him and telling people he felt the same. Many notes were exchanged, and they took it all to Rachel. By morning, the Kaitlyn Exposed Party should be in full swing, even though most were ready to evict her anyway, but they're also preparing for her to boomerang back in.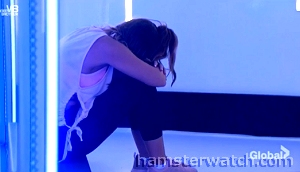 Hamsters were dressed in comp clothes except Kaitlyn, who had probably been given the heads up to dress up by someone, maybe Tyler. She was voted out 9-1 with JC being the hinky - clever move after he rallied so very hard to boot her. Magical chimes sounded during the farewell hugs with a recorded announcement "the Bonus Life app has been activated" and Julie sent Kaitlyn upstairs to the App Store/Den of Temptation/Paris room. Kaitlyn had changed to comp clothes during commercial and Julie told her to disassemble a 3D puzzle of herself, pass the pieces through an opening, and reassemble in two and a half minutes. (It was the same setup they'd leaked a peek of a few eviction shows ago.) Kaitlyn failed, said her good-byes again, and Julie told her JC was the one vote for her. Her full exit interview was posted later - see Links of the Day below.

Feeds stayed down Canada style for their HOH comp, depriving us of the immediate fallout about Kaitlyn's fail and the hinky vote.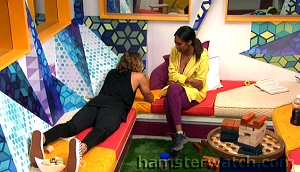 Feeds came back a little before 10pm and Bayleigh had won the HOH comp. It sounded like a skill/crapshoot deal and it came down to Bayleigh and Rachel, but I didn't hear many details about it. Bayleigh packed to move upstairs and enjoyed a nice nectarine since her Have-not came to an end, then went into the lounge alone with her Bible. Tyler followed and she kept looking at her Bible while petting his hair, but he got her talking. He said he wasn't the hinky vote and didn't know who was, and added he wouldn't be surprised if she puts him up. Bayleigh said it was different but in a way him losing Kaitlyn was something like her losing Swaggy, and she didn't want to kick him when he's down, and would give him an "easy week." She added outright that she won't put him up but she wanted him to stay loyal to her. They discussed some of the dirt that came out from the Kaitlyn Exposed Party, with Bayleigh saying she knew more than he realized, she "knew everything." Tyler said he'd only been trying to be a good person and he'd been as surprised by most of it as everyone. Note, it doesn't seem like any of them know about Kaitlyn and Brett's undercovers activities of the other morning.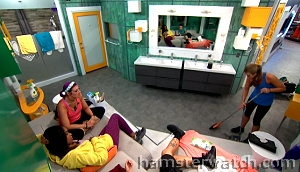 A cleaning frenzy broke out with Scottie cleaning the shower, Haleigh the bathroom, Angela and Sam the fridge, and I don't know who else did what. Fessy asked JC who he thought the vote was, adding "it's somebody trying to frame Tyler." JC said maybe it was Scottie but he didn't want to say so out loud. Rachel joined them and said she didn't think it was Fessy or Tyler, or a sympathy vote, but "maybe someone who knows the game well" - she didn't say names but that would also imply Scottie. It wasn't long until a committee of Rachel, JC, Tyler, Angela, Kaycee were openly pushing for them all to push for Scottie to go on the block.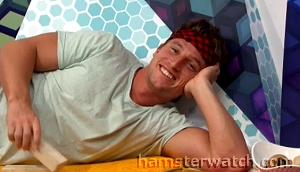 Tales of Kaitlyn were shared and Angela, Rachel, JC said she'll be in trouble out here, and "her reputation's gone." Brett and Fessy joined in and Brett dropped some vague hints. When they asked what? what? he said he wasn't going to say a word, but then he did. He said "on Day 2, she crawled into my bed, woke me up, drops her mic, pulls the covers over, and said 'if I didn't have a boyfriend I would totally fuck you.'" Of course that brought shrieks, hoots and hollers, and then Fessy said the week she was HOH he went up there to visit and she was grabbing his hand and trying to put it on her boobie. He said she got up to lock the door and he said 'don't lock that!' More shrieks, hoots, and hollers. Fessy asked Brett "did she ever try to touch your junk?" Brett didn't fess up to his handie the other morning; rather he demonstrated the ways he'd pull away, roll over, and how she kept jamming her rear end into him. They wondered what her boyfriend Joe thought of all this, and if he really exists.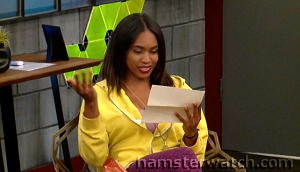 Bayleigh got her room around 12.20am, which included a lot of pics, red wine, kettle corn, booty shorts, rice cakes, cookies from Orwell, a blanket from home, vegan ice cream, vegan sushi, Cardi B music, and a letter from her big sister. She told the assembled crowd "you want to win HOH til you win, because you have to put people up" and "if you want to turn [noms] into a personal thing, that's on you." She said her nominations will be game-related, and she doesn't want "a dramatic, crazy, messy week, don't freak out," and she said she'll hold one-on-ones with all of them.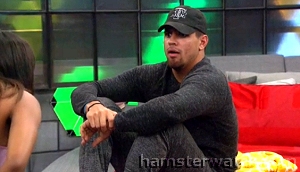 Meetings began with Haleigh, which Fessy crashed but they asked him to leave and wait his turn. Bayleigh said she was thinking about saving Scottie for renom, and they talked about Brett as the target. Haleigh said her goal this week was to get close to Rachel and Angela. Bayleigh said that's smart but don't get too close, as they wouldn't turn on each other. Angela was next, Bayleigh told her she wasn't going up, they bonded over modeling, and named their pairing the Amazons. Fessy was next and they celebrated her win, especially since it meant she can save her Identity Theft power for a future week. Fessy said he thought Scottie was the rogue vote and Bayleigh said "Scottie is evil but as long as he's evil in our favor, I don't care." Bayleigh said she likes the girls after spending Have-not week with them, especially Angela, so she might put up Rachel as a pawn but would rather not. She said the only names she was looking at for original noms were Brett "for sure" against JC or Rachel.

And that's it for me tonight. I'll figure on Brett and JC as Bayleigh's likely noms, but will catch up tomorrow. Thank you as always for visiting the site!

It's a new week after all! GET THE FEEDS to watch everything unfold, and catch up what you missed on my previous week's page, and/or Hamsterwatch Forum thanks to @UGotBronx, and please remember to use my Amazon link for any Amazon shopping anytime, USA or Canada - thanks!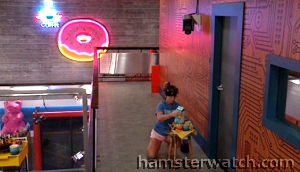 Day 38 Friday July 27
In another first, Sam prepared a room service breakfast and delivered it to Bayleigh. HOH meetings started up again later, starting with Sam and then Rachel. Bayleigh told Rachel she'll probably put up Brett and possibly herself as a pawn, with Brett the target, and said "if you trust me this week, next week you're gonna be fine." She then told Rachel about her power, and said she'd probably use that to put up Tyler and Scottie later, and added someone else can and will take out JC. Bayleigh also told Rachel that JC would be her likely renom but later amended that to Scottie, and of course she asked Rachel not to tell anyone about her power. When Rachel left for a moment, Bayleigh said to herself "Bayleigh, what is wrong with you? Why can't you shut up?" That was underscored when Rachel later told Angela about the power, and she told Brett about the impending noms and that he's the target. Tyler has probably figured out Bayleigh's got the third power, and she may have figured out he has the second, since she noted to Rachel that he was called to Diary before noms, when she'd been expecting to be.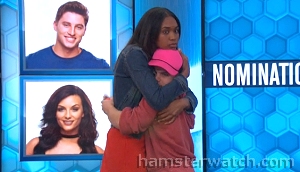 Bayleigh nominated Brett and Rachel, as planned. Brett said both before and after noms that the only reason he's targeted is because he's in fit shape, and he questioned what the logic behind that was since the only physical comp they've had so far was the endurance on the trees wall. Among many other post-noms convos, Fessy told JC that he'd saved him from going on the block, and was "the only one" to talk Bayleigh out of that. He said JC owed him a thank you two or three times, and JC finally said it, albeit in the same breath as whatever spiel he was running at the time. Fessy also told him if noms stay the same, they have to make sure everybody votes out Brett. Among many individual talks with Bayleigh, she and Tyler each said they think the other might have a power, and each said JC or Scottie were their other guesses.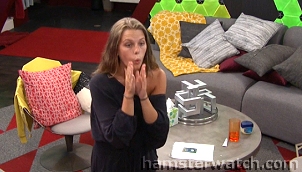 JC retold the convo about Fessy talking Bayleigh out of putting him up to Bayleigh, who retold to Haleigh. Bayleigh also retold to Haleigh that Tyler told her Fessy had said he's a free agent and if he does what Bayleigh wants, she'll be good with him. Bayleigh was clearly irritated by and Haleigh was shocked by both revelations, with Haleigh adding "the Tyler thing doesn't even concern me to the extent the JC thing does." Bayleigh said she didn't mind Fessy thinking he'd convinced Rachel and Angela to vote out Kaitlyn, but she did mind him "running his mouth about it" and about all the rest. Bayleigh also told Haleigh that Kaitlyn said on her way out, "and I think it was kind of malicious," that Haleigh's a liar and knew about Swaggy going up three days prior. Bayleigh later told Kaycee about Fessy's gloating. Rachel pretty much sulked and grouched through the evening about being on the block, as she thought Bayleigh was going to switch from her to JC.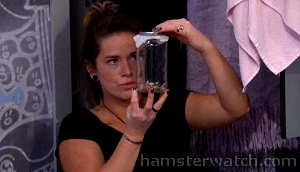 Most of them were in bed by 10pm. Sam made a tinfoil ant trap and worked on her spider habitats/crafting/science experiments for a bit. Scottie and Kaycee chatted in their satellite dishes until they were joined by Rachel, who was visibly upset and sniffly, fresh out of Diary. All in all it was a relatively quiet day and evening, and I won't say an early night was unwelcome.. or would have been. JC woke up angry when BB flashed the bedroom lights on for a second, and he ate and grouched for awhile before being joined by Tyler, and later Brett. Bayleigh - after a Diary session - woke up Fessy and called him up to her room to go off about his gloating she'd heard about -Flashback 7/28 12.11am. Eventually Haleigh was up too and also had a talk with Bayleigh, and Sam's tinfoil ant trap proved to be a success.

GET THE FEEDS to watch everything unfold, and catch up what you missed on my previous week's page, and/or Hamsterwatch Forum thanks to @UGotBronx, and please remember to use my Amazon link for any Amazon shopping anytime, USA or Canada - thanks!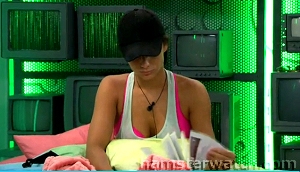 Day 39 Saturday July 28
They picked veto players: JC, Sam, Tyler will play along with Bayleigh, Brett, Rachel, and Rockstar will host unless another alum comes in to usurp that coveted gig. Rachel joined the small but infamous club of hamsters checking the rules book from paranoia, when she grabbed it from the pantry to see if it specified anything about lying about special powers, as JC had allegedly told her and a few others that he had one, and she now suspected he didn't.

Before the player pick, Bayleigh laid into Rachel, basically because she wasn't handling her nomination well and she'd been spreading rumors -Flashback 7/28 8.36am. Retells flew around of course, including Bayleigh telling Angela that Rachel had threatened her during that talk (no), and Kaycee told Bayleigh that Rachel was telling everyone Bayleigh said she'd save her if she wins (true). But Bayleigh now said she wanted noms to stay the same, and Rachel was making her want to send her home.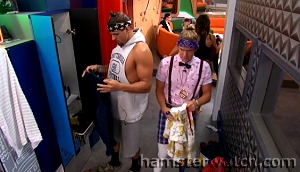 Feeds were down almost six hours and when they came back, Tyler had won the veto. Competitors were dressed in shorts with suspenders, bow ties, and kooky socks, and the comp was timed, involved transporting pieces and assembling puzzle(s). JC said the pieces were big for him to carry, and it sounded like most if not all of them had some problems, with lots of cussing involved. Tyler's time was one second short of seven minutes, Brett came in second with 11 minutes, Bayleigh was third, and JC, Rachel, Sam all timed out. It didn't sound like anyone came in to host so Rockstar finally got to do that. Bayleigh told Tyler she'd like to keep the noms the same as she didn't want to have to nominate someone else, and she told him she didn't care whether Brett or Rachel goes.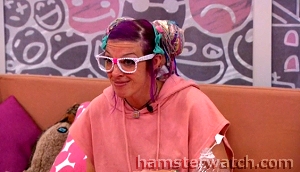 Rachel and Brett had a quick convo about powers and rules about talking about them, making me think she might have checked the rule book on that earlier because of Bayleigh's confession about hers, rather than JC as she'd been saying. Meanwhile Scottie visited Bayleigh, who told him Tyler had said he thought Rachel was the rogue vote, as a sympathy, and that Bayleigh trusted Tyler so she did too. She also told Scottie she thinks and hopes Tyler won't use it, and that she didn't care which nominee goes. Rockstar, Angela, Haleigh arrived in HOH as Scottie left, and they had a girls' alliance meeting of sorts, and Bayleigh again said she doesn't think Tyler will use it. Rachel arrived and the other girls dispersed, Rachel cried and apologized for this morning, and Bayleigh told her too she didn't think Tyler will use it. Bayleigh also said Tyler had suggested Angela as renom if he does use it (not true) and Bayleigh said she wouldn't do that, that she'd put up Scottie or JC. She also told Rachel that Brett will probably go if noms stay the same.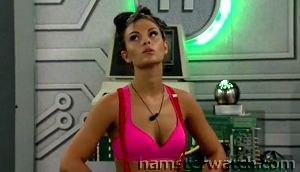 Meanwhile Rachel was angry-pacing the Have-not room, muttering under her breath "fucking Tyler! fucking snake!" because Bayleigh had told her Tyler said he'd want Angela to go up as renom if he uses his veto, except he didn't say that. Tyler's own retell to Brett and Angela shortly afterward was that he'd asked if Angela would be the replacement if [anyone] uses a power, and she said yes. That much is true, and she'd added nobody would use a power on Brett (Flashback 7/28 7.24pm). Bayleigh may have masterminded all this to put a target on Tyler by the rest of Level 6/5 and/or to break up that side in general, except I don't think she knows about Level 6/5 - few of them do. Or Bayleigh may have masterminded all this to put a target on Tyler because he's proven to be good at BB and comps, and he's a male (the girls alliance of Bayleigh, Rockstar, Haleigh, Kaycee is whooping it up in HOH as I type this). Or Bayleigh may have lucked into this because she's got HOHitis or simply talks too much (something she's admonished herself for out loud). Predictably, Rachel retold all the above to Angela, who took it to Kaycee, and they tried to unravel it all along with us. Bottom line, it's all extremely popcorn-worthy and a big win for Team Fun Feeds.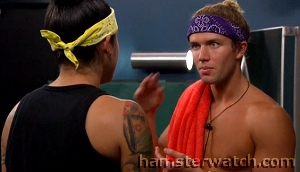 Rachel told Angela about her name coming up, and she said Tyler was now working with Scottie and not them - Angela was surprised to hear that. But wait: at the same time, Tyler met with Kaycee in the pantry (where they found a booze delivery, and hid it til midnight so Kaycee and the other Have-nots could enjoy it.) Tyler told Kaycee that he'd asked about Angela if [anyone] uses a power and Bayleigh had said yes, and that Angela would also be the renom if he uses his veto. But Tyler told Kaycee how he'd been trying to make Bayleigh think Scottie's his best friend, so she'd put him up if Tyler uses his veto on Brett. Bottom line, Tyler told Kaycee he won't use it as he doesn't want to put her, Angela, or Sam at risk. Meanwhile Rachel kept asking the cameras why they were all following her - hello, on the block plus paranoid equals guaranteed camera time.

Tyler and Angela compared notes about the crazy night, and Angela said her loyalty was to him, not Rachel, and that Rachel had been annoying her lately. She asked Tyler "do you think we have the numbers to get rid of her?"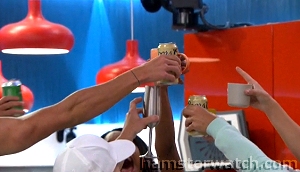 The yard opened around then, midnight came along, and Tyler and Kaycee unveiled the hidden booze stash and Bayleigh brought down the wine she'd saved for the Have-nots. Most if not all raised their glasses and cups, Kaycee hollered "CHEERS MOTHERFUCKERS!" and Haleigh later toasted to making final twelve. Sam shotgunned her beer (with a big belch), Haleigh and Angela went into the hot tub for heightened effects, and a good, loud, sippy time was had by all. Tyler and Kaycee had a private drink in the pantry and cheered to their Coast to Coast twosome, pleased with how well everything was going. A bit later Tyler brought Scottie into the pantry where he pulled out another hidden bottle of wine. They opened it and had a few swigs, and brought it out to Kaycee for some swigs, then they showed the bottle to everyone else in the yard. Everyone stampeded in for another taste, led by Rachel.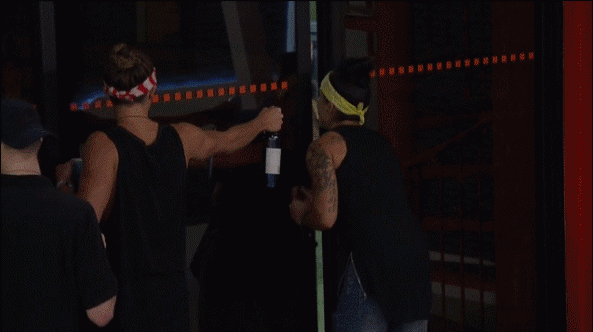 The Have-nots didn't have nearly as much food as last week when Sam and Angela cooked all day, but they enjoyed what they had and the booze made everything better - well, louder anyway.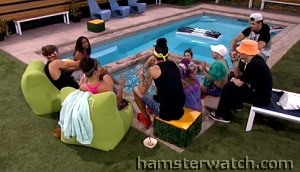 Fessy and Brett worked out, Sam did laundry, Haleigh twerked, Problematic JC resurfaced by poking her rear and later becoming very vocal during a loud round of sexual Never Have I Ever around the hot tub. After that broke up and they scattered to their corners, it turned out Bayleigh thought Tyler wanted to break up the Angela/Rachel duo, and most of this chaotic evening was based on misunderstandings. Or was it? It ended up with Angela telling Tyler she'd be just fine with Rachel going.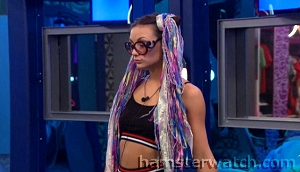 Meanwhile Fessy was bent out of shape because he'd walked in on Haleigh chatting/hair petting with Brett today, and her twerking, and her playing Never Have I Ever. He complained to Bayleigh and to Sam about it, and he told Bayleigh he was sad he and Haleigh hadn't kissed yet (her and Swaggy making out came up in Never Have I Ever). That made me revise/footnote the Extracurricular Tally below, as I was under the impression Fessy and Haleigh had made out once.

This house is crazy messy! GET THE FEEDS to watch everything unfold, and catch up what you missed on my previous week's page, and/or Hamsterwatch Forum thanks to @UGotBronx, and please remember to use my Amazon link for any Amazon shopping anytime, USA or Canada - thanks!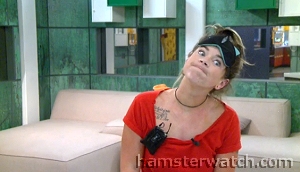 Day 40 Sunday July 29
Last night was quite the chaos cluster - so much so, #BB20 was trending #4 USA on Twitter overnight - so let's review. Bayleigh [misunderstood or exaggerated or outright lied] about Tyler wanting to use his veto so Angela would go up against Rachel. Understandably, that upset Rachel and she whipped everyone up into a frenzy, especially herself. Tyler reassured Rachel, Angela, Kaycee that he won't use his veto unless he feels certain Scottie would go up (and out). Everyone got sippy, Rockstar started up her anti-Tyler campaign again (pointlessly for this week obviously), and Fessy was more concerned about Haleigh's lack of reciprocal feelings for him than about any of the above.

Sam's made no secret of wanting Sundays to be relaxing fun days, and she set about making a big breakfast for them all, before Have-nots start up again. She's probably a lot more aware of everything than she lets on, but the rest of them probably won't trade chaos for kumbaya anyway.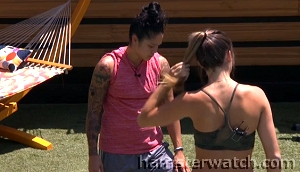 Starting up again: Tyler, Angela, Kaycee set about figuring out how they could get the five votes needed to evict Rachel, including an idea of letting the guys know there's a girls' alliance and have Brett make another memorable speech about that. Tyler said Fessy already knew about it, and they decided Kaitlyn probably told him (Bayleigh did). Later Angela told Kaycee she was worried because Bayleigh wants Brett out, so maybe they should tell Bayleigh the day before that Rachel had come to each of them with final two pitches, adding that the fact Bayleigh offered F2 to Rachel "shows she's just trying to manipulate this whole setup here." Kaycee said they have to make sure Bayleigh doesn't say anything, and Angela said Bayleigh had told Rachel about "a power" and if she tells Bayleigh that Rachel retold that confidence, it would ensure Bayleigh getting mad at Rachel. In closing, both Kaycee and Angela said they trust Tyler.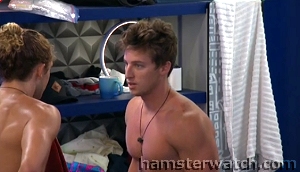 Brett and Tyler had a quick whisper, with Brett saying "you're fucked if you don't use that veto on me," and that Tyler would be the next to go, and the girls would roll to the end. Tyler said they'll probably have enough votes to get Rachel out, that they have three now for sure and they can probably get Fessy since he's scared of an all girls' alliance (*seed planted*), and Tyler said they'll talk later.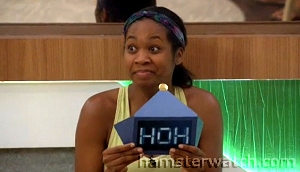 Bayleigh came out of Diary with the Have-not card around 1.40pm. The hamsters don't gather for these things as fast as they used to, and a few stopped off for Sam to do a show 'n tell about her spiders, and Bayleigh read the card to herself with her trademark reaction faces. Once they were all assembled, she read the card aloud. It said the three who were furthest from winning the last HOH comp would be the new Have-nots: Fessy, Tyler, and Scottie - making it Scottie's third time this season and second week in a row. Afterwards, Brett approached Tyler again about the girls plowing through the guys, with JC joining.

JC, Fessy, Bayleigh talked about the all girls rumor a little, with Bayleigh saying there wasn't a girls' alliance, and she asked who was saying there is? JC did not say Brett and Tyler, which is where he heard it. Bayleigh also said she hopes this week's vote is unanimous, and she and Fessy said they need to pull Scottie aside and tell him to "vote with the house" or everybody will be coming after him. Apparently Rockstar has an infected toe, Brett took a shower outside and rinsed out his laundry at the same time, and Sam made a kite.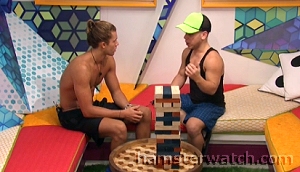 Later JC and Tyler had a check-in, and Tyler told him there was no girls' alliance: "Haleigh, Rockstar, Kaitlyn, Bayleigh thought it was a solid thing but Angela, Rachel, Kaycee aren't really part of it." JC asked what Tyler wants to do this week, and Tyler said he doesn't want to use the veto, and asked JC to promise he'll keep Brett. JC agreed. Tyler also told him Bayleigh keeps saying she's playing her own game, but she also says she wants to break up "that side" - he named Angela, Brett, Rachel, Sam, Kaycee, and he added "so she's obviously working with the other side." He also said then Bayleigh throws out JC's name, and he again asked JC to keep Brett, and said by not using the veto he'd be saving JC.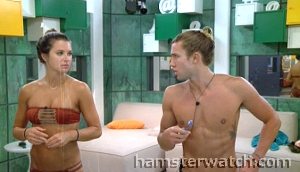 Tyler and Scottie had a pantry check-in, and Tyler said he doesn't want to use his veto. Scottie said "the house is probably going to vote Brett out 'cause it's easier," and Tyler casually said "I'm worried about this girls' thing, have you heard about that?" Keep popping that corn, folks! Later, Tyler reported to Angela that JC said he'll vote how Tyler wants if he doesn't use his veto. Angela said she figured out Rachel "got her story wrong, she fucked her story up" last night. They talked about Scottie's vote but Tyler said it didn't matter as long as they have five.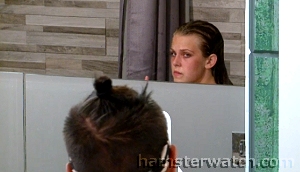 Fessy and Haleigh had a little spat of sorts: he was still a little pissy about her having too much fun talking sexy during Never Have I Ever, and she said "if you don't like that, you should know I'm generally like that." They back and forthed a bit, as did he, approaching and talking to her at (and towering over) the shower door for much of it. Later they had an apology/rehash round in his Have-not bed and all seemed okay again, more or less. Meanwhile, Angela told Brett all about the goings-on and that he'd be safe despite the impending doom he felt was about to fall. Angela even got a little bossy about it: "you're not going home, Rachel's going home, I'll make sure she does," and she hinted that she has "one more good idea" up her sleeve, but it would blow up everything. (Reminder, Rachel broke Bayleigh's confidence by telling Angela about Bay's power). Angela also urged him to call out the girls' alliance in his speech tomorrow.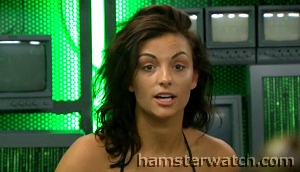 The Snapchat goggles came out for the weekly posing session. And for the early evening comedy segment, JC trotted silently across the yard to bang a spoon on a pot and chant loudly, to wake up sleeping Rockstar on the hammock. Sam had chats with Bayleigh, and with Haleigh, and with Rockstar, saying she felt out of place and the usual blah blah blah. Angela and Rachel had another round about who said what and who's lying, and why isn't Tyler going to use the veto. Tyler stepped in to "explain" and Rachel had a (well earned) "I fucking hate this fucking game!" moment. JC and Rachel were playing around, like they do, faux arguing about "let us" versus "lettuce." She started tapping his belly like a drum and he reached up to her, maybe to knock off her hat, accidentally made contact, and gave her a bloody lip. He said "sorry" immediately, feeds went to fishies for about 20 minutes or so, but came back to JC, Rachel, Tyler playing pool together.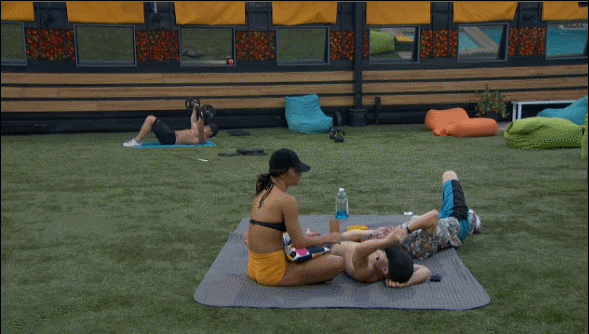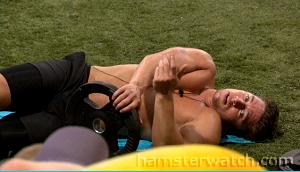 Former mortal enemies Brett and Scottie had a nice chat about travel, nature shows, and animals. It was absurdly surreal, and hilarious because of that. I knew Tyler had said he'd buddy up to Scottie for appearances, but apparently he'd told Brett to do the same, resulting in Brett (re)sharing his thoughts with Scottie about which animals are the most jacked and how cool it would be to visit Game of Thrones locations in Croatia. Brett's probably been at loose ends being on his own after being stapled to Winston, and he probably enjoyed the outlet. Talks about the veto carried on and on, but Tyler's not going to use it, and revelations about the phony girls' alliance and/or Bayleigh's power will or won't come out, so I've kind of stepped back from all that unless something dramatic comes up.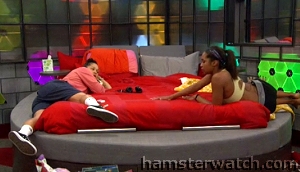 Bayleigh told Kaycee a lot about her past, including "when I was 17, I was a virgin and I got raped." She'd begun by saying all she wants is a simple life and a family but she keeps winding up in the spotlight, and now she's on this show. She said of them all, only Swaggy knew, but observant Hamsterwatchers will recall a convo with Kaitlyn where it sounded like Bayleigh had said something like this (and Kaitlyn had a similar story). That initial convo between Bayleigh and Kaitlyn was not on feeds but this one was - at least until that point, when feeds cut to another room. Also, Angela told Tyler about Bayleigh's power, and that Bayleigh had told Rachel about it. Angela also went fishing for more details about it from Rachel, who gave them. Later Tyler told Brett about it, and said he has to keep noms the same or he'd have Bayleigh plus everyone else coming for him. Meanwhile Haleigh and Scottie agreed that keeping Brett would be best for them, and Bayleigh, Haleigh, Rockstar made a final three alliance called BASH (be awesome, stay humble) - alliance name courtesy of Rockstar's parents. Yep.

This season is chock full of both strategy and comedy - GET THE FEEDS to watch everything unfold, and catch up what you missed on my previous week's page, and/or Hamsterwatch Forum thanks to @UGotBronx, and please remember to use my Amazon link for any Amazon shopping anytime, USA or Canada - thanks!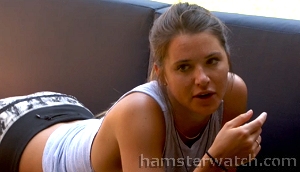 Day 41 Monday July 30
Late last night, Rockstar got stung by a bee that had apparently hitchhiked inside with her, in her skirt. It may or may not have been the same bee Sam found and befriended an hour or two earlier. This morning as they got up and moving, and prepped and waited for the veto meeting, JC fought hard with, and pirouetted on, a medicine bottle cap but he finally won the battle, and Scottie continued his shtick about hating all prior hamsters (he has said it's shtick, and that alums were free to bash him for it on social media). Angela griped to Sam about Rachel, Brett griped to Angela about Rachel, and Angela in turn griped to Brett about JC and how he thought he's "the conductor of everything" and she lets him think that, but "whenever he feels he can't manipulate anyone, that's his target." That might be true of JC but I think they're all aware of it; Tyler on the other hand continues to get away with it, so far.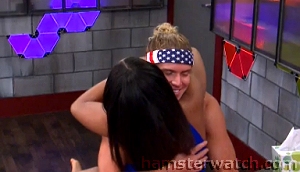 Tyler did not use his veto, and Brett apparently did not give another special speech (rats). Bayleigh thanked Tyler afterwards in HOH, saying everyone thought he was going to use it (no) so he really needs to win HOH as they'll all be after him. She added that she trusts him even more now, and she said "that's my baby" to herself after he left. Bayleigh later told Rachel that she should be fine (no), everybody wants Brett gone, and she told her a few more details about her power, then abruptly told Rachel to stop asking about it. Tyler and Kaycee had a pantry check-in where they discussed how to tell Bayleigh the votes wouldn't be going her way, and they also tossed around the idea of nominating Bayleigh if they win HOH, in order to get her to use (and use up) her power.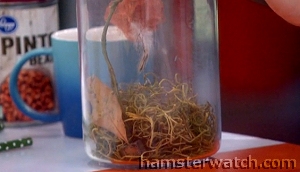 Last night Angela decided 31 round-trip laps of the backyard would equal a mile - I guess they haven't had that particular random announcement from BB yet this season. Angela did her calculations "on paper" of sorts, using a knife to do the math in a pan of flour. Between checking on and feeding her spiders, Sam made a lap counter for those wanting to keep track of their running distance, and her next project was a cornhole game.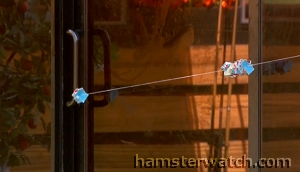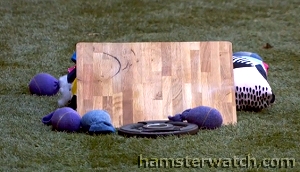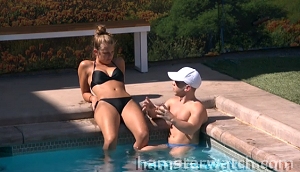 Kaycee picked up her Bayleigh dilemma with Brett and Angela, saying they needed to figure out how to tell Bayleigh that Rachel's going, since she thinks Brett will be evicted unanimously. Angela said they should ask for "permission and forgiveness" and said she'll tell her Rachel has made multiple final two deals behind Bayleigh's back, so she can't be trusted. Brett said "honestly it's not a healthy environment to live in, [Rachel] acts like a crazy person running around." Kaycee insisted, as she had to Tyler, that they tell Bayleigh just before they vote on Thursday.

Secrets roll call As far as I know, as of now:
~ Nobody knows about JC's hinky vote last week
~ Nobody knows about Tyler's power
~ Everyone except Haleigh, JC, Rockstar, Sam, Scottie knows about Bayleigh's power
~ Update: JC now knows
~ Bayleigh thinks only Fessy and Rachel know about her power
Of course some may know or suspect about one thing or another and they just aren't talking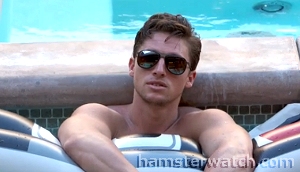 The rest of the afternoon was relatively quiet with some game convos, some general convos, and some Brett animal convos, as well as some working out, some cornhole, and of course a lot of eating and snacking. Rachel helped wrap Sam and Rockstar in saran wrap to walk the backyard, but they didn't tick off lap counters. Rachel told Tyler "I cannot with Sam and Rockstar right now, like two old ladies power-walking around the yard." Tyler said he thought they had plastic wrapped around them and Rachel said "I did it."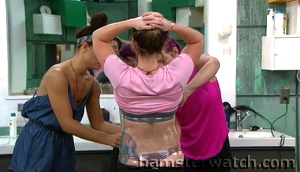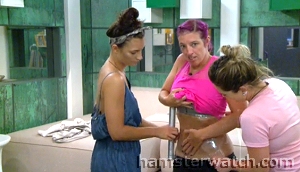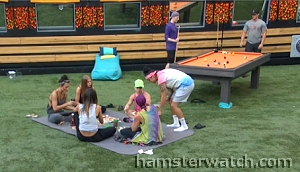 JC had announced and planned a picnic supper early in the day, and he prepared Miami-style Colombian hot dogs and fixings for those who wanted them, the ones who weren't Have-nots anyway. Bayleigh had been up in her room talking with Fessy and doing his hair, and when she came downstairs she found Angela and Rachel making a cake. She looked out and saw the happy group enjoying their dogs and said "oh, they're already eating," and she went out to join them. Maybe nothing will come from her not getting a dinner gong, but maybe it will. The FOUTTE remnants reformed with Bayleigh, Fessy, Hayleigh, Rockstar, Scottie and renamed themselves the Hive.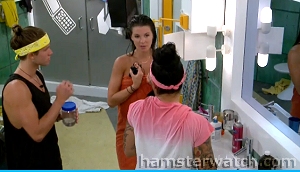 Tyler, Angela, Kaycee had a check-in to finalize planning and synchronize stories. Tyler said he can just tell Bayleigh he's evicting Rachel because Bayleigh said she didn't care which nominee goes, and he said Sam will vote however he tells her. Angela and Kaycee will say they found out Rachel has a final two deal with each of them, and Brett knew about the girls' alliance so Rachel must have told him, and they also suspect Rachel was last week's rogue vote. Angela asked about JC and Tyler said he's got Brett and Scottie hanging out together so JC's vote can be blamed on Scottie, and he said JC's loves the plan. Angela revised her earlier "permission and forgiveness" to "we're going to ask for forgiveness, not permission" and Tyler said to make sure Bayleigh still thinks they're working with her going forward. They said they'll spill about Rachel spilling Bayleigh's power secret after the vote, and not before.

And then there was this:
Haleigh: I never really looked at my eyes before.. my eyes are actually kinda boring
Haleigh: Eyes are a mirror
Rockstar: Eyes are weird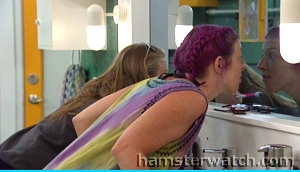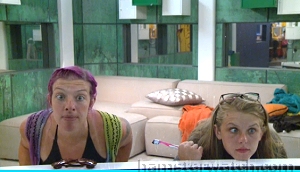 Haleigh: Do this [squeeze them shut then open wide] and then watch them get small
Haleigh: When you look at something you love, your eyes dilate
Rockstar: Really? I need to work on loving myself more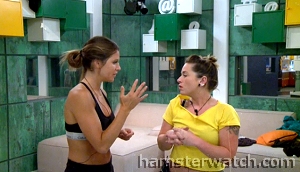 Most of them were in bed before After Dark was off the air, but Sam ran into Angela in the bathroom around midnight. Angela sputtered out her spiel about the original Bayleigh/Rachel/Angela renom fiasco, with Kaycee passing through a couple times, but then Angela settled into the script they worked out earlier. She went through the various parts, and summed up "as far as Bayleigh knows, we're voting out Brett, and we cannot let Rachel know she's going home." Sam said it all made her feel a lot better, but after it all happens "it's gonna be a shitstorm." She added that she'd noticed Angela and Kaycee together a lot today, away from Rachel, and "some days I'm glad I'm out of the loop but days like today I really wish I knew what the fuck was going on!" She said she was relieved to find out, and that she was fully on board with the plan. A bit later, Brett and Tyler also firmed up the plan over the pool table, including "forgiveness not permission."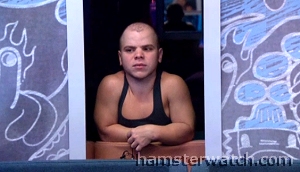 Fessy, Haleigh, Rockstar got up again, like they do, and Fessy glared at Haleigh and Brett hammocking while he played pool with Tyler. Brett played his role well about the voting charade to Haleigh, and he petted her leg pretty much continuously as they chatted. Rockstar explained the jury and endgame logistics to Sam, kinda. She got a bit muddled about the three-part final HOH comp and settled on "a lot of comps." She also said jurors from all seasons have over 100k followers, and second evictees have at least 30k.

This season continues to deliver on all fronts - GET THE FEEDS to watch everything unfold, and catch up what you missed on my previous week's page, and/or Hamsterwatch Forum thanks to @UGotBronx, and please remember to use my Amazon link for any Amazon shopping anytime, USA or Canada - thanks!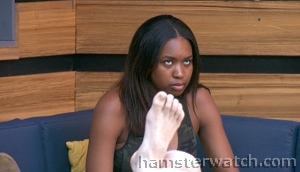 Day 42 Tuesday July 31
No, Bayleigh wasn't rolling her eyes because Scottie's foot was in her face, just a happy camera coincidence with one of her trademark facial expressions.


I'm out for a few days so GET THE FEEDS to keep up and see everything unfold, and/or catch what you missed at Hamsterwatch Forum thanks to @UGotBronx, and please remember to use my Amazon link for any Amazon shopping anytime USA or Canada - thanks!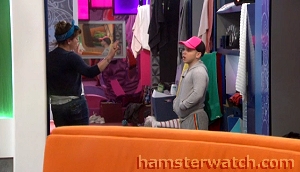 Day 43 Wednesday August 1
It sounds like the plan to evict Rachel is still in place, and is still a secret from Rachel, Bayleigh, Fessy, Haleigh, Rockstar, Scottie. Brett's planning on another memorable speech where he'll out the girls' alliance and blame Rachel for it, and that she told him about Bayleigh's power. By the way, the Secrets Roll Call above has been updated as JC found out about Bayleigh's power somewhere along the line.

They were shown a number of GIFs of themselves, presumably for questions on the details for tomorrow's HOH comp. They separated into two camps to study for that. One of the videos was JC falling off the tree endurance comp and Sam told him it looked like he'd jumped. She was upset about it, saying she thought she'd won that on her own, and that he should have told her because they have a special friendship. He was adamant that he slipped off and that he'd really wanted to win that one. She shushed him at one point saying she didn't want everyone else to hear them, but he told Angela, Brett, Kaycee, Tyler about it, saying she thought he'd thrown it so he wouldn't have to get the proverbial blood on his hands.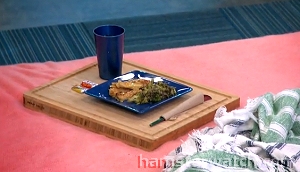 Angela reported to that gathering what she'd told Sam about the votes the other night, and said she'd "planted a seed" with Bayleigh that Rachel had been spreading stories. JC said he told Bayleigh and Fessy that he'd seen Rockstar whispering with Brett, and said Bay and Fessy "flipped out." Rachel walked in on that meeting (awkward), and the group said they were studying (extra awkward since Brett was there). Later Sam shared her angst with Tyler, and Angela, Kaycee, Rachel delivered dinner that they'd made for Sam, since she'd been gloomy.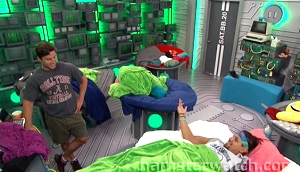 Brett campaigned to Fessy but didn't spill anything he wasn't supposed to, and when Fessy asked where some of the other votes lay, Brett said he thought Angela and Kaycee would be voting to keep Rachel, and "Sam's an absolute curveball, she's tough to read." Brett also said Rachel was probably the rogue vote last week, and she was the most vocal person campaigning against Haleigh when she was on the block. He added that he didn't know if he was still Bayleigh's target like he originally was. Fessy and Haleigh did their loops periodically in their peculiar on again/off again whatmance, Bayleigh still stayed pretty much in her HOH room and received visitors, and Sam kept making things.

Apologies if I've missed anything major but I think that's the basics for going into the eviction. Reminder, Kaycee and/or Tyler will likely warn Bayleigh before the vote that Rachel will be walking the plank rather than Brett, and Bayleigh told Sam that someone had warned her Brett's expected to give another speech to remember.

Lies, sabotage, drama, crafts: BB20 has something for everyone. GET THE FEEDS to watch everything unfold, and catch up what you missed on my previous week's page, and/or Hamsterwatch Forum thanks to @UGotBronx, and please remember to use my Amazon link for any Amazon shopping anytime, USA or Canada - thanks!



Ratings - Tyler's House of Cards edition
Ratings are Monday's, based on entertainment value, mostly
VTE = Voted to evict




We were annoyed they withheld the HOH comp from the feeds, but then they gave them a booze delivery and that made up for it. As much as I'm not crazy about gimmicks like the App Store, Den of Temptation, Care Packages, etc I'm kind of hoping Julie announces a new one on Thursday so they'll have that content for the Sunday shows. Otherwise, unless they throw in an oldie-but-goodie food comp or a Have-not comp, I'm afraid that time on the Sunday shows will be used for HOH comps, and that means we might not see them on feeds. I don't think anyone's heartbroken about not seeing the sliding email comp unfold, but we sure won't be happy if they withhold the slippy-slide or eggs thru chicken wire or any other longish skill or endurance comp.
PS Keep the booze flowing, please.





Won: Nothing yet
HOH 0 - Veto 0 - Noms 0 - HN 1

VTE Rachel
She's definitely graduated from the 'Who?' category and is almost becoming a major player. Almost. She said a guy she was seeing before BB called her a Persian cat because she was nice to look at, nice to pet, nice to have around, but then she'd suddenly HISS, claw, and run away. That's a pretty accurate description of her BB game too.. just ask Rachel in a few days.





Won: 1st eviction immunity
HOH 0 - Veto 0 - Noms 1 - HN 1

VTE Brett
She isn't cut out for this game but she's making a go of it just the same, so kudos for that. She's always outside the major loops and on the wrong side of the vote, and she points blame fingers at one or two of the opposition rather than the majority she's always up against. I don't understand her accent. She sounds more Old West cowboy drawl or hippie stereotype than Baltimore or even Bawlmerese to me. If it's affected or contrived, I think she's probably stuck in it for the duration. Something else that bugs me: she's a talented contortionist but every time she does an impossible bendy and people gasp or wonder, she feigns surprise and says she thought everyone could do it. SHE CLEARLY KNOWS EVERYONE CAN'T DO IT. #StopThat





Won: Power App #3 Identity Theft
HOH 1 - Veto 0 - Noms 0 - HN 1

No vote (HOH)
She's had a raging case of HOHitis, as did Kaitlyn and Sam before her, but that's good for both Team Chaos and Team Fun Feeds. She's been saying some things she shouldn't, but I'm pretty sure that's a casting requirement anymore. She may have set a new record for the shortest time between putting up a willing 'pawn' in order to get her target out, and deciding that pawn is expendable after all. It's a good thing she did turn on Rachel a bit since she will be going (as of now) but unfortunately for shockface aficionados, Kaycee is set on warning Bayleigh before the vote, or Bayleigh would contribute another classic expression to that collection.





Won: 1st eviction immunity
HOH 0 - Veto 0 - Noms 2 - HN 2

No vote (nominee)
He was mostly a non-entity since he lost his bro, and even back on the block he hasn't been as visible as he was when he was half of the comedy duo with Winston. But now that he's indirectly part of yet another voting conspiracy, his particular style of buffoonery is starting to shine again. I mean who else has extended discussions about which animals are the most jacked, and settles on kangaroos? He drops random animal kingdom factoids like the Easter bunny drops eggs and as a bonus, he's stopped telling his dick-in-a-box story.





Won: 1st eviction immunity; Crap App #1 Hamazon
HOH 0 - Veto 2 - Noms 0 - HN 2

VTE Brett
Did somebody mention buffoonery? This guy is equally clueless about the girls he's attached himself to in there as he is about the game itself and what's going on. Throw in dozens of quotable lines every day plus multiple delusions of post-BB fame and fortune, and we've got a big big winner in the cheap entertainment department.





Won: 1st eviction immunity; Crap App #3 Read It
HOH 0 - Veto 0 - Noms 1 - HN 1

VTE Brett
Fessy may have figured he'd have her all to himself after he gave her a rose instead of Kaitlyn, but he thought wrong. Not only did he go full asshat when she was having sippy fun with everyone else, but she made it clear to him that she wasn't happy about that. She still makes time for him though, and for Brett, and for Scottie, and she seems to be in good standing with most everyone. Still, for someone who seemed pretty well plugged in a couple weeks ago, she's now out of the loop and on the wrong side of the vote. She's kind of gone from savvy player to summer camper, while others have done the opposite. A Haleigh HOH would be interesting to see how everyone would handle it, especially Tyler.





Won: Nothing yet
HOH 0 - Veto 0 - Noms 0 - HN 1

VTE Rachel
Is he problematic? Absolutely. But we knew that before the season even started: hello, have we already forgotten his Minion video? Batman and Robin? Caso Cerrado? He's just consistent at fulfilling his problematic role. I worry about people who think this show is about portraying positive role models. It's the 20th summer season - what have they been watching? Game-wise he's the one who continues to confuse me whenever he shows up and starts his speed-whispering. It always happens just when I'm pretty well caught up with everything going on, and I have to start all over, every time. JC stands for Just Chaos.





Won: 1st eviction immunity; 2 weeks Pinwheel
HOH 0 - Veto 0 - Noms 0 - HN 1

VTE Rachel
See Haleigh, only opposite. Kaycee was the teeniest bit more visible and recognizable than Angela for weeks, and now they've both come out swinging. Kaycee's quieter about it than Angela, but she's better connected and she gets around a lot more. She doesn't bring a whole lot of entertainment to the feeds, but she's one of those natural confidante types and many of them seem compelled to share their secrets with her. That's a very good thing in this setting, and I hope Kaycee uses those confidences wisely as we progress. So far she pretty much just shares most of what she hears with Tyler or Angela, and lets them go out and put the news to use, but that isn't putting any feathers in Kaycee's player cap.





Won: 1st eviction immunity; Crap App #2 Yell!
HOH 0 - Veto 0 - Noms 1 - HN 1

EVICTED 5-4
She agreed to go on the block, and within a few hours she went from being the safe 'pawn' to being the one going out the door. The song says 'Paranoia strikes deep, into your life it will creep' but Rachel's manic paranoia didn't creep, it ran amok. Along the way she spilled Bayleigh's confidence about her power, and everyone who's heard about it since also knows Rachel's the one who spilled it. Oopsie. She's had some fun moments and towel-flash fans get a daily show from her, but unless something changes drastically, her time on the feeds is about to expire. She has babysitters taking shifts to make sure she doesn't blow before Thursday, but she very well could anyway.





Won: 2 weeks Robot; Power App #1 Bonus Life
HOH 1 - Veto 0 - Noms 1 - HN 1

VTE Rachel
See JC regarding problematic hamsters. I know she's still annoying a lot of people, including me at times, but I also love how she keeps herself busy with her crafts, bugs, condom booze, and cookery. It's rare we have a maker on this show and I enjoy watching some random bits and pieces become a wind chime or dream catcher. Plus she makes as many things that are useful for the others as she does creations that are just whimsical. I honestly have no idea if she's as clueless about the game as most out here think she is, or if she's a subtle mastermind playing dumb. Okay maybe that's a bit much, but she does have the best read of any of them about personalities and relationships, and that's the ultimate name of this game. What she does or doesn't do with that info (not to mention what she says about it *cough*) will be interesting.





Won: 1st eviction immunity; Greece trip
HOH 1 - Veto 1 - Noms 1 - HN 3

VTE Brett
Now that I've recovered from his well-intentioned cheer-screeching at the endurance comp, he's back on top of my A List of who to watch. Most of them think he's responsible for JC's hinky vote but he got away with that even though it wasn't him, and he got away with the one he admitted to as well. His friendship with Haleigh is cute, and his friendships with Fessy and Brett are equally hilarious in different ways. His talks to us are becoming one of the funniest things in his arsenal, since he openly admits he says things just to rile up viewers and alums alike. Not to mention he's the first to do a third Have-not week and this one's his second in a row, but he hasn't whined or complained about it. He's a keeper and then some.





Won: $2500 (on TKO); Power App #2 The Cloud
HOH 1 - Veto 2 - Noms 0 - HN 2

WON VETO/DID NOT USE
VTE Rachel
The elephant in the room, the driver of the infamous bus, the puppeteer holding the strings. This guy is good. I mean he won a veto he didn't need and he got away with not using it, and both his main alliance and the opposition are happy. Whether he can keep it going remains to be seen, but at least he doesn't have to browbeat anyone into doing his will and he doesn't have to be the loudest in every room either. It's refreshing that he's the opposite of say, Paul, in that aspect, and he also seems to be manipulating everyone in a kinder, gentler way than we saw last year. That stuff will come into play even more now that we're approaching the jury phase, but for now it's a pleasure watching him mold these hamsters into an army of personal foot soldiers, and it's delicious hearing them thank him for it.





Won: Bonus Life 'chance' (failed)
HOH 1 - Veto 0 - Noms 1 - HN 1

It's safe to say we knew more of her backstory than any hamster ever, since she seemed to bring it into every convo. She talked a very lot, and she squeaked, whimpered, babytalked, croaked, and cried a lot too, plus she canoodled with three guys (Tyler, Brett, Fessy). She caused a lot of chaos which is good, but she was often exhausting about it. New age interests are fine, some clairvoyance is trippy and fun, but her 'intuition' was nearly always wrong. It's probably just as well she failed the Bonus Life puzzle since she'd gotten to the point of getting 'hits' from shampoo labels. It was Tyler's doing, but she still gets the credit in the books for backdooring Swaggy and breaking up a showmance in the second week: something most seasons haven't been able to manage til the end, if at all.





Won: Nothing
HOH 0 - Veto 0 - Noms 2 - HN 1
3rd evicted 6-5 Day 30

He too came in saying all the right things: he wasn't here to get a girlfriend or Twitter followers, and I had him pegged as either a dark horse who'd go far, or a too-hard-too-soon kind of guy. Turned out he was the latter, probably because he just discovered BB last summer and binged several seasons since without realizing there's a lot more to it than the show edits let on. He spent most of his time playing Jenga and broing around with Brett, and the two of them provided a lot of unintentional comedy in the form of buffoonery. He made manic facial expressions while going on angry whisper rants, he threatened speech call-outs but didn't follow through, and for all his jock/winner self-hype, he failed every comp.





Won: 1st eviction immunity
HOH 0 - Veto 0 - Noms 1 - HN 0
2nd evicted 8-4 Day 23

Pre-season he said all the right things (albeit in his own unique, third person way), but he started off way too strong and way too Swaggy for his own good. He gave us great shockface when Steve was evicted but it didn't sink in that he wasn't fully plugged in, so he gave us another when he went up as backdoor renom. To his credit, he campaigned his brains out to stay rather than lay down to die, but it didn't help. His pre-show QAs said he was wary of showmancing but he fell for Bayleigh anyway, and together they were one of the cuter 'mances to watch - it helped that they didn't slurpydurp too much. Swaggy C was a good character for TV, but Chris was a good hamster and will be missed.





Won: Nothing
HOH 0 - Veto 0 - Noms 1 - HN 0
1st evicted 7-6 Day 16

The Summer of Steve™ ran just a couple weeks and his job lie(s) didn't help him any. He might have been better off if he'd been open about his undercover past and teaching present as both would have let him share more stories, or if he'd gotten in with Kaitlyn and Rockstar via his wife's new age interests and books. He and Scottie buddied up but otherwise he was odd dad out. He didn't keep up so believed he was safe, and he didn't really campaign to stay. It might not have helped if he had because all the scurrying was elsewhere, but it wouldn't have hurt. He didn't get his required nightly baths but he learned to clean his ears, and early risers in particular will miss him.



Lines and Links of the Day
Lines

Bayleigh: It's like a game of chest

Bayleigh: They asked me whose HOH is this, your or Fessy's?
Fessy: Who?
Bayleigh: DR! How embarrassing is that? -feeds cut

Fessy: It's gotta be my comp coming up, it has to be! I don't understand

Fessy: I have no strategy right now because I haven't won HOH

Scottie: Hippos are freaking massive
Brett: They're the most aggressive animals in the wild, or in the world, essentially.. I'd love to see a hippo fuck up a crocodile

Rachel: I don't want to be relevant at all in the next few episodes

Sam: Everybody by the end of this - err maybe not everybody - will have a pinky promise with me for after this is over



Links

GET YOUR FEEDS

Use my links for any Amazon shopping, anytime, at no extra cost - just start your shopping trip by clicking Amazon USA or Amazon Canada

Live like a hamster! Available from Amazon:
-17-inch Orwell owl Amazon USA or Amazon Canada
-Owl sleep mask with hot/cold gel pad
-Nanoleaf LED light system like HOH room Amazon USA or Amazon Canada
-Emoji pillows, individual or sets (read descriptions carefully, some sets are random) Amazon USA or Amazon Canada
-Gradient duvet/sheet sets pink/purple or blues
-Minion plush toys Stuart - Bob - Tim - loads of others
-New age books by Sahvanna Arienta, Steve's wife

Kaitlyn's exit interview


Tally Items

Season Stats
HOHs in order: Tyler; Kaitlyn; Scottie; Sam; Bayleigh

Veto winners in order: Faysal; Tyler; Scottie; Faysal; Tyler

Evictions in order: Steve 7-6; Swaggy 8-4; Winston 6-5; Kaitlyn 9-1; Rachel 5-4

Pre-jury Twitters: @bb20Steve; @SwaggyCTV; @BB20WinstonH; @kaitcoaching
More social media links in cast folders at Hamsterwatch Forum








Linking to any page here is fine. Please don't repost content from this site (or any other) without permission, and don't repost or hotlink images.



THE REAL SHOW IS THE FEEDS


SAME DAY AIR SHOWS
Live air shows in some areas
BB1 thru BB19 and many other CBS shows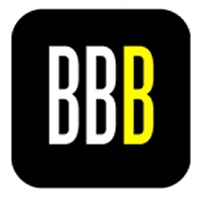 BIG BROTHER BUDDY
Get push notifications for all the big feeds events - iOS or Android


HAMSTERWATCH SWAG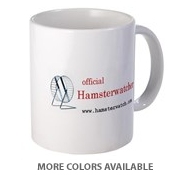 Mugs, shirts, more
Visit my Cafe Press shop






Big Brother 20 SEASON FAQ


Day 1 Move-in was June 20
Day 8 CBS premiere is June 27
Day 9 Feeds begin June 28
Day 99 Finale will be September 26

Feeds are streamed by CBS, and Flashback is accessible via All Access subscription. Call 888-274-5343 for account help, including cancellation.

Air shows on CBS (Global in Canada) are Sundays 8pm, Wednesdays 9pm, eviction Thursdays 9pm.

Big Brother After Dark on Pop TV is every night midnight to 3am, except Thursdays 1am to 3am. The aired blocks are live (or recorded earlier the same night, depending on your cable provider).

The CBS app (by CBS Interactive) plays BB air shows and other CBS shows, as well as feeds, or you can use your browser to watch feeds on mobile devices. The same All Access link used to subscribe will lead to the feeds viewing page if you're already signed up.

BB20 prizes are the same: $500k for the winner and $50k for 2nd place. Stipend for the others is $1,000 per week again, including pre-show hotel and jury sequester.

The habitat has 94 HD cameras (up 7) and 113 microphones.

The recorded in-house announcements are the voice of producer Don Wollman. He and Julie Chen are the only staffers who have been there since Big Brother 1.