This site is about the Big Brother 20 feeds and contains spoilers! It isn't necessarily thorough: it's what I catch and/or what interests me. It's about watching hamsters: who's doing what and why. Thanks for encouraging my behavior.
Your pal, dingo



PROTECT YOUR ONLINE PRIVACY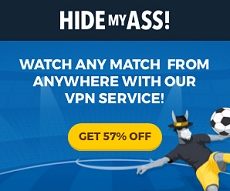 CELEBRITY BB UK
STARTS AUGUST 16
Watch BB Canada, BB UK, Survivor Australia, Survivor New Zealand, and other non-USA shows




HACKER COMPETITION TWIST

Each week's Hacker Comp winner can replace one nominee, select one veto player, and nullify one vote

#1 Haleigh
-Replaced Scottie with Tyler
-Picked Kaycee to play veto
-Nullified Tyler's vote





APP STORE VIEWER VOTE TWIST

WINNERS - POWER APPS
BONUS LIFE #1 Sam
-Could give 1st, 2nd, or 3rd a chance to return to the game
-If unused, 4th evictee automatically got a chance
-Kaitlyn failed to complete the puzzle
THE CLOUD #2 Tyler
-Immunity at any one noms or veto meeting within 2 months
IDENTITY THEFT #3 Bayleigh
-Can replace noms one time before final eight
Not used: Re-Draw, Upgrade

LOSERS - CRAP APPS
HAMAZON #1 Faysal
-Periodic [vegan] ham deliveries, had to eat it all
YELL! #2 Rachel
-24 hours getting yelled at
READ IT! #3 Haleigh
-Read Hamlet in costume
Not used: Fake News, Spammed

Limit one per hamster, whether winner or loser - Voting info & rules







BB20 DRINKING GAME


Take a swig whenever Sam starts a new project







QUICK LINKS & BOOKMARKS



-SIGN UP for feeds
-WATCH the feeds
-BB20 official site
-Live show tickets

-Feeds updates by @UGotBronx
-My Twitter - my screencaps
-Amazon portal USA or Canada

-Dick at Night with @EvelDick

-BB Viewer by @liquid8d
Requires All Access account

-BB20 Wiki

-Hamster Twitters
BB USA - BB Canada

-Advice for cast friends/family

-VPN to watch BB UK and/or to protect your online privacy







EAST COAST AIR SHOWS



CanadaTV for Roku
$2/month - Global airs BB USA

East coast air show live streams:
- 1 - 2 - 3
NO DOWNLOADS NEEDED - BEWARE OF CLICKING POPUP ADS OR WARNINGS




Donations via Paypal are gratefully accepted!


Watch Big Brother
Seasons 1 thru 20
Plus tons more CBS content






BIG BROTHER SEASONS



CBS All Access
Seasons 1 thru 20

Amazon DVDs BB4 - BB3

Amazon Instant Video
BB18 - BB17
- BB16
- BB15
- BB14
- BB13
- BB12
- BB11
- BB10
- BB9
- BB8
- BB7





BIG BROTHER 20 FEEDS EXCLUSIVELY ON CBS ALL ACCESS
All Big Brother USA seasons + most CBS shows past or present are included
$5.99 PER MONTH INCLUDING 1 WEEK FREE TRIAL or $9.99 AD FREE
COMPUTER - MOBILE - ROKU - CHROMECAST - APPLE TV - ANDROID TV - FIRE TV - XBOX 1/360 - PS4


>> >> >>

>> >> >> >> >> >>

>>

Amazon USA
- Amazon Canada
August 2018
Power Status
Feeds are underway and they are the real show - SIGN UP NOW and get a one-week free trial! No promo code needed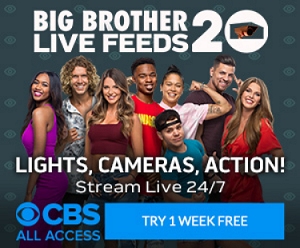 Angela is Head of Household
Scottie and Rockstar were nominated
Haleigh won the Hacker Comp
Scottie was hacked off the block
Rockstar and Tyler were nominated
Angela won veto, used it on Tyler
Rockstar and Bayleigh are nominated

Kaycee is Health Nut for one week
Rockstar is in Jessie's Food & Fitness Program for one week

Brett completed his Granny task
Nobody is Have-not

-Tyler has one-time immunity, to be used at any noms or veto meeting "for eight weeks" (he got it before noms on July 6)
-Bayleigh can secretly change noms before noms ceremony one time before final eight
-Hacker Comp will be in play two weeks: winner can replace one nominee, select one veto player, and nullify one eviction vote


Upcoming Events
From now thru Thursday: Tension, boredom, drama, gossip
Thursday night: HOH room
Friday: Nominations, Hacker comp, Hacker nomination
Saturday: Veto comp

August 16: Celebrity BB UK - Watch live or archive shows with HMA safe, easy, secure


Next Shows
Thursday 8/9 9pm** - Brett's granny, Haleigh's house meeting, live eviction, HOH comp
**Delays or channel changes in some areas - check your local listings
Sunday 8/16 8pm - Nominations, Hacker comp, Hacker nomination
Wednesday 8/15 8pm - Veto comp, veto meeting

CBS schedule is Sundays 8pm, Wednesdays

9pm

8pm, live eviction Thursdays 9pm - stream links to watch East Coast airing online are posted in Quick Links & Bookmarks on the left sidebar

After Dark airs for three hours every night on Pop - times vary by area and provider, check your cable guide


Other News
Alliance charts by @89razorskate20: Day 46

Hamsterwatch Forum for real-time feeds updates, screencaps, and air show recaps by @UGotBronx

Diary segment tally by @clamperls

Week 5 popularity poll results #1 Scottie, #2 Haleigh, #3 Tyler
Follow @89razorskate20 on Twitter to participate: weekly polls launch every Monday 4pm PT/7pm ET

Post-eviction shows are hosted by BB Celeb runner-up Ross Mathews and winner Marissa Winokur, Fridays on Facebook Watch. The first (no eviction) ran June 29.

Ratings Watch Thursday's live show placed second for the hour with 1.4 rating, 6 share, 5.51 million viewers, behind pre-season football on NBC with 1.8/7/6.50, and ahead of The Four: Battle for Stardom on FOX with 1.0/5/3.37, and Match Game rerun on ABC with 0.5/2/2.60.

Sunday's show won the hour with 1.5 rating, 6 share, 5.55 million viewers, ahead of Celebrity Family Feud on ABC with 1.0/5/5.82, America's Got Talent rerun on NBC with 0.7/3/3.34, and I Heart Country Festival on FOX with 0.4/2/1.71.

Wednesday's show won the hour with 1.5 rating, 6 share, 5.60 million viewers, ahead of World of Dance on NBC with 1.1/5/4.71, Masterchef on FOX with 1.0/5/3.65, and CMA Fest special on ABC with 0.9/5/4.72.

Rating and share: adults 18-49 - Rating: % of all TV households - Share: % of households watching TV


Week 6 - Days 44 thru 50 - August 2 thru 8, 2018
Daily and Noteworthy Events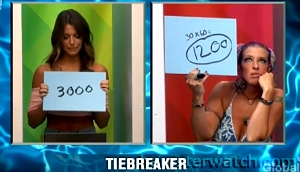 Evicted: Rachel
Head of Household: Angela
Have-nots: Nobody
Original noms: Scottie, Rockstar
Hacker winner: Haleigh
- Hacker nomination: Removed Scottie, replaced with Tyler
- Hacker veto pick: Kaycee
- Hacker nullified vote: Tyler
Pre-veto noms: Rockstar, Tyler
Veto winner/outcome: Angela/used on Tyler
Final noms: Bayleigh, Rockstar
Evicted: Bayleigh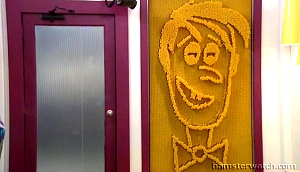 Day 44 Thursday August 2
I'm still dealing with an emergency situation so I'll be out most of the day - but so will the feeds. I'm hoping to be back in time for the show, and I'm hoping the blindside won't be ruined. This season is setting records in that department.

As always on a Thursday, I'll update Power Status up top as things happen, and catch up the rest of the page later.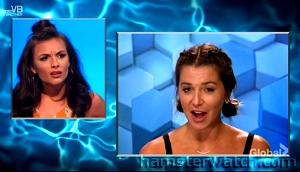 The carefully laid plan came to fruition, including another nominee scorcher speech by Brett where he said Rachel had told him he was Bayleigh's target, and that she'd told him about Bayleigh's power app, and that she was leading the Maneaters girls' alliance. Rachel was clearly dumbfounded and said "I did not tell him that" when he finished. Tyler did do some pre-show warnings, but Rachel had been left in the dark and she was evicted 5-4, again as planned, with Rockstar, Scottie, Fessy, Haleigh the four on the wrong side of the vote. Rachel flew out the front door with no hugs or good-byes, and was flummoxed when Julie demanded she guess the votes. She finally did, and when she heard Angela's catty farewell she shifted from perplexed to angry and confounded, exclaiming "what the frick?!" Julie quickly cautioned her "no swearing."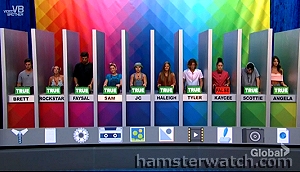 The HOH comp was The GIF That Keeps On Giving, seven true or false detail questions about the gifs of themselves they were shown yesterday. Results of that were #1 Kaycee out; #2 all correct; #3 JC out; #4 Sam out; #5 Brett, Fessy, Tyler, Scottie out; #6 Haleigh out. Angel and Rockstar were both correct for #7 so they went to a tiebreaker asking for total time in seconds of the Out On a Limb endurance comp, from official start until Tyler hit the ground. The correct answer was 3,722 and Angela won with 3,000. Rockstar "showed her work" on her board, which had 30x60 = 1,200. Eek. (By the way, do they have a box for JC to stand on in those booths?)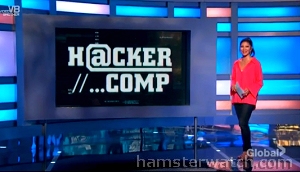 Julie then announced the next gimmick - I predicted that, didn't I? She said the Hacker Comp will air on Sunday's show, and "each week one houseguest will win the power to secretly hack the game." Annoyed viewers may have forgotten last year also had a viewer vote twist in the early season, a comp twist in mid-season, and the flop temptation apples in late season, so we probably still have one more of these to go this summer. Later feeds went down for a bit for the hamsters to be told about it, and it sounded like the winner(s) can remain anonymous, and will have the power to change a nomination, select a veto player at the draw, *and* nullify one vote at eviction. It sounded like all three of those will be in play each week - well, there will be two comps, so each week for two weeks. Combined with Bayleigh's and Tyler's powers still in play, upcoming noms and/or veto meetings could get very complex! They also said they're now in jury, but I don't know if they were told that or if they're just assuming, since there are now 11 of them left. Julie usually announces that to them on a live show.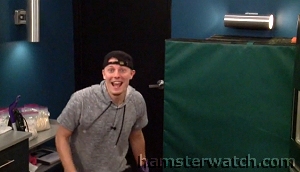 Feeds returned to eerie calm, but it didn't last long. JC ran back and forth, like he does, alternating between celebrating with Level 6/5/4 and fake-commiserating and WTFing with Sam and Fessy (and possibly Haleigh and Rockstar also, I'm not sure). Rockstar took this blindside even harder than the prior ones, sitting in stunned and then teary silence for quite awhile. Later she said she "cried her eyelashes off in the DR" and that one had fallen off -plop- as she was cry-talking in there. Scottie had a solo pantry celebration, telling us "I'm so confused, I don't know what's going on! I just want you guys to know if I end up winning this, I am the worst Big Brother winner ever 'cause I have no fucking clue what's going on! And it's great! I love it! I'm a patsy! @ me!" Apparently Tyler gave Bayleigh a heads up that he'd be voting out Rachel a few minutes before the vote, and he told her Rachel had come to him a few minutes before that, and he retold the pack of Rachel lies to Bayleigh.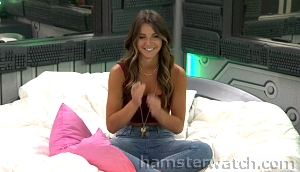 Angela said she'd never seen the house so depressed after an HOH comp, and asked Sam and Brett if they could just put on a smile? Angela explained to Sam that Brett did what he did (his speech) so Bayleigh wouldn't be upset about the votes. Of course Sam knew that, but she played dumb. She told Angela she was "this close to snapping on Haleigh, she's gonna be climbing straight up your asshole - you're gonna be able to taste what she eats" and said she probably won't hang around Angela a lot this week because "I'll slap her in the head and I don't want to do that." Angela laughed at that.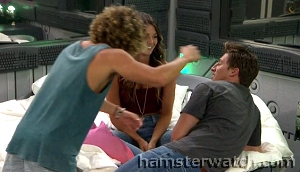 Finally she, Tyler, Brett celebrated their coup. Brett said he kept forgetting parts of his speech because JC and others were acting up as they waited for Julie, but Angela said "it was perfect." Fessy and Haleigh went back and forth a few times questioning if each other flipped, countered with "don't you dare question me," and back around again. Fessy said "don't you dare repeat this!" and told her JC had told him he'd caught Rockstar and Brett talking a few times, and he brought up her "five hours in the hammock" with Brett, again. Bayleigh confirmed the details of her power to Tyler, including the fact that it's good for one use until final eight. Apparently she also said she'd only told Rachel and Fessy (CBS overlooked that first confidence), so the others in their group know she held out on them. Tyler told that to Level 6/5/4 when they had a late night meeting in HOH.

Apparently they were told they'd do their noms early tomorrow and do the Hacker comp later, so Angela held her one-on-ones early before she got her room. Angela also told Kaycee they need to "get their story straight" - I don't know if that was about the vote, the Rachel lies, or this upcoming week. She did tell Kaycee she'll tell people she'll likely put up Fessy and Rockstar and try to backdoor Scottie or Bayleigh, but she'll say she doesn't want Fessy to go. All these powers in play make for a tricky HOH, and later it sounded like she'll put up Rockstar and Scottie and hope to backdoor Bayleigh. Much later Angela told Bayleigh she really hopes she'll be the first black person to win the show, there's nobody better, and she'd be happy to sit next to her at finals. Angela told her that Rachel had told her about her power (true), and Bayleigh told her she has to name her Identity Theft nominees before the HOH. It didn't sound that way to me when she first explained it to Fessy, but we're only going on retells for those details.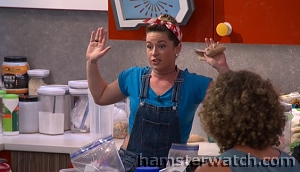 As if all that wasn't enough, Sam called a house meeting! -Flashback 8/2 10.41pm. She said everyone was all worked up about everything and she was too, but that she's "100% honest and refuses to lie." She pitched if they all throw the Hacker comp and let her win, she'd be willing to be everybody's target. She wouldn't change the noms, (and they wouldn't vote her out if she was on the block of course), she'd pick herself to play veto and would throw it, and she'd nullify her own vote. She said she would vow not to use it, and therefore it wouldn't really exist, since it was already throwing more chaos and paranoia onto all the existing chaos and paranoia. Since they didn't all cheer that as a great idea, she suggested a secret vote, where they could each drop an M&M or piece of cereal as a yay or nay. Her motion was defeated without a vote, and she said "now everybody go back to killing each other, I'll be in the kitchen."

Just after that, Bayleigh confronted Rockstar about allegedly meeting secretly with Brett. Things got heated, landing them as the first fight for the tally -Flashback 8/2 11.09pm. Rockstar said "I DIDN'T!" make secret plans with Brett, Bayleigh told her to "shut up" as she didn't want everyone to hear, and they went back and forth several times. Bayleigh was clearly angry and Rockstar was stunned once again. She said "watch the show" and Bayleigh said she doesn't want to watch the show, she wants to know now! Afterwards Rockstar went to Diary in tears but Angela was in there for her HOH win session. Feedmasters panned from Rockstar crying at the door to the crying-with-tears emoji pillow - savage. Rockstar went to Sam and Kaycee and retold the fight and her confusion, and said she's over it.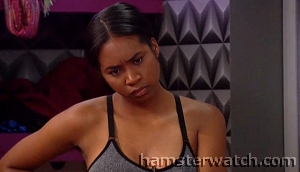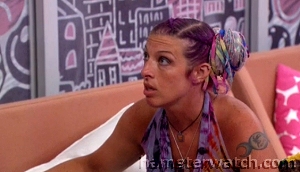 Angela got her room just after midnight and it included the usual photos, snacks, drinks and food. She also got cookies from Orwell and Pop, cake mix, shorts, a Hilton Head sweatshirt, wine, a letter from her mom and dad, and Hootie and the Blowfish for her music. The wine was opened and cups were eagerly thrust out for a finger or two.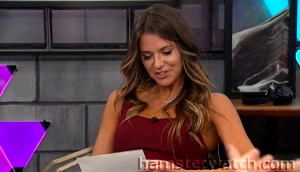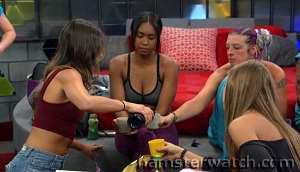 Angela's meetings carried on, including Fessy telling her he hadn't had to pitch yet and he didn't know how to pitch, but then he pitched what few have had the sense to do this season: he said if she keeps him safe this week, he can help her going forward with his comp skills. It isn't likely to do much good as a pitch but credit for trying, especially for a first effort. Scottie met with Angela next and Angela said she'll be honest with him, if she does put him up it would be as "pawn" against Rockstar, who'd been bad-mouthing Angela since the first day. She said Scottie's name had come up a lot also so that would be her reason for putting him up, but she didn't want him to go home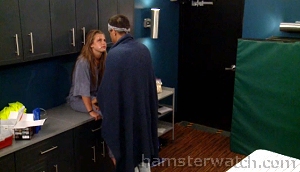 Late night, Fessy crowded Haleigh in the pantry and pressured her to work closer together, share everything going forward, and again asking about their future together in jury house and after, saying he's "crazy about her." She handled him well, like she does, not encouraging him and not shutting him down outright either. She said he doesn't really know her, he might not like her outside of there - basically saying she's not into him that way without actually saying so. Once again, he didn't catch the hints even though they were as heavy as bricks.

Psst-pssting carried on all over, of course. Through it all, Tyler kept up his rounds covering his bases with everyone, strengthening his many bridges and covering his tracks. And so did JC.

Everybody's winning this season: strategy fans, blindside aficionados, Team Chaos, and Team Fun Feeds! GET THE FEEDS to watch everything unfold, and catch up what you missed on my previous week's page, and/or Hamsterwatch Forum thanks to @UGotBronx, and please remember to use my Amazon link for any Amazon shopping anytime, USA or Canada - thanks!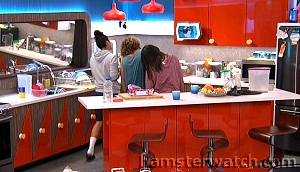 Day 45 Friday August 3
Several of them in the kitchen noticed something on the mini intercom monitor as they were waiting to get started on noms and/or Hacker comp. On closer inspection, on full screen, it turned out to be the icon for Tyler's power app The Cloud, turned sideways. They did say something about "a cloud" and Scottie ran to the living room to see if it was on the mini monitor there too, and it was. Of course Tyler didn't say anything but I'm sure he was sweating inside, and recall that Sam had mentioned to several of them that one of the other icons she recalled when she got her power app was a guy sitting on a cloud. So this was probably a big big goof but we'll see what's said later on, if anything. UPDATE Sam did indeed say she'd seen that icon in the App Store when she got her power.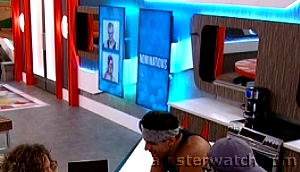 Feeds went to fishies from approx 9.30am to a little before noon, and when they returned Angela had nominated Scottie and Rockstar, as planned. They hadn't done their comp yet and there was a lot of speculation about that. It will be later today and since the results are anonymous, it'll probably be individual runs with all 11 of them, meaning a long outage. Psst-pssting began in earnest, particularly by JC; Rockstar was parked in her bed looking forlorn and lost - Tyler checked on her, and later she and Fessy tried to untangle the web she was now stuck in; and Sam told Angela if she wins the Hacker comp she'll let her know and she won't change the noms, she'll consult Angela about who to draw for veto, and she'll nullify her own vote - so basically a dedicated version of her house meeting offer, but without the cereal votes or comp throwing.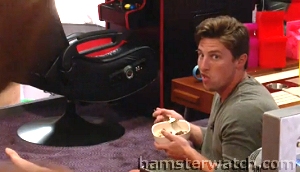 Feeds were down (only) about three hours for their Hacker comp. It involved words (and having to type them into an oversize keyboard?) including VIRUS, HACKER, RESTART, EVICTION, ALLIANCE, PUNISHMENT, and had 21 total possible points. Like Roadkill losers each got a little lunchbox with a LOSER card inside, today's losers got a screen with a skull and the word LOSER. Most of them said they only got one, two or three points (Tyler told Angela and Brett he only got two but was telling everyone else he got three). One feed stayed glued to Brett when they came back, but he told Angela as she ran laps on the balcony that he thought it was Scottie. All of them were called in for quickie Diaries in alpha order, presumably to a) let the winner tell staff if they want to change a nom and who would replace whom if so, and b) to keep the winner anonymous.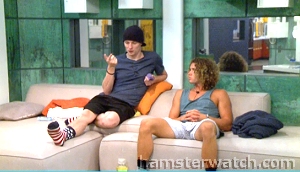 Spoiler/rumor from @realvegas4sure said Haleigh won, and she did. The secondary ceremony was very quick and when feeds came back, Scottie had been hacked off the block and replaced by Tyler (which makes perfect sense for a Haleigh win). Naturally there was much scurrying and speculating, including Scottie and Tyler trying to figure out who did it, and who could possibly know they're as tight as they are? Tyler asked Scottie if he'd use veto on him if he plays and wins, and Scottie said "in a heartbeat." Scottie said the hacker must have thought he and Tyler were best buds (an illusion Tyler worked to create last week - oops). They also confirmed via context that Scottie was just off the block pre-veto and could still go up as veto renom: in other words, he doesn't have immunity for the week. Haleigh joined them and swore it wasn't her, and she continued "doth protesting too much" all over town. The two guys ran scenarios and guesses as to what the incentive was to swap them out to each other and to anyone else who came into their proximities.


After a long whispery session with JC, Haleigh told Fessy "I think Angela thinks it's me, I don't know why, I would have 100% kept it the same." She ran so many what-if scenarios to so many people of who it might be and why, and swearing it wasn't her, she'd be a top guess even without the spoiler. Not fessing up to Fessy was doubly interesting though, after last night's pantry pressure convo between them, where Fessy's second main point (after being "crazy about her") was that they tell each other everything going forward. Maybe not telling Fessy was a little subconscious (or conscious) spite on her part after learning he didn't share Bayleigh's power with her? After a few more rounds, including Haleigh saying she thought Sam was the hacker (yes, that Sam, the one who tried the void the whole thing), Fessy said he didn't want to think about it anymore and it was stressing him out. And he changed the subject back to their personal stuff, like he does. Meanwhile Kaycee told Tyler she thought the hacker was Haleigh, and they said they'd let everyone keep thinking it was Bayleigh, Scottie, and/or the other usual suspects, but that also evolved to letting most of them think it was Bayleigh.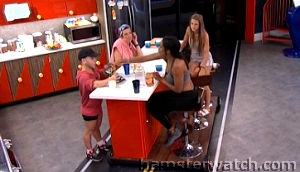 Rockstar rebounded a bit from her gloomy and started circulating again. She, Haleigh, Bayleigh were chatting in the kitchen when JC came along, turned Bayleigh's bag of chips around, and helped himself. She snatched the bag from him and said sharply, "ask!" He asked if they were her chips and she said she was "literally" just sitting there eating them (true). She went on a rant about he never asks to use anything, including her HOH room last week, and JC went on an extended rant about "that fucking bitch" and her chips. Later Bayleigh told JC "I'm sorry for being mean to you" and said she sometimes gets a bit snappy, but JC re-ranted to Brett later. Reminder for fans of petty (and what BB fan isn't): it's not about the chips - not this time, anyway. And it worked: Brett joined in about Bayleigh "screaming at him" after one of his speeches, probably this last one, and JC took that opening to ask him about the girls' alliance. Brett was happy to oblige and told him who thought it was legit, and who was playing along.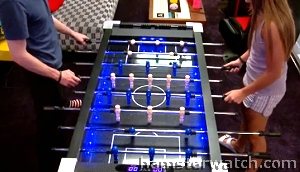 The Hacker's second stage was made more clear: the Hacker will select one player secretly, and the HOH will draw the other two chips from the bag. There will be no Houseguest Choice chips, but if Angela draws her own name or one of the nominees, that person can then select someone to play. Scottie and Haleigh hung out for a long time - chatting, playing chess, and foosball. Most of them were tired from a very busy and very late night and an early morning and busy day, so it was a relatively quiet night, but other convos continued to happen as always: chit-chat, gametalk, gossip, and character assassination in varying combos and to varying degrees.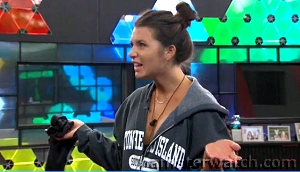 By the end of the evening, most of them had been convinced by the hamster grapevine that Bayleigh was the hacker, and several were pushing for her to go up and out the back door. Fessy promised to use veto on both Rockstar and Tyler if he plays and wins, so I guess he didn't learn his lesson from the whole Haleigh/Kaitlyn fiasco. And for the icing on Messy Fessy cake du jour, he later told Angela if he plays and wins, he'll do whatever she wants. After he told her that, she said "idiot!" under her breath when he left HOH, and "this is going to be a lot easier than we expected."

GET THE FEEDS to watch everything unfold, and catch up what you missed on my previous week's page, and/or Hamsterwatch Forum thanks to @UGotBronx, and please remember to use my Amazon link for any Amazon shopping anytime, USA or Canada - thanks!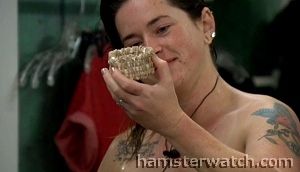 Day 46 Saturday August 4
Veto players were drawn: Kaycee was the Hacker (Haleigh) pick, so she inadvertently helped Level 6/5/4 there, and Brett and Scottie were also picked to play with Angela, Rockstar, Tyler. (Angela had picked Haleigh to host, but Jessie Godderz/Pectacular came in instead.) So if this week is going to go against Level 6/5/4 it all lies on Rockstar's shoulders, or possibly Scottie's if he was lying to Tyler about taking him off. Angela told Tyler and Kaycee about Fessy's lame late night visit and they laughed about that, and Tyler told them he might fall back to his "backup plan" if needed, of spreading gossip or even having a house meeting to say Rockstar and Scottie are actually siblings, and he shared his proposed evidence with them. They laughed again, as did we, and if it comes to it, we'll need to place an industrial sized popcorn order. As they prepped for the comp, Sam found the little basket she'd made "back when I was a robot," her first BB crafty project, and showed it to Tyler. It really is pretty good especially since it was made from, as she put it, "recycled post-consumer napkins."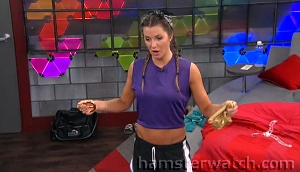 Feeds came back to Angela clutching the veto in her hand, Kaycee saying "that was intense!" and both of them confused why Scottie would have wanted to win it so badly, and why Tyler and Scottie were seen whispering together during the comp. Angela said she'd given up $5,000 to win the comp. Scottie got that cash; Brett got 24 hours "InstaGranny" or "InstaGrammy" which will be a visiting granny like Rachel's yeller, giving him orders he has to follow; Kaycee got one week "Health Nut" which is also a costume; Rockstar got one week of some other fitness task; and Tyler got a Hawaii trip. Players were visibly hot and sweaty, and later several said that was the most physical comp they'd had yet. Brett played up resentment at his task, mostly so the other side would think he was angry at losing the comp.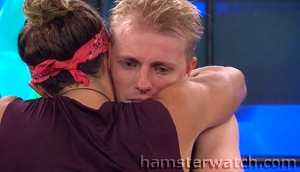 Meanwhile Tyler and then Scottie joined HOH, with Tyler feigning shock and disgust when he said "there's people making [Scottie] swear on the Bible that he did things or did not do things in the past, and I think it's fucked up." Reminder, Tyler and Scottie talked about this yesterday - lightly - after the Hacker nom, when Scottie promised to take Tyler off the block if he won. Angela also said that was fucked up and she gave Scottie a tight, sympathethic hug, as did Tyler, and a single tear drizzled slowly down Scottie's cheek. Angela told them she'll be taking Tyler down and won't be putting Scottie back up.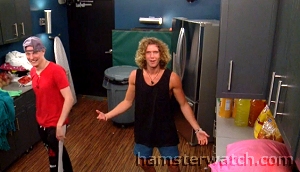 Tyler and Kaycee did an "air pinkyswear" about going to Hawaii together. I'm not sure if that was about Tyler's trip or just some nebulous time in the future, and I'm also not sure how binding air pinkyswears are, but it's on the tally just the same. Bayleigh told Brett and Fessy she doesn't understand how the two players in the most danger got the best prizes, but of course she doesn't have an inkling yet that she's the likely renom. Scottie and Tyler had a long and very giggly pantry celebration about their nice prizes and how well their week is turning out despite a rocky start.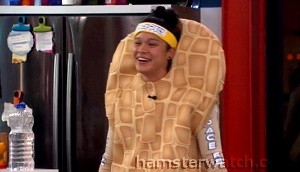 Kaycee got her Health Nut suit around 8.20pm. It was a foam peanut over a unitard with Space Pecs logos (maybe a pun on SpaceX), Converse sneaks, headband, plus foam dumbbells she has to carry all the time. Whenever a jingle signal plays she has to sing a little (assigned) song and do a little dance. She was a great sport about it, making puns and having fun, and hopefully she'll stay in good spirits about it all week.

Rockstar pitched a girls' alliance to Kaycee (yes, again) - I was out but I think this new girls plan was hatched by Bayleigh, Haleigh, and Rockstar. Angela told Kaycee maybe she'll bring up the topic in her renom speech, and how obvious it was that it only started up again after the veto comp. Bayleigh told Haleigh if their group doesn't win the next HOH she'll use her power and change the noms, and Haleigh kissed her hand. Later Bayleigh pitched to Angela and Kaycee the idea of taking Rockstar off the block and putting Scottie back up to send a guy home, plus the bit about using her power next week. They listened, but did not kiss her hand.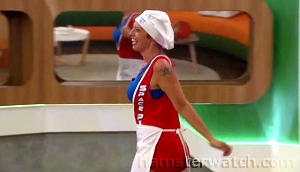 Rockstar's week-long task was Jessie's Food and Fitness Program. She has a Space Pecs singlet, apron, and chef's hat and has to prepare a healthy food item and do an exercise whenever Jessie Godderz/Pectacular comes over the speakers, both according to specific directions. Her first assignment was to make a multi-ingredient smoothie, and run nine back-and-forth laps of the backyard for a quarter mile. Her task came with a food processor, which made Sam happy, as did being able to help Rockstar follow the recipe. Or it did, until BB told her to stop helping via pitching in. Shortly after that she got her second assignment: carrot cake cupcakes and curls.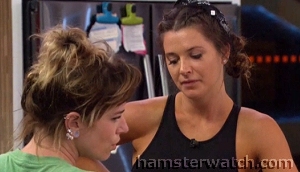 After Rockstar completed her first assignment, Angela told Sam that she felt she was being pinned against different people, and "it's hard to explain because I don't want your feelings to get hurt" - meaning Sam wasn't included as part of the new girls' alliance pitch. As with most of Angela's dealings, it had the desired effect. Sam got sad and asked in a very small voice "but not me?" She rebounded quick though, saying she'd rather Angela tell her "yes Sam, actually it would be best for me if you weren't here" - meaning she'd like Angela to let her know if she was going up as renom. Angela responded quickly "Sam! No! That is not how I'm feeling in any way, shape, or form, and it kind of hurts my heart that you would ever think that." Later Angela had a long talk with Bayleigh about Sam, and about Tyler and Scottie's "secret" friendship, and about Kaycee - Angela said they're just friends and don't talk game. Angela took great pains to make Bayleigh feel comfortable about the veto meeting, and it seemed to work. And Angela then repeated the farce with Haleigh, who said she doesn't talk much game with Bayleigh, and that she (Haleigh) is looking for a ride-or-die partner.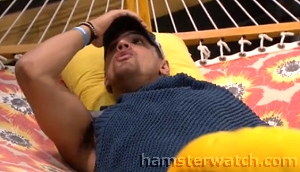 Have-nots ate and savored their food at midnight, and Fessy and Haleigh went a few rounds in the hammock, like they do. He was of course pushing for them to be a couple and talking like they already are, and she was subtly and blatantly discouraging that at every turn but of course he didn't notice. She said she wanted to hit JC if he keeps going around announcing she and Fessy are having sex, because her uncle and father are watching, also it made her feel uncomfortable. She also told Fessy she's going to pet and play with people's (Brett's) hair if it's nearby. Game-wise, Fessy couldn't get over the concept of Angela breaking pinkyswear(s) to put Scottie back up on the block, and he repeated many many times to Haleigh and to us that if she does that, it would be the greatest move in BB history. Well, it wouldn't be, but no matter as she isn't going to do that: she's going to put up Bayleigh. Haleigh also told Fessy that poor Tyler's an innocent lamb thrown into a lion's den. Yep, she did. You couldn't make it up if you tried. Meanwhile, the innocent lamb quietly told Sam about Bayleigh going up, like he does every week.

I don't know what we did to deserve such a fun season, with yet another blindside looming for Monday, but I'm grateful for it.

BB20 is the season that just keeps on giving - GET THE FEEDS to watch everything unfold, and catch up what you missed on my previous week's page, and/or Hamsterwatch Forum thanks to @UGotBronx, and please remember to use my Amazon link for any Amazon shopping anytime, USA or Canada - thanks!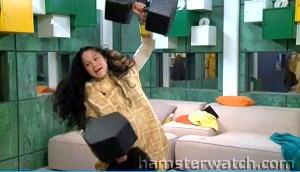 Day 47 Sunday August 5
Tasks started up early: Rockstar had to make flaxjacks and do jumping jacks, and Kaycee Peanut got a dance signal while she was doing her hair. She did it and with a smile, but she wasn't happy about it, saying afterwards "great, I pretty much went a whole lot of years without people seeing my hair down and now millions of people see my hair down." Sam talked to Brett about the new girls' alliance and not being included in it, and Angela reported Bayleigh's and Haleigh's pitches about that to Tyler, Kaycee, Scottie, as well as their gossip about them being aligned with Sam. They had a good laugh about it all, and about Bayleigh asking that she not be backdoored, and about Scottie telling them their alliance of five (including him, on paper) is called The Hive.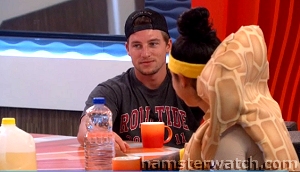 Brett's visits from Granny started up and like Rachel's yeller, they weren't on feeds, but the retells were funny. She was born in 1939, she has 37 doctors and 13 cats, including Mike Boogie and Jessie 2, and she has a walker (maybe it's Christmas's old upstairs one). She had Brett make her eggs with no seasoning but said they were too salty and he had to eat them. He also had to make her an English muffin and tea, which she also refused and he had to eat/drink them. She said he and Rockstar should be a thing and he should give her a chance, and she mentioned Doctor Winston. She dropped her big tray of sorted pills and Brett had to pick them all up and re-sort them, and she dropped them again. On later visit(s) she made him wreck the pantry and bedrooms, and eat cookies made with peppercorns instead of chocolate chips. Between visits to the habitat, she went off to the doctor and to bingo. Feeds went down for another visit around 1pm, and after that Rockstar got a Jessie signal to make beetballs while (shadow) boxing - beetboxing, get it?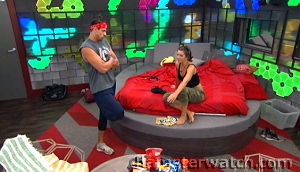 Bayleigh told Haleigh she was trying to stay away from everyone/everything so she doesn't pop off and say something she'll regret, and how that was a problem for her in life. That may have been about one of Granny's visits where she made Brett rip beds apart and pull clothes out of drawers, including both Angela's and Bayleigh's, which Bayleigh said had annoyed her (understandably). Fessy met with Angela and went back over his spiel about how breaking her public pinkyswears and putting Scottie back on the block against Tyler would be historical etc etc, and that the whole house would have her back about it. Angela sounded completely sincere when she said she'd been keeping her word so far and this would be the first promise she'd have to break. Angela then retold to Tyler and they worked a little more on her speech for taking him down and putting up Bayleigh. Sam asked Rockstar if they had any vinegar because she wanted to make a bottle rocket with that and baking soda.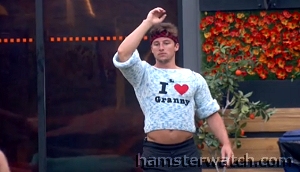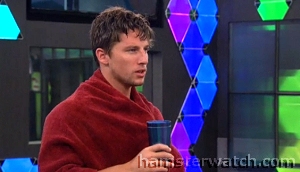 Granny visited again and brought a gift bag to Brett that had too-small shorts and a too-small sweater with I Heart Granny - she probably knitted it herself. Later she came back and dragged him upstairs to give him a bath. Angela did her

HOH blog and tweets

video QA, and the Snapchat glasses came out for everyone to do their posing and describe the current tasks with their Diary voices. Rockstar got a signal to make nachos and nunchucks - she had to do a "sick nunchuks move" after completing each layer of nachos. JC and Fessy got repeated Stop Thats when they kept trying to play with the nunchucks. Tyler and Sam had another check-in/info exchange at her shower, with yet another pinkyswear, and Brett gave Sam a hug and reassurance that all was well and the plan to put up Bayleigh was going to proceed as planned. They never did assign Have-nots, though it's usually on Sundays. Bayleigh hint-whispered to Haleigh that she still isn't out of the woods yet as far as pregnancy scares go, but it sounded like she hasn't requested a test kit (yet).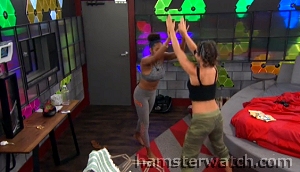 Feeds cut in abruptly on Bayleigh visiting Angela, with Bayleigh saying "[something] tomorrow" - putting Scottie back up maybe? And she said "I promise to use my power on you." Angela feigned shock and joy, and Bayleigh said "literally me, you, ride or die." They high-fived and they cheered "Amazon alliance! Amazon alliance!" After Bayleigh left, Angela said in a sing-song voice "someone might be backdoored tomorrow, I wonder who." Utterly savage. Later Angela told Scottie, with Kaycee Peanut and Tyler present, that Haleigh and Fessy separately pitched Scottie as renom for an epic historical BB move that the whole house would be behind. Scottie replied "so next week when we win HOH we're gonna fry their asses?" Angela said "exactly" and she also told them about Bayleigh's visit. They joked about using terms like "BB legend" in speeches, and Scottie said he'll "go into overdrive tonight" which will including flirting with Haleigh. Later Angela reported all of the above to JC, who promised to act surprised.

Kaycee Peanut kept getting jingle signals and she continued being a great sport and having fun with it, as did several of the others. Kaycee Peanut's singing is pretty bad but she doesn't care and belts it out every time, making it all that much more fun to watch. She had helpers many times and most of their singing was bad, but the choreography was coming along.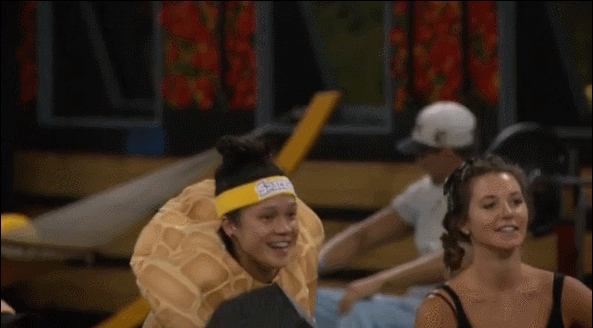 JC told Angela and Kaycee Peanut he might bring the infamous bag of chips to the veto meeting, and he retold that story. Kaycee Peanut got three jingle signals in a row, and Rockstar got a Jessie signal rerun already - flaxjacks and jumping jacks again, which is where we began the day. Nearly everyone joined in on the dancing and jumping jacks except Bayleigh, Fessy, and Haleigh.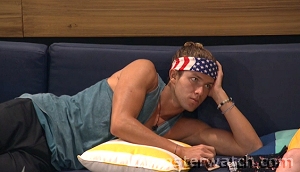 Fessy asked Haleigh how she felt about tomorrow and she said JC's been tripping her out. Fessy said not to worry because JC doesn't know what's going on.. oops. Also, JC and Fessy had a shaving cream fight at some point. Sam told Tyler she thinks Haleigh's the Hacker, that Tyler was her target to benefit Bayleigh, and that her (Sam's) vote will be cancelled tomorrow. Tyler said he thinks it will be his. They agreed on "how's Charlene?" (the spider) as a signal to meet if either has something urgent to impart to the other.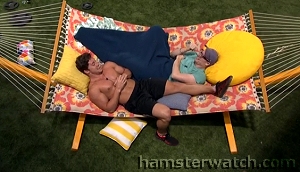 Brett and Scottie had a good hammock talk, sharing info and anecdotes. They agreed Brett's been the battering ram and Scottie the scapegoat for everyone else's agendas. Brett told Scottie a long recap of last Thursday from his point of view, including being truly nervous he was about to go. He said Bayleigh asked him why he was trying to make an enemy of her, regarding his speech. Scottie laughed and said because she put him on the block obviously, and Brett said that's what he told her. He said he'd been in the lounge before the show practicing his speech when Bayleigh and Fessy came in, and he gave up the room to them. Later Bayleigh told him that's when she told Fessy to flip his vote to keep Brett, but she'd never told Brett he was safe as she'd promised she would, and it turned out Fessy voted to evict Brett anyway. On top of that, he said Bayleigh told him the only person she told about her power was Fessy, and Brett asked if Fessy told Rachel? Bayleigh said no, she'd told Rachel. A lot of that and the other things he said is part of the ongoing anti-Bayleigh campaign but some may be true also, we may never know, but it was good to see these once mortal enemies comparing notes and having a laugh about all the goings-on.

DO NOT MISS MONDAY'S VETO FALLOUT - GET THE FEEDS to watch everything unfold, and catch up what you missed on my previous week's page, and/or Hamsterwatch Forum thanks to @UGotBronx, and please remember to use my Amazon link for any Amazon shopping anytime, USA or Canada - thanks!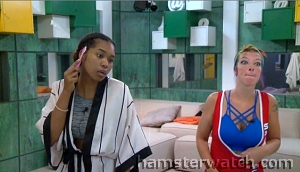 Day 48 Monday August 6
Bayleigh and Rockstar had a mirror prep pre-block party before the veto meeting, although neither of them knew yet they'd be sitting next to each other to greet Julie on Thursday. Rockstar could barely walk when she got out of bed this morning after all of yesterday's exercising, and Brett had a lengthy visit from Granny around 6am, possibly her last unless she drops in on the veto meeting. She made him clean the bathroom.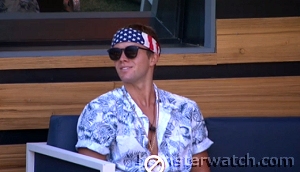 Angela used her veto on Tyler and put up Bayleigh in his place, as planned. Feeds came back to quiet but knifeable tension, with Bayleigh ironically griping to Haleigh about being fingered as the Hacker when she did so poorly in the anagram comp. She also said she's not that person who will be kicking and screaming and fighting (but that doesn't mean she won't get there?) She went up to HOH and knocked, but Angela wouldn't open the door for her. Tyler told Rockstar he'll do whatever he can to save her this week, and Angela ran her anti-Bayleigh loops to Sam, including her "bullying" platform about Bayleigh re Scottie and the Bible swears (which she didn't include in her speech after all), and Bayleigh having approached her to work together.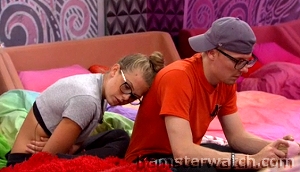 Tyler and Bayleigh had a confrontation at some point (off feeds), which involved Tyler laughing at and/or yelling (the retells varied) at Bayleigh, maybe saying he knows she's the Hacker and will vote to evict her because of it. He knows she isn't but saying she is was all part of the plan, and apparently Bayleigh went off on him about that. Bayleigh confronted Scottie, calmly, about Rockstar's Jessie meals? I don't know what that was about, and again swore she isn't the Hacker. Haleigh was continuously clearly and obviously uncomfortable about all that, and it was Bayleigh's number one sticking point as she made her rounds. Kaycee Peanut went into the lounge to cry a bit and eat a bit. Bayleigh joined her and Kaycee Peanut said she cares about Bayleigh and she was upset over how everything went down. Bayleigh's feelings and frustrations bubbled over for a minute, and she started to expand her loops to include swearing she hadn't told any lies in the game, and resentment that Angela had said "get off your power trip, honey" in her speech. Later Angela told Brett she'd thrown in that "honey" at the end for him, but he didn't hear it.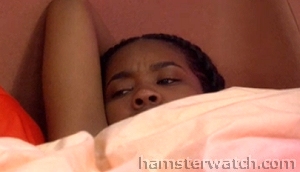 Bayleigh approached Tyler and told him she's not the Hacker and she never planned to backdoor him. He said "okay," and then he said "well JC, that means you're the Hacker" - JC replied "then I can win the game." Tyler told Kaycee Peanut not to worry about the third power once Bayleigh's gone, but Kaycee Peanut didn't seem to catch the full impact of that, joking that Bayleigh might walk out making her Identity Theft power noms on her way out the door. Bayleigh retired to her bed for a bit, as did Haleigh, but Bayleigh got up again and joined Sam in the yard. She said she couldn't believe her (Sam's) best friend [Tyler] laughed in her face, and said Tyler and Kaitlyn had both told her he and Sam have a final two deal. Sam said no, and she proceeded to calm Bayleigh down, like she does. Retells of everything ensued here and there of course, and the clock is ticking for when Bayleigh and Angela finally have a sit-down, if they do. Fessy's reaction to all of it was to tell JC only four of them haven't been on the block yet, and they were two of them. Later JC told Angela and Kaycee Peanut that Fessy had told him Bayleigh's plan last week was indeed to backdoor Tyler.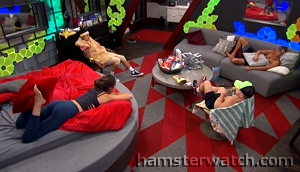 The HOH crew including JC agreed not to tell anyone on the other side how they're voting, citing the Hacker's null power as an excuse not to do so. JC said he wanted to bring the bag of pita chips to the meeting but BB said no food when he went to grab them. Angela said she hoped the vote won't be unanimous against Bayleigh, because Rockstar would be upset with Fessy and Haleigh if they vote against her, which would help the Level 6/5/4 side. They also hoped Rockstar would get a Jessie signal so she'd have to make something for lunch for everyone. BB did disappoint fans of petty by not running Jessie signals or Peanut signals during all the tears and drama, but I guess it's proof they do have a heart at times. Forgotten nominee Rockstar campaigned to Sam a bit while sharing a cig with her, not realizing she needn't bother, nor that she shouldn't have brought up the girls' alliance plan that Sam was excluded from.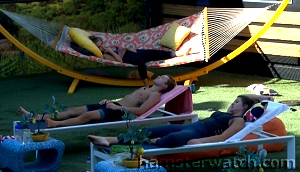 Bayleigh finally went out to the backyard while most of them were out there lazing. She sat with her Bible open and didn't interact, and went back inside a little later. There's still palpable tension but if Angela and Bayleigh will have a showdown or not remains to be seen. Haleigh inserted herself back into the social game by hanging out with Angela, Kaycee Peanut, and the others. She said "do you realize we spend like 80% of our day laying?" Yep, we realize that even if they don't. Kaycee Peanut got some more peanut signals, and Rockstar finally got another Jessie signal for another rerun: carrot cupcakes and curls. She introduced herself as Rockstar Child with a pretty credible Julia Child impression, and went on to loudly narrate all her baking steps in her Diary voice. She had a long convo with Scottie about what's going on, and then she retold to Bayleigh. They seemed to think Brett or Sam is the leader of the opposition, and Bayleigh still wondered if it's Scottie. Even after all these blindsides, and with all their retells, speculation and analysis, Rockstar kept saying she felt the answer was right in front of their faces but for some reason they still couldn't figure it out.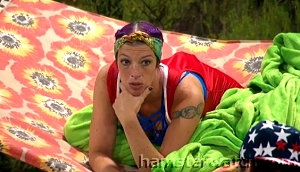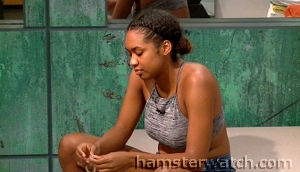 Speculation carried on, including Rockstar telling Fessy maybe Tyler's the mastermind (picking up where she left off a couple weeks ago), and saying he'd have to be backdoored to get gone. Fessy said "fuck that" and said he'd put up Tyler and Scottie together, and beat them in the veto. Rockstar said he'd have to win an HOH to do that. Bayleigh said Brett can't be the mastermind because he didn't even speak to Angela the last few days, due to her screwing him out of prizes at the veto (proving Brett's acting job was successful). Bayleigh also said she was getting annoyed with Sam, and that Kaycee had told everyone she (Bay) was the Hacker. She said she'd gotten frustrated in Diary and had told them they were asking stupid questions, and they'd told her to cooperate. BB ran "you are not allowed to talk about production" announcement and she said "well stop sucking so hard and I won't have to." Brett and Scottie had a very long, very rambling convo about everything from lemurs to the integrity of ice cream to dolphin masturbation.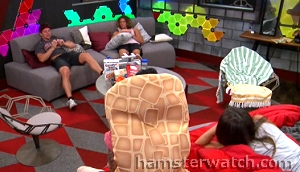 Angela, Brett, Kaycee Peanut, Tyler had a meeting in HOH, congratulating themselves and each other for how smoothly everything went, and how quietly Bayleigh was taking it. They commented about Haleigh rebounding as soon as she was safe from the block and that she was talking to everyone again. Brett told the others about his Scottie convos and said Scottie has a crush on Haleigh, and he told them Fessy and Haleigh are "definitely" in a showmance. He told them about the drunk night when Fessy got mad at Haleigh for drinking and talking wild, and how Haleigh had gotten mad at Fessy about that. He also told them about the infamous "five hours in the hammock" convo and how Haleigh was venting to him about Fessy, and how Fessy had glared at them during that. Tyler said "can we talk about how many fucking times we just blindsided the fuck out of people?" and Brett said "I literally live for at this point just hearing Fessy say 'dude I don't know what's going on.'" Ain't it the truth? JC joined and they all shared some laughs at the others' expense, Scottie and Haleigh chatted cozily outside for a very long time, Fessy attempted damage control with Haleigh for a very long time after that, and Rockstar got a 1am call for beetballs and boxing - her narration for that got pretty raunchy.

GET THE FEEDS to watch everything unfold, and catch up what you missed on my previous week's page, and/or Hamsterwatch Forum thanks to @UGotBronx, and please remember to use my Amazon link for any Amazon shopping anytime, USA or Canada - thanks!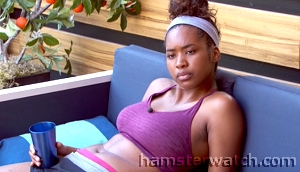 Day 49 Tuesday August 7
Bayleigh wasn't in a good morning mood, telling Sam she'd heard she was mad at her. Sam said no she wasn't, and she calmed Bayleigh's slow simmer somewhat as she encouraged her to talk about it and peptalked her concerns. Bayleigh was upset that Tyler asked how she was doing - either he said it condescendingly or she took it that way. She told Sam she had a good reputation before this and "now it's ruined," and "they casted me as a very sassy and aggressive black girl and that's what they want--" -feeds switched temporarily. She said she shouldn't have told Rachel about her power, she doesn't want to do campaign one-on-ones, and Sam said she doesn't want to have to choose between Bayleigh and Rockstar. I don't know if Bayleigh got a pregnancy test kit yet or not, but that has to be weighing heavily on her. As far as I know, she's only confided in Haleigh about that.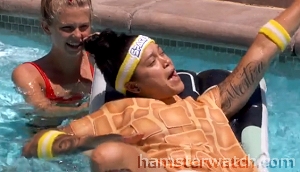 Rockstar got a late morning Jessie signal for smoothies and sprints, and shortly after she was assigned the same again. It's too bad they didn't come up with a wider variety of food/exercise combos since that all runs for a week. Brett gave her some advice for her sore muscles, and she thanked him. Kaycee Peanut continued getting peanut signals and she sang her off-key jingle loudly and cheerfully each time. She got a pool peanut suit and got her music cue as soon as she got into the pool. She sang her song with her usual enthusiasm on a deflating floatie.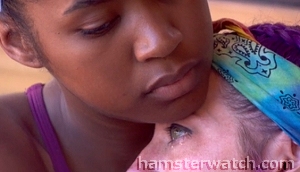 Rockstar told Bayleigh she wouldn't want to stay just to sit on the block each week and she was considering giving an epic speech on Thursday that would get her evicted, for her "feeling of justice in the world." Bayleigh said as her friend, it was her duty to talk her out of doing anything crazy. Later Rockstar asked Sam what she thought about the idea, and they added a pinkyswear to the tally that Sam wouldn't tell anyone else about the idea. Rockstar broke down with Bayleigh, saying she was "weighing self-preservation against my core belief system" and Bayleigh replied "yeah, but at the end of the day you have to put yourself first."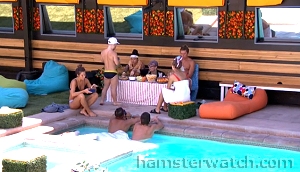 An afternoon pool party had been planned and various foods and snacks were made for that, and a good time was had by most. Sam stayed off to the side with her crafts basket and made flowers out of dryer sheets.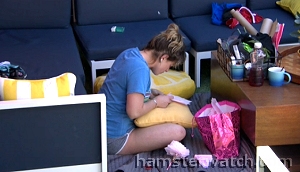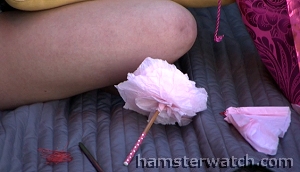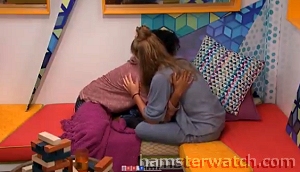 Haleigh and Bayleigh met in the lounge and Haleigh began by saying she'd never do anything to hurt her intentionally, and she owed her an apology because she won the Hacker comp. She said she'd wanted to take a shot at Tyler but of course that backfired. Haleigh said she wanted to call a house meeting to tell everyone and Bayleigh said don't do it, and they both broke down. Bayleigh she wasn't mad at Haleigh about it but she was upset how fast everyone else "showed their true colors." The house meeting is tentatively planned for Wednesday. Later they talked over the votes with Fessy, but they didn't share the Hacker secret with him. Haleigh said she'll tell him and Rockstar, separately, before her meeting.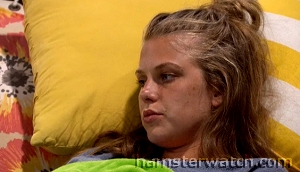 Secrets don't last long in this house: Haleigh told Fessy it was her, and that she'd already told Bayleigh. He said "I knew it" (no he did not), and she told him she wants to call a house meeting to take the heat off Bayleigh. He discouraged that idea, saying "what's done is done at this point." Haleigh ran her proposed house meeting speech for Fessy, and at the end she said she didn't want to do it anymore. Rather than being happy with what he wanted, Fessy suggested they talk about it some more, and Haleigh said "what if I just told Kaycee?" Fessy wanted to know if and when Haleigh would have told him her secret, because he's predictable like that. Also predictably, they wondered if they could get the two more votes needed to save Bayleigh. Later Fessy told Bayleigh that Haleigh had told him about it.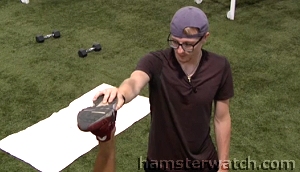 Scottie had told the HOH group he might wear a Swaggy shirt under another on Thursday, and reveal it after he votes, and Tyler said he might vote as the Hacker, with shades and a hoodie. Those plans might or might not change if Haleigh has her meeting, but it almost certainly won't affect them voting out Bayleigh. Meanwhile Scottie wandered over to Fessy and Haleigh on the hammock and nonchalantly asked if they were talking about anything exciting? He wandered off, Fessy wandered off, Scottie wandered back and "reminded" Haleigh the Hacker still has the power to nullify a vote.

Haleigh was going to be Angela's rotating sleepover guest but she went upstairs to say good night and announce she was going to bed, so I figured her house meeting won't be tonight. Meanwhile Fessy did some really bad acting as he ran some "what if Bayleigh isn't really the Hacker" scenarios to Brett, and he hinted that some info might be coming out soon. You have to laugh, you simply have to.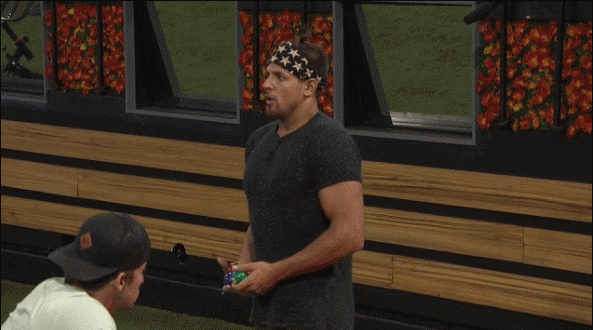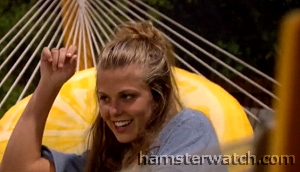 Haleigh got out of bed and joined Fessy in the hammock again, where Fessy said he'd "talked a little to Brett." They went back and forth a lot on whether to wake everyone up to do the meeting now or do it tomorrow, and Fessy did his usual nightly attempts at romantic overtures. Rockstar got another call for flaxjacks and jumping jacks and Sam joined her for those, so everyone was back up again except Bayleigh. At one point Fessy said to wait til tomorrow as everyone was having a good time, and Haleigh said "so? I want to ruin that." After completing her task, Rockstar joined Fessy and Haleigh and said if she goes ahead with her scorcher speech on Thursday, she might include "you're all stupid, 'cause I'm the Hacker." Haleigh had said she wanted to tell Rockstar before her meeting but she didn't take this obvious opportunity to do so, and the meeting hadn't happened as of 2am. Scottie and Brett had another convo about anything and everything, with JC and Tyler participating for the first part.

GET THE FEEDS to watch everything unfold, and catch up what you missed on my previous week's page, and/or Hamsterwatch Forum thanks to @UGotBronx, and please remember to use my Amazon link for any Amazon shopping anytime, USA or Canada - thanks!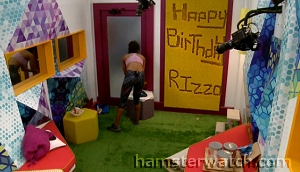 Day 50 Wednesday August 8
The second half of the season kicked off with Bayleigh finally having a sit-down with Angela about her renom. It was quick and didn't go well for Bayleigh: she brought up their Day 2 deal, their day-before-veto-meeting convo, she said she had protected Angela early on, and Angela said she did what she had to do for her game. And of course the allegations of Bayleigh as Hacker. Angela walked away, Bayleigh muttered to herself some of her history points plus "that fuckin bitch," and then barricaded herself into the lounge, saying "leave me the heck alone" but she didn't stay long. Rockstar did flaxjack jumping jacks with Sam, Angela, Kaycee jumping along, and we went back to waiting for Haleigh's house meeting as Bayleigh simmered over packing, telling Rockstar over her packing "you have no clue, just wait."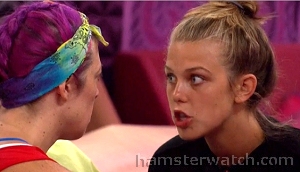 Haleigh finally confessed her secret to Rockstar, who asked if Bayleigh knew, and generally took it better than Bayleigh had. Haleigh also told her about her house meeting plans and speech, and Rockstar was anxious to get to it: "let's do it now!" And so she did: Haleigh (finally) went around the habitat and told everyone to gather in the living room - Flashback 8/8 12.24pm.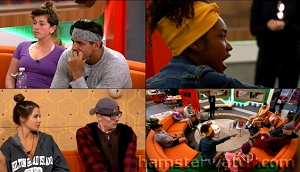 Haleigh went into her prepared speech, beginning with saying she loved everyone but several people owe Bayleigh apologies including herself because she won the Hacker comp, and into the rest of her speech addressing why she put up Tyler and that she'd never wanted to steal Angela's HOH power. Then she said last week Tyler went to Bayleigh to ask her to backdoor Angela, and that's when everything blew up. Tyler fake-laughed, saying "that is hilarious" and argued that "every single person knows that's a lie." Things then escalated very quickly, most notably Bayleigh's temper which had been simmering since Monday's veto meeting.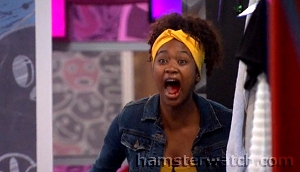 She yelled and screamed, and yelled and screamed some more as she walked out. Tyler protested the allegations of that original retell misunderstanding-exaggeration-question-lie about last week's renom, and Bayleigh screamed "how about an apology instead of treating me like fucking trash!" Tyler said just because she was screaming didn't make it true, and he laid on the irony super-thick as he said "you're the one that lied to everyone about not having a power." Bayleigh yelled and screamed so hard she bit her tongue or cheek and her mouth was bleeding as she screamed. She told Tyler as she exited the living room "you are terrible, you made my life in this house a hell!"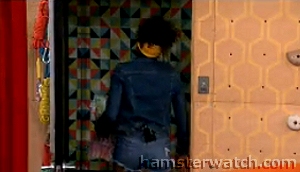 Haleigh formally adjourned the meeting and she, Sam, Rockstar gradually calmed Bayleigh down. She went into Diary and when she came out, she said she'd never been that angry in her life but she felt overall better for finally letting it out, and she began apology rounds for losing her temper so badly. Tyler had gone to HOH to "protest too much" that he wasn't a villain and he was being unjustly accused. JC ran his speed-whispering rounds including an "explanation" session with Fessy, Scottie questioned the timing of the meeting, and rehashes ensued all around. Angela asked Tyler and Kaycee if they think they still have the votes [to evict Bayleigh], adding "that's my only concern." They agreed they probably still do.

Feeds went down at 6.11pm for their halfway party, which will include pizza and music, and may (hopefully) include booze.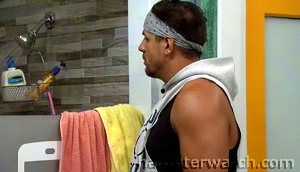 Feeds came back a little past 8pm and they had gotten the pizza but not the booze. Bayleigh was campaigning to Scottie, telling him both sides tell him things, and that Rockstar had told her she tells Scottie everything. He wasn't encouraging though, and Bayleigh told Rockstar she thought she (Rockstar) will be staying. Fessy chatted with Haleigh in the shower, towering over the door and getting his evening eyeful, and they decided they thought they'll have JC's and Scottie's votes (nope). Haleigh finally asked him to step back from the door but he said he can't see over it, and he stayed close after stepping back temporarily. Afterward, Haleigh laid down with Brett who rubbed her back and arms.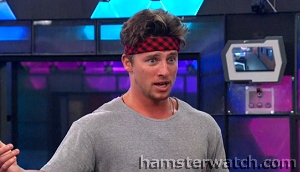 Brett finally made it back up to HOH for a Level 6/5/4 reunion and they all hugged as he said "omg I missed you guys so much!" Comparing of notes, pitches, retells, and rehashes ensued, including reports of Rockstar and Fessy being completely sorrowful downstairs. Tyler asked "is she going to be mad that she stays?" and they laughed. They compared reports of the other side thinking they have JC's and Scottie's votes. JC kept Fessy busy downstairs, feeding him all kinds of JC-speak. Angela asked if they should tell Scottie that Brett's voting with them, saying she didn't want Scottie to think he's the swing/responsible vote. Brett said he'll tell him. He also told them he thinks the other side is ready to target JC next, after Angela of course. That doesn't seem to be the case but it could cause some interesting scenarios as we progress.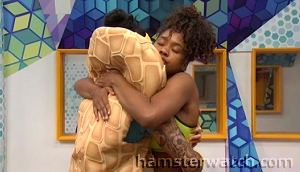 Bayleigh had a chat with Kaycee Peanut and said something about people hating her now, and Kaycee Peanut said nobody hates her. Bayleigh said she's just using that word but people are still treating her weird, and she hasn't had an apology from anyone, including Tyler. Bayleigh thanked Kaycee Peanut for talking to her and Kaycee Peanut said she respects Bay, and they had a peanutty hug. Later Kaycee Peanut calmed and comforted a crying Sam in the pantry, and peptalked her as well.

Meanwhile Scottie and Haleigh sat down to play chess and whisper for a few hours. Among other things, Scottie told her that Level 6/5/4 want him to fake-flirt with her (that was actually his idea), Haleigh said Tyler doesn't trust Fessy, Scottie told her Fessy had pitched a final three deal with him and Tyler, Haleigh pushed him to vote to evict Rockstar rather than Bayleigh, Scottie told her JC will vote to evict Bayleigh, and he told her about his idea to wear a Swaggy shirt under his hoodie tomorrow - Haleigh said that was going too far, and Scottie said "that's what I said" (he didn't).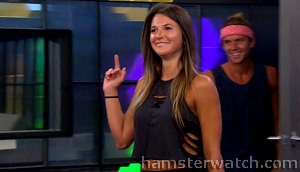 Bayleigh then told Angela if she goes tomorrow, she knows it's a game and she doesn't care, she has enjoyed getting to know her and it sucks losing her as a friend. Angela said she knows it's a game and she thinks they can be friends after. Bayleigh said she heard Angela was still "trying to tear her down" after learning she wasn't the Hacker, and that Angela had been quick to turn on her, and that "hurt her heart." They went back and forth a few times, and did not find a happy parting compromise. Angela said everything has been strictly game level and not personal, Bayleigh callenged that, and Angela said she's still not 100% sure Bayleigh isn't the Hacker. Bayleigh said Angela had shut her out for the past two days, and Angela finally walked away and went upstairs saying she's not going to have this conversation. Bayleigh said "of course, because you don't do anything wrong, you're perfect." Angela replied "thank you" and re-entered HOH grinning, with middle finger extended.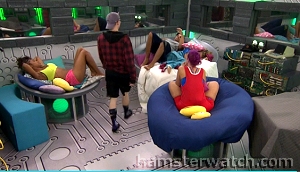 At bedtime, Haleigh left the pink room to go off by herself into the Have-not room to cry. Fessy and Bayleigh joined her, Rockstar also joined a bit later, and Scottie came through for an extended good night hug with Haleigh and a shorter one with Fessy. Haleigh asked him "is this broadcasted that I'm crying?" (yes) and she said she'd gone in there so she wouldn't be seen. Scottie left (to have a check-in with Tyler and report some of his Haleigh convo), and the others tried to lighten things up a bit, including Rockstar joking again about Bayleigh "spewing blood" earlier. Bayleigh laughed about that and talked awhile, as did the others, and Haleigh stayed mostly quiet and under her pillow but she seemed to perk up a bit. Brett and Scottie had a lengthy and complicated check-in, as did Tyler and Angela, and Tyler and Kaycee Peanut. Haleigh, Bayleigh, Rockstar, Fessy, Scottie all met up in the kitchen for leftover pizza. Scottie and Haleigh then met up again in the lounge, where Scottie told her Brett will vote out Bayleigh so they should too, but he'll vote with her if she wants to vote out Rockstar. Haleigh told him, re hiding in Have-not to cry, that "they're the reason I was fucking crying," meaning she was torn between her friends on the block and plagued with guilt, and she cried some more.

I think Bayleigh will still go 5-2 and all this is just the usual Wednesday waffling, but their waffling is getting hard to keep track of.

GET THE FEEDS to watch everything unfold, and catch up what you missed on my previous week's page, and/or Hamsterwatch Forum thanks to @UGotBronx, and please remember to use my Amazon link for any Amazon shopping anytime, USA or Canada - thanks!



Ratings - Blindside Boulevard edition
Ratings are based on entertainment value
VTE = Voted to evict




Minority opinion, but I don't have a huge problem with the twists. They need something for Sunday shows and they don't seem to want to do food comps, and I like the added scrambling and paranoia the Hacker has brought. BB is unfair by definition and adaptability is key to playing it well, so why not force it to see who can and can't adapt on the fly? My current pet peeve with them is why do they have to drop you into a chat every time you open feeds now? I avoid feeds chats at all costs and any news tidbit, joke, or scandal that makes the rounds in them is tattled to me on Twitter a dozen times or more at lightning speed, especially when the news tidbits, jokes, and scandals are inaccurate, unfunny, or outright lies.

This week's history loops include the BB16 doorbell ding-donging and every time I hear it, I think it's the wonderful visit from Izzy the dog. But no, it's Jeff and Jordan. But that inspired me to look Izzy up and I happily discovered she is still available and working! We all know BB doesn't ever use my suggestions but wouldn't it be nice if they brought Izzy back for a few hours again this season? That would fit the theme of alumni visits, and she's one vet nobody would mind seeing again.





Won: Nothing yet
HOH 1 - Veto 1 - Noms 0 - HN 1

No vote (HOH)
Won veto/used on Tyler
Everyone's been begging for old school BB for years, and she's bringing it. Turns out a lot of people didn't really want old school BB after all as it's nasty and cutthroat, but oh well, too late now.





Won: 1st eviction immunity; 1 week Food and Fitness program
HOH 0 - Veto 0 - Noms 2 - HN 1

No vote (nominee)
After a disastrous couple of weeks she's rebounding nicely, even while on the block. She's been good-natured about her Jessie tasks (unlike say, Paulie and his apple pies). Maybe it's being in the spotlight/on the show that she likes, rather than being self-exiled in bed. She's still more stuck on who's driving the blindsides than trying to do something about them.





Won: Power App #3 Identity Theft
HOH 1 - Veto 0 - Noms 1 - HN 1
1st juror/6th evicted 6-1 Day 51

Evicted 6-1
I was expecting more drama from her after the veto meeting but good for her that she didn't explode. There's still time though so I'm not throwing the popcorn out yet. If Diary keeps pushing her, it might happen sooner than later. But they might ease up a bit now that she's mentioned walking, since they probably can't afford to lose anyone else before their time.





Won: 1st eviction immunity; 24 hours InstaGranny
HOH 0 - Veto 0 - Noms 2 - HN 2

VTE Bayleigh
His acting job was successful and he fooled everyone he was supposed to with his grumpy resentment act. He and Scottie are becoming the hamster odd couple with their long, long convos about game strategy as well as everything else under the sun. And in space.





Won: 1st eviction immunity; Crap App #1 Hamazon
HOH 0 - Veto 2 - Noms 0 - HN 2

VTE Bayleigh
He was so gung-ho about Angela's EPIC HISTORY-MAKING GREATEST MOVE EVER of breaking pinkyswears but I guess he forgot about that when she didn't, as I barely heard any reaction from him at all. In fact I barely hear from him at all anymore because he's almost always asleep. When he is vertical he still says some of the goofiest things, but somehow he stays mostly likeable even while being the buffoon of buffoons.





Won: 1st eviction immunity; Crap App #3 Read It; Hacker #1
HOH 0 - Veto 0 - Noms 1 - HN 1

VTE Bayleigh
HACKER #1
Hacked Scottie off the block/nominated Tyler/nullified Tyler's vote
I'm not sure what she had in mind when she replaced Scottie with Tyler and picked Kaycee for veto, but she didn't think it all the way out and now it's backfired spectacularly. When Bayleigh was griping about being blamed for the hacking, Haleigh looked like she wanted to crawl into a hole and hide, especially when Bayleigh said the 'real' Hacker was probably laughing at how everything turned out. And wait til Fessy finds out she was the Hacker and didn't tell him, after he pushed and pushed her to 'share everything' going forward.





Won: Nothing yet
HOH 0 - Veto 0 - Noms 0 - HN 1

VTE Bayleigh
If he weren't so continuously problematic, and if he didn't engage in speed-whispering as often as he does, he'd be an easy front-runner for Star of the Season. He can be hilariously funny and he's Kaycee Peanut's top backup dancer. But alas, he is continuously problematic and he does engage in speed-whispering way too often.





Won: 1st eviction immunity; 2 weeks Pinwheel; 1 week Peanut
HOH 0 - Veto 0 - Noms 0 - HN 1

VTE Bayleigh
She's the peanut of peanuts and I love how enthusiastically she does her little song and dance. Especially the song, since she's such a bad singer but she belts it out as loud as she can every time anyway. It makes everything better.





Won: 2 weeks Robot; Power App #1 Bonus Life
HOH 1 - Veto 0 - Noms 1 - HN 1

VTE Rockstar
Most of the fanbase has turned on her but not me. I may not like everything she says or does but I still like most of her stories and her cozy way of telling them, and her crafts, and her subtle but masterful social game. Yep I said it - I pay the bills and put in the hours to keep this site afloat, so I can.





Won: $5,000; 1st eviction immunity; Greece trip; Hacked off the block Week 6
HOH 1 - Veto 1 - Noms 2 - HN 3

VTE Bayleigh
Nominated/hacked free
See Brett, and add his super awkward but enthusiastic peanut dancing, even if he's alone in a different room than Kaycee Peanut and her troupe.





Won: $2500 (on TKO); Power App #2 The Cloud; Hawaii trip
HOH 1 - Veto 2 - Noms 1 - HN 2

No vote (nullified by Hacker)
Nominated by Hacker/veto'd off
See the bit about adaptabililty in the Producers rating, then see Tyler for how that works. Even when he hasn't gotten what he wanted, he adapted quickly, made the most of it, and turned it to his advantage. I don't want to see everything go too smoothly for anyone in there so it was good to see him have to sweat on the block for a minute before he talked himself off it. It'll be fun to see how things unfold when Level 6/5/4 have to start eating their own, and that isn't that far away now.





Won: 1st eviction immunity; Crap App #2 Yell!
HOH 0 - Veto 0 - Noms 1 - HN 1
5th evicted 5-4 Day 44

Her blindside stung more than some because much of it was due to a pack of lies plus betrayal by her BB bestie Angela but hey, welcome to Big Brother. And she did buy some of it herself by losing her mind on the block, and that was after she agreed to go on it. She had nip slips and towel flashes almost daily, for those interested. She said she's a performer almost daily too, sometimes multiple times a day, and she did come alive when she was acting out skits, dancing, or singing ('please stop singing') but the rest of the time she seemed guarded and I don't feel we got to know who she really is at all. Her rough 'n tumble friendship with JC was fun, especially when they'd break serious convos for their quick-and-done J's Party dance. Her pal Jackie didn't fill her in enough about the rotten meat and rancid potatoes of this game, but she held her own pretty well until she didn't. Her birthday was memorable, thanks to Kaitlyn using the occasion to yell at Brett.





Won: Bonus Life 'chance' (failed)
HOH 1 - Veto 0 - Noms 1 - HN 1
4th evicted 9-1 Day 37

It's safe to say we knew more of her backstory than any hamster ever, since she seemed to bring it into every convo. She talked a very lot, and she squeaked, whimpered, babytalked, croaked, and cried a lot too, plus she canoodled with three guys (Tyler, Brett, Fessy). She caused a lot of chaos which is good, but she was often exhausting about it. New age interests are fine, some clairvoyance is trippy and fun, but her 'intuition' was nearly always wrong. It's probably just as well she failed the Bonus Life puzzle since she'd gotten to the point of getting 'hits' from shampoo labels. It was Tyler's doing, but she still gets the credit in the books for backdooring Swaggy and breaking up a showmance in the second week: something most seasons haven't been able to manage til the end, if at all.





Won: Nothing
HOH 0 - Veto 0 - Noms 2 - HN 1
3rd evicted 6-5 Day 30

He too came in saying all the right things: he wasn't here to get a girlfriend or Twitter followers, and I had him pegged as either a dark horse who'd go far, or a too-hard-too-soon kind of guy. Turned out he was the latter, probably because he just discovered BB last summer and binged several seasons since without realizing there's a lot more to it than the show edits let on. He spent most of his time playing Jenga and broing around with Brett, and the two of them provided a lot of unintentional comedy in the form of buffoonery. He made manic facial expressions while going on angry whisper rants, he threatened speech call-outs but didn't follow through, and for all his jock/winner self-hype, he failed every comp.





Won: 1st eviction immunity
HOH 0 - Veto 0 - Noms 1 - HN 0
2nd evicted 8-4 Day 23

Pre-season he said all the right things (albeit in his own unique, third person way), but he started off way too strong and way too Swaggy for his own good. He gave us great shockface when Steve was evicted but it didn't sink in that he wasn't fully plugged in, so he gave us another when he went up as backdoor renom. To his credit, he campaigned his brains out to stay rather than lay down to die, but it didn't help. His pre-show QAs said he was wary of showmancing but he fell for Bayleigh anyway, and together they were one of the cuter 'mances to watch - it helped that they didn't slurpydurp too much. Swaggy C was a good character for TV, but Chris was a good hamster and will be missed.





Won: Nothing
HOH 0 - Veto 0 - Noms 1 - HN 0
1st evicted 7-6 Day 16

The Summer of Steve™ ran just a couple weeks and his job lie(s) didn't help him any. He might have been better off if he'd been open about his undercover past and teaching present as both would have let him share more stories, or if he'd gotten in with Kaitlyn and Rockstar via his wife's new age interests and books. He and Scottie buddied up but otherwise he was odd dad out. He didn't keep up so believed he was safe, and he didn't really campaign to stay. It might not have helped if he had because all the scurrying was elsewhere, but it wouldn't have hurt. He didn't get his required nightly baths but he learned to clean his ears, and early risers in particular will miss him.



Lines and Links of the Day
Lines

Rockstar: I cried my eyelashes off in the DR and it was really embarrassing

Scottie to self/us: If I end up winning this, I am the worst Big Brother winner ever 'cause I have no fucking clue what's going on! And it's great! I love it! I'm a patsy!

JC: So we're not gonna vote? I thought we were going into the bathroom to vote
Sam: It's over
JC: This fucking sucks
Sam: Now everybody go back to killing each other, I'll be in the kitchen

Rachel: Now you got a bunch of boring people in the house who are just gonna work out and peel potatoes

Scottie: Have you sworn on any Bibles yet?
Tyler: No
Scottie: I've sworn on like two or three Bibles
Tyler: Dude, why do you do that?

Bayleigh: You're the only white person I know that hates white people
Rockstar: [laughs] I don't hate them
Bayleigh: Yes you do, like normal white people? You don't like them more than I do

Kaycee: I'm gonna own it, I'm gonna own this penis suit - PEANUT suit!

Fessy: I feel like this isn't even Big Brother, we're just 11 people stuck in a house together

Bayleigh: I literally have not lied about anything on this show

Fessy: Angela, remember on like Day 2 when my eye was like about to fall out of my eye socket?

Bayleigh: I hope the ratings drop if I leave, like drastically

JC about Rachel: She's in a better place now

Haleigh: I'm the worst player in Big Brother history, literally outing myself on an anonymous move I made
Fessy: To save a third person who has a power

JC: I reckon over yonder, yes I did



Links

GET YOUR FEEDS

Use my links for any Amazon shopping, anytime, at no extra cost - just start your shopping trip by clicking Amazon USA or Amazon Canada

Live like a hamster! Available from Amazon:
-17-inch Orwell owl Amazon USA or Amazon Canada
-Owl sleep mask with hot/cold gel pad
-Nanoleaf LED light system like HOH room Amazon USA or Amazon Canada
-Emoji pillows, individual or sets (read descriptions carefully, some sets are random) Amazon USA or Amazon Canada
-Gradient duvet/sheet sets pink/purple or blues
-Minion plush toys Stuart - Bob - Tim - loads of others
-New age books by Sahvanna Arienta, Steve's wife

BB by the Week for Week 6 by @aubramariebb



Tally Items

Season Stats
HOHs in order: Tyler; Kaitlyn; Scottie; Sam; Bayleigh; Angela

Veto winners in order: Faysal; Tyler; Scottie; Faysal; Tyler; Angela

Evictions in order: Steve 7-6; Swaggy 8-4; Winston 6-5; Kaitlyn 9-1; Rachel 5-4; Bayleigh 6-1

Pre-jury Twitters: @bb20Steve; @SwaggyCTV; @BB20WinstonH; @kaitcoaching; @rachieswin
More social media links in cast folders at Hamsterwatch Forum








Linking to any page here is fine. Please don't repost content from this site (or any other) without permission, and don't repost or hotlink images.



THE REAL SHOW IS THE FEEDS


SAME DAY AIR SHOWS
Live air shows in some areas
BB1 thru BB19 and many other CBS shows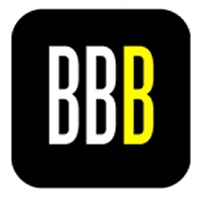 BIG BROTHER BUDDY
Get push notifications for all the big feeds events - iOS or Android


HAMSTERWATCH SWAG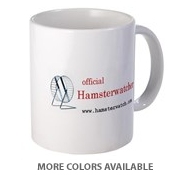 Mugs, shirts, more
Visit my Cafe Press shop






Big Brother 20 SEASON FAQ


Day 1 Move-in was June 20
Day 8 CBS premiere is June 27
Day 9 Feeds begin June 28
Day 99 Finale will be September 26

Feeds are streamed by CBS, and Flashback is accessible via All Access subscription. Call 888-274-5343 for account help, including cancellation.

Air shows on CBS (Global in Canada) are Sundays 8pm, Wednesdays 9pm, eviction Thursdays 9pm.

Big Brother After Dark on Pop TV is every night midnight to 3am, except Thursdays 1am to 3am. The aired blocks are live (or recorded earlier the same night, depending on your cable provider).

The CBS app (by CBS Interactive) plays BB air shows and other CBS shows, as well as feeds, or you can use your browser to watch feeds on mobile devices. The same All Access link used to subscribe will lead to the feeds viewing page if you're already signed up.

BB20 prizes are the same: $500k for the winner and $50k for 2nd place. Stipend for the others is $1,000 per week again, including pre-show hotel and jury sequester.

The habitat has 94 HD cameras (up 7) and 113 microphones.

The recorded in-house announcements are the voice of producer Don Wollman. He and Julie Chen are the only staffers who have been there since Big Brother 1.