This site is about the Big Brother 20 feeds and contains spoilers! It isn't necessarily thorough: it's what I catch and/or what interests me. It's about watching hamsters: who's doing what and why. Thanks for encouraging my behavior.
Your pal, dingo



PROTECT YOUR ONLINE PRIVACY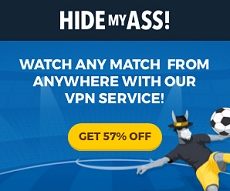 CELEBRITY BB UK
STARTS AUGUST 16
Watch BB Canada, BB UK, Survivor Australia, Survivor New Zealand, and other non-USA shows




HACKER COMPETITION TWIST

Each week's Hacker Comp winner can replace one nominee, select one veto player, and nullify one vote

#1 Haleigh
-Replaced Scottie with Tyler
-Picked Kaycee to play veto
-Nullified Tyler's vote

#2 Kaycee
-Replaced self with Rockstar
-Picked Tyler to play veto
-Nullified Fessy's vote





APP STORE VIEWER VOTE TWIST

WINNERS - POWER APPS
BONUS LIFE #1 Sam
-Could give 1st, 2nd, or 3rd a chance to return to the game
-If unused, 4th evictee automatically got a chance
-Kaitlyn failed to complete the puzzle
THE CLOUD #2 Tyler
-Immunity at any one noms or veto meeting within 2 months
IDENTITY THEFT #3 Bayleigh
-Can replace noms one time before final eight
-Was not used

Not selected: Re-Draw, Upgrade

LOSERS - CRAP APPS
HAMAZON #1 Faysal
-Periodic [vegan] ham deliveries, had to eat it all
YELL! #2 Rachel
-24 hours getting yelled at
READ IT! #3 Haleigh
-Read Hamlet in costume

Not selected: Fake News, Spammed

Limit one per hamster, whether winner or loser - Voting info & rules







BB20 DRINKING GAME


Take a swig whenever someone says 'literally' (lightweights can take a swig whenever someone uses 'literally' properly)







QUICK LINKS & BOOKMARKS



-SIGN UP for feeds
-WATCH the feeds
-BB20 official site
-Live show tickets

-Feeds updates by @UGotBronx
-My Twitter - my screencaps
-Amazon portal USA or Canada

-Dick at Night with @EvelDick

-BB Viewer by @liquid8d
Requires All Access account

-BB20 Wiki

-Hamster Twitters
BB USA - BB Canada

-Advice for cast friends/family

-VPN to watch BB UK and/or to protect your online privacy







EAST COAST AIR SHOWS



CanadaTV for Roku
$2/month - Global airs BB USA

East coast air show live streams:
- 1 - 2 - 3
NO DOWNLOADS NEEDED - BEWARE OF CLICKING POPUP ADS OR WARNINGS




Donations via Paypal are gratefully accepted!


Watch Big Brother
Seasons 1 thru 20
Plus tons more CBS content






BIG BROTHER SEASONS



CBS All Access
Seasons 1 thru 20

Amazon DVDs BB4 - BB3

Amazon Instant Video
BB18 - BB17
- BB16
- BB15
- BB14
- BB13
- BB12
- BB11
- BB10
- BB9
- BB8
- BB7





BIG BROTHER 20 FEEDS EXCLUSIVELY ON CBS ALL ACCESS
All Big Brother USA seasons + most CBS shows past or present are included
$5.99 PER MONTH INCLUDING 1 WEEK FREE TRIAL or $9.99 AD FREE
COMPUTER - MOBILE - ROKU - CHROMECAST - APPLE TV - ANDROID TV - FIRE TV - XBOX 1/360 - PS4


>> >> >>

>> >> >> >> >> >>

>>

Amazon USA
- Amazon Canada
August 2018
Power Status
Feeds are underway and they are the real show - SIGN UP NOW and get a one-week free trial! No promo code needed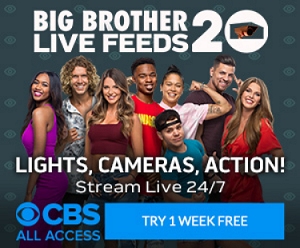 Haleigh is Head of Household
Angela and Kaycee were nominated
Kaycee won Hacker comp
Kaycee hacked herself off the block and put up Rockstar
Angela and Rockstar were nominated
Tyler won veto/used it on Angela
Rockstar and Kaycee are nominated

Nobody is Have-not

-Tyler has one-time immunity, to be used at (before) any one noms or veto meeting "for eight weeks" (he got it before noms on July 6)
-This was the second and final week for Hacker Comp: winner can replace one nominee, select one veto player, and nullify one eviction vote


Upcoming Events
Thursday night: HOH comp on feeds, HOH room
Friday: Nominations
Saturday: Zingbot visit and veto comp

Thursday August 16: Celebrity BB UK begins - Watch live or archive shows with HMA safe, easy, secure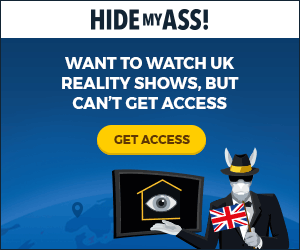 -Live launch and move-in 9pm UK/4pm ET/1pm PT

-Watch live at Channel 5's online live stream
-Outside UK use HMA to get around geoblocking, and protect your online privacy at the same time

-Shows are usually daily but check the air show schedule for 5 and 5Star - UK time is 8 hours ahead of Pacific and 5 hours ahead of Eastern

-The CBB official site has archive air shows and talk shows, highlights, previews, and info


Next Shows
Thursday 8/16 9pm - Live eviction, HOH comp starts - football delays in some areas, check your local listings
Sunday 8/19 8pm - HOH comp, nominations
Wednesday 8/22 8pm - Zingbot veto comp, veto meeting

CBS schedule is Sundays 8pm, Wednesdays

9pm

8pm, live eviction Thursdays 9pm - stream links to watch East Coast airing online are posted in Quick Links & Bookmarks on the left sidebar

After Dark airs for three hours every night on Pop - times vary by area and provider, check your cable guide


Other News
Alliance charts by @89razorskate20: Day 54 - Day 53

Hamsterwatch Forum for real-time feeds updates, screencaps, and air show recaps by @UGotBronx

Diary segment tally by @clamperls

Week 6 popularity poll results #1 Haleigh, #2 Tyler, #3 Rockstar
Follow @89razorskate20 on Twitter to participate: weekly polls launch every Monday 4pm PT/7pm ET

Post-eviction shows are hosted by BB Celeb runner-up Ross Mathews and winner Marissa Winokur, Fridays on Facebook Watch. The first (no eviction) ran June 29.

Ratings Watch Thursday's live show* won the hour with 1.4 rating, 7 share, 4.99 million viewers, ahead of Match Game on ABC with 0.6/3/2.97, two Trial & Error eps on NBC with 0.4/2/1.91 and 0.3/1/1.37, and Masterchef rerun on FOX with 0.6/3/1.84.
*Final numbers, adjusted for football pre-emptions in some markets
Sunday's show** won the hour with 1.6 rating, 8 share, 5.74 million viewers, ahead of Celebrity Family Feud on ABC with 1.0/5/5.79, America's Got Talent rerun on NBC with 0.7/3/3.79, and Teen Choice Awards on FOX with 0.4/2/1.03.
**Final numbers, adjusted for golf delay
Wednesday's show won the hour with 1.6 rating, 8 share, 5.82 million viewers, ahead of America's Got Talent on NBC with 1.5/8/9.63, Masterchef on FOX with 0.9/5/3.34, and The Goldbergs and American Housewife reruns on ABC with 0.6/3/2.90 and 0.5/2/2.20.

Rating and share: adults 18-49 - Rating: % of all TV households - Share: % of households watching TV


Week 7 - Days 51 thru 57 - August 9 thru 15, 2018
Daily and Noteworthy Events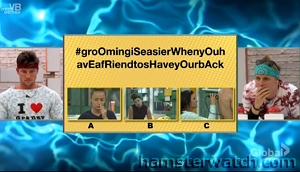 Evicted: Bayleigh
Head of Household: Haleigh
Have-nots: None
Original noms: Angela, Kaycee
Hacker winner: Kaycee
- Hacker nomination: Removed self, replaced w/ Rockstar
- Hacker veto pick: Tyler
- Hacker nullified vote: TBA
Pre-veto noms: Angela, Rockstar
Veto winner/outcome: Tyler/used on Angela
Final noms: Kaycee, Rockstar
Evicted: Rockstar



Day 51 Thursday August 9
In a morning bed block party, Rockstar told Bayleigh some tidbits about the pagan calendar, and Bayleigh asked her for some tidbits about the pregnancy calendar - feedmasters switched to another room. Sam made French toast for those wanting it, and Tyler told her he holds the second power, what it does, how long it lasts, and that he'd "almost lost his mind" when the Cloud icon popped up on the intercom monitors last week. He reminded her if Bayleigh stays, she'd probably use her power to put him back on the block. Haleigh pulled Tyler into the lounge to mend their personal relationship (per her), and she asked him about various things Kaitlyn had said about his game. Tyler denied, denied, denied, saying he never told Kaitlyn anything ever, and he explained how last week's veto results showed him that he was finally making some inroads with the Angela/Kaycee group. Later she had Kaycee Peanut lay out the votes and Reasons for her (fishing for info in my opinion), and then Sam laid down with Fessy as Kaycee Peanut retold to Angela, and later to Tyler.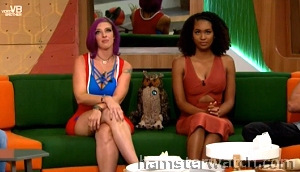 As planned, most of them wore costumes for the show. Julie told them and us that Tyler's vote would be nullifed by the Hacker (Haleigh), so he did not vote. Last night's and today's pre-show waffling did change things (and some major drama went down before the show, off feeds, including Sam trying to quit), and Bayleigh was evicted 6-1, with Sam the dissenting vote. Bayleigh was ecstatic when Julie told her Swaggy had gone to her home to watch TV with her family, she said their relationship is "real," and she rode off to the jury house. With this eviction, Bayleigh became the 29th consecutive North American hamster to enter first and not win their season (20 USA, 6 Canada, Celebs, OTT, Telemundo) - slow your roll at the front door, hamster hopefuls!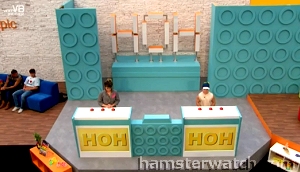 The HOH comp was Hashtag Too Long, set at Post-a-Pic Headquarters, though it looked more like Legos to me. They had to select the correct photo out of three (of themselves) to answer a #HaSHtaGcLue spelled with random upper- and lower-case letters. They played head-to-head in pairs, with the winner selecting the next pair. Pairs and outs in order were:
#1 Sam vs JC (selected by random draw) - Sam out
#2 Rockstar vs Tyler - Tyler out
#3 Kaycee vs Brett - Kaycee out (fishies on the show for her cussing)
#4 Haleigh vs Fessy - Fessy out (fishies on the show for him cussing)
#5 Scottie vs Brett - Scottie out
#6 Haleigh vs Rockstar - Rockstar out
#7 JC vs Brett - Brett out
#8 Haleigh vs JC - JC out - Haleigh won


Feeds came back to Angela telling Sam that nobody's mad she voted to evict Rockstar, and Sam said she didn't even think there were sides anymore - Angela said she didn't either. Sam said she's the only who loves Rockstar, and Angela said not necessarily, that everyone has their own unique personal relationships. Sam cried to Rockstar and said she just refused to let Bayleigh go out unanimously, and Rockstar said she "100% takes no offense to that." Scottie and Brett had a long check-in, with Scottie giving Brett an edited version of his talks with Haleigh last night, and he said he's closer to Haleigh than Fessy is. Haleigh told Fessy she's sleeping alone tonight and wouldn't "leave the door unlocked" for him. JC told Angela, Kaycee, Tyler that he'll try to get Sam on the block. Sam meanwhile went to sit in a closet under a towel.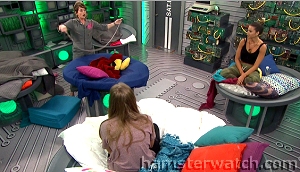 One-on-ones started up in the unoccupied Have-not room, with Sam going first as usual, and Angela sitting in. Sam said "obviously I put you up so if you choose to put me up, that's fine." Haleigh and Angela then talked alone, with Haleigh saying she didn't know what she'll do tomorrow, and Angela lending her recent expertise. When Angela left, she said "Amazon alliance, right here." Angela reported to Brett and to Tyler, and they wondered how visible Level 6/5/4 had become. Next up was JC, with Fessy in attendance. JC suggested putting up Sam as "pawn" for the first round against a good veto player, with the goal of a Tyler backdoor.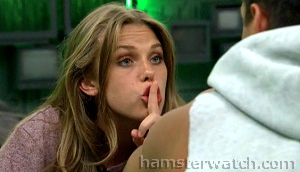 When JC left, Haleigh told Fessy that Tyler was indeed her target, but it would be complicated to get him gone. Fessy said "so Kaycee for sure?" for first round. Haleigh said she was tired and asked if they could talk it out tomorrow. Haleigh eventually told him she had to check him because there was nobody else to, regarding retells Scottie had told her about things Fessy had allegedly said and done, in particular laughing about a girls' alliance and girls going home, Fessy flipping votes, secretly working with Bayleigh, and various final threes Fessy had supposedly made. He sputtered and argued, and at one point raised his voice to protest but she angrily shushed him. Fessy said he'll put up Scottie if he wins Hacker comp, and Haleigh said "no, absolutely not, he is not to be put up," and they argued over whether Scottie was trying to get between them or not. Haleigh then met with Rockstar and reiterated her target was Tyler but she didn't know which combo of Sam, Kaycee, Angela she should put up as first rounds noms, and she told her about her convo with Scottie last night and some of the revelations revealed. Haleigh told Rockstar she heard the audience gasp when she voted to evict Bayleigh, and she said she's never questioned Rockstar's loyalty. Rockstar at one point said what a nice guy Brett really is. Meanwhile Fessy laughed to JC about girls going home on girls' HOHs, which was one of the things Haleigh had just yelled at him about.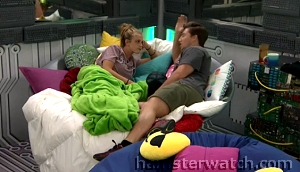 Brett arrived for his one-on-one and Haleigh asked if he could be her last one so he could massage her til she falls asleep. They talked anyway (and might do the rubbing later anyway). Sam was summoned for a return visit and Haleigh said she never knows what Sam's thinking, and asked Sam if she'd put Haleigh up again if she wins HOH next week. Sam said "no? is that what I'm supposed to say?" and she said she was aggravated, suddenly felt she has no friends in there with the "ugly weird thing happening," and that everyone was making fun of her. She said she "really really would have left and let both Bayleigh and Rockstar stay" -cut to fishies. Then she said fine, she wouldn't put up Haleigh again and they shook hands. Brett returned to replace her and said they "still have one problem: who the fuck has this third power?" Meanwhile Sam cried to Rockstar that she "hates this place" and would "fucking trade places with Bayleigh in an instant." Scottie was next and reported that Sam was so sad she wants to quit and that annoyed him because others who wanted to be there are gone, and that Tyler said Haleigh had rolled her eyes after their convo this morning, and that also annoyed Scottie, as did Tyler allegedly telling him he didn't want to be played by Haleigh again. They ran scenarios of the various nominee combos, and looped them around again.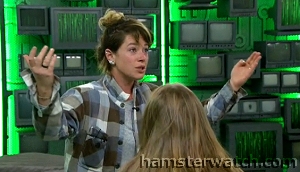 Sam returned to Have-not and asked the others present to leave, and she asked Haleigh to tell her everything that was going on that she hadn't wanted to know before. Haleigh said some people that she'd put her trust in maybe didn't really have her best interests in mind. Sam asked who and Haleigh made a face, but didn't name names. Sam wanted to know who was making fun of her, Haleigh said no one, she'd never heard anything bad about Sam. Sam cried and harangued, Haleigh finally said she'd heard Angela had said she was annoyed about something regarding Sam, and had reminded Haleigh that Sam had put her on the block. Sam said she was sick of the fake people in the fake house, then said it's all in her head and she'll get over it, and rewind, repeat. Haleigh was good about letting her talk and told her she'd often felt the same in there, including last night. Later Sam retold some of her breakdown to Rockstar, and she said Tyler never talks to her anymore, and she made Rockstar pinkyswear not to tell anyone, but she wants Angela and Tyler out of there.

Haleigh got her room around 12.12am with the usual pics, buckets of snacks, her own Texas A&M hoodie and a new shirt, an owl plant/planter from Pop, sunglasses, red wine! berries, three pies, and music by The Weeknd. Her letter was from her mom and included Sno-Cone updates and news about Haleigh's kitty Scarlett: she is fabulous, she wouldn't pose for pics but she is the real HOH.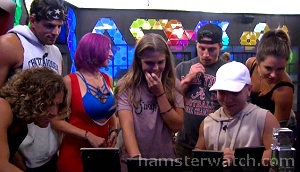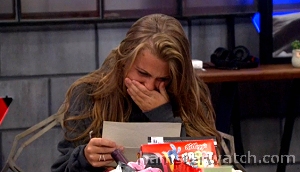 The crowd dispersed and Kaycee stayed behind for her pre-noms one-on-one with Hayleigh, as JC reported the gossip about Sam crying to Fessy. JC was next to HOH and repeated the Sam stuff, and that he felt bad "about all that stuff before the vote," and he said Scottie had been sketchy, and that he (JC) had always been loyal to Haleigh and would continue to be so. Fessy was up next, irritated that Rockstar was following him around and he said "the Scottie situation is pissing me off." Haleigh began to shut that down when Tyler arrived and Fessy left to wait on the skybridge and complain to Rockstar. Tyler asked if Haleigh will put him up now or later, and she said she was glad he was handling everything well and still speaking to her, and Haleigh insisted to Tyler that she wasn't playing Scottie. Fessy jumped into HOH as Tyler was leaving, before he did, asking about the Rachel/Brett eviction, because Haleigh had said she heard Bayleigh told Fessy to flip just before that vote. (That came from a Brett story to Scottie.) Tyler left and Haleigh jumped on Fessy for barging in and putting Tyler on the spot just after she got on good terms with him, and making issues about Scottie.

Everybody's winning this season: strategy fans, blindside aficionados, Team Chaos, and Team Fun Feeds! GET THE FEEDS to watch everything unfold, and catch up what you missed on my previous week's page, and/or Hamsterwatch Forum thanks to @UGotBronx, and please remember to use my Amazon link for any Amazon shopping anytime, USA or Canada - thanks!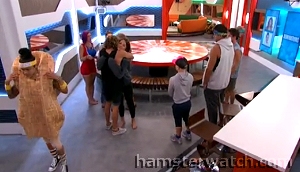 Day 52 Friday August 10
Haleigh nominated Angela and Kaycee Peanut, and once again feeds came back while they were still in the hugging phase. Tyler did not use his Cloud and he was obviously pleased that he hadn't had to. Sam told Haleigh she did well, and it was another "fucked-up Friday." Later Kaycee Peanut told Angela and Tyler she realized later that Haleigh had cited Kaycee voting out Bayleigh, when Haleigh also did. Fessy started going over all the he said/she said stories he'd been collecting lately in HOH with Scottie. Haleigh arrived and expressed her annoyance that Fessy was holding one-on-ones in her room. Kaycee Peanut told Angela, Tyler that "Scottie's in their ears" and Tyler said "JC said Scottie was telling them everything we were saying," adding they'll be fine.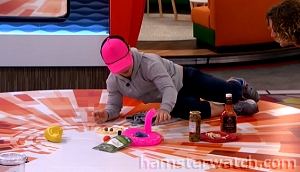 JC climbed onto the table to build a Kaitlyn memorial. Apparently a pair of her shorts was found but as Tyler pointed out, "how is that a Kaitlyn memorial? none of that stuff is even hers" other than the shorts. JC elaborated with a portrait of Kaitlyn on the table made with limp noodles, olives for eyes, and a ketchup mouth. BB ran the "no climbing on the furniture" announcement but they didn't seem to mind when JC carried on with his project while laying on the table. Tyler told Angela that Sam had told him "something weird, that Angela is better for him than herself," and that she'd never wanted him for anything besides just a brother, and that he'd replied "Sam, you tell me this all the time."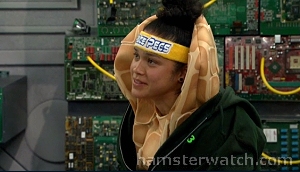 Feeds went down for their second and final Hacker comp from approx 1.20pm to 3.40pm. When they came back, Angela and Kaycee Peanut looked miserable in the Have-not room and Kaycee Peanut told Angela if they win [veto] they should keep noms the same. Tyler came in shortly after, Kaycee Peanut said she didn't do well, then she said "I fuckin won" and they had a big hug. Kaycee Peanut said only their four [including Brett] should know, and they shouldn't tell JC or Sam. She then went back to her well-done miserable act, as the rest of the habitat scrambled to try to figure out who the new Hacker is and what to do about it. It sounded like the comp involved matching clues to the correct rooms in the habitat.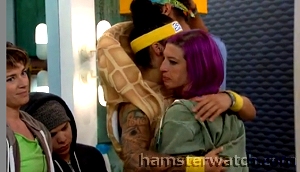 Kaycee Peanut secretly hacked herself off the block and put up Rockstar in her place. Rockstar was being consoled by Sam, Fessy, JC who said she's handled it fine before and she will again, and were teasingly calling her Blockstar. Kaycee Peanut joined in for a hug, saying she wasn't expecting that, and Rockstar said "it's cool, I'm the easy person to put up, it's cool." She also let a few cussing streams loose but overall she wasn't as angry as she might be, visibly anyway. Just before the Hacker nom ceremony, Hayleigh and Kaycee Peanut discussed the state of the gossip and Haleigh said Scottie had told her some things (meaning Level 6/5/4 probably won't be telling Scottie much now), and afterwards Angela and Kaycee Peanut told Tyler all should be well even if the veto isn't used, and Haleigh told Brett she thought Kaycee Peanut won because she heard her jumping up and down in the next room during the comp, and she'd seen her immediately pull Angela into the Have-not room after the comp.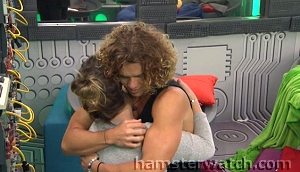 Haleigh suggested opening her wine with Rockstar and Fessy, but Rockstar wanted to wait til after they win the veto, as she was already having trouble not popping off on people. (They had pretty much decided the Hacker was Kaycee Peanut, and JC reported that back to Kaycee Peanut.) Meanwhile Tyler and Sam finally had a chat, with Sam discussing her concerns about being made fun of and related paranoia. Tyler gave her a good peptalk as he usually does, telling her to stop selling herself short and to smile. More hugs ensued, like they do, and Tyler told her if he doesn't win the veto he'll probably have to use his power. She said she's been hearing a sound like a rattlesnake, and that sound is going to take him out of there. Brett and Scottie had a check-in over Brett preparing food, which included Scottie trying to do some digging about JC's double-dipping and tattling.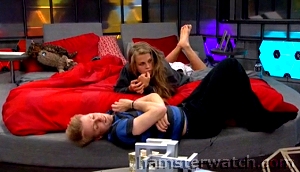 Evening was pretty quiet, with a few peanut signals before that task comes to an end. Gossip and speculation carried on of course, including Rockstar bitching and moaning to Haleigh and Scottie about being on the block again, what a lame move to put up the weakest competitor for veto rather than a strong player, and etc etc. She said if she gets a call for cupcakes and curls she'd pass out three then drop the rest on the floor. A little later she got a call for cupcakes and curls. Brett spent a couple hours chopping and peeling food, I don't know how much was for something he or someone else was making, and how much was just for something to do.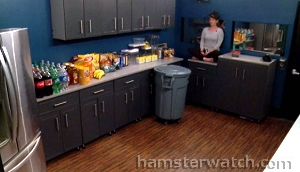 Sam had dropped in on HOH and asked out of the blue "who has the third power?" They said they figured it had almost certainly expired by now. A bit later Sam was in the pantry alone, saying this is not what she signed up for, she wasn't going to ruin any opportunities she has outside "because of some fucking idiot.. think I'm stupid, well I'm not." She returned to HOH and hid out in the bathtub for awhile? And chatted with Haleigh for awhile after that, saying she felt like an outcast, and Haleigh said she did too. Haleigh made a joke about putting eyedrops in tomorrow's coffee and the BB interwebs went ballistic, right on cue. The HOH group went downstairs as Rockstar made her cupcakes. She didn't drop them, and she offered them around as usual.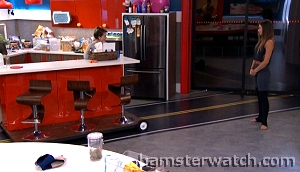 Sam was in the kitchen and apparently asked Angela if she was going to work out or run, and things got tense.
Angela: Is there something going on I don't know about?
Sam: No
Angela: Okay great, I just feel like you haven't been yourself around me lately and it's been upsetting
Sam: I haven't been myself around anybody, I fuckin hate this place! Everybody makes me uncomfortable, the whole situation makes me uncomfortable
Angela: I'm sorry, Sam
Sam: It's not you, it has nothing to do with you working out or you eating chicken or you doing anything, not everything's about you
Angela: Okay, you're absolutely right
Sam: I was just asking if you were going to run because I was going to flip the wall around
Angela: I'm not going to work out, I just showered
Sam: That's what I was asking, I'm just sick of this place, everybody's so uptight
Angela went to the lounge with Kaycee Peanut where they eavesdropped on JC trying to talk Sam off the ledge, and added snarky commentary. Retells and rehashes broke out all over town of course.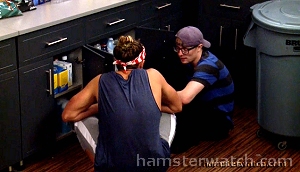 Sam settled down and talked things over with Kaycee Peanut, saying she missed Bayleigh and she's been a mood-swinging stressed mess in there. Kaycee Peanut in turn said she was tired of people accusing her of being the Hacker (deja vu), and she thought she was put on the block because of things Scottie told Haleigh. Sam said if noms remain Angela vs Rockstar, she'll vote out Angela. She added that JC had helped put everything in perspective for her, again. Angela joined and they chatted awhile, with Sam saying she loved them both as she left. Tyler and Scottie met on the pantry floor, with Tyler claiming ignorance about the Hacker, and he said he didn't know what he'd do if he wins veto because he'd want to use it on Angela but Haleigh wanted noms to stay the same. Fessy told JC to stop making jokes about he and Haleigh being a showmance, that it was "bad game." JC said okay. Rockstar got a Jessie signal for nachos and nunchucks, and just before 1am she was told she had completed her food and fitness program. Kaycee had been freed from her peanut a bit earlier.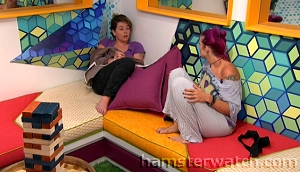 Sam took Rockstar into the lounge to ask what she thought about Brett as a person. Rockstar joked "he's growing on me like a fungus" and they both agreed he's been a charmer. Sam said she's sure it's all in her head, but she said some things that sounded like Brett might have been the one she thought had "made fun of her" or lead her on somehow, and she was a hopeless romantic. Rockstar said she could understand if Sam had a crush on Brett but Sam said that's not it, she was 100% against anything like that on TV, she doesn't even really know him, and maybe he'd just being nice to her, and she repeated several times it's nothing, it's all in her head. I don't know.. was Sam talking about Brett, or about Tyler using Brett's name, or was she gaming because Rockstar and Brett had been getting kind of chummy? Or is she losing it as much as she appears she might be? Elsewhere, JC told Tyler that Sam has a crush on Brett and is jealous of Angela on that score. Rockstar told her she (Sam) is lonely. Sam said she felt there was an ulterior motive that was meant to make her feel jealous. Rockstar said she doesn't think Haleigh's truly interested in any of the guys that way, including Brett. Sam said she didn't think "a guy like Brett could possibly be interested in me" and at one point said she felt like "a big fat disgusting piece of shit, and I wish I was dead." Rockstar gave her good advice and counsel, and told her that she's beautiful and cool, they're in a tricky place to do self-work but she needs to forgive herself for past baggage, and it's definitely not a good place to pursue a relationship.

GET THE FEEDS to watch everything unfold, and catch up what you missed on my previous week's page, and/or Hamsterwatch Forum thanks to @UGotBronx, and please remember to use my Amazon link for any Amazon shopping anytime, USA or Canada - thanks!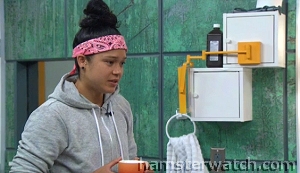 Day 53 Saturday August 11
Morning kicked off with tension between Rockstar and Kaycee before the veto draw, with Kaycee denying she's the Hacker and she's tired of being accused of it. Their spat was off feeds but retells from Rockstar to Haleigh, and Kaycee to Angela, Sam, Tyler filled in the blanks. Much of it revolved around Rockstar being upset Kaycee cussed at her, and Kaycee's response of "I'm a grown ass woman, I can cuss." Later Angela told Kaycee she'd done a great acting job. Later Angela told Tyler about her pole vaulting past.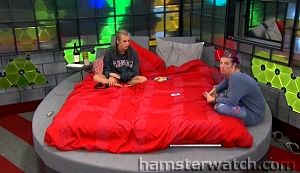 Veto players were Haleigh, Angela, Rockstar plus Tyler (Kaycee's Hacker pick), Fessy (Rockstar's HG Choice pick), Kaycee, and Brett hosted. It was OTEV with a deer and camouflage theme, and feeds were down a little over two hours. When they returned, Tyler had won and JC was wearing a cap with antlers. It sounded like the last round came down to Tyler and Rockstar. Rockstar had inadvertently given him an earlier round answer so she told him "do not fuck me, you wouldn't even be up here" at that final round, and he said okay. Haleigh told Rockstar it was okay but later she and Fessy got angry about that error of Rockstar's as well as missing the final question which was about last week's Bayleigh eviction (when Rockstar was also on the block). Haleigh said she'd like to put Kaycee back on the block if Tyler takes off Angela, but she was afraid Kaycee might have another power, and she said she thought Brett's working on her side.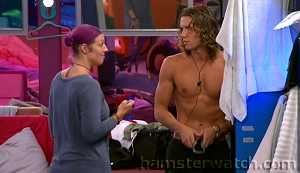 Haleigh told Rockstar to have a talk with Tyler, and to be sure not to say anything about Haleigh wanting to backdoor him, and to "cry a lot." Rockstar did approach Tyler and repeated about her errors in the comp, how it was too easy to put her back on the block, and her usual loops. Tyler said he had a lot to think about and to talk over with Haleigh. Tyler told JC, Angela, Kaycee he'd pinkysworn to Haleigh that if he won veto, he'd do what Haleigh wanted. Kaycee filled in Brett about Sam's [whatever] about him, and he told her he'd had a talk with her and assured he hadn't made fun of her. He told Kaycee he'd caught Sam in the pantry corner last night, and he said she's "going crazy." Going over renom options, Haleigh told Fessy she doesn't trust anyone in there, sometimes not even him. He got up suddenly, spilling her wine, daggers came out of her eyes, and he left HOH. Haleigh met with Scottie and related that incident, and how she'd told Tyler he wasn't her target, and how Fessy had suggested Scottie as an original nom but Haleigh said she's not touching him. She told Scottie to work on his relationship with Fessy.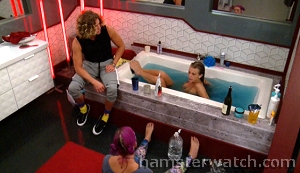 Haleigh drank her wine with Rockstar, and she went into the bathtub, where she stayed and paddled around for pretty much the entire After Dark block. The two of them went over their plans and compared their scraped hands from the comp (Kryssie says hi). Rockstar eventually fetched Tyler and she and sippy Haleigh gave arguably the worst pitch ever for him to save Rockstar, Kaycee would go back on the block and Angela would go home. Haleigh said over and over that Tyler was never her target, and Rockstar asked him how many people were keeping him safe, "maybe two?" - it went downhill from there. They gave Tyler a lot of info he knew to be wrong, and they did a very poor job of trying to shmooze him into complacency. Tyler didn't say much, but he did ask if Haleigh indeed wasn't targeting him, why did she put him up last week as the Hacker nom? She said that was "ill-adivsed" and Rockstar said "there was no advice." Rockstar eventually left and Tyler asked Haleigh several times if she was the Hacker last week, she said yes, and Tyler asked if so, why did Bayleigh go after him? He also asked about Brett, and Haleigh said she's very close with him, and that he's a free agent and was getting closer to Scottie.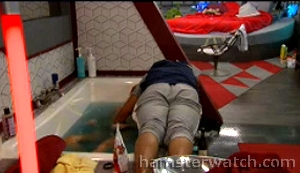 That meeting finally broke up and Haleigh almost exited the tub when Fessy arrived and she went back in. He wanted to talk over the not trusting him comment and she didn't, and they argued over the validity of pinkyswears. Voices were raised and while it wasn't a knockdown dragout affair, it was enough to land on the fights tally and included things like Haleigh saying Fessy was more into Kaitlyn than herself for the first four weeks, to which he said "go home, you're drunk." Rockstar returned to report she'd heard Tyler and Angela whispering and giggling in bed, and she told Haleigh her talk with Tyler probably hadn't gone so well. Haleigh said it went great, and she gave Rockstar instructions to go distract Tyler from Angela, which she did, pulling him into the lounge to talk over the comp and run her spiel again. Haleigh finally got out of the tub and Fessy carried her to her bed and laid on her, even though she said not to put her on the bed because she was soaking wet. Rockstar returned and the three of them laughed about how funny it will be if Tyler actually does veto Rockstar off the block after Haleigh had told everyone he was her target, and they said he'll get backdoored next week anyway. Astoundingly, after all the wonky votes and blindsides, Haleigh said "no one talks game like we do, no one openly speaks game with anyone else." Retells carried on all over town, of course. Later Fessy and Haleigh put themselves on the makeout tally (for sure, no doubts this time), and they continued to spat slightly between slurps.

GET THE FEEDS to watch everything unfold, and catch up what you missed on my previous week's page, and/or Hamsterwatch Forum thanks to @UGotBronx, and please remember to use my Amazon link for any Amazon shopping anytime, USA or Canada - thanks!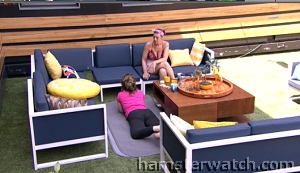 Day 54 Sunday August 12
Over morning coffee and cigarettes, Rockstar confirmed to Sam that Haleigh was indeed last week's Hacker, and that she (Haleigh) was pretty sure Kaycee was this week's as she was in the next room and heard her jumping up and down, and that "all the cameras were on her" like they were on Haleigh last week. Rockstar also told Sam that she'd previously managed "gentlemen's clubs" (strip clubs), rather than "night clubs" as she's been saying. I suppose that's a technicality or a matter of semantics, and it came up as they were once again sharing their prior feelings of inadequacy and particularly Sam's current quest to overcome the angst of being surrounded by the Angelas, Bayleighs, Haleighs of the world. Sam said Brett still makes her feel nervous and giddy "like a schoolgirl" but overall she felt refreshed and good to go again, and she told Angela the same and apologized for snapping at her the other night.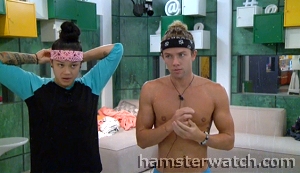 Rockstar whispered to Tyler that she'd been looking at the photo wall and decided all the powers must be expired by now. Kaycee and Tyler had a quick mirror check-in, matching buns and headbands in place, with Kaycee saying it would probably be best if she does go up as renom as she'd probably stay and it would take Tyler off the hot seat. Tyler said he'd threaten JC with eviction next week if he didn't want to vote to keep her, and they figured she'd have Sam's vote too.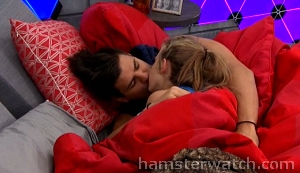 Haleigh, Fessy, Rockstar had a strategy session congratulating themselves on how well (they thought) last night's talks went, and how to approach Tyler today for the follow-up to encourage him to veto Rockstar off the block, and saying how dumb it was for Tyler to ask to be veto renom rather than an original nominee (but once again they didn't stop to question why). Fessy and Haleigh did some cuddling and slurpy-durping which caught up daytimers and those who don't check overnight feeds reports. Fessy gave a victory sign or two to the camera, and asked her if they could do a kiss when the Snapchat glasses come out. Haleigh's voice tone sounded slightly horrified but she said "maybe."


They still didn't assign new Have-nots so that room remained the designated conference room. Tyler and Scottie had a check-in, and then Haleigh joined. She told Tyler she "won't be mad at him either way" but added she'll be sad, and "but understand that one of the people that will be mad at you will be leaving." Either way implies two options - not using veto or using it on Rockstar - but I don't think Haleigh's considered the third which is what will likely happen: Tyler using his veto on Angela. When Tyler left, Haleigh asked Scottie if Tyler wants six people mad at him or just two? Things are gearing up for yet another Monday of juicy post-veto meeting feeds. Scottie also confessed his like for her and when she left to do her

blog

video QA, he said to himself "Salton, you idiot!"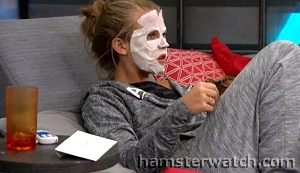 It was a quiet evening again - calm before the storm? We'll find out. The Snapchat glasses came out and they posed. Angela made "angeladas" and told Tyler about her gymnastics and pole vaulting past, at length, and they shared track meet stories. Haleigh fibbed to Rockstar and said no when asked if she and Fessy made out overnight when he stayed upstairs (or ever). Haleigh said she wanted to talk to Tyler "one more time" about tomorrow's veto, and also reiterated that she'd try to backdoor him again if she gets the chance, adding "I didn't come here to keep any promises - except the one I made to you and the one I made to Fessy." But first, Brett spent a long time with Haleigh on her bed, chatting about this, that, the other, and rubbing her hair, and later cozied up with her in the yard while Fessy was nearby.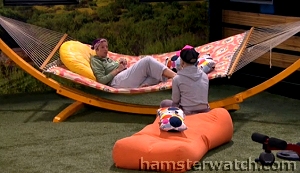 JC told Brett "there is no doubt" Rockstar will be going this week, and later told Tyler he'll definitely vote to evict her over Kaycee. JC said Haleigh still wants Tyler out, Tyler said he knew that, and he and JC re-pledged their loyalty to each other. JC followed up with Rockstar, who said Tyler would be stupid not to take her deal, people can't keep treating her like a weak player and putting her OTB without retribution, she knows it was Kaycee who did it this time, and that Angela had been "up Tyler's ass" all day. Haleigh's late talk with Tyler finally came along just before 1am. Tyler said he still didn't know what he was going to do and Haleigh tried to sway him. I didn't stay for the whole thing but the start of it was as cringe-worthy as last night's bathtub. She did at least (finally) acknowledge the possibility that Tyler might use his veto on Angela rather than Rockstar. Meanwhile Kaycee told Angela that she'd heard Fessy sneaking downstairs from HOH this morning.

GET THE FEEDS to watch everything unfold, and catch up what you missed on my previous week's page, and/or Hamsterwatch Forum thanks to @UGotBronx, and please remember to use my Amazon link for any Amazon shopping anytime, USA or Canada - thanks!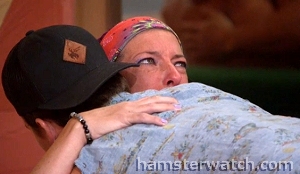 Day 55 Monday August 13
Tyler used his veto on Angela and Haleigh put Kaycee back up in her place. Rockstar took it badly, stunned and teary but saying "it's cool, it's totally cool" when Tyler apologized. Former mortal enemy Brett gave her a hug, and she kept saying she'll have to come up with a third eviction speech. (Technically a third nominee speech, but first eviction speech.) Kaycee took it better, knowing she'll have the votes, and Rockstar told her "Angela's so entitled" when they met in the lounge. When Rockstar left, Kaycee said to herself/us "I'm not going anywhere, I'm a pretty good actor." Haleigh told Rockstar that Scottie said he'll vote how she wants, and Brett had said he'll probably vote to evict Kaycee. They and Fessy tallied up their five expected votes - Brett, Fessy, JC, Sam, Scottie - but as things stand now, they'll only have Fessy and possibly Scottie.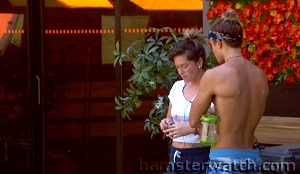 Sam asked Tyler if he'd trust her less if she votes to evict Kaycee and he said to do what she wants to do, and they still can't hang out too much because stories had been going around that they have a final two deal. Sam said she hadn't told anyone and wanted to know who'd been saying that. Tyler said he thought Rockstar and Bayleigh, and that was why he'd been playing that Scottie was his BB bestie. Sam told him that she loves Rockstar but will vote to evict her, and asked him not to tell anyone (later he told Kaycee). Brett told Tyler and Angela that Haleigh had told him Kaycee wasn't her target at all, that Tyler was all along and Angela her second choice. Brett also told Tyler Sam had told the other side she was done with them (Level 6/5/4) but maybe that had just been to keep herself off the block, and that Sam was smarter than she'd been making out - Tyler agreed. Scottie and Fessy peptalked a down Rockstar, and she asked Scottie to cancel a vote on their side if he's the Hacker. He said he's not, and Rockstar told him she thought maybe was because he'd worn the Hacker hoodie to the Hacker comp, like he'd worn a Swaggy shirt to evict him. (Rockstar had previously said that was certain proof that Scottie's the Hacker.)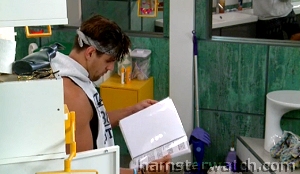 Afternoon was pretty quiet, with the usual sunning, eating, comedy and chit-chat, plus vote talks, vote pleas, and vote lies. They got new sippy cups but no straws for them, so they made a big deal of that and got straws. Haleigh's nametag on her cup was spelled wrong and Rockstar either didn't get one or someone hid it, and that didn't help anything. She did get a cup later. Fessy joined Rachel and OTT Kryssie when he hauled out the rulebook. Apparently they were told Kaitlyn wanted some more things back that she'd left behind, and there was an argument about whether they were required to turn them in or not. JC insisted possession was 10/10 of the hamster law, and Fessy's research said anything an evictee left behind was forfeited. Tyler said that wasn't right and he'd give back anyone's possessions they didn't take with them, "even Steve."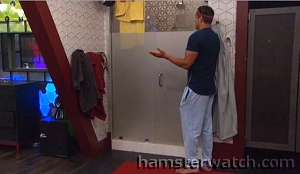 Haleigh spent most of her day in her room with Rockstar, Scottie, Brett in various combinations. When Fessy's shift came, after she hot-tubbed with Brett, they argued at her shower over whether to target Scottie and Brett going forward (his choices) or Tyler and JC (her choices). As they were arguing, rather loudly, Brett knocked on the HOH door. Fessy didn't answer, Brett left, and Haleigh asked who had knocked. Fessy told her it was Brett, but he left. The awkward never ends. Fessy and Haleigh finally laid down on the bed and he whispered that she's a great kisser - apparently Diary asked her if he was. She didn't hear him so he repeated it, loudly. She said "we're on tv!" and said she's never kissing him again. (She did.) Then he complained that she's busy all day and when his time to be with her comes along, she's too tired.

GET THE FEEDS to watch everything unfold, and catch up what you missed on my previous week's page, and/or Hamsterwatch Forum thanks to @UGotBronx, and please remember to use my Amazon link for any Amazon shopping anytime, USA or Canada - thanks!



Day 56 Tuesday August 14
Rockstar had a morning talk with Tyler, more for her than for him (per her), so she wouldn't keep being angry at him. The usual "I like you" and "it's not personal" rhethoric was exchanged on both sides, and Tyler said several times that he did what he had to do (win the veto) for his own game, and that he knew she understood that, and she said he wouldn't have been Haleigh's renom (he would). Retells ensued from Rockstar, including frequent phrases "he's set up pretty sweet" and "he's walking around flipping unscathed." Brett did some Rockstar retells about her saying she's the true Angela and she'll be the only Angela soon.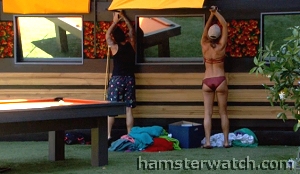 Angela did some retells to Kaycee about that while setting out the awnings, and about Tyler telling her that Rockstar told him Angela's stuck up and Tyler follows her around like a puppy, and that Rockstar had pitched a secret final two to Brett. Angela also mocked the other side for following Swaggy, saying "was your plan to come in here and play for someone else?" Tyler retold a little of his Rockstar talk to Level 6/5/4 by the pool, and Brett said she'd cornered him earlier about their secret alliance, which she called Mr & Mrs Smith. She had told Brett that Scottie came up with the idea and the name as a joke, but Rockstar thought it was a great idea. Rockstar did a practice speech for Haleigh and Scottie about Tyler/Angela having an unshakable secret final two deal, and Angela/Kaycee also have a final two deal, and that isn't fair as the rest of them are all lone wolves, and also that she (Rockstar) should stay because she has been adaptable. And she told them about the Mr & Mrs Smith idea and how she thought it was funny. Brett later joined them and "helped" write the speech.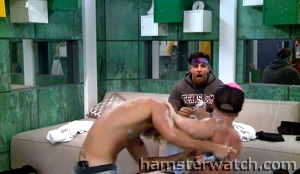 They had a short indoor lockdown and JC got a little rambunctious. He quacked over the video intercom, then hollered "EAT IT! LICK IT! SWALLOW IT!" over it to Scottie (who was unphased), and then a toothpaste vs shaving cream war broke out in the bathroom between JC and Tyler. Tyler called out "not the hair! not the hair!" but of course his hair got got, both of them got covered in goo, and later Tyler said "I feel minty" even after a shower. Note Fessy's face: a possible preview of Thursday night. Brett told Angela, and later Tyler and Angela, a bit about his speech coaching session including his suggestion to include "empowerment," and he asked if there was anything else he should throw in next time. Tyler said "tell her we're related," meaning he and Angela. Later Angela told Kaycee about it and coached her on her speech, with both of them deciding that mentioning the word "level" with or without a six, and "entitlement" (one of Rockstar's sticking point words about Angela) would be hilarious. JC talked with Fessy and said he wouldn't tell his vote so the Hacker wouldn't cancel him, and said the two of them have had poor teamwork if they're supposed to be allies.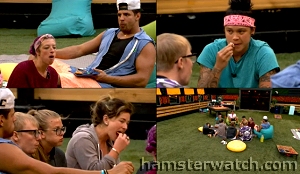 Haleigh asked Brett, while he was sitting on her, if he'd come up to HOH yesterday when she was in the shower (she knew he did: she was arguing with Fessy at the time, and she knew Fessy didn't answer Brett's knock.) Brett said he had, and Haleigh said he should have just gone in. JC made Colombian hot dogs again for everyone and arranged another picnic to eat them outside. Everyone sat down and enjoyed except Brett, who was running laps. Later he said he was sure it was a Team America task and he didn't want JC to get paid for it. Sam had had another little cry before the picnic but she perked up. Angela retold her gymnastics/pole-vault saga again for Kaycee and Brett, since they missed it the first time. Scottie and Haleigh talked at length about pre-show experiences, as well as early season and evictees. Sam got back into the Have-not room to talk with JC, who told her not to do what she did last week, announcing her vote as soon as they'd voted. They did not share their voting plans for this week with each other (both are voting to evict Rockstar as of now), but JC said he'll tell her just before the vote who he's voting for.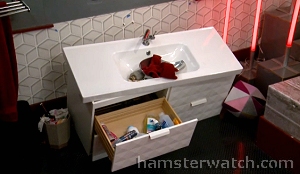 JC held an impromptu sex ed class at the hammock with a condom and cucumber. Later Rockstar found the condom wrapper and said "what the fuck is going on in this house?" She, Haleigh, Fessy, Scottie had a lengthy gametalk, with Haleigh saying Kaycee hadn't approached her yet (in case of a tie), and they wondered what JC was going to do. Scottie said "have you ever been in a room with JC and Brett and all three of you are openly talking game?" Nope. Fessy and Haleigh did their cuddle/spat cycles and ran their loops about her petting and laying around with the other guys and he not liking that. Two seconds after she said "you're annoying the shit out of me right now" he leaned on the HOH bathroom sink to run some more loops, and it crashed and broke.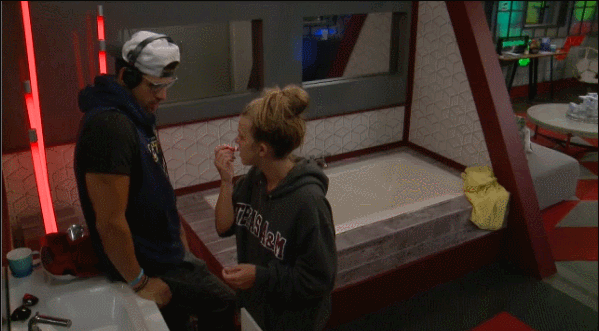 GET THE FEEDS to watch everything unfold, and catch up what you missed on my previous week's page, and/or Hamsterwatch Forum thanks to @UGotBronx, and please remember to use my Amazon link for any Amazon shopping anytime, USA or Canada - thanks!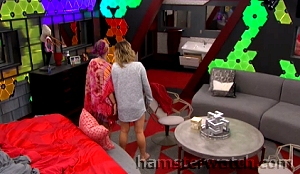 Day 57 Wednesday August 15
Sam and Rockstar went to see the damaged sink, and Rockstar said "he's such an oaf" before doing a rundown of her view of everyone - everyone meaning mostly Angela, and she said Brett's no longer affiliated or working with Angela and her people. Haleigh joined and Sam asked her who she's got a crush on in there, and Rockstar said Sam had asked her if Braleigh's a thing. Haleigh said no, but she thinks Fessy's cute and Brett's cute. Sam asked if she'd be with Brett, and Haleigh said "outside of here, yeah, I could see myself with Brett." Rockstar and Haleigh commented how odd it was there were no showmances this season. Afterwards, Sam and Rockstar watched from the skybridge as Brett made animal pancakes for those who wanted them, and Rockstar continued her Angela griping. Sam finally said "I don't think she's as villainous as you imagine" and "stop, just stop." Kaycee and Brett had a check-in, with Kaycee saying she made sure Scottie had heard about Fessy sleeping upstairs the other night, and they discussed how her pitch to Scottie should go.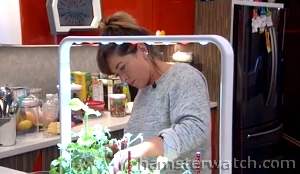 Sam commented how nice her kitchen garden looked from the balcony, and later she did some tending of it. It is a nice grow setup, and I've added it to my habitat items in Links of the Day below (there's also a link there to cheaper kits). Kaycee made her pitch to Scottie, which wasn't a hardcore pitch so much as a friendly chat, as she'd discussed with Brett, so Kaycee would be good with Scottie if he wins HOH. And since level 6/5/4 knows they have the votes to keep Kaycee, if Scottie votes against her he'd be an excusable target for them next week. Kaycee reported to Tyler immediately afterward. Tyler suggested a game where they'd tell two stores, one true and one false, and everyone had to guess which was true - clever game for BB.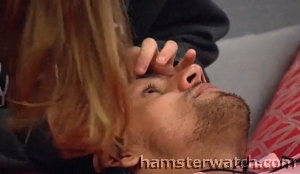 The HOH sink was repaired, and Haleigh sat down to touch up Fessy's brows. He twitched a lot and she asked if he'd ever had them done before? He said Kaitlyn did them once. Rockstar ran her speech for them and both said maybe it was a bit too much about Angela "and she's not even on the block." Scottie reported his Kaycee and Brett chats to Haleigh, and said he'd put money on Brett voting "for Kaycee." (Brett had used those words, which could be legitimately challenged later as to meaning), and that Brett had said Sam and Kaycee are close. They talked about how they could convince Brett that Sam is going to vote to keep Rockstar (there isn't, and she isn't). Rockstar asked Fessy why Kaycee seemed so comfortable, and Fessy said because she's not stressed, there's no reason to stress. JC met with Kaycee and said it would be beneficial for them to keep Fessy going forward, and dump Scottie. Rockstar told Haleigh about her "secret alliance" chat with Brett, and how Scottie had joked they're the Mr & Mrs Smith alliance. She said that worried her that Brett had told Scottie, but she'd later told Brett it was ideal if people were joking about it because they were "hiding in plain sight." Rockstar made her pitch to Sam, and cried, and got flustered on the vote math. Sam told her it'll be fine, and "just stop" (again). Rockstar's pitch to JC shortly after that didn't last long or go particularly well either. Rockstar reported her pitches to Brett and they agreed they're "locked in," and she reported to Haleigh saying the pitches "went great" - yikes. Angela reported to Kaycee that she taped another not-nice farewell message for Rockstar.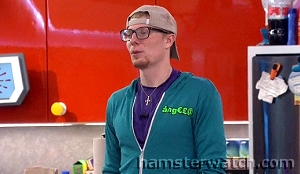 Scottie showed up in Angela's Hacker jacket, and I wondered if that would cause anything since Rockstar was "sure" he was this week's Hacker since he wore his own Hacker hoodie to the Hacker nomination. Sure enough, she questioned it later. Sam told her "who cares?" and Rockstar said "I know, I need to calm down." Kaycee asked Rockstar when their packed bags were due and what to put in their BB bag they walk out with. Rockstar said she puts cosmetics, flip-flops, and things she might need before they get their own baggage back in hers, and Kaycee let slip that she'd need to keep out athletic shoes for tomorrow if they're told to wear comp clothes. Scottie reported that as "an assumption in her voice" that Kaycee sounded confident she'd still be there tomorrow night.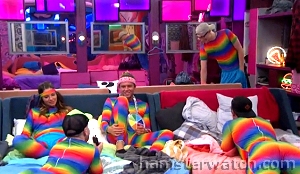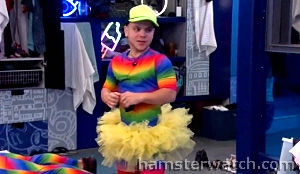 Maybe related to the packing issues (and keeping with the wardrobe theme), a bunch of rainbow unitards showed up with various hamster nametags in them. Tyler, Angela, JC, Brett, Scottie all tried theirs on, and JC added a tutu. They had some fun with them, including Brett pulling his over his face and tumbling onto the others on the bed, and the guys were surprised how comfortable they were. Tyler said "we look like Dr Seuss characters" and I think it was Brett who asked if that's how it feels to wear leggings? BB made them take off and put the spare rainbows in the pantry (maybe because After Dark was about to start and it would be confusing, or maybe the stack of different-sized rainbows wasn't meant to be found, I don't know) but Kaycee was allowed to keep and pack her own. The teams socialized and strategized in their separate groups, with Scottie moving from rainbows to HOH with the Hive/FOUTTE remnants plus Sam working on her self-tanner, while JC hung out with Level 6/5/4. Rockstar pitched a final five alliance to the HOH group, but Sam said no.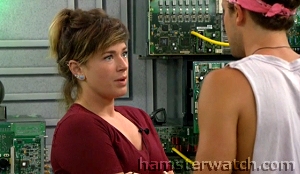 Fessy and JC had a minor spat about whether they are or should keep working together, and Brett did a short retell of Rockstar's pitch to him, with the usual comedic flair he puts on those things. Sam and Tyler met in the (forbidden) Have-not room, with Sam asking what she should do tomorrow, and he said she should do what's best for her. Reminder they had decided all this previously, but maybe Tyler was second-guessing Sam since she'd spent so much time with Rockstar and the HOH group lately. He mentioned that Rockstar said she could manipulate Sam, and Sam said "how many times do I have to tell you this, if it doesn't come out of my mouth it's not true." Sam said she's sure they all think she's keeping Rockstar since they smoke cigarettes together and talk together, but game-wise Sam said she'll keep Kaycee since she'd given her word to her first, and she added that Tyler's her only true loyalty in the house. He was relieved and also seemed a bit frustrated he'd had to work for that, and he said they need to check in more often. A further reminder that Sam had told Tyler very early on that a good strategy would be to stay close to the person likely leaving in their last days, for both personal and game reasons - Tyler may have forgotten she'd said that.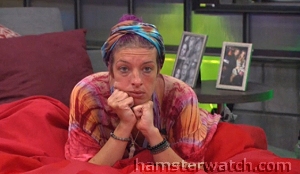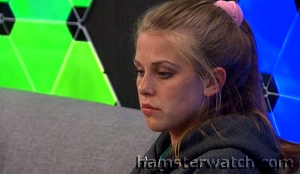 Meanwhile one of the Hive reported seeing a number 6 inside Angela's and Kaycee's hats, and started to wonder if there was a six-person alliance headed by either of them, and who all would be in it if so. Haleigh said "if there's a six-person alliance.." - Rockstar completed the thought: "we're fucked." Haleigh said "it'll be very evident with the vote," and Rockstar said "yeah, we'll see." So that penny is finally beginning to drop, maybe, but then they said were "doomsdaying" and they should stop. Bayleigh's and Angela's Amazons came up, and Rockstar asked why there are so many alliances coming out, as she'd not seen more than a couple in the seasons she watched to prepare for this one. Scottie was asleep on the bed (or pretending to be) and wouldn't respond when she and Haleigh tried to ask if it was always like this and just not shown on the air shows. (Alliances are actually fairly simple and straightforward this time compared to most seasons!)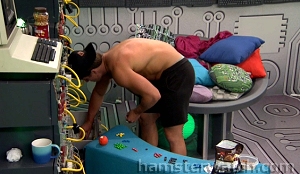 After Rockstar left, Haleigh asked Scottie for a pinkyswear that he was voting out Kaycee. He didn't stick his pinky up so Haleigh said they should talk about it, and pitches started up again. Fessy returned after having met with JC, but wasn't able to do much of a retell, which irritated Haleigh. Meanwhile Brett had Skittles or similar in the Have-not room and stashed some here, some there after he'd laid them out for a private study session. Haleigh and Rockstar said they wanted to get JC and Brett up to HOH to see where their votes lie, but JC went to bed not feeling well, and Haleigh shouted "shut up!" at Fessy when he wouldn't stop singing with the iPod while she was talking to Scottie and trying to figure out how to proceed. He stomped off, and they finally got Brett up there. They chit-chatted about tea, school, double eviction logistics, whether JC or Sam is America's Player, and Brett asked "did you hear JC got in trouble for trying to drug everyone with fiber pills?" Haleigh had heard, Rockstar hadn't, and feeds switched. If they got around to tomorrow's vote, it was after I bailed around 1am. Meanwhile JC and Fessy whispered downstairs about Haleigh and if she really likes and trusts Fessy, and JC said he thinks Scottie likes her a lot.

Thursday night's HOH comp will play out on feeds - GET THEM to watch everything unfold, and catch up what you missed on my previous week's page, and/or Hamsterwatch Forum thanks to @UGotBronx, and please remember to use my Amazon link for any Amazon shopping anytime, USA or Canada - thanks!



Ratings - Here's Looking at You edition
Ratings are based on entertainment value
VTE = Voted to evict




Dear Producers and related others,
THANK YOU for not dumping me into the chats anymore! I'm sure that wasn't due to me asking but I'm grateful just the same. Thanks also for your part in this being the best season in years, and I'd say please don't do anything to mess that up, but I'm pretty sure you'll bring in another late season twist nobody needs. Oh well, it's your show and you can do what you want with it. #bykta
Your pal,
dingo
PS The goofs and injuries tallies are getting pretty lengthy.
PPS If you want to slow down a pinch on the direct marketing for All Access and feeds, we lowly affiliates would be ever so grateful.





Won: Nothing yet
HOH 1 - Veto 1 - Noms 1 - HN 1

VTE Rockstar
Dear Angela,
You and Rockstar haven't liked each other from the start. You're coming out ahead this round but it could have just as easily gone the other way. I was pleased to see you pole-vault from the 'Who?' category to the villain the last two weeks, but now you're back to being mostly horizontal while Tyler saved you and Kaycee took back your nominee chair. I'm confused about your role here, could you please elaborate? Or better yet, please illustrate.
Your pal,
dingo





Won: 1st eviction immunity; 1 week Food and Fitness program
HOH 0 - Veto 0 - Noms 3 - HN 1

EVICTED 5-1
Dear Rockstar,
Welcome to Big Brother. By definition, it isn't fair and by design, someone leaves each week. Some people can prevent that from happening and some can't. You've been acting less like a rockstar and more like a kid who was forbidden to go to a rockstar's show. You'd have a better shot if you stopped griping and blaming, and started playing. Alternately, just relax and stop complaining. Some blockstars have ridden that nominee chair all the way to $50k.
Your pal,
dingo





Won: 1st eviction immunity; 24 hours InstaGranny
HOH 0 - Veto 0 - Noms 2 - HN 2

VTE Rockstar
Dear Brett,
You've been a superb double agent for Level 6/5/4 and whichever of them outlast you, if any, should be indebted to you and your acting skills. Keep having kooky convos with bro stand-in Scottie and we can stay on good terms.
Your pal,
dingo
PS Are the cyber security puns fed to you in Diary? Oops, I am not allowed to talk about your Diary Room sessions. I'll just say those puns aren't necessary or funny, while your spontaneous stuff on feeds is often both. Hint hint.





Won: 1st eviction immunity; Crap App #1 Hamazon
HOH 0 - Veto 2 - Noms 0 - HN 2

No vote (Hacked)
Dear Fessy,
If the term 'big galoot' didn't exist, it would have to be invented for you. Carry on.
Your pal,
dingo





Won: 1st eviction immunity; Crap App #3 Read It; Hacker #1
HOH 1 - Veto 0 - Noms 1 - HN 1

No vote (HOH)
Dear Haleigh,
You said several times you 'took a shot' at Tyler last week and missed. Well now you've missed again, and it isn't turning out well for your teamies. I know 'big moves' is the mantra but everyone has to get gone sooner or later, so maybe focus on a smaller fish next time, if there is a next time, rather than go down as the de facto leader of the Gang That Can't Shoot Straight. Alternately, maybe spend less time petting and being petted, and more time getting around and observing - it couldn't hurt.
Your pal,
dingo
PS Why did you tell Rockstar you didn't make out with Fessy? A little female camaraderie wouldn't hurt you now, and it wouldn't hurt you later if you find yourself in need of jury votes.





Won: Nothing yet
HOH 0 - Veto 0 - Noms 0 - HN 1

VTE Rockstar
Dear JC,
You are ever problematic, but you're also often entertaining and usually gaming hard. You're a rare hamster in many ways but in particular, you encompass all definitions of the word 'floater'. For the traditionalists, you play both sides pretty well and for the Rachelists (Reilly variety), you haven't won squat. So thanks for at least letting us avoid that particular argument where you're concerned.
Your pal,
dingo





Won: 1st eviction immunity; 2 weeks Pinwheel; 1 week Peanut; Hacker #2; Hacked self off the block Week 7
HOH 0 - Veto 0 - Noms 2 - HN 1

HACKER #2
No vote (nominee)
Dear Kaycee,
See Angela, only without the villain part. Yes you've done your Hacker thing this week but vehemently denying you are the Hacker while most everyone knows or strongly suspects you are could come back to bite you like it did Haleigh. It would have been delicious if you'd hollered it from the rooftops and maybe even given us another YOU'RE GOING HOME meme for the ages. But no. Still, your Peanut was good enough to let you slide this week.
Your pal,
dingo





Won: 2 weeks Robot; Power App #1 Bonus Life
HOH 1 - Veto 0 - Noms 1 - HN 1

VTE Rockstar
Dear Sam,
Being banned from the Have-not room because you keep taking apart the computer parts decor for crafts shot you from my all-time top ten hamsters into my top five. Keep on keeping on, and please try to keep your mood swings to a dull roar.
Your pal,
dingo





Won: $5,000; 1st eviction immunity; Greece trip; Hacked off the block 6th week
HOH 1 - Veto 1 - Noms 2 - HN 3

VTE Angela
Dear Scottie,
Most of them are on to you but most of them are on to JC too, and he's a little more aggressive in his double-dipping than you are. Remember that time you won HOH and veto, and broke up the bromance? Yeah, that was awhile ago now, time to do something big again.
Your pal,
dingo
PS Big moves or no, just please keep the weird coming





Won: $2500 (on TKO); Power App #2 The Cloud; Hawaii trip; Week 6 vote nullified
HOH 1 - Veto 3 - Noms 1 - HN 2

Won veto/used on Angela
VTE Rockstar
Dear Tyler,
You've been doing some fancy dancing, comp winning, and cloud surfing for awhile now, and pulling it off. Will you be able to keep it going? Inquiring minds want to know.
Your pal,
dingo
PS I know you're busy, but feel free to up the entertainment value anytime.





Won: Power App #3 Identity Theft (unused)
HOH 1 - Veto 0 - Noms 1 - HN 1
1st juror/6th evicted 6-1 Day 51

EVICTED 6-1
She was very watchable and gifable, with the best facial expressions no matter what, including multiple shockfaces. She was isolated with Swaggy the first couple weeks even though he was busy running around, but rather than becoming a gloomy showmance widow, she came out swinging when he left and embedded herself well all around - a little too well, as that moved her quickly up the target ranks to the tippy top. She said some controversial things and may have had the first in-house pregnancy? That hasn't been officially confirmed. She won a power that went unused, partly because she blabbed she had it, and that was the real reason she went out when she did. She did a slow simmer when she went on the block as blindside renom, but Hurricane Bayleigh made landfall two days later, as a Category 5, in a spectacular outburst of anger and frustration that culminated in 'spewing blood' after she bit herself. The kicker? Her anger at Tyler was mostly due to an inaccurate retell. The 29th consecutive North American hamster to enter the habitat first and not win their season.





Won: 1st eviction immunity; Crap App #2 Yell!
HOH 0 - Veto 0 - Noms 1 - HN 1
5th evicted 5-4 Day 44

Her blindside stung more than some because much of it was due to a pack of lies plus betrayal by her BB bestie Angela but hey, welcome to Big Brother. And she did buy some of it herself by losing her mind on the block, and that was after she agreed to go on it. She had nip slips and towel flashes almost daily, for those interested. She said she's a performer almost daily too, sometimes multiple times a day, and she did come alive when she was acting out skits, dancing, or singing ('please stop singing') but the rest of the time she seemed guarded and I don't feel we got to know who she really is at all. Her rough 'n tumble friendship with JC was fun, especially when they'd break serious convos for their quick-and-done J's Party dance. Her pal Jackie didn't fill her in enough about the rotten meat and rancid potatoes of this game, but she held her own pretty well until she didn't. Her birthday was memorable, thanks to Kaitlyn using the occasion to yell at Brett.





Won: Bonus Life 'chance' (failed)
HOH 1 - Veto 0 - Noms 1 - HN 1
4th evicted 9-1 Day 37

It's safe to say we knew more of her backstory than any hamster ever, since she seemed to bring it into every convo. She talked a very lot, and she squeaked, whimpered, babytalked, croaked, and cried a lot too, plus she canoodled with three guys (Tyler, Brett, Fessy). She caused a lot of chaos which is good, but she was often exhausting about it. New age interests are fine, some clairvoyance is trippy and fun, but her 'intuition' was nearly always wrong. It's probably just as well she failed the Bonus Life puzzle since she'd gotten to the point of getting 'hits' from shampoo labels. It was Tyler's doing, but she still gets the credit in the books for backdooring Swaggy and breaking up a showmance in the second week: something most seasons haven't been able to manage til the end, if at all.





Won: Nothing
HOH 0 - Veto 0 - Noms 2 - HN 1
3rd evicted 6-5 Day 30

He too came in saying all the right things: he wasn't here to get a girlfriend or Twitter followers, and I had him pegged as either a dark horse who'd go far, or a too-hard-too-soon kind of guy. Turned out he was the latter, probably because he just discovered BB last summer and binged several seasons since without realizing there's a lot more to it than the show edits let on. He spent most of his time playing Jenga and broing around with Brett, and the two of them provided a lot of unintentional comedy in the form of buffoonery. He made manic facial expressions while going on angry whisper rants, he threatened speech call-outs but didn't follow through, and for all his jock/winner self-hype, he failed every comp.





Won: 1st eviction immunity
HOH 0 - Veto 0 - Noms 1 - HN 0
2nd evicted 8-4 Day 23

Pre-season he said all the right things (albeit in his own unique, third person way), but he started off way too strong and way too Swaggy for his own good. He gave us great shockface when Steve was evicted but it didn't sink in that he wasn't fully plugged in, so he gave us another when he went up as backdoor renom. To his credit, he campaigned his brains out to stay rather than lay down to die, but it didn't help. His pre-show QAs said he was wary of showmancing but he fell for Bayleigh anyway, and together they were one of the cuter 'mances to watch - it helped that they didn't slurpydurp too much. Swaggy C was a good character for TV, but Chris was a good hamster and will be missed.





Won: Nothing
HOH 0 - Veto 0 - Noms 1 - HN 0
1st evicted 7-6 Day 16

The Summer of Steve™ ran just a couple weeks and his job lie(s) didn't help him any. He might have been better off if he'd been open about his undercover past and teaching present as both would have let him share more stories, or if he'd gotten in with Kaitlyn and Rockstar via his wife's new age interests and books. He and Scottie buddied up but otherwise he was odd dad out. He didn't keep up so believed he was safe, and he didn't really campaign to stay. It might not have helped if he had because all the scurrying was elsewhere, but it wouldn't have hurt. He didn't get his required nightly baths but he learned to clean his ears, and early risers in particular will miss him.



Lines and Links of the Day
Lines

Angela: If we win the Hacker, we put Sam up.. if we don't win the Hacker, we put Rockstar up
Kaycee: How can we put Rockstar up if we don't win the Hacker?

Brett: Essentially I'm the most spiritual person in this house
Tyler: Yeah you are, you have the most guides, like twelve?
Brett: Nope, seven

Tyler: [Sam] started taking the wires off the computers and tried to make a computer with them
JC: You know that Sam is not allowed in the Have-not room?
Tyler: Yeah I know, crazy, right?

Rockstar: I am adaptable

Brett: I have the eyes of a hawk
Haleigh: I have the ears of a hawk
Scottie: I have the bladder of a hawk
Brett: I have the dong of a rhino

Haleigh: I never talk in definites in [Diary] because I don't want to look like a fuckin idiot on TV

JC: The manual says that before they release us to the society, we have to see a psychiatrist

Fessy: When we get out of this house, there's just gonna be dudes rubbing your back?
Haleigh: Do you think in the real world people just run around and rub my back?
Fessy: I don't know!
Haleigh: How many guys do you think I just lay beside?
Fessy: That's what I'm trying to figure!
Fessy: Sometimes it makes me not wanna.... Haleigh: Then don't.. you're so dramatic

Big Brother: Please do not quote dialogue from movies
Rockstar: We're not, they're just fuckin weird
Brett: It's just Scottie's life

Rockstar: What's with all these fucking alliances?



Links

GET YOUR FEEDS

Use my links for any Amazon shopping, anytime, at no extra cost - just start your shopping trip by clicking Amazon USA or Amazon Canada

Live like a hamster! Available from Amazon:

-17-inch Orwell owl Amazon USA or Amazon Canada

-Owl sleep mask with hot/cold gel pad

-Click & Grow 'smart' kitchen herb garden Amazon USA or Amazon Canada
Similar grow setups Amazon USA or Amazon Canada

-Nanoleaf LED light system like HOH room Amazon USA or Amazon Canada

-Emoji pillows, individual or sets (read descriptions carefully, some sets are random) Amazon USA or Amazon Canada

-Fluorescent light stick lamps (HOH bathroom) Amazon USA or Amazon Canada

-Gradient duvet/sheet sets pink/purple or blues

-Minion plush toys Stuart - Bob - Tim - loads of others

-New age books by Sahvanna Arienta, Steve's wife



Tally Items

Season Stats
HOHs in order: Tyler; Kaitlyn; Scottie; Sam; Bayleigh; Angela; Haleigh

Veto winners in order: Faysal; Tyler; Scottie; Faysal; Tyler; Angela; Tyler

Evictions in order: Steve 7-6; Swaggy 8-4; Winston 6-5; Kaitlyn 9-1; Rachel 5-4; Bayleigh 6-1

Pre-jury Twitters: @bb20Steve; @SwaggyCTV; @BB20WinstonH; @kaitcoaching; @rachieswin
More social media links in cast folders at Hamsterwatch Forum








Linking to any page here is fine. Please don't repost content from this site (or any other) without permission, and don't repost or hotlink images.



THE REAL SHOW IS THE FEEDS


SAME DAY AIR SHOWS
Live air shows in some areas
BB1 thru BB19 and many other CBS shows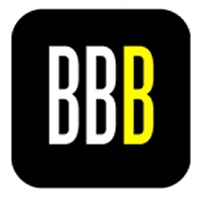 BIG BROTHER BUDDY
Get push notifications for all the big feeds events - iOS or Android


HAMSTERWATCH SWAG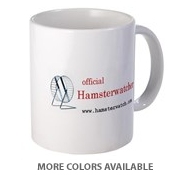 Mugs, shirts, more
Visit my Cafe Press shop






Big Brother 20 SEASON FAQ


Day 1 Move-in was June 20
Day 8 CBS premiere is June 27
Day 9 Feeds begin June 28
Day 99 Finale will be September 26

Feeds are streamed by CBS, and Flashback is accessible via All Access subscription. Call 888-274-5343 for account help, including cancellation.

Air shows on CBS (Global in Canada) are Sundays 8pm, Wednesdays 9pm, eviction Thursdays 9pm.

Big Brother After Dark on Pop TV is every night midnight to 3am, except Thursdays 1am to 3am. The aired blocks are live (or recorded earlier the same night, depending on your cable provider).

The CBS app (by CBS Interactive) plays BB air shows and other CBS shows, as well as feeds, or you can use your browser to watch feeds on mobile devices. The same All Access link used to subscribe will lead to the feeds viewing page if you're already signed up.

BB20 prizes are the same: $500k for the winner and $50k for 2nd place. Stipend for the others is $1,000 per week again, including pre-show hotel and jury sequester.

The habitat has 94 HD cameras (up 7) and 113 microphones.

The recorded in-house announcements are the voice of producer Don Wollman. He and Julie Chen are the only staffers who have been there since Big Brother 1.