This site is about the Big Brother 20 feeds and contains spoilers! It isn't necessarily thorough: it's what I catch and/or what interests me. It's about watching hamsters: who's doing what and why. Thanks for encouraging my behavior.
Your pal, dingo



PROTECT YOUR ONLINE PRIVACY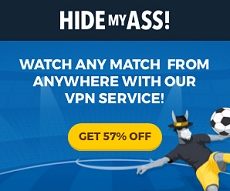 CELEBRITY BB UK
STARTS AUGUST 16
Watch BB Canada, BB UK, Survivor Australia, Survivor New Zealand, and other non-USA shows




HACKER COMPETITION TWIST

Each week's Hacker Comp winner could replace one nominee, select one veto player, and nullify one vote

#1 Haleigh
-Replaced Scottie with Tyler
-Picked Kaycee to play veto
-Nullified Tyler's vote

#2 Kaycee
-Replaced self with Rockstar
-Picked Tyler to play veto
-Nullified Fessy's vote





APP STORE VIEWER VOTE TWIST

WINNERS - POWER APPS
BONUS LIFE #1 Sam
-Could give 1st, 2nd, or 3rd a chance to return to the game
-If unused, 4th evictee automatically got a chance
-Kaitlyn failed to complete the puzzle
THE CLOUD #2 Tyler
-Immunity at any one noms or veto meeting within 2 months
IDENTITY THEFT #3 Bayleigh
-Can replace noms one time before final eight
-Was not used

Not selected: Re-Draw, Upgrade

LOSERS - CRAP APPS
HAMAZON #1 Faysal
-Periodic [vegan] ham deliveries, had to eat it all
YELL! #2 Rachel
-24 hours getting yelled at
READ IT! #3 Haleigh
-Read Hamlet in costume

Not selected: Fake News, Spammed

Limit one per hamster, whether winner or loser - Voting info & rules







BB20 DRINKING GAME


Take a swig to honor Aretha Franklin R-E-S-P-E-C-T







QUICK LINKS & BOOKMARKS



-SIGN UP for feeds
-WATCH the feeds
-BB20 official site
-Live show tickets

-Feeds updates by @UGotBronx
-My Twitter - my screencaps
-Amazon portal USA or Canada

-Dick at Night with @EvelDick

-BB Viewer by @liquid8d
Requires All Access account

-BB20 Wiki
-CBB UK Wiki

-Hamster Twitters
BB USA - BB Canada

-Advice for cast friends/family

-VPN to watch BB UK and/or to protect your online privacy







EAST COAST AIR SHOWS



CanadaTV for Roku
$2/month - Global airs BB USA

East coast air show live streams:
- 1 - 2 - 3
NO DOWNLOADS NEEDED - BEWARE OF CLICKING POPUP ADS OR WARNINGS




Donations via Paypal are gratefully accepted!


Watch Big Brother
Seasons 1 thru 20
Plus tons more CBS content






BIG BROTHER SEASONS



CBS All Access
Seasons 1 thru 20

Amazon DVDs BB4 - BB3

Amazon Instant Video
BB18 - BB17
- BB16
- BB15
- BB14
- BB13
- BB12
- BB11
- BB10
- BB9
- BB8
- BB7





BIG BROTHER 20 FEEDS EXCLUSIVELY ON CBS ALL ACCESS
All Big Brother USA seasons + most CBS shows past or present are included
$5.99 PER MONTH INCLUDING 1 WEEK FREE TRIAL or $9.99 AD FREE
COMPUTER - MOBILE - ROKU - CHROMECAST - APPLE TV - ANDROID TV - FIRE TV - XBOX 1/360 - PS4


>> >> >>

>> >> >> >> >> >>

>>

Amazon USA
- Amazon Canada
August 2018
Power Status
Feeds are underway and they are the real show - SIGN UP NOW and get a one-week free trial! No promo code needed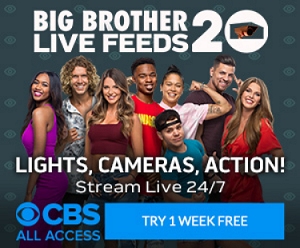 Fessy is Head of Household
Brett won veto/used on self
Scottie and Kaycee are nominated

JC, Sam, Tyler are Have-not

-Tyler has one-time immunity for one more cycle, to be used at (before) any one noms or veto meeting "for eight weeks" (he got it before noms on July 6)


Upcoming Events
Thursday night: HOH room
Friday: Middle size table is due, nominations
Saturday: Veto comp, Have-nots end


Next Shows
Thursday 8/23 9pm - Veto meeting, live eviction, HOH comp
Sunday 8/26 8pm - Nominations
Wednesday 8/29 8pm - Veto comp, veto meeting

CBS schedule is Sundays 8pm, Wednesdays

9pm

8pm, live eviction Thursdays 9pm - stream links to watch East Coast airing online are posted in Quick Links & Bookmarks on the left sidebar

After Dark airs for three hours every night on Pop - times vary by area and provider, check your cable guide

CELEBRITY BB UK IS UNDERWAY - Watch live or archive shows with HMA safe, easy, secure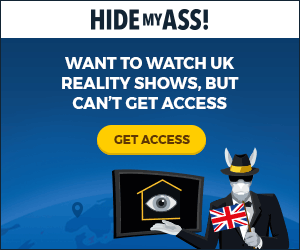 -Watch live at Channel 5's online live stream
-Outside UK use HMA to get around geoblocking, and protect your online privacy at the same time
-Click for cast list

-Shows are usually daily but check the air show schedule for 5 and 5Star - UK time is 8 hours ahead of Pacific and 5 hours ahead of Eastern

-The CBB official site has archive air shows and talk shows, highlights, previews, and info


Other News
Alliance charts by @89razorskate20: Day 60

Hamsterwatch Forum for real-time feeds updates, screencaps, and air show recaps by @UGotBronx

Diary segment tally by @clamperls

Week 7 popularity poll results #1 Haleigh, #2 Tyler, #3 Brett
Follow @89razorskate20 on Twitter to participate: weekly polls launch every Monday 4pm PT/7pm ET

Post-eviction shows are hosted by BB Celeb runner-up Ross Mathews and winner Marissa Winokur, Fridays on Facebook Watch. The first (no eviction) ran June 29.

Ratings Watch Thursday's* live show won the hour with 1.7 rating, 8 share, 5.71 million viewers, ahead of two Trial & Error episodes on NBC with 0.5/2/2.16 and 0.4/2/1.73, Match Game on ABC with 0.5/2/3.00, and NASCAR Racing on FOX with 0.3/1/1.08.
*Final numbers, adjusted for football in some areas
Sunday's show won the hour with 1.6 rating, 7 share, 5.78 million viewers, ahead of Celebrity Family Feud rerun on ABC with 0.8/4/4.59, Women's Gymnastics on NBC with 0.6/3/3.10, and The Simpsons and Bob's Burgers reruns on FOX with 0.6/3/1.37 and 0.5/2/1.24.

Wednesday's show won the hour with 1.6 rating, 8 share, 5.66 million viewers, ahead of (but fewer total viewers than) America's Got Talent on NBC with 1.5/8/9.53, Masterchef on FOX with 1.0/5/3.28, and The Goldbergs and American Housewife reruns on ABC with 0.5/2/2.61 and 0.5/2/2.18.

Rating and share: adults 18-49 - Rating: % of all TV households - Share: % of households watching TV


Week 8 - Days 58 thru 64 - August 16 thru 22, 2018
Daily and Noteworthy Events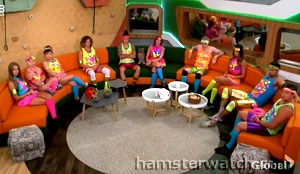 Evicted: Rockstar
Head of Household: Fessy
Have-nots: JC, Sam, Tyler
Original noms: Brett, Scottie
Veto winner/outcome: Brett/used on self
Final noms: Kaycee, Scottie
Evicted: Scottie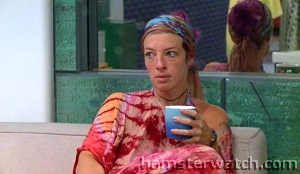 Day 58 Thursday August 16
I think Rockstar may have had a gut feeling this was her last morning in there but didn't want to acknowledge it to herself - that's just human nature, but hard to watch when you know. She hit up Sam and asked her not to toss anyone (Kaycee) a pity vote like she did last week, and to say "everybody's so shy about where their vote is" because of the final Hacker task to cancel someone's. What Rockstar didn't know is that wasn't shyness, but just a handy excuse to keep her, Haleigh, and Fessy in the dark. Haleigh in particular finally started putting some of the Level 6/5/4 pieces together late last night, but too late to help this week. Haleigh gave Scottie a haircut and then Sam touched it up later. Sam and JC talked about the vote for a long time, and ended with another pinkyswear for the tally that Sam would vote to keep Kaycee (she already was, but she made sure to add "if that's what you want") and that they would work together going forward.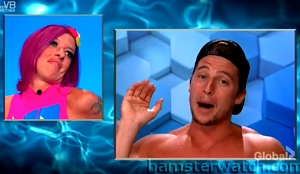 Rockstar was evicted 5-1, with Scottie the lone dissenter. Fessy's vote was secretly nullified by the Hacker (Kaycee). Kaycee's nominee speech mocked the (fake) all girls' alliances, and Rockstar's said Angela, Kaycee, Tyler are a clear alliance who meet together all the time, and keeping Kaycee would empower them more. Angela's farewell wasn't very nice, as she'd described on feeds, and Brett told her his "secret alliance" with her was fake all along. Julie made Rockstar tear up when she asked about OTEV, and then Rockstar was gone to jury.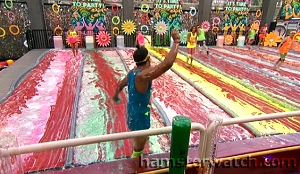 The HOH comp was indeed the slippy slide/skating in grease, titled Glow & Flow, in Club BB setting. They had brightly colored outfits and had to get "rave fuel" to fill up a "glowstick" and fish out the ping pong ball, with an optional smaller "glowstick" for $5,000. Their carrying cups were bigger than usual, the fill tubes were smaller than the usual bowls, and the incline didn't look as steep as some years. Fessy won in just 24 minutes, and nobody got the $5,000. JC switched over to attempt it midway, but didn't succeed.


It didn't last long but it was exhausting just the same, and most of them hit the deck when Fessy won. Scottie had been close behind Fessy, and later JC said he'd had an especially hard time (it showed), saying Fessy was covering a lap in three strides when it took him 300. He also said when he realized he wasn't going to get anywhere he started hamming up his fail. Back inside, Fessy told Tyler "I don't know what none of y'all muthafuckas got going on in this house, I don't even know if I want to hear what all y'all muthafuckas got to say to me 'cause it's gonna be some bullshit!" Tyler said "just do you," and Fessy replied "that's what I've been doing, I've been telling y'all muthafuckas every week what I've been doing, and doing it!" And he told a few others he wouldn't be doing one-on-ones. They all filed gradually into the shower so that'll probably be clogged up within a day or two from all the Crisco.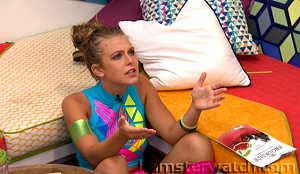 But first, Fessy and Haleigh smeared their Crisco around the lounge as they discussed noms. They had another little spat but got past it relatively quickly, but not before an idle threat to put her up. Fessy laughed and said she'd probably go home because they can't do anything right, game-wise. Fessy told her he won't put up Angela and Kaycee because they "can't win anything" later on, and he didn't want to put up Tyler and Scottie for fear Scottie would use a veto on Tyler. He said he wanted a guy to go - Brett, Tyler, or Scottie - and they ran scenarios for how best to make that happen. Fessy said JC was convinced Scottie's an emotional player and has a crush on Haleigh, and that Sam thinks he (Fessy) is gay. Haleigh told him Sam has a crush on Brett, so I guess that's out most everywhere now.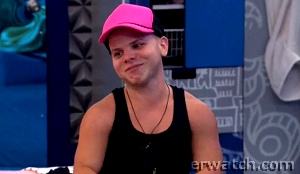 Scottie told Haleigh he'll do whatever she wants, and they eventually (finally) realized they were up against a large, solid alliance and had been all along. Level 6/5/4 decided Brett should take the credit for the dissenting vote to throw doubt on Scottie when he claims it, and Brett stayed isolated like an outcast (again). Sam gave Rockstar several eulogies to whoever would listen, and she was pleased they ended up with a bunch of glowsticks. Later she told Brett that she kinda likes him and ask him not to flirt with her anymore so she doesn't look like a fool: "what this is, is done." And she asked him to keep her up to date as far as game goings-on. JC told Fessy he was being a "fuckin asshole" (early stage HOHitis), but Fessy said he "doesn't give a fuck." JC told Tyler, Angela, Kaycee he'll tell Fessy that Scottie had been coming after Fessy for some time, and that he'd seen Scottie and Haleigh cuddling. Tyler asked JC to urge Fessy to save him for renom (reminder, his Cloud power is good for two more cycles).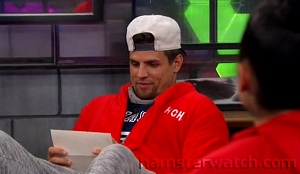 Fessy got his room around 10.32pm with a letter from his mom (and dad) that choked him up awww, red wine (requested for Haleigh and others as he doesn't drink), cookies from Pop, two hoodies, a black & white hat, Pakistani rice, mangoes, snacks galore, and music by A Boogie Wit Da Hoodie. He announced he wasn't holding formal one-on-ones, he knew it's a lie/cheat/steal game but he'd been left in the dark and lost his peeps, and he's "pretty much alone." He asked his usual who flipped, and Scottie said he was the vote to evict Kaycee. A minute later Brett said "fuck it, it was me." Scottie said "you're a bullshit actor," Kaycee joined in, acting irate (emphasis on acting), saying "I'm not close with this guy" [Brett] and "everyone's been acting weird with me." Fessy said "see what I was saying? I never know what the hell's going on," the HOH reveal was adjourned, and everyone left. By the way Sam had left early as she'd been about to shower so she missed everything including the letter. After they all left, Fessy laughed and said "well I didn't expect all that, but I'll take it." JC took Haleigh aside and started a filibuster, and Scottie asked Kaycee if they could talk and she refused.


Brett and Scottie sat down in the lounge to play Jenga, silently. JC and Haleigh returned to HOH and the wine was opened. Fessy had some too (reminder, he usually doesn't drink). Fessy asked who they thought the vote really was and Haleigh said Brett. JC launched into his spiel, focusing on "Scottie's an emotional player" and including reams of revisionist history. Fessy asked what they think he should do, and JC said he probably wants to do "something crazy like Brett and Tyler together or some shit," but said even if one goes, the other will stay and be gunning for Fessy. Haleigh said listen to JC and whatever he says, they should do, and she put on the red HOH robe. JC said "Scottie's coming hardcore" for Fessy, and said he should save Scottie for backdoor renom as he can win vetos, and finally suggested he put up Brett and Kaycee.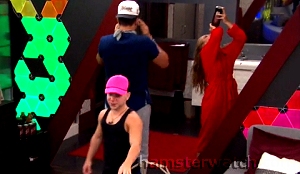 Fessy, Haleigh, JC polished off the wine and they got pretty tipsy (JC may have been exaggerating, it's hard to say). Fessy made a toast, saying "it'll be good on TV." Scottie joined them for awhile and it was awkward, and even more awkward when he left saying "love you" and Haleigh said "love you too." Tyler and Angela chatted in bed about BB and non-BB things, like they do. Fessy and Haleigh had a spat (or not) with him saying he wants her, her saying he has her, him saying come here, her saying "no, you pissed me off, now I'm gonna go talk shit about you with JC," him saying "don't let the door hit you on the way out," and her saying "kiss my ass, Fessy" before she plopped onto him in bed. They resumed gametalk after that, and it sounded like Fessy's planning on putting up Brett and Scottie, and he wanted to hold meetings after noms but Haleigh said that isn't how it works. He said he'll pitch a deal to Tyler to spare him if he'll protect Haleigh going forward, and he wanted to make a similar pitch to Angela and Kaycee. After that they moved onto sippy slurpydurp making out. After that, they argued about whether Haleigh could/should console Scottie about the vote fiasco (and when he's on the block). JC reported to Tyler that he wasn't going up and "they are stupid," and then he reported to Brett and suggested he approach Fessy in the morning.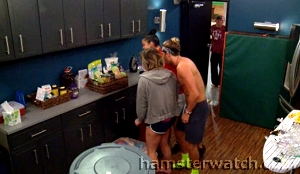 Scottie and Kaycee made up with a hug. A little after 12.30am they got a gift basket from Pop and After Dark, congratulating them on enduring the comp. It had lotions, cold compresses, loofahs, bubble bath, and of course snacks. Over gift basket snacks, Sam told Kaycee and Scottie that Orwell was from the novel 1984, about Big Brother. That's very rare in the BB house, and that in itself is extremely ironic, considering.

GET THE FEEDS to watch everything unfold, and catch up what you missed on my previous week's page, and/or Hamsterwatch Forum thanks to @UGotBronx, and please remember to use my Amazon link for any Amazon shopping anytime, USA or Canada - thanks!



Day 59 Friday August 17
Fessy had meetings with Tyler, Angela, Kaycee and repeated many times to each that he's "a man of his word" and that he wouldn't put any of them up. He pushed his anti-Scottie and anti-Brett agendas, and pitched if they all "come together as a house" and work together, they can make this week easier because no one would change noms if they win veto. Fessy retold to Haleigh, including that he doesn't trust Tyler but Tyler hadn't "fucked him over like those guys have." Fessy later told his revised Brett/Scottie plan to JC (rather than last night's Scottie/Kaycee plan they'd discussed). Kaycee apologized to both Fessy and Haleigh about last night, and all agreed to not "let it be weird." Scottie made his way up to HOH and pitched Sam for the block, and they chatted about the comp. Fessy said he doesn't care "who's talking to who down there" - if not now, when?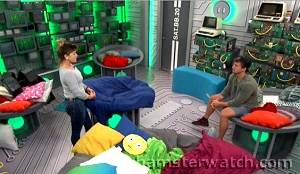 Brett played solo potball in the lounge for a bit, then met up with Sam in his Have-not isolation chamber. He told her he'd been studying and she said she'd seen one of his "art projects." He asked if she'd found and removed his prior study candies and she said no. He told her he hadn't talked to Fessy but Tyler had told him he and Scottie would likely be going up. Sam said Tyler could win the veto and take Brett off, and she asked Brett to be her BB teacher since Rockstar had been doing that. She said she thought she could probably do well at the end, citing Rockstar's retell of Enzo, but added she still felt destined to end up in "the little house" (jury). Sam offered to go to HOH and "bargain for him" but Brett said no need, as that side thought the two of them (Sam/Brett) have had a final two all along, a story he credited to Rockstar. Sam laughed and said she had wondered if Brett had F2 plans with her that he hadn't told her about, and she said she felt "extemely embarrassed" about having talked about her crush on Brett in Diary.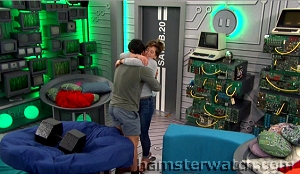 They shook hands that they'll play BB for each other, and they pinkyswore she'll "get out of here and fuck my own life up before I fuck yours up" and "you basically just got a body double" - he said from now on he's her Rockstar, following her around everywhere. She asked about showmances going on, including he and Haleigh - he said Haleigh's 'mancing with Fessy, and Sam said she'd like to see Haleigh and Angela on the block. JC popped in and Sam told him she'd pick him over Brett (in front of Brett), and later Sam told Brett she thought Mr & Mrs Smith was about him and her. She said she likes listening to him sleep when he's alone in Have-not, and she said she'll be ready to go to "the little house" when her time comes, but she might need him to hold her, and that she hoped he wins the game.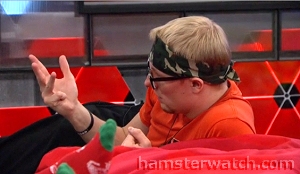 Scottie rinsed out his comp clothes in the downstairs bathroom sink and offered to do Haleigh's, which could make the inevitable Crisco clog happen even sooner. He asked Haleigh "there's no chance [Fessy]'s putting me up, right?" and she said she didn't think so (lie), but maybe he should go talk to him. So Scottie trotted upstairs and opened with "so you wanna talk about my little plan last night and how it all blew up?" They did BB Math and discussed hinky votes present and past, and Fessy wondered if it's like this every season? He said it always looked to him that people just vote how they feel, and that's that. Fessy finally asked "how the hell is Brett still here?" since he hadn't won anything but had been on the block twice, and Scottie said that shows "he's not a lone wolf." Perhaps unfortunately for Scottie, he also said he'd been tight with Tyler until he confessed that he was smitten with Haleigh "and then things changed." Fessy's prior determination to nominate Brett and Scottie all came down to jealousy over their closeness with Haleigh in my opinion, as he kept hanging on to wanting the two of them on the block even in the face of logic presented to him from various people as to why there were better choices for him. We'll know soon enough if Scottie made an impact or not.

Meanwhile Sam told Angela her spiel about Enzo (Rockstar's version) and how it could apply to her this year, and that she'd thought Fessy was gay. Angela in turn told Sam her backstory saga, and said that only Tyler and Kaycee had heard it, and she asked Sam to keep it to herself - maybe that was a retell test.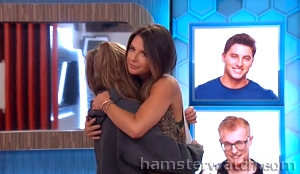 Nope, no impact: Fessy nominated Brett and Scottie as planned. Feeds came back to hugs all around, complete with Angela's expression giving away some insincerity for hers with Haleigh. Fessy gave Scottie a lengthy explanation, with an audience of Haleigh, Kaycee, Tyler, and a grinning JC, which basically boiled down to him putting up the two guys who claimed last night's rogue vote, and that he didn't know what was going on, and "everybody has secret deals, none of that shit ever lasts." Back in his room later, Fessy said "that's how you do a nomination ceremony, fellas!" - err, not so much. Sam reported that to Brett as a "big fake fight" and Brett said he'd had a feeling he might go up. Sam said he had her vote, he's her "fake husband" now.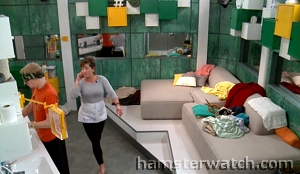 Around 7.40pm Sam was in the kitchen and said her lips were swelling up. Feeds were on Level 6/5/4 plus JC and Haleigh on the skybridge, who asked her what she meant. She said all she'd eaten was some tuna (with hemp seeds added by Brett? I think.) He'd been eating the same thing. She squeaked loudly that her lips were swelling more, and Tyler told her to get to Diary quick to get epi pen. Feeds were down about 40 minutes and when they came back Sam was still there and fine, apparently having gotten treatment on site. She said it was a great place to find out you have an allergy, with all the monitoring and nearby help. She went to bed early, and the hemp seeds were taken away.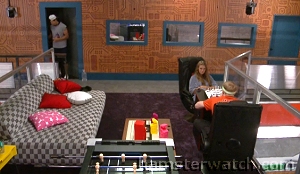 Scottie sat down to play chess with/against himself, but Haleigh eventually joined him. When she told Fessy she was going to, he let out a little whimpery victim noise. They broke for Haleigh to eat with Fessy, and Scottie talked to the fishies for awhile, and they resumed chess and chat again later. Scottie told her he was glad to see she and Fessy getting along better today, and she said "I'll always have you, Scottie." (She did not include a pre-noms disclaimer to that.) Fessy passed by a couple times and pretended not to notice them.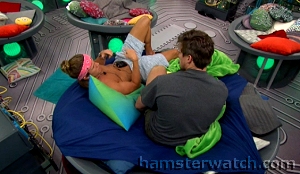 Tyler and Brett had a check-in at Brett's Have-not isolation chamber, where Brett showed how comfy he'd made his satellite dish bed, and they congratulated themselves on yet another successful and audacious move. They discussed veto options, in particular if Brett should pick Tyler to play if he gets to choose, and how various scenarios would play out depending who wins. Brett said he will be nervous if he's still on the block come Thursday, as it's his third time and people eventually boot the repeat nominees. (It's Scottie's third nomination too). They agreed if noms stay the same, Brett will stay and Scottie will go, and that Brett should have the votes to stay against most anyone except one of their own, since it could be a tie. Brett said he still suspects Fessy might be trying to backdoor Tyler, and Tyler agreed that was definitely possible. Brett asked Tyler how he's doing on studying and he rattled off his memorized days and hamsters. Tyler may or may not be doing as well with his studying - he doesn't talk about it much, which is wise if he's doing well.

Most of them turned in before midnight, knowing they have a big comp tomorrow but not knowing they'll get personalized zings before they play it.

GET THE FEEDS to watch everything unfold, and catch up what you missed on my previous week's page, and/or Hamsterwatch Forum thanks to @UGotBronx, and please remember to use my Amazon link for any Amazon shopping anytime, USA or Canada - thanks!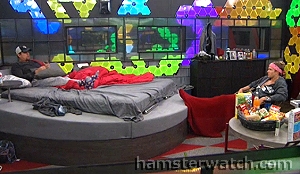 Day 60 Saturday August 18
They drew veto players: Fessy, Brett, Scottie plus Angela, Haleigh, Tyler. Haleigh was Scottie's Houseguest Choice, which was one of Fessy's sticking points when he talked with Tyler afterwards. He also talked at length about his noms, he didn't want another "monkey fuck" and he didn't want to do any "shady shit" like backdoor plans, and hoped there won't be anymore "shady shit" going forward. He repeated he put up Brett and Scottie because of the rogue Rockstar vote, and Scottie was his target because of the hinky Swaggy vote, and because he can't talk game with Scottie "but he sits up for hours and hours with Haleigh talking game." And he low-key pitched an alliance of himself and Haleigh plus Tyler and Angela. Tyler played his usual "I don't get it either" through all of it, admitting only what he had to and acting like he was as clueless as Fessy. Later Tyler had a quickie whisper with Sam about his power to ask if she'd told anyone about it. She said no, and he said it expires soon and he doesn't want to have to use it.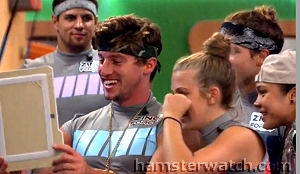 Feeds were down nearly six hours and when they came back around 6pm Brett had won the veto (the first nominee to do so this season), they had pizza, and the house was trashed. Brett was given a photo in a folder, something about burying the body? Their shirts said Zing Police, and it sounded like they had to hide and find "incriminating photos" of themselves. Zings sounded uninspired - they didn't even really talk about them very much. The ones I've got are as follows, to be filled in if they talk about them more:
Angela - "You are soulless, heartless, emotionless, your heart is made of black ice"
Brett - "You think you're so fresh and so clean, that's because you're a douche"
Fessy - something about being a moron, and "every kid left behind" about his substitute teaching
Haleigh - "To zing or not to zing, the only thing more tragic than Hamlet is your HOH reign"
JC - "The only thing thicker than your accent is your back hair"
Kaycee - something about her "let's go to a different channel" saying
Sam - something about being "fucking crazy"
Scottie - "Who's blonde, blue eyed, and is obsessed with Brett" (with a lead-in making it sound like Haleigh)
Tyler - "Can I get an extra crispy, burnt to a crisp, covered in zits, oily greaseball? Oh, you want a Tyler"
Some or all evictees had them too:
Steve - "It smells so bad in here it's like Steve never left"
Rockstar had one also, I haven't heard what it was yet

As for the comp itself, it sounded like they did several hunting/trashing rounds each and they did a good job with trashing everything. All agreed they were glad JC didn't play it - he said he would have had a fun time.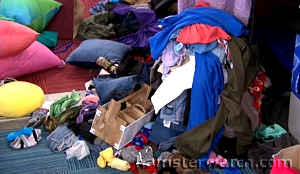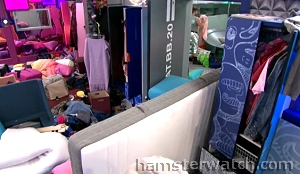 Brett said he almost took Zingbot out with a near-tackle, Scottie dumped a jug of chocolate milk and poured vegetable oil on the floor, Tyler and Brett both slipped in it, and when Fessy saw it he said "I guess that's what we're doing" and he poured out a box of sugar everywhere. Brett moved all the mattresses into his Have-not room and up against the drawers. He had the bed frames against the door but BB said he couldn't do that. Tyler said he hid his in Sam's pants, thinking nobody would go through her things - he had also said that this morning when they were speculating if it was this veto. (He also didn't necessarily want to win it.)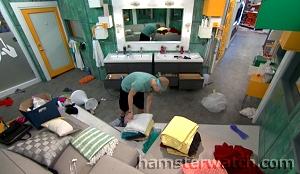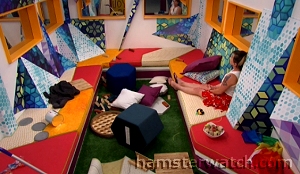 Sam went into the lounge and seemed equally stunned and sad. She said quietly "they broke my dream catcher." Later she went to Diary and when she came out she said she'd "lost her shit" in there, but was in a better mood. Fessy took a shower as the other competitors cleaned up, including Scottie on his hands and knees scrubbing the hallway floor, and later watching them on his spyscreen while talking to JC he asked if he should go help. JC said "well duh, you're one of the contestants" and Fessy said "but I'm HOH." They both went downstairs and Fessy kind of leaned on a broom for a bit, but didn't do a lot. Prior to that, Fessy said he'll need to do damage control with Brett this week. JC said "that's fine, we'll take care of that."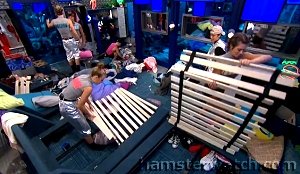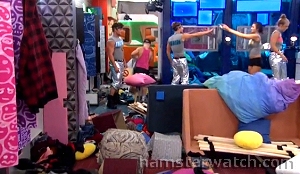 Deodorant was scooped out, milk was poured on clothes, shaving cream was spewed, Sam's crafting supplies were strewn and her cricket escaped, coffee grounds were poured into the oven by Angela, some glass baubles were broken by Scottie, and JC's vitamins were dumped out. They thought the coffee maker carafe was missing or broken but it was found safe in the pantry (whew). Brett and Angela had a pantry celebration with Brett saying he's working up another memorable speech: "I can't wait til my veto speech, I'm gonna tell Fess to suck my fucking cock, on national television. Remember that time you looked me in the eyes and promised to never nominate me? I do. Remember who's not eligible to play in HOH next week? Guess who is?"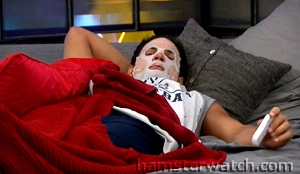 Fessy and Tyler met in HOH and Fessy pitched the fourmance alliance again, saying "Haleigh's the only really cool person I have in this game. As numbers get smaller, I need a team" and added that he felt bad about Scottie as he doesn't have a problem with him. Tyler said he'll tell Angela and he thought she'll be on board. Later he returned to his bed with a facial mask and his music, and then he pitched his plan to Haleigh to put up Kaycee as renom and get the new foursome plus JC to agree to evict Brett. Haleigh said "why don't you just play this game for Angela? Why don't you find out what's most beneficial for her and do that?" Sam visited Fessy and asked that she not go up as renom, and she won't put him up if she wins another HOH. She mentioned Scottie and Haleigh's friendship, and asked about Fessy's (former) alliance - he denied having been in one, and advised her that everything is going to get more difficult the further they go.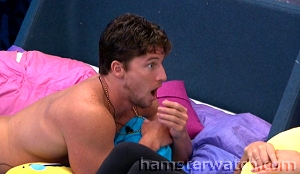 Brett told Tyler and Angela about Sam's talk with him the other day: not the final two part, but how she said they send each other secret messages via public convos, and Brett's secret signals to Rockstar about being madly in love with Sam. His shockface here was his replay of when he heard the "fucking crazy" zing about Sam. Later Sam asked Tyler about the "Kaycee and Angela thing" and had him promise he hadn't told anyone about their final two. She said she's told people she has "a final two with somebody" but she hadn't said who. Brett put the veto necklace on after his shower and swaggered it around, gloating about what a sore winner he is and that he wanted to wear it til the veto meeting. All that was to rub it in Fessy's face, of course.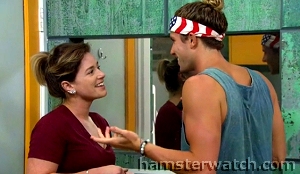 Scottie continued cleaning for at least four hours, to the point of cleaning shoe soles with a toothbrush, and then he made cookies. Tyler told JC about Fessy's fourmance pitch, and JC said he's worried about being easily disposed of once Fessy, Haleigh, Sam are gone, even though he and Tyler have their side alliance. Tyler said he won't let that happen, and he said he thought Brett would probably be the first to go of the Level 6/5/4 group (though he didn't name it, of course).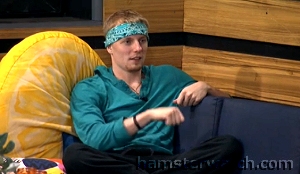 Sam and Scottie sat down outside, happy the yard was open again. Sam asked about the possibility of Brett using his veto on Scottie, and Scottie said that won't happen. He mentioned the Tyler/Angela/Kaycee thing and said he'd gotten that from Rockstar's speech, but didn't know anything else about it. Sam ran her usual loops about never knowing what's going on, and Scottie said he still can't believe Fessy put him up because he was "legitimately on his team." He mentioned the Hive name several times - I don't know if Sam had heard that before.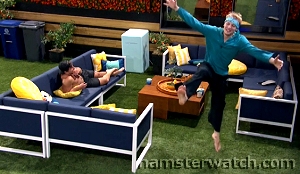 Brett went out to the hot tub, and eventually joined them for a long discussion about this week's fiasco. They exchanged Fessy's promises not to put them up, they decided Fessy won't put up Angela because he had a crush on her at the start, Brett said Fessy and Haleigh were definitely showmancing, and Scottie finally saw the light that Haleigh wasn't interested in him like that, and that their final two deal wasn't legit. Sam said about Haleigh "she takes the most from all y'all and pays it back how? By throwing you up on the block." They tossed around the idea of getting Fessy to put up Haleigh as renom - the guys said that won't happen but Sam said she could make it happen. Scottie made plans to go off on Haleigh in his veto meeting speech (if not before), and the three of them got to laughing hard especially after Scottie told Sam about the "who was the vote" meeting in HOH. Meanwhile Fessy and Haleigh did their canoodling/arguing cycles in the darkness of HOH, with Fessy asking Haleigh how anyone else would know they're showmancing.

GET THE FEEDS to watch everything unfold, and catch up what you missed on my previous week's page, and/or Hamsterwatch Forum thanks to @UGotBronx, and please remember to use my Amazon link for any Amazon shopping anytime, USA or Canada - thanks!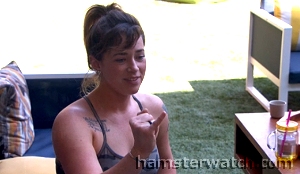 Day 61 Sunday August 19
As planned last night, Sam and Scottie set about their renom rounds early. Sam pulled Fessy aside in the yard to throw her wild pitch to him - Flashback 8/19 10.13am. She said it's time for the two of them to start playing so they can stay, and he should put up Haleigh as renom because she takes the most from the house but contributes the least, and she said "Haleigh says she has your back but how is she going to back it up?" She also said Haleigh's coming for her, and "who do you want by your side" [at the end]. She repeatedly thrust her pinky at him to swear that if Haleigh did go home [jury], Sam would quit smoking, and Fessy repeatedly said he wouldn't pinky because he's a grown man.

Note for tally fans and pinky purists: Sam and Fessy mentioned a pinkyswear last night but I didn't see it. Apparently it was on After Dark but not feeds, so I've added it as a retell. All I saw was a sort of high five.


Fessy reported to Tyler that Angela had told him she's onboard with the fourmance plan, and he said he's had some crazy pitches today, "craziest shit I ever heard in my life!" Scottie in turn approached Angela as planned to rehash past history, his proposed "legendary speech" to get Haleigh up as renom plus early anti-Scottie conspiracies, and that Tyler would likely be the renom otherwise - Flashback 8/19 11.49am. Tyler joined and said he was worried about Scottie pissing off Haleigh, and that he (Tyler) had been trying lately to mend things with Haleigh, and Scottie told them about his final two with Haleigh, and that she is "literally Kaitlyn 2.0." Kaycee joined which was convenient, as Scottie had planned to pitch to all three of them today.


Fessy called everyone to the living room around quarter to one. Most thought he was goofing and he played like he was at first, saying "house meeting" but then he pulled a card from his robe and said he had to name Have-nots for the week. He selected JC, Sam, and Tyler, adding he wouldn't pick Brett because he was on the block. Later he discovered Angela and Kaycee (also Haleigh) were due before Tyler got another week, but it was done. They wondered why they'd had two weeks off, and said they thought Have-nots were done. (Two weeks ago they had Rockstar's Jessie meals which could be why they skipped that week. Maybe they just forgot last week, or there were complications with Sam's ban from the room? But now she'll be back in it, so watch for new crafts since she gets a lot of parts from the decor in there.)

Afterwards, Sam cornered Fessy in the pantry and thrust her pinky at him some more. He still didn't pinky back, and twirled his fingers around his ears "crazy" to the cameras when she left.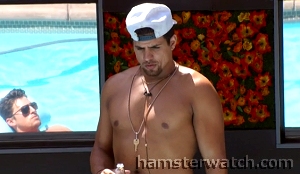 Fessy asked Brett if he swears he voted to keep Rockstar, and Brett lied and said "yeah." (Fessy did not ask for a pinky, just a conversational swear.) Fessy said he thought at first Brett's pause after Scottie's confession and before his own, was Brett just trying to cause commotion. That's exactly what it was about, but Fessy can't/won't see it, so Scottie will continue to be the scapegoat. They continued their convo later in HOH, with Fessy saying there's no way Scottie will have the votes to stay, and he asked Brett's advice for the best renom choice. Brett said he didn't think it really mattered, Fessy said Scottie would probably go out against anyone but Sam, and Brett said the only other person close to Scottie was Haleigh. Fessy said - to Brett! - he'd been on the wrong side of the vote every week, everyone keeps lying and getting away with it, and "the only smooth week was Kaitlyn's week."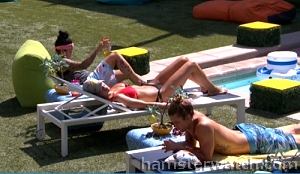 Slop prep began in the kitchen, with Angela helping Tyler make her slop recipe that wasn't all bad. Haleigh told Tyler she was sorry he was Have-not again and that she should have volunteered, but she really didn't want to do it again. Angela told Kaycee about Scottie's pitch to her and Tyler, and they agreed one of them plus Tyler should go up to HOH to talk to Fessy. Tyler suggested it'd be better if Kaycee talked to Fessy alone (to avoid being his renom), as Fessy sees him and Angela as a duo. Kaycee went to HOH when Brett left, and Fessy said one of the three of them had to go up to ensure Scottie goes. Fessy counted off votes, including "Haleigh's gonna respect what I want" - last night Haleigh and Fessy had a spat over him saying she'll vote how he tells her. Kaycee told Fessy that Scottie's planning a big speech for Monday, and that she thought Scottie likes Haleigh. Meanwhile Tyler and Angela agreed to stage a fight if needed, if people suspect they're too close.


Fessy reported his Brett and Kaycee talks to Haleigh - Flashback 8/19 3.25pm, and said Kaycee would be his renom even though she didn't know that yet, and he said Scottie wanted Haleigh to be the renom and that he said Haleigh was Kaitlyn 2.0. Haleigh went to Diary but came right out again, and broke down in tears to Tyler, Kaycee, Angela. She reported to them what Fessy had said about Scottie's pitch to Fessy this morning, and he (Scottie) wanted Haleigh sitting next to him on the block. Haleigh told them she'd been the only one defending Scottie all along. It should be noted that Fessy did not tell Haleigh about Sam's pitches and pinky pleas to put up Haleigh, only Scottie's. Tyler, Kaycee, Angela said they should get JC to talk Fessy into putting up Sam rather than one of them. Later Haleigh asked Sam about Scottie having told her "Sam fucking hates you" a couple days ago, as well as "Haleigh's drinking wine with Fessy? She'll make him feel special tonight." Sam said no, that wasn't even something she'd say.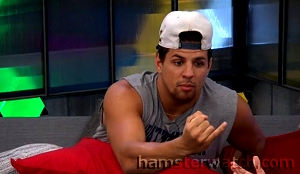 Haleigh told Fessy her feelings were hurt because she'd been running around trying to defend Scottie. She asked him for a retell of his morning convo with Scottie, and Tyler and Angela ding-donged the HOH doorbell when he started, so they joined in for that. A long anti-Scottie meeting followed which Fessy chaired from his HOH bed, and he repeated the day's mantra "if Scottie's accused of ten shady things, I'd bet my left nut he did five of them" a few more times. As usual, Fessy and Haleigh did most of the talking, and Tyler and Angela did most of the listening. Around 5.14pm, Fessy finally retold Sam's morning pitch, complete with her thrusting pinky. His audience was flabbergasted, particularly Tyler (understandably). Haleigh seemed to have been stuck on "she's Kaitlyn 2.0" from Scottie's pitch, and "she takes but doesn't give" from Sam's. Fessy wrapped up by telling them he'll put up Kaycee as renom to ensure there are enough votes for Scottie to go. Angela later asked Tyler if they should tell Kaycee, he said yes, and later he did.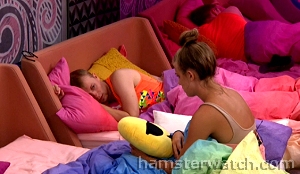 Meanwhile Haleigh and Scottie had a long quiet convo about Scottie's pitch, with tears from each of them at times. Scottie admitted the "Kaitlyn 2.0" part, and Haleigh said she wasn't mad at him, just hurt over how it's all turning out. Scottie said he'd use his speech tomorrow to apologize to her if she wanted (rather than attacking her as he'd happily planned last night). Later he asked himself why she makes him so happy, and said he didn't understand that. Brett and Tyler had a check-in to compare various retells of their activities, both of them in giddy disbelief at all of it. JC had a check-in with Fessy, and asked him why he made him Have-not and not Haleigh (ha!), and Fessy told him Scottie didn't like him (JC) and had been blaming hinky votes on him all season. JC acted surprised to hear that, but told him everything's fine and Scottie will definitely go. Fessy said he'd made "the biggest move of the season." Brett asked JC if he could borrow a Speedo for the veto meeting tomorrow, that he wanted to just wear that, sunglasses, and the veto necklace. Brett asked Sam if she made her pitch to Fessy and she said yes, they didn't "cement it in" but he'd thought it sounded good.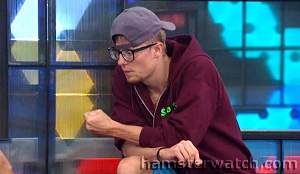 Scottie went to HOH for an 11th hour pitch - more like a 9.35pm pitch. He asked "has Sam talked to you yet? If you put Haleigh on the block I'll kick your fucking ass," and he pitched Sam as renom, saying she'd been playing BB - and all of them - all along. Fessy said he'll think about it, and Scottie confessed that he had feelings for Haleigh, and said "it's fucking me up, I don't know how to process those feelings." Fessy said the only people Scottie could stay against would be Sam or Haleigh, and Scottie said "if you put Haleigh up, I'm going to fucking end you" and "I saw her cry today, I don't ever want to see that again." They talked about the three of them going forward as a trio, Fessy added "red flags" to his catchphrase collection ("man of my word," "quacks like a duck," and "my left nut" being today's favorites), and said if he can wrap his head around that idea he'll think about it, and Scottie said he wanted to stay so he could go after everyone who'd told him Haleigh was playing him. It was a bizarre convo, as the real reason Scottie's on the block was his flirtmance with Haleigh, but of course Fessy can't or won't admit that to himself. He finally said it wasn't a problem if Scottie liked Haleigh (but I don't think he believed it).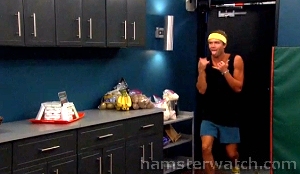 Kaycee was up next to HOH and turned everything back around where it started, though it took her saying "put my ass up" to get Fessy back to his original harebrained plan. Meanwhile Pop and After Dark delivered ice cream sandwiches, which the Have-nots could also enjoy, and they did. Whether paranoia or perception, or a combo of both, it didn't take long for Sam to catch on that something was up. She asked Scottie if something was wrong, why wouldn't he look at her, and she said he was freaking her out. Scottie said "oooo I'm freaky, I always wanted to be freaky" and walked on by. Various retells ensued of the day's and evening's convos all over the habitat, like they do.

Looks like we won't have Scottie giving his "legendary" anti-Haleigh scorcher speech tomorrow after all, which is probably just as well, but he might use the occasion to give her a public apology (and a rose?) We'll see. I'm still waiting for Tyler to ask Sam why the heck she pitched Haleigh to Fessy, and for a no smoking pinkyswear. This season just keeps on giving. Thanks for continuing to visit the site!

GET THE FEEDS to watch everything unfold, and catch up what you missed on my previous week's page, and/or Hamsterwatch Forum thanks to @UGotBronx, and please remember to use my Amazon link for any Amazon shopping anytime, USA or Canada - thanks!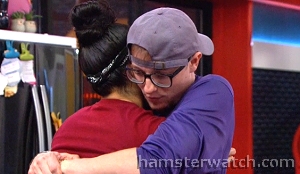 Day 62 Monday August 20
Brett veto'd himself off the block, and Fessy put up Kaycee in his place, as planned. Apparently there was a lot of "chaos" and they had to do it all three times before they got a good enough version for Wednesday's show. Brett didn't wear JC's Speedo after all as he couldn't fit into it, but Scottie did give a speech about Sam. It sounded like Sam thought it was about Haleigh until the end of it. Scottie and Kaycee had a block party hug afterwards and Scottie asked if she'd known she was going up? She lied and said no. When Scottie hugged Angela, he muttered "I just don't get why he doesn't see it," presumably meaning Fessy not seeing Sam as a problem, or maybe that he wasn't a problem for Fessy, at least before now. Before the meeting Scottie had told Tyler that Sam would be the renom per his bizarre chat with Fessy last night, and Tyler told Scottie about Sam's "I'm ready to play" and that she'd been pushing for Haleigh to go up. After the meeting, Sam told Tyler she'd tried to play BB but it didn't work, and Tyler told her the fact she'd said that meant she was playing BB. Brett and Tyler said they'll let Scottie think he'll have their votes to make the week easier.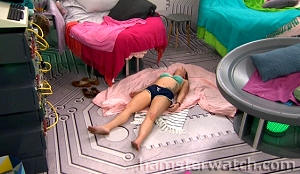 Tyler congratulated Fessy for a good HOH week, saying "at least you know you're getting out a big one" and Fessy congratulated himself for putting up Scottie as original nom rather than backdoor. I don't know how Tyler keeps a straight face for these talks, but he does. Sam made a vow of silence from 1.30pm thru noon tomorrow, and of course JC tried to get her to break it before it began. She packed up her shower things and crafting supplies to keep her occupied during her Grand Silence. Later she was laying on the Have-not floor and after a short Diary session, she gestured some message to the others. She broke it 4.45pm, chiming in on a backyard convo about feedsters knowing all the intimate details of their lives by now. Brett made salmon with butter, pineapple, and BBQ sauce for the others, forgetting three were Have-not. Those who ate it liked it. Afternoon was relatively quiet in general, especially compared to previous Mondays, but we're due for a break from the non-stop activity, and knowing this bunch they'll rev it up this week anyway.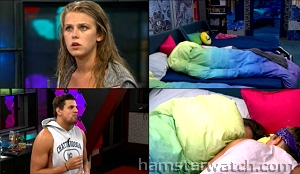 Evening continued quietly as well, with working out, eating/snacking, chatting, and some planning in case Thursday is a double eviction (it isn't). Scottie sprung a theory that maybe Fessy was the hinky voter all along - yes it sounds loony but as Scottie pointed out, nothing else makes sense for Fessy to have targeted him (especially from Scottie's point of view, after Fessy told him it's cool that he likes Haleigh). Haleigh and Fessy had a heated spat about whether he can trust her not to flip her vote. Same stuff/different day but quads were surreal as Tyler and Angela were cooing and chatting happily at the same time (a little earlier Tyler had said showmances are stupid when JC said he better not get in one with Angela). Fessy and Haleigh each descended the stairs, with Fessy landing in the hot tub with Brett, and Haleigh landing with Tyler and Angela to talk hair. Sam gave JC a pedicure, which was even kookier than it sounds since he was wearing Brett's I Heart Granny sweater. Sam had a cry about something and Kaycee hugged her through it - again, same stuff/different day.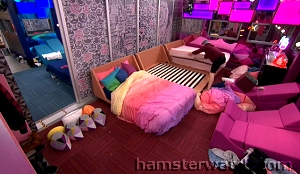 Inspired by Sam's Grand Silence, JC and Tyler had a silent deathmatch which JC won when Tyler spoke (squealed). Haleigh told Kaycee about her fight with Fessy and asked if she could sleep in the blue room with her if she decides to sleep downstairs, and Kaycee said sure. All alone now in the pink room, Scottie barricaded the doorway (kinda) and decided to make an "ultra mattress" by stacking them up. Along the way, he muttered "gross, looks like a piss stain" and "why does this mattress have so many stains on it?" and "that one won't go on top." It's probably better not to ask, nor think about it too much. As he was stacking, Haleigh told Brett and Fessy at the hot tub that she felt bad she hadn't talked to Scottie today, but she didn't know what to say. Sam went back to her crafts and repairing her veto-damaged dream catcher, while Level 6/5/4 plus JC and Haleigh had a slumber party of sorts, with Brett being loud and hyper. Brett also watched/coached Scottie fine-tune his ultra bed.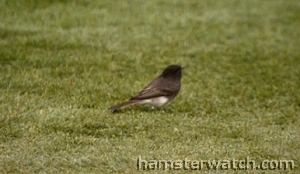 After most of them settled down, Sam and Brett chatted in the yard about the house dynamics and "what's going on." Haleigh also went out and creaked the hammock by herself. A little bird dropped in for a visit, Fessy peeked out the door, saw Haleigh in the hammock, exchanged good nights with Sam and Brett, and went back inside. A little while later Haleigh went in and upstairs to HOH, where she climbed into bed with Fessy, but told him she wasn't staying long, and she didn't. But she returned, and slurpydurp making out ensued. Brett swapped out with Scottie thanks to Diary calls, and Scottie and Sam talked about the confusion, the lies, the allegations, the betrayals, and the mess he now found himself in. Scottie told Sam that Fessy had said she was one of the few renoms that might allow Scottie to stay, and Kaycee would ensure he'd go, and when she went up is how Scottie knew he was Fessy's target. And he told Sam that he (Scottie) had pushed for Sam to be the renom, and that Fessy wasn't happy with Sam because she'd pitched Haleigh as renom - Flashback 8/21 1.35am. So there will likely be repercussions from all that as we go forward.

GET THE FEEDS to watch everything unfold, and catch up what you missed on my previous week's page, and/or Hamsterwatch Forum thanks to @UGotBronx, and please remember to use my Amazon link for any Amazon shopping anytime, USA or Canada - thanks!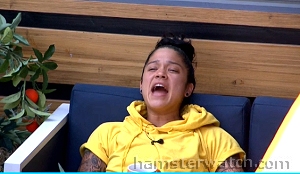 Day 63 Tuesday August 21
Kaycee and JC heard someone yelling in the backyard - Flashback 8/21 10.55am. I don't know if anything specific was heard or if the yeller was even for them. JC hollered "come hang out" and Kaycee hollered it louder, and they were all sent to indoor lockdown for a couple hours. Sam asked Kaycee if she'd be "her person" but instead of another final two, she said she's going to turn in her cigs to Diary, get a patch, and quit smoking. She said she might as well accomplish something in there, and that she didn't want to gain weight. She asked Kaycee to back her up and help her work out, Kaycee agreed and said she was proud of Sam's decision. Later Sam told Tyler about her decision. Tyler and Angela talked about getting Fessy gone ASAP, hopefully by Brett or Kaycee, and leaving Haleigh for later. Angela told him that her and Rachel's final two was called Vixens, and Tyler told her that Brett had told him Sam tried to form an alliance with JC and Brett, and he said "I've already mapped out the rest of the game in my head."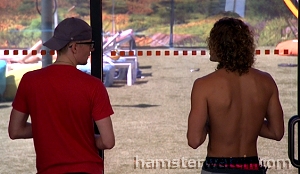 Scottie's retell rounds continued, as he and Tyler noticed seven were outside, and Scottie casually said there will be one less on Thursday. He also told Tyler he'd talked to Sam and thought she'd forgiven him. Tyler said he didn't know about that because she'd been crying, and that Scottie should have told her before the veto meeting rather than after. Scottie replayed the order of convos, and told Tyler he hadn't yet talked to Haleigh, and repeated his new theory that Fessy was the flip vote(s). Sam went in, Tyler went out, and Scottie and Sam chatted about random topics before being joined by others. After an afternoon of chit-chat, sunbathing, working out, and snacking, Scottie eventually told his story to Brett. Needless to say, he didn't get a shocked reaction or much sympathy there either. A little before 6pm a hilarious group convo broke out in the yard, mostly revolving around anatomy. Great stuff for comedy fans, but definitely not safe for work, Twitter, or prudes.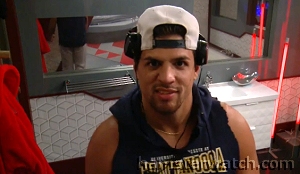 Fessy and Haleigh had one of their regular "are you mad at me?" check-in/spats, and he asked her while she was showering how her relationship building was going with Sam. Haleigh said she wasn't putting much effort into it, and Fessy said it didn't matter as they're "throwing her up next week." Haleigh repeatedly said she couldn't hear Fessy, and he finally made a face to the camera before walking away. Apparently Fessy had told some of them today that he'd tried out for the show with a girl who has a baby, and they picked up after Haleigh's shower with Fessy saying his now-usual "so we can't talk today or what?" Haleigh said something about this other girl and about Fessy having said they'd left on good terms but he doesn't know how this other girl feels right now. Fessy said that was about him being on the show, since they tried out together and he made it but she didn't. Later Haleigh told Angela that Scottie had asked to talk to her but she didn't know what to say to him. Angela said just tell him what he wants to hear, as he's leaving on Thursday regardless. Fessy told Haleigh later that Angela had told him Scottie had told her that Fessy was the one who's been flipping votes.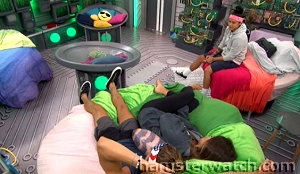 Level 6/5/4 (sans Brett, so L3 I guess) met in the Have-not room and agreed to put up Sam and Haleigh if they win HOH, and if either of them win veto, Fessy would go up as renom. As a meeting, that was just a formality and could probably have gone without saying since there aren't many other choices, at least unless/until Tyler decides to cut JC loose. Meanwhile Brett chatted with Sam and Haleigh in the yard, and said Scottie had been talking about being dealt a bad hand, but Brett added that they were all on equal footing when they walked in so that was just Scottie being desperate and grasping at straws. They wondered what kind of speech Scottie will give on Thursday, and who he'd aim it at.

JC had a quick but urgent whisper with Tyler, once again telling him not to get too close to Angela, and that he (JC) had risked his game for Tyler. Tyler said all was cool and just stick to the plan. Fessy, Haleigh, Brett had a very cringey hot tub convo about various animals they've hit with their cars, which led to various animal horror stories. Kaycee packed, Scottie cleaned the bathroom, Fessy and Brett chatted in the hot tub, and later Brett and Haleigh chatted at the hammock. JC had yet another urgent whispery talk with Tyler about Angela, this one at length. Tyler said he wasn't in a showmance, and that he thought Angela had a crush on Brett. JC played with the Granny sweater while they talked, pulling the velcro heart and letters off and on. When he got up, Tyler busted up when he saw it now said I ANGRY.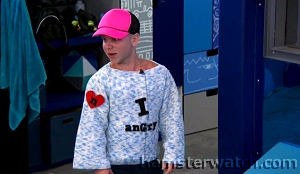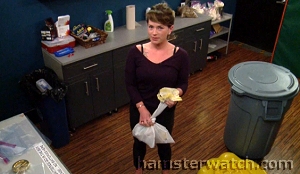 Tyler told Kaycee about JC's concerns and assured her she was still his #1 and she reiterated the same to him. Sam took her cigs to the pantry, saying "better get 'em quick" as she tossed them on the counter.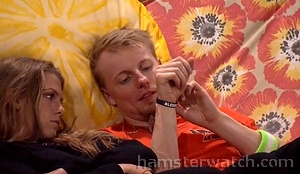 Scottie and Haleigh finally landed in the same spot, the hammock, around 12.30am. They chatted about stars, dreams, movies, Kaitlyn's bracelet he was wearing, families, pets - everything except the situation at hand, for about an hour. She began to yawn, he said he'd meant to talk about this week but he was happier with the talk they had. He said he'll be going Thursday, she said not necessarily, he said he can't apologize enough for panicking and screwing up like he did, and she said she wasn't mad at him. And he pitched his theory that Fessy's been the flipped vote(s) and that he (Fessy) had been voting with JC. And he said "despite my idiocy, I genuinely care about you" - she said she cares about him too. He said Fessy told him two things to do this week to build trust, which he did, and they both backfired. And he asked if Fessy had told her "the embarrassing part" (Scottie's feelings for her) and she said no. Meanwhile Brett and Tyler compared notes about Fessy telling each of them he wanted the other to go, Brett relayed his many recent convos with Sam plus her many pinkyswears, and he said she might be America's Player along with JC.

GET THE FEEDS to watch everything unfold, and catch up what you missed on my previous week's page, and/or Hamsterwatch Forum thanks to @UGotBronx, and please remember to use my Amazon link for any Amazon shopping anytime, USA or Canada - thanks!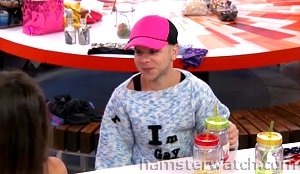 Day 64 Wednesday August 22
JC started his day by redesigning the granny sweater once again, this time to read IM GAY. Sam hung a weighted string on the stairs, moved the popsicle sculpture and covered it with a blanket, trying to make a sort of tetherball game? I'm not sure what she was going for. She moved to the rock wall and started fiddling with the bolts but got a "stop that." Brett forgot he was cooking bacon in the oven and started a fire. Kaycee opened the oven door and a cloud of smoke billowed out. Luckily she closed it again - there were actual flames inside. And cut to fishies, then prior seasons for about an hour and a half. When they came back the habitat was still standing, with some fire extinguisher dust and debris sprinkled on it.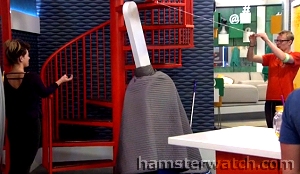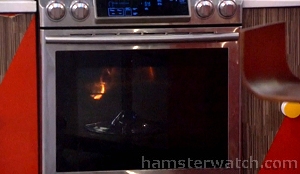 Tyler, Fessy, Haleigh held a meeting about going forward and finishing as final four, largely led by Fessy. Angela wasn't present but was repped by Tyler. When he left, Fessy and Haleigh did a round of bickering, with her asking about Scottie's accusations that Fessy's been flipping vote(s) and he swearing he hasn't, which led to she saying they (as a couple) are fake and he saying they're not, plus "you fucking talk to Scottie for fucking two hours at a fucking time!" That led go he saying he doesn't care about the game at this point, "we made it to top eight" and she saying he needs to care about the game.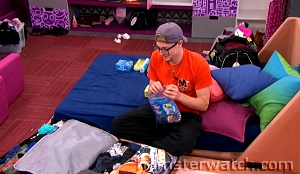 Most of them went into the lounge to play Pictionary with the pegs wall, but Scottie started a project in the pantry. It turned out he was gathering house supplies of all types: shampoo, deodorant, condoms, razors, diarrhea pills - and you name it, packing them into ziplock bags, and stashing them in his luggage. He wore a mischievous evil grin for much of it, and he narrated as he went. It's the kind of thing that's made Scottie a hero for Team Fun Feeds all season, and will be greatly missed - Flashback 8/22 2.50pm.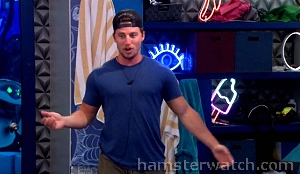 Kaycee got upset and cried a bit to Tyler and Angela, talking about coming out to her family. I think that was something Diary triggered, maybe asking about an earlier convo she and JC had. Brett entertained his teamies with one of his stand-up shows featuring stories from his past - whether fact, fiction, or exaggerations doesn't matter when it's a long, locked-in Wednesday with no waffling to do. Fessy and Haleigh did some of their bicker/makeout cycles, before they both descended the stairs to socialize a bit. Scottie and Tyler played an energetic game of foosball, and Scottie socialized as well, which was good to see on his last night.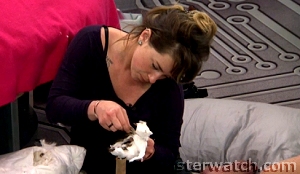 Sam kept to herself most of the day, and worked on a bird made from tissues or dryer sheets and other found materials. Brett revved up his anti-Sam campaign (for next week) about her moods, her crafts, her crush on him, and whether she's on some undercover mission for BB - nope, just being Sam. He had multiple short and long anti-Sam chats with Angela, Haleigh, Fessy, JC, and Tyler, and Haleigh and Fessy picked it up with each other later. Studying about days events took place here and there in various groups.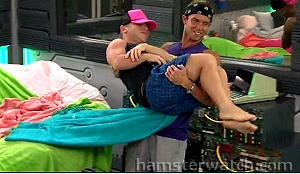 JC dropped a few hints to Brett about Tyler and Angela possibly branching off with Fessy and Haleigh. JC also told Tyler that Diary had asked him about Tyler and Angela, to which Tyler said "that's bullshit!" They ran their now-usual back and forths about Tyler and Angela being a showmance versus they're not a showmance, and Tyler finally got JC out of the big satellite dish by picking him up and moving him to another. JC admitted to Tyler that he was jealous of Angela. Tyler said he knew that and was glad JC admitted it.

GET THE FEEDS to watch everything unfold, and catch up what you missed on my previous week's page, and/or Hamsterwatch Forum thanks to @UGotBronx, and please remember to use my Amazon link for any Amazon shopping anytime, USA or Canada - thanks!



Ratings - Another Dirty Deal edition
Ratings are Monday's, based on entertainment value
VTE = Voted to evict




Sunday's edit of Thursday night proved something. JC convincing Fessy and Haleigh to target Scottie was partially driven by wine, but that little fact wasn't included in the show. It proves they could provide booze more often to not only make their cast and their feedsters happy, but to liven things up and send them down unpredictable paths, resulting in stellar segments for the air shows. It's fine if they edit out the booze. Everybody wins!

PS My weekly request once again that they please raise both the video brightness and the audio levels on the feeds.





Won: Nothing yet
HOH 1 - Veto 1 - Noms 1 - HN 1

VTE Scottie
After her two and a half weeks of playing the villain, she's mostly back to the 'Who?' category, other than her flirty petmance with Tyler.





Won: 1st eviction immunity; 24 hours InstaGranny
HOH 0 - Veto 1 - Noms 3 - HN 2

WON VETO/USED ON SELF
VTE Scottie
He's done a lot of the legwork for Level 6/5/4 lately, but most of that was done covertly. If he should get to finals, he might have a tough time convincing the jurors how hard he was actually playing when he was seemingly just parked in his isolation chamber. On the other hand, he'd be almost sure to give a memorable speech on the finale.





Won: 1st eviction immunity; Crap App #1 Hamazon
HOH 1 - Veto 2 - Noms 0 - HN 2

No vote (HOH)
Let's review: the week after one of his dwindling alliance was sent out on his girlfriend's HOH largely (but not entirely) via twist, he put up their only other member and now Scottie will be joining the jury on Thursday, leaving Fessy and Haleigh alone against everyone else. Week after week, Fessy has wondered and openly asked what's going on, yet he still hasn't questioned how smoothly his week at the top went or why.





Won: 1st eviction immunity; Crap App #3 Read It; Hacker #1
HOH 1 - Veto 0 - Noms 1 - HN 1

VTE Scottie
She cuddled and petted with Fessy, Scottie, and Brett, but she finally gave Fessy the rose. Now Scottie's going home as a result of that petting plus a genuine friendship with Haleigh, and she's fine with that. Well it is BB and someone has to go every week, but she seems to enjoy Scottie's company more than Fessy's, as she and Fessy bicker nearly all the time now when they aren't making out. This week might haunt her conscience later, but 'it's just a game' right?





Won: Nothing yet
HOH 0 - Veto 0 - Noms 0 - HN 2

VTE Scottie
He's been a valuable non-member of both teams and played a textbook floater game: meaning someone who floats from side to side but isn't really allied with either. It's become a dirty word but it shouldn't be, as it's a legit and viable strategy that's a lot harder to pull off than it seems. In JC's case, it might be his undoing as he's not winning comps and eventually he'll be the most dispensable to both sides. He probably figures that's not a problem since he's tight with Tyler, but he's unaware he's just one of many Tyler F2s. But JC wanted the other floater gone and he did his part in making that happen.





Won: 1st eviction immunity; 2 weeks Pinwheel; 1 week Peanut; Hacker #2; Hacked self off the block Week 7
HOH 0 - Veto 0 - Noms 3 - HN 1

No vote (HOH)
She's not quite in the 'Who?' category but she's far from a front-runner, and she's not doing a lot to build a BB resumé should she end up in finals, and it's very possible she will. But hey, $50k is nice too.





Won: 2 weeks Robot; Power App #1 Bonus Life
HOH 1 - Veto 0 - Noms 1 - HN 2

VTE Scottie
Minority opinion but I still mostly enjoy her on feeds, although I cringe and worry for her when she goes down her wacky path. I'm glad she's mostly back and I'm especially pleased she's back to making things and doing her craftwork. But I've always enjoyed the quirky/creative/kooky hamsters and I think they're always some of the most memorable: OTT Justin, BB19 Kevin, BBCan3 Godfrey, BBCan5 Karen come to mind from recent seasons, and Sam fits right into that group, at least for me.





Won: $5,000; 1st eviction immunity; Greece trip; Hacked off the block 6th week
HOH 1 - Veto 1 - Noms 3 - HN 3

EVICTED 6-0
Like several before him, he's going out based on a pack of lies, and that's a dirty deal. But for one of the designated 'superfans' of the season, he maybe should have seen this coming and he definitely should be doing something about it now. But no. Much of that is due to his now self-professed feelings for Haleigh and his inability to know how to proceed around/in spite of them. Well, more power to him, and it's refreshing that his feelings seem to be of the pure variety where he's willing to do what's best for her, even if that doesn't include him. Maybe she'll join him in jury before Fessy - that would be poetic justice.





Won: $2500 (on TKO); Power App #2 The Cloud; Hawaii trip; Week 6 vote nullified
HOH 1 - Veto 3 - Noms 1 - HN 3

VTE Scottie
Week after week it seems like his fragile house of cards has to come tumbling down soon, but it's still standing and if anything, it seems to be getting stronger. Now that he's getting closer to Angela, will that help or hinder him? Or is he just playing along as the target of her crush? Inquiring minds want to know, along with other burning questions, but Diaries don't tell us much. He's gone seven of eight cycles without having to use his power, and that's something. Will he have to sit on his Cloud next week or will the rest of them find out about it at finale?





Won: 1st eviction immunity; 1 week Food and Fitness program
HOH 0 - Veto 0 - Noms 3 - HN 1
2nd juror/7th evicted 5-1 Day 58

She filled the requisite 'weirdo' casting slot but as with many hamster weirdos before her, she was pretty 'normal' despite her alternative appearance. She had issues early on with Angela and Brett in particular, and she held on to those issues so tightly they got in the way of her logic. She got continually hung up on her theories of what was going on but unfortunately for her, those theories were mostly wrong. She and Haleigh did see Tyler as a game threat fairly early, but they weren't able to do much about it until Haleigh's HOH week, but they didn't plan around enough Hacker scenarios and Rockstar went out on her one-time bestie's HOH. Her first nomination was messy but she handled her second well, partly due to Jessie's Food & Fitness program which she also handled pretty well. She griped a lot, with odd and ever-changing accents, and while she handled most things well at first, she was a good sport about them eventually, even Brett's horrible speech accusation 'on [the eve of] her daughter's birthday.'





Won: Power App #3 Identity Theft (unused)
HOH 1 - Veto 0 - Noms 1 - HN 1
1st juror/6th evicted 6-1 Day 51

She was very watchable and gifable, with the best facial expressions no matter what, including multiple shockfaces. She was isolated with Swaggy the first couple weeks even though he was busy running around, but rather than becoming a gloomy showmance widow, she came out swinging when he left and embedded herself well all around - a little too well, as that moved her quickly up the target ranks to the tippy top. She said some controversial things and may have had the first in-house pregnancy? That hasn't been officially confirmed. She won a power that went unused, partly because she blabbed she had it, and that was the real reason she went out when she did. She did a slow simmer when she went on the block as blindside renom, but Hurricane Bayleigh made landfall two days later, as a Category 5, in a spectacular outburst of anger and frustration that culminated in 'spewing blood' after she bit herself. The kicker? Her anger at Tyler was mostly due to an inaccurate retell. The 29th consecutive North American hamster to enter the habitat first and not win their season.





Won: 1st eviction immunity; Crap App #2 Yell!
HOH 0 - Veto 0 - Noms 1 - HN 1
5th evicted 5-4 Day 44

Her blindside stung more than some because much of it was due to a pack of lies plus betrayal by her BB bestie Angela but hey, welcome to Big Brother. And she did buy some of it herself by losing her mind on the block, and that was after she agreed to go on it. She had nip slips and towel flashes almost daily, for those interested. She said she's a performer almost daily too, sometimes multiple times a day, and she did come alive when she was acting out skits, dancing, or singing ('please stop singing') but the rest of the time she seemed guarded and I don't feel we got to know who she really is at all. Her rough 'n tumble friendship with JC was fun, especially when they'd break serious convos for their quick-and-done J's Party dance. Her pal Jackie didn't fill her in enough about the rotten meat and rancid potatoes of this game, but she held her own pretty well until she didn't. Her birthday was memorable, thanks to Kaitlyn using the occasion to yell at Brett.





Won: Bonus Life 'chance' (failed)
HOH 1 - Veto 0 - Noms 1 - HN 1
4th evicted 9-1 Day 37

It's safe to say we knew more of her backstory than any hamster ever, since she seemed to bring it into every convo. She talked a very lot, and she squeaked, whimpered, babytalked, croaked, and cried a lot too, plus she canoodled with three guys (Tyler, Brett, Fessy). She caused a lot of chaos which is good, but she was often exhausting about it. New age interests are fine, some clairvoyance is trippy and fun, but her 'intuition' was nearly always wrong. It's probably just as well she failed the Bonus Life puzzle since she'd gotten to the point of getting 'hits' from shampoo labels. It was Tyler's doing, but she still gets the credit in the books for backdooring Swaggy and breaking up a showmance in the second week: something most seasons haven't been able to manage til the end, if at all.





Won: Nothing
HOH 0 - Veto 0 - Noms 2 - HN 1
3rd evicted 6-5 Day 30

He too came in saying all the right things: he wasn't here to get a girlfriend or Twitter followers, and I had him pegged as either a dark horse who'd go far, or a too-hard-too-soon kind of guy. Turned out he was the latter, probably because he just discovered BB last summer and binged several seasons since without realizing there's a lot more to it than the show edits let on. He spent most of his time playing Jenga and broing around with Brett, and the two of them provided a lot of unintentional comedy in the form of buffoonery. He made manic facial expressions while going on angry whisper rants, he threatened speech call-outs but didn't follow through, and for all his jock/winner self-hype, he failed every comp.





Won: 1st eviction immunity
HOH 0 - Veto 0 - Noms 1 - HN 0
2nd evicted 8-4 Day 23

Pre-season he said all the right things (albeit in his own unique, third person way), but he started off way too strong and way too Swaggy for his own good. He gave us great shockface when Steve was evicted but it didn't sink in that he wasn't fully plugged in, so he gave us another when he went up as backdoor renom. To his credit, he campaigned his brains out to stay rather than lay down to die, but it didn't help. His pre-show QAs said he was wary of showmancing but he fell for Bayleigh anyway, and together they were one of the cuter 'mances to watch - it helped that they didn't slurpydurp too much. Swaggy C was a good character for TV, but Chris was a good hamster and will be missed.





Won: Nothing
HOH 0 - Veto 0 - Noms 1 - HN 0
1st evicted 7-6 Day 16

The Summer of Steve™ ran just a couple weeks and his job lie(s) didn't help him any. He might have been better off if he'd been open about his undercover past and teaching present as both would have let him share more stories, or if he'd gotten in with Kaitlyn and Rockstar via his wife's new age interests and books. He and Scottie buddied up but otherwise he was odd dad out. He didn't keep up so believed he was safe, and he didn't really campaign to stay. It might not have helped if he had because all the scurrying was elsewhere, but it wouldn't have hurt. He didn't get his required nightly baths but he learned to clean his ears, and early risers in particular will miss him.



Lines and Links of the Day
Lines

Sam: Everybody's just sneaking around, being super quiet, shiesty to each other, it makes me sick to my stomach, I just want to slap the shit out of everybody, there's no need for it

Sam: Am I the only person who cares that we have like 500 glowsticks?

Tyler to Angela: I love Brett's lying voice, no one else knows he's lying

Fessy to Haleigh: JC's a little pansy

Rylan about Kirstie Alley: Her hair is bigger than my future

[Fessy asked about the undies found in HOH shower]
Angela: Is it like full underwear?
Fessy: I don't know what it is, looks like it's a corduroy
Haleigh: It's Victoria's Secret
Angela: I don't think so, I usually don't wear underwear actually

Brett: I'm being really obnoxious, but it's so hard not to.. I'm a sore loser but I'm a real sore winner

Scottie to Sam: I still can't believe he put me up - I was legitimately on his team

Fessy to Brett: I've been on the wrong side of the vote every week, and everybody keeps lying and getting away with it.. the only smooth week was Kaitlyn's week

Fessy to JC: I made the biggest move of the season

Scottie Diary about HOH comp: I can't afford to have anyone but Faysal or myself win this

Fessy Diary about the Rockstar vote: All I know is I gotta get to the bottom of this

Haleigh to Angela: Have you ever had a guy you're into because he's cute, and you're sexually attracted but not really emotionally? It's hard to separate those two

Scottie: I did not mean to offend anybody, with gametalk

Brett, after the fire: Do you guys still want bacon or is that dream lost?

Links

GET YOUR FEEDS

Use my links for any Amazon shopping, anytime, at no extra cost - just start your shopping trip by clicking Amazon USA or Amazon Canada

Live like a hamster! Available from Amazon:

-17-inch Orwell owl Amazon USA or Amazon Canada

-Owl sleep mask with hot/cold gel pad

-Click & Grow 'smart' kitchen herb garden Amazon USA or Amazon Canada
Similar grow setups Amazon USA or Amazon Canada

-Nanoleaf LED light system like HOH room Amazon USA or Amazon Canada

-Emoji pillows, individual or sets (read descriptions carefully, some sets are random) Amazon USA or Amazon Canada

-Fluorescent light stick lamps (HOH bathroom) Amazon USA or Amazon Canada

-Gradient duvet/sheet sets pink/purple or blues

-Minion plush toys Stuart - Bob - Tim - loads of others

-New age books by Sahvanna Arienta, Steve's wife

BB by the Week for Week 8 by @aubramariebb



Tally Items

Season Stats
HOHs in order: Tyler; Kaitlyn; Scottie; Sam; Bayleigh; Angela; Haleigh; Fessy

Veto winners in order: Faysal; Tyler; Scottie; Faysal; Tyler; Angela; Tyler; Brett

Evictions in order: Steve 7-6; Swaggy 8-4; Winston 6-5; Kaitlyn 9-1; Rachel 5-4; Bayleigh 6-1; Rockstar 5-1; Scottie 6-0

Pre-jury Twitters: @bb20Steve; @SwaggyCTV; @BB20WinstonH; @kaitcoaching; @rachieswin
More social media links in cast folders at Hamsterwatch Forum








Linking to any page here is fine. Please don't repost content from this site (or any other) without permission, and don't repost or hotlink images.



THE REAL SHOW IS THE FEEDS


SAME DAY AIR SHOWS
Live air shows in some areas
BB1 thru BB19 and many other CBS shows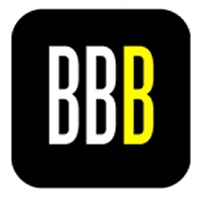 BIG BROTHER BUDDY
Get push notifications for all the big feeds events - iOS or Android


HAMSTERWATCH SWAG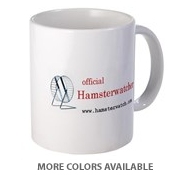 Mugs, shirts, more
Visit my Cafe Press shop






Big Brother 20 SEASON FAQ


Day 1 Move-in was June 20
Day 8 CBS premiere is June 27
Day 9 Feeds begin June 28
Day 99 Finale will be September 26

Feeds are streamed by CBS, and Flashback is accessible via All Access subscription. Call 888-274-5343 for account help, including cancellation.

Air shows on CBS (Global in Canada) are Sundays 8pm, Wednesdays 9pm, eviction Thursdays 9pm.

Big Brother After Dark on Pop TV is every night midnight to 3am, except Thursdays 1am to 3am. The aired blocks are live (or recorded earlier the same night, depending on your cable provider).

The CBS app (by CBS Interactive) plays BB air shows and other CBS shows, as well as feeds, or you can use your browser to watch feeds on mobile devices. The same All Access link used to subscribe will lead to the feeds viewing page if you're already signed up.

BB20 prizes are the same: $500k for the winner and $50k for 2nd place. Stipend for the others is $1,000 per week again, including pre-show hotel and jury sequester.

The habitat has 94 HD cameras (up 7) and 113 microphones.

The recorded in-house announcements are the voice of producer Don Wollman. He and Julie Chen are the only staffers who have been there since Big Brother 1.