This site is about the Big Brother 20 feeds and contains spoilers! It isn't necessarily thorough: it's what I catch and/or what interests me. It's about watching hamsters: who's doing what and why. Thanks for encouraging my behavior.
Your pal, dingo



PROTECT YOUR ONLINE PRIVACY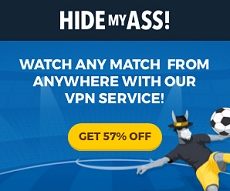 BIG BROTHER UK BEGINS SEPTEMBER 14
Watch BB Canada, BB UK, Survivor Australia, Survivor New Zealand, and other non-USA shows with HMA






BB20 DRINKING GAME


Take a swig whenever JC changes his hat - take two whenever he hits TMZ





HACKER COMPETITION TWIST

Each week's Hacker Comp winner could replace one nominee, select one veto player, and nullify one vote

#1 Haleigh
-Replaced Scottie with Tyler
-Picked Kaycee to play veto
-Nullified Tyler's vote

#2 Kaycee
-Replaced self with Rockstar
-Picked Tyler to play veto
-Nullified Fessy's vote





APP STORE VIEWER VOTE TWIST

WINNERS - POWER APPS
BONUS LIFE #1 Sam
-Could give 1st, 2nd, or 3rd a chance to return to the game
-If unused, 4th evictee automatically got a chance
-Kaitlyn failed to complete the puzzle
THE CLOUD #2 Tyler
-Immunity at any one noms or veto meeting within 2 months
-Expired unused
IDENTITY THEFT #3 Bayleigh
-Can replace noms one time before final eight
-Was not used

Not selected: Re-Draw, Upgrade

LOSERS - CRAP APPS
HAMAZON #1 Faysal
-Periodic [vegan] ham deliveries, had to eat it all
YELL! #2 Rachel
-24 hours getting yelled at
READ IT! #3 Haleigh
-Read Hamlet in costume

Not selected: Fake News, Spammed

Limit one per hamster, whether winner or loser - Voting info & rules







QUICK LINKS & BOOKMARKS



-SIGN UP for feeds
-WATCH the feeds
-BB20 official site
-Live show tickets

-Feeds updates by @UGotBronx
-My Twitter - my screencaps
-Amazon portal USA or Canada

-Dick at Night with @EvelDick

-BB Viewer by @liquid8d
Requires All Access account

-BB20 Wiki
-UK BB 19 Wiki
-UK CBB 22 Wiki

-Hamster Twitters
BB USA - BB Canada

-Advice for cast friends/family

-VPN to watch BB UK and/or to protect your online privacy







EAST COAST AIR SHOWS



CanadaTV for Roku
$2/month - Global airs BB USA

East coast air show live streams:
- 1 - 2 - 3 - 4 - 5
NO DOWNLOADS OR SIGN-INS NEEDED - BEWARE OF CLICKING POPUP ADS OR WARNINGS




Donations via Paypal are gratefully accepted!


Watch Big Brother
Seasons 1 thru 20
Plus tons more CBS content






BIG BROTHER SEASONS



CBS All Access
Seasons 1 thru 20

Amazon DVDs BB4 - BB3

Amazon Instant Video
BB18 - BB17
- BB16
- BB15
- BB14
- BB13
- BB12
- BB11
- BB10
- BB9
- BB8
- BB7





BIG BROTHER 20 FEEDS EXCLUSIVELY ON CBS ALL ACCESS
All Big Brother USA seasons + most CBS shows past or present are included
$5.99 PER MONTH INCLUDING 1 WEEK FREE TRIAL or $9.99 AD FREE
COMPUTER - MOBILE - ROKU - CHROMECAST - APPLE TV - ANDROID TV - FIRE TV - XBOX 1/360 - PS4


>> >> >>

>> >> >> >> >> >>

>>

Amazon USA
- Amazon Canada
September 2018
Power Status
Feeds are underway and they are the real show - SIGN UP NOW and get a one-week free trial! No promo code needed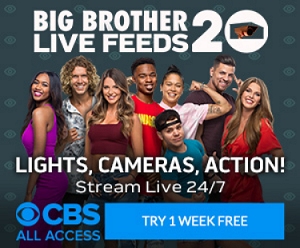 Kaycee is Head of Household
Kaycee won veto/did not use
Haleigh, Sam are nominated

Have-nots are over


Upcoming Feeds Events
Thursday night: First HOH basket, second HOH room
Friday: Nominations
Saturday: Veto comp


Remaining Shows
9/13 Thursday 9pm - Live double eviction (eviction, HOH comp, nominations, veto comp & meeting, 2nd eviction)
9/16 Sunday 8.30pm **Special time** - 2nd HOH comp, nominations
9/19 Wednesday 8pm - Veto comp, veto meeting, eviction, HOH comp (likely taped Tuesday)
9/20 Thursday 9pm - Final noms, final veto comp, live veto meeting, live eviction
9/23 Sunday 8pm - Final 3 season review, start of Part 1
9/26 Wednesday 9.30pm - Live 90-minute finale

CBS schedule is Sundays 8pm, Wednesdays

9pm

8pm, live eviction Thursdays 9pm - stream links to watch East Coast airing online are posted in Quick Links & Bookmarks on the left sidebar

After Dark airs for three hours every night on Pop - times vary by area and provider, check your cable guide

BIG BROTHER UK BEGINS SEPTEMBER 14
Watch live or archive shows with HMA safe, easy, secure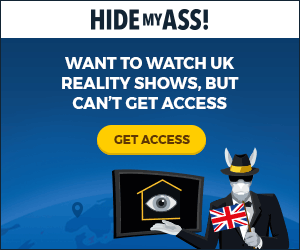 -Watch live at Channel 5's online live stream
-Outside UK use HMA to get around geoblocking, and protect your online privacy at the same time
-Shows are usually daily but check the air show schedule for 5 and 5Star - UK time is 8 hours ahead of Pacific and 5 hours ahead of Eastern
-The BB official site has archive air shows and talk shows, highlights, previews, and info

-Congrats to Ryan Thomas for winning UK Celebrity BB on September 10!


Other News
Les Moonves (CBS Chairman, President, and CEO, and Julie's husband) departed CBS on Sunday, September 9, effective immediately, along with six Directors - see CBS corporate press release. This follows months of legal/financial battles with Shari Redstone (Vice Chairwoman of CBS and Viacom), and weeks of sexual harassment and misconduct allegations against Moonves. What this will or won't mean to Big Brother and its host, if anything, remains to be seen. Julie did not appear on The Talk season premiere September 10, but she issued a statement that she was taking some time off to be with her family, and that she will host Thursday's Big Brother double eviction.

Alliance charts by @89razorskate20: Day 77

Hamsterwatch Forum for real-time feeds updates, screencaps, and air show recaps by @UGotBronx

Diary segment tally by @clamperls

Week 10 popularity poll results #1 Haleigh, #2 Tyler, #3 Angela
Follow @89razorskate20 on Twitter to participate: weekly polls launch every Monday 4pm PT/7pm ET

Post-eviction shows are hosted by BB Celeb runner-up Ross Mathews and winner Marissa Winokur, Fridays on Facebook Watch. The first (no eviction) ran June 29.

Ratings Watch Thursday's eviction show placed second with 1.4 rating, 6 share, 5.19 million viewers, well behind NFL Kickoff Game on NBC with 6.6/27/18.96, and ahead of Match Game on ABC with 0.6/3/3.27, and The Gifted rerun on FOX with 0.3/1/1.16.

Sunday's show placed third with 1.5 rating, 6 share, 5.69 million viewers, behind NFL football pre-show and game on NBC with 5.6/22/17.28 and 6.6/25/19.74, behind Rel premiere on FOX with 1.7/7/5.05 but ahead of The Simpson rerun with 1.0/4/2.66, and ahead of Celebrity Family Feud rerun on ABC with 0.8/3/4.12.

Wednesday's veto show placed second with 1.4 rating, 7 share, 5.57 million viewers, behind America's Got Talent on NBC with 1.5/7/9.93, and ahead of Masterchef on FOX with 1.1/5/3.66, and The Goldbergs and American Housewife reruns on ABC with 0.7/3/3.46 and 0.7/3/2.89.

Rating and share: adults 18-49 - Rating: % of all TV households - Share: % of households watching TV


Week 11 - Days 79 thru 85 - September 6 thru 12, 2018
Daily and Noteworthy Events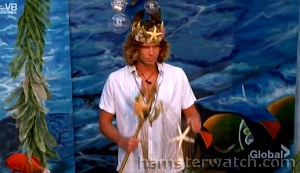 Evicted: Scottie
Head of Household: Kaycee
Have-nots: Nobody
Original noms: Haleigh, Sam
Veto winner/outcome: Kaycee/did not use
Final noms: Haleigh, Sam
Evicted: Haleigh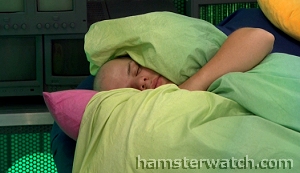 Day 79 Thursday September 6
As usual, JC stayed tucked in his satellite dish after the others were up and at 'em. He'd had a very busy night, agreeing with Sam and Brett to flip tonight's vote from booting Scottie to booting Haleigh, and then having a lengthy tug-of-war with Tyler about it. Even though Tyler had originally wanted Haleigh gone first, he fought hard to get JC to go back to Scottie for the sake of his own wobbly house of cards. That was probably the biggest battle those two have had since the decision to boot Kaitlyn (JC got his way on that one). It was quite an unexpected and waffly night, but it sounded like JC and Brett were going to stick with evicting Scottie after all, as they thought tonight is a double and they'd have to no time to repair damage with Angela and Kaycee if so - at least that was the status when the feeds went down. In other news, Sam's crafty things were finally cleared off the table.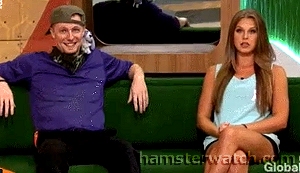 After a pretty good wardrobe run this season, Julie wore a peculiar asymmetrical pink cake topper outfit, with a big floppy fabric circle on her shoulder running into her hair. They missed a huge opportunity by not including any of the flip talk and/or Bedgate2018 footage from last night; instead they did another segment about JC's accent (tur-tle) and Julie had a sit-down with Derrick. Scottie was evicted unanimously again, 5-0 this time, and he landed himself on the tally for a nominee speech scorcher that required bleeping. He asked Julie if they'll be hanging out again tonight, and told the voters to "make the smart move or suck it, except Tyler who's already getting a steady diet of that." That's what was on the show. Later it was made clear on feeds he'd also said (and was bleeped for) saying "my friends were dicking me around" and that Tyler had "been getting Hilton Head." He hugged only Haleigh on his way out, flipped them all off, then hugged Julie even though she'd had her hand out to shake. Tyler told him he'd gotten the second power ages ago but didn't have to use it, and "tell that to your friends."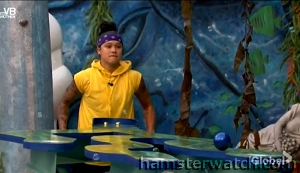 The HOH comp was Shell or High Water, set in Lost City of Biglantis theme with a shark, various sea creatures, and Tyler in a Neptune getup that didn't quite upstage Kevin's merman. It was a ramp/rollyball affair where they had to roll three balls (pearls) one at a time down a squiggly ramp (seaweed) and land them in the three pockets (oysters) at the end, with a three-minute time limit. Kaycee won, with Brett just behind her. Julie chatted with Kaycee and the rest of them for a bit, and then told us but not them that next week is indeed a double eviction.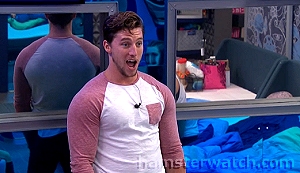 Kaycee told Brett and Angela her noms will probably be Sam and Haleigh, with Haleigh the target, and talk moved on to Scottie's speech. Brett and JC said they were shocked, and Angela said she thought it was a lesbian joke at first (huh?) and didn't get it until they went out to comp, and then it rattled her. She then repeated many times that it was slander. I'm guessing she may have forgotten (or maybe word didn't get to her) that Scottie often said he'd heard about Angela's juror farewells, and she may have also forgotten the things she's said about Sam in particular, along with Rachel, Haleigh, and others. True, those weren't on live TV, but they don't know what's aired on non-live BB and what hasn't. At any rate, most of them except Sam took turns comforting her, and they commented several times about Scottie having broken their speech rules. I guess they also forgot no shoutouts are also part of those rules.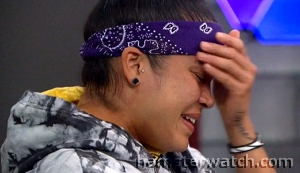 Kaycee got her room around 10.15pm, prefaced by a short audio leak of a Diary staffer telling her to use "big energy" to holler who wants to see her HOH room, which she then did. She got new bandanas, earrings, a bucket hat, socks, booty shorts (she gave to Angela), Tapatio hot sauce, Hot Cheetos and Hot Pringles, organic sweet potatoes, lip balm, Michelob beer, music by Chris Brown, and a long letter from brother Kenny. She tried to keep it together but couldn't and had to stop to near-cry several times reading it. In it, he asked her to be his "best brother/man/woman/thingamajig/whachamacallit" at his wedding and told her to say yes to the camera if she would, which she did - awww.

Kaycee then had a meeting with Tyler, telling her how she'll explain Sam's nomination to her, stressing that she won't go anywhere and that Haleigh's definitely her target.

GET THE FEEDS to watch everything unfold, and catch up what you missed on my previous week's page, and/or Hamsterwatch Forum thanks to @UGotBronx, and please remember to use my Amazon link for any Amazon shopping anytime, USA or Canada - thanks!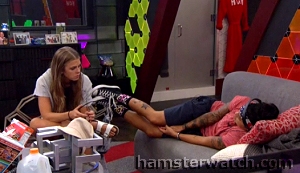 Day 80 Friday September 7
Feeds went to prior season loops around 8am, with all of them still in bed, most likely to tape something for Sunday show's comp/twist segment. They came back just before 2pm with kitchen chit-chat, Haleigh in bed, Angela showering, and no indication at all of what went on all morning. Haleigh went to visit Kaycee for her pre-noms lowering of the boom, and asked if she'll be going up as a target? Kaycee lied and said she has no targets whatsoever. Haleigh cried a bit, and then Kaycee reminded her she's done well, gone far, she could win veto, and she got to meet Derrick and Nicole.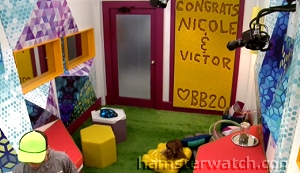 Their morning activity gradually came out on feeds, as it always does. Victor proposed to Nicole (à la Jeff and Jordan) to the accompaniment of Gotye and Death Cab for Cutie (not live), they had cake and champagne, and several formers were in attendance including Derrick, Josh, Paul, Britney H, and Daniele D. Victor and/or Josh spoke some Spanish with JC, which apparently tickled him no end, and several of them commented on the cleaner-than-usual habitat, which tickled Sam, although she later complained she was sorry she hadn't had a chance to clean today before their arrival. So that's the segment that will fill the gap on Sunday's show, mystery solved, and on we go with this season. We also found out Kaycee had a pre-noms chat with Sam, which we missed, but Kaycee later told Tyler it went very well.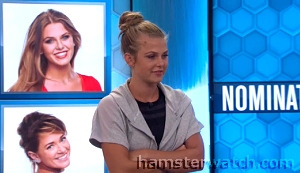 Kaycee nominated Haleigh and Sam as planned, and apparently had a hard time doing the script without laughing, which caused others to want to laugh and have trouble suppressing it. They passed it off as nervous laughter, and maybe it was. Kaycee said her speech was supposed to go smoother than it did, and she replayed how it should have gone to Haleigh afterwards (tit for tat and no excess bloody hands). Tyler told Sam she should be good, and he apologized for "not having a chance" to talk to her beforehand. She said nobody in there has given her a reason not to trust them "except the one up there with me." She seemed to take her nomination well, chatting about this, that, the other like she does. Tyler and Kaycee had a check-in to congratulate themselves (again), and Tyler said he was getting tired of JC and Brett tag-team tattling to him about Sam, each other, and everyone else.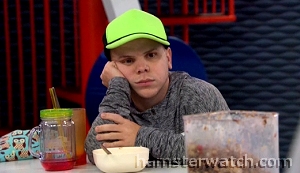 They got yet another booze delivery around 10.20pm - I know! It wasn't much but they'd been practically comatose most of the evening, and they were excited to get it. Angela and Haleigh had each gone to bed more or less, and both popped up fast when the guys whooped and hollered. Have-nots weren't so excited of course - Sam showered and did her hair, and JC sat among the drinkers, alternately joking and glaring. They did some retells of the noms and it sounded even funnier than they made it sound the first time, with Kaycee flubbing all the lines ("this is the eviction ceremony") and Tyler and JC turning beet red in an effort not to laugh. Earlier, Angela made a fake bed-body in her bed, complete with her blond stunt hair peeking out, so she could crawl into Tyler's bed later. So there could be some overnight fun from that if say, JC tries to game-whisper to Tyler.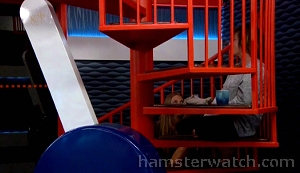 Brett visited Kaycee for a check-in to report JC was losing his mind on slop, and they agreed that JC, Haleigh, Sam were driving everyone nuts in their various unique ways. Brett subtly pushed for JC to go up as renom and out, rather than Haleigh, and he pointed out that neither Tyler nor JC have sat on the block on eviction night, like he and Kaycee have. Haleigh joined Sam on the stairs for her bedtime tea, and acknowledged that it was indeed a nice spot to escape the bright lights. They chatted about how little time remains, and Sam asked "wait, are we bonding right now?" Haleigh said she thought they were. I wouldn't put too much money on that, but it was a pleasant block party and that was good to see. Later, a little past 1am, Tyler and Angela finally landed on the makeout tally.

GET THE FEEDS to watch everything unfold, and catch up what you missed on my previous week's page, and/or Hamsterwatch Forum thanks to @UGotBronx, and please remember to use my Amazon link for any Amazon shopping anytime, USA or Canada - thanks!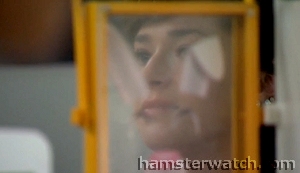 Day 81 Saturday September 8
Coincidental positioning had Sam behind one of the hanging effects filter frames in the bathroom as she did her hair. I haven't seen anyone actually use those since Julie's pre-season house tour, though they probably played with them in the first days before we joined them, and they may have posed with them on days the Snapchat glasses come out. They drew veto players later than usual, around noon, and everyone will play except JC, who will host. That's a recipe for him to end up on the block, which most agree is something he at least needs to feel at this late date.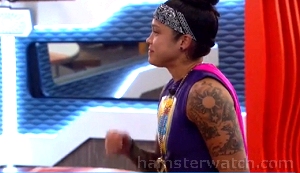 Feeds went down late for veto comp, a little before 8pm. After Dark ran host/non-comper JC alone in HOH, grumping and napping and pestering BB if it was midnight yet so he could eat. Feeds came back a little past midnight and Kaycee had won again! It was BB Comics but different than before: they still had to spot differences but instead of a zip line, it was a balance beam race. Kaycee finished in two minutes and change, with her teamies coming in second, third, fourth, and Sam and Haleigh placing fifth and sixth. I'm not sure which was last was Haleigh took 18 minutes. Feeds came back to them in colorful outfits with superhero capes, which Brett ran around like Superman, like a little kid. He also said he forgot jurors get to see comps, as he said he was trashing them all as he went. That may be true, or may have been a fib so the others don't think he'll have a shot at the end and take him to finals.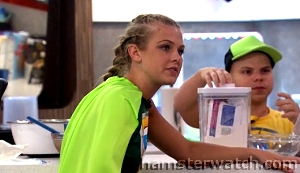 It wasn't long before Haleigh was cussing herself out (again) and packing (again), and JC got to snacking (again). Comics included Kaycee with a peanut shield, Sam with a spider, something about "yatus" for JC, Tyler as Life Guardian, Fessy as Hamazonian with a grape cluster loincloth, Brett as a beefcake cake (huge missed opportunity to lampoon his speeches), Kaitlyn's third eye, Rachel as a dinosaur, something about Angela as an athlete, and something about Winston's made them think he may have been switching with a twin in there. Kaycee told Sam she's good (as Haleigh was her target all along), and Sam was grateful to hear that (again). Brett made chicken and his usual post-Have-not McGregors/McGriddles.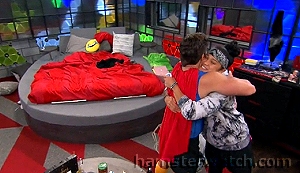 Kaycee had saved her HOH beers and Level 6/5/4 tried to figure out how to have their celebration while working around comp retell Diaries, Haleigh, JC, and Sam (though Kaycee had promised to save a beer for Sam), especially with Angela and Brett possibly becoming Have-nots tomorrow. Kaycee and Angela went ahead and had theirs, toasting to another win for Kaycee and their alliance's continued success. Brett joined shortly after for his, and retold about trashing the jurors and forgetting they'll see the comp, and he also said he broke Winston's comic, cut his hand, and rolled his ankle during his run. Tyler was finally freed from Diary and joined them for his beer at 2.30am.

GET THE FEEDS to watch everything unfold, and catch up what you missed on my previous week's page, and/or Hamsterwatch Forum thanks to @UGotBronx, and please remember to use my Amazon link for any Amazon shopping anytime, USA or Canada - thanks!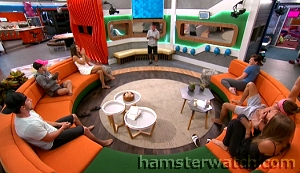 Day 82 Sunday September 9
They had a slow start to their day after their very late night. Kaycee brought out a card from Diary a little after 2pm and hollered for them all to gather in the living room. It took longer than it used to, as there are so few now and they seem to scatter farther. She began by reading "the Have-nots for this week are..." but then she delivered the good news that Have-nots are over for the season. Angela only did it once so she did well on that score. Sam said she'll continue to sleep in her Have-not satellite dish - she'd previously said it was the darkest and quietest room, and she's got the bed-making down to a comfy science. Time will tell if BB keeps the room open for her or not.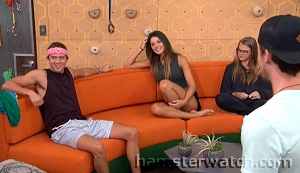 They had more good news within the hour, when they were shown video greetings from home. Feeds were blocked for that but the videos will be on an upcoming show, and retells began a little before 3pm for those who can't wait. Messages were from Kaycee's dad, brother Kenny and twin brothers (her mom is currently in the Philippines); Tyler's mom and her bird, and his stepdad; Brett's mom and his sisters - the younger one provided some laughs; Sam's mom, dad, and brother Joe; JC's friend Regina; Angela's mom and dad; and Haleigh's mom, dad, and her cat Scarlet.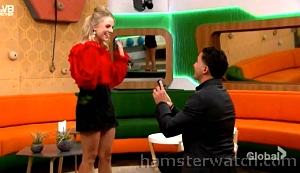 The Sunday show featured two - count 'em two! - marathon Angela Diary sessions after she's had next to none all season: one about her sense of smell and the other about her backstory, which she said she'd told in there a few weeks back. But the main event was a long segment with a newly shorn 'n shaved Victor proposing to Nicole while our hamsters were stuck watching it play out on the HOH spyscreen before they were sprung to celebrate with the happy couple and alum visitors.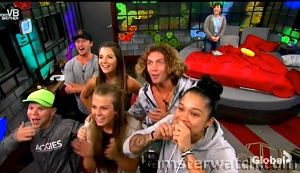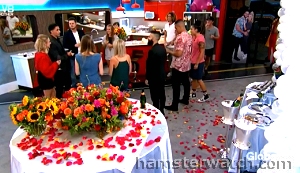 They made it seem like Nicole was surprised but I'm guessing they wouldn't have brought in the rest of the visiting alums if they weren't confident she'd say yes. It's also hard to believe she didn't notice the many flowers, strewn petals, and balloon-covered wall when she was roaming around looking for the current seven. Maybe Victor's haircut was the real surprise to ensure she'd give a good reaction? Nevertheless it was a sweet segment, and both the current and former hamsters were happy to meet 'n greet their counterparts, not to mention getting champagne in the morning.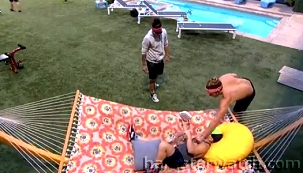 The rest of the afternoon and evening played out as usual lately: posing and goofing for Snapchat, Haleigh half-assedly (and pointlessly) campaigning, Sam cleaning and making up her satellite bed while muttering to herself, Brett talking about how he's been trashing the jurors, general trashing by various hamsters in various corners, and JC back to his usual non-slop busybody self, including shaving cream spraying and confessing he was probably responsible for the peed-on toilet paper problem. Kaycee and Brett gave him a wild hammock ride, and Tyler called out "nip slip!" before tweaking JC's. As far as I know, nobody called TMZ about that. Also, JC and Brett wound each other up about going rogue and their issues with Haleigh, and Angela told Haleigh her pole-vaulting secret.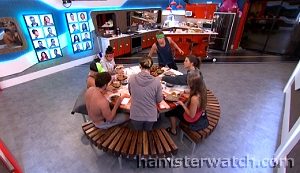 After Dark sent them a huge delivery of assorted Chinese food a little after 10pm, Chinese take-out having won their Twitter poll over chicken wings. They were thrilled and sat down to eat together, reading their fortune cookies first. Brett took a particularly spicy bite of hot mustard, and Tyler and especially JC tried to get everyone to eat a hot chili. The girls declined, and JC and Tyler joined Brett in the watering eyes/burning mouth and nose club.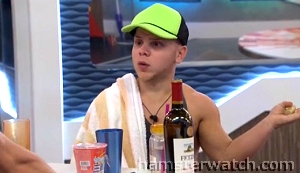 That was followed by yet another booze delivery around 11.20pm. Angela and Kaycee were finishing Kaycee's HOH beers and JC was in Diary when the signal came. Hamsters ran for the pantry, and they saved JC a cup of wine when he would have preferred a beer. Sam took hers out to the hammock to talk to herself, and JC was convinced they'd gotten and already drank more beer than they said they got (they did, by one). JC then talked to Tyler about what they should do if Thursday's a double, saying he'd like to backdoor Kaycee but it'd be risky to put up Sam and Angela because Kaycee would veto off Angela. He said Brett would put up Angela and Kaycee, which Tyler questioned, and JC added Brett was being sketchy. He also told Tyler he'd be fine placing second to him at the end, acknowleding that he hadn't won anything, and "all these people are fuckin tools." Reminder, JC had just been in Diary. Further reminder, Level 6/5/4 had already agreed to put up Sam and JC next, and one of themselves against the survivor if either comes off with veto.

GET THE FEEDS to watch everything unfold, and catch up what you missed on my previous week's page, and/or Hamsterwatch Forum thanks to @UGotBronx, and please remember to use my Amazon link for any Amazon shopping anytime, USA or Canada - thanks!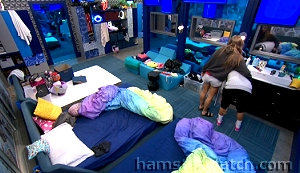 Day 83 Monday September 10
Kaycee seemed to be stressing a bit before the veto meeting, maybe afraid she'd flub the script like she did for the nominations, but the editors edited that down to look fine, only adding in JC's stifled laugh and smirk as an out of context after-effect. Haleigh gave her a kind of lean/hug before their meeting, and Kaycee again lied and told her she'll be fine. Kaycee did not use her veto.

See "Other News" section above regarding the major Les Moonves news story, and Julie's statement that she will be in place on our Thursday show as usual.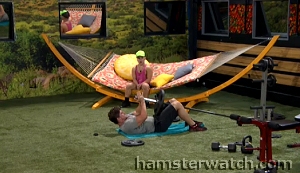 Sam and Tyler had a check-in, with Tyler reaffirming she'll be staying, and she gave him an out should anything come up that he'd have to cut her, that would be okay but she hoped he'd tell her first. He agreed and said the same if she'd have to cut him. Kaycee, Tyler, Angela had a check-in and reaffirmed Haleigh will be going, likely unanimously. Tyler joked that he and Angela could vote out Sam if Kaycee wanted to break a tie, but she said no need. JC and Brett had a check-in and reaffirmed Haleigh would be going and Tyler and Angela are still too close, and they agreed Angela and Kaycee are a duo, Angela and Tyler are a duo, but Tyler and Kaycee are definitely not a duo, and the three are not working together as a trio. Either or both might actually believe that. They also said it was peculiar Haleigh kept hanging out with the three people she'd previously nominated, and not hanging out or campaigning to the two of them, her more likely votes.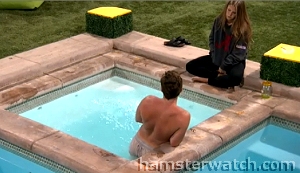 Haleigh then did have a long talk with Brett, and she told him about the final four deal between herself, Fessy, Tyler, Angela (which Brett already knew about, and which Haleigh blamed on Fessy). Brett told both Haleigh and JC that he was nervous at the veto meeting today and afraid he might be going up as renom. That could have a grain of truth, but I suspect he was mostly just trying to create an illusion of distance between himself and the other three. Haleigh gave that distance a nudge of her own, accidentally or intentionally, when she told Brett he has to win HOH this week, or JC, and she said Sam had made some passing comments about Angela and Tyler as "the lovebirds," and she said Angela knew about it. And Haleigh again said she thought Brett had been working with the other three, and Brett said she'd been spending more time with them than he has. Finally, they talked about Brett and Scottie being "shields" for each side, and Haleigh said she'd seen through that at the time. Incidentally, Brett wasn't actually nekkid for this convo - it just looks that way.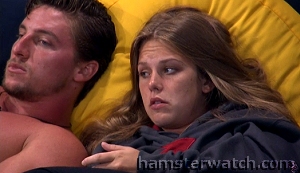 Brett and Haleigh picked it up again after 1am, mostly revolving around showmance timelines over the season and recently, especially concerns about Tyler and Angela, and their respective chances against them. Haleigh again denied she was in a 'mance with Fessy. They also discussed potential jury votes, and Haleigh said she's "working an angle" of playing dumb with Angela and letting her think she's controllable, whereas Sam is not - she asked Brett not to repeat that. As they discussed the votes Haleigh might be able to get versus Sam, Haleigh said she thought Sam might have been close to Tyler for a long time. Brett let her talk, appearing sympathetic to her plight, gathering info for his own use, and dropping in his own little tidbits here and there.

GET THE FEEDS to watch everything unfold, and catch up what you missed on my previous week's page, and/or Hamsterwatch Forum thanks to @UGotBronx, and please remember to use my Amazon link for any Amazon shopping anytime, USA or Canada - thanks!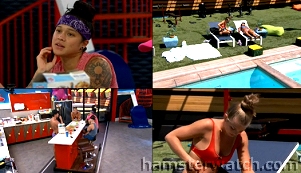 Day 84 Tuesday September 11
Unlike last week, when they were locked in Tuesday morning for the relatively simple HOH comp setup, they still had the yard today with multiple comps to prep for the double eviction. Hamsters were pleased and took advantage of the sun, and Sam took a spoon to hammer repairs to a damaged cornholio box. Haleigh asked Angela if she should just repeat last week's speech, and Angela said she wasn't even sure what she'd said, adding "I was a little thrown off by the speech before yours." Angela again reassured Sam she'll be staying and told her not to worry about Haleigh spending so much time with the others as it was just to lull and pacify her (Haleigh), and that she was driving them all nuts. JC and Brett had another check-in, which included JC saying he was afraid to talk game to anyone because he didn't know who's working with whom, but he added "I know you're not working with them."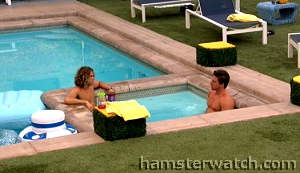 A potluck picnic was talked about since they still had the yard, with each of them making something different to bring, but that didn't pan out and the girls and guys ended up eating in separate shifts, give or take. Tyler went into the hot tub for the first time and had a chat with Brett on (in) his home turf. Brett told Tyler some of what Haleigh had been telling him, including her thoughts about Tyler and Angela being an item and backed up by the "night noises" Haleigh had reported to Brett. Brett again urged Tyler to reel things in with Angela, saying he could wait another couple of weeks rather than jeopardize their game setup at this late stage, and Tyler as usual told Brett there was nothing to worry about. Tyler also referred to how haywire everything went when Kaitlyn got too attached to him, and said he wasn't going to let that happen again. Brett also said Level 6/5/4 would get them to final four, but tossed out a little seedbomb of doubt by asking if that was their best path to final two. JC came along about then so this convo will likely pick up again another time.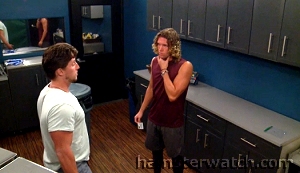 Sure enough, they picked it up again in the pantry, with Brett citing Kaycee's four recent wins including destroying them all in the comics veto, versus Sam and JC being easy to beat in the later comps. Tyler said he knew both Angela and Kaycee are loyal to them, and both guys agreed cutting their teamies would just add more jurors angry at them in addition to the ones already there. They went back and forth a few times, tossing around possibilities and scenarios, especially if this week is a double, and Brett said "it's really gonna come down to who wins HOH, and make a decision about it then" - as always. Meanwhile Kaycee and Angela said they hoped they can get a Level 6/5/4 meeting soon for the drawing of the straws for who would go up against Sam or JC if Thursday is a double and either one of their agreed nominees wins veto.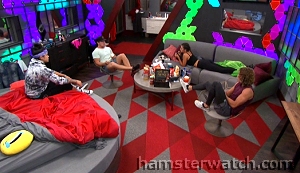 Tyler told Angela Brett's news that Haleigh had told him she thinks Tyler and Angela are an item because of the "night sounds" she heard. Angela said something about Brett saying he's in love with her (Angela), and Tyler said "he always says that." Brett and Kaycee joined and they finally had their Level 6/5/4 meeting. They reaffirmed Sam and JC as noms if it's a double, and that they'd evict Sam. And since Kaycee and Brett had already been on the block for eviction nights, they agreed Angela or Tyler would be renom if JC or Sam wins veto, depending who's HOH. They also discussed how to deal with Haleigh until Thursday, and Angela said "I can't handle another eviction speech where I'm just thrown under the bus." They decided to go ahead as they have been, letting her think she's safe (which Tyler and Kaycee each did afterwards). Angela said she'd go ahead and let Haleigh borrow a dress as she'd asked, adding she might say "keep the dress" in her farewell. Brett said if Angela lets Haleigh wear the dress to be evicted, she'll be blindsided. The others chimed in with "that's what we do" and Brett added "holy fuck, she's gonna shit her pants, in your dress."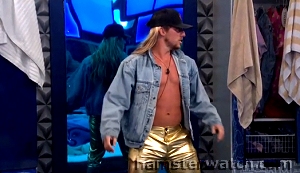 Angela was setting up her fake BedAngela so she could cuddle with Tyler when Haleigh came along, so she stashed her stunt hair on the floor. Brett came in and found it, wondered what it was doing on the floor, and proceeded to try it on. From there he added a denim jacket and his gold lamé comp host pants, went into full character as River Dan, and said he'll wear it on Thursday night. Meanwhile Tyler told Kaycee that he'd gotten confirmation that everything he'd been sketched out about JC and Brett turned out to be true, and he told her how Brett had approached him to dump Kaycee and Angela. So they revised the double eviction plan to JC and Sam going up as before, but they'd pull off JC with the veto and send Brett home. They said they'll tell Angela at the last minute so she wouldn't give anything away. So the long-awaited internal breakup of Level 6/5/4 has begun. Of course this new plan hinges on them winning HOH and/or veto: they said if they don't, they'll just ride along as if nothing had changed, and they'll deal with Brett at the next stage. They ran the various scenarios, and Tyler said if it ends up Kaycee and Angela on the block at the double, he'll vote out Angela.

GET THE FEEDS to watch everything unfold, and catch up what you missed on my previous week's page, and/or Hamsterwatch Forum thanks to @UGotBronx, and please remember to use my Amazon link for any Amazon shopping anytime, USA or Canada - thanks!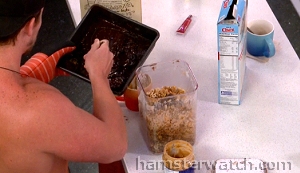 Day 85 Wednesday September 12
Brett had to run for the oven again after remembering he had something under the broiler for puppy chow. Apparently it was salvagable and he scraped it off into the puppy container, but then he dropped a bunch of it onto the floor. Team Ants has had a tougher than usual battle this summer thanks to Sam's cleaning along with the rest of them being pretty good about washing dishes and using their Tupperwares, especially since Messy Fessy left, but I'm sure they appreciated this offering. Later Haleigh slid the container across the counter and it flew off the edge, dumping the rest onto the floor. Meanwhile if Brett's on your gift list this holiday season, pick him up a kitchen timer or two.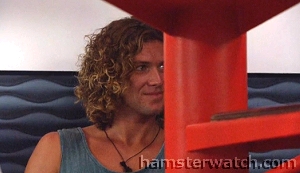 Tyler and Kaycee had a high energy rehash this morning of their late night anti-Brett convo, and reiterated the need to bring Angela in on it, but not til tomorrow. Update Tyler and Kaycee filled in Angela on the plan to dump Brett this afternoon after all, around 3.40pm.

The Tyler/Kaycee morning convo may have been a natural progression to discuss it all over again, or maybe the Diary night crew wasn't on the ball and they needed a redo for the show. Tyler later had a check-in with Sam at her tea spot on the stairs, reaffirming to her that Haleigh "is as good as gone." He also told her he knew Sam had been sketched out by him (Tyler) lately and that was okay as he knew what's been going on everywhere and he still had her covered regardless. He added if she wins HOH he'd support her no matter what she wanted to do and to whom. She said she "has a plan just in case," and reaffirmed that she'd never go against her pinkyswear with him. Everybody's all over Tyler's multiple F2 deals but along with Tyler, Sam has game-related pinkies with JC, Angela, and Brett.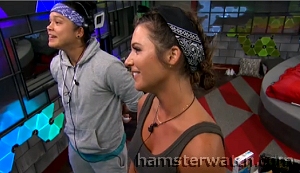 JC asked Angela to make some salmon and she thought it would be fun to secretly "enhance" it so she added extra salt, garlic salt, soy sauce, cheddar, and more salt. When JC and Sam sat down to eat at the counter, Angela and Kaycee watched on the spyscreen and were surprised when they didn't choke or spit it out, and in fact JC went back for seconds and thirds. He told Sam it tasted more like chicken than salmon, and some parts were dry, but otherwise they both liked it. Kaycee asked "what if it's really good?" and Angela replied "it's sodium, it's straight sodium, there's no way it's edible," but I guess that joke was on her. At least unless/until JC and Sam wake up extra-thirsty tonight.

GET THE FEEDS to watch everything unfold, and catch up what you missed on my previous week's page, and/or Hamsterwatch Forum thanks to @UGotBronx, and please remember to use my Amazon link for any Amazon shopping anytime, USA or Canada - thanks!



Ratings - Quick Takes edition
Ratings are Sunday's, based on entertainment value, mostly
VTE = Voted to evict




Big ups for the near-constant booze deliveries lately, however skimpy. Boo for not showing Kaycee's nominations as they happened rather than going for redos and edits on the show. I'm sure the tv-onlies would like to see humanized hamsters (even if many of us have gotten our fill), and everyone's tired of the stale script after all these years. The comics sound uninspired theme-wise compared to some prior editions but we'll wait to see them. They definitely missed a big opportunity to cast Brett as a villainous speechmaker though.





Won: Nothing yet
HOH 2 - Veto 1 - Noms 1 - HN 1

VTE Haleigh
They've finally gotten her on the show and done segments on her and Tyler, her sense of smell, and her pole-vaulting. All that's left unsaid on CBS is how she has to do her taxes. Stay tuned.





Won: 1st eviction immunity; 24 hours InstaGranny
HOH 0 - Veto 1 - Noms 3 - HN 2

VTE Haleigh
He's doing a lot of self-deprecating sabotage to further his game by making the rest of them think he can't possibly win in the end. It's an interesting tactic and will be funny if it proves successful.





Won: 1st eviction immunity; Crap App #3 Read It; Hacker #1
HOH 1 - Veto 0 - Noms 4 - HN 2

EVICTED 4-0
She tends to get paranoid and frantic the days before an eviction when she's on the block, but this will be the last time so I hope she makes it good. Some of her fans are as problematic as the Zankies and Zaulies were, and they aren't doing her any favors. She could get an endorsement deal for anti-nail-biting products after this.





Won: Nothing yet
HOH 0 - Veto 0 - Noms 0 - HN 3

VTE Haleigh
He's finally acknowledged out loud that he hasn't won anything, but he probably still thinks he can convince the jury to hand the money over to him. While he isn't as well-liked as some, and he is annoying and problematic in there, he's not hated either - by his roomies, that is. But since his game spiels take an average of 90 minutes and apparently they can only be delivered in a manic whisper, his finals speech could be a trainwreck. If he gets there.





Won: 1st eviction immunity; 2 weeks Pinwheel; 1 week Peanut; Hacker #2; Hacked self off the block Week 7
HOH 1 - Veto 3 - Noms 3 - HN 2

No vote (HOH)
Won veto/did not use
Many are saying she's set for the win with her HOH and three vetos in a row, plus she hasn't made any of them hate her. I agree that she'll have a very good chance if she's in finals, but she's got to get there first.





Won: 2 weeks Robot; Power App #1 Bonus Life
HOH 1 - Veto 0 - Noms 2 - HN 3

No vote (HOH)
I reckon over yonder, yes I do.





Won: $2500 (on TKO); Power App #2 The Cloud (unused); Hawaii trip; Week 6 vote nullified
HOH 2 - Veto 3 - Noms 1 - HN 3

VTE Haleigh
Too many finals deals are getting ready to circle around him like tweety-birds around a knocked-out cartoon character. But he's juggled them all well so far and could continue doing that. If he goes to the end he's got comp wins competition now for those who count them, but he could have a very hard time convincing the jurors how many strings he pulled to get them booted, and why they shouldn't hold that against him.





Won: $5,000; 1st eviction immunity; Greece trip; Hacked off the block 6th week; 1 week revival
HOH 1 - Veto 1 - Noms 4 - HN 4


3rd juror/8th evicted 6-0 Day 65

- Revived Day 72 - 4th juror/10th evicted 5-0 Day 79

EVICTED 5-0
He came in a fan but partnered up with only Steve and was on his own Day 15. Then he cast a hinky vote and was blamed for all the stray votes going forward. But he lasted quite awhile despite all that, and he played something of a 'floater' game (floating side to side) which contributed to his first eviction. He fell for Haleigh and while he didn't do or say anything out of order with her, that was the other (bigger?) reason Fessy put him up - never mind that Level 6/5/4 had engineered it that way. But it was fun to watch Scottie fall head-over-heels, and touching when he finally admitted he had feelings for her that he didn't know how to process. His revival week didn't go any better and he went right out again (with a Hilton Head bang), but disastrous game aside, he was often a star for Team Fun Feeds, contributing more than his share of Lines of the Day and constantly doing unexpected and very random things. Last but very far from least, he broke up the Brett/Winston bromance on his HOH.





Won: 1st eviction immunity; Crap App #1 Hamazon
HOH 1 - Veto 2 - Noms 1 - HN 3
3rd juror/9th evicted 4-1 Day 72

He provided a lot of comedy, but most of it was unintentional. He was vocal about hoping this would open doors for followers, advertising offers, and other shows, and it might. But he was unable to figure out how this show worked, even after being blindsided week after week. He got stuck on the Week 2 Brett vs Winston vote and held onto that all season, and even when Haleigh told him there were two sides playing, he promptly forgot and fell right into the same traps, as did she. He put up his ally Scottie on his HOH and said it was the 'biggest move in BB history' but oops, not so much. He liked Angela at first, then Kaitlyn and Haleigh, but he finally gave his rose to Haleigh. She balked a little at first but they finally kissed and from there it was alternating bickering and slurpydurp when they were together. Fessy slept a lot, ate a lot, and made a lot of messes that ticked off some of his roomies, but he won some comps and doesn't seem like a bad guy overall, just a little clueless in some areas.





Won: 1st eviction immunity; 1 week Food and Fitness program
HOH 0 - Veto 0 - Noms 3 - HN 1
2nd juror/7th evicted 5-1 Day 58

She filled the requisite 'weirdo' casting slot but as with many hamster weirdos before her, she was pretty 'normal' despite her alternative appearance. She had issues early on with Angela and Brett in particular, and she held on to those issues so tightly they got in the way of her logic. She got continually hung up on her theories of what was going on but unfortunately for her, those theories were mostly wrong. She and Haleigh did see Tyler as a game threat fairly early, but they weren't able to do much about it until Haleigh's HOH week, but they didn't plan around enough Hacker scenarios and Rockstar went out on her one-time bestie's HOH. Her first nomination was messy but she handled her second well, partly due to Jessie's Food & Fitness program which she also handled pretty well. She griped a lot, with odd and ever-changing accents, and while she handled most things well at first, she was a good sport about them eventually, even Brett's horrible speech accusation 'on [the eve of] her daughter's birthday.'





Won: Power App #3 Identity Theft (unused)
HOH 1 - Veto 0 - Noms 1 - HN 1
1st juror/6th evicted 6-1 Day 51

She was very watchable and gifable, with the best facial expressions no matter what, including multiple shockfaces. She was isolated with Swaggy the first couple weeks even though he was busy running around, but rather than becoming a gloomy showmance widow, she came out swinging when he left and embedded herself well all around - a little too well, as that moved her quickly up the target ranks to the tippy top. She said some controversial things and may have had the first in-house pregnancy? That hasn't been officially confirmed. She won a power that went unused, partly because she blabbed she had it, and that was the real reason she went out when she did. She did a slow simmer when she went on the block as blindside renom, but Hurricane Bayleigh made landfall two days later, as a Category 5, in a spectacular outburst of anger and frustration that culminated in 'spewing blood' after she bit herself. The kicker? Her anger at Tyler was mostly due to an inaccurate retell. The 29th consecutive North American hamster to enter the habitat first and not win their season.





Won: 1st eviction immunity; Crap App #2 Yell!
HOH 0 - Veto 0 - Noms 1 - HN 1
5th evicted 5-4 Day 44

Her blindside stung more than some because much of it was due to a pack of lies plus betrayal by her BB bestie Angela but hey, welcome to Big Brother. And she did buy some of it herself by losing her mind on the block, and that was after she agreed to go on it. She had nip slips and towel flashes almost daily, for those interested. She said she's a performer almost daily too, sometimes multiple times a day, and she did come alive when she was acting out skits, dancing, or singing ('please stop singing') but the rest of the time she seemed guarded and I don't feel we got to know who she really is at all. Her rough 'n tumble friendship with JC was fun, especially when they'd break serious convos for their quick-and-done J's Party dance. Her pal Jackie didn't fill her in enough about the rotten meat and rancid potatoes of this game, but she held her own pretty well until she didn't. Her birthday was memorable, thanks to Kaitlyn using the occasion to yell at Brett.





Won: Bonus Life 'chance' (failed)
HOH 1 - Veto 0 - Noms 1 - HN 1
4th evicted 9-1 Day 37

It's safe to say we knew more of her backstory than any hamster ever, since she seemed to bring it into every convo. She talked a very lot, and she squeaked, whimpered, babytalked, croaked, and cried a lot too, plus she canoodled with three guys (Tyler, Brett, Fessy). She caused a lot of chaos which is good, but she was often exhausting about it. New age interests are fine, some clairvoyance is trippy and fun, but her 'intuition' was nearly always wrong. It's probably just as well she failed the Bonus Life puzzle since she'd gotten to the point of getting 'hits' from shampoo labels. It was Tyler's doing, but she still gets the credit in the books for backdooring Swaggy and breaking up a showmance in the second week: something most seasons haven't been able to manage til the end, if at all.





Won: Nothing
HOH 0 - Veto 0 - Noms 2 - HN 1
3rd evicted 6-5 Day 30

He too came in saying all the right things: he wasn't here to get a girlfriend or Twitter followers, and I had him pegged as either a dark horse who'd go far, or a too-hard-too-soon kind of guy. Turned out he was the latter, probably because he just discovered BB last summer and binged several seasons since without realizing there's a lot more to it than the show edits let on. He spent most of his time playing Jenga and broing around with Brett, and the two of them provided a lot of unintentional comedy in the form of buffoonery. He made manic facial expressions while going on angry whisper rants, he threatened speech call-outs but didn't follow through, and for all his jock/winner self-hype, he failed every comp.





Won: 1st eviction immunity
HOH 0 - Veto 0 - Noms 1 - HN 0
2nd evicted 8-4 Day 23

Pre-season he said all the right things (albeit in his own unique, third person way), but he started off way too strong and way too Swaggy for his own good. He gave us great shockface when Steve was evicted but it didn't sink in that he wasn't fully plugged in, so he gave us another when he went up as backdoor renom. To his credit, he campaigned his brains out to stay rather than lay down to die, but it didn't help. His pre-show QAs said he was wary of showmancing but he fell for Bayleigh anyway, and together they were one of the cuter 'mances to watch - it helped that they didn't slurpydurp too much. Swaggy C was a good character for TV, but Chris was a good hamster and will be missed.





Won: Nothing
HOH 0 - Veto 0 - Noms 1 - HN 0
1st evicted 7-6 Day 16

The Summer of Steve™ ran just a couple weeks and his job lie(s) didn't help him any. He might have been better off if he'd been open about his undercover past and teaching present as both would have let him share more stories, or if he'd gotten in with Kaitlyn and Rockstar via his wife's new age interests and books. He and Scottie buddied up but otherwise he was odd dad out. He didn't keep up so believed he was safe, and he didn't really campaign to stay. It might not have helped if he had because all the scurrying was elsewhere, but it wouldn't have hurt. He didn't get his required nightly baths but he learned to clean his ears, and early risers in particular will miss him.



Lines and Links of the Day
Lines

Julie: Well that's an original speech, thank you Scottie

Julie: Why you and not Haleigh?
Scottie: Why am I not Haleigh?!

Angela about Scottie's dig: That's slander, that's so fucked up

Sam: Aaaand there's a tampon on the table

Brett: I literally didn't meet Scottie until they announced the power apps, so what was that, Day 9?

Brett to JC: I like you better when you're sleeping

JC: Why is are all these people up in HOH?
Haleigh: Maybe they're talking game
JC: No, they don't have that capability of smartness



Links

GET YOUR FEEDS

Use my links for any Amazon shopping, anytime, at no extra cost - just start your shopping trip by clicking Amazon USA or Amazon Canada

Live like a hamster! Available from Amazon:

-17-inch Orwell owl Amazon USA or Amazon Canada

-Owl sleep mask with hot/cold gel pad

-Click & Grow 'smart' kitchen herb garden Amazon USA or Amazon Canada
Similar grow setups Amazon USA or Amazon Canada

-Nanoleaf LED light system like HOH room Amazon USA or Amazon Canada

-Emoji pillows, individual or sets (read descriptions carefully, some sets are random) Amazon USA or Amazon Canada

-Fluorescent light stick lamps (HOH bathroom) Amazon USA or Amazon Canada

-Gradient duvet/sheet sets pink/purple or blues

-Minion plush toys Stuart - Bob - Tim - loads of others

-New age books by Sahvanna Arienta, Steve's wife



Tally Items
Extracurricular Tally

Minor fights: 3
8/2 11.09pm Bayleigh vs Rockstar
8/11 (8/15 show - wasn't on feeds) Kaycee vs Rockstar
8/11 11.28pm Haleigh vs Fessy

Major fights: 1
8/8 12.25pm Bayleigh vs Tyler

Revive-a-Hamster: 1
Scottie

Blindside evictions: 5
Steve
Swaggy
Winston
Kaitlyn
Rachel

Fires: 1
Brett's oven bacon

Broken sinks: 1
Fessy

Broken front doors: 1
Brett

House meetings: 3
Kaitlyn's about Brett 7/15
Sam's about Hacker Comp 8/2
Haleigh's Hacker confession 8/8

Nominee speech scorchers: 5
Brett at Week 3 veto meeting (shading Kaitlyn)
Brett at Week 3 eviction (saying Rockstar would flip her vote and blame it on Kaitlyn
Brett at Week 5 eviction (saying Rachel told him about Bayleigh's power, and was head of girls' alliance)
Fessy at Week 9 eviction (dragging Angela)
Scottie at Week 10 eviction (dragging Tyler and Angela)

Robot weddings: 1
JC and Sambot

Makeout pairings: 3
Bayleigh/Swaggy
Haleigh/Fessy
Angela/Tyler

Alleged sex events: 5
(subject to interpretation)
7/2 4.45am Bayleigh/Swaggy
7/7 3.55am Fessy (self-service)
7/12 12.27am Bayleigh/Swaggy
7/24 6.26am Brett (self-service)
7/24 7.27am + 7.45am Brett/Kaitlyn

Injuries, illnesses, etc: 38
Steve's cut toe and belly welts from 1st veto comp
Sam's leg bruises from 1st veto comp
JC's burned finger from the stove
Kaycee's burned hand from hot oil spatter
Winston's tossed (something) hitting his face
Winston's foot blisters
Haleigh's sore neck (from braids?) and blurred vision
Bayleigh's pulled leg muscle from tripping on stairs
Swaggy's smashed thumb
Winston's/Scottie's skinned knees from spinny veto
Rachel's bashed toe from Have-not door
Kaitlyn's cut finger from wall endurance comp
Kaitlyn's sore neck and trouble swallowing
Haleigh's mysteriously bleeding finger
Rachel's scraped back from a fake lemon
Rachel's bloody lip from JC's play-smack
Rockstar's bee sting
JC's sore shoulder
Sam's bacon spatter during her anti-Hacker house meeting
Bayleigh's bitten cheek or tongue during Haleigh's house meeting
JC's cut leg from bathroom couch
Rockstar's banged up hands from OTEV comp
Haleigh's cut finger from OTEV comp
Fessy's sore knee from OTEV comp
Tyler's sore back from lifting
Fessy's sore back from tripping over Rockstar's bag
Fessy's sore back made worse from slippy slide HOH
Angela's sore back from slippy slide HOH
Brett's sore feet from slippy slide HOH
Sam's allergic reaction to tuna and/or hemp seeds in it
Brett's sore knees from hide 'n seek veto
Scottie's sore arm from hide 'n seek veto
Haleigh's bleeding finger from chewing it
Tyler's belly burn from a slop cooking spatter
Haleigh's swollen lymph nodes
Haleigh's hurt finger from spinny HOH comp
Brett's cut hand and rolled ankle from Comics veto
Kaycee's sore knees from Comics veto

Pinkyswears: 32
7/1 Kaitlyn/Tyler
7/2 Kaitlyn/Faysal
7/3 Kaitlyn/Haleigh
7/4 Sam/Scottie
7/5 Kaitlyn/Tyler
7/6 Sam/JC
7/6 Kaitlyn/Tyler
7/9 Kaitlyn/Tyler
7/10 Kaitlyn/Tyler
7/10 Bayleigh/Rockstar
7/13 Haleigh/Scottie
7/13 Kaitlyn/Tyler
7/13 Sam/Scottie
7/15 Bayleigh/Kaycee
7/17 Angela/Rachel
7/23 Angela/Rachel
7/23 Lil Fartlettes four-way
7/27 Bayleigh/Rachel
7/28 Bayleigh/Rachel
7/31 Angela/Sam
8/4 Tyler/Kaycee (air pinky)
8/5 Sam/Tyler
8/7 Sam/Rockstar
8/8 Haleigh/Fessy
8/9 Angela/Scottie
8/9 Sam/Rockstar
8/10 Tyler/Haleigh
8/10 Tyler/Haleigh
8/16 Sam/JC
8/17 Sam/Brett
8/18 Sam/Fessy
8/28 Fessy/Haleigh

Scandals outside our BB world: 12
JC's ice cream scoop + inappropriate grabby
Angela's & Rachel's over-tanning comments
Kaitlyn's n-word lyric
Kaitlyn's boyfriend
JC vs Bayleigh vocabulary incident
JC asking Rachel if she's transexual
Sexual harassment allegations against Les Moonves (could affect BB in the future?)
Bayleigh's pregnancy scare(?)
JC finding out about #MeToo
JC cuddling & pit-kissing sleeping Tyler
JC blocking the toilet door open on Haleigh
Scottie's second eviction speech

Pre-season fanbase + alum dramas: Too many to list

Pre-season Minion abuse events discovered: 1 JC



Production Goofs

1 CBS site lost the cast after reveal for at least 12 hrs
2 Staff seen prepping the stage (maybe intentional)
3 Its/it's error
4 Ceiling issues in official press pics
5 Several staffers seen in Julie's house tour
6 Misspelled JC's last name on BB site & press materials
7 JC's bio mixed up Cuba with Spain
8 Allison mixed up 20 seasons with 20 years
9 Messenger Bot still needs tweaking
10 Several misspellings in move-in press photos
11 Random guy onstage in move-in press photos
12 Misspelled Brendon on premiere
13 Messenger Bot crashed upon launch
14 Feeds countdown was off varying minutes on launch day
15 More misspellings in press photo captions
16 Sambot malfunction
17 After Dark tweeted eviction when it's not
18 Video promos have last year's show schedule
19 Quads crashed Day 13
20 PS4 feeds has a show tonight (on Monday=no) plus Celebs disclaimer
21 Forgot to remove placeholder text in new batch of press pics
22 No audio for Julie talking to us after recap clips on July 5 live show
23 Quick shot of Bonus Life comp setup during July 5 live eviction
24 Conflicting how-to-vote info for BB App Store voting
25 Forgot to change the automated image for the voting URL
26 Staffer's reflection seen on feeds
27 Broken awning
28 Wrong show day and time on Youtube promo
29 Another reflection from inside the walls showed up
30 HOH comp setup glimpsed by a few a day early
31 Misspelled Ross's & Marissa's last names in press pics
32 Problematic headline grammar
33 Press release said time change for 7/11 only, but it also applied to 7/18
34 Misspelled sponsor 'Mamma Mia' in press pics
35 'About BB' page has wrong BB1 premiere date
36 Your/you're error on 7/22 show
37 Misspelled Sam's and JC's names in press pics, plus Wednesday time change not incorporated
38 Wrong season for Nicole's win
39 Allison mixed up 20 seasons with 20 summers
40 Labelled Haleigh's pic as Kaitlyn
41 Labelled Bayleigh as Celebrity BB
42 Apostrophe error in 8/1 show subtitles
43 Another quiz error (Faysal is correct)
44 Press pics captions again: comp title + time change still not updated
45 The Cloud power app icon appeared on intercom monitors
46 Used a jury house pic with "within the Big Brother house" headline
47 Press pic caption shows Orville for BBAD's Orwell
48 Erroneous placement tally in Hacker Comp #1
49 Press pics again: veto comp title plus Wednesday show time
50 Hamsters couldn't hear Julie talking to them on 8/9 show
51 Allison again with '20 summers' (see #39)
52 Wrong-size shirts with their names were left behind after OTEV comp
53 Misspelled Haleigh's name on in-house nametags
54 Misspelled Angela's last name in press pics
55 Angela's last name and its/it's again, Wednesday time wrong still, 'Big Brother' repetition
56 Merch promo implies Hacker twist is still going, a week after it ended
57 Staffer visible in HOH comp press pics
58 Tagged the wrong person in HOH QA
59 Misspelled Faysal's name in press pics
60 Commercial featured final nominees before veto meeting aired
61 Mixed up HOH with veto, and misspelled 'even'
62 Leaked Battle Back comp setup
63 Staffers seen during Fessy's exit interview
64 Staffers seen during Battle Back comp
65 Diary audio leak about Tyler's nom plans
66 Wrong description for BB8 veto highlight
67 Staffers seen on feeds
68 Misspelled Scottie's last name
69 Calendar issues in Flashback
70 Diary audio leak about Kaycee's HOH room
71 Wrong season for Victor
72 Misspelled Angela's name
73 Diary audio leak, Kaycee in there again




Season Stats
HOHs in order: Tyler; Kaitlyn; Scottie; Sam; Bayleigh; Angela; Haleigh; Fessy; Angela; Tyler; Kaycee

Veto winners in order: Faysal; Tyler; Scottie; Faysal; Tyler; Angela; Tyler; Brett; Kaycee; Kaycee; Kaycee

Evictions in order: Steve 7-6; Swaggy 8-4; Winston 6-5; Kaitlyn 9-1; Rachel 5-4; Bayleigh 6-1; Rockstar 5-1;

Scottie 6-0;

Faysal 4-1; Scottie 5-0

Pre-jury Twitters: @bb20Steve; @SwaggyCTV; @BB20WinstonH; @kaitcoaching; @rachieswin
More social media links in cast folders at Hamsterwatch Forum








Linking to any page here is fine. Please don't repost content from this site (or any other) without permission, and don't repost or hotlink images.



THE REAL SHOW IS THE FEEDS


SAME DAY AIR SHOWS
Live air shows in some areas
BB1 thru BB19 and many other CBS shows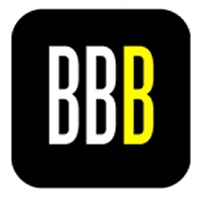 BIG BROTHER BUDDY
Get push notifications for all the big feeds events - iOS or Android


HAMSTERWATCH SWAG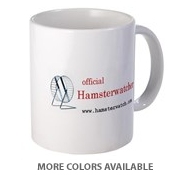 Mugs, shirts, more
Visit my Cafe Press shop






Big Brother 20 SEASON FAQ


Day 1 Move-in was June 20
Day 8 CBS premiere is June 27
Day 9 Feeds begin June 28
Day 99 Finale will be September 26

Feeds are streamed by CBS, and Flashback is accessible via All Access subscription. Call 888-274-5343 for account help, including cancellation.

Air shows on CBS (Global in Canada) are Sundays 8pm, Wednesdays 9pm, eviction Thursdays 9pm.

Big Brother After Dark on Pop TV is every night midnight to 3am, except Thursdays 1am to 3am. The aired blocks are live (or recorded earlier the same night, depending on your cable provider).

The CBS app (by CBS Interactive) plays BB air shows and other CBS shows, as well as feeds, or you can use your browser to watch feeds on mobile devices. The same All Access link used to subscribe will lead to the feeds viewing page if you're already signed up.

BB20 prizes are the same: $500k for the winner and $50k for 2nd place. Stipend for the others is $1,000 per week again, including pre-show hotel and jury sequester.

The habitat has 94 HD cameras (up 7) and 113 microphones.

The recorded in-house announcements are the voice of producer Don Wollman. He and Julie Chen are the only staffers who have been there since Big Brother 1.