This site is about the Big Brother 20 feeds and contains spoilers! It isn't necessarily thorough: it's what I catch and/or what interests me. It's about watching hamsters: who's doing what and why. Thanks for encouraging my behavior.
Your pal, dingo



PROTECT YOUR ONLINE PRIVACY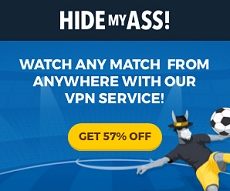 BIG BROTHER UK BEGINS SEPTEMBER 14
Watch BB Canada, BB UK, Survivor Australia, Survivor New Zealand, and other non-USA shows with HMA






BB20 DRINKING GAME


Take a swig whenever JC changes his hat - take two whenever he hits TMZ





HACKER COMPETITION TWIST

Each week's Hacker Comp winner could replace one nominee, select one veto player, and nullify one vote

#1 Haleigh
-Replaced Scottie with Tyler
-Picked Kaycee to play veto
-Nullified Tyler's vote

#2 Kaycee
-Replaced self with Rockstar
-Picked Tyler to play veto
-Nullified Fessy's vote





APP STORE VIEWER VOTE TWIST

WINNERS - POWER APPS
BONUS LIFE #1 Sam
-Could give 1st, 2nd, or 3rd a chance to return to the game
-If unused, 4th evictee automatically got a chance
-Kaitlyn failed to complete the puzzle
THE CLOUD #2 Tyler
-Immunity at any one noms or veto meeting within 2 months
-Expired unused
IDENTITY THEFT #3 Bayleigh
-Can replace noms one time before final eight
-Was not used

Not selected: Re-Draw, Upgrade

LOSERS - CRAP APPS
HAMAZON #1 Faysal
-Periodic [vegan] ham deliveries, had to eat it all
YELL! #2 Rachel
-24 hours getting yelled at
READ IT! #3 Haleigh
-Read Hamlet in costume

Not selected: Fake News, Spammed

Limit one per hamster, whether winner or loser - Voting info & rules







QUICK LINKS & BOOKMARKS



-SIGN UP for feeds
-WATCH the feeds
-BB20 official site
-Live show tickets

-Feeds updates by @UGotBronx
-My Twitter - my screencaps
-Amazon portal USA or Canada

-Dick at Night with @EvelDick

-BB Viewer by @liquid8d
Requires All Access account

-BB20 Wiki
-UK BB 19 Wiki
-UK CBB 22 Wiki

-Hamster Twitters
BB USA - BB Canada

-Advice for cast friends/family

-VPN to watch BB UK and/or to protect your online privacy







EAST COAST AIR SHOWS



CanadaTV for Roku
$2/month - Global airs BB USA

East coast air show live streams:
- 1 - 2 - 3 - 4 - 5
NO DOWNLOADS OR SIGN-INS NEEDED - BEWARE OF CLICKING POPUP ADS OR WARNINGS




Donations via Paypal are gratefully accepted!


Watch Big Brother
Seasons 1 thru 20
Plus tons more CBS content






BIG BROTHER SEASONS



CBS All Access
Seasons 1 thru 20

Amazon DVDs BB4 - BB3

Amazon Instant Video
BB18 - BB17
- BB16
- BB15
- BB14
- BB13
- BB12
- BB11
- BB10
- BB9
- BB8
- BB7





BIG BROTHER 20 FEEDS EXCLUSIVELY ON CBS ALL ACCESS
All Big Brother USA seasons + most CBS shows past or present are included
$5.99 PER MONTH INCLUDING 1 WEEK FREE TRIAL or $9.99 AD FREE
COMPUTER - MOBILE - ROKU - CHROMECAST - APPLE TV - ANDROID TV - FIRE TV - XBOX 1/360 - PS4


>> >> >>

>> >> >> >> >> >>

>>

Amazon USA
- Amazon Canada
September 2018
Power Status
Feeds are underway and they are the real show - SIGN UP NOW and get a one-week free trial! No promo code needed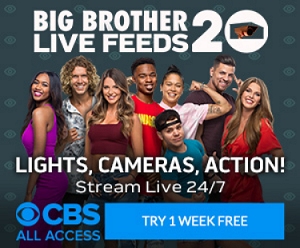 Haleigh evicted 4-0

Tyler won first Head of Household
JC, Sam were nominated
Angela won veto/used on JC
Sam, Brett were nominated
Brett evicted 3-0

Angela was Head of Household
Kaycee won veto/did not use
JC, Sam were nominated
Sam evicted 2-0

JC is Head of Household
Angela, Tyler are nominated
Kaycee won veto


Upcoming Feeds Events
Thursday: F3 memories meal, Part 1 final HOH comp (likely not on feeds)
Saturday: Part 2 final HOH comp (likely not on feeds)


Remaining Shows
9/20 Thursday 9pm - Final noms, final veto comp, live veto meeting, live eviction
9/23 Sunday 8pm - Final 3 season review, start of Part 1
9/26 Wednesday 9.30pm - Live 90-minute finale

CBS schedule is Sundays 8pm, Wednesdays

9pm

8pm, live eviction Thursdays 9pm - stream links to watch East Coast airing online are posted in Quick Links & Bookmarks on the left sidebar

After Dark airs for three hours every night on Pop - times vary by area and provider, check your cable guide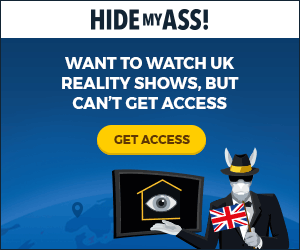 BIG BROTHER UK IS UNDERWAY
Watch live or archive shows with HMA safe, easy, secure

-Watch live at Channel 5's online live stream
-Outside UK use HMA to get around geoblocking, and protect your online privacy at the same time
-Shows are usually daily but check the air show schedule for 5 and 5Star - UK time is 8 hours ahead of Pacific and 5 hours ahead of Eastern
-The BB official site has archive air shows and talk shows, highlights, previews, and info


Other News
Les Moonves (CBS Chairman, President, and CEO, and Julie's husband) departed CBS on Sunday, September 9, effective immediately, along with six Directors - see CBS corporate press release. This follows months of legal/financial battles with Shari Redstone (Vice Chairwoman of CBS and Viacom), and weeks of sexual harassment and misconduct allegations against Moonves. What this will or won't mean to Big Brother and its host, if anything, remains to be seen. Julie did not appear on The Talk season premiere September 10 nor at all after that, and she formally left The Talk on Tuesday, September 18.

Alliance charts by @89razorskate20: Day 77

Hamsterwatch Forum for real-time feeds updates, screencaps, and air show recaps by @UGotBronx

Diary segment tally by @clamperls

Week 11 popularity poll results #1 Haleigh, #2 Tyler, #3 Angela
Follow @89razorskate20 on Twitter to participate: weekly polls launch every Monday 4pm PT/7pm ET

Post-eviction shows are hosted by BB Celeb runner-up Ross Mathews and winner Marissa Winokur, Fridays on Facebook Watch. The first (no eviction) ran June 29.

Ratings Watch Thursday's double eviction show won the hour with 1.7 rating, 7 share, 5.99 million viewers, ahead of Match Game finale on ABC with 0.8/4/4.30, two The Good Place reruns on NBC with 0.5/2/2.23 and 0.5/2/2.01, and The Gifted rerun on FOX with 0.4/2/1.51.

Sunday's show placed second with 1.7 rating, 6 share, 6.50 million viewers, behind football on NBC with 6.2/24/18.28, and ahead of Celebrity Family Feud and $100,000 Pyramid on ABC with 0.9/4/5.01 and 0.7/3/4.41, and Bob's Burgers and Family Guy reruns on FOX with 0.6/3/1.57 and 0.6/3/1.55.

Wednesday's veto and taped eviction show placed second with 1.4 rating, 7 share, 5.45 million viewers, behind America's Got Talent finale on NBC with 2.0/9/12.59, and ahead of Masterchef finale on FOX with 1.0/5/3.56, and The Goldbergs and American Housewife reruns on ABC with 0.7/3/3.09 and 0.5/2/2.32.


Rating and share: adults 18-49 - Rating: % of all TV households - Share: % of households watching TV


Week 12 - Days 86 thru 92 - September 13 thru 19, 2018
Daily and Noteworthy Events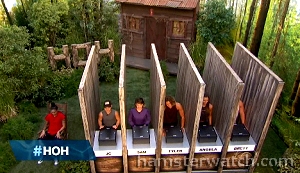 Evicted #1: Haleigh
Head of Household: Tyler
Original noms: JC, Sam
Veto winner/outcome: Angela/used on JC
Final noms: Sam, Brett
Evicted #2: Brett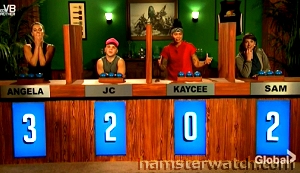 Head of Household: Angela
Original noms: JC, Sam
Veto winner/outcome: Kaycee/did not use
Final noms: JC, Sam
Evicted: Sam

Head of Household: JC
Original noms: Angela, Tyler
Veto winner/outcome: Kaycee/TBA
Final noms: TBA
Evicted: TBA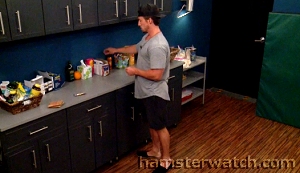 Day 86 Thursday September 13
They were shown video clips of themselves from comps through the season, presumably for detail questions for one of tonight's comps. Brett set up pantry items on his own to study, as well as providing some wrong answers to Angela and Kaycee when he studied with them. Also, it should be noted that Angela whispered "I think I'm in love with you" to Tyler last night, followed by "I can't believe that just came out of my mouth" - he said he can't believe it either.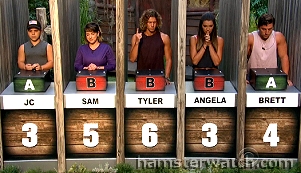 Haleigh was evicted 4-0 as expected, with Kaycee and Angela farewells fingering Brett for the reason she was seeing them, and Brett blaming those two plus Tyler. Julie asked Haleigh which she believed and she said Angela and Kaycee. They went right into the first HOH comp which was called Buffering, in a "boondocks" setting. They had to pick A or B for what followed when the comp video clips they saw earlier were paused (buffering). After seven questions, Tyler had six correct and won the quickie HOH. He nominated JC (his first time on the block) and Sam, and they went off to play the veto.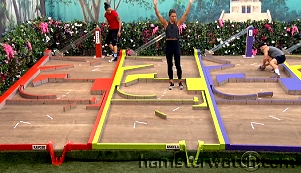 The veto comp was Block and Roll, where they had to arrange blocks and obstacles within their lines so a ball would roll through them and get to the end. The first to land their ball in the finish pocket was Angela, winning the veto. She used it on JC, as per the Level 6/5/4(3) plan hatched over the last couple days, saying something about "playing one step ahead." Tyler put up Brett as renom, saying something about "playing two steps ahead." Brett was evicted 3-0 in a total blindside to him, but he went out a good sport and didn't spill any Level 6/5/4 beans on his way out the door. There were a lot of fishies throughout for cussing hamsters, and Julie called Brett "Brent" just before she signed off by saying "I'm Julie Chen Moonves, good night." That was a first.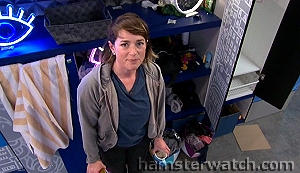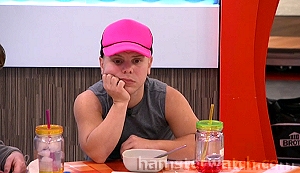 Feeds came back a little before 10pm and Angela had won the next HOH comp. Sam was roaming around talking to cameras, like she does. She said the comp was "crazy hard" and asked Angela what she thought she'll do. Angela said she had no idea, and this would be the hardest [decision] yet. (Obviously it'll be Sam and JC.) The five of them sat down to eat together, and JC's expression looked like he was still reeling from being on the block (and maybe knowing he'll likely be on it again.) Sam cleaned out the pantry fridge but joined the others to socialize a bit, and Angela told JC she used to be a professional athlete, so now everyone knows. He asked if that was why she had an athlete comic, and he said "that's why your feet look like that."


JC told Tyler the only way this week can work is if Tyler wins veto, then Angela would have to put up Kaycee. They went back and forth about how things unfolded with Brett, and whether JC had been working with Brett or not, and Tyler said he didn't fill in JC about what he had in mind with Brett because JC always argues with him, and it needed to be done. JC said Brett wanted to take out the girls, and Tyler said "Brett didn't want to take out the girls, he wanted to take you out." Tyler also told JC, with Angela present, that Brett had pitched a final two to him that he called Wingmen, and that's why Brett mentioned that in his speech. Meanwhile Sam built up her isolation satellite dish bed in Have-not with a dozen or more pillows, saying with a giggle "I'll just hide my feelings in pillows." Angela, Kaycee, Tyler told JC that Kaycee was the second Hacker.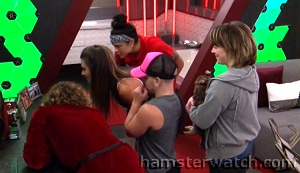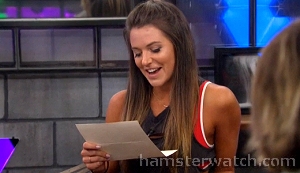 Angela got her room at 12.40am and the small group gathered to ooh and ahh at her photos and goodies. This round she got pancakes, blueberries, a dress, hat, new bandana, tea, BBQ sauce, jelly beans, a plant from Pop, WINE!, cheesecake, ice cream, sushi, and music by Chris Young again. She read her letter which was from her friend Natalie, who described herself as a new BB convert. Tyler got his basket at 12.52am, which included a pic of two little girls (nieces or a friend's daughters? not sure but he was thrilled), Goldfish, kombucha, BEER!, and a letter from his buddy Kevin. Both of them got the usual assortment of cereal, snacks, and candy.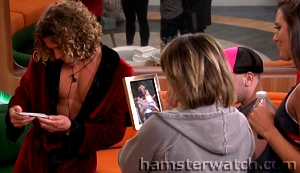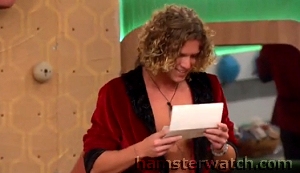 Tyler and Angela went upstairs to coo 'n cuddle, and Tyler said he was asked about their "love you" convo in Diary. Kaycee joined, and Tyler told them how Sam had trashed Angela during the double eviction, along with how upset JC had gotten with Tyler. They agreed to send Sam to jury rather than JC because she did well in both comps tonight. JC then joined them, saying it was too quiet and depressing downstairs. I never did hear details of the second HOH comp but it sounded like it was questions.

GET THE FEEDS to watch everything unfold, and catch up what you missed on my previous week's page, and/or Hamsterwatch Forum thanks to @UGotBronx, and please remember to use my Amazon link for any Amazon shopping anytime, USA or Canada - thanks!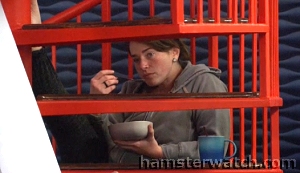 Day 87 Friday September 14
They couldn't get over how quiet and empty the house felt, and consequently the feeds remained quiet. Studying the photo wall and making up stories about the evictees, Tyler and Kaycee told Sam that Brett's job label text actually read "cyber security engineer" on the air shows, rather than sales guy, and that Kaycee was the second Hacker. Later they also told JC about Brett - he'd already gotten Kaycee's news last night. If either Sam or JC wondered why they hadn't been filled in before, they kept it to themselves.. for now. They came across the remnants of Brett's puppy chow, and JC called it "Brett's ashes" - they tossed it. Angela she was asked in Diary about the "love you" convo, and he called it the "dreaded appointment," and they discussed the [perceived] need to continue keeping their secret from Kaycee, and reminisced about their relationship's progress.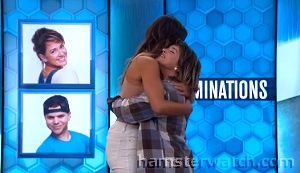 Feeds were down from approx 2.30pm until 8.40pm and when they came back, Bebe Rexha had visited and performed, they'd had booze, and noms had just finished. Angela put up Sam and JC as planned, and Sam appeared to take it well, still happy with their afternoon activities and that Bebe tested out her satellite dish bed. JC had a quick manic-whisper chat with Tyler and said his only way to beat him at finals was to say he'd never been on the block, and that was no longer valid. Tyler reminded him he'd been on the block for a few minutes last night. Tyler also told him he can convince Angela not to put him (Tyler) up if Sam wins veto. Kaycee congratulated Angela on a good speech, and Angela said JC thought he was a pawn.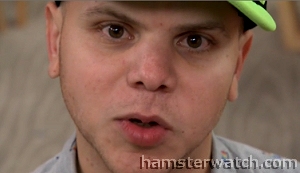 Tyler and Angela did their comatose coo 'n cuddle thing, and JC had a lengthy convo with the cameras, nervousing as he waited for Sam to finish in Diary so he could have his turn. Feedmasters had some fun picking up different body parts to make quads amusing. He said it's been a cool experience but he wished there wasn't a camera on the toilet, and coming in he figured he'd finish fifth and now here he is on the block, and he said "I know I can be problematic" - yep, he said it! He was invited to HOH because he looked lonely, and Kaycee and Angela told him Brett had put raw bacon in his shoes awhile back for a week. Tyler and Angela did a little slurpydurp making out, and Sam made eyes at the camera.

GET THE FEEDS to watch everything unfold, and catch up what you missed on my previous week's page, and/or Hamsterwatch Forum thanks to @UGotBronx, and please remember to use my Amazon link for any Amazon shopping anytime, USA or Canada - thanks!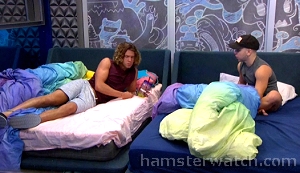 Day 88 Saturday September 15
JC had a long talk at Tyler, upset about being on the block now and about Tyler putting him on it during the double. He said he'd feel better if he thought Tyler did it due to jealousy about JC and Brett working together, so Tyler said he could think that if he wanted. JC also stated the obvious, that if Sam comes off with veto and Tyler goes up, their partnership would be over. And JC told Tyler not to let Angela and Kaycee spend too much time together or they'd make that their plan. Given how observant JC is and how good his getaround has been, it's remarkable he's still this much in the dark about the Tyler/Angela/Kaycee trio, but I guess that's been the theme of the season and JC is just carrying it to the end. And the same for Sam: she told JC she'd thought Tyler was on her team and JC said "mostly" - but Sam's observations and getaround haven't been much all season, so she's just continuing along her unique BB path. Tyler and Kaycee again reaffirmed their deal to take each other, and not Angela, to the end should they all three get there.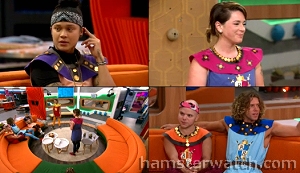 Feeds were down from approx 2.40pm to 6.40pm for the veto comp, which Kaycee won again. It was a maze - see aerial photo from Friday night. It had a medieval theme and they had to check in at various stations which included a wizard, witches, swords, wolves in timed individual runs. Kaycee won in five minutes and Tyler was close behind her. Sam was the only one who didn't finish in the 30-minute time limit, and they all said they ran the whole way. The maze also had fog, and a laugh they heard periodically, maybe when they screwed up. Kaycee said "how the hell did this happen? I suck at mazes!" Angela later said she had chest pain, sore throat, and tasted blood during the comp; Kaycee said she couldn't breathe at one point but said no when they asked if she wanted to stop, and JC said he has "no sense of orientation" because he's left-handed. Huh.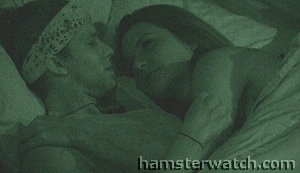 Between cooing and cuddling in greenlight, Tyler and Angela talked the upcoming comps and their successful run so far, and Angela gave Tyler credit for keeping their side in the know through the game so they knew which decisions to make. Tyler told her JC had supplied him with a lot of info about the other side, and that's why JC was so angry at him now. That shocked Angela, and Tyler said that's why it was so imperative that he be the one to spill the news to JC that he was with Level 6/5/4/3 all along, rather than JC hearing it from someone else. Otherwise it was a very, very slow night.

GET THE FEEDS to watch everything unfold, and catch up what you missed on my previous week's page, and/or Hamsterwatch Forum thanks to @UGotBronx, and please remember to use my Amazon link for any Amazon shopping anytime, USA or Canada - thanks!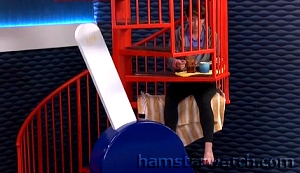 Day 89 Sunday September 16
Sam set up and camped out in her vertical breakfast nook again, telling stories and sipping her tea. Angela, who'd been griping about that for several days, came down carrying a bunch of stuff and practically tripped maneuvering around her, dropping some of the things she was carrying. That's about the height of activity anymore: by noon, they were all counting how many more hours until they're able to go to bed again.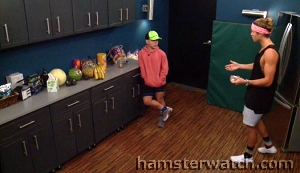 JC went another round with Tyler, griping about Angela and Kaycee and giving Tyler ultimatums for going forward. Tyler got a bit defensive, especially when JC told him Angela or Kaycee would cut him for the other at the end. Tyler reported to Angela and Kaycee, who said JC will understand when he finally finds out about Level 6/5/4/3 but Tyler said he'd more likely be bitter and resentful about it.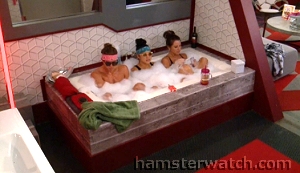 Level 6/5/4/3 took a bubble bath together, which I think was the first shared bath this summer? The bathtub hasn't been used much at all especially compared to some seasons, though there was that night when sippy Haleigh was swimming around campaigning to Tyler. He's mentioned that a few times to the others lately, so maybe that's what inspired this afternoon's dip. Sam made a pitch to Kaycee about the veto, and then she went under her satellite dish turned blanket fort. JC in turn made a pitch to Kaycee, and Tyler and Angela returned to their cooing and cuddling in HOH.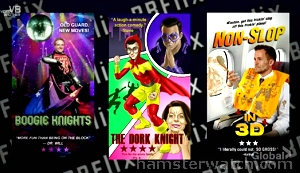 On the show, the second HOH comp Thursday was BBFlix and Chill, seven questions based on audio clues plus BB-themed punny parody movie posters, three per question. One of the posters was Non-Slop, a nod to BB exec producer Chris Roach who also was co-writer of the Liam Neeson movie Non-Stop. Angela won with three points - JC had two, Kaycee zero, and Sam two. Bebe Rexha made her appearance and performed two songs for them.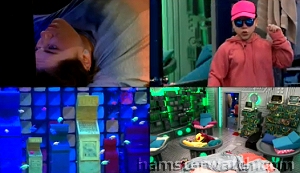 The Snapchat glasses came out, like they do on a Sunday, and JC joined Angela/Tyler/Kaycee to do low-energy skits and talk about the habitat and Bebe Rexha's visit. Sam laid on the skybridge floor under the foosball table and fishies. Tyler told JC about his TKO appearance, so that's another revelation for JC to realize was withheld from him - he's still got a few to come. Then they went back to wishing they could end the day and go to bed, and hoping After Dark wouldn't be on tonight, in nearly the same breath as wondering and hoping they'd get to appear on Ellen after BB - go figure.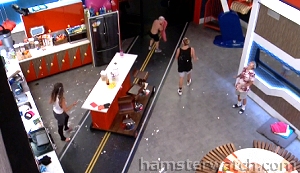 But After Dark was on, and they delivered more treats: ice cream making supplies and equipment this time. As the four were making it, Sam had some Ben & Jerry's from the freezer, went to bed, and talked to herself about smashing tv screens, throwing a satellite saucer through a window, and walking out the emergency exit. Then the other four had a whipped cream fight that coated each of them as well as the entire kitchen. After that, JC and Tyler put mayonnaise in Angela's face wash to retaliate for her using the faucet sprayer during the whipped cream fight, causing Tyler to slip and hit the deck, and Tyler went to dump ice water onto Angela in the shower, but he missed. She then threw cereal into his shower and took his clothes and towel.

In other news, my Twitter account has been suspended. I received several copyright infringement notices today for screencaps and gifs, which I do have permission to post, but clearly someone has decided to target me because they submitted so many notices that Twitter flipped the switch on me. I'll continue posting news here on the site for those of you who still visit here - and thank you for continuing to do so. You guys are the reason I've stuck it out this long.

Day 89 down, only 10 to go.

GET THE FEEDS to watch everything unfold, and catch up what you missed on my previous week's page, and/or Hamsterwatch Forum thanks to @UGotBronx, and please remember to use my Amazon link for any Amazon shopping anytime, USA or Canada - thanks!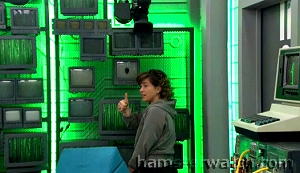 Day 90 Monday September 17
Kaycee did not use her veto, and Sam returned to her Have-not isolation chamber to talk to cameras, asking one if another was on and working or not, and other muttering to herself, while JC and Level 6/5/4/3 counted the remaining days. They all went to HOH lockdown and feeds went to prior seasons from approx 12.50pm to 2.20pm, with no indication to them or us as to why. It could have been the usual eviction day tech rehearsal for tomorrow's show taping done a day early, or it could have been something totally different and/or irrelevant for our purposes, such as maintenance.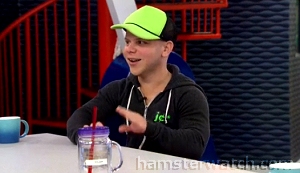 JC started banging the counter bongo/conga style and found a beat he liked, and he started working up an ode to Tyler. The control room didn't shut it down so it continued for an hour or so as he tried to turn it into a song, with Kaycee's help. They had some not-bad ideas but it soon became clear neither is a born songwriter or musician, so it was a struggle with many stops and starts. They finally went to HOH to perform the "finished" song for Tyler and Angela, and Tyler joked about a second private concert in a week. Meanwhile Sam worked on her satellite dish bed again, adding even more pillows and blankets. She almost certainly knows she's going, but none of them know it'll happen tomorrow.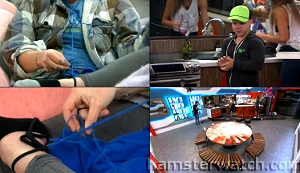 Kaycee made mini McGregors/McGriddles that were a hit. Sam went back to crafting and talking to herself in Have-not, shredding a tee shirt and weaving the strings, and she removed a shelf from the pantry to take into Have-not for a work surface. JC, Tyler, Kaycee tossed hard boiled eggs around the kitchen at each other, creating another mess, and then JC and Kaycee went back to practicing their Tyler song. Tyler and Kaycee had a check-in and agreed Angela probably thought either of them would take her to the end, and they agreed not to tell her otherwise. Later JC campaigned to Kaycee, pledging loyalty and practically pitching a final two. She nodded a lot and made noncommittal acknowledgments as he talked, like she does.

For her last meal before her execution (although they didn't know it yet), Sam cooked up the filet mignon she'd gotten as HOH - call off the Food Police, it had been frozen. She started by talking to herself but then Tyler and Kaycee came along and she socialized with them as she cooked, like old times. Then she settled in at her stairs nook to enjoy it.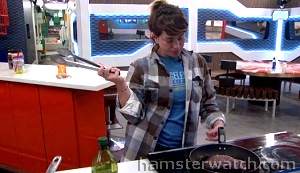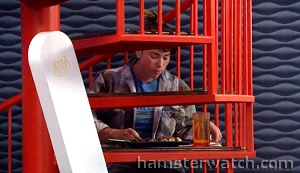 Tyler and Angela got busy in HOH while After Dark was still on. I don't think they did anything land them on the sex events tally, but they went further down that path than they have before.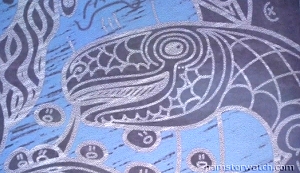 Day 90 down, only 9 to go! We're in single digits now.

My Twitter account remains suspended. I very much appreciate the support I'm seeing, and thank you sincerely for that. I'm also seeing a lot of erroneous speculation, assumptions, and theories about the situation.. oh well.

GET THE FEEDS to watch everything unfold, and catch up what you missed on my previous week's page, and/or Hamsterwatch Forum thanks to @UGotBronx, and please remember to use my Amazon link for any Amazon shopping anytime, USA or Canada - thanks!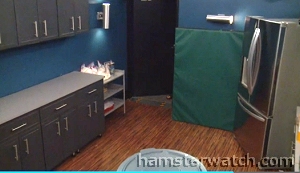 Day 91 Tuesday September 18 CONTAINS SPOILERS
Feeds went down 9am, before their wakeup music even, and only Sam and Kaycee had started to putter around the place. That blackout was presumably to tape tonight's After Dark, which is what they usually do at this point. Feeds will stay down to tape (Sam's) eviction and will remain down until after that show airs tomorrow. Feeds will return Wednesday night 9pm Pacific/midnight Eastern.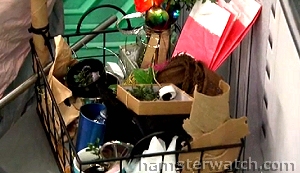 SPOILERS BELOW

Word on these BB streets says Sam was evicted (as expected) and JC won the HOH comp. So Level 6/5/4/3 will be reduced by one more on Thursday night when the fourth placer is evicted live, as evictions should be. This word comes from various sources, but none of my usual ones from the past. I have heard the show is a pit of paranoia these days, as fingers are pointed at virtually everyone to determine the source of the leaks this season, since all kinds of facts and fictions have been posted that were always out of bounds before. People are afraid and jobs are in jeopardy, and this is on top of the massive shakeups at the C level and our host's close tie there.

Day 91 down, only 8 to go!

My Twitter account has been unlocked. I'd again like to thank everyone for the support and the welcome backs today. It's been truly touching and I appreciate it more than I can say. And a million more thanks for those who continue to visit the site! You remain my favorites.

GET THE FEEDS to watch everything unfold, and catch up what you missed on my previous week's page, and/or Hamsterwatch Forum thanks to @UGotBronx, and please remember to use my Amazon link for any Amazon shopping anytime, USA or Canada - thanks!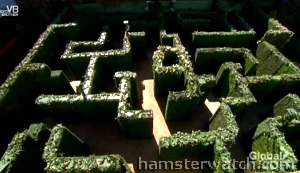 Day 92 Wednesday September 19
Julie introduced herself for the taped eviction as Julie Chen Moonves again, and signed off that way as well. After the required lengthy recaps and the 30-second whipped cream fight of the other night, they went to the veto comp which was Your Maze are Numbered, in BB Labyrinth setting. They had to find their way through the maze we saw a few days ago in individual timed runs, finding one wizard, two wolves, and three witches, which would "lift the curse" to pull a sword from a stone. They had to complete each section within 30 seconds or start over. Final times were Kaycee 5:41, giving her the win; Sam 30:00 (timed out); Tyler 6:29; Angela 10:50; JC 11:09. Kaycee did not use her veto, and Sam was evicted 2-0.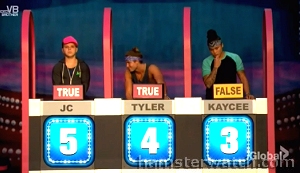 The HOH comp was What The Bleep, also taped Tuesday night, with seven true/false questions about missing words from clips of speeches made over the season. JC won with five correct, compared to Tyler's four and Kaycee's three. He was thrilled to finally get his first win and he told Julie he'd been "waiting to win the right one" when she congratulated him. He also told her he'd like tequila and eight bottles of champagne when she asked what he'd like in his HOH basket. I'm just glad he didn't say a Minion, though I won't be surprised if he got one. We'll know soon enough: feeds are due to return at 9pm Pacific/midnight Eastern.

Feeds came back to the tiny table for final four in place, Angela and Tyler on the block, and JC and Kaycee discussing her veto win, which of the two she should vote out, and celebrating the fact that both will go to finals without seeing the jury house.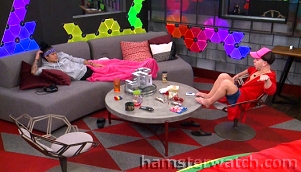 Tyler and Angela were in bed, surprising no one, and he confessed to her that he's actually a BB "superfan" and has applied to be on it since he was old enough to, and that he was a finalist for OTT. She wanted to know what else he'd lied about and he hinted that he had something else, but he didn't (yet) tell her about his Cloud power, or that he has final two deals with both JC and Kaycee.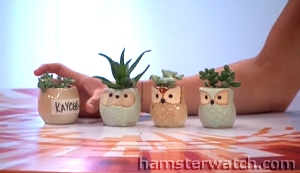 JC and Tyler had a talk, with JC saying either of them could lose to Kaycee at the end but he'd rather she win than chance Angela winning the game. JC also said maybe Tyler should pitch a F2 deal to Kaycee so she'll save him tomorrow (cough), and he said back when they joined up on Day 2, JC wished he'd told Tyler to win the comps and he (JC) would be the brains. Tyler took it all remarkably well, and he told JC not to worry, it'll all work out. JC also said they should have kept Sam as it would be easier now, Tyler said she didn't really deserve to be in final three, and JC said Angela didn't either, that he (JC) had been protecting her all along. He did some season rehashes and it became clear JC had gone from zero to full-blown HOHitis in 92 days. Later Kaycee and Tyler had a check-in and compared their JC notes and what they'd each been telling him, and how he still had no idea how tight they are. Kaycee said her speech will be hard as they are both her closest friends in there, but she will evict Angela. They also talked about scenarios as far as the final comps and how they should play those to ensure JC doesn't win. Tyler again denied he and Angela are in a relationship when Kaycee asked him - she smiled, sipped her tea, and said they're cute.

Again, my Twitter account has been unlocked. Thank you once more for all the support and welcome backs <3

GET THE FEEDS to watch everything unfold, and catch up what you missed on my previous week's page, and/or Hamsterwatch Forum thanks to @UGotBronx, and please remember to use my Amazon link for any Amazon shopping anytime, USA or Canada - thanks!



Ratings - Please Stop Singing edition
Ratings are based on and sung to the tune of 'The Real Tyler' song by JC and Kaycee
VTE = Voted to evict




They
Told me what I could say
My rules I did obey
But now I'm locked away

PS My Twitter was reinstated, so this little ditty is now outdated and obsolete





Won: Nothing yet
HOH 3 - Veto 2 - Noms 2 - HN 1

#1 Won veto/used on JC
#1 VTE Brett
#2 No vote (HOH)
NOMINATED

She
Hates Sam upon the stair
The jury she can't bear
They're votes - she doesn't care





Won: Nothing yet
HOH 1 - Veto 0 - Noms 2 - HN 3

#1 VTE Brett
#2 No vote (nominee)
HEAD OF HOUSEHOLD

He
Can be a little putz
His mouth he never shuts
He's driven us quite nuts





Won: 1st eviction immunity; 2 weeks Pinwheel; 1 week Peanut; Hacker #2; Hacked self off the block Week 7
HOH 1 - Veto 5 - Noms 3 - HN 2

#1 VTE Brett
#2 Won veto/did not use
#2 VTE Sam
HOLDS VETO

She
Has fewer enemies
Than both of her teamies
The win is hers to seize





Won: $2500 (on TKO); Power App #2 The Cloud (unused); Hawaii trip; Week 6 vote nullified
HOH 3 - Veto 3 - Noms 2 - HN 3

#1 No vote (HOH)
#2 VTE Sam
NOMINATED

He
Tried very hard to shmooze
His many final twos
They overlooked the clues





Won: 2 weeks Robot; Power App #1 Bonus Life
HOH 1 - Veto 0 - Noms 4 - HN 3

#1 No vote (nominee)
#2 EVICTED 2-0

She
Might be a little cray
But I think that's okay
There's nothing more to say





Won: 1st eviction immunity; 24 hours InstaGranny
HOH 0 - Veto 1 - Noms 4 - HN 2

EVICTED 3-0
He and Winston were inseparable bros at first, sometimes offensive, often comical and often obnoxious, but he survived Winstonbro's early eviction and went far, mostly due to being in the strong Level 6 alliance. He was a good spy for them, first setting up to be a perceived outcast and then as a double agent, and he did well infiltrating the other side. But he didn't pull his weight comps-wise and when he started trying to work Tyler against Kaycee and Angela, they decreed he had to go. He gave three unexpected and extremely memorable nominee speeches but when he was the double eviction blindside renom and evictee, he went quietly. Along the way he gave us ANALLICE, broke the front door with a prank gone wrong, started an oven fire, and created an alter ego named River Dan when he found Angela's stunt hair. He dominated the grill for its one-night-only appearance (disappointing BBQ Smackdown fans), and he provided far more than his share of comedy lines and overall fun feeds.





Won: 1st eviction immunity; Crap App #3 Read It; Hacker #1
HOH 1 - Veto 0 - Noms 4 - HN 2

EVICTED 4-0
She was a charter member of the doomed FOUTTE alliance and later the Hive, and she was close to figuring things out with both Rockstar and Bayleigh, but she inexplicably seemed to forget what was going on each week and started over from scratch, leading to repeated blindsides. But she survived the longest of her teamies and did well considering the opposition she was up against. She read Hamlet with a peculiar accent, and she featured in several crush triangles, getting cozy with Brett, Scottie, and Fessy. She settled on Fessy even though they had a rocky start, magnified by a sippy game of Would You Rather that he didn't like. Their relationship continued being rocky, alternating makeouts with bickering, and she bashed him after he left but that may have been for game purposes, as she'd continuously denied being showmancy with him. Her comp performance was inconsistent, sometimes great and sometimes awful, and she wasn't able to win when she had to. She featured in several tally items, and her house meeting to confess being the first Hacker set off the biggest fireworks of the season.





Won: $5,000; 1st eviction immunity; Greece trip; Hacked off the block 6th week; 1 week revival
HOH 1 - Veto 1 - Noms 4 - HN 4


3rd juror/8th evicted 6-0 Day 65

- Revived Day 72 - 4th juror/10th evicted 5-0 Day 79

He came in a fan but partnered up with only Steve and was on his own Day 15. Then he cast a hinky vote and was blamed for all the stray votes going forward. But he lasted quite awhile despite all that, and he played something of a 'floater' game (floating side to side) which contributed to his first eviction. He fell for Haleigh and while he didn't do or say anything out of order with her, that was the other (bigger?) reason Fessy put him up - never mind that Level 6/5/4 had engineered it that way. But it was fun to watch Scottie fall head-over-heels, and touching when he finally admitted he had feelings for her that he didn't know how to process. His revival week didn't go any better and he went right out again (with a Hilton Head bang), but disastrous game aside, he was often a star for Team Fun Feeds, contributing more than his share of Lines of the Day and constantly doing unexpected and very random things. Last but very far from least, he broke up the Brett/Winston bromance on his HOH.





Won: 1st eviction immunity; Crap App #1 Hamazon
HOH 1 - Veto 2 - Noms 1 - HN 3
3rd juror/9th evicted 4-1 Day 72

He provided a lot of comedy, but most of it was unintentional. He was vocal about hoping this would open doors for followers, advertising offers, and other shows, and it might. But he was unable to figure out how this show worked, even after being blindsided week after week. He got stuck on the Week 2 Brett vs Winston vote and held onto that all season, and even when Haleigh told him there were two sides playing, he promptly forgot and fell right into the same traps, as did she. He put up his ally Scottie on his HOH and said it was the 'biggest move in BB history' but oops, not so much. He liked Angela at first, then Kaitlyn and Haleigh, but he finally gave his rose to Haleigh. She balked a little at first but they finally kissed and from there it was alternating bickering and slurpydurp when they were together. Fessy slept a lot, ate a lot, broke the HOH sink, and made a lot of messes that ticked off some of his roomies, but he won some comps and doesn't seem like a bad guy overall, just a little clueless in some areas.





Won: 1st eviction immunity; 1 week Food and Fitness program
HOH 0 - Veto 0 - Noms 3 - HN 1
2nd juror/7th evicted 5-1 Day 58

She filled the requisite 'weirdo' casting slot but as with many hamster weirdos before her, she was pretty 'normal' despite her alternative appearance. She had issues early on with Angela and Brett in particular, and she held on to those issues so tightly they got in the way of her logic. She got continually hung up on her theories of what was going on but unfortunately for her, those theories were mostly wrong. She and Haleigh did see Tyler as a game threat fairly early, but they weren't able to do much about it until Haleigh's HOH week, but they didn't plan around enough Hacker scenarios and Rockstar went out on her one-time bestie's HOH. Her first nomination was messy but she handled her second well, partly due to Jessie's Food & Fitness program which she also handled pretty well. She griped a lot, with odd and ever-changing accents, and while she handled most things well at first, she was a good sport about them eventually, even Brett's horrible speech accusation 'on [the eve of] her daughter's birthday.'





Won: Power App #3 Identity Theft (unused)
HOH 1 - Veto 0 - Noms 1 - HN 1
1st juror/6th evicted 6-1 Day 51

She was very watchable and gifable, with the best facial expressions no matter what, including multiple shockfaces. She was isolated with Swaggy the first couple weeks even though he was busy running around, but rather than becoming a gloomy showmance widow, she came out swinging when he left and embedded herself well all around - a little too well, as that moved her quickly up the target ranks to the tippy top. She said some controversial things and may have had the first in-house pregnancy? That hasn't been officially confirmed. She won a power that went unused, partly because she blabbed she had it, and that was the real reason she went out when she did. She did a slow simmer when she went on the block as blindside renom, but Hurricane Bayleigh made landfall two days later, as a Category 5, in a spectacular outburst of anger and frustration that culminated in 'spewing blood' after she bit herself. The kicker? Her anger at Tyler was mostly due to an inaccurate retell. The 29th consecutive North American hamster to enter the habitat first and not win their season.





Won: 1st eviction immunity; Crap App #2 Yell!
HOH 0 - Veto 0 - Noms 1 - HN 1
5th evicted 5-4 Day 44

Her blindside stung more than some because much of it was due to a pack of lies plus betrayal by her BB bestie Angela but hey, welcome to Big Brother. And she did buy some of it herself by losing her mind on the block, and that was after she agreed to go on it. She had nip slips and towel flashes almost daily, for those interested. She said she's a performer almost daily too, sometimes multiple times a day, and she did come alive when she was acting out skits, dancing, or singing ('please stop singing') but the rest of the time she seemed guarded and I don't feel we got to know who she really is at all. Her rough 'n tumble friendship with JC was fun, especially when they'd break serious convos for their quick-and-done J's Party dance. Her pal Jackie didn't fill her in enough about the rotten meat and rancid potatoes of this game, but she held her own pretty well until she didn't. Her birthday was memorable, thanks to Kaitlyn using the occasion to yell at Brett.





Won: Bonus Life 'chance' (failed)
HOH 1 - Veto 0 - Noms 1 - HN 1
4th evicted 9-1 Day 37

It's safe to say we knew more of her backstory than any hamster ever, since she seemed to bring it into every convo. She talked a very lot, and she squeaked, whimpered, babytalked, croaked, and cried a lot too, plus she canoodled with three guys (Tyler, Brett, Fessy). She caused a lot of chaos which is good, but she was often exhausting about it. New age interests are fine, some clairvoyance is trippy and fun, but her 'intuition' was nearly always wrong. It's probably just as well she failed the Bonus Life puzzle since she'd gotten to the point of getting 'hits' from shampoo labels. It was Tyler's doing, but she still gets the credit in the books for backdooring Swaggy and breaking up a showmance in the second week: something most seasons haven't been able to manage til the end, if at all.





Won: Nothing
HOH 0 - Veto 0 - Noms 2 - HN 1
3rd evicted 6-5 Day 30

He too came in saying all the right things: he wasn't here to get a girlfriend or Twitter followers, and I had him pegged as either a dark horse who'd go far, or a too-hard-too-soon kind of guy. Turned out he was the latter, probably because he just discovered BB last summer and binged several seasons since without realizing there's a lot more to it than the show edits let on. He spent most of his time playing Jenga and broing around with Brett, and the two of them provided a lot of unintentional comedy in the form of buffoonery. He made manic facial expressions while going on angry whisper rants, he threatened speech call-outs but didn't follow through, and for all his jock/winner self-hype, he failed every comp.





Won: 1st eviction immunity
HOH 0 - Veto 0 - Noms 1 - HN 0
2nd evicted 8-4 Day 23

Pre-season he said all the right things (albeit in his own unique, third person way), but he started off way too strong and way too Swaggy for his own good. He gave us great shockface when Steve was evicted but it didn't sink in that he wasn't fully plugged in, so he gave us another when he went up as backdoor renom. To his credit, he campaigned his brains out to stay rather than lay down to die, but it didn't help. His pre-show QAs said he was wary of showmancing but he fell for Bayleigh anyway, and together they were one of the cuter 'mances to watch - it helped that they didn't slurpydurp too much. Swaggy C was a good character for TV, but Chris was a good hamster and will be missed.





Won: Nothing
HOH 0 - Veto 0 - Noms 1 - HN 0
1st evicted 7-6 Day 16

The Summer of Steve™ ran just a couple weeks and his job lie(s) didn't help him any. He might have been better off if he'd been open about his undercover past and teaching present as both would have let him share more stories, or if he'd gotten in with Kaitlyn and Rockstar via his wife's new age interests and books. He and Scottie buddied up but otherwise he was odd dad out. He didn't keep up so believed he was safe, and he didn't really campaign to stay. It might not have helped if he had because all the scurrying was elsewhere, but it wouldn't have hurt. He didn't get his required nightly baths but he learned to clean his ears, and early risers in particular will miss him.



Lines and Links of the Day

Tally Items
Extracurricular Tally

Minor fights: 3
8/2 11.09pm Bayleigh vs Rockstar
8/11 (8/15 show - wasn't on feeds) Kaycee vs Rockstar
8/11 11.28pm Haleigh vs Fessy

Major fights: 1
8/8 12.25pm Bayleigh vs Tyler

Revive-a-Hamster: 1
Scottie

Blindside evictions: 6
Steve
Swaggy
Winston
Kaitlyn
Rachel
Brett

Fires: 1
Brett's oven bacon

Broken sinks: 1
Fessy

Broken front doors: 1
Brett

House meetings: 3
Kaitlyn's about Brett 7/15
Sam's about Hacker Comp 8/2
Haleigh's Hacker confession 8/8

Nominee speech scorchers: 5
Brett at Week 3 veto meeting (shading Kaitlyn)
Brett at Week 3 eviction (saying Rockstar would flip her vote and blame it on Kaitlyn
Brett at Week 5 eviction (saying Rachel told him about Bayleigh's power, and was head of girls' alliance)
Fessy at Week 9 eviction (dragging Angela)
Scottie at Week 10 eviction (dragging Tyler and Angela)

Robot weddings: 1
JC and Sambot

Makeout pairings: 3
Bayleigh/Swaggy
Haleigh/Fessy
Angela/Tyler

Alleged sex events: 5
(subject to interpretation)
7/2 4.45am Bayleigh/Swaggy
7/7 3.55am Fessy (self-service)
7/12 12.27am Bayleigh/Swaggy
7/24 6.26am Brett (self-service)
7/24 7.27am + 7.45am Brett/Kaitlyn

Injuries, illnesses, etc: 41
Steve's cut toe and belly welts from 1st veto comp
Sam's leg bruises from 1st veto comp
JC's burned finger from the stove
Kaycee's burned hand from hot oil spatter
Winston's tossed (something) hitting his face
Winston's foot blisters
Haleigh's sore neck (from braids?) and blurred vision
Bayleigh's pulled leg muscle from tripping on stairs
Swaggy's smashed thumb
Winston's/Scottie's skinned knees from spinny veto
Rachel's bashed toe from Have-not door
Kaitlyn's cut finger from wall endurance comp
Kaitlyn's sore neck and trouble swallowing
Haleigh's mysteriously bleeding finger
Rachel's scraped back from a fake lemon
Rachel's bloody lip from JC's play-smack
Rockstar's bee sting
JC's sore shoulder
Sam's bacon spatter during her anti-Hacker house meeting
Bayleigh's bitten cheek or tongue during Haleigh's house meeting
JC's cut leg from bathroom couch
Rockstar's banged up hands from OTEV comp
Haleigh's cut finger from OTEV comp
Fessy's sore knee from OTEV comp
Tyler's sore back from lifting
Fessy's sore back from tripping over Rockstar's bag
Fessy's sore back made worse from slippy slide HOH
Angela's sore back from slippy slide HOH
Brett's sore feet from slippy slide HOH
Sam's allergic reaction to tuna and/or hemp seeds in it
Brett's sore knees from hide 'n seek veto
Scottie's sore arm from hide 'n seek veto
Haleigh's bleeding finger from chewing it
Tyler's belly burn from a slop cooking spatter
Haleigh's swollen lymph nodes
Haleigh's hurt finger from spinny HOH comp
Brett's cut hand and rolled ankle from Comics veto
Kaycee's sore knees from Comics veto
Brett's cut finger from double eviction veto
JC's mysteriously swollen finger
Angela's cough from the maze veto fog

Pinkyswears: 34
7/1 Kaitlyn/Tyler
7/2 Kaitlyn/Faysal
7/3 Kaitlyn/Haleigh
7/4 Sam/Scottie
7/5 Kaitlyn/Tyler
7/6 Sam/JC
7/6 Kaitlyn/Tyler
7/9 Kaitlyn/Tyler
7/10 Kaitlyn/Tyler
7/10 Bayleigh/Rockstar
7/13 Haleigh/Scottie
7/13 Kaitlyn/Tyler
7/13 Sam/Scottie
7/15 Bayleigh/Kaycee
7/17 Angela/Rachel
7/23 Angela/Rachel
7/23 Lil Fartlettes four-way
7/27 Bayleigh/Rachel
7/28 Bayleigh/Rachel
7/31 Angela/Sam
8/4 Tyler/Kaycee (air pinky)
8/5 Sam/Tyler
8/7 Sam/Rockstar
8/8 Haleigh/Fessy
8/9 Angela/Scottie
8/9 Sam/Rockstar
8/10 Tyler/Haleigh
8/10 Tyler/Haleigh
8/16 Sam/JC
8/17 Sam/Brett
8/18 Sam/Fessy
8/28 Fessy/Haleigh
9/12 (9/16 show) Tyler/Angela
[unsure when] Tyler/Angela

Scandals & controversies outside our BB world: 13
JC's ice cream scoop + inappropriate grabby
Angela's & Rachel's over-tanning comments
Kaitlyn's n-word lyric
Kaitlyn's boyfriend
JC vs Bayleigh vocabulary incident
JC asking Rachel if she's transexual
Sexual harassment allegations against Les Moonves (could affect BB in the future?)
Bayleigh's pregnancy scare(?)
JC finding out about #MeToo
JC cuddling & pit-kissing sleeping Tyler
JC blocking the toilet door open on Haleigh
Scottie's second eviction speech
'I'm Julie Chen Moonves' signoff on 9/13 show

Pre-season fanbase + alum dramas: Too many to list

Pre-season Minion abuse events discovered: 1 JC



Production Goofs

1 CBS site lost the cast after reveal for at least 12 hrs
2 Staff seen prepping the stage (maybe intentional)
3 Its/it's error
4 Ceiling issues in official press pics
5 Several staffers seen in Julie's house tour
6 Misspelled JC's last name on BB site & press materials
7 JC's bio mixed up Cuba with Spain
8 Allison mixed up 20 seasons with 20 years
9 Messenger Bot still needs tweaking
10 Several misspellings in move-in press photos
11 Random guy onstage in move-in press photos
12 Misspelled Brendon on premiere
13 Messenger Bot crashed upon launch
14 Feeds countdown was off varying minutes on launch day
15 More misspellings in press photo captions
16 Sambot malfunction
17 After Dark tweeted eviction when it's not
18 Video promos have last year's show schedule
19 Quads crashed Day 13
20 PS4 feeds has a show tonight (on Monday=no) plus Celebs disclaimer
21 Forgot to remove placeholder text in new batch of press pics
22 No audio for Julie talking to us after recap clips on July 5 live show
23 Quick shot of Bonus Life comp setup during July 5 live eviction
24 Conflicting how-to-vote info for BB App Store voting
25 Forgot to change the automated image for the voting URL
26 Staffer's reflection seen on feeds
27 Broken awning
28 Wrong show day and time on Youtube promo
29 Another reflection from inside the walls showed up
30 HOH comp setup glimpsed by a few a day early
31 Misspelled Ross's & Marissa's last names in press pics
32 Problematic headline grammar
33 Press release said time change for 7/11 only, but it also applied to 7/18
34 Misspelled sponsor 'Mamma Mia' in press pics
35 'About BB' page has wrong BB1 premiere date
36 Your/you're error on 7/22 show
37 Misspelled Sam's and JC's names in press pics, plus Wednesday time change not incorporated
38 Wrong season for Nicole's win
39 Allison mixed up 20 seasons with 20 summers
40 Labelled Haleigh's pic as Kaitlyn
41 Labelled Bayleigh as Celebrity BB
42 Apostrophe error in 8/1 show subtitles
43 Another quiz error (Faysal is correct)
44 Press pics captions again: comp title + time change still not updated
45 The Cloud power app icon appeared on intercom monitors
46 Used a jury house pic with "within the Big Brother house" headline
47 Press pic caption shows Orville for BBAD's Orwell
48 Erroneous placement tally in Hacker Comp #1
49 Press pics again: veto comp title plus Wednesday show time
50 Hamsters couldn't hear Julie talking to them on 8/9 show
51 Allison again with '20 summers' (see #39)
52 Wrong-size shirts with their names were left behind after OTEV comp
53 Misspelled Haleigh's name on in-house nametags
54 Misspelled Angela's last name in press pics
55 Angela's last name and its/it's again, Wednesday time wrong still, 'Big Brother' repetition
56 Merch promo implies Hacker twist is still going, a week after it ended
57 Staffer visible in HOH comp press pics
58 Tagged the wrong person in HOH QA
59 Misspelled Faysal's name in press pics
60 Commercial featured final nominees before veto meeting aired
61 Mixed up HOH with veto, and misspelled 'even'
62 Leaked Battle Back comp setup
63 Staffers seen during Fessy's exit interview
64 Staffers seen during Battle Back comp
65 Diary audio leak about Tyler's nom plans
66 Wrong description for BB8 veto highlight
67 Staffers seen on feeds
68 Misspelled Scottie's last name
69 Calendar issues in Flashback
70 Diary audio leak about Kaycee's HOH room
71 Wrong season for Victor
72 Misspelled Angela's name
73 Diary audio leak, Kaycee in there again
74 Julie called Brett 'Brent' on 9/13 show
75 Misspelled comp title in press pic caption
76 Grammar error in press pic caption
77 Bebe Rexha's guitarist getting set up on feeds
78 Conflicting start times for 8/16 show
79 Staffer face reflection during whip cream fight
80 Misspelled Angela's last name, again
81 Comp prep stand-ins seen on After Dark




Season Stats
HOHs in order: Tyler; Kaitlyn; Scottie; Sam; Bayleigh; Angela; Haleigh; Faysal; Angela; Tyler; Kaycee; Tyler; Angela; JC

Veto winners in order: Faysal; Tyler; Scottie; Faysal; Tyler; Angela; Tyler; Brett; Kaycee; Kaycee; Kaycee; Angela; Kaycee; Kaycee

Evictions in order: Steve 7-6; Swaggy 8-4; Winston 6-5; Kaitlyn 9-1; Rachel 5-4; Bayleigh 6-1; Rockstar 5-1;

Scottie 6-0;

Faysal 4-1; Scottie 5-0; Haleigh 4-0; Brett 3-0; Sam 2-0

Pre-jury Twitters: @bb20Steve; @SwaggyCTV; @BB20WinstonH; @kaitcoaching; @rachieswin
More social media links in cast folders at Hamsterwatch Forum








Linking to any page here is fine. Please don't repost content from this site (or any other) without permission, and don't repost or hotlink images.



THE REAL SHOW IS THE FEEDS


SAME DAY AIR SHOWS
Live air shows in some areas
BB1 thru BB19 and many other CBS shows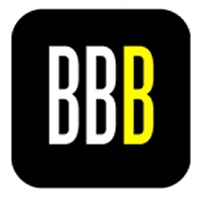 BIG BROTHER BUDDY
Get push notifications for all the big feeds events - iOS or Android


HAMSTERWATCH SWAG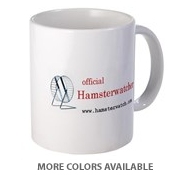 Mugs, shirts, more
Visit my Cafe Press shop






Big Brother 20 SEASON FAQ


Day 1 Move-in was June 20
Day 8 CBS premiere is June 27
Day 9 Feeds begin June 28
Day 99 Finale will be September 26

Feeds are streamed by CBS, and Flashback is accessible via All Access subscription. Call 888-274-5343 for account help, including cancellation.

Air shows on CBS (Global in Canada) are Sundays 8pm, Wednesdays 9pm, eviction Thursdays 9pm.

Big Brother After Dark on Pop TV is every night midnight to 3am, except Thursdays 1am to 3am. The aired blocks are live (or recorded earlier the same night, depending on your cable provider).

The CBS app (by CBS Interactive) plays BB air shows and other CBS shows, as well as feeds, or you can use your browser to watch feeds on mobile devices. The same All Access link used to subscribe will lead to the feeds viewing page if you're already signed up.

BB20 finalist prizes are the same: $500k for the winner and $50k for 2nd place. Stipend for the others is $1,000 per week again, including pre-show hotel and jury sequester. Top finishers get bonuses this season: $5,000 for 5th place, $7,000 for 4th, and $10,000 for 3rd.

The habitat has 94 HD cameras (up 7) and 113 microphones.

The recorded in-house announcements are the voice of producer Don Wollman. He and Julie Chen are the only staffers who have been there since Big Brother 1.