This site is about the Big Brother 20 feeds and contains spoilers! It isn't necessarily thorough: it's what I catch and/or what interests me. It's about watching hamsters: who's doing what and why. Thanks for encouraging my behavior.
Your pal, dingo



PROTECT YOUR ONLINE PRIVACY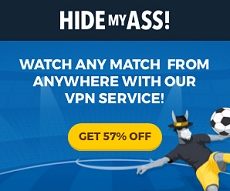 CELEBRITY BB UK
STARTS AUGUST 16
Watch BB Canada, BB UK, Survivor Australia, Survivor New Zealand, and other non-USA shows




HACKER COMPETITION TWIST

Each week's Hacker Comp winner could replace one nominee, select one veto player, and nullify one vote

#1 Haleigh
-Replaced Scottie with Tyler
-Picked Kaycee to play veto
-Nullified Tyler's vote

#2 Kaycee
-Replaced self with Rockstar
-Picked Tyler to play veto
-Nullified Fessy's vote





APP STORE VIEWER VOTE TWIST

WINNERS - POWER APPS
BONUS LIFE #1 Sam
-Could give 1st, 2nd, or 3rd a chance to return to the game
-If unused, 4th evictee automatically got a chance
-Kaitlyn failed to complete the puzzle
THE CLOUD #2 Tyler
-Immunity at any one noms or veto meeting within 2 months
-Expired unused
IDENTITY THEFT #3 Bayleigh
-Can replace noms one time before final eight
-Was not used

Not selected: Re-Draw, Upgrade

LOSERS - CRAP APPS
HAMAZON #1 Faysal
-Periodic [vegan] ham deliveries, had to eat it all
YELL! #2 Rachel
-24 hours getting yelled at
READ IT! #3 Haleigh
-Read Hamlet in costume

Not selected: Fake News, Spammed

Limit one per hamster, whether winner or loser - Voting info & rules







BB20 DRINKING GAME


Take a swig whenever there's a coulda/woulda/shoulda convo







QUICK LINKS & BOOKMARKS



-SIGN UP for feeds
-WATCH the feeds
-BB20 official site
-Live show tickets

-Feeds updates by @UGotBronx
-My Twitter - my screencaps
-Amazon portal USA or Canada

-Dick at Night with @EvelDick

-BB Viewer by @liquid8d
Requires All Access account

-BB20 Wiki
-CBB UK Wiki

-Hamster Twitters
BB USA - BB Canada

-Advice for cast friends/family

-VPN to watch BB UK and/or to protect your online privacy







EAST COAST AIR SHOWS



CanadaTV for Roku
$2/month - Global airs BB USA

East coast air show live streams:
- 1 - 2 - 3 - 4 - 5
NO DOWNLOADS OR SIGN-INS NEEDED - BEWARE OF CLICKING POPUP ADS OR WARNINGS




Donations via Paypal are gratefully accepted!


Watch Big Brother
Seasons 1 thru 20
Plus tons more CBS content






BIG BROTHER SEASONS



CBS All Access
Seasons 1 thru 20

Amazon DVDs BB4 - BB3

Amazon Instant Video
BB18 - BB17
- BB16
- BB15
- BB14
- BB13
- BB12
- BB11
- BB10
- BB9
- BB8
- BB7





BIG BROTHER 20 FEEDS EXCLUSIVELY ON CBS ALL ACCESS
All Big Brother USA seasons + most CBS shows past or present are included
$5.99 PER MONTH INCLUDING 1 WEEK FREE TRIAL or $9.99 AD FREE
COMPUTER - MOBILE - ROKU - CHROMECAST - APPLE TV - ANDROID TV - FIRE TV - XBOX 1/360 - PS4


>> >> >>

>> >> >> >> >> >>

>>

Amazon USA
- Amazon Canada
August/September 2018
Power Status
Feeds are underway and they are the real show - SIGN UP NOW and get a one-week free trial! No promo code needed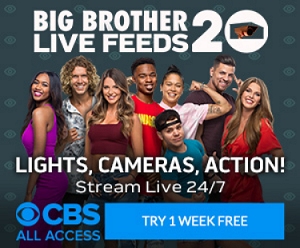 Fessy evicted 4-1
Scottie was revived

Tyler is Head of Household
Kaycee won veto/did not use
Haleigh, Scottie are nominated

JC, Sam, Scottie are Have-not


Upcoming Feeds Events
Thursday night: HOH comp (if not finished on the show), HOH room
Friday: Nominations
Saturday: Veto comp, Have-nots end (midnight)


Remaining Shows
9/6 Thursday 9pm - Live eviction, HOH comp (or partial)
9/9 Sunday 8pm - HOH comp (if not completed Thursday), nominations
9/12 Wednesday 8pm - veto comp, veto meeting
9/13 Thursday 9pm - likely live double eviction
9/16 Sunday 8.30pm **special time** - 2nd HOH comp, noms
9/19 Wednesday 8pm - veto comp, veto meeting, eviction, HOH comp (likely taped Tuesday)
9/20 Thursday 9pm - final noms, final veto comp, live veto meeting, live eviction
9/23 Sunday 8pm - Final 3 season review, start of Part 1
9/26 Wednesday 9.30pm - live 90-minute finale

CBS schedule is Sundays 8pm, Wednesdays

9pm

8pm, live eviction Thursdays 9pm - stream links to watch East Coast airing online are posted in Quick Links & Bookmarks on the left sidebar

After Dark airs for three hours every night on Pop - times vary by area and provider, check your cable guide

CELEBRITY BB UK IS UNDERWAY - Watch live or archive shows with HMA safe, easy, secure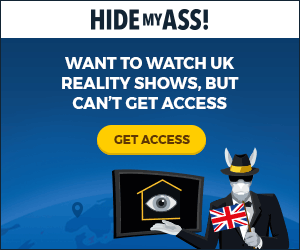 -Watch live at Channel 5's online live stream
-Outside UK use HMA to get around geoblocking, and protect your online privacy at the same time
-Click for cast list

-Shows are usually daily but check the air show schedule for 5 and 5Star - UK time is 8 hours ahead of Pacific and 5 hours ahead of Eastern

-The CBB official site has archive air shows and talk shows, highlights, previews, and info


Other News
Alliance charts by @89razorskate20: Day 77

Hamsterwatch Forum for real-time feeds updates, screencaps, and air show recaps by @UGotBronx

Diary segment tally by @clamperls

Week 9 popularity poll results #1 Tyler, #2 Haleigh, #3 Brett
Follow @89razorskate20 on Twitter to participate: weekly polls launch every Monday 4pm PT/7pm ET

Post-eviction shows are hosted by BB Celeb runner-up Ross Mathews and winner Marissa Winokur, Fridays on Facebook Watch. The first (no eviction) ran June 29.

Ratings Watch Thursday's eviction/revival show won the hour with 1.8 rating, 8 share, 6.86 million viewers, ahead of The Gifted rerun on FOX with 1.1/5/3.97, Will & Grace and Superstore reruns on NBC with 1.0/5/4.34 and 0.8/4/3.73, and Take Two on ABC with 0.9/5/4.50.

Sunday's show placed second with 1.2 rating, 6 share, 4.68 million viewers, behind college football on ABC with 1.9/9/6.12, and ahead of Dateline rerun on NBC with 0.6/3/4.88, and The Simpsons and Bob's Burgers reruns on FOX with 0.4/2/1.10 and 0.4/2/1.01.

Wednesday's show won the hour with 1.5 rating, 7 share, 5.45 million viewers, ahead of (but fewer viewers than) America's Got Talent on NBC with 1.4/7/9.73, and Masterchef on FOX with 1.0/5/3.36, and The Goldbergs and American Housewife reruns on ABC with 0.7/3/2.84 and 0.6/3/2.32.

Rating and share: adults 18-49 - Rating: % of all TV households - Share: % of households watching TV


Week 10 - Days 72 thru 78 - August 30 thru September 5, 2018
Daily and Noteworthy Events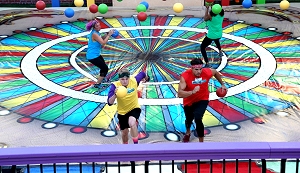 Evicted: Fessy
Revived: Scottie
Head of Household: Tyler
Have-nots: JC, Sam, Scottie
Original noms: Haleigh, Scottie
Veto winner/outcome: Kaycee/did not use
Final noms: Haleigh, Scottie
Evicted: Scottie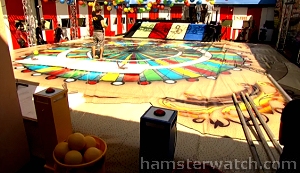 Day 72 Thursday August 30
A comp being set up was glimpsed on the feeds for a nanosecond, adding yet another item to the Goofs Tally below, and leading to much speculation about tonight's arrangements. It looked like it might be the one where they grab balls and drop as many as possible into tubes below, and it looked like there were four ramp lanes which made it seem like it will be the Battle Back setup. An info scroll on feeds said "Tune in to the Live Feeds after tonight's episode for a special dose of drama, then stick around to see who is crowned the new HOH!" Then I got the email that said feeds will return after the show with the revived hamster in place, and the HOH comp will be on feeds after that. So be sure to sign up for feeds to watch it all play out live!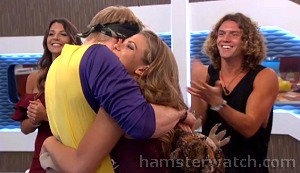 Fessy was evicted 4-1 with Sam the dissenting vote, after a salty speech with several Angela digs. The Battle Back comp was indeed the fetch and drop balls into a tube over a railing in a circus theme setting, titled Big Top Drop this time. Julie told the seven in the house the four would comp to revive one, but they weren't allowed to watch. Fessy greeted his fellow evictees with hugs, plus an apology to Scottie. Being so tall, Fessy leaned so far over the railing he could practically touch his tube, but he dropped a few anyway and lost time getting back to his feet, and Scottie won. He ding-donged and re-entered the habitat to cheers, smiles, and hugs. Haleigh accidentally bopped Sam in the face giving Scottie a hug, and between that and everyone trying to provide updates to Scottie at the same time, Sam went into mopey isolation for awhile. Or maybe just Sam being Sam. Later she talked to Angela about her vote and their history, and Haleigh, and Brett.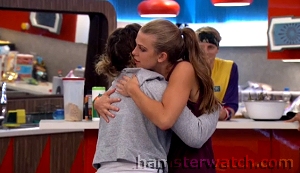 Scottie told them the jury house was nice, with activities, movies, and lizards, and that both Bayleigh and Rockstar were relaxed there. He said he figured out Steve might be a cop due to a badge he saw at some post-eviction interview, and he said all the pantry items he took were confiscated. Haleigh said several times, re Fessy losing tonight's comp as well as last week's veto that "everything happens the way it's supposed to happen."

An update to last night's toilet door incident: Haleigh told Fessy this morning that Allison Grodner talked to her about it, and she said she didn't want JC to get in trouble for it. And an update to the Tuesday night touching/kissing incident that spread wide today, as part of Scottie's news catch-up, Brett joked "JC and Tyler made it official" but JC said "well, we broke up this morning, production made us break up because they cannot have a gay relationship in the house." That's surely JC-speak and not what they said at all. More likely JC's not allowed to share a bed with Tyler anymore, which is probably a first.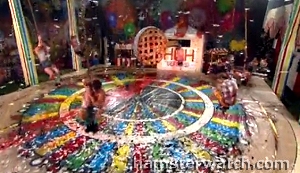 Feeds came on to the HOH comp around 10.42pm. It was the spinny one where they hang on spinnable cables as they're rotated around in a big circle, this time in a country fair setting. They were periodically flung into a big cherry pie that juiced them, and ketchup and mustard started squirting them until they were covered in goo. Then feathers were dumped on them. Outs in order with approximate times were: JC 10.49pm; Sam 11.06pm; Scottie 11.09pm after a rapid spin cycle; Brett 11.21pm; Kaycee 11.31pm; Haleigh 11.47pm with a hard fall, leaving Tyler the new HOH after an hour and change.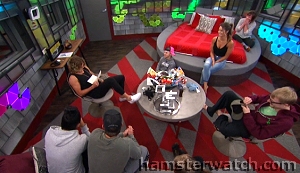 Haleigh stomped around and cussed a lot about Sam having cheered on Tyler, but mostly they were exhausted and a few of them still nauseous. Tyler got his room just before 2.40am, and just after a Diary audio leak asking who he thought he'll put up - he said "probably Haleigh and Scottie." He got the usual snacks and cereal haul along with photos, new hats, shades, socks, a shirt, a stuffed doggie, cookies from Pop, ice cream, eggs, berries, broccoli, music by Marshmello, and a chatty letter from his mom.

GET THE FEEDS to watch everything unfold, and catch up what you missed on my previous week's page, and/or Hamsterwatch Forum thanks to @UGotBronx, and please remember to use my Amazon link for any Amazon shopping anytime, USA or Canada - thanks!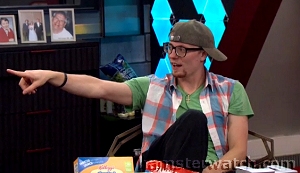 Day 73 Friday August 31
Between the pie whacks and the nausea, Haleigh and Kaycee in particular had problems recuperating from the comp. JC went JCing to Tyler about noms and especially renom if needed, with Tyler finally telling him he "needs to calm the fuck down." Tyler and Scottie had an info exchange, game-wise, including jury retells from Scottie about being told Tyler was his enemy, and from Tyler about the Fessy/Haleigh pitch to him/Angela, and that Fessy/Haleigh had told everyone Tyler was targeting Scottie. Tyler said nobody had wanted him to go, and the same goes this week, though he hinted he'll probably be going up against Haleigh, with her as the target (though Scottie was actually the target). They had a comical comparison of the many early season one-way crushes and how they'd impacted the game, and Tyler told him everyone thought he and Angela are showmancing now, adding that they are not. Tyler also said Haleigh had pushed him hard this morning to put up Sam, saying "it was actually kinda bad, the shit Haleigh was saying."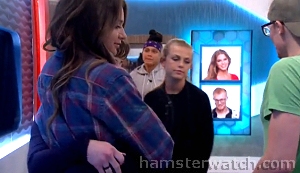 Tyler nominated Haleigh and Scottie as planned, and feeds came back during the hugging phase, as JC walked around with a near-smirk on his face. JC went to HOH with Tyler to commend him on his noms, rehash, and say "what a boring ass day." Tyler said he really likes Scottie and "it's just game, it sucks." JC also mentioned in passing that he's not allowed to touch Tyler, so that talking-to included more than not sharing a bed. Haleigh took to her Have-not satellite dish and went undercovers to cry but was up again before long, and asked Tyler, Kaycee, JC if they can still be friends even though she was on the block - they said of course. Brett and Scottie spun the sofa around and suited up to climb the wall - literally, not figuratively (this time), and they did some other working out while Angela ran the HOH balcony back and forth.

It was a quiet evening with some horsing around, some chit-chat, and some gametalk, with most of them in bed before 11pm.

GET THE FEEDS to watch everything unfold, and catch up what you missed on my previous week's page, and/or Hamsterwatch Forum thanks to @UGotBronx, and please remember to use my Amazon link for any Amazon shopping anytime, USA or Canada - thanks!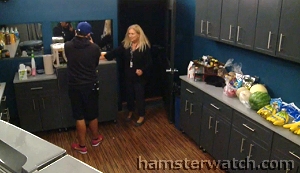 Day 74 Saturday September 1
The new hamsters arrived today - no, I kid, just a couple staffers caught on feeds in the pantry. Scottie told Haleigh the jurors had agreed to vote as a block at finals, and he thought all six were working together (Level 6/5/4 plus JC and Sam). Haleigh said she thought maybe only the four, as she'd caught them celebrating Angela's HOH win. Still no one has pegged Tyler as the common denominator. He and Angela spent some of the time waiting to play veto cooing and cuddling in the HOH bed, like they do, and they all sat around the table to play ring toss with the flamingo miniature pool floatie for awhile, except Scottie who was napping. Later Haleigh told Tyler and Angela about Scottie saying he thought there was a team dynamic going on, and Angela said she "just can't figure out what he's up to."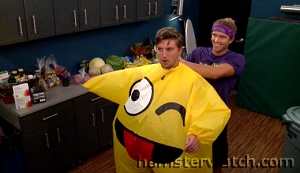 Veto players were Tyler, Haleigh, Scottie plus JC, Kaycee, Sam, with Brett hosting. Feeds were down from just before 4.30pm til just before 7pm and when they returned, Kaycee had won another veto. Players had KNOW YOUR EMOJIS shirts and Brett was in a big emoji pillow suit, complete with gold lamé pants and shoes. Tyler helped him get the pillow part off, but Brett liked the yellow shirt and golden pants. The comp involved balls they had to drop into something, balance beams and/or greased lanes, pies, water, body weight leverage, and resets for drops. Maybe it was the one where they have to gather, stack, and balance things into teetering shovels.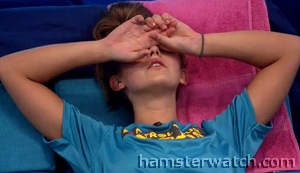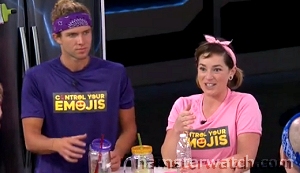 JC did well, coming in second, but Scottie performed poorly with at least one reset. Haleigh was angry about losing and cussing about Sam again, but she rebounded. Brett and Tyler had a quick check-in with Brett repeating what Tyler had already heard about a juror voting block, and Tyler said Haleigh had asked about the four of them being allied. Brett said she repeats everything she hears, so they could use her for things they want spread, but they shouldn't tell her anything they want kept quiet. Brett also said it was obvious watching the comp that Sam threw it but JC had tried this time.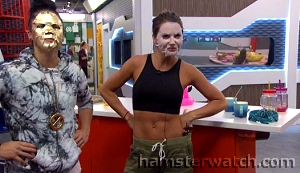 Kaycee and Angela vamped with facial masks, with Kaycee's golden one matching her veto (and Brett's pants). Haleigh repeated the convo she'd had before the comp with Tyler to Kaycee, with much of the same wording about bridge-mending attempts, feigning ignorance about Fessy's anti-Angela nominee speech, annoyance at how he'd talked to her, and the like. With everything on track to pretty much mirror last week, feeds will likely be slow this week unless BB springs something fun. I doubt Level 6/5/4 will switch from their initial plan to re-boot Scottie as they haven't waffled much all season, but you never know.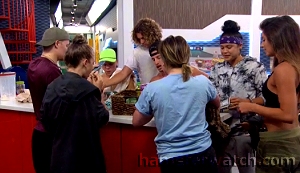 After a couple hours of Tyler and Angela cuddling in their comatose way on one side and ever-escalating Would You Rather on the other, After Dark sent them a basket of post-comp "relax and refresh" goodies: heating pads, lotions, and snacks around 10.30pm. Have-nots were starting to prep for their midnight feast so this took the wind out of those sails a bit (thought they enjoyed the treats, obviously), and while all of them were far more relaxed than anyone needed on feeds, at least it got them all vertical again. Four of the paper-like/horror facial masks were included, possibly meant for the girls, but the guys wasted no time laying them on.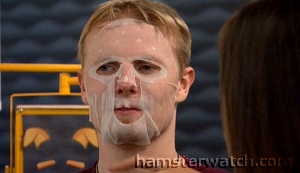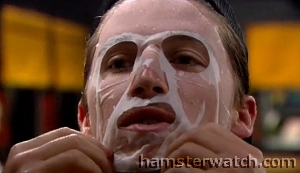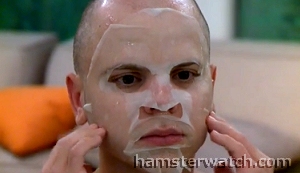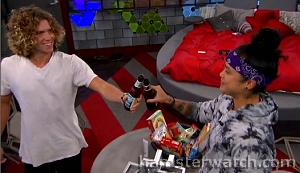 Angela and Scottie had a hammock chat where they agreed on the silliness of evictees still holding grudges once they're in the jury house, and Scottie made some good points why he should stay, but not very assertively. Sam and Haleigh chatted and laughed (yep, together) while Haleigh prepped food. Tyler slammed one of his HOH beers before midnight food, which included nachos by Haleigh and "McGregors" (McGriddles) by Brett, and then Tyler and Kaycee toasted to her veto win in HOH, another successful week, and their Coast to Coast alliance. Brett joined and had a beer, and they said they had to save one for JC who was in Diary. Angela and Haleigh joined and Haleigh sampled Tyler's HOH snacks. Later Angela returned with JC and they got their beers, but quickly hid them from Haleigh who was close behind to say good night. A delivery of a bottle of wine and four beers awaited them in the pantry, but none of them went in there as of 1.30am. Instead, JC finally got his beer and told stories to Tyler, Angela, Brett, which evolved into a lengthy bash and rehash session, which also included JC saying he'd trusted Haleigh "since Day 1." Meanwhile Scottie cleaned the kitchen and went to bed, as had the rest of them.

GET THE FEEDS to watch everything unfold, and catch up what you missed on my previous week's page, and/or Hamsterwatch Forum thanks to @UGotBronx, and please remember to use my Amazon link for any Amazon shopping anytime, USA or Canada - thanks!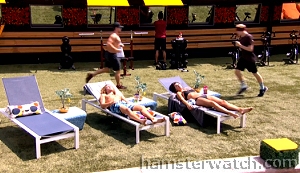 Day 75 Sunday September 2
The day began with the usual cycles of eating, working out, running laps, napping, crafting, and laying around. I don't think they ever discovered the booze last night and it was removed, which makes me wonder if this has happened before without a peek at the delivery on feeds. It could explain the drought of the last few seasons? Maybe hamsters are just missing out because they don't check. Things we'll never know.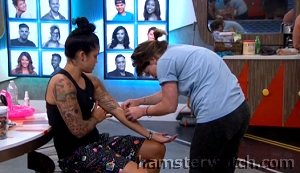 Sam fashioned a veto-shaped bandage for Kaycee who wanted to tan its outline for a later tattoo. Scottie took a hammock fall that was so hard, his shoes came off. He came down smack on the under-bar, but said he was okay. Sam told Brett she didn't understand "the game definition of working with somebody" but reiterated she'd never put him up, and she asked if he was mad or disappointed with her. He said no, and that he was blindsided by the convo and asked what brought it on. This was during the show airing so I don't know what brought it on either, if anything, but right after that she told Scottie and Angela she'd been trying to complain less and not be negative. Angela said she doesn't really complain a lot, "comparatively to the rest of us collectively." Maybe Diary got in Sam's ear, who knows. Update Much later when Brett retold to Tyler, JC, Angela they agreed Diary must have planted some seeds that Sam turned into something they weren't.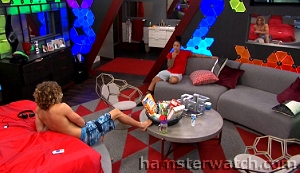 Tyler and Kaycee had a check-in which included her asking him if anyone else had approached him with a final two deal, and he said no. Kaycee also teased about his showmance with Angela, which he again denied was anything. And they speculated if this week is a double, Kaycee suggested Sam and Haleigh noms with JC veto renom if needed, adding "he needs to feel the block." Tyler agreed, and said it would be good for Kaycee or Angela to add that to their resumé. Haleigh then met with Tyler to repeat her loops again (the same loops that didn't do anything to keep her off the block), even though he has no vote. He assured her she's good this week, but you can't blame her for not believing that just because he said so. She also brought up seeing the four of them celebrating after Angela's win, and said they looked like an alliance of four. Tyler kind of danced his way around that, like he does.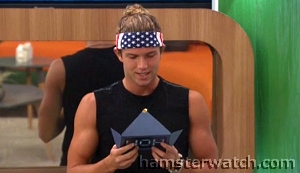 Tyler finally brought a card from Diary around 8.30pm announcing the new Have-nots would be the first three to drop off the HOH comp: JC, Sam, Scottie. JC was annoyed and commented if the first three to drop were the weakest, why make them weaker? Just as tonight's show edit made a comedy bit of his comp drop, I think they're starting to turn on him since he remains problematic (let us count the ways), and I think the shift from golden boy/genius mastermind to a more realistic edit has begun. I could be wrong but I'm guessing it won't be long til they drop JC into the edit dumpster, like they did Paulie, and as grouchy as JC gets on slop, he'll probably provide plenty of material this week should The Powers That Be go that route. And since Angela was due on their taking turns rotation, they probably didn't want to lose their last remaining hope for showmance footage. But poetic justice aside, I think hamsters should be told going into a comp that first outs will have "slopercussions." That'd be a good way to deter throwing comps, anyway.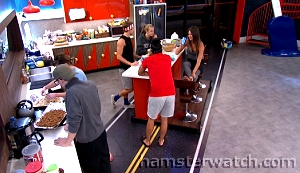 Angela finally made it up to HOH but JC followed soon after, spoiling the Angela/Tyler together time. Angela went back downstairs and last night's booze finally arrived for real around 11.30pm. Angela showed it to Tyler via the spyscreen and he went down for some, as JC stayed in HOH and muttered "they gave them fucking alcohol, they did it on fucking purpose." Haleigh had been talking to Scottie in the yard and she went in for a drink, as did Kaycee who'd been asleep. And they saved some for Brett, who was doing a long Diary. Haleigh then went to her bed and sobbed, and Scottie eventually went in to give her tips to campaign against him: tell them he's a serial killer, he has talons, he beat himself up as a kid and took his own lunch money, he got detention in high school, you name it. Haleigh finally perked up and laughed along, but cried again when Kaycee joined her. As part of her comforting, Kaycee assured Haleigh she'll be staying this week. Later still, she ran up to HOH to share a "would you rather" from a downstairs game. Angela had popped out of bed fast and ran to a chair just before Haleigh came in the door, but BB called her out to put on her microphone. It was in the bed, cord wrapped around Tyler.. awkward. Meanwhile Brett and JC talked about making a move to break up the happy couple.

GET THE FEEDS to watch everything unfold, and catch up what you missed on my previous week's page, and/or Hamsterwatch Forum thanks to @UGotBronx, and please remember to use my Amazon link for any Amazon shopping anytime, USA or Canada - thanks!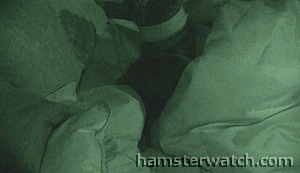 Day 76 Monday September 3 Labor Day
Tyler's and Angela's lips finally made contact overnight with a little greenlight peck (Flashback 9/3 2.33am), followed by another. It wasn't enough to add them to the makeout tally yet, but they might get there. Kaycee did not use her veto, and feeds came back to hugs, smiles, and laughs all around. Apparently both Haleigh and Scottie gave memorable speeches that impressed and amused all of them. Haleigh later said neither of them took them it seriously, which contributed to their speeches' success. Brett challenged/teased Haleigh in a convo about things she's said she did versus didn't know (like Bayleigh having a power), and later he retold that convo to Tyler and Kaycee. They all reconfirmed she'll be the next to go after Scottie. Haleigh then attempted damage control about Brett challenging her to Tyler, who again reassured her that he expected her to stay this week.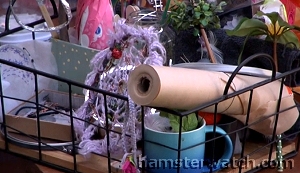 Sam took her supply basket to her patio crafting corner and worked on a hanging hummingbird feeder, using a table knife and the wine opener to "drill" holes in a plastic bottle. Brett woke JC from his afternoon nap in his Have-not satellite dish to suggest he (JC) "reel Sam in" for the three of them to work together going forward, since they were both low man on the Tyler/Kaycee/Angela totem pole(s). Whether Brett pitched that sincerely, or to frame JC, or as insurance (since it's accurate) remains to be seen. Whatever the outcome, it opens up new possibilities for drama and popcorn. Scottie tried to figure out the best way to get clean while avoiding a Have-not cold shower, between warm sunshine, the pool, the hot tub, and the outdoor shower.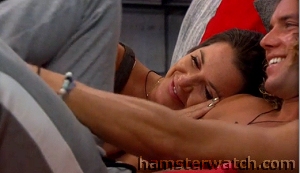 Tyler and Angela had an evening coo 'n cuddle session, and he told her Diary had asked about their overnight kiss, and he said he was mad about that. They also said this week might be "another good old fashioned Level 6 blindside" if Scottie goes unanimously (again). Tyler said he may have done "too good a job" of making Scottie feel safe, and they agreed if Haleigh tells Scottie that they'd told her she'll stay, they should switch and send her out instead. And Tyler told Angela she and Kaycee need to make Haleigh feel safe enough with them that she won't put them up should she stay and win next week, but not so safe that JC and Brett start freaking out. Never mind that they kind of already are starting to freak out, or at least are pretending they are to each other. Angela bounced off the bed at lightspeed again when JC arrived for a visit, and he asked Tyler what's really going on between them since he heard her run across the floor as he approached. Tyler continued to deny, deny, deny.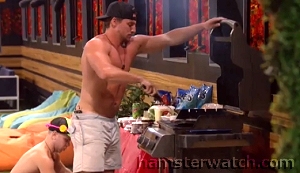 After Dark sent them Labor Day party fixings that included burgers, hot dogs, watermelon, potato salad, ice cream, Cheesecake Factory desserts, badminton, hula hoops, croquet, beer!, wine!, and - wait for it - the grill! They were thrilled, especially the Have-nots who could partake until midnight. Anticipation built quickly out here for the long-awaited return of BBQ Smackdown, as the metal monster waited quietly while they screeched and squealed about their gifts. Brett stepped right up and lit the clanking contraption without incident, and proceeded to easily, flawlessly, slap down burgers, flip them over, apply cheese, serve them up and start again. It was uncanny how effortlessly he handled the billowing behemoth: he was so smooth and practiced, he actually chowed down on a burger with one hand while grilling the next batch with the other. For a minute I thought Angela was waiting for an attack like we were, but I may be reading into that.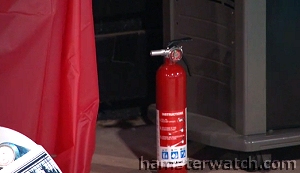 A few flames licked up here and there but it soon became clear this was just an exhibition round and not a scored match. Turns out the metal monster was only coaxed out of well-earned retirement by a fat contract that required no real exertion. Some BBQ Smackdown fans were disappointed but most realized it was a fantastic opportunity, a

meat

meet 'n greet with the legend. Sam later stepped up to toast some burger buns, and Tyler grilled some slopcake brownies and/or chicken - whichever it was he added pineapple. No incidents, no open flames, no second degree burns, no fire extinguishers were sprayed (though one was ready), but a good time was had by all.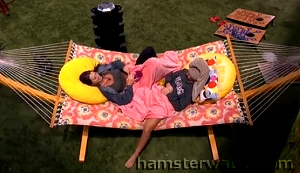 Things returned to status quo before long. The new games were put aside, Scottie and Tyler played pool, and Haleigh and Angela had a Sam bashing session in the hammock after showering together in HOH. They bonded over their mutual hatred of Sam's clutter, Angela said she thinks they found her from Hoarders, and Haleigh said she threw her stuff everywhere in the hide 'n seek veto. She also said Sam gets called to Diary every morning and she thinks they're medicating her "because she seems like the type that needs it." They rehashed some game convos and events involving themselves and Sam from the season, Haleigh said "I can't stand her," and launched into another series of cussing about Sam.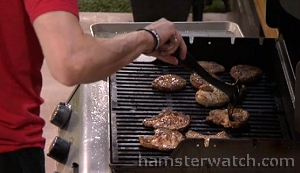 Badminton came back with Brett and Scottie boinging the birdie to each other, and Sam playing along as well plus bouncing birdies to herself. Brett fired up the barbecue for another round of burgers, chops, and chicken around 1.30am, threw them on the grill, and was called to Diary. He was annoyed and let out an exasperated "fuck!" or two, and asked Scottie to man the grill for him. There was some question about doneness and JC was no help, but once again there were no incidents, Brett returned and took over for another couple of grillsful, and now they have meat for days.

GET THE FEEDS to watch everything unfold, and catch up what you missed on my previous week's page, and/or Hamsterwatch Forum thanks to @UGotBronx, and please remember to use my Amazon link for any Amazon shopping anytime, USA or Canada - thanks!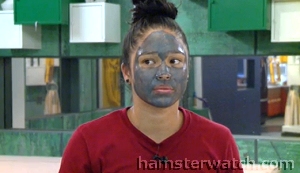 Day 77 Tuesday September 4
They were locked inside early again, and back to their bored selves. Kaycee gave a perfect side-eye as she and Angela did mud masks, Sam offered to shave Angela's face but she refused, and they played hula hoops and ring toss between napping, snacking, chatting, and scattered discussions about who to boot next.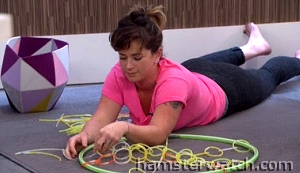 Brett was the designated cuddle breaker-upper when he went upstairs to visit Tyler and Angela. She quickly scootched to the far side of the bed rather than running across the floor like last night, since they learned that was a bust. Brett ranted at them about Sam and how annoying she is. Whether legit or for game purposes to target her was up for debate, but Angela didn't need any encouragement to join in, nor did JC when he arrived, and Tyler agreed and contributed a few items as well.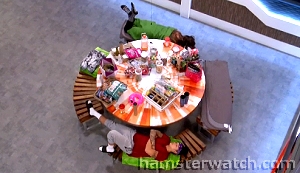 They watched her laying on the floor on the spyscreen and brainstormed ways to get her to flip out, preferably on Haleigh, including coordinated petting sessions between Haleigh/Brett and Haleigh/Tyler, sweeping all her crafts stuff off the dining table into the trash, or having Haleigh straighten Tyler's hair. Angela mentioned Hoarders again, and Brett's sticking point was a bed topper Sam had moved. Meanwhile Sam's projects du jour included a hammock/cocoon (from a blanket), a mobile (hula hoop plus glowsticks) which evolved into a basketball hoop, and a ball (taped up saran wrap). Later Brett and JC tried to talk Haleigh into clearing Sam's stuff off the table but she said she was on the block and not looking to get into any fights.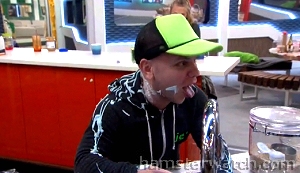 JC poked Scottie in the nose with a peanut butter-dipped fork, and Scottie retaliated by spraying JC with shaving cream. Later the two of them rehashed the game to date and the controversies along the way, incuding hinky votes (ironically cast by each), and Scottie said he didn't believe much of what the jurors had told him. Angela turned her beanbag heating pad into a nursing baby and she, Kaycee, Haleigh tossed around names for it between rounds of Sam bashing. Brett and Scottie set up and climbed the rock wall for exercise and something to do. In other words, another long day of not much, mostly because of the foregone eviction conclusion (rebooting Scottie), and no booze or grilling to look forward to tonight.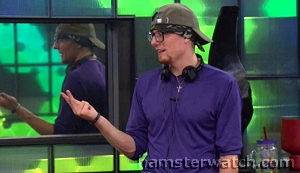 Sam had to take her basketball hoop down from the stairs but no big loss, as the most use anyone got from today's projects was an Angela and Kaycee volleyball game with the ball she made. Angela, JC, Brett urged Haleigh to move all of Sam's stuff off the table, and they said they could get around the whole bed topper issue if Brett slept sandwiched between Haleigh and Angela, but none of them actually did anything but continue holding bashing sessions. Scottie reported his rehash history to Tyler, including Haleigh's theory about Tyler/Kaycee/Angela/Brett working together, all the alleged various F2 deals Haleigh has/had that he learned about in jury (Tyler feigned shock that anyone could have so many), faulty versions of how various weeks unfolded, and news that everyone in jury is anti-Tyler, anti-Angela, and anti-Brett. Also tonight, JC learned how to pronounce "turtle" but he didn't work on his "literally" ("littily") even though Sam suggested it needed help, and less frequent use.

GET THE FEEDS to watch everything unfold, and catch up what you missed on my previous week's page, and/or Hamsterwatch Forum thanks to @UGotBronx, and please remember to use my Amazon link for any Amazon shopping anytime, USA or Canada - thanks!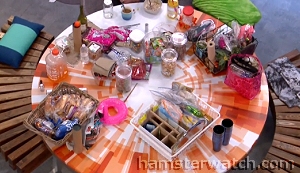 Day 78 Wednesday September 5
BB let them stay in bed late today, most of them until after noon, and why not? They don't do much of anything on these long lockdown days anyway. Sam puttered around on her own, and feedmasters provided a few closeups of the latest bone of contention in there: her crafts supplies having taken over the table, along with various house candies and treats, providing all of them with an excuse to villify her rather than turn on one of their own before absolutely necessary. Kaycee and Scottie later removed the house candies from it, leaving Sam's stuff. (Screencap is "before" version, with all of it.)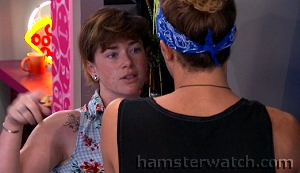 Sam and Tyler had a check-in where she asked him what's going on, and isn't he going to tell her what to do? He said he didn't think everyone else wants what he does [keep Scottie], and she should check with them all. He told her she has to win HOH and she guessed that was because she's on everyone's hit list. She said she didn't understand why Haleigh's still there, he said they don't see her as a threat, and Sam said "she was clinging to that rope like a fuckin parasite." She said she was surprised she herself was still there too, and correctly guessed Tyler had come to her defense when she'd been suggested as a nominee. She wondered why nobody's gone after JC yet, they tossed names around for their ideal final four, and they reiterated their loyalty to each other, with Sam saying she'd love for them to be final two and for Tyler to win it all. She also said she'd heard Brett had retold inaccurately, that she didn't have a crush on him or want a showmance of any kind.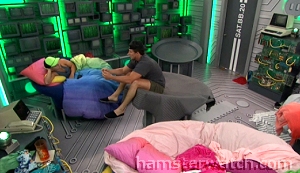 Meanwhile Haleigh campaigned to Kaycee, and included her concerns about why she was told not to talk game to Scottie, and could it be because they were both told they'll be safe? Mm-hmm. JC and Brett also had a lengthy convo in Have-not, and broached the idea about flipping to evict Haleigh rather than Scottie, and discussed the various repercussions and voting scenarios going forward if that were to happen. Scottie and Haleigh packed (no pantry supplies this time), and Tyler and Kaycee reiterated their final two loyalty and agreed Angela would understand, since their pact preceded everything, including Level 6. Scottie taught Sam how to play chess, and Angela told Haleigh she still has her vote.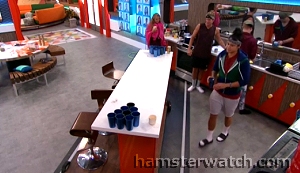 After a multi-hour buildup, Scottie finally presented his campaign to Kaycee, including much of the same data he'd previously presented about Haleigh's many F2s with now-jurors, and that between her Hacker and HOH weeks, she had previously nominated Tyler, Angela, and Kaycee twice. Yet another (skimpy) booze delivery arrived around 9pm, which annoyed Have-not JC to no end and he ranted to Brett that Angela "will crawl up to HOH" and stay til morning again, causing them more work to do with Tyler. The rest of them slurped it down and played

beer

water pong, as Sam gave Brett another sculptured hairdo, though it wasn't nearly as elaborate as last week's double-fin arrangement. Haleigh and Angela got sloppy sippy, Haleigh sprayed Brett with the faucet, and he joked "Scottie's winning my heart" (meaning his vote). Haleigh went to HOH to shower and cry, followed by Angela and later Kaycee to commiserate, and Brett retold to Sam, adding that Haleigh had been acting too confident that she's staying and it made him want to do the opposite. JC joined and they discussed booting Haleigh rather than Scottie, and JC suggested they see how they feel about it tomorrow.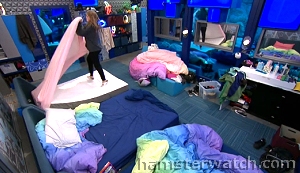 But first Brett told Scottie that he might stay after all. Then Brett took his bed apart, moved it from the pink room to the blue, and made it all up. He moved his things in there too, and then he was called to Diary. While he was in there, Haleigh took the bed apart again and moved it back into the pink room, made it all up, and moved his things back too. Tyler, JC, Angela, Kaycee were watching on the spyscreen and laughing. Scottie noticed the bed changes and went back and forth between the rooms, Brett came out of Diary, and Scottie said to him "this keeps getting weirder and weirder." Brett said he moved his bed because the pink room was too hot, Haleigh came along and Brett asked if she moved his bed? She giggled and said no, and then added "I fixed it." Brett went into the lounge, Haleigh eventually joined him, and he explained the pink room was too hot. Before long it was like a Haleigh vs Fessy spat with rehashes of the faucet and his reaction, and the bed, and bigger issues - only Brett isn't Fessy. They didn't get anywhere and he knocked over his Jenga tower in a fit of symbolism.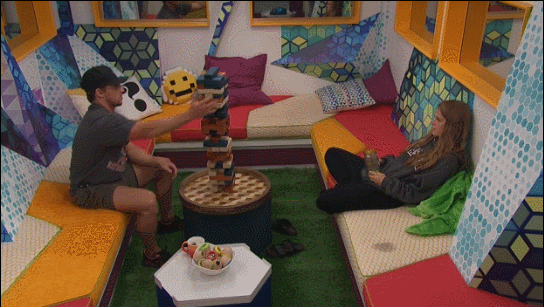 Meanwhile JC went to HOH, kicked Angela out, and reported the vote flip to Tyler. They went round and round a few times, until Tyler finally said "do what you want but don't flip this shit back on me when your ass is up on the block!" He added it was too soon, that he wanted both Scottie and Haleigh gone, but doing this now would just make Angela and Kaycee target JC. (Actually it's potentially a two birds/one stone situation for Tyler, as he originally wanted Haleigh gone first and this also could lead to a solution for his JC problem without having to do it himself.) But then they cycled back to JC saying he'll do what Tyler wants. And Angela and Kaycee checked in with Brett who rehashed the hose/joke and why it annoyed him, and he retold the bed situation, and he said it was all petty and stupid, and he was embarrassed by it all but still annoyed.

GET THE FEEDS to watch everything unfold, and catch up what you missed on my previous week's page, and/or Hamsterwatch Forum thanks to @UGotBronx, and please remember to use my Amazon link for any Amazon shopping anytime, USA or Canada - thanks!



Ratings - Revive-a-Hamster edition
Ratings are Sunday's, based on entertainment value
VTE = Voted to evict




Because of the feeds, BB has always had a very engaged viewer community. Once we were scattered around in isolated pockets of the internet, but now most are pooled together on Twitter, Facebook, Reddit. Yet they're still running this show with an apparent blind eye to us, even as one scandal after another explodes and travels far and wide at lightspeed. The latest UK Celebrity BB hasn't even been underway three weeks and they've already ejected one for bad behavior and had one quit who would have been ejected if she hadn't walked. People continually ask why BB USA doesn't punish or eject for bad behavior, whether major or minor offenses. The reason, I believe, is contracts. They can't kick somebody out for saying or doing something offensive, or punish for constant singing or napping etc, unless their contract says they can.

Should those things be written into their contracts? Maybe so, but that's another issue, one that's in their lawyers' hands (and surely the CBS army of attorneys couldn't care less if one of them sings for the 20th time or not). As far as comp rules, we learned during OTT that they have a period before comps, off-feeds, where their rules are spelled out for them, and they can ask whatever questions they have about those rules. I didn't hear those rules (nobody did but them) so I can't comment on them. But I always figure if the one(s) supposedly slighted in a rules debate isn't complaining, why would we?

Should BB acknowledge these scandals and controversies, and either take action or explain why they don't? Absolutely. But it's their show and they run it the way they want, and they haven't made many adjustments for how much their viewership has changed over the years. However, we're at the point in the season where a lot of people out here are taking all of it far more seriously than those actually playing the game. It's a TV show and it's feeds entertainment - it's not life or death. Instead of stomping feet and calling names (and yelling at updaters), wouldn't it be nice if some informative conversation and civil exchange of differing viewpoints took place? I know, I know, dream on.





Won: Nothing yet
HOH 2 - Veto 1 - Noms 1 - HN 1

VTE Scottie
Now that she's back out of her villain role again, she's back to being mostly wallpaper. And laying around comatose, either on her own or with Tyler. I don't see any chemistry between them but that's their business, not mine. I'm just glad they aren't doing the smackyface slurpydurp to assault our ears. Yet?





Won: 1st eviction immunity; 24 hours InstaGranny
HOH 0 - Veto 1 - Noms 3 - HN 2

VTE Scottie
He's been a huge improvement as a solo act than he was when he was broing around with Winston. His game is understated, effective, and dare I say elegant? Approaching that anyway, which I realize is a world-class oxymoron for a guy who laughs his ass off about butt-chugging.





Won: 1st eviction immunity; Crap App #3 Read It; Hacker #1
HOH 1 - Veto 0 - Noms 3 - HN 2

No vote (nominee)
Her game remains a disaster and her campaigning varies from non-existent to horrible. She makes some efforts and then she collapses again in tears, or makes a nuisance of herself to everyone. Sunday night's booze delivery was small, as they all are, but Scottie hung out with the drinkers while she took to her bed and sobbed. She's bright and personable, and while they like to put pretty young things on the show, Haleigh's a good example for why the age limit should be 25 instead of 21. Most 21-year-olds just don't have enough life experience or emotional maturity to handle what they're put through in there.





Won: Nothing yet
HOH 0 - Veto 0 - Noms 0 - HN 3

VTE Scottie
He came in problematic and he remains problematic. Nobody who was around pre-season is surprised and production surely isn't either, since he didn't lock up any of his social accounts and they surely saw everything we did, including that Minion. Game-wise he's just too manic and busy for me to keep up with beyond his bullet points, but he's still there and hasn't been on the block after all these weeks, so he must be doing something right.





Won: 1st eviction immunity; 2 weeks Pinwheel; 1 week Peanut; Hacker #2; Hacked self off the block Week 7
HOH 0 - Veto 2 - Noms 3 - HN 2

VTE Scottie
WON VETO/DID NOT USE
She's won two vetos back to back, and with Angela cozying up with Tyler so much of the time, Kaycee has more time to make her social rounds, which she does well. She was a very good sport about her hair makeover last week, even though she was clearly hesistant and uncomfortable, and I don't think I've heard any of them say a word against her, at least since Rockstar left. And she hasn't been problematic whatsoever - she's a keeper.





Won: 2 weeks Robot; Power App #1 Bonus Life
HOH 1 - Veto 0 - Noms 1 - HN 3

VTE Scottie
Retroactive ups for hair night, since I didn't do ratings last week and she deserved double ups for her stellar stylings of Brett, Tyler, and Kaycee. Her game is nearly non-existent and it makes no sense, but I think she's sincere when she says she just watched a few episodes after being approached for the show, and she believed the recruiter pitch about the 'best summer of your life.' I think they owe it to green recruits to let them know it isn't all fun and games, but that's their business. I'm still glad she's around as she's unique, unpredictable, and often interesting, and I appreciate those things in a hamster, and in life.





Won: $5,000; 1st eviction immunity; Greece trip; Hacked off the block 6th week; Revival Week 10
HOH 1 - Veto 1 - Noms 4 - HN 4


3rd juror/8th evicted 6-0 Day 65

- Revived Day 72

REVIVED
EVICTED 5-0
I'm glad he and his random are back. His game's still a disaster and he's probably only back for a week, but he adds a level of fun, humor, and unpredictability to every conversation, and that's sorely needed at this point. Even as a sober Have-not, he fit right in with the sippy hamsters on Sunday night's booze delivery, even becoming the life of the party for awhile.





Won: $2500 (on TKO); Power App #2 The Cloud; Hawaii trip; Week 6 vote nullified
HOH 2 - Veto 3 - Noms 1 - HN 3

No vote (HOH)
See Angela. When he's with her, he turns into a blank zombie. When he's with others, he's lively and fun. Game-wise, it's astounding he's still able to keep all his plates spinning, entering the fourth quarter of the season. Whether he's successful to the end or everything comes tumbling down before then, future TV-only hamsters will be sure to try to emulate his game, without the benefit of feeds to see how much work goes into it, and fail spectacularly. That'll be fun.





Won: 1st eviction immunity; Crap App #1 Hamazon
HOH 1 - Veto 2 - Noms 1 - HN 3
3rd juror/9th evicted 4-1 Day 72

EVICTED 4-1
He provided a lot of comedy, but most of it was unintentional. He was vocal about hoping this would open doors for followers, advertising offers, and other shows, and it might. But he was unable to figure out how this show worked, even after being blindsided week after week. He got stuck on the Week 2 Brett vs Winston vote and held onto that all season, and even when Haleigh told him there were two sides playing, he promptly forgot and fell right into the same traps, as did she. He put up his ally Scottie on his HOH and said it was the 'biggest move in BB history' but oops, not so much. He liked Angela at first, then Kaitlyn and Haleigh, but he finally gave his rose to Haleigh. She balked a little at first but they finally kissed and from there it was alternating bickering and slurpydurp when they were together. Fessy slept a lot, ate a lot, and made a lot of messes that ticked off some of his roomies, but he won some comps and doesn't seem like a bad guy overall, just a little clueless in some areas.





Won: 1st eviction immunity; 1 week Food and Fitness program
HOH 0 - Veto 0 - Noms 3 - HN 1
2nd juror/7th evicted 5-1 Day 58

She filled the requisite 'weirdo' casting slot but as with many hamster weirdos before her, she was pretty 'normal' despite her alternative appearance. She had issues early on with Angela and Brett in particular, and she held on to those issues so tightly they got in the way of her logic. She got continually hung up on her theories of what was going on but unfortunately for her, those theories were mostly wrong. She and Haleigh did see Tyler as a game threat fairly early, but they weren't able to do much about it until Haleigh's HOH week, but they didn't plan around enough Hacker scenarios and Rockstar went out on her one-time bestie's HOH. Her first nomination was messy but she handled her second well, partly due to Jessie's Food & Fitness program which she also handled pretty well. She griped a lot, with odd and ever-changing accents, and while she handled most things well at first, she was a good sport about them eventually, even Brett's horrible speech accusation 'on [the eve of] her daughter's birthday.'





Won: Power App #3 Identity Theft (unused)
HOH 1 - Veto 0 - Noms 1 - HN 1
1st juror/6th evicted 6-1 Day 51

She was very watchable and gifable, with the best facial expressions no matter what, including multiple shockfaces. She was isolated with Swaggy the first couple weeks even though he was busy running around, but rather than becoming a gloomy showmance widow, she came out swinging when he left and embedded herself well all around - a little too well, as that moved her quickly up the target ranks to the tippy top. She said some controversial things and may have had the first in-house pregnancy? That hasn't been officially confirmed. She won a power that went unused, partly because she blabbed she had it, and that was the real reason she went out when she did. She did a slow simmer when she went on the block as blindside renom, but Hurricane Bayleigh made landfall two days later, as a Category 5, in a spectacular outburst of anger and frustration that culminated in 'spewing blood' after she bit herself. The kicker? Her anger at Tyler was mostly due to an inaccurate retell. The 29th consecutive North American hamster to enter the habitat first and not win their season.





Won: 1st eviction immunity; Crap App #2 Yell!
HOH 0 - Veto 0 - Noms 1 - HN 1
5th evicted 5-4 Day 44

Her blindside stung more than some because much of it was due to a pack of lies plus betrayal by her BB bestie Angela but hey, welcome to Big Brother. And she did buy some of it herself by losing her mind on the block, and that was after she agreed to go on it. She had nip slips and towel flashes almost daily, for those interested. She said she's a performer almost daily too, sometimes multiple times a day, and she did come alive when she was acting out skits, dancing, or singing ('please stop singing') but the rest of the time she seemed guarded and I don't feel we got to know who she really is at all. Her rough 'n tumble friendship with JC was fun, especially when they'd break serious convos for their quick-and-done J's Party dance. Her pal Jackie didn't fill her in enough about the rotten meat and rancid potatoes of this game, but she held her own pretty well until she didn't. Her birthday was memorable, thanks to Kaitlyn using the occasion to yell at Brett.





Won: Bonus Life 'chance' (failed)
HOH 1 - Veto 0 - Noms 1 - HN 1
4th evicted 9-1 Day 37

It's safe to say we knew more of her backstory than any hamster ever, since she seemed to bring it into every convo. She talked a very lot, and she squeaked, whimpered, babytalked, croaked, and cried a lot too, plus she canoodled with three guys (Tyler, Brett, Fessy). She caused a lot of chaos which is good, but she was often exhausting about it. New age interests are fine, some clairvoyance is trippy and fun, but her 'intuition' was nearly always wrong. It's probably just as well she failed the Bonus Life puzzle since she'd gotten to the point of getting 'hits' from shampoo labels. It was Tyler's doing, but she still gets the credit in the books for backdooring Swaggy and breaking up a showmance in the second week: something most seasons haven't been able to manage til the end, if at all.





Won: Nothing
HOH 0 - Veto 0 - Noms 2 - HN 1
3rd evicted 6-5 Day 30

He too came in saying all the right things: he wasn't here to get a girlfriend or Twitter followers, and I had him pegged as either a dark horse who'd go far, or a too-hard-too-soon kind of guy. Turned out he was the latter, probably because he just discovered BB last summer and binged several seasons since without realizing there's a lot more to it than the show edits let on. He spent most of his time playing Jenga and broing around with Brett, and the two of them provided a lot of unintentional comedy in the form of buffoonery. He made manic facial expressions while going on angry whisper rants, he threatened speech call-outs but didn't follow through, and for all his jock/winner self-hype, he failed every comp.





Won: 1st eviction immunity
HOH 0 - Veto 0 - Noms 1 - HN 0
2nd evicted 8-4 Day 23

Pre-season he said all the right things (albeit in his own unique, third person way), but he started off way too strong and way too Swaggy for his own good. He gave us great shockface when Steve was evicted but it didn't sink in that he wasn't fully plugged in, so he gave us another when he went up as backdoor renom. To his credit, he campaigned his brains out to stay rather than lay down to die, but it didn't help. His pre-show QAs said he was wary of showmancing but he fell for Bayleigh anyway, and together they were one of the cuter 'mances to watch - it helped that they didn't slurpydurp too much. Swaggy C was a good character for TV, but Chris was a good hamster and will be missed.





Won: Nothing
HOH 0 - Veto 0 - Noms 1 - HN 0
1st evicted 7-6 Day 16

The Summer of Steve™ ran just a couple weeks and his job lie(s) didn't help him any. He might have been better off if he'd been open about his undercover past and teaching present as both would have let him share more stories, or if he'd gotten in with Kaitlyn and Rockstar via his wife's new age interests and books. He and Scottie buddied up but otherwise he was odd dad out. He didn't keep up so believed he was safe, and he didn't really campaign to stay. It might not have helped if he had because all the scurrying was elsewhere, but it wouldn't have hurt. He didn't get his required nightly baths but he learned to clean his ears, and early risers in particular will miss him.



Lines and Links of the Day
Lines

Scottie: When you see someone's teeth, you're seeing part of their skull.. you can kind of start gauging what their head looks like without the skin
Brett: So you're the guy that - I don't want to say it but you kind of sound like a serial killer

JC: Bitter juries almost never happen

JC: I hate waking up, getting dressed, just to be in the same spot - it's mental killer

Scottie: I question if Paul's watching us because he told me [at 'Off the Block'] I was doing a good job, and I was like fuck that

Sam about the lights: I'm in the dark metaphorically here, but physically and literally it's really fuckin bright



Links

GET YOUR FEEDS

Use my links for any Amazon shopping, anytime, at no extra cost - just start your shopping trip by clicking Amazon USA or Amazon Canada

Live like a hamster! Available from Amazon:

-17-inch Orwell owl Amazon USA or Amazon Canada

-Owl sleep mask with hot/cold gel pad

-Click & Grow 'smart' kitchen herb garden Amazon USA or Amazon Canada
Similar grow setups Amazon USA or Amazon Canada

-Nanoleaf LED light system like HOH room Amazon USA or Amazon Canada

-Emoji pillows, individual or sets (read descriptions carefully, some sets are random) Amazon USA or Amazon Canada

-Fluorescent light stick lamps (HOH bathroom) Amazon USA or Amazon Canada

-Gradient duvet/sheet sets pink/purple or blues

-Minion plush toys Stuart - Bob - Tim - loads of others

-New age books by Sahvanna Arienta, Steve's wife

BB by the Week for Week 10 by @aubramariebb



Tally Items

Season Stats
HOHs in order: Tyler; Kaitlyn; Scottie; Sam; Bayleigh; Angela; Haleigh; Fessy; Angela; Tyler

Veto winners in order: Faysal; Tyler; Scottie; Faysal; Tyler; Angela; Tyler; Brett; Kaycee; Kaycee

Evictions in order: Steve 7-6; Swaggy 8-4; Winston 6-5; Kaitlyn 9-1; Rachel 5-4; Bayleigh 6-1; Rockstar 5-1;

Scottie 6-0;

Fessy 4-1

Pre-jury Twitters: @bb20Steve; @SwaggyCTV; @BB20WinstonH; @kaitcoaching; @rachieswin
More social media links in cast folders at Hamsterwatch Forum








Linking to any page here is fine. Please don't repost content from this site (or any other) without permission, and don't repost or hotlink images.



THE REAL SHOW IS THE FEEDS


SAME DAY AIR SHOWS
Live air shows in some areas
BB1 thru BB19 and many other CBS shows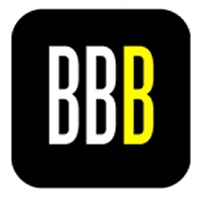 BIG BROTHER BUDDY
Get push notifications for all the big feeds events - iOS or Android


HAMSTERWATCH SWAG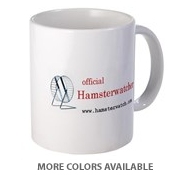 Mugs, shirts, more
Visit my Cafe Press shop






Big Brother 20 SEASON FAQ


Day 1 Move-in was June 20
Day 8 CBS premiere is June 27
Day 9 Feeds begin June 28
Day 99 Finale will be September 26

Feeds are streamed by CBS, and Flashback is accessible via All Access subscription. Call 888-274-5343 for account help, including cancellation.

Air shows on CBS (Global in Canada) are Sundays 8pm, Wednesdays 9pm, eviction Thursdays 9pm.

Big Brother After Dark on Pop TV is every night midnight to 3am, except Thursdays 1am to 3am. The aired blocks are live (or recorded earlier the same night, depending on your cable provider).

The CBS app (by CBS Interactive) plays BB air shows and other CBS shows, as well as feeds, or you can use your browser to watch feeds on mobile devices. The same All Access link used to subscribe will lead to the feeds viewing page if you're already signed up.

BB20 prizes are the same: $500k for the winner and $50k for 2nd place. Stipend for the others is $1,000 per week again, including pre-show hotel and jury sequester.

The habitat has 94 HD cameras (up 7) and 113 microphones.

The recorded in-house announcements are the voice of producer Don Wollman. He and Julie Chen are the only staffers who have been there since Big Brother 1.