This site is about the Big Brother 20 feeds and contains spoilers! It isn't necessarily thorough: it's what I catch and/or what interests me. It's about watching hamsters: who's doing what and why. Thanks for encouraging my behavior.
Your pal, dingo



PROTECT YOUR ONLINE PRIVACY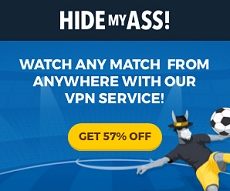 Watch BB Canada, BB UK, Survivor New Zealand, and other non-USA shows






VIEWER VOTING: BB APP STORE



WINNERS: POWER APPS
Re-Draw - TBA
Bonus Life - #1 Sam
Can give one of first 3 evictees a chance to return to the game. If unused, 4th evictee automatically gets a chance.
Upgrade - TBA
The Cloud - #2 Tyler
Immunity for any one noms or veto meeting within 2 months
Identity Theft - TBA

LOSERS - CRAP APPS
Yell! - #2 Rachel
24 hours getting yelled at
Fake News - TBA
Read It! - TBA
Hamazon - #1 Faysal
Periodic [vegan] ham deliveries, must all be eaten
Spammed - TBA

Limit one per hamster, whether winner or loser - Voting info & rules
You can also vote on CBS site
Voting is closed







BB20 DRINKING GAME


Take a swig whenever there's a gametalk meeting in the pantry - take two for a pantry celebration dance







QUICK LINKS & BOOKMARKS



-SIGN UP for feeds
-WATCH the feeds
-BB20 official site
-Live show tickets

-Feeds updates by @UGotBronx
-My Twitter - my screencaps
-Amazon portal USA or Canada

-Dick at Night with @EvelDick

-BB Viewer by @liquid8d
Requires All Access account

-BB20 Wiki

-Hamster Twitters
BB USA - BB Canada

-Advice for cast friends/family

-VPN to watch BB UK and/or to protect your online privacy







EAST COAST AIR SHOWS



CanadaTV for Roku
$2/month - Global airs BB USA

East coast air show live streams:
- 1 - 2 - 3
NO DOWNLOADS NEEDED - BEWARE OF CLICKING POPUP ADS OR WARNINGS




Donations via Paypal are gratefully accepted!


Watch Big Brother
Seasons 1 thru 20
Plus tons more CBS content






BIG BROTHER SEASONS



CBS All Access
Seasons 1 thru 20

Amazon DVDs BB4 - BB3

Amazon Instant Video
BB18 - BB17
- BB16
- BB15
- BB14
- BB13
- BB12
- BB11
- BB10
- BB9
- BB8
- BB7





BIG BROTHER 20 FEEDS EXCLUSIVELY ON CBS ALL ACCESS
All Big Brother USA seasons + most CBS shows past or present are included
$5.99 PER MONTH INCLUDING 1 WEEK FREE TRIAL or $9.99 AD FREE
COMPUTER - MOBILE - ROKU - CHROMECAST - APPLE TV - ANDROID TV - FIRE TV - XBOX 1/360 - PS4


>> >> >>

>> >> >> >> >> >>

>>

Amazon USA
- Amazon Canada
July 2018
Power Status
Kaitlyn is Head of Household
Scottie, Winston were nominated
Tyler won veto/used on Scottie
Winston, Swaggy are nominated
Fessy, Haleigh, JC, Rockstar are Have-not

Rachel was periodically yelled at, for 24 hours (it wasn't on feeds)
Tyler has one-time immunity, to be used anytime within two months from July 6
Sam can give

1st

2nd or 3rd evictee a 'chance' to return to the game - if unused, 4th evictee automatically gets a 'chance' to return


Upcoming Events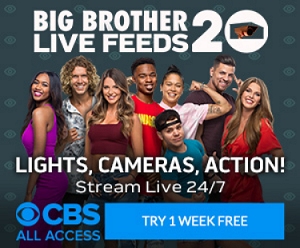 Feeds are underway and they are the real show - SIGN UP NOW and get a one-week free trial! No promo code needed

Much waffling and possibly some drama
Thursday night: HOH comp, room
Friday: App Store, nominations
Saturday: Veto comp


Next Shows
Thursday 7/12 9pm - Live eviction, HOH comp
Sunday 7/15 8pm - App Store, nominations
Wednesday 7/18 9pm - Veto comp, veto meeting

CBS schedule is Sundays 8pm, Wednesdays 9pm, live eviction Thursdays 9pm - stream links to watch East Coast airing online are posted in Quick Links & Bookmarks on the left sidebar

After Dark airs for three hours every night on Pop - times vary by area and provider, check your cable guide


Other News
Alliance charts by @89razorskate20: Day 16

Hamsterwatch Forum for real-time feeds updates, screencaps, and air show recaps by @UGotBronx

Diary segment tally by @clamperls

Week 1 popularity poll results #1 Sam, #2 Bayleigh, #3 Haleigh
Follow @89razorskate20 on Twitter to participate: weekly polls launch every Monday 4pm PT/7pm ET

Post-eviction shows are hosted by BB Celeb runner-up Ross Mathews and winner Marissa Winokur, Fridays on Facebook Watch. The first (no eviction) ran June 29.

Ratings Watch Thursday's live show won the hour 1.3 rating, 6 share, 4.94 million viewers, ahead of Match Game on ABC with 0.7/3/3.96, two Marlon episodes on NBC with 0.6/3/2.97 and 0.6/3/2.38, and The Four: Battle for Stardom on FOX with 0.5/2/1.76.

Sunday's show won the hour with 1.3 rating, 6 share, 5.12 million viewers, ahead of Celebrity Family Feud on ABC with 1.1/5/6.25, America's Got Talent rerun on NBC with 0.7/3/3.52, and The Simpsons and Bob's Burgers reruns on FOX with 0.4/2/1.30 and 0.5/2/1.16 respectively.

Wednesday's veto show won the hour with 1.5 rating, 7 share, 5.42 million viewers, ahead of America's Got Talent on NBC with 0.9/5/5.88, Masterchef on FOX with 0.9/5/3.28, and two The Goldbergs reruns on ABC with 0.5/2/2.69 and 0.5/2/2.25

Rating and share: adults 18-49 - Rating: % of all TV households - Share: % of households watching TV

Canada national ratings for week of June 25: Wednesday premiere was #1, Thursday's show was #4, and Sunday's show was #7.



Week 2 - Days 16 thru 22 - July 5 thru 11, 2018
Daily and Noteworthy Events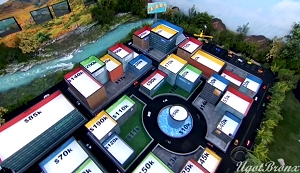 Evicted: Steve 7-6
Head of Household: Kaitlyn
Have-nots: Fessy, Haleigh, JC, Rockstar
Original noms: Scottie, Winston
Veto winner/outcome: Tyler/used on Scottie
Final noms: Winston, Swaggy
Evicted: Swaggy

App Store results:
Winner: Tyler/The Cloud one-time immunity
Loser: Rachel/Yell! for 24 hours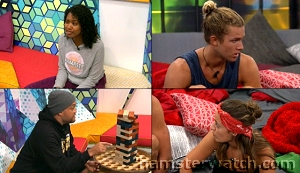 Day 16 Thursday July 5
The cluster kicked in hard with virtually everyone scrambling about votes, except the nominees. Tyler told Kaitlyn that Swaggy, Haleigh, Rockstar weren't with her, she's the bottom of the totem pole, and a loose cannon, and he also told her Swaggy said he controls their side. Of course Kaitlyn retold that to Haleigh, and to Rockstar, and chaos prevailed before they went to HOH lockdown. So not only is Team Fun Feeds winning big, but Team Ants had made it into the bathroom.

At show time, Tyler's hair was down, the Summer of Steve came to a premature end when he was evicted 7-6, and we got new entries for the ever-growing BB shockface collection from Bayleigh and Swaggy. Prior to the vote, recap clips included #MessyFessy's showmance problems, but Tyler's epic reveal last night to Level 6 was sadly omitted.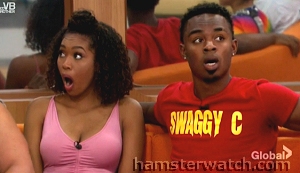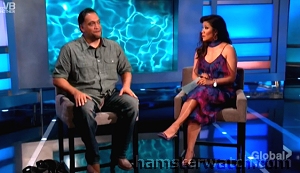 Steve got an extended exit interview since they had allotted time for Sam's Bonus Life challenge, if needed. He admitted he'd been too comfortable and didn't campaign much, and Julie showed him clips of some of his many copspeak convos, reminding him he'd meant to keep his former life secret, and he got farewells on top of that.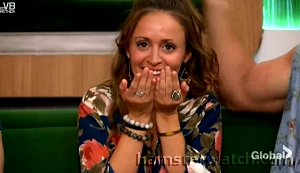 The HOH comp was completed on the show. It was called Land A Job and set in San Brosé - apparently we haven't had enough bro-themed comps yet. They each got one shot to launch a ball into "buildings" with varying dollar amounts on them, representing Silican Valley salaries, with the highest amount winning. Drops between buildings into "the street" earned zero. Scores in order were Scottie $40k; JC 0; Brett 0; Winston $12k; Sam $50k; Kaycee $15k; Fessy 0; Kaitlyn $80k; Angela 0; Bayleigh 0; Swaggy 0; Rockstar $0; Haleigh 0; Rachel 0, leaving Kaitlyn the winner, shocking most of them and us. Julie congratulated her when they were back inside on the sofas, and she told Sam and Kaycee that their robot and pinwheel were over.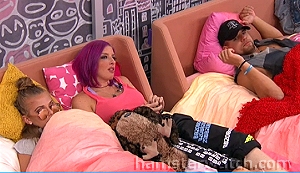 Feeds came back to much scurrying about the vote and who flipped, and the usual bouts of horizontal adrenalin drop. Several were acting panicky and making wrong guesses about the vote, but JC finally told Swaggy he'd voted to evict Steve. There was also renewed speculation and paranoia about the power being AWOL among those who still don't know Sam has it, since it wasn't used. Kaitlyn announced she wanted the week to be calm, meditative, and full of positive energy.. yeah, that isn't going to happen. Kaycee was happy to wear her own clothes again, Sam was happy she was still there and as herself, Rockstar cried about not shouting out her kids but was reminded they were told no shout-outs (even though several did), Sam climbed into a cupboard, Tyler realized he forgot the ceremonial passing of the room key to Kaitlyn, Kaitlyn said her grandpa Lou the bird helped her win, and she dropped the n-word sing-songing a Drake lyric snippet.


Kaitlyn hollered about her room at 9.08pm and they all trooped up to gather round the photos and basket. Her letter was from her mom with news of a new baby, the dog, vacations, and the patio re-do. She got a blanket from home that her grandma made, wine, the usual stocked fridge, bath salts, no crystals, and a plant from Pop, even though the Thursday After Dark block doesn't start til 10pm BB time. She cried at the letter and popped open the wine, sharing some with Tyler, Haleigh, and a couple others after most of the crowd dispersed. Tyler stayed close to Kaitlyn and continued shmoozing her, and she asked him to tell her what to do for noms because he's smarter than she is.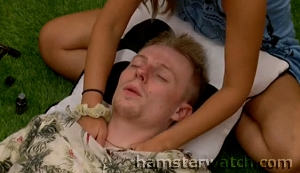 Brett mixed up "Swaggy and Fessy" talking to Winston and Rachel and it came out "F*ggy and Swessy." They thought that was funny, and Winston did a bro elbow swirl. A sippy Kaitlyn gave Scottie a meditation massage, and he said later it had had helped him de-stress. JC said he was circumcised two years ago but before that he'd stretch out his foreskin. Kaitlyn was so sippy that feeds began switching away from her when she showed up, but she did announce whoever doesn't go up to snuggle with her in the morning is getting evicted. Swaggy told Bayleigh, and later Fessy, that he'd overheard Angela listing the people on their side, incuding Tyler, and that Winston said "let's go to war."

Between impending declared war and Kaitlyn as HOH, feeds will be on fire this week! GET THE FEEDS to watch it unfold, and catch up what you missed on my previous week's page, and/or Hamsterwatch Forum thanks to @UGotBronx, and please remember to use my Amazon link for any Amazon shopping anytime, USA or Canada - thanks!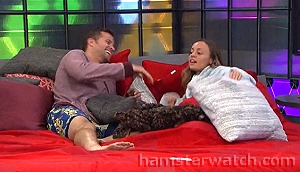 Day 17 Friday July 6
Confessions galore: as promised, JC told Sam who the votes were, with a pinkyswear; Tyler told Kaitlyn about Sam's power (and later told Angela & Brett he'd told her, but they should play dumb); and the two of them pinkyswore that Kaitlyn would nominate Scottie and Winston, with a target on Swaggy for the backdoor. Kaitlyn gave Winston a heads-up about that, and also told him the speech she'd planned last week when she thought he was a doctor (that she'd say he's needed out here) and he thought that was pretty funny. Kaitlyn proceeded to have the usual pre-noms meetings with everyone, telling some that she's taking her cues from the spirits. Feeds went to prior seasons around 11.30am but came back quickly, with the BB App Store sign on their monitor.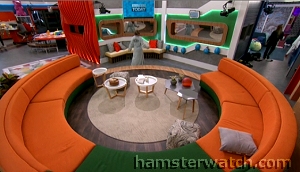 Between meetings, Kaitlyn stopped to address the NOMINATIONS TODAY sign: "I see it, I get it, stop reminding me." She told Swaggy that Winston's her target (after telling most or all the others Swaggy is), and she asked if he'd like to host the veto comp if he isn't picked. He said he'd gladly host, even if she gets HG Choice - oops. She'd also told Rockstar she could host if not picked. Kaitlyn told us after Swaggy left that her heart was pounding and she added "God forgive me."

Sam retold her Diary convos about the ants, saying they can have bug spray but it's tricky/dangerous to use it in enclosed areas like the bathroom (and the entire habitat), and keeping everything clean will help. There was a problem with a burning plastic smell, apparently the App Store vote closed early, and there was a technical issue with the App Store room.


Feeds were down for a little over two hours and they'd done their App Store visits, but weren't talking about the results (yet). Bayleigh was crying and Winston was apologizing to her for making a crack/joke about her weight? Something within a group convo about modeling, I don't konw. Later JC pep-talked her about being down, as he did Sambot. JC is problematic in many ways, but he's very supportive when someone's hurting. Scottie said Diary had rattled him, and Kaitlyn reassured him she wanted him to win veto, and she or various others would use it on him if they win. Kaitlyn swore to Scottie on her Grandpa Lou the bird, her dog, and various living family members that he wouldn't go home.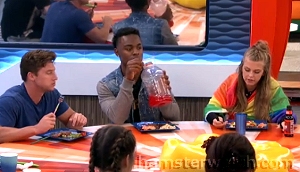 Rachel said she got the crap app and selected Yell!, and speculation ran wild in there and out here about who got the power, as well as speculation about the first power among those who don't know Sam still has it. Kaycee and Tyler said they thought Swaggy got today's. Most of them ate together, and then we were plopped into prior seasons again for noms.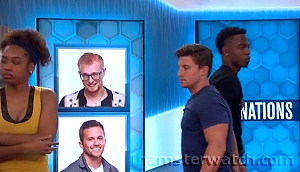 Kaitlyn nominated Scottie and Winston as planned, and psst-pssting began in earnest again. Winstonbro rattled on to Brettbro about plans and such, including a threat to make a scorcher speech if he's still on the block Thursday. Waiting for Rachel's task or punishment or whatever, Sam counselled her about losing the vote, telling her she can grow and learn from it, look back and laugh at it one day, and she comisserated with being humiliated on TV. Angela, Kaycee, Brettbro, Winstonbro worked out by the front door, and Kaitlyn hosted a bathtub party with Bayleigh, Fessy, Rockstar.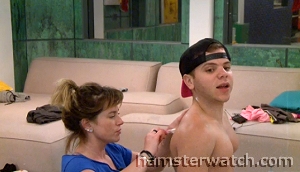 It was a relatively quiet evening, considering. The usual whispers and what-ifs carried on, like they do, as we waited for them to confirm who won which power today and what Rachel's "Yell!" would be about and when it would start. Feeds cut to fishies for any reference to it, which didn't help. Sam shaved JC's back, which he appreciated. They were still locked inside all day; they have been since Monday night/Tuesday morning. Apparently they had an announcement yesterday about sensitivity and watching what they say, and they got in trouble tonight for talking about it. Rachel got sad and teary about losing the App Store, and Sam counselled her. Winstonbro kept up his angry whispery rant to Brettbro about most of the others, and Brettbro ranted back here and there.

Feeds should be good this week: GET THE FEEDS to watch everything unfold, and catch up what you missed on my previous week's page, and/or Hamsterwatch Forum thanks to @UGotBronx, and please remember to use my Amazon link for any Amazon shopping anytime, USA or Canada - thanks!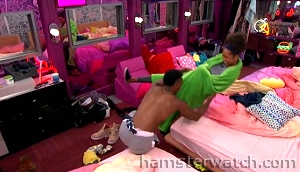 Day 18 Saturday July 7
Fessy, Rachel, Tyler were picked to play for veto, with Angie/Rockstar hosting. Winston was not happy and apparently stormed off after the pick, no hugs. Bayleigh and Swaggy were happy with the draw, but they don't know Swaggy's the backdoor target.

Kaitlyn wasn't feeling well, she said she had a sore neck so she got some meds for that, along with coddling from several of them. Later she told Brett she had "excruciating pain" when she lifts her arms. Chit-chat included Sam talking about her grandfather, and Angie talking about her summer camping and festivals.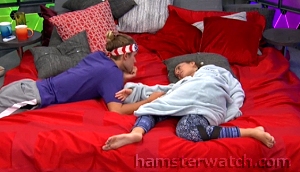 Kaitlyn told Rachel, regarding Swaggy as renom and gone, that she'd rather be remembered as someone booted early who made big moves, than be a "floater" to the end, and Rachel agreed. Kaitlyn also said regarding the trending poll, "CBS has a lot to lose" so they wouldn't ask something like who's most boring because that would be "bullying" - oops. Ironically (or not), Kaitlyn's boobies flashed around 12.07pm, for those interested. When Tyler returned, Kaitlyn asked him if it's "worth it" to play BB with lies etc, if it goes against who she is as a person. I don't know how Tyler keeps up his 24/7 babysitting/life-coaching with a straight face. Haleigh told Fessy he should throw the veto unless it seems Winston is winning, but he said nobody will want to nominate him going forward if he has the first two vetos under his belt.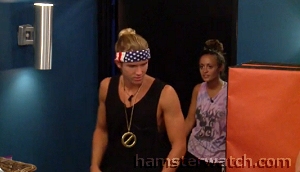 Feeds were down from approx 2.30pm til 7.40pm and when they returned, Tyler had won the veto. The comp involved various prior season hamsters (names and pics), matching their "likes and dislikes," swiping left or right, memory and sprinting, in a timed comp. Rachel finished in five minutes, Scottie took 18 minutes, and Winston timed out after 20. Cody and Jessica were there in person, and Kaitlyn began second-guessing the plan to backdoor Swaggy because she thought Cody and Jessica were cold to her, so maybe viewers don't like her. She asked Tyler if it would "be okay to just leave the other people who are my friends," meaning Swaggy's teamies if he goes up as renom, and she said they'd be out for blood. And she was worried if Winston, Brett and friends would also want to retaliate for Winston's nom, especially if he stays on the block. A bit later she told Fessy she wants the veto to be used on Scottie, and she'd probably put up Angela as renom (not true).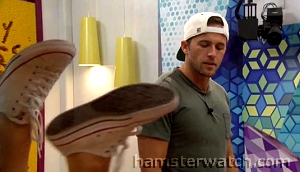 Bayleigh warned Swaggy that Kaitlyn and especially Tyler weren't really with them, and Swaggy should watch his back, and he apologized for saying FU to us earlier (for not giving him the power app). JC told the Bros that Swaggy's side wants Angela to be renom, but the real plan was Swaggy. Kaitlyn told JC and Rachel her plan to put up Swaggy as renom, citing her grudge about him calling her a liability/cannonball/bottom of the totem pole, and she asked them to spy for her and let her know what's being said about her. Haleigh and Fessy were flirting in the pantry when Rockstar walked in - she apologized for always interrupting "private moments of their budding nothing."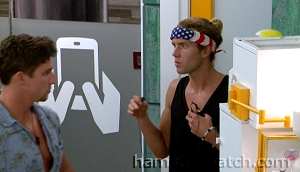 Kaitlyn told Winstonbro her "Reasons" for putting up Swaggy and added that he had been "scary," and Winston commented about Swaggy walking past the photo wall "and acts like he's shooting them.. I want to [take? or break?] his hand and shove it up his candy ass." Kaitlyn ran her planned renom speech and Winston jumped up, saying "I'm going to poop my pants!" Later Winston told Angela that she might go up as renom (but he knows she won't). Tyler talked with Brett about forming an alliance with Kaitlyn so she feels more secure, and told him about the veto plan, and that they could pull in Scottie as well after Swaggy's gone, especially after using the veto on him. JC was doing something off-cam, presumably pullups somewhere, and he got told to "stop that" by BB. He hollered back "don't fuckin tell me to stop that because we don't have a pullup bar!"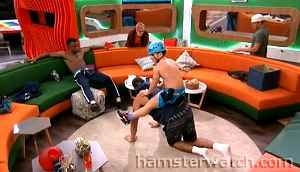 Bayleigh and Rockstar agreed Fessy wasn't working his social game very well, and that they both want Tyler gone sooner than later. Haleigh and Rockstar agreed they want Kaitlyn gone first from their group, and Tyler too. Angela and Tyler talked about the crap app choices per Rachel, and Angela told him Sam had the Bonus Life power (reminder, Tyler was first to know that). Tyler said he'd been doing a lot so he might get one next, and Angela said she'd just been trying to stay in the background. Fessy gave JC a horsie ride, and Sam put the pinwall to artistic use rather than Instagram handles (yay!)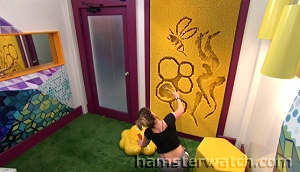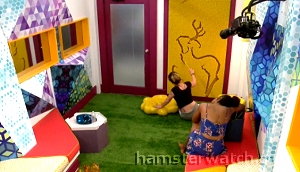 Still no definitive confirmation of who got this week's power, but Tyler is a good guess, and Rachel's 24-hour crap app repercussions still haven't appeared.

Feeds should be good this week: GET THE FEEDS to watch everything unfold, and catch up what you missed on my previous week's page, and/or Hamsterwatch Forum thanks to @UGotBronx, and please remember to use my Amazon link for any Amazon shopping anytime, USA or Canada - thanks!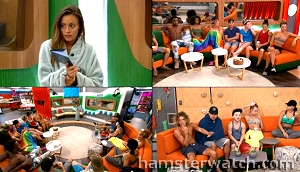 Day 19 Sunday July 8
The yard was finally opened late last night, and pranking with hot dogs/ham/bacon in beds, pockets, etc also started up overnight, and that continued this morning. Rachel had a series of towel-drop issues at 2.37am, for those interested.

Kaitlyn (finally) brought out the Have-not instructions card and read it to them. Rather than picking, she asked for volunteers, said it should be two males and two females, and she exempted anyone who was Have-not last week, anyone ovulating or menstruating, anyone who's stressed, depressed, or on antibiotics. After much hemming and hawing, the decision was finally formalized and Fessy, JC, Haleigh, Rockstar were decreed as sloppers for the week. Rachel's Yell! finally started around 12.15pm, but it wasn't on feeds. It sounded like somebody yelled at her over their speakers, and it will run periodically for 24 hours. It then ran a couple more times, which were also blocked from feeds. Kaitlyn told Haleigh she was planning to renom Swaggy.

Sunday's show confirmed Tyler got the power app. He selected The Cloud, giving him immunity at any noms ceremony or veto meeting. It can only be used once, within the next two months. The Snapchat glasses came out and they did their posing, like they do. Rockstar and Sam each made some new gametalk/social rounds, with Rockstar buddying up with both Bayleigh and Fessy (separately), and Sam with the Bros.

I've got to deal with some other things today, but hope to be back later.

Feeds should be good this week: GET THE FEEDS to watch everything unfold, and catch up what you missed on my previous week's page, and/or Hamsterwatch Forum thanks to @UGotBronx, and please remember to use my Amazon link for any Amazon shopping anytime, USA or Canada - thanks!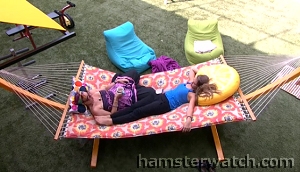 Day 20 Monday July 9
Morning kicked off with retells of JC stealing Scottie's blanket in Have-not room, plus a convo between Rockstar and Haleigh that grew legs in no time, not surprisingly:

Rockstar: "Tyler is the root of the disturbance in our force"
Haleigh: "Kaitlyn said she wants to show the house that sides aren't solidified.. she says she's upset because Swaggy started everything so early"
Rockstar: "He didn't start everything so early, he was just black.. Brett and Winston started things early"
Haleigh: "I think she thinks we're going to align with Brett and Winston - I will literally evict myself before I align with Winston"
Rockstar: "Winston is so wack and needs to go"
Of course Rockstar was referring to Kaitlyn's subliminal reasons for planning to renom Swaggy, which is obviously problematic in its own right, but out-of-context retells made the rounds out here like wildfire.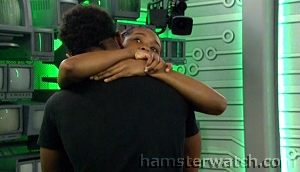 Tyler used his veto on Scottie and Kaitlyn put up Swaggy in his place, as planned. Feeds came back to Kaitlyn crying in HOH to her various supporters plus Bayleigh, who then went to Have-not to talk it over with Swaggy. He was calm and she upset, and they agreed he could survive the week but it would be difficult. They started discussing their options and votes, along with Fessy and Scottie. Fessy said before the meeting Kaitlyn had told him she hoped he can forgive her for what she was about to do. Bayleigh reported that Kaitlyn had said upstairs she felt like a terrified 12-year-old girl and Swaggy is scary to her, and Winston had never said anything negative about her. Together they added up and realized the Bros knew what was going to happen; whether they find out who else knew and didn't warn them remains to be seen.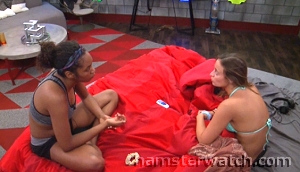 Fessy asked Haleigh if she knew and she said she found out right before the meeting. JC told Swaggy he was surprised. Bayleigh went to HOH to talk with Kaitlyn, who ran her loop about hearing Swaggy had called her a liability and cannonball, and said Winston has been respectful and kind to her. She said meditation told her to stick to her gut, and "I'm surprised that I'm even doing anything like this." Bayleigh began crying for a moment, saying Kaitlyn's got a lot of people on her side and Bayleigh only has Swaggy. Kaitlyn gave her credit for coming up to HOH after the meeting and doing so calmly, and "with grace." Bayleigh said she's been trying to keep Swaggy calm (before all this) and that he'd been better, and Kaitlyn said hearing about her being "controlled" by others triggers her. Bayleigh said JC's been telling everyone that she [Bayleigh] got a power, and Kaitlyn told her Sam got the first one. Kaitlyn's bikini top came off at one point during this convo as she fiddled with her mic cord.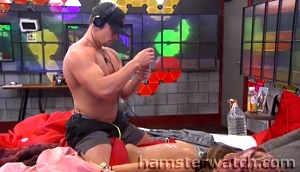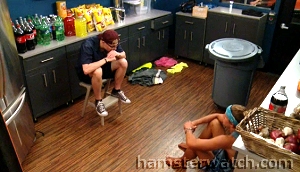 Brettbro straddled Kaitlyn to give her a bare-back oiling and rubbing, and Scottie and Tyler held a "low level" meeting in the pantry (see what I did there?) Each was subtly trying to dig for info from the other, and Tyler told Scottie he's always had his back and still does, Scottie is his #1, and that he (Tyler) "has to" vote out Swaggy this week. Brettbro also gave Haleigh a straddled oiling/rubbing, and she said she'd had a sore neck for several days and had had some moments of lost and blurry vision plus nosebleeds. She said she'd told Diary about it so she'll probably get seen by the medic.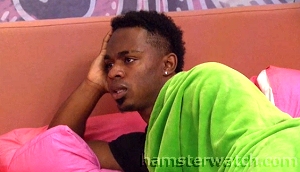 Rockstar and Swaggy had a whispery convo, with Swaggy saying if he goes, Bayleigh would be on her own, plus he wouldn't see her all summer and "that's just going to fuck with me," so he's either fallen hard for her or he's playing up that showmance angle for in-house sympathy, or he's hoping she'll push that angle to the other voters. Maybe all three. They also said Kaitlyn said in her speech that Swaggy had "bullied" her, and how stupid that was. Rockstar said Kaitlyn "fucked up all our games with this stupid ass move" and Swaggy was wondering how to proceed from here because of the "bullying" accusation.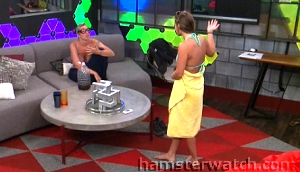 Voices were raised a bit when Rockstar confronted Kaitlyn about putting up one of their "Foutte" alliance without having consulted her, let alone warned her. Kaitlyn went into her "poor me" loops about being victimized by Swaggy, and Rockstar said she's looking forward to seeing the tapes about that because to her it seemed more like Brett and Tyler got in her ear and "prettyboy'd" her - Flashback 7/9 3.15pm. Kaitlyn said Rockstar and Haleigh were still her priorities and if Rockstar wants to continue working with her going forward, she'll be happy to fill her in on things. Regarding the vote, Rockstar repeated she hadn't been able to connect with Winston at all, that he has a Confederate flag at home and was upset he wasn't allowed to bring it. Kaitlyn repeated that Winston hadn't done anything to her personally, whereas Swaggy had. Rockstar said if she wins HOH she'd probably put up Tyler and Brett. Kaitlyn said she felt today's decision was validated because Bayleigh didn't blow up, and Rockstar said it'd be bad for her game if she had, as people would label her the "angry black woman in the house." She also told Kaitlyn some of the things Bayleigh had talked to her about her travels around the country, and how the Bros are representative of a lot of people out here. They ended with a hug, like hamsters do, both said they appreciated the chat, and Rockstar asked Kaitlyn not to tell Brett or Tyler what she'd said about nominating them.


Rockstar brokered a clear-the-air talk between Swaggy and Kaitlyn, and he went up to meet with her in HOH - Flashback 7/9 4.20pm. She cried and repeated her liability/cannonball/totem pole loops, and added some childhood trauma about being ostracized. He admitted he'd said she was being shady, and that others had said don't talk to her before the veto meeting. Tyler joined them but stayed mostly quiet, like the conscientious babysitter/damage controller he is. Swaggy also brought up his (fake, per himself to us, repeatedly) desire to stick til jury so he could go home with enough money to improve his living conditions. He also said he genuinely likes Bayleigh, that they do a little hugging and kissing and he'd hate to get the boot now under false pretenses, adding "we're not like brother and sister, she's my girlfriend," and he swore on his dead father's grave a number of times. When he left, Kaitlyn seemed to have fallen for everything he said, especially because of the swearing, and Tyler said he did too, but then he set about his oh-so-subtle damage control to keep Kaitlyn's mindset where he wants and needs it to be, for his own game. Retells ensued in all corners of the habitat, like they do.

Apparently the resident Orwell was sent out for "surgery" - I don't know why, but Haleigh decided an imposter/replacement was returned as it didn't have eyeball scratches and other telltale "well-loved" flaws of the original. Haleigh hollered "I'm pissed!" after discovering this upon inspection, but she cuddled it anyway. Reminder, see Links of the Day below to get your own authentic Orwell.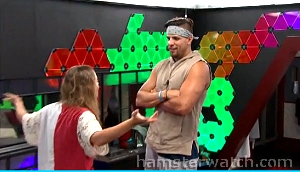 Kaitlyn told Fessy how Tyler had told her last week Sam won the power, and they couldn't evict her or she'd come right back in, and she revealed that she was the swing vote that evicted Steve. Fessy may or may not have known about Sam's power (I've lost track) but he either didn't know Kaitlyn voted to evict Steve, or he did a better acting performance than Kaitlyn keeps saying she's doing. He showed or feigned total shock and awe, and kept repeating "what is going on?!" à la Joe Schmo's original Schmo, Matt Gould. In return for that revelation, Fessy confessed to Kaitlyn his own secret, that he's got an app on the market. She squealed.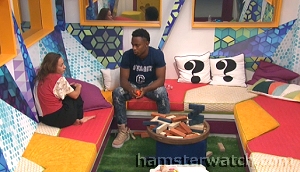 Many round robin convos took place here and there, including Bayleigh working on Tyler and Swaggy working on Fessy, followed by rotations and retells in various combos. News of Swaggy and Bayleigh being a couple made the rounds to those who hadn't heard, which surprisingly was quite a few of them. Kaitlyn told Swaggy she'll keep him if it's a tie, that she couldn't live with herself if she didn't break it in his favor. A lot of people out here said no matter, it won't be a tie, but I'm over here going um it's only Monday, many unlikely upsets have happened in BB, and often. Fessy told Tyler that Kaitlyn's the most iconic player in BB history, and prior hamsters must be shocked and amazed watching her. Angela was spotted for a minute, as was Rachel, and the Bros were missing from feeds for hours - a first. Sam made slop funnel cakes for the Have-nots and they were a hit.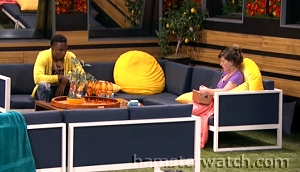 Fessy pressured Haleigh for a kiss in the hot tub but she wasn't having it. He settled for a hug, and she made a very fast getaway. Swaggy and Sam had a late night check-in - Flashback 7/10 12:40am. He began by saying his insecurity made him start off as Swaggy C with them, and he talked in depth about that persona versus himself, Chris. He also told her about his background, his feeling of betrayal by Kaitlyn, and his long-standing wish to play BB. Sam was a very good listener: a rare and valuable trait in BB (and in life), and she also pointed out some of the behavioral errors he'd made in there thus far. He told her everyone in there had approached him to work with them except herself, Kaycee, and JC, which surprised her. She advised him to "uncampaign" (my word) this week by being himself and being sincere: "just turn the faucet open and let the shit pour out" and "unzip your chest and just let your heart fall out." He laughed that he was "taking advice from a girl who's never seen a season, and it's good advice!" This was easily my favorite convo of the season so far, even if it did end with Swaggy doing a "reel her in" hand signal with their parting hug. Afterwards Sam told Kaitlyn that Tyler's masterminding everything, along with her (Kaitlyn), and she should work with Swaggy going forward. There was a burning plastic smell in Have-not room (again?) so the four sloppers didn't have to sleep in there.

Feeds should be good this week: GET THE FEEDS to watch everything unfold, and catch up what you missed on my previous week's page, and/or Hamsterwatch Forum thanks to @UGotBronx, and please remember to use my Amazon link for any Amazon shopping anytime, USA or Canada - thanks!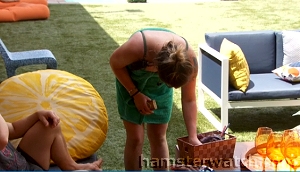 Day 21 Tuesday July 10
Apparently they had a 4am fire drill, possibly arising from the "burning" smell in Have-not overnight. This morning, Sam gave Winston some similar peptalking as she gave Swaggy last night, and she told him and Brett that others may feel excluded when the two of them bro-down. They missed the point and said everyone's included and invited to the bro-downs. Sam's got a little basket to keep her cigs and busywork projects in - she's been basket-weaving with paper towel bits and spinning dryer lint into yarn. She had some fabric of some type she wanted to make things with, but BB took it away. Tyler heard Rockstar had said she's targeting him, and she apologized to him about that. Gametalk carried on in whispery twos and threes, amid much lazing in and around the pool. Bayleigh had a compression bandage around her leg, a result of pulling something when tripping going down the stairs yesterday (#8 on the injury tally below). She also had a bird poop on her in the hammock - Rockstar told her it's good luck.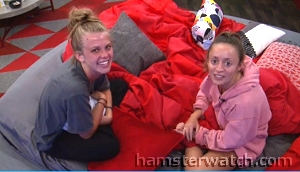 They had an HOH lockdown for almost an hour and a half and it wasn't made clear why, possibly fire hazard investigation or repairs? They also had a stern talking-to at some point about singing and other rule infractions hamsters have trouble with. Kaitlyn gave a dramatic retell to Haleigh about last week's vote, Sam's power, her brilliant HOH, and how "America's bugging out" about her. True, but not the way she thinks. She told Haleigh she'd let Swaggy and Bayleigh use her shower for sex as a personal favor to them since he's going home (per her), then she turned to us to ask "Are you dying? Are you literally dying?"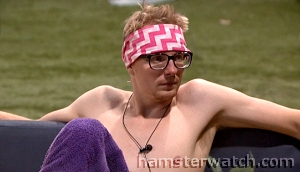 Scottie did some fishing about where everyone stands, including a chat with Kaycee. He buttered her up by saying she's one of the few honest people in there. He said he was still on the fence as far as Swaggy versus Winston but if he had to vote right then, he'd probably keep Winston. Kaycee said she would too. Later Scottie said to Rockstar and Fessy "we gotta keep Swaggy, right?" and Rockstar replied "yeah, that's what we're doing."

JC and Fessy had a long convo/argument about the percentage of left-handers in the general population, with assorted others dropping in and out. It came to an abrupt end when JC threw his drink at Fessy, and Fessy tried to pull JC into the pool, mic pack and all, but only succeeded in pulling off his shorts.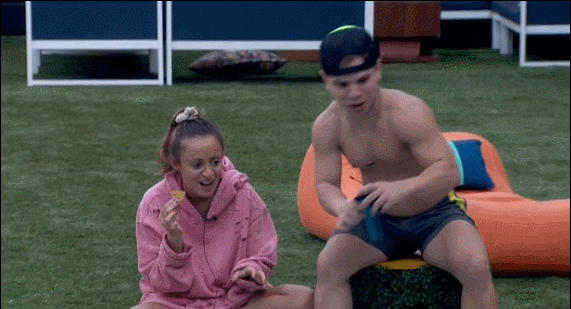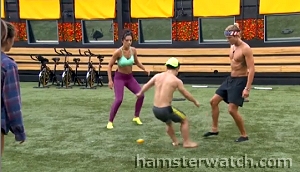 Some group activities broke out spontaneously including soccer with a lemon, scoop ball with plastic outdoor glasses, and beer pong with no beer. There was a lot of sports chat today as well, along with general conversation and of course vote discussions. I'd say Swaggy's going as of now, but it's only Tuesday and we know they can turn on a dime. Rockstar told Haleigh that Swaggy's a good guy, not anymore aggressive than the Bros and as a bonus, he doesn't belittle women. Sam did more wondrous things with slop, and complaints about the pool/hot tub chemicals affecting their skin and clothes raged on. I guess they missed the times the hot tub turned into a slime pit - I kid, I kid, of course they did.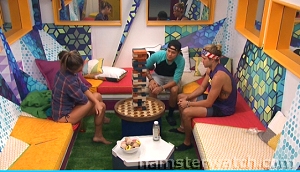 Tyler began lining up his ducks for next week (and started the complex Kaitlyn detachment process) over Jenga with Angela and Kaycee. He said Kaitlyn had been too attached to him (read: clingy) and Angela said she'd noticed Tyler volunteered for Have-not but Kaitlyn skipped over him, and that people were talking about them. Tyler said he didn't want it all to "look bad" considering Kaitlyn has a long-term boyfriend out here, and both girls told him it already did. But the week's not over yet and a tie vote is possible this week, so Tyler landed back in HOH with Kaitlyn later. She whined to him that nobody wanted to hang out up there with her, but everyone wanted to hang out up there last week when Tyler was HOH. She went on to complain what a hard two days it's been, and "no one remembers what I did yesterday."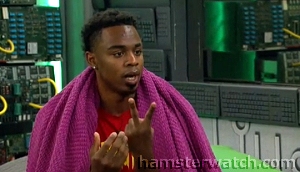 Swaggy made an impassioned pitch to Tyler and asked him to pass it along to Kaitlyn. He talked about his showmance with Bayleigh, how he wanted to be there more than Winston, three people wore Swaggy C shirts into Diary to show support, etc etc. Later he made a pitch to Kaycee which focused more on alliances and future scenarios, and that he'd always be a target going forward. She merely said "right" after most of his lengthy sentences, and thanked him afterwards for laying everything out. Regardless of anything else, you have to give him credit for going down swinging - I don't think Winston's lifted a finger since the veto meeting.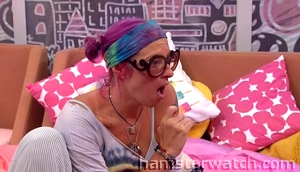 Another pinkyswear landed on the tally when Bayleigh had Rockstar swear she wouldn't repeat that Scottie had told her (or Swaggy?) that Haleigh was the rogue vote. That in turn resulted in another hamster shockface for the collection, by Rockstar. Most of them spent a lot of the evening on and around the hammock in various combos. As Tyler recirculated among the citizens, Fessy joined Kaitlyn in HOH and she plucked some of his stray eyebrow hairs. And yet another item hit the tally as Swaggy slammed his thumb in the sliding door, and pretty badly. He returned fairly soon from Diary and started up campaigning again to various others in various groups. Later still, he told Rockstar she should take Kaitlyn over Tyler to finals (as he believes Tyler's never seen BB and doesn't know how the endgame works). Several of them returned to HOH to socialize and share embarrassing stories, so Kaitlyn perked up again.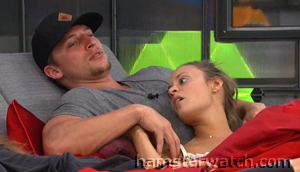 Both nominees have threatened to call people out on the live show if they're evicted: Winston after being nominated Friday (he actually threatened to "throw some hysteria" before they vote if he's still on the block, which he will be), and Swaggy included in tonight's pitch to Tyler that he'd call out the Bros/Angela/Rachel quartet. If past history is any gauge, and knowing our collective luck, there won't be any drama and whichever one's evicted will go quietly.

GET THE FEEDS to watch everything unfold, and catch up what you missed on my previous week's page, and/or Hamsterwatch Forum thanks to @UGotBronx, and please remember to use my Amazon link for any Amazon shopping anytime, USA or Canada - thanks!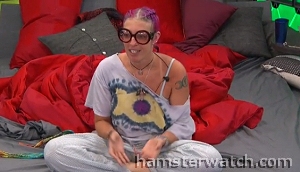 Day 22 Wednesday July 11
Rockstar made a pitch to Kaitlyn on Swaggy's behalf, beginning with "Mister Young Swaggy is a superfan of this show" and that it'd be a disservice to the superfans of the show to cut him loose this early. Kaitlyn ran all her loops and finally said she didn't know what she'll do if it's a tie. Interestingly, along the way, Rockstar said Swaggy had come in too strong and compared him to BB12 Matt Hoffman and his "diabolical supergenius" shtick, but I think most of that was in Diary and not in the house. Swaggy's first week sounds more like Jozea's since it was so

delusional

faulty. Jozea's name also came up in their convo but in the context of going out early and getting on another show anyway, and not regarding gameplay. Kaitlyn also said "Winston's going home next week" and expressed her certainty that she'll win next week's power app.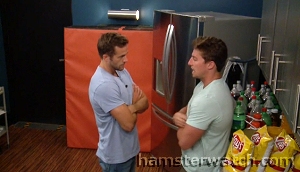 Winston and Kaycee were next to HOH, but Kaycee was asked to leave. Winston sprinted downstairs to fetch Brett to reaffirm neither of them told Scottie or JC that Kaitlyn's targeting Winston, and Kaitlyn replayed her week at the top for them, including what she wore for each stage. Angela and Rachel popped in to shower but left awkwardly to retrieve forgotten towels. Later the Bros assumed the brostance for a pantry meeting to review, and both agreed Angela and Rachel had hurt their games by not coddling Kaitlyn this week - Bros were pleased about that. They also compared retells about votes as well as gossip regarding jealousy between Brettbro's various petting buddies.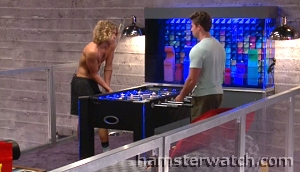 Tyler ran damage control with Brettbro over foosball, getting the retells and running the votes, including which they still need to secure, namely Scottie and Sam. Swaggy ran another lengthy pitch to Kaitlyn, this time with Tyler in attendance. Later Kaitlyn and Tyler had a minor verbal tug-of-war as to who was really in charge last week and this, with Kaitlyn insisting she's been operating independently. He suggested they keep their partnership quieter going forward, and that Kaitlyn should put some distance between herself and Haleigh also for appearances' sake. There really isn't enough popcorn for all this.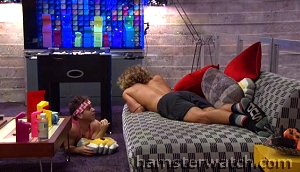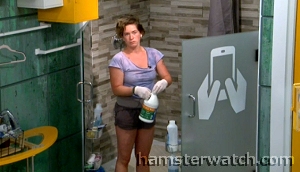 From there a lot of one-on-one and one-on-two convos happened, including many rounds of he said/she said, far more than I'm to keep up with, but highlights included Kaitlyn and Haleigh confronting Tyler about allegedly telling Swaggy he didn't have Haleigh's vote (Tyler swore he didn't say that); Haleigh telling Kaitlyn she didn't know if she wanted Tyler involved in future gametalks; Kaitlyn telling Haleigh if she wants to vote to keep Swaggy, she can; Rockstar telling JC and Haleigh the Bros are telling people that she (Rockstar) and Haleigh voted to evict Steve last week; and a very lengthy chat between JC and Tyler, part of which included Tyler saying some votes won't be finalized until he tells them what to do just before the show, and that he (Tyler) and Fessy had agreed to not work against each other going forward, at Kaitlyn's request. Kaitlyn, Swaggy, Winston, and Tyler carried on holding one-on-one meetings about votes, and Sam continued her cleaning crusade. Between scrubbings, she told Winston he has her vote.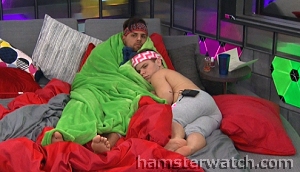 On it went, and on and on, with occasional breaks for foosball, goofing around, and a lot of rubbing in HOH. Bayleigh worked on Kaitlyn for awhile and got her all a-flutter again, to the point of admitting her intuition had failed her this week. She was so wound up that she said she should call a house meeting. Bayleigh told her she couldn't do that, but feedsters clapped our hands with glee at the prospect. JC and Fessy were on babysitting shift after Bayleigh left: okay, perhaps there aren't formalized shifts, but their faces made it clear they were over the drama. It kept going though, with Tyler taking over to attempt calming Kaitlyn, and Swaggy and Bayleigh keeping their campaigns going downstairs. Meanwhile Rockstar added waking up sore from the Have-not cylinder bed to her growing list of complaints that now include Winston, Tyler, Kaitlyn, and being slop hangry.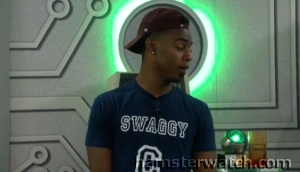 Tyler told Swaggy and Bayleigh that Swaggy should try to get seven votes, as he didn't want Kaitlyn to have to face the pressure of having to break a tie - yep, he said that. After a lengthy additional plea from an aura-clad Swaggy, JC pantomimed a spank-and-push-out-the-door to Tyler, who grinned in reply. Sam made funnel cakes plus donuts, which were a hit once again. Swaggy and Kaitlyn had yet another round, and Tyler had to put in still more time with her afterwards. The burning smell was back in Have-not room so the sloppers moved into the lounge, a Rachel fart drove everyone out of her group's room, and Swaggy and Bayleigh got busy undercovers on their probable last night together.

It was the wafflingest Wednesday we've seen in a very long time, and most or all of it was probably for nothing, as Swaggy's almost surely going to walk the plank to Julie's boudoir tomorrow. But regardless of whether he or Winston goes, one of the two strongest duos in the house is about to be broken up: the showmance or the bromance. Tyler did that. (But Kaitlyn will get the official credit in the books.)



Ratings - Early Days Yet edition
Ratings are Monday's, based on entertainment value
VTE = Voted to evict




I still miss the adoptable anipals but it's been fun to see early season premieres again when both legendary and now-forgotten alums arrived fresh to our screens as unknowns. A lot of those early seasons had casting twists and the like, but overall the lack of gimmicks and glitzy premieres is refreshing to see again. Especially notable for me is the candor of even the earliest Diaries, and the chance to start to get to know the cast as individuals from the get-go. Ahh, the good old days.





Won: Nothing yet
HOH 0 - Veto 0 - Noms 0 - HN 0

VTE Swaggy

Who?





Won: 1st eviction immunity
HOH 0 - Veto 0 - Noms 0 - HN 1

VTE Winston

These first days have been more volatile than most seasons (three mentions on TMZ & beyond already!) but she's often the voice of logic, common sense, and decency. We desperately need that in these BB streets. Her quiet, observational gameplay and dry sarcastic humor are bonuses.





Won: Nothing yet
HOH 0 - Veto 0 - Noms 0 - HN 0

VTE Winston

It's rare that I can stomach a showmance couple on feeds, but I enjoy her and Swaggy together (not counting her obsession to pop his zits and trim his nose hairs). She's good on her own too, and she isn't afraid to speak up when she needs to. She's still wearing the first-to-enter curse but I hope she sticks around awhile before her inevitable boot. Her facial expressions are superb and ever-changing, and she's a delight to screencap.





Won: 1st eviction immunity
HOH 0 - Veto 0 - Noms 0 - HN 1

VTE Swaggy

When he's not broing with Winston, he's cuddling with Kaitlyn, or Haleigh. Didn't he advertise he's a loud, funny, life of the party kind of guy? Pfftt.





Won: 1st eviction immunity
HOH 0 - Veto 0 - Noms 1 - HN 0

EVICTED 8-4

Not surprisingly, he's a LOT more likable as himself than his SWAGGY C persona. Now that he's been blindsided twice in five days, I hope he can figure out what he needs to do to stick around, and to pay better attention, and I hope he can make it happen.
Update: Sam gave him solid advice in their lengthy Monday night talk that could indeed save him this week, and I hope he takes it to heart.





Won: 1st eviction immunity; Crap App #1 Hamazon
HOH 0 - Veto 1 - Noms 0 - HN 1

VTE Winston

He's so blissfully naive it makes him fun to watch, in a point-and-snicker kind of way. If he goes deep into the season, he'll likely bring more unintentional comedy than most.
Update: Ups downgraded to neutral as soon as I'd posted, for his continual and unwanted pressure on Haleigh for kisses, hugs, etc. She's made it clear she's not interested in him like that, but he still keeps pushing.





Won: 1st eviction immunity
HOH 0 - Veto 0 - Noms 0 - HN 1

VTE Winston

She's not the shallow girl we expected, she's a lot more game-aware than most of them give her credit for, and more people-aware than most 21-year-olds (by a lot). She's playing a quiet but potentially powerful game, and she could go far if she plays it well. It would behoove her to string Fessy along for her game benefit but fortunately for ethics fans, she doesn't seem to want to do that. She's got a lot of #Deathrace2018 potential.





Won: Nothing yet
HOH 0 - Veto 0 - Noms 0 - HN 1

VTE Swaggy

I'm torn. He's not as problematic as he was pre-season or those first nights of feeds, and he's one of the few who seems to have listened to the behavior/language warning they were all given. Overall I can't make up my mind: he's equally annoying and amusing.





Won: Nothing yet
HOH 1 - Veto 0 - Noms 0 - HN 1

No vote (HOH)
There's new age interests and lifestyles, psychic claims and reincarnation theories, and then there's full-fledged wackadoodle. I think her delusions about her epic HOH are still funny, but it's the kind of thing that I'll be utterly fed up with one day, without any warning.





Won: 1st eviction immunity; 2 weeks Pinwheel
HOH 0 - Veto 0 - Noms 0 - HN 0

VTE Swaggy

Who?





Won: 1st eviction immunity; Crap App #2 Yell!
HOH 0 - Veto 0 - Noms 0 - HN 0

VTE Swaggy

Who? She wasn't in the 'Who?' category until she got least trending of the week, and that bothered her so much she's been as wallpapery as Angela and Kaycee ever since. BTW shame on BB for blocking her yelling from feeds. While there are a lot of wonderful things BB USA could and should pick up from BB Canada, blocking tasks from feeds is definitely not one of them.





Won: 2 weeks Robot; Power App #1 Bonus Life
HOH 0 - Veto 0 - Noms 1 - HN 0

VTE Swaggy

She doesn't know anything about BB but she's willing and eager to learn, and she might in fact do just that. In the meantime, I just like having her around to tell her stories. She's simply a very pleasant hamster to watch, just for watching sake, and her unexpected sassy outbursts are icing on the cake.





Won: 1st eviction immunity
HOH 0 - Veto 0 - Noms 1 - HN 1

VTE Swaggy

I'm really pleased he's safe and will stick around at least another week, if not many more. He's pacing himself well and hopefully placing himself well too, which is a good accomplishment considering he was Steve's BFF and a very easy target a week ago. He keeps bringing the random and that's all I ask for.





Won: Power App #2 The Cloud
HOH 1 - Veto 1 - Noms 0 - HN 0

WON VETO/USED ON SCOTTIE
VTE Swaggy

His second HOH has gone well, even if he won't get official credit for it in the BB history tallies and tables. He's shepherding and manipulating like a boss, but some of them are catching on and I'm not sure if he realizes that. Regardless what happens from here, he's been a phenomenal and virtually full-time babysitter for Kaitlyn and as exhausting as that has to be, he's shown no signs of cracking.





Won: Nothing yet
HOH 0 - Veto 0 - Noms 1 - HN 1

No vote (nominee)
His hyperdrive paranoia is funny to watch, but I can't listen to him for more than a few seconds. He's virtually on ignore for me already but it's too soon to give him an official empty wheel. He'd be a more beneficial boot for most of them than Swaggy, as his bro tie with Brett makes them arguably the strongest duo in there as of now. I'm hoping but not really expecting he'll be gone Thursday, but I'll keep hoping until the votes are cast.





Won: Nothing
HOH 0 - Veto 0 - Noms 1 - HN 0
1st evicted 7-6 Day 16

The Summer of Steve™ ran just a couple weeks and his job lie(s) didn't help him any. He might have been better off if he'd been open about his undercover past and teaching present as both would have let him share more stories, or if he'd gotten in with Kaitlyn and Rockstar via his wife's new age interests and books. He and Scottie buddied up but otherwise he was odd dad out. He didn't keep up so believed he was safe, and he didn't really campaign to stay. It might not have helped if he had because all the scurrying was elsewhere, but it wouldn't have hurt. He didn't get his required nightly baths but he learned to clean his ears, and early risers in particular will miss him.



Lines and Links of the Day
Lines

Haleigh: I've been attacked by several ants

Rachel about Diary: In there you are on, they feeds you lines --feeds cut

Rachel: America!
Brett: Stop talking to America
Rachel: They want you to talk to them
Brett: No they don't, that's the first thing we were told not to do, number one
Rachel: I was told by people to talk to the camera
Sam: I was told not to pander to the camera
Brett: I was told not to

Angela demonstrating an exercise: I'm telling you, it works your butt but you look really gay

Brett: Do you change your hairstyle every day?
Scottie: No, Angela changes my hairstyle every day

Sam about her grandparents: They were a peanut butter and jelly couple

Rockstar to Fessy: Maybe it'll be a mental competition so you won't have to throw it

Winstonbro about his foot blisters: Trust me, I'm a doctor
JC: Oh you're a doctor?
Winstonbro: I'm kidding, I'm literally joking

Kaitlyn to Winstonbro: Swaggy comes at me and he gets loud with me, like it was really scary

Scottie: If you ever need to point a knife at someone, I'm your guy

Swaggy: Last year people would talk too much
Sam: So now this year nobody's talking at all
Swaggy: People are talking but it's not getting around as much

Kaitlyn to Rockstar after Rockstar said she'd not been included in alliance decisions/plans: You shouldn't have said that to me, now I'm going to be so far up your vagina hole you won't be able to pee

Rockstar to Kaitlyn: Was it intuition or are you a shitty manifestor?

Kaitlyn to Swaggy: I know I can't say this but in the event you do go home on Thursday, when I get out of this house you can expect a check for $5k

Swaggy to JC: If they flip on me, you'll know there's a rat

Haleigh: I had to go to the hospital once, I knocked myself out with a can of peas

Kaitlyn to Bros: Can we just go over my game right now? Let's just go over it

Tyler: The closest duos know how to keep their distance
Kaitlyn: So maybe we should do that

Tyler: I swear on my life
Kaitlyn: But do you swear on my life?

Rachel: Winston, if a patient comes to you with a complaint, do you make those facial expressions?
Winston: Good night guys
Brett: What facial expressions?
Rachel: Oh, you haven't noticed Winston's facial expressions?
Winston: Evidently everybody thinks I'm an alien



Links

GET YOUR FEEDS

Use my links for any Amazon shopping, anytime, at no extra cost - just start your shopping trip by clicking Amazon USA or Amazon Canada

Live like a hamster! Available from Amazon:
-17-inch Orwell owl Amazon USA or Amazon Canada
-Nanoleaf LED light system like HOH room Amazon USA or Amazon Canada
-Emoji pillows, individual or sets (read descriptions carefully, some sets are random) Amazon USA or Amazon Canada
-Gradient duvet/sheet sets pink/purple or blues
-Minion plush toys Stuart - Bob - Tim - loads of others
-New age books by Sahvanna Arienta, Steve's wife

Big Brother 20 The Saga: Episode 2 by @WilHeuser

BB20 Sims Intro by @BBTeamNorth

BB By the Week for Week 2 by @aubramariebb

Please tweet me @hamsterwatch for extra good or extra funny things you come across thru the season - thanks in advance!


Tally Items

Season Stats
HOHs in order: Tyler; Kaitlyn

Veto winners in order: Faysal; Tyler

Evictions in order: Steve 7-6








Linking to any page here is fine. Please don't repost content from this site (or any other) without permission, and don't repost or hotlink images.



THE REAL SHOW IS THE FEEDS


SAME DAY AIR SHOWS
Live air shows in some areas
BB1 thru BB19 and many other CBS shows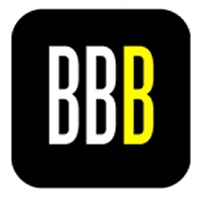 BIG BROTHER BUDDY
Get push notifications for all the big feeds events - iOS or Android


HAMSTERWATCH SWAG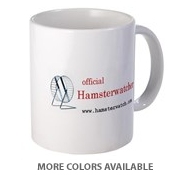 Mugs, shirts, more
Visit my Cafe Press shop






Big Brother 20 SEASON FAQ


Day 1 Move-in was June 20
Day 8 CBS premiere is June 27
Day 9 Feeds begin June 28
Day 99 Finale will be September 26

Feeds are streamed by CBS, and Flashback is accessible via All Access subscription. Call 888-274-5343 for account help, including cancellation.

Air shows on CBS (Global in Canada) are Sundays 8pm, Wednesdays 9pm, eviction Thursdays 9pm.

Big Brother After Dark on Pop TV is every night midnight to 3am, except Thursdays 1am to 3am. The aired blocks are live (or recorded earlier the same night, depending on your cable provider).

The CBS app (by CBS Interactive) plays BB air shows and other CBS shows, as well as feeds, or you can use your browser to watch feeds on mobile devices. The same All Access link used to subscribe will lead to the feeds viewing page if you're already signed up.

BB20 prizes are the same: $500k for the winner and $50k for 2nd place. Stipend for the others is $1,000 per week again, including pre-show hotel and jury sequester.

The habitat has 94 HD cameras (up 7) and 113 microphones.

The recorded in-house announcements are the voice of producer Don Wollman. He and Julie Chen are the only staffers who have been there since Big Brother 1.