This site is about the Big Brother 20 feeds and contains spoilers! It isn't necessarily thorough: it's what I catch and/or what interests me. It's about watching hamsters: who's doing what and why. Thanks for encouraging my behavior.
Your pal, dingo



PROTECT YOUR ONLINE PRIVACY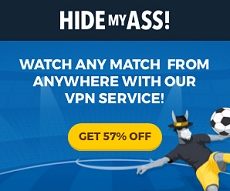 Watch BB Canada, BB UK, Survivor New Zealand, and other non-USA shows






VIEWER VOTING: BB APP STORE



WINNERS
RE-DRAW - TBA
BONUS LIFE - #1 Sam
Can give one of first 3 evictees a chance to return to the game. If unused, 4th evictee automatically gets a chance.
UPGRADE - TBA
THE CLOUD - TBA
IDENTITY THEFT - TBA

LOSERS
YELL! - TBA
FAKE NEWS - TBA
READ IT! - TBA
HAMAZON - #1 Faysal
Periodic [vegan] ham deliveries, must all be eaten
SPAMMED - TBA

Limit one per hamster, whether winner or loser. Voting info and rules







BB20 DRINKING GAME


Take a swig whenever someone complains about the Messenger Bot







QUICK LINKS & BOOKMARKS



-SIGN UP for feeds
-WATCH the feeds
-BB20 official site
-Live show tickets

-Feeds updates by @UGotBronx
-My Twitter - my screencaps
-Amazon portal USA or Canada

-Dick at Night with @EvelDick

-BB Viewer by @liquid8d
Requires All Access account

-BB20 Wiki

-Hamster Twitters
BB USA - BB Canada

-Advice for cast friends/family

-VPN to watch BB UK and/or to protect your online privacy







EAST COAST AIR SHOWS



CanadaTV for Roku
$2/month - Global airs BB USA

East coast air show live streams:
- 1 - 2 - 3
NO DOWNLOADS NEEDED - BEWARE OF CLICKING POPUP ADS OR WARNINGS




Donations via Paypal are gratefully accepted!


Watch Big Brother
Seasons 1 thru 20
Plus tons more CBS content






BIG BROTHER SEASONS



CBS All Access
Seasons 1 thru 20

Amazon DVDs BB4 - BB3

Amazon Instant Video
BB18 - BB17
- BB16
- BB15
- BB14
- BB13
- BB12
- BB11
- BB10
- BB9
- BB8
- BB7





BIG BROTHER 20 FEEDS EXCLUSIVELY ON CBS ALL ACCESS
All Big Brother USA seasons + most CBS shows past or present are included
$5.99 PER MONTH INCLUDING 1 WEEK FREE TRIAL or $9.99 AD FREE
COMPUTER - MOBILE - ROKU - CHROMECAST - APPLE TV - ANDROID TV - FIRE TV - XBOX 1/360 - PS4


>> >> >>

>> >> >> >> >> >>

>>

Amazon USA
- Amazon Canada
June-July 2018
Power Status
Tyler is Head of Household
Sam and Steve are nominated
Faysal won veto/did not use
Nobody is Have-not

Sam won App Store, got Bonus Life and can give 1st, 2nd or 3rd evictee a 'chance' to return to the game - if unused, 4th evictee automatically gets a 'chance' to return

Faysal lost App Store, gets one week Hamazon deliveries, and must eat it all

Chris plus Angie, Brett, Faysal, Haleigh, Kaycee, Rachel, Scottie have first week immunity
Kaycee is in rainbow pinwheel suit for two weeks, and must stay wherever she is when pinwheel spins
Sam is a robot for two weeks, but can re-enter as herself between Robot Offline and Robot Online signals


Upcoming Events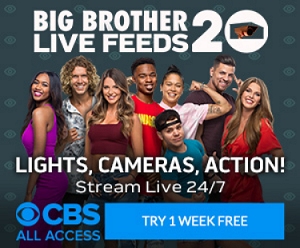 Feeds are underway and they are the real show - SIGN UP NOW and get a one-week free trial! No promo code needed

Thursday afternoon: feeds down for rehearsals
Thursday night: HOH comp
Friday: App Store, Have-nots (if not decided in HOH comp), nominations
Saturday: Veto comp


Next Shows
Thursday 7/5 9pm - Live eviction
Sunday 7/8 8pm - App Store, nominations
Wednesday 7/11 8pm - Veto comp, veto meeting

CBS schedule is Sundays 8pm, Wednesdays 9pm, live eviction Thursdays 9pm - stream links to watch East Coast airing online are posted in Quick Links & Bookmarks on the left sidebar

After Dark airs for three hours every night on Pop - times vary by area and provider, check your cable guide


Other News
Fourth of July party and fireworks wasn't held on the studio lot this year, but they were locked inside anyway, presumably for Thursday's comp build.

Alliance charts by @89razorskate20: Day 10 - Day 13 - Day 14

Hamsterwatch Forum for real-time feeds updates, screencaps, and air show recaps by @UGotBronx

Diary segment tally by @clamperls

Pre-season popularity poll results #1 Winston, #2 Bayleigh, #3 Sam
Follow @89razorskate20 on Twitter to participate: weekly polls launch every Monday 4pm PT/7pm ET

Post-eviction shows are hosted by BB Celeb runner-up Ross Mathews and winner Marissa Winokur, Fridays on Facebook Watch. The first (no eviction) ran June 29.

Ratings Watch Wednesday's premiere won both hours with 1.5 rating, 7 share, 5.29 million viewers; ahead of Masterchef and Gordon Ramsay's 24 Hours to Hell & Back on FOX with 1.0/5/3.72 and 1.1/5/3.53; Ellen's Game of Games and World of Dance reruns on NBC with 0.8/4/4.20 and 0.6/3/2.77; and two The Goldbergs, Modern Family and American Housewife reruns on ABC with 0.7/3/2.98, 0.6/3/2.41, 0.6/3/2.42, 0.4/2/1.99 respectively.

Thursday's 2nd premiere won the hour with 1.3 rating, 6 share, 5.09 million viewers, ahead of The Four: Battle for Stardom on FOX with 0.8/4/2.57, Match Game on ABC with 0.7/3/3.64, and two Marlon episodes on NBC with 0.6/3/2.96 and 0.6/3/2.45.

Sunday's show won the hour with 1.2 rating, 6 share, 4.89 million viewers, ahead of Celebrity Family Feud rerun on ABC with 0.8/4/4.57, America's Got Talent rerun on NBC with 0.6/3/3.84, and The Simpsons and Bob's Burgers reruns on FOX with 0.5/3/1.35 and 0.5/2/1.33.

Wednesday's veto show placed second with 0.9 rating, 5 share, 3.91 million viewers, behind Macy's 4th of July Fireworks on NBC with 1.2/7/7.46, and ahead of Gordon Ramsay's 24 Hours to Hell & Back rerun on FOX with 0.4/2/1.42, and Modern Family and American Housewife reruns on ABC with 0.4/2/1.72 and 0.4/2/1.57.
Rating and share: adults 18-49 - Rating: % of all TV households - Share: % of households watching TV



"Week 1" - Days 1 thru 15 - June 20 thru July 4, 2018
Daily and Noteworthy Events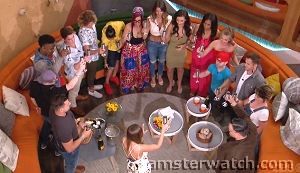 Head of Household: Tyler
Have-nots: Brett, Kaitlyn, Scottie, Winston
Original noms: Sam, Steve
Veto winner/outcome: Faysal/didn't use
Final noms: Sam, Steve
Evicted: Steve

First trio of comps results:
Winner: Chris, who gave first eviction immunity to Angie, Brett, Faysal, Haleigh, Kaycee, Rachel, Scottie
Losers: Kaycee got Pinwheel of Doom, and Sam was a robot

App Store results:
Winner: Sam/Bonus Life
Loser: Faysal/Hamazon deliveries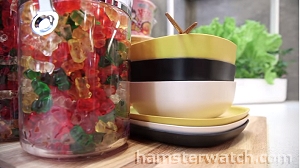 Day 1 Wednesday 6/20 Move-in
They taped the premiere early in the day, with a few dozen alums along with a stunt audience. There were representatives "from every season" at the taping (but not OTT, other than Jason who also repped BB17, or celebs). No twists were revealed and they didn't start the HOH or supplementary comps, but no vets moved in with the 16 rookies, so that's something. One or more could come along later but nearly the entire fanbase is hoping not. Bayleigh was the first through the doors so unless she breaks the 28-season US/Canada streak, she won't be winning the season.




Day 5 Sunday June 24
Tyler nominated Sam and Steve.




Day 7 Tuesday June 26
Brett, Kaitlyn, Scottie, Winston volunteered to be Have-not, and the fidget spinner room was transformed into Have-not room.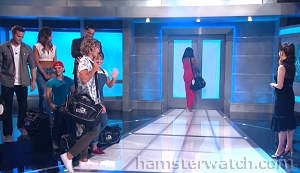 Day 8 Wednesday 6/27 Premiere #1
Julie welcomed us and her audience of alums, introduced the first batch of intro packages, and brought those first eight onstage. Bayleigh was first to enter the habitat, by a lot, just daring that first-in curse to strike her down (though she probably didn't know about it), along with Sam, Tyler, Winston. They were followed by Steve, JC, Angela, Kaitlyn. Then came the rest of the intros and entries by Haleigh, Scottie, Faysal, Kaycee followed by Rachel, Chris, Brett, Angie. Quick-takes of convos and first impression Diaries ensued to reinforce their respective assigned archetypes, with sound effects, along with the traditional formal introductions among themselves - including various job lies - over champagne toasts. Rachel chased Scottie around the house, screaming he'd never been kissed, but Julie put an end to that awkwardness.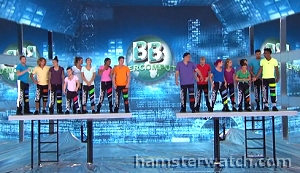 The first comp was themed BB Supercomputer, with outfitted hamsters split between two platforms. They chose their own groups but an even gender split was required. Angela, Bayleigh, Brett, JC, Kaycee, Tyler, Rachel, Winston had to hunt cards in a blackout room with hazards. Angela won by finding the safety card and Kaycee lost as there were only seven cards to be found. She disappeared temporarily. Angie, Chris, Faysal, Haleigh, Kaitlyn, Sam, Steve, Scottie were suspended on cables for Not a Bot, and had to drop down to pick up letter blocks, then stack them to spell HOUSEGUEST. Chris won that by finishing first, and Sam was last so she too disappeared.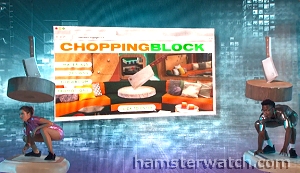 Angela and Chris agreed to work together, and each would save their own platform's people. But Chris said in Diary he didn't mean it, as there was no safety included for him if Angela won. They faced off in Surfing the BB Web, where they had to remain on tilting, wobbling surfboards with BB-themed hazards flying at them and banging into them. Chris won that but instead of platform people, he had to select two of the entering groups of four for first week immunity. He selected his own group which included Angie, Brett, Rachel, and the other group that entered with them: Faysal, Haleigh, Kaycee, Scottie.

Kaycee reappeared in a winged, rainbow Pinwheel of Doom suit, and Julie said when the pinwheel spins she has to stay in the room she's in until it stops spinning. Sam reappeared, more or less, as a robot. She could speak and interact as the robot but she was physically elsewhere. Julie explained she could enter the habitat as herself when she gets a "Robot Offline" signal, and must swap back out for the robot again when she hears "Robot Online." Both getups are in play until the first live eviction (presumably Thursday, July 5).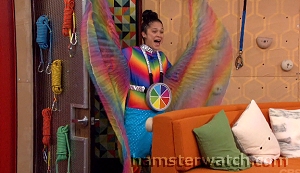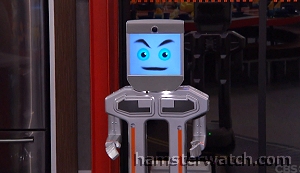 Rockstar for Angie and Swaggy C for Chris nicknames were in place at times from both Julie and Diary name graphics but again, I'm waiting for feeds to find out which names will be used by the group before I shift over. It's hard enough to get everyone's names down at first without adding nicknames to the mix, especially with so many soundalikes this year.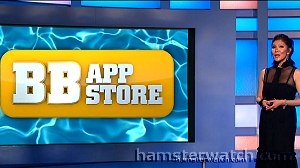 Julie announced the BB App Store (the new Care Package/Den of Temptation scheme) was live, with voting open via Twitter, Facebook, Skype, or Kik. One winner and one loser per voting session will get a reward and consequence, respectively, and only they'll be told they have it. Winning options are Re-Draw, Bonus Life, Upgrade, The Cloud, Identity Theft, and losing options are Yell!, Fake News, Read It!, Hamazon, Spammed. Results of this first round will be on Sunday's show. The voting app crashed immediately upon launch.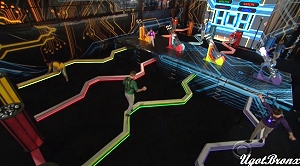 Day 9 Thursday 6/28 Premiere #2
Their first HOH comp was Microchip Mayhem, in which the eight non-immune had to run across balance beams, grab a ball ("deleted chip"), trot it back to the platform and drop into the tube of another player. A full tube eliminated that player, and the last one standing was the winner. Steve fell more than if it was the slippy-slide skating comp. Outs in order were Sam, Steve, Kaitlyn, Winston, Angela, JC, Bayleigh, leaving Tyler the winner.

There was a slight spat on the apparatus between Bayleigh and Tyler, but not enough to qualify for the fight tally. Gametalks started up in quick edit segments, with Chris/Swaggy and Winston in particular already gaming hard. Winston proposed a bro-based alliance to include Brett, Tyler plus Kaycee, JC, Angela. Samrobot had a number of sniffly moments about being isolated and shunned, with Rachel counseling her at one point. A crying robot campaigning to Tyler in the pantry that she not be put on the block was equally sad and hilarious.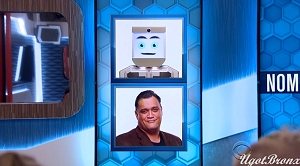 Tyler nominated Samrobot and Steve (with the robot's pic on the noms screen even!), with the excuse that they were first out in the comp. It made for a good excuse, but they were the two not included in Winston's alliance plan. Kaycee's pinwheel spun just as they were called inside for noms so she had to sit them out in the backyard, but she had immunity anyway. Other than the comp itself, the bulk of the episode was recapping last night's premiere, and reinforcement of their archetype slots.

FEEDS START TONIGHT 10pm Pacific/BB time (1am Eastern) - sign up now!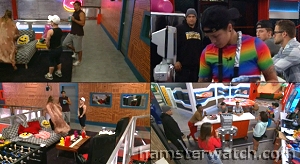 Feeds kicked on right on time, well a minute or so after After Dark started. The hamsters were expecting us to join them so they launched into shoutouts and the like but soon settled into their regular selves. They had not yet had their veto comp, but they did have their App Store results. Faysal lost and gets a "Hamazon delivery" periodically. He has to eat the ham he gets but since he's Muslim, he has vegan ham and it's awful. They didn't know who won or what the winner got. My guess is JC due to pre-season buzz, a bouncy premiere appearance, and his demeanor about it all tonight. He said he knew who got it and at one point he said it was Brett, but that doesn't make sense. Chris/Swaggy also made a big splash on premiere so it could be him.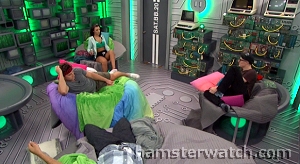 The Have-not room isn't as bad as some recent ones. It has circuit boards decor, server racks, and the beds are round platforms of different sizes. Brett, Kaitlyn, Scottie, Winston are the first Have-nots, and some or all of them volunteered. Chris/Swaggy and Bayleigh were already making out, and they said they aren't telling anyone else. Sambot has a bedtime curfew and she was rolled into the pantry a little before midnight. The photo wall even has a picture of the robot.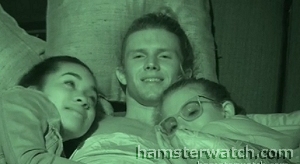 They had a booze delivery and JC in particular got very loud and boisterous along with a couple others. Winston and Brett bro'd around together, with Winston gametalking and parannoying (© BB5 Diane) hard. He was especially snippy about missing out on booze. Tyler had Bayleigh and Haleigh in his bed for awhile (Bayleigh was his initial thought for a renom if needed).

The house was split into two sides which may last a long time or it may last a minute. Kaitlyn said Sam had dissed her meditation or her dedication to it, and joked about it, and Kaitlyn was clearly gunning for Sam to go. Steve gave some life lessons, and several of them teased Faysal for being the least trendy of them. Haleigh climbed piggyback onto Chris/Swaggy and got the "no horsing around" warning. Many of them have been feeling ill, either colds making the rounds or the SoCal and habitat dry air messing up their sinuses.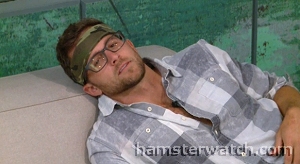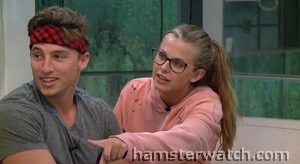 Kaitlyn did a lot of gametalk rounds, Haleigh did a lot of social rounds, and Bayleigh popped a lot of zits (not her own). Winston's a mess but remember he only came to BB last season and binged six seasons since, so he thinks he's an expert. Faysal stuffed a bunch of vegan ham into his mouth (to get it "all eaten") then puked it all up, loudly - Kaitlyn "held his hair." Bayleigh cried to Faysal and Kaitlyn about being a possible renom and Chris/Swaggy telling her they should distance themselves a bit for appearances.

It's just the first night and there are 16 of them who have a week's head start on us, with a lot going on, so these are just a few highlights. Get more details and screencaps for anything you missed at Hamsterwatch Forum thanks to @UGotBronx, and please remember to use my Amazon link for any Amazon shopping anytime, USA or Canada - thank you!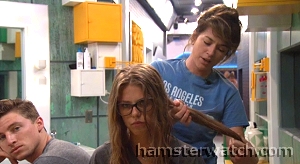 Day 10 Friday 6/29
Sam was in as herself, and offering to do haircuts and styles. Haleigh said she was considering cutting hers short and Sam said she'd be happy to do it, and that Haleigh could donate it for chemo kids if she wanted.

They drew players for veto: Tyler, Sam, Steve plus Faysal (Steve's HG Choice), Scottie, Chris/Swaggy and JC will host. Gametalk exploded in all corners about veto and voting plans, as well as who won the power and what it is. Now some of them said they thought it was Angela, but Sam confidently told Tyler she isn't going anywhere next week. She didn't blatantly say she won it but they fist bumped when she implied it. Apparently Sam did use her robot to her advantage at some point, eavesdropping on Angela, Brett, Rachel, Winston and retelling what she learned.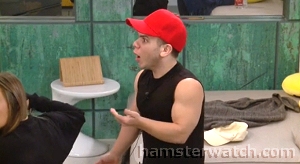 JC ran some rounds telling Tyler that the bros were using him because he's HOH, and Kaitlyn told Tyler appearances are looking like he's playing both sides, adding "Scottie's already doing that." Later JC told Steve he'd been giving sad Sambot some peptalks and encouraging her to buck up, but that Steve should have the votes. Faysal got another Hamazon delivery around 1.30pm (sounds like he had one at 5am too). It comes in the front door, and he griped about it some more, saying he's too full to keep eating it, but he has to finish each delivery.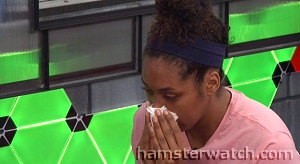 Kaitlyn's getaround social game continued, and one-on-one meetings between Tyler and most were held in HOH even before the veto comp. Bayleigh had a long teary talk with him about being the potential renom if needed, followed by teary retells to various others. Tyler told Chris/Swaggy everyone thinks he (Swaggy) is running things, and Swaggy agreed he is. He also seemed surprised/perturbed that Diary keeps asking him about Bayleigh, even though they make out in bed every night, and he was also surprised to hear he's already targeted by the Winston/Brett/Rachel/Angela group. Most of them are already playing fast and hard, and it's looking like a promising season.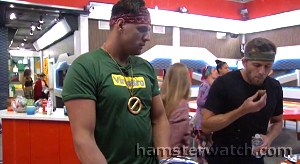 Feeds went down approx 5.44pm for veto comp. Players had drawn numbers so we knew it could be a long one, as that often means individual timed runs. Puppycam was replaced by episodes from past seasons.

They came back a few minutes after 9pm and Faysal had won the first veto of the season. The comp had five parts that included tasting things, paintballs/colors, vibrations, shock collars and/or tasers, underwater, snakes, and crocodiles? Maybe it was a cross-promo for the Fear Factor reboot, some BB alums will be on that. There was a lot of cussing according to their retells, and it sounded like Sam in particular got very angry and later very upset. Scottie was terrified of the snakes.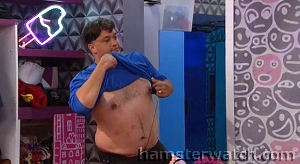 Angela was convinced JC had the power and she, Rachel, Kaycee decided to rally to boot Steve and save Sam. Angie/Rockstar, Bayleigh, Haleigh, Kaitlyn were group-massaging Tyler when JC came in and rubbed his crotch.

A little later, Steve discovered Q-tips and the idea of cleaning one's ears, possibly for the first time. He said he might have better hearing and balance now, and that he'd thought bathing was good enough. Faysal wore the veto necklace the rest of the night, various sides made jury plans and sniped about the other side(s), Swaggy and Bayleigh tried to hash out their issues, and Tyler told us he realized Haleigh's playing him to keep him on her side. Faysal got a pre-dawn and a morning ham delivery, Sam was herself sans robot all day and into the night, and I still haven't heard Kaycee's pinwheel signal. The backyard still wasn't open as of 1.30am.

GET THE FEEDS to keep up, catch up what you missed at Hamsterwatch Forum thanks to @UGotBronx, and please remember to use my Amazon link for any Amazon shopping anytime, USA or Canada - thank you!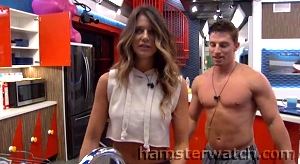 Day 11 Saturday 6/30
Morning routines are routine for them, if not for us yet. Rachel had a quick towel flash (Flashback 6/30 9.49am for those interested, and/or missed her pre-season finds). Faysal kept the veto necklace all night and put it back on when he got dressed, then said maybe he shouldn't wear it around all day, and JC concurred. Steve had talks with Winston and with Tyler, and was told not to worry. I'm waiting to see if Steve puts pressure on Faysal to veto him off the block, since Faysal was his HG Choice pick to play, as that could lead to popcorn moments. They were all sent to HOH and feeds were sent to prior seasons (already on reruns for the few eps they're running) for an hour or so, but it didn't seem to be about anything major.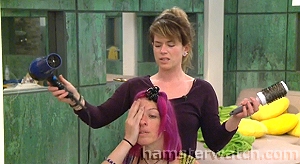 Sam remained herself overnight and slept in the habitat, and opened up her hair salon/social game again in the morning. Her ROBOT ONLINE signal came around 12.20pm along with a new recorded announcement: "Please open the Diary Room door for the robot." Off she went, and Sambot returned shortly afterwards. We got an interesting peek at her virtual reality point of view to steer and interact, along with an "offline" malfunction for the goofs tally. JC mentioned that he was told all the comps would be doable for his height, and I still haven't seen a pinwheel signal for Kaycee.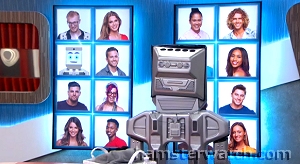 The backyard finally opened around 4pm, and Steve finally got to smoke. JC helped shove Sambot over the sliding door track so she could go out there, and Faysal got a Hamazon delivery shortly after. Many of them went into workout mode and Bayleigh gave some headstand lessons. Sunbathing, hammocking, and psst-pssting about others broke out and our peculiar shared summer was in full swing. JC was embarrassed when he realized a camera was on him for a crotch adjustment, but he doesn't realize we've seen it all from him before the show started.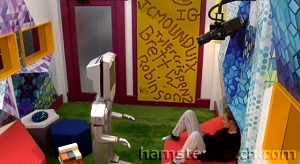 Sambot asked Angela, Kaycee, Rachel if she's staying and they said they're working on it, she needs to talk to Kaitlyn and win her over, and that "Team Swaggy" is against her. Sambot did a deadpan Diary impersonation, asking them to "say that one more time, but more 'I hate this and I want to do something else'". She then talked to Kaitlyn but it didn't go very well. They put the allegedly stolen-but-later-found hairbrush behind them, but then did a lot of non-offer and non-commitment rounds. Sambot was reminded there was just a small pool of eligible renoms, and Kaitlyn told her she could return via Battle Back even if she is evicted. Sambot didn't know what that meant.

Plans (threats) to do a prom tonight amounted to nothing, fortunately. Angela had a towel flash mishap - again for those interested, Flashback 6/30 9.55pm. Faysal and Haleigh had a hammock talk/flirt session, where he said she's the sexiest girl in the house but he isn't crazy about her rubbing and massaging various guys all the time. Winston and Brett plus Angela decided Kaitlyn was more about friendship and loyalty than game, and Haleigh was more likely to eventually backstab them. JC and Sambot had an absurdly silly-looking whisper convo in the pantry, where he told her he'd let her know who voted for and against her, if she stays. Angie Rockstar, Fessy, Haleigh, Scottie dissed various others at the hot tub, which included agreement that Winston isn't a pharma sales rep (he is) and that he could be a cop. Angie and Steve carried on the gossiping and dissing later.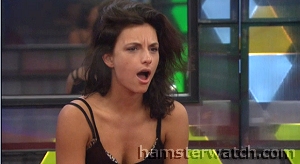 JC's nightly problematic segment involved an ice cream scoop tonight, poking it under the covers of various horizontal people in HOH and saying things like "open up your vagina, it feels good!" before flicking it in his own crotch a few times. Faysal and Swaggy had an impromptu wrestling match in HOH, prompting Bayleigh to shout "Stop! Stop! You're gonna get eliminated, stop!" before BB told them to stop horsing around.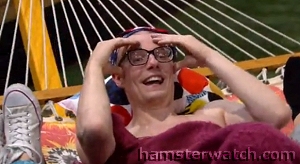 Winston and Brett (mostly Winston) decided Brett could and should lead on Rachel, and when he later cuts her for Winston it would be "the most intense shutdown game ever" and "the most insane rejection in BB history." They decided Winston could also lead on Angela. Angie/Rockstar carried around the ideas that Winston's really a doctor and Brett has the power to various parties. Swaggy and Bayleigh had a little makeout session, and Haleigh told Tyler she's targeting Winston because he killed a bee. Tyler said "that's the kind of petty shit I live for." Haleigh and Kaitlyn compared Faysal notes and discovered he used the same line(s) on each of them - uh oh. Tyler and JC, and Angie/Rockstar and Haleigh separately whispered about shuffling alliance members late into the night.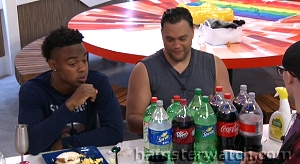 Day 12 Sunday 7/1
Their usual overabundance of soda was prominently displayed on the counter this morning. Apparently JC pulled it out last night and said they had to drink it all. Faysal had a couple Hamazon deliveries, including an overnight one he didn't answer right away, and the delivery announcements escalated to "GET YOUR DAMN HAM!" And for those interested, Kaitlyn had a nip slip 7/1 11.34am.

Sambot reverted back to Sam, and we were able to travel with her to Diary hallway with her point of view cam.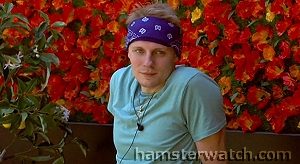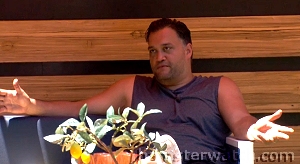 As I'd hoped, Steve told Sam that Fessy 'owed him' about using the veto since Steve chose Fessy to play. Steve and Scottie had a discussion/debate about superhero movies, which escalated into an argument over Nicolas Cage's performance in Ghost Rider. Ludicrous yes, but more so because they were effectively arguing apples versus oranges: the character versus Cage's portrayal. Rachel told Sam she thinks JC has the power or maybe Brett, and Fessy didn't pick up on Sam's familiarity with getting their rewards/punishments. The idea that Winston's actually a secret doctor made the rounds - he isn't, but that rumor might stick for the duration.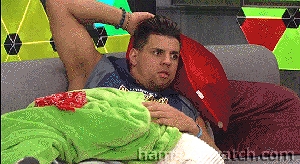 Swaggy had a talk to us exlaining his perception of the Kaitlyn/Haleigh/Fessy flirting situation, his and Bayleigh's showmance, and the various alliances. He also told us his first loyalty was to Bayleigh and Tyler/Scottie were second. He told us his "Rock/Rave/Rock" scheme was for Bayleigh to work on Kaitlyn/Haleigh while he works on Winston, who he doesn't like but recognizes his value for now. He also said his "just get to jury" and "here to get followers" talk was just that: he does it for the benefit of those who are about those things, but he's here to win. A lot of his conclusions were sound but he's also missing a lot of info, and hollering "shut up production!" when someone's told to stop singing won't do him any favors with Them. Later he told Fessy how he'd talked to us about what he's doing, and that seemed to throw Fessy for a big loop.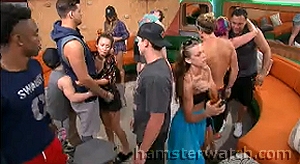 They held their veto meeting and Fessy did not use it. Campaigning, vote counting, and psst-pssting took off in various combinations and corners, and will likely continue thru Thursday since we have a split house and a potentially close vote, as of now anyway.

The rest of the day and evening was spent with various groups psst-pssting about this, that, and the other one, and looking ahead plans. Sam did some campaigning but in a friendly "let's chat" kind of way rather than a "vote for me" kind of way, and Brett and Winston made a lot of plans for strategies, pranks, fake fights, and manipulating who are Have-nots. They also giggled a lot about these plans and their general bro-ness.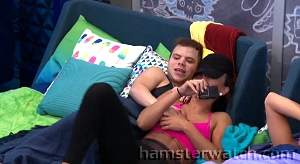 Angie/Rockstar and Haleigh began setting their wheels in motion for their boot Steve plan, and JC continued being alternately obnoxious and problematic. Kaitlyn said she woke up from a nap to him being loud and wanted to go to Diary to vent, but they wouldn't let her. Later (during After Dark, as usual, so far) he was wrestling with Rachel and did his grabby thing, "jokingly," like he does. She was laughing but the fanbase is ready to riot. Steve made an inappropriate comment "did I just wander into my daughter's bedroom" when Kaitlyn was talking about slop weight gain in odd places, but she clocked him for it immediately.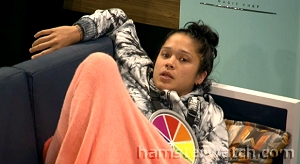 Kaycee's pinwheel finally started spinning while she was in the backyard, and she was out there for a good several hours. She went in to poop at one point but didn't talk to anyone and went right back out, like a good Pinwheeler of Doom. Tyler and Angela discovered they do in fact know some Hilton Head people in common. Kaitlyn said if she wins HOH she'll nominate Winston by saying he's an orthopedic surgeon and people need him out here. Faysal tried some more to get Haleigh to like him back. She played along and wasn't rude, but she definitely didn't sound interested and later confirmed to Angie/Rockstar that she wasn't.

GET THE FEEDS to keep up, catch up what you missed at Hamsterwatch Forum thanks to @UGotBronx, and please remember to use my Amazon link for any Amazon shopping anytime, USA or Canada - thank you!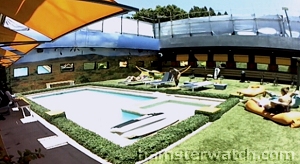 Day 13 Monday 7/2
Sambot was back in today, and "helped" do the dishes by rolling up to the sink and standing there. Later her fish-eye camera gave a rare view of the top of the backyard fence and nearby treetops, and she was parked in position to get an eyeful (camful) of Brett and Haleigh doing some petting while sunbathing. Kaitlyn grilled Winston about his suspected medical background, and Kaycee's pinwheel was spinning again today so she was stuck in various rooms a lot. Swaggy and Rockstar had a friendly get-to-know-you chat and agreed they were both grateful to be there. Winston complained about slop some more and said Kaitlyn asked how much longer they're on it, and Diary said they'd get back to them. (They started last Tuesday.)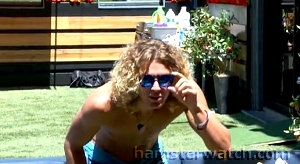 Winston and Brett still think this week is either a double eviction or coup d'etat, and Angie/Rockstar has been calling the Level 6 alliance "Team My Dad's a Lawyer." Tyler got the Snapchat goggles so they mugged for that, like they do, and marvelled at the idea of people being able to actually see them inside the house. Brett said something about "ladies, get in line" and then said he's going to look like an asshole, as he didn't know Tyler was recording. Feeds will come as a surprise to some of this crew. Fessy got a vegan ham roll with apricot plum glaze for his Hamazon delivery, with cooking instructions, plus approval to share and to take his time eating it all. Unfortunately for the Have-nots, sharing did not include them.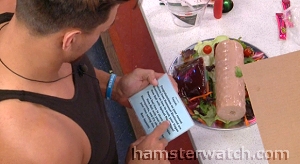 JC landed on the Extracurricular Tally again, with the first TMZ article of the season for his ice cream scoop. On feeds, he told Haleigh it might be good for them to keep Sam, and Haleigh said she feels better with Steve. Reminder, she and Rockstar have talked about keeping Sam, a second reminder that she is a psychology student. Bayleigh told Swaggy while popping his zits that she can tell he's obsessed with her. Scottie did a cartoonish double- and triple-take when Angela came along and checked out her reflection in her bikini.


Angie Rockstar married JC and Sambot in the kitchen. They exchanged vows and gave permission for JC to "kiss the robot" which he did. He sat on her foot-rollers and they wheeled away, but BB told him to "stop!" JC replied "stop telling me what to do!" That kind of thing usually doesn't go over too well. Fessy and Haleigh had a chat/makeout session undercovers, and when Kaitlyn came in asking about her expensive bracelet Fessy broke, he popped out from the duvet to standing position in under a second, hair all mussed up. Shortly afterwards, Kaitlyn led a guided meditation session for several of them.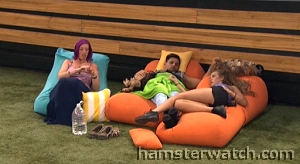 Brett told Kaitlyn she's being rather possessive in there for someone who has a boyfriend. Fessy finished his ham roll but puked it out again, and said all Diary asks him about is ham. Haleigh and Angie Rockstar, after hearing Steve was confident about his votes, said maybe they should vote to evict him and then blame it on the Bros. BB made up for lost time by letting Kaycee's pinwheel spin most of the day. During a marathon kitchen stint, Sambot told her she'd stay with her until it stopped spinning so she wouldn't be left all alone. Rachel commented several times she's gotten so tan/dark, she "looks like a different race" and she'll "change ethnicities" with too much sun. In one exchange with Angela, Angela said she (Angela) was "looking ghetto with the skin coloration." It's only Day 13 and we've already got a dumpster fire in the making.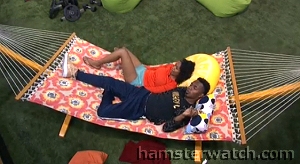 Swaggy was bragging about having sex with Bayleigh, and said he'd be a Diary star when he talks about that. Tentative plans to keep Sam and boot Steve kept revving up here and there, along with future plans, in animated gametalk groupings that included Bayleigh/Tyler, Rachel/Kaycee, Fessy/Swaggy, Rachel/Angela/Kaycee, Tyler/Rachel/Angela/Kaycee, as well as couple talks between Fessy/Kaitlyn and Bayleigh/Swaggy. Have-nots were excited for their week of slop to end tonight, and I'm hoping for bed shuffling drama - that's always fun.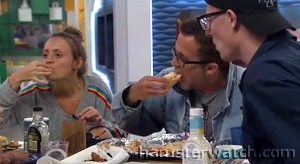 Midnight arrived, and Kaitlyn, Scottie, Brett, Winston stuffed their faces with glee, as Have-nots always do at the end of their week. Haleigh and Fessy had a very long talk about Kaitlyn and her drama, Fessy leading Kaitlyn on, Haleigh not wanting a showmance with Fessy, and not wanting to sleep with him. Despite this triangular mess, Fessy asked Haleigh to be his #1, just hours after he pinky-swore to Kaitlyn she's his #1. Meanwhile Kaitlyn had a very long talk with Tyler, with a lot of crying, about all of the above. Tyler handled it all extremely well. Haleigh and Kaitlyn finally faced off with retells and revelations, but before long pinkyswore to be tight with each other: Flashback 7/3 1.40am.

GET THE FEEDS to keep up, catch up what you missed at Hamsterwatch Forum thanks to @UGotBronx, and please remember to use my Amazon link for any Amazon shopping anytime, USA or Canada - thank you!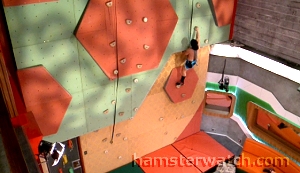 Day 14 Tuesday 7/3
Other than some pull-ups here and there, JC's the first one I've seen actually climbing the rock wall. He was pretty high before BB told him to put on a helmet, and afterwards another new announcement said they have to "reset the living room" after using the wall. Before that, feeds were down almost two hours. It sounded like they had an apparatus practice, likely for Thursday's HOH, which included exploding balls. They may have gotten a group talking-to regarding language as well, since the Angela/Rachel tanning comments hit TMZ today. That's just a hunch, there's no confirmation, but JC got a warning yesterday about his grabby behavior according to a retell by him to Angie.

UPDATE THR reported they did get a talking-to, but apparently individually: "those involved have been warned about their inappropriate behavior and offensive comments, as well as future consequences." Both Rachel and Angela were visibly down and occasionally crying.

Also, last night Brett and Winston discovered something they thought was semen on the downstairs toilet seat and rushed up to HOH to share the news. It's way too early in the season for all this already, but here we are.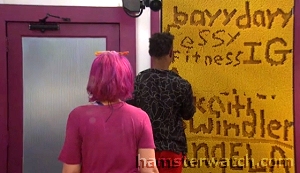 Sam was back in as herself again, and busied herself by cleaning and organizing the bathroom before getting her ROBOT ONLINE signal again around 3.40pm. The impression pins wall has become a graffiti board for their Instagram handles, and Angie/Rockstar and Swaggy decided to reset it to add their own. They also discussed the vote, with Angie pitching her (and Haleigh's) plan to throw two hinky votes and blame them on the Bros. He liked it, and said if it seemed fairly certain that Sam would be voted out on Thursday, and if her speech indicated she thinks she's a goner, their group will vote to evict Steve. All that made the rounds, with various inevitable discussions.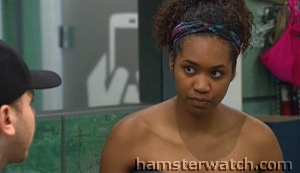 Bayleigh told JC she'd been sexually assaulted at age 17, and how it affected and changed her. She said her social cause is to help others learn to deal with it and speak up. She told him she'd like to share her story with the others when the time is right. JC, Fessy, Scottie, Swaggy did some climbing on the rock wall, some of them doing very quick "laps" up and down, and repeat.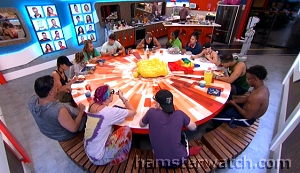 Kaitlyn laid into Fessy with another filibuster about her place in the house, in the alliances, and with him. Swaggy told Fessy he and Bayleigh agreed they wanted to stop sneaking around to have sex, and would wait til one of them won HOH so they'd have the room. Most of them had family dinner together, the first time there were no Have-nots since feeds kicked on. That may have been when Rachel and Angela were getting their warnings, and of course Sambot had to

sit

stand out.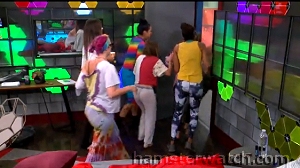 Angela, Angie Rockstar, Bayleigh, Haleigh, Kaycee, Rachel, Tyler gathered in HOH to chat, and announced they were a "sacred circle of female trust, plus Tyler." Katilyn joined and Tyler left, and they realized all the females were together, except Sambot who'd been rolled off to wherever she goes at night. They talked a bit about failed girls alliances past and theories/reasons why they failed, and they gathered at the door and hollered "GIRLS NIGHT OUT!" It didn't seem to have much impact on the guys downstairs, but JC joined them saying he figured shouting meant a party, and Tyler rejoined. Steve said the hollering woke him up and he thought it was much later than it was.

My site had some server migration issues today so apologies for any inconvenience that may have caused. All should be okay going forward.

GET THE FEEDS to keep up, catch up what you missed at Hamsterwatch Forum thanks to @UGotBronx, and please remember to use my Amazon link for any Amazon shopping anytime, USA or Canada - thank you!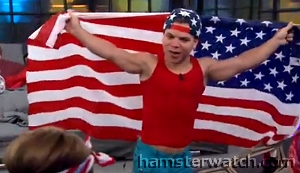 Day 15 Wednesday 7/4
Most of them donned various combinations of red, white and blue clothes, stars 'n stripes, and flagdanas for the 4th. Sambot was done up as an android Statue of Liberty with tinfoil crown and tinfoil book and torch attached to her "hands." She rolled off to Diary and returned as herself. She brought back some little baskets she'd been weaving with napkins in sequester. Tyler filled her in as far as Kaitlyn drama and the latest vote scenarios, and she campaigned to Scottie including a pinkyswear she'd work with him if she stays. Steve and Scottie played tinfoil shuffleboard on the kitchen island, Bayleigh gave more dance lessons to Swaggy, Fessy had a Hamazon delivery, and Kaycee's pinwheel spun.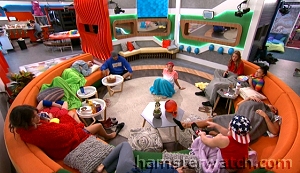 A group chat veered into politics when JC said he's a conservative. Steve said hearing that made his jaw drop to the floor, and Kaitlyn agreed. Scottie reported his convo with Sam to Steve, and Tyler told JC people are starting to target him (JC) since he won't make up his mind about the vote. He told Tyler he'll vote to evict Steve. Angie Rockstar and Haleigh agreed they'll probably vote to evict Sam and would probably scrap their earlier plan to vote out Steve and blame it on the bros. Winston and Angela, and later Rachel, agreed they should vote to evict Sam because it'd be better for them going forward, and they could pull in Steve and Scottie to their side. Rachel said if it looks unanimous, she wants Sam get a heads up. Meanwhile Sam cleaned and cooked, and many of them said (behind her back) that wasn't an effective way to campaign. It didn't help Sam's mood when they got a milk delivery and a bunch of them had cereal instead of the food she'd cooked up.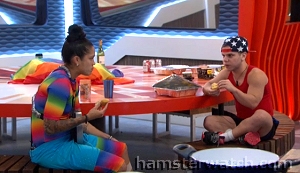 Feeds went to prior seasons around 7pm for a July 4 party, and returned an hour later. They'd had food and booze, and they were either reminded another App Store vote was coming along soon or they figured it out. Several were doing the dreaded "hello America" talks, and Rachel and Bayleigh did a little mirror dance for us, and they said feedsters like when they talk to us. Well, we do when it's genuine thoughts about the game, the others, and their plans; not so much when it's skits and Diary voices describing the decor. Swaggy and Tyler have delivered on talks to us so far, but I'm not holding out hope others will this season.


Tyler told Kaycee that Sam has a power and is going to stay anyway, so Kaycee needs to vote to keep her. Kaycee said she won't tell anyone - Flashback 7/4 8.20pm. Rachel reported to Angela that Kaitlyn told her and Kaycee that she's voting for Steve to stay, and that she was adamant about having given her word to that. Rachel later told Winston that JC said Haleigh is voting however Tyler wants her to, and JC as well, and that's "locked in and solid." Rachel and Winston both said they don't believe it, Winston said Haleigh's been "nothing but a snake," and they'll talk about it later. Then Rachel repeated to Angela that Kaitlyn's voting for Steve to stay.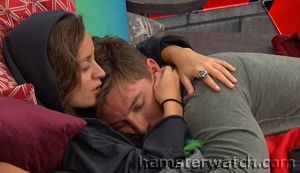 Brett detached from Winston long enough to make some petting rounds, first being petted by Haleigh and later by Kaitlyn, who told him he has six spirit guides. She also told several of them how her left hand twitches when she gets a psychic "hit" - something she said pre-season that she wouldn't share with her fellow hamsters as she thinks it's a "tell." Winston and Brett got back together to share all the vote gossip, and decided Angie/Rockstar has the power. They made it clear they don't like her (as she has made clear previously she doesn't like them, or at least Winston). Waffles raged on and on in most corners - this vote probably won't be finalized until showtime.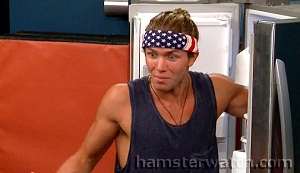 They got a delivery of red/white/blue star cookies from Pop and Orwell, which they enjoyed. Scottie said "You know what those are? They're pop stars." After chomping down the cookies, some returned to their beds and some to their waffling corners. Tyler whisper-yelled at JC in the pantry, saying "They're trying to get you to fucking spill shit, just like you were just doing!" He reminded JC he has a plan in place for tomorrow (because Tyler knows about her power). After JC left the pantry, Tyler laughed to himself about it, twice, and muttered "dammit JC." Any hamster who can laugh about all this is a keeper in my book. Later he told Level 6 group they need to vote for Sam to stay, and he'll tell Kaitlyn at the last minute to also vote that way because she's staying anyway. Winston threw in his fourteen cents, and they settled on voting out Steve if Tyler's hair is down, and voting out Sam if his hair is man-bunned. You can't make it up.

BREAKING That meeting got so wound up with speculation about the power and who has it, Tyler finally snapped and told them Sam has it, that she'd told him, and they need to keep her safe so she can hang on to it to use on one of them if needed later - Flashback 7/5 12.01am. Kaycee already knew of course but played dumb, and the rest of them were dumbfounded, and relieved. They still need to ensure seven votes and they're only five, so they decided the hair code will still be in play depending how talks go with the others tomorrow. Fessy got a Hamazon signal about 20 minutes later. Bayleigh gave me a shoutout around 1.01am (what? she's an Instagram recruit), and Haleigh had a boobie flash around 1.20am.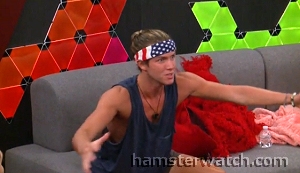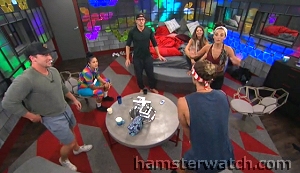 GET THE FEEDS to keep up, catch up what you missed at Hamsterwatch Forum thanks to @UGotBronx, and please remember to use my Amazon link for any Amazon shopping anytime, USA or Canada - thanks!



Ratings - They're Already Messy edition
Ratings are Sunday's, based on entertainment value
CBS bios, photos, social links for each are at Hamsterwatch Forum
VTE = Voted to evict




The cast was presented as one cliché after another rather than genuine people personalities, and some of them are fulfilling their clichés. But that's been the casting situation for quite awhile and there isn't much we can do about it. Same with the twists: three comps on the first show without even resulting in an HOH was just noisy chaos with people we barely knew, let alone cared about one way or the other, although they were good looking comps and fresh ones. Two weeks of Sam's robot and Kaycee's rainbow pinwheel is a bit excessive, especially when Kaycee's task seems broken. I finally saw her get a spinny pinwheel on Sunday. Yes Sam's robot came along too soon, but they're trying to draw in viewers and you have to admit they did a great job with the design and setup, and giving us an occasional feed showing her point of view cam and steering capability is delightful, and appreciated.

The App Store is basically a rerun of Den of Temptation and Care Packages and again, that's what it is, but they should have made sure the voting thing worked properly with the capacity needed before launching. The feeds low volume and darkness are problems and the Flashback/IPV6 situation is a problem, but they'll get those ironed out. I wish they'd brought back Puppycam/Kittycam and their adoptable anipals plus general adopt-don't-shop message, but prior seasons are fun I guess, even though they're all available in All Access, just a click or two away from the feeds. They'd be more fun if they didn't rerun the same few season premieres over and over.. maybe they'll fix that too. But hey, feeds are on and they tend to stay on other than the usual comps/events we expect, and that's always very refreshing after a Canada season. They really do need to run the disclaimer less often though, a lot of us switch feeds often.





Won: Nothing yet
HOH 0 - Veto 0 - Noms 0 - HN 0

VTE Steve

I had high hopes for her but she hasn't brought much to the table yet, and hitching her wagon to the Brett/Winston bros is questionable. I don't have a clue what to make of her yet.





Won: 1st eviction immunity
HOH 0 - Veto 0 - Noms 0 - HN 0

VTE Sam

I was expecting more/bigger/louder from her and I'm glad she's a bit toned down from those expectations. So far. I have trouble calling her Rockstar.





Won: Nothing yet
HOH 0 - Veto 0 - Noms 0 - HN 0

VTE Sam

I don't care if hamsters showmance, I just don't want to hear their slurpydurp makeouts in my headphones. She and Swaggy do it regularly but fortunately not often. He'll cut her when he has to and she won't like it.





Won: 1st eviction immunity
HOH 0 - Veto 0 - Noms 0 - HN 1

VTE Steve

He and Winston are twin canoes and they take turns which one is worse. These are the kind of guys I have always tried to avoid in reality, and Big Brother is no different.





Won: 1st eviction immunity
HOH 0 - Veto 0 - Noms 0 - HN 0

VTE Sam

He talks big and arrogantly, but he's more self-aware than he seems. Listen to his talks to feedsters, sift out the bravado, and he's got a pretty good plan and grasp on most - not all - things going on in there.





Won: 1st eviction immunity; Crap App #1 Hamazon
HOH 0 - Veto 1 - Noms 0 - HN 0

WON VETO/DID NOT USE

VTE Sam

He's been coming on to several of the girls but oops, they compared notes and his stock has bottomed out with them. He hates his fake ham and that whole joke got old fast, but he handles it relatively well, and he won a brutal veto comp so props for that.





Won: 1st eviction immunity
HOH 0 - Veto 0 - Noms 0 - HN 0

VTE Sam

We thought she'd be the typical blonde Texas hamsterette but she's got a very good read on everyone, and she's playing most of them. She and Angie/Rockstar are one of the most solid duos in there as of now, but they keep that mostly to themselves.





Won: Nothing yet
HOH 0 - Veto 0 - Noms 0 - HN 0

VTE Steve

He's chirpy and active, and extremely supportive of Sambot, but when After Dark comes on so does he. One word: problematic.





Won: Nothing yet
HOH 0 - Veto 0 - Noms 0 - HN 1

VTE Steve

She's already annoying most of them but she's also playing BB more than most of them realize. As soon as Tyler's reign effectively came to an end with the veto meeting, she moved on from the HOH room to circulate and prep for next week. Angie and Haleigh don't want her in their club going forward but they'll keep her for now. Easy ups for saying a visiting pigeon was her grandfather.





Won: 1st eviction immunity; 2 weeks Pinwheel
HOH 0 - Veto 0 - Noms 0 - HN 0

VTE Steve

Her pinwheel signal doesn't happen much but it doesn't really have to, as she seems to stay planted for long periods of time on her own. She's been a good sport about the outfit at least.





Won: 1st eviction immunity
HOH 0 - Veto 0 - Noms 0 - HN 0

VTE Steve

She's usually loud and often reminds them and us that she's a performer. That's fine, but we need her to be a hamster this summer. See Angela re hanging and being tight with the bros. Brett and Winston have discussed stringing her and Angela along à la Boogie and Erika, and either or both of these girls might fall for it.





Won: 2 weeks Robot; Power App #1 Bonus Life
HOH 0 - Veto 0 - Noms 1 - HN 0

No vote (nominee)

She could and should have used the robot to her advantage rather than sulking about it, but she's come around since and is handling it well now. As a robot, she's adorable and as herself, she's comfy and charming. This dirty game might be too much for her.





Won: 1st eviction immunity
HOH 0 - Veto 0 - Noms 0 - HN 1

VTE Sam

I am enjoying his randomness as much as I'd hoped, but he'll need to get into a better position game-wise to stick around, and soon. He's only tight with Steve and Steve's days are numbered, and everyone else is allianced up, making Scottie an easy target and dispensable boot.





Won: Nothing yet
HOH 0 - Veto 0 - Noms 1 - HN 0

EVICTED 7-6

He isn't bringing much to the feeds other than his resumé and movies chat. He's comfortable on the block and believes he's safe so I don't think he even pressured Fessy to veto him off, robbing us of some potential drama.





Won: Nothing yet
HOH 1 - Veto 0 - Noms 0 - HN 0

No vote (HOH)

Like Swaggy, he's more savvy about all this than he lets on and we know this because, also like Swaggy, he talks to us about it. It'll be interesting to see how and where he lands after his two weeks at the top come to an end.





Won: Nothing yet
HOH 0 - Veto 0 - Noms 0 - HN 1

VTE Steve

See Brett, with the PS that while I wasn't really expecting much from Brett, Winston has been a disappointment.



Lines and Links of the Day
Lines

Julie: We pick up a lot of new fans every season because kids who get to the fourth or fifth grade, they can't go out late on a summer night... so they watch on their computer

Tyler Diary about surfboard comp: You can literally see their legs catching on fire - maybe not literally

Sam: I'm a *bleepin* robot

Sam: I don't want to have to fight for my life when I don't even have a life, I have a battery

Faysal about his fake ham: You don't understand, it's not the taste, it's the volume, I'm so full

Tyler: They're all threatened by you, they think you're the leader of everything
Swaggy: I am, but...

Sam to Kaycee: We're bonded by bullshit

Steve: I don't know, I don't clean out my ears.. I shower, that's enough right?

Kaitlyn: I wasn't recruited like the rest of you

Sam to self: Let's take all these full grown adults and make them feel like they're in middle school again, that's the premise of the show

Kaitlyn: There's a fine line between cute and restraining order

Fessy about Diary: All they ask me about is ham

Haleigh to Fessy, about Kaitlyn: You aren't doing any type of good job of preventing it, you're almost egging it on

Angela speculating about HOH comps: We'll be in a hamster wheel
Tyler: We're in the hamster wheel now

Haleigh to Kaitlyn: You have an ant on you

Kaitlyn: I'm someone that gets over things really quickly because I'm really good at putting things in perspective

Sambot: Angela, I like your star-spangled titties

Angie Rockstar: I want to be able to do shit with my grandkids and be active
Haleigh: I just want to go to all my grandkids' sports and games and be drunk

Tyler: Scottie, what's your last name?
JC: Steven Seagal

Rachel: I'm scared of being judged for what I say.. I'm scared of someone hearing what I say and going 'idiot'



Links

GET YOUR FEEDS

Use my links for any Amazon shopping, anytime, at no extra cost - just start your shopping trip by clicking Amazon USA or Amazon Canada

Live like a hamster! Available from Amazon:
-17-inch Orwell owl Amazon USA or Amazon Canada
-Emoji pillows individual or sets (read descriptions carefully, some sets are random)
-Minion plush toys Stuart - Bob - Tim - loads of others
-New age books by Sahvanna Arienta, Steve's wife

Big Brother 20: The Saga, Episode 1 by @WilHeuser

JC and the Minion, hamster edit by me

Week 1 BB By the Week by @aubramariebb

Messenger Bot voting info

BB alums entering the building for premiere taping by @kassting

Please tweet me @hamsterwatch for extra good or extra funny things you come across thru the season - thanks in advance!


Tally Items

Season Stats
HOHs in order: Tyler

Veto winners in order: Faysal

Evictions in order:








Linking to any page here is fine. Please don't repost content from this site (or any other) without permission, and don't repost or hotlink images.



THE REAL SHOW IS THE FEEDS


SAME DAY AIR SHOWS
Live air shows in some areas
BB1 thru BB19 and many other CBS shows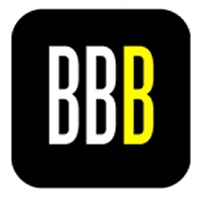 BIG BROTHER BUDDY
Get push notifications for all the big feeds events - iOS or Android


HAMSTERWATCH SWAG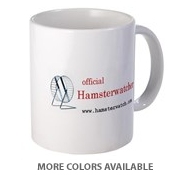 Mugs, shirts, more
Visit my Cafe Press shop






Big Brother 20 SEASON FAQ


Day 1 Move-in was June 20
Day 8 CBS premiere is June 27
Day 9 Feeds begin June 28
Day 99 Finale will be September 26

Feeds are streamed by CBS, and Flashback is accessible via All Access subscription. Call 888-274-5343 for account help, including cancellation.

Air shows on CBS (Global in Canada) are Sundays 8pm, Wednesdays 9pm, eviction Thursdays 9pm.

Big Brother After Dark on Pop TV is every night midnight to 3am, except Thursdays 1am to 3am. The aired blocks are live (or recorded earlier the same night, depending on your cable provider).

The CBS app (by CBS Interactive) plays BB air shows and other CBS shows, as well as feeds, or you can use your browser to watch feeds on mobile devices. The same All Access link used to subscribe will lead to the feeds viewing page if you're already signed up.

BB20 prizes are the same: $500k for the winner and $50k for 2nd place. Stipend for the others to be confirmed.

The habitat has 94 HD cameras (up 7) and 113 microphones.

The recorded in-house announcements are the voice of producer Don Wollman. He and Julie Chen are the only staffers who have been there since Big Brother 1.