This site is about the Big Brother 20 feeds and contains spoilers! It isn't necessarily thorough: it's what I catch and/or what interests me. It's about watching hamsters: who's doing what and why. Thanks for encouraging my behavior.
Your pal, dingo



PROTECT YOUR ONLINE PRIVACY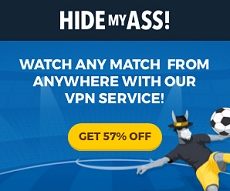 Watch BB Canada, BB UK, Survivor New Zealand, and other non-USA shows






BB20 DRINKING GAME


Take a swig whenever another fake spoiler account shows up







QUICK LINKS & BOOKMARKS



-Get the feeds
-Watch the feeds
-BB20 official site
-Live show tickets

-Feeds updates by @UGotBronx
-My Twitter - my screencaps
-Amazon portal USA or Canada

East coast air shows:
CanadaTV for Roku
$2/month - Global airs BB USA

East coast air show streams:
To follow

-Dick at Night with @EvelDick

-BB Viewer by @liquid8d
Requires All Access account

-BB20 Wiki

-Hamster Twitters
BB USA - BB Canada

-Advice for cast friends/family

-VPN to watch BB UK and/or to protect your online privacy




Donations via Paypal are gratefully accepted!


Watch Big Brother
Seasons 1 thru 20
Plus tons more CBS content






BIG BROTHER SEASONS



CBS All Access
Seasons 1 thru 20

Amazon DVDs BB4 - BB3

Amazon Instant Video
BB18 - BB17
- BB16
- BB15
- BB14
- BB13
- BB12
- BB11
- BB10
- BB9
- BB8
- BB7





BIG BROTHER 20 FEEDS EXCLUSIVELY ON CBS ALL ACCESS
All Big Brother USA seasons + most CBS shows past or present are included
$5.99 PER MONTH INCLUDING 1 WEEK FREE TRIAL or $9.99 AD FREE
COMPUTER - MOBILE - ROKU - CHROMECAST - APPLE TV - ANDROID TV - FIRE TV - XBOX 1/360 - PS4


>> >> >>

>> >> >> >> >> >>

>>

Amazon USA
- Amazon Canada
June 2018
Power Status
HOH, nominations, veto, Have-not info will be updated here as events occur

** SPOILERS **
I got word that no vets moved in with our 16 on the first night, and @realvegas4sure (whose spoilers have been accurate in the past) reported Tyler won the first HOH


Upcoming Events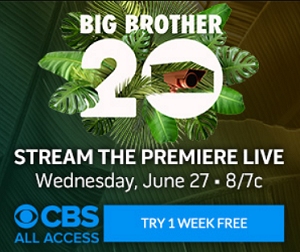 Feeds will start Thursday 6/28 10pm Pacific/Friday 6/29 1am Eastern. The feeds are the real show - SIGN UP NOW and get a one-week free trial!

Hamsterwatch All-stars 2nd annual edition with pre-season

snap judgments

cast assessments by celeb Hamsterwatchers is on the way! It will be posted sometime between now and premiere.

HOH and twist spoilers may or may not be known before the premiere airs. I'll post 'em if I get 'em.


Next Shows
Wednesday 6/27 8pm - Two-hour premiere (recorded 6/20)
Thursday 6/28 9pm - Premiere part 2
Sunday 7/1 8pm - BB App Store debut

Regular schedule is Sundays 8pm, Wednesdays 9pm, live eviction Thursdays 9pm, on CBS (Global in Canada) - stream links to watch live online are posted in Quick Links & Bookmarks on the left sidebar

After Dark airs every night on Pop - times vary by area and provider, check your cable guide


Other News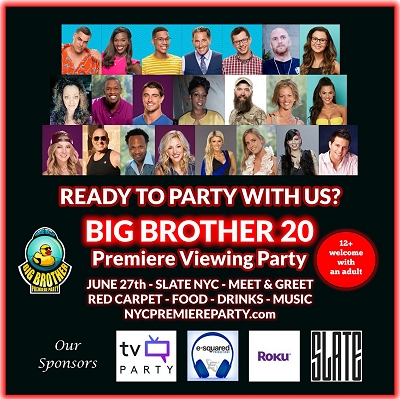 BB20 Premiere Party June 27 in New York! Eat, drink, and be merry as you watch the premiere with fellow fans and former hamsters! Click for tickets and more info.

Cast bios/pics/links and house pics are gathered at Hamsterwatch Forum: your one-stop shop, with easy access and no pop-up ads.

The season will be 99 days according to an ET feature. That's a week longer than last year, which had been blessedly reduced from the last few 98- and 99-day marathon seasons that came before it.

The June 27 premiere will include three competitions, not including HOH, that promise "game-changing power and two unprecedented punishments." There will also be a room this season (likely the spare Paris/Den upstairs) designated the BB App Store, where "America will get a chance to get the houseguests trending in order to award them powers or punishments." The App Store twist will have its TV debut on Sunday, July 1.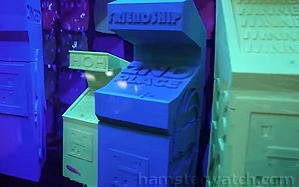 The house decor features a 22-foot tall rock climbing wall that may contribute to the injury tally, a circular seating area that rotates to access the rock wall, pink and blue bedrooms with sliding doors between them, and a poppies/fidget spinner room that will have transformed to some awful Have-not setup by the time the feeds start. The lounge has a kaleidoscope theme with a pin wall to make face/body/object impressions that push through to the kitchen side. The kitchen has a giant gummybear, and the bar/island and barstools are on a wheeled platform (more potential injuries). The HOH room has color-changing LED wall graphics, and the spycam has three new locations to watch plus a one-way intercom to holler at and/or summon their subjects. The bathroom now has four sinks plus framed, transparent Snapchat filter-ish graphics. The fishies are on the upstairs skydeck lounge this time (featuring miniature game consoles including a shady 2nd Place Paul "Friendship" game inside the aquarium), and foosball in place of the celebs' pool table.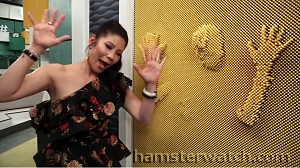 The cast was leaked a day early, on June 17, by @EvelDick, and a fun time was had by all. BB fans are faster and better at turning up info than the FBI and CIA combined.

Dick at Night with Evel Dick Donato will be three shows a week again, with insightful, funny, raunchy, and/or "WTF are the hamsters doing" commentary with a rotating roster of alumni panels - check it out at EvelDick.com

Post-eviction shows will be hosted by BB Celeb runner-up Ross Mathews and winner Marissa Winokur, Fridays on Facebook Watch. Ross did the All Access interviews live, and he did the after-show with evictees for BB11, and he was superb at both of course - he keeps up with the feeds, not just the air shows!

The Amazing Race 31 began taping June 10 in Hermosa Beach, CA. Big Brother teams include Janelle Pierzina & Britney Haynes, Nicole Franzel & Victor Arroyo, and Rachel & Elissa Reilly. They took off for Japan that day, along with Survivors Eliza & Corrine, Bret & Chris, Rupert & Laura, and TAR alums Leo & Jamal, Becca & Floyd, Tyler & Korey, Art & JJ, and Colin & Christie.

BB20 real-time feeds updates and air show recaps will be at Hamsterwatch Forum by @UGotBronx once again

Diary segment tallies by @clamperls and Alliance charts by @89razorskate20 will be posted here

Ratings Watch Air show overnight ratings will be posted here



Daily and Noteworthy Events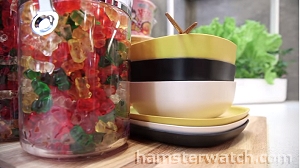 Day 1 Wednesday 6/20 Move-in
They taped the premiere early in the day, with a few dozen alums along with a stunt audience. There were representatives "from every season" at the taping (but not OTT, other than Jason who also repped BB17, or celebs). No twists were revealed and they didn't start the HOH or supplementary comps, but no vets moved in with the 16 rookies, so that's something. One or more could come along later but nearly the entire fanbase is hoping not. Bayleigh was the first through the doors so unless she breaks the 28-season US/Canada streak, she won't be winning the season.



June 2018
For the friends and families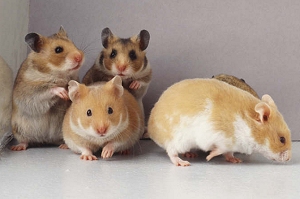 So your spouse/significant other, sibling or child or cousin, or buddy or neighbor or co-worker has been cast on Big Brother, what fun! But you're in for a few surprises

First, realize the TV editors' job isn't to make your person look good: they're making a TV show.. they might put your person's worst or dumbest moments on the show, and they often specialize in "out of context".. nothing will change that, you just need to accept it, as well as the fact that people watch the feeds 24/7.. feedsters will see your person at their best and their worst, and some will dwell on either extreme: whispered conversations, bad habits, grooming rituals - you name it, it will be analyzed, made fun of, obsessed about, idolized and ridiculed, and it'll live on the internet forever.. you just need to accept that too

Second, the vast majority of BB fans and feedsters are fun, funny, kind-hearted people, but nearly all BB fans and most sites, myself included, have some fun at the hamsters' expense (I call them hamsters because watching live feeds is like watching and poking at hamsters in a cage).. some folks can take it to vicious, hateful extremes and others can become obsessive, stalkerish fanatics, and social media has magnified that exponentially in the last several years.. if you try to bait or argue with the haters or let the obsessive ones get too close, you'll probably regret it

Third, not everyone is going to love your person, no matter how much you think they should.. every single hamster has both fans and haters.. even the most popular ones have hardcore haters, and the least popular ones always have some dedicated fans.. your person is going to come home after all this and be whoever they were before, and that's what matters.. until then, count to ten before engaging with viewers of either extreme

Mostly just have fun, bookmark and save things you come across for your person when they get home, and try to relax - even/especially if they're about to be evicted.. they all survive

But don't just take my word for it, read it from three who have been there: see For the friends and loved ones by BB15 Spencer Clawson's girlfriend Marilyn, about watching her guy on one of BB USA's most volatile seasons, Advice to houseguests's moms & dads by BB17 winner Steve Moses's mom Kathleen, and What it's really like to be the Mother of an All-Star by BB6/7/14 Janelle Pierzina's mom Ann.. ongoing thanks to all of them for sharing their thoughts



Ratings - Meet the Rookies edition
Pre-season ratings to be based on potential entertainment value - free neutrals and just the facts for now, per their official bios. My quick takes will be posted shortly.










Won: Nothing yet
HOH 0 - Veto 0 - Noms 0
Angela Rummans - 26
Playa Vista, CA - orig Hilton Head, SC
Fitness model





Won: Nothing yet
HOH 0 - Veto 0 - Noms 0
Angie 'Rockstar' Lantry - 35 (on 6/22)
Columbia MD
Stay at home mom





Won: Nothing yet
HOH 0 - Veto 0 - Noms 0
Bayleigh Dayton - 25
Atlanta GA - orig Lee's Summit MO
Flight attendant





Won: Nothing yet
HOH 0 - Veto 0 - Noms 0
Brett Robinson - 25
Charlestown MA - orig Oakdale CT
Cyber security engineer





Won: Nothing yet
HOH 0 - Veto 0 - Noms 0
Chris 'Swaggy C' Williams - 23
Bridgeport CT
Day trader





Won: Nothing yet
HOH 0 - Veto 0 - Noms 0
Faysal Shafaat - 26
Orlando FL
Substitute teacher





Won: Nothing yet
HOH 0 - Veto 0 - Noms 0
Haleigh Broucher - 21
College Station TX - orig Village Mills TX
College student





Won: Nothing yet
HOH 0 - Veto 0 - Noms 0
JC Mounduix - 28
West Hollywood CA - orig Miami FL (born in Cuba)
Professional dancer






Won: Nothing yet
HOH 0 - Veto 0 - Noms 0
Kaitlyn Herman - 24
Encino CA - orig Plainview NY
Life coach





Won: Nothing yet
HOH 0 - Veto 0 - Noms 0
Kaycee Clark - 30
Tempe AZ - orig San Diego CA
Pro football player





Won: Nothing yet
HOH 0 - Veto 0 - Noms 0
Rachel Swindler - 29
Las Vegas NV - orig Myrtle Beach SC
Las Vegas entertainer





Won: Nothing yet
HOH 0 - Veto 0 - Noms 0
Sam Bledsoe - 27
Stuarts Draft VA
Welder





Won: Nothing yet
HOH 0 - Veto 0 - Noms 0
Scottie Salton - 26
Chicago IL - orig Shorewood IL
Shipping manager





Won: Nothing yet
HOH 0 - Veto 0 - Noms 0
Steve Arienta - 40
Wanaque NJ - orig Parsippany NJ
Former undercover cop





Won: Nothing yet
HOH 0 - Veto 0 - Noms 0
Tyler Crispen - 23
Hilton Head SC - orig Rossford OH
Lifeguard





Won: Nothing yet
HOH 0 - Veto 0 - Noms 0
Winston Hines - 28
Bowling Green KY - orig Somerset KY
Medical sales rep



Lines and Links of the Day
Lines

Winston: I'm not here for Twitter followers

Winston: This isn't The Bachelor

@CameronHeard210: I've already seen a little too much of some of these people

Angela: I'm a schemer

THR: Do you know what Hamster Watch is?
JC: Hopefully it's not referring to me! I will call them lab rats, but I didn't know they were called hamsters.

Ika: Are you going to play a social game, a physical game, mental..?
Kaitlyn: It's gonna be very social and very mental, I think mental health is like extremely important.. being mentally healthy and alert and staying consistent with my meditations, that's going to help me go pretty far in this game

Bayleigh: I'm gonna be one of those girls, I'm gonna be salty, it's fine

Tyler: [BB]'s like an evil genius experiment with these humans, it should be with like hamsters.. I hope they have like hamster wheels for me to run on



Links

GET YOUR FEEDS

Use my links for any Amazon shopping, anytime, at no extra cost - just start your shopping trip by clicking Amazon USA or Amazon Canada

Julie's house tour

THR interviews by @bbrianthelion

ET Canada interviews by @theikawong

BB20 Pool Join by June 26, $10 buy-in (BB19 winner got $770!) by @aaronhoff

BB by the Week: cast reference guide by @aubramariebb

Please tweet me @hamsterwatch for extra good or extra funny things you come across thru the season - thanks in advance!


Tally Items

Season Stats will be posted here





Linking to any page here is fine. Please don't repost content from this site (or any other) without permission, and don't repost or hotlink images.



THE REAL SHOW IS THE FEEDS


SAME DAY AIR SHOWS
Live air shows in some areas
BB1 thru BB19 and many other CBS shows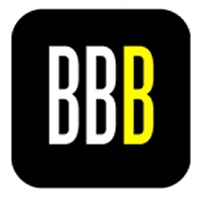 BIG BROTHER BUDDY
Get push notifications for all the big feeds events - iOS or Android


HAMSTERWATCH SWAG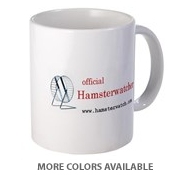 Mugs, shirts, more
Visit my Cafe Press shop






Big Brother 20 SEASON FAQ


Day 1 Move-in was June 20
Day 8 CBS premiere is June 27
Day 9 Feeds begin June 28
Day 99 Finale will be September 26

Feeds are streamed by CBS, and Flashback is accessible via All Access subscription. Call 888-274-5343 for account help, including cancellation.

Air shows on CBS (Global in Canada) are Sundays 8pm, Wednesdays 9pm, eviction Thursdays 9pm.

Big Brother After Dark on Pop TV is every night midnight to 3am, except Thursdays 1am to 3am. The aired blocks are live (or recorded earlier the same night, depending on your cable provider).

The CBS app (by CBS Interactive) plays BB air shows and other CBS shows, as well as feeds, or you can use your browser to watch feeds on mobile devices. The same All Access link used to subscribe will lead to the feeds viewing page if you're already signed up.

BB20 prizes are the same: $500k for the winner and $50k for 2nd place. Stipend for the others to be confirmed.

The habitat has 94 HD cameras (up 7) and over 113 microphones.

The recorded in-house announcements are the voice of producer Don Wollman. He and Julie Chen are the only staffers who have been there since Big Brother 1.