This site is about the Big Brother 23 feeds and contains spoilers! It isn't necessarily thorough: it's what I catch and/or what interests me. It's about watching hamsters: who's doing what and why. Thanks for encouraging my behavior.
Your pal, dingo





Donations via Paypal are gratefully accepted!



BB23 DRINKING GAME

Take a swig whenever one of them talks more than three minutes without letting the other person(s) speak





GAME TWISTS

TEAMS Ended after Week 4
Move-in groups of four competed for team captains, who then drafted their teams, and captains competed for HOH. Winner's team had safety for the week.
-Team Jokers:

Frenchie captain,

Azah, Britini, Derek F
-Team Aces: Whitney captain,

Brent,

Derek X, Hannah
-Team Kings: Christian captain, Alyssa, Xavier, Sarah
-Team Queens: Claire captain, Kyland, Tiffany,

Travis



WILDCARD Ended after Week 4
One from each non-HOH team competes. Winner can have safety for the week in exchange for a punishment for them, their team, or the house. Competitors can't repeat til everyone's played.

Week 1
-Christian, Hannah, Kyland played
-No risks, winner spun a wheel to share safety with 1 to 3 teamies
-Christian won, saved Xavier

Week 2
-Brent, Frenchie, SarahB played
-Winner had to switch teams to keep safety
-SarahB won, did not use

Week 3
-Britini, Derek X, Tiffany played
-One random player from both Aces & Jokers would also be safe
-Tiffany won, did not use

Week 4
-Azah, Claire, Whitney played
-Winner's safety 'til jury' or 1 week safety for winner's team
-Claire won, chose safe 'til jury'





QUICK LINKS & BOOKMARKS

-SIGN UP FOR FEEDS

-WATCH THE FEEDS
after signing up - disable ad blockers

Official site and socials:
-BB23 official CBS site
-Twitter
-TikTok
-Instagram
-YouTube
-Facebook

-Live show tickets if/when audiences return

-Donate via Paypal - thank you!

-My Twitter - my screencaps

-Amazon Canada portal

-Dick at Night with @EvelDick

-BB Viewer Chrome or Firefox Extension by @liquid8d
-Requires Paramount Plus account

-BB23 Wiki

-Hamster Twitters
BB USA: chron - members
BB Canada: chron - members
BB USA Celebs: chron - members

-Advice for cast friends/family

-VPN to protect your online privacy




Get Paramount Plus
to watch Big Brother
all seasons
Plus tons more CBS and Viacom content




BIG BROTHER LIVE FEEDS EXCLUSIVELY ON PARAMOUNT PLUS
All Big Brother USA seasons plus most CBS/BET/Comedy Central/MTV/Nickelodeon shows
past or present are included, plus originals!
GET A FREE TRIAL
COMPUTER - MOBILE - ROKU - CHROMECAST - APPLE TV - ANDROID TV - FIRE TV - XBOX 1/360


>> >> >>

>> >> >> >> >> >>

>>

Power Status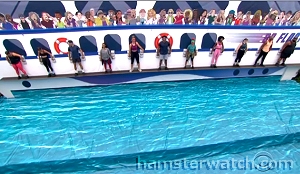 Claire has safety til jury
Claire has to do 52 Pickup for 1 week
Kyland has to do Jackass Club sandwiches for 1 week
Head of Household: Derek X
Original noms: Britini, SarahB
Veto winner/outcome: Britini/used on self
Final noms: SarahB, Christian
Have-nots: Alyssa, Christian, Xavier [ended]
Evicted: TBA

Alliance charts by @89razorskate20

Alliance maps by @Dolffica

Diary segment tallies by @clamperls4

Ratings Watch Wednesday's show won the hour with 0.9 rating and 3.78 million viewers, ahead of America's Got Talent on NBC with 0.6/5.38, Press Your Luck on ABC with 0.4/3.15, and MasterChef on FOX with 0.4/2.24.

Overnight rating & share: adults 18-49; Rating: % of all TV households; Share: % of households watching TV



Upcoming Events
Usual feeds schedule, times are Pacific
Mondays noonish: Veto meeting*
Tuesdays: COVID tests
Wednesdays midnight: Have-nots end
Thursdays: Eviction run-thru afternoon*, live eviction show 5pm*, HOH room late evening
Fridays: Nominations late afternoon/early evening*
Saturday: Veto comp*
*Feeds blocked

CBS show schedule
Sundays 8pm - Wednesdays 8pm - live Thursdays 8pm
except:
-Sunday 9/19 no show
-Wednesday 9/22 10pm show
-Wednesday 9/29 9pm finale, two hours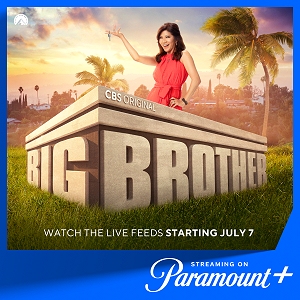 GET THE FEEDS to see the real show!

CBS All Access is now Paramount Plus If you had an All Access account, it has switched over and you're all set for the new season. Plans are as follows:

$4.99/month includes feeds, does not have live local CBS, does have commercials for shows/movies
$9.99/month includes feeds, does have live local CBS, does not have commercials for shows/movies
Either is also available on an annual plan. If you get the $4.99 plan and want to dump the ads, you can upgrade to $9.99 plan at any time

$5.99/month plan is no longer available for new subscribers, but former All Access accounts will stay as they were, including feeds and live local CBS



Daily Feeds Recaps
Day 36 - Wednesday - August 11, 2021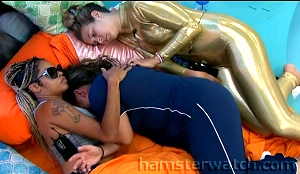 Things got very dramatic overnight, thanks to Britini's meltdown about Christian being voted out and lying to him about that, which kicked it off. Tiffany met with Jokers about that, and both Derek F and Azah got irritated with her. Derek F got very heated and later said he hoped SarahB wins HOH and sends Tiffany out, and he threatened to tell everyone in Cookout that he's done with it because of her. Azah told him not to do that, and also tried to calm him down when he escalated to talk about burning Tiffany's weave.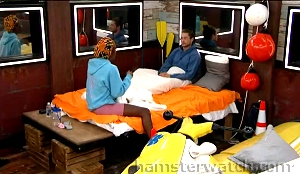 At some point I think Britini did tell Christian she'd vote in his favor? And this morning Azah told Britini and Derek F that Tiffany wanted to blame her (Azah) if the vote is 6-3 rather than 7-2. Azah said "really it's just covering her ass and I don't give a fuck about covering her ass." Derek F called her "a fuckin manipulator" and Azah let slip the "bully" word. Xavier gave Christian a lot of talking points for today's campaign meetings which he then presented to Azah, but she didn't tell him what he wanted to hear. Christian went to Have-not to rant and cuss to Alyssa and Xavier that "they're all morons!" and not thinking for themselves.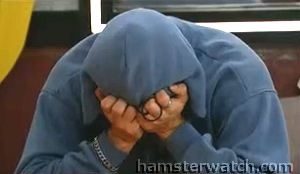 As Christian cried in Have-not, Xavier met with Jokers. Azah said she was mad at having been made out to be the swing vote, Derek F said it took him two hours to cool off last night, and they both expressed extreme frustration about Tiffany. Jokers agreed to meet with Christian and let him know definitely they can't keep him (and I assume Derek F would withdraw his vote promise, along with Britini if she did indeed promise hers). Azah and Derek F ranted some more about Tiffany, both of them saying they want to take her out before Britini when they get to seven. Kyland and Xavier talked about letting Azah and Derek F know about Royal Flush to build trust. Xavier said to himself/us he'd like to do that first, "so Ky's in the shithouse with Tiff and Hannah." Christian and Alyssa tossed around hopeful thoughts about revivals and powers, and Xavier explained timezones to them.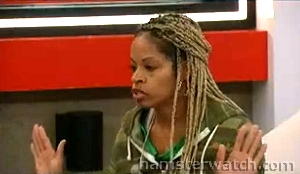 SarahB started doing her campaign rounds and Christian rallied to do more of his. Then came the main event, as Tiffany went to HOH to talk to Derek X. She retold some of last night's drama (though not all obviously, because a lot of the drama was Cookout related) but she got heated when she said "Azah doesn't believe a fucking word that comes out of my mouth!" Derek X asked what the temperature was at that meeting last night and she said "HOT!" Accurate. She said if Christian comes to her to say he only needs one vote she'll tell him that isn't true because others are lying to him. She also stressed she didn't want to lie to Christian to avoid retaliation from Alyssa later. And to Derek X's direct question, she said she trusts Christian more than Kyland.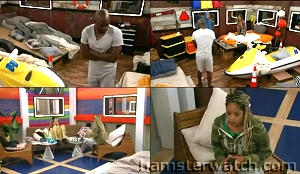 Tiffany then followed up with Xavier to say it benefits her to have DX on her side and it benefits Xavier to have Christian on his. And she said the words "if I flip this house" she'd need to find a way to keep DX's trust, and to keep him safe. Tiffany told Xavier that Claire would vote with her and Xavier said he and Alyssa already promised Christian their votes, so they'd only need one more, and Tiffany said they'd need a guarantee from Christian that he wouldn't go after Derek X. Tiffany said she didn't think "Derek F really gives a shit" but that he's always pushing for a girl to go. However Derek F was extremely anti-Tiffany today though, and said as much when the retells made the rounds. He told Derek X, Azah, Britini that he was trying to steer clear of Tiffany and the drama but he was ready to tell Christian he was going to go.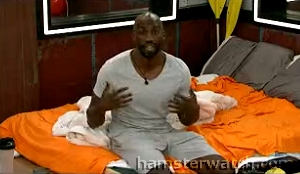 A big blowup happened behind a feeds block, apparently between Tiffany, Derek F, Azah? And that changed everything back to where it was. Tiffany and Xavier checked in again, she retold last night's drama, and he said "keep going" just like the popcorn gif. He said they'd had a good plan but it didn't seem like they'd be able to pull it off now, since they wouldn't be able to get that fifth vote to keep Christian, and he said "we gotta bow down." Tiffany said she didn't have a problem with that but she had a big problem with the various personal dramas, and she reiterated those at 100mph. Xavier said "the six is bigger than each of us" and Tiffany conceded, adding "does Christian understand why? I probably got his hopes up." Xavier said they had to drop it, no more flip talk, and he later talked to us with an apology to Christian. He said "I tried, you're my boy, Tiffany was ready to flip the house, but we can't jeopardize this [Cookout], this means something way bigger man, and I hope you can understand that."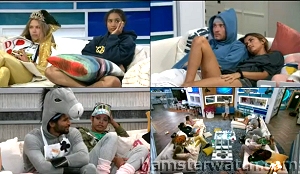 Xavier also told Christian and Alyssa that it didn't look good for Christian to stay. Alyssa got her phone call from home but said all her thoughts were game and she wasn't allowed to talk about that. Claire got a spare gold unitard and new/improved card. Christian and SarahB both continued campaigning here and there, and retells of this wild 24 hours raged on everywhere. Azah and especially Derek F continued ranting about Tiffany, which I found hilarious but many didn't. Xavier raised a lot of hopes when he called for a house meeting a little after 8pm. I figured it was going to be a peacekeeping mission and it was, but it wasn't a fun one. Just a game of Mafia based on the Bucket Hat Bandits characters from a couple weeks ago. Credit to him, peacekeeping was probably needed in there today. But whatever fun and camaraderie the game generates, hamsters will separate to their psst-pssting corners afterwards.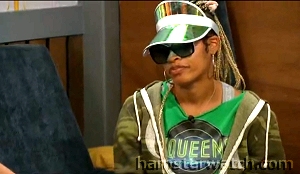 And sure enough they did. Christian and Alyssa, with Xavier observing, worked on Britini some more for her vote. Christian finally said she has his "permission" to vote him out if it seemed inevitable, rather than jeopardize her standing in there if he goes. Britini returned to her room sobbing about the pressure, and why does it have to come down to her, etc. (She did not mention the complication of her Final Two with Christian but I'm sure it was a factor.) Xavier joined and she cried/vented to him, saying she didn't want to be blamed for Christian going home. Xavier said "if the votes aren't there, nobody's blaming you." Britini then talked with Tiffany, who said she had been hoping to keep Christian but everything changed with last night's drama and today's chaos, and as of now she wasn't voting to keep him. They talked forever, like they do, and finally wrapped with a hug and an agreement leaning towards evicting Christian, "for now." Afterwards Tiffany told us "I had a good fuckin strategy, I was about to flip this damn house, don't y'all wanna see this house flip? Don't you?"

Tiffany retold to Claire, who finally told Christian he was doomed and almost certainly going home tomorrow, and he later told Alyssa "every single white dude's gone." It should be noted that Kyland had to keep making sandwiches and Claire had to keep tossing cards periodically throughout the day.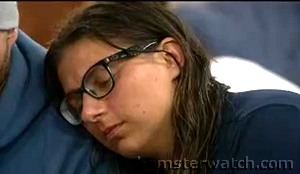 Christian revved up once again, planning a house meeting with Alyssa to call everyone "pussies." But Xavier talked him out of it, saying it wouldn't help and would only hurt his and Alyssa's futures in there. So Christian finally conceded his loss, and went to Diary to tape a farewell to SarahB, and said he teared up in there saying good-bye to Diary staffer Jake. Hannah pulled Xavier aside to plan for a double tomorrow (which it isn't), and it was agreed only Xavier could take a shot at Derek X. That may or may not stick going forward. Christian told Britini it was over, he was done, and Britini had a sad moment with her boo. Christian and Alyssa moped around in bed while the usual chefs, Azah and both Dereks, made the midnight feast. Reminder, Christian and Alyssa had asked Xavier to sleep downstairs tonight so they could have the Have-not room to themselves, so that will probably happen. It's been a day, whew.

IF YOU MISSED what came before, check my previous episode, always linked up top or from my season index, and get the feeds to catch anything you missed with Flashback!



Day 35 - Tuesday - August 10, 2021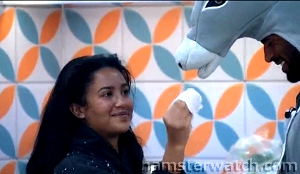 Kyland had an early sandwich call, got something on his donkey nose, and he asked Hannah to get it for him. She reached in with a tissue to wipe his own nose at first, making both of them plus Xavier crack up. Apparently Kyland told SarahB that everyone thinks Britini is annoying (they don't), but SarahB started repeating that, and saying Britini had been "obnoxious" at the veto comp. That didn't go over well when Claire told Britini and the other former Jokers. Kyland and SarahB had a very long awkward convo late last night, and Kyland asked Azah's advice this morning because it was all getting awkward and feeling fake. Azah said SarahB's moping around and leaning on/crying to Kyland had become very noticeable, people thought she's faking, and "what happened to Sarah Beast?"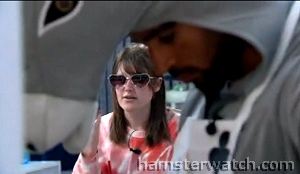 Xavier asked SarahB how she was doing, as Kyland made sandwiches, and she joked "the only person who's been honest has been Kyland, he said straight up he's not keeping me. I never counted on his vote in the first place - he's just so bitter, he keeps losing bets to me." Kyland said "I just don't want to lie," and they all laughed. SarahB asked Derek F about block survivors Britini and Hannah having told her not to rush her campaigning. He said "fuck that" and told her to do her thing on her own time. A group convo outside about Reddit and Twitter comments about feeds led to a discussion of the state of their boogers in there (due to dry air).. maybe coincidence, maybe not. Christian made a lengthy pitch to Derek X, eventually offering mutual safety for the next three HOHs. Reminder, Derek X doesn't have a vote this week. Christian also told him Kyland's mentioned his (DX) name, and said he's "sneaky." Alyssa followed up with her own fast-talking and very lengthy pitch to Derek X.

Claire got blood on her costume from a paper cut from her cards, and she's lost several of them. For whatever reason (no valid one I can think of), they seemed to be withholding most of Claire's and Kyland's task signals from feeds today. Taco Tuesday was planned for tonight.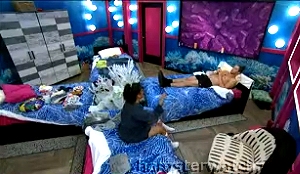 Check-ins, campaign chats, and retells raged on, including a lengthy pitch from SarahB to Derek X. Xavier and Kyland said maybe they should encourage a 7-2 vote rather than 5-4 in case anyone gets hinky, and Kyland said he could see Tiffany wanting to give Christian a vote even though it wouldn't change the results. Derek X told Hannah that Alyssa still believes Kyland and SarahB were behind this week's backdoor plan. Christian was about to take a shower (welcome news) but said he'd talk to Hannah first if she could "look past my stench." She said okay, and they went to the reef room where Christian plopped his stench down on someone else's pillow to make his pitch. It didn't go well for him, as Hannah countered everything and told him he should make offers that are beneficial to her. She left him with "your homework assignment, if you choose, give me the why for you risking my safety last week." Christian reported that to Alyssa, and Hannah retold to Xavier, who plopped on the same pillow.


Tiffany and Derek X had a lengthy check-in, with a lot of anti-SarahB stuff from Tiffany, and then she asked "so who is our target next week?" Those seeds of hers are getting less and less subtle but few of them seem to notice. It sounded like their/her current preferred boot order was Christian, SarahB, Alyssa, Britini. Claire told Britini that she'll probably tell Alyssa tomorrow that she'll be voting Christian out, and she encouraged Britini to do the same. Britini said she was in a tricky spot (partly because of Christian's "honorary HOH" offer to Jokers, and partly because she has an F2 with Christian, but she didn't mention either specifically). Britini said she hoped Azah would tell Alyssa/Christian first so she could then say it's a done deal and she has to go along with the house and evict Christian. Claire said she won't blindside Christian but Britini could if she wanted to. Britini later griped to Derek F about being stressed by it all, and by Christian "pressuring" her to talk to Azah, and she didn't want Alyssa and Xavier to be angry at her if/when she votes against them.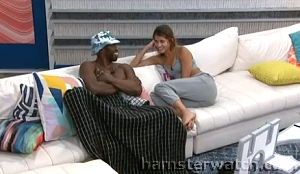 As campaigning settled down, it was a pretty relaxed and quiet evening. Britini gave a very long and detailed multi-day Disney World itinerary, including the various rides and the order she rides them. The selfie camera came out again and they got all animated and talkative again, as if they aren't surrounded by cameras 24/7. They did their weekly COVID tests, Taco Tuesday came and went without incident, Kyland made sandwiches for the guys and for the Have-nots, Claire threw her cards a few times, and the two-day-old key lime pie with its multiple failed meringues was finally dished up. And they did a relatively short episode of the Big Blue Couch show. Xavier teased Alyssa about kissing Christian when he leaves, if he leaves, and she said she wouldn't want to do it with everyone watching, and "they're probably going to think it's our first time." Xavier assured her nobody will be shocked, and I'll add extra emphasis to that since they'll have had the Have-not room to themselves the night before, and the HOH room all last week, and they're usually cuddled up with each other at all times. Xavier also asked about the future and Alyssa said "let's be real, he's 23 years old and he's going back to the real world after a TV show."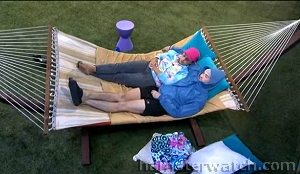 Hannah gave a body language seminar to several of them. That's the kind of thing she could use to her advantage in there if others are ignorant of it, which some seemed to be. I don't understand why she keeps giving away valuable info of various types. Christian told Britini he has a Plan Z: he plans to tell Tiffany and Claire that SarahB and Kyland said they'll split the money, to add fuel to Tiffany's (fake) fire that they're working together as a pre-existing relationship. So there's that - and reactions to it - to watch for. Britini started up Waffle Wednesday early after her hammock with Christian, questioning Azah about what they should do. (Reminder, Britini has been waiting for Azah to openly commit to evict Christian so she [Britini] can say there's nothing she can do and will also have to evict him. She doesn't want to have to tell Christian no before then because she's got a crush and a Final Two with him.) Azah led a loud and fun group lesson in Pidgin. Now they'll have another accent to use in addition to their bad British ones.

IF YOU MISSED what came before, check my previous episode, always linked up top or from my season index, and get the feeds to catch anything you missed with Flashback!



Day 34 - Monday - August 9, 2021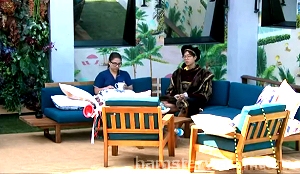 Britini had a long morning talk to us, and then she told Derek X that he probably shouldn't warn Christian and Alyssa about Christian's impending renom, wisely suggesting that a few minutes warning wouldn't make any difference. DX then talked to Kyland about it. Alyssa headed up to HOH but fortunately DX was in the shower. However apparently DX did warn Alyssa, off feeds, and of course she went to work on him to change his mind, and then the word spread around the house in no time and our blindside was ruined again, boo.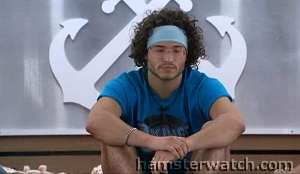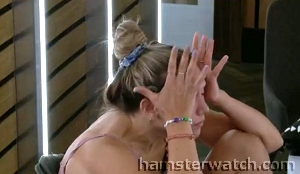 Alyssa, Derek X, SarahB met in the gym, and Tiffany finally joined. Alyssa was hustling and SarahB got a little heated. Christian popped his head in to ask Derek X to unlock the toilet, adding that bit of absurd comedy that I love to all the tension. Alyssa then told Christian that Derek X hadn't come out and said Christian would be renom, but they were obviously pretty sure. Christian said "I feel so fuckin stupid! I could have taken him out last week." Claire pretended to be surprised and shocked, and feeds went off for their veto meeting. I don't think Christian had gotten his chance to pee before they did.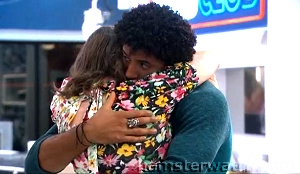 Britini took herself off the block obviously, and Derek X put up Christian in her place. Feeds came back in record time to awkward silence and hugs, leading to sobs from SarahB to Kyland. Hamsters scattered to their corners with Alyssa telling Christian "it's SB" [who told DX that Christian and Alyssa were after him], which eventually led to everything being Kyland's fault, and SarahB continued to sob to Kyland. Alyssa said "Tiffany did not seem shocked" but wait til they find out virtually everyone knew but them. Alyssa asked Christian what she can do and he said "nothing, we just gotta start campaigning." He remained stuck that he could have done this to DX last week but he apparently forgot he barely left the HOH room all week, which is a sure way to fall behind. Derek F told Christian he'll vote in his favor and gave his word.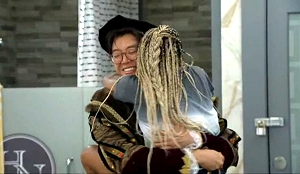 Christian then said "I need bitch ass latrine to open the bathroom," which he did for Christian, and for Xavier, and then Tiffany and Derek X had their moment to celebrate and she congratulated him on his speech. The first stage anyway - it's ages and ages til they vote, and this one is big for many of them. Xavier continued to cover his own bases with Alyssa and Christian, frustrated about losing one of the Kings, his side alliance outside of Cookout. Christian grew increasingly angry and Alyssa eventually told him to drop the past, accept that he's on the block, and focus on what he needs to do now. Retells, how/why whispers, and vote counting carried on and on, as it will all week.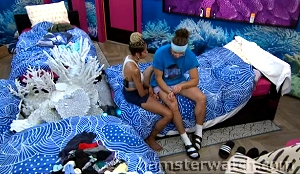 An extended nofishies block turned out to not be Claire's or Kyland's tasks starting, but shortly after they came back they got an announcement that Derek X's Lord of the Latrine task was complete. Christian complained and campaigned to Tiffany, who commiserated and comforted, and even shed a few tears, and told him he should chill out and think before diving into full blown campaigning. She also told him she could beat SarahB at physical comps but not him. (Tiffany's very strong hand in these noms seems to have once again escaped notice of most, if not all, of them. It's uncanny, and very good BB.) Earlier, Hannah told SarahB that right after veto meeting wasn't the best time to campaign, and she's got several days and should just enjoy her birthday today. SarahB said Britini gave her the same advice, and she trusts both of them as they've both survived the block.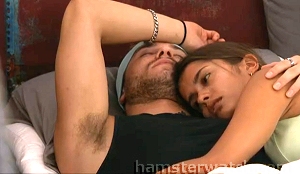 Tiffany later told Christian "it's not how much ammo you have, it's how you use it" and "don't do all your racing in one day, it's a marathon." Tiffany then told us she "loves the kid" and while she'd still like to see SarahB go, she isn't trying to flip this vote. She said she doesn't want Christian (if he stays) or Alyssa to think they can't work with her, and "whether they trust me or not is a totally different subject." Tiffany reported that convo to Claire, and Christian reported to Alyssa, saying Tiffany had given him some good tips and was very supportive. He also said he thought that meant he'll have her vote. The two of them went back to isolating themselves in Have-not and posing as tragic Lifetime movie posters. Britini said campaigning should be Wednesday, and "it's a little weird" if anyone tries to talk game on a Tuesday because "we do nothing on Tuesdays."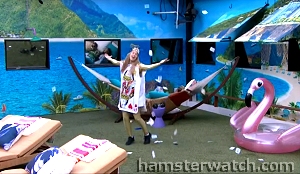 Claire started her Duke (Duchess) of the Deck task at 6.30pm. She has a playing card costume with pointy hat and a deck of cards. Whenever BB plays the 52 Pickup signal, she has to throw the cards in the air then gather them all up, in whatever location the announcement specifies. Her first was in the backyard, followed shortly later by three in a row, two in the living room and a third in the front/open bedroom. Nobody else is supposed to help her gather up her cards. She had a good time with it but that will likely fade before a week's over, but so will the signals once they get footage they need for the show.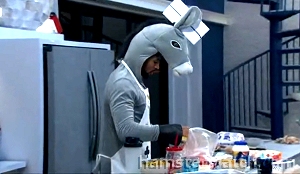 Kyland started his Jackass Club task a little before 10pm. It too will last for a week. His costume debut and explanation of his task was withheld from feeds (boo). He has to make club sandwiches (triple decker with bacon, turkey, ham, tomato, cheese, lettuce, mayo) for specific people as directed, or for "everyone" which will include Have-nots this week and next. He said he'll get a backyard/pool suit in a couple days. Meringue topping for SarahB's birthday key lime pie was attempted for a second night in a row. The first attempt tonight actually made it into the pie they made last night and into the oven, but it was a blackened crisp they had to chip off. A second meringue attempt was finally completed and spread on the pie, but whether it was edible or not wasn't on feeds.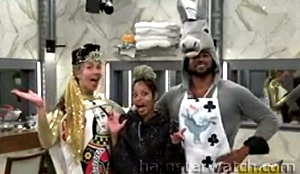 Alyssa and Christian did some campaigning here and there, which included such ridiculousness as offering to let former Team Jokers have the room, snacks and music requests, and make the noms if he stays and wins HOH, so long as they don't put up him or Alyssa, and/or he'd throw the comp to them if possible. Alyssa offered to keep them safe from the block and Have-nots if she wins. And he said he'd cover himself in butter to get Azah's vote. You couldn't make it up if you tried. Word of the Jokers offer got around of course, causing fake vote promises which caused tension within the Jokers, as well as elsewhere. Christian will almost certainly leave on Thursday but the week is young and it's a very, very long time until they vote.

IF YOU MISSED what came before, check my previous episode, always linked up top or from my season index, and get the feeds to catch anything you missed with Flashback!



Ratings - Blockshock edition
Ratings are Monday's, based on entertainment value



Noms count: original/renom






It's the usual balance again this week. Ups for putting the endurance on feeds, downs for some days having entirely too many blocks for no apparent reason. Ups for a fun task with Lord of the Latrine, downs for ongoing low and unbalanced

left/right

top/bottom volume, making quads difficult to use effectively. Ups for Duke of the Deck and Jackass Club tasks, downs for withholding Kyland's debut from feeds.





Won: Week 3 safety; Phone call, video call, phone, laptop
HOH 0 - Veto 0 - Noms 1/0 - HN 2


TEAM KINGS



Ups for hanging in there so long on the wall - I always like to give credit for that. Her and Christian's blockshock at his renom makes for fun feeds obviously, but they really shouldn't have been surprised. They not only mentioned the possibility countless times before it happened, but they laid out their plan to backdoor Derek X on Friday night, even before the veto draw or comp. Hypocrisy is a staple of BB though. They'll be surprised when they find out virtually everyone knew this was going to happen except them, but they probably won't realize or acknowledge that holing themselves up in HOH all last week to make out (and et cetera) maybe wasn't the best use of their time, game-wise.





Won: Week 1 safety
HOH 0 - Veto 0 - Noms 0/0 - HN 1


TEAM JOKERS



She's frustrating to her various teamies because she says one thing but acts differently, but her entertainment value is off the charts. She's funny, spontaneous, and self-deprecating, and she can sing, dance, and cook, and she does all of those things often. What's not to like?





Won: Week 1 safety
HOH 0 - Veto 1 - Noms 3/0 - HN 1


TEAM JOKERS



Ups for winning a hard-fought veto as well as lasting longer on the wall than most would have expected. Sure her veto Diaries will be insufferable but she earned them, this time, and her over-the-top acting about this week's noms and blindside tip everything over into the comedy trough.





Won: Week 1 Wildcard + safety; Week 3 safety
HOH 1 - Veto 2 - Noms 0/1 - HN 2


TEAM KINGS Captain



See Alyssa, minus the part about the wall.





Won: Week 2 safety; Week 4 Wildcard + Weeks 4 & 5 safety; 1 week Duke of the Deck 52 Pickup
HOH 0 - Veto 0 - Noms 0/0 - HN 1


TEAM QUEENS Captain



She's been Tiffany's confidante, sounding board, and co-pilot from the start, but she hasn't done much with any of it to further her own game, while Tiffany never stops. A lot of 'superfans' intentionally lay low the first few weeks and then crank it up, but we're reaching that point now and it's time to start cranking. She's had two safe weeks and hamsters have short memories: she could have done some stuff last week or this week with few to no repercussions, and she didn't. Come on Claire, I want to root for you but you're making it hard.





Won: Week 1 safety
HOH 0 - Veto 0 - Noms 0/0 - HN 1


TEAM JOKERS



I remain one of the few who enjoy him. Between his leaning and lounging, his one-liners, his random dancing or boxing, and his pissy grouchy comments, I'm grateful to have him there for constant comic relief. And he was a great cheerleader during the wall, and I always like to give credit for that.





Won: 24 hr Lord of Latrine
HOH 1 - Veto 2 - Noms 0/0 - HN 1


TEAM ACES



Obvious ups for winning the wall comp and for making a 'big move' even though he did rob us of a glorious blindside by 20 minutes or so. He may have screwed his own game by letting Tiffany and Hannah tag-team his HOH, but that's how it goes. Bonus points for how much he enjoyed being Lord of the Latrine, at least for the first ten or so hours of it.





Won: TBA
HOH 0 - Veto 0 - Noms 1/0 - HN 1


TEAM ACES



See Claire, minus a few points for constantly rattling off BB stats and helping everyone study their days, whether they're on her side or not. Her goop-filled goggles will be one of the lasting, iconic images of the season, earning her solid and easy ups.





Won: 1 week Jackass Club making sandwiches
HOH 1 - Veto 0 - Noms 1/0 - HN 1


TEAM QUEENS



Until he can edit his speeches down A LOT I just don't have the patience to listen to him.





Won: $5,000; Week 2 Wildcard; Week 3 safety
HOH 0 - Veto 0 - Noms 1/0 - HN 1


TEAM KINGS



She's been crying too much lately. Sure it's no fun to go on the block (just ask Britini), or to lose the veto when on the block, but she took $5,000 by choice and that's a nice chunk of change that's hers whether she goes or stays. Too bad she had to stay on the block on her birthday but it's happened before. Keesha had a famously unhappy birthday in there, and Kaysar was actually evicted on his birthday, not once but twice.





Won: Week 2 safety; Week 3 Wildcard
HOH 0 - Veto 0 - Noms 0/0 - HN 1


TEAM QUEENS



People keep asking when she'll get caught for so much dirty dealing and double dipping. Maybe she will eventually but for now she's a Teflon hamster: nothing sticks to her, even though she's driving everything. I believe that's due to her superb social game: she remains close with most everyone on a one-on-one basis, and she puts a lot of time and energy into nurturing those relationships. Even this week's noms and (potential) backdoor renom were largely her doing, but many of them in there think Derek X acted alone, or that Kyland and SarahB were behind it all. Plus she brings comedy, warmth, and continually tells us what her thoughts are.
Update Some of them caught on Tuesday night and Wednesday, and Azah and Derek F are very much not pleased with her as we head into a new week.





Won: Week 1 safety
HOH 1 - Veto 0 - Noms 0/0 - HN 2


TEAM KINGS



Easy ups for being the next-to-last on the wall, something that's very rare for a big guy. He's been in a safe spot for too long and will likely remain there a bit longer, yet he's having issues with losing a former King this week. This game (like most games) hits different when it stops being in your favor and I'm looking forward to seeing how he'll handle that going forward.





Won: Nothing
HOH 0 - Veto 0 - Noms 1/0 - HN 1
TEAM ACES Captain

4th evicted - Day 30

Apparently she spent a few hours on Twitter and she selected one of my tweets to complain about being villainized, slut shamed, and hated. My tweet was factual, with a touch of snark, but none of that stuff. Maybe she forgot what she signed up for, and I'm sure she's having a tough re-entry, but after having hate for her flung into my mentions every day (as all updaters get, for each of them) to then get called out publicly for what I didn't do, I'll just go with Mariah's 'I don't know her.'





Won: Nothing
HOH 0 - Veto 0 - Noms 1/0 - HN 1
TEAM ACES

3rd evicted - Day 23

At cast reveal I thought international flight attendant would mean great people skills, but no. He came in boasting of charm but it didn't last long. His talk about girls and dating, and his behavior towards several women in there, were problematic and bound to get worse if he'd stayed. He was happy to be Frenchie's lieutenant for the chaotic first week but then Brent turned on him and practically denied ever being with him. He had zero self-awareness about all this and the edits skewered him as they did Frenchie, proving once again if you do clownery, you'll get the clown music.





Won: Nothing
HOH 1 - Veto 0 - Noms 1/0 - HN 0
TEAM JOKERS Captain

2nd evicted - Day 16

Cast reveal brought controversy plus a major Cody/Derrick mixup, and the feeds opened to him announcing he wouldn't put up a woman or minority, but then he put up Alyssa and Kyland, and it was downhill from there. He did everything a feedster should know not to do: shouting in Diary, talking in cliches, Bomb Squadding, pandering, power-tripping, mistaking BB history items, grandstanding, begging for a viewer save, and threatening to quit. Still, all that gave us a wild ride and super-chaotic first week of feeds that we'd never be able to piece together if we hadn't seen it unfold.





Won: Nothing
HOH 0 - Veto 0 - Noms 0/1 - HN 0
TEAM QUEENS

1st evicted - Day 9

I barely know who he was. He dressed in drag (and looked okay doing so), he gave Kyland a birthday lap dance, took his shirt off for his nominee speech, and complained to Julie that white guys with abs are targets. And he didn't do much to prevent his eviction. That's all I got. Aloha.





Won: Early ticket home
HOH 0 - Veto 0 - Noms 0/0 - HN 0

Replaced pre-season

Replaced by Claire pre-season, she tested positive for COVID.





Won: Early ticket home
HOH 0 - Veto 0 - Noms 0/0 - HN 0

Replaced pre-season

Replaced by Christian pre-season, we may never know why.



Lines and Links of the Day
Lines

Wednesday
Derek F: [Tiffany]'s trying to bake the cake and eat it too

Xavier to SarahB: I didn't know this was a backdoor plan from the beginning

Tiffany: Who called this thing? [house meeting]
Xavier: The person standing up here, is that an issue?

Xavier to Azah: Everything today was exactly what the fuck we signed up for

Christian: I accept my fate
Alyssa: So maybe a last minute pitch tomorrow?

Tuesday
Hannah to Christian: If you want to waste your breath on me, your time may better be spent campaigning towards other people who might be easier to convince

Claire: Teams ended but nothing happened

Christian: This week is different from every single other week

Britini: You lucky damn duck, you get sandwiches and I got slop and stomachaches
Christian: I get sandwiches that are fuckin damn good too

Monday
Xavier: I'm changing the narrative, cat daddies can be sexy

Christian: I need bitch ass latrine to open the bathroom! LORD LATRINE!

Christian: 57%, were they fuckin doing math before this?! Jesus Christ dude, just say the fuckin speech!

Derek F to Azah: We just took the meat out of the refrigerator, we didn't even defrost it yet

Azah: Mmm I don't even like mushrooms, I just orgasm'd
Derek X: I queefed

Xavier: Wait, put your donkey head in his meringue

Xavier: I really wonder if America sees [Whitney] and I as an item, I really hope they don't

Tiffany to us: I didn't come to play with these people, I came to play these people

@buxommixwbrains: There is a very subtle chaotic energy in the house tonight between the whisking, a donkey, 52 pick up, a backdoor, burnt key lime pie and Tiffany. #BB23



Links

GET YOUR FEEDS includes a free trial

Ace Attorney court case animation of a fight in my mentions, after I posted a pic of Azah's homemade pizza, by @aceCourtBot

Kung Fu Fighting featuring Britini by @Adoomies3

Use my link for any Amazon Canada shopping, anytime, at no extra cost - just start your shopping trip by clicking Amazon Canada



Tally Items

Season Stats
HOHs in order: Frenchie; Kyland; Xavier; Christian; Derek X

Veto winners in order: Derek X; Derek X; Christian; Christian; Britini

Evictions in order: Travis 11-2; Frenchie 11-1; Brent 11-0; Whitney 10-0

Cast Twitters: @azah_awasum; @CBirkenberger; @ChristieVal22; @ClaireRehfuss; @claire_does; @TheDerekFrazier; @lofiderek; @derekxbb23; @farmerFRENCHIE; @kylandyoung; @greedycalina; @absolutelytiff







Linking to any page here is fine. Please don't repost content from this site (or any other) without permission, and don't repost or hotlink images.



THE REAL SHOW IS THE FEEDS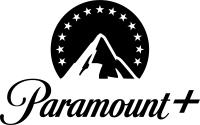 CBS All Access is now
Paramount Plus

Live air shows with ad-free plan
or legacy $5.99 plan (live TV will have some commercial breaks)
BB1 thru BB23 plus Celebs and OTT, and loads of other shows from CBS, BET, Comedy Central, Nickelodeon, MTV, Smithsonian, plus originals



VIEWER VOTES

Votes and outcomes Will be posted here



PROTECT YOUR ONLINE PRIVACY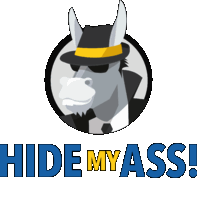 Anonymously secure your internet connection with HMA! Pro VPN - connect to our VPN service to anonymously encrypt your internet activity from prying eyes



HAMSTERWATCH SWAG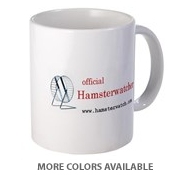 Mugs, shirts, more
Visit my Cafe Press shop





Big Brother 23 SEASON FAQ


-Day 1 July 7: CBS premiere, live move-in, feeds began
-Derek F was first to enter
-Day 85 Sept 29: 2 hour finale

Feeds are streamed by Paramount Plus, with Flashback included, with a Paramount Plus subscription. Call 888-274-5343 for account help, including cancellation.

BB23 finalist prizes are $750k for the winner and $50k* for 2nd place. 3rd place gets $10k* bonus, 4th place gets $7.5k*, 5th place gets $5k*. All except finalists receive $1k stipend per week, including pre-season sequester.
*Amounts to be confirmed

The habitat has 94 HD cameras (no change) and 113 microphones (no change).

The recorded in-house announcements are the voice of producer Don Wollman. He and Julie Chen are the only senior staffers who have been there since Big Brother 1.