This site is about the Big Brother 22 feeds and contains spoilers! It isn't necessarily thorough: it's what I catch and/or what interests me. It's about watching hamsters: who's doing what and why. Thanks for encouraging my behavior.
Your pal, dingo





BB22 DRINKING GAME

Take a swig whenever Christmas mentions her broken foot (be glad this one started four days in)





SAFETY SUITE 1st 3 weeks

Optional pre-noms comp for safety, +1 guest gets safety plus one week punishment, one time each, current HOH ineligible

Week 1 Don't Miss a Beat
Competed: Janelle, Kaysar
Winner: Kaysar
Guest: Janelle/star suit





QUICK LINKS & BOOKMARKS

-SIGN UP for feeds
-WATCH the feeds after signing up - disable ad blockers

-Feeds updates by @UGotBronx

Official site and socials:
-BB22 official CBS site
-Twitter
-TikTok
-Instagram
-YouTube
-Facebook

-Live show tickets - never mind, no audiences

-My Twitter - my screencaps

-Amazon Canada portal

-Dick at Night with @EvelDick

-BB Viewer Chrome Extension by @liquid8d - requires All Access account

-BB22 Wiki

-Hamster Twitters
BB USA: chron - members
BB Canada: chron - members
BB USA Celebs: chron - members

-Advice for cast friends/family

-VPN to protect your online privacy





EAST COAST AIR SHOWS

East coast air show live streams:
- 1 - 2 - 3 - 4 - 5 - 6 - 7 - 8
USE THESE LINKS AT YOUR OWN RISK
I can only vouch for #1
NO DOWNLOADS OR SIGN-INS NEEDED - BEWARE OF CLICKING POPUP ADS OR WARNINGS




Donations via Paypal are gratefully accepted!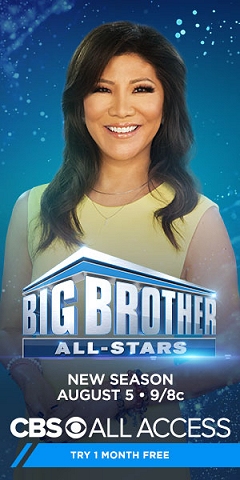 Watch Big Brother
Seasons 1 thru 22
Plus tons more CBS and Viacom content




BIG BROTHER 22 FEEDS EXCLUSIVELY ON CBS ALL ACCESS
USE PROMO CODE 'PLAY' BEFORE AUGUST 16 FOR A FREE MONTH
All Big Brother USA seasons + most CBS shows past or present are included
$5.99 PER MONTH INCLUDING 1 WEEK FREE TRIAL or $9.99 AD FREE
COMPUTER - MOBILE - ROKU - CHROMECAST - APPLE TV - ANDROID TV - FIRE TV - XBOX 1/360


>> >> >>

>> >> >> >> >> >>

>>

Power Status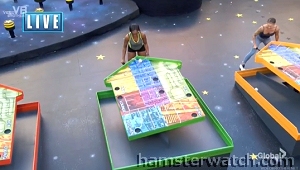 Head of Household: Cody
Safety Suite #1: Kaysar
Safety Suit #1: Janelle star 1 week
Original noms: Keesha, Kevin
Veto winner/outcome: Enzo/TBA
Final noms: TBA
Have-nots: Ian, Kevin, Memphis, Nicole A
Evicted: TBA

Latest alliance chart by @89razorskate20

Latest Diary segment tally by @clamperls4

Ratings Watch Wednesday's live premiere won both hours with 1.1 rating, 6 share, 3.4 million viewers, ahead of The Conners rerun, American Housewife rerun, Marvel's Agents of SHIELD on ABC; Chicago Fire rerun, Chicago PD rerun on NBC; and MasterChef rerun on FOX.

Overnight rating & share: adults 18-49; Rating: % of all TV households; Share: % of households watching TV



Upcoming Events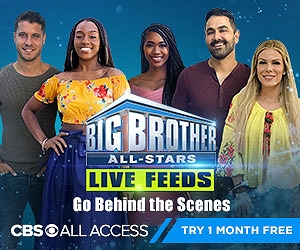 GET THE FEEDS to see the real show!

Feeds are underway - get them here!
Use promo code PLAY before August 16 for a free month

Monday: Kaysar's birthday, veto meeting

CBS schedule
Sundays 8pm - Wednesdays 8pm - live Thursdays 8pm
Sunday 8/9 show starts approx 10pm in some areas



Daily Feeds Recaps
Day 4 - Saturday - August 8, 2020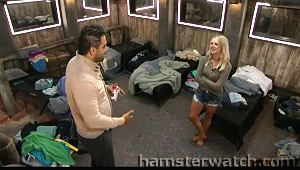 Meetings revved up early, including a lengthy Memphis/Kaysar convo, which Memphis reported to Cody, so his loyalty is more with the guys than with Kaysar/Janelle, as of now. Kaysar followed up with Cody, who repeated what he'd told Ian last night, that he and Nicole F weren't close in their season or since (nevermind they were very close on BB16 - there was even a #Nicody hashtag). Kaysar followed up with Nicole F, chit-chatting and fishing for info/clues. Cody had said he wanted to keep noms the same and asked David if he'd do that, should Cody pull a Houseguest Choice chip and let David play his first veto comp. During that convo, Cody referred to him as Kevin. Cody had previously asked Christmas the same thing, and she'd agreed, and later he also told Daniele.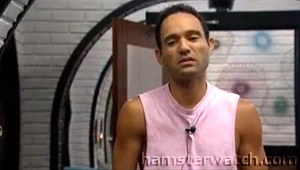 Kevin talked to Da'Vonne about his Poland syndrome and his anxiety about that last time, particularly the swimsuit shoot, and that he was much more self-confident about it now, and he showed her his chest. David told Daniele he was nervous during the move-in comp because the only comps he played last year led to his evictions. And he said he told himself last year not to stress over the controversial things going on as they weren't much different than the real world, but he's optimistic about society changes currently underway. And David asked Cody how the veto works. I'm still unclear how much all this BB ignorance from David is fake, but a lot of it is definitely an act, and one he's overplaying somewhat.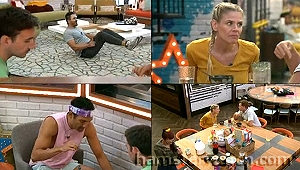 They drew veto players later than usual, around 2.30pm. Players will be Cody, Keesha, Kevin plus Enzo (Kevin's Houseguest Choice), Ian, Tyler, and Da'Vonne will host. Ian hadn't been feeling well today due to stomach/slop issues but he was excited to play. Enzo told Bayleigh, with Cody present, that he and Cody would like to work with her and Da'Vonne. Bayleigh agreed, and they said they might bring in some more people "but not too many." Janelle asked Keesha if Cody had given her "the talk" telling her she was a pawn. Keesha seemed surprised and said no. David and Da'Vonne had a long, good chat about last year's problems, Camp Comeback, BLM, and thoughts about this season. He confirmed to her he is indeed playing BB-dumb.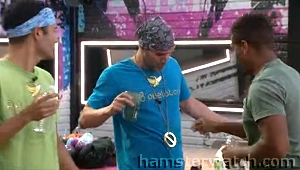 Feeds were down for veto comp approx 7.30pm til 10pm. Enzo won, and he quipped the medallion should be platinum, since it's All-stars. He'll almost certainly not use it, since Cody wants noms to stay the same and Enzo and Cody are cozy. Players were wearing BB Peeloton shirts with peeled banana logos, and it sounded like an updated previous comp. It was timed, with racing back and forth, grabbing and stacking things including bananas, mushrooms, grapes, broccoli, Brussels sprouts, pineapple - but they weren't messy. They said it was fun but difficult to play, and fun to watch, and they were all happy to have gotten some fresh air. Kevin and Ian (possible renom) both appeared more nervous than usual afterwards. Janelle told Kaysar to slow down and stop gaming so hard, and he agreed. Dani and Nicole F griped about Janelle not wearing her star suit all the time. They got backgammon, which made Ian happy, along with dominos, checkers, Jenga, and Connect 4.

Reminder, if you missed what came before, check my previous episode, always linked up top or from my season index, and/or the detailed feeds updates by @UgotBronx, and get the feeds to catch anything you missed with Flashback! Use promo code PLAY before August 16 for a free month.



Day 5 - Sunday - August 9, 2020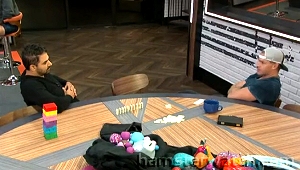 Kaysar and Memphis had a lengthy talk about the COVID-19 situation, particularly the impact of shutdowns on small businesses and restaurants, and the inconsistent mandates in different areas. Earlier, Kaysar and Ian had a lengthy chat about Ian's social experiences and learnings last time, autism, games, personality types, and various adult conversational topics, including Kaysar peptalking Ian for being considerate yesterday when he wasn't feeling well himself. Noms will likely stay the same, so campaigning and waffling about the vote has begun. Nicole A told Kevin he has her vote, but not to worry if he hears otherwise (she'd told Keesha she'd think about being her seventh if she gets six others), and Kaysar and Janelle talked with Keesha about ways they might be able to keep her.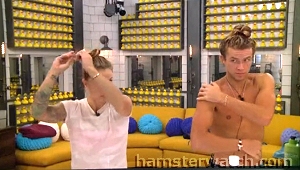 The yard remained closed - why? I was figuring closed through the HOH/safety/veto comp cycle due to extra virus protocols and precautions, but I figured it would be open the rest of the week. They snacked, did yoga, played some of the games that were delivered last night, and gametalked in many, many pairs and small groups. Those convos included Nicole F and Da'Vonne rehashing some of their prior problems and they seemed to agree to put those behind them; Dani and Janelle agreed it was odd most were saying they weren't gametalking with anyone (both know some are); Christmas and Tyler discussed the nominees and their other roomies; Dani and Memphis also ran the roster together; Enzo told Nicole F he likes Dani and would like to work with her, and that he's "a big Evel Dick fan"; Tyler and David said they could each infiltrate different groups and report back to each other; Tyler and Da'Vonne had a check-in as well, as did Tyler and Kaysar; and Kevin counted potential votes with Da'Vonne.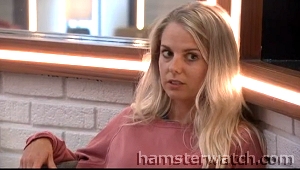 Nicole F told Tyler about the pre-season rumors swirling about her, that she'd called production crying and demanding to be on the show, and that production would rig things for her to win, and some were encouraging people to spam her Instagram so she wouldn't get on the show and/or to make her lose her sponsors. Tyler said he hadn't heard about any of that (likely not true), and Nicole said "one person's in here that started the rumor, and one's outside." When Tyler asked who, and said she could trust him, she whispered "Janelle" and added Evel Dick was the one out here. She also said Janelle doesn't know she knows (also likely not true). So the whole pre-season rumor that Nicole masterminded the season casting and the rest is now officially part of the game, and suggests open warfare between Nicole F and Janelle could be on the horizon. Nicole did say none of it was true. It should be noted that earlier Cody let slip that Derrick was "100%" going to be on the season at one point.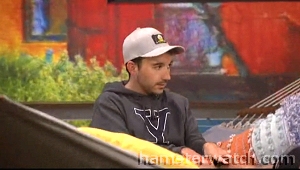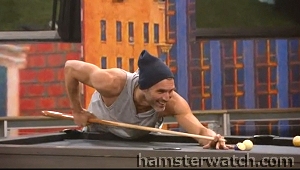 The backyard was finally opened at 8pm and they all ran out happily, glad to have the fresh air and space after being locked inside since they moved in. Ian had a happy and much-needed reunion with his hammock, and Enzo had a happy reunion with the pool table. Recall the Brigade spent the entire summer over the pool table, and usually held their meetings there, in front of everyone.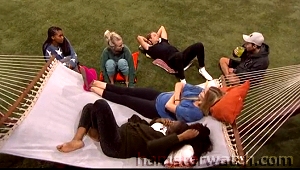 Enzo told Keesha that Cody doesn't want him to use his veto. She said she doesn't want to be blindsided and asked him to let her know if she'd be leaving Thursday, and he said he would. Kevin also did some campaigning here and there, including a starstruck pitch to Janelle. Memphis blew up angrily about something - I don't know when or what about, but a few of them said it scared them. Cody, Enzo, Bayleigh, Da'Vonne held a strategy meeting and formalized their four. Today was Nicole A's turn to be ill. She's the second Have-not to have a sick day, after Ian's yesterday, and Memphis was only feeling okay because he stopped eating the slop. They've said the slop is different this year but is it something we really need anyway? Especially during pandemic plague season, when good nutrition and immune systems should be kept up. Midnight came and began Kaysar's birthday: his first in that house that didn't include eviction.

Reminder, if you missed what came before, check my previous episode, always linked up top or from my season index, and/or the detailed feeds updates by @UgotBronx, and get the feeds to catch anything you missed with Flashback! Use promo code PLAY before August 16 for a free month.



Ratings - Dead Set II edition
Other than a very timely shot of Julie about to get virus tested, I'm using obit pics from the Hamsterwatch archives for now, because why not? Individual stats and snarky comments will start showing up here as feeds get underway

See full bios and social links in cast folder at
Hamsterwatch Forum


Hooray for a season at all, in the midst of this global pandemic, and while I never want any vets, I can understand why they went with all vets this summer as it eliminated all the travel and meetings involved in the usual casting process. But super big ups and double hooray for giving us a live move-in and first night feeds! We've never had that, other than OTT. Most seasons are pretty much set up in that pivotal first week and for once, we won't have to piece together what happened from skewed edits and feeds retells. As far as how things will unfold - old school versus new, males versus females, existing alliances and grudges, we'll just have to wait and see. But after a very long wait, no communications, and many unknowns, we're finally starting at what would be the halfway point in most seasons. Production is using extra anti-virus precautions and we can just hope nobody in the cast or crew gets sick, or that California and/or LA don't close down businesses again, vaporing BB22 unfinished like happened with BB Canada 8.





Won: TBA
HOH 0 - Veto 0 - Noms 0 - HN 0

Bayleigh Dayton
27 - married (to BB20 Chris/Swaggy C)
Los Angeles, CA - Model
BB20 11th place






Won: $5,000
HOH 0 - Veto 0 - Noms 0 - HN 0

Christmas Abbott
38 - single? - one son
Raleigh, NC - Fitness entrepreneur
BB19 3rd place






Won: TBA
HOH 1 - Veto 0 - Noms 0 - HN 0

Cody Calafiore
29 - has a girlfriend
Howell, NJ - Soccer coach
BB16 Runner-up





Won: TBA
HOH 0 - Veto 0 - Noms 0 - HN 0

Daniele Donato Briones
33 - married (to BB13 Dominic Briones) - 1 daughter
Orange County, CA - stay-at-home mom
BB8 Runner-up
BB13 8th place






Won: TBA
HOH 0 - Veto 0 - Noms 0 - HN 0

David Alexander
30 - single, seeing someone
Los Angeles, CA - Senior sales rep
BB21 16th place






Won: TBA
HOH 0 - Veto 0 - Noms 0 - HN 0

Da'Vonne Rogers
32 - single - 1 daughter
Inglewood, CA - Acting coach
BB18 11th place
BB17 16th place






Won: TBA
HOH 0 - Veto 1 - Noms 0 - HN 0

Enzo Palumbo
42 - single - 1 son, 1 daughter
Bayonne, NJ - Insurance adjuster
BB12 3rd place






Won: TBA
HOH 0 - Veto 0 - Noms 0 - HN 1

Ian Terry
29 - has a girlfriend
Houston, TX - Management consultant
BB14 Winner






Won: Safety Suit #1 (Kaysar's win)
HOH 0 - Veto 0 - Noms 0 - HN 0

Janelle Pierzina DeSanto
40 - married - 2 daughters, 1 son
Minneapolis, MN - Real estate agent
BB14 12th place
BB7 3rd place
BB6 3rd place






Won: Safety Suite #1
HOH 0 - Veto 0 - Noms 0 - HN 0

Kaysar Ridha
39 - married - 1 son
Irvine, CA - Biotech executive
BB6 10th place
BB7 10th place






Won: TBA
HOH 0 - Veto 0 - Noms 1 - HN 0

Keesha Smith
42 - single?
Los Angeles, CA - Waitress
BB10 4th place






Won: TBA
HOH 0 - Veto 0 - Noms 1 - HN 1

Kevin Campbell
40 - married
San Diego, CA - Ad agency executive
BB11 3rd place






Won: TBA
HOH 0 - Veto 0 - Noms 0 - HN 1

Memphis Garrett
37 - has a girlfriend - 1 son
Ft Lauderdale, FL - Restaurateur
BB10 Runner-up






Won: TBA
HOH 0 - Veto 0 - Noms 0 - HN 1

Nicole Anthony
25 - single
Long Island, NY - Podcast host
BB21 3rd place






Won: TBA
HOH 0 - Veto 0 - Noms 0 - HN 0

Nicole Franzel
28 - engaged (to BB18 Victor Arroyo)
Ubly, MI - Social media influencer
BB18 Winner
BB16 7th place






Won: TBA
HOH 0 - Veto 0 - Noms 0 - HN 0

Tyler Crispen
25 - has a girlfriend (BB20 Angela Rummans)
Hilton Head, SC - Entrepreneur/social media influencer
BB20 Runner-up




Lines and Links of the Day
Lines

Saturday
Memphis about Ian: I don't trust that dude's cooking skills, I only take advice from domesticated humans

Kaysar, when Janelle told him to slow his roll: It's a good thing I'm not here alone, it'd be a disaster

Kaysar: Did you ever think we were going to be in this house again together?
Janelle: It's crazy, 15 years later we're in THIS room again
Kaysar: Was this the gold room? There was a safe!

Sunday
Kaysar: So when people watch the feeds they're just sitting in front of their computer for 8 hours?
Janelle: Or longer
Kaysar: All day long?

Dani: I don't know where Christmas's head is at
Memphis: I don't think her head's anywhere

David, about Cody majoring in business with focus on marketing: You're a marketer, but you don't like Instagram, what the fuck?

Janelle Diary re star suit: Now I'm literally a star
Enzo Diary: It looks like a bootleg Teletubby

Dani to Nicole F, about Ian: I'm not trying to be a certain kind of way and say things, because I feel I'm very sensitive towards the type of person Ian is, but also I kinda feel like he's using [autism] a little bit

Bayleigh: ..and Nicole won
Keesha: I didn't know Nicole won, the blonde?
Bayleigh: Mm-hmm
Keesha: I didn't know that!

Enzo to Cody: Tyler has nobody, yo



Links

GET YOUR FEEDS includes a free one-week trial

Use my link for any Amazon Canada shopping, anytime, at no extra cost - just start your shopping trip by clicking Amazon Canada

Live tropical reef webcam if you're missing the fishies

Week 1 BB by the Week by @aubramariebb



Tally Items

Season Stats
HOHs in order: Cody

Veto winners in order: Enzo

Evictions in order: TBA







Linking to any page here is fine. Please don't repost content from this site (or any other) without permission, and don't repost or hotlink images.



THE REAL SHOW IS THE FEEDS

Live air shows in many areas
BB1 thru BB21 plus Celebs and OTT, and many other CBS shows

PROTECT YOUR ONLINE PRIVACY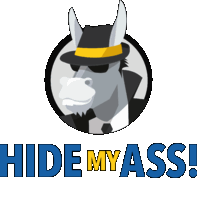 Anonymously secure your internet connection with HMA! Pro VPN - connect to our VPN service to anonymously encrypt your internet activity from prying eyes



HAMSTERWATCH SWAG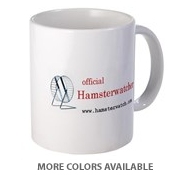 Mugs, shirts, more
Visit my Cafe Press shop





Big Brother 22 SEASON FAQ


Day 1 move-in and CBS premiere is August 5
Day 85 Finale is October 28

Feeds are streamed by CBS, and Flashback is accessible via All Access subscription. Call 888-274-5343 for account help, including cancellation.

The CBS app (by CBS Interactive) plays BB air shows and other CBS shows, as well as feeds, or you can use your browser to watch feeds on mobile devices. The same All Access link used to subscribe will lead to the feeds viewing page if you're already signed up.

BB22 finalist prizes are the same: $500k for the winner and (presumably) $50k for 2nd place. Rumors say the others get $40k for showing up.

The habitat has 94 HD cameras (no change) and 113 microphones (no change).

The recorded in-house announcements are the voice of producer Don Wollman. He and Julie Chen are the only staffers who have been there since Big Brother 1.