This site is about the Big Brother 22 feeds and contains spoilers! It isn't necessarily thorough: it's what I catch and/or what interests me. It's about watching hamsters: who's doing what and why. Thanks for encouraging my behavior.
Your pal, dingo





BB22 DRINKING GAME

Take a swig when one of them bashes another alum who isn't there - take two if they bash one who is





SAFETY SUITE

Optional one-time comp for safety for winner and one other
Week 1: Kaysar won - Janelle star suit





QUICK LINKS & BOOKMARKS

-SIGN UP for feeds
-WATCH the feeds after signing up - disable ad blockers

-Feeds updates by @UGotBronx

Official site and socials:
-BB22 official CBS site
-Twitter
-TikTok
-Instagram
-YouTube
-Facebook

-Live show tickets - never mind, no audiences

-My Twitter - my screencaps

-Amazon Canada portal

-Dick at Night with @EvelDick

-BB Viewer Chrome Extension by @liquid8d - requires All Access account

-BB22 Wiki

-Hamster Twitters
BB USA: chron - members
BB Canada: chron - members
BB USA Celebs: chron - members

-Advice for cast friends/family

-VPN to protect your online privacy





EAST COAST AIR SHOWS

East coast air show live streams:
- 1 - 2 - 3 - 4 - 5 - 6 - 7 - 8
USE THESE LINKS AT YOUR OWN RISK
I can only vouch for #1
NO DOWNLOADS OR SIGN-INS NEEDED - BEWARE OF CLICKING POPUP ADS OR WARNINGS




Donations via Paypal are gratefully accepted!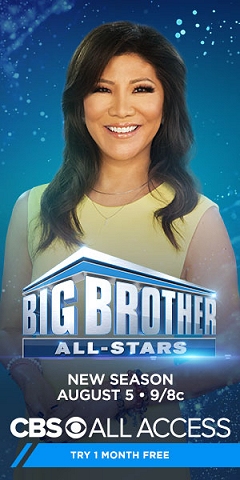 Watch Big Brother
Seasons 1 thru 22
Plus tons more CBS and Viacom content






BIG BROTHER SEASONS



CBS All Access
Seasons 1 thru 21





BIG BROTHER 22 FEEDS EXCLUSIVELY ON CBS ALL ACCESS
USE PROMO CODE 'PLAY' BEFORE AUGUST 16 FOR A FREE MONTH
All Big Brother USA seasons + most CBS shows past or present are included
$5.99 PER MONTH INCLUDING 1 WEEK FREE TRIAL or $9.99 AD FREE
COMPUTER - MOBILE - ROKU - CHROMECAST - APPLE TV - ANDROID TV - FIRE TV - XBOX 1/360


>> >> >>

>> >> >> >> >> >>

>>

Power Status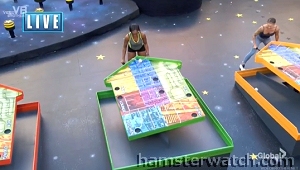 Head of Household: Cody
Safety Suite #1: Kaysar
Safety Suit #1: Janelle star 1 week
Original noms: Keesha, Kevin
Veto winner/outcome: TBA
Final noms: TBA
Have-nots: Ian, Kevin, Memphis, Nicole A
Evicted: TBA

Alliance charts by @89razorskate20 will be linked here

Diary segment tallies by @clamperls4 will be linked here

Ratings Watch Wednesday's live premiere won both hours with 1.1 rating, 6 share, 3.4 million viewers, ahead of The Conners rerun, American Housewife rerun, Marvel's Agents of SHIELD on ABC; Chicago Fire rerun, Chicago PD rerun on NBC; and MasterChef rerun on FOX.

Overnight rating & share: adults 18-49; Rating: % of all TV households; Share: % of households watching TV



Upcoming Events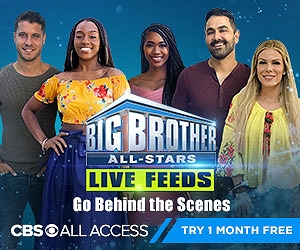 GET THE FEEDS to see the real show!

Feeds are underway - get them here!
Use promo code PLAY before August 16 for a free month

Saturday: Veto comp
Monday: Kaysar's birthday, veto meeting

CBS schedule
Sundays 8pm - Wednesdays 8pm - live Thursdays 8pm
But no show Thursday 8/6, and Sunday 8/9 starts approx 10pm



Daily Feeds Recaps
Day 1 - Wednesday - August 5, 2020
First off, if you're a new Hamsterwatch reader, welcome! And welcome back to my regulars! I normally update feeds events here throughout the day/evening. Many of my readers hit me up in the morning with their coffee to catch up the day/night before.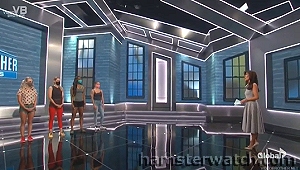 The very eagerly anticipated live-for-the-first-time premiere kicked off with a new studio design and quickie house tour, and virus precautions coverage, and Julie didn't waste much time bringing out the has-beens. They wore face masks until they went in the house, and Julie maintained a wide distance between them and herself. She'd previously said there'd be no hugs or handshakes this season, and of course there was no live audience.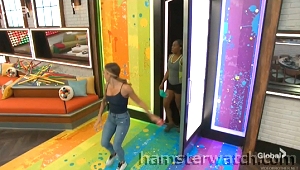 The cast spoilers and leaks were correct. The first group was Nicole F, Daniele D, Da'Vonne, Christmas. Christmas was the first to enter - that longstanding curse was broken by Tamar on Celebs 2, but it's still an interesting item of note. The next group was Tyler, Ian, Kevin C, Enzo; followed by Janelle, Bayleigh, Nicole A, Keesha; and the final group was Kaysar, Cody C, Memphis, David A.

Each group did a quickie comp after they entered the house to determine which of them would compete for HOH later. That comp involved a question about which room an item of house decor was in, and they then had to do a rollyball table to sink the ball into the proper room pocket. They had four minutes to finish, and the first and second fastest would advance. Those who advanced and their respective item per group were Group 1: Christmas, porcelain dogs; Group 2: Ian, Kevin, a set of pillows; Group 3 Nicole A, spray paint can; and Group 4 Memphis, Cody, robot figurine. The target pocket for the females groups looked noticeably more difficult to sink than for the male groups, for whatever that's worth.


The HOH comp was also live on the show: Star Steppin, in BB City setting, individual timed runs. They had to cross a series of pegs, some of which were floppy, and if they fell they had to start over. Memphis went first and finished in 1 minute, 12.22 seconds, followed by Cody who finished in 22.06 seconds. Christmas, Kevin, Nicole A, Ian all passed Cody's time so he became the first HOH. The others got envelopes which resulted in $5,000 for Christmas, and Ian, Kevin, Memphis, Nicole A as the first Have-nots.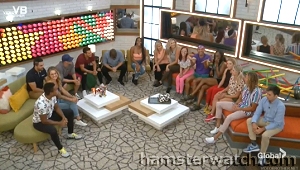 Julie sent the Have-nots upstairs to the former Paris/Camp Comeback to reveal the new Have-not room but the door was locked so that failed. She then teased secret room(s) twist for them and us: new rooms will be revealed "throughout the summer" (which usually means a few weeks), with the first being Safety Suite in which one or two could win safety for an as-yet unspecified number of weeks. That will be explained on Sunday's show, but we'll find out more about it on feeds before then.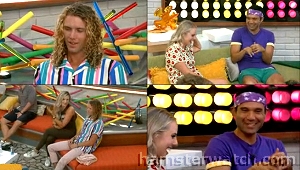 Feeds started right on time around 11pm BB time/Pacific, with most of them gathered in friendly chit-chat groups, talking about their seasons, their jobs and families, mutual hamster friends/acquaintances, gossip, and pre-season rumors. It sounded like they had contact with their families in pre-show sequester, and they mentioned they'd had racial bias and sexual harassment training before the show. The ants had already moved in, they have upstairs and downstairs Diary rooms again, and executive producer Don Wollman remains the voice of the recorded in-house announcements. They now have one or more bidets, but they don't have a fishtank this season (likely for maintenance/virus reasons), and for feeds blocks we got a painting with stars that's on one of the walls: #starfish. After Dark didn't show up (and probably won't), and neither did feeds chat (it probably will).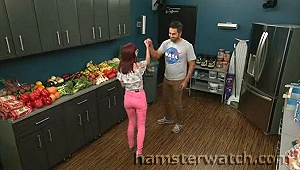 Aside from the obvious possible pairings by season, early new duos that seemed to be forming included Dani and Nicole F, Ian and Nicole F, Kaysar and Nicole A, and Cody and Tyler. Cody got his HOH room around 12.40am but first HOHs don't get pics or a letter, and he didn't request booze so there was none to share. Some awkward silences ensued. They also didn't get their move-in first night champagne, which was a sad first. Things were mostly relaxed on this first night of feeds, with a lot of getalong, a lot of BB stories, a few snippy comments here and there, and many retells of Christmas's broken foot.

Things will pick up when noms happen, and new alliances begin to form, and they'll really pick up after the first eviction next week. It was nice not to have to hit the ground running and figuring out who's who. Thanks again BB for giving us first night and first week feeds!

As always, if you missed what came before, check my previous episode, always linked up top or from my season index, and/or the detailed feeds updates by @UgotBronx, and get the feeds to catch anything you missed with Flashback.



Day 2 - Thursday - August 6, 2020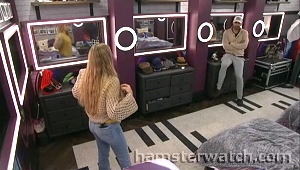 Morning came early after a late night, and chat rooms were back on the feeds. Dani and Da'Vonne had a gametalk, tentatively teaming up, and Dani said everyone had been fangirling over Janelle and Kaysar. Then Dani went fishing and asked Kaysar if the two of them were still close. He said not overly, each had their lives going on. They talked about being parents, and Dani said she'd been torn about accepting the invite to go on this season, as she didn't want her almost-two-year-old daughter to feel Dani had abandoned her. If you watched Dani and Dick's intense father/daughter talks on BB8, you know this is big for her. She and Kaysar agreed Tyler's game is being nice to everyone, and they needed to pay attention to what's going on everywhere and who's teaming with whom.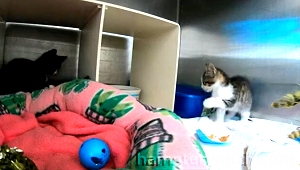 Along with Cody last night, Tyler established tentative separate partnerships with Bayleigh, Christmas, David - Tyler's gonna Tyler. David either did zero homework or he's playing extra dumb, asking things like "what's a unitard?" in one casual prior seasons chat. Good news, the adoptable anipals from Rancho Coastal Humane Society are back for game-related feeds blocks! The first came today when they were given their Safety Suite info. They each got lanyards with VIP passes for that. Details are still sketchy but it sounds like they can choose to compete in the Safety Suite comp, one time only, and if they win they can select a plus-one to give safety to, but they have to announce who their plus-one is before they play. There's also a punishment involved for the plus-one. Details will become clear as we go.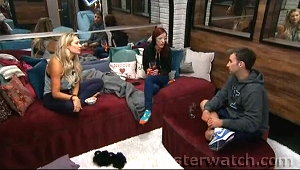 Feeds were down from around 3.15pm til 7pm for the Safety Suite comp. Kaysar and Janelle played, using their one shot to do so, Kaysar won, and shared safety with Janelle. That threw a wrench in Cody's nomination plans, so he was talking about putting up Keesha and maybe Kevin. Kaysar and Janelle, with Nicole A's help, realized they were Cody's targets and that's why they played this first Safety comp.

Meanwhile Nicole F told Cody she wanted to start a girls' alliance, but she'd fill him in on whatever they said. He in turn told her he wanted to start a guys' group with David, Memphis, Tyler, Enzo. Janelle and Ian talked some BB14 with Nicole A, which was fun. Some of these same-season duos are giving us real thoughts that we should get in Diaries, but rarely do anymore. Da'Vonne spent most of the day doing a jigsaw puzzle between conversations. Ian told Kaysar, Janelle, Nicole A he hoped they get the yard soon, and said he's autistic, and he finally got tired of hiding it. Kaysar said he is too, though he's never had a formal diagnosis.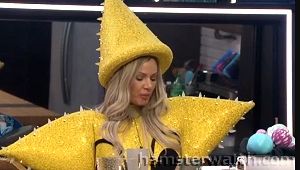 Janelle got her Safety Suite suit a little before midnight. It was a big star with a face over the requisite unitard (shiny gold this time), cone hat, and blinking LED lights. She has to wear it for a week, as usual for costumes. They didn't do family dinner - most snacked here and there. There was a lot of general chat again, but a lot of gametalk got underway as well, with most of them wondering who they could and should trust. It's so nice to be able to see the alliances forming rather than coming in a week or more later when they're pretty much set. Janelle told Nicole A that Dan told her Nicole F is the reason Derrick isn't there, a pre-season rumor that grew legs fast, plus various juicy tidbits about others (in order to get Nicole A on her side against Nicole F and various others).

We should be on normal schedule now, so nominations tomorrow/Friday, and veto comp Saturday.

As always, if you missed what came before, check my previous episode, always linked up top or from my season index, and/or the detailed feeds updates by @UgotBronx, and get the feeds to catch anything you missed with Flashback.



Day 3 - Friday - August 7, 2020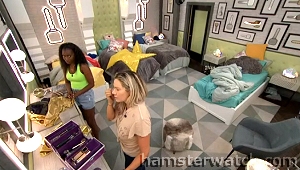 The day began with some visits from, and talk about, Team Ants. Cody wondered if anyone else's seasons had ants - uhh, YEP! Dani told Enzo she'd like to work with him, Cody, and maybe Nicole F. (My guess is she wants teamies she can out-comp). Christmas talked to herself in the pantry about her various budding one-on-one connections, and said she has none with Ian, Kaysar, Memphis, and they could make a dangerous trio.

Da'Vonne and Janelle chatted over makeup, with Janelle running some of her anti-Nicole F loops. Da'Vonne said she hasn't seen many people talking game, and that she'd love to work with Janelle, Christmas, Bayleigh, and maybe Dani. Then she said it was good Kaysar used safety on Janelle "because maybe you guys can build something off of that, some type of rapport." Either she was fishing for confirmation, or her formerly spot-on radar skills have gotten faulty.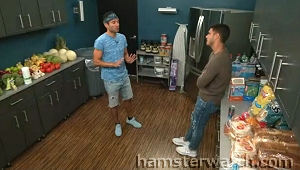 Things were mostly quiet as they waited for noms, with a lot of general chit-chat convos. Kevin had told several of them about his anxiety in the early days of BB11, and Braden's derogatory language and Jeff's infamous Dumbledore convo, and he finally approached Cody in the pantry to almost-tearily say he was nervous and reliving his own insecurities from then. Cody said he hated him feeling that way, and gave him a couple hugs, but did not tell him he's going on the block. Christmas followed Cody to HOH to say she saw Kevin was upset and she hoped everything was okay. (And she probably thought Cody might be needing a replacement nominee, and she didn't want to be it.)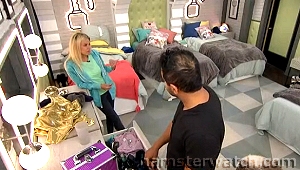 Kaysar told Keesha that she was probably Cody's target, since he and Janelle were originally and that's why they went for Safety comp. She said she'd be shocked if she didn't go up, and he told her the game is already underway, it's too late to play it safe. He also told her he knew she's with Memphis, but he thought Cody/Tyler/David probably want to bring Memphis in with them, if they haven't already. He said he wants her to stay this week, and she said she'd like to work with him [Kaysar] and Janelle, and she'll find out where Memphis stands.

Earlier today, Da'Vonne and Bayleigh formalized "a little Black Girl Magic alliance" and said they'd like to bring in David. Da'Vonne also suggested a girls' alliance to Janelle, one that would work finally, with Bayleigh, Christmas, and possibly Dani. Da'Vonne also told Dani she was apprehensive about Nicole F, and Dani reported that to Cody. And Nicole F told Janelle she'd never put her up. Janelle said she didn't think anyone knows how friendly they are (outside BB). Later Janelle told Nicole A she felt a little bad about bashing Nicole F last night.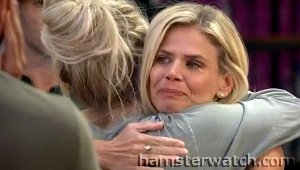 Feeds went to adoptable anipals a little after 4.30pm for nominations. When they came back around 6pm Cody had put Keesha and Kevin on the first block, as planned. Hugs were underway, and several faces had tears on them including Keesha's and Nicole F's. Kevin went to HOH to talk with Cody for a long time, and Keesha talked to Christmas, Dani, and various others, repeating how much she hates the emotional part of the game, and how the new-to-her video screen reveal was a bit shocking. And she said several times she's ready to play. Then she too went to talk to Cody, asking among other things if she's his target? He said no, and "it's not personal." Dani apologized to Nicole A for ghosting her BB podcast, and Nicole A said not to worry about it.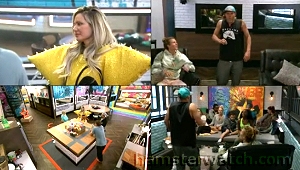 Post-noms buzz carried on with various convos but eventually settled down. Kaysar teased Da'Vonne about sneaking some junk food after saying she wouldn't, Bayleigh cried about missing Swaggy, and Janelle burst into a room in her star suit just as Dani and Nicole F were talking about her. At one point Keesha, Janelle, Kaysar, Memphis hung out in the kitchen talking quietly about kids and the like, while most of the others loudly played charades on the skybridge. Various two-way chats among the Dani/Janelle/Nicole F triangle continued to confuse most out here, especially due to non-specific rumors about pre-season alliances and how nothing seems to fit any expected or even logical pattern between them yet, but that could all become clear as we go. Memphis made salmon so most enjoyed that, although it wasn't a full-fledged hamster family dinner with multiple dishes and cooks. They might not do that at this rate, unless they decide to do it on eviction eves or (shudder) Taco Tuesdays.

Ian talked some more with Nicole A and Kevin about his autism, and how he wasn't crazy about coming out of BB14 and finding "Ian Terry autistic" was the fourth Google return when he searched himself, because he hadn't said anything about it during the season. But he said he knows he exhibits some tell-tale signs, and he's not ashamed of it, it's part of who he is but it doesn't define him, and he's gotten a lot of letters from people saying he was inspirational to them for just going on the show, let alone winning. Kevin said he was born with Poland syndrome (missing some chest muscle), and he didn't want to tell producers or go shirtless on his season. He added anyone who's watching who has body issues shouldn't feel ashamed. It was the positive kind of chat we need along with the strategy and gossip and fighting (the latter is still yet to come, fingers crossed).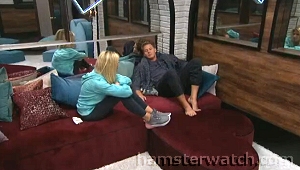 Keesha had her check-in with Memphis, which was very long and I didn't listen carefully, but she said she didn't know who she'd pick if she gets a Houseguest Choice chip, and he told her he thought Ian would be the renom if Kevin comes off (although they both called it backdoor, sigh). I didn't get a sense of whether Memphis is more loyal to her than Cody and the boys or not - maybe it'll depend on how things unfold. They laughed about all the yelling on BB10, and elsewhere Janelle talked about BB6 in detail, and Enzo talked about BB12 - all fun trips down memory lane. Cody and Da'Vonne had a check-in and talked about teaming with Enzo and Bayleigh.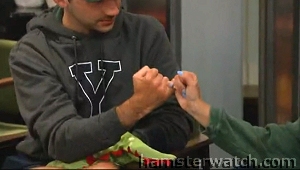 Ian and Nicole F put the first pinkyswear on the tally, calling themselves the Million Club, as both of them have been feeling nervous about being the only prior winners in there. Also you might recall Ian seemed to have a crush on Nicole F during BB16, when he'd tweet heart-eyes about her. Late night brought paranoid alliance roulette, as various whispery convos with various combos of accurate and faulty info broke out all over town.

I know all this is a lot, and it's just scratching the surface, but it's only Day 3 and there are 16 of them - it's a lot!

As always, if you missed what came before, check my previous episode, always linked up top or from my season index, and/or the detailed feeds updates by @UgotBronx, and get the feeds to catch anything you missed with Flashback.



Ratings - Dead Set II edition
Other than a very timely shot of Julie about to get virus tested, I'm using obit pics from the Hamsterwatch archives for now, because why not? Individual stats and snarky comments will start showing up here as feeds get underway

See full bios and social links in cast folder at
Hamsterwatch Forum


Hooray for a season at all, in the midst of this global pandemic, and while I never want any vets, I can understand why they went with all vets this summer as it eliminated all the travel and meetings involved in the usual casting process. But super big ups and double hooray for giving us a live move-in and first night feeds! We've never had that, other than OTT. Most seasons are pretty much set up in that pivotal first week and for once, we won't have to piece together what happened from skewed edits and feeds retells. As far as how things will unfold - old school versus new, males versus females, existing alliances and grudges, we'll just have to wait and see. But after a very long wait, no communications, and many unknowns, we're finally starting at what would be the halfway point in most seasons. Production is using extra anti-virus precautions and we can just hope nobody in the cast or crew gets sick, or that California and/or LA don't close down businesses again, vaporing BB22 unfinished like happened with BB Canada 8.





Won: TBA
HOH 0 - Veto 0 - Noms 0 - HN 0

Bayleigh Dayton
27 - married (to BB20 Chris/Swaggy C)
Los Angeles, CA - Model
BB20 11th place






Won: $5,000
HOH 0 - Veto 0 - Noms 0 - HN 0

Christmas Abbott
38 - single? - one son
Raleigh, NC - Fitness entrepreneur
BB19 3rd place






Won: TBA
HOH 1 - Veto 0 - Noms 0 - HN 0

Cody Calafiore
29 - has a girlfriend
Howell, NJ - Soccer coach
BB16 Runner-up





Won: TBA
HOH 0 - Veto 0 - Noms 0 - HN 0

Daniele Donato Briones
33 - married (to BB13 Dominic Briones) - 1 daughter
Orange County, CA - stay-at-home mom
BB8 Runner-up
BB13 8th place






Won: TBA
HOH 0 - Veto 0 - Noms 0 - HN 0

David Alexander
30 - single, seeing someone
Los Angeles, CA - Senior sales rep
BB21 16th place






Won: TBA
HOH 0 - Veto 0 - Noms 0 - HN 0

Da'Vonne Rogers
32 - single - 1 daughter
Inglewood, CA - Acting coach
BB18 11th place
BB17 16th place






Won: TBA
HOH 0 - Veto 0 - Noms 0 - HN 0

Enzo Palumbo
42 - single - 1 son, 1 daughter
Bayonne, NJ - Insurance adjuster
BB12 3rd place






Won: TBA
HOH 0 - Veto 0 - Noms 0 - HN 1

Ian Terry
29 - has a girlfriend
Houston, TX - Management consultant
BB14 Winner






Won: Safety Suit #1 (Kaysar's win)
HOH 0 - Veto 0 - Noms 0 - HN 0

Janelle Pierzina DeSanto
40 - married - 2 daughters, 1 son
Minneapolis, MN - Real estate agent
BB14 12th place
BB7 3rd place
BB6 3rd place






Won: Safety Suite #1
HOH 0 - Veto 0 - Noms 0 - HN 0

Kaysar Ridha
39 - married - 1 son
Irvine, CA - Biotech executive
BB6 10th place
BB7 10th place






Won: TBA
HOH 0 - Veto 0 - Noms 1 - HN 0

Keesha Smith
42 - single?
Los Angeles, CA - Waitress
BB10 4th place






Won: TBA
HOH 0 - Veto 0 - Noms 1 - HN 1

Kevin Campbell
40 - married
San Diego, CA - Ad agency executive
BB11 3rd place






Won: TBA
HOH 0 - Veto 0 - Noms 0 - HN 1

Memphis Garrett
37 - single? - 1 son
Ft Lauderdale, FL - Restaurateur
BB10 Runner-up






Won: TBA
HOH 0 - Veto 0 - Noms 0 - HN 1

Nicole Anthony
25 - single
Long Island, NY - Podcast host
BB21 3rd place






Won: TBA
HOH 0 - Veto 0 - Noms 0 - HN 0

Nicole Franzel
28 - engaged (to BB18 Victor Arroyo)
Ubly, MI - Social media influencer
BB18 Winner
BB16 7th place






Won: TBA
HOH 0 - Veto 0 - Noms 0 - HN 0

Tyler Crispen
25 - has a girlfriend (BB20 Angela Rummans)
Hilton Head, SC - Entrepreneur/social media influencer
BB20 Runner-up




Lines and Links of the Day
Lines

Wednesday
Nicole A: This would be so therapeutic if Big Brother would just let me smash a couple watermelons, for last year

Janelle: ...and then he threw pork rinds at me

Memphis: A bunch of people have gotten their ass castrated

Kevin: I didn't think I was gonna be a Have-not the first night, that didn't even cross my mind

Christmas: I'm gonna pee my pants this season for sure, just from laughing, or trying to stand up

Thursday
Kaysar: No offense to Cody but he doesn't have a Derrick here to help him strategize

Kaysar to Janelle: I think they know we're dangerous, but I don't think they know the depths of what we're capable of

Janelle to Nicole A: From what Dan told me, [Nicole F]'s the reason Derrick isn't here

Janelle to Nicole A: [Cody] has David and Tyler, and Nicole Franzel, who throws HoHs until she rolls out of bed week 9

Kaysar: I see everything, I see all the moving parts

Kaysar: [Kevin]'s floating, and floaters use information as exchanged to keep their safety

Friday
Cody: Did anyone else have ant problems on their season?

Enzo: It's a ghost town, it's like someone died today, we're at Dan's Funeral right now

Christmas: My season was savage as fuuuuuck

Ian, about BB6 April praying over HOH toilet after Howie harassed her: Praying to the porcelain gods



Links

GET YOUR FEEDS includes a free one-week trial

Use my link for any Amazon Canada shopping, anytime, at no extra cost - just start your shopping trip by clicking Amazon Canada



Tally Items

Season Stats
HOHs in order: Cody

Veto winners in order: TBA

Evictions in order: TBA







Linking to any page here is fine. Please don't repost content from this site (or any other) without permission, and don't repost or hotlink images.



THE REAL SHOW IS THE FEEDS

Live air shows in many areas
BB1 thru BB21 plus Celebs and OTT, and many other CBS shows

PROTECT YOUR ONLINE PRIVACY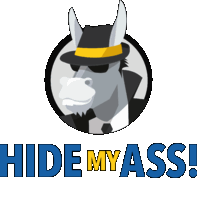 Anonymously secure your internet connection with HMA! Pro VPN - connect to our VPN service to anonymously encrypt your internet activity from prying eyes



HAMSTERWATCH SWAG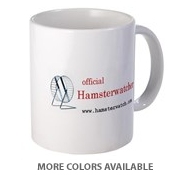 Mugs, shirts, more
Visit my Cafe Press shop





Big Brother 22 SEASON FAQ


Day 1 move-in and CBS premiere is August 5
Day 85 Finale is October 28

Feeds are streamed by CBS, and Flashback is accessible via All Access subscription. Call 888-274-5343 for account help, including cancellation.

The CBS app (by CBS Interactive) plays BB air shows and other CBS shows, as well as feeds, or you can use your browser to watch feeds on mobile devices. The same All Access link used to subscribe will lead to the feeds viewing page if you're already signed up.

BB22 finalist prizes are the same: $500k for the winner and (presumably) $50k for 2nd place. Rumors say the others get $40k for showing up.

The habitat has 94 HD cameras (no change) and 113 microphones (no change).

The recorded in-house announcements are the voice of producer Don Wollman. He and Julie Chen are the only staffers who have been there since Big Brother 1.