This site is about the Celebrity Big Brother feeds and contains spoilers! It isn't necessarily thorough: it's what I catch and/or what interests me. It's about watching hamsters: who's doing what and why. Thanks for encouraging my behavior.
Your pal, dingo







BB CELEB DRINKING GAME


Take a swig whenever Joey does his burpies - take two when he does his grooming marathon







VIEWER VOTE


Who should get Power of the Publicist? > Tamar
Remove self from block at noms or veto meeting, one time, thru Feb 4 live veto meeting. Voting has ended. Info and rules



PROTECT YOUR ONLINE PRIVACY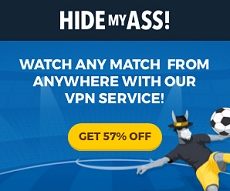 Watch BB Canada, BB UK, Survivor Australia, Survivor New Zealand, and other non-USA shows with HMA

Safe - Secure - Easy





QUICK LINKS & BOOKMARKS



-SIGN UP for feeds
-WATCH the feeds
-CBB official site
-Live show tickets

-Feeds updates by @UGotBronx
-My Twitter - my screencaps
-Amazon Canada portal

-Dick at Night with @EvelDick

-BB Viewer by @liquid8d
Requires All Access account

-CBB 2 Wiki

-Hamster Twitters
-BB USA celebs
-BB USA
-BB Canada

-VPN to watch BB Canada and/or to protect your online privacy







EAST COAST AIR SHOWS



CanadaTV for Roku
$3/month - Global airs BB USA

East coast air show live streams:
- 1 - 2 - 3 - 4 - 5
NO DOWNLOADS OR SIGN-INS NEEDED - BEWARE OF CLICKING POPUP ADS OR WARNINGS




Donations via Paypal are gratefully accepted!


Watch Big Brother
Seasons 1 thru 20
Plus tons more CBS content






BIG BROTHER SEASONS



CBS All Access
Seasons 1 thru 20





CELEBRITY BB FEEDS EXCLUSIVELY ON CBS ALL ACCESS
All Big Brother USA seasons + most CBS shows past or present are included
$5.99 PER MONTH INCLUDING 1 WEEK FREE TRIAL or $9.99 AD FREE
COMPUTER - MOBILE - ROKU - CHROMECAST - APPLE TV - ANDROID TV - FIRE TV - XBOX 1/360 - PS4


>> >> >>

>> >> >> >> >> >>

>>

January 2019
Power Status
Jonathan evicted 6-1-0

Kato is Head of Household
Dina and Tamar were nominated
Tom won veto, used on Dina
Tamar and Ryan were nominated
Ryan evicted 6-1

Tom is Head of Household
Kandi and Joey are nominated
Natalie won veto, did not use

Tamar can pull herself off the block one time at the next nominations or veto meeting

FEEDS ARE THE REAL SHOW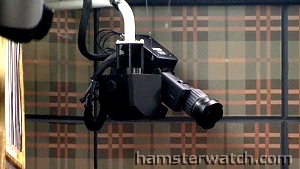 SIGN UP NOW to see everything unfold as it happens, including endurance comp tonight! No promo code needed

Reminder, celebs are on an accelerated schedule with two cycles per week, so comp outages are more frequent.. good for getting other things done!


Upcoming Events
Saturday: Live eviction

March 6: Big Brother Canada 7


Air shows
Monday 1/21 8pm - Move-in, first HOH comp
Tuesday 1/22 8pm - Power Pair comp, nominations
Wednesday 1/23 8pm - Veto comp, veto meeting
Friday 1/25 8pm - 2nd veto comp, Anthony's exit, veto meeting, live eviction
Sunday 1/27 8pm - HOH comp, nominations, assorted drama
Monday 1/28 8pm - Live veto comp and veto meeting, live eviction
Wednesday 1/30 8pm - HOH comp, Publicist Power winner reveal, nominations
Saturday 2/2 8pm - Veto comp, veto meeting, live eviction
Monday 2/4 9pm - Nominations, veto comp, live veto meeting, live eviction
Thursday 2/7 9pm
Friday 2/8 8pm Two hours - Live eviction(s)
Monday 2/11 9pm
Wednesday 2/13 8pm Two hour finale

Air shows are on CBS (Global in Canada). Stream links to watch East Coast airing online will be posted in Quick Links & Bookmarks on the left sidebar

After Dark airs for three hours every night on Pop - times vary by area and provider, check your cable guide


Other News
Celebrities are back! CBS premiere was January 21 and feeds started the next night.

It's become increasingly difficult to cover year-round BB with ever-dwindling feeds signups, so I'm considering CBB2 a trial run for the year, and my sales will be a factor in deciding whether I continue to cover BB summers or not. I realize there are many worthy affiliate sites out there and it can be hard to decide who should get your signup click. Thank you!

Hamsterwatch Forum for real-time feeds updates, screencaps, and air show recaps by @UGotBronx

Alliances charts by @89razorskate20: Jan 30 - Jan 28 - Jan 26

Diary segment tally by @clamperls2

Ratings Watch Friday's live eviction show won the hour with 1.0 rating, 5 share, 4.57 million viewers, ahead of Fresh Off the Boat and Speechless on ABC with 0.7/4/3.37 and 0.6/3/2.55, Last Man Standing and The Cool Kids reruns on FOX with 0.6/3/3.75 and 0.5/3/2.93, and Figure Skating US Championships on NBC with 0.4/2/3.04.

Sunday's show dropped back to third with 1.0 rating, 4 share, 4.76 million viewers, behind America's Funniest Home Videos on ABC with 1.3/5/6.54, and Rent: Live on FOX with 1.3/5/3.42, and ahead of The Titan Games rerun on NBC with 0.8/3/2.96.

Monday's live eviction show remained in third 1.1 rating, 5 share, 4.67 million viewers, behind America's Got Talent on NBC with 1.8/8/10.38, and The Bachelor on ABC with 1.8/8/6.35, and ahead of The Resident on FOX with 0.9/4/5.38.

Wednesday's show placed second with 1.2 rating, 5 share, 4.80 million viewers, behind The Goldbergs on ABC with 1.3/6/5.67, and ahead of Gordon Ramsay's 24 Hours to Hell and Back on FOX with 1.2/5/4.23, Schooled on ABC with 1.0/4/4.57 (second half hour), and Chicago Med rerun on NBC with 0.8/4/5.52.

Rating and share: adults 18-49 - Rating: % of all TV households - Share: % of households watching TV


Week 2 - Days 10-16 - January 25-31, 2019
Daily and Noteworthy Events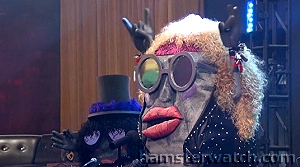 Evicted: Jonathan 6-1-0

HOH: Kato
Original noms: Dina, Tamar
Veto winner/outcome: Tom/used on Dina
Final noms: Tamar, Ryan
Evicted: Ryan 6-1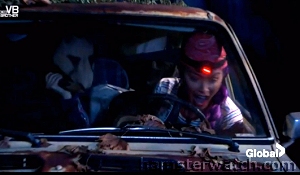 HOH: Tom
Publicist Power: Tamar (did not use 1st or 2nd of 4 chances)
Original noms: Joey, Kandi
Veto winner/outcome: Natalie/didn't use
Final noms: Joey, Kandi
Evicted: TBA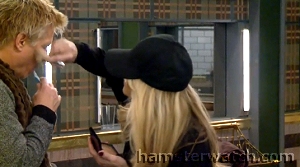 Day 10 Friday January 25
Scurrying about votes and retells of last night's drama mixed with the usual morning activities plus prep for their first live show tonight, including Dina giving Kato a little under-eye touchup after their late night. It sounded like the hamsters were back to Jonathan going tonight, but Tom tried again to get Kato on board to orchestrate a flip and cause a tie, and have Ryan evict Kandi. It probably won't happen after all the dust settles, but it might - it's going to be a long day. Tamar and Kandi made up (or went through the motions anyway), and several did a major cleaning of the habitat.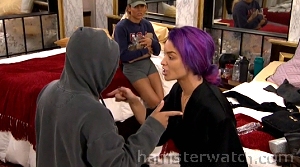 Along with scurrying, tension flared again when Ricky told Tamar she has trust issues, and she got very angry when he wouldn't let her get a word in edgewise. When Tamar asked if he's aware he's been going off on everyone, he said he'd been working out his anger issues (but we know he's got stir-the-pot issues). Tamar ran her retell rounds to Kandi, who said Ricky had gone off on her the other day, and when Tamar retold to Natalie and Lolo, Natalie jumped up and poked an angry finger at Tamar, saying "you don't let anybody else fucking finish, ever!" Tom tried a new tack with Kato, suggesting they might be getting played by everyone, and he got Kato to ask Lolo for an appointment to talk votes. Kato made that ask in a crowded room (what?), and when they met with Tom in the pantry, Lolo assured them Jonathan was still going and that Tom and Kato were not being played. Tom asked why Ryan was so sure Jonathan's staying and Lolo said Ryan doesn't understand the game. Basically it was a whole lot of chaos leading up to their first vote, and that's a big win for Team Fun Feeds.

ENDURANCE COMP WILL BE ON THE FEEDS TONIGHT starting around 7.45pm Pacific/10.45pm Eastern, so GET YOUR FEEDS to watch it play out live!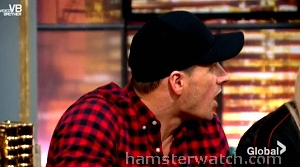 It was a packed show, so much that they skipped the opening montage, virtually all the drama and scrambling, and farewells. They explained away Anthony with an ET Celebrity Breaking News alert (and promised more of those "all season"). Anthony appeared on screen and said he wasn't really playing BB and he was gone, and their second veto comp was guessing how many Mooch headlines about his time in the house were real and how many were fake. Kato won, used it on Tom, and Ryan put up Kandi. We finally got to new business around 45 minutes in: Jonathan was evicted 6-1-0, with Dina the dissenting vote for Kandi, and Joey receiving zero votes. Ryan delivered a classic live show shockface, and later he, Dina, Joey did some angry psst-pssting about having been left out of the loop(s).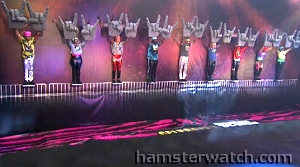 Feeds came on and the comp started around 8.20pm BB time (with a bonus glimpse of comp testing staff unsuiting in the kitchen for the Goofs Tally below). It was a wall comp called Rock Til You Drop, with a rock 'n roll theme and announcements from the OTEV "buttaahhhh!" voice. The wall tilted, and they were periodically pelted with sugar, jelly, beer cups, whipped cream, and "fire extinguishers" shot by staffers. Drops in order were:

8.43pm Tom, 8.43pm Kandi, 9.06pm Ricky, 9.19pm Tamar, 9.32pm Dina, 9.53pm Lolo, 9.56pm Joey, 9.57pm Natalie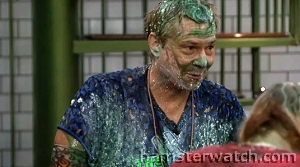 Kato won after about 97 minutes, after offering Joey and Natalie safety, though later Natalie said Joey's safety was if he dropped right then, which he didn't. At any rate, not bad for Kato at 59 years old, and Dina at 56 did very well too. Highlights of the comp were Tom overacting up a storm about agony and nausea, then just hanging by his arms for a minute or so before dropping; Kandi dropping immediately after him, saying she just didn't want to be first; Tamar asking for a ladder to get off, and then sobbing and screaming when she was afraid to jump; and Joey griping, whining, and complaining through it all, mostly asking why it was going so long, and when would it get started, and can anybody hear him? Dina called out "no!" when Joey first talked about giving it to Kato, which Kato later said he took as Dina was gunning for him. Lolo was extremely upset afterwards, saying the jelly shots turned her hair green and it wouldn't wash out, and she went into beanie mode. We finally saw how/why Joey spends hours to shower and groom, as he got tired of waiting for HOH room to open and he finally went through his very, very lengthy routine downstairs.

GET ALL ACCESS to watch anything/everything from the season's feeds as well as exclusive series and virtually all the CBS shows, and catch up what you missed at on my previous week's page, and/or Hamsterwatch Forum thanks to @UGotBronx!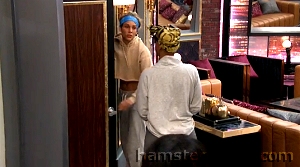 Day 11 Saturday January 26
Morning kicked off with drama as Tamar and Lolo got heated. It seemed to start over whether Dina knew Jonathan would be voted out or not: Tamar said Dina was lying that she didn't know, Lolo said she didn't think so, and boom! Lolo said Tamar asked her but wouldn't let her talk, and "you do this every motherfucking day!" They went a couple more rounds between feeds blocks, and on it goes. Kato slept in his HOH room - last night he'd said he was going to so he could get some sleep. He'd gotten the room around 1.25am, with a letter from his girlfriend, music by Tame Impala, and a tabletop cornhole game from Pop. Ricky suggested Kato put up Joey and Ryan, but Kato said he gave Joey a safety deal and Ryan could become an ally, and Tom told Kato that Lolo/Natalie would probably like to backdoor Ryan. It sounded like he was leaning toward nominating Dina and Tamar, which would probably up the drama level even more.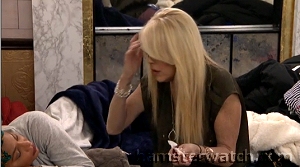 Feeds went down around 9.40am, then to last celeb season eps two hours later, and they didn't return til 7pm. Kato had nominated Dina and Tamar, and they were commiserating about that and things that were said either at the noms or fallout from this morning's fights. Apparently Kato said Tamar or both of them didn't cook and clean enough, and he said something about Tamar going home to her son. Not surprisingly, none of that sat well with Tamar. It's tricky to piece it together from retells but it'll all come clear eventually. Ryan and Joey thought the plan was to backdoor Ryan. In all that time they hadn't done their veto comp, and it sounded like there might have been a lot more fighting and fallout going on while feeds were down.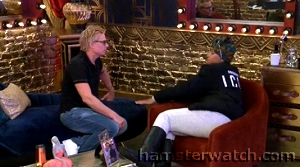 Evening was a lot of chit-chat, and Lolo digging around in her still-problematic hair, Joey talking into his mic to ask for an early Diary (finishing with "this is Joey by the way"), Ryan swimming, Dina chirping at a bird, Joey doing his nightly grooming marathon, and several of them playing cornhole. Lolo and Tamar chatted friendly, and Kato and Tamar finally sat down in HOH to talk out their tension. Tamar said her nomination felt personal, Kato said he thought she was crying the other day due to missing her son and he'd heard people say she wanted to go home. Tamar said of course she misses her son but she'd been crying about not getting along with Kandi. They joined the backyard corridor group with Kato loudly announcing they're friends again.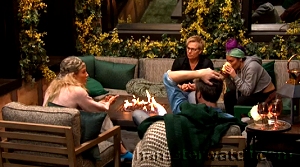 Ricky and Kandi talked game a bit over chess, with him saying he wouldn't put up her, Lolo, or Natalie. Kandi said she didn't know who she'd put up, but doubted she'd ever win HOH. Ricky told her Tom and Kato helped to keep her in yesterday, but it was more about getting rid of Jonathan. Kato, Tom, Lolo, Natalie agreed to team up, with a plan to backdoor Ryan if possible, and if noms stay the same they'll evict Dina. They also pointed out the fact that the most strategic players don't always get to the end, and don't always win if they do. They agreed they should be careful about being seen talking together, but meanwhile Ryan told Tamar the four were talking in the backyard and "they're the alliance" - Tamar said Ricky was with them too (he isn't, as of now). Ryan told Joey that Kato was going to backdoor him, and that they need to form an alliance with Kandi, Joey, Ricky, Dina. He'd already mentioned that to Dina, who said "now!" Natalie and Lolo figured out that Ryan had figured out the new foursome.

GET ALL ACCESS to watch anything/everything from the season's feeds as well as exclusive series and virtually all the CBS shows, and catch up what you missed at on my previous week's page, and/or Hamsterwatch Forum thanks to @UGotBronx!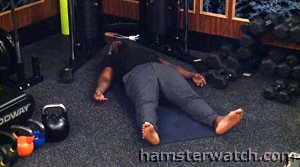 Day 12 Sunday January 27
Overnight scheming continued to develop for most, as Ricky did his yoga, seemingly unaffected by any of it. Most or all of the others had figured out the new foursome were working together and worked on plans to counteract them. Tom and Kato suspected they might be figuring it out and they talked about holding a fake fight to throw them off the scent, with Tom attacking Kato for hurting Dina's feelings.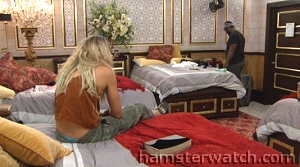 Tom told us he might not be in as good a position as he thought, and that he was frustrated with his new teamies' not thinking strategically enough. (He's also got a blind spot about the difference between making good tv and playing the game well.) Lolo told Ricky about the foursome's plan and suggested he talk to Tom, humbly, and let Tom name their alliance. Ricky did, and Tom said Team Fun, and later Tom told Kato that he'd thought Ricky was sincere. Kandi talked about a safari she'd gone on, and Joey got perturbed about her putting meat in a bowl of water in the sink to defrost. Joey also continued to speak each and every thought that popped into his head.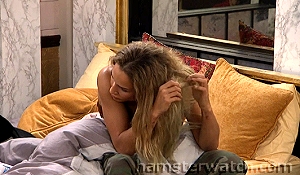 Afternoon and evening were quiet, with a lot of chit-chat, cards, pool, and a lot of scenario running on both sides about tomorrow's veto pick and comp. Some of those scenarios were the blind leading the blind as possibilities like Houseguest Choice chips came up and needed explaining. Lolo worked on her matted hair some more, concerned how it'll look on the live show but turning down Tamar's offers to help. Some of her extensions were coming out, some needed repair, and they were all matted in with her own hair. Both sides tossed around the idea of keeping Ryan tomorrow after all, but we'll see how it unfolds. A cynical person might think Diary had been working their magic to keep Ryan around a bit longer.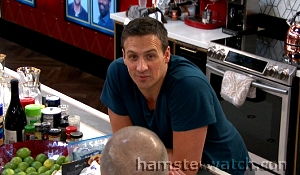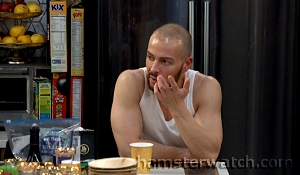 From the You Couldn't Make It Up Department, Ryan and Joey were doing some studying before bed, and they couldn't figure out or remember how Joey ended up on the block - Flashback 1/28 12.06am. They finally remembered after about ten minutes of head-scratching.

GET ALL ACCESS to watch anything/everything from the season's feeds as well as exclusive series and virtually all the CBS shows, and catch up what you missed at on my previous week's page, and/or Hamsterwatch Forum thanks to @UGotBronx!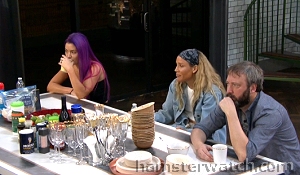 Day 13 Monday January 28
Morning activities included some check-ins as the unknown loomed in front of them, Kato prepped to check out from HOH, Kato and Lolo agreed they still wanted Ryan to go, and Joey told Kato to put him up as renom if needed, since he was all packed. Tamar told Lolo and Natalie she doesn't want to go home but if she does, she's got a lot to go home to. Joey and Ryan found some undies on the bathroom floor that confused them, and they all went for individual practice runs on what sounded like a skeeball-type apparatus. Tamar told Lolo/Natalie that Dina wouldn't use the veto on herself if she won as "she knows she's safe," and Tom/Kato told that to Dina who proceeded to cuss up a storm wondering why Tamar would say that, followed by "pardon my French."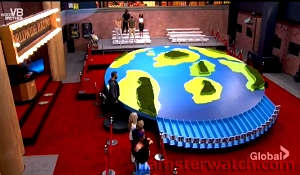 Julie showed a little of Saturday's post-noms drama that wasn't on feeds, and finally sent them out to play for veto at 27 minutes into the show. It was Worldwide Rollout, and players were Kato, Dina, Tamar plus Tom, Natalie, Joey. It had a theme with movie premiere posters for each. They had to roll a ball across a "globe" with "continent" obstacles, and hope to land in the highest numbered slot. Scores in order were Tom 35 million, Dina zero (rolled off the board), Kato 15 million, Natalie zero, Tamar 35 million, Joey 25 million. Tom and Tamar went to a tiebreaker shootout, where Tom rolled 70 million and Tamar 45 million, meaning Tom won the veto. He used it on Dina, and Kato put up Ryan in her place.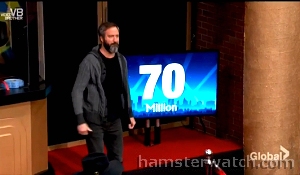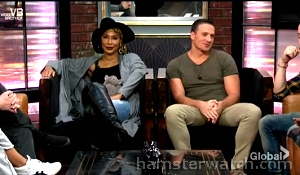 Ryan was evicted 6-1, with Joey the dissenting vote for Tamar. It was an actual backdoor eviction, textbook even, ticking all the boxes for that often abused and misused BB term. Julie announced the next Celebrity Breaking News gimmick: a viewer vote for Power of the Publicist. The winner can remove themselves from the block at one of the next two noms or veto meetings, expiring after the live February 4 veto meeting. The winner will be revealed to us on Wednesday 1/30 show. Voting was via tweet hashtag, so we'll assume they're hoping to create buzz that way, rather than using their usual online voting program. Monday night trends indicated Tamar would win it, with Joey coming in second.

Feeds went to last year's episodes at 7.04pm for the HOH comp, and BBAD did not air.

GET ALL ACCESS to watch anything/everything from the season's feeds as well as exclusive series and virtually all the CBS shows, and catch up what you missed at on my previous week's page, and/or Hamsterwatch Forum thanks to @UGotBronx!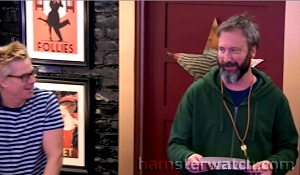 Day 14 Tuesday January 29
Feeds came back after 1am and Tom had won the HOH comp. It sounded like a "black box" in-the-dark comp which some described as a haunted house. They said Tamar quit and didn't finish her run. Tom got his room a little after 3am with a letter from his mom and dad, Richard and Mary Jane (well known to viewers of The Tom Green Show) and music by Juice WRLD. He held pre-nom meetings Tuesday morning and was leaning towards putting up Joey and Tamar, but after talking with Kato, Ricky, Lolo in individual and pair talks, it sounded like it might be Joey and Kandi, with Joey as target. If Tamar won the power, and Twitter trends indicated she would, she'd likely have been notified in Diary this morning. Meanwhile Joey and Ricky worked separate campaigns around the habitat against each other.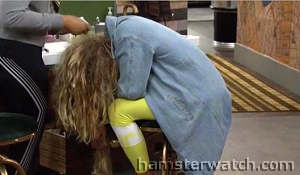 They were told someone has a power to get them out of "a sticky situation" but not how it works or who got it. Tom correctly guessed what the power does - everyone denied having it. Tamar helped Lolo begin repairs on some of the mess going on in her hair. Tom told Kato he thinks Lolo, Natalie, Ricky were working together - Kato said he didn't think so. They tossed around the idea of backdooring Ricky this week, and they ran veto and vote scenarios to weigh their options. Tom nominated Kandi and Joey, the power was not invoked, so chatter and paranoia about who has it raged on, and Tom and Kato continued over-analyzing that and everything else.

Tom and Kato tossed around the idea of a house meeting over dinner to confront everyone and say someone's lying about the power in hopes of flushing it out and/or planting paranoia seeds among them all. Instead, they asked Dina point blank if she has it and she said no. Tom then asked Tamar if she has it, and he said whoever does have it and is lying should go on the block. Tamar, who'd been telling everyone there's "bullying" going on about who has it, told Tom not to threaten her, and "don't be that dude, don't let America see you be that dude." Tom said he didn't want to fight with her. Tamar retold to Joey, and then to Kandi, exaggerating and escalating as she went, and getting more animated with every retell. Kandi thought it was all hilarious.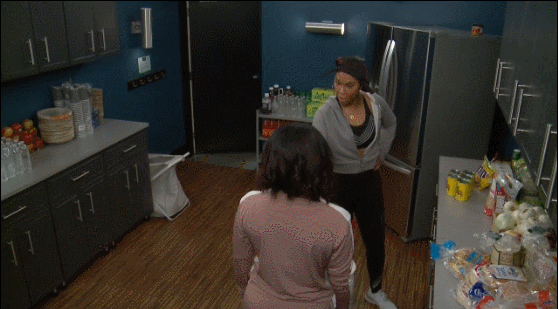 Tom retold to Lolo and Natalie, and Lolo got a bit heated, telling Tom "don't go to defcon again, you do this every time." She said she can't handle another situation like her vs Tamar, and added "I appreciate how you overthink but sometimes you overthink to paranoia, and I'm not cool with that." Tom and Lolo each apologized to each other later. Meanwhile, Natalie and Lolo, who'd been in the gym before Tom and Kato joined them to retell and have an alliance meeting, said a staffer had been "trapped between the doors" before they got there. That wasn't on feeds like it was when Tom surprised someone in there, but it sounded like it was in the same gym hallway area.


Kandi wasn't laughing later when she told Tom she didn't appreciate being nominated or not believed about not having the power. When she asked Ricky to verify she'd told him last week she'd never vote against Tom or Kato, Ricky said he didn't remember that and Kandi did a classic double-take. Ricky went on to say "you guys don't understand the game" and that it's about people getting nominated and evicted, and "why are you guys acting all bitch made?" Who-has-the-power follies carried on all over, even though everyone said they were tired of it, and alliance affirmations also continued as well as alliance second guessing. Ricky told Lolo and Natalie he'd be willing to put up Tom but it would have to be a "group decision." The backyard corridor finally opened and Tamar, Lolo, Natalie hot-tubbed in Ryan's pool. Joey continued to monopolize whatever convo he was in, and Dina did not. Pop delivered champagne gummybears to Tom for winning HOH but they were non-alcoholic, so pfftt

GET ALL ACCESS to watch anything/everything from the season's feeds as well as exclusive series and virtually all the CBS shows, and catch up what you missed at on my previous week's page, and/or Hamsterwatch Forum thanks to @UGotBronx!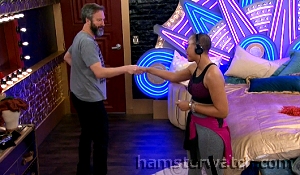 Day 15 Wednesday January 30
They picked veto players and Tamar wasn't picked, sending her on her rounds (likely to figure out if she'll need to use the power she almost certainly has, or not). She told Lolo and Natalie she doesn't want the veto used as she was afraid she'd go up, and she asked Tom if she was safe. He said he thought she would be, and she said "you THINK?" Tom repeated "I think you are [safe], I think you know you are, too" - he was still playing Who's Got The Power and she remained one of his prime suspects. They shook hands, and Tamar went on retell rounds. She and Natalie counted votes and wondered who the target would be if Joey takes himself off. Natalie said to wait for the comp to see what happens, and Lolo reminded Natalie they'd made a "no more backdoor stuff" agreement with Tom and Kato.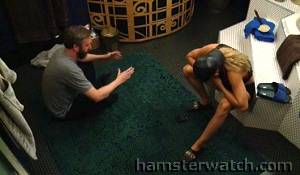 Tom/Kato/Lolo/Natalie tried to meet in the lounge about what they were doing, with Lolo saying Tom's switched plans up too much, and are they still F4, and she's a team player but needs her voice to be heard. Ricky joined almost immediately but Lolo kept going anyway, asking Tom what to do if she wins veto (with Ricky sitting right there!) That broke up, and Tom and Lolo met in HOH to argue over Joey versus Ricky at length. Tom said at one point "it doesn't really matter who has the power" (doubly funny after yesterday). Lolo said she wouldn't use veto on Joey "as of now," and Tom said if they can boot Ricky now she'd let Lolo pick their targets for the rest of the season. Lolo said she doesn't want to do that. And on they went, loops upon loops, with Tamar still saying elsewhere that she better not go up as renom. Retells and rehashes raged on.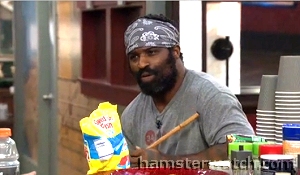 Ricky, Lolo, Natalie, Joey compared some notes and Lolo/Natalie said Tom/Kato wanted to backdoor Ricky. Ricky said "Tom calls it cross-collateralization but it's paranoia," and he then said to Tom "Tommy-boy, how's your paranoia doing today? Everyone's talking about you're paranoid." Tom said he's not, he's fine, but he paced around the kitchen sipping his coffee before he, Kato, Ricky went upstairs to meet and run their loops about their final five alliance still being good. Meanwhile Joey told Lolo, Natalie, Tamar that maybe the Reason he's there is to learn to "own his quirks." He went into life coaching for Lolo, and they said they didn't know what to do about the veto. Joey said if he wins, he won't use it if he thinks he's got the votes to stay. Then they went to Bible study, and agreed to do that if anyone walks in on them gametalking in future. Ricky told Lolo/Natalie that Tom said the plan was to backdoor Tamar, and they agreed if their final five is still good, they should boot Joey.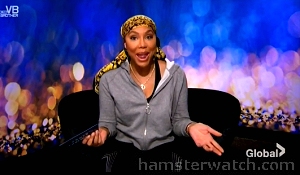 On the show we saw the superb HOH comp they did the other night, Slaughter House. They did individual runs through a pitch black house full of "deranged lunatics" that included bunny people, a chainsaw maniac, and assorted others. They had to find a set of keys and run out to get in a car waiting outside. Once in the car and "safe," they got one final jump scare from someone in the backseat - brutal! Times were Dina 14:24, Natalie 9:07, Joey 4:19, Tom 3:07, Kandi 8:43, Lolo 3:48, Tamar 30:00 [quit/timed out], Ricky 3:44, giving Tom the win. We also learned Tamar had won the Publicist Power, as predicted above. She did not use it at her first of four chances.

Feeds finally went down for veto comp at 5.25pm. Players were Tom, Joey, Kandi plus Dina, Lolo, Natalie, and Tamar hosting.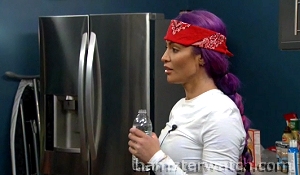 Feed came back at 9.16pm and Natalie had won the veto! It was football themed - CBS is airing Super Bowl on Sunday - and they all got football jerseys with their names, even the non-players, and those made them happy. It sounded like they had to kick field goals while or between spinning, something like the Bowlerina comp. Lolo came in second. Natalie insisted to Lolo and Ricky she wouldn't use it, and that she'll tell that to Tom, and then try to lay low to avoid getting into any tug-of-wars. Natalie, Lolo, Tamar discussed suggesting Joey ask everyone for "just one more week" which would mean Kandi will be shaking Julie's hand on Saturday. But it's still a long time til then and this group waffles like no other. They didn't tonight though: they used themselves up this afternoon and it was a very slow evening. Lolo and Natalie washed and dried their hair for a couple hours, some played cards, some went to bed early, and Tom seemed resigned.

GET ALL ACCESS to watch anything/everything from the season's feeds as well as exclusive series and virtually all the CBS shows, and catch up what you missed at on my previous week's page, and/or Hamsterwatch Forum thanks to @UGotBronx!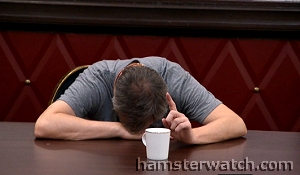 Day 16 Thursday January 31
Tom pointed out to Kato that several of them had been in the kitchen until he arrived, and then they cleared out. That may have been about the usual prep and primp before their veto meeting or it may have been about avoiding him - maybe a combo. Tom said he got up at 5am, and I think he knows his game goose is cooked, but he's hanging in there, alternately talking about the (now dead) alliance of five and knowing Lolo and Natalie were no longer with him. He did a monologue/skit from the HOH floor about just staying in there all day, he had enough snacks, but he went downstairs to socialize, mostly chatting with Dina.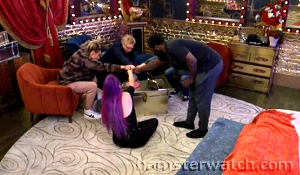 Natalie did not use her veto, so Tamar did not invoke her power (her second of four chances to do so). Tom told Natalie she did a great job with her speech (with a strong hint of sarcasm). Tamar again mentioned Tom having threatened her (out of his hearing). Tom pitched the idea of a fake fight to Kato again, and the idea of publicly killing the alliance, but Kato squashed both ideas. Ricky joined them and said he didn't know what went wrong, he thought Natalie was going to use it and Tamar would go up, and they'd flush out the power (if she has it). The five held a meeting, upstairs per Tom's suggestion as "it's an important meeting and it'll look better on TV." They claimed confusion and lack of communication, and Ricky said they need to trust each other, "the alliance is shit is there isn't communication." They also discussed the power and referred to prior BB twists they'd seen, and the planning difficulties they caused. Tom said "it's like you're playing chess, but then all of a sudden the bishop can fly." They did a Fun Five fist bump before they adjourned. I was starting to feel bad because Tom's going to look like an idiot on TV but was reminded he's made a career of that.. he'll be fine.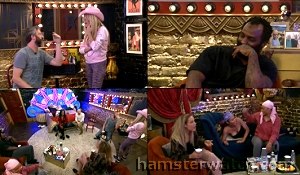 Natalie jumped on the exaggeration train and said Tom and Kato were looking at her "like they were gonna tear my fucking face off" at the meeting. Tom and Kato ran their loops upon loops trying to figure out what's going on, who's with them, and who's lying. They got nowhere with that so Tom decided to throw a party in HOH. He hollered the invite to several who'd been loudly talking sex/relationships/dating at the dining table, emceed by Kandi. Tom requested and got a couple bottles of wine and he arranged a cheese plate and laid out Oreos and other HOH snacks. Nobody came up for awhile and Tom and Kato lingered on the balcony, but eventually everyone went upstairs (Joey arrived late as he'd had to attend to a hangnail). A good time was had by all for about an hour and a half, with lots of laughter, chat about Game of Thrones, and Ricky talking at length about ayahuasca. Afterwards, Tom rehearsed a tell-all speech for Joey and Kandi, with Kato coaching and co-writing.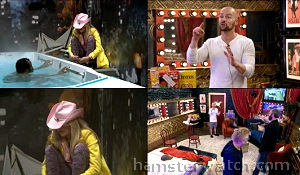 Tom delivered his speech to Joey when he went up for his nightly shower and grooming marathon, but it was a hard battle trying to get everything out as Joey kept interrupting and going off on tangents. But Tom eventually told him about his and Kato's alliance with Lolo and Natalie, and how Ricky joined them, and that he'd put up Joey and Kandi with the plan to backdoor Ricky but Natalie double-crossed them by not using the veto. Joey had heard most of this already from the other side but he acted surprised just the same. Kato joined to confirm everything Tom had said before getting exasperated with Joey. Meanwhile sippy Dina had been crying to Ricky about the game, not trusting anyone, personal stuff, you name it. Kato had told her a little earlier to only trust him and Tom "for now," and he scolded Dina for having talked so much to Ricky. Kato also told Tom that he had to present everything very delicately when he told Kandi the tale.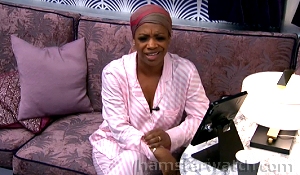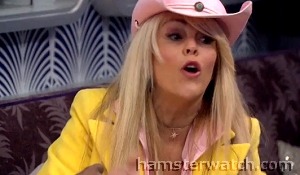 Then things got messy. Lolo told Ricky that Natalie had caught Dina talking with Kato and Tom, "so they're a three." In the lounge, Kato tried to talk still-sippy Dina off the ledge, again telling her she needed to keep quiet and trust him and Tom. Kandi went in to tweet and she and Dina exploded at each other. They fought about everything from past votes, past promises, and who's more on their own now, with Kato trying and failing to referee. He shouted loudly a couple times and finally left, after telling Dina he can't trust her. He also told her "from this moment on, erase everything I said, you know nothing, do not ruin this for you" and said she was acting like a different person. Dina and Kandi picked it up again in the girls' bedroom with Lolo, Natalie, Tamar listening and Kato eavesdropping at the door.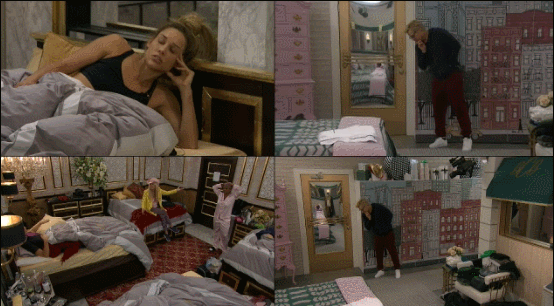 Retells carried on all over town, like they do. Along the way, Ricky and then Tamar said Tom and Kato were being "abusive" to Dina, Lolo and Natalie said Tom and Kato's game was "grimy," Dina said the winner should be the person who needs the money most (her), and Kato and especially Tom laughed at the comedy of it all, along with us. Later, Dina RAN from retells, laughing, and hiding out in HOH into the gym when they saw Ricky coming upstairs. He went in and asked her if she was okay, she said yes, and said she'd been in there about 20 minutes. Later he told the girls' room he'd seen her running in just before he got there, and that room got a good laugh too.

GET ALL ACCESS to watch anything/everything from the season's feeds as well as exclusive series and virtually all the CBS shows, and catch up what you missed at on my previous week's page, and/or Hamsterwatch Forum thanks to @UGotBronx!



Ratings - A Lukewarm Mess edition
Ratings are Monday's, based on entertainment value
VTE = Voted to evict




It's an odd but oddly fun season, with a lot of blind-leading-the-blind gaming, which I always find amusing. The cast are mostly quiet, get-along hamsters but their short bursts of drama are extreme. The Saturday feeds outage was a problem, as were Sunday's and Monday's glitches, but we got an endurance comp on feeds and it was a fun one. So it's the usual pluses and minuses, resulting in a resounding neutral.





Won: TBA
HOH 0 - Veto 0 - Noms 1 - HN 0

#1 VTE Kandi
#2 Nominated/veto'd off
#2 VTE Ryan

I don't think she knows what show she's on.. there's always one.





Won: TBA
HOH 0 - Veto 0 - Noms 2 - HN 0

#1 No vote (nominee)
#2 VTE Tamar
#3 NOMINATED

He wants everyone to be honest and get along (yawn), but his germophobia and excessive nightly grooming marathons make me laugh, as do his constant poses, facial expressions, and his know-it-all about any and every topic under the sun. What can I say? I'm easily amused.





Won: TBA
HOH 0 - Veto 0 - Noms 2 - HN 0

#1 No vote (nominee)
#2 VTE Ryan
#3 NOMINATED

I don't know if she isn't talking a lot of game or if I'm just missing it, but I find her fun and pleasant on the feeds, with consistently great facial expressions, and I particularly like listening to her voice/accent combo.





Won: 1st eviction immunity
HOH 1 - Veto 1 - Noms 0 - HN 0

#1 VTE Jonathan
#2 No vote (HOH)

He and Tom see-saw over which one is making sense and which is clueless at any particular time, making them a fun/funny duo to watch. Big ups for winning a tough endurance, and at age 59! I think most of us didn't know what to expect with him, and most of us are pleasantly surprised with what we're getting. I think he's got the best social game at this point, by a mile.





Won: TBA
HOH 0 - Veto 0 - Noms 0 - HN 0

#1 VTE Jonathan
#2 VTE Ryan

She's an interesting character, between her tough childhood and her athletic success, but as a hamster she's golden, especially considering her showdown with Tamar. She seems to be playing pretty well as of now, and her post-comp hair situation has given #Deathrace2019 the kickstart it needed.





Won: 1st eviction immunity
HOH 0 - Veto 1 - Noms 0 - HN 0

#1 VTE Jonathan
#2 VTE Ryan
#3 Won veto/did not use

See Lolo, but her hair hasn't been problematic (yet?) and she hasn't been a major player in any of the drama (yet?)





Won: TBA
HOH 0 - Veto 1 - Noms 0 - HN 0

#1 VTE Jonathan
#2 VTE Ryan

He said he wants to keep everyone stirred up and stressed, and normally I applaud that, but he went in hard on both Tom and Ryan and it was almost uncomfortable enough to be disturbing. He's pulled it back since so that's good, and he seems to be in a good position game-wise with both sides.





Won: Publicist Power
HOH 0 - Veto 0 - Noms 1 - HN 0

#1 VTE Jonathan
#2 No vote (nominee)
#3 HOLDS PUBLICIST POWER

Drama lovers have been in heaven with her, and if/when she goes, the feeds will pretty much lay down and die til the finale. She's one of the more peculiar 'superfans' we've had, since she plays like she's never heard of BB, but I suspect she's being crazy like a fox more often than just plain crazy. Either one works for me.





Won: TBA
HOH 1 - Veto 1 - Noms 1 - HN 0

#1 VTE Jonathan
#2 Won veto/used on Dina
#2 VTE Ryan
#3 HEAD OF HOUSEHOLD

He's always been polarizing: people love him or hate him, and that doesn't seem to be any different here. It's sometimes tricky to tell if he's being sincere or joking, especially when he talks game to us, because his particular brand of humor is very dry (except when it's over-the-top like Cereal Box Osprey). He thinks he and Kato have everything under control but unfortunately for them, the other side's completely on to them.





Won: Nothing
HOH 1 - Veto 0 - Noms 0 - HN 0
Evicted Day 13

#1 No vote (HOH)
#2 EVICTED 6-1

After his swimming and his scandals, he's known for making blunders and doing awful interviews. He's retold a few of those with self-deprecating humor and laughter, so I think he'll be fine when he realizes he's coming off as a buffoon half the time. Him and Joey spending ten full minutes trying to remember how Joey ended up on the block was one of the funniest things on feeds in a long, long time.





Won: Nothing
HOH 0 - Veto 0 - Noms 1 - HN 0
Evicted Day 10
EVICTED 6-1-0

He went on the block after winning the first comp due to a faulty twist, and it was ironic he was the first voted out since Dina would have been an easy first eviction for all, but Jonathan protected her from being one of buddy Ryan's many nominees. Jonathan could have spent more time and energy securing votes, but instead he bro'd around with Ryan and Joey. He was a bit extra much of the time but he might have settled down if he'd lasted longer.




Won: Nothing
HOH 0 - Veto 0 - Noms 1 - HN 0
Gone Day 6

From the few minutes we saw him on the feeds sneak peeks, he seemed pleasant enough and he seemed like he had potential to be fun to watch. But then he disappeared via a supposed 'twist' that looked more like a last minute, slapped together coverup to me, but we'll never know for sure. Upside of his early exit is we won't get five minutes of politics/White House chat on every single episode like we did last year.


Lines and Links of the Day
Lines

Joey into his mic, on the wall: Can anybody hear me? Can anybody hear us here?

Joey into his mic, after asking for early Diary session: This is Joey, by the way

Tom: I'm not paranoid, I'm just playing Big Brother

Dina: Why is everyone lying?

Ricky to Tom: Tommy-boy, how's the paranoia today? Everyone's talking about you're paranoid

Tom: The best part of being HOH is having everybody in the house wanting to shit in your room

Dina: They don't know what I'm thinking - I don't even know what I'm thinking



Links

GET YOUR FEEDS

Use my links for any Amazon Canada shopping anytime, at no extra cost - just start your shopping trip by clicking Amazon Canada



Tally Items

Season Stats
HOHs in order: Ryan; Kato; Tom

Veto wins in order: Ricky; Kato; Tom; Natalie

Evictions in order: Jonathan 6-1-0; Ryan 6-1

Cast Twitters: @Scaramucci, @dinalohan, @joeylawrence, @JonathanBennett, @Kandi, @Kato_Kaelin, @lolojones, @natalieevamarie, @Rickthelaureate, @RyanLochte, @TamarBraxtonHer, @tomgreenlive
More social media links in cast folders at Hamsterwatch Forum







Linking to any page here is fine. Please don't repost content from this site (or any other) without permission, and don't repost or hotlink images.



THE REAL SHOW IS THE FEEDS


SAME DAY AIR SHOWS
Live air shows in most areas
BB1 thru BB20, Celebs, OTT, and many other CBS shows


HAMSTERWATCH SWAG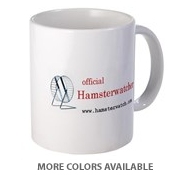 Mugs, shirts, more
Visit my Cafe Press shop






CELEB BB 2 SEASON FAQ


Day 1 Move-in was January 16
Day 6 CBS premiere was January 21
Day 7 Feeds began January 22
Day 29 Finale will be February 13

Feeds are streamed by CBS, and Flashback is accessible via All Access subscription. Call 888-274-5343 for account help, including cancellation.

The winner will get $250k. Second place will probably get $50k again.

The CBS app (by CBS Interactive) plays BB air shows and other CBS shows, as well as feeds, or you can use your browser to watch feeds on mobile devices. The same All Access link used to subscribe will lead to the feeds viewing page if you're already signed up.

The habitat has 80 HD cameras (down 14?!) and over 100 microphones.

The recorded in-house announcements are the voice of producer Don Wollman. He and Julie Chen are the only staffers who have been there since Big Brother 1.