This site is about the Big Brother 19 feeds and contains spoilers! It isn't necessarily thorough: it's what I catch and/or what interests me. It's about watching hamsters: who's doing what and why. Thanks for encouraging my behavior.
Your pal, dingo




Protect your online privacy with HMA
Watch Big Brother UK, Celebrity BB, Australian Survivor, Survivor New Zealand, and other non-USA shows






BB19 DRINKING GAME


Take a swig or two whenever you start taking it too seriously - it's just a TV show







VIEWER VOTES


Nothing currently







TREE OF TEMPTATION APPLES


#1 Save a Friend: Mark, used on Paul
#2 Nobody picked one







VIEWER VOTE WINNERS


#1 Pendant of Protection: Paul
Curse: Ramses self-nom

#2 Ring of Replacement: Christmas
Curse: Cody, Jason, Jessica frogs

#3 Halting Hex: Jessica
Curse: 3 weeks Temptation Comp








QUICK LINKS & BOOKMARKS



-Get the feeds
-Watch the feeds
-BB19 official site
-Live show tickets

-Feeds updates by @UGotBronx
-My Twitter - my screencaps
-Amazon portal USA or Canada

East coast air shows:
CanadaTV for Roku
$2/month - Global airs BB USA

East coast air show streams:
1 - 2 - 3 - 4 - 5
NO DOWNLOADS NEEDED - BEWARE OF CLICKING POPUP ADS OR WARNINGS

-Dick at Night with @EvelDick

-BB Viewer by @liquid8d
Requires All Access account

-Hamster Twitters
BB USA - BB Canada

-Advice for cast friends/family

-VPN to watch BB UK and/or to protect your online privacy




Donations via Paypal are gratefully accepted!

Click for weather forecast

Watch Big Brother
Seasons 1 thru 19
Plus tons more CBS content






BIG BROTHER SEASONS



CBS All Access
Seasons 1 thru 19

Amazon DVDs BB4 - BB3

Amazon Instant Video
BB19 - BB18 - BB17
- BB16
- BB15
- BB14
- BB13
- BB12
- BB11
- BB10
- BB9
- BB8
- BB7





BIG BROTHER 19 FEEDS EXCLUSIVELY ON CBS ALL ACCESS
All Big Brother USA seasons + most CBS shows past or present are included
$5.99 PER MONTH INCLUDING 1 WEEK FREE TRIAL or $9.99 AD FREE
COMPUTER - MOBILE - ROKU - CHROMECAST - APPLE TV - ANDROID TV - FIRE TV - XBOX 1/360 - PS4

>> >> >>

>> >> >> >> >> >>

>>

ANY AMAZON.COM PURCHASE CAN BE MADE THROUGH THESE LINKS - NO EXTRA COST TO YOU
Amazon USA
- Amazon Canada
August 24-31, 2017
Power Status
Mark evicted 4-2

Jason is Head of Household
Matt, Raven are nominated
Jason won veto/did not use
Matt opted to break Have-not so will get one penalty vote
Kevin is Have-not
Nobody picked an apple

Raven has a Have-not pass


Upcoming Events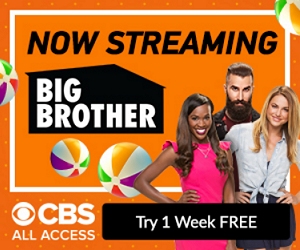 FEEDS ARE A HOT MESS and they are the real show - sign up now and get a one-week free trial

Friday: Final Tree of Temptation, nominations
Saturday: Veto comp


Next Shows
Wednesday 8/30 8pm Trash the house veto comp, veto meeting
Thursday 8/31 9pm Live eviction, HOH comp
Sunday 9/3 8pm Tree of Temptation #3 reveal, nominations

CBS schedule is Sundays 8pm, Wednesdays 8pm, live eviction Thursdays 9pm, on CBS (Global in Canada). Stream links to watch live online are posted in Quick Links & Bookmarks on the left sidebar. After Dark is every night on Pop (Slice in Canada) - times vary by area and provider.

After Dark is every night on Pop (Slice in Canada) - times vary by area and provider


Other News and Weekly Stats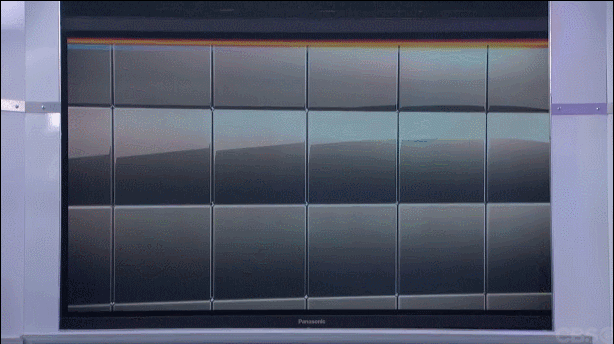 Tree of Temptation the LED apple tree apples will light up red before noms, for three weeks (one remains after this week). The first to request it in Diary will get to pick one, and receive one of the five rewards/punishments listed on the tree.

Many thanks to those who have gotten feeds with my links or at Hamsterwatch Forum where @UGotBronx updates her brains out, and/or used my shopped Amazon with my portal, and/or made donations! I caught up on my donation acknowledgement emails but many were bounced as spam - talk about a sad comment on the state of the world! I hope donators see this and know how grateful I am!

Celebrity Big Brother UK began again from August 1 and Sarah Harding won on the August 25 finale. Watch archive shows with HMA on UK's Channel 5 site.

Australian Survivor has kicked off its new season. Watch outside Australia with HMA on Australia's TEN Network site.

Real-time feeds updates and air show recaps are at Hamsterwatch Forum by @UGotBronx, plus cast bios/photos/links, and fun extras

Diary segment tallies by @clamperls: Through eighth week

Alliance charts by @89razorskate20: Day 61

Ratings Watch Thursday 8/25 live show won the hour with 1.8 rating, 8 share, 6.44 million viewers, ahead of SNL Weekend Update and Great News rerun on NBC with 1.5/6/5.76 and 0.8/3/3.15 respectively, Love Connection on FOX with 0.6/3/2.38, and Battle of the Network Stars on ABC with 0.5/2/2.31.

Sunday's show won the hour with 1.8 rating, 7 share, 6.35 million viewers, ahead of pre-season football on NBC with 1.6/6/6.42, Celebrity Family Feud on ABC with 1.2/5/6.39, and The Simpsons and Family Guy reruns on FOX with 0.9/4/2.23 and 0.8/3/2.00 respectively.

Wednesday's show dropped to second with 1.8 rating, 7 share, 6.18 million viewers, behind America's Got Talent on NBC with 2.0/8/11.07, and ahead of Masterchef on FOX with 1.2/5/3.68, and The Goldbergs and Speechless reruns on ABC with 0.6/3/3.05 and 0.6/3/2.43 respectively.
Rating & share: adults 18-49 - Rating: % of all TV households - Share: % of households watching TV



Week 9 - Days 65 thru 72 - August 24 thru 31, 2017
Daily and Noteworthy Events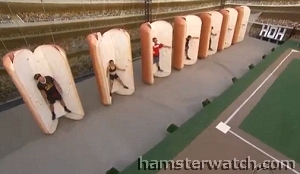 Evicted: Mark 4-2
Head of Household: Jason
Have-nots: Kevin, Matt
Have-not Escape/Extension: Nobody
Original noms: Matt, Raven
Veto winner/outcome: Jason/didn't use
Final noms: Matt, Raven
Evicted: Matt 6-0

Tree of Temptation Apple #2: Nobody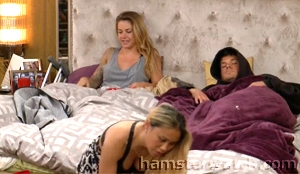 Day 65 Thursday 8/24 They were chatty and chirpy when they went into HOH lockdown, all except Mark who was understandably quiet, but he'll be fine in a few hours when he comes out to Julie's welcome and audience applause. Some habitat cleaning took place like it does on Thursdays, including Jason running the vacuum and Kevin breaking it later, as well as some bad haircuts. If you still don't have feeds, GET THEM TODAY as tonight's HOH comp will play out live. There are rumors of James Huling and Caleb Reynolds showing up (update: they didn't), and of course there might not be too much of a battle to win, but don't let that stop you, as the entire season is available in Flashback along with all prior seasons of BB air shows and most other CBS shows present and past, all the way back to I Love Lucy. Quick reminder that feeds signups made thru my links are the only way I can do any of this - thank you!

Meanwhile, get caught up with habitat events with my recaps for last week and/or Hamsterwatch Forum for detailed convos and many, many screencaps. Many thanks for visiting the site and using my Amazon portal to shop while feeds are down, or anytime!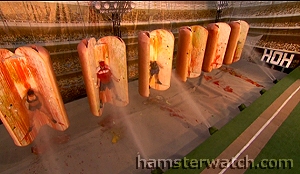 It was a leisurely show with more QA with Julie than usual, including a troll of Matt about his Precious, which was priceless, letting them watch some of their splats on the grease skating veto, and a nice home visit segment with Holly, Gatlyn, and Ole. Mark was evicted as expected, but on a 4-2 vote rather than unanimous, with Jason & Alex the dissenters.

Julie launched their HOH comp, Everyone's a Weiner, around 6.54pm in the baseball-themed BB Stadium. It was essentially another wall comp, with each of them perched inside a giant hot dog bun, and Christmas wearing a hot dog hat on the sidelines. The buns were white and pristine at first, but soon came the tilts along with cold water spray, mustard, ketchup, and relish glops, and before long it looked like a massacre.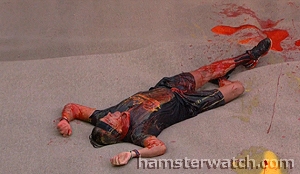 Feeds came on around 7.10pm and Kevin came out of his bun right away. He laid there looking like a victim of one of his mob movie retells. The next drops were Matt at 7.13pm, Josh at 7.24pm, Paul at 7.47pm, and Raven immediately after him. That left only Jason and Alex, and Christmas started telling them to make deals as she'd done earlier when most were still standing. Jason and Alex bantered good-naturedly back and forth for awhile, each of them wanting the title and letter. Matt grew visibly upset and impatient, anxious to go inside and apparently at a loss over the whole concept of competition even among allies. Alex finally jumped off at 7.54pm (at exactly one hour) with a promise of safety, a jury vote, and being picked to play veto if possible, and Jason became the new HOH.


They went inside to find the middle-sized table for eight in place, and they spent the next hour or so showering and psst-pssting about who the two votes were, including denials and lies about them, before they devolved into the usual repetitive season rehashes, evictee(s) trash-talking, blame-gaming, and Paul's-played-this-game-before pontificating.

Interestingly, Alex told Paul she still think Ramses got the $25k, and that she thought Kevin was the other vote along with Jason, so she blatantly lied to Paul - that's different. She also told him and Josh that Jason planned to put up Matt & Raven with a goal of sending Kevin out the back door, and Paul told Matt & Raven that Kevin was Jason's target and he'd probably put up Matt or Raven as pawns, or possibly himself. Most of that isn't true, by the way. Jason's noms will probably be Matt & Raven, but they are his targets, either of them. He doesn't care which one goes, but the Paul/Christmas/Josh agenda is Matt goes next. We'll see if they get their way again.

Jason got into his room around 12.35am, where he got pictures of Holly, Gatlyn, and Ole, a letter from his buddy Frank, a shirt, socks, Coors, Mountain Dew, music by Chris LeDoux, and the usual glut of cereals and snacks. Holly also sent the dream catcher Jason said's been hanging on his pickup truck mirror since 1999, and of course it had a story attached.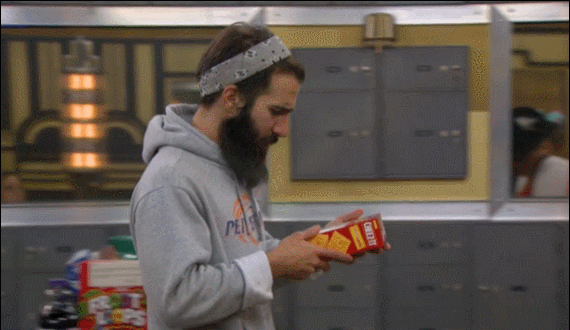 Paul discovered something on the Cheez Its box about hacking a dating profile to say recovering rodeo clown which surprised and confused him. When he showed it to Jason, he was flabbergasted. Matt and Raven retired to their greenlight den to do their nightly ritual(s) while the other six stayed upstairs to gossip about them, socialize, and share beers. Jason talked some more about Ole and his training, which I always find fascinating.

Late night Alex and Jason check-in, she once again swore her allegiance to him and Paul, she declared Kevin's stories about his dad may be true but Kevin has to be CIA, and she swore she didn't vote to evict Matt. It sounds like they'd agreed that Jason would do that, and then she cast a second vote by mistake, and still didn't realize it? Or did she do it knowingly to frame Kevin, and just doesn't trust Jason could keep his mouth shut? Either way it explains all the earlier hubbub about the second vote - you couldn't make it up if you tried.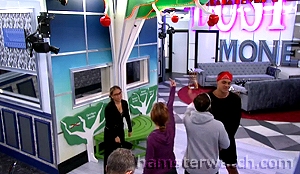 Day 66 Friday 8/25 They got an announcement at 10.04am "the Tree of Temptation has sprung to life once again, ha ha ha!" Most of them went to look but weren't really interested, Raven flipped off the tree, and that was the end of that: no pickers, and another announcement came around 4pm that it was out of play for the week. A post-BB business plans/appearance fees discussion was muddled as Jason and Christmas compared notes and swapped advice from their respective experience, and some of the others got in there about their BB "stardom" opportunities [cough]. Paul spoke as an expert on all aspects, of course - but you knew that already.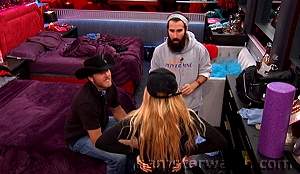 Matt showed up in a new black tank because Raven's dressing him for two days due to a bet over the HOH comp. They were all impressed but Matt said he didn't like it, and later he changed into a light blue tee. All the updates that matter, right? Neither he nor Raven approached Jason or Alex about nominations, mistakenly believing everyone saying pawns including one or both of them will be put up to get Kevin out.

Alex pulled Paul and Jason aside and told them she'd "prayed to God and he let me know it was me, I was the vote!" Jason busted out laughing and feeds cut to fishies. Interesting timing for that cut, as Alex had a 3.30am Diary call after swearing to Jason it wasn't her (hours after Jason had told Kevin the two votes were him and her, and forgetting to tell Alex he'd confessed that before Kevin ratted to Paul.)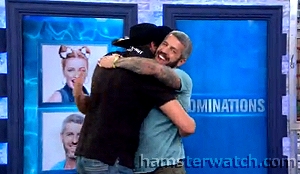 Jason nominated Matt and Raven as planned, and feeds came back to hugs around the table including both nominees giving Jason a big smiling hug each. Afterwards Raven told Paul it was a surprising speech with Jason saying "don't worry, I'll pull you off," and she wondered if Kevin knew about the supposed plan to backdoor him, but as we know, that joke will be on her and/or Matt - at least as of now. Barring anything unforeseen, I don't expect much for evening feeds but maybe we'll get lucky with a booze delivery? Ha ha I kid, I kid - the California drought is over, but the BB drought rages on.

They picked veto players: Josh, Kevin, Paul were picked to play with Jason, Matt, Raven. They assumed that meant a night-time comp, which it could be, or it could be early morning due to excessively hot days at the habitat. We'll find out when they do. Paul told Raven he'd use it on her if he wins so Kevin could go up and out, and he retold that to Alex and Jason, and that they would let Kevin sweat a bit. Raven told Matt she trusts Paul in that, and Matt told her he'd use it on her if he wins. Later Alex and Jason agreed to throw it to Kevin or Josh if possible, to keep the noms the same without any blame on them.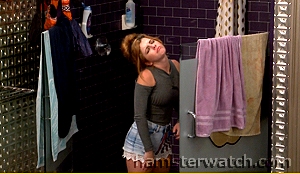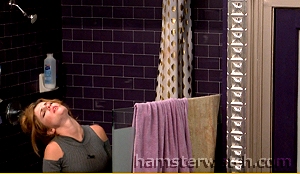 Raven hit her arm on the shower door and it hurt a lot, like it always does. Mostly they all hung out psst-pssting, playing chess, and napping as they awaited the comp - it didn't happen til Saturday morning, as usual.

GET THE FEEDS and catch up details you missed at Hamsterwatch Forum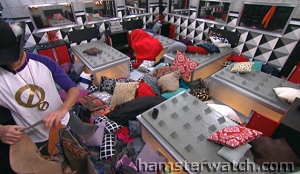 Day 67 Saturday 8/26 Feeds were down 4.5 hours and when they came back, Jason had won the veto and the habitat was trashed. It was the hide and seek comp, which is always extra fun to watch both on the show, as well as the cleanup and indignation afterwards on the feeds. The bedrooms were especially hard-hit this time, though it's unclear if Matt & Raven's infamous condom drawer was dumped out. I'm guessing it probably was, since all the players knew about it from the other day.

Players had veto baseball-type shirts with their names on the backs, and Pablo-type pool floaties. The kitchen wasn't as bad as some years, perhaps under orders because of the (sshh-rat-sshh) The Powers That Be seem to be trying to keep secret, but chairs and stools were knocked over and utensils were strewn around. The giant blue wave sofa in the lounge had its armrests ripped off. Jason and Paul both had minor injuries to add to the tally, and Raven's pile of stunt hair was in a heap on the floor, looking like roadkill.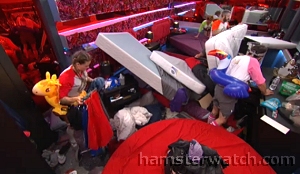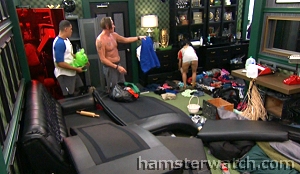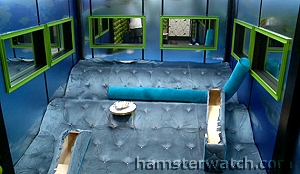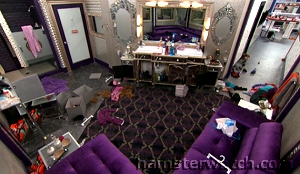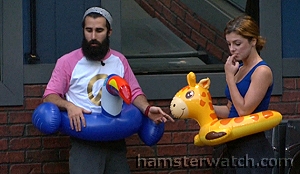 Paul kept wearing his floatie, like he does, but Raven put one back on too, so we have an unofficial endurance comp underway. If this one carries on long, it could add new resentment fodder to those loops, like we needed more.

Jason told Kevin he might take off Raven and put him up, and Matt & Raven think Kevin's the real target (Paul's plan), and also that Raven had come to him before noms to confirm that a backdoor for Kevin was the plan. Kevin didn't think much of that, understandably, and Jason said he didn't care either way so long as Matt goes, but he can leave noms the same. Kevin took that info to Paul, who immediately upped his anti-Kevin agenda to Alex and Christmas, with much success.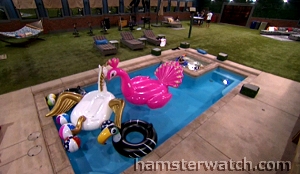 That anti-Kevin agenda grew stronger until Paul actually sounded like he actually wanted Kevin to go first now, but that could have just been him keeping the Kevin hate in there alive and spreading. Jason again told Josh he was tired of being bossed around by Alex, and Jason retold that to Kevin and Christmas dramatically told Josh that Jason and Alex had a big fight. When Jason, Alex, Paul met up later to discuss, Paul said why not just stick to the plan and send Matt this week, so that was all more to-do about nothing, but the anti-Kevin agenda was revved up to eleven, and then Paul told Raven that Jason was pulling her off. On it goes.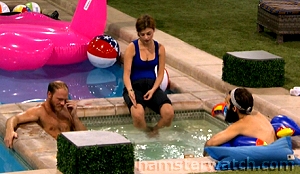 Raven complained about her wrists being sore, then switched to her knees when Paul said his wrists hurt too. Raven again said she needs knee surgery because she has "rough kneecap syndrome." I Googled that before tweeting to make sure I'd heard her right, and discovered both patellofemoral pain syndrome and chondromalacia patella described her symptoms. But later when I rechecked, I found my own tweet was the first Google return for "rough kneecap syndrome"! I'm sure I won't stay as the first but it made me laugh at the time, as well as convincing me it's not a widely recognized medical term (cough). She also said she has "no cartilage" in her knee.

GET THE FEEDS and catch up details you missed at Hamsterwatch Forum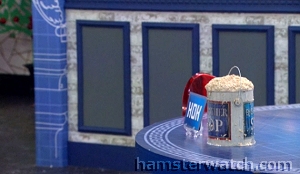 Day 68 Sunday 8/27 Kevin and Matt were named the new Have-nots for the week, for being the first two out of their HOH weiners. Jason told Kevin he'll keep noms the same, but earlier Raven told Paul "America's gonna get a fucking show" if Jason doesn't pull her off, so we have to look forward to? There was an issue about slippers between Josh and Kevin, so of course Paul whipped up Josh to turn that something bigger. Paul's anti-Kevin campaign is unrelenting, very successful, and very, very exhausting (and very distasteful, for me).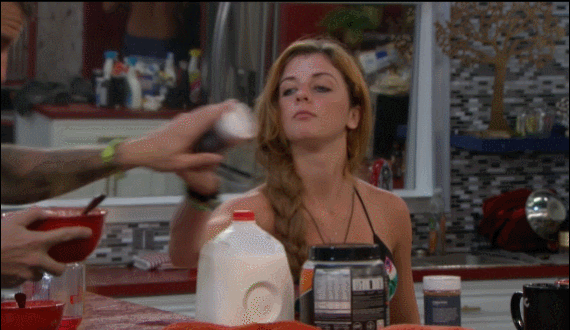 Things carried on like that until just before After Dark, when Matt and Raven revved up an extra screechy screech-a-thon. He allegedly threw an egg at her this morning, and then he started teasing her about being Cody's sister. They did a few of their awful back and forth loops, she dumped a wad of cinnamon in his slop, and he threw milk at her. Things escalated quickly from there, leading to more milk being thrown along with soda, condiments, various other items, and a whole lot of cinnamon. 4am weiner rubbing threats were exchanged for Texas shirt destruction threats. Raven glared and screeched through it all, Matt cackled and egged her on, and the others either watched it unfold (with big smiles), or came along and asked WTF had happened - Flashback 8/27 8.47pm.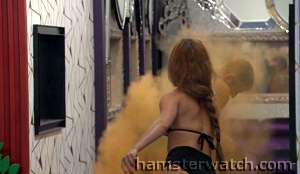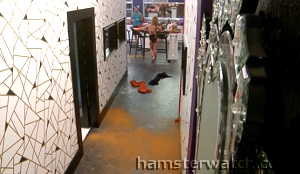 GET THE FEEDS and catch up details you missed at Hamsterwatch Forum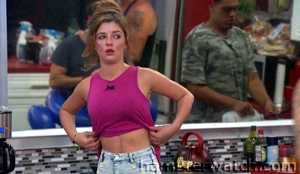 Day 69 Monday 8/28 Jason did not use his veto, leaving Raven and Matt on the block, and they were completely blindsided. Raven screeched and ranted as expected, and Matt stomped around some at first, but with his usual grin - Flashback 8/28 12.00pm.

When Jason was able to get a word in edgewise, he said neither of them had approached him to ask or confirm he'd use the veto (on Raven), and she repeatedly said he'd promised to take one of them down in his nominations speech. As everything escalated, Matt grew increasingly agitated, dwelling on Jason having "hidden in the pantry for 20 minutes" after the veto meeting (he'd gone in there to celebrate/gametalk with Alex, like they do).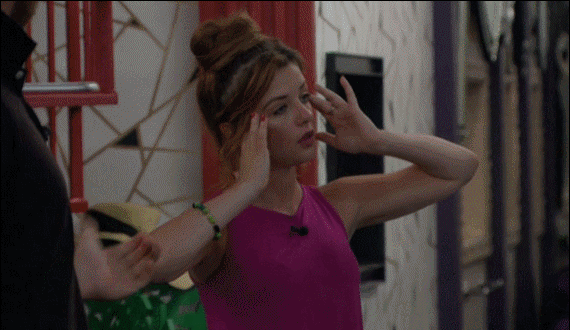 Matt finally snapped, lost the grin, and shouted and screamed at Jason about being a man, testicles, and a variety of choice language - rich stuff coming from a 33-year-old who cackled while throwing milk, soda, slop at his "girlfriend" just the night before.

Past history rehashes came up including last week's votes against Matt, plus Ramses, Dominique, Cody, but still nobody added two plus two to come up with Paul. Matt said he'd go ahead and eat, sleep in his bed, take hot showers this week, and take however many penalty votes he gets. Paul said he didn't know if anyone's ever done that before but of course we know Matt will be the third, after BB8 Jen and BB17 Audrey. Through it all, Raven sputtered and screeched, screaming about her honesty and her pacemaker, eventually making small but dramatic breathy-sob noises. Overall it was quite a show and once again, well worth the price of admission.

Like clockwork, Paul, Alex, Christmas whipped them all up about Kevin again, and Kevin ranted at Jason about everything but everyone ranting about him, since most of it's been behind his back thus far. Don't think he isn't aware something's going up though - he might land on the fights tally yet.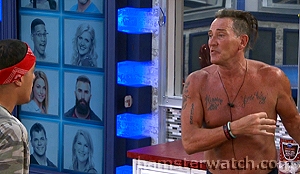 Well before that cyber ink even dried, here we are. Christmas and Kevin started snapping at each other about Kevin asking if she's going into the pool. She yelled she's had a broken leg all summer, and he said she asked him first, and if that isn't the most ridiculous grounds for a fight we've ever had, I don't know what is. Josh got into it, like he does, and although Paul told him to stay out of it, Paul had earlier told Josh to start going after Kevin. He then amended that, with Alex's backup, to wait til next week. But Josh went back for more anyway, Kevin said he didn't want to talk anymore or he'd do something to get him kicked out, but Josh kept coming and brought up the $25k. Kevin told him to "SHUT THE FUCK UP" multiple times, lunged at him a couple times, told him not to bring his kid's name into it.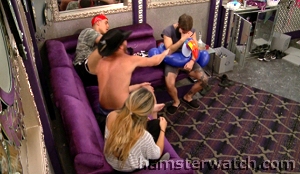 We were sent to extended fishies and Puppycam for an hour or so, and everyone was still in place when they returned, tempers having subsided. Jason/Alex/Paul/Josh kept up their Kevin-bashing, with Jason saying something he shouldn't have about Kevin's wife and kids, albeit as a "joke" in their one-up "game" complete with laughter, and adding "where's the line here?" but even Alex shushed him. Kevin talked to Christmas, then did an apology round with Josh, before bashing most everyone to Paul - ironic much? Kevin winning the $25k was finally out to everyone, Matt opted to break his Have-not for a penalty vote, Alex hid Kevin's slop and let Kevin think Raven threw it away, Raven kept up her own Kevin bashing throughout, and Paul continued making his constant rounds to keep them all stirred up and blaming everyone but him.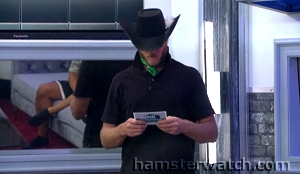 A formal announcement of Matt's penalty vote for breaking Have-not came a little after 6pm, so he followed up food with a hot shower and later went back to his rose bed with Raven. They did some of their getting busy, and she also sobbed some about losing him. Later he got a couple call-outs for eating food and not sleeping in Have-not room, so maybe they'll assign him more votes, or maybe the night crew just didn't get the memo.

Everything else settled down more or less, and back to the usual Paul instructing his minions to do his future bidding: he assigned drop orders off comps, he told them to keep up the hate campaigns, and that he'll set up a final two deal with Kevin to throw him off. As always, they nodded and happily agreed, without question. There was also some backyard play with the guys, and Jason and Kevin had a rehash talk where both acted as if all was still as it was, give or take.

I'll be out most or all of Tuesday and possibly Wednesday to attend to some other things, including earning some dollars. If anything major should happen, I'll catch up the site later. Meanwhile thanks as always for visiting and reading!

GET THE FEEDS and catch up details you missed at Hamsterwatch Forum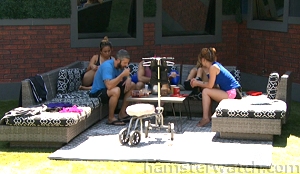 Day 70 Tuesday 8/29 Among the day's noteworthy items and toxic sludge, this day brought Alex telling Jason that Kevin sees and uses everyone's weakness to gain their trust, "that's what child molesters do." Strong and uncalled-for stuff, especially considering the high profile rape/murder case in her family's history. Meanwhile, TMZ picked up Jason's comment from yesterday. While all these hamsters are obviously responsible for their own words, the excessive hate agenda this year was begun by and continues to be pushed by Paul for his own purposes, while he stays relatively clear from contributing himself. Clever and calculating sure, but very distasteful to watch, and downright wrong depending where you draw the line between "game" and "personal."

Matt continued to eat freely, and continued to cackle and screech with Raven, among other things. Feedsters are calling for heads to roll, but let's review a few things. First, there are contracts and rules that bind both sides: BB can't eject someone just because viewers don't like what they're doing or saying. Second, precedents: sure many Have-nots have snuck a snack here or there but as stated above, only two before Matt have blatantly defied Have-not rules. BB8 Jen and BB17 Audrey were each assigned a penalty eviction vote, as has Matt, since all three were on the block at the time. (By the way, the mythical penalty nom has never happened.)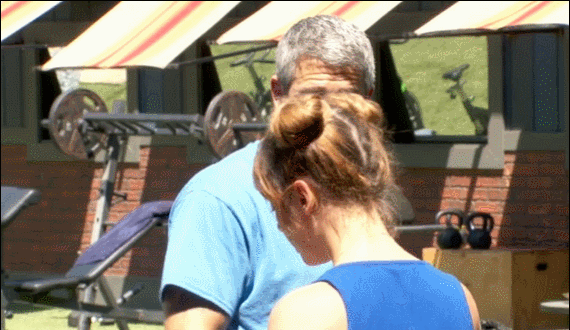 Only four have been formally ejected from the show in this country: BB2 Justin for drunken knifeplay on/with Krista, BB4 Scott for violently throwing chairs around, BB11 Chima for tossing her mic into the hot tub after refusing to wear it or answer Diary calls, and BB14 Willie for head-butting Joe. Each ejectee had a history of other, lesser offenses but those were the final straws for each. Viewers have called for ejection for many, many others over the years, including BB8 Dick for pouring iced tea on Jen like Matt poured something on Raven today, but again, their rules about violence or assault are spelled out in their contracts and rulebook, and they are actually encouraged to use whatever language they choose to further their agendas.

Which brings us to our part in all this. Team Fun Feeds has pretty much succumbed to the rabies in and out of the habitat, as there just isn't much to enjoy with this group anymore for most of us. Many friends and family members running our cast's social media accounts are participating in the nastiness, as are many alumni. Let's try to remember it's just a TV show that will soon be over, and whoever wins or loses, as well as any lasting impacts of what they've said and done is on them and won't really affect our lives. Do something positive instead and text REDCROSS to 90999 to donate $10 to American Red Cross disaster relief, and/or text HARVEY to 90999 to send aid to Houston flood victims, or donate to other known, recognized charities to do your part - beware of opportunistic scammers when making donations.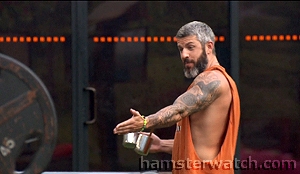 The dysfunctional hamsters show carries on though. Matt turned into a lesser version of Beavis's Great Cornholio when he hollered at Kevin, and said "are you threatening me?" - Flashback 8/29 6.42pm. Matt had just left a hammock meeting with Paul, Josh, Raven where Paul had said "homey's right there" and Matt said "I'm just gonna restrain." Some of that quick talk was retells about Alex was being a puppetmaster, and Paul stirring and setting up new codewords. Then apparently Kevin said something as Matt walked past him towards the door. I couldn't hear that exchange but later Kevin said he'd just asked something about Matt's brother. Cut to fishies for almost two hours - later Raven told Matt she yelled at Kevin during that time.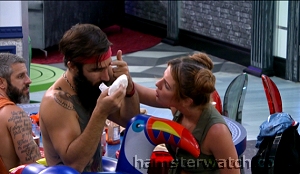 Kevin brought his "I'm all alone" routine to Christmas who told him he isn't, and later Kevin and Paul had a chummy "you and me against the world" chat, where Paul told Kevin not to win the next HOH so they can get Alex or Jason out. Kevin and Josh had a chat where each said they thought the other had admitted to the $25k on opening night. Retelling that convo to Paul, Alex, Jason, Josh said Kevin said it was the whole house against Alex and Jason. Paul acted surprised, even though he's been saying that to everyone but Alex and Jason, just one example of the many webs Paul has woven to pit them against each other.

Apparently Josh had been annoying Christmas about something or other, so she flipped his freshly-made bacon out of the pan and onto the floor. They had been high-fiving in the pantry earlier so maybe that was a staged "fight" but it's not a bit unusual for Josh to be annoying and Christmas irritated, so I don't know. Paul bonked himself in the eye with the weights pole, and Raven rushed to examine after he came out of Diary. Through it all, Matt continued to eat whatever he pleased, ignoring multiple "Matt, stop that" announcements. Alex and Jason continued spewing anti-Kevin venom, and Paul continued stoking the various hate fires.

I'll be out most of Wednesday also, but will again try to catch up the site.

GET THE FEEDS and catch up details you missed at Hamsterwatch Forum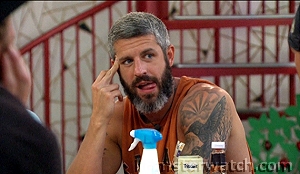 Day 71 Wednesday 8/30 Matt continued to defy his Have-not rules, and nobody seemed to care except a lot of feedsters, which reminds me to remind those of you still visiting/reading here of Tuesday's section above about the distinctions between Have-not rules and general BB rules, as well as precedents that have been set for breaking both. I'm not excusing Matt - he's been a waste of a hamster wheel for 71 days and counting in my opinion, and this is just more of the same - but you can't change rules on the fly just because you don't like someone, at least where contracts are involved.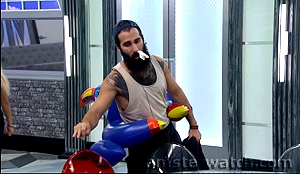 Meanwhile Matt and Raven packed (an easy job for him), and others also continued to flaunt rules and various "stop that" announcements with ongoing wrestling and "horsing around," notably Matt and Raven, Paul, Josh, Christmas, Jason, and Alex. But I guess they all need something to do between their ongoing Kevin-bashing parties.

Kevin had a long talk with Jason about yesterday's fights, particularly the Kevin vs Alex portion that we didn't see, and Kevin admitted to Jason he did indeed get the $25k. He said he'd apologize to Alex for what was said, and Jason pretty much told him he'd killed his spot in their trio, their quartet with Paul, and his game in general, as if that hadn't happened long ago, largely thanks to Paul. Jason then pretty much let Kevin ramble on, and laughed at his jokes, like he does.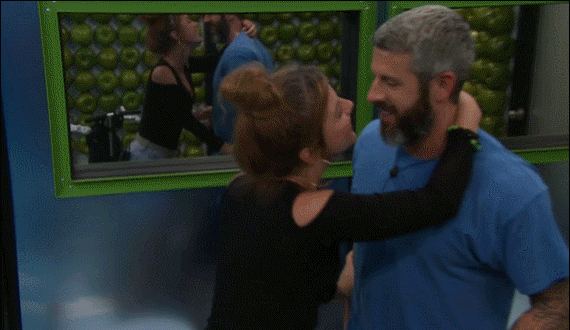 Matt and Raven had a few louder than usual screech-a-thons for their final night, and they too did their usual rounds of wrestling and drink pouring before settling into bed for their last sex event tally before he walks the plank tomorrow.

All but Kevin had family dinner for seven, including Have-not-not Matt of course. I don't know if they didn't invite Kevin to join at the table or if he opted to sit out, but he remained isolated for much of the evening, as he'd said he would. He perked up later and joined Jason to tell stories for a bit, with Paul and Josh also there, all three likely taking notes for future ammo. Paul and Josh had a few rounds of condiment battles and raucous wrestling rounds - BB doesn't seem to care about that anymore either. Paul again "reminded" Kevin not to win HOH tomorrow. I hope Kevin knows he should try like hell to win it.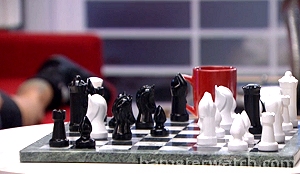 Jason's unfortunate rape "joke" spread beyond TMZ to TV Guide, New York Daily News, and UK Daily Mail (so far) so it's a fair bet he won't get the AFP cash he was likely in the running for, especially with his winning extreme-o-tard and baby news. Just last night he'd said he thought he might face some flak for all his "sex jokes" - he has no idea what's going to hit him in a few weeks, and neither do the others. In other news, GinaMarie opened a GoFundMe to raise money to fight Raven after the show.

GET THE FEEDS and catch up details you missed at Hamsterwatch Forum



Ratings - Bad Haiku edition
I was going to do a rabies edition to go along with the bloody massacre pics, but there's no point: this year's strain is virulent and there is no antidote, so ratings are based on an ancient Japanese poetry form




Always vets and slop
New pool animals, but still
No duckie, no booze





Won: 1st eviction safety; 1 week camping cookout; Outback dinner
HOH 2 - Veto 1 - Noms 2
VTE Matt

Hard competitor
Knows the game but fell inside
Paul's trap anyway





Won: Temptation #2 play in any veto comp; 48 hours attached to Paul; ; Outback dinner
HOH 1 - Veto 0 - Noms 2
No vote (HOH)

Ms Integrity
Nastier than most of them
Spreads the hate with glee





Won: 1st eviction safety; 1 week frog; 1 week extreme-o-tard; Outback dinner
HOH 2 - Veto 3 - Noms 3
VTE Matt

HEAD OF HOUSEHOLD
WON VETO/DID NOT USE
Funny, loud and nuts
Winning comps but unaware
Paul wants him gone too





Won: 1st & 2nd eviction safety
HOH 1 - Veto 0 - Noms 2
VTE Mark

No more pots 'n pans
Unless Paul sics him again
Second place is his





Won: $25,027; 1st eviction safety; couldn't be 1st HOH
HOH 0 - Veto 0 - Noms 0
VTE Mark

Fun and likable
So they thought until Paul said
Hate him, so they did





Won: 1st eviction safety; Outback dinner
HOH 0 - Veto 0 - Noms 4
No vote (nominee)

NOMINATED
Thought he had the right
To make endurance end fast
Sorry bub, you dropped





Won: 1st week safety; Temptation #1 safety next 3 evictions; Week 8 safety via Mark's Apple #1; 48 hours attached to Christmas
HOH 2 - Veto 2 - Noms 0
VTE Mark

Cut-rate puppeteer
Spreading hate is no big feat
Friendship's just a shtick





Won: 1st eviction safety; Have-not pass
HOH 0 - Veto 0 - Noms 2
VTE Mark

NOMINATED
Giving a bad name
To her 'cause' and to herself
Makes me want to screech





Won: 1st eviction safety; Weeks 5 & 7 safety; Colorado trip; Outback dinner; Temptation Apple #1 Save a Friend (used on Paul)
HOH 0 - Veto 2 - Noms 3

EVICTED 4-2
He often had a stunned expression and he cried more on feeds and in Diary than we've seen in a long time. He said coming in that girls are his weakness and that was doubly true with Elena. His moods were largely dictated by whether she was giving him the time of day or not, but by the end, her fluctuations had him flummoxed. Along the way, Dominique and Christmas battled for his BB soul, and he was besties and mortal enemies with Josh - their pickle juice fight will live forever. Gamewise he was in over his head, bouncing between sides, but he couldn't keep his mouth or his movements covert. Advantages came his way but he didn't leverage them well, and in the end he gave his safety apple to Paul and he didn't even try for the Have-not escape his last week, even though he knew he was going. He seems like a nice guy, too nice for this dirty game.





Won: $5,000; 1st eviction safety; Outback dinner
HOH 0 - Veto 0 - Noms 3

She introduced herself as 'abrasive' but that wasn't really the case as much as randy, frisky, and often vulgar, tying Jessica in the Things We Haven't Often Seen From Female Hamsters category. It seemed like she went for shock value but it didn't shock them or us, especially after the first couple days. She paired up with Mark who fell head-over-heels, and their break up/make up cycles became a predictable and painful regular occurrence. She had a good social game for awhile, straddling both sides of the house well, but when the numbers thinned so did her good standing, and she went out because she took $5k cash and left Alex to make hot dogs. She wore a lot of makeup but was a good sport about letting Paul do hers, she talked a lot, she flirted a lot, she flashed a lot, and in a 'no naps' season she had an epic pass-out one day, complete with faceplant and drip-drip-dripping juice straw.





Won: 1st eviction safety; Week 6 safety; 1 week frog; Revival
HOH 1 - Veto 0 - Noms 3

He came in complaining of 'victim noises' and proceeded to have a raging case of HOH-itis combined with extreme narcissism. He set his targets on Paul and when that backfired, he isolated himself with Jessica first in HOH and then in Have-not. He'd already put himself on slop as HOH, so the frog suits weren't even necessary but they did add a comical touch. He said things he shouldn't have about a pleasure trip to Ferguson MO and transgender people, but it's a safe bet he won't care about the flak or apologize for his comments. His social game improved for a minute when he was revived (thanks to Julie pointing out its absence) but that didn't last long, and he went back to isolation first with Jessica, and then on his own. He couldn't get out fast enough the second time, taking a direct route over the coffee table.





Won: 1st eviction safety; 1 week frog; Temptation #3 halt one of four evictions
HOH 1 - Veto 1 - Noms 3

She was problematic in a number of ways but aren't they all? She was fingered by TMZ for butt-poking but only because Paul riled them all up about her, when he and Matt also did their share of poking. Jessica brought crude talk to levels we've rarely heard from female hamsters, though Elena gave her a run for that money. Her hair made her a #Deathrace2017 star due to lack of weave maintenance, visible tracks, and patchy bits. She isolated herself with Cody for most of her time there, putting themselves on the Extracurricular Tally, but she landed solo spots too for fights with Cody as well as Christmas, Josh, Raven, and the entire house on that memorable afternoon. She did pretty well comp-wise, and she did her frog week without much complaint.





Won: 1st eviction safety; Mandatory nominee once
HOH 0 - Veto 0 - Noms 2

I always have a soft spot if they mention me and he did in a pre-season QA with KFROG - thanks! He was a pleasant guy who came in with the 'superfan' tag, and while he was a relative newcomer to it all, he does have a separate BB Twitter and he follows many in our dysfunctional community. But that wasn't enough and he made dual mistakes of aligning with only Jillian and not staying on top of things. He became the scapegoat for hinky votes, first night $25k, and he was threatened and berated for not throwing a veto comp hard enough when he was on the block. Being there in the first place was an unlucky temptation consequence. So the stars just didn't align for Ramses but he was fun and likable and will be missed.





Won: 1st eviction safety
HOH 0 - Veto 0 - Noms 1

She seemed promising, brainier than most hamsters by far, and she started out well. She earned Mark's devotion over fake chess games and heart-to-hearts, but Christmas and Elena also tugged at him from different directions, and Dominique never got as tight a hold on Josh. Kevin let her host the talk shows, but she was too slick and professional with them, and kind of a drip. That backfired when she put Ramses and then Cody on the spot, and she confessed her job lie to several too early. She brought in more religion than most, and she 'marooned' herself in the lounge, doing a solo telethon for days. She caught on to Paul and told everyone he was a snake, and he made sure she went out the door as a result.





Won: Nothing
HOH 0 - Veto 0 - Noms 2

She gave us a good shockface when Julie spoke her fate, but she hadn't done much to prevent it. She wasn't there long enough to do a lot, but she didn't really do much that was memorable except repeat convos (at lightspeed), plan future shows to be on, and be on the block. Virtually everyone else campaigned their brains out around her while she was at summer camp, so it's no surprise she didn't know who did and didn't vote for her. She wasn't cut out for this game and she also attracted some political attention that nobody needs. Many use BB to escape from that kind of thing for a little while.





Won: 1st eviction safety
HOH 0 - Veto 0 - Noms 1

Like Cameron, there isn't much to say since she left before feeds began. A lot of drama was stirred up by, around, and/or because of her, including a Josh rant we saw on the premiere sans context, and an alleged sabotage lie about a comment Jessica allegedly made about Alex. When Megan got home, she released a statement saying she left because of PTSD from a prior assault. You'd think those things would be discovered and addressed during the lengthy audition process, but who knows? We may never know the entire true story as we'll only have hearsay and edits to go by, but I wish her well.





Won: Nothing
HOH 0 - Veto 0 - Noms 1

What is there to say when they're gone before feeds start, other than it stinks? They were probably wise to get him out because he's a big fan who knows the show, and he's brainy to boot. At least he had not one but two comp-shots to save himself, even though he opted for a third comp to evict rather than the vote that got him the non-coveted first boot spot. He seemed likable enough and he tried some twerkish moves to save himself but alas, it wasn't enough. He dropped a hamster line in Diary which was fun, but anyone going before feeds still stinks.






Lines and Links of the Day
Lines

Thursday
Josh: So you had a dream that we were hated?
Alex: Yeah
Josh: That sucks
Jason: Probably accurate
Josh: Probably accurate as fuck

Julie: Hold onto your buns, houseguests

Christmas, about Jason's music: Paul's arguing because he doesn't want to admit he likes it

Paul: Can you eat bull meat?
Jason: What do you think hamburger is?

Alex to Jason: I absolutely swear to God I did not vote Matt out.. I might have, not really sure.. to my consciousness I did not vote him out, so I'm not lying

Friday
Matt: I feel good [about veto]
Raven: Me too, I trust Paul
Matt: I'd take you down if I win, I'm not freaking Mark or Cody, not throwing my girl under the bus

Jason, re Christmas hosting: They got Christmas in [Diary] so that means this'll take four fuckin hours for her to spit the words out

Saturday
Raven: Matthew, did you get my weave out?!

Alex: They fucking broke my glasses, again!

Jason: [Matt/Raven] think I'm gonna pull Raven off and put you up, and everybody's gonna vote you out - I think it's kinda cool they think that
Kevin: Fuck this, I'm winning HOH and putting Raven and Raven on the block

Raven:My wrists are fucked
Paul: Welcome to my world
Raven: Well, this knee needs surgery, I have rough kneecap syndrome

Sunday
Paul: How many more levels do you think there are?
Matt: She's fired up, I like it!

Raven about Diary: I literally died laughing in there

Monday
Raven: I'd rather be a loyal player than a shitty player
Raven: I've played an honest game - on my pacemaker, because I need it to live

Jason: When you stir shit, it stinks

Jason: Well, that coulda went better
Alex: Jason, you've been in 600 fights with your fists, how many verbal assaults have you been in?
Jason: Zero

Kevin to Josh: I can't answer you, I'll end up hurting you and be taken out of the fucking game.. SHUT YOUR FUCKIN MOUTH

Josh: What am I, like a dog, you guys tell him 'sic em' and then..

Raven: Kevin, please shut your dick in a door

Paul to Raven: How are you doing, are you channeling all that hate?

Josh: Have you guys noticed we all act like big babies?

Tuesday
Big Brother: Matt, stop that [snacking]
Raven: I knew it was coming, he still gives zero
Big Brother: Matt, stop that
Raven: OMG he's not going to

Alex: If [Kevin] wins America's Favorite I'm just gonna kick him in the balls right onstage, fuck you old man



Links

GET YOUR FEEDS

Use my links for any Amazon shopping, anytime, at no extra cost - just start your shopping trip by clicking Amazon USA or Amazon Canada

Big Brother 19: The Saga, Episode 7 by @WilHeuser

Weekly QA with Allison Grodner by @CarterMattMedia

Big Brother parodies and BB-related alternatives to slow feeds a thread by me

Raven's stories are actually old Simpsons episodes continuously updated, by @em__BB

BB19 Spot the Differences another ongoing thread by @em__BB

Shave It Off by @BB11HouseRodent



Tally Items
Extracurricular Tally

Fights: 29
6/29 Premiere #2: Josh vs Megan
7/6 live show: Jessica vs Christmas
7/6 HOH comp: Josh vs Cody (not on feeds or show)
7/6 10.10pm: Jessica vs Josh, plus Cody
7/17 3.30pm: Three parter: Josh vs Mark, plus Josh vs Jessica, plus Dominique vs Christmas
7/28 7.24pm: Three parter: Cody vs Paul, plus Cody vs Jessica, plus Mark vs Josh
7/30 12.25pm: Cody vs Jessica
7/31 12.47pm: Jessica vs Raven
7/31 5.04pm: Four parter (at least): Jessica vs Alex, Jessica vs Paul, Jessica vs Raven, Mark vs Alex
8/8 1.14pm & 2.23pm: Two parter: Cody & Jessica vs Josh
8/11 5.03pm Christmas vs Mark, plus Josh
8/14 5.54pm Christmas vs Mark, plus Josh, Alex
8/14 11.36pm Josh vs Mark
8/15 1.49pm Three parter: Cody vs Alex with Jason, Christmas, Elena vs Josh, Alex vs Elena
8/27 8.49pm Matt vs Raven food fight
8/28 12.00pm Raven, Matt vs Jason
8/28 2.16pm Three parter: Christmas vs Kevin, Josh vs Kevin (plus Raven, Alex vs Kevin not on feeds)

Alex camp setups and hot dog service rounds: 14

Revivals: 1
Cody

House meetings: 4
7/15 5.46am
7/17 4.21pm
7/30 2.50pm
7/31 4.52pm

Scandals beyond BB world: 4
Paul's snake outfit and face mask plans
Cody's military service questioned
Jessica's 'butt-poking'
Jason's rapey 'joke'

Pinkyswears: 3
Raven and Paul on premiere
Raven and Matt 7/11 7.56pm
Kevin and Jessica 8/10 2.33pm

Makeout pairings: 3
Cody/Jessica, Mark/Elena, Matt/Raven

Sex events: 17 (minimum)
7/2 3.12am Cody, Jessica
7/6 3.25am Mark, Elena
7/11 2.44pm Mark, Elena
7/26 1.00am Raven, Matt
7/30 3:29pm Cody, Jessica
8/2 1.32am Raven, Matt
8/3 1.31am Raven, Matt
8/4 1.19am Raven, Matt
8/5 11.00pm Raven, Matt
8/9 12.00am Raven, Matt
8/10 12.45am Raven, Matt
8/10 1.40am Mark, Elena
8/17 12.47am Raven, Matt
8/22 11.31pm Raven, Matt
8/25 1.08am Raven, Matt
8/28 10.12pm Raven, Matt
8/30 10.39pm Raven, Matt

Injuries: 15
Mark's dislocated finger in 1st HOH comp
Christmas's broken foot
Raven's stair crash and foot stitches
Kevin's arm burn from curling iron
Paul's mysterious wrist ailment
Raven's alleged pan-to-the-wrist ailment
Paul's infected nose-ring, again
Raven's chair-banged finger
Raven's 'chipped' tooth
Raven's sore knee from skating comp
Raven's shower door-banged arm
Jason's groin pull from hide/seek veto
Paul's skinned ankle from hide/seek veto
Jason's cut finger from broken glass in the trash
Paul's bonked eye from weights pole

Better alternatives to Jeffish: 1
Kittycam, Puppycam, Bunnycam featuring Rancho Coastal Humane Society adoptables

Premature (pre-feeds) evictions: 2
Cameron, Megan

Pre-season makeover and photo replacement: 1
Megan

Epic Twitter battles: 2
6/19 Dr Will vs Meech, plus BB18 Natalie, BB14 Danielle, Russell Hantz
6/22 Evel Dick vs James Huling



CBS Goofs

1 Misspelled 'Hitmen'
2 Pop mixed up BB seasons with AD seasons
3 Mistook USA for 'the world'
4 To/too error
5 Too many seasons for Frank
6 Conflicting Christmas ages
7 Pop had a midnight/day problem
8 Misspelled Raven
9 Random things in bikini photos
10 'An New Season'
11 Photoshoot spoilers
12 Leaked two upcoming votes
13 This season is 92 days, not 99
14 Thumbnail on feeds slider shows BB18
15 Misspelled 'receive' on tickets site
16 Misspelled 'replacement' on YouTube
17 Control room monitors on 7/6 live show
18 Day count error on 7/9 show
19 Misspelled 'drinkware'
20 Misspelled Nicole's last name
21 Misspelled Josh's last name
22 Misspelled Ramses
23 Let Jessica into DR when Kevin was there
24 Feeds timestamp 3+ hours wrong
25 Counting error on 7/20 show
26 Listed five, called it six
27 Fishies in closing credits 8/3 show
28 Wrong day/date in highlights
29 Leaked Elena Diary snippet
30 Misspelled Big Brother
31 Only posted 2 (of 6) 1st half HOH blogs
32 Fishies in HOH comp 8/10 show
33 Feeds highlights have 8/15 under Cameron
34 Forgot to update feeds outage message
35 Hashtag syntax error



Season Stats
HOHs in order: Cody; Paul; Alex; Jessica; Paul; Josh; Alex; Jason; Christmas; Jason

Veto winners in order: Alex; Paul; Jason; Jessica; Paul; Mark; Matt; Mark; Jason; Jason

Evictions in order: Cameron 8-3-2; Megan (quit); Jillian 8-4;

Cody 7-3-0

; Dominique 10-0; Ramses 7-3; (none); Jessica 7-1-0; Cody 7-0-0; Elena 6-1; Mark 4-2

Pre-jury Twitters: @CameronHeard210; @MeganAnnBB19; @jilliannicoleww; @CDmAI; @TheBBHomie1; @thejessicagraf







Linking to any page here is fine. Please don't repost content from this site (or any other) without permission, and don't repost or hotlink images.



THE REAL SHOW IS THE FEEDS


NEXT-DAY AIR SHOWS
Live air shows in some areas
BB1 thru BB19 and many other CBS shows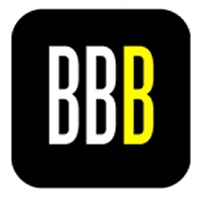 BIG BROTHER BUDDY
Get push notifications for all the big feeds events - iOS or Android


HAMSTERWATCH SWAG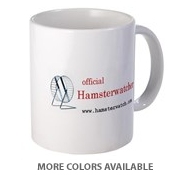 Mugs, shirts, more
Visit my Cafe Press shop






Big Brother 19 SEASON FAQ


Day 1 Move-in was June 21
Day 8 CBS premiere is June 28
Day 9 Feeds begin June 29
Day 92 Finale is September 20

Feeds are streamed by CBS, and Flashback is accessible via All Access subscription. Call 888-274-5343 for account help, including cancellation.

Air shows on CBS (Global in Canada) are Sundays 8pm, Wednesdays 8pm, eviction Thursdays 9pm.

Big Brother After Dark on Pop TV (Slice in Canada) is every night midnight to 3am, except Thursdays 1am to 3am. The aired blocks are live (or recorded earlier the same night, depending on your cable provider).

The CBS app (by CBS Interactive) plays BB air shows and other CBS shows, as well as feeds, or you can use your browser to watch feeds on mobile devices. The same All Access link used to subscribe will lead to the feeds viewing page if you're already signed up.

BB19 prizes are the same: $500k for the winner and $50k for 2nd place. Stipend for the others is $1,000 per week again, including pre-show hotel and jury sequester. Paul is probably getting more, and possibly Christmas as well.

The habitat has 87 HD cameras and over 100 microphones.

The recorded in-house announcements are the voice of producer Don Wollman. He and Julie Chen are the only staffers who have been there since Big Brother 1.