This site is about the Big Brother 19 feeds and contains spoilers! It isn't necessarily thorough: it's what I catch and/or what interests me. It's about watching hamsters: who's doing what and why. Thanks for encouraging my behavior.
Your pal, dingo




Protect your online privacy with HMA
Watch Big Brother UK, Celebrity BB, Australian Survivor, Survivor New Zealand, and other non-USA shows






BB19 DRINKING GAME


Take a swig or two whenever you start taking it too seriously - it's just a TV show







VIEWER VOTES


Nothing currently







TREE OF TEMPTATION APPLES


#1 Save a Friend: Mark, used on Paul
#2 Nobody picked one
#3 Nobody picked one







VIEWER VOTE WINNERS


#1 Pendant of Protection: Paul
Curse: Ramses self-nom
#2 Ring of Replacement: Christmas
Curse: Cody, Jason, Jessica frogs
#3 Halting Hex: Jessica
Curse: 3 weeks Temptation Comp








QUICK LINKS & BOOKMARKS



-Get the feeds
-Watch the feeds
-BB19 official site
-Live show tickets

-Feeds updates by @UGotBronx
-My Twitter - my screencaps
-Amazon portal USA or Canada

East coast air shows:
CanadaTV for Roku
$2/month - Global airs BB USA

East coast air show streams:
1 - 2 - 3 - 4 - 5
NO DOWNLOADS NEEDED - BEWARE OF CLICKING POPUP ADS OR WARNINGS

-Dick at Night with @EvelDick

-BB Viewer by @liquid8d
Requires All Access account

-Hamster Twitters
BB USA - BB Canada

-Advice for cast friends/family

-VPN to watch BB UK and/or to protect your online privacy




Donations via Paypal are gratefully accepted!

Click for weather forecast

Watch Big Brother
Seasons 1 thru 19
Plus tons more CBS content






BIG BROTHER SEASONS



CBS All Access
Seasons 1 thru 19

Amazon DVDs BB4 - BB3

Amazon Instant Video
BB19 - BB18 - BB17
- BB16
- BB15
- BB14
- BB13
- BB12
- BB11
- BB10
- BB9
- BB8
- BB7





BIG BROTHER 19 FEEDS EXCLUSIVELY ON CBS ALL ACCESS
All Big Brother USA seasons + most CBS shows past or present are included
$5.99 PER MONTH INCLUDING 1 WEEK FREE TRIAL or $9.99 AD FREE
COMPUTER - MOBILE - ROKU - CHROMECAST - APPLE TV - ANDROID TV - FIRE TV - XBOX 1/360 - PS4

>> >> >>

>> >> >> >> >> >>

>>

ANY AMAZON.COM PURCHASE CAN BE MADE THROUGH THESE LINKS - NO EXTRA COST TO YOU
Amazon USA
- Amazon Canada
August 31 - September 7, 2017
Power Status
Matt evicted 6-0 including 1 penalty vote

Christmas is Head of Household
Alex and Jason were nominated
Paul won veto/used on Alex
Jason and Kevin are nominated

Have-nots are over


Upcoming Events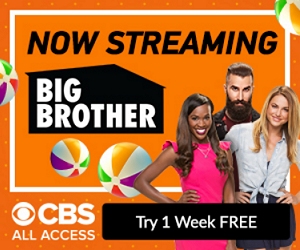 FEEDS ARE A HOT MESS and they are the real show - sign up now and get a one-week free trial

Thursday night: Second HOH comp
Friday: Nominations
Saturday: Veto comp


Remaining Shows
Thursday 9/7 9pm Live eviction, HOH comp, nominations, veto comp & meeting, 2nd live eviction
Sunday 9/10 8pm Double eviction fallout, 2nd HOH comp, nominations
Wednesday 9/13 8pm Veto comp, veto meeting and taped eviction?
Thursday 9/14 9pm Live eviction, begin Part 1 final HOH
Friday 9/15 8pm Final Three guided memories and clips
Wednesday 9/20 8pm Two-hour finale: Parts 1, 2, 3 final HOH, winner vote, confetti

CBS schedule is Sundays 8pm, Wednesdays 8pm, live eviction Thursdays 9pm, on CBS (Global in Canada). Stream links to watch live online are posted in Quick Links & Bookmarks on the left sidebar. After Dark is every night on Pop (Slice in Canada) - times vary by area and provider.

After Dark is every night on Pop (Slice in Canada) - times vary by area and provider


Other News and Weekly Stats
Tree of Temptation the LED apple tree apples lit up red before noms, for three weeks. The first to request it in Diary got to pick one, and receive one of the five rewards/punishments listed on the tree. It's now over, with no apples picked in the second or third weeks.

Many thanks to those who have gotten feeds with my links or at Hamsterwatch Forum where @UGotBronx updates her brains out, and/or used my shopped Amazon with my portal, and/or made donations! I caught up on my donation acknowledgement emails but many were bounced as spam - talk about a sad comment on the state of the world! I hope donators see this and know how grateful I am!

Australian Survivor new season is underway. Watch outside Australia with HMA on Australia's TEN Network site.

Real-time feeds updates and air show recaps are at Hamsterwatch Forum by @UGotBronx, plus cast bios/photos/links, and fun extras

Diary segment tallies by @clamperls: Through ninth week

Alliance charts by @89razorskate20: Day 61

Ratings Watch Thursday 8/31 eviction show won the hour with 1.9 rating, 8 share, 6.97 million viewers, ahead of Love Connection on FOX with 1.3/5/4.69, The Wall rerun on NBC with 1.1/5/4.91, and Battle of the Network Stars rerun on ABC with 0.8/3/3.31.

Sunday's show won the hour with 1.6 rating, 7 share, 5.60 million viewers, ahead of college football on ABC and FOX with 1.2/6/4.44 and 0.7/3/2.88 respectively, and America's Got Talent rerun on NBC with 0.4/2/2.20.

Wednesday's show placed second with 1.8 rating, 7 share, 6.32 million viewers, behind America's Got Talent on NBC with 2.1/8/11.68, and ahead of Masterchef on FOX with 1.2/5/3.80, and The Goldbergs and Speechless reruns on ABC with 0.7/3/3.04 and 0.6/3/2.33 respectively.
Rating & share: adults 18-49 - Rating: % of all TV households - Share: % of households watching TV



Week 10 - Days 72 thru 79 - August 31 thru September 7, 2017
Daily and Noteworthy Events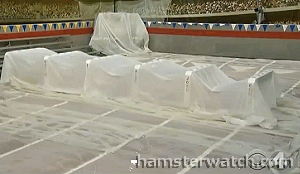 Evicted: Matt 6-0
Head of Household: Christmas
Original noms: Alex, Jason
Veto winner/outcome: Paul/used on Alex
Final noms: Jason, Kevin
Evicted: Jason 3-2

Tree of Temptation Apple #3: Nobody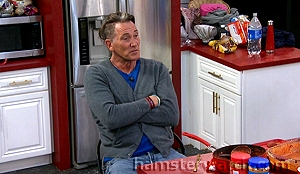 Day 72 Thursday 8/31 Even though the slime campaign against him wouldn't ease up, Kevin somehow winning HOH remained our only hope for a shot at game-change potential this week. We'll see what happens tonight. They cleaned out the fridge and assigned some kitchen rules - yes, on Day 72 - and Paul reiterated his drop orders for HOH comp and his instructions to Matt for what to tell jurors, before they went off to do their primping for Julie and her audience. As always on a Thursday, I'll update Power Status above as things happen, and catch up the rest of the page later.

Meanwhile, get caught up with habitat events with my recaps for last week and/or Hamsterwatch Forum for detailed convos and many, many screencaps. Many thanks for visiting the site and using my Amazon portal to shop while feeds are down, or anytime!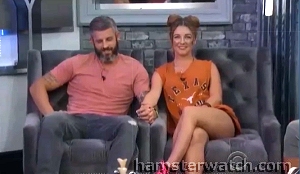 Julie appeared with giant furry wrist-bells to introduce the week's fights, and Matt and Raven probably came across like a happy, wholesome couple to the uninitiated. She wore his Precious so we aren't yet finished seeing it, but we did get rid of Matt on a unanimous vote, including his penalty for breaking Have-not. The HOH comp was rained out for the first time ever. The apparatus was shown covered in tarps, looking like the reaction time/sprint comp we've seen once or twice before. Julie told us finale is September 20 (which observant Hamsterwatchers have known all along), and next week will be another double eviction.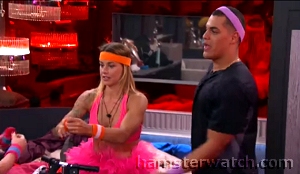 Feeds came back around 8.30pm to Christmas as the new Head of Household. It was indeed the Ready Set Whoa reaction time/sprint, and it sounded like they all jumped the gun and forfeited to her. Raven stuck close to her and they exchanged wrist bands and kisses, as did Josh. Paul made his rounds which included telling Kevin not to freak out this week and to "say nothing to no one," hugging Raven and telling her she's good this week, retells to Christmas of threatening Kevin he'd go on the block if he didn't drop out of the comp, telling Alex he was afraid Christmas will put him up OR try to backdoor him, and giving Christmas the okay to let Raven know she's in the foursome with Paul, Christmas, Josh. Christmas misunderstood at first and asked if she can tell Raven about their threesome? Paul said nope!

Kevin asked Christmas if she'll put him up and she said "I promise you, just trust me, okay? Act angry and paranoid" to which he replied "I got your word, thank you." Christmas was planning to put up Alex and Jason, but if Kevin should go up as renom, I predict this convo will come back to haunt. We also had yet another bit of the First Week Puzzle filled in when Paul reminded Kevin he'd given him his word at the beginning, and Kevin reminded Paul he'd given his to Kevin then too.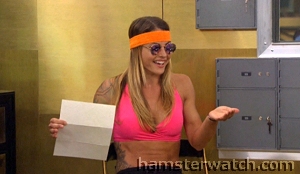 HOH room didn't happen til 1.45am and most of them had grown very tired waiting as both Alex and Christmas had very, very lengthy Diary sessions. Kevin told some stories which was reminiscent of the early season, but times have changed and they'll probably all bitch about it all week. Christmas's letter was from her friend Lindsay with pics of her and her little boy, a dream catcher necklace, shorts, sunglasses, the usual junk food including many Oreo varieties, and her music was Malibu by Anderson Paak.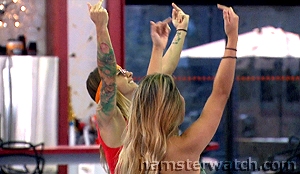 Day 73 Friday 9/1 The magical apple tree lit up for its third and final time, and nobody paid any attention other than to mock the evil laughter of the accompanying announcement. A little while before the tree activated, Alex and Christmas flipped it off like Raven did last week. Alex told Christmas if Kevin decided to pick an apple it was okay with her, and it could mean cash for Christmas if he got the bounty apple. But nobody went for one again, and this twist remained a fizzle.

Paul joined Christmas and Raven in HOH to dramatically discuss noms strategy, again, and it continued to boggle the minds of everyone watching how none of them notice his changes in tone when pushing his agendas and wishes, or recognizes his "don't worry if you see me being nice to so-and-so" spiels for what they are: a con game that's conned them all. Afterwards Paul told Alex he still didn't know who Christmas was going to put up, and that he was afraid it'd be him.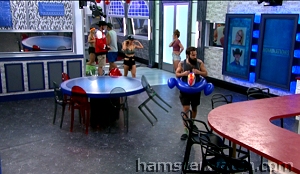 But no, Christmas nominated Alex and Jason as planned. Apparently Jason feigned a faint when he was named, maybe as a joke response to Christmas's "strong male competitor" reason, and Josh started right in telling Alex and Christmas that Kevin had laughed about Alex's nom. Neither nominee exploded as both believed Kevin's the target, or Paul, and Paul ran immediate damage control to further reinforce those misconceptions. Jason wondered to Paul and Josh why Christmas was "dicking around" after he threw the comp to her and they told him Kevin's the target, and Alex also told him she thought that. But a bit later Jason pretty much figured out (correctly) that it was all lip service by Paul, Christmas, Josh, so their damage control loops ramped up accordingly.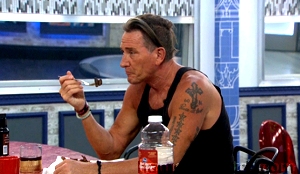 Eventually midnight rolled around and Kevin finally got to eat again. He and Jason made eggs and cut up some leftover steak the others had earlier. Kevin took a bite a minute or so early and got "Stop that" even though one of their appliance clocks said 12:00. Never mind The Powers That Be saw Josh sneak countless snacks without a word during his HN weeks, and they gave up on Matt when they should have run announcements for every bite. Worse, when all their clocks struck 12 and Kevin got a few bites in, all four feeds went to Paul, Alex, Christmas, Josh over the chess table.

Watching Have-nots enjoy their food at last is one of our small pleasures - well, mine anyway - especially in a situation like this where a mostly likable hamster's not only been starved but has been ostracized and trashed behind his back all week long, but bon appétit Kevin! I was going to say we just can't have nice things this season, but then Kevin went back home to his green room bed, and we had a few moments of the silliness in there that was so fun and funny in the early weeks.

GET THE FEEDS and catch up details you missed at Hamsterwatch Forum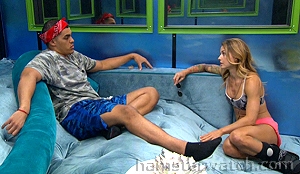 Day 74 Saturday 9/2 Veto players were drawn: everyone will play except Josh. Earlier, Jason fluctuated between thoughts of using veto on himself or Alex should he win, and Kevin told him he was the target and one of them will go regardless (true as of now), directly contradicting all house "open" talk that Kevin's the target.

After the player draw, Josh had a lengthy talk with Christmas, telling her he was tired of Paul "working every single corner" to benefit himself. Christmas argued he'd been doing it for their "team" but Josh pointed out things like Paul wanting a split Alex/Jason vote with Christmas as tiebreaker would only pit Alex against Josh and Christmas, while pulling her closer to Paul; and that either way would benefit Paul rather than themselves for Alex and Jason's jury votes.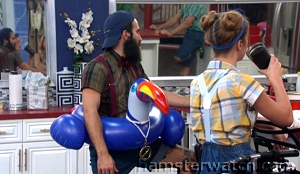 Feeds were down three hours for veto comp (the comp itself took two hours) and when they came back, Paul had won the veto: he hung it on his floatie and wore both. Their outfits were shorts with plaid shirts, suspenders and bow ties - I don't know if it was meant to be a hayseed or a nerd theme. The comp was questions about pattern sequences combined with fluffy face hits and mechanical butt kicks for wrong answers. Update: the face hits and butt kicks were the pattern sequences the questions were based on. There was some talk about being able to see each other's answers, so cue a new scandal.

Comedian Bobby Moynihan hosted, a cross-promo for his new upcoming show "Me, Myself and I" but he is a legit BB fan and viewer, and a Hamsterwatcher, so that's pretty cool. They saw a clip from his new show and also met his wife Brynn and her sister Gracie.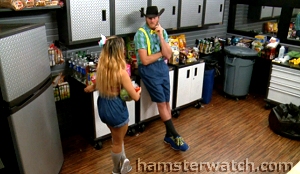 Jason was visibly shaken, and asked Alex if he should talk to Paul or what, and that being on the block with so few votes was a lot scarier than it was a couple weeks ago. Alex told him they need to continue trusting Paul and that's why she threw it to him in the final round, to ensure Kevin would go up and out. Either way, Paul's going to have to do some fancy dancing now to keep all his ducks in happy rows. Meanwhile Raven had a little cry to Christmas about not winning any comps. Christmas told her "it's a team sport" and added that Raven should update her HOH list to request some waterproof mascara.

That dancing began a bit when Paul told Alex, with Josh and Raven present, that Kevin was making annoying "don't use it" noises. Alex told Paul they should leave Jason on the block and he wouldn't vote for her in the end anyway. Paul questioned that, but said they'll talk about it and "either one of you, choose" and Alex responded "pull me off, Jason understands."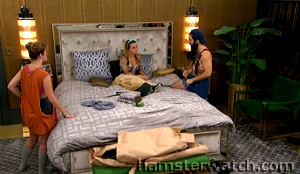 Paul, Christmas, Josh had a quick celebration in HOH with Paul saying how well they'd controlled the week and all they have to do is continue that to the end. Raven, still wearing The Precious, crashed to shower and they started debating whether to boot Alex or Jason. Christmas said if they don't use the veto they can decide later, but Paul said then he'd be in trouble. Christmas put Raven on the spot to ask what she'd do, and she replied "it's a tossup.. that's so fucking hard." Paul and Christmas continued weighing their options as Raven showered, and when she left Christmas had a minor explosion about her and her uselessness, which Paul encouraged, and he did some faux punches to his face and gun to his head.

Paul said if he pulls off Alex, Kevin's going to be on to them. Christmas said she can handle Kevin, but not until Jason's gone. Paul continued his act of hating Kevin to Christmas, and encouraging same, saying he doesn't talk to Kevin at all (he does). I don't think they'll formally cement the decision anytime soon, but I think they'll go with the original plan of saving Alex, putting up Kevin for show, and voting out Jason. We'll see.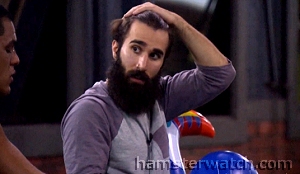 Paul, Jason, Alex had a late night Raven Exposed Party, trying to remember all the various ailments she'd come up with all summer: inverted spine, rough kneecaps, deteriorating nerves, and all the rest of it. Alex and Christmas had discussed it before, but Jason had a particularly good time, saying he'd been holding all that in for three months.

Later, Paul laughed to Josh about Alex claiming she threw the comp to him after eight tie rounds, but Josh got his attention when he said she doesn't trust Paul, and neither does Jason. That brings us back to where this day's episode began and the thought that maybe Josh is ready to play Big Brother? Or that any of them would try to play for themselves rather than for Paul? Nah, probably not. Paul reminded Josh that they shook hands on Day 1.. the list of Paul's Day 1 deals grows daily.

GET THE FEEDS and catch up details you missed at Hamsterwatch Forum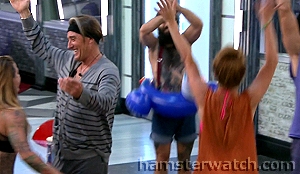 Day 75 Sunday 9/3 They lined up at the slop bucket to get the bad news but instead found out that Have-nots are over for the season, causing a lot of whooping, hollering, and jumping around, with Raven whooping, hollering, and jumping as much as those who'd actually endured it, and Paul chucked their overflowing slop bucket model into the trash. So that's one happy milestone for them and for us, and with it my usual (and likely futile) hope that they'll overhaul that system somehow going forward.

I'm out for a few days, so GET THE FEEDS to watch them yourself, and/or catch up what you missed at Hamsterwatch Forum.



Day 78 Wednesday 9/6 On Monday Day 76 Paul used his veto on Alex, and Christmas put up Kevin in her place, as planned, with Jason still the target. Kevin as renom was to rattle him as well as to throw Jason and Alex off the scent of the imminent demise of their duo. Josh's mini mutiny against Paul continued ineffectively, and he made plans to warn Jason he's a goner just before the eviction.

More importantly, the grill made its triumphant return with a two-pointer BBQ Smackdown season debut. It arrived for a Labor Day event that included burgers, hot dogs, steaks, corn on the cob and beer, along with croquet, badminton, hula hoops, and cornhole.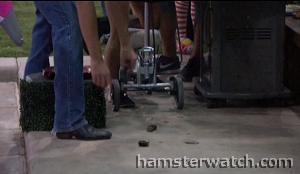 Jason was able to light the metal monster without incident and Raven tried to horn in on the action, but Christmas dove in as grillmaster, being the self-proclaimed Expert she is about most anything except Big Brother. But the grill wasn't about to let her have her way: first it spit some hot dogs right back at her, and later it had some massive flare-ups over steaks that threatened to singe off all the beards, dark roots, and stunt hair for miles around.

Final score: BBQ 2 - Christmas 0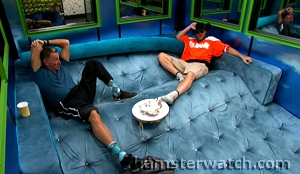 Most of the day was spent laying around, killing time, rehashing, and one-upping. Jason and Kevin had a final chat in the lounge, Kevin trying to figure out how to get all his shoutouts into his nominee speech and asking what happens after eviction, and both of them still thinking Kevin would be the one to go. There was a lot of talk from Christmas about having an eviction skit for her scooter but it didn't happen.

For all their speculation about double evictions in weeks they didn't happen, there wasn't much talk about it today, so it might come as an actual surprise when Julie greets them to drop that bomb tomorrow.

GET THE FEEDS to watch them yourself, and/or catch up what you missed at Hamsterwatch Forum



Ratings - No Bite and the Seven Dweebs edition
Ratings are based on - I don't even know, there isn't much to work with




No Bite because two out of three shots at the apple tree temptations were ignored, making that twist an extra-floppy flop. The LED tree is beautiful but rarely seen even on feeds, and the idea could be good in theory, but the temptations weren't very tempting especially at this late stage of the game.





Won: 1st eviction safety; 1 week camping cookout; Outback dinner
HOH 2 - Veto 1 - Noms 3
VTE Matt

Bitchy because obvious reasons. She started out mostly fun, not taking any of it too seriously, especially the late night shenanigans with Jason and Kevin. But when she turns on her target(s), she says some of the most vile and completely unnecessary things, especially about Kevin, that we've ever heard on feeds. It's all made exponentially worse because it isn't even her fight: it's all grown from Paul's hate-seeds (even as Paul keeps promising the world to Kevin), and she doesn't even realize it.





Won: Temptation #2 play in any veto comp; 48 hours attached to Paul; Outback dinner
HOH 2 - Veto 0 - Noms 2
VTE Matt

HEAD OF HOUSEHOLD
Scooter because it's possibly the best thing she's brought beyond her pre-season resumé. When she scoots and scuds around the place, it makes for a silly and carefree image that's entirely out of place in that den of vipers. Ironically, she didn't even need it to win a sprinting comp.





Won: 1st eviction safety; 1 week frog; 1 week extreme-o-tard; Outback dinner
HOH 2 - Veto 3 - Noms 4
No vote (HOH)

NOMINATED
Cringey because while he can tell a story better than most by far, they nearly always go somewhere cringe-worthy or worse, something I've been saying about him since my first ratings. When he crossed the Great Divide between our insulated BB world and everyone else, he probably shot any chance he may have had for AFP, which he'd arguably been a contender for before.





Won: 1st & 2nd eviction safety
HOH 1 - Veto 0 - Noms 2
VTE Matt

Slappy partly because it's the kind of nickname an old-time slapstick comic might have gone by and that image suits him, and partly because half the fanbase and most of the habitat often wants to slap him. It also fits since Paul gives him about 2,000 verbal slap-downs a day, supposedly to cover up their alliance (and subliminally to remind everyone else they once hated Josh with a fiery passion), but a little of that goes a very, very long way when you're the one in Josh's position.





Won: $25,027; 1st eviction safety; couldn't be 1st HOH
HOH 0 - Veto 0 - Noms 1
VTE Matt

NOMINATED
Joe Shit the Rag Bag because it's my favorite Kevinism among so very many, because he's used it for himself more than once, and because he's so far set apart from this crowd like Doc of the dwarves was. Urban Dictionary has a definition for Joe Shit the rag man which is close enough: 'Term used during the 1960s and early 70s used by somebody either forgotten or intentionally not invited to some kind of function, the last to know about something, or whose opinion wasn't either wanted or solicited' and if that doesn't fit Kevin's situation in there, I don't know what does.





Won: 1st week safety; Temptation #1 safety next 3 evictions; Week 8 safety via Mark's Apple #1; 48 hours attached to Christmas; Me Myself & I visit
HOH 2 - Veto 3 - Noms 0
VTE Matt

WON VETO/USED ON ALEX
Bossy for very obvious reasons.





Won: 1st eviction safety; Have-not pass
HOH 0 - Veto 0 - Noms 2
No vote (nominee)

Sicky for semi-obvious reasons. Watching her you wouldn't guess anything was [physically] wrong, but listening to her is a whole nother sordid story.





Won: 1st eviction safety; Outback dinner
HOH 0 - Veto 0 - Noms 4
EVICTED 6-0 incl 1 penalty vote

We've had some useless hamsters before but nothing like this guy. He spent 72 days cackling at Raven, wrestling with Raven, pouring liquids on and throwing food at Raven, making out with Raven, getting busy undercovers with Raven, encouraging Raven's everlasting screeching, and stuffing his face, usually with cereal. He didn't play the game, he barely played the comps, he ignored his Have-not rules, and he rarely talked to anyone except Raven and occasionally Paul, in whose pocket he lived for his last couple weeks. He wore an orange rag nearly every day that wasn't much more than a ratty cloth necklace, he folded everyone's bath towels on the kitchen floor, displayed his blackened socks on the kitchen counter, and he cleaned the kitchen and dishes with a towel he'd wiped sex off himself with. I used the same pic for him here for seven weeks and nobody noticed - 'nuff said. Good bye and good riddance.





Won: 1st eviction safety; Weeks 5 & 7 safety; Colorado trip; Outback dinner; Temptation Apple #1 Save a Friend (used on Paul)
HOH 0 - Veto 2 - Noms 3

He often had a stunned expression and he cried more on feeds and in Diary than we've seen in a long time. He said coming in that girls are his weakness and that was doubly true with Elena. His moods were largely dictated by whether she was giving him the time of day or not, but by the end, her fluctuations had him flummoxed. Along the way, Dominique and Christmas battled for his BB soul, and he was besties and mortal enemies with Josh - their pickle juice fight will live forever. Gamewise he was in over his head, bouncing between sides, but he couldn't keep his mouth or his movements covert. Advantages came his way but he didn't leverage them well, and in the end he gave his safety apple to Paul and he didn't even try for the Have-not escape his last week, even though he knew he was going. He seems like a nice guy, too nice for this dirty game.





Won: $5,000; 1st eviction safety; Outback dinner
HOH 0 - Veto 0 - Noms 3

She introduced herself as 'abrasive' but that wasn't really the case as much as randy, frisky, and often vulgar, tying Jessica in the Things We Haven't Often Seen From Female Hamsters category. It seemed like she went for shock value but it didn't shock them or us, especially after the first couple days. She paired up with Mark who fell head-over-heels, and their break up/make up cycles became a predictable and painful regular occurrence. She had a good social game for awhile, straddling both sides of the house well, but when the numbers thinned so did her good standing, and she went out because she took $5k cash and left Alex to make hot dogs. She wore a lot of makeup but was a good sport about letting Paul do hers, she talked a lot, she flirted a lot, she flashed a lot, and in a 'no naps' season she had an epic pass-out one day, complete with faceplant and drip-drip-dripping juice straw.





Won: 1st eviction safety; Week 6 safety; 1 week frog; Revival
HOH 1 - Veto 0 - Noms 3

He came in complaining of 'victim noises' and proceeded to have a raging case of HOH-itis combined with extreme narcissism. He set his targets on Paul and when that backfired, he isolated himself with Jessica first in HOH and then in Have-not. He'd already put himself on slop as HOH, so the frog suits weren't even necessary but they did add a comical touch. He said things he shouldn't have about a pleasure trip to Ferguson MO and transgender people, but it's a safe bet he won't care about the flak or apologize for his comments. His social game improved for a minute when he was revived (thanks to Julie pointing out its absence) but that didn't last long, and he went back to isolation first with Jessica, and then on his own. He couldn't get out fast enough the second time, taking a direct route over the coffee table.





Won: 1st eviction safety; 1 week frog; Temptation #3 halt one of four evictions
HOH 1 - Veto 1 - Noms 3

She was problematic in a number of ways but aren't they all? She was fingered by TMZ for butt-poking but only because Paul riled them all up about her, when he and Matt also did their share of poking. Jessica brought crude talk to levels we've rarely heard from female hamsters, though Elena gave her a run for that money. Her hair made her a #Deathrace2017 star due to lack of weave maintenance, visible tracks, and patchy bits. She isolated herself with Cody for most of her time there, putting themselves on the Extracurricular Tally, but she landed solo spots too for fights with Cody as well as Christmas, Josh, Raven, and the entire house on that memorable afternoon. She did pretty well comp-wise, and she did her frog week without much complaint.





Won: 1st eviction safety; Mandatory nominee once
HOH 0 - Veto 0 - Noms 2

I always have a soft spot if they mention me and he did in a pre-season QA with KFROG - thanks! He was a pleasant guy who came in with the 'superfan' tag, and while he was a relative newcomer to it all, he does have a separate BB Twitter and he follows many in our dysfunctional community. But that wasn't enough and he made dual mistakes of aligning with only Jillian and not staying on top of things. He became the scapegoat for hinky votes, first night $25k, and he was threatened and berated for not throwing a veto comp hard enough when he was on the block. Being there in the first place was an unlucky temptation consequence. So the stars just didn't align for Ramses but he was fun and likable and will be missed.





Won: 1st eviction safety
HOH 0 - Veto 0 - Noms 1

She seemed promising, brainier than most hamsters by far, and she started out well. She earned Mark's devotion over fake chess games and heart-to-hearts, but Christmas and Elena also tugged at him from different directions, and Dominique never got as tight a hold on Josh. Kevin let her host the talk shows, but she was too slick and professional with them, and kind of a drip. That backfired when she put Ramses and then Cody on the spot, and she confessed her job lie to several too early. She brought in more religion than most, and she 'marooned' herself in the lounge, doing a solo telethon for days. She caught on to Paul and told everyone he was a snake, and he made sure she went out the door as a result.





Won: Nothing
HOH 0 - Veto 0 - Noms 2

She gave us a good shockface when Julie spoke her fate, but she hadn't done much to prevent it. She wasn't there long enough to do a lot, but she didn't really do much that was memorable except repeat convos (at lightspeed), plan future shows to be on, and be on the block. Virtually everyone else campaigned their brains out around her while she was at summer camp, so it's no surprise she didn't know who did and didn't vote for her. She wasn't cut out for this game and she also attracted some political attention that nobody needs. Many use BB to escape from that kind of thing for a little while.





Won: 1st eviction safety
HOH 0 - Veto 0 - Noms 1

Like Cameron, there isn't much to say since she left before feeds began. A lot of drama was stirred up by, around, and/or because of her, including a Josh rant we saw on the premiere sans context, and an alleged sabotage lie about a comment Jessica allegedly made about Alex. When Megan got home, she released a statement saying she left because of PTSD from a prior assault. You'd think those things would be discovered and addressed during the lengthy audition process, but who knows? We may never know the entire true story as we'll only have hearsay and edits to go by, but I wish her well.





Won: Nothing
HOH 0 - Veto 0 - Noms 1

What is there to say when they're gone before feeds start, other than it stinks? They were probably wise to get him out because he's a big fan who knows the show, and he's brainy to boot. At least he had not one but two comp-shots to save himself, even though he opted for a third comp to evict rather than the vote that got him the non-coveted first boot spot. He seemed likable enough and he tried some twerkish moves to save himself but alas, it wasn't enough. He dropped a hamster line in Diary which was fun, but anyone going before feeds still stinks.






Lines and Links of the Day

Tally Items
Extracurricular Tally

Fights: 29
6/29 Premiere #2: Josh vs Megan
7/6 live show: Jessica vs Christmas
7/6 HOH comp: Josh vs Cody (not on feeds or show)
7/6 10.10pm: Jessica vs Josh, plus Cody
7/17 3.30pm: Three parter: Josh vs Mark, plus Josh vs Jessica, plus Dominique vs Christmas
7/28 7.24pm: Three parter: Cody vs Paul, plus Cody vs Jessica, plus Mark vs Josh
7/30 12.25pm: Cody vs Jessica
7/31 12.47pm: Jessica vs Raven
7/31 5.04pm: Four parter (at least): Jessica vs Alex, Jessica vs Paul, Jessica vs Raven, Mark vs Alex
8/8 1.14pm & 2.23pm: Two parter: Cody & Jessica vs Josh
8/11 5.03pm Christmas vs Mark, plus Josh
8/14 5.54pm Christmas vs Mark, plus Josh, Alex
8/14 11.36pm Josh vs Mark
8/15 1.49pm Three parter: Cody vs Alex with Jason, Christmas, Elena vs Josh, Alex vs Elena
8/27 8.49pm Matt vs Raven food fight
8/28 12.00pm Raven, Matt vs Jason
8/28 2.16pm Three parter: Christmas vs Kevin, Josh vs Kevin (plus Raven, Alex vs Kevin not on feeds)

Alex camp setups and hot dog service rounds: 14

Revivals: 1
Cody

House meetings: 4
7/15 5.46am
7/17 4.21pm
7/30 2.50pm
7/31 4.52pm

Scandals beyond BB world: 4
Paul's snake outfit and face mask plans
Cody's military service questioned
Jessica's 'butt-poking'
Jason's rapey 'joke'

Pinkyswears: 3
Raven and Paul on premiere
Raven and Matt 7/11 7.56pm
Kevin and Jessica 8/10 2.33pm

Makeout pairings: 3
Cody/Jessica, Mark/Elena, Matt/Raven

Sex events: 17 (minimum)
7/2 3.12am Cody, Jessica
7/6 3.25am Mark, Elena
7/11 2.44pm Mark, Elena
7/26 1.00am Raven, Matt
7/30 3:29pm Cody, Jessica
8/2 1.32am Raven, Matt
8/3 1.31am Raven, Matt
8/4 1.19am Raven, Matt
8/5 11.00pm Raven, Matt
8/9 12.00am Raven, Matt
8/10 12.45am Raven, Matt
8/10 1.40am Mark, Elena
8/17 12.47am Raven, Matt
8/22 11.31pm Raven, Matt
8/25 1.08am Raven, Matt
8/28 10.12pm Raven, Matt
8/30 10.39pm Raven, Matt

Injuries: 15
Mark's dislocated finger in 1st HOH comp
Christmas's broken foot
Raven's stair crash and foot stitches
Kevin's arm burn from curling iron
Paul's mysterious wrist ailment
Raven's alleged pan-to-the-wrist ailment
Paul's infected nose-ring, again
Raven's chair-banged finger
Raven's 'chipped' tooth
Raven's sore knee from skating comp
Raven's shower door-banged arm
Jason's groin pull from hide/seek veto
Paul's skinned ankle from hide/seek veto
Jason's cut finger from broken glass in the trash
Paul's bonked eye from weights pole

Better alternatives to Jeffish: 1
Kittycam, Puppycam, Bunnycam featuring Rancho Coastal Humane Society adoptables

Premature (pre-feeds) evictions: 2
Cameron, Megan

Pre-season makeover and photo replacement: 1
Megan

Epic Twitter battles: 2
6/19 Dr Will vs Meech, plus BB18 Natalie, BB14 Danielle, Russell Hantz
6/22 Evel Dick vs James Huling



CBS Goofs

1 Misspelled 'Hitmen'
2 Pop mixed up BB seasons with AD seasons
3 Mistook USA for 'the world'
4 To/too error
5 Too many seasons for Frank
6 Conflicting Christmas ages
7 Pop had a midnight/day problem
8 Misspelled Raven
9 Random things in bikini photos
10 'An New Season'
11 Photoshoot spoilers
12 Leaked two upcoming votes
13 This season is 92 days, not 99
14 Thumbnail on feeds slider shows BB18
15 Misspelled 'receive' on tickets site
16 Misspelled 'replacement' on YouTube
17 Control room monitors on 7/6 live show
18 Day count error on 7/9 show
19 Misspelled 'drinkware'
20 Misspelled Nicole's last name
21 Misspelled Josh's last name
22 Misspelled Ramses
23 Let Jessica into DR when Kevin was there
24 Feeds timestamp 3+ hours wrong
25 Counting error on 7/20 show
26 Listed five, called it six
27 Fishies in closing credits 8/3 show
28 Wrong day/date in highlights
29 Leaked Elena Diary snippet
30 Misspelled Big Brother
31 Only posted 2 (of 6) 1st half HOH blogs
32 Fishies in HOH comp 8/10 show
33 Feeds highlights have 8/15 under Cameron
34 Forgot to update feeds outage message
35 Hashtag syntax error
36 ET Canada called Matt Martin
37 Still perpetuating Goof #6 in September



Season Stats
HOHs in order: Cody; Paul; Alex; Jessica; Paul; Josh; Alex; Jason; Christmas; Jason; Christmas

Veto winners in order: Alex; Paul; Jason; Jessica; Paul; Mark; Matt; Mark; Jason; Jason; Paul

Evictions in order: Cameron 8-3-2; Megan (quit); Jillian 8-4;

Cody 7-3-0

; Dominique 10-0; Ramses 7-3; (none); Jessica 7-1-0; Cody 7-0-0; Elena 6-1; Mark 4-2; Matt 6-0

Pre-jury Twitters: @CameronHeard210; @MeganAnnBB19; @jilliannicoleww; @CDmAI; @TheBBHomie1; @thejessicagraf







Linking to any page here is fine. Please don't repost content from this site (or any other) without permission, and don't repost or hotlink images.



THE REAL SHOW IS THE FEEDS


NEXT-DAY AIR SHOWS
Live air shows in some areas
BB1 thru BB19 and many other CBS shows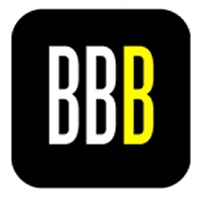 BIG BROTHER BUDDY
Get push notifications for all the big feeds events - iOS or Android


HAMSTERWATCH SWAG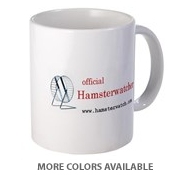 Mugs, shirts, more
Visit my Cafe Press shop






Big Brother 19 SEASON FAQ


Day 1 Move-in was June 21
Day 8 CBS premiere is June 28
Day 9 Feeds begin June 29
Day 92 Finale is September 20

Feeds are streamed by CBS, and Flashback is accessible via All Access subscription. Call 888-274-5343 for account help, including cancellation.

Air shows on CBS (Global in Canada) are Sundays 8pm, Wednesdays 8pm, eviction Thursdays 9pm.

Big Brother After Dark on Pop TV (Slice in Canada) is every night midnight to 3am, except Thursdays 1am to 3am. The aired blocks are live (or recorded earlier the same night, depending on your cable provider).

The CBS app (by CBS Interactive) plays BB air shows and other CBS shows, as well as feeds, or you can use your browser to watch feeds on mobile devices. The same All Access link used to subscribe will lead to the feeds viewing page if you're already signed up.

BB19 prizes are the same: $500k for the winner and $50k for 2nd place. Stipend for the others is $1,000 per week again, including pre-show hotel and jury sequester. Paul is probably getting more, and possibly Christmas as well.

The habitat has 87 HD cameras and over 100 microphones.

The recorded in-house announcements are the voice of producer Don Wollman. He and Julie Chen are the only staffers who have been there since Big Brother 1.