This site is about the Big Brother 19 feeds and contains spoilers! It isn't necessarily thorough: it's what I catch and/or what interests me. It's about watching hamsters: who's doing what and why. Thanks for encouraging my behavior.
Your pal, dingo




Protect your online privacy with HMA
Watch Big Brother UK, Celebrity BB, Australian Survivor, Survivor New Zealand, and other non-USA shows






BB19 DRINKING GAME


Take a swig whenever somebody brings up Jessica's butt-poking. Take two if it's out here, and take three if somebody else pokes.







VIEWER VOTES


Nothing currently







VIEWER VOTE WINNERS


#1 Pendant of Protection: Paul
Curse: Ramses self-nom

#2 Ring of Replacement: Christmas
Curse: Cody, Jason, Jessica frogs

#3 Halting Hex: Jessica
Curse: 3 weeks Temptation Comp








QUICK LINKS & BOOKMARKS



-Get the feeds
-Watch the feeds
-BB19 official site
-Live show tickets

-Feeds updates by @UGotBronx
-My Twitter - my screencaps
-Amazon portal USA or Canada

East coast air shows:
CanadaTV for Roku
$2/month - Global airs BB USA

East coast air show streams:
1 - 2 - 3 - 4 - 5
NO DOWNLOADS NEEDED - BEWARE OF CLICKING POPUP ADS OR WARNINGS

-Dick at Night with @EvelDick

-BB Viewer by @liquid8d
Requires All Access account

-Hamster Twitters
BB USA - BB Canada

-Advice for cast friends/family

-VPN to watch BB UK and/or to protect your online privacy




Donations via Paypal are gratefully accepted!

Click for weather forecast

Watch Big Brother
Seasons 1 thru 19
Plus tons more CBS content






BIG BROTHER SEASONS



CBS All Access
Seasons 1 thru 19

Amazon DVDs BB4 - BB3

Amazon Instant Video
BB19 - BB18 - BB17
- BB16
- BB15
- BB14
- BB13
- BB12
- BB11
- BB10
- BB9
- BB8
- BB7





BIG BROTHER 19 FEEDS EXCLUSIVELY ON CBS ALL ACCESS
All Big Brother USA seasons + most CBS shows past or present are included
$5.99 PER MONTH INCLUDING 1 WEEK FREE TRIAL or $9.99 AD FREE
COMPUTER - MOBILE - ROKU - CHROMECAST - APPLE TV - ANDROID TV - FIRE TV - XBOX 1/360 - PS4

>> >> >>

>> >> >> >> >> >>

>>

ANY AMAZON.COM PURCHASE CAN BE MADE THROUGH THESE LINKS - NO EXTRA COST TO YOU
Amazon USA
- Amazon Canada
August 10-17, 2017
Power Status
Jessica evicted 7-1-0

Alex is Head of Household
She nominated Elena, Jason
Matt was nominated via Temptation comp
Matt won veto, used on Jason

Cody, Elena, Matt are nominated
Kevin, Paul, Jason are Have-not (they can have Alex's hot dogs)

Jason is in extreme-o-tard for 1 week
Alex is a camper and has to pitch a tent & make hot dogs when a bugle sounds for 1 week
Mark has safety this week

Raven has a Have-not pass


Upcoming Events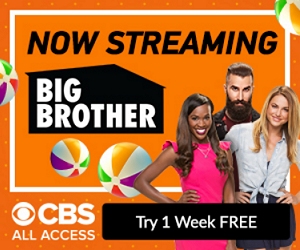 FEEDS ARE A FUN, HOT MESS and they are the real show - sign up now and get a one-week free trial

"Feeds will be down longer than usual later this week" - likely Thursday afternoon until after the Friday clip shows airs

Friday: Nominations
Saturday: Elena's birthday, veto comp


Next Shows
Thursday 8/17 9pm Eviction, HOH comp, noms, veto comp & meeting, 2nd eviction
Friday 8/18 8pm: "Special" show (season clips)
Sunday 8/20 8pm Double eviction fallout, 2nd HOH comp, nominations
Wednesday 8/23 8pm Veto comp, veto meeting

CBS schedule is Sundays 8pm, Wednesdays 8pm, live eviction Thursdays 9pm, on CBS (Global in Canada). Stream links to watch live online are posted in Quick Links & Bookmarks on the left sidebar. After Dark is every night on Pop (Slice in Canada) - times vary by area and provider.

After Dark is every night on Pop (Slice in Canada) - times vary by area and provider


Other News and Weekly Stats
One month free! Sign up for All Access with this link and use promo code BB19SALE before August 18 to get a full month free trial!

Congrats to @itsStaceyy and @okaybrett who won my respective Twitter drawings for "Ride the Rocket" and "Take It Off" record props from last year's OTEV comp! I'll probably do a couple more of these if/when the spelling comp comes along, so watch my Twitter

But first Many thanks to those who have gotten feeds with my links or at Hamsterwatch Forum where @UGotBronx updates her brains out, and/or used my shopped Amazon with my portal, and/or made donations!

Wake up Canada CBS announced last week they will be expanding All Access to other countries, beginning with Canada in early 2018.

Celebrity Big Brother UK started up again August 1 - watch live and archive shows with HMA on UK's Channel 5 site. They run nightly highlight shows, weekday talk shows, and occasional "live from the house" hours. The cast, in order of entry: Shaun Williamson, Sarah Harding, Sam Thompson, Derek Acorah, Marissa Jade, Sandi Bogle, Chad Johnson, Helen Lederer, Karthik Nagesan, Brandi Glanville, Jordan Davies, Trisha Paytas, Jemma Lucy, Amelia Lily, Paul Danan.

Australian Survivor has kicked off its new season. Watch outside Australia with HMA on Australia's TEN Network site.

Real-time feeds updates and air show recaps are at Hamsterwatch Forum by @UGotBronx, plus cast bios/photos/links, and fun extras

Diary segment tallies by @clamperls: Through sixth week

Alliance charts by @89razorskate20: Day 46

Ratings Watch Thursday 8/10 eviction show won the hour with 2.2 rating, 9 share, 7.30 million viewers, ahead of SNL Weekend Update premiere and Superstore rerun on NBC with 1.7/7/6.53 and 1.0/4/3.87 respectively, Story of Diana Part 2 on ABC with 1.0/4/5.98, and Love Connection on FOX with 1.0/4/3.52.

Sunday's show won the hour with 1.6 rating, 6 share, 5.37 million viewers, ahead of Celebrity Family Feud rerun on ABC with 0.9/4/4.61, American Ninja Warrior rerun on NBC with 0.6/3/2.58, and Teen Choice 2017 on FOX with 0.6/2/1.94.

Wednesday's show dropped to second with 1.9 rating, 8 share, 6.26 million viewers, behind America's Got Talent on NBC with 2.1/9/10.71, and ahead of CMA Fest on ABC with 1.2/5/5.71, and Masterchef on FOX with 0.9/4/3.05.
Rating and share: adults 18-49 - Rating: percent of all TV households - Share: percent of households watching TV



Week 7 - Days 51 thru 58 - August 10 thru 17, 2017
Daily and Noteworthy Events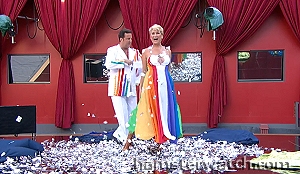 Evicted: Jessica 7-1-0
Head of Household: Alex
Have-nots: Jason, Kevin, Paul
Have-not Escape: Mark
Original noms: Elena, Jason
Temptation Comp nom: Matt
Temptation Comp safety: Mark
Veto winner/outcome: Matt/used on Jason/Cody renom
Final noms: Cody, Elena, Matt
Evicted: Cody 7-0-0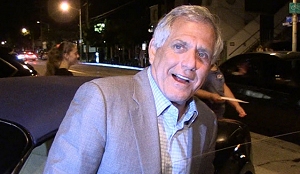 Day 51 Thursday 8/10 Thursdays mean Puppycam and Kittycam anipals, available for adoption from Rancho Coastal Humane Society (as are many more like them at your local shelter or rescue). The fact that they may occasionally sniff each others' rears is completely separate from, and coincidental to, the ButtpokeGate issues that TMZ is currently obsessing on and pestering Les Moonves about. I won't even go into how they're only focusing on one butt-poker and ignoring the others (yes, they have been told about the other ones), but I do laugh about the legacy this season will leave behind it.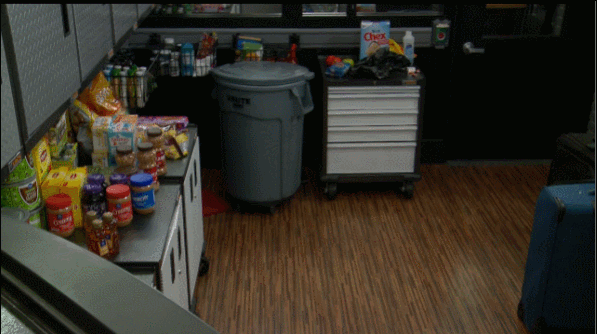 Primping, stunt hair prepping, trimming, packing, scaring, farewells, and the rest of the usual Thursday rituals took place before the show, plus a pinky swear, Alex scaring the crap out of Jason, and Elena finding out about some of Kevin and Jason's double-dipping. Meanwhile, get your rabies boosters! It's getting ugly out in these BB streets.

Jessica was evicted 7-1-0, the 1 being Cody for Raven, and Elena had zero votes. Cody carried Jessica to the door, and each professed their love for the other to Julie. Julie told the remainders they'd made jury and once they're gone, they're gone: there will be no jury Battle Back. She told us next Thursday is a double eviction, and Friday is a "bonus episode." She didn't give any hints what that's about - maybe a mid-season review and/or fluff event like last year's carnival with Ziggy Marley performing.


HOH comp was Hocus Focus, featuring David & Dania super-quick-change artists, and six true/false detail questions about two live performances by them. Outs in order were Mark, Kevin, Jason, Paul on question 2; Christmas on question 4; Cody, Elena, Matt on question 5; and Alex beat Raven on question 6 for her second HOH.

Raven told Kevin that Jason said Cody had asked him (Kevin) to vote to keep Jessica, and that on top of this morning's gaffe by Jason in front of Elena caused Kevin to run around doing damage control with all and sundry, repeating that Cody never asked him to keep Jessica (true - Kevin offered), and Kevin and Jason had many rushed meetings to get their stories straight. Alex said she'd probably put up Matt and Elena, with Cody as her backdoor target. Discussions whether to play and/or throw the Temptation comp and anti-Cody meetings took place all over town, with the usual rehashes and over-complicated plans.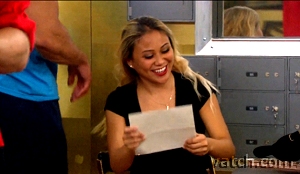 Alex got her HOH room 11.37pm, where she had a letter and pics from her ex boyfriend, Kendrick Lamar music, Coronas, a cheesecake, clothes, hair bows, Cokes, and the usual assortment of junk food. Cody joined the group for room debut and even interacted a bit.

If you missed it there's been a very lot going on in there, including quite a few Extracurricular Tally events. Catch up with my recaps for last week and/or Hamsterwatch Forum for detailed convos and many, many screencaps.

GET THE FEEDS and catch up convo details at Hamsterwatch Forum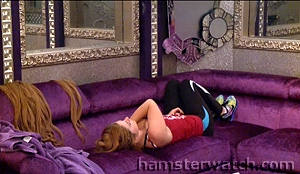 Day 52 Friday 8/11 Raven did some modifications and reinstallations of her stunt hair, though she kept most of it draped over the bathroom sofa today. She wasn't feeling well again, which reminds me to remind you to check out and keep up with @em__BB's Raven/Simpsons thread, easily one of the best things to come out of this season. I'm keeping it perma-linked in Links of the Day, far below.

ButtpokeGate remained in the non-BB "news" as TMZ finally expanded their coverage to finger some of the other poking culprits. Every BB season has something that becomes its enduring theme after the finale confetti and Twitter breakups, for good or bad, and it looks like this will be BB19's. Let us all snicker together.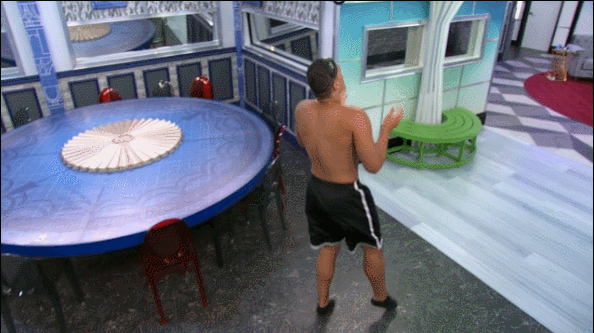 Josh was dancing at Cody and clowning for the camera when he hit the deck. Later he and Mark picked up their discussion from last night about who liked Elena first, leading to awkward all around for everyone but Elena. Later Josh told her he was going to stop crushing on her because he values his friendship with Mark too much. She said she likes Josh flirting with her, Mark asked Josh to just leave him out of it when he flirts with her, and on and on it goes.

Alex discovered some of her precious Coca-Cola was missing, and Jason told her Paul and Kevin had split it. Jason later told Paul he'd told her that.

They were trotted through the Den of Temptation/Paris room to drink their potions for the final Temptation comp, and they went off to play it around 12.30pm. I think everyone but Christmas and Alex opted to participate again. It'd be funny if they revived the Simon-type comp they did for a Roadkill, where they had to punch sound effects buttons in order. Their very careful memorization of the order of the week's random sounds could really mess them up if so.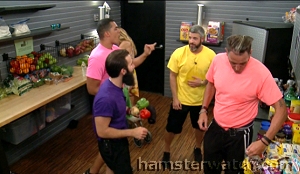 Well, it wasn't that: it was where were they when they heard various sound effects. Mark won and thus is safe this week (thru the first of Thursday's two evictions anyway), and Matt lost, automatically making him the third nominee. They each got a different color tee for the comp and Matt's was yellow, but it didn't take him long to change back into one of his trusty blues, so I'm posting here for proof. Feeds were down 2.5 hours and came back to Elena yelling at Mark for sneezing too close to her, and telling him he had to shower.

Mark winning safety thwarted the plan to nominate him and Elena, so rushed meetings ensued to figure out what to do. Jason volunteered to go up as pawn with Elena, and the typically over-complicated planning meetings moved on to veto picks and what to do with a Houseguest Choice draw, renom scenarios, and what to eat. Paul whispered to Alex that "Kevin's being fucking weird, you need to put his ass in check" and most of us on Team Fun Feeds screamed at our screens LEAVE KEVIN ALONE! Elena asked Cody if he's not nominated, and plays and wins veto, would he use it on her? Cody replied "absolutely, fuck yeah" and told her Paul, Alex, Jason, Kevin are all working together.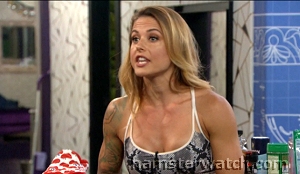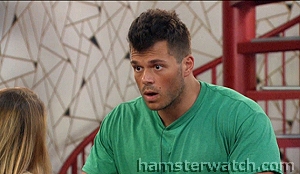 Everything was relatively calm before noms, until a Christmas and Mark discussion broke out that escalated to yet another entry on the fight tally. Most of it was back 'n forth about Mark having talked game with Cody or not, vote flipping before Cody's eviction, and rehashing past history including Dominique's pivotal talk show and all the way back to Week 1. Most of the rest of them wandered around making food and eating, like they do, and Cody listened in from his Have-not isolation chamber - Flashback 8/11 5.03pm. Josh inserted himself, like he does, and later Josh went to visit Cody to confirm if Mark had indeed been gametalking with him. Cody said he wasn't talking game anymore period, but Paul asked him to confirm if Mark had been in on the Week 1 plan to backdoor Paul. Cody said it came up once, then Cody pulled it back because Mark was put off by it, and that Mark has had Paul's back since, along with Elena's.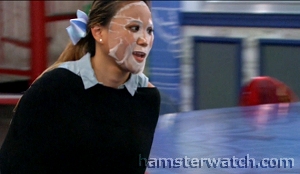 Alex nominated Elena and Jason, as planned (pawns to get Cody out via the backdoor). Christmas and Mark dissected and rehashed their fight for what felt like weeks, and they each retold and rehashed to others, who retold and rehashed it amongst themselves. Alex and Paul agreed they'd use veto on Jason if they win it, and Paul amped up his anti-Kevin campaign to Alex and then to Jason. Later Kevin was missing his family and Jason suggested he go into Diary and talk "to" them, and that he'd done that himself when he was missing his wife and son. I don't think Jason told Kevin about the bull's eye being gradually painted on him by Paul, but Kevin's highly perceptive and may have figured it out. He was visibly saddened, which is always hard to see for the ones who are usually there for all the others, and upbeat. Cody socialized for a bit, laughing even, and he cleaned the kitchen.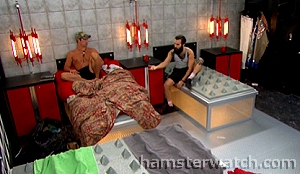 Paul took notice and he grilled Jason as to why Kevin was upset. Jason repeated that he was missing his family, with no mention of Paul's anti-Kevin crusade (that hadn't come up, though I suspect Paul was wondering if it had). Paul then talked to Kevin who reiterated he was missing his family, and Paul reiterated what he'd just discussed again in HOH: that he'd played this before, he never got a care package, he was nominated X times, and he lost by one vote. Kevin said he's fine and thanked Paul, and said his mom & dad raised a good kid. Kevin had also said "Cody's going to jury, he ain't gonna vote for you" at one point. Paul retold to Mark, who thanked Paul and said "it's awesome you help us like you do - you don't have to, it's commendable."

Paul then visited Cody's Have-not isolation chamber and told him he's played this before and everyone was against him, and Cody didn't have to stay in isolation. He said he believed Cody did have real feelings for Jessica, and said he's there to talk if Cody wants to, that he can "turn off" game to just hang. Cody said he appreciated that, but he stayed in his chamber while Paul immediately retold that convo to Christmas, then Alex, Josh, Kevin. Elena finally ended her two weeks of Have-not at midnight, and happily ate an egg with avocado on toast, ice cream, and various bits of leftovers.

There's a lot going on Catch up with my recaps for last week and/or Hamsterwatch Forum for detailed convos and many, many screencaps.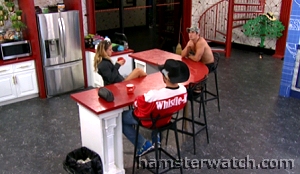 Day 53 Saturday 8/12 Christmas, Cody, Jason took advantage of morning quiet to have a long chat, including retells of her foot-breaking and some fence-mending with Cody. Alex and Paul reiterated and formalized their plan to dump Kevin and rotate Christmas into his spot in their hierarchy. Much of the day waiting around for veto comp was chit-chat, rerun loops, and subliminal agenda pushing, but not all.

Cody told Kevin he has a little girl - until then, only Jessica, Matt, Mark, Elena knew. Kevin then told Paul, who said if he'd known Cody was playing for his daughter, he would have had a different outlook.. okay. Josh also had a convo with Paul, who took it to Alex for fact-checking about how solid she is with Jason, because Josh said there was an early deal between Jason and Mark. Alex told him Jason's solid, that deal did happen early, as a Final Three with Josh, but wasn't anything now. Paul was concerned because Josh hadn't told him he'd been part of it.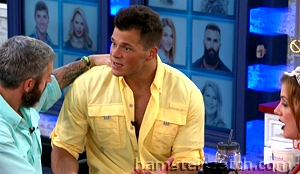 Feeds went to Kittycam and Puppycam around 2.25pm for veto comp, for about 2.5 hours again. Players were Alex, Elena, Matt, Jason plus Mark, Paul, and Josh hosted. It was the pass-the-prizes veto and Matt won the veto, plus Outback dinner for all the players. Other prizes/repercussions were as follows: Elena $5,000; Alex set up a campsite, cook hot dogs, and tear down campsite (in one hour?); Jason one week extreme-o-tard; Mark one week Colorado trip for two; Paul attached to Christmas for 48 hours. They got different colored shirts again, and Matt's was turquoise. Once again, he changed back to one of his standard blues right away.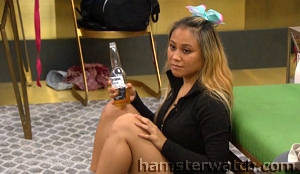 HOH group was angry at Elena for taking cash over the veto, and there was some talk about sending her to jury and saving Cody for later. But Matt said he'd use his veto on Jason rather than himself to get Cody gone. Alex said she'd asked Elena for her finals vote if she gets there, but that Elena wouldn't commit. Alex seemed to intend this in an Elena-can't-be-trusted way, but it got Paul's attention that one of his main minions was courting final votes. Alex opened her HOH beers and shared them around, and Raven said she chipped her tooth on her bottle. Later she dropped some HOH frozen food and hurt her hand. Cody joined the HOH group and was welcomed, and joined in the chit-chat.

Jason got his extreme-o-tard around 7.30pm: a clingy (hot) unitard with fringed sleeves, (heavy) helmet with giant red X and TREME down the chest. When BB announces his room movements and the like, he has to yell "I'M SO EXTREME" for one week. His X kept popping up into shots and hitting cameras. Paul and Christmas got their tandem skydiver outfits around 8.30pm, and they debuted it sharing her scooter. More helmets, bodysuits, and they were tethered together, only able to unhook to use the bathroom or Diary room. Between Jason's heavy helmet and two on a scooter, we'll be lucky to avoid more injuries this week.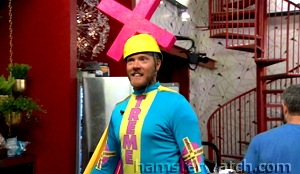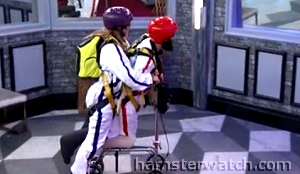 Alex got her camping gear around 9.30pm: she had a LOT of gear and she was not a happy camper. She carted everything out to the yard and set up her campsite and tent, no help allowed, griping all the time about Elena having lied about the two of them not passing "curses" in the comp to each other. Everyone went out to watch, support, and commiserate except Elena and Mark, who stayed in the kitchen. Alex has to carry everything around at all times for a week, and set up her camp, tent, and grill whenever a bugle sounds. She has to make a hot dog for everyone, if they want it or not, then restuff and repack everything. Her mini propane grill set off #BabyGrillSmackdown when its hot lid melted the fake grass. As soon as she finished packing up, the bugle sounded again and she had to do it all again. Elena joined the observers for part of the second round. It'll be a miracle if Alex and Elena don't fight before the week's out.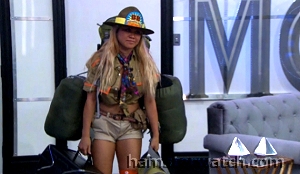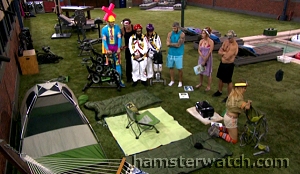 Cody, Jason, Alex bonded over politics and hunting for awhile. Cody asked Mark if the plan to backdoor him was still in place, since Elena ticked off the HOH so badly. Mark tried to act like he wasn't aware of the plan at first, then said he didn't know, and he complained about there being no food except hot dogs. Paul continued to push his backdoor Cody agenda, and Alex said she wouldn't make Elena a Have-not as she'd promised she wouldn't because her birthday is coming up.

There's a lot going on Catch up with my recaps for last week and/or Hamsterwatch Forum for detailed convos and many, many screencaps.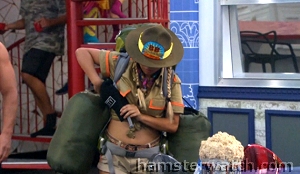 Day 54 Sunday 8/13 Alex got a bugle call a little after 4am, made her camp and hot dogs, and served them around to the sleepy hamsters. Cody, aware of the Alex/Elena tension, made a couple pitches to Alex to work with her. Alex reported that to Paul, then cursed out Elena alone in HOH saying she'll get her out before they're down to six. She had another bugle around 10.30am and used the indoor campground and electric grill, the yard being closed to set up for Outback dinner later, presumably.

They had their Have-not slop bucket ceremony, but before Alex read the card, she changed her camper hat to her PETTY hat to announce her "promises are worth more than any dollar amount" and she'd promised Elena she wouldn't make her Have-not for her birthday and she'll stick to that. Then she changed back to her camper hat and read the card, which said Have-nots were the first outs in Hocus Focus comp: Kevin, Mark, Paul, Jason. As a reminder, they'll be able to supplement their slop with Alex's hot dogs. Matt and Raven did one of their wrestling screech-a-thon sessions, and BB had to tell them several times to stop.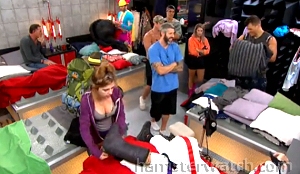 A crowd gathered in Have-not to watch Paul and Christmas figure out how they'd maneuver this, wondered whether they'd untether to sleep, and Paul said he'd go for the double-or-nothing. I think he was talked out of taking that risk because he'd get one Outback dinner plus hot dogs all week. Then they scattered to their salty corners, with Alex and Elena particularly salty about the other. Mark urged Elena to apologize to Alex but Elena declined and rationalized, and said maybe she'll "fuck things up" this week since Cody would be evicted regardless.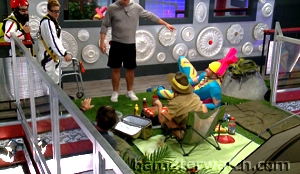 Alex got a bugle a little after 3pm and set up her tent, sleeping bags, and popup chair in the temporary green zone on the skydeck, since the backyard was closed. She has an electric grill to use up there, and she'd prepped peppers and guacamole to serve up custom dogs and fixings. Matt had made chicken parm in a tutu for a lost bet or dare with Raven, and a couple others declined their dogs as well, but Have-nots Kevin and Jason enjoyed doubles, along with Josh. Alex had everything set up, cooked, served, torn down, stuffed and cleaned in about 50 minutes - not bad!

Cody continued being a citizen, chatting here and there. Christmas and Paul got their tandem travel methods down pretty well, although Paul joined the salty crew because he doesn't like being a Have-not, mostly because of the sleeping situation (per him). Mark started up his anti-Paul loops and told Matt the couples should team up against the others. Matt and Raven became the new isolated duo, apparently by choice, and she said several times she'd gotten food poisoning at Outback some years ago and had to be hospitalized - oops, sponsor bashing doesn't usually go over well.


Cody made another pitch to Alex and Jason, asking if there's anyone else they can put up and why don't they go forward as a team. He said he understood they'd be sunk with the big group if they did, but that he's the only one willing to target Paul. He talked about how dumb Mark and Elena are, and Matt and Raven, how Matt wanted Cody to backdoor Alex in the first week, and Raven hiding Alex's cat ear and pouring out her soda.

Alex and Jason reported to Matt and to Josh, saying they'd stick to the plan to put up Cody tomorrow and get him out. Jason reported to Kevin, who told Jason that Cody has a little girl and his brother died in a motorcycle crash. Jason was irritated that he'd kept that secret, and both wondered if it was true. If so, they figured it meant they couldn't trust Cody to be honest with them and if not, it meant Cody made those things up for sympathy.

Alex, Christmas, Elena, Jason, Matt, Mark went to their backyard Outback dinner, Paul having given his spot to Christmas, and they came back a little over an hour later in time for After Dark. They ate a lot of food and had two beers each (although Christmas said she didn't have hers), so they were alternately laying around and giggly. The non-diners had trash-talked most of the time they were on their own, mostly about Cody.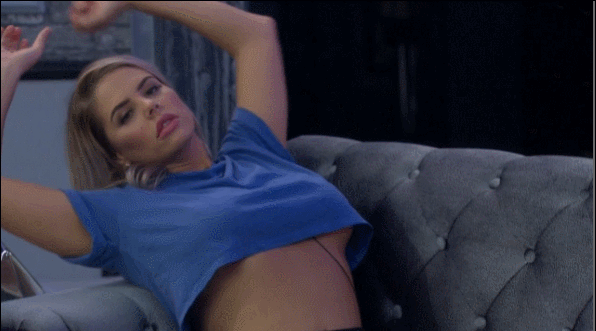 Josh and Jason were "horsing around" at the skydeck camping area and Josh's eye got poked, so he brandished ketchup and mustard at Jason who hollered he couldn't get any on his suit. Alex and Kevin broke that up. Mark was especially sippy, and sloppy, and he started up his "I want to tell you something but I don't think I should" loops to Elena again, and she responded like she does. After some making out, Mark requested the Have-not double-or-nothing key from Diary but hadn't gotten it yet (as of 1.15am).

Cody made yet another pitch to Alex and friends in HOH, and then Alex and friends retold it all to Paul, who said he was going to call out Cody. Of course they said not to (like he knew they would), and he set about vilifying Cody some more. Matt joined, and said none of it mattered unless Cody approached him, since he's the one with the veto.

There's still a very lot going on in there! GET THE FEEDS and catch up convos at Hamsterwatch Forum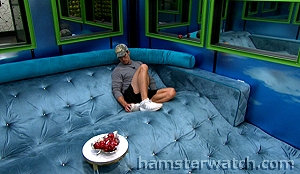 Day 55 Monday 8/14 Morning brought a flurry of activity, beginning with a bugle call for Alex around 7am followed by slews of gametalks. Paul wanted to get Josh to go after and rattle Mark, Josh wanted to rattle both Cody and Mark, anti-Raven agendas began in earnest with the HOH group, with an anti-Kevin crusade to follow. The HOH group shielded Alex so Cody couldn't get to her before the veto meeting, but he approached Elena to tell him he wanted Alex to put up Raven as renom, so Matt would go home. Jason told Matt & Raven he was listening to Cody's plans just to sweat Elena. Josh went a little nuts (or pretended to) by shouting at the pool swans.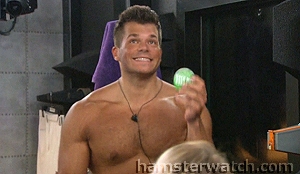 Matt used his veto on Jason and Alex put up Cody in his place, as planned. Paul and friends talked about Kevin acting upset, and Kevin became annoyed and told Mark he didn't like being accused of talking to and/or giving comfort to the enemy Cody. Jason told Paul that Kevin loves him, and Paul responded "I know he does, but I need to put his ass in fucking check."

Mark pulled his shorts down to tan his ass, causing talk inside and Elena had issues with it, telling Mark they're on TV and not at a nude beach. Elena also talked to Josh about being a "social media mogul." Mark finally got the double-or-nothing key and selected the right one this time, ending his Have-not. Paul and Christmas were relieved since Mark stole pillows to make up his bed last night (and because Mark is one of the current vilification targets, of course.)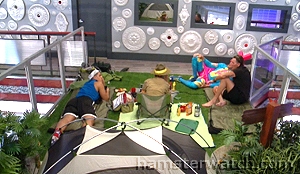 Word about Mark cozying up to Cody spread some more as planned, including to Elena, Matt and Raven, and those two heard about themselves being considered Paul's minions - naturally they scoffed. Paul continued bashing both Mark and Kevin to anyone who would listen and saying he'll call Kevin out, but later he told Kevin he knows he didn't do anything wrong but everyone else thinks that: Paul's game in a nutshell. He told Josh to ask Mark if he'll "miss his boyfriend" Cody, to set off Mark. It just gets uglier by the hour.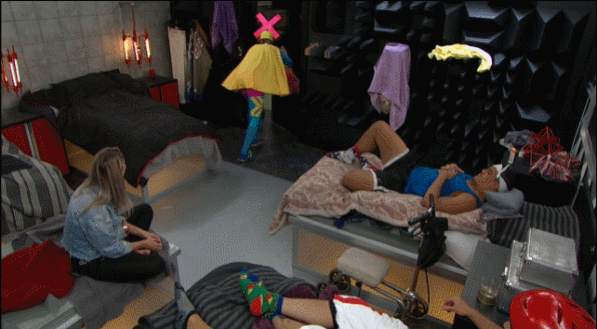 Jason kept being a pretty good sport about his extreme hollering, even though his hat and its weight annoyed him. Alex got another bugle call and efficiently set up another camp and cookout a little before 4pm. Have-nots were happy with their hot dogs.

Raven told another injury story, this one about a dance partner who dropped her on her chin, resulting in stitches, concussion, and blindness in one eye. Christmas went on a rant about catching Elena sneak-eating ice cream after she'd made a big show of not eating much Outback and skipping their dessert, and another about Elena having taken the closest, made-up Have-not bed weeks ago when she knew Christmas wanted it due to her cast and crutches. Matt cut up one of his blue shirts to make a new sideless one, maybe for those rare times the orange Precious is being washed.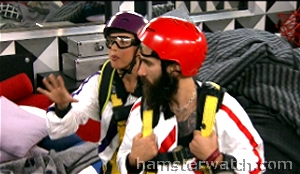 Mark getting off Have-not and Christmas being unshackled from Paul later meant new sleeping arrangements so Paul, Christmas, Alex, Josh (with Jason, Kevin present) planned a surprise attack on Mark when he went to retrieve his bedding from Have-not. Christmas laid into him about having taken her pillow last night. Mark was clearly stunned but he apologized, then Alex laid into him for having taking various other things in the past. Josh jumped in about where and who Mark would sleep with, while Matt and Raven eavesdropped and laughed - Flashback 8/14 5.54pm. Even though this was a staged fight, I think it qualifies for the tally. Reminder It's not about pillows and beds: it's about vilifying the next targets and knocking them off-balance.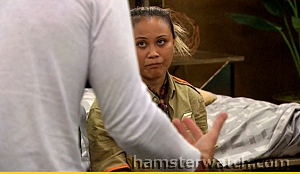 Cody visited with Alex and Jason in HOH, and Alex told him about Bedgate. Cody became animated talking about Mark being a problem back to Jillian's eviction, and Alex and Jason told him Raven's been saying that Cody hit on her. Cody vehemently denied that, surprising no one in there or out here. Josh was sent up to see what they were doing, and Cody left when he saw Paul and Christmas also approaching, telling them all to have fun planning his eviction. Paul got them all wound up again about Cody and about Kevin, and had them convinced the two of them had a Final Two deal going back to the start.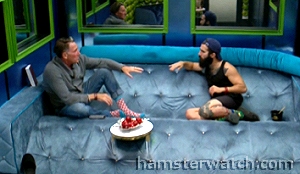 Paul and Christmas were untethered and unsuited around 9.30pm, an hour after their 48 were up. Christmas gave Elena a very long, very tight hug - quite a switch from her earlier anti-Elena rant. Paul and Alex had a check-in that included Paul telling her some of the jury might be a little salty this year (gee, ya think?)

After a day of Paul telling everyone he was going to "put Kevin in check," they finally met in the lounge where Paul asked him what he's doing, and that others were saying Kevin's being sketchy. Kevin said he was in the game, that Paul had even told him they don't need to talk every day or let them know how close they are, and they ended with a fist bump. Paul and Christmas finally got to make their individual rounds, and a pool tournament provided background activity.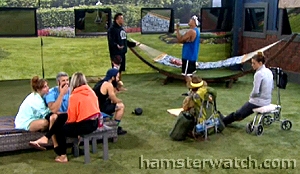 Later Josh and Mark rehashed their relationship problems AGAIN. Paul asked if he had to stay to hear it all (he stayed, quietly taking mental notes and gathering ammo, like he does). Josh then talked to Cody for awhile about Mark, and then Josh and Mark put themselves on the fights tally again with raised voices and an audience - Flashback 8/14 11.36pm. The fishies swam, and production had made them separate before they came to near-blows again. Alex's bugle blew at 12.12am for another cookout.

There's a lot going on in there! GET THE FEEDS and catch up convos at Hamsterwatch Forum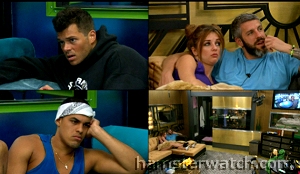 Day 56 Tuesday 8/15 Cody socialized in the backyard for morning workouts and pool, and the Snapchat goggles came out. Josh and Mark started up yet another round of Our Relationship talk, and then another fight kicked off. Like Willie vs Frank, this one started over cereal: Cody was eating Alex's Honey Nut Chex - Flashback 8/15 1.49pm. Everyone gathered except Mark and Josh, who joined in later, and Matt and Raven, who listened from the balcony and later the bathroom.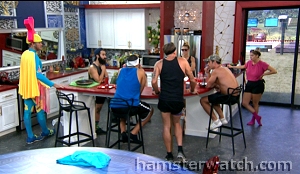 Jason jumped in on Alex's behalf, both of them saying they're the only ones who'd been nice to him. Cody said he didn't want to talk to anyone and didn't care if they all hate him, and Alex asked if he really has a daughter. Christmas jumped in, asking about Cody's early alliance with Mark, and going for her secret cereal stash under the sink (where a mouse or rat has been seen and heard recently), but she didn't have the right kind stashed. Kevin tried to be a peacemaker, suggesting Cody be human and interact with everyone. Cody said he just wanted to be alone, and Christmas said he shouldn't have come onto Big Brother. Cody told Alex he didn't mean to be a jerk, and Christmas jumped in again to say that wasn't an apology.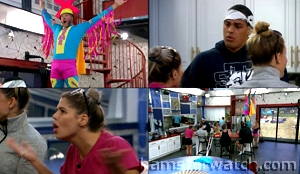 Cody left and Mark arrived, admitting to the group that yes he allied with Cody in the first week. Paul shoutsplained that proved what he'd been saying about Cody all along, going behind people's backs (basically describing his own game again, which most still fail to see). Elena and Josh then got into it, with Elena screaming that he wouldn't let her finish. In the middle of that, Jason got a cue to be EXTREME and he jumped onto the counter, adding even more surreal comedy to the fact that most of them were actually munching popcorn through all this.

Christmas got into it again, then Alex and Elena had a round about their "no curses" promise, and Paul wrapped it up with another reading of Cody's crimes of the past 56 days. Rehashes and retells ensued, like they do. Alex got a bugle call around 6.30pm, served her hot dogs around, making thee hungry Have-nots happy as well as the others who have learned to love the dogs this week, and she had everything packed up within an hour again. Mark and Elena laid in bed, griped and slept, and Paul got gloomy about being shut down by BB talking about his girlfriend - maybe she didn't sign and/or withdrew her release.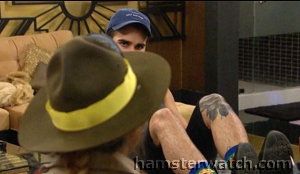 A little later Paul told Josh he would tell everyone about Kevin getting the first night $25k when the time was right (Josh already knew about it). Josh told him he was only loyal to Paul and Christmas, and Paul said he was too. After that, Paul told Alex (with gestures) that Kevin got the $25k and said "Josh knows because he told him, then I asked and he confirmed." He also said they shouldn't say anything to anyone else yet, though he thought Jason probably knew. Alex said she'd thought it was Ramses (reminder: Paul convinced everyone it was Ramses and that's the main reason they evicted him), and Paul said "I thought it was Ramses too" so that's how easily he plans to sidestep that one. They agreed the next boots should be Cody, Mark, Matt, Kevin.

A bit later Jason joined them and Paul again used hand signals to tell him Kevin got the $25k and cast the first hinky vote, and that Josh knew all along. Together, Jason and Alex tried to piece it together and didn't quite believe it could be Kevin, that Ramses actually made more sense, of even Jillian. But Paul amped it up some more, and recruited Christmas and later Josh, and together they pretty much decided Kevin doesn't even have kids, and he's been trying to get rid of them all. Jason tipped off Kevin about a little of it later, particularly that Alex was starting to think he's sketchy and he should attempt to repair that, and that Jason and Alex would take each other to the end. Jason retold to Alex, Kevin retold to Paul, and rewind, repeat.

There's a lot going on in there! GET THE FEEDS and catch up convos at Hamsterwatch Forum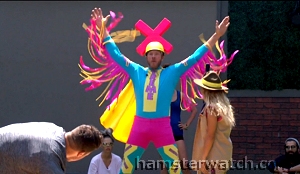 Day 57 Wednesday 8/16 They got a shuffleboard practice apparatus and were told to take eight practice shots each, and "everyone should practice" again. Christmas was able to do it, and Jason got an extreme cue after his shots so he hollered and posed, like he does. He's done some griping but overall he's been a pretty good sport about this task and between his colorful suit, giant pink head X popping up randomly, and hollering how extreme he is, I've enjoyed it more than I expected I would.


Cody went for a bit of retaliation and secretly swapped out the coffee for decaf, as they'd done to him a couple weeks ago, and he told Mark and Elena he'll try to get the target off Mark's back with his nominee speech. Alex got a bugle call and made and passed around her dogs around 2.15 pm. Otherwise it was a mostly quiet afternoon with a lot of the usual semi-legal napping, snacking, cleaning, screeching, and bash- and trash-talking. Paul continued his anti-Kevin crusade, telling Matt and Raven to laugh extra at his jokes in order to make Kevin "blow up," and the crusade continued to grow legs as Alex, Jason, Josh, Christmas discussed getting Kevin out in various convos.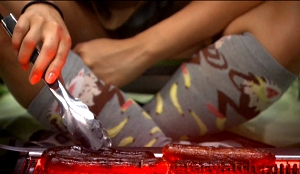 Alex had another bugle call around 7.30pm and set up her indoor camp on the skydeck. It could be the last one or last on feeds anyway, if they go off Thursday afternoon thru Friday night. When she made her delivery rounds, she mouthed off at Cody who'd been reading his Bible along with Mark and Elena. He gave her blank looks, and said it had nothing to do with her, referring to the Bible reading? Not sure. Still no fights or other activity of note broke out, which was a relief to updaters and bloggers in all the BB streets. Vilification (dead horse beating) raged on, Cody ironed his eviction shirt, and someone else will also leave the habitat tomorrow night.

There's a lot going on in there! GET THE FEEDS and catch up convos at Hamsterwatch Forum



Ratings - Thought Bubbles special edition
Ratings are based on possible inner dialogues




Let's bring back someone from last year, give him a chance to make eight allies on opening night, and immunity for four evictions. We'll hedge his bets even more by rounding out the cast with clueless dummies who will do his bidding, and some thirsty 'social media mogul' wannabes because they're always popular. It'll be foolproof. We'll double-down on showmance potentials to make sure there's something for everyone. Almost everyone, anyway. Okay, something for our CBS audience because that's who really matters.





Won: 1st eviction safety; 1 week camping cookout; Outback dinner
HOH 2 - Veto 1 - Noms 2
VTE Jessica
HEAD OF HOUSEHOLD
I'm playing this game really really hard and I'm winning comps and I'm going to go all the way to the end and I'm listening to Paul but my real ride or die is Jason unless Paul works out better and I'll listen to Cody but I'm not going to do what he says but I'll tell Paul what he says and I hate Elena but I gave my word I wouldn't make her Have-not because it's her birthday and my word means more than hers it's her fault I'm making these damn hot dogs and pitching tents but I don't mind that much really I made guac and peppers and what do you mean I talk too fast?





Won: Temptation #2 play in any veto comp; 48 hours attached to Paul; ; Outback dinner
HOH 0 - Veto 0 - Noms 2
VTE Jessica
Did you know I have a broken foot? Yep, broken in ten places plus nerve damage, and I had surgery but I'M STILL HERE. Nobody can question my perseverance! If they do, I'll just be superior and condescending, because I am superior, and I'll make little digs they won't understand. I'm going to win this game because I've already done everything else and I deserve this. I've written BEST SELLING BOOKS plus I own a gym. Come on down and drop my name. Paul thinks I'm with him but I'm only on one team here and that's mine.





Won: 1st eviction safety; Week 6 safety; 1 week frog; Revival
HOH 1 - Veto 0 - Noms 3
VTE Raven
NOMINATED
Operation Infiltrate and Overcome is proceeding according to plan. I've gone behind enemy lines on a solo reconnaissance mission to gather intel and plant delayed-action grenades. I was a Marine once but once is forever and I know what I'm doing. I might transfer to a new camp next week but if I do, it's because I planned it that way. Nickson out.





Won: $5,000; 1st eviction safety; Outback dinner
HOH 0 - Veto 0 - Noms 2
No vote (nominee)
NOMINATED
Look at me! Look at my boobs! Listen to me! I'm a radio personality but I don't have a job so I NEEDED that $5,000 Alex! I think Mark likes me, do you think he does? I'll ask him again. I'll make him tell me he loves me and then I'll break up with him. Then I'll do it again! He's so easy. Raven's doing this all wrong. She doesn't talk about her boobs enough or show them enough so she's only got that cereal guy's attention. What's his name? I wonder if he thinks I'm cute. Follow me on Instagram and look at my modeling pics! Look at me!





Won: 1st eviction safety; 1 week frog; 1 week extreme-o-tard; Outback dinner
HOH 0 - Veto 1 - Noms 2
VTE Jessica
Look, I'm not a Big Brother expert, okay? But I know a thing or two and I know I'm in a good spot right now! Mostly because I'M EXTREME! I was extreme before I had a yellow cape and a big pink X on my head. I say a lot of things I shouldn't say but so what? I always come out okay, especially after Alex beats on me and I beat on Josh. I miss my wife Holly and my boy Gatlin and my bull Ole so much. Let me tell you about my sex life with Holly! I'M EXTREME! I'm going to win this thing and if I don't win it, I'll see you at the rodeo! Or the tractor auction!





Won: 1st & 2nd eviction safety
HOH 0 - Veto 0 - Noms 2
No vote (HOH)
I DON'T KNOW WHAT I'M DOING! I'm kidding! I really do know what I'm doing. Nobody thinks I know what I'm doing but meatballs! La familia! I'm not on the block and I'm not going on the block because I'm going to WIN HOH EVERY WEEK and they can't get rid of me when I'm HOH! I'm going home with $500,000 and I'll squirt mustard and ketchup at anyone who says I'm not because they're MEATBALLS!





Won: $25,027; 1st eviction safety; couldn't be 1st HOH
HOH 0 - Veto 0 - Noms 0
VTE Jessica
Listen, I've been through all this before. I was one of seven kids and I raised seven kids. All these boys fighting with ketchup and girls with detachable hair, this is nothing. These kids, they don't know nothing about good music. My neighborhood was rough. These morons think they're tough, they ain't tough. Paul thinks he's tough. He ain't tough. How's my hair? I got stories, let me tell you a story. Come for Thanksgiving! Come for Christmas! I hope they don't all come.





Won: 1st eviction safety; Weeks 5 & 7 safety; Colorado trip; Outback dinner
HOH 0 - Veto 1 - Noms 1
VTE Jessica
WON SAFETY via Temp Comp
Gosh, I just don't know what to think. I'm sensitive and I'm confused. I think I love Elena. Maybe I should tell her. Oh I forgot, I did tell her. She acted like I didn't so maybe I'll tell her again. She's so confusing! She shows me her boobs and she does things to me and I think I love her. Wait, let me tell you how I feel. I'm confused. Where's Elena? I need to tell her how I feel. I hate Josh. He doesn't want to hear how I feel anymore. I think I love Elena. I'm confused. What show is this?





Won: 1st eviction safety; Outback dinner
HOH 0 - Veto 0 - Noms 1
VTE Jessica
NOMINATED via Temp Comp
WON VETO - USED ON JASON
Where's my Precious? No, not Raven or Gypsy or that other girl, I mean where's my orange rag shirt? I NEED IT! It shows off my shoulders and sides, and the color complements my cereal perfectly. HA HA HA HARRRR!!!





Won: 1st week safety; Temptation #1 safety next 3 evictions; 48 hours attached to Christmas
HOH 2 - Veto 2 - Noms 0
VTE Jessica


Your boy

Friendship

Never cared

That's all over, I really do care! I care so hardcore, nobody cares more than me. I've cared about this game before, you know. I'm an expert in everything, I've been everywhere, and I've done everything EXCEPT WIN BIG BROTHER! I've never seen it when I wasn't on it but it doesn't matter, these idiots believe whatever I say. Everyone who said I was in charge is GONE! I did that. Or they're going. Now that we're in jury and they'll be voting for me, I've fine-tuned my game. I used to tell them what to do and say, and they did it and said it, but now I'm using reverse psychology. I took a class in philosophy. DO AS I SAY NOT AS I DO. I have to tell them 12 times a day I can't possibly win because I'm a vet, and how would a vet win over a rookie? I don't know, ASK NICOLE! Now they feel sorry for me and they'll take me to the end and I WILL WIN FINALLY. I earned it, I deserve it, I've worked harder than anyone else in BB history for it so I should get more. And I did it LOUDER.





Won: 1st eviction safety; Have-not pass
HOH 0 - Veto 0 - Noms 1
No vote (nominee)
Look at me! I've got thirteen terminal diseases and if one doesn't get me, another one will. But I'm okay with that! I've got such a sunny outlook on life even though I've had the worst life you can imagine. No really, go ahead and imagine, and I'll make it worse. I love to dance, and wear makeup, and my hair is long enough and thick enough for three people. I'm going to win this show, whatever it is, because everyone knows I need the money to pay my overdue $751,928,256.39 hospital bills. And you there, get your mind out of the gutter! Me and Matt don't do anything under those covers, we're like brother and sister. Look at me! I'm Arkan-sassy and Arkan-sicky!





Won: 1st eviction safety; 1 week frog; Temptation #3 halt one of four evictions
HOH 1 - Veto 1 - Noms 3
EVICTED 7-1-0
She was problematic in a number of ways but aren't they all? She was fingered by TMZ for butt-poking but only because Paul riled them all up about her, when he and Matt also did their share of poking. Jessica brought crude talk to levels we've rarely heard from female hamsters, though Elena gave her a run for that money. Her hair made her a #Deathrace2017 star due to lack of weave maintenance, visible tracks, and patchy bits. She isolated herself with Cody for most of her time there, putting themselves on the Extracurricular Tally, but she landed solo spots too for fights with Cody as well as Christmas, Josh, Raven, and the entire house on that memorable afternoon. She did pretty well comp-wise, and she did her frog week without much complaint.





Won: 1st eviction safety; Mandatory nominee once
HOH 0 - Veto 0 - Noms 2
I always have a soft spot if they mention me and he did in a pre-season QA with KFROG - thanks! He was a pleasant guy who came in with the 'superfan' tag, and while he was a relative newcomer to it all, he does have a separate BB Twitter and he follows many in our dysfunctional community. But that wasn't enough and he made dual mistakes of aligning with only Jillian and not staying on top of things. He became the scapegoat for hinky votes, first night $25k, and he was threatened and berated for not throwing a veto comp hard enough when he was on the block. Being there in the first place was an unlucky temptation consequence. So the stars just didn't align for Ramses but he was fun and likable and will be missed.





Won: 1st eviction safety
HOH 0 - Veto 0 - Noms 1
She seemed promising, brainier than most hamsters by far, and she started out well. She earned Mark's devotion over fake chess games and heart-to-hearts, but Christmas and Elena also tugged at him from different directions, and Dominique never got as tight a hold on Josh. Kevin let her host the talk shows, but she was too slick and professional with them, and kind of a drip. That backfired when she put Ramses and then Cody on the spot, and she confessed her job lie to several too early. She brought in more religion than most, and she 'marooned' herself in the lounge, doing a solo telethon for days. She caught on to Paul and told everyone he was a snake, and he made sure she went out the door as a result.





Won: Nothing
HOH 0 - Veto 0 - Noms 2
She gave us a good shockface when Julie spoke her fate, but she hadn't done much to prevent it. She wasn't there long enough to do a lot, but she didn't really do much that was memorable except repeat convos (at lightspeed), plan future shows to be on, and be on the block. Virtually everyone else campaigned their brains out around her while she was at summer camp, so it's no surprise she didn't know who did and didn't vote for her. She wasn't cut out for this game and she also attracted some political attention that nobody needs. Many use BB to escape from that kind of thing for a little while.





Won: 1st eviction safety
HOH 0 - Veto 0 - Noms 1
Like Cameron, there isn't much to say since she left before feeds began. A lot of drama was stirred up by, around, and/or because of her, including a Josh rant we saw on the premiere sans context, and an alleged sabotage lie about a comment Jessica allegedly made about Alex. When Megan got home, she released a statement saying she left because of PTSD from a prior assault. You'd think those things would be discovered and addressed during the lengthy audition process, but who knows? We may never know the entire true story as we'll only have hearsay and edits to go by, but I wish her well.





Won: Nothing
HOH 0 - Veto 0 - Noms 1
What is there to say when they're gone before feeds start, other than it stinks? They were probably wise to get him out because he's a big fan who knows the show, and he's brainy to boot. At least he had not one but two comp-shots to save himself, even though he opted for a third comp to evict rather than the vote that got him the non-coveted first boot spot. He seemed likable enough and he tried some twerkish moves to save himself but alas, it wasn't enough. He dropped a hamster line in Diary which was fun, but anyone going before feeds still stinks.






Lines and Links of the Day
Lines

Thursday
Mark: Remember the Five Horsemen? Howie, season 8 or something, they're the reason I wanted to be on Big Brother

Friday
@thejessicagraf: Can someone tell me what stans means? Lol

Kevin: I'm gonna shower and get ready for a great night of - oh yeah, nothing

Christmas: You are a bully right now
Christmas: Don't put words in my mouth, kitty boo boo
Mark: I should have voted your ass out Week 1
Christmas: You wouldn't have had the votes, honey
Mark: That's what you think
Christmas: I'm glad you have the safety this week, honey
Christmas: Every time you see you're in the minority, you flip every time

Josh: That was the first time I had an interaction with Cody, that was kinda weird

Mark: I'm sick of hearing voices under my voice being whispered

Kevin to Paul: Cody's going to jury, he ain't gonna vote for you

Elena about Christmas: She thinks she's walking right out of an episode of Empire

Saturday
Paul: They put the golden apple there FOR ME, you know that right?
Josh: Really?
Alex: Now he does --cut to fishies

Raven: Can you please call me to the DR so I can talk about my fucking injuries?!

Cody: If you don't like transfat, then you're transphobic

Alex: They gave me a lighter and propane! They wanted to see how far I'd take this

Sunday
Big Brother: Jason is doing some EXTREME lounging!
Jason: That's because I'm so EXTREME

Josh: Elena thinks she's the star of the show and a "personality" - she is but not for the reasons she thinks
Kevin: When?! She sleeps all day!

Raven: I'm a sick person, I need my sleep, but I don't complain

Monday
Paul to Christmas, Josh, Jason, Matt, Raven: If we can stick together another two or three weeks, we can all see Zingbot

Christmas about Elena taking her preferred HN bed: Usually I'll call a bitch out, fuckin pull her hair, drag her face to cement, and curb stomp, but we're in a different environment here

Christmas to Mark: It's a recurring theme with you, take take take take!

Cody: Remember the BB Canada chick? Her dude was there, he just eats the fruit basket on the side - I want to be the guy who eats the fruit basket

Kevin: I'm on my game.. you told me, quote, we don't have to talk every single day, or let them know how close we are
Paul: Some of these people are skeezeballs, they'll tell you anything, they'll fuckin use you to ruin your name, then turn around and fuck you

Tuesday
Cody: I just want to eat this Honey Nut Chex.. go ahead and hate me, I don't care
Alex: How's your kid? Do you even have one?
Cody: All I want to do is just be by myself
Christmas: then you shouldn't have come on Big Brother

Cody: I didn't mean to be a jerk, Alex
Christmas: That's not an apology

Wednesday
Matt: It's definitely not a double now, that's not something they can do in a double, that shuffleboard thing

Elena: Who would your letter have been from if you won HOH?
Cody: I told them not to give me one



Links

GET YOUR FEEDS

Use my links for any Amazon shopping, anytime, at no extra cost - just start your shopping trip by clicking Amazon USA or Amazon Canada

BB19 The Saga: Episode 6 by @WilHeuser

The Ravens are Here BB19 meets Game of Thrones by @em__BB

Ghost Brother by @IdolKnights

Weekly QA with Allison Grodner by Matt Carter Media

Raven's stories are actually old Simpsons episodes continuously updated, by @em__BB

BB19 intro "Friends" style by creepyxmass

Shave It Off by @BB11HouseRodent




Tally Items
Extracurricular Tally

Fights: 24
6/29 Premiere #2: Josh vs Megan
7/6 live show: Jessica vs Christmas
7/6 HOH comp: Josh vs Cody (not on feeds or show)
7/6 10.10pm: Jessica vs Josh, plus Cody
7/17 3.30pm: Three parter: Josh vs Mark, plus Josh vs Jessica, plus Dominique vs Christmas
7/28 7.24pm: Three parter: Cody vs Paul, plus Cody vs Jessica, plus Mark vs Josh
7/30 12.25pm: Cody vs Jessica
7/31 12.47pm: Jessica vs Raven
7/31 5.04pm: Four parter (at least): Jessica vs Alex, Jessica vs Paul, Jessica vs Raven, Mark vs Alex
8/8 1.14pm & 2.23pm: Two parter: Cody & Jessica vs Josh
8/11 5.03pm Christmas vs Mark, plus Josh
8/14 5.54pm Christmas vs Mark, plus Josh, Alex
8/14 11.36pm Josh vs Mark
8/15 1.49pm Three parter: Cody vs Alex with Jason, Christmas, Elena vs Josh, Alex vs Elena

Alex camp setups and hot dog service rounds: 11

Revivals: 1
Cody

House meetings: 4
7/15 5.46am
7/17 4.21pm
7/30 2.50pm
7/31 4.52pm

Scandals beyond BB world: 3
Paul's snake outfit and face mask plans
Cody's military service questioned
Jessica's 'butt-poking'

Pinkyswears: 3
Raven and Paul on premiere
Raven and Matt 7/11 7.56pm
Kevin and Jessica 8/10 2.33pm

Makeout pairings: 3
Cody/Jessica, Mark/Elena, Matt/Raven

Sex events: 12 (minimum)
7/2 3.12am Cody, Jessica
7/6 3.25am Mark, Elena
7/11 2.44pm Mark, Elena
7/26 1.00am Raven, Matt
7/30 3:29pm Cody, Jessica
8/2 1.32am Raven, Matt
8/3 1.31am Raven, Matt
8/4 1.19am Raven, Matt
8/5 11.00pm Raven, Matt
8/9 12.00am Raven, Matt
8/10 12.45am Raven, Matt
8/10 1.40am Mark, Elena

Injuries: 9
Mark's dislocated finger in 1st HOH comp
Christmas's broken foot
Raven's stair crash and foot stitches
Kevin's arm burn from curling iron
Paul's mysterious wrist ailment
Raven's alleged pan-to-the-wrist ailment
Paul's infected nose-ring, again
Raven's chair-banged finger
Raven's 'chipped' tooth

Better alternatives to Jeffish: 1
Kittycam, Puppycam, Bunnycam featuring Rancho Coastal Humane Society adoptables

Premature (pre-feeds) evictions: 2
Cameron, Megan

Pre-season makeover and photo replacement: 1
Megan

Epic Twitter battles: 2
6/19 Dr Will vs Meech, plus BB18 Natalie, BB14 Danielle, Russell Hantz
6/22 Evel Dick vs James Huling



CBS Goofs

1 Misspelled 'Hitmen'
2 Pop mixed up BB seasons with AD seasons
3 Mistook USA for 'the world'
4 To/too error
5 Too many seasons for Frank
6 Conflicting Christmas ages
7 Pop had a midnight/day problem
8 Misspelled Raven
9 Random things in bikini photos
10 'An New Season'
11 Photoshoot spoilers
12 Leaked two upcoming votes
13 This season is 92 days, not 99
14 Thumbnail on feeds slider shows BB18
15 Misspelled 'receive' on tickets site
16 Misspelled 'replacement' on YouTube
17 Control room monitors on 7/6 live show
18 Day count error on 7/9 show
19 Misspelled 'drinkware'
20 Misspelled Nicole's last name
21 Misspelled Josh's last name
22 Misspelled Ramses
23 Let Jessica into DR when Kevin was there
24 Feeds timestamp 3+ hours wrong
25 Counting error on 7/20 show
26 Listed five, called it six
27 Fishies in closing credits 8/3 show
28 Wrong day/date in highlights
29 Leaked Elena Diary snippet
30 Misspelled Big Brother
31 Only posted 2 (of 6) 1st half HOH blogs
32 Fishies in HOH comp 8/10 show



Season Stats
HOHs in order: Cody; Paul; Alex; Jessica; Paul; Josh; Alex

Veto winners in order: Alex; Paul; Jason; Jessica; Paul; Mark; Matt

Evictions in order: Cameron 8-3-2; Megan (quit); Jillian 8-4;

Cody 7-3-0

; Dominique 10-0; Ramses 7-3; (none); Jessica 7-1-0

Pre-jury Twitters: @CameronHeard210; @MeganAnnBB19; @jilliannicoleww; @CDmAI; @TheBBHomie1; @thejessicagraf







Linking to any page here is fine. Please don't repost content from this site (or any other) without permission, and don't repost or hotlink images.



THE REAL SHOW IS THE FEEDS


NEXT-DAY AIR SHOWS
Live air shows in some areas
BB1 thru BB19 and many other CBS shows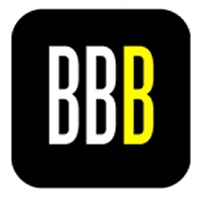 BIG BROTHER BUDDY
Get push notifications for all the big feeds events - iOS or Android


HAMSTERWATCH SWAG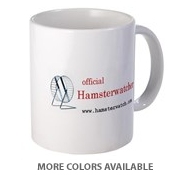 Mugs, shirts, more
Visit my Cafe Press shop






Big Brother 19 SEASON FAQ


Day 1 Move-in was June 21
Day 8 CBS premiere is June 28
Day 9 Feeds begin June 29
Day 92 Finale is September 20

Feeds are streamed by CBS, and Flashback is accessible via All Access subscription. Call 888-274-5343 for account help, including cancellation.

Air shows on CBS (Global in Canada) are Sundays 8pm, Wednesdays 8pm, eviction Thursdays 9pm.

Big Brother After Dark on Pop TV (Slice in Canada) is every night midnight to 3am, except Thursdays 1am to 3am. The aired blocks are live (or recorded earlier the same night, depending on your cable provider).

The CBS app (by CBS Interactive) plays BB air shows and other CBS shows, as well as feeds, or you can use your browser to watch feeds on mobile devices. The same All Access link used to subscribe will lead to the feeds viewing page if you're already signed up.

BB19 prizes are the same: $500k for the winner and $50k for 2nd place. Stipend for the others is $1,000 per week again, including pre-show hotel and jury sequester. Paul is probably getting more, and possibly Christmas as well.

The habitat has 87 HD cameras and over 100 microphones.

The recorded in-house announcements are the voice of producer Don Wollman. He and Julie Chen are the only staffers who have been there since Big Brother 1.