This site is about the Big Brother 16 feeds and contains spoilers! It isn't necessarily thorough: it's what I catch and/or what interests me, and it isn't necessarily about who will win, who should win, who's cute or who's horrid. It's about watching hamsters: who's doing what and why. Thanks for encouraging my behavior.
Your pal, dingo







QUICK LINKS & BOOKMARKS



-View or buy BB16 live feeds

-Live feed updates
-Hamsterwatch chatroom
-McCrae Olson videos & blog
-Amazon portal USA or Canada
-VPN for international viewers
-Hamsterwatch Twitter - Twitpic
-BB16 official site
-Hamster Twitters
BB USA - BB Canada
-East Coast air show feeds
1 - 2 - 3 - 4 - 5 - 6 - 7 - 8 - 9







POWER STATUS


Christine is Head of Household
Donny, Zach are nominated
Zach won veto

Caleb, Victoria are on slop until 8/14
Donny, Zach are Have-not

Donny, Derrick, Frankie are Team America (fuck yeah)







UPCOMING EVENTS


Monday: Veto meeting
Tuesday: HOH blog, tweets, pictures

Next show
Wednesday 8pm: The Frankie Show, field trip, veto comp, veto meeting

Finale is Sept 24 at 9.30pm



Save 20% on orders over $29 with coupon code AFFILIATE20
Big Brother plus other CBS shows - shop now!





BB16 DRINKING GAME


Take a swig whenever someone complains about BB16 - you'll pass out fast and won't have to hear it anymore




Donations via Paypal are gratefully accepted!






BIG BROTHER SEASONS



Amazon DVDs BB4 - BB3

Amazon Instant Video BB16
- BB15
- BB14
- BB13
- BB12
- BB11
- BB10
- BB9
- BB8





BB16 FAQ


Feeds are streamed by CBS.

Call 877-211-4367 for account help, including password reset or to cancel subscription.

CBS shows are Sundays 8pm, Wednesdays 8pm, eviction Thursdays 9pm (Global in Canada).

Big Brother After Dark is on TVGN (Slice in Canada) three hours Mon/Tues starting 11pm, two hours Wed/Fri/Sat/Sun starting midnight; and two hours Thurs starting 1am.

BB16 prizes are the same: $500k for the winner and $50k for 2nd place. Stipend for the others is $1,000 per week, including pre-show hotel and jury sequester. Frankie might get more.

The habitat has 76 cameras (up 11, and now high def) and 100 microphones (up 2).

The recorded in-house announcements are the voice of producer Don Wollman.





>> >> >>
>>
ALL AMAZON.COM PURCHASES MADE THROUGH THESE LINKS HELP SUPPORT THIS SITE
Amazon USA
- Amazon Canada
Cocoon phase (Sunday 8/10)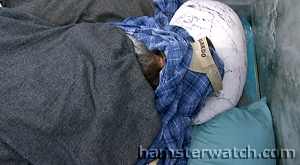 Christine, Caleb, Frankie were up early and trotted off to their football field trip.. having Frankie and Caleb off the feeds has been refreshing since there's nearly always a cam on one or the other, if not both, but I'm already dreading the retells when they return

Donny continued his mostly solo BB experience, roaming the habitat and enjoying the backyard while the others napped, but he went in for some industrial cocooning in the Have-not room for a bit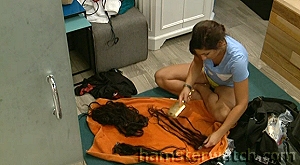 Victoria washed her pile of hair, which was an odd but fascinating procedure

The field trippers returned and their story was blocked from us (way to promote Thursday football), but of course the retells came out later.. they went via RV to a Dallas Cowboys practice session (possibly in Oxnard?) and had a big lunch, met the mascot, the owner, and some of the players and their wives.. I'm not 100% sure but I think Jessie Godderz was there as well - he's overdue to show up again.. Caleb talked mostly about all the food he ate, and Christine talked about what a diva Frankie had been

Renom talks started up in earnest, with Christine telling Victoria she'd be going up.. round robin rehashes also started up, with the end result Christine saying she'll put up Nicole instead, despite their pinkyswear not to do that to each other.. never mind that they're in jury now, which isn't the best time to blatantly break promises or to blindside, but so be it



Frankie who? (Saturday 8/9)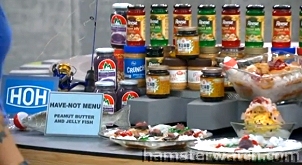 They got their peanut butter and jelly fish, and Christine named Donny and Zach to be the Have-nots, saying "they've done it least" - odd, Frankie's only done it once, but maybe she's got him on ignore too

He and they carried on the fame & followers loops, and speculation about the football prize led to football chat - this really isn't my season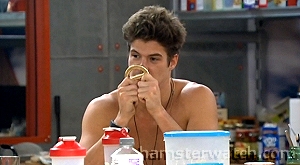 Nicole, Derrick, Caleb played for veto along with Christine, Donny, Zach, and Victoria hosted.. it was OTEV, and Zach won.. this time OTEV took the form of a pissed-off penguin and the name cards were cocktail themed (ironic for this dry season), and they all said it was great fun

Zach was happy again, of course, and had another make-up chat with Frankie, then later told others they were still done.. tell-all convos continued here and there, including Zach telling all to Victoria, who ended up in tears after finding out Derrick had been up to things he hadn't told her about.. all that revved up as it made its he said/she sound rounds, culminating in a house meeting - Flashback 8/10 2.45am.. Derrick's so good at this game that it ended with Victoria offering to do his laundry

- Click "previous Hamsterwatch episode" up top to see what came before
- Check my Twitter and Twitpic for more of the random bits that I cover
- Check the Updates section for all the rest of it with real-time feeds updates and LOADS of screencaps
- Get the feeds
to watch it unfold for yourself




Get a free trial of the live feeds to see it all as it happens

Ratings - TBA edition
Ratings will be updated eventually, based on entertainment value




To follow






Won: $5,000, shaved head, 48 hr Adam & Eve with Victoria, football trip
To follow






Won: Football trip
HEAD OF HOUSEHOLD
To follow






Won: 24 hrs kicking self
To follow






Won: $10,000
TEAM AMERICA
To follow






Won: $10,000
TEAM AMERICA
NOMINATED
To follow






Won: $10,000, football trip
TEAM AMERICA
He's on ignore






Won: 1 week frog, 1 week Germitard
To follow






Won: 48 hr Adam & Eve with Caleb
To follow






Won: Germany trip
NOMINATED - HOLDS VETO
To follow






Won: Nothing
He was the nice guy they all liked, and it's always rough to lose that guy early. Slightly immature with no shame, he was extremely good-natured and responsible for most of the just-for-fun activities and spontaneous silliness. He was cute with Nicole and a perfect combo of Jackass and hamster. He brought a lightness to the feeds that was missed when he left.






Won: Nothing
She didn't bring the holy wars I feared but she did speak in tongues. She cried a lot but she also laughed a lot, and she did great Diaries. She'll be remembered for her bow ties, her choir robe/portable changing room, and most of all her judgemental, IDGAF, side-eye, and the hell you say expressions.






Won: Nothing
A stunningly gorgeous model, she lasted longer than the hamster in that slot usually does, but she exited on another unanimous vote, and before jury. She wanted to play a clean game and that usually doesn't work out so well on this show. She was a good sport about pranks, including the antiquing shown here, but she'll mostly be remembered as the object of Caleb's dreams, and I do mean dreams.






Won: 2400 goals
She was the rawest recruit we've had in awhile and she didn't do much homework, which worked against her in a big way. She seemed to have pretty good game instincts and may have done some real damage if she'd been better prepared. She'll be remembered for her high bun as well as the few times her hair escaped it and landed her in Deathrace 2014 hall of fame, and for sticking with and completing that brutal soccer task when she didn't have to.






Won: Nothing
He has a daughter.

PS He easily wins the Best Evictee Award with this.






Won: Nothing
I kept hoping for the spitfire she plays on Twitter & Instagram to show up but it didn't until the veto meeting blowup. She was well on her way to being a perma-pawn but she stressed about not being able to win comps, and then Devin happened and out she went. She had a lot of entertainment potential and while we were robbed of most of it by her early exit, we'll always have CALTORU.






TEAM AMERICA FAIL
Won: Nothing
She blew up her game prematurely and spectacularly, and then her alter ego Alex and his 'big ass balls' sealed the deal. Supposedly she beat someone with 500k Twitter followers (plus 15 million backup) in a public vote, but that went splat just like BB12's saboteur Annie. Joey was lively and personable, a worthy member of the first out club, and she easily leads the pack of hamsters with unnatural hair colors.







Linking to any page here is fine. Please don't repost content from this site (or any other) without permission, and don't repost or hotlink images.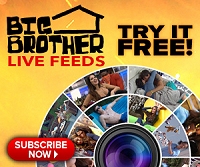 The real show is on the feeds





TEAM AMERICA VOTE


Work together to convince someone to go up as a pawn, then get them evicted







FEEDSTER VOTE


What supplement should Have-nots get?
Peanut butter and jelly fish







RATINGS WATCH


(Final ratings, adjusted for golf delay)
Sunday's show won the hour with 2.0 rating, 6 share, and 5.93 million viewers, ahead of America's Got Talent rerun on NBC with 0.9/3/3.56, and Castle rerun on ABC with 0.7/2/4.10. Note BB was on two hours late due to golf delay.








Clicky: caps sorted by day - all caps

SEASON STATS
HOHs in order, *indicates the surviving HOH
Frankie/Caleb*, Amber/Devin*, Nicole/Derrick*, Cody*/Frankie, Frankie*/Zach, Nicole*/Donny, Caleb, Nicole/Christine*

BOB wins in order
Brittany/Victoria, Hayden/Nicole, Amber/Donny, Amber/Jocasta, Christine/Nicole, Caleb/Victoria, (none), Frankie/(Caleb)

Veto wins in order
Donny, Devin, Donny, Victoria, Hayden, Christine, Donny, Zach

Evictions in order
Joey 13-0; Paola 10-2; Devin 11-0; Brittany 10-0; Amber 9-0; Jocasta 6-2; Hayden 5-2

Evictees on Twitter: @JoeyVanPelt1, @paolashea, @devinshepbb16, @britt4skin, @aborzotra



BBQ Smackdown Scorecard

- Big Brother 16 -
Round 1: BBQ 1, Frankie 0
Round 2: BBQ 1, Frankie 0, Derrick 0

- Big Brother 15 -
Round 1: BBQ 1, Helen 1, Jessie 0
Round 2: BBQ 1, Helen 0, Jessie 0
Round 3: BBQ 1, Spencer 0
Round 4: BBQ 1, Spencer ½, Judd 0, McCrae 0

- Big Brother 14 -
Round 1: BBQ ½, Dan 0

- Big Brother 13 -
Round 1: BBQ ½, Adam ½, Rachel 0
Round 2: BBQ ½, Adam 0
Round 3: BBQ 1, Rachel 0

- Big Brother 12 -
Round 1: BBQ ½, Brendon 0
Round 2: BBQ 2, Britney 0, Lane 0
Round 3: BBQ 1, Lane 0, CBS 0

- Big Brother 11 -
Round 1: BBQ 0, Jeff 0
Round 2: BBQ 0, Jeff ½
Round 3: BBQ ½, Kevin 0, Michele 0


- Big Brother 10 -
No title events

- Big Brother 9 Winter Edition -
Round 1: BBQ ½, Ryan 0
Round 2: BBQ ½, Adam 0
Round 3: BBQ ½, Ryan 0

- Big Brother 8 -
Round 1: BBQ 1, Dick 0
Round 2: BBQ ½, Zach 0
Round 3: BBQ 0, Dick 1

- Big Brother 7 All-Stars -
BBQ training sabbatical

- Big Brother 6 -
Round 1: BBQ 1, Ivette 0
Round 2: BBQ 0, Howie 0

- Big Brother 5 -
Round 1: BBQ 1, Cowboy 1, Drew 0
Round 2: BBQ 1, Drew 0, Diane ½
Round 3: BBQ 1, Cowboy 1, CBS 0, Nakomis 0



EXTRACURRICULAR TALLY
House meetings - 5
First eight, on premiere #1
Joey's, semi-formal 6/28 5.56pm
Devin's 7/2 11.18pm
Devin's Bomb Squad 7/5 5.47pm
Derrick's re Victoria 8/10 2.45am

Fights - 5
Devin vs Brittany 6/29 12.21am
Devin vs Caleb 7/5 3.06am
Zach vs Paola 7/7 3.10pm
Zach Cody Derrick Hayden plus Caleb Frankie 7/29 8.22pm
Zach vs Frankie 8/8 9.50pm

Makeout pairings - 1
Hayden & Nicole

Sex events - 2
-Hayden self service (retell)
7/25 6.57pm, 8/02 1.50am
-Zach self service (retell)
7/28 10.37pm

Blindside evictions - 3
Brittany
Amber
Jocasta

Nom speech scorchers - 2
Zach putting up Nicole & Christine
Zach when Frankie put up Amber

Backstory mysteries - 2
Victoria's hair loss
Amber's past relationship(s)

Pinkyswears - 15
Paola & Devin 6/29 1.35pm
Paola & Devin 7/4 12.15am
Paola & Donny 7/4 8.06pm
Devin & Victoria 7/6 10.49am
Jocasta & Amber 7/10 7.57pm
Derrick & Victoria 7/12 8.37pm
Nicole & Christine 7/13 1.24am
Nicole & Hayden 7/15 12.07am
Nicole & Christine 7/15 11.05pm
Jocasta & Amber 7/22 6.27pm
Zach & Victoria 7/24 9.00pm
Nicole & Hayden 7/25 5.32pm
Amber & Christine 7/29 11.15pm
Nicole & Christine 8/9 12.19am
Cody & Christine 8/9 1.28am

The Soup mentions - 3
-Donny's smarts
-Donny's America + Devin/Caleb cuddling
-Egg puns + Jocasta's tongues

Almost literal asshats - 1
Zach 7/5 6.08am

CBS goofs - 22
- Happends
- Jill, for the 2nd year
- Premiere 2 wasn't live
- Misspelled Jocasta 6/29 show
- Flashback calendar's off
- Joey left before trackers came but got 1st place anyway
- Forgot TA results 7/10 show
- Pointless edit amputated Caleb's toes 7/10 show
- Misspelled Jeff's name 7/10 show
- Live show tweet on Saturday
- #BattleoftheBlcok
- Faulty status updates
- Arithmetic is hard
- Ignored feedster poll - they got both
- Flashback highlight time error
- Week-old comp on feeds
- Staffer caught on feeds
- 8/2 Trifecta: BBAD ran 1+ hour while feeds remained blocked, production comp audio leaks on BBAD, fishies on BBAD
- More faulty status updates
- Misspelled Donny 8/10 show
- Forgot to update TA 8/10 show
- Flashback highlight is a week late