This site is about the Big Brother 14 feeds and contains spoilers! It isn't necessarily thorough: it's what I catch and/or what interests me, and it isn't necessarily about who will win, who should win, who's cute or who's horrid. It's about watching hamsters: who's doing what and why. If they aren't entertaining, get rid of 'em! Thanks for encouraging my behavior. Your pal, dingo







CANADA POWER STATUS


Emmett won Part 1
Gary won Part 2
Gary won Part 3 and final HOH, and evicted Emmett
Jillian won BB Canada 4-3







BB CANADA DRINKING GAME


Take a swig whenever someone asks when BB15 starts (June 26)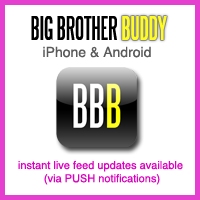 Get the Big Brother Buddy mobile app!
Available for Android or iPhone/iPad






BIG BROTHER PAST SEASONS



Amazon DVDs BB4 - BB3

Amazon Instant View BB14
- BB13
BB12
- BB11
- BB10
- BB9
- BB8


iTunes BB14
- BB13
- BB12
- BB11
BB10
- BB9
- BB7 All-Stars





BB14 FAQ


If you have SuperPass, access mobile feeds by going to real.com/bigbrother on your mobile device's browser. Log in (upper right), select Big Brother, and select Live Feeds from the drop menu. There is no app.

The BB14 untwist resulted in no eviction, and all coaches entering the game. Boogie was the only one who didn't vote to enter. If all had said no, there would have been a hamster revival.

Willie was ejected for head-butting Joe. Threats & verbal attacks are legal - aggressive physical contact is not.

They called pre-show sequester 'convention' or 'knitting convention', and they're calling Diary 'the wizard' or 'dairy queen'.

Ashley revealed they wear earpieces for nominations, at least early on.

CBS shows were Sundays and Wednesdays at 8pm, and live eviction Thursdays at 9pm.

Big Brother After Dark aired midnight to 3am nightly (1am to 4am Thursdays) on Showtime (SHO2) in USA, and on Slice in Canada at various times - check your local listings.

BB14 prizes are the same: $500k for the winner and $50k for 2nd place. The others still earn $750 a week including pre-show hotel and jury sequester. Kara and Jenn may have gotten more.

The coach of the winner would have gotten $100k without the untwist. Returning veterans got $20k to show up, and/or a higher stipend after the untwist.

The habitat has 53 cameras (up one) and 98 microphones (up three).

The recorded in-house announcements are the voice of producer Don Wollman.

All feeds stay on one 'scene' when someone's in Diary.

The Glass House premiered June 18 on ABC and ran for 10 episodes. The winner got $250,000 - half the usual BB winning amount. The glass hamsters went into hotel sequester on weekends.

Big Brother Canada premieres February 2013.






IF YOU AREN'T WATCHING THE FEEDS, YOU AREN'T SEEING THE REAL SHOW
Hamsterwatch Chat
Please see chat guidelines below. Please also visit the Hamsterwatch Forum for more permanent discussions - you must register for each area separately. Using the same nick & password for both areas is preferred and will make lost password retrieval easier.

You may need to disable your pop-up blocker to register or to click on links in the chatroom. Use the Ctrl key while clicking pop-up links or refer to Help information for your pop-up blocker.

You may also need to install or upgrade Java to chat. It's free - follow the prompts or download here.




Chatroom guidelines
The chatroom is easy to use but you can find additional information by clicking the ? button on the chat toolbar or by visiting the help page. The chatroom may close periodically with or without notice.


You don't need to have the Big Brother 14 live feeds to chat in the Hamsterwatch chatroom, but please don't expect continual updates about the feeds if you don't have them.

While chats may be moderated and unsavory users may be banned, your best defense against troublesome chatters is to IGNORE them either by not responding or by using the Ignore feature

Please do not comment about or draw attention to troublesome chatters as that only gives them fuel to continue disrupting chat - thanks in advance

Please use common sense and common courtesy when chatting.. if you wouldn't say it in person, don't say it here

Users with offensive nicks and/or offensive language may be banned

Do not spam, scroll, or flood the chatroom

Hate speech will not be tolerated, nor will harassment of fellow chatters

This is a public chatroom and offensive language may occur.. if this is unacceptable to you please do not enter the chatroom, or leave if you see language that offends or upset you

PLEASE USE JUDGMENT WHEN CLICKING ON LINKS OR PROVIDING ANY PERSONAL INFO IN CHAT. Hamsterwatch.com takes no responsibility for any damages resulting from viruses or other computer problems resulting from clicking on links posted in the chatroom, nor for any damages resulting from personal information you provide to other users





Linking to any page here is fine but please do not repost any content from this site (or any other) without permission, and do not repost or hotlink to any images


!! THIS MEANS YOU !!








UPCOMING EVENTS


June 26: US Big Brother 15
Will air Tuesdays 9pm, live Wednesdays 9pm (8pm starting July 17), and Sundays 8pm







LIVE FEEDS ARE CHANGING



For the first time since BB1, the BB15 feeds will be available via CBS and not SuperPass. Nothing else is known at this point except that signups will continue to help the site you get them through, so thanks in advance for getting yours here! Details will follow as far as cost, delivery method, Flashback, and whether or not they'll be available to Canada and other countries, so stay tuned - I'll post and tweet the info as it becomes available.







AMERICA'S VOTE


Which hamster should win $25k?
> Frank







RATINGS WATCH


Thursday's live finale remained in second place with 7.42 million viewers, 2.5 rating and 7 share, behind The X Factor on FOX with 9.38/3.5/10, and ahead of Modern Family & Revenge reruns on ABC, Law & Order SVU & Revolution reruns on NBC.







Clicky: caps sorted by day - all caps