This site is about the Big Brother 16 feeds and contains spoilers! It isn't necessarily thorough: it's what I catch and/or what interests me, and it isn't necessarily about who will win, who should win, who's cute or who's horrid. It's about watching hamsters: who's doing what and why. Thanks for encouraging my behavior.
Your pal, dingo







UPCOMING EVENTS


May 24: Price Is Right Big Brother edition

June 7: BB UK - watch live with HMA

June 13: BB18 cast reveal
June 22: BB18 premiere
June 23: Feeds begin







POWER STATUS


Brothers (Phil) won Part 1
Kelsey won Part 2 and 3
Kelsey evicted Tim
Brothers won the season 7-2







BB CANADA DRINKING GAME


Take a swig to celebrate and Tim and Nikki for feeds gold




Watch BB Canada feeds from outside Canada
Or any geoblocked content





QUICK LINKS & BOOKMARKS



-Watch BB Canada feeds
-VPN for non-Canada viewers
-VPN setup - it's very easy
-Amazon portal USA or Canada
purchases help me a bit

-Feeds updates by @UGotBronx
-My Twitter - my screencaps
-Hamster Twitters
BB USA - BB Canada
-BB Canada official site
-Eviction show tickets

-BB Viewer by @liquid8d

-East Coast air show streams
-CanadaTV on Roku $2/month
-Online streams 1 -2 -3 -4
NO DOWNLOADS NEEDED!

-Real-time feeds updates by @UGotBronx
-On The Block McCrae & Spencer with special guests
-Dick at Nite BBCan4 Evel Dick Donato and special guests

-Latest alliance diagram by @89razorskate20
-Diary tally by @clamperls





Donations via Paypal are gratefully accepted!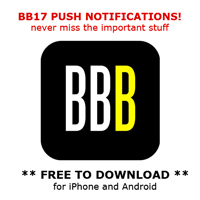 Get Big Brother Buddy app!
Get all the BB17 news plus push notifications of key events as they happen

Watch Big Brother
Seasons 1 thru 17!
Plus tons more CBS content






BIG BROTHER SEASONS



CBS All Access
Seasons 1 thru 17

Amazon DVDs BB4 - BB3

Amazon Instant Video
BB17
- BB16
- BB15
- BB14
- BB13
- BB12
- BB11
- BB10
- BB9
- BB8
- BB7





>> >>
>>
ANY AMAZON.COM PURCHASE CAN BE MADE THROUGH THESE LINKS - NO EXTRA COST TO YOU
Amazon USA
- Amazon Canada
Summer is coming
Big Brother 17 premieres on CBS June 24 and 25, and feeds will begin June 25 9pm Pacific/midnight Eastern.. After Dark will be back on POP (formerly TVGN).. @UGotBronx will once again provide real-time feed updates and screencaps, easily accessible via the Updates tab atop every page here


Big Brother 17 feeds will be part of CBS All Access this year, which is an on demand type thing that also has a ton of current and old CBS content, including every Big Brother USA show from every season! Most of those have never been legally available before

You can sign up now to be all ready for BB17 feeds when they begin, and until then you can binge full seasons or rewatch your favorite moments from Big Brother 1 through 16 - some of those have never been available legally since they originally aired.. All Access also works with Roku and Chromecast, however feeds won't work with Chromecast - here's a list of system requirements and supported devices

REMINDER: whichever site you get your All Access from gets a small commission, so please use my links when you're ready to sign up.. as of now, it's not available outside USA but there might be workarounds for that - more info to follow.. a few Canadians have signed up successfully using a USA credit card and VPN, and using a browser that doesn't set a location

Pre-season exclusives include a chat with Derrick on June 10, a chat with Frankie on June 15, and cast interviews on June 16

Outside USA can't sign up as of now because the feeds are included with all CBS shows, and all TV sites in all countries use geoblocking.. using a USA credit card or an American Express card appear to be the best bet as of not (even a Canadian Amex card, and possibly even Amex gift cards).. there may be more workarounds as we go, so please be patient and don't panic! I'll keep you posted

A VPN will probably be necessary outside USA to watch feeds as well.. Hola might work but please read this new report about Hola security concerns.. this is why I recommend Hide My Ass as a proven, secure VPN - they also have best in class customer service



For the friends and families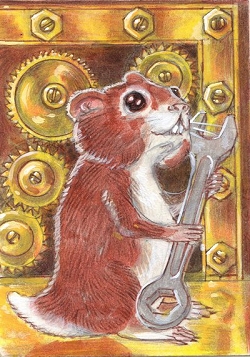 Steampunk hamster by LexLothor

So your spouse/significant other, sibling or child or cousin, or buddy or neighbor or co-worker has been cast on Big Brother, what fun! But you're in for a few surprises

First, realize the TV editors' job isn't to make your person look good: they're making a TV show.. they might put your person's worst or dumbest moments on the show, and they often specialize in "out of context".. nothing will change that, you just need to accept it

Second, the vast majority of BB fans and feedsters are fun, funny, kind-hearted people, but nearly all BB fans and most sites, myself included, have some fun at the hamsters' expense (I call them hamsters because watching live feeds is like watching and poking at hamsters in a cage).. some folks can take it to vicious, hateful extremes and others can become obsessive, stalkerish fanatics, and social media has magnified that exponentially in the last several years.. if you try to bait or argue with the haters or let the obsessive ones get too close, you'll probably regret it

Third, not everyone is going to love your person, no matter how much you think they should.. every single hamster has both fans and haters.. even the most popular ones have hardcore haters, and the least popular ones always have some dedicated fans.. your person is going to come home after all this and be whoever they were before, and that's what matters.. until then, count to ten before engaging with viewers of either extreme

Mostly just have fun, bookmark and save things you come across for your person when they get home, and try to relax - even/especially if they're about to be evicted.. they all survive

But don't take my word for it, read it from two who have been there: see For the friends and loved ones by BB15 Spencer Clawson's girlfriend Marilyn, about watching her guy on one of BB USA's most volatile seasons, and What it's really like to be the Mother of an All-Star by BB6/7 Janelle Pierzina's mom Ann.. ongoing thanks to both of them for sharing their thoughts







Linking to any page here is fine. Please don't repost content from this site (or any other) without permission, and don't repost or hotlink images.



THE REAL SHOW IS THE FEEDS


NEXT-DAY AIR SHOWS
BB1 THRU BB17 AND LOADS MORE CBS CONTENT


HAMSTERWATCH SWAG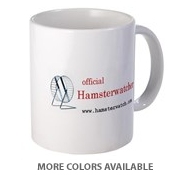 Mugs, shirts, more
Visit my Cafe Press shop





RATINGS WATCH


Wednesday's live BB17 90-minute finale placed third for 9:30-10:00 with 2.2 rating, 7 share, 6.49 million viewers, behind Empire season premiere on FOX with 6.5/20/16.02, and Blackish season premiere on ABC with 2.4/7/7.30, and ahead of Law and Order SVU season premiere on NBC with 1.7/6/8.20. Big Brother rose to second for 10:00-11:00, ahead of Nashville season premiere on ABC with 1.3/4/5.00.









Big Brother 17 FAQ


Day 1 move-in was June 18
Day 7 CBS premiere was June 24
Day 98 finale was September 23

Feeds were streamed by CBS, and Flashback remains accessible via All Access subscription. Call 888-274-5343 for account help, including cancellation.

CBS shows were Sundays 8pm, Wednesdays 8pm, eviction Thursdays 9pm (Global in Canada).

Big Brother After Dark was on POP (formerly TVGN). It airs Monday, Tuesday 11pm-2am; Wednesday, Friday, Saturday, Sunday midnight-2am; Thursday 1am-3am. The aired blocks are recorded earlier on the same night.

The CBS app (by CBS Interactive) plays BB air shows and other CBS shows, but not feeds. Use your browser to watch feeds on mobile devices. The same All Access link used to subscribe will lead to the feeds viewing page if you're already signed up.

Liz and Julia had to survive five evictions in order to play separately as individuals, which they did, with Julia officially entering the game on Day 43. They switched places every few days. They had a limited time in Diary to change clothes, adjust their appearance, and exchange info. The non-playing twin was sequestered in a 'house,' possibly the jury house.

BB17 prizes were the same: $500k for the winner and $50k for 2nd place. Stipend for the others is $1,000 per week again, including pre-show hotel and jury sequester. Recruits or those with established pre-season fan bases might get more.

The habitat has 80 HD cameras (up four) and over 100 microphones.

The recorded in-house announcements are the voice of producer Don Wollman.