This site is about the Big Brother 16 feeds and contains spoilers! It isn't necessarily thorough: it's what I catch and/or what interests me, and it isn't necessarily about who will win, who should win, who's cute or who's horrid. It's about watching hamsters: who's doing what and why. Thanks for encouraging my behavior.
Your pal, dingo







QUICK LINKS & BOOKMARKS



-View or buy BB16 live feeds

-Live feed updates
-Hamsterwatch chatroom
-McCrae Olson videos & blog
-Amazon portal USA or Canada
-VPN for international viewers
-Hamsterwatch Twitter - Twitpic
-BB16 official site
-Hamster Twitters
BB USA - BB Canada
-East Coast air show feeds
1 - 2 - 3 - 4 - 5 - 6 - 7 - 8 - 9







POWER STATUS


Jocasta evicted 6-2
Caleb won HOH
Hayden, Donny were nominated
Donny won veto, used on self
Nicole was nominated
Hayden evicted 5-2

Christine is Head of Household
Donny, Zach are nominated

Nicole is deposed HOH
Her tributes were Caleb, Frankie - they won BOB

Caleb, Victoria are on slop until 8/14
Hayden, Cody, Frankie are Have-not

Donny, Derrick, Frankie are Team America (fuck yeah)







UPCOMING EVENTS


Saturday: Veto comp
Sunday: Field trip, photobooth
Monday: Veto meeting

Next show
Sunday 8pm: Double eviction fallout, HOH comp, nominations, BOB

Finale is Sept 24 at 9.30pm



Save 20% on orders over $29 with coupon code AFFILIATE20
Big Brother plus other CBS shows - shop now!





BB16 DRINKING GAME


Take a swig whenever someone complains about BB16 - you'll pass out fast and won't have to hear it anymore




Donations via Paypal are gratefully accepted!






BIG BROTHER SEASONS



Amazon DVDs BB4 - BB3

Amazon Instant Video BB16
- BB15
- BB14
- BB13
- BB12
- BB11
- BB10
- BB9
- BB8





BB16 FAQ


Feeds are streamed by CBS.

Call 877-211-4367 for account help, including password reset or to cancel subscription.

CBS shows are Sundays 8pm, Wednesdays 8pm, eviction Thursdays 9pm (Global in Canada).

Big Brother After Dark is on TVGN (Slice in Canada) three hours Mon/Tues starting 11pm, two hours Wed/Fri/Sat/Sun starting midnight; and two hours Thurs starting 1am.

BB16 prizes are the same: $500k for the winner and $50k for 2nd place. Stipend for the others is $1,000 per week, including pre-show hotel and jury sequester. Frankie might get more.

The habitat has 76 cameras (up 11, and now high def) and 100 microphones (up 2).

The recorded in-house announcements are the voice of producer Don Wollman.





>> >> >>
>>
ALL AMAZON.COM PURCHASES MADE THROUGH THESE LINKS HELP SUPPORT THIS SITE
Amazon USA
- Amazon Canada
Who's on first? (Friday 8/8)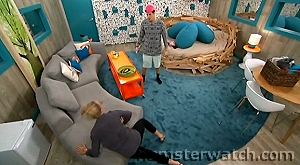 Nicole nominated Caleb & Frankie, and Christine nominated Donny & Zach.. Caleb said he'll just sit down at the BOB comp to sabotage Frankie, who apparently thought he'd never be nominated.. I have no idea what's up with the Team America (fuck yeah?) task - I gather Caleb more or less pawned himself, but that task won't be finalized until Thursday anyway

We've gone from excessive blah to utter confusion, at least for me.. the underlying thread of the many plots I've lost seems to be that they've all turned on Frankie, and that Zach & Nicole have some sort of unlikely partnership brewing.. that one's especially tricky for me to follow since the two of them conspiratorially share all kinds of info, but then Zach runs it back to tell all the guys.. complicating matters, again just speaking for myself, is that virtually all of them continue to whisper everything, whether anyone else is in the same timezone or not, and I just can't with the constant whispers - it's like a nest of buzzy insects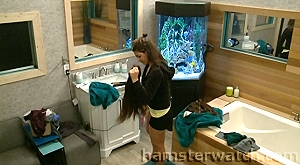 Meanwhile, I finally caught Victoria's full hair construction routine for the first time - Flashback 8/8 2.06pm.. in my opinion, her own hair looks much, MUCH nicer than the stacks of stunt hair she keeps installing, but try telling her that - no really, somebody please tell her

A bit later, a formerly forlorn Frankie came out of Diary all bouncy again, and told Victoria he's really excited about something he's got planned that's not game-related, that she especially will love, and that he feels like "a burden has been lifted" - Flashback 8/8 2.34pm.. sounds like he got permission of some sort for The Frankie Show, in danger of being cancelled, to become The Frankie Has a Famous Sister Show

Caleb apparently ate some candy, but nobody seems to care - Flashback 8/8 7.42pm



The Frankie Has a Famous Sister Show
Did I call that one or what? But first..

The BOB comp started very late again so for the third time this week, BBAD started while paying feedsters remained stuck on Jeffish.. this time it took 50 minutes before they remembered us, but apparently BBAD were only treated to fishies.. when the feeds came on, Zach and Frankie were yelling at each other - Flashback 8/8 9.50pm

Sadly for all but Zach, Frankie put an end to that by dragging all the guys except Donny into the fire room where he told them he's a very famous "social media mogul" and that he's Ariana's brother.. he actually fluttered when he told the girls a bit later - Victoria gave him the reaction he was hoping for.. he told them all he's been lying about his life so much it made him lie in the game too, or something like that, and that he doesn't make money from being a "social media mogul" or from Ariana, yet he's playing BB for charity.. he was so exaggeratedly dramatic, so obnoxious, and so ridiculous about it all, he landed himself on Hamsterwatch ignore, and will get a premature empty wheel when this busy page turns over to the next one.. he also told his Youtube subscribers to post videos from the feeds, thus making it personal - I'm done with him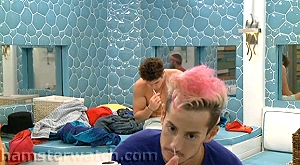 As for the comp itself, Caleb & Frankie won so Christine remained HOH.. I don't know what the comp was about or what happened with Caleb's threats to sit it out - something did.. Christine, Caleb, and Frankie also won a field trip to meet some football players in a nice tie-in event/free promo for CBS's new Thursday football

- Click "previous Hamsterwatch episode" up top to see what came before
- Check my Twitter and Twitpic for more of the random bits that I cover
- Check the Updates section for all the rest of it with real-time feeds updates and LOADS of screencaps
- Get the feeds
to watch it unfold for yourself



Double trouble (Thursday 8/7)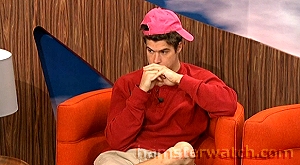 Zach took his spot in the nominee chair early, visibly nervous and chewing his nails.. later Christine took him aside in the pantry and excitedly told him the news he'd already heard last night and reconfirmed today by Derrick, and he seemed to finally believe it - but he also knew they'd all lied to evictees in the past

Julie confirmed they're all at jury now, so it's a 9-person jury again like last year, making them all happy as it means they get full pay.. she also made the possibility of Revive-a-Hamster sound like a sure thing, again like last year.. dual HOH/BOB was put on hold for the night but back in play afterwards

The frantic double-header didn't feel as frantic as usual, and they did a good job of getting last night's switcheroo into the recap.. Jocasta was evicted 6-2 as expected, with Donny & Hayden the dissenting votes - that opened the few eyes who weren't in on it, but there was no time to waste.. they went right to HOH which was an over/under Q&A about random season stats.. Caleb won, surprising many, and he nominated Hayden & Donny.. Donny then won the veto in a ball pit hunt for duckies and took himself off, Nicole went up, and Hayden was evicted 5-2 - Cody & Donny were the dissenters there

Nicole exploded a bit at Christine and others, and later broke down and then calmed down, and went on to win the new HOH comp along with Christine.. Caleb gave Frankie a grilling that had him looking like a scolded child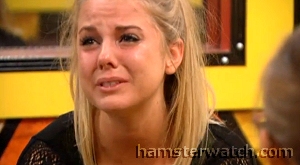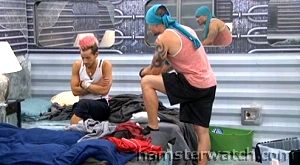 Nicole & Christine agreed that Nicole would put up Caleb & Victoria, and Christine would put up Donny & Zach (keep that in pencil), and they agreed not to renom each other (we'll see about that).. Caleb got some new clothes, a family photo, and a letter from mom, and he bitched about getting no snacks.. Zach & Nicole had a heart-to-heart where they spilled all the secrets to each other.. Nicole's latest letter was from her friend Kaitlyn, and Christine's was from hubby Tim, of course

Team America (fuck yeah) were given the mission to convince someone to go up as a pawn and then get them evicted, with a stipulation that all three have to participate.. chaos carried on through the night

- Click "previous Hamsterwatch episode" up top to see what came before
- Check my Twitter and Twitpic for more of the random bits that I cover
- Check the Updates section for all the rest of it with real-time feeds updates and LOADS of screencaps
- Get the feeds
to watch it unfold for yourself




Get a free trial of the live feeds to see it all as it happens

Ratings - Bad Haiku Two special edition
VTE = Voted to evict





Back in June they said
'Twist after twisted twist' but
Nothing new since then






Won: $5,000, shaved head, 48 hr Adam & Eve with Victoria
#1 VTE Jocasta
#2 HOH (no vote)
Nominated by Nicole - Won BOB

Amber, Adam gone
Nothing left to obsess on
Except himself, ugh






Won: Nothing yet
#1 VTE Jocasta
#2 VTE Hayden
HEAD OF HOUSEHOLD

Laughter like music
Blowing up alliances
Back and forth, can't last






Won: 24 hrs kicking self
#1 VTE Jocasta
#2 VTE Nicole

Threats to 'call them out'
Come to nothing every time
Cuddles carry on






Won: $10,000
TEAM AMERICA
#1 VTE Jocasta
#2 VTE Hayden

Constant gardener
Plant the seeds and nurture them
Sit back, watch them grow






Won: $10,000
TEAM AMERICA
#1 VTE Zach
#2 Nominated - won/used veto
#2 VTE Nicole
NOMINATED

Nice guy, smiles a lot
Caleb took his overalls
Pop-Tarts and saltines






Won: $10,000
TEAM AMERICA
#1 VTE Jocasta
#2 VTE Hayden
Nominated by Nicole - Won BOB

Every day the same
Sex and humping, characters
Stick a fork in him






Won: 1 week frog, 1 week Germitard
#1 No vote (HOH)
#2 No vote (nominee)
Deposed HOH

Went for the big move
House flips happen overnight
Nothing's ever sure






Won: 48 hr Adam & Eve with Caleb
#1 VTE Jocasta
#2 Hayden

Eve was good for her
Confidence and airtime boost
Now where does she go?






Won: Germany trip
#1 No vote (nominee)
#2 VTE Hayden
NOMINATED

He might save the feeds
Unpredictable is good
He slept through his save






Won: Nothing
#1 VTE Zach
#2 Evicted 5-2

To some, he's extreme
But he's just a funny guy
Making friends at camp






Won: Nothing
#1 Evicted 6-2

Diaries deluxe
Usually quiet on feeds
Sometimes pawns go home






Won: Nothing
A stunningly gorgeous model, she lasted longer than the hamster in that slot usually does, but she exited on another unanimous vote, and before jury. She wanted to play a clean game and that usually doesn't work out so well on this show. She was a good sport about pranks, including the antiquing shown here, but she'll mostly be remembered as the object of Caleb's dreams, and I do mean dreams.






Won: 2400 goals
She was the rawest recruit we've had in awhile and she didn't do much homework, which worked against her in a big way. She seemed to have pretty good game instincts and may have done some real damage if she'd been better prepared. She'll be remembered for her high bun as well as the few times her hair escaped it and landed her in Deathrace 2014 hall of fame, and for sticking with and completing that brutal soccer task when she didn't have to.






Won: Nothing
He has a daughter.

PS He easily wins the Best Evictee Award with this.






Won: Nothing
I kept hoping for the spitfire she plays on Twitter & Instagram to show up but it didn't until the veto meeting blowup. She was well on her way to being a perma-pawn but she stressed about not being able to win comps, and then Devin happened and out she went. She had a lot of entertainment potential and while we were robbed of most of it by her early exit, we'll always have CALTORU.






TEAM AMERICA FAIL
Won: Nothing
She blew up her game prematurely and spectacularly, and then her alter ego Alex and his 'big ass balls' sealed the deal. Supposedly she beat someone with 150k Twitter followers (plus 15 million backup) in a public vote, but that went splat just like BB12's saboteur Annie. Joey was lively and personable, a worthy member of the first out club, and she easily leads the pack of hamsters with unnatural hair colors.







Linking to any page here is fine. Please don't repost content from this site (or any other) without permission, and don't repost or hotlink images.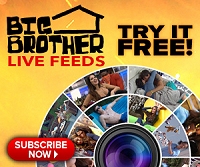 The real show is on the feeds





TEAM AMERICA VOTE


Work together to convince someone to go up as a pawn, then get them evicted







FEEDSTER VOTE


What supplement should Have-nots get?
> Peanut butter and jelly fish (55%)
Beetloaf (45%)

Currently: pea lime pie







RATINGS WATCH


(Final ratings, adjusted for football)
Thursday's live show won the hour with 2.3 rating, 8 share, and 6.54 million viewers, ahead of Rookie Blue on ABC with 0.8/2/4.59, Gang Related on FOX with 0.6/2/2.01, and Welcome to Sweden and Working the Engels on NBC with 0.5/2/2.19 and 0.5/2/1.87 respectively.








Clicky: caps sorted by day - all caps

SEASON STATS
HOHs in order, *indicates the surviving HOH
Frankie/Caleb*, Amber/Devin*, Nicole/Derrick*, Cody*/Frankie, Frankie*/Zach, Nicole*/Donny, Caleb, Christine*/Nicole

BOB wins in order
Brittany/Victoria, Hayden/Nicole, Amber/Donny, Amber/Jocasta, Christine/Nicole, Caleb/Victoria, (none), Caleb/Frankie

Veto wins in order
Donny, Devin, Donny, Victoria, Hayden, Christine, Donny

Evictions in order
Joey 13-0; Paola 10-2; Devin 11-0; Brittany 10-0; Amber 9-0; Jocasta 6-2; Hayden 5-2

Evictees on Twitter: @JoeyVanPelt1, @paolashea, @devinshepbb16, @britt4skin, @aborzotra



BBQ Smackdown Scorecard

- Big Brother 16 -
Round 1: BBQ 1, Frankie 0
Round 2: BBQ 1, Frankie 0, Derrick 0

- Big Brother 15 -
Round 1: BBQ 1, Helen 1, Jessie 0
Round 2: BBQ 1, Helen 0, Jessie 0
Round 3: BBQ 1, Spencer 0
Round 4: BBQ 1, Spencer ½, Judd 0, McCrae 0

- Big Brother 14 -
Round 1: BBQ ½, Dan 0

- Big Brother 13 -
Round 1: BBQ ½, Adam ½, Rachel 0
Round 2: BBQ ½, Adam 0
Round 3: BBQ 1, Rachel 0

- Big Brother 12 -
Round 1: BBQ ½, Brendon 0
Round 2: BBQ 2, Britney 0, Lane 0
Round 3: BBQ 1, Lane 0, CBS 0

- Big Brother 11 -
Round 1: BBQ 0, Jeff 0
Round 2: BBQ 0, Jeff ½
Round 3: BBQ ½, Kevin 0, Michele 0


- Big Brother 10 -
No title events

- Big Brother 9 Winter Edition -
Round 1: BBQ ½, Ryan 0
Round 2: BBQ ½, Adam 0
Round 3: BBQ ½, Ryan 0

- Big Brother 8 -
Round 1: BBQ 1, Dick 0
Round 2: BBQ ½, Zach 0
Round 3: BBQ 0, Dick 1

- Big Brother 7 All-Stars -
BBQ training sabbatical

- Big Brother 6 -
Round 1: BBQ 1, Ivette 0
Round 2: BBQ 0, Howie 0

- Big Brother 5 -
Round 1: BBQ 1, Cowboy 1, Drew 0
Round 2: BBQ 1, Drew 0, Diane ½
Round 3: BBQ 1, Cowboy 1, CBS 0, Nakomis 0



EXTRACURRICULAR TALLY
House meetings - 4
First eight, on premiere #1
Joey's, semi-formal 6/28 5.56pm
Devin's 7/2 11.18pm
Devin's Bomb Squad 7/5 5.47pm

Fights - 5
Devin vs Brittany 6/29 12.21am
Devin vs Caleb 7/5 3.06am
Zach vs Paola 7/7 3.10pm
Zach Cody Derrick Hayden plus Caleb Frankie 7/29 8.22pm
Zach vs Frankie 8/8 9.50pm

Makeout pairings - 1
Hayden & Nicole

Sex events - 2
-Hayden self service (retell)
7/25 6.57pm, 8/02 1.50am
-Zach self service (retell)
7/28 10.37pm

Blindside evictions - 3
Brittany
Amber
Jocasta

Nom speech scorchers - 2
Zach putting up Nicole & Christine
Zach when Frankie put up Amber

Backstory mysteries - 2
Victoria's hair loss
Amber's past relationship(s)

Pinkyswears - 15
Paola & Devin 6/29 1.35pm
Paola & Devin 7/4 12.15am
Paola & Donny 7/4 8.06pm
Devin & Victoria 7/6 10.49am
Jocasta & Amber 7/10 7.57pm
Derrick & Victoria 7/12 8.37pm
Nicole & Christine 7/13 1.24am
Nicole & Hayden 7/15 12.07am
Nicole & Christine 7/15 11.05pm
Jocasta & Amber 7/22 6.27pm
Zach & Victoria 7/24 9.00pm
Nicole & Hayden 7/25 5.32pm
Amber & Christine 7/29 11.15pm
Nicole & Christine 8/9 12.19am
Cody & Christine 8/9 1.28am

The Soup mentions - 3
-Donny's smarts
-Donny's America + Devin/Caleb cuddling
-Egg puns + Jocasta's tongues

Almost literal asshats - 1
Zach 7/5 6.08am

CBS goofs - 19
- Happends
- Jill, for the 2nd year
- Premiere 2 wasn't live
- Misspelled Jocasta 6/29 show
- Flashback calendar's off
- Joey left before trackers came but got 1st place anyway
- Forgot TA results 7/10 show
- Pointless edit amputated Caleb's toes 7/10 show
- Misspelled Jeff's name 7/10 show
- Live show tweet on Saturday
- #BattleoftheBlcok
- Faulty status updates
- Arithmetic is hard
- Ignored feedster poll - they got both
- Flashback highlight time error
- Week-old comp on feeds
- Staffer caught on feeds
- 8/2 Trifecta: BBAD ran 1+ hour while feeds remained blocked, production comp audio leaks on BBAD, fishies on BBAD
- More faulty status updates