This site is about the Big Brother 16 feeds and contains spoilers! It isn't necessarily thorough: it's what I catch and/or what interests me, and it isn't necessarily about who will win, who should win, who's cute or who's horrid. It's about watching hamsters: who's doing what and why. Thanks for encouraging my behavior.
Your pal, dingo







QUICK LINKS & BOOKMARKS



-View or buy BB16 live feeds

-Live feed updates
-Hamsterwatch chatroom
-McCrae Olson videos & blog
-Amazon portal USA or Canada
-VPN for international viewers
-Hamsterwatch Twitter - Twitpic
-BB16 official site
-Hamster Twitters
BB USA - BB Canada
-East Coast air show feeds
1 - 2 - 3 - 4 - 5 - 6 - 7







POWER STATUS


Frankie was HOH #1
His tributes were Brittany & Victoria - they won BOB

Caleb is surviving HOH
Donny & Paola are nominated
Brittany, Joey, Hayden, Cody are Have-not

Team America (fuck yeah) is Joey plus two to follow







UPCOMING EVENTS


June 27: veto comp
July 3: Julie on The Late Show with David Letterman



Save 20% on orders over $29 with coupon code AFFILIATE20
Big Brother plus other CBS shows - shop now!





BB16 DRINKING GAME


Take a swig whenever a new alliance is formed




Donations via Paypal are gratefully accepted!






BIG BROTHER SEASONS



Amazon DVDs BB4 - BB3

Amazon Instant Video BB15
- BB14
- BB13
- BB12
- BB11
- BB10
- BB9
- BB8


iTunes BB15 -
BB14
- BB13
- BB12
- BB11
- BB10
- BB9
- BB7 All-Stars





BB16 FAQ


Feeds are streamed by CBS.

Call 877-211-4367 for account help, including password reset or to cancel subscription.

CBS shows are Sundays 8pm, Wednesdays 8pm, eviction Thursdays 9pm (Global in Canada).

Big Brother After Dark is on TVGN (Slice in Canada) three hours Mon/Tues starting 11pm, two hours Wed/Fri/Sat/Sun starting midnight; and two hours Thurs starting 1am.

BB16 prizes are the same: $500k for the winner and $50k for 2nd place. Stipend for the others will be divulged on feeds sooner or later.

The habitat has 76 cameras (up 11, and now high def) and 100 microphones (up 2).

The recorded in-house announcements are the voice of producer Don Wollman.





>> >> >>
>>
ALL AMAZON.COM PURCHASES MADE THROUGH THESE LINKS HELP SUPPORT THIS SITE
Amazon USA
- Amazon Canada
Premiere the second (June 26)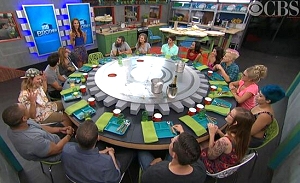 The second premiere brought the other eight into the habitat for a full house, and Caleb won the second HOH comp.. it's odd that the two most talked about from the pre-season are the first two HOHs, but that's where we are

Even odder, Joey is the first member of Team America (fuck yeah) secret task alliance, even though Frankie had over 500k Twitter followers coming in plus his sister's 15 million.. Julie explained that each Team America (fuck yeah) member will receive $5,000 for every task they complete, and voting for the second one was opened

Julie also explained a bit more about the setup, but it's still incomplete and confusing.. the two pairs of nominees will compete against each other in Battle of the Block, and the pair who win are safe that week.. the HOH who put up the winning pair goes back into the potential nominees pool, presumably as veto replacement? If or how the BOB, Have-not, and/or veto comps will or won't integrate with each other remains unclear

Feeds start at 10pm Pacific time/1am Eastern, and then we'll see who and what we're dealing with this summer



Summer has begun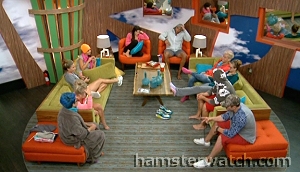 Feeds kicked in on time, on the dot in fact, with all of them sitting around silently & awkwardly, waiting for feeds to kick in.. a minute or so in, they started yelling and dancing and jumping around, Joey and Hayden got nekkid, and then they all settled in to their summer roles.. with 16 of them already alliancing and gaming hard, I have no hope of keeping up with all that yet, but there's no rush: feeds watching is a marathon, not a sprint

Frankie nominated Brittany & Victoria, and Caleb nominated Donny & Paola.. Brittany & Victoria won the Battle of the Block comp, which lasted two hours and involved swings, so they're safe and Frankie isn't.. veto comp is Friday.. they also had their Have-not comp and Brittany, Joey, Hayden, Cody moved into the ice room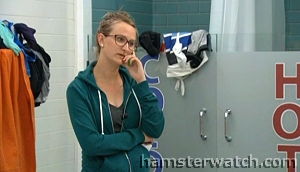 Devin seemed to be at odds with many of them over cleaning and with Christine over sleeping arrangements.. Zach's game looks a lot like BB10 Brian's at this point.. Paola's more of a moper and a whiner than a spitfire, at least so far.. Frankie's get-around and friending everyone is almost Andy-like already.. Derrick gave shout-outs to several BB sites including this one - hey Derrick! Donny turned in early but spewed a few memorable one-liners first, Victoria says she can't sleep in a room with any males, Nicole has a rash from their blankets, Caleb seemed moody and morose, except when he did a little dance number with Amber, and the ants have already moved in

We'll get all the deals and details worked out as we go, but for now it's all good - our summer addiction is back and we all have each other as enablers.. if you're not onboard yet, what are you waiting for? Get the feeds!
Also be sure to check out @UgotBronx's updates and caps



Premiere the first (June 25)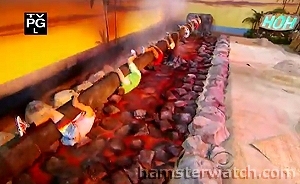 After Tuesday's leak, we knew the first eight into the habitat were Paola, Donny, Cody, Frankie, Amber, Nicole, Devin, and Joey, and so it came to pass Wednesday night on Part 1 of the two-part premiere.. anyone who'd seen the pre-season interviews, house tours, and comp clip didn't really learn anything new, except that Frankie won the first HOH comp.. it was a rerun of standing on a rolly-log while holding onto a rope.. Amber was the other last one standing, and she threw it to him

Thursday's show will have the next eight arrive, and their HOH comp will utilize the same rolly-log but they'll be hanging onto it as it spins, like hamsters grilling on a spit.. the preview clip shows a happy celebration between Caleb and Hayden, so maybe one of them won or maybe that was intentional misdirection by The Powers That Be.. we'll know soon enough

Not much else was made clear, other than Julie explained a bit more about the Team America (fuck yeah!) vote: there will be a secret threesome alliance to do our bidding later, or something.. obviously Frankie would have won the first vote last week, and there will be be two more to come.. Julie wasn't clear beyond that, such as what happens if one of those three is evicted before the threesome is finalized? We wait and see about that, as well as how the Battle of the Block and the four nominees situation will play out

Feeds start Thursday night, and then it really begins



Ratings - Hooray for Noobs edition
Ratings are their official CBS bio stats for now, plus my patented "Most Likely To" predictions. Arrows are based on projected entertainment value. See Updates section for their complete CBS bios, pics, interview videos, and links dug up so far.



Preliminary ups for going with all new hamsters! The pre-season rumors about has-beens were pervasive, and many came from sources with varying degrees of reliability, so it was very refreshing to find out we do indeed have all new faces this time. Many folks are excited that BB will finally be in HD but personally, I'm not anxious to see zit popping, tooth flossing, and foot picking any clearer than we always have.





26 - single


Esthetician

Model
North Hollywood, CA (orig Knoxville, TN)

I don't know what's up with the esthetician stuff - she described herself as a model when asked, and her scantily clad pics are all over the interwebs.

Most likely to get the boot very early.





NOMINATED - WON BOB
29 - divorced, 3 kids
Event coordinator
Torrance, CA (orig Long Beach, CA)

She said she'll miss social media most, not her kids, but I suspect we'll be hearing more about her kids than we'd like.

Most likely to require a Daily Sighting reminder that she's still there.





HEAD OF HOUSEHOLD
26 - single
Adventure hunting guide
Dallas, TX (orig Hopkinsville, KY)

Just as potential fans were drooling over his many selfies, a double scandal hit the fan between boar hunting with a stick and extremely inappropriate comments on his Instagram.

Most likely to tangle with others about animal rights, and other things.





23 - married
Barista/shift supervisor
Tucson, AZ

She really is a barista, at Starbucks, and she seems to know her BB pretty well. That doesn't necessarily count for much but it always makes us feel good when 'one of our own' makes it in with all the actormodels and recruits.

Most likely to play a good social game that will eventually crumble from emotionality.





23 - single
Sales account exec
Howell, NJ (orig Hackensack, NJ)

Another model whose abs are all over town. Personally I prefer personalities over pecs but this is how they like to cast it.

Most likely to get into a guy fight.





30 - married, baby daughter
Police officer/sergeant
Providence, RI

He says he's going to lie about being a cop, and we all know job lies never work out.

Along with Devin, most likely to become utterly boring about his little girl (though she is adorable).





26 - single, baby daughter
Motorcycle sales manager
San Antonio, TX (orig Santa Barbara, CA)

Practically a big leagues baseball player once, this guy is going to compete his brains out and might have a hissyfit or two if/when he doesn't win comps. I've been told he was chock full of drama when he was younger, so let's hope he hasn't lost that.

Most likely to have a slop meltdown.





NOMINATED
42 - single
School groundskeeper
Albemarle, NC

This guy has huge potential to be a top notch hamster, and his self-described fear of public speaking could make his Diaries extra fun.

Most likely to provide many Lines of the Day, and to be a fan favorite.





DEPOSED HOH
31 - single
YouTube personality
New York, NY (orig Boca Raton, FL)

I don't have anything against him (yet?) but I detest the built-in advantage he's got with the viewer voting - it makes the whole thing pointless. Elissa's Brenchel fanbase was chopped liver compared to Ariana's 15 million Twitter followers, and Frankie has 500k of his own!

Most likely to be alternately annoying and boring, once his 'on' persona runs its course.





21 - single
Pedicab driver
Long Beach, CA (orig Marlborough, MA)

Often when they say they're all about humor, they end up being the total opposite. But I'm going to hold out hope for him to keep things lively and funny, and of course I include unintentional humor in that.

Most likely to carefully avoid being in fights.





33 - married, 2 kids
Minister
Lovejoy, GA (orig Griffin, GA)

I'm not big on religion being brought into this game, but I think it's a given that it will this time, and especially by her. But I'm ready for fights and follies, and that weird bow tie earns easy ups regardless.

Most likely to participate in a Holy War.





TEAM AMERICA
27 - single
Makeup artist/hairstylist
Seattle, WA

She's very upbeat and chatty in her interviews but she doesn't really say anything.

Most likely to be Diary's favorite.





21 - single
Recent nursing graduate
Ubly, MI

She's another feedster who crossed over to the other side, and I think she'll do well in there provided she lays low.

Most likely to go far, especially if she keeps quiet and plays the girl-next-door role.





NOMINATED
27 - single
DJ
Astoria, NY (orig East Hampton, CT)

'Pao Pao' is pals with GinaMarie, and has been exposed as having a mouth on her, both in text and by calling Jeff 'old and fat'. Here's hoping she didn't leave the fireworks at home.

Most likely to star in catfights.





NOMINATED - WON BOB
22 - single
Photographer
Weston, FL (orig Brooklyn, NY and Israel)

She's something of a wild card and I think she'll be completely out of her element here, which could work in our favor.

Most likely to have frequent fake hair disasters and star in Deathrace 2014.





23 - single
Recent economics graduate
Palm Beach, FL
What the hell is going on here? I'm starting to think he may have actually contacted Dr Will when he put out his invitation to finalists. He claims he'll have a masterful social game but all I'm seeing is another Jeremy character.

Most likely to be an asshat.







Linking to any page here is fine. Please don't repost content from this site (or any other) without permission, and don't repost or hotlink images.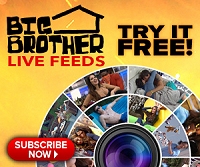 The real show is on the feeds





RATINGS WATCH


Thursday's premiere part 2 won the hour with 2.3 rating, 8 share and 6.56 million viewers, ahead of Rookie Blue on ABC with 0.8/3/4.87, Undateable on NBC with 0.8/3/2.84, and Gang Related on FOX with 0.8/3/2.53.

Wednesday's premiere part 1 won the hour with 2.3 rating, 9 share and 6.64 million viewers, ahead of So You Think You Can Dance on FOX with 1.4/5/4.38, America's Got Talent rerun on NBC with 1.3/5/6.20, and The Middle on ABC with 1.1/4/4.44.








Clicky: caps sorted by day - all caps

SEASON STATS
HOHs in order: Frankie/Caleb*
* indicates the surviving HOH



BBQ Smackdown Scorecard

Big Brother 15
Round 1: BBQ 1, Helen 1, Jessie 0
Round 2: BBQ 1, Helen 0, Jessie 0
Round 3: BBQ 1, Spencer 0
Round 4: BBQ 1, Spencer ½, Judd 0, McCrae 0

Big Brother 14
Round 1: BBQ ½, Dan 0

Big Brother 13
Round 1: BBQ ½, Adam ½, Rachel 0
Round 2: BBQ ½, Adam 0
Round 3: BBQ 1, Rachel 0

Big Brother 12
Round 1: BBQ ½, Brendon 0
Round 2: BBQ 2, Britney 0, Lane 0
Round 3: BBQ 1, Lane 0, CBS 0

Big Brother 11
Round 1: BBQ 0, Jeff 0
Round 2: BBQ 0, Jeff ½
Round 3: BBQ ½, Kevin 0, Michele 0


Big Brother 10
No title events

Big Brother 9 Winter Edition
Round 1: BBQ ½, Ryan 0
Round 2: BBQ ½, Adam 0
Round 3: BBQ ½, Ryan 0

Big Brother 8
Round 1: BBQ 1, Dick 0
Round 2: BBQ ½, Zach 0
Round 3: BBQ 0, Dick 1

Big Brother 7 All-Stars
BBQ training sabbatical

Big Brother 6
Round 1: BBQ 1, Ivette 0
Round 2: BBQ 0, Howie 0

Big Brother 5
Round 1: BBQ 1, Cowboy 1, Drew 0
Round 2: BBQ 1, Drew 0, Diane ½
Round 3: BBQ 1, Cowboy 1, CBS 0, Nakomis 0



EXTRACURRICULAR TALLY
House meetings - 1
First eight, on premiere #1

CBS goofs - 3
- Happends
- Jill, for the 2nd year
- Premiere 2 wasn't live