This site is about the Big Brother 16 feeds and contains spoilers! It isn't necessarily thorough: it's what I catch and/or what interests me, and it isn't necessarily about who will win, who should win, who's cute or who's horrid. It's about watching hamsters: who's doing what and why. Thanks for encouraging my behavior.
Your pal, dingo







QUICK LINKS & BOOKMARKS



-View or buy BB16 live feeds

-Live feed updates
-Hamsterwatch chatroom
-McCrae Olson videos & blog
-Amazon portal USA or Canada
-VPN for international viewers
-Hamsterwatch Twitter - Twitpic
-BB16 official site
-Hamster Twitters
BB USA - BB Canada
-East Coast air show feeds
1 - 2 - 3 - 4 - 5 - 6 - 7







POWER STATUS


Frankie was HOH #1
His tributes were Brittany & Victoria - they won BOB

Caleb is surviving HOH
Donny & Paola are nominated
Donny won veto
Brittany, Joey, Hayden, Cody are Have-not

Team America (fuck yeah) is Joey plus two to follow







UPCOMING EVENTS


June 29: veto meeting
July 3: Julie on The Late Show with David Letterman

Next show
Sunday 8pm: Nominations, BOB, Have-not



Save 20% on orders over $29 with coupon code AFFILIATE20
Big Brother plus other CBS shows - shop now!





BB16 DRINKING GAME


Take a swig whenever Devin's daughter's birthday is mentioned




Donations via Paypal are gratefully accepted!






BIG BROTHER SEASONS



Amazon DVDs BB4 - BB3

Amazon Instant Video BB15
- BB14
- BB13
- BB12
- BB11
- BB10
- BB9
- BB8


iTunes BB15 -
BB14
- BB13
- BB12
- BB11
- BB10
- BB9
- BB7 All-Stars





BB16 FAQ


Feeds are streamed by CBS.

Call 877-211-4367 for account help, including password reset or to cancel subscription.

CBS shows are Sundays 8pm, Wednesdays 8pm, eviction Thursdays 9pm (Global in Canada).

Big Brother After Dark is on TVGN (Slice in Canada) three hours Mon/Tues starting 11pm, two hours Wed/Fri/Sat/Sun starting midnight; and two hours Thurs starting 1am.

BB16 prizes are the same: $500k for the winner and $50k for 2nd place. Stipend for the others is $1,000 per week, including pre-show hotel and jury sequester. Frankie might get more.

The habitat has 76 cameras (up 11, and now high def) and 100 microphones (up 2).

The recorded in-house announcements are the voice of producer Don Wollman.





>> >> >>
>>
ALL AMAZON.COM PURCHASES MADE THROUGH THESE LINKS HELP SUPPORT THIS SITE
Amazon USA
- Amazon Canada
Tropical Storm Joey (Saturday 6/28)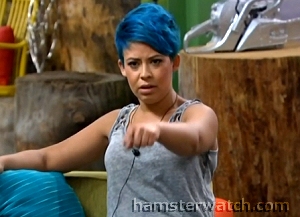 It was a pretty quiet day with lots of bikinis and handstands and the like.. we saw all of them for a few hours instead of just Frankie, which was nice - we do have 16 of them, after all.. Caleb said his Amber obsession might become an obstacle for him.. Christine & Nicole talked a lot about Devin creeping them out, and they discussed his rehab story and how he & Frankie had got into earlier about addiction in song being a good or a bad thing

Joey had an idea she might be going up as renom and she counted votes a few times (but she wasn't really sure how many votes there are).. then she had a mini explosion about Caleb asking everyone who he should put up, and she ran around the house giving everyone directives about making the right decision and having their voice heard - Flashback 6/28 5.56pm.. feedsters woke up in a hurry and so did the rest of the hamsters, and here's hoping they get a booze delivery tonight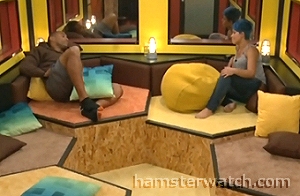 A bit later, after a talk with Zach & Derrick, Joey pulled Devin into the honeycomb lounge and said Caleb's going to ask her who he should put up and she's going to say Devin because he's a competitive threat, but she respects him, and blah blah blah.. Devin said "cool, cool" - Flashback 6/28 8.34pm.. that short convo flew all over the habitat like lightning, with retells galore, making all of them wonder exactly what game Joey's playing.. Zach and Cody met in the pantry later and said yeah, it would be nice to get rid of Devin this week, but they didn't think Caleb would put him up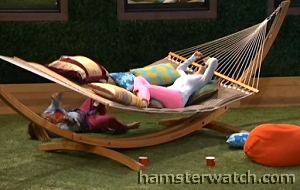 But wait, there's more! Brittany decided to try to hash things out with Devin about their tensions, most of which we saw opening night of feeds about the bed arrangements and the like.. it got heated enough that I've launched the fights section in the Extracurricular Tally - this wasn't a major fight but I'm not expecting much violence from this cast, so I'll take what I can get.. mostly it boiled down to lotion and bedsheets versus Devin's daughter's birthday - Flashback 6/29 12.20am

Afterwards Brittany went downstairs with a few tears and ranty comments, but she composed herself pretty quickly.. Paola went to join her in the hammock and dumped, giving Brittany a much-needed laugh before the retell

In other news, feeds viewers came out today - see Links of the Day below

You can get a whole lot more detail about all this plus loads of caps in the Updates section and/or you can get the feeds
to watch it unfold yourself



Getting to know you (Friday 6/27)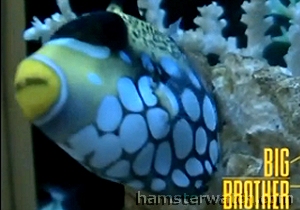 First things first: the fishies are spectacular this season, possibly the best ever, and as a pleasant surprise, we've not seen much of them yet.. an hour before Jeff's 16-hour tweet-a-thon wound up, the hamsters went off for their veto comp and we discovered the trivia & music loop was gone in favor of Jeff's Greatest Hits from the pre-season interviews

They really should add a lot more content there if that's going to be a season-long thing - I like Jeff as much as the next site, but even some of his most ardent admirers were getting a bit tired of him after three hours of the same short loop


Donny won the veto, pleasing many if not most of us.. it was a spelling comp, involving water and soap bubbles, some of which were swallowed.. there had been talk last night and before the comp about sending Joey out the back door, which is a very definite possibility now - Team America (fuck yeah?) would falter and possibly fail as fast as some prior twists if that happens.. nobody seems too keen on booting Paola since she's seen as a non-threat, and Frankie as the deposed HOH should be a target but he seems to be on very good terms with most everyone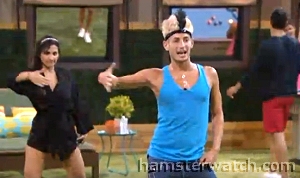 The backyard finally opened and they exploded out whooping and hollering, doing cartwheels and handsprings.. Frankie led jazz dance class (after having led meditation and yoga classes earlier), bros settled down to bond with each other some more, and Paula counseled Caleb about his Amber obsession.. later Frankie & Devin rode each other pony-style, Zach talked to us and then Frankie about how smart he is, and the rest of them hung around the pool table or hot tub, breaking up into small groups here and there to chat.. some gametalk happened but mostly this group is getting along extremely well so far - we desperately need booze deliveries to start up

You can get a whole lot more detail about all this plus loads of caps in the Updates section and/or you can get the feeds
to watch it unfold yourself



Ratings - Early Impressions edition
Ratings are mostly Friday's with a few Saturday updates, based on entertainment value




Friday
Jeff.

Saturday
Instead of Jeff or trivia, why not have a real exclusive for feedsters during blocks, something like say 20 minutes of each hamster talking candidly about the others? It wouldn't hurt the air show any more than feeds and all the sites do, it would probably sell more subscriptions, and it would make feedsters happy. Win-win.
PS Everyone misses old school Diaries where they actually said things they were thinking. They can continue the comp retells for TV, and I'd never gripe about them again.






Friday
I don't have much on her except that she's stunning, extremely photogenic, and she needs to eat a sandwich. Caleb's obsession with her is already at Code Red level.

Saturday: Maybe two sandwiches.






NOMINATED - WON BOB
Friday
I don't have much on her either, except she's a world class insomniac and she even outlasted me on the first night of feeds - that's a first. I shut down at 5am and she was still going.

Saturday
Easy upgrade to ups for her showdown with Devin, and doubly so for not dwelling on it for three hours afterward.






HEAD OF HOUSEHOLD
Friday
He's the surviving HOH but you'd never know it: for all appearances, Frankie's in charge of most of them. Everything might change once Caleb's out of power, but we may have found our designated bunny boiler. Look out, Amber!

Saturday
His brother tweeted that Amber's a tease, but the backlash was swift and the tweet was deleted. The family has the kind of PR control that last year's problem hamsters could only dream of. As for Caleb himself, it turns out he's the designated Expert On Everything.. there's always one. Overnight upgrade to ups for telling us to watch his pig/stick video. Little does he know it's been deleted, but not before it was featured on TMZ.






Friday
Again, not much to go on. Either the feedmasters aren't following her much or I'm just missing her.

Saturday
I've decided I'm on Team Nicotine, and I just hope Nicole & Christine team up to make it happen. Derrick too.






Friday
In the pre-season, this guy had the most attention after Frankie and Caleb, but now he's barely there. Maybe it's due to slop, or maybe he's all packaging and no substance.. time will tell.

Saturday
I saw him a few times today, and even heard him speak a couple times.






Friday
He's a dark horse and I think he has a lot to offer that he's going to let dribble out slowly. He talked a very good game when he described his 'parks and rec' job to Donny, in great detail, and only slipped in one 'and we have a very good police department.' Also, he's mentioned this site twice in two days, and that's always good for easy ups from me.

Saturday
Shoutouts are now three for three, but I'd like him even without them. He's not your bright & sparkly Frankie type, but he's looking pretty smooth as far as positioning himself and knowing when to speak up or stay quiet.






Friday
He keeps saying he knows he's playing too hard too early, and he keeps playing too hard too early. He's parannoying at a mid-season level before the first eviction, which is when the game of Big Brother traditionally really begins. He told the story of his exit from baseball, and it involved residential detox & rehab - Flashback 6/27 5.44pm.

Saturday
This guy! Many are already at #STFUDevin levels but I'm still laughing. Maybe not for long.






NOMINATED - HOLDS VETO
Friday
This guy is hamster gold, and he was a certain goner until he won the veto, whew! He's donating Lines of the Day right and left, and shows no signs of letting up. Turns out he's the only tobacco user in the group: he chews it.

Saturday
All's still well here, plus now we can add making noises with his ears to his list of skills. A correction: he might do dip rather than chaw - apparently there's a difference.






DEPOSED HOH
Friday
He's a chameleon, adapting seamlessly to topics or events depending who he's with. He's in charge of every activity, he teaches every class, and he seems to be in good with everyone. Maybe we or they have misunderstood the whole setup, because it sure seems like he's HOH. His bromance with Zach is almost as surprising as his bromance with Caleb, but both seem to be working for him.

Saturday
No change.






Friday
He's got a big personality and appears to be used to being the center of attention but he's a bit outgunned here, and that's okay. Too much LOOK AT ME! is a bad habit for most hamsters, and he seems to be settling into a good middle ground rather than laying down to die like some do when they can't outshine all the others.

Saturday
No change, except to wonder if he's legit flirting with Amber or if it's all for Caleb's benefit?






Friday
The bow ties, the prayer circles, the facial expressions, and the

dolphin

Keesha-esque laugh are a perfect combo, for now.

Saturday
I saw at least three bow tie changes today, all color-coordinated to what she was wearing, including a swimsuit. I want Frankie to keep holding meditation class because of her expression when it's underway.






TEAM AMERICA
Friday
She's probably going to go up as re-nom, and The Powers That Be are going to have to go to Plan B. I think her crime was outting the girls alliance, but I'm not sure. She puked all over Devin and the honeycomb/lounge, and that was without a booze delivery.

Saturday
What does she think being on Team America (fuck yeah) is about? We don't really know but maybe she got a heads-up from Diary that said it's okay to go completely batshit crazy when she's under threat of imminent nomination.






Friday
I liked her late night shenanigans and giggles, but I haven't really seen much of her otherwise. But I like her and hope she sticks around.

Saturday
See Christine. Also, she's going to be a surprise and serious contender for #Deathrace2014 when it formally kicks off.






NOMINATED
Friday
She tried to spell CALCULATOR in the spelling comp and ended up with CALTURO or CALTEUER or something like that, and they aren't going to let her live it down. It's reminiscent of the TECHNOTRONICS comp but hey, that worked out pretty good for Jeff.

Saturday
A thong flash and booty dance because she didn't think cameras were allowed in the bathroom common area, a hammock dump, extra-creative math & spelling, and an intricate hair-building routine are just appetizers for what's to come.






NOMINATED - WON BOB
Friday
I don't think I'll be giving her ups often but I'd like to be wrong about that. Today's are for an explosive teary confession to Frankie about having extensions due to suddenly losing her hair two years ago (she wouldn't say why), and she'd always been known for her long hair, so now she must wear fake hair (clippies style) so it's long and luscious again. She was genuinely hurting so the whole thing is going to put a damper on #Deathrace2014 but on the other hand, her own hair is now shoulder length and looks fine, and it's a bit early for a meltdown of this caliber. For his part, Frankie feigned shock that her 3" thick braid isn't natural.

Saturday
Downgrade to neutral.






Friday
I think he's pretty much a complete asshat, but his arrogance is so over the top it's hilarious. He was ready to cash his $500k check but then along came Frankie. The funniest part? Zach thinks his social game is a match for Frankie's.

Saturday
No change.







Linking to any page here is fine. Please don't repost content from this site (or any other) without permission, and don't repost or hotlink images.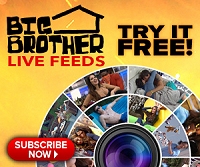 The real show is on the feeds





RATINGS WATCH


Thursday's premiere part 2 won the hour with 2.3 rating, 8 share and 6.56 million viewers, ahead of Rookie Blue on ABC with 0.8/3/4.87, Undateable on NBC with 0.8/3/2.84, and Gang Related on FOX with 0.8/3/2.53.








Clicky: caps sorted by day - all caps

SEASON STATS
HOHs in order: Frankie/Caleb*
* indicates the surviving HOH

Veto wins in order: Donny



BBQ Smackdown Scorecard

Big Brother 15
Round 1: BBQ 1, Helen 1, Jessie 0
Round 2: BBQ 1, Helen 0, Jessie 0
Round 3: BBQ 1, Spencer 0
Round 4: BBQ 1, Spencer ½, Judd 0, McCrae 0

Big Brother 14
Round 1: BBQ ½, Dan 0

Big Brother 13
Round 1: BBQ ½, Adam ½, Rachel 0
Round 2: BBQ ½, Adam 0
Round 3: BBQ 1, Rachel 0

Big Brother 12
Round 1: BBQ ½, Brendon 0
Round 2: BBQ 2, Britney 0, Lane 0
Round 3: BBQ 1, Lane 0, CBS 0

Big Brother 11
Round 1: BBQ 0, Jeff 0
Round 2: BBQ 0, Jeff ½
Round 3: BBQ ½, Kevin 0, Michele 0


Big Brother 10
No title events

Big Brother 9 Winter Edition
Round 1: BBQ ½, Ryan 0
Round 2: BBQ ½, Adam 0
Round 3: BBQ ½, Ryan 0

Big Brother 8
Round 1: BBQ 1, Dick 0
Round 2: BBQ ½, Zach 0
Round 3: BBQ 0, Dick 1

Big Brother 7 All-Stars
BBQ training sabbatical

Big Brother 6
Round 1: BBQ 1, Ivette 0
Round 2: BBQ 0, Howie 0

Big Brother 5
Round 1: BBQ 1, Cowboy 1, Drew 0
Round 2: BBQ 1, Drew 0, Diane ½
Round 3: BBQ 1, Cowboy 1, CBS 0, Nakomis 0



EXTRACURRICULAR TALLY
House meetings - 2
First eight, on premiere #1
Joey's (semi-formal) 6/28 5.56pm

Fights - 1
Devin vs Brittany 6/29 12.21am

CBS goofs - 3
- Happends
- Jill, for the 2nd year
- Premiere 2 wasn't live