This site is about the Big Brother 24 feeds and contains spoilers! It isn't necessarily thorough: it's what I catch and/or what interests me. It's about watching hamsters: who's doing what and why. Thanks for encouraging my behavior.
Your pal, dingo





Donations via Paypal are gratefully accepted!



BB24 DRINKING GAME

Take a swig whenever a new rumor makes the rounds out here





@FEEDS_BOT MONITOR


Refresh page to update





QUICK LINKS & BOOKMARKS

-SIGN UP FOR FEEDS

-WATCH THE FEEDS
after signing up - disable ad blockers

Official site and socials:
-BB24 official CBS site
-Twitter
-TikTok
-Instagram
-YouTube
-Facebook

-Live show tickets are back

-Donate via Paypal - thank you!

-My Twitter - my screencaps

-Amazon Canada portal

-Dick at Night with @EvelDick

-BB Viewer Chrome or Firefox Extension by @liquid8d
-Requires Paramount Plus account

-BB24 Wiki

-Hamster Twitters
BB USA: chron - members
BB Canada: chron - members
BB USA Celebs: chron - members

-Advice for cast friends/family

-VPN to protect your online privacy





EAST COAST AIR SHOWS

East coast air show live streams:
- 1 - 2

USE THESE LINKS AT YOUR OWN RISK
I can only vouch for #1
-NO DOWNLOADS OR SIGN-INS NEEDED
-BEWARE OF CLICKING POPUP ADS OR WARNINGS




Get Paramount Plus
to watch Big Brother
all seasons
Plus tons more CBS and Viacom content




Big Brother 24 SEASON FAQ
-Pre-season July 5: Cast reveal
-Day 1 July 6: CBS premiere
-Kyle was first to enter
-Day 82 Sept 25: 2 hour finale

Feeds are streamed by Paramount Plus, with Flashback included, with a Paramount Plus subscription. Call 888-274-5343 for account help, including cancellation.

BB24 finalist prizes are $750k for the winner, $75k for 2nd place, $10k for 3rd, $7.5k for 4th, $5k for 5th, $2.5k for 6th.
All except finalists probably receive $1k stipend per week again, including pre-season sequester.

The habitat has 94 HD cameras (no change) and 113 microphones (no change).

The recorded in-house announcements are the voice of producer Don Wollman. He and Julie Chen are the only senior staffers who have been there since Big Brother 1.





BIG BROTHER LIVE FEEDS EXCLUSIVELY ON PARAMOUNT PLUS
All Big Brother USA seasons plus most CBS/BET/Comedy Central/MTV/Nickelodeon shows
past or present are included, plus originals!
GET A FREE TRIAL
COMPUTER - MOBILE - ROKU - CHROMECAST - APPLE TV - ANDROID TV - FIRE TV - XBOX 1/360


>> >> >>

>> >> >> >> >> >>

>>

Power Status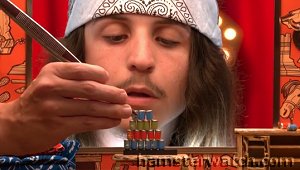 Head of Household: Turner
Original noms: Brittany, Taylor
Veto winner/outcome: Michael/used on Brittany
Final noms: Kyle, Taylor
Evicted: TBA


Alliance charts by @89razorskate20

Alliance maps by @Dolffica

Diary segment tallies by @clamperls4

Ratings Watch
Sunday's show won the hour with 0.7 rating and 5.063 million viewers, ahead of Celebrity Family Feud on ABC with 0.4/4.312, America's Got Talent rerun on NBC with 0.2/1.982, and The Simpsons and Great North reruns on FOX with 0.1/0.622 and 0.1/0.465.

Overnight rating: adults 18-49, percent of all TV households



Upcoming Events
CBS shows are Sundays 8pm, Wednesdays 8pm, Thursdays 9pm except:

Thursday, September 1 show could have a delayed start
Thursday, September 8 will be two hours 9-11pm
Sunday, September 11 show starts 8.30pm in the east East/usual 8pm West
Sunday, September 18 show starts 8.30pm in the east East/usual 8pm West
Wednesday, September 21 no show
Friday, September 23 8pm special day
Sunday, September 25 finale will be two hours 8-10pm

Usual feeds schedule, times are Pacific
Mondays noonish: Veto meeting*
Tuesdays: COVID tests
Wednesdays midnight: Have-nots end
Thursdays: Eviction run-thru afternoon*, live eviction show 6pm*, HOH room late evening
Fridays: Nominations late afternoon*
Saturdays morning: Veto player draw*
Saturdays afternoon/evening: Veto comp*
*Feeds blocked - adoptable anipals on feeds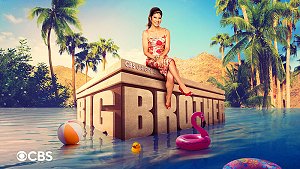 GET THE FEEDS to see the real show!

Paramount Plus plans are as follows:
-$4.99/month or $49.99/year includes feeds, does not have live local CBS, does have commercials for shows/movies
-$9.99/month or $99.99/year includes feeds, does have live local CBS, does not have commercials for shows/movies
-If you get the $4.99 'Essential' plan and want to dump the ads, you can upgrade to $9.99 'Premium' plan at any time
-$5.99/month plan is no longer available for new subscribers, but former All Access accounts will stay as they were, including feeds and live local CBS



Daily Feeds Recaps
Day 57 - Wednesday - August 31, 2022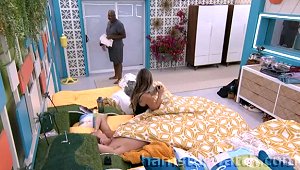 In overnight news, Turner told Brittany, Michael, Monte, Taylor that Alyssa and Kyle had indeed done the sexytime. Taylor had been counting the unopened condom boxes lately, so she and they assumed nobody had. Meanwhile the two who (supposedly) broke up yesterday got busy again in the walk-through bedroom. Kyle said "we can't" at 12.52am, then said "this isn't helping at all" at 1.02am, "I have to stop" at 1.21am, then at 1.32am he said "sorry, I couldn't help myself," she said "that's so hot, omg," and he said "you knew what you were doing to me" and "okay that was it, that's all we can do." And then at 1.41am she did some covers rearranging and seemed to go under them as he said "this is gonna get so hot so fast, we have about 20 seconds in here," and she said "20 seconds is enough for you." Meanwhile Terrance wandered through a couple times, once for popcorn (appropriately?), and Michael also passed through. I've added it to the Extracurricular Tally below as a probable/unconfirmed, and nobody's happier for this particular watch to end tomorrow than I am.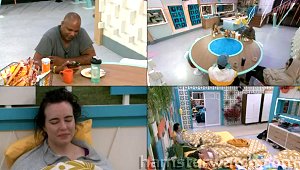 Morning/noontime activities included chat around the table by most, as Brittany sat alone in her room with closed eyes and a grin. I'm guessing she did one of her self-hypno sessions she's mentioned often. She's said she visualizes herself walking onstage on finale as the winner, with confetti flying. Anything can happen on this show as we know, but I have doubts that will. She could get someone else's residual confetti as second place though. Turner shared his idea for a children's book or movie with Alyssa, Michael, Monte, Terrance, saying maybe he shouldn't share but maybe the feeds weren't on them (where else would feeds be?). The idea was mostly a clever title, Podengo Unchained, and he explained podengo is a Portugese dog breed. Alyssa had Django Unchained confused with Rango, so that convo went sideways as so many of them do.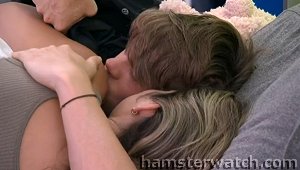 Feeds were pretty quiet with mostly chit-chat about various topics, most of them not game-related, but Kyle asked Monte to look after Alyssa when he's gone? Something like that. And Alyssa and Kyle may have done it again, and again in the open walk-through bedroom. They'd been cuddling and cooing in her bed for quite awhile, and then they were glimpsed at 3.39pm between WBRBs. He said "thanks for the.." as he left. I don't know, but I'm adding it to the tally as another probable, and I'm again grateful this aspect of the season will be over tomorrow. Ick.

The cookie contest happened, with Alyssa, Michael, Turner styling prefab cookie dough with candy. Brittany, Monte, Terrance were the judges, with Taylor hosting (though she didn't participate much). When the cookies were in the oven the bakers parked on the floor to watch them bake like it was Great British Bake-Off rather than hamsters mixing packaged products together.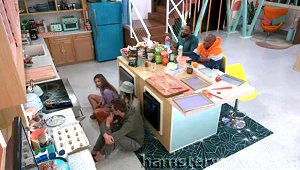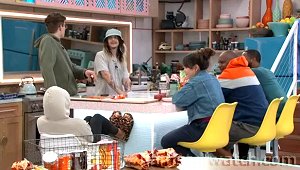 Points were awarded in various categories including presentation. Michael made initial monograms for the judges' plates from shaved chocolate bits, Turner presented his cookies with a story and a beverage, and Alyssa didn't even use a plate. And that was the final ranking: Michael won another comp with 40 points, Turner was a close second with 39, and Alyssa was at the bottom with 26. She wasn't happy, especially when the final category finally came along and Brittany said "quite frankly, I kind of forgot about your cookie." But it was a fun hour or so, which was welcome after the heavy weekend. And it was one of the few creative group activities this bunch has done all season.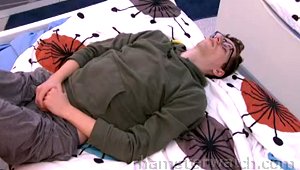 Monte worked his anti-Michael campaign a little more to Taylor. Brittany apologized to Turner for bringing up his MrBeast stuff yesterday (I didn't realize she had) and he said it was okay, they could talk about it later. Alyssa and Kyle did some more of their whispery giggly flirting thing, along with talking about potential post-show plans, and Kyle made her say "I can win" after hearing her say she knew she couldn't. Evening feeds went from quiet to dead, with snoozing hamsters everywhere. But then they popped us back to the Have-not sex lair with Alyssa and Kyle cuddling on their butterfly floatie. He said "it's getting frustrating for me to hear about that" but there was no indication what that was about, nor if they'd done their tally-able deed again or not. They proceeded to analyze the game and everyone's standing in it. Alyssa and Michael smashed a loaf of bread that was past its shelf date, and Kyle told Alyssa not to give him a sympathy vote.

There was a rumor out here that Alyssa had requested a pregnancy test but I think that's all it was, a rumor. I didn't hear anything near the supposed time, and I didn't hear anything from her on feeds about it at all - I think she'd probably be talking about it if true. But you know this fandom, it has now become "fact".

IF YOU MISSED what came before, check my previous episode, always linked up top or from my season index, and get the feeds to catch anything you missed with Flashback!

A big thank you for continuing to visit Hamsterwatch.com! And big ups to everyone who has or will get their feeds through me, and/or has or will make donations! I couldn't do this without you guys ♥



Day 56 - Tuesday - August 30, 2022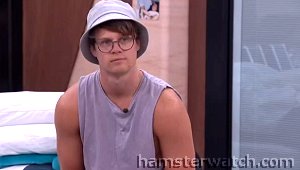 Kyle and Brittany had a check-in, with Kyle being reflective. He told Brittany about his horrible day yesterday, and that initially he'd been defensive but then realized what he'd done and said, and he said it was difficult but necessary to have that realization to move forward, "kinda like the steps of grief." He parroted some of Terrance's words, and again referred to his tired excuse of having had a "sheltered life in Utah." Brittany said "usually" problematic evictees would have no idea until they went out to Julie reading receipts so at least he'd be prepared for that. (I think Julie's only done that to Aaryn and Jackson.) Brittany said how bad she felt about it all, and how much she'd probably hurt Kyle. Whatever happened over the weekend during feeds blocks was apparently quite dramatic, and we'll never have a full and accurate version of it.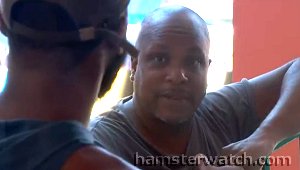 Terrance retold his Kyle counseling session last night to Monte. And they had a lengthy convo discussing some of the sorry racial and cultural history of the show, and Cookout, and the state of the world, their respective life experiences, and Monte said the last couple days had been very difficult. That convo was sprinkled with a number of WBRB blocks and shifts to other rooms. Brittany and Alyssa promised each other if they win HOH next week, the other wouldn't leave.

Terrance and Turner will likely continue to campaign to keep Kyle today, and there's virtually no chance they'll be successful. That's been the pattern most weeks this season: they have a plan and they know who's leaving, and then they circle back and debate and discuss it to death, only to end up doing what they'd originally planned. It's exhausting.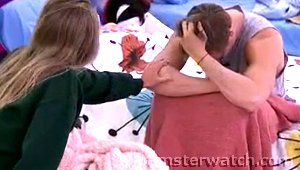 Kyle sat down with Alyssa and said he cries all day and doesn't know why, and "it's such a difficult theme to talk about" but he'll accept the consequences coming his way, and "they're all deserved." He said he's sick of crying and wished he could write out his thoughts, "it's so difficult" and "I'm just so sorry, Alyssa." She said she'd talked to the therapist earlier today which helped sort out her thoughts as far as game versus personal. He cried, and she cried, and she said she was unsure about a future together now after everything she heard, and "I'm not okay at all, I'm not gonna be okay for a long time." She also said it's hard seeing him every day because she still wants to hug and kiss him. She asked if their relationship was real to him and he said yes but the game was always a component. Both said they hope there's a chance for them to explore whether they have a future after the game, and she said "I don't think we should leave this game in a relationship." And she said she wished he hadn't lied to her, but "the month we spent where you were lying to me was still the best month of my life." Alyssa asked him to downplay how much he'd told her about Leftovers, and he said he's done talking game, "I'm out, I'm checked."

Elsewhere, Monte started to tell Taylor about his talk with Terrance this morning, including how torn up he'd been when he learned about the racism his younger brother faced on his ship in the Coast Guard, and that he hadn't been there to help and support him, and he broke down crying, "I miss him so much."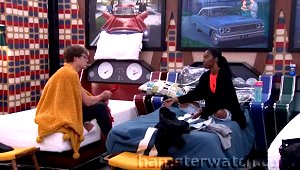 Next Kyle met with Taylor, starting with saying he'd felt defensive when first confronted with everything (with Monte it sounded like, while the others were watching their movie), and then shifted to sorrow, and then he broke down sobbing. He apologized and said "I don't know how to explain, and where to put my hurt and sorrow" and said he's sorry for everything, there wasn't even one thing he could point to. Taylor said they're all multi-faceted humans but she was shocked to hear that stuff came from Kyle, adding she wasn't excusing it but she could see how he got to those conclusions, especially after Cookout season, but that wasn't the play this year. He added "and there was no evidence." She said she'd been all about Leftovers to the end, and she lightened the mood a touch by saying "you dummy!" She said she'll support him after this and he said he appreciates the love and compassion all of them have shown to him, and he hoped he can "be an example of learning and changing and growing." And she told him "I'm not your private tutor, but I am your friend," and she said there are countless resources to educate himself about race and racism. He asked what should he do now? She said focus on relationships, and maybe ask the POC about their experiences, if they're willing to talk about them, as that can be a painful topic. And she suggested he be honest when he gets to jury or the next person would come along and say "actually this is what happened."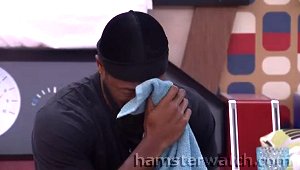 Kyle then met with Monte, starting as he had with the others, saying the last couple days have been incrediby difficult, and he said Terrance gave him some guidance for holding these conversations. Before long he was sobbing as he said "I just want to say how truly sorry I am," and he said he'd played an incredibly selfish game. He said when he heard Taylor wouldn't put up Jasmine his reaction was all about how that would affect him, when it should have been asking why? Monte also fought back tears, and then he too cried. Kyle said "you can punch me in the face" as that would help him feel better that he was feeling, and they both laughed a bit. Monte then described some of his life experiences, including his pain about what his brother faced in the Coast Guard. And he said he was hurt to learn Kyle's reason to split with Leftovers was due to race rather than legit game reasons.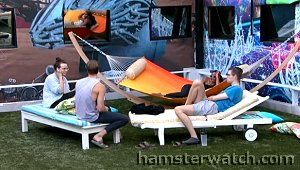 In the backyard Taylor told Brittany it wasn't her responsibility to explain her racism experiences to Kyle so he can learn, and she explained current day racism often does look like what's unfolded in there, "rather than explicit, in-your-face, open - it's more 'I treat everyone the same, therefore there's no way I could be any ism-ist'." Kyle held a convo with Turner, again acknowledging and apologizing for his mistakes, and for playing selfishly. Turner said he figured the others were forming against him, but he told Kyle he'd been promised safety next week by several. Turner asked if there was anything Kyle could let him know to help him in the game, and Kyle said he's in "a different mindset now, I'm in jury." I missed the start of Kyle's apology meeting with Michael and Brittany, with Taylor present. I came in to Michael talking about resources to learn about racism and microaggressions for oneself, and Brittany chiming in her loop of the day, that she too had grown up sheltered and then had a reality check when she moved to New York for college. Later Brittany told Michael she'd asked Taylor if she thought Monte would stick with their F4, and Taylor had said yes for her and Brittany, but Michael might go before they get to four.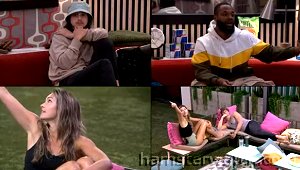 Monte visited Turner in HOH where they discussed the Kyle situation, race issues in America, and the Michael problem. Monte told Turner some of the work he's done with Taylor to start pulling her away from Michael and Brittany. And he told Turner about the final four he's got with them. And he said it'd be good for Turner to stay in Michael/Brittany/Taylor's good graces for now in case they do win HOH, and said he'll talk with Taylor some more in hopes of convincing her she's definitely third in the Michael/Brittany trio. Alyssa and Kyle chatted in the backyard like it was their first date all over again, light and flirty, and they talked about possibly visiting each other after BB. Terrance and then Taylor joined them. The bugs were bad so they went back inside, but not before Terrance sprayed the seating area and pillows with Raid. Monte and Taylor discussed their convos with Kyle and both said they thought his apologies were genuine, and they thought and hoped this would be a learning experience for him, and for others. Monte brought up Michael and Brittany waiting to spill until it was useful for them, and Taylor said she appreciated them waiting rather than saying something before they were sure it was as it looked. Monte later went on an anti-Michael/Brittany/Taylor fact-finding mission with Kyle as they played pool, and after that he had a flirt-finding mission with Taylor as they played pool.

The yard will be closed again at 5am tomorrow morning, and a baked goods competition is tentatively planned for the day.

IF YOU MISSED what came before, check my previous episode, always linked up top or from my season index, and get the feeds to catch anything you missed with Flashback!

A big thank you for continuing to visit Hamsterwatch.com! And big ups to everyone who has or will get their feeds through me, and/or has or will make donations! I couldn't do this without you guys ♥



Day 55 - Monday - August 29, 2022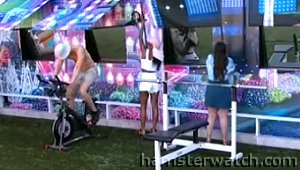 First off, if you missed it, yesterday was huge. You might want to catch up my recap of the day's events.

This morning as they did catch-up Diaries and waited for veto meeting, the call to put up the awnings came. Brittany and Taylor did them while Kyle continued cycling. He may have offered to help and they may have told him they had it, but it was an interesting choice just the same, since the guy has the wingspan of an albatross and awnings are easy for him. Of course he knew he'd be the renom today and probable evictee Thursday (as of now) so he was probably already checked out. He tried to chat with Alyssa about the numbers on their tiny can stacking booths, but she was chilly toward him. We learned a little about last night's drama we didn't see, including that Terrance went off on or about Michael and Brittany about their timing, and having withheld their Kyle info until it was useful for them, and apparently he lumped them in with Kyle for that. Terrance apologized to Turner for having gotten aggressive about that. Alyssa approached Monte and Terrance to gametalk a little, and Monte pushed that they had to get Michael out soon or he'd easily win the game.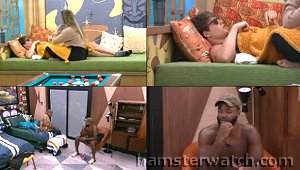 As planned, Michael used his veto on Brittany and Turner put up Kyle in her place. Apparently Kyle said something about "rooted in race" during the meeting, possibly apologetically or regretfully? I don't know. Kyle played pool for a bit before retiring to the skybridge tiki zone, where Alyssa visited him for a short while. He said something about having been a Boy Scout through his teens, and she kind of teased him about that. He joked what if he goes, she wins HOH, and her letter was from him. Terrance "spitballed" to Monte an "unpopular opinion" (his words) that it might be a more teachable moment for Kyle if they kept him, giving him an opportunity to learn and grow, and change the stigma that now surrounds him. And he said Kyle being up against Taylor made it a tougher choice than if it was Kyle versus Brittany. Monte said "it's like kids, if they don't face any consequences for their actions, they never learn." And he stressed that Kyle's a good competitor so that would be an additional barrier for them to get further, on top of Michael's proven comp abilities. (How much of Terrance's pitch was genuine and how much for game, since he had grown game-close to Kyle last week, is unknown - and it doesn't really matter since Kyle is surely walking the plank on Thursday, likely unanimously.)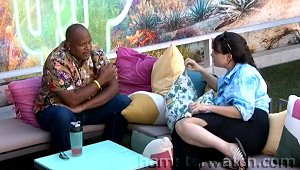 Terrance told Brittany that it was Kyle who first spilled about Leftovers last week, before Joseph, who the outsiders had been blaming. And she told him that yes she was hurt by Turner nominating her, but she'd made him a promise that she wouldn't put him up if she wins HOH since he went ahead with the Kyle renom. (She did promise Turner that, as did Michael, but I don't think it's anything she needed to tell Terrance at this point, but Brittany's gonna Brittany.) They did more rehashing of last week, and Terrance not-so-subtly said they need to think about who they'd want to sit next to at finals because anyone would lose next to some. He didn't mention Michael by name, but the implication was clear and she picked up on it. Michael joined and put a temporary end to that convo. In HOH, Turner and Monte discussed whether Kyle or Taylor would be the best to evict, citing Terrance's pitch to each of them, even though everyone already decided Kyle was done. And they agreed Michael and Brittany's timing about exposing Kyle was for game reasons, to save both Brittany and Taylor.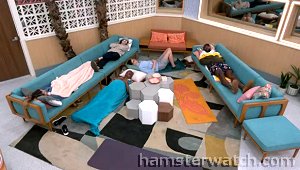 Everyone except Kyle and Taylor did their body count thing as Brittany led another hypno/meditation session, this one billed as heart healing. Feedmasters played along by occasionally cutting to soft blurs of both random decor items and the various participants, shimmering pool water, and even a few seconds of the WBRB yellows/oranges animated graphic. That one was pretty funny, as they cut to it as Brittany was talking about noticing what form and color their healing energy took. And of course too many out here made jokes (or maybe some were serious?) that Brittany was hypnotizing them so they'll give her the win. I'm guessing those folks haven't listened to her or anyone else's hypno sessions to see what's actually said and/or how they work. And while the participants again thanked Brittany afterwards and said they were relaxed, Terrance got back to his busy agenda right away by whispering to Alyssa about his campaign to keep Kyle.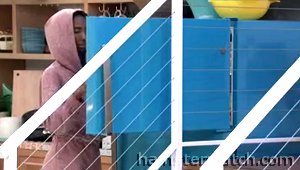 Later, Monte told Taylor he can't trust Terrance and said he pitched to him to save Kyle. Taylor said he'd pitched the same to Brittany. And Monte mentioned his foursome with Brittany, Monte, Taylor to Turner, who was surprised to hear about, and not happy he was excluded (though he shouldn't have been surprised.) Michael crashed and put a temporary end to that convo, in what's become a recurring theme. Taylor cleaned out the fridge. Turner told Brittany, Michael, Taylor that Terrance had pitched his save Kyle campaign, and said he was telling them in case it gets spun back on Turner somehow. Brittany said she'd had the same pitch. Turner did not mention that he'd previously pitched saving Kyle to Monte. Turner also told Brittany and Michael that Kyle spilled about Leftovers "day 1, hour 4" when they were in the backyard, that Alyssa knew all of it, and he said he was the only one trying to protect them out there. He asked Brittany if she'd stick with Leftovers if she won HOH and she said she would. Michael said "should we reheat the Leftovers?"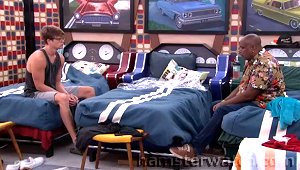 Kyle mostly self-isolated most of the day, and he told Alyssa it was the worst day of his life, and he'd had a panic attack. Later, Terrance gave Kyle an impromptu counseling session, talking about forgiveness and learning moments and the like. He repeated what he'd been saying in his pitches, that he'd prefer Kyle stay in the house so he can learn and grow. He added he wasn't saying that for game, "I don't even care about the game at this point because - I just don't, I'm happy to be here, thank you America." He went on to explain some elements of Black culture to Kyle, along with Cookout's mission and the reasons for that mission. Kyle said ran his loops about being sheltered, he lives in Utah, he's never been exposed to other people or cultures, etc. Meanwhile, Alyssa and Turner compared I said/he said/she said notes about the day's meetings.

In related but non-feeds news, TVGuide used the #KKKyle hashtag in a tweet linking to an article about all that, and Taylor won an E! News viewer-voted award as Favorite Reality Star.

IF YOU MISSED what came before, check my previous episode, always linked up top or from my season index, and get the feeds to catch anything you missed with Flashback!

A big thank you for continuing to visit Hamsterwatch.com! And big ups to everyone who has or will get their feeds through me, and/or has or will make donations! I couldn't do this without you guys ♥



Ratings - We'll Be Right Back edition
Ratings are Monday's, normally based on entertainment value, but there hasn't been much of that



Noms count: original/renom






They have a disclaimer when you fire up feeds and occasionally when switching them about potentially sensitive material or prejudices being revealed that Paramount Global doesn't condone, so you have to ask why they block it when that stuff rears its ugly head. I'd guess #StopProtectingKyle trending #1 USA on Sunday morning (above NASCAR!) may have had something to do with them relenting a bit. But then to block what was apparently some actual drama and/or a house meeting Sunday night? Well, poop. But like so many things, this falls into the why ask why category, as we're not likely to get answers to that. But it was disappointing - again, especially after the superb uptime overall for the first half of the season.





Won: $5,000; Week 1 Backstage Pass; Movie guest

HOH 0 - Veto 0 - Noms 1/0
Have-not 1



Without cuddling up to Kyle and having smackyface, slurpydurp, and brief sexytime incidents with him regularly, she could easily slide into the Who? category. She's the only one left who hasn't won any comps.





Won: Week 1 Backstage Pass; Week 1 viewer safety vote; Week 5 immunity (HOH Bestie)

HOH 0 - Veto 1 - Co-veto 1 - Noms 2/0
Have-not 0



See Michael re timing, as it was his veto and his decision to launch the tell-all when they did, and he led those sessions. Sure she has input in what they do, as she always has, but he's driving that duo in every way. I'm curious what happened during the movie screening but we may never know. Even if they drop an edited segment on Wednesday's show, it'll surely just be a tiny slice of whatever went down.





Won: TBA

HOH 0 - Veto 1 - Co-veto 1 - Noms 0/3
Have-not 1



He said what he said, multiple times, and he'll face some consequences of that Thursday night, probably first from Julie and then again later that night or next day with his press QAs. What he takes away from all of it remains to be seen. Maybe he'll issue a genuine apology (or a lame non-apology), or maybe he won't. Maybe he'll learn and grow from this and maybe he won't. He's the first one who's had this type of behavior confronted while still in the habitat. A dubious first, but it's a first. Aside from all that, he outed Leftovers to the outsiders as a short-term solution to a long-term situation, and that's exactly how it worked out: he only got one extra week from it. He still doesn't know his ten second sexual performances are also known by all - also due to his own mouth.
UPDATE Upgrade to neutral as he initiated and held several difficult conversations Tuesday, acknowledging and owning his mistakes, and it seemed genuine in my opinion. Here's hoping he continues to learn, and grow. If I see Daniel-type post-show trash from him, I'll come back to this page to revert back to a down arrow.





Won: Movie screening

HOH 2 - Veto 4 - Co-veto 1 - Noms 2/0
Have-not 1



Should he have mentioned Kyle's agenda before he did? Probably, and that timing is being talked about behind his back (as well as to his face, apparently). But in the BB habitat, it's tricky to put damaging info out in the open - at least in new BB, when open hostilities don't happen often anymore. Game-wise, he knows he's still in trouble because he hasn't yet met a comp he doesn't like, and everyone knows it. We've had a few hamsters 'win out' near the end as their only path to secure a spot on the finale, but he started his streak way back on Day 4 and it has been noticed.





Won: TBA

HOH 1 - Veto 0 - Noms 2/0
Have-not 1



You know who's maneuvered the various shifting alliances without upsetting anyone? This guy. You know who's still in good social standing with everyone? This guy.





Won: Week 5 surviving Bestie pick; 48 hr Fancy tied to Joseph; Movie guest

HOH 1 - Veto 0 - Noms 2/2
Have-not 0



She'll be on the block yet again Thursday, in another stunning outfit, with another gracious speech. And chances are better than good that she'll stay again, and she'll avoid casting a vote against a juror as a bonus. Terrance is now the only one actively working against her, and while he doesn't have nearly as much influence as some others, he's working that agenda very hard.





Won: Week 4 surviving Bestie pick; Week 4 immunity (HOH Bestie);

1 week

4.5 days Ink 182 temp tats

HOH 1 - Veto 1 - Noms 3/1
Have-not 1



I don't know why he's so anti-Taylor, unless it's residual from the first ugly weeks. But he is and he's getting more vocal about it. He so often comes across as a nice, relaxed and fun guy, but then he switches on a dime to spew horrible things without warning. His comp record isn't great but it's better than some, though I can't see him doing well on things like BB Comics.
PS The other night they all gave a movie recommend to feedsters and his title was Quills. He said it's a period piece about a writer, which it is. He didn't say it's about Marquis de Sade's incarceration in a 1700s insane asylum. An unusual choice, and an interesting one.
UPDATE I might upgrade him to ups for helping Kyle maneuver his situation and his talks, but I don't know how much of Terrance's incentive for that was in hopes of Kyle staying versus how much was bigger picture.





Won: Movie guest

HOH 2 - Veto 0 - Noms 1/0
Have-not 1



He's now had two HOHs and chaired two veto meetings where he's taken action as the conscience of the house. Awhile back he said the first one to turn against Leftovers would be the first to go, and while his initial noms didn't pan out that way, that's how the week ended up. But he still wants Michael gone, at least as of now.





Won: Week 4 immunity (HOH Bestie); 48 hr Skid tied to Taylor

HOH 0 - Veto 0 - Noms 2/0
Have-not 1

3rd juror - 7th evicted - Day 51



He often said he hoped this wouldn't be a season with fights and hostilities, and for the most part it wasn't. But it's still a dirty game and he played loyal, even while he was double-dipping, at least until he had no choice among the Dyre Fest outsiders, since Kyle spilled the Leftover beans out there way before he did. He often gametalked for too long, but he was good at creating chaos, and he also had great stories about his childhood and teen adventures. His birthday joined the epic BB birthdays when the Leftovers formed and took aim at the other side, taking them out one by one (with several bonus blindsides) until the split house twist split them up, and he was the first casualty of that. His friendship/flirtmance with Taylor was fun to watch.





Won: Week 3 immunity (HOH Bestie); London trip

HOH 1 - Veto 0 - Noms 1/0
Have-not 1

2nd juror - 6th evicted - Day 51



She participated in the early Taylor bashing but eased up on it as her friends left and she lost people to bash with. She was the comic relief of the season in so many ways, from her ridiculous Diary accent and lines, to her twisted ankle that went on and on and on, not to mention her inability to use crutches or cane properly for it. She annoyed many of them as a roommate, she stashed her favorite foods, and she talked incessantly about herself. #JasmineStories sounded like tall tales, especially as they continued to pile up, but her old Twitter account proved quite a few of them were true, or at least had a basis in truth. Her ongoing feud with Turner was a season highlight, especially when he stole half a muffin and she made a federal case about it.





Won: Punkaroo 1 week concerts

HOH 0 - Veto 0 - Noms 2/0
Have-not 1

1st juror - 5th evicted - Day 44



She was often loud and often acted more like she was playing BB Brasil than USA, with more attention given to her frequent (loud) shoutouts and camera messages than to the game going on around her. She was another of the early season Taylor haters but it lingered on with Indy after the others left or backed off. Indy was one of the few who confronted Taylor face to face (over soup), but her most vicious was a tirade to Joseph saying she HATES it when he and the guys talk with Taylor. But she was often fun and upbeat, and she was a better sport about her Punkaroo punkitard than most expected. And I always give kudos for non-native English speakers in this game that's based around whispers, conversations, and retells.





Won: Nothing

HOH 1 - Veto 0 - Co-veto 1 - Noms 0/1
Have-not 1

4th evicted - Day 37



Day 18 to Taylor: 'Don't speak to me until finale. The thing you did to Paloma you're trying to do to [Nicole], you can fuck right off. You don't think America's watching all that? You don't think so? From here on out do not speak to me. I will never forget what you did to Paloma. You think she didn't spiral because of you? You didn't add to that? And now you're trying to do it to Nicole, mind game. Do not speak to Nicole like that ever again.'
Don't get it twisted. First, mental illness doesn't work that way. Second, Terrance first suggested all that, Nicole planted it in Daniel's head, and he's the one who ran rabid with it, with her urging and blessing. They were peas from the same rotten pod and each fed off the other's vileness. I hope I never hear about either of these Toxic Twins again.





Won: Nothing

HOH 0 - Veto 0 - Noms 0/1
Have-not 1

3rd evicted - Day 30



Arrogant, aggressive, entitled, overbearing, self-serving and self-centered. She took over the Taylor hate train when Paloma left and ran it off the rails. She had no redeemable watchable qualities, least of all being entertaining in the slightest. I thought about doing Ozark ratings some week but I lost my Wendy Byrde with her exit. Verbatim quote from this 'superfan': 'They've done something that no other alliance has ever done in this game, in Big Brother history, they created a pact of people to make you think you're safe and say I got your back, and then this [betrayal] happens.' Hello? Welcome to BB.





Won: Nothing

HOH 0 - Veto 0 - Noms 0/1
Have-not 0

2nd evicted - Day 23



She was one of the Taylor haters under Paloma's direction, but she kept it up after Paloma's exit, even after Turner referred to it in his noms speech. That was one reason she went on the block as backdoor target and eventual exit, along with Michael and Kyle stressing her general smarts. She pushed for Pooch to go after he volunteered himself, and then she was blindsided when it was her own turn to meet Julie.





Won: Week 1 Backstage Boss/immunity

HOH 0 - Veto 0 - Noms 1/0
Have-not 1

1st evicted - Day 16



Volunteering to go on the block is always dicey, but especially as early as he did before any real trust is formed. And now he knows why. He's lucky Julie was COVID-distanced or she might have whacked him. He put all his eggs in a broken Oasis basket, and he irritated a lot of them with his antics and touchy-feely. When Joseph tried to help and warn him about that, he just got mad at Joseph. Like Paloma, he talked constantly and very, very fast. He seems like he's got a good heart so good luck to him from here.





Won: Week 1 Backstage Pass

HOH 0 - Veto 0 - Noms 0/0
Have-not 0

Left the game - Day 8



She drove the game at the start, and she ignited and fueled the unjustified Taylor hate which continued to thrive even after she left. When she started to spiral, her conspiracy theories and delusions would have been comical if they weren't indicative of something more serious going on. It was probably best for her to go when she did, and for me - her nonstop superfast talking was stressing me out.





Won: Nothing

HOH 0 - Veto 0 - Noms 0/0
Have-not 0



He was replaced pre-season by Joseph, but you can catch him on America's Got Talent and The Circle.






Lines and Links of the Day
Lines

Wednesday
Kyle Diary: Dyre Fest saved my game

Tuesday Alyssa: I've dated a lot of men who struggle with mental health issues

Alyssa: I can't be responsible for teaching [Kyle] things that my parents taught me as a child

Alyssa about Maryland: I thought - whoa, I thought it's next to like Arizona

Alyssa to Kyle: I'd prefer not knowing you were lying to me, but the month we spent where you were lying to me was still the best month of my life

Alyssa: I feel emotions so deeply to the point I feel physical pain

Kyle to Turner: I'm in a different mindset now, I'm in jury

Taylor: What do you want to make?
Monte: Um, I don't know
Taylor: Snacks?
Monte: ...
Taylor: Snacks, or ?
Monte: Oh ho ho [laughs]
Taylor: What did you think I said?
Monte: All I heard was 'sex?' I was like ma'am
Taylor: Sir!



Links

GET YOUR FEEDS includes a free trial

Aerial Assault: The History of Banner Planes over the BB House by @BBbarfbag

Rancho Coastal Humane Society temporary home of our feeds anipals, including adoption updates - visit them or your local shelter to find your new best friend

Tropical fishies cam if you're missing them, from Aquarium of the Pacific

Use my link for any Amazon Canada shopping, anytime, at no extra cost - just start your shopping trip by clicking Amazon Canada



Tally Items

Season Stats
HOHs in order: Daniel; Jasmine; Turner; Monte; Michael; Taylor; Michael + Terrance; Turner

Veto winners in order: Michael; Michael; Brittany/Michael; Daniel/Kyle; Michael; Kyle; Brittany + Terrance; Michael

Evictions in order: [Paloma left]; [Nobody]; Pooch 12-0; Ameerah 7-4; Nicole 9-1; Daniel 8-1; Indy 7-1; Jasmine 2-0 + Joseph 2-0

Cast Twitters: @poochie_maneee; @DowntownDurston

Cast Instagrams: @paloma.angeliki; @poochie_maneee; @ameerous; @thebutchergoddess11; @danieldurston







Linking to any page here is fine. Please don't repost content from this site (or any other) without permission, and don't repost or hotlink images.







988 CRISIS LINE 988



The national mental health hotline has launched nationwide. Call or text 988 if you or a loved one is in crisis - help is out there.



THE REAL SHOW IS THE FEEDS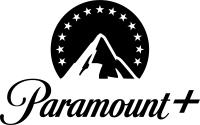 CBS All Access is now
Paramount Plus

Live air shows with ad-free plan
(live TV will have some commercial breaks)
BB1 thru BB24 plus Celebs and OTT, and loads of other shows from CBS, BET, Comedy Central, Nickelodeon, MTV, Smithsonian, plus originals




VIEWER VOTES

Who should get Week 1 Backstage safety?
> Brittany but it didn't play out as anything





GAME TWISTS

Week 7 BB FEST SPLIT HOUSE
-Five inside Big Brochella and five outside Dyre Fest
-Each side plays week as usual with HOH, noms, veto, eviction
-The sides play separately, no contact with each other
-Winner & runner-up of starting HOH comp determined HOHs, who were Michael (Big Brochella) and Terrance (Dyre Fest)
-HOHs picked their teams playground style

Weeks 4-5 FESTIE BESTIES
-Surviving nominee chose another set of Besties to join
-Same rules applied as before for trios

Week 3 FESTIE BESTIES
-Everyone was paired with another
-Besties nominated and compete as duos
-Have-nots are also in pairs
-HOH determines noms but their pair has safety
-One duo to play veto with HOH duo and nominated duo
-Anyone on veto winning team can choose to use it
-Both nominees come off if veto used

Week 1 BACKSTAGE PASS
-Pooch picked Backstage Boss card at move-in
-He had Week 1 immunity, couldn't compete or vote
-He picked Alyssa, Brittany, Paloma for Backstage
-They couldn't compete, be nominated, or vote
-They weren't guaranteed safety
-Twist was cancelled when Paloma left, with no repercussions



HAMSTERWATCH SWAG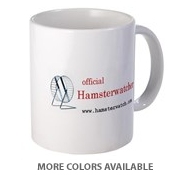 Mugs, shirts, more
Visit my Cafe Press shop

PROTECT YOUR ONLINE PRIVACY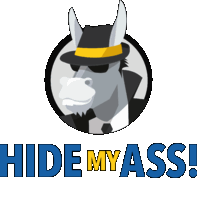 Anonymously secure your internet connection with HMA! Pro VPN - connect to our VPN service to anonymously encrypt your internet activity from prying eyes