This site is about the Big Brother 23 feeds and contains spoilers! It isn't necessarily thorough: it's what I catch and/or what interests me. It's about watching hamsters: who's doing what and why. Thanks for encouraging my behavior.
Your pal, dingo





Donations via Paypal are gratefully accepted!



BB23 DRINKING GAME

Take a swig whenever Kyland talks to someone for more than 15 minutes - it'll help





VIEWER VOTES

Who should get Week 6 BB Bucks?
-100: Britini, Derek F, Derek X
- 75: Hannah, Tiffany, Xavier
- 50: Alyssa, Azah, Claire, Kyland, SarahB

Who should get Week 7 BB Bucks?
-100: Claire, Derek F, Derek X
- 75: Alyssa, Hannah, Xavier
- 50: Azah, Kyland, SarahB, Tiffany

Who should get Week 8 BB Bucks?
-100: Claire, Hannah, Tiffany
- 75: Alyssa, Derek F, Xavier
- 50: Azah, Kyland, SarahB





QUICK LINKS & BOOKMARKS

-SIGN UP FOR FEEDS

-WATCH THE FEEDS
after signing up - disable ad blockers

Official site and socials:
-BB23 official CBS site
-Twitter
-TikTok
-Instagram
-YouTube
-Facebook

-Live show tickets if/when audiences return

-Donate via Paypal - thank you!

-My Twitter - my screencaps

-Amazon Canada portal

-Dick at Night with @EvelDick

-BB Viewer Chrome or Firefox Extension by @liquid8d
-Requires Paramount Plus account

-BB23 Wiki

-Hamster Twitters
BB USA: chron - members
BB Canada: chron - members
BB USA Celebs: chron - members

-Advice for cast friends/family

-VPN to protect your online privacy




PROTECT YOUR ONLINE PRIVACY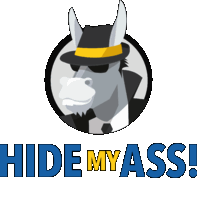 Anonymously secure your internet connection with HMA! Pro VPN - connect to our VPN service to anonymously encrypt your internet activity from prying eyes




Big Brother 23 SEASON FAQ
-Day 1 July 7: CBS premiere, live move-in, feeds began
-Derek F was first to enter
-Day 85 Sept 29: 2 hour finale

Feeds are streamed by Paramount Plus, with Flashback included, with a Paramount Plus subscription. Call 888-274-5343 for account help, including cancellation.

BB23 finalist prizes are $750k for the winner and $75k for 2nd place. 3rd place gets $10k* bonus, 4th place gets $7.5k*, 5th place gets $5k*. All except finalists receive $1k stipend per week, including pre-season sequester.
*Amounts to be confirmed

The habitat has 94 HD cameras (no change) and 113 microphones (no change).

The recorded in-house announcements are the voice of producer Don Wollman. He and Julie Chen are the only senior staffers who have been there since Big Brother 1.



Get Paramount Plus
to watch Big Brother
all seasons
Plus tons more CBS and Viacom content




BIG BROTHER LIVE FEEDS EXCLUSIVELY ON PARAMOUNT PLUS
All Big Brother USA seasons plus most CBS/BET/Comedy Central/MTV/Nickelodeon shows
past or present are included, plus originals!
GET A FREE TRIAL
COMPUTER - MOBILE - ROKU - CHROMECAST - APPLE TV - ANDROID TV - FIRE TV - XBOX 1/360


>> >> >>

>> >> >> >> >> >>

>>

Power Status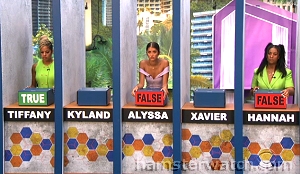 Head of Household:

Tiffany

Claire (secret)
Original noms: Kyland, SarahB, Xavier
High Roller winner/outcome: Claire/nom'd Kyland, SarahB
Pre-veto noms: Kyland, SarahB, Xavier
Veto winner/outcome: Hannah/used on Xavier
Final noms: Kyland, SarahB
Have-nots: None
Evicted: TBA

Alliance charts by @89razorskate20

Alliance maps by @Dolffica

Diary segment tallies by @clamperls4

Ratings Watch Wednesday's show won the hour with 0.9 rating and 3.85 million viewers, ahead of America's Got Talent on NBC with 0.6/5.88, MasterChef on FOX with 0.5/2.14, and Press Your Luck on ABC with 0.5/3.23.

Overnight rating & share: adults 18-49; Rating: % of all TV households; Share: % of households watching TV



Upcoming Events
Middle size table would normally be due Thursday night/Friday, if it was a non-COVID season

La Casa de los Famosos (Celeb/VIP BB) live-launched August 24
-Air shows are on Telemundo - feeds are free - click to watch

Usual feeds schedule, times are Pacific
Mondays noonish: Veto meeting*
Tuesdays: COVID tests
Wednesdays midnight: Have-nots end
Thursdays: Eviction run-thru afternoon*, live eviction show 5pm*, HOH room late evening
Fridays: Nominations late afternoon*
Saturday: Veto comp*
*Feeds blocked

CBS show schedule for September
* indicates change from usual Sunday/Wednesday/Thursday 8pm
Sept 1 Wednesday 8pm
Sept 2 Thursday 8pm
Sept 5 Sunday 8pm
Sept 8 Wednesday 8pm
Sept 9 Thursday 8pm
*Sept 12 Sunday 8.30pm
Sept 15 Wednesday 8pm
*Sept 16 Thursday 8pm two hours
*Sept 17 Friday 8pm
*Sept 19 Sunday no show
*Sept 22 Wednesday 10pm
Sept 23 Thursday 8pm
Sept 26 Sunday 8pm
*Sept 29 Wednesday 9pm finale two hours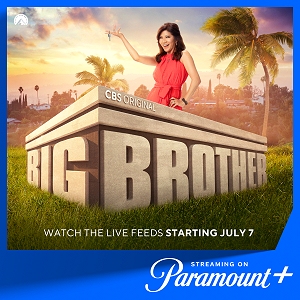 GET THE FEEDS to see the real show!

CBS All Access is now Paramount Plus If you had an All Access account, it has switched over and you're all set for the new season. Plans are as follows:

$4.99/month includes feeds, does not have live local CBS, does have commercials for shows/movies
$9.99/month includes feeds, does have live local CBS, does not have commercials for shows/movies
Either is also available on an annual plan. If you get the $4.99 plan and want to dump the ads, you can upgrade to $9.99 plan at any time

$5.99/month plan is no longer available for new subscribers, but former All Access accounts will stay as they were, including feeds and live local CBS



Daily Feeds Recaps
Day 57 - Wednesday - September 1, 2021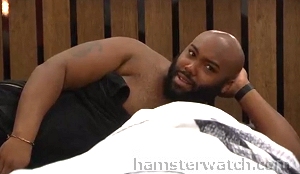 Morning convos included the weird Kyland/SarahB/Shelly triangle, as it sounded like they were asked in Diary about it. Azah reminded Derek whatever they do in there could have repercussions out here. As an example, she said "you might be sitting here looking like a cherub on the Sistine Chapel.." - he said "thank you" and she continued "..with a towel delicately covering your decolletage, but there might be somebody who's really upset about it." Facts. Xavier added "people are talking about [Kyland/SarahB/Shelly], based off what we know" meaning Diary questions, and "from what we know it doesn't look good."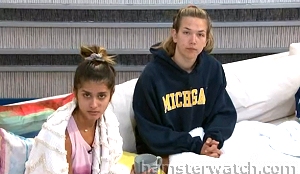 Elsewhere a morning talk show with Alyssa, Claire plus Tiffany gave a news report about the kitchen fire the other night, crediting Azah and Claire for handling it. And they warned of the perils of hammocks and getting out of them properly, referencing Hannah's banged head and wrist injury when Derek got off the hammock and flipped her out of it.

I got a heads up that tomorrow's HOH will be "an epic battle of endurance" which was also announced at the end of tonight's show, but I don't know yet if it'll be on feeds or not - I hope so. It has to be something Claire can throw believably (even though most already know she's the secret HOH). If it's slippy slide, she could go for the smaller bowl for cash or safety. Other possibilities are some variation of standing on hanging discs or Pose-in-Ivy/puppets on strings, which would be harder to throw, or carrying things across a teeter-totter to load and balance them at the other end, or passing eggs through chicken wire, or maybe something new. We'll see. There's been talk about throwing this HOH to Derek, which could be tricky for any of those except maybe eggs/chicken wire. He's repeatedly said he wants to the log rolling comp and that he thinks he can win that one.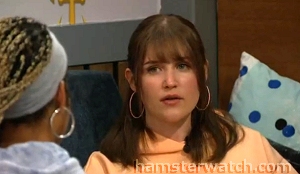 SarahB began her one-on-one rounds, and got a very lot of "mm-hmm" responses to her points. She made it obvious that she remained oblivious to the Cookout's existence, not to mention how much they've been running the game. Kyland had told her he'd also have one-on-one campaigns today, but he hadn't started by the time hers were done. She finished her rounds in the amount of time it takes Kyland to do one meeting.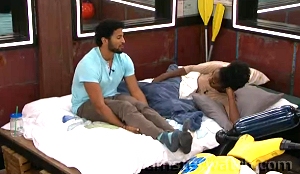 I wrote the above in the afternoon before Kyland began his meetings, which he started around 3.20pm in his Have-not isolation chamber, starting with Derek, and they broke one of the beds in there. Kyland took a half hour off for dinner and a short Big Blue Couch episode, and then he kept going. He finished with Azah at 10.45pm and was called to Diary. That's a total of about six and a half hours, and he still hadn't met with Xavier. SarahB's meetings took about two hours total. And the ridiculous part? There's absolutely no question or debate about tomorrow's vote: SarahB will walk the plank to Julie's boudoir, and then she's off to jury.

IF YOU MISSED what came before, check my previous episode, always linked up top or from my season index, and get the feeds to catch anything you missed with Flashback!



Day 56 - Tuesday - August 31, 2021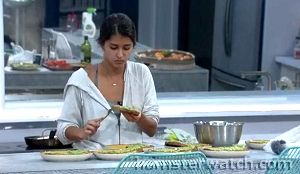 Alyssa made avocado toast for everyone, predictably causing some viewers to complain out here and ask if it's the only thing she can make, like they haven't made repeat foods in 56 days. But it was a nice thing to do and appreciated by her fellow hamsters. Most of them played What Character Are You, assigning each of them roles in Game of Thrones, Hunger Games, Pokemon, and etc this morning. The backyard was closed, indicating it will likely be a big build comp for Thursday.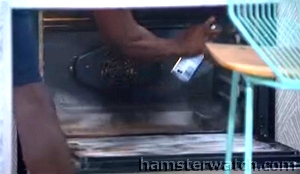 Kyland complained about underarm soreness from "this actual burn situation" which added another layer of mystery to last night's three-hour block, along with Xavier's comment about washing all the dishes "from the fire extinguisher," but it turned out Kyland just had a rashy reaction to deodorant or laundry products or body wash. He and Xavier got some oven cleaner and went to work, and then the story was cleared up with another convo, as BB mysteries almost always are. It turns out Azah had put in a steak to broil, and set the rack high in the oven. The rack was coated with grease and lit up. It was agreed it wasn't really Azah's fault but rather the greasy buildup on the broiler rack, and it could have happened to anyone. But of course it was Azah it happened to, as her comedic role this season tends to be if it could happen to anyone, it'll happen to Azah. Meanwhile, Hannah's wrapped wrist may be due to a hammock dump last night.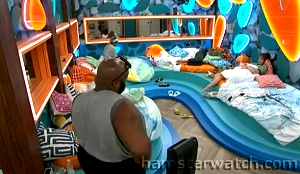 Feeds were extremely quiet most of the day. Hannah and Tiffany talked about who to boot first when they get to six, and Hannah suggested Derek rather than Kyland, partly because Derek already got some cash (the bonuses end with fifth place), and that could also be a selling point to the guys. Hannah also suggested they give SarahB a heads up before she's evicted that she will be. There was some chit-chat between Tiffany, Claire, Derek, SarahB about their first night in there, rooms they've slept in, and there was some more questioning about Shelly. Hannah saw someone about her wrist, who said it was still bruised and swollen but should be okay by Thursday. If not, and if the comp is something that could re-injure it, she can sit it out. She then went to work on Alyssa in case she wins HOH, and after that she met with Kyland.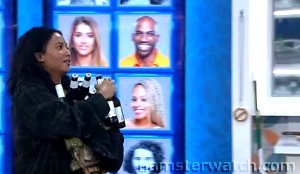 They got an early booze delivery, possibly because they'd been very dull and quiet today. It arrived around 7.45pm, which they enjoyed with dinner. Most of them stayed around the table after dinner, exchanging stories and playing guessing games. Feedmasters did their many blocks as has become the awful norm for both Mondays and Tuesdays.

IF YOU MISSED what came before, check my previous episode, always linked up top or from my season index, and get the feeds to catch anything you missed with Flashback!



Day 55 - Monday - August 30, 2021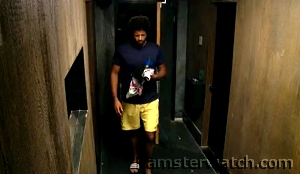 Kyland slept alone in Have-not. Maybe he likes it in there, but maybe he's consciously or subconsciously realizing he's worn out his welcome with most of them. His stock has been dropping in there for a few weeks but his everlasting monologues to try to get off the block this week did him no favors and he's firmly headed for a sixth place finish at this rate. He kicked off the day by pitching to Claire about the veto but he wasn't fully awake yet, and his random word salad, ums, pauses, and non-sensical sentences were less cohesive than usual. She finally told him she understood because it was difficult for her to be on the block next to Derek X last week. A little before the veto meeting, Kyland asked Hannah directly what she's going to do, and she said "I'm gonna use it on X." So that's that, for now.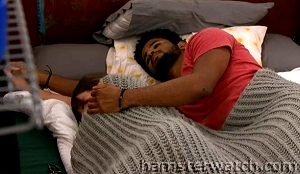 And that's exactly what happened: as third nominee, Xavier wasn't replaced, and Kyland and SarahB remained on the block. They went to their Have-not isolation chamber where she said "now you can't help me, you have to fight against me." She said she'll wait til Wednesday to make her one-on-one pitches, and he said he'll probably talk long-term strategy stuff but would also hold one-on-one campaigning til Wednesday. But he met Tiffany in the bathroom a few minutes later and started his loops, and also said despite having planned the week's conversations, farewells, eviction night speeches, he'd forgotten to plan a veto meeting nominee speech. Back in Have-not, SarahB told him via a multi-tier guessing game that she's actually a forensic chemist, which he didn't believe at first. And Kyland told her there'd been some speculation about Shelly, and SarahB apologized to Shelly because "people tried to erase her" from SB's life.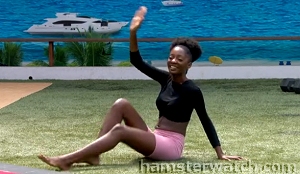 Elsewhere, Azah and Derek got into it a bit about the next target, with Azah pushing for Alyssa and Derek pushing for Claire. Apparently Alyssa told Claire she'll be the only white person left after SarahB goes, and Xavier later told us Alyssa was about to make it to seventh place but now she's got to go next. Afternoon settled into backyard activities including planning future activities like pageant night, speculation about the HOH comp and what could it be that someone could throw it undetected, and will it be a double, and will there be a battle-back. Azah, Claire, Hannah played a little volleyball with a pool beach ball.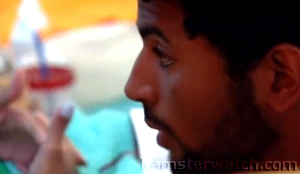 Derek and Xavier met in Have-not about next week's target, along with some anti-Kyland talk. Xavier began pacing, and asked Derek if he thought Kyland had other agreements outside of their three and six. Derek said maybe, and Xavier said he thought Kyland was trying to get assurances that he'll get to the end no matter what (as most of them, including Xavier, have done). Kyland joined them, Xavier kept pacing, and they ran endless scenarios for next week, whether it would be best to continue with a Cookout plus pawn duo, or just put up Claire and Alyssa as original noms, and thus expose Cookout. They didn't come to any conclusions, so expect more of the same all week. Group chats carried on here and there, Kyland got his Have-not isolation chamber back to himself and talked at us, and various pedicures took place. Derek and Hannah chatted on the hammock and Derek turned Xavier away when he tried to join, saying "we're doing Cold Takes with D."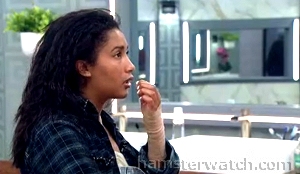 Feeds were down about three hours for no apparent reason in the evening, but later Xavier said he'd had to wash all the dishes "from the fire extinguisher." Hannah had an Ace bandage on her wrist, but I didn't hear why or if something happened about that tonight. During the downtime, BB Twitter did a deep dive into Kyland's tweets thanks to a heads up from @ButFirstRoxy, and turned up a surprisingly large number of customer service complaints to various companies, leading to #Kycomplains trending USA.

IF YOU MISSED what came before, check my previous episode, always linked up top or from my season index, and get the feeds to catch anything you missed with Flashback!



Ratings - TV Show in a Parking Lot edition
Ratings are based on entertainment value



Noms count: original/renom






A couple things about the Cookout alliance. The first is to once again ask why haven't they featured on the show why Cookout's mission of having two Black finalists (and as many as possible in Final Six) is so important? All six have talked about it at various times but the edits make it look like they're just another big alliance steamrolling to the end. Racists will still cry 'racist alliance, racist season' and that's their problem, but one or two might gain some understanding. If you're still unclear, or would just like more insight, please see @Pooyaism's very eloquent explanation in Links of the Day below.

Second, I think the Cookout's superb gameplay has been underestimated. They've manipulated several HOHs to do their dirty work for them, and they've convinced voters to go their way without them even having to rely on being majority numbers. And they've done all this without ever meeting all together until the end of Day 52, and that was just to celebrate having gotten this far undetected. But more than that, each of them has pulled their weight through conversations with non-members and by cozying up with their partner/pawns. We've seen a lot of anguish as those partner/pawns have begun to be evicted, and we'll see more of that in the coming weeks.

That anguish just proves the commitment to their mission, which should illustrate on its own why the mission is so very important to them. It's really astounding when you compare to any other season where we often have double-dippers, but in this case it's SIX people often playing against the logic of what might be 'best for their personal game.' Add to that the facts that they aren't all comp beasts by any means, and several of the six don't even particularly like each other all that much, and have said they wouldn't normally have chosen to ally with this person or that. That's actually a lot of handicaps working against them but still, they have prevailed.





Won: BB$300; Phone call, video call, phone, laptop; Week 3 safety; Week 7 High Roller + safety

HOH 0 - Veto 1 - Noms 1/0 - HN 2


TEAM KINGS



For weeks she was stapled to Christian and while he interacted a lot with others, she didn't so much. Now she's often attached to Xavier, but she's forced to socialize and interact on her own too because he gets around a lot without her. It's good to see, though her entertainment value is still mostly from co-hosting Big Blue Couch or telling stories about sex and/or poop. She still doesn't gametalk a lot since she seems confident she and Xavier will be in those finalist chairs. Who's gonna tell her?





Won: BB$200; Week 1 safety

HOH 0 - Veto 0 - Noms 0/0 - HN 1


TEAM JOKERS



Most of her gaming is passive and horizontal from her bed, but her entertainment value has been top rate all season. Whether it's capable lead singer of their many songs, sexily (or not) flexing her ears, telling stories, or impromptu dancing, she's often a one-woman show and not in an annoying way. When High School Mafia was announced the other night, many feedsters rolled their eyes and looked for something else to do, but Azah's manic cheer coach was so over the top and crazy, and very fun to watch. And, unlike most hamsters past or present, she stays in character once she gets going.





Won: BB$400; Week 2 safety; Week 4 Wildcard + Weeks 4 & 5 safety; Week 8 High Roller; 1 week Duke of the Deck 52 Pickup

HOH 0 - Veto 0 - Noms 2/0 - HN 1
+1 High Roller HOH


TEAM QUEENS Captain



She doesn't do an awful lot that's technically entertaining, but her overall likability makes up for it. She said at one point (or maybe one of the people running her Twitter said it, I forget now) that she always liked the strategy and gaming of BB, but wasn't a big fan of the socializing and silliness. She probably realizes now that it's a big factor in staying power in there, and she's played along pretty well. She was duped into going for this week's secret HOH so she wouldn't be eligible to play for the next one, but she shouldn't feel bad about that. Everyone not in the Cookout was duped this year, simply because they're playing BB better than everyone else.





Won: $7,500; BB$475; Week 1 safety; Week 7 safety

HOH 0 - Veto 0 - Noms 2/0 - HN 1


TEAM JOKERS



He's been railed out here all season and while he has said some problematic stuff, overall I'm still enjoying him. His bravado at being the cunning puppetmaster and comp beast in waiting is the stuff legends are made of - comedy legends, that is. Bonus ups to Lauren and Adam running his Twitter account: the way they've handled the negativity and countered with continually fun and upbeat tweets makes them the true champs.





Won: BB$300; Movie

HOH 0 - Veto 1 - Noms 1/0 - HN 1


TEAM ACES



She's setting herself up for the endgame better than most in the Cookout. She's been tight with Tiffany for weeks and now she's turning to Kyland and Xavier as a backup plan, likely having gotten wind that Cookout guys were saying the girls weren't pulling their weight. Hannah winning this week's veto made a triple crown comeback to that though, along with Tiffany's HOH and Claire's High Roller. I do worry that Hannah's continual expertise about comps and rattling off season events trivia will make any of them want her gone before those final comps.





Won: BB$250; 1 week Jackass Club making sandwiches; Week 6 High Roller + 2nd veto; Movie guest

HOH 2 - Veto 0 - Noms 2/0 - HN 2
+1 High Roller veto, +1 High Roller nom


TEAM QUEENS



I don't think he's aware he's headed for sixth place and no cash bonus, but he'll find out. Ups are for the sheeer absurdity. I can't listen to him when he gets going on one of his monotone, pause-filled, rambling rants but on the surface, they're so ridiculous that they're comical. Nearly everyone in there has said something about how long he talks in his meetings. But #Kycomplains launched his entertainment value into the stratosphere. This guy has complained to dozens of companies about products and services, demanded customer service reps not ignore him, griped about fast food pricing, and begged for free stuff, all scattered between some positive feedback, multi-tweet rants about politics and other topics, and issuing copy/pasted invites to video chats to discuss topics further. He does like to discuss things further.





Won: $5,000; BB$250; Week 2 Wildcard; Week 3 safety; Movie guest

HOH 1 - Veto 0 - Noms 2/0 - HN 1
+1 High Roller nom


TEAM KINGS



I've never felt strongly about her one way or another, and that's where I remain. I am disappointed she let herself fall so completely under Kyland's spell, and now she's on her way out the door and it's too late to do anything about it even if she wanted to. Not that there's anything she could do about it anyway, but having a social circle of one other person just isn't very good BB. I would like to see her learning that #FSBAISTS became a thing, but the best we'll get will be a delayed, post-finale reaction, if anyone even asks her about that.





Won: BB$275; Week 2 safety; Week 3 Wildcard; Week 8 HOH dethroned + safety

HOH 1 - Veto 0 - Noms 0/0 - HN 1


TEAM QUEENS



See SarahB re #FSBAISTS: if given a choice, I'd rather see Tiffany's initial reaction to that one but we won't see that either. Ups all the way for strategic gaming, unnoticed manipulation, deluxe social game, and just being downright fun, funny, and genuine. She's easily the star of the season and I hope she can stick once the Cookout starts to eat its own.





Won:

BB$150

BB$125; Week 1 safety; 24hrs solitary; BB$ Bankruptcy; Week 8 3rd nominee; ; Movie guest

HOH 1 - Veto 1 - Noms 0/0 - HN 2
+1 High Roller, +1 veto comp noms


TEAM KINGS



As of now, the final battle 'should' be between him and Tiffany, as between them they've arguably done the most to get the six this far, but we know BB finals rarely end up as we think they should. (Also, Hannah's game is getting stronger in these last weeks.) But entertainment-wise, he's pleasant, and that's about it.





Won: BB$200; 24 hr Lord of Latrine

HOH 1 - Veto 2 - Noms 0/1 - HN 2


TEAM ACES



2nd juror - 7th evicted - Day 51

He'd only seen two seasons and he didn't do much homework to know he'd signed up for a dirty game, but he was a quick study and saved himself with veto after being the probable first out. Then he won the following veto as well as an HOH, and he was a legitimate 'comp beast' threat. He was maneuvered into backdooring the other comp threat, Christian, on that HOH, and then SarahB was maneuvered into doing the same to him two weeks later. Again, homework might have helped. But he was well liked by most everyone in there and out here, he was a superb Lord of the Latrine and cockroach dancer, and he laughed a lot, something that's often missing on feeds.





Won: BB$100; Week 1 safety

HOH 0 - Veto 1 - Noms 3/1 - HN 1


TEAM JOKERS



1st juror - 6th evicted - Day 44

She went on the block four times, and she ranted, cried, and was a pretty bad sport about it. She only played the game around noms and voting times, so she didn't understand she kept going OTB because she didn't bother to find out what was going on, or to create allies beyond her Jokers team/roomies. The fact she was up against Cookout didn't help her any, but she could have done a lot more than she did, and she blamed her exit on a broken deal that was never struck. She rapped for Julie, and won a hard-fought veto, and broke in on Alyssa/Christian sexytime in HOH. She seemed to be playing a character much of the time, and she contributed a lot to their many skits and songs.





Won: Week 1 Wildcard + safety; Week 3 safety

HOH 1 - Veto 2 - Noms 0/1 - HN 2


TEAM KINGS Captain



5th evicted - Day 37

It was tricky to tell him apart from Travis at first, which wasn't helped by Christian changing his hair once or twice a day, and he often sounded like Victor Arroyo when he spoke. But that passed and soon it was easy to tell Christian was the loud one who was super-glued to Alyssa most of the time. He was sometimes fun and seems like a good guy, but he made no secret of his physical abilities, including doing six backflip/burpie combos in a row one day, just because he could. Those abilities were largely what got him the boot, since he also proved he could put them into action, even when he didn't need to.





Won: Nothing

HOH 0 - Veto 0 - Noms 1/0 - HN 1
TEAM ACES Captain

4th evicted - Day 30

Apparently she spent a few hours on Twitter and she selected one of my tweets to complain about being villainized, slut shamed, and hated. My tweet was factual, with a touch of snark, but none of that stuff. Maybe she forgot what she signed up for, and I'm sure she's having a tough re-entry, but after having hate for her flung into my mentions every day (as all updaters get, for each of them) to then get called out publicly for what I didn't do, I'll just go with Mariah's 'I don't know her.'





Won: Nothing

HOH 0 - Veto 0 - Noms 1/0 - HN 1
TEAM ACES

3rd evicted - Day 23

At cast reveal I thought international flight attendant would mean great people skills, but no. He came in boasting of charm but it didn't last long. His talk about girls and dating, and his behavior towards several women in there, were problematic and bound to get worse if he'd stayed. He was happy to be Frenchie's lieutenant for the chaotic first week but then Brent turned on him and practically denied ever being with him. He had zero self-awareness about all this and the edits skewered him as they did Frenchie, proving once again if you do clownery, you'll get the clown music.





Won: Nothing

HOH 1 - Veto 0 - Noms 1/0 - HN 0
TEAM JOKERS Captain

2nd evicted - Day 16

Cast reveal brought controversy plus a major Cody/Derrick mixup, and the feeds opened to him announcing he wouldn't put up a woman or minority, but then he put up Alyssa and Kyland, and it was downhill from there. He did everything a feedster should know not to do: shouting in Diary, talking in cliches, Bomb Squadding, pandering, power-tripping, mistaking BB history items, grandstanding, begging for a viewer save, and threatening to quit. Still, all that gave us a wild ride and super-chaotic first week of feeds that we'd never be able to piece together if we hadn't seen it unfold.





Won: Nothing

HOH 0 - Veto 0 - Noms 0/1 - HN 0
TEAM QUEENS

1st evicted - Day 9

I barely know who he was. He dressed in drag (and looked okay doing so), he gave Kyland a birthday lap dance, took his shirt off for his nominee speech, and complained to Julie that white guys with abs are targets. And he didn't do much to prevent his eviction. That's all I got. Aloha.





Won: Early ticket home

HOH 0 - Veto 0 - Noms 0/0 - HN 0

Replaced pre-season

Replaced by Claire pre-season, she tested positive for COVID.





Won: Early ticket home

HOH 0 - Veto 0 - Noms 0/0 - HN 0

Replaced pre-season

Replaced by Christian pre-season, we may never know why.



Lines and Links of the Day
Lines

Wednesday
Derek to Kyland: This relationship is officially over! After all the stress you've put me through, and headaches, you think I'm gonna keep you in this game?

Hannah (on the show): Aww Travis, remember him? I don't

Tiffany Diary: Shut the fuck up, Kyland

Kyland to Tiffany: I think that Derek's clearly not someone who cares about semantics very much and syntax, so I know that there's a limit to his ability to understand and communicate with me

Claire to Kyland: I might be dumb but I don't think there are any big alliances left

Tuesday
Azah: Helen was pushed

Kyland: I support delusions of grandeur

Monday
SarahBeth: I am confrontational, but even when I'm confrontational I keep it polite

@kylandyoung: Can someone from customer service please help me?
@kylandyoung: Please respond again
@kylandyoung: Hello?
@kylandyoung: Did you just respond to me a MONTH LATER?!
@kylandyoung: Serious question: would it be Possible for me to send you prototype of a new intimacy product I'm launching next month?
@kylandyoung: I'm setting up a class action lawsuit. Message me or comment if you'd like to join.



Links

GET YOUR FEEDS includes a free trial

Cookout's Mission explained by @Pooyaism

Lighted shark sculpture by Chromaforms

Use my link for any Amazon Canada shopping, anytime, at no extra cost - just start your shopping trip by clicking Amazon Canada



Tally Items
Extracurricular Tally

Flashback times are Pacific/BB time

Fights: 3
8/11 1.17am Tiffany/Derek F/Azah plus Britini
8/11 5.30pm Tiffany/Derek F/Azah plus Britini (not on feeds)
8/19 1.25am Tiffany/Derek F

House meetings: 3
7/12 9.24pm Study song skit
7/27 10.28pm Cleaning duties
8/11 8.05pm Mafia game/drama distraction

Fires: 1
8/30 9pmish Not on feeds

Makeout pairings: 1
Alyssa/Christian

Sex events: 3
7/31 12.26am Alyssa/Christian (unconfirmed)
8/2 2.33am Alyssa/Christian (unconfirmed)
8/12 2.30am Alyssa/Christian (presumed/planned)

Broken habitat items: 9
-Living room table
-Reef room drawer
-Backyard shower
-Coffee maker
-Kitchen cabinet
-Have-not door
-Photo wall
-Backyard awning (by Claire)
-Have-not bed

Pinkyswears: 23
7/8 3.28am Britini/Whitney
7/8 4.19am Azah/Britini
7/12 10.53pm Kyland/Sarah Beth
7/14 10.54am Frenchie/Whitney
7/15 11.28pm Alyssa/Christian
7/17 12.03am Britini/Sarah Beth
7/19 6.50pm Azah/Derek X
7/19 7.29pm Alyssa/Christian
7/21 4.50pm Britini/SarahB
7/21 Veto show Britini/Frenchie
7/21 10.37pm Britini/Claire
7/22 1.19pm Whitney/Christian and Whitney/Alyssa
7/23 6.52pm Alyssa/Brent (retell)
7/26 5.42pm Britini/Kyland
7/26 5.42pm Britini/Kyland
7/27 11.56pm Brent/Tiffany
7/28 2.14am Alyssa/Brent
7/28 3.11pm Whitney/Xavier
7/29 10.21am Britini/Claire
8/1 1.58am Claire/Hannah/Tiffany
8/2 2.19am Hannah/Tiffany
8/6 3.06pm Britini/Derek X
8/13 7.31pm Hannah/Xavier

Booze deliveries: 18
Day 1 7/7 Frenchie HOH beers
Day 2 7/8 Champagne
Day 7 7/13 2 wine, 6 beers
Day 9 7/15 Kyland HOH beers
Day 12 7/18 2 wine, 6 beers
Day 16 7/22 Xavier HOH beers
Day 19 7/25 2 wine, 6 beers
Day 23 7/29 Christian HOH hard seltzer
Day 26 8/1 2 wine, 6 beers
Day 30 8/5 Derek X HOH beer
Day 37 8/12 Kyland HOH hard seltzer
Day 43 8/18 Halfway party
Day 44 8/19 SarahB HOH wine
Day 47 8/22 2 wine, 6 beers
Day 50 8/25 2 wine, 6 beers
Day 51 8/26 Tiffany HOH boozy tea
Day 54 8/29 1 wine, 8 beers
Day 56 8/31 2 wine, 6 beers

Pre-season cast swaps: 2
-Christian for Garrett
-Claire for Christie



Production Goofs

1 Premature cast list posted, with a wrong name
2 Cast got posted on CBS but not Paramount+
3 Forgot to change new Thursday show time
4 Edited 7/1 press release on 7/5 re Christie/Claire swap, without notation
5 Staffer seen in house pic
6 Forgot to change Thursday show graphic from 9pm to 8pm
7 Julie misprounced Azah's name, per teleprompter error
8 Misspelled Fort Myers
9 Staffer seen during premiere HOH comp
10 Random Scottish travelogue on feeds
11 Annoying audio buzz on 7/10 nofishies feeds
12 Team colors changed between 7/8 and 7/11
13 Wildcard comp #1 was not as advertised
14 CBS site hasn't updated prize money
15 Alternate spellings of Tiffany's last name
16 Misspelled rogue
17 Tech difficulties/unscheduled break on 7/15 show
18 Asymmetrical decor stripes
19 Audio Diary leak after Frenchie went OTB
20 Used the wrong hashtag
21 Mixed up Xavier and Derek X
22 Mixed up Derek X and Derek F
23 Out of sequence paint splatters
24 Julie still mispronouncing Azah's name
25 Photoshop amputation incident on 7/22 show
26 Audio Diary leak after Christian won veto
27 Website still promoting After Dark
28 Camera crew visible on 7/28 show
29 Wakeup music on feeds
30 Misspelled Britini
31 Wrong day for noms on 8/4 show
32 Mixed up Claire and Christian in press pics
33 Mixed up Alyssa and Whitney in press pics
34 Wrong date in press pics
35 Audio Diary leak of Azah
36 Wrong date on BB Bucks voting rules
37 Forgot Hannah's still there
38 Anipals on one feed
39 RTd a personal tweet on the show account
40 OTEV called Claire, Blair
41 Audio Diary leak of Hannah
42 Audio Diary leak of Alyssa
43 Quick fishies during 8/19 HOH comp
44 Wrong comp name in press pics
45 Forgot teams are done in press pics
46 Wrong events order in press pics
47 10 seasons ahead on Facebook
48 No audio on feeds
49 Mixed up veto comp with Red Cross campaign
50 Erroneous apostrophe
51 Press pic captions evicted the wrong Derek
52 Press pic captions used Julie's old name
53 Feeds died, caught up superfast, stuttered
54 8/29 show recap forgot Tiffany's Wildcard win
55 8/29 show had different Hannahs at noms
56 They heard a staffer's phone alarm
57 Wrong show type + date in press pic captions
58 Forgot to gray out Britini on 8/29 show



Season Stats
HOHs in order: Frenchie; Kyland; Xavier; Christian; Derek X; Kyland; SarahB; Tiffany; Claire (secret)

Veto winners in order: Derek X; Derek X; Christian; Christian; Britini; Alyssa + Kyland HR; Xavier; Hannah

Evictions in order: Travis 11-2; Frenchie 11-1; Brent 11-0; Whitney 10-0; Christian 7-2; Britini 7-1; Derek X 5-2

Cast Twitters: @azah_awasum; @britinidangelo; @CBirkenberger; @ChristieVal22; @ClaireRehfuss; @claire_does; @TheDerekFrazier; @lofiderek; @derekxbb23; @farmerFRENCHIE; @kylandyoung; @greedycalina; @absolutelytiff







Linking to any page here is fine. Please don't repost content from this site (or any other) without permission, and don't repost or hotlink images.



THE REAL SHOW IS THE FEEDS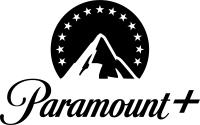 CBS All Access is now
Paramount Plus

Live air shows with ad-free plan
or legacy $5.99 plan (live TV will have some commercial breaks)
BB1 thru BB23 plus Celebs and OTT, and loads of other shows from CBS, BET, Comedy Central, Nickelodeon, MTV, Smithsonian, plus originals


HAMSTERWATCH SWAG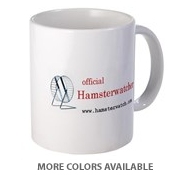 Mugs, shirts, more
Visit my Cafe Press shop



COMPLETED GAME TWISTS

TEAMS
Ended after Week 4
Move-in groups of four competed for team captains, who then drafted their teams, and captains competed for HOH. Winner's team had safety for the week.
-Team Jokers: Frenchie captain, Azah, Britini, Derek F
-Team Aces: Whitney captain, Brent, Derek X, Hannah
-Team Kings: Christian captain, Alyssa, Xavier, Sarah
-Team Queens: Claire captain, Kyland, Tiffany, Travis


WILDCARD
Ended after Week 4
One from each non-HOH team competes. Winner can have safety for the week in exchange for a punishment for them, their team, or the house. Competitors can't repeat til everyone's played.
Week 1
-Christian, Hannah, Kyland played
-No risks, winner spun a wheel to share safety with 1 to 3 teamies
-Christian won, saved Xavier
Week 2
-Brent, Frenchie, SarahB played
-Winner had to switch teams to keep safety
-SarahB won, did not use
Week 3
-Britini, Derek X, Tiffany played
-One random player from both Aces & Jokers would also be safe
-Tiffany won, did not use
Week 4
-Azah, Claire, Whitney played
-Winner's safety 'til jury' or 1 week safety for winner's team
-Claire won, chose safe 'til jury' (2 weeks)

HIGH ROLLERS Weeks 6,7,8
-BB Bucks distributed per viewer voting
-Top 3 vote-getters got 100, next 3 got 75, everyone else got 50
-They'll play casino games for a chance at winning powers. Better powers cost more. They can spend or save their bucks for a later/bigger power.
-A power can only be won once, and must be used the week it's won.

-Veto Derby BB$50
Bet on a veto player to win veto. Total of three shuffleboard shots determined order of bets.
-Chopping Block Roulette BB$125
Balance on a disc to spin a ball around in 2 minutes. Winner must remove a nominee, then spin a wheel to select replacement.
-Coin of Destiny BB$250
'Game of skill' call a coin flip to overthrow the HOH

Week 6
-Claire, Derek F, Kyland, SarahB played Veto Derby
-Tiffany also played but didn't score
-Kyland bet on Alyssa to win veto
-She did, so he got a second veto

Week 7
-Only Alyssa played Chopping Block Roulette
-She took Derek F off the block
-Alyssa spun roulette wheel, which put Xavier on the block

Week 8
-Additional Bucks from envelope pick: +100: Alyssa, Derek F, Kyland, SarahB
+ 50: Azah, Claire, Hannah, Tiffany, Xavier

-Claire and Derek F played for Coin of Destiny
-Claire won, correctly called Heads, anonymously overthrew Tiffany's HOH
-Claire anonymously nominated Kyland, SarahB (same as Tiffany's)