This site is about the Big Brother 23 feeds and contains spoilers! It isn't necessarily thorough: it's what I catch and/or what interests me. It's about watching hamsters: who's doing what and why. Thanks for encouraging my behavior.
Your pal, dingo





Donations via Paypal are gratefully accepted!



BB23 DRINKING GAME

Take a swig whenever Kyland checks for eavesdroppers





VIEWER VOTES

Who should get Week 6 BB Bucks?
-100: Britini, Derek F, Derek X
- 75: Hannah, Tiffany, Xavier
- 50: Alyssa, Azah, Claire, Kyland, SarahB





ACTIVE GAME TWISTS

HIGH ROLLERS Weeks 6,7,8
-BB Bucks distributed per viewer voting
-Top 3 vote-getters got 100, next 3 got 75, everyone else got 50
-They'll play casino games for a chance at winning powers. Better powers cost more. They can spend or save their bucks for a later/bigger power.
-Veto Derby BB$50: Bet on a veto player to win veto. Total of three shuffleboard shots determined order of bets.
-Chopping Block Roulette BB$125: Winner can remove a nominee, spin a wheel to select replacement
-Coin of Destiny BB$250: Call a coin flip to overthrow the HOH

Week 6
-Claire, Derek F, Kyland, SarahB played Veto Derby
-Tiffany also played but didn't score
-Kyland bet on Alyssa to win veto
-She did, so he got a second veto





QUICK LINKS & BOOKMARKS

-SIGN UP FOR FEEDS

-WATCH THE FEEDS
after signing up - disable ad blockers

Official site and socials:
-BB23 official CBS site
-Twitter
-TikTok
-Instagram
-YouTube
-Facebook

-Live show tickets if/when audiences return

-Donate via Paypal - thank you!

-My Twitter - my screencaps

-Amazon Canada portal

-Dick at Night with @EvelDick

-BB Viewer Chrome or Firefox Extension by @liquid8d
-Requires Paramount Plus account

-BB23 Wiki

-Hamster Twitters
BB USA: chron - members
BB Canada: chron - members
BB USA Celebs: chron - members

-Advice for cast friends/family

-VPN to protect your online privacy




PROTECT YOUR ONLINE PRIVACY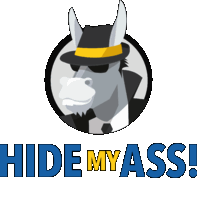 Anonymously secure your internet connection with HMA! Pro VPN - connect to our VPN service to anonymously encrypt your internet activity from prying eyes


Get Paramount Plus
to watch Big Brother
all seasons
Plus tons more CBS and Viacom content




BIG BROTHER LIVE FEEDS EXCLUSIVELY ON PARAMOUNT PLUS
All Big Brother USA seasons plus most CBS/BET/Comedy Central/MTV/Nickelodeon shows
past or present are included, plus originals!
GET A FREE TRIAL
COMPUTER - MOBILE - ROKU - CHROMECAST - APPLE TV - ANDROID TV - FIRE TV - XBOX 1/360


>> >> >>

>> >> >> >> >> >>

>>

Power Status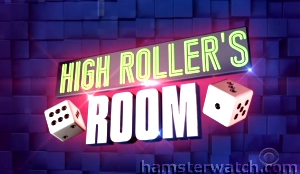 Head of Household: Kyland
Original noms: Claire, Derek F
Veto winner/outcome: Alyssa/TBA
High Roller veto/outcome: Kyland/TBA
Final noms: TBA
Have-nots: Nobody
Evicted: TBA

Claire had to do 52 Pickup 1 week (completed)
Kyland had to do Jackass Club sandwiches 1 week (completed)

BB Bucks Balances:
100 - Britini, Derek X
75 - Hannah, Xavier
50 - Alyssa, Azah, Derek F
25 - Tiffany
0 - Claire, Kyland, SarahB

Alliance charts by @89razorskate20

Alliance maps by @Dolffica

Diary segment tallies by @clamperls4

Ratings Watch Sunday's show won the hour with 0.9 rating and 3.71 million viewers, ahead of Celebrity Family Feud on ABC with 0.5/4.20, America's Got Talent rerun on NBC with 0.3/2.01, and The Simpsons and The Great North reruns on FOX with 0.2/0.63 and 0.2/0.56.

Overnight rating & share: adults 18-49; Rating: % of all TV households; Share: % of households watching TV



Upcoming Events
Usual feeds schedule, times are Pacific
Mondays noonish: Veto meeting*
Tuesdays: COVID tests
Wednesdays midnight: Have-nots end
Thursdays: Eviction run-thru afternoon*, live eviction show 5pm*, HOH room late evening
Fridays: Nominations late morning*, High Roller Room afternoon*
Saturday: Veto comp*
*Feeds blocked - Friday schedule is different for Weeks 6, 7, 8

CBS show schedule
Sundays 8pm - Wednesdays 8pm - live Thursdays 8pm
except:
-Sunday 9/19 no show
-Wednesday 9/22 10pm show
-Wednesday 9/29 9pm finale, two hours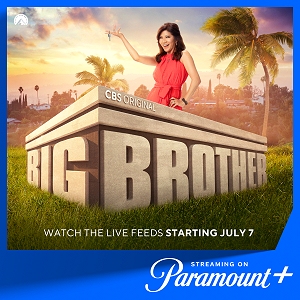 GET THE FEEDS to see the real show!

CBS All Access is now Paramount Plus If you had an All Access account, it has switched over and you're all set for the new season. Plans are as follows:

$4.99/month includes feeds, does not have live local CBS, does have commercials for shows/movies
$9.99/month includes feeds, does have live local CBS, does not have commercials for shows/movies
Either is also available on an annual plan. If you get the $4.99 plan and want to dump the ads, you can upgrade to $9.99 plan at any time

$5.99/month plan is no longer available for new subscribers, but former All Access accounts will stay as they were, including feeds and live local CBS



Daily Feeds Recaps
Day 40 - Sunday - August 15, 2021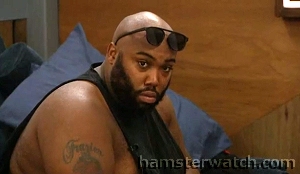 They get to sleep an extra hour on Sundays and usually don't have events or activities planned, but hamsters never stop. Alyssa told Xavier no one wants to talk to her, and he said even if Kyland didn't throw the veto to her it looked like he did. Britini told Derek F and Azah "there are people in this house who have sway like I've never seen, it's almost like what they say is law in this house, and that's dangerous." And she said they need to "figure out somebody to paint a target on" besides Derek F, and that he needs to present a plan to Kyland. And she said she thought the power clique is Tiffany, Claire, Hannah, Derek X, SarahB. Her reads being so wrong is one thing, but the fact that the target has already been painted and it's on her is something else.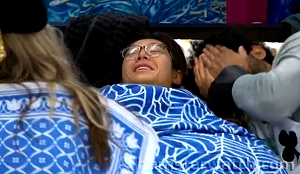 Last night Britini ate some vegan "meat" and was horrified to read the label afterwards and discover it contained wheat. She said she had overnight complications but slept through 95% of them. And the Detectives (Kyland/Claire/Derek X/Tiffany) want to add Hannah as a fifth, and call themselves the Agency. So that could happen today. Also last night, Azah had some choice words about Kyland, saying he's on a power trip. Apparently Derek F and Kyland told her last night that Britini would be the renom taking Claire's place, and this morning Xavier also told her. Xavier said it was largely because Britini got 100 Bucks and Claire got 50. Azah said she thought this was Kyland's plan all along.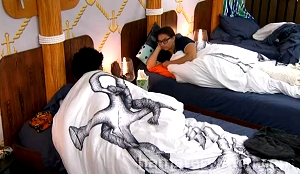 Azah tried to drop hints to Britini about her fate, talking about the HOH comp and saying she felt uneasy about Kyland. She said Britini might trust him but Azah did not, and she added "I don't think our team is safe." Tiffany tried to drop hints to Derek X about Cookout, but if he connected any of the dots he didn't let on. Kyland told us he's got meetings on today's agenda, again. Azah serenaded Derek F as he cleaned the kitchen. Derek X solved a decor puzzle he'd been working on a long time. Claire and Derek X seemed to dance around the idea of the Cookout's existence, without naming it or its specifics of course. They also mentioned the possibility of flipping the vote to send out Derek F this week. Kyland held a pre-meetings meeting with Derek F, who basically said they had to get the women out, like he does. Hannah and Xavier discussed future plans. The backyard finally opened.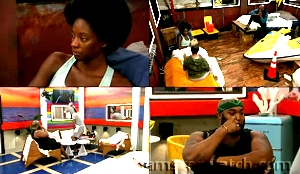 The show came and went, along with the unnecessarily complex first High Rollers Room. I've added a section to the left sidebar for that, posted their balances in Power Status up top, and inserted their BB Bucks below with their winnings in Ratings section. By the way, Xavier's theory was correct for who got how many bucks this week. On the feeds, a whole lot of chaos exploded among Cookout members, probably due in large to never meeting as a six and instead relying on retells, as well as individual agendas plus mini alliances within Cookout, and the fact that Azah didn't want to lose Britini and didn't understand why she had to. Derek F ran interference between Azah and Kyland for awhile (paying for some of those BB Bucks he got). Xavier sat in with Azah and Tiffany for a lengthy rehash of their issues, acting as mediator, like he does.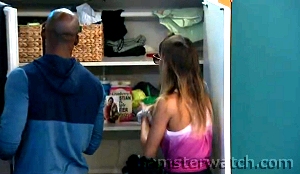 Claire's Duke of the Deck task was officially completed a little after 7pm. Alyssa met with Kyland as scheduled and per her retell to Xavier, she won't be using her veto. There was a lot of emphasis on her speech. (I thought veto was just 'I'm not using it' or 'I'm using it on ____' but you know how this crew is.) She planned to include respecting the HOH's wishes in her speech as far as not using it, which probably won't help Britini's reaction at all when Kyland uses his veto to replace Claire with her. Kyland planned more meetings for tonight, so plan accordingly.

Kyland's Jackass of Clubs task was officially completed a little before 11pm, about one hour more than his assigned "week". He'd had to make a last round of sandwiches for everyone, with extra bacon, and a big dinner by Azah and Derek X was also made. Kyland started his latest round of meetings, first with Claire, and then Diary relieved him of the task. He encouraged Derek X and Xavier to put on his suits and they did, and they roamed the habitat, hee-hawing at everyone.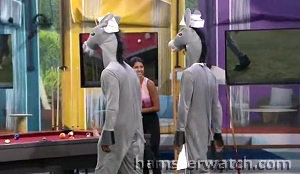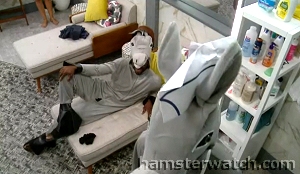 Derek F had the next Kyland meeting. He asked "what are we gonna do?" and Kyland went down a few rambly tangents but said as of now, it's still Britini as renom. Whether she does or doesn't get a heads up, she's sure to have a bad reaction tomorrow: how bad is just a matter of degree, depending if she's blindsided or not. HOWEVER we could get blindsided, as Kyland busied himself in his room, setting up multiple study boards or question boards for meetings, with Q-tips and candies and cereals. Xavier and Azah griped, and laughed, downstairs about Kyland wanting meetings all night again when the plan was a done deal.

IF YOU MISSED what came before, check my previous episode, always linked up top or from my season index, and get the feeds to catch anything you missed with Flashback!



Day 39 - Saturday - August 14, 2021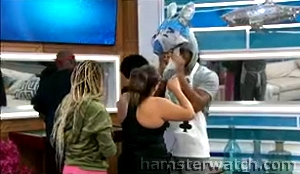 Kyland got his summer donkey suit with short pants and sleeves last night, and they drew their veto picks and placed their bets this morning. Alyssa, Azah, Britini were picked to play along with Kyland, Claire, Derek F. And yesterday's High Rollers placed their bets: Claire bet on Kyland, Derek F bet on Britini, Kyland bet on Alyssa, SarahB bet on Azah. Again, my understanding is a bettor will win a second veto if their pick wins the comp, which they can use this week or save for one of the next two weeks.

Feeds came back to hamsters talking about OTEV, sounding like they were informed that would be today. (Since the High Rollers game was Veto Derby, maybe it'll be a horseracing theme, hosted by OTEV the Ranting Racehorse.) Studying revved into high gear as a result, as did whispering about various renom combinations and repercussions. The current plan remains for Claire to stay and Britini to go, but they have a potentially complicated path to make that happen due to that second veto potential.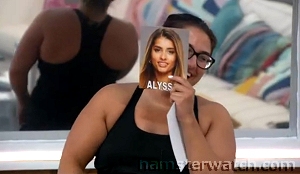 Studying and scenario-running discussions raged on all day as they waited for the veto comp to start. I understand they don't have much else to do, and it's good that those who want to win the season do this, but for me, it's just easier to wait for what is rather than cover a lot of what ifs that will never happen. On the lighter side, Xavier tried to prank a sleeping Derek F but only succeeded in banging his own shin. Britini and Alyssa talked about the night Britini walked in on Alyssa/Christian getting busy in HOH. Britini said she hadn't really connected the dots at the time but she laughed about it now. Derek F, Alyssa, Britini did some goofing around with their name/photo cards from the betting table, including Britini playing all the parts to re-enact the night she interrupted sexytime.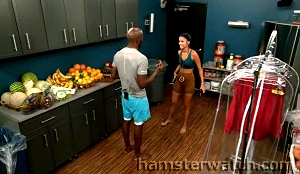 Feeds were down from 4.20pm to 6.20pm, and came back to Alyssa and Kyland both wearing vetos. Alyssa won the comp, which was OTEV, with an Arnold Schwarnegger voice and accent, and it sounded like they had to hunt for jam and jelly jars, with gel and Crisco. Xavier congratulated and celebrated with Alyssa in the pantry. Since Kyland bet on her to win, he got a second veto. He guaranteed Claire that she'd come off the block, likely with his veto since Alyssa is unlikely to use hers. Claire wanted to know why Kyland threw the comp to Alyssa (several said it was rather blatant), and he said he did so he could use his High Roller veto on her (Claire), to prove she can trust him. Azah also threw it to Britini. Britini is the planned renom, as of now - the target had switched from Claire to her since noms anyway. We know a fourth time on the block won't go over well with Britini. Derek F put on a show of being resigned to leaving for SarahB and Britini, with Azah present, saying it's a game, somebody has to leave, etc.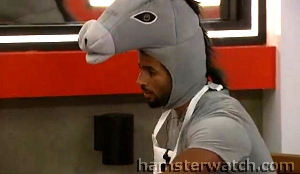 Derek F seemed ready to tell Azah about Britini going up (and out) but a crowd gathered, so that was delayed indefinitely. Britini got emotional about Derek F apparently giving up and she coached him to work to stay. That was awkward since he (and we) know Derek F's in no danger but Britini is. Kyland launched into his trademark lengthy, droning, rambling meetings with several of them, but feedmasters helped keep our interest with ongoing closeups of his asshat. Alyssa met with Kyland, and retold to Xavier that they agreed Kyland won't tell her his plan so she doesn't have to lie to anyone, and he agreed to keep Xavier and SarahB safe. He said he'll tell her Sunday night if he wants her to use her veto so she can prepare a speech, and Monday morning he'd tell her who his renom will be. Alyssa also told Xavier she thought it's weird that nobody's approached her to talk game, but they have approached Xavier. She wondered if that was "because of the Christian thing" and Xavier said "possibly." She started a show for Christian but feeds cut away, and only came back when she was finished.. ouch.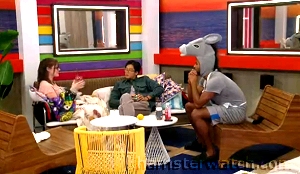 Derek X had complained earlier to Azah that Kyland had barely talked to him this week and when he did, it seemed fake. He and SarahB ended up together in HOH with Kyland - I'm not sure which had their meeting first and which joined, sorry, it's just too much to listen to. At any rate, the three of them formed and named the Flop alliance. SarahB sounded excited to say "nobody better flip on the Flop" in Diary. Elsewhere, Hannah told Tiffany she doesn't like Kyland when he's in a position of power. Xavier and Alyssa had a few snuggles here and there. Derek F visited Kyland after Derek X and SarahB left and tried to get him to consider Derek X for renom. Kyland said no, and they moved on to next week. They evolved into a pretty good discussion about the Cookout and its mission, and life topics. Meanwhile Azah, Tiffany, Britini entertained themselves, each other, and Claire, Derek X, Xavier, Hannah, SarahB downstairs. They too evolved into deeper subjects about life.

IF YOU MISSED what came before, check my previous episode, always linked up top or from my season index, and get the feeds to catch anything you missed with Flashback!



Ratings - Spirit Animals special guest edition
In a time-honored Hamsterwatch tradition, ratings are diagnosed by and courtesy of @TheJenge



Noms count: original/renom / HR: High Roller result






DNA acquired legally from Howie Mandel's sock, by a CBS intern
In cloning 'Deal or No Deal' CBS has spliced their new AI-blueprint with Canadian-type casting ratios mothballed into an act of perfection that is only found in a casino. Yes, there is more blue in everything this year: so why did you ask?





Won: BB$50; Week 3 safety; Phone call, video call, phone, laptop
HOH 0 - Veto 1 - Noms 1/0 - HN 2


TEAM KINGS



Fox
Foxes are well known known for owning swim-wear lines. Foxes are very adept at finding safety extremely quickly. Excessive prey-drive is what can get foxes caught. A fox seeking protection will cause a wedgie in the social space-time continuum.





Won: BB$50; Week 1 safety
HOH 0 - Veto 0 - Noms 0/0 - HN 1


TEAM JOKERS



Ostrich
The largest African bird whose white feather represents the Queen of Truth in the ancient hieroglyphics. An ostrich has the most lethal kick (perhaps equal with a velociraptor). Female ostriches will die for the cause of protecting their nest.





Won: BB$100; Week 1 safety
HOH 0 - Veto 1 - Noms 3/0 - HN 1


TEAM JOKERS



Mutant Ninja Turtle, Michelangelo
Unaware that she has begun to mutate, will the previously hidden turtle powers stop manifesting as Britini's tears? With Michelangelo powers emerging, Britini must paint a masterpiece through guts alone.





Won: BB$50; Week 2 safety; Week 4 Wildcard + Weeks 4 & 5 safety; 1 week Duke of the Deck 52 Pickup
HOH 0 - Veto 0 - Noms 1/0 - HN 1


TEAM QUEENS Captain



April O'Neil
The honest human (because in 2021 she works with AI) and will end up scripted in the middle of everything come time for: TMNT BB23 The Rise of The Shredder. Noted for being present during the finale and ALL end-scenes of the TMNT sagas.





Won: BB$100; Week 1 safety
HOH 0 - Veto 0 - Noms 1/0 - HN 1


TEAM JOKERS



The Shredder
The secret identity of carnage itself. The Shredder is the leader of a shady feudal/criminal order known as 'The Foot Clan'.





Won: BB$100; 24 hr Lord of Latrine
HOH 1 - Veto 2 - Noms 0/0 - HN 1


TEAM ACES



Mutant Ninja Turtle, Leonardo
The mutagenesis of BB23 has caused this mutant turtle ninja to triumph at completions in ways that clearly identifies his mutant power from the regular spirit animals in the BB house. Leonardo is the most skilled and most serious minded of the turtles. He could win it all.





Won: BB$75
HOH 0 - Veto 0 - Noms 1/0 - HN 1


TEAM ACES



Queen Cobra
Queen Cobra is the yogic archetype of awareness + the power of life: in a bottle. If she bites you, you will likely die or lose a limb to amputation. She is happy to live under a rock every now and then. This can make a simple rock quite dangerous.





Won: BB$50; 1 week Jackass Club making sandwiches; Week 6 High Roller + 2nd veto
HOH 2 - Veto 0 + 1 HR - Noms 1/0 - HN 1


TEAM QUEENS



Bull Elephant
Strong, truly rooted, and emotionally deep. Elephants never forget. When bull elephants work in groups, resistance is pretty much futile.





Won: $5,000; BB$50; Week 2 Wildcard; Week 3 safety
HOH 0 - Veto 0 - Noms 1/0 - HN 1


TEAM KINGS



Mutant Ninja Turtle, Donatello
Using 'forensic skills' and 'pizza parties' over combat are hallmarks of Donatello. So is the purple mask of technobabble. Will Sarah Beth realize her full mutant potential on the feeds?





Won: BB$75; Week 2 safety; Week 3 Wildcard
HOH 0 - Veto 0 - Noms 0/0 - HN 1


TEAM QUEENS



Master Splinter
Wisest mutant rat in history. Has the god + mutagenic ability to create a zone of protection for an underground school of mutant ninjas to somehow keep the feeds safe. Splinter is the wisest rat in history indeed. Tiffany's spirit animal is possibly greater than Mr Miyagi, who personally 'tutored' Dan Gheesling's spirit animal.





Won: BB$75; Week 1 safety
HOH 1 - Veto 0 - Noms 0/0 - HN 2


TEAM KINGS



Mutant Ninja Turtle, Raphael
Perhaps the physically strongest and the most psychologically direct of the four turtles. With the red mask, qualities of restraint and empathy are easily ignored during his tunnel vision leadership stints. Raphael is at his best being the charged analytic nucleus of Turtles, and not their 'perceived head.





Won: Week 1 Wildcard + safety; Week 3 safety
HOH 1 - Veto 2 - Noms 0/1 - HN 2


TEAM KINGS Captain



5th evicted - Day 37

Malamute Dog
Often mistaken for the Huskie dog breed, Malamutes are bigger and hairier. They can also haul heavier loads further.





Won: Nothing
HOH 0 - Veto 0 - Noms 1/0 - HN 1
TEAM ACES Captain

4th evicted - Day 30

Camel
Camels are survivors, but can Whitney do without other camels watching out for her? Whitney can bear the desert alone while having the ability to go without water more than any other spirit animal in the house. In other matters: Camel eyelashes are rather spectacular.





Won: Nothing
HOH 0 - Veto 0 - Noms 1/0 - HN 1
TEAM ACES

3rd evicted - Day 23

Ostrich
Male ostriches make excellent flight attendants who can keep entire aisles and rows served and secure. Sand-headedness is a trap to them and they know it. But still.. It is true. Undeniably so.





Won: Nothing
HOH 1 - Veto 0 - Noms 1/0 - HN 0
TEAM JOKERS Captain

2nd evicted - Day 16

Yardbird
BB has had a long run of Turkey in the house, but Yardbird was a welcome change of pace and tune. Right from the crack of dawn, to a nest with no eggs, a lot of clucking and chicken feet scratch marks everywhere. What's not to love?





Won: Nothing
HOH 0 - Veto 0 - Noms 0/1 - HN 0
TEAM QUEENS

1st evicted - Day 9

Thresher Shark
Friendly, almost charming, and has a great smile, gills, and grey skin too! The gigantic tail is for 'ocean businesses' and 'tech startup advantage'. Can swim faster than you can run, and can outpace you even in your dreams.. so beware.





Won: Early ticket home
HOH 0 - Veto 0 - Noms 0/0 - HN 0

Replaced pre-season

Replaced by Claire pre-season, she tested positive for COVID.





Won: Early ticket home
HOH 0 - Veto 0 - Noms 0/0 - HN 0

Replaced pre-season

Replaced by Christian pre-season, we may never know why.



Lines and Links of the Day
Lines

Sunday
Alyssa, hearing Britini loves Hallmark movies: That makes sense why you're so obsessed with the me and Christian thing

Derek F: So I think the best case scenario is that we win HOH every week?
Kyland: Yes

Saturday
Tiffany: You have to stop making alliances and then leaving them where you found them, and going off and handling other business
Kyland: I know

Azah: I fell in a manhole once

@LostReader23: You know, for a show that feels it has to repeat the rules of simple comps three times in each episode so viewers understand, they're making this very complicated. #bb23



Links

GET YOUR FEEDS includes a free trial

Ace Attorney court case animation of another fight in my mentions, after I posted that Tiffany said she deleted a lot of her BB tweets, by @aceCourtBot

Use my link for any Amazon Canada shopping, anytime, at no extra cost - just start your shopping trip by clicking Amazon Canada



Tally Items

Season Stats
HOHs in order: Frenchie; Kyland; Xavier; Christian; Derek X; Kyland

Veto winners in order: Derek X; Derek X; Christian; Christian; Britini; Alyssa + Kyland HR

Evictions in order: Travis 11-2; Frenchie 11-1; Brent 11-0; Whitney 10-0; Christian 7-2

Cast Twitters: @azah_awasum; @CBirkenberger; @ChristieVal22; @ClaireRehfuss; @claire_does; @TheDerekFrazier; @lofiderek; @derekxbb23; @farmerFRENCHIE; @kylandyoung; @greedycalina; @absolutelytiff







Linking to any page here is fine. Please don't repost content from this site (or any other) without permission, and don't repost or hotlink images.



THE REAL SHOW IS THE FEEDS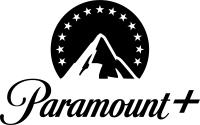 CBS All Access is now
Paramount Plus

Live air shows with ad-free plan
or legacy $5.99 plan (live TV will have some commercial breaks)
BB1 thru BB23 plus Celebs and OTT, and loads of other shows from CBS, BET, Comedy Central, Nickelodeon, MTV, Smithsonian, plus originals


HAMSTERWATCH SWAG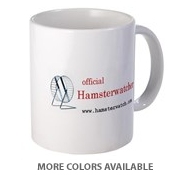 Mugs, shirts, more
Visit my Cafe Press shop



COMPLETED GAME TWISTS

TEAMS
Ended after Week 4
Move-in groups of four competed for team captains, who then drafted their teams, and captains competed for HOH. Winner's team had safety for the week.
-Team Jokers:

Frenchie captain,

Azah, Britini, Derek F
-Team Aces:

Whitney captain, Brent,

Derek X, Hannah
-Team Kings: Christian captain, Alyssa, Xavier, Sarah
-Team Queens: Claire captain, Kyland, Tiffany,

Travis




WILDCARD
Ended after Week 4
One from each non-HOH team competes. Winner can have safety for the week in exchange for a punishment for them, their team, or the house. Competitors can't repeat til everyone's played.
Week 1
-Christian, Hannah, Kyland played
-No risks, winner spun a wheel to share safety with 1 to 3 teamies
-Christian won, saved Xavier
Week 2
-Brent, Frenchie, SarahB played
-Winner had to switch teams to keep safety
-SarahB won, did not use
Week 3
-Britini, Derek X, Tiffany played
-One random player from both Aces & Jokers would also be safe
-Tiffany won, did not use
Week 4
-Azah, Claire, Whitney played
-Winner's safety 'til jury' or 1 week safety for winner's team
-Claire won, chose safe 'til jury' (2 weeks)





Big Brother 23 SEASON FAQ
-Day 1 July 7: CBS premiere, live move-in, feeds began
-Derek F was first to enter
-Day 85 Sept 29: 2 hour finale

Feeds are streamed by Paramount Plus, with Flashback included, with a Paramount Plus subscription. Call 888-274-5343 for account help, including cancellation.

BB23 finalist prizes are $750k for the winner and $50k* for 2nd place. 3rd place gets $10k* bonus, 4th place gets $7.5k*, 5th place gets $5k*. All except finalists receive $1k stipend per week, including pre-season sequester.
*Amounts to be confirmed

The habitat has 94 HD cameras (no change) and 113 microphones (no change).

The recorded in-house announcements are the voice of producer Don Wollman. He and Julie Chen are the only senior staffers who have been there since Big Brother 1.