This site is about the Big Brother 23 feeds and contains spoilers! It isn't necessarily thorough: it's what I catch and/or what interests me. It's about watching hamsters: who's doing what and why. Thanks for encouraging my behavior.
Your pal, dingo





Donations via Paypal are gratefully accepted!



BB23 DRINKING GAME

Take a swig whenever two of them hug - take more than two if more than two hug





GAME TWISTS

TEAMS
Move-in groups of four competed for team captains, who then drafted their teams, and captains competed for HOH. Winner's team had safety for the week.
-Team Jokers:

Frenchie captain,

Azah, Britini, Derek F
-Team Aces: Whitney captain,

Brent,

Derek X, Hannah
-Team Kings: Christian captain, Alyssa, Xavier, Sarah
-Team Queens: Claire captain, Kyland, Tiffany,

Travis



WILDCARD
One from each non-HOH team competes. Winner can have safety for the week in exchange for a punishment for them, their team, or the house. Competitors can't repeat til everyone's played.

Week 1
-Christian, Hannah, Kyland played
-No risks, winner spun a wheel to share safety with 1 to 3 teamies
-Christian won, saved Xavier

Week 2
-Brent, Frenchie, SarahB played
-Winner had to switch teams to keep safety
-SarahB won, did not use

Week 3
-Britini, Derek X, Tiffany played
-One random player from both Aces & Jokers would also be safe
-Tiffany won, did not use

Week 4
-Azah, Claire, Whitney played
-Winner's safety 'til jury' or 1 week safety for winner's team
-Claire won, chose safe 'til jury'





QUICK LINKS & BOOKMARKS

-SIGN UP FOR FEEDS

-WATCH THE FEEDS
after signing up - disable ad blockers

Official site and socials:
-BB23 official CBS site
-Twitter
-TikTok
-Instagram
-YouTube
-Facebook

-Live show tickets if/when audiences return

-Donate via Paypal - thank you!

-My Twitter - my screencaps

-Amazon Canada portal

-Dick at Night with @EvelDick

-BB Viewer Chrome or Firefox Extension by @liquid8d
-Requires Paramount Plus account

-BB23 Wiki

-Hamster Twitters
BB USA: chron - members
BB Canada: chron - members
BB USA Celebs: chron - members

-Advice for cast friends/family

-VPN to protect your online privacy




Get Paramount Plus
to watch Big Brother
all seasons
Plus tons more CBS and Viacom content




BIG BROTHER LIVE FEEDS EXCLUSIVELY ON PARAMOUNT PLUS
All Big Brother USA seasons plus most CBS/BET/Comedy Central/MTV/Nickelodeon shows
past or present are included, plus originals!
GET A FREE TRIAL
COMPUTER - MOBILE - ROKU - CHROMECAST - APPLE TV - ANDROID TV - FIRE TV - XBOX 1/360


>> >> >>

>> >> >> >> >> >>

>>

Power Status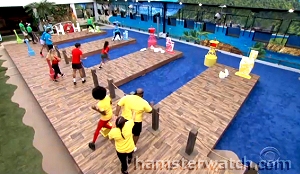 Head of Household: Christian
HOH team immunity: Alyssa, Sarah, Xavier
Wildcard winner/outcome: Claire/safety til jury
Original noms: Hannah, Whitney
Veto winner/outcome: Christian/did not use
Final noms: Hannah, Whitney
Have-nots: Azah, Britini, Derek F (ended Wednesday night)
Evicted: TBA

Alliance charts by @89razorskate20

Alliance maps by @Dolffica

Diary segment tallies by @clamperls4

Ratings Watch Wednesday's show remained second with 0.8 rating and 3.48 million viewers, behind Olympics on NBC with 2.2/10.12, and ahead of Press Your Luck rerun on ABC with 0.3/2.63, and MasterChef rerun on FOX with 0.3/1.23.

Overnight rating & share: adults 18-49; Rating: % of all TV households; Share: % of households watching TV



Upcoming Events
Thursday: Tiffany's birthday

Thursday night: Endurance comp on the feeds

Monday: SarahB's birthday

Usual feeds schedule, times are Pacific
Mondays noonish: Veto meeting*
Tuesdays: COVID tests
Wednesdays midnight: Have-nots end
Thursdays: Eviction run-thru afternoon*, live eviction show 5pm*, HOH room late evening
Fridays: Nominations late afternoon/early evening*
Saturday: Veto comp*
*Feeds blocked

CBS show schedule
Sundays 8pm - Wednesdays 8pm - live Thursdays 8pm
except:
-Sunday 9/19 no show
-Wednesday 9/22 10pm show
-Wednesday 9/29 9pm finale, two hours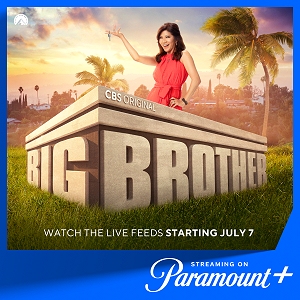 GET THE FEEDS to see the real show!

CBS All Access is now Paramount Plus If you had an All Access account, it has switched over and you're all set for the new season. Plans are as follows:

$4.99/month includes feeds, does not have live local CBS, does have commercials for shows/movies
$9.99/month includes feeds, does have live local CBS, does not have commercials for shows/movies
Either is also available on an annual plan. If you get the $4.99 plan and want to dump the ads, you can upgrade to $9.99 plan at any time

$5.99/month plan is no longer available for new subscribers, but former All Access accounts will stay as they were, including feeds and live local CBS



Daily Feeds Recaps
Day 29 - Wednesday - August 4, 2021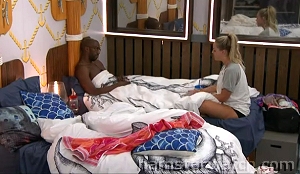 Whitney started the day with a strategy session with Xavier, hoping to stay. She won't stay, but Xavier visited Christian to tell him Whitney would be campaigning today, and they should let Hannah know she should do the same, just in case. Whitney invited Hannah to do some pranks with her, and work out, and both said they'll do one-on-ones at some point. In other news, Britini seemed to have mostly recovered from whatever was ailing her last night, and Derek F retold a few chess games.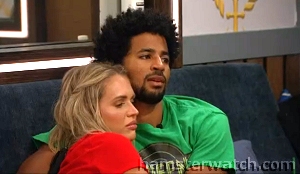 So one-on-ones it was. Things took a bad turn with Whitney's first meeting, with Kyland, and they looked like an ad for a tragic Lifetime movie. I didn't really listen to either Whitney's or Hannah's because everyone in there and out here knows Whitney's going, but they carried on through the afternoon. Britini told Whitney nobody knows what it's like to sit on the block and be vulnerable - fourteen days in Britini's case, in case you hadn't heard - and she added she can do whatever she wants because of that. Whitney took a break partway through the roster to cuddle on Xavier for a bit. Plans and task assignments for another house cleaning were talked about, and Azah and Derek F started prepping for their midnight Have-not feast around 4pm.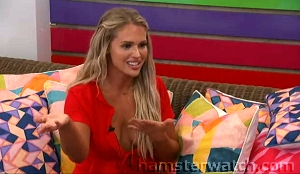 Whitney's talks went on forever, and she took another break to clean a spot on Xavier's white hoodie, while he was wearing it. Then her talks took another turn when Alyssa told her that Hannah had said that she (Hannah) can manipulate Christian. Alyssa urged Whitney to pitch to Christian again and make offers to him - not just safety offers but that she'd throw HOH, etc. So Whitney went to HOH? And told Christian a lot of things? Mostly that she'd target Derek X? But also Kyland? (She made most of her statements sound like questions.) She said she wants to work with Christian? And the Kings? And she wouldn't put any of them on the block but she'd put up Derek X and Kyland? But only after discussions with Christian and the Kings? And it's true she once said she wanted a woman to win but as of now, she'd vote for Christian at the end over any of the women? Christian seemed to be swayed, but he doesn't have a vote unless there's a tie. Even that's unlikely, but a split vote might at least spice things up a bit.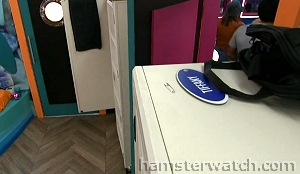 They did their housecleaning again, and BB ran the "clean the house" announcement again while they were doing it, but that joke only works once. Tiffany again said her nametag from her BB bag was missing, and it became a big-ish deal. She wondered if Frenchie took it since he was asking everyone for items to auction and she didn't give him one, but it was agreed that would be lower than low. The tag was spotted atop one of the hallway wardrobes the other day during the trial madness (ironically when they were screaming about "planting evidence"). Several searched, and Xavier peeked and felt around on top and behind one of the wardrobes but missed it tonight. I think Claire finally found it, Tiffany apologized to Frenchie, and she crashed a Team Kings meeting in HOH to yell at Xavier about his "tall self" fail and she said he "might as well be short like Brent." Azah and Derek F continued their meal prep and Tiffany let Britini comfort her about not wanting a gluten-free cake without egg yolks for her birthday. I think Tiffany was playing that up but it seemed to make Britini feel good/important.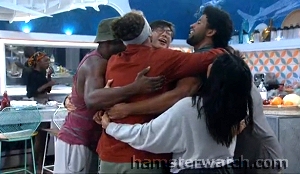 Midnight finally rolled around, six minutes late due to their microwave clock being slow. Everyone cheered and sang Happy Birthday to Tiffany in a mass huddle-hug, the Have-nots got to eat after their week of slop, as did everyone else since they made enough for all. Whitney will walk the plank tomorrow, and then we'll have the endurance comp on the feeds! Let's hope it's a long, hard-fought one.

IF YOU MISSED what came before, check my previous episode, always linked up top or from my season index, and get the feeds to catch anything you missed with Flashback!



Day 28 - Tuesday - August 3, 2021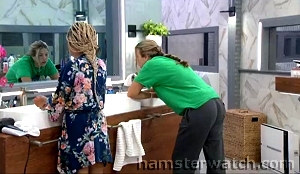 Many of them dove right into gametalk before their wakeup music was even over or the coffee brewed. Tiffany and Claire talked about guys winning all the comps and maybe they all needed to go, and Christian could be a double eviction target, and putting Kyland next to SarahB on the block would ensure she goes, and Jokers were too emotional to pawn but they'd be good to drag to the end for a finals win. Hannah later told Tiffany a double eviction would be a good time to take a shot at Claire. If you're behind, Hannah's offered to take all the shots. She's the most eager lieutenant Tiffany's had yet.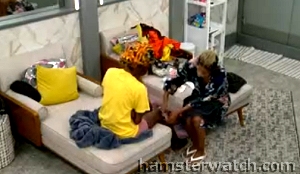 Tiffany tended to Azah's leg injury (from veto comp), and Azah pushed that a King had to go next, and she presented a pitch she'd worked up with Britini and Derek F. She suggested Jokers and Queens team up, and they'd all agree to nominate a King against a pawn from each other's team, to ensure the King goes. Tiffany mentioned getting to "the six" (Cookout) and Azah said she was under the impression it was "the five plus Hannah." Tiffany said she'd always considered Hannah a full member. Tiffany slipped and said "Sarah Beth's next week" then backtracked a bit, but Azah said that'd be fine with her. Kyland and Tiffany had a meeting to iron out some tension. I'm not even sure what that one was about, and they used all the right 'everything's fine' type words, but their tones indicated otherwise.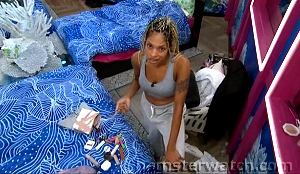 Tiffany had a chat with us, saying she had to work on her facial expressions and voice tone when gametalking, and she said Hannah was still her current lieutenant (my word, not hers). She said her current hit list was SarahB, Claire, Christian, Derek X, Alyssa, Britini. She added it would be hard to cut Claire this soon as she's still her bestie in there, but she'd have to do it for the Cookout to get to the end. And she said her three within the six were Hannah and Xavier. Christian met with Xavier, and then with Jokers, asking them who they'd put up, like he's still got any power or right to ask that. Xavier talked to us, saying he just needs to keep doing as he has been, and keep his mouth shut, and "I'm just getting handed alliances left and right at this point." Meanwhile Britini and Christian solidified their F2, and Christian told Alyssa about that shortly after.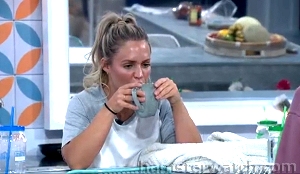 Gametalks, whispers and alliance roulette carried on in every room for most of the day. Azah pitched the Jokers+Queen-to-boot-a-King plan to Claire. Hannah and SarahB had a chat at the makeup mirror, acknowledging they don't talk game and should change that, and they did some days studying. SarahB swapped out with Alyssa, and Alyssa said Queens never said Hannah's name to her, and she once again said SarahB hadn't pushed for Hannah to go on the block (lie). Derek X said he and Christian (and maybe Kyland?) were going to build a "Rude Goldberg" (*Rube) track for a foosball to travel around the habitat, saying Christian had always had a dream to build one. Whitney did not engage in gametalks, whispers, or alliance roulette, and she did not hold Spa Day.

Claire held a very lengthy talk with us, saying she didn't want Whitney to stay but she was curious to hear her pitch, and it sounded like she wants to trust her F4 with Derek X, Kyland, Tiffany more than her F4 with Alyssa, Christian, Tiffany. She talked to us longer than she's talked to most of them except Tiffany and I didn't hear most of it, apologies, but it seems she might be starting to figure out the Cookout, though she didn't specifically say so. Whitney told Hannah they haven't met as a team since Brent left (never mind that Whitney could have called one at any time). She asked how Hannah was feeling about next week since there will only be two Aces left, and Hannah said "nervous."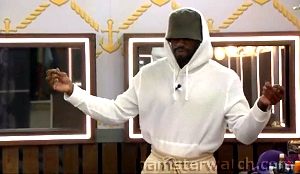 Alyssa, Azah, Christian, Claire, Xavier started a joke competition that quickly escalated to pickup lines, and from there to a poetry slam. Snappers up! Whitney stared at the photo wall and whispered on four feeds about who might be with whom, and stated obvious things like Derek X and Christian are the biggest comp threats. This felt like something Diary put her up to, resulting in footage they probably can't/won't use. Claire and Azah had a lengthy game whisper, while others continued chit-chatting and goofing around. Tiffany had a long, reconnecting talk with Derek X. DX asked if Claire is to Tiffany what Kyland is to him, and she said yes. They also talked about the SarahB problem, re Kyland, and the Christian/Alyssa problem. Tiffany told Derek X if he gets a chance to take a shot at Christian, he should take it. Elsewhere Alyssa pointed out to Christian that he's in good shape if she goes, but she's got nobody if he goes.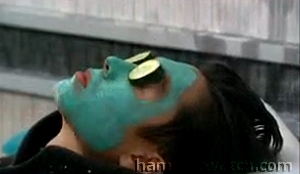 Evening rolled along with cooking, eating, laying around, snuggling, modeling walks, and talking in bad accents. The selfie camera came out again and the mass getalong escalated, along with skits, characters, and more accents. The Big Blue Couch was set for another episode but Britini wasn't feeling well and went to Diary, then came back out, still not feeling well - slop sick maybe. So they postponed BBC and Whitney got to do Spa Night after all. Faces were washed and nose strips, face masks, cucumbers were spread around. Christian had offered Britini his room for privacy, but she stayed downstairs, laying on the sofa in the middle of it all. She finally had a mask and cucumber applied, but stayed in place.

IF YOU MISSED what came before, check my previous episode, always linked up top or from my season index, and get the feeds to catch anything you missed with Flashback!



Day 27 - Monday - August 2, 2021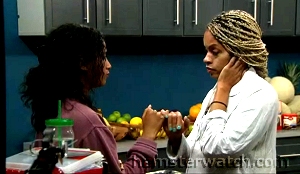 Tiffany and Hannah continued abusing the pinky tally with yet another overnight swear, this one that Hannah wouldn't tell anyone that Tiffany got agreement from both Dereks to "take a shot" at Christian if they win HOH. Pinkies used to be the true currency of the BB realm, sealing alliance deals and votes, and occasionally even securing runners-up their $50k. But like so many things, those days are long gone and now hamsters just stick their little fingers out for any old thing, and they're often lying when they do. I'm torn about whether to continue the tally or not.

Speaking of tallies, Alyssa and Christian got busy in the HOH bed again. And Britini dropped in on them shortly before that, and the happy couple was annoyed/aggravated/paranoid about having been caught in the dark and in their undies.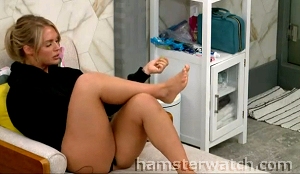 And the anti-SarahB campaign kicked into higher gear with Kyland now supposedly being her America's Player partner, and that must mean there's another couple doing the same thing, and do they know the other exists? Tiffany's superb at planting seeds but Hannah can take those seeds and run amok with them. Tiffany also told Hannah about her F2 with Kyland. This morning Kyland asked Tiffany if she'd help him study days and she said he should ask SarahB. Later Tiffany told us her plan is basically unchanged but relationships change and she has to constantly re-strategize. She said she attaches to those who have something useful that she lacks, and (currently) she'd love to sit in finals with Hannah.

Christian did not use his veto, and so the second/longer half of our week began.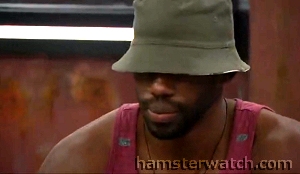 Whitney went upstairs to the poker lounge/skybridge to start self-isolation, before or hopefully instead of fulfilling her promise to get more aggressive with Xavier. Meanwhile Xavier was crying again, alone in Have-not, and telling himself to get it together, and that he hadn't been triggered like that since Day 3. It turned out his brother's bracelet broke. He only lost him this past spring, and missing him was also what he got emotional about on Day 3. Like that other time, he revived himself and rejoined the group shortly after. SarahB also cried because she saw a moth and that's her phobia, and Kyland hug-comforted her.


Alyssa and Christian ran their hit list which was Whitney this week and Azah next, followed by Hannah, Britini, Derek X. So Tiffany/Xavier/Derek F's plan to leave Christian alone for now looks like it paid off. For now. Feeds were blinking off a lot again this afternoon, but a lot of what we weren't seeing was Xavier trying to distance himself from Whitney, unsuccessfully, in bed, and Alyssa and Christian, in bed. Tiffany sat down with Hannah and Derek X to say "we need to make an effort to win this HOH - Ky cannot win it no matter fucking what." Claire joined and Tiffany repeated. Derek X suggested putting up a Joker against SarahB, and Hannah said Britini would be better since she's close to SarahB. SarahB walked in with laundry while they were conspiring against her and Kyland - oops. Tiffany later told us "poor little Britini is gonna have to sit right next to SB."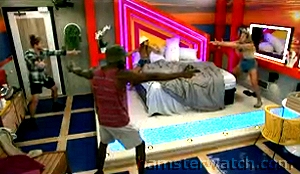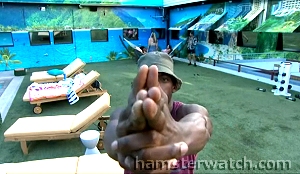 Loud shouting broke out and dozing feedsters rushed to feeds thinking they were finally fighting, only to discover Christian, Alyssa, Claire, Xavier pointing finger guns at each other in HOH, and screaming about bucket hats. The shouting got the attention of others downstairs who wondered what was going on, and Hannah said "is Enzo here?" The finger gunners ran through the house and yard, and Xavier tried to get us involved. It was some elaborate roleplay game about Bucket Hat Bandits, kind of like live action Mafia I guess? There was also something about the moth from earlier. I don't know.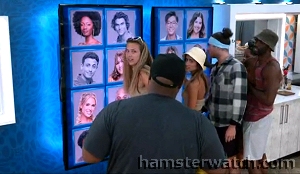 Most of them got involved, like they do, and before long they had assigned roles for a trial. Derek F played judge and bailiff, making them swear on their photos to tell the truth, and they settled into a complex court session with defendants, lawyers, and jury. And some bad accents, of course. Props to Xavier who didn't continually interrupt to say they were doing it wrong. Even Whitney participated, even though she'd been planning Spa Day for today.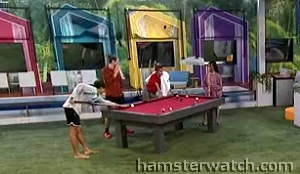 Alyssa, Christian, Derek X, Hannah finally all met up together and agreed to work as a group, saying they'd keep each other safe but would say to others they're going after each other. That will be convenient for them and confusing for feedsters, but there's a lot of that going around. I think Hannah told Tiffany about it within a few minutes, but it was hard to tell because they were clinking stirring spoons. Claire and Alyssa talked about Kyland and SarahB getting close, and Alyssa said her team meets to talk game periodically but often without SarahB. She added they didn't specifically exclude her, it just worked out that way. Claire wondered what Kyland and Xavier's relationship was like. Alyssa was non-committal, and Claire said he wants to build a relationship with Xavier. But Tiffany was faster, as usual, and she pitched a final three within Cookout to Xavier, with Hannah, when they get to six. He agreed, saying he'd be the muscle to their brains. Reminder, he's already got a three with Kyland and Derek F. Britini picked up, moved, and killed a chess game in progress, making Kyland jump, shout, and run really fast but not fast enough.

A second trial had been planned but it didn't happen, and neither did Whitney's Spa Night. An informal game assigning movie and cartoon characters to them all ran for hours. These hamsters play characters, and assign characters for themselves, more than they are themselves. It's something.

IF YOU MISSED what came before, check my previous episode, always linked up top or from my season index, and get the feeds to catch anything you missed with Flashback!



Ratings - Camp Letters edition
Ratings are based on entertainment value, kind of



Noms count: original/renom






Dear Production,
Please do better about keeping the feeds on, or at least be consistent. We get used to Good Skippy for a day and then Hypersensitive Skippy shows up again and feeds are like a strobe effect: on/off, on/off. If you must switch away from something illegal, not released, etc please bring them back sooner.
Your pal,
dingo
PS The backyard at night looks absolutely stunning. But you might want to keep an eye on the Goofs Tally, it's growing.





Won: Week 3 safety
HOH 0 - Veto 0 - Noms 1/0 - HN 1
TEAM KINGS

Dear Alyssa,
You aren't fooling anyone. Everybody knows you're tight with Christian. Hello, you're with him every waking moment and most of the sleeping moments too. You can quibble about semantics but cuddling duos, kissing duos, and sexing duos are targets just as much as showmances. As Whoopi once said, you're in danger, girl.
Your pal,
dingo
PS Did you know there are night vision cameras in HOH?





Won: Week 1 safety
HOH 0 - Veto 0 - Noms 0/0 - HN 1
TEAM JOKERS

Dear Azah,
A lot of folks say you're too nice for BB and in a big picture way, that's not the worst criticism a hamster can get. You continue to serve one perfect look after another, and that can cause jealousy with some but you go, girl. Thanks in triplicate for your sense of humor about your Xavier thirst.
Your pal,
dingo
PS Xavier isn't into you





Won: Week 1 safety
HOH 0 - Veto 0 - Noms 2/0 - HN 1
TEAM JOKERS

Dear Britini,
So how does it feel not being on the block, and not getting all those Diaries and attention? Not to worry, your time will come around again, maybe sooner than later.
Your pal,
dingo
PS Christian isn't into you





Won: Week 1 Wildcard + safety; Week 3 safety
HOH 1 - Veto 2 - Noms 0/0 - HN 1
TEAM KINGS Captain

Dear Christian,
So whose HOH was this again? Be glad the nominations edit was kind to you and didn't show your trainwreck one-on-ones or head explody between them. Alyssa may or may not have your best interests at heart but nobody else in there does.
Your pal,
dingo
PS If you keep whipping your curls that hard, you're going to get whiplash, or worse if you bang your head on something.
PPS Tiffany's going to send her army after you. Maybe not today, maybe not tomorrow, but soon, and for the rest of the game, til one of you is gone.





Won: Week 2 safety; Week 4 Wildcard + Weeks 4 & 5 safety
HOH 0 - Veto 0 - Noms 0/0 - HN 1
TEAM QUEENS Captain

Dear Claire,
You know half or more of BB Twitter is pulling for you, right? One of us, one of us. You're falling into the background and while that might be good for your game, maybe it isn't. Tiffany's told us she feels closer to Hannah now, and you haven't been a driving force in strategy sessions or alliance forming. I'd suggest you step it up but maybe you'd do as well letting the various driving forces drive themselves under each other's buses. I just don't know. But hey, you're not on top of anyone's hit lists and that's what counts.
Your pal,
dingo





Won: Week 1 safety
HOH 0 - Veto 0 - Noms 0/0 - HN 1
TEAM JOKERS

Dear DF,
Your stock has fallen out here in any number of ways but I still think you're fun to watch, and a perfect fit for this cast. I'm just here for the cheap entertainment etc, and you keep bringing exactly that, so thank you.
Your pal,
dingo
PS Thanks also for the occasional subtle sabotage moves. Too bad few notice them and even fewer will give you credit for them.





Won: TBA
HOH 0 - Veto 2 - Noms 0/0 - HN 1
TEAM ACES

Dear DX,
You continue to be the most well-liked overall I think, both in there and out here, but your relationships in there are not very deep ones for the most part. But you're in a good spot still so keep it up. Your preparation for your introduction at Nightclub was the highlight of the entire event by a lot, so thank you for that.
Your pal,
dingo





Won: TBA
HOH 0 - Veto 0 - Noms 1/0 - HN 1
TEAM ACES

Dear Hannah,
You're Tiffany's favorite, congrats! That's a coveted position and you earned the spot. Just be aware that Claire and Kyland have each occupied that spot, and then they didn't.
Your pal,
dingo





Won: TBA
HOH 1 - Veto 0 - Noms 1/0 - HN 1
TEAM QUEENS

Dear Kyland,
Your connection with SarahB has cost you a prime spot in Tiffany's hierarchy and she's still driving the game. You might be aware of this and have systems in place to counteract but if so, I'm not aware of them because my attention wanders when you do your lengthy talks to us. Could you maybe sum up your thesis and give us an intro and/or summary on either end of your marathon soliloquies? Thank you.
Your pal,
dingo





Won: Week 2 Wildcard; Week 3 safety
HOH 0 - Veto 0 - Noms 0/0 - HN 1
TEAM KINGS

Dear SarahB,
Like Alyssa, you're in danger too, girl. Big danger.
Your pal,
dingo





Won: Week 2 safety; Week 3 Wildcard
HOH 0 - Veto 0 - Noms 0/0 - HN 1
TEAM QUEENS

Dear Tiffany,
Every day you seem to be in a great spot in the game with lots of alliances and friends in powerful places. And every day you switch it up and make more alliances and more friends. Every day it seems like you're getting too messy for any of this to be sustainable, but your social game is better than any we've seen for ages, so you keep getting away with it. You've formed deep connections with whoever you need to, and whether you are or aren't genuine about them, it sure comes across like you are. And you take on nursing home cat duties for those about to be evicted. Truly impressive.
Your pal,
dingo





Won: TBA
HOH 0 - Veto 0 - Noms 1/0 - HN 1
TEAM ACES Captain

Dear Whitney,
He's just not into you. Leave the man alone and try to hang on to a shred of dignity before your spotlight goes dark on Thursday.
Your pal,
dingo
PS Last minute upgrade to neutral for using 'wary' correctly Monday night, since virtually all hamsters tend to mix up wary and weary.





Won: Week 1 safety
HOH 1 - Veto 0 - Noms 0/0 - HN 1
TEAM KINGS

Dear Xavier,
It's okay to just say no. Try it. Say it with me: Whitney, I am flattered, but no.
Your pal,
dingo





Won: Nothing
HOH 0 - Veto 0 - Noms 1/0 - HN 1
TEAM ACES

3rd evicted - Day 23

At cast reveal I thought international flight attendant would mean great people skills, but no. He came in boasting of charm but it didn't last long. His talk about girls and dating, and his behavior towards several women in there, were problematic and bound to get worse if he'd stayed. He was happy to be Frenchie's lieutenant for the chaotic first week but then Brent turned on him and practically denied ever being with him. He had zero self-awareness about all this and the edits skewered him as they did Frenchie, proving once again if you do clownery, you'll get the clown music.





Won: Nothing
HOH 1 - Veto 0 - Noms 1/0 - HN 0
TEAM JOKERS Captain

2nd evicted - Day 16

Cast reveal brought controversy plus a major Cody/Derrick mixup, and the feeds opened to him announcing he wouldn't put up a woman or minority, but then he put up Alyssa and Kyland, and it was downhill from there. He did everything a feedster should know not to do: shouting in Diary, talking in cliches, Bomb Squadding, pandering, power-tripping, mistaking BB history items, grandstanding, begging for a viewer save, and threatening to quit. Still, all that gave us a wild ride and super-chaotic first week of feeds that we'd never be able to piece together if we hadn't seen it unfold.





Won: Nothing
HOH 0 - Veto 0 - Noms 0/1 - HN 0
TEAM QUEENS

1st evicted - Day 9

I barely know who he was. He dressed in drag (and looked okay doing so), he gave Kyland a birthday lap dance, took his shirt off for his nominee speech, and complained to Julie that white guys with abs are targets. And he didn't do much to prevent his eviction. That's all I got. Aloha.





Won: Early ticket home
HOH 0 - Veto 0 - Noms 0/0 - HN 0

Replaced pre-season

Replaced by Claire pre-season, she tested positive for COVID.





Won: Early ticket home
HOH 0 - Veto 0 - Noms 0/0 - HN 0

Replaced pre-season

Replaced by Christian pre-season, we may never know why.



Lines and Links of the Day
Lines

Wednesday
Kyland: Change your batteries like a good little robot hamster that we all are

Derek F to Alyssa/Christian: Anything happens in the BB house stays in the BB house in America and if not, you guys always have jury together, no cameras there

Tiffany: We're sorry we're boring the shit out of you, America

Xavier: I think everybody has PTSD from Week 1

Xavier: Everybody wants to be Tiffany, nobody wants to put in the work

Tuesday
Derek X: Isn't that what people say, you're on the block? When you get nominated you're on the block? Right?

Xavier: On my birth certificate it doesn't say Xavier anymore, it just says X
SarahB: Really?
Xavier: No.. it's my birth certificate

Xavier: A bunch of horny sicko monsters in this house

Britini: I JUST TRIED THE BIDET, it was nice

Azah to Xavier: Why do you sound like Barack Obama right now?

Monday
Xavier to Whitney: For me, cuddling is like high school shit

Azah: So you're attracted to me huh?
Xavier: You're very attractive, I don't think there's a single person in this house who's not attractive
Azah: I know, but there's a difference

Derek F: It's like being a hamster
Claire: I'm pretty sure people call us hamsters, that's like a thing



Links

GET YOUR FEEDS includes a free trial

Christian hitting himself in his sleep à la Cody

FCC complaints about BB by @realityblurred

It's Britini, bitch by @TheBigBroTea

Derek F on MTV's Made October 2012

The Cookout's Plan by me

Use my link for any Amazon Canada shopping, anytime, at no extra cost - just start your shopping trip by clicking Amazon Canada



Tally Items

Season Stats
HOHs in order: Frenchie; Kyland; Xavier; Christian

Veto winners in order: Derek X; Derek X; Christian; Christian

Evictions in order: Travis 11-2; Frenchie 11-1; Brent 11-0

Cast Twitters: @azah_awasum; @CBirkenberger; @ChristieVal22; @ClaireRehfuss; @claire_does; @TheDerekFrazier; @lofiderek; @derekxbb23; @farmerFRENCHIE; @kylandyoung; @greedycalina; @absolutelytiff







Linking to any page here is fine. Please don't repost content from this site (or any other) without permission, and don't repost or hotlink images.



THE REAL SHOW IS THE FEEDS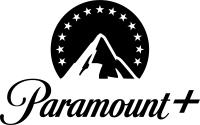 CBS All Access is now
Paramount Plus

Live air shows with ad-free plan
or legacy $5.99 plan (live TV will have some commercial breaks)
BB1 thru BB23 plus Celebs and OTT, and loads of other shows from CBS, BET, Comedy Central, Nickelodeon, MTV, Smithsonian, plus originals



VIEWER VOTES

Votes and outcomes Will be posted here



PROTECT YOUR ONLINE PRIVACY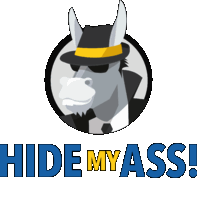 Anonymously secure your internet connection with HMA! Pro VPN - connect to our VPN service to anonymously encrypt your internet activity from prying eyes



HAMSTERWATCH SWAG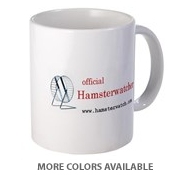 Mugs, shirts, more
Visit my Cafe Press shop





Big Brother 23 SEASON FAQ


-Day 1 July 7: CBS premiere, live move-in, feeds began
-Derek F was first to enter
-Day 85 Sept 29: 2 hour finale

Feeds are streamed by Paramount Plus, with Flashback included, with a Paramount Plus subscription. Call 888-274-5343 for account help, including cancellation.

BB23 finalist prizes are $750k for the winner and $50k* for 2nd place. 3rd place gets $10k* bonus, 4th place gets $7.5k*, 5th place gets $5k*. All except finalists receive $1k* stipend per week, including two weeks pre-season sequester.
*Amounts to be confirmed

The habitat has 94 HD cameras (no change) and 113 microphones (no change).

The recorded in-house announcements are the voice of producer Don Wollman. He and Julie Chen are the only senior staffers who have been there since Big Brother 1.