This site is about the Big Brother 23 feeds and contains spoilers! It isn't necessarily thorough: it's what I catch and/or what interests me. It's about watching hamsters: who's doing what and why. Thanks for encouraging my behavior.
Your pal, dingo





Donations via Paypal are gratefully accepted!



BB23 DRINKING GAME

Take a swig whenever Alyssa or Derek F are lounging/leaning/laying around





GAME TWISTS

TEAMS
Move-in groups of four competed for team captains, who then drafted their teams, and captains competed for HOH. Winner's team had safety for the week.
-Team Jokers: Frenchie captain, Azah, Britini, Derek F
-Team Aces: Whitney captain, Brent, Derek X, Hannah
-Team Kings: Christian captain, Alyssa, Xavier, Sarah
-Team Queens: Claire captain, Kyland, Tiffany,

Travis



WILDCARD
One from each non-HOH team competes. Winner can have safety for the week in exchange for a punishment for them, their team, or the house. Competitors can't repeat til everyone's played.

Week 1
-Christian, Hannah, Kyland played
-No risks, winner spun a wheel to share safety with 1 to 3 teamies
-Christian won, saved Xavier

Week 2
-Brent, Frenchie, SarahB played
-Winner had to switch teams to keep safety
-SarahB won, did not use





QUICK LINKS & BOOKMARKS

-SIGN UP FOR FEEDS

-WATCH THE FEEDS
after signing up - disable ad blockers

Official site and socials:
-BB23 official CBS site
-Twitter
-TikTok
-Instagram
-YouTube
-Facebook

-Live show tickets if/when audiences return

-Donate via Paypal - thank you!

-My Twitter - my screencaps

-Amazon Canada portal

-Dick at Night with @EvelDick

-BB Viewer Chrome or Firefox Extension by @liquid8d
-Requires Paramount Plus account

-BB23 Wiki

-Hamster Twitters
BB USA: chron - members
BB Canada: chron - members
BB USA Celebs: chron - members

-Advice for cast friends/family

-VPN to protect your online privacy




Get Paramount Plus
to watch Big Brother
all seasons
Plus tons more CBS and Viacom content




BIG BROTHER SEASONS EXCLUSIVELY ON PARAMOUNT PLUS
All Big Brother USA seasons plus most CBS/BET/Comedy Central/MTV/Nickelodeon shows
past or present are included, plus originals!
GET A FREE TRIAL
COMPUTER - MOBILE - ROKU - CHROMECAST - APPLE TV - ANDROID TV - FIRE TV - XBOX 1/360 - PS4


>> >> >>

>> >> >> >> >> >>

>>

Power Status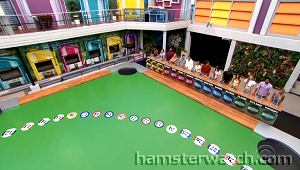 Evicted: Travis 11-2
Head of Household: Kyland
HOH team immunity: Claire, Tiffany
Wildcard winner/outcome: SarahB/did not use
Original noms: Britini, Frenchie
Veto winner/outcome: Derek X/did not use
Final noms: Britini, Frenchie
Have-nots: Whitney, Brent, Derek X, Hannah
Evicted: Frenchie 11-1

Alliance charts by @89razorskate20

Alliance maps by @Dolffica

Diary segment tallies by @clamperls4

Ratings Watch Wednesday's show won the hour with 0.8 rating and 3.33 million viewers, ahead of Press Your Luck on ABC with 0.5/3.29, MasterChef on FOX with 0.5/2.24, and Olympic Dreams featuring Jonas Brothers on NBC with 0.3/2.49.

Overnight rating & share: adults 18-49; Rating: % of all TV households; Share: % of households watching TV



Upcoming Events
Usual feeds schedule, times are Pacific
Mondays noonish: Veto meeting*
Tuesdays: COVID tests
Wednesdays midnight: Have-nots end
Thursdays: Eviction run-thru afternoon*, live eviction show 5pm*, HOH room late evening
Fridays: Wildcard comp morning/early afternoon*, nominations late afternoon/early evening*
Saturday: Veto comp*
*Feeds blocked

CBS show schedule
Sundays 8pm - Wednesdays 8pm - live Thursdays 8pm
except:
-Sunday 9/19 no show
-Wednesday 9/22 10pm show
-Wednesday 9/29 9pm finale, two hours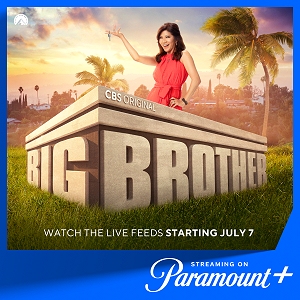 GET THE FEEDS to see the real show!

CBS All Access is now Paramount Plus If you had an All Access account, it has switched over and you're all set for the new season. Plans are as follows:

$4.99/month includes feeds, does not have live local CBS, does have commercials for shows/movies
$9.99/month includes feeds, does have live local CBS, does not have commercials for shows/movies
Either is also available on an annual plan. If you get the $4.99 plan and want to dump the ads, you can upgrade to $9.99 plan at any time

$5.99/month plan is no longer available for new subscribers, but former All Access accounts will stay as they were, including feeds and live local CBS



Daily Feeds Recaps
Day 15 - Wednesday - July 21, 2021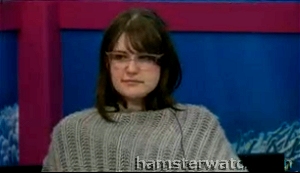 It's risky firing up the feeds this week, I'm always expecting Frenchie to be doing pots and pans or holding funerals, but this morning he was just mouthing off again. He told Derek F "if I was still here and I got HOH again and again, no matter what, I'm making big moves, I don't care about the shock factor, I'm making big moves, that's what I'm here for" - okay bub. Later he went on another farewell tour, with hugs around the habitat.

SarahB told Claire, Tiffany, Kyland about yesterday's floaters vs coasters talk, and how Brent was later saying Azah was angry about that and "jumped down his throat." SarahB said Azah wasn't upset at all, and asked "like what is going on in Brent's head?" Most of us have wondered. Derek X joined and they mocked Frenchie again about his opening night "no women or minorities" grandstanding.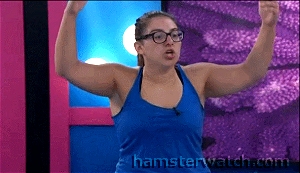 Britini kicked off the one-on-one campaign meetings she announced yesterday, starting with a very dramatic outburst to Tiffany and SarahB that she was SO UNCOMFORTABLE sitting next to Frenchie, and especially having people tell her she's safe in front of him. Tiffany counseled her and calmed her down. Hannah said she has her vote 100%, and when Alyssa asked who Britini trusts the most right now, she diplomatically said Alyssa and Christian. Frenchie joined and asked if he could do his one-on-one now too, with Britini still there, saying he'll never campaign against Britini. He followed that up by saying same to others, plus announcing his charity plans again. Brent continued putting his foot in his mouth by telling Hannah they need to get a woman out next week "to attack their numbers."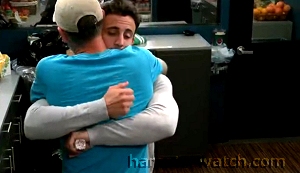 Frenchie's one-on-one with Derek F was comical, since Frenchie already has his vote. They made a mockery of campaign speeches and it was kind of funny. Frenchie then pitched to Brent, saying he'd made a mistake but owned up to it - I missed the owning up part. He also said if he stays he'll have Brent's back, they shared a bro-hug, and Brent said "it was a pleasure getting to know you" - oof. Frenchie then told Alyssa he was just doing what the alliance said to do last week, and if he stays and is ever on the block with her and wins veto, he'll "110%" use it on her. He also said he'd like to work with her and Christian. She said she just didn't want to go against the house, and suggested he check back with her if he can get more votes. After that, he told himself/us "I just might be able to do this." Nope, but he carried on his meetings just the same, as did Britini. Azah once again made it clear she wanted to go after Brent.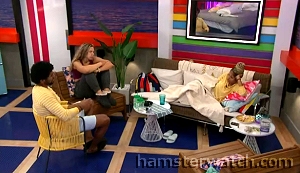 Pitches finally wound down as Frenchie and Britini both ran out of victims to talk at. Unlike most Wednesdays, there was next to no waffling afterwards: Frenchie is still toast. Instead there was a very lot of talk about who should win HOH tomorrow, who will throw it, and who will go on the block. As you should know by now, I don't follow most of that minutiae in detail at this stage, as they'll go through it all again when the time comes anyway, but Brent and Whitney both seem to be on shaky ground at this point. Teams Kings and Aces agreed to work together as The Radicals. The three remaining Queens had a lengthy meeting that included Kyland asking if he should approach Frenchie about the way he's spoken to the women in there. Tiffany said that wasn't Kyland's job and it wouldn't go over well anyway, and she added Frenchie will find out soon enough. So whew, at least we'll be spared that particular Frenchie reaction and resulting rounds because Tiffany's right, it absolutely would not go over well.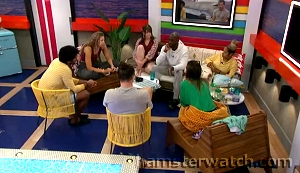 Yet another meeting was held in HOH with Teams Queens and Aces, with a tentative agreement to join forces, and they called themselves The Mafia. It's probably real for Brent and maybe some others, but it's definitely fake for Tiffany, Claire, Kyland. Those three then held another meeting with Team Kings to finally finalize that grouping [plus Derek X] that Tiffany and Claire have been wanting to solidify for awhile now. The Queens told the Kings that the Aces had just proposed an alliance to them, and Alyssa and Xavier agreed that would give them a Reason to nominate Aces. This new alliance [plus Derek X] will call themselves Royal Family. Later Tiffany, Claire, Xavier assigned their names: Queen Tiffany, King Kyland, Duchess of Claire, Duke of Derek(X), Sir X(avier), Prince Christian, Princess SarahBeth, and Lady Alyssa. Claire and Xavier both seemed okay with that. Later still, Tiffany filled in Derek X about his new title. However, I think Claire and Tiffany switched titles later.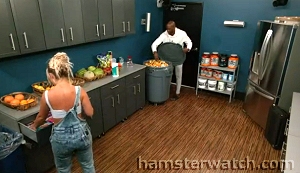 A committee formed to clear out the kitchen and pantry fridges, which led to a full cleaning of the pantry. An awful lot of food was thrown out, including some of Britini's special foods maybe, and a LOT of produce that looked just fine from here. They filled the pantry trash can to the brim. Derek F cleaned the bathroom and reported pee on the floor. Alyssa implied that Diary had asked her and Christian to kiss. Later she had a long talk with Christian about not wanting to look like a fool on TV. Tiffany sat down with Frenchie to let him know his campaign rounds failed, and they had a nice heart to heart. Everyone else has pretty much shunned Frenchie, even Derek F has moved on to Kyland, and Tiffany may have been shmoozing him in case of a revival. If so, she did it well, but I suspect she was being genuine because that's the kind of person she seems to be.

IF YOU MISSED what came before, check my previous episode, always linked up top or from my season index, and get the feeds to catch anything you missed with Flashback!



Day 14 - Tuesday - July 20, 2021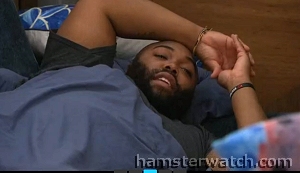 Derek F kicked off the day's lounging from his bed, talking about everything he's missing out here and joking about being out of touch because he "was on a reality show all summer." He might be there all summer, but there's a few weeks to go before that's finalized. He also talked about revival prospects to Frenchie, saying he didn't think production would let them leave easily this season, maybe there's a wheel to spin onstage or something. Travis says aloha.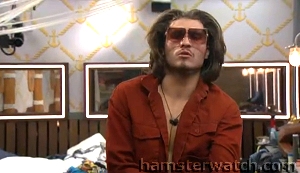 Britini announced she'd hold one-on-one meetings today about votes, clearly unaware that Wednesday is waffle day, and 11th hour campaigns work better than long, drawn-out ones. She needn't bother, she's not going anywhere after she does her rap on Thursday, but good for her for making the effort. Brent continued spewing his dating/attraction hogwash to anyone who would pretend to listen. Announcing he couldn't be friends with a woman he finds attractive was noticed by several, notably SarahB. Tiffany gave Christian yet another new look today by straightening his curls. He took it well, better than Tyler anyway. His new persona is named Rico. Britini told a story about patients in an ER requesting she be seen first because she was screaming, due to pneumonia and a hole in her lung. The traditional talk about a Vegas trip took an unexpected turn when Brent said maybe they could "go to Tulum or something, we're already doing a casino type game now."

Tiffany got a can of bug spray and put it to work on the ants in the backyard. Dinner was Taco Tuesday, courtesy of Derek F again. Frenchie stuck his head out in the backyard to announce it was ready, and he asked Brent if he wanted some. Brent reminded him that he's a Have-not, as was everyone in the yard at the time except Tiffany.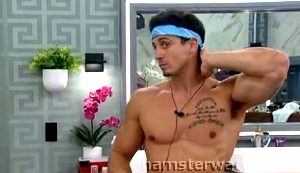 Brent worked his way back into the spotlight again when he had a little spat with Whitney, who'd been trying to counsel him to stay calm before their convo derailed. She said "you don't know me" after he'd said something that implied he did, and he countered "I've dated so many girls like you." Later he said something about floaters to Azah, who schooled him on the definitions of floaters and coasters. Brent didn't like being schooled but he did retell the definitions to Alyssa, SarahB, Whitney. He also sniped a bit about Azah, and said a girl needs to go next. I don't think those three will get behind that campaign, but it was nice to have those terms actually defined properly on feeds. In a rare moment of self-awareness, Frenchie said he needs to stop saying "at the end of the day" all the time. SarahB had wanted to win HOH this week since it's her brother's birthday but she told us she'd changed her mind and shouldn't, as she's stuck between teams (ahem, floating), and didn't want to betray anyone this early. She said she'd run it by Kyland since he's her ride or die.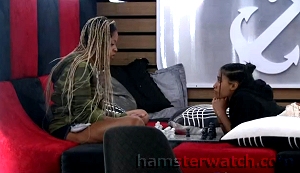 Frenchie started dropping seeds (for no good reason), telling Tiffany that it was Hannah who told Brent about the girls alliance, when in reality it was Frenchie who spilled that. Tiffany then sat down with Hannah, saying she saw her baby sister in her (something Tiffany has also told Alyssa). Hannah said she thought the whole house saw Brent as a threat, and Tiffany said she wasn't sure about that, but Hannah said he would be dangerous to both their games, as well as their larger alliance. That's an example of Tiffany's superb social game: pretending to go along with someone else's target while not leading the charge herself, so it won't ever bounce back on her directly. If this anti-Brent movement takes hold, expect Tiffany to spend a lot of get-along time with him, as she's done with Frenchie this week, while subtly talking against him to others. #ButFirst Claire joined, and they agreed Alyssa might also need to go soon. However, Claire and Tiffany later agreed that Alyssa was useful to them, so they won't target her just yet.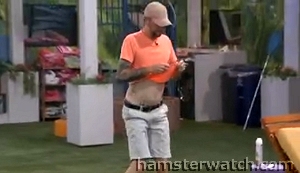 Frenchie saved a (probably dying) bee, picking it up in his shirt and carrying it to the plastic foliage as he babytalked it, dropping it twice along the way. A furry of gametalks in various corners broke up and they all joined for another episode of The Big Blue Couch. And they did another episode later for the selfie camera. Britini did not do her one-on-one campaign pitches today as planned, but she did tell Tiffany she'd nominate Brent and Hannah if she wins HOH. And they did not have their prom again, even though they again planned it earlier today - maybe next week when they're back to even numbers.

IF YOU MISSED what came before, check my previous episode, always linked up top or from my season index, and get the feeds to catch anything you missed with Flashback!



Day 13 - Monday - July 19, 2021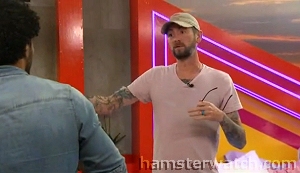 Morning brought another F2, Derek F and Kyland this time. Frenchie told Derek F, with Xavier present, he wished Kyland would let a man sit next to him, a competitor, so he can go out "like a fuckin champ." Really?! He later told Kyland he was collecting souvenirs to auction off for Hearts of Reality/Give Kids the World, and he asked for donations. And then he made his veto pitch, saying "this is the chump way out" and "there's no campaign against Britini, and that's boring Big Brother."

Kyland had a lengthy talk with us, continuing to over-complicate what could and should be an easy week. He said he'll hold team meetings again after the veto meeting, and then he'd meet with Frenchie alone. He confirmed to us that he would indeed like to go to finals with Derek F, and that he'll take SarahB as far as he can.

Derek X did not use his veto, so Britini and Frenchie remained on the block, and Kyland kicked off his team meetings. They ran long, and tedious. SarahB got emotional missing her dad on the anniversary of his death from COVID, and Kyland comforted her. There were a lot - a lot - of feeds blocks again today, for no apparent reason.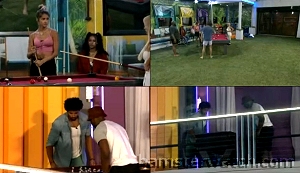 It was a pretty slow afternoon and evening. Frenchie continued pontificating about Frenchie, with various others rotating in and out of his audience range. Alyssa and Christian spent most of the day with each other, often cuddling, but they aren't a showmance. Whitney and Xavier also did some cuddling but I don't think they're a showmance either? I could be wrong. Britini retold her veto comp performance, and Derek X retold his cues for the veto meeting (stare at the photo wall, stare at the veto, put it on and stare some more). It was ironic they let that slip through to feeds when they were blocked for so much else. A couple more pinkyswears went on the tally, but not for F2s or anything "important" game-wise. Tiffany kept up her brilliant social game, including shmoozing Frenchie like a boss. And they did another episode of The Big Blue Couch. Earlier today there was talk about having a prom tonight, but it didn't happen.

IF YOU MISSED what came before, check my previous episode, always linked up top or from my season index, and get the feeds to catch anything you missed with Flashback!



Ratings - Frenchie special edition
Ratings are based on Frenchie



Noms count: original/renom/twist






I LOVE THIS SHOW and it loves me. I know they won't let me leave on Thursday, they're going to show me that envelope in DR that says every person in America voted for me to stay. Because charity. And ratings. If I leave, the ratings for this show will drop all the way to bottom of the henhouse and everyone knows it.





Won: TBA
HOH 0 - Veto 0 - Noms 1/0/0 - HN 1
TEAM KINGS

She's a Butcher. Or a (S)laughterhouser. I forget. But I know she's on my side. Everyone is.





Won: Week 1 safety
HOH 0 - Veto 0 - Noms 0/0/0 - HN 0
TEAM JOKERS

Which one is she again? Oh yeah, she's on my team. I PICKED HER so she can't evict me. It's against the rules.





Won: TBA
HOH 0 - Veto 0 - Noms 0/0/0 - HN 1
TEAM ACES

He's my man! Or my boy! Or my flight attendant! Or something. He looks up to me like a baby duck looks up to its poppa duck. I'm his hero, and his role model, and he'd never vote against me. Have you ever seen a baby duck? Come on down to the farm I'll show you a baby duck.





Won: Week 1 safety
HOH 0 - Veto 0 - Noms 1/0/0 - HN 0
TEAM JOKERS

She's on my team so she can't vote me out and that's why they put her up against me. I'd rather be sitting next to a man than her. She's no competition for me.





Won: Week 1 Wildcard
HOH 0 - Veto 0 - Noms 0/0/0 - HN 1
TEAM KINGS Captain

I'm pretty sure he's a Butcher and anyway I have a final two with him so there's no way he'll vote me out. Can't happen. He doesn't even know I wanted him out last week, I'm that good. Write me the check.





Won: TBA
HOH 0 - Veto 0 - Noms 0/0/0 - HN 0
TEAM QUEENS Captain

Who? Wait, I remember her, she's in MY all girls alliance. I can't remember if she's in my (S)laughterhouse or not

dadgummit

dagnabbit

doggone it

dead gum it.





Won: Week 1 safety
HOH 0 - Veto 0 - Noms 0/0/0 - HN 0
TEAM JOKERS

My man! I'm his boo! He's not my boo 'cause I have a wife and kids and a farm. He promised me a pity vote and all I have to do now is get six more pity votes and that'll be easier than squeezin' sperm from a bull. I AIN'T GOIN NOWHERE.





Won: TBA
HOH 0 - Veto 2 - Noms 0/0/0 - HN 1
TEAM ACES

Who is this kid and why does he keep winning my vetos? I'm supposed to win vetos. And Wildcards. Something went wrong, technical difficulties I guess, but that won't hold me back! I'm winning HOH and I'm going to put him up again and he isn't allowed to win a third veto, it's in the rules.





Won: TBA
HOH 1 - Veto 0 - Noms 1/0/0 - HN 0
TEAM JOKERS Captain

I'm the best to ever play this game! I'm a superfan, I have a notebook, and this has been my dream since I was three. Nobody's gonna take my dream away from me, dagm it! I'll be here next week, and the week after, and the week after that, all the way to the end! I'm here for one reason and one reason only: Money! Fame! Followers! Breaking BB records! MONEY!! Wait, no, I mean charity, I'm here for charity. I'm winning because I'm giving every penny to charity. That's why I'm here. BRB I need to grab some more stuff to stick in my Official BB Bag, for charity.





Won: TBA
HOH 0 - Veto 0 - Noms 0/0/0 - HN 1
TEAM ACES

Which one is she?





Won: TBA
HOH 1 - Veto 0 - Noms 1/0/0 - HN 0
TEAM QUEENS

Sure, he put me on the block but he didn't mean to.





Won: Week 2 Wildcard
HOH 0 - Veto 0 - Noms 0/0/0 - HN 1
TEAM KINGS

She thinks she beat me in that Wildcard comp but I threw it! I only wanted a little paint on my hat so I threw it to her before I got all the paint and ruined my hat. I could beat her any day if I wanted to.





Won: TBA
HOH 0 - Veto 0 - Noms 0/0/0 - HN 0
TEAM QUEENS

She's TOTALLY on my side and I know she'll get everyone to keep me safe. We're both parents so she knows I deserve to stay. And I have more kids than her so I deserve it more.





Won: TBA
HOH 0 - Veto 0 - Noms 0/0/0 - HN 1
TEAM ACES Captain

I'm done with her! But I'm not going to point at her again, real men don't point at women. I never did that. It was just editing made it look that way. She's going to vote to keep me, just you wait and see. She's a parent!





Won: Week 1 immunity
HOH 0 - Veto 0 - Noms 0/0/0 - HN 1
TEAM KINGS

Did you see me not put him up when I had the chance? Even though he's all buff and muscles and pretty. I could have put him up BUT I DIDN'T so he has to vote for me.





Won: Nothing
HOH 0 - Veto 0 - Noms 0/1/0 - HN 0
TEAM QUEENS

1st evicted - Day 9

I barely know who he was. He dressed in drag (and looked okay doing so), he gave Kyland a birthday lap dance, took his shirt off for his nominee speech, and complained to Julie that white guys with abs are targets. And he didn't do much to prevent his eviction. That's all I got. Aloha.





Won: Early ticket home
HOH 0 - Veto 0 - Noms 0/0/0 - HN 0

Replaced pre-season

Replaced by Claire pre-season, she tested positive for COVID.





Won: Early ticket home
HOH 0 - Veto 0 - Noms 0/0/0 - HN 0

Replaced pre-season

Replaced by Christian pre-season, we may never know why.



Lines and Links of the Day
Lines

Wednesday
Frenchie: I'd rather piss off 15 in here instead of millions out there

Christian: From super fans come super haters

Frenchie: I ain't afraid to get a penalty vote

Tuesday
Brent to Alyssa: [Christian]'s using my jokes to make you laugh

Azah: When people slap my ass it sounds like an iPhone screenshot

Tiffany: Every time they call [Frenchie] to the DR he thinks he got an envelope

Tiffany to self/us: It's game time

Monday
Whitney to Hannah: You were eight when I graduated high school



Links

GET YOUR FEEDS includes a free trial

Use my link for any Amazon Canada shopping, anytime, at no extra cost - just start your shopping trip by clicking Amazon Canada



Tally Items

Season Stats
HOHs in order: Frenchie; Kyland

Veto winners in order: Derek X; Derek X

Evictions in order: Travis 11-2

Cast Twitters: @CBirkenberger; @ChristieVal22; @ClaireRehfuss; @claire_does; @TheDerekFrazier; @lofiderek; @derekxbb23; @farmerFRENCHIE; @kylandyoung; @greedycalina; @absolutelytiff







Linking to any page here is fine. Please don't repost content from this site (or any other) without permission, and don't repost or hotlink images.



THE REAL SHOW IS THE FEEDS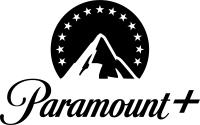 CBS All Access is now
Paramount Plus

Live air shows with ad-free plan
or legacy $5.99 plan (live TV will have some commercial breaks)
BB1 thru BB23 plus Celebs and OTT, and loads of other shows from CBS, BET, Comedy Central, Nickelodeon, MTV, Smithsonian, plus originals



VIEWER VOTES

Votes and outcomes Will be posted here



PROTECT YOUR ONLINE PRIVACY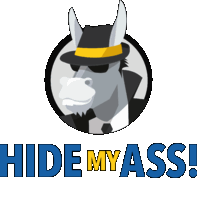 Anonymously secure your internet connection with HMA! Pro VPN - connect to our VPN service to anonymously encrypt your internet activity from prying eyes



HAMSTERWATCH SWAG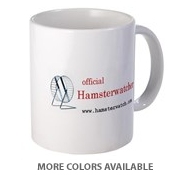 Mugs, shirts, more
Visit my Cafe Press shop





Big Brother 23 SEASON FAQ


-Day 1 July 7: CBS premiere, live move-in, feeds began
-Derek F was first to enter
-Day 85 Sept 29: 2 hour finale

Feeds are streamed by Paramount Plus, with Flashback included, with a Paramount Plus subscription. Call 888-274-5343 for account help, including cancellation.

BB23 finalist prizes are $750k for the winner and $50k* for 2nd place. 3rd place gets $10k* bonus, 4th place gets $7.5k*, 5th place gets $5k*. All except finalists receive $1k* stipend per week, including two weeks pre-season sequester.
*Amounts to be confirmed

The habitat has 94 HD cameras (no change) and 113 microphones (no change).

The recorded in-house announcements are the voice of producer Don Wollman. He and Julie Chen are the only senior staffers who have been there since Big Brother 1.