This site is about the Big Brother 22 feeds and contains spoilers! It isn't necessarily thorough: it's what I catch and/or what interests me. It's about watching hamsters: who's doing what and why. Thanks for encouraging my behavior.
Your pal, dingo





BB22 DRINKING GAME

Take a swig whenever Janelle is mentioned





SAFETY SUITE 1st 3 weeks

Optional pre-noms comp for safety, one time each, +1 guest got safety plus one week punishment, current HOH ineligible

Week 1 Don't Miss a Beat
Competed: Janelle, Kaysar
Winner: Kaysar
Guest: Janelle/star suit

Week 2 Getting Tipsy
Competed: Bayleigh, Christmas, Cody, David, Da'Vonne, Ian, Kevin
Winner: Christmas
Guest: Ian/'BB All Star Wars' scenes

Week 3 Stealing Safety
Competed: Dani, Enzo, Memphis, Nicole F
Winner: Enzo
Guest: Christmas/star babies care





QUICK LINKS & BOOKMARKS

-SIGN UP for feeds
-WATCH the feeds after signing up - disable ad blockers

-Feeds updates by @UGotBronx

Official site and socials:
-BB22 official CBS site
-Twitter
-TikTok
-Instagram
-YouTube
-Facebook

-Live show tickets - never mind, no audiences

-My Twitter - my screencaps

-Amazon Canada portal

-Dick at Night with @EvelDick

-BB Viewer Chrome Extension by @liquid8d
-Info/FAQ
-Requires All Access account

-BB22 Wiki

-Hamster Twitters
BB22 incl tweets from inside
BB USA: chron - members
BB Canada: chron - members
BB USA Celebs: chron - members

-Advice for cast friends/family

-VPN to protect your online privacy




Donations via Paypal are gratefully accepted!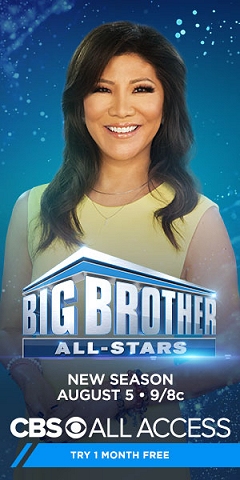 Watch Big Brother
Seasons 1 thru 22
Plus tons more CBS and Viacom content




BIG BROTHER 22 FEEDS EXCLUSIVELY ON CBS ALL ACCESS
FEEDS ARE THE REAL SHOW
All Big Brother USA seasons + most CBS shows past or present are included
$5.99 PER MONTH INCLUDING 1 WEEK FREE TRIAL or $9.99 AD FREE
COMPUTER - MOBILE - ROKU - CHROMECAST - APPLE TV - ANDROID TV - FIRE TV - XBOX 1/360


>> >> >>

>> >> >> >> >> >>

>>

Power Status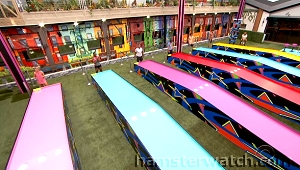 Head of Household: Enzo
Original noms: Kaysar, Kevin
Veto winner/outcome: Kevin/used on self
Final noms: Kaysar, Christmas
Have-nots: Dani, Da'Vonne, Tyler (over)
Evicted: TBA

Latest alliance chart by @89razorskate20

Latest Diary segment tally by @clamperls4

Ratings Watch Wednesday's show won the hour with 1.0 rating, 6 share, 4.070 million viewers, ahead of America's Got Talent on NBC, Goldbergs and Black-ish reruns on ABC, and MasterChef rerun on FOX.

Overnight rating & share: adults 18-49; Rating: % of all TV households; Share: % of households watching TV



Upcoming Events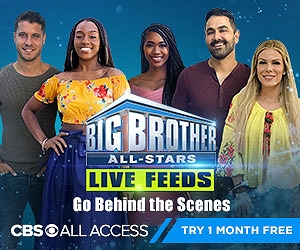 GET THE FEEDS to see the real show!

Thursday night: HOH room and letter
Friday: Nominations
Saturday: Veto comp

CBS schedule
Sundays 8pm - Wednesdays 8pm - live Thursdays 8pm
-No show Wednesday 9/16 - that veto show will air Tuesday 9/15 8pm
-Sunday 9/20 may be delayed by football
-Thursday 10/1 double eviction, two hours



Daily Feeds Recaps
Day 27 - Monday - August 31, 2020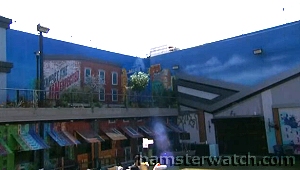 We rarely see this angle of the backyard which is a shame because it looks really great this year. Waiting for the veto meeting, Cody and Enzo had a lengthy meeting about plans and targets. Both agreed Dani should be targeted soon, with Enzo wanting her out next followed by Da'Vonne, and Cody wanting Da'Vonne to go first. They agreed it was time to make a move soon, but not too soon - meaning, not today. And Cody told Enzo about The Committee alliance (Cody/Christmas/Dani/Memphis/Nicole/Tyler). Christmas predictably told Enzo she was afraid of a vote flip if she's on the block but he assured her Kaysar will go this week. Kaysar and Memphis plus Cody discussed politics for awhile in generalities, correctly saying they'd get crucified out here if they mentioned specific names or policies.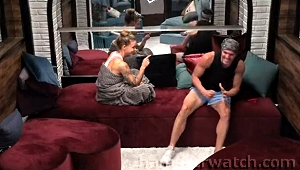 Kevin used his veto on himself obviously, the first time it's been used this season, and Enzo put up Christmas as planned, saying something about Kaysar being the "house target" in his renom speech. Feeds came back to Kaysar giving David a peptalk in the pantry (shmoozing for a vote maybe, or just being Kaysar), and Enzo and Christmas meeting in the lounge. He thanked her for volunteering and again reassured her she'd be safe. She said she'll keep her ears open this week and added "whoever fuckin puts my name in their mouth, I will guillotine their head.. I tickle with cattle prods." That made Enzo leap with enthusiasm, and he said everyone knows Kaysar's gone including himself, and now they could just chill for the week and "let these fuckin cockaroaches run around." David and Da'Vonne then had a very lengthy convo in the lounge, on all feeds, rehashing Davidgate again.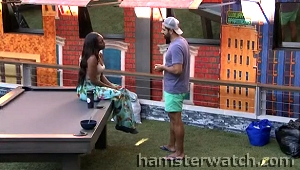 Enzo told Da'Vonne that Kaysar had been trying to get him to renom David, and he told her he wants Kaysar out because he'd go after Cody and Tyler - information Da'Vonne surely tucked away. Kaysar campaigned to Da'Vonne for a long time, and she finally said "if you can magically Houdini flip some shit, I'm game" - don't let David hear that, or they'll start that mess all over again. Kaysar said it would have to be something major, something that would devastate the house, and he added he didn't think there was anything like that. Cody and Enzo got all worked up about Tyler and wondering why he told Da'Vonne that they (Cody and Enzo) knew about people starting to turn against Dani. They figured Tyler was upset about last night's wall yeller message. Whispers carried on and on and on, amid the usual snacking and sunning. Nicole told Dani she thought Bayleigh would throw Dani and Cody under that bus if Chistmas wins HOH, and that Bayleigh would "probably make something up" as for a reason to do so.

Ian promised Christmas his vote, and said this is the earliest in the week he's done that. Tyler and Cody heard an owl hooting while playing pool - rather loudly, it was heard clearly on feeds, and they called it the ghost of Pop and gave a shoutout to Orwell.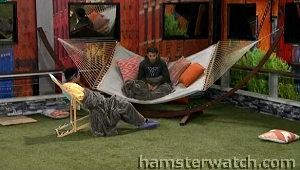 A bit later Ian told Kevin they'd work together going forward, compare notes, etc, and that he had everything figured out now. He pointed out the cameras were on their convo, and said that meant they were on to something, "they don't point at you if you're wrong." He said the groups are all intertwined but there was a core with Cody, Enzo, David, Tyler, and a group with Nicole, and a group with Da'Vonne and maybe Bayleigh, and a group with him (Ian) and Nicole, and a group with Nicole and Dani, and Enzo thinks he's in Brigade 2 with Tyler, Cody, David, and so on and so on. He described it as an octopus or a bug with five legs, and Cody and Nicole are in the core of every one "because they're the head of the spider." And he referenced the alliance maps by @89razorskate20 that we all rely on, and he confirmed jurors get $12k bonus, and he told Kevin "this is the conversation of the season so far," and they have to work slowly and gradually with this knowledge: "it'll be a very, very, very slow, slow burn." And he said if he doesn't get some power (HOH or twist or viewer vote), the rest of this season will play out like BB19. He wasn't entirely accurate, especially not being aware of how deep Dani's involvement is - or maybe he just didn't mention that to Kevin, but he'll fine-tune in the next day or two as he observes more.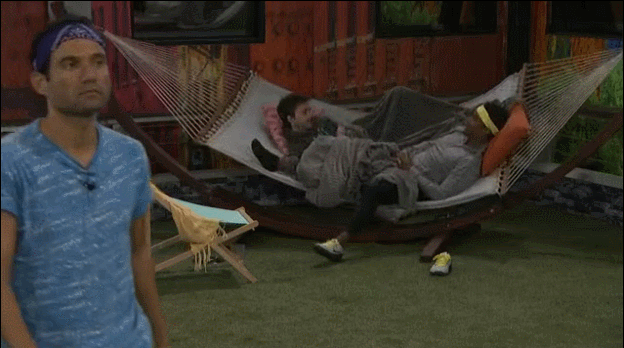 Much will also depend on Kevin, and who he tells what to, if anything. He seemed a bit overwhelmed, bewildered, or disgusted by it all. He did approach Kaysar to say he wished there was a way to keep him this week.

Reminder, if you missed what came before, check my previous episode, always linked up top or from my season index, and/or the detailed feeds updates by @UgotBronx, and get the feeds to catch anything you missed with Flashback!



Day 28 - Tuesday - September 1, 2020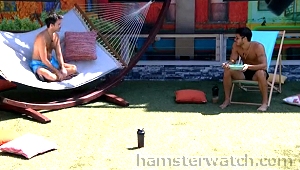 Early risers were treated to Mornings with Memphis, a new BB22 talk show. I am rarely an early riser so you'll need to hit Flashback if you want to check that one out. Dani, never a happy camper on slop, snapped at BB when they told her she had to get up for the day. Ian followed up last night with more extended meetings including Bayleigh, who suggested Dani's involvement is deeper than Ian's octopus implied, and she said she didn't want to play follow the leader as everyone's evicted by the core group(s) one by one. He also met with Kevin again, and he had a shmooz session with Cody. Ian asked if he'd help him if it's a knockout HOH comp, and Cody said he would. Ian also told Cody the analogy he told Kevin last night, that Janelle/Kaysar were the open targets for the mob this time but they're gone a lot earlier than Rachel/Brendon and Cody/Jessica were. He omitted the part where he knows Cody is at the core of that mob. Ian offered to kick himself in the face, something he also did on BB14 (along with being an unusual party trick, it makes him look like a doofus and non-threat in the game). He said he might do it sometime when they have beer.

Feeds continued to go to starfishies for mentions of the wall yeller even though we know about it, we heard it, and it's now potentially pivoting the oh-so-boring season into something more interesting.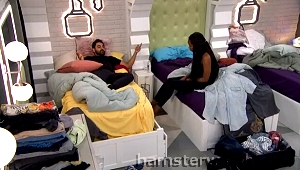 Bayleigh approached Kaysar, who said he was taking a break from socializing. She said he'd talked about blowing up Dani's game on his way out, and asked if he had any real info to do so. He said part of that was to check her reaction, and they agreed she's at the center of a lot that's going on. Bayleigh said Dani had been transparently over-friendly to her lately and asked if he'd be opposed to blowing up her game on his way out anyway. He said he'd like to blow up a lot of games - Dani, Nicole, Tyler, Cody. He told Bayleigh that everyone being on to them but not letting on was actually an advantage, but said he'll think about it. He reminded her that he'd told her and several others about all this over the past few weeks but they didn't want to hear it. Bayleigh said it was the way he presented the info, "you were telling me I was dumb," which is a valid point, and the reason Janelle kept telling him to chill.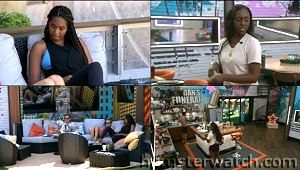 Bayleigh reported to Da'Vonne that Ian said Cody's at the center of everything, which surprised Da'Vonne. They remembered their virus tests are tonight, and weren't happy about that. Later they had an additional convo with Bayleigh saying Kevin asked her about her beef with Kaycee on The Challenge, with Dani present. Apparently Dani joined in on that convo (not sure, I didn't see it), and Bayleigh was upset that she got flak for making a joke/comment about Nicole's showmances, but it was okay for Dani to poke her about her season and personal situations. Da'Vonne said others were continually trying to get her or Bayleigh riled up about one thing or another. Day commended Bay on her social game and not rising to any of that bait.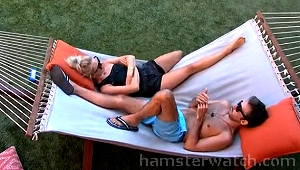 Dani and Bayleigh had a chat in the lounge which was pleasant enough on the surface, but their respective underlying agendas were visible from out here. Dani reported to Cody that she thought Bayleigh and Da'Vonne would out the Slick Six alliance, depending who wins HOH, particularly if that's Christmas. Dani said she didn't have any actual evidence about that, but Cody ran with it anyway and declared he was done with Slick Six. Ian and Nicole had a hammock check-in, and he didn't say anything to her about his various revelations. That made it a rather awkward convo with a lot of awkward pauses, or maybe it just seemed that way because we know things they do not. Ian and Kevin shook hands and formalized their pair, calling themselves The Light Ring.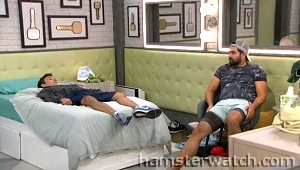 Ian and Kaysar had a lengthy convo, with Ian saying he'd tell Kaysar his theory on Thursday before the show. Kaysar asked why wait, and Ian said he didn't want to stick his neck out if he's the only one. He did tell things though, in pieces, including "somebody has to take a shot at Cody and Tyler." Kaysar said Dani's probably the best positioned right now and Ian agreed. Ian told Kaysar he didn't think there was any way to save him, and he didn't think his own position was very good either. He presented his analogy about mob targets being Brendon & Rachel and Cody & Jessica in the past, so the big alliance could firm things up among themselves, and this time it was Kaysar & Janelle. He also said there's a core four, and many other fours made up of people who believe they're in something but really aren't. He said he thought Enzo was pretty aware of things, and Tyler probably wasn't. Ian sunk lower and lower as this chat progressed, the weight of the inevitable seeming to push down on him.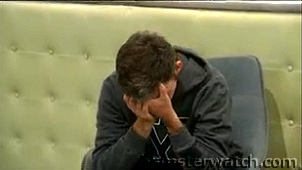 Ian said he was going to "try his ass off" for HOH this next, and Kaysar suggested putting up Dani and Cody to get the alliances to expose themselves, and they agreed Kaysar would have stood a much better chance of staying if he wasn't up against Christmas. Ian said he thinks the core formed early in the camera room, and they were tasked with forming side alliances (including Nicole's with Ian). Ian said "something is awry, there's a worm in the ointment" and Kaysar said it's been a "lackluster season" so far - I used the same words earlier today in my Producers rating below. Bayleigh came along to announce yoga time and Ian asked Kaysar if he thinks he (Ian) is good with Bayleigh and Da'Vonne. Kaysar said yes, Ian initiated a hug as their chat broke up, and then he got emotional when Kaysar left. Feeds went to extended starfishies yet again, possibly due to another yeller threat? @robbedqueeen tweeted a megaphone pic and said she was by the wall, and there was "a man in a car parked in front of me talking into a walkie talkie staring me down."

They went to inside lockdown, feeds went down a little before 7pm, and they were still down at 1am.

Reminder, if you missed what came before, check my previous episode, always linked up top or from my season index, and/or the detailed feeds updates by @UgotBronx, and get the feeds to catch anything you missed with Flashback!



Day 29 - Wednesday - September 2, 2020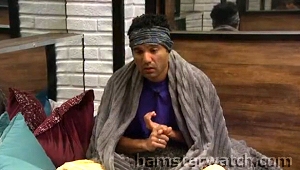 Feeds finally came back around 4.20am to everyone asleep. Okay then.

They were woken early, but many went back to bed and slept late. Kevin sat down in the lounge to have a solo Wednesday waffle session to himself/us. He ran potential roles for a future alliance with Ian and others, and when he got to himself, he said "and I would be.. our downfall." From there he ran through his impressions of each of his roomies, most of them personality based rather than game-related. He said Da'Vonne is the only one he has a final two with, and maybe he should form some others. And he said "Memphis is grumpy!" It turns out there was a Slick Six meeting last night without Dani, and with a lot of anti-Dani comments. Cody and Nicole had a check-in this morning, mostly about Tyler wanting to go after Dani, and Dani "doing too much." Cody reported to Enzo, who fell back on his usual "so what" attitude, saying he has friends everywhere and "shit's gonna get crazy" with the next HOH. Bayleigh told Da'Vonne if she wins HOH she'll put up Christmas and Nicole, with hopes to backdoor Dani. They met with Enzo, who agreed targeting Dani was a good plan, and Enzo said Tyler would be on board and "Cody better be." Christmas said she got them to increase her anti-depressants.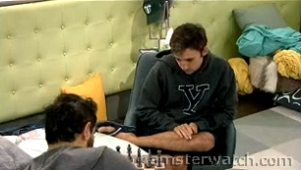 Kevin and Kaysar had a chat about the votes, and Kaysar seemed surprised that Kevin thought he might be able to sway some votes with his speech. He asked Kaysar to go through with spilling some dirt on his way out, despite the fact that Kaysar tried to get Kevin and others to side against the power alliance(s) in prior weeks, and got nowhere. Kaysar and Ian sat down to play chess and when Ian asked if he'd had a good chat with Kevin, Kaysar replied "useless." Dani and Christmas griped about various things supposedly going missing in there, and Dani again questioned if Janelle indeed lent/gave clothes to Bayleigh, or if Bayleigh helped herself. (Janelle did leave things for both Bay and Day. It's a bad look for Dani to keep going down this route, even if it's vilification tactics, little seed bombs to enhance future targeting.) Cody and Memphis had a quick check-in, agreeing they want Ian gone soon, and "he's a sneaky fucker."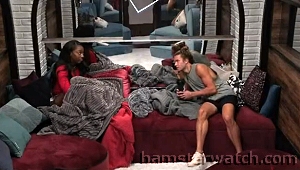 Da'Vonne and Tyler met to discuss various others, including a shared distrust of Dani. They wondered when they should target her, saying if they left it too long she'd poison the jury but if they did it too soon they wouldn't have majority votes. They discussed Memphis as a possible next exit, and Da'Vonne said she didn't know if she was being petty by holding on to her issues with David, and Tyler said he's forgiven that but he doesn't give him any info anymore. Ian joined them and the strategy chat switched to a guessing game. Meanwhile Nicole told Dani she has to win HOH, and Dani she didn't want to. Nicole stressed she has to, and both said they didn't want to have to put up Bayleigh and Da'Vonne together. And Christmas told Tyler she wants to put up Bayleigh and Da'Vonne together to "cause a disruption in the house," and she added "Bay's getting too comfortable and sassy."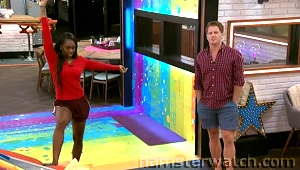 Cody, Enzo, Tyler had an excited meeting to name their threesome, cycling through various options before settling on Triple Thr3at. The 3 in that is their request. They thought it would sound good when Julie says it, and Tyler said "she had to say FOUTTE." Unfortunately they opted for a hand signal with thumb and forefinger forming a circle, formerly the "okay" sign, but more recently adopted by white supremacists. So hopefully Diary will clue them in on that. Nicole joined them and they feigned sleep, then chatted with her without dropping any clues to the girl who thinks she's with the guys. When it was her, Cody, Enzo she said they need to take control of the game this week, and she felt they were losing control - this after four weeks out of four in power. Dani joined and they discussed her Slick Six slip to Nicole earlier, and said they wanted a Slick Six meeting to call out Bayleigh and Da'Vonne for just absorbing info and not offering names or info to that group. Ian and Kaysar had a lengthy chat about the state of things and various scenarios. Nicole and Ian also had a chat, and Ian gave a massive full-body eyeroll when she left.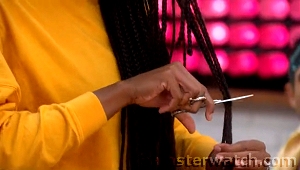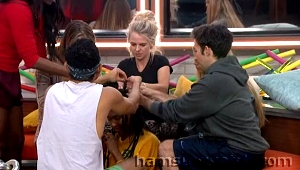 Bayleigh was given an okay from Diary to take her braids out, leaving the front ones in place until tomorrow in case they need some added sound bites from her for the show edit. She started by trimming them all off, and then a large committee formed to unbraid them from her own hair one by one.

Kaysar put in some late night work with Bayleigh and with Da'Vonne for their going-forward purposes, and with Christmas. Slick Six held a meeting after the Have-nots feast and agreed not to pick Memphis for Have-not because of the crawl-in door, but they would put him on the block if they win HOH. Dani wondered why Kaysar didn't campaign - he did, but it wasn't for himself, it was against her. Kevin noticed them all heading to HOH and told David they were forming a pact against them. Kaysar will still be going tomorrow - there was never any real chance he wouldn't.

Reminder, if you missed what came before, check my previous episode, always linked up top or from my season index, and/or the detailed feeds updates by @UgotBronx, and get the feeds to catch anything you missed with Flashback!



Ratings - Looking for Fs to Give edition
Ratings are Tuesday's, based on entertainment value, and it's in short supply
See full bios in cast folder at
Hamsterwatch Forum
Noms count: original/renom


The perfect storm of factors that have made this a lackluster season so far isn't all their fault, but a lot of it is. One problem they could easily fix is Hypersensitive Skippy is on duty way too much, and while we're still nowhere near BB Canada levels of feeds blocks, we seem to be heading in that direction rather than something more positive. They've never kept feeds off on Thursdays til after west coast airs before, other than returning from the late season taped eviction and related 36-hour pointless block, but now they've done that twice on regular Thursdays. I really hope they won't continue doing that as the hour or two after eviction with a new HOH is one of the few flurries of action and activity we're likely to get. Add to that extended blocks after the wall yeller Sunday which we already heard, and then again on Tuesday for a possible yeller, and it's even harder to maintain interest, considering the hamsters aren't doing much.

Permanent gripe/comment until slop is done: They need to do away with slop in general, but especially during pandemic plague season when good nutrition should be a major priority on their highly-touted list of safety concerns.





Won: Nothing yet
HOH 0 - Veto 0 - Noms 0/0 - HN 1

Her getaround game is pretty good, and she's correct that certain hamsters are trying to get under her skin so she'll blow up. Good for her that she hasn't, even though that would certainly liven things up.





Won: $5,000; Safety Suite #2; Safety Suit #3 (Enzo's win)/1 week star babies care
HOH 0 - Veto 0 - Noms 0/1 - HN 1

With all the non-game chat and personal convos that take place, particularly those with catty agendas, I wonder that nobody's asked about her little news item since she was last here. We have heard a lot about her anger management therapy, but she hasn't indicated why she did that. Maybe Dani will bring that up sooner or later.





Won: Nothing yet
HOH 1 - Veto 1 - Noms 0/0 - HN 1

His best feature for me, entertainment-wise, is his peculiar vocabulary. He'll often ask what various words mean when they come up, and then he'll throw out a $3 word like 'captivating' without warning. As long as he keeps saying 'nip it in the butt' I'll keep passing the popcorn. It might even be ups-worthy on its own, but he keeps lapsing into his horrific attempt at a British accent. It's so bad, so cringey, and so very unnecessary.





Won: Nothing yet
HOH 0 - Veto 0 - Noms 0/0 - HN 1

She's never done well on slop and this week is no exception. She's been busier than she's had to be and that's coming back to bite her already, and her name's popping up all over town as being a potential problem. She said twice she's coming for Janelle's crown as queen of BB, and while that won't happen despite having outlasted her, she's apparently also coming for Nicole's two-time Deathrace crown with her unusual and gravity-defying hair concoctions.





Won: Nothing yet
HOH 0 - Veto 0 - Noms 1/0 - HN 1

Gotta give him credit for realizing the wall yeller meant there's no pre-jury battle-back - nobody else added up that particular two plus two.





Won: Nothing yet
HOH 0 - Veto 0 - Noms 0/0 - HN 1

She's correct that she and Bayleigh are under extra scrutiny, especially regarding anger, and they've already been described in there as 'sassy' while other, sassier females aren't. And while I applaud Da'Vonne wanting solidarity and a better outcome for hamsters of color than before, being saddled with David to help make that happen is a handicap that might be unsurmountable.





Won: Safety Suite #3
HOH 1 - Veto 1 - Noms 0/0 - HN 1

His week at the top wasn't a picnic for him and he kept griping that everybody kept wanting to talk to him. He's gotten a lot of flak for wasting this HOH and while Kaysar's game hasn't been stellar, he's still a big fish in their little pond. Enzo's Diaries about chaos and bloody hands are just fluff for the air shows, and he's done a superb job of making it up to Kevin. He remains in a great position for the long game.





Won: Safety Suit #2 (Christmas's win)/1 week space skits
HOH 0 - Veto 0 - Noms 0/0 - HN 1

Kudos to him for figuring out much of the complicated diagram this season's alliances are, with the help of Sunday's wall yeller, and for explaining it patiently rather than lecturing as Kaysar did. Unfortunately for us, Ian told Kevin that acting on this info would be 'a very, very, very slow, slow burn' and I don't know if this season can hold everyone's interest that long. We'll see.





Won: Safety Suite #1
HOH 0 - Veto 0 - Noms 2/0 - HN 1

He probably talked himself into the corner he's currently in and that's too bad, as he's the most positive element we have going for us this season. It'd be nice if he ends up staying but the chances of that are slim (as of now/Tuesday), and he's probably better off heading home to his family than spending another two months in this pit of messy.





Won: Nothing yet
HOH 0 - Veto 1 - Noms 2/0 - HN 1

We can partially blame him for Nicole A's and Janelle's evictions, and that's what's worrisome about Ian selecting him to be his strategy confidant. Granted he didn't have many choices, and maybe Ian was testing to see who Kevin would tell and how much.





Won: Nothing yet
HOH 1 - Veto 1 - Noms 0/0 - HN 1

It's hard to remember he's actually the seventh oldest in this cast but he is indeed younger than Christmas, Enzo, Janelle, Kaysar, Keesha, Kevin. Yep.





Won: Nothing yet
HOH 0 - Veto 0 - Noms 0/0 - HN 1

Everyone in her various inner circles seems to be doing more active gaming than she is. Landing in three or four power alliances is great but if everyone in them doesn't pull their weight, the potential to be a drag-along grows, and that isn't how she wants to be portrayed this time.





Won: Nothing yet
HOH 1 - Veto 0 - Noms 0/0 - HN 1

Once again, he plays a low profile game that usually works out well for him, but he's suddenly in a lot of cross-hairs, and the only entertainment factor he usually brings is when he's caught by surprise. Even then, he downplays shock and surprise way too much to be very fun watching.





Won: Safety Suit #1 (Kaysar's win)/1 week star
HOH 0 - Veto 0 - Noms 1/0 - HN 1

3rd evicted, Day 23

It was great to see her on feeds again, especially her easy friendship with Kaysar. She was BB6 Janelle again but without the in-your-face name-calling that would have made things more fun for us, but props to her for not going there. It's astounding how hard she was targeted just for showing up, proof that Janellousy is still real.





Won: Nothing
HOH 0 - Veto 0 - Noms 1/0 - HN 1

2nd evicted, Day 16

Imagine going on BB and not wanting to work with Janelle and Kaysar. Having them to go bat for you, hard, and then throwing it back in their faces. It's mind-boggling. She was in way over her head this season, made one bad decision after another, and she repeatedly promised us a house meeting that she never delivered.





Won: Nothing
HOH 0 - Veto 0 - Noms 1/0 - HN 0

1st evicted, Day 9

She was feisty her first time around but like all of them, she's older and more mature now, and her birthday happened before they moved in, so we didn't get any new memorable Keesha scenes. But it was good to see her again and she got a nice check for two weeks isolation and one week of summer camp.



Lines and Links of the Day
Lines

Monday
Memphis: I'm not a womanizer

Enzo: I hate being HOH, everyone wants to talk to me

Joking about joining Cody's crew:
Kaysar: I'm going to the bar, we're gonna fuckin fight with somebody
Cody: Hold on
Kaysar: Is that what we do?

Enzo to Cody: There's nobody to go after but fuckin everybody now

David: ..all this ambiguty.. ambu.. ambubi-ba-blah.. all this ambubiguity..
Tyler: I know man

Ian: That's what Derrick was doing pre-season, he was setting [Cody and Nicole] up for success

Tuesday
Da'Vonne: Did you watch Sarah Hanlon's season? [BB Canada 3]
Ian: I did not.. I did the jury roundtable for it tho

Christmas: The world knows me as Loyal's mom, I used to be Christmas Abbott

Ian: Something is awry, there's a worm in the ointment

Wednesday
Memphis: I wish we had fuckin bingo

Ian: Did you have a good chat with Kevin?
Kaysar: Useless

Bayleigh: This is the slowest week of my life

Kaysar: Typically if you want to clear out a room, just have me come in

Cody: I feel like we're putting too many eggs into Christmas

Nicole about Diary: Did you guys get asked about the word ripe?


Links

GET YOUR FEEDS includes a free one-week trial

Use my link for any Amazon Canada shopping, anytime, at no extra cost - just start your shopping trip by clicking Amazon Canada

Live tropical reef webcam if you're missing the fishies

Janelle's 'Janelle' necklace auction all proceeds will go to Give Kids The World

BB22 HGs as the cast of Tiger King by @BB_Gossiper



Tally Items
Extracurricular Tally

Minor fights: 1
Janelle vs Nicole F
8/20 (not on feeds) - 8/23 show

Booze deliveries: 7
(Day 1 move-in - 8/5 nothing)
Day 7 - 8/11 2 wine, 6 beer
Day 9 - 8/13 2 wine, 4 beer
Day 9 - 8/13 Memphis HOH wine, 6 beer
Day 16 - 8/20 Tyler HOH 12 Vizzy
Day 18 - 8/22 2 wine, 6 beer
Day 21 - 8/25 2 wine, 6 beer
Day 23 - 8/27 Enzo HOH 6 White Claw

Pinkyswears: 3
8/7 11.58pm Ian/Nicole F
8/9 2.35am Kevin/Nicole A
8/18 12.21am Bayleigh/Cody/Dani/Da'Vonne/Enzo/Tyler

Injuries, illnesses, etc: 23
-Cody's broken glass/cut hand washing dishes
-Ian's slop sick day
-Enzo's sore foot/leg from backyard bicycle
-Nicole A's slop sick day
-David's cut hand from a decor star
-Nicole F's low potassium levels
-Da'Vonne's low iron sick day
-Da'Vonne's banged heel getting off the bed
-Enzo's pulled muscle from laser Safety comp
-Janelle's cut finger chopping veggies
-David's burned finger from pizza
-Dani's finger blister from 8/27 rollyball HOH comp
-Cody's burned finger from making breakfast
-Tyler's slop sick day
-Bayleigh's, David's, Kevin's, Tyler's sore legs from 8/29 veto comp
-Memphis's sore back from workout+8/29 veto host
-Nicole's shoulder problem
-Nicole's low potassium again
-Dani's bonked heel from hammock frame
-Nicole's cut thumb from a razor in a drawer

Broken habitat items: 4
Broken awning attacked Ian
Mirror/window light frame went out
Another broken awning
Broken pantry drawer

Bigger BB stories than BB22: 2
-The Amazing Race season 31
-BB21 leaked group text

Pre-season cockamamie rumors/events: 5
-Kaycee and Josh contracted COVID-19 partying together
-Nicole Franzel masterminded casting
-Public sour grapes from various uninvited alums
-Danielle Reyes will/won't/will/won't show up
-Nicole Anthony's potato salad recipe



Production Goofs

1 Premature All-stars merchandise in CBS Store
2 Promoted interviews didn't happen
3 TV Guide posted a cast list prematurely
4 Forgot to update winners list for BB21
5+6 Wrong 8/9 show time, wrong BB1 premiere
7 Unfinished spots in house pics
8 Julie interview that mentioned 'some' failing virus test was deleted
9 Prematurely released half the cast
10 Have-nots locked out of HN room on premiere
11 Wrong season for Janelle winning first AFH
12 Misspelled Tyler's last name
13 Feeds window has wrong show days
14 Da'Vonne misspelled in press pics
15 Cody in Diary visual leak on their monitor
16 Referenced Orwell in BB Rewind promo
17 Switched BB Rewind host's accent é è
18 Staffer left a walkie talkie in the house
19 Wrong Day count for noms on 8/12 show
20 Kevin's comp shirt backwards on 8/12 show Diary
21 Alliance name errors in Twitter poll
22 Julie said wrong Day number on 8/13 show
23 Forgot to update Julie's twitter
24 Misspelled Cody's last name in press pics
25 Forgot Kaysar was on BB6 and BB7
26 Official site still showing BBAD on Pop
27 Wrong Day count for noms on 8/19 show
28 Lockdown recording bleed in feeds block music
29 Wrong Nicole in press pics caption
30 Posted 8/26 veto show pics a day early
31 Wrong Day count for noms on 8/26 show
32 Control room views + wakeup music on feeds
33 Safety Suite sign still up a week after it ended
34 Wrong date for Dan's Funeral (by EW)
35 Air shows omitted a Christmas star baby
36 Left out a Meow



Season Stats
HOHs in order: Cody; Memphis; Tyler; Enzo

Veto winners in order: Enzo; Memphis; Cody; Kevin

Evictions in order: Keesha 13-0; Nicole A 10-2; Janelle 9-2

Cast Twitters: @BayleighDaily; @christmasabbott; @Cody_Calafiore; @danidONAT0; @davjalex; @DayDaVonne_; (Enzo deleted @the_Meow_Meow_); @TulaneTerry; @JanellePierzina; @KaysarRidha; @KeeshaSmith0801; @kcampbellicious; @MemphisGarrett; @Strongislandni2; @nicole_franzel; @TylerCrispen2







Linking to any page here is fine. Please don't repost content from this site (or any other) without permission, and don't repost or hotlink images.



THE REAL SHOW IS THE FEEDS

Live air shows in many areas
BB1 thru BB21 plus Celebs and OTT, and many other CBS shows

PROTECT YOUR ONLINE PRIVACY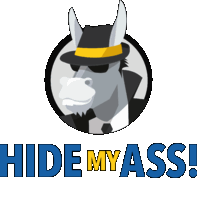 Anonymously secure your internet connection with HMA! Pro VPN - connect to our VPN service to anonymously encrypt your internet activity from prying eyes



HAMSTERWATCH SWAG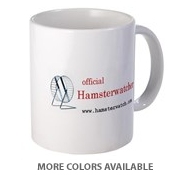 Mugs, shirts, more
Visit my Cafe Press shop





Big Brother 22 SEASON FAQ


-Day 1 move-in and CBS premiere was August 5
-Day 58 2-hour double eviction is October 1
-Day 85 2-hour finale is October 28

Feeds are streamed by CBS, and Flashback is accessible via All Access subscription. Call 888-274-5343 for account help, including cancellation.

The CBS app (by CBS Interactive) plays BB air shows and other CBS shows, as well as feeds, or you can use your browser to watch feeds on mobile devices. The same All Access link used to subscribe will lead to the feeds viewing page if you're already signed up.

BB22 finalist prizes are the same: $500k for the winner and $50k for 2nd place. The others got $40k for showing up, with $12k additional bonus for making jury.

The habitat has 94 HD cameras (no change) and 113 microphones (no change).

The recorded in-house announcements are the voice of producer Don Wollman. He and Julie Chen are the only staffers who have been there since Big Brother 1.