This site is about the Big Brother 21 feeds and contains spoilers! It isn't necessarily thorough: it's what I catch and/or what interests me. It's about watching hamsters: who's doing what and why. Thanks for encouraging my behavior.
Your pal, dingo



WIN CASH PRIZES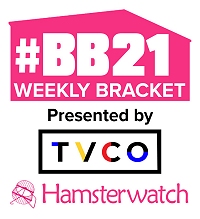 Click for more info
and to enter!



BB21 DRINKING GAME

Take a swig whenever the kitchen or pantry fridge is open for more than 30 seconds





AMERICA'S PRANKSTER VOTE

Prank Week power
Voting is closed

-Nick
Secretly named 2nd nominee (Christie), and would have selected renom if she was veto'd off.





FIELD TRIP VOTE

Top three vote-getters competed.
Voting is closed

-1st place: Jackson
Immunity for the week
-2nd place: Analyse
One week chicken suit
-3rd place: Christie
Go OTB as 3rd nominee





WHACKTIVITY COMP RESULTS

Week 1 Nightmare - not used
Bella, Cliff, Kat, Nicole, Ovi
-Ovi could secretly force HOH to name two new nominees after one of first six noms ceremonies, excluding his Camp Comeback weeks

Week 2 Chaos - used Day 32
Holly, Jack, Jackson, Sam, Tommy
-Jack could stand up and force a redraw of veto players, one time, until final six

Week 3 Panic - not used
Analyse, Christie, Jessica,

Kemi

, Nick
-Christie could secretly activate so veto winner would name renom if they used veto, at one of 3rd, 4th, 5th or 6th veto meetings





FINALE SWEEPSTAKES

Win a trip for two to Sept 25 finale including airfare, hotel and $500
Sweepstakes is closed





QUICK LINKS & BOOKMARKS

-SIGN UP for feeds
-WATCH the feeds after signing up - disable ad blockers

-BB21 official site
-Live show tickets

-Feeds updates by @UGotBronx

-My Twitter - my screencaps

-Dick at Night with @EvelDick

-BB Viewer by @liquid8d
Requires All Access account

-BB21 Wiki

-Hamster Twitters
BB USA: chron - members
BB Canada: chron - members
BB USA Celebs: chron - members

-Advice for cast friends/family

-VPN to protect your online privacy





EAST COAST AIR SHOWS

Unfortunately, CanadaTV channel for Roku has been removed


East coast air show live streams:
- 1 - 2 - 3
NO DOWNLOADS OR SIGN-INS NEEDED - BEWARE OF CLICKING POPUP ADS OR WARNINGS




Donations via Paypal are gratefully accepted!


Watch Big Brother
Seasons 1 thru 21
Plus tons more CBS content






BIG BROTHER SEASONS



CBS All Access
Seasons 1 thru 21





BIG BROTHER 21 FEEDS EXCLUSIVELY ON CBS ALL ACCESS
All Big Brother USA seasons + most CBS shows past or present are included
$5.99 PER MONTH INCLUDING 1 WEEK FREE TRIAL or $9.99 AD FREE
COMPUTER - MOBILE - ROKU - CHROMECAST - APPLE TV - ANDROID TV - FIRE TV - XBOX 1/360 - PS4


>> >> >>

>> >> >> >> >> >>

>>

Power Status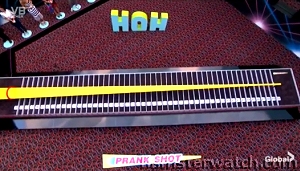 Evicted: Analyse 5-1
Head of Household: Holly
America's Prankster: Nick
Original nom: Nick
America's Prankster nom: Christie
Veto winner/outcome: Jackson/did not use
Final noms: Christie, Nick
Pie smashing: Cliff, Jessica, Nicole (one week)
Evicted: Nick 5-0

Alliance charts by @89razorskate20: Day 71 - Day 65

Diary segment tallies by @clamperls4: Latest

Ratings Watch Wednesday's show placed second with 1.1 rating, 6 share, 4.20 million viewers, behind America's Got Talent on NBC with 1.1/6/7.89, and ahead of MasterChef on FOX with 0.8/5/3.21, and The Goldbergs and Schooled reruns on ABC with 0.5/4/2.64 and 0.5/3/1.97.

Overnight rating & share: adults 18-49; Rating: % of all TV households; Share: % of households watching TV



Upcoming Events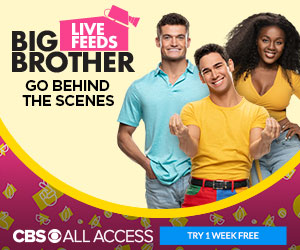 GET THE FEEDS to see the real show!

Through Thursday: Campaigning, drama, angst, eating, paranoia, pie smashing, pie cleanup

CBS schedule:
Sundays 8pm - Wednesdays 8pm - Thursdays 9pm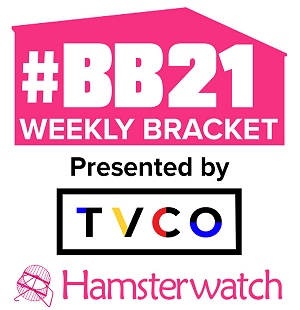 TVCO #BB21 WEEKLY BRACKET

Make predictions and win cash! The #BB21 Weekly Bracket will run all summer long!

Download the TVCO app to watch the TVCO live show, chat, and enter the weekly bracket.

Three chances to play this week:
Wednesday 9pm ET/6pm PT
Thursday 2pm ET/11am PT
Thursday 8pm ET/5pm PT
Good luck! - Click for more info

Congrats to 'stefg' who won $200 last week!



Daily Feeds Recaps
Day 69 - Monday 8/26/19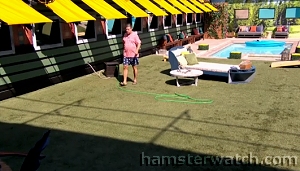 As usual, Cliff was up before the others and he talked to us for awhile before doing the awnings. He's that guy who does things like that before BB says to, because it has to be done. It's usually a two-hamster job but he got it done handily. Nick and Christie both made last minute pitches to Jackson and Holly, pointlessly, but Christie did give them some faulty logic for why she thought Nicole was the Prankster (she knows it's Nick, as do they all).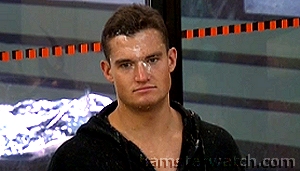 Jackson got pied during the veto meeting, and again after it ended. He did not use his veto so while it's officially Prank Week, it's unofficially Hell Week, as Christie and Nick are both going to fight for every vote. As of now Nick's probably going. Nicole's promised him she'll VTE Christie, Tommy's promised to VTE Nick, and Cliff has also said he'll VTE Nick but I think only Holly and Jackson know that. That leaves Jessica who'll probably evict Nick, and Jackson who wants Christie out but his bedmate Holly wants Nick gone. Buckle up, as it's going to be rough when both Christie and Nick get to spiraling and fast-talking, and it's always possible Julie tells them Thursday it was all for nothing because Prank Week.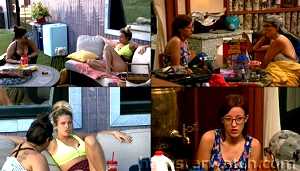 Jackson found a piece of paper titled An Intimate Evening with David Foster that sounded like a set list or call list, possibly dropped by a crew member or blown in from another studio. Another fluttered in later. They made condom water balloons and had fun with those until one hit a camera. Nick told Nicole his strategy was to look sad and let Christie talk herself into trouble, and he'll continue to pitch to Jackson, and he said he was planning to give a "savage" speech. Nicole later talked to Holly and let her know Tommy might be after her and Jackson. Jackson joined and said he'd prefer Nick goes now rather than Christie. Jackson told Nicole about the deal they'd made with Christie, and the many (rejected) offers Nick had pitched to them. Christie campaigned to Jessica some more, pushing her anti-Nick agenda hard. Holly reported to Jackson what Nicole had said about Tommy coming for them, and Jackson later suggested that to Christie, who said she didn't think he would, but she doesn't really talk game with him. Holly told Jackson she hates having to worry about things that aren't game-related: other people's opinions, being under a magnifying glass, and not knowing what's being shown or not. Sorry, but this being Big Brother, all those things are in fact "game-related."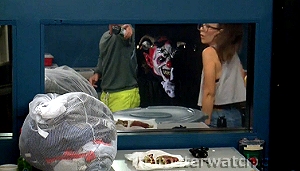 Prank Week got a boost when BB brought out the ol' faces in the mirror/window gag, only this time it was killer clowns. The first came around 7.20pm when everyone was in the kitchen. Cliff had just broken a mug when a toothy horror popped up in the mirror, making them all scream bloody murder. A few minutes later around 7.32pm Cliff had just prepped and dropped one of his fake mice gags when another creepy clown appeared in the window - the timing was impeccable. Nicole was freaked well out, despite the fact that she loves scary horror movies, and she didn't want to go anywhere by herself for a long time afterward. The next one appeared in the pantry, where it took a minute for Tommy and Holly to notice. Note the mess on the counter in front of the pantry mirror: Jackson had cut into a faulty sweet potato earlier and rather than toss it in the trash like a normal person, he felt the need to turn it in. Tommy glimpsed the next one in the bathroom mirror, screamed, and everyone else ran in to see it. Jessica, Christie, Nick literally flew back to the couch to get away from it. Through it all and after, Nicole kept freaking out and Cliff kept giggling, and jump-scaring everyone.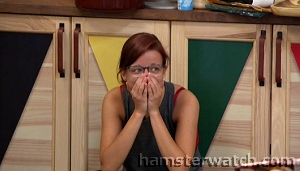 Nicole was called to Diary and the others decided to prank her by hiding. Jackson dipped behind bathroom couch and the others went to HOH. Nicole came out and freaked out, saying "oh my God this is how I die" and froze in place in the kitchen, alternating between terror, laughter, and tears, and she gave a running commentary throughout. Big Brother tossed mirror clowns at her twice which didn't help, and they turned off the lights for a few seconds which didn't help even more. One of the mirror clowns was making a flying bird with his or her hands, and Nicole held out her own hands to show how they were shaking.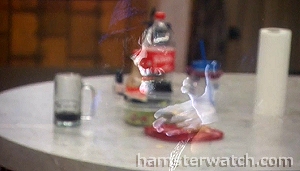 The group in HOH didn't realize Nicole was still getting clowns and they, like us, were torn between feeling bad for Nicole and finding the whole thing hilarious. Nicole finally started to explore, hesitantly, saying "I don't want to bring a weapon 'cause I don't want to hurt anybody!" She found Jackson who said BB had told them to hide, but he didn't let on where anyone else was. Meanwhile the HOH group finally got clowned and had to stifle their screams and laughter. Nicole finally ventured up there, freaked out because the lights were off, then she braved the door and lights and finally found everyone. Jackson snuck off to prepare a pie but Nicole thwarted him in the hallway to Camp Have-not and most of it ended up on the wall.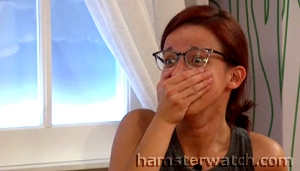 Cliff sat with Nicole as she tried to calm down, and he got her to tell BB to bring it on, she wasn't scared. So they did, with a clown beckoning to her (which she called a "death threat"), and that was the end of calming down for Nicole. Jackson went to Diary and came out telling them they might get woken up by clowns in the house, or in their beds. They all started counting entrances and making emergency plans, and clowns kept popping up in mirrors. Holly told Jackson that Nicole had made a big deal about Nick and Tommy being mad at each other, yet they played backgammon throughout the Nicole ordeal without batting an eye. Holly also said she was afraid of Nicole flipping the votes this week. The backyard had closed earlier but opened around midnight, and BB asked them to do the awnings, which Jackson bitched about. Another clown popped out at Tommy and he screamed. Christie, Holly, Jessica held an anti-Nick meeting as they waited for laundry.

Get the feeds to see it all unfold live and/or with flashback!
If you missed what's come before, click the ever-present "previous Hamsterwatch episode" link way up top for my previous recaps and/or check the feeds updates in Hamsterwatch Forum by @UGotBronx.



Day 70 - Tuesday 8/27/19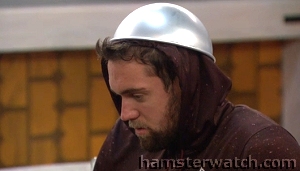 Nick wanted to throw away his haircut bowl but Tommy and others said he couldn't as it was a gift from Zingbot, who doesn't normally give gifts. Earlier Jackson and his watermelon flipped through the rulebook, adding him to that gallery (which stars OTT Kryssie). He may have been looking for the bonus prize money for third, fourth, fifth place finishes that Tommy told him about yesterday, as Tommy said he'd seen it in their rulebook. Christie told Tommy her contract deal with Holly and Jackson was "null" and she said she'd put them up. In other news, a new frying pan was delivered to the delight of most of the hamsters. We had extended fishies around 1.15pm and it was probably for pies: Cliff and Nicole were wiping up splats off the photo wall when feeds came back.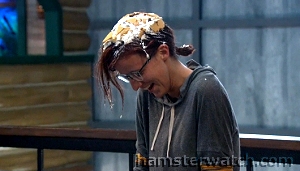 Afternoon was mostly a lot of chatter and retelling and eating. Nicole went up to feed the fishies with Tommy when Cliff gave them a good jump-scare. A few minutes later, as Nicole said her heart was still pounding from that, Jackson ambushed her with two pies. She dodged the first one but the second got her good and she looked like she was wearing a little pie hat. Nick continued his Old Testament Bible study, telling Tommy "God was a savage, bro. Jesus was like chilling but bro, God would like murder people, dog."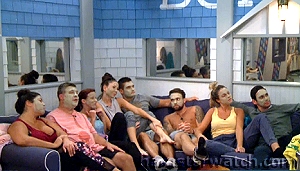 All eight applied face masks and mugged for the cameras, which was quite a change (and letdown) from last week's Taco Tuesday appetizer when we had Christie and Nick screaming at each other plus bonus priceless reactions from Tommy, Jessica, Jackson. But that was then and this is now. I forgot to mention Nick and Tommy had a loud spat earlier about backgammon, but it was mostly in fun and not in anger, so the fight tallies continue stagnating. Is it Thursday yet?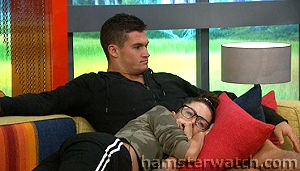 After many hours of prep, Taco Tuesday finally hit the food phase and they all chowed down (with no gratitude circle or TABLE BANGING, yay) except Nicole who was called to Diary, and Cliff who waited to eat with her when she was released an hour or so later. Afterwards Holly and Jackson had a little spat: she was upset that everyone (and him) always cut her off when she was talking, and he said she was too controlling. Shredding the chicken for tacos was also an issue. Nick laid out his campaign strategy for Nicole in his usual rapid-fire style, with most of his ammo being anti-Christie. Christie sat down with Holly for an anti-Nick meeting, and they were joined by Jackson and Cliff. Cliff said he thought Nicole was still planning to vote out Christie, and they agreed they didn't need her vote anyway (with Cliff, Jackson, Tommy evicting Nick) but Cliff said he thought Nicole would switch and join them when she realized she'd be out there on her own. When they left, Holly told Jackson that Christie said some sketchy things and she didn't want to say they're in a final four with Tommy and Christie. Jackson said he thought he needed to throw HOH but his gut said he shouldn't. Holly said he should only throw it if Tommy's already out. Both agreed they were afraid of Tommy next week, thanks to Nicole telling Holly yesterday that Tommy was targeting them. They still hadn't heard that Christie considered their deal was now "null."

Get the feeds to see it all unfold live and/or with flashback!
If you missed what's come before, click the ever-present "previous Hamsterwatch episode" link way up top for my previous recaps and/or check the feeds updates in Hamsterwatch Forum by @UGotBronx.



Day 71 - Wednesday 8/28/19
Holly greeted the day with a string of cussing, retelling her response to BB pestering her to wake/get up: "I'm fucking awake, I'm grateful to be here but stop fucking yelling at me like you're my parents, it's fucking annoying, I'm a fucking adult, stop fucking yelling at me, also I'm fucking happy to be here!" I didn't hear the original to know how accurate this was, but she had been having a long, lazing, makeout/humping session with Jackson. All eight hung out together for a long cereal breakfast, sharing stories and talking about past seasons and hamsters, mostly inaccurately, plus the usual and ongoing Nick and Tommy sexual innuendoes. Nick later told Tommy he would be giving a campaign pitch "with valid points" to each of them, "even Jessica." Cliff told Nicole he thought they'd be better to evict Nick as Tommy would be alone. Nicole said she thought Tommy was also with Christie.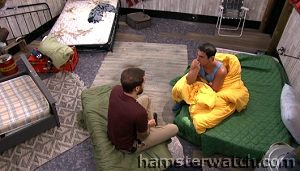 Nick began his campaign round with Tommy, pulling him up to Camp Have-not to run his numbered bullet points, very formally and oh-so-seriously. As usual, Tommy listened and responded oh-so-sincerely, and provided several "devil's advocate" responses. Tommy had told him earlier yes, he had promised his vote to Christie but it was possible he could be swayed. (That was a lie.) As Tommy brought up various points, Nick's calm lessened and he revved up, talking faster and more excitedly. Cliff was next, and he surprised Nick by starting off with his own numbered bullet points. Nick told him he was the Prankster (which Cliff already knew, as they all did) and that he didn't put up Cliff. Umpteen bullet points later, Cliff said he hadn't decided yet and he added if it was personal it'd be an easy choice, but he would do what's best for his game.


Elsewhere, Nicole had a makeover with makeup by Jessica and hair by Christie. She was pleased with it, and goofed about it, mugging for the camera saying "here I am, I've been glamified! I've been feminized!" All of them said she looked great. Christie started up her rounds with Jessica, saying "he's a therapist and a hustler," about Nick. And she told Jessica "it'd be bold to say final two but I can see you in a final three with me." Red flag much? Tommy shmoozed Jackson, and they compared Nick and Christie notes. Predictably, Jackson said "Nick plays checkers, not chess." Next up for Nick was Jessica, who began by saying she didn't think they'd ever talked game. Christie took a break for group backgammon, saying she only had to campaign to five people. Nick then ran his spiel for Nicole, and then for Holly and Jackson. Reminder, Holly continually says she doesn't want to be seen as a duo (also she doesn't have a vote), but Nick said he wanted to pitch to them together. He used condoms for presentation aids, saying "I am your protection." Afterwards, Jackson told Holly he'd definitely throw the HOH as he believed everyone would be gunning for Tommy and Christie.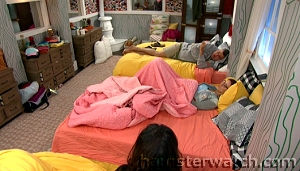 Christie had a check-in with Tommy (disguised as a campaign pitch), and then she pitched to Cliff, including the same final three spiel she gave Jessica, and saying she wanted to target Holly and Jackson. Much later, Cliff told Nicole he trusted Nick more than Christie, but that it looked like Nick going was a done deal. Jessica joined them in the RV room and said she didn't think Tommy would have any ties left if Nick goes, and added she didn't think Tommy would go against Holly's wishes for wanting Nick gone. Tommy won't be anymore alone than he was when he and Christie moved in, but that's our Jessica. She was right about the bottom line, despite her faulty path getting there, that Nick's still going and this week's Wednesday Waffles didn't change a thing.. as of now.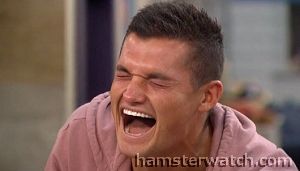 Nicole took a hard fall slipping on the floor (not on feeds), and hurt her lower back and butt. Christie took a gentle but super-clumsy tumble off the kitchen couch (not really on feeds) that had Jackson, Cliff, Nick, Holly in hysterics, especially Jackson who laughed til he cried. Cliff and Nicole had a talk with Nicole running her usual angst at having to vote someone she's close to, but she did indeed come around to agreeing to vote out Nick to "go with the house" despite having told him he'd have her vote a few days ago. She told Cliff she'd let Nick know she has to do what's "best for her game" rather than stick her neck out and end up targeted for it, and she did that an hour or so later, wording it "if she finds out tomorrow" everyone's evicting him. He said that was okay, and "it is what it is," though later he told us "it's insane" for them to evict him over Christie. Nicole later talked it over with Holly and Jackson, and pledged her allegiance to their F4 with Cliff, who joined a bit later. Holly said it would be okay if she gave Nick her vote for friendship but Nicole said she'd promised herself at the start she'd never cast a sympathy vote, and she didn't want to give Christie a Reason to target her. She also told them she'd heard from Jessica that Christie was "going after guys."

Several of them have speculated whether tomorrow would be a "reset" with no eviction, for Prank Week, as have most of us, but there's been no indication from The Powers That Be, including Wednesday show's closing narration, indicating anything unusual.

Get the feeds to see it all unfold live and/or with flashback!
If you missed what's come before, click the ever-present "previous Hamsterwatch episode" link way up top for my previous recaps and/or check the feeds updates in Hamsterwatch Forum by @UGotBronx.



Ratings - Better Zings? special edition
Ratings are based on entertainment value
See full bios and social links in cast folder at
Hamsterwatch Forum
Noms count: original/renom/twist


PRO-DUC-TIONNN You are always con-si-der-ate to your viewers and ev-er-y-one on the live feeeeds ap-pre-ci-ates it! When-ev-er you block something with the fish-ies we know it's something you want to draw our at-ten-tion to! REEEE-WIND!! REEEE-WIND!! ZINNGGGG!





Won: Whacktivity 3 Panic; 4 days Poison Ivy; Field Trip nominee
HOH 1 - Veto 0 - Noms 1/0/2 - HN 1

CHRISTIEEEEE You like to talk about whatever you're eating, but you don't have to...... ever-y-one can see all your food while you're chewing it! ZINGGGGG!





Won: Revival to Camp Comeback Day 30; Full revival to BB21; 1 week pie smashing
HOH 1 - Veto 0 - Noms 3/0/0 - HN 0

CLII-IIFFFF You said you were afraid you might em-bar-rass your fam-i-ly but good news, they aren't em-bar-rassed...... they're MOR-TI-FIED! ZING! ZING! ZING!





Won: Nothing yet
HOH 2 - Veto 0 - Noms 0/0/0 - HN 0

HOLL-LYYYYY It's a good thing you like putting on make-up so much so you look good on cam-e-ra but I have a news flash for you...... the cam-e-ras are ALWAYS ON! ZIIINNNNNGGGGG!





Won: Camp Director 1st eviction immunity; Field Trip 7th eviction immunity; 24 hrs Alien Doctor
HOH 1 - Veto 3 - Noms 2/0/0 - HN 1

JAAAACK-SONNN It's no surprise you love wa-ter-mel-on and cu-cum-bers so much...... what is surprising is the way you use de-o-do-rant! ZING! RASH! ZINNGGG!!





Won: 1 week pie smashing
HOH 1 - Veto 1 - Noms 2/0/0 - HN 1

JES-SI-CA Ev-er-y-one says you don't know what you're do-ing and you don't un-der-stand the game...... but you're the only one who's made a BIG BIG BIG MOVE all season! ZING! ZING! ZING!





Won: $5,000; 1 week America's Prankster
HOH 1 - Veto 1 - Noms 2/0/0 - HN 0

NII-IICKKKK Ev-er-y-bo-dy treats you like a little puppy dog but it isn't because you are cute or cud-d-ly...... it's because you have no boun-da-ries and you're always HUMPING everyone! ZINGGGG!





Won: 1 week pie smashing
HOH 0 - Veto 0 - Noms 0/1/0 - HN 1

NI-COOOOOOLE It's a good thing you are a pre-school teach-er because most of these people need a ba-by-sit-ter, but that isn't what you're here for...... you are sup-posed to be PLAY-ING Big Broth-er! ZINGGGG!





Won: 4 days Poison Ivy;

1 week

6 days BB Explorer
HOH 1 - Veto 1 - Noms 0/0/0 - HN 1

TOMMM-MYYY You're ev-er-y-bo-dy's friend, and they think you're always doing high kicks because you're a dancer...... but you're really kicking them all out so you can win! ZING! ZING! ZING!





Won: 1 week chicken/3 days eggs
HOH 0 - Veto 0 - Noms 1/0/0 - HN 0

She literally griped about Ovi when feeds started and planned to do makeup tutorials with Holly. That never happened but soon she shared her big news about doing the deed with Jack, and that's about all she did from then on, so she featured big on the sex tally (with and without their sex stool). She didn't win comps and she didn't gametalk much, but she griped a lot and made lots of threats to go off on whoever she was mad at on a given day. She was literally horizontal a lot so #LeaningSis became a fun hashtag game. One day Jack made an effort to spend time with her outside of bed and they screamed around playing pranks and hiding, including several rounds in the pantry trash can, once with the ultimate lean. When Jack left she socialized a little more, and she didn't complain too much about being a chicken or making eggs, but she literally never made them again.





Won: Hawaii trip
HOH 0 - Veto 1 - Noms 2/1/0 - HN 1

She came in confusing, telling one interview she'd watched for years and another that she just heard of the show. Then on the pre-season audio leak, Christie said she'd put Kat OTB because she was paranoid and annoying. Then feeds started and Kat was a basketcase, crying and freaking out. We found out some of that was due to Jackson's hump 'n dump, and when she wasn't evicted she settled into being the most entertaining of this bunch. She was random and funny, often using self-deprecating humor and making it work, along with ongoing gags about 'conspiring bitches' and Brett. She played a rat floater game but she didn't do it well, and there were a half dozen other rat floaters to maneuver around. She was outside most alliances but infiltrated with the best of them, and her game was great fun to watch, though very, very messy.





Won: Whacktivity 2 Chaos; 24 hrs Angry Alien
HOH 1 - Veto 0 - Noms 2/0 - HN 0

He was cocky and arrogant, and he and Jackson didn't want to talk to anyone who wasn't cool or pretty enough for them. He had a vendetta against Kemi for no apparent reason and he made more than a few racially charged comments about her and David. Julie grilled him about some of those as well as a comment about Bella, like she hasn't done to anyone since BB15 Aaryn. His HOH letter was from his dogsitter, and he called a house meeting to announce nobody could gametalk with the three Camp Comebackers (but everyone did, including him). He referred to bedmate Analyse as his 'game piece' early on to Jackson, and he had a multi-way attraction thing going with Christie and Tommy. He was tipped off about some of his behavior and tried to do better but it was a transparent effort.





Won: Fiji trip
HOH 0 - Veto 2 - Noms 1/0 - HN 1

He was the first outsider to learn the Eight (and the Six) were things, and he seemed content to be their ninth (and seventh) rather than taking that info to the rest of the strays so they could organize and counter. He started strong, winning the first two vetos, but his luck went downhill after that. He planned a nominee speech outing Christie's shady dealings but he blabbed and it got back to Christie and the rest. But that then led to the huge fight before his eviction show that tore the Jacks apart and blew up the Six, so kudos for that. Never mind he could have used that mess to his advantage and maybe stayed. He was a DIARY SHOUTER, he had lots of goofy (sometimes inappropriate) stories, and he was liked by most, most of the time.





Won: Nothing
HOH 0 - Veto 0 - Noms 0/1 - HN 0

She seemed promising in her pre-season interviews but it turned out she hadn't really done the homework recruits should do, and she was quickly in over her head. She blabbed about most every convo she had, and she blew up alliances almost as soon as they were formed. But along the way she mixed and drank gross concoctions including hot dog water and mayo, she told some funny stories and some sad ones, and she and Nick fell in love (once she finally got him to stop lusting for Analyse).





Won: Revival to Camp Comeback Day 23
HOH 0 - Veto 0 - Noms 1/0 - HN 0

She was targeted by Jack and Jackson for no reason we know of, other than naming them as potential nominees in the first days. From then on they were obsessed with her, spreading that obsessive hate to their teamies, and it was so stupid it would have been comical if it weren't so ugly. She kept it classy despite all that, and it's good she had Nicole as a sounding board (and genuine friend) to vent her frustrations. I just wish she and Kat didn't hate each other as they would have made a superb comedy duo.





Won: Whacktivity 1 Nightmare (unused); Revival to Camp Comeback Day 15
HOH 0 - Veto 0 - Noms 0/1 - HN 0

He was a prime example of BB book smarts not necessarily equating to BB street smarts, and he didn't help himself any by being too loud and busy, nor by snitching on alliances to those same alliance members. Analyse accused him of being creepy with her but there was no evidence of that. He's done great things out here and will undoubtedly do more, so it was probably for the best that he got out of that snakepit sooner than later.





Won: First 2 weeks in sequester; Revival to Camp Comeback Day 15
HOH 0 - Veto 0 - Noms 0/0 - HN 0

He got the rawest of BB deals, the first night boot, and then he was locked in a hotel room for two more weeks. He showed a quick and accurate read on everything when he re-entered the habitat and was probably the only one of the Comebackers with potential to do some real damage if he'd won the comp to re-enter the game, but it wasn't to be. His and Kat's flirtation was fun to watch. He could and should have been a contender but instead he got the boot twice, and without any noms or votes to evict.



Lines and Links of the Day
Lines

Holly: What do you think Three's Company's doing in jury today?

Nicole about voting out Christie or Nick: They're an apple and an orange, but they're the same weight

Holly: Live feeders, wanna see my feet?

Nicole: I guess I'm quirkier than I thought, I'm riding that quirky pony all the way home

Christie: This is Big Brother, I'll respect anyone's gameplay as long as they love it and they're trying

Nick to us: That's actually insane that they're gonna keep [Christie] over me



Links

GET YOUR FEEDS includes a free one-week trial

#BB21 Weekly Bracket in partnership with @TVCO - enter online and/or download their app

Julie extended interview with Analyse

Use my link for any Amazon Canada shopping, anytime, at no extra cost - just start your shopping trip by clicking Amazon Canada



Tally Items
Extracurricular Tally

Booze deliveries:
-Move-in champagne
-July 1
-July 4
-July 6
-July 30
-August 7 halfway party
-August 12

Major fights: 2
-Christie, Jackson, Holly, Kat, Jack plus Tommy, Analyse 8/1 before live show (leaked video/not on feeds)
-Nick vs Christie 8/20 7.52pm

Minor fights: 6
-Bella vs Kemi 7/11 7.24pm
-Jackson vs Kat 7/14 approx 7.45pm (not on feeds)
-Bella vs Jack 7/21 show (not on feeds)
-Analyse vs Holly 8/15 2.12am
-Analyse vs Jackson 8/22 2.33pm + 2.36pm
-Nick vs Christie 8/23 3.55pm (set up by Holly/Jackson)

House meetings: 5
7/3 6.37pm called by Jack
7/22 8.25pm called by Sam
7/24 12.49pm called by Tommy
8/20 7.52pm called by Nick and Christie
8/25 11.18pm called by Nick, Nicole, Cliff

Prank Week pie smashings: 17
-8/22 9.30pm
-8/22 11.40pm
-8/22 11.45pm
-8/23 1.02am
-8/23 3.17am
-8/23 10.48am (not on feeds)
-8/23 7.31pm
-8/23 11.31pm Nicole solo
-8/23 11.34pm Cliff solo
-8/24 1.23am Jessica solo
-8/24 11.06pm plus ongoing pie war
-8/25 10.33am
-8/25 10.24pm plus ongoing pie war
-8/26 12.44am for HOH/Holly
-8/26 Veto meeting for veto winner/Jackson (not on feeds)
-8/26 12.50pm for veto winner/Jackson
-8/27 1.15pm (not on feeds)

Revive-a-Hamster full returns: 1
Cliff

Revive-a-Hamster Camp Comebackers: 4
-David
-Ovi
-Kemi
-Cliff

Nominee speech scorchers: 3
Kemi 7/11
Bella 7/25
Kat 8/15

Blindside evictions: 1
Cliff

Unorthodox peeing incidents: 1
Jackson 7/25 HOH comp

Planned veto hosts bumped for alums: 4
-Tommy, bumped for Kaycee
-Nick, bumped for Tyler
-Holly, bumped for Kaitlyn
-Analyse, bumped for OTEV

Pinkyswears: 12
-7/12 11.54pm Cliff/Nicole
-7/14 4.26pm Kat/Jessica
-7/16 4.05pm Kat/Holly
-7/18 12.29am Kat/David
-7/18 1:04am Nicole/Kemi (retell by Nicole)
-7/20 10.11pm Sam/Holly
-7/26 12.01am Jackson/Holly
-7/26 10.21pm Kat/Holly
-7/29 8.00pm Sam/Nicole
-8/8 2:02pm Kat/Nicole
-8/9 2.49am Tommy/Nicole
-8/9 8.42pm Kat/Nicole

Broken habitat parts: 7
-Tommy broke the backyard boat lounge chair
-Jack broke the lounge door
-Cliff and Christie broke an awning
-Cliff broke the living room platform floor
-Julie broke her stool at Kat's eviction
-Analyse, Christie, Jessica broke another backyard lounge
-Nicole broke HOH chair after everyone pranked her

Injuries, illnesses etc: 23
-Sam's hemorrhoids
-Analyse broken glass in her foot
-Jackson's hurt ankle in 7/6 veto (and subsequent flareups)
-Nick's back zit/cyst
-Jackson's chipped teeth from grinding
-Holly's mysterious rash
-Cliff's hurt calf in 7/20 veto (and subsequent flareups)
-Christie's bleeding butt
-Jackson's bleeding butt
-Jackson's oozing infected thumb
-Jackson's food poisoning
-Nick's motion sickness from 8/3 veto
-Kat's jammed pinky toe
-Tommy's sore neck from his Space Explorer hat
-Jackson's rolled foot
-Cliff's sore elbow, forearm, back from 8/10 OTEV veto
-Nick's sore knuckles from 8/10 OTEV veto
-Holly's banged head while piggybacking Jackson
-Jackson's stubbed 'ring finger toe'
-Tommy's accidental protein bar bite (nut allergy)
-Holly's sore groin after 8/24 Zingbot veto
-Cliff's cut finger from bananas
-Nicole's sore back/butt from slipping on the floor

Scandals outside our BB world: 7
-Jack
-Selective editing of the Jacks + racial optics
-Jackson's [alleged/likely faked] domestic violence record
-Jack's 'rice pudding' comment
-Jackson
-Kemi asked by Diary to talk like a stereotype rather than herself
-Sheep used for 7/27 veto comp

Funerals: 1
6/29 12.05pm For the fishies

Hamster birthday parties: 2
-Kemi and Jack
-Tommy

Non-hamster birthday parties: 4
-Cliff's son
-Nicole's dad
-Tommy's dad
-Jackson's dad

Makeout pairings: 3
-Bella/Nick
-Analyse/Jack
-Holly/Jackson

Sex events (minimum): 16
-Pre-feeds Jackson/Kathryn (3x)
-7/6 11.48pm Jack/Analyse
-7/7 2.33am Nick/Bella
-7/8 3.29am Jack/Analyse
-7/10 1.56am Nick/Bella
-7/16 1.43pm Jackson/Holly (Holly retell)
-7/19 5.56pm Jackson/Holly
-7/21 10.33am Jack/Analyse
-7/21 1.33am Jackson/Holly
-7/29 8.17pm Jack/Analyse (Analyse retell)
-8/3 2.28am Jack/Analyse
-8/4 11.33pm Jackson/Holly
-8/5 11.11pm Jackson/Holly
-8/12 3.03am Jackson/Holly

Breakups: 4
-Jackson dumped Kat
-Jackson dumped Holly (didn't take)
-Jack and Jackson dumped each other
-Bella dumped Nick? maybe (from home)

Premature exits: 1
David

Pre-existing relationships: 3 confirmed/discussed
-Christie/Tommy (longtime friends + she dated his aunt 7 years)
-Holly/Kat (acquaintances, with numerous mutual friends)
-Holly/Jackson (Instagram + mutual friends)

Pre-season cast leaks: 1
Sam was seen getting his key with his truck

Pre-season fanbase + alum dramas: Too many to list


Production Goofs

1 Wrong URL for Ovi's dog's Instagram in official bio
2 Misspelled Kemi's last name
3 Misspelled Jack's first name in press pics
4 Misspelled Holly's last name in press pics
5 Julie misspelled Orwell
6 Multiple veto history errors, plus misspelled 'introductions'
7 Misspelled 'houseguests,' and Nick's and Kemi's (again) last names
8 Sloppy photoshop job pasting in David
9 Misspelled 'brushing'
10 Timestamps on 6/25 feeds peek were wrong/screwy
11 Bad spacing for Ovi's home town, should be two words: Oak Ridge
12 Random Celebs 1 finale shot popped up on feeds
13 Gave Holly wrong last name in press pics
14 Mixed up veto draw with veto meeting on highlights caption
15 Misspelled Nick's last name in press pics
16 Misspelled Analyse's first & last names in press pics
17 Misspelled Ovi's first name in press pics
18 Misspelled Christie's first name in press pics
19 Misspelled 'winning' on Instagram post
20 HOH info still not updated from Battle of the Block era
21 Diary name label mixed up Jack and Jackson
22 Misspelled BB20 Brett's name
23 Press pics posted/spoiled veto results the morning of the show
24 Misspelled Isabella's first name and omitted her last in press pics
25 Gave Nicole wrong last name in press pics
26 Tweeted the show starts 'now' an hour early
27 Panic comp roaches and staffers seen on feeds
28 Mislabeled Sam and Kat in press pics
29 Mislabeled Kat three times in press pics
30 Posted a BB tweet from Amazing Race account
31 Misspelled Big Brother plus a new Ovi variation in press pics
32 Narrator made Jackson and Michie separate people, on 7/21 show
33 Gave Cliff's parents the wrong names, on Facebook
34 Episode description repeats narrator's names goof
35 Mixed up nominees with evictees
36 Faulty math
37 Misspelled Christie's name on her Poison Ivy outfit
38 Cliff's timer went backwards on 7/24 veto show
39 Field Trip ballot had Bella as an option (a week after her eviction)
40 Mixed up 'going home' with 'going to jury'
41 Mislabeled Jack in press pics
42 Misspelled Jack's last name in press pics
43 Series of feeds glitches 8/8-8/9 around midnight
44 Forgot to change to new Wednesday time
45 Feeds timestamp off by 27 minutes + severe freezing all day
46 Staffer reflection seen on feeds
47 Posted the wrong show on BB's Youtube
48 Mixed up Kat & Christie, misspelled evictee, wrong show time
49 Misspelled Analyse's name again/still, two different ways
50 Short Diary audio leak with Nicole
51 Misspellings in edited horror movie captions
52 Posted wrong week for Jack's eviction
53 Forgot to update Field Trip vote to Prankster vote
54 Nick said Diary had slipped and mentioned the Six
55 Short Diary audio leak with Nick
56 Feed 3 failed on quads, came back, then audio failed on quads



Season Stats
HOHs in order: Christie; Jack; Nick; Cliff; Holly; Jessica; Tommy; Jackson; Holly

Veto winners in order: Sam; Sam; Kat; Jackson; Nick; Jessica; Tommy; Jackson; Jackson

Evictions in order: David via twist; Ovi 12-0; Kemi 10-1;

Cliff 6-4

; Bella 8-2; Sam 9-0; Jack 6-2; Kat 6-1; Analyse 5-1

Cast Twitters: @analysetalaver; [Christie TBC]; @cliff_hogg; @davjalex; @MissHollyAllen; @BellaWang21; [Jack TBC]; [Jackson TBC]; @jmilagrosplus; @itskathryndunn; @kisseskemi; @N_Maccarone; [Nicole TBC]; @TheOviKabir; @bb21_sam; @TommyBracco







Linking to any page here is fine. Please don't repost content from this site (or any other) without permission, and don't repost or hotlink images.



THE REAL SHOW IS THE FEEDS

Live air shows in many areas
BB1 thru BB21 plus Celebs and OTT, and many other CBS shows

PROTECT YOUR ONLINE PRIVACY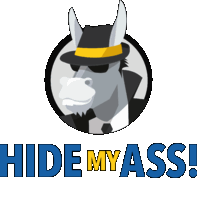 Anonymously secure your internet connection with HMA! Pro VPN - connect to our VPN service to anonymously encrypt your internet activity from prying eyes



HAMSTERWATCH SWAG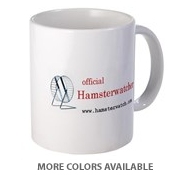 Mugs, shirts, more
Visit my Cafe Press shop






Big Brother 21 SEASON FAQ


Day 1 Move-in was June 19
Day 7 CBS premiere was June 25
Day 8 Feeds began June 26
Day 99 Finale is September 25

Feeds are streamed by CBS, and Flashback is accessible via All Access subscription. Call 888-274-5343 for account help, including cancellation.

*Effective July 10* Air shows on CBS (Global in Canada) are Sundays 8pm, Wednesdays 9pm, eviction Thursdays 9pm.

Big Brother After Dark on Pop TV will be every night midnight to 3am (an hour later on Wednesdays and Thursdays). The aired blocks are live (or recorded earlier the same night, depending on your cable provider).

The CBS app (by CBS Interactive) plays BB air shows and other CBS shows, as well as feeds, or you can use your browser to watch feeds on mobile devices. The same All Access link used to subscribe will lead to the feeds viewing page if you're already signed up.

BB21 finalist prizes are the same: $500k for the winner and $50k for 2nd place. Stipend for the others to be confirmed if/when they mention it on feeds, likely $1,000 per week again. Top finishers get bonuses again this season: $10,000 for 3rd place, $7,500 for 4th, $5,000 for 5th.

The habitat has 94 HD cameras (no change) and 113 microphones (no change).

The recorded in-house announcements are the voice of producer Don Wollman. He and Julie Chen are the only staffers who have been there since Big Brother 1.