This site is about the Big Brother 21 feeds and contains spoilers! It isn't necessarily thorough: it's what I catch and/or what interests me. It's about watching hamsters: who's doing what and why. Thanks for encouraging my behavior.
Your pal, dingo



WIN CASH PRIZES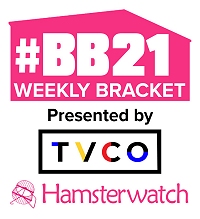 Click for more info
and to enter!



BB21 DRINKING GAME

Take a swig whenever Jackson uses a cliché





FIELD TRIP VOTE

Top three vote-getters competed.
Voting is closed

-1st place: Jackson
Immunity for the week
-2nd place: Analyse
One week chicken suit
-3rd place: Christie
Go OTB as 3rd nominee





WHACKTIVITY COMP RESULTS

Week 1 Nightmare - not used
Bella, Cliff, Kat, Nicole, Ovi
-Ovi could secretly force HOH to name two new nominees after one of first six noms ceremonies, excluding his Camp Comeback weeks

Week 2 Chaos - used Day 32
Holly, Jack, Jackson, Sam, Tommy
-Jack could stand up and force a redraw of veto players, one time, until final six

Week 3 Panic - not used
Analyse, Christie, Jessica,

Kemi

, Nick
-Christie could secretly activate so veto winner would name renom if they used veto, at one of 3rd, 4th, 5th or 6th veto meetings





FINALE SWEEPSTAKES

Win a trip for two to Sept 25 finale including airfare, hotel and $500
Sweepstakes is closed





QUICK LINKS & BOOKMARKS

-SIGN UP for feeds
-WATCH the feeds after signing up - disable ad blockers

-BB21 official site
-Live show tickets

-Feeds updates by @UGotBronx

-My Twitter - my screencaps

-Dick at Night with @EvelDick

-BB Viewer by @liquid8d
Requires All Access account

-BB21 Wiki

-Hamster Twitters
BB USA: chron - members
BB Canada: chron - members
BB USA Celebs: chron - members

-Advice for cast friends/family

-VPN to protect your online privacy





EAST COAST AIR SHOWS

Unfortunately, CanadaTV channel for Roku has been removed


East coast air show live streams:
- 1 - 2 - 3
NO DOWNLOADS OR SIGN-INS NEEDED - BEWARE OF CLICKING POPUP ADS OR WARNINGS




Donations via Paypal are gratefully accepted!


Watch Big Brother
Seasons 1 thru 21
Plus tons more CBS content






BIG BROTHER SEASONS



CBS All Access
Seasons 1 thru 21





BIG BROTHER 21 FEEDS EXCLUSIVELY ON CBS ALL ACCESS
All Big Brother USA seasons + most CBS shows past or present are included
$5.99 PER MONTH INCLUDING 1 WEEK FREE TRIAL or $9.99 AD FREE
COMPUTER - MOBILE - ROKU - CHROMECAST - APPLE TV - ANDROID TV - FIRE TV - XBOX 1/360 - PS4


>> >> >>

>> >> >> >> >> >>

>>

Power Status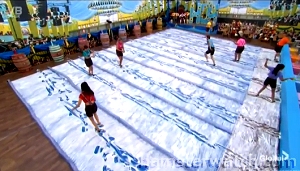 Evicted: Kat 6-1
Head of Household: Jackson
Original noms: Analyse, Christie
Veto winner/outcome: Jackson/did not use
Final noms: Analyse, Christie
Evicted: Analyse 5-1

Alliance charts by @89razorskate20: Day 60 - Day 57

Diary segment tallies by @clamperls4: Latest

Ratings Watch Sunday's show won the hour with 1.3 rating, 6 share, 5.04 million viewers, ahead of NFL Preseason on FOX with 1.1/6/4.36, Celebrity Family Feud on ABC with 0.8/4/4.96, and America's Got Talent rerun on NBC with 0.4/2/2.50.

Wednesday's show won the hour with 1.3 rating, 7 share, 4.52 million viewers, ahead of America's Got Talent on NBC with 1.1/6/8.11, MasterChef on FOX with 0.7/4/3.14, and The Goldbergs and Schooled reruns on ABC with 0.5/3/2.41 and 0.4/2/1.84.

Overnight rating & share: adults 18-49; Rating: % of all TV households; Share: % of households watching TV



Upcoming Events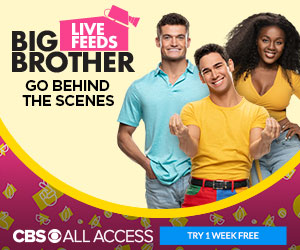 GET THE FEEDS to see the real show!

Through Thursday: Campaigning, crying, eating, laying around

CBS schedule:
Sundays 8pm - Wednesdays 8pm - Thursdays 9pm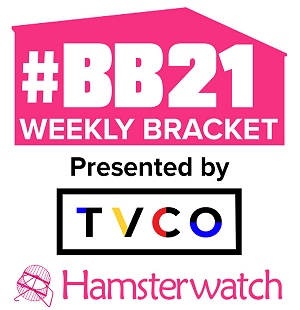 TVCO #BB21 WEEKLY BRACKET

Make predictions and win cash! The #BB21 Weekly Bracket will run all summer long!

Download the TVCO app to watch the TVCO live show, chat, and enter the weekly bracket.

Three chances to play this week:
Wednesday 9pm ET/6pm PT, Thursday 2pm ET/11am PT, Thursday 8pm ET/5pm PT. Good luck!
Click for more info

Congrats to 'ashleylapham' who won $200 last week!



Daily Feeds Recaps
Day 62 - Monday 8/19/19
Christie and Analyse got their faces ready for the veto meeting, planning speeches and still half-expecting a miracle. I don't think I've noticed any nominee speeches on Wednesday veto shows this season. Maybe they'll include them as numbers dwindle and there's less filler, or if someone gives an explosive one. So far that hasn't been the case. Of course Jackson did not use his veto, and these two remained on the block. Jackson made a pitch to Tommy after the meeting to work together going forward, and Tommy said "sure!" Nick also checked in with Jackson after the meeting, as did Cliff. He, Jackson, Holly agreed to meet later with Nicole to formalize their foursome with a handshake.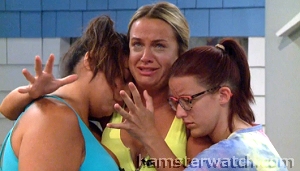 Expect a whole lot of angst, drama, and campaigning until Thursday, as Christie is probably not going to go easily, or quietly. Sure enough, she started up an hour or so later with tears, and then angry ranting to Analyse about Nick running everyone, getting away with everything, and running up to HOH after the meeting (like Tommy did before him - heh). Later, after a Diary call, she cried to Nicole and Jessica about how frustrating everything was. Jackson happily told a story about a frat hazing he attended where a guy with a full beard was dry-shaved, "blood everywhere, no water, no shaving cream, nothing." Nicolefish, who you'll recall died the other day, was discovered still floating in the tank, and being eaten by the other fishes.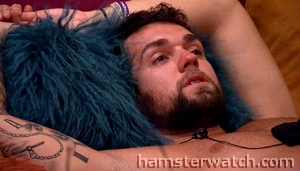 Nick kept up his rants to anyone who'd listen about how loyal and transparent he is. He and Analyse had a marathon session of same and he got loud at one point, almost shouting, between his constant snot snorting. (He eventually hocked some up and spit it out at his feet, while talking outside with Nicole, without even turning aside.) Eventually he petered out and shifted to sniffles and sadness, and Analyse did the same, mourning how "it just sucks that everyone I'm loyal to is leaving." Some might take a life lesson from that about their choices and people they tend to get close to, but she didn't seem like she was going to go in that direction. Meanwhile Nick has spent one day on the block this season, but has acted like he's OTB for 62 days. I've effectively put him on ignore, I just haven't bothered to give him a premature empty wheel. If I did that, I'd hand out three or four others and then I'd have nothing to report on. Feedmasters went full savage on Jackson, shifting from him dozing at the side of the pool to the dead fishie bobbing in the tank.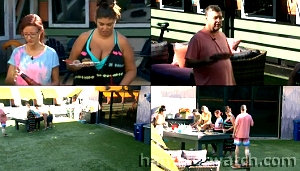 Holly busied herself in the kitchen, looking like mom making snacks for the kids

after school

after day camp, but it turned out she was preparing a BBQ Party. Without the BBQ. She burned the fresh corn they were all excited about, and the bacon, but apparently it turned out okay overall and they all lined up to fill their plates. As they ate together outside, the tension between Christie and Nick was thick, and feedmasters panned back and forth between their grumpy faces. Christie had said she was going to "blow up Nick's game" at Taco Tuesday/gratitude circle/table banging dinner tomorrow but after tonight's meal, the two of them had a talk in the RV room. Christie began by saying "I'm not mad" several times (lie), and they went back and forth about loyalty or not, past history, rehashes, throwing comps or not, and the like. She accused, he denied, round and round, and she said "I'm gonna leave this game suckily early." Nicole eavesdropped for part of it.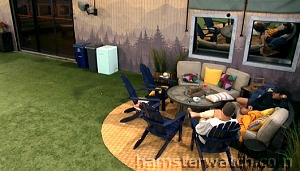 A mystery hit at 8.26pm: Cliff and Tommy were chatting in the backyard and feeds went to fishies. That's not unusual in itself, but the fishies swam until 9.30pm, with After Dark running some other show during that time although @BBADOrwell had tweeted the usual "time to get our #BBAD on" at 9pm. A new Twitter account popped up during the outage saying "someone just blasted this on a loudspeaker outside the house: CHRISTIE AND TOMMY KNOW EACH OTHER" with an audio recording that included Christie Diary saying it could be a horrible thing if anyone finds out they know each other. The recording was way too long and complicated for wall shouting purposes, if indeed it really was played outside the wall (or across the canal). While the account's handle was @bigbrotherover1, its alias was bigbrotheroverheard4024. 4024 is the street number of the studio lot, so that was a nice detail that gave it a bit of credibility, something most trolls wouldn't know or bother with.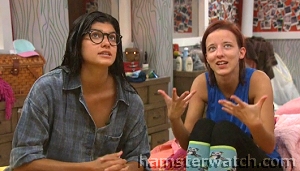 When feeds finally did come back, they'd been locked inside for the Thursday comp build already, when they'd previously been told that would happen tomorrow morning. Analyse was again begging for a power, and Nicole was backing her up. Jackson was sulking at the dining table (with Holly), upset at losing the yard so soon since he likes to hang out and work out at night. Laundry was left out there plus various personal belongings, and Nick reported via Diary those things would be delivered. Later Holly asked Jackson "did you hear what the thing said?" He grunted negatively, and feeds cut to fishies. So maybe they did get buzzed by a wall yeller but if it was the one in the recording, it was too long and complicated to be of any use. A simple "Christie's ex is Tommy's aunt" would have done the trick, and could be easily repeated until a security golf cart comes along. I didn't hear anything on feeds before they cut, by the way. Other than that, Christie had some hands/fingers game she played, Nick retold his earlier convos with her and Analyse, and Nicole announced she can't read and chew gum at the same time. Most were in bed before midnight.

Get the feeds to see it all unfold live and/or with flashback!
If you missed what's come before, click the ever-present "previous Hamsterwatch episode" link way up top for my previous recaps and/or check the feeds updates in Hamsterwatch Forum by @UGotBronx.



Day 63 - Tuesday 8/20/19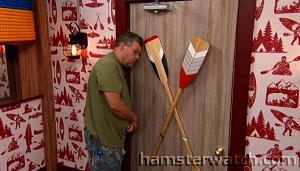 Cliff turned the tables this morning when he was the eavesdropper from his Cliff Notes lounge rather than the eavesdropee. He heard someone go by and into the bathroom and listened to see who it was (Tommy) and if there was gametalk involved (no), and he said for himself "no more gametalk, I've learned my lesson." Prior to that he'd said he's going along with Jackson (and Holly) for now, but thought they were using him. He mentioned the wall yeller last night, saying he thought it was an attempt to disrupt the game but it didn't. (As it turns out, the yeller actually yelled Christie and Tommy own a store together, which they don't, but it did upset Tommy.) And he said Tommy was on good terms with everyone. Christie said she'd had dreams about her ex (maybe so, or maybe a guilt trip for Tommy, I don't know.) Several of them tried to teach Analyse how many days are in which months, and Analyse continued begging cameras for a power.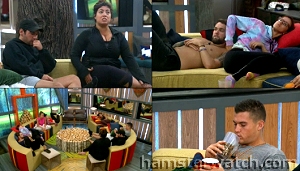 Nick retold his season review spiel, this time to Nicole. Jackson asked Nicole "I hope it still stands that your vote would kinda go the direction.." She asked "which is..?" and he said Christie. Nicole said she wondered if things had changed, either due to his tone of voice, or maybe a little dig that he hadn't bothered to check in with her til now. Analyse checked in with Jackson to confirm Christie was still the target, he said yes, and she made him swear not to tell anyone but Jessica had said she has a deal with Jackson. Nick told Analyse and Holly that Christie had said on Day 33 she didn't want to go to six with the showmances. Christie cried to Nicole how it wasn't fair, and that people who weren't winning anything were making people on each side take shots at each other. (Well, that's just good BB, but the fact she said this to Nicole, who hasn't won anything, was rich.) Several of them whined about being bored and mistreated, and said they deserved a movie. Instead, they talked about dressing the guys up as girls. Jackson and his sunflower seed spittoon said he wasn't doing that again, but they could do his makeup.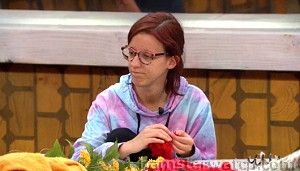 Jessica set up her massage spa at the dining table and gave 40-minute rubbings to Christie, Holly, Analyse, Tommy. Nicole, Tommy plus Analyse picked up where BB20 Sam left off last year, gathering various odds and ends as well as bits of Camp Have-not decor to do some arts and crafts. They eventually made puppets named Azul and Amber. Christie had another lengthy talk with Jackson, spewing her usual spiel, and saying she was going to campaign tomorrow and talk with everyone individually. (As if she hasn't been doing that for four days straight?) She told him about her plan to call out Nick publicly during their weekly Taco Tuesday dinner/gratitude/table banging, and said she wasn't sure if she would go through with it or not. Jackson strongly urged her to do it and she said she might, but she might chicken out. That would be par for our course this season but fingers crossed she does go through with it: popcorn goes nice with tacos, no?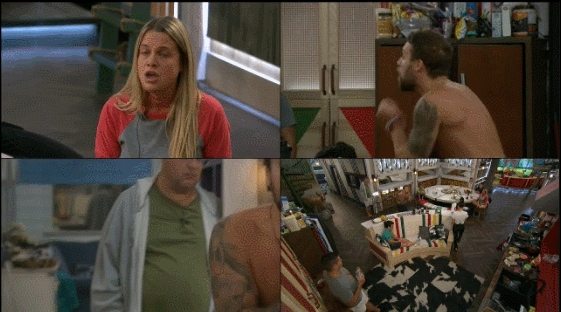 Christie pretty much talked herself out of doing her Taco Tuesday blowup at Nick, and Nick (who knew about her plan) found out from Tommy it probably wasn't happening. But Christie visited Jackson just before dinner and he revved her up again and encouraged her to do it. So she did. Nick, who had just stormed out of Diary, blew up immediately in return, they called everyone together (Christie had wanted to do it that way), and they were off. Christie and Nick shouted and screamed at each other for almost a solid half hour, with a lot of cussing especially by Nick, both of them repeating their loops they'd each given to everyone else individually all week, both denying whatever the other said about them and things they'd done this season, both repeatedly called each other liars, and a good time was had by most. Flashback 8/20 7.52pm and just let it roll, on quads. Highlights were Tommy trying to sink into the floor and gnawing his fingers, Jessica confused and glaring back and forth between them, Jackson snacking and grinning, Holly trying to keep her delayed dinner alive, Analyse trying to stay uninvolved (she even said at one point she wouldn't answer something they wanted her to clarify, so as to stay uninvolved), Nicole watching dumbfounded, and Cliff watching like us.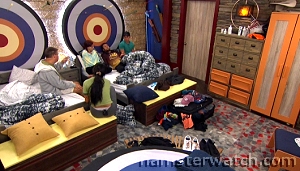 Most of them finally ate their tacos, but there was no gratitude circle or table banging tonight. Jackson dropped and broke a glass during dinner cleanup for the perfect finishing touch. Christie got the first call to Diary and Nick took to his bed, then he was called in when she came out. She apologized to everyone and said she hoped they ate, and she was clearly trying very hard to act and sound "normal." Nicole told Analyse she didn't understand how people can enjoy watching fights like that, and said she didn't appreciate Jackson egging it on and smirking while it happened. As the dust began to settle, a comforting committee gathered around Nick that included Nicole, Tommy, Analyse, Cliff, as Nick continued to rant, rehash, snort, and sniffle.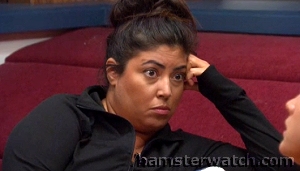 Everyone eventually scattered to their corners and Nick stayed in his bed, mutter-reading his Bible. Several of them goofed about Nicole's and Tommy's puppets and laughed over ice cream, and whispered about the fight in pairs here and there. Christie didn't have a committee but Jessica stayed close to her, whether by design or not I don't know, but Christie continued to work on her and her everlasting deer-in-headlights expressions for a long time. Cliff visited HOH to say he still wanted Christie gone and wanted to know if Jackson did too - he did. Cliff reported that to Nicole, and that they'd reaffirmed they wouldn't put each other up next week, and Nicole said "okay." Christie ran all her loops again at Jackson and Holly, and said she's still going to campaign to individuals tomorrow. They agreed she wouldn't get Nick, probably not Nicole because of Nick, and she said she thought she might be able to get Cliff, Jessica, Tommy. Jackson said maybe not Tommy as he's so close to Nick. Christie actually started to convince them they'd be better off to keep her than Analyse. But Jackson also told Holly he wasn't going to change his mind "on a whim" when he'd wanted Christie gone for weeks.

Get the feeds to see it all unfold live and/or with flashback!
If you missed what's come before, click the ever-present "previous Hamsterwatch episode" link way up top for my previous recaps and/or check the feeds updates in Hamsterwatch Forum by @UGotBronx.



Day 64 - Wednesday 8/21/19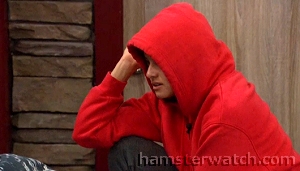 Analyse's morning look probably wasn't inspired by Kenny from South Park, but it came out that way. Nick began retelling and rehashing as soon as he woke up, Christie planned her campaign day, and Analyse told Nicole she was "scarred" by her nomination. Tommy told Nicole a party had been planned in Camp Have-not. Attendance requirements were drinking four cups of coffee, wear something made from the house, and sunglasses. (He was probably joking.) Nicole, who doesn't drink coffee, said "so I'll be blind, hyper, and naked?" Cliff told Nicole that Tommy said Christie got Jackson and especially Holly to do some second-guessing last night (true, they did). Cliff and Nicole agreed to meet later to discuss whether they should change or even split their votes or what. And with that, another Waffle Wednesday officially got underway.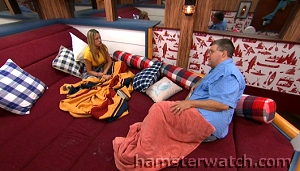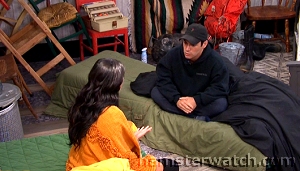 Campaign rounds began in earnest by both nominees, with most talks revolving around Nick. I didn't follow closely and probably won't unless a flip seems to be evolving, which I think is possible but unlikely. As of mid afternoon, it was a lot of shmoozing. UPDATE A flip could indeed be forming. Christie made some headway with Jackson late last night and Holly had been working on him too (she badly wants Analyse gone.) Jackson realized Analyse hadn't promised him anything but Christie had. But he doesn't seem to have realized he gave Analyse his word she'd be safe, and she'll be a jury vote - possibly two, since Jack will only have her version of things for at least a week.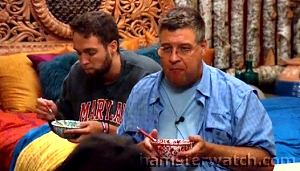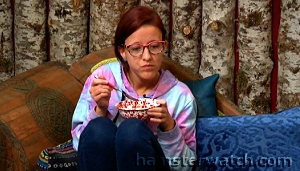 Jackson finally told Nicole around 7pm if it's a tie, he'll evict Analyse, and he told Jessica the same a little after 9pm - keep it in pencil, as always. Campaigns finally took a break, and Holly and Tommy worked more on their little song about everyone. Then everyone clustered in HOH for a cereal party. Yep. A cereal party.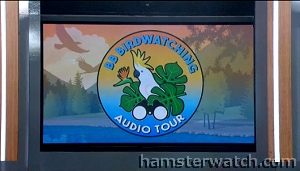 Around 8.30pm a sign appeared on their monitor BB BIRDWATCHING AUDIO TOUR and an announcement was played welcoming them to same. It also said to "pay close attention to the names and calls of the birds because you don't know when they might come in handy." They took that to mean they'll be hearing clues all night for a memory comp, and they were probably right about that. The first announcement came around 9.12pm, with a line about blackbird and crow, with each of their calls, and the same announcement hit again a minute or two later. Around 10.30pm they got red-throated falcon, condor, pink flamingo. Around 11.45pm was male and female parrots. Around 12.53am was wild snow owl and captive snow owl. Each time the announcement was repeated. Nicole, who has a fear of birds, said she wanted to know who decided to use a chicken, a pigeon, and birdcalls this season because she wanted to meet and bitchslap them.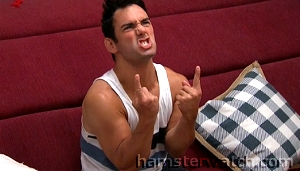 Christie and Analyse compared their campaigns, with Tommy. Well, Christie talked at length about hers and Analyse chimed in here and there with things like "I said that too." When Analyse left, Tommy and Christie finally had a check-in, and Tommy earnestly said he still wants to work with her. She said she wouldn't accept ninth place, they agreed they still want to finish one-two, and he said he's still got to put himself ahead of her - she said "of course." Afterwards he went to HOH and broke down, with Holly and Jessica comforting him. (My guess is he was frustrated at coming this close to being rid of his Christie handicap, and having a guaranteed finals vote, only to have it reversed.) Nicole told Nick about the flip plan, he said he already knew, and he told her about Christie saying she'd nominate the two of them if she wins HOH. Analyse told Jackson in Camp Have-not she was freaking out. He said a lot of words, but didn't commit either way. She broke down, saying "it just sucks because you told me I'd be a pawn." Yep, he did. Analyse sobbed to Holly and Jessica in HOH, and then by herself in the lounge, and to Holly, and to Christie.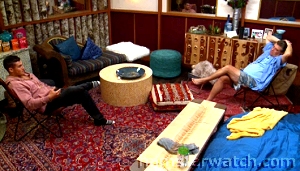 Jackson told himself/us he was happy with the flip because it broke up a final four, got Christie in his corner, pushed out Nick, and may bring Tommy closer. Christie told Cliff she couldn't promise Nicole's safety if she has his vote, but asked him not to share that as it could lose Jessica's vote. He told her he's closer to Nicole than most realize. Cliff took that to Jackson, and asked for some assurance about Nicole. Jackson referred to the earlier convo he and Holly had with Nicole, basically saying she'd been wishy-washy when she asked why she was always in the middle with people wanting her vote. Cliff also told Jackson that Nick wanted to target him and Holly. Jackson gave his word he wouldn't vote out Nicole if she goes on the block as a pawn, and said he couldn't speak for Holly but thought she would do the same. Cliff asked for a handshake deal to bring in Nicole, officially. Jackson immediately went to Nick to ask if he was going to put up him and Holly or Jessica and Christie. Nick asked "is Christie staying?" Jackson said he didn't have a vote, and Nick said a lot of words. Sorry, I simply cannot absorb a thing when this guy speaks.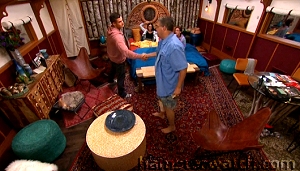 Jackson, Holly, Cliff, Nicole finally met in HOH (again). Jackson and Cliff threw out a lot of hints about working as a team to get farther in the game, and eventually Jackson, Cliff, Holly all said "let's lock it in." Nicole said but what if Christie does this, or devil's advocate that, and they responded to her questions. It was starting to look like yet another pre-alliance meeting without formalizing anything but finally Nicole agreed. They still didn't do a four-way handshake, but Jackson shook Cliff's and Nicole's hands, as did Holly, and Cliff shook Nicole's for a little joke. On the plus side, they didn't name their alliance or come up with a secret hand signal. They talked about the bird signals a bit, and Jackson said "this HOH is gonna be a gladiator battle" - a gladiator battle about bird calls. When they left, Holly pointed out to Jackson that they now had two final fours, this one and another with Tommy and Christie. Each of them got a bit snippy with the other. Nicole had a long talk with Jessica, which included Nicole saying she doesn't like it when Nick lays on her.

Get the feeds to see it all unfold live and/or with flashback!
If you missed what's come before, click the ever-present "previous Hamsterwatch episode" link way up top for my previous recaps and/or check the feeds updates in Hamsterwatch Forum by @UGotBronx.



Ratings - Literary special edition
Ratings are based on entertainment value?
See full bios and social links in cast folder at
Hamsterwatch Forum
Noms count: original/renom/twist


FILLER IS FUN
A trade manual giving reality editors tips about selecting and inserting light moments into drama and angst filled episodes, with an emphasis on chronological unimportance.





Won: 1 week chicken/3 days eggs
HOH 0 - Veto 0 - Noms 1/0/0 - HN 0

EGGS MADE EASY
A non-illustrated cookbook for beginners, with easy recipes for various egg dishes from simple to classic to haute cuisine. The deluxe edition includes a companion pamphlet for parents and other recipients of the finished product(s) with tips for stashing bad eggs into pockets and napkins, plus 15 creative ways to say 'these eggs are delicious!' while sounding sincere.





Won: Whacktivity 3 Panic; 4 days Poison Ivy; Field Trip nominee
HOH 1 - Veto 0 - Noms 1/0/1 - HN 1

IT WASN'T MY FAULT
A gothic, tragic, novelized biography filled with drama and tears, revolving around a wretched heroine who undergoes many trials and tribulations. She fails to understand that she causes all her troubles and blames everyone else for them. Very long, very wordy, and rather dull, it's good reading for interstellar space flights around the universe. Special introduction by her sister.





Won: Revival to Camp Comeback Day 30; Full revival to BB21
HOH 1 - Veto 0 - Noms 3/0/0 - HN 0

HAPPY TO BE HERE
A little manual with tips to live a happy life and enjoy whatever it throws at you. Features daily reminders to share one's thoughts with strangers, remind family members you love them, and tend to your injuries, plus a special chapter of step-by-step prank instructions.





Won: Nothing yet
HOH 1 - Veto 0 - Noms 0/0/0 - HN 0

IMAGE IS EVERYTHING
Not quite a self-help book, this guide to image projection demonstrates the importance of makeup and makeup mirrors to portray an image of one's self rather than one's self, plus multiple style tips for excessive stunt hair. Mostly photos, plus cut-out diagrams to learn random little dance-like moves, and a few word chapters that stress the importance of deflecting any topic back onto one's own image. Filled with repetitive anecdotes and stories about places and experiences from the distant past, plus a bonus audio cassette to learn how to meow.





Won: Camp Director 1st eviction immunity; Field Trip 7th eviction immunity; 24 hrs Alien Doctor
HOH 1 - Veto 2 - Noms 2/0/0 - HN 1

WATERMELON, WATERMELON
A chapter book for young fruit lovers featuring the history of watermelons, tips for growing watermelons and for carving watermelons, plus an extended bibliography of watermelon-flavored and watermelon-scented products of all types. The deluxe edition includes a how-to guide for changing one's image through careful conversation and modified behavior. The latest addition to the wildly successful CUCUMBER, CUCUMBER and MEAT, MEAT series. Note: the once-popular SLOP, SLOP volume is no longer available.





Won: Nothing yet
HOH 1 - Veto 1 - Noms 2/0/0 - HN 1

I'M LIKE, A MODEL
Girls everywhere will love this easy guide to modeling because it stresses the importance of body positivity and likability, along with conversation tips. It also stresses the importance of repetition, and repeating everything you hear, immediately, to the wrong person(s), with many 'likes' inserted.





Won: $5,000
HOH 1 - Veto 1 - Noms 1/0/0 - HN 0

I DON'T KNOW WHAT I'M SAYING
Gritty autobiography of a fast talking, former therapist and his struggle to stop nuzzling and humping everything in sight. Not for the faint of heart.





Won: Nothing yet
HOH 0 - Veto 0 - Noms 0/1/0 - HN 1

HI, IT'S ME
A pleasant book from a pleasant author about being pleasant. This slim volume has caused controversy among some critics for being too pleasant and lacking bite, but it's remained #1 on best seller lists for over 60 straight days, causing some critics to rethink their position on pleasantness.





Won: 4 days Poison Ivy;

1 week

6 days BB Explorer
HOH 1 - Veto 1 - Noms 0/0/0 - HN 1

THE ART OF SHMOOZ
Equally inspired by Sun Tzu's ancient treatise The Art of War and Dale Carnegie's classic How to Win Friends and Influence People, this title teaches simple lessons for gaining trust and friends. Chapters include 'Compliment Like You Mean It,' 'How to Look Sincere,' 'Up Your Getaround Game,' 'Kill Your Haters with Kindness,' and 'When All Else Fails, Put on a Show!' Soon to be a major motion picture.





Won: Hawaii trip
HOH 0 - Veto 1 - Noms 2/1/0 - HN 1

She came in confusing, telling one interview she'd watched for years and another that she just heard of the show. Then on the pre-season audio leak, Christie said she'd put Kat OTB because she was paranoid and annoying. Then feeds started and Kat was a basketcase, crying and freaking out. We found out some of that was due to Jackson's hump 'n dump, and when she wasn't evicted she settled into being the most entertaining of this bunch. She was random and funny, often using self-deprecating humor and making it work, along with ongoing gags about 'conspiring bitches' and Brett. She played a rat floater game but she didn't do it well, and there were a half dozen other rat floaters to maneuver around. She was outside most alliances but infiltrated with the best of them, and her game was great fun to watch, though very, very messy.





Won: Whacktivity 2 Chaos; 24 hrs Angry Alien
HOH 1 - Veto 0 - Noms 2/0 - HN 0

He was cocky and arrogant, and he and Jackson didn't want to talk to anyone who wasn't cool or pretty enough for them. He had a vendetta against Kemi for no apparent reason and he made more than a few racially charged comments about her and David. Julie grilled him about some of those as well as a comment about Bella, like she hasn't done to anyone since BB15 Aaryn. His HOH letter was from his dogsitter, and he called a house meeting to announce nobody could gametalk with the three Camp Comebackers (but everyone did, including him). He referred to bedmate Analyse as his 'game piece' early on to Jackson, and he had a multi-way attraction thing going with Christie and Tommy. He was tipped off about some of his behavior and tried to do better but it was a transparent effort.





Won: Fiji trip
HOH 0 - Veto 2 - Noms 1/0 - HN 1

He was the first outsider to learn the Eight (and the Six) were things, and he seemed content to be their ninth (and seventh) rather than taking that info to the rest of the strays so they could organize and counter. He started strong, winning the first two vetos, but his luck went downhill after that. He planned a nominee speech outing Christie's shady dealings but he blabbed and it got back to Christie and the rest. But that then led to the huge fight before his eviction show that tore the Jacks apart and blew up the Six, so kudos for that. Never mind he could have used that mess to his advantage and maybe stayed. He was a DIARY SHOUTER, he had lots of goofy (sometimes inappropriate) stories, and he was liked by most, most of the time.





Won: Nothing
HOH 0 - Veto 0 - Noms 0/1 - HN 0

She seemed promising in her pre-season interviews but it turned out she hadn't really done the homework recruits should do, and she was quickly in over her head. She blabbed about most every convo she had, and she blew up alliances almost as soon as they were formed. But along the way she mixed and drank gross concoctions including hot dog water and mayo, she told some funny stories and some sad ones, and she and Nick fell in love (once she finally got him to stop lusting for Analyse).





Won: Revival to Camp Comeback Day 23
HOH 0 - Veto 0 - Noms 1/0 - HN 0

She was targeted by Jack and Jackson for no reason we know of, other than naming them as potential nominees in the first days. From then on they were obsessed with her, spreading that obsessive hate to their teamies, and it was so stupid it would have been comical if it weren't so ugly. She kept it classy despite all that, and it's good she had Nicole as a sounding board (and genuine friend) to vent her frustrations. I just wish she and Kat didn't hate each other as they would have made a superb comedy duo.





Won: Whacktivity 1 Nightmare (unused); Revival to Camp Comeback Day 15
HOH 0 - Veto 0 - Noms 0/1 - HN 0

He was a prime example of BB book smarts not necessarily equating to BB street smarts, and he didn't help himself any by being too loud and busy, nor by snitching on alliances to those same alliance members. Analyse accused him of being creepy with her but there was no evidence of that. He's done great things out here and will undoubtedly do more, so it was probably for the best that he got out of that snakepit sooner than later.





Won: First 2 weeks in sequester; Revival to Camp Comeback Day 15
HOH 0 - Veto 0 - Noms 0/0 - HN 0

He got the rawest of BB deals, the first night boot, and then he was locked in a hotel room for two more weeks. He showed a quick and accurate read on everything when he re-entered the habitat and was probably the only one of the Comebackers with potential to do some real damage if he'd won the comp to re-enter the game, but it wasn't to be. His and Kat's flirtation was fun to watch. He could and should have been a contender but instead he got the boot twice, and without any noms or votes to evict.



Lines and Links of the Day
Lines

Nick: I know this is being sour, but could you imagine being Gr8ful right now, and this is our eight? This is where we would have gotten to eight
Tommy: Wowwww
Cliff: Well, best laid plans of mice and men

Christie: I just feel like my days are numbered

Nick to Christie: Manifest the truth, bro!

Christie to Nick: I'm not shitting on your game

Christie: Congratulations, happy Taco Tuesday, now my campaigns are spoiled for tomorrow, everyone

Holly: Dinner and a show

Jessica over tacos: Okay, shall we do a gratitude circle?

Analyse: I guess I'm just like kinda scarred by nominations

Cliff to Christie: [Analyse] hasn't won anything, she's just been the doorstop



Links

GET YOUR FEEDS includes a free one-week trial

#BB21 Weekly Bracket in partnership with @TVCO - enter online and/or download their app

Julie extended interview with Kat

Use my link for any Amazon Canada shopping, anytime, at no extra cost - just start your shopping trip by clicking Amazon Canada



Tally Items
Extracurricular Tally

Booze deliveries:
-Move-in champagne
-July 1
-July 4
-July 6
-July 30
-August 7 halfway party
-August 12

Major fights: 2
-8/1 before live show (leaked video/not on feeds)
Christie, Jackson, Holly, Kat, Jack plus Tommy, Analyse
-8/20 7.52pm Nick vs Christie

Minor fights: 4
-Bella vs Kemi 7/11 7.24pm
-Jackson vs Kat 7/14 approx 7.45pm (not on feeds)
-Bella vs Jack 7/21 show (not on feeds)
-Analyse vs Holly 8/15 2.12am

House meetings: 4
7/3 6.37pm called by Jack
7/22 8.25pm called by Sam
7/24 12.49pm called by Tommy
8/20 7.52pm called by Nick and Christie

Revive-a-Hamster full returns: 1
Cliff

Revive-a-Hamster Camp Comebackers: 4
-David
-Ovi
-Kemi
-Cliff

Nominee speech scorchers: 3
Kemi 7/11
Bella 7/25
Kat 8/15

Blindside evictions: 1
Cliff

Unorthodox peeing incidents: 1
Jackson 7/25 HOH comp

Planned veto hosts bumped for alums: 4
-Tommy, bumped for Kaycee
-Nick, bumped for Tyler
-Holly, bumped for Kaitlyn
-Analyse, bumped for OTEV

Pinkyswears: 12
-7/12 11.54pm Cliff/Nicole
-7/14 4.26pm Kat/Jessica
-7/16 4.05pm Kat/Holly
-7/18 12.29am Kat/David
-7/18 1:04am Nicole/Kemi (retell by Nicole)
-7/20 10.11pm Sam/Holly
-7/26 12.01am Jackson/Holly
-7/26 10.21pm Kat/Holly
-7/29 8.00pm Sam/Nicole
-8/8 2:02pm Kat/Nicole
-8/9 2.49am Tommy/Nicole
-8/9 8.42pm Kat/Nicole

Broken habitat parts: 6
-Tommy broke the backyard boat lounge chair
-Jack broke the lounge door
-Cliff and Christie broke an awning
-Cliff broke the living room platform floor
-Julie broke her stool at Kat's eviction
-Analyse, Christie, Jessica broke another backyard lounge

Injuries, illnesses etc: 19
-Sam's hemorrhoids
-Analyse broken glass in her foot
-Jackson's hurt ankle in 7/6 veto (and subsequent flareups)
-Nick's back zit/cyst
-Jackson's chipped teeth from grinding
-Holly's mysterious rash
-Cliff's hurt calf in 7/20 veto (and subsequent flareups)
-Christie's bleeding butt
-Jackson's bleeding butt
-Jackson's oozing infected thumb
-Jackson's food poisoning
-Nick's motion sickness from 8/3 veto
-Kat's jammed pinky toe
-Tommy's sore neck from his Space Explorer hat
-Jackson's rolled foot
-Cliff's sore elbow, forearm, back from 8/10 OTEV veto
-Holly's banged head while piggybacking Jackson
-Jackson's stubbed 'ring finger toe'
-Tommy's accidental protein bar bite (nut allergy)

Scandals outside our BB world: 7
-Jack
-Selective editing of the Jacks + racial optics
-Jackson's [alleged/likely faked] domestic violence record
-Jack's 'rice pudding' comment
-Jackson
-Kemi asked by Diary to talk like a stereotype rather than herself
-Sheep used for 7/27 veto comp

Funerals: 1
6/29 12.05pm For the fishies

Hamster birthday parties: 2
-Kemi and Jack
-Tommy

Non-hamster birthday parties: 4
-Cliff's son
-Nicole's dad
-Tommy's dad
-Jackson's dad

Makeout pairings: 3
-Bella/Nick
-Analyse/Jack
-Holly/Jackson

Sex events (minimum): 16
-Pre-feeds Jackson/Kathryn (3x)
-7/6 11.48pm Jack/Analyse
-7/7 2.33am Nick/Bella
-7/8 3.29am Jack/Analyse
-7/10 1.56am Nick/Bella
-7/16 1.43pm Jackson/Holly (Holly retell)
-7/19 5.56pm Jackson/Holly
-7/21 10.33am Jack/Analyse
-7/21 1.33am Jackson/Holly
-7/29 8.17pm Jack/Analyse (Analyse retell)
-8/3 2.28am Jack/Analyse
-8/4 11.33pm Jackson/Holly
-8/5 11.11pm Jackson/Holly
-8/12 3.03am Jackson/Holly

Breakups: 4
-Jackson dumped Kat
-Jackson dumped Holly (didn't take)
-Jack and Jackson dumped each other
-Bella dumped Nick? maybe (from home)

Premature exits: 1
David

Pre-existing relationships: 3 confirmed/discussed
-Christie/Tommy (longtime friends + she dated his aunt 7 years)
-Holly/Kat (acquaintances, with numerous mutual friends)
-Holly/Jackson (Instagram + mutual friends)

Pre-season cast leaks: 1
Sam was seen getting his key with his truck

Pre-season fanbase + alum dramas: Too many to list


Production Goofs

1 Wrong URL for Ovi's dog's Instagram in official bio
2 Misspelled Kemi's last name
3 Misspelled Jack's first name in press pics
4 Misspelled Holly's last name in press pics
5 Julie misspelled Orwell
6 Multiple veto history errors, plus misspelled 'introductions'
7 Misspelled 'houseguests,' and Nick's and Kemi's (again) last names
8 Sloppy photoshop job pasting in David
9 Misspelled 'brushing'
10 Timestamps on 6/25 feeds peek were wrong/screwy
11 Bad spacing for Ovi's home town, should be two words: Oak Ridge
12 Random Celebs 1 finale shot popped up on feeds
13 Gave Holly wrong last name in press pics
14 Mixed up veto draw with veto meeting on highlights caption
15 Misspelled Nick's last name in press pics
16 Misspelled Analyse's first & last names in press pics
17 Misspelled Ovi's first name in press pics
18 Misspelled Christie's first name in press pics
19 Misspelled 'winning' on Instagram post
20 HOH info still not updated from Battle of the Block era
21 Diary name label mixed up Jack and Jackson
22 Misspelled BB20 Brett's name
23 Press pics posted/spoiled veto results the morning of the show
24 Misspelled Isabella's first name and omitted her last in press pics
25 Gave Nicole wrong last name in press pics
26 Tweeted the show starts 'now' an hour early
27 Panic comp roaches and staffers seen on feeds
28 Mislabeled Sam and Kat in press pics
29 Mislabeled Kat three times in press pics
30 Posted a BB tweet from Amazing Race account
31 Misspelled Big Brother plus a new Ovi variation in press pics
32 Narrator made Jackson and Michie separate people, on 7/21 show
33 Gave Cliff's parents the wrong names, on Facebook
34 Episode description repeats narrator's names goof
35 Mixed up nominees with evictees
36 Faulty math
37 Misspelled Christie's name on her Poison Ivy outfit
38 Cliff's timer went backwards on 7/24 veto show
39 Field Trip ballot had Bella as an option (a week after her eviction)
40 Mixed up 'going home' with 'going to jury'
41 Mislabeled Jack in press pics
42 Misspelled Jack's last name in press pics
43 Series of feeds glitches 8/8-8/9 around midnight
44 Forgot to change to new Wednesday time
45 Feeds timestamp off by 27 minutes + severe freezing all day
46 Staffer reflection seen on feeds
47 Posted the wrong show on BB's Youtube
48 Mixed up Kat & Christie, misspelled evictee, wrong show time
49 Misspelled Analyse's name again/still, two different ways
50 Short Diary audio leak with Nicole
51 Misspellings in edited horror movie captions



Season Stats
HOHs in order: Christie; Jack; Nick; Cliff; Holly; Jessica; Tommy; Jackson

Veto winners in order: Sam; Sam; Kat; Jackson; Nick; Jessica; Tommy; Jackson

Evictions in order: David via twist; Ovi 12-0; Kemi 10-1;

Cliff 6-4

; Bella 8-2; Sam 9-0; Jack 6-2; Kat 6-1

Cast Twitters: @analysetalaver; [Christie TBC]; @cliff_hogg; @davjalex; @MissHollyAllen; @BellaWang21; [Jack TBC]; [Jackson TBC]; @jmilagrosplus; @itskathryndunn; @kisseskemi; @N_Maccarone; [Nicole TBC]; @TheOviKabir; @bb21_sam; @TommyBracco







Linking to any page here is fine. Please don't repost content from this site (or any other) without permission, and don't repost or hotlink images.



THE REAL SHOW IS THE FEEDS

Live air shows in many areas
BB1 thru BB21 plus Celebs and OTT, and many other CBS shows

PROTECT YOUR ONLINE PRIVACY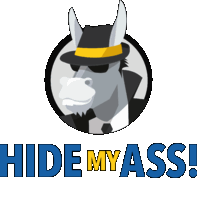 Anonymously secure your internet connection with HMA! Pro VPN - connect to our VPN service to anonymously encrypt your internet activity from prying eyes



HAMSTERWATCH SWAG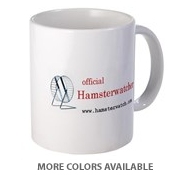 Mugs, shirts, more
Visit my Cafe Press shop






Big Brother 21 SEASON FAQ


Day 1 Move-in was June 19
Day 7 CBS premiere was June 25
Day 8 Feeds began June 26
Day 99 Finale is September 25

Feeds are streamed by CBS, and Flashback is accessible via All Access subscription. Call 888-274-5343 for account help, including cancellation.

*Effective July 10* Air shows on CBS (Global in Canada) are Sundays 8pm, Wednesdays 9pm, eviction Thursdays 9pm.

Big Brother After Dark on Pop TV will be every night midnight to 3am (an hour later on Wednesdays and Thursdays). The aired blocks are live (or recorded earlier the same night, depending on your cable provider).

The CBS app (by CBS Interactive) plays BB air shows and other CBS shows, as well as feeds, or you can use your browser to watch feeds on mobile devices. The same All Access link used to subscribe will lead to the feeds viewing page if you're already signed up.

BB21 finalist prizes are the same: $500k for the winner and (probably still) $50k for 2nd place. Stipend for the others to be confirmed if/when they mention it on feeds. Top finishers get bonuses again this season, amounts to be confirmed.

The habitat has 94 HD cameras (no change) and 113 microphones (no change).

The recorded in-house announcements are the voice of producer Don Wollman. He and Julie Chen are the only staffers who have been there since Big Brother 1.