This site is about the Big Brother 21 feeds and contains spoilers! It isn't necessarily thorough: it's what I catch and/or what interests me. It's about watching hamsters: who's doing what and why. Thanks for encouraging my behavior.
Your pal, dingo



WIN CASH PRIZES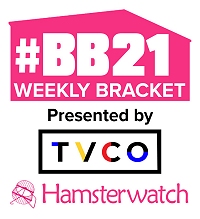 Click for more info
and to enter!





BB21 DRINKING GAME


Take a swig whenever someone says their pre-season cast impressions were wrong - take two if you said that







WHACKTIVITY COMP RESULTS



Week 1 Nightmare
Bella, Cliff, Kat, Nicole, Ovi
-Ovi can secretly force HOH to name two new nominees after one of first six noms ceremonies

Week 2 Chaos
Holly, Jack, Jackson, Sam, Tommy

Week 3 Panic
Analyse, Christie, Jessica, Kemi, Nick







QUICK LINKS & BOOKMARKS



-SIGN UP for feeds
-WATCH the feeds after you're signed up - disable ad blockers

-BB21 official site
-Live show tickets

-Feeds updates by @UGotBronx

-My Twitter - my screencaps

-Dick at Night with @EvelDick

-BB Viewer by @liquid8d
Requires All Access account

-BB21 Wiki

-Hamster Twitters
BB USA: chron - members
BB Canada: chron - members
BB USA Celebs: chron - members

-Advice for cast friends/family

-VPN to protect your online privacy







EAST COAST AIR SHOWS



Unfortunately, CanadaTV channel for Roku has been removed


East coast air show live streams:
- 1 - 2 - 3
NO DOWNLOADS OR SIGN-INS NEEDED - BEWARE OF CLICKING POPUP ADS OR WARNINGS




Donations via Paypal are gratefully accepted!


Watch Big Brother
Seasons 1 thru 21
Plus tons more CBS content






BIG BROTHER SEASONS



CBS All Access
Seasons 1 thru 20





BIG BROTHER 21 FEEDS EXCLUSIVELY ON CBS ALL ACCESS
All Big Brother USA seasons + most CBS shows past or present are included
$5.99 PER MONTH INCLUDING 1 WEEK FREE TRIAL or $9.99 AD FREE
COMPUTER - MOBILE - ROKU - CHROMECAST - APPLE TV - ANDROID TV - FIRE TV - XBOX 1/360 - PS4


>> >> >>

>> >> >> >> >> >>

>>

Power Status
Christie is Head of Household
Cliff and Kathryn were nominated
Sam won veto, used on Cliff
Kathryn and Ovi are nominated

Ovi can secretly force HOH to select two new nominees after one of the first six noms ceremonies - 5 to go

Jackson had first eviction immunity
David was evicted/banished, possibly temporarily
Nobody is Have-not

Alliance charts by @89razorskate20: Day 13 - Day 12 - Day 9

Diary segment tallies by clamperls: Latest

Ratings Watch Tuesday's show placed second with 1.0 rating, 6 share, 4.46 million viewers, behind America's Got Talent rerun on NBC with 1.0/5/6.74, and ahead of Spin the Wheel rerun on FOX with 0.5/3/1.94, and The Conners and American Housewife reruns on ABC with 0.4/3/2.81 and 0.3/2/1.80.

Sunday's show won the hour with 1.0 rating, 6 share, 4.48 million viewers, ahead of Celebrity Family Feud on ABC with 0.8/4/4.89, America's Got Talent rerun on NBC with 0.5/3/3.33, and The Simpsons and Bob's Burgers reruns on FOX with 0.4/2/1.06 and 0.4/2/1.08 respectively.

Rating and share: adults 18-49 - Rating: % of all TV households - Share: % of households watching TV


Upcoming Events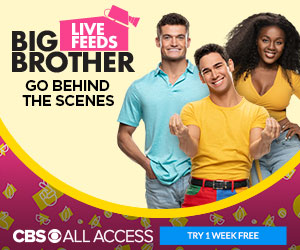 GET THE FEEDS to see the real show!

Thru Wednesday: Scrambling, paranoia, gossip, drama
Thursday: Feeds blocks for show rehearsals, live eviction (or not), and "something that has never happened"
Thursday night: HOH room and letter

Initial CBS schedule, thru July 7: Sundays 8pm - Tuesdays 8pm - Wednesdays 8pm

Regular schedule, effective July 10: Sundays 8pm - Wednesdays 9pm - Thursdays 9pm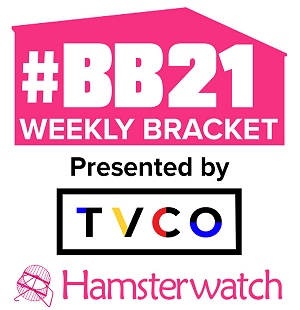 TVCO #BB21 WEEKLY BRACKET

Congrats to @maximusmom22 winner of $250 cash prize!

Winner of the Twitter contest was announced on the first TVCO live broadcast, which started 9pm Eastern/6pm Pacific after the veto show aired in the east on CBS.

You can still win! The #BB21 Weekly Bracket will run all summer long! Download the TVCO app to watch the TVCO live show, chat, and enter the weekly bracket, or play online. Good luck!



Weekly Headlines and Daily Feeds Recaps
Evicted: David
Head of Household: Christie
Whacktivity: Nightmare - Ovi
Have-nots: None
Original noms: Cliff, Kathryn
Veto winner/outcome: Sam/used on Cliff
Final noms: Kathryn, Ovi
Evicted: TBA



Day 11 - Saturday 6/29/19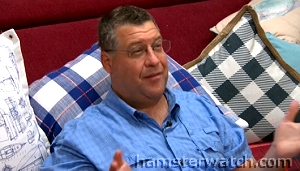 Cliff had his morning chat with us, with another shoutout to the RHAP crew, and he said everything's kumbaya now but drama is coming - and as a feedster, that's what he likes to see. He said he felt he's in good position with everyone except Jessica, and that's only because he hadn't talked game with her yet. He sent love to his family, and gave a shoutout to George Strait, saying his theme song is Strait's "Troubadour." A bit later Jackson approached him to work together, possibly with Kat and Holly as a Southern contingent, and they shook hands on it.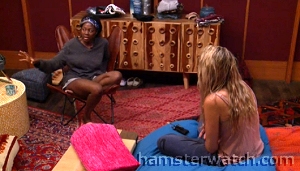 Holly told Analyse and Christie she thought Bella's going to stir things up and start terrorizing like Evel Dick out of boredom. Analyse said "I dare that bitch to terrorize me." Christie talked with Nick about the renom, saying she still wasn't set about Kemi and was considering Ovi again. Nick said he'd be okay with that, but added Ovi had been behaving better and more like he'd been the first days. Christie then had a long talk with Kemi, including game and socializing advice. To me it seemed like too positive a convo for her to then put up Kemi, plus she named Ovi as an option, but we'll see.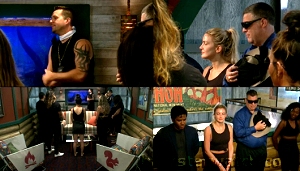 Still no sign of the veto meeting, but they held a funeral a little after noon for the fishies who have died already. Everyone dressed up, give or take, Sam officiated, and they all shared their memories of the departed. Then they actually sang "Kumbaya" which in turn brought us fishies, ironically. You'd think production would have cleared that song like they finally have "Happy Birthday" because of the camp theme, but no.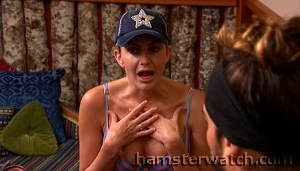 Jack went in hard interrogating Kat about whom she's said what to, especially questioning if she'd said Jack had approached Kemi to talk. Kat crumbled, got defensive, apologized profusely, and nearly cried. That went several rounds, with both Jack and Jackson telling her not to apologize, they just wanted to get things clear. Kat retold at length to Holly in a very whispery convo, and they agreed Jackson was the better bro, "an idiot but a genuine idiot" as opposed to "Jack's a snake," and they hoped Jackson take out Jack, and they could see going to F3 with Jackson. Along the way, Kat told Holly she's "a very beautiful older woman" - reminder, Holly's 31 and Kat's 29. A few more rounds ensued, like they do, with both Jack and Jackson telling Kat she's safe this week but she needs to chill.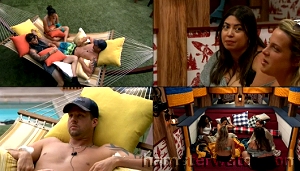 Many rounds of Renom Roulette followed all that, along with more rounds of Jackson telling Kat to calm down. Christie cried to various people in various combos about her frustration that she's playing Jack's game, it's The Jack Show, and he's brainwashing everyone, and she has nothing against Kemi or the other renom options. Jack had previously strenuously reminded her that he trusts her implicitly and their partnership is solid, and she may have believed that as she said several times to different people she won't "backdoor" him despite all the frustrations about him she kept announcing. She finally called Sam up to HOH, hoping to persuade him not to use the veto, but he'd already told Cliff he'll use it on him. He told her he really wanted to use it on Cliff, and they wondered if they have the votes to evict Jack, but they ended up with Ovi as renom (keep it in pencil!) Cliff told Christie to act surprised when he uses it, same as he told Cliff. Later he separately told Nick and Bella, and also told them to act shocked.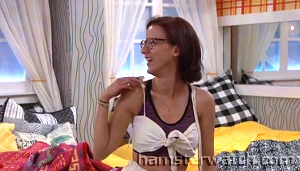 Bella and Kemi had Nicole try on some of their clothes, and they whooped it up about how good she looked in them. Bella told her to keep her zebra dress and got Nicole to promise to wear it to finale if she's a finalist. Tommy taught Nicole and Jessica some dance moves. Jessica did great with them and Nicole wasn't bad, but she kept laughing and stopping. Kat had some more crying sessions including one to Jessica where she said she wanted to go home, and also that she asked to go home but they wouldn't let her. I'm taking that one with a grain of salt: they do obviously try to talk them down if they want to leave (and remind them of their contracts, stipend, and post-show perks and promo), but it isn't prison. Jack told Cliff that she tried to quit, and Cliff said he hates that, "you never quit." Later Jackson complained that she was driving him nuts.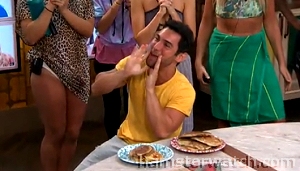 Tonight's birthday party was for Tommy's dad (possibly Christie's ex's brother? Obviously she could only participate with the group rather than send him a personal birthday greeting.) They sang and shared pancakes, then had a round of tell-what-you're-grateful-for. Later Jack complained about Kemi saying she was grateful for the oceans, and he, Jackson, Nick made some inappropriate comments about Nick's plans for Analyse in jury house, Jessica's size, and something about "midgets". I don't think this cast has hit TMZ yet but I'm expecting it any day now. Meanwhile some so-called "fans" have been busy contacting hamster workplaces and down-voting their businesses, giving us all a bad name.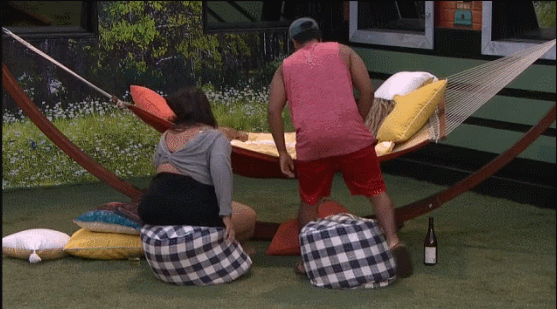 Christie held an M&M draw to share her HOH wine and Jessica won, with fun results. Ovi and Tommy had a long hammock talk about BB and how long each has watched. Ovi talked enthusiastically about some of the good works and projects he's been involved with, which was refreshing. Tommy said GinaMarie gave Staten Island a bad name, and he thinks that made it hard for him to get cast. He added he's proud to rep both Staten Island and the LGBT community here.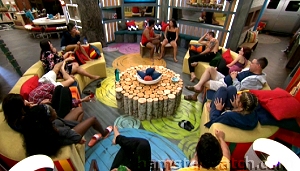 Christie held a meeting with Jack, Jackson, Holly, Analyse and retold her day, her talk with Sam, and repeated her spiel about not wanting to put up Kemi or play anyone else's game, etc etc - the same spiel she'd been saying all day about Jack, but to Jack this time. She was about to tell them Ovi would go up when Ovi joined them. I didn't stick around for the rest of it, but I'm sure it'll end with "act surprised" and "don't tell anybody." The Snapchat glasses came out around 1am - odd - and they all did improv shows for an hour or so afterward.

Get the feeds to watch it all unfold live and/or with flashback! If you missed what's come before, check the feeds updates in Hamsterwatch Forum by @UGotBronx, and/or the ever-present "previous Hamsterwatch episode" link way up top for my previous recaps.



Day 12 - Sunday 6/30/19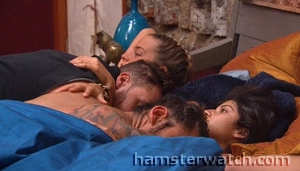 Apparently they have an HOH bed pileup every morning. I think being into cuddling has to be a casting requirement, along with being able to talk nonstop and repetitively about anything, especially themselves. Cliff arrived with his coffee to say good morning and piled on to join them for a minute. Later Christie told Sam and Tommy she'd rather have her morning wakeup time alone, but she goes along with it.

The Jacks griped about Kathryn, saying all she has to do is put on sunscreen, go outside and be on vaca, but no. Bella and Tommy also wondered what Kat's deal is, and said they aren't happy with Jack overall but sticking with the group is eight is good for now. Bella wondered why Christie had been saying the renom would be either her or Ovi.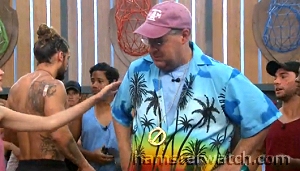 Feeds were down about an hour for the veto meeting, and came back while they were still hugging - a good precedent for the season! Sam used his veto on Cliff and Christie put up Ovi in his place, as eventually planned. Christie pulled Ovi into her room and said she only decided in the last half hour, because Kat's been such a mess and asking to go home. Ovi said he was blindsided, and broke down as she monologued at him, and she told him he'll be safe, that Kat will go. Christie later told Kat it'll be unanimous for her to stay, unless someone throws Ovi a pity vote. Jackson later told Ovi he'll vote to evict him out of loyalty to Kat and/or pity vote, but he said he'll be the only one. Jack pulled Bella aside to say he'd put up Kat and Kemi if he wins HOH and not her, as he heard she'd been told. The lies and scrambles carry on and on, like they do.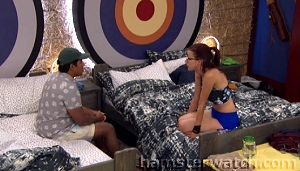 With the pressure finally off, most of them recuperated from the last few days of chaos by hanging out in and around the pool during the afternoon. Kemi, Nicole, Jessica did a pantry dance to celebrate Kemi's safety. Ovi sat down to talk with Nicole about votes and strategy going forward. Both agreed Christie looked surprised when Sam said he was using veto, so her acting there was successful - at least for Ovi; I don't know if Nicole knew it was coming or not. Ovi was still trusting Jack when he shouldn't, and Nicole gave him a hug at the end saying she can fix his situation. The revised sixsome of Analyse, Christie, Holly, Jack, Jackson, Tommy discussed names for their alliance. Several tried to fry an egg outside as the cliché goes, but it wasn't hot enough. That was after much bashing of Ovi the other day for "wasting" eggs to make cookies for everyone. Kat told Holly she'll go along with a girls alliance but she didn't think it's a good idea, and she also told Holly that all the girls had turned against Jack, and Holly said Christie had said Jack was gunning for Jackson.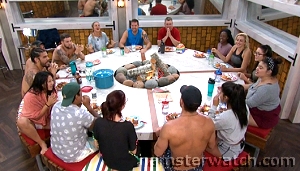 Tonight's birthday party was for Jackson's dad. They all sang, Jackson talked a bit about his dad's life, and they had another family dinner. On the show, we learned about the first Whacktivity power and that Ovi won it: see left sidebar and/or Power Status section up top, where it'll remain while still in play. Meanwhile he started his rounds for votes, and Kat told Jack she thought Kemi was trying to flip the house to boot Kat. Jack said Kemi "has no idea how to play this game" and "everything she says is manipulative as fuck."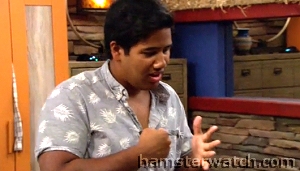 Ovi continued his rounds and asked for votes, and believed what he was told. He said to himself/us he had Nicole, Cliff, Tommy, Sam and if he could get Jack and Jackson, he'd probably be okay and wouldn't need Kemi, Bella, Nick since Christie said she'd break a tie to keep him. He's wrong, as of now, and later Christie told Jack, Jackson, Nick, Analyse, Tommy to just keep leading him on but they'd let him know before the live vote that he'd be going. It's ages til then though and much could change. Cliff told Ovi if it looked like a landslide, he'd have to vote with the house and he hoped Ovi would understand - he said he would.

Jessica reported the HOH bathroom was flooded, and Nicole and Kat helped her sop it up with towels. Analyse, Christie, Holly, Jack, Jackson, Tommy settled on Six Shooters for a name, and Bella, Jessica, Kemi, Nicole formalized Black Widows. Jackson told Analyse he doesn't want Ovi to "watch the show and be like that fuckin asshole, wow they were just total dicks playing me," and then he went on to bash Kemi some more. His Kemi loop tonight included "she's a tumor, she's a cancer in the house." Jack later said he wanted to "stomp a mudhole in her chest." It's ridiculous and horrid and ugly, and it's escalating daily.

Get the feeds to watch it all unfold live and/or with flashback! If you missed what's come before, check the feeds updates in Hamsterwatch Forum by @UGotBronx, and/or the ever-present "previous Hamsterwatch episode" link way up top for my previous recaps.



Day 13 - Monday 7/1/19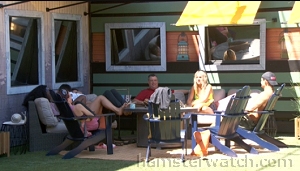 Cliff included this site along with several others in his morning chat, saying he'd spent many hours here - hey Cliff, hey! He also dropped some bait about keeping Ovi, and Bella said Ovi had been with Jack from the beginning. Later he told some of his scary travel stories while he was showering, which added an additional surreal element to them. Some replacement fishies arrived, and the HOH bathroom continued to flood. Christie said Jack should do his braids "a little ghetto," and that Jack said "girls like Nicole don't normally get to talk to guys like me." Christie griped to Bella and Nick about Jack's behavior, particularly overstaying with Jackson in her room and "slut shaming people, food shaming people," and said if he keeps bashing Kemi she'll call him out next week after she (Christie) wins veto, which she has guaranteed to do.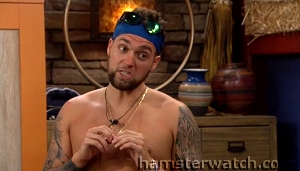 Nick told Jack and Sam (at Sam's urging as he'd already been told) that Ovi told Kemi, Bella, Jessica "we're both people of color, we need to stick together" (Ovi and Kemi), "pulling that fuckin card." Sam said that makes the rest of them look bad, and Nick said "it's fuckin bullshit." It sounded like Jack was given a talking-to by production to watch what he says, and the content disclaimer seems to be popping up more often when switching feeds, as petitions to remove Jack from the show gathered momentum and began circulating outside our insulated BB world: onto the tally he goes. Later Jack asked Kemi about her interest/passion about ocean pollution that she mentioned at the birthday gratitude circle the other night, and she talked to him about it. Reminder, he made fun of that after the fact the other night, so it sounded like he took his Diary scolding seriously.. time will tell.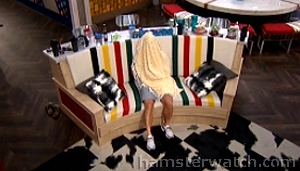 Tommy suggested a game of hide and seek and rallied everyone in the lounge to get up and play, saying "we can't be a boring season!" It kicked off around 5.25pm, and Tommy blanketed on the kitchen seat to count to 100 while most of them hid. He found most of them pretty easily, including Holly, but he didn't acknowledge finding her. Afterwards they went outside (the backyard had just opened after a lockdown due to some shouting heard out there), and they agreed to let Holly stay hidden. Nicole tipped her off and she came out. They only played the one round, and went back to psst-pssting, gossiping, and socializing. Sam talked at length to Jack, Holly, Kat about his background and family, which was interesting.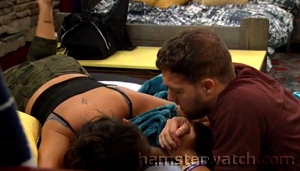 Bella and Nick had a spat about all the cuddling he's been doing with Analyse, around 8.24pm. (Reminder, Nick has told people he and Bella made out and did some touchy-touchy pre-feeds.) He countered rapidly that it's a game, he can't shun anyone, he flirts with everyone, they'd agreed to put the brakes on, and etc etc. Kat eavesdropped at the door but didn't stay long, and she told Jessica "they're just fighting, whew" (rather than conniving against her). Nick went on to tell Bella to tell him if she gets upset, he's very understanding, etc and when they finally wrapped it up, he said "shall we smooch while we have a chance?" He jumped on her, she squealed, and then he fell off the bed. On their way out, Bella told him about the Black Widows alliance formed last night. Nick immediately went to retell the spat to Tommy and Sam, but he omitted that last part. Later he did whisper to Sam about it while Tommy was telling a funny story.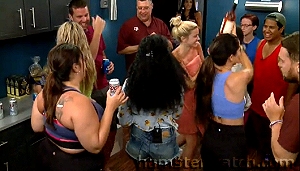 Kemi got stung by a bee, her first time, and a bit later found one in her hair. They finally got their first booze delivery since feeds started, and they all piled into the pantry to scream about it. Speakers and earbuds were blown out around the fandom. Jackson was in Diary but they saved him some beer - he got the outside potty key to poke a hole and shotgunned two of them in a few seconds each, impressing all the sipping bystanders. Christie told Jack he did well talking with Kemi today, and he said he hated every minute of it. Meanwhile Jackson bench-lifted Kemi, with Cliff and Sam spotting. Kathryn leaned into and hugged Jackson and told him to "stop being responsible, be reckless" - he didn't respond, or lean or hug back. Later Jackson griped to various people that Kat's become "territorial," and he and Jack said if she doesn't win HOH next week she'll go on the block again. They referred to her as "Jackson's game piece" and Jackson said they'd hooked up three times.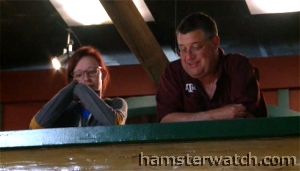 Nicole and Cliff looked down from the balcony and discussed the nominees. Both agreed they'd prefer Ovi stay, and he "deserved" to stay more than Kat, but it would be better for them game-wise if she stayed. Ovi campaigned and counted votes to the Jacks, and it was sad. Holly broke a glass outside early on, and Analyse stepped on a piece of broken glass inside later: a first aid committee formed.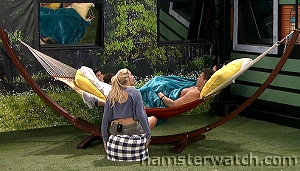 Nick and Bella apparently made it up and snuggled in bed, and Sam told ghost stories. Holly sat by the hammock as Jack/Analyse and Jackson/Holly snuggled, and Jackson said the five of them can be called Stage Five. The four laughed when Kat stepped away because there's already been a Stage Five this year. (Never mind that it looked more like a Fifth Wheel situation.) Ovi kept up his campaign rounds - to Sam, and to Cliff and Nicole - probably pointlessly, but there's still two days to go and things could change.

Get the feeds to watch it all unfold live and/or with flashback! If you missed what's come before, check the feeds updates in Hamsterwatch Forum by @UGotBronx, and/or the ever-present "previous Hamsterwatch episode" link way up top for my previous recaps.



Day 14 - Tuesday 7/2/19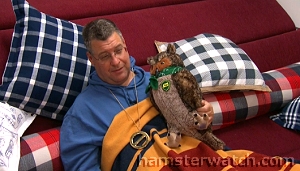 Cliff was up extra early, temporarily, to give us his chat with help from Orwell. He wore his veto necklace but that was for our benefit: he said he didn't want to swagger around the house with it, but he was very grateful it was used on him. He said he was missing his morning updates and not knowing what was going on everywhere, and said it was strange knowing that he's a subject of discussions now.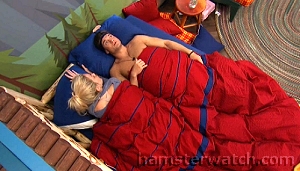 Kemi retold about Jack's cracks about her making avocado toast and how he didn't want "that much fat," the story he'd already scornfully told his crew before his Diary talking-to. Jackson had another annoyed talk to Kat about how hard he's working, how she needs to learn the game and stay calm. (She has been calm for the last couple days from what I've seen, so I don't know what set off on this spiral in motion again.) Jackson retold to Analyse and Holly, and got heated with frustration doing, and Kat cried to Holly about it, saying she felt bad that Jackson got so upset. Jackson and Kat had another round in the pantry with Jackson telling her it was all "for your own good" and he has "zero emotion in this game." Meanwhile Ovi kept making campaign rounds, still believing he had votes he didn't (as of now anyway). As Jackson retold his Kat talks to Tommy, he said he wanted to talk to Christie about campaigning to keep Ovi (and this is why I don't count votes early in a week, no matter how solid they seem), but that plan was killed before it began.. for now.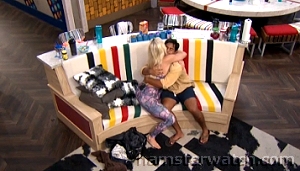 A little more noise was heard about the flip idea but it pretty much died. Christie told Jack, Jackson, Cliff "whatever the house wants to do, do" and said if people want to "get sassy" and split the vote for a tie, she'd break it to boot Kat. Nicole had a short breakdown to Kemi and Jessica, saying with all the thinking time in there she'd realized how much her parents and sisters have done for her and she'd been unappreciative. They counseled her (correctly) that her family understands and probably doesn't feel that way. Cliff told Kat what he told Ovi, that he'll give her a heads up if it looks like she's going, but it didn't sound like she would. Tommy held a couple dance classes and Christie held a meditation class - Cliff was the star pupil of both, with killer moves and a deadpan joke. Ovi and Kat had a kitchen block party, with both agreeing they'd have no hard feelings whatever happens.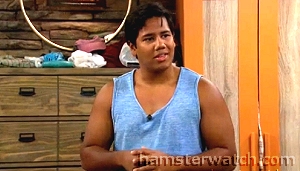 Between campaign rounds and being lied to about votes he doesn't have, Ovi practiced his speech to himself and to Cliff. It was way too long as written and Cliff pointed that out, but it was nice and sincere, with a cookies punchline. Bella and Jack met in the pantry, where she told him he can't keep making Final Threes all over town or bitching about Kemi to everyone, and she said he needs to gain her (Bella)'s trust back. She also said "get your fucking act together, no more fucking bullshit" and surprisingly, he seemed to be listening, and asking what to do. Nicole and Kemi had a chat and agreed to talk to Jessica later "in a non-aggressive way" because she'd apparently been blabbing, dropping names and info. Kemi also said she thinks Jack doesn't like her because she "doesn't play into the whole Jack charm" or find him attractive.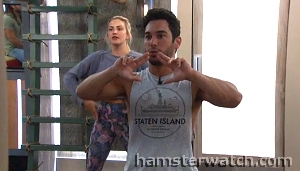 Ovi kept up his campaigning all over town, including a long, emotional pitch to Christie, Nicole, Jack, Tommy where he pledged undying allegiance if they keep him. That got their attention and they started the waffling all over again, agreeing that offer could be valuable as Ovi was more likely to win comps than Kat. But they went back to wanting to vote him out, and were unable to gather the group of eight to hash it out in that combo. Ovi and Nicole had a very emotional talk where she hinted he was a goner. Tommy started up another dance class, hoping to get everyone involved, and Nicole told Bella "I don't think now's the time for a family dance-off when Ovi's crying in his room." Bella joined them, and then she had an emotional talk with Ovi. On it went, waffles and second-guessing, while Ovi kept up his rounds. When Tommy and Cliff hinted he should probably slow his roll for the night, he told them he has "one last trick up his sleeve" he'll try in the morning, and he told the Jacks something similar: sounds like he's might out his Whack power and try to bargain with it.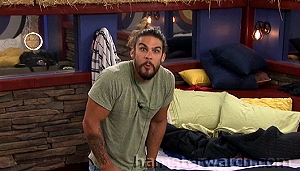 HOLD THE PRESSES Ovi told Jack and Jackson about his power and what it does, and he offered to use it on them if they're on the block, if they can get him the votes to stay. Of course that set the Jacks to scrambling again, and debating whether to throw over their alliance and save Ovi with the others, and how best to do that, or make Kat freak out so she'll get evicted. But no, they told Christie and Tommy about it, and Christie was angry Ovi didn't tell her since she was HOH, and she said she wasn't going to change her mind. Of course they discussed it at length between interruptions from others, and they'll discuss it more tomorrow. Also, Nicole reported the HOH meeting she was at and Ovi's impassioned plea to Kemi and Jessica.

Meanwhile the ad for tomorrow's show says "it's the first live eviction of the summer - or is it?" And let's not forget what Julie told us about David: "something that has never happened before will happen live."

Get the feeds to watch it all unfold live and/or with flashback! If you missed what's come before, check the feeds updates in Hamsterwatch Forum by @UGotBronx, and/or the ever-present "previous Hamsterwatch episode" link way up top for my previous recaps.



Ratings - Early Impressions edition
Ratings are Sunday's, based on entertainment value
See their full official bios and social links in cast folder at
Hamsterwatch Forum


I don't think any of us know what to make of this cast or season so far. No vets is good, first night boot is bad, but only 'for now' might be good, we'll see. I don't think they need these twists right off the bat: let viewers get to know them a bit, and then throw in a wrench or two if they must. The feeds are too dark and the audio is usually unbalanced, but they're mostly up and that's the main thing.





Won: TBA
HOH 0 - Veto 0 - Noms 0 - HN 0

I don't know what did or didn't go on with Ovi but if she was uncomfortable for whatever reason, she probably should have said something to him rather than, or at least in addition to, everyone else. But as always, these are the problems with coming in a week late.





Won: TBA
HOH 1 - Veto 0 - Noms 0 - HN 0

I can't figure out if she tells everyone what she thinks they want to hear, or if she actually believes whatever she's saying in any given moment. Either way, her HOH has been a messy mess and that'll probably come back to haunt her.





Won: TBA
HOH 0 - Veto 0 - Noms 1 - HN 0

An early fan favorite and with good reason: he's pleasant, often funny, and he's one of us! His morning talks to feedsters are what we always hope we'll get and he's delivering. Plus he's got jokes!





Won: Membership in the exclusively sad Jacob/Jodi/Glenn/Cameron club
HOH 0 - Veto 0 - Noms 0 - HN 0

Prematurely evicted, but he might be back? Hopefully! I'll wait on moving him out of alpha order til after we see what happens on Wednesday's show.





Won: TBA
HOH 0 - Veto 0 - Noms 0 - HN 0

I'm surprised by what a low profile she's been keeping, and it's probably a good thing for her. Whether she's doing it by design game-wise or just staying out of most of the crossfire remains to be seen.





Won: TBA
HOH 0 - Veto 0 - Noms 0 - HN 0

She's got Kathryn and Holly calling her names, and The Jacks also taking aim at her, but so far I think she's one of the more fun ones there. I don't know where her loyalties lie (if anywhere), but I'm here for her sarcasm and (seemingly) genuine camaraderie with Nicole and Kemi.





Won: TBA
HOH 0 - Veto 0 - Noms 0 - HN 0

I don't think I've ever put someone on Ignore with an empty wheel this early (plus it could get confusing with David's what's-the-twist empty wheel), but his time is probably coming sooner than later.





Won: Camp Director + 1st eviction immunity
HOH 0 - Veto 0 - Noms 0 - HN 0

See Jack.





Won: TBA
HOH 0 - Veto 0 - Noms 0 - HN 0

She seems to be fitting in well with some, and getting some condescending cracks behind her back from others. She's refreshingly self-confident and easy-going, and I hope she keeps that up. I also wish she'd game-talk out loud more, as her whispering is very hard to hear and follow.





Won: TBA
HOH 0 - Veto 0 - Noms 1 - HN 0

Ups because I like a trainwreck but I hope they send her home so this one won't last. She probably didn't know what she was getting into, and she's had a very bad first week. If Jackson's story about having sex with her is true, that could be a factor in her trainwreckiness as he's since distanced himself from her and only given her a flimsy game reason why.





Won: TBA
HOH 0 - Veto 0 - Noms 0 - HN 0

Like Cliff, she's also an early fan favorite and I'm glad she didn't go up (and out) as The Jacks tried to arrange. She laid low at first but then put in work to save herself, and it paid off. It's good to see her friendships forming with Nicole, Bella, Jessica and I hope they can win some comps and take out some of the guys we don't need there all season.





Won: TBA
HOH 0 - Veto 0 - Noms 0 - HN 0

I wanted to like him due to his job as a kids' mental health therapist, but he's not making it easy. He's said he canoodled (fingered) Bella and he's made no secret of his crush on and jury house plans for Analyse, which is fine except for the way he talks about it at times, and if she's also into it. I don't know if she is.





Won: TBA
HOH 0 - Veto 0 - Noms 0 - HN 0

Talk about laying low, I don't think most of them remember she's there half the time. And that's okay as I want to think she's observing everything, taking mental notes, and filing them away to use later. She put in work with Christie on Kemi's behalf, and was a big factor in Kemi not going up as renom, and she's already started to put in work for Ovi.





Won: Whacktivity 1 Nightmare
HOH 0 - Veto 0 - Noms 1 - HN 0

He's done some great things in life and will undoubtedly do many more, but that doesn't necessarily help anything in BB. He was blindsided by his renom and that's on him: he should have been circulating more and been more aware of all the currents swirling around. But he was Public Enemy #1 when feeds started and he corrected the behavior that put him there so there's hope for him, and I hope he'll stay.





Won: TBA
HOH 0 - Veto 1 - Noms 0 - HN 0

He's our Diary shouter that we never need but always get, and he's often loud on the feeds, but overall he's been pleasant and mostly likable. Kudos for winning the first veto and for being in a pretty good position in the habitat - at least for now.





Won: TBA
HOH 0 - Veto 0 - Noms 0 - HN 0

He came in seeming like he might be like that other Broadway dancer with his kicks and handstands, but luckily he's settled down and has been very likable so far. Some of that might be due to his secret connection with Christie and therefore guaranteed safety, but hopefully it's more than that and he'll continue being a pleasant hamster on our feeds.



Lines and Links of the Day
Lines

Cliff: I can't believe you're all playing this game on my son's birthday!

Kemi: There's no reason to be intimidated by the fact that there are penises in the house

Holly: I feel like a hamster on a wheel, what am I doing? Why? Where am I going?

Jackson to Jack: Bella is like a black widow
(they didn't know about Black Widows alliance)



Links

GET YOUR FEEDS includes a free one-week trial

#BB21 Weekly Bracket in partnership with @TVCO - enter online and/or download their app

BB By the Week - Week 1 by @aubramariebb

Use my link for any Amazon Canada shopping, anytime, at no extra cost - just start your shopping trip by clicking Amazon Canada



Tally Items

Season Stats
HOHs in order: Christie

Veto winners in order: Sam

Evictions in order: David (via twist)

Cast Twitters: @analysetalaver; _christiemurphy; cliff_hogg; [David TBC]; @MissHollyAllen; [Isabella TBC]; [Jack TBC]; [Jackson TBC]; @jmilagrosplus; @itskathryndunn; @kisseskemi; @N_Maccarone; [Nicole TBC]; @TheOviKabir; [Sam TBC]; @TommyBracco







Linking to any page here is fine. Please don't repost content from this site (or any other) without permission, and don't repost or hotlink images.



THE REAL SHOW IS THE FEEDS

Live air shows in many areas
BB1 thru BB21 plus Celebs and OTT, and many other CBS shows

PROTECT YOUR ONLINE PRIVACY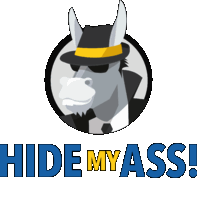 Anonymously secure your internet connection with HMA! Pro VPN - connect to our VPN service to anonymously encrypt your internet activity from prying eyes



HAMSTERWATCH SWAG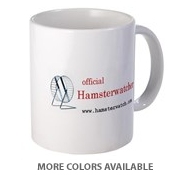 Mugs, shirts, more
Visit my Cafe Press shop






Big Brother 21 SEASON FAQ


Day 1 Move-in is June 19
Day 7 CBS premiere is June 25
Day 8 Feeds begin June 26
Day 99 Finale is September 25

Feeds are streamed by CBS, and Flashback is accessible via All Access subscription. Call 888-274-5343 for account help, including cancellation.

*Effective July 10* Air shows on CBS (Global in Canada) are Sundays 8pm, Wednesdays 9pm, eviction Thursdays 9pm.

Big Brother After Dark on Pop TV will be every night midnight to 3am (an hour later on Wednesdays and Thursdays). The aired blocks are live (or recorded earlier the same night, depending on your cable provider).

The CBS app (by CBS Interactive) plays BB air shows and other CBS shows, as well as feeds, or you can use your browser to watch feeds on mobile devices. The same All Access link used to subscribe will lead to the feeds viewing page if you're already signed up.

BB21 finalist prizes are the same: $500k for the winner and (probably still) $50k for 2nd place. Stipend for the others to be confirmed if/when they mention it on feeds.

The habitat has 94 HD cameras (no change) and 113 microphones (no change).

The recorded in-house announcements are the voice of producer Don Wollman. He and Julie Chen are the only staffers who have been there since Big Brother 1.