This site is about the Big Brother 19 feeds and contains spoilers! It isn't necessarily thorough: it's what I catch and/or what interests me. It's about watching hamsters: who's doing what and why. Thanks for encouraging my behavior.
Your pal, dingo




Protect your online privacy with HMA
Watch Big Brother UK, Celebrity BB, Australian Survivor, Survivor New Zealand, and other non-USA shows






BB19 DRINKING GAME


Take a swig whenever somebody talks to a camera - good luck!







VIEWER VOTES


Nothing currently







VIEWER VOTE WINNERS


#1 Pendant of Protection: Paul
Curse: Ramses self-nom

#2 Ring of Replacement: Christmas
Curse: Cody, Jason, Jessica frogs

#3 Halting Hex: Jessica
Curse: 3 weeks Temptation Comp








QUICK LINKS & BOOKMARKS



-Get the feeds
-Watch the feeds
-BB19 official site
-Live show tickets

-Feeds updates by @UGotBronx
-My Twitter - my screencaps
-Amazon portal USA or Canada

East coast air shows:
CanadaTV for Roku
$2/month - Global airs BB USA

East coast air show streams:
1 - 2 - 3 - 4 - 5
NO DOWNLOADS NEEDED - BEWARE OF CLICKING POPUP ADS OR WARNINGS

-Dick at Night with @EvelDick

-BB Viewer by @liquid8d
Requires All Access account

-Hamster Twitters
BB USA - BB Canada

-Advice for cast friends/family

-VPN to watch BB UK and/or to protect your online privacy




Donations via Paypal are gratefully accepted!

Click for weather forecast

Watch Big Brother
Seasons 1 thru 19
Plus tons more CBS content






BIG BROTHER SEASONS



CBS All Access
Seasons 1 thru 19

Amazon DVDs BB4 - BB3

Amazon Instant Video
BB19 - BB18 - BB17
- BB16
- BB15
- BB14
- BB13
- BB12
- BB11
- BB10
- BB9
- BB8
- BB7





BIG BROTHER 19 FEEDS EXCLUSIVELY ON CBS ALL ACCESS
All Big Brother USA seasons + most CBS shows past or present are included
$5.99 PER MONTH INCLUDING 1 WEEK FREE TRIAL or $9.99 AD FREE
COMPUTER - MOBILE - ROKU - CHROMECAST - APPLE TV - ANDROID TV - FIRE TV - XBOX 1/360 - PS4

>> >> >>

>> >> >> >> >> >>

>>

ANY AMAZON.COM PURCHASE CAN BE MADE THROUGH THESE LINKS - NO EXTRA COST TO YOU
Amazon USA
- Amazon Canada
July 27 - August 3, 2017
Power Status
Ramses evicted 7-3

Paul is Head of Household
Paul nominated Cody, Jessica
Jason was Temptation comp nominee
Paul won veto/used on Jason
Cody, Jessica are nominated
Alex, Christmas, Elena, Mark are Have-not

Jessica can halt one of next two evictions
Christmas can opt to play in any one veto comp
Raven has a Have-not pass

But first, a plea I always say I can't do any of this without feeds signups thru this site, and my signups are dramatically reduced this season. So if I'm to continue skipping summer in order to monitor feeds round the clock, keep up this site and tweet, I'm going to need some help. If you don't have the feeds yet, click here to get them, or click the signup banner at Hamsterwatch Forum where @UGotBronx updates her brains out. HUGE THANKS to those who have supported this site thus far and to those who will in future!


Upcoming Events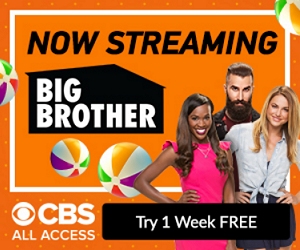 FEEDS ARE A FUN, HOT MESS and they are the real show - sign up now and get a one-week free trial

Friday: Temptation comp, nominations
Saturday: Veto comp
Monday: Kevin's birthday, veto meeting


Next Shows
Thursday 8/3 9pm Veto meeting, house meeting/fights, live eviction? (probably not), HOH comp
Sunday 8/6 8pm Temptation comp, nominations
Wednesday 8/9 8pm Veto comp, veto meeting

CBS schedule is Sundays 8pm, Wednesdays 8pm, live eviction Thursdays 9pm, on CBS (Global in Canada). Stream links to watch live online are posted in Quick Links & Bookmarks on the left sidebar. After Dark is every night on Pop (Slice in Canada) - times vary by area and provider.

After Dark is every night on Pop (Slice in Canada) - times vary by area and provider


Other News and Weekly Stats
Celebrity Big Brother UK started up again August 1 - watch live and archive shows with HMA on UK's Channel 5 site. They run nightly highlight shows, weekday talk shows, and occasional "live from the house" hours. The cast, in order of entry: Shaun Williamson, Sarah Harding, Sam Thompson, Derek Acorah, Marissa Jade, Sandi Bogle, Chad Johnson, Helen Lederer, Karthik Nagesan, Brandi Glanville, Jordan Davies, Trisha Paytas, Jemma Lucy, Amelia Lily, Paul Danan.

Big Brother OTT won't be returning this fall. It may be back at some future date, or it may not. See Links of the Day below.

Australian Survivor has kicked off its new season. Watch outside Australia with HMA on Australia's TEN Network site.

Congrats to Isabelle Warburton who won the 18th civilian season of BBUK, and big ups to Hamsterwatcher Raph Korine who was runner-up!

Temptation Competition consequence for Halting Hex is three weeks of a comp before nominations (on Fridays, to air on Sundays). They can choose to compete or not, but HOH does not compete. Winner is safe from eviction that week, loser is third nominee. If third nominee comes off with veto, they won't be replaced.

Real-time feeds updates and air show recaps are at Hamsterwatch Forum by @UGotBronx, plus cast bios/photos/links, and fun extras

Diary segment tallies by @clamperls: Through fourth week

Alliance charts by @89razorskate20: Day 43 - Day 38

Ratings Watch Thursday 7/27 eviction show won the hour with 1.9 rating, 8 share, 6.30 million viewers, ahead of The Wall on NBC with 1.0/4/4.80, Battle of the Network Stars on ABC with 0.6/3/2.52, and Love Connection on FOX with 0.6/3/2.03.

Sunday's show won the hour with 1.8 rating, 8 share, 6.37 million viewers, ahead of Celebrity Family Feud rerun on ABC with 0.8/4/4.79, The Wall rerun on NBC with 0.5/2/2.31, and The Simpsons and Family Guy reruns on FOX with 0.5/2/1.36 and 0.5/2/1.37 respectively.

Wednesday's show won the hour with 1.9 rating, 8 share, 6.53 million viewers, ahead of Masterchef on FOX with 1.0/4/3.67, America's Got Talent rerun on NBC with 0.9/4/4.83, and The Goldbergs and Speechless reruns on ABC with 0.6/3/3.06 and 0.5/2/2.40 respectively.

Rating and share: adults 18-49 - Rating: percent of all TV households - Share: percent of households watching TV



Week 5 - Days 37 thru 44 - July 27 thru August 3, 2017
Daily and Noteworthy Events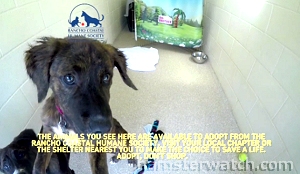 Evicted: Ramses 7-3
Head of Household: Paul
Have-nots: Alex, Christmas, Elena plus Mark (2nd week)
Have-not Extension: Elena
Original noms: Cody, Jessica
Temptation Comp nom: Jason
Temptation Comp safety: Mark
Veto winner/outcome: Paul/used on Jason
Final noms: Cody, Jessica
Evicted: TBA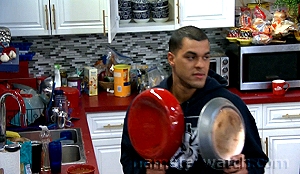 Day 37 Thursday 7/27 Josh carried out his threat to harass Mark, which he did by banging pots and pans, chanting a circus tune, and hollering. It was no Evel Dick performance and it fell a bit short of BBCan Dallas's "it ain't easy being Big Deezy" but it was fun just the same. Mark was still in a mood from his overnight drama with Elena, and he hid out in the lounge until Cody rescued him and escorted him upstairs. Cody told him he has a daughter (they all missed his eviction speech shoutout to Paisley) and that he'd lost his brother Dillin. After HOH lockdown, Jessica told Elena she has the Hex and she & Cody are safe "for a couple weeks" no matter what (oops, not if she uses Hex the first of those

weeks

evictions). She also told Elena that Ramses is going but he has no idea, and she knows Matt & Raven were in on it.

If you missed it there's been a very lot going on in there. Catch up with my recaps for last week and/or Hamsterwatch Forum for detailed convos and many, many screencaps.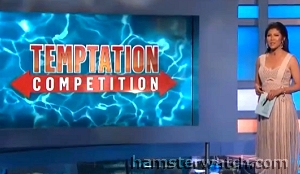 Ramses walked the plank 7-3 as expected, with Cody, Mark, Elena dissenting and shockfaced, though not as shockfaced as they could have been had the plan not been spilled. Jessica did spill about her Hex to the others on the live show but she was again vague and misleading about it.

Paul won the HOH comp which was Inked & Evicted, true/false about the tatted-up photos they studied last night. Paul wore a shirt that was Kevin's late brother's, and gave a shoutout to him (Richie) after winning. There was some talk earlier about the shirt being passed around like Judd's bear shirt and Roseanne's chicken shirt. Julie and her tissue bondage getup finally told us (but not them) about the consequence for Jessica's Hex temptation: a new comp will run for three weeks, taking place before nominations (Fridays) and airing on Sundays. Participation is voluntary, with the winner earning safety that week and the loser becoming third nominee.

They cut into feeds to run Ramses' exit Jefferview. He seemed okay with going (he was pleasant about it anyway), he said he knew Paul's running things, and he was unaware who Lance Bass is so he was unimpressed that Lance had Ramses in the staff pool. Jeff told him the votes and that Paul won HOH, so Ramses will be back out here with us within a few days.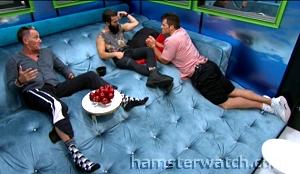 Josh had a few celebratory rants but settled down pretty quickly, with a few threats to start up again with Mark tomorrow: Mark asked if they could be civil and Josh said no. Paul ran damage control loops with Cody and Jessica, and with Elena, and with Mark and Elena. At one point Mark looked like he was worshiping at the Altar of Paul, which is probably accurate.

Christmas and Jessica had a short convo with friendly words but their manners and expressions both said it was just lip service. Jessica said she was most upset with Raven for lying to her face before the eviction, and Elena said she was most upset about being excluded from the plan she claimed to know about anyway.

Christmas had a gametalk with Alex & Jason, and Matt & Raven screeched in the kitchen. Kevin continued to glide over all, dropping funny and funny-but-subtly-pointed comments here and there. Jason gave a shoutout and sent happy birthday wishes to his wife Holly. There was a lot of talk and guesses about Jessica's power but they were all in the dark as to what it is or how it works. Paul said they absolutely would not cancel an eviction on eviction night, but he's never actually seen a season of BB outside of hotel sequester and doesn't know about Julie's big red reset button.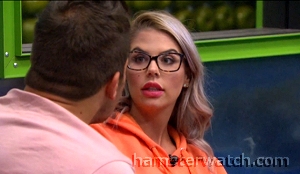 Mark seemed like he was in a permanently stunned mode, giving one blank and confused face after another. In a follow-up to last night's fight/breakup/whatever that was with Elena, they had another communication breakdown, coming at each other in all the wrong ways and blending blindsides, lies and game stuff with personal. It was another mess and Mark made it worse when he pushed for a hug to make everything okay, and Elena told him not to touch her, she doesn't like to be touched when she's upset. The words and the glare weren't enough for Big Boy to get the hint and he pushed some more, but there was no hug this time. It finally came along later though, when she reiterated don't touch her when mad, he said he's missed her and I think he said he loves her? He went in for a kiss and she said "nope, too close, get off me."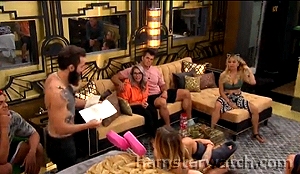 Paul orchestrated a game for After Dark where he gave orders and everyone playing did what he said, like that was something new and different. He got his HOH room at 11.10pm with photos, a Pepperdine hoodie, Radiohead, beers, socks, and a letter from his fave cousin who was just married.

Jessica asked Paul not to make her a Have-not and he agreed, saying she'd already done it. Cody made some kind of pitch to Paul that I didn't really follow, and Paul told him to let him do his work, "things might not make sense to you at first, or they might." Cody retold that to Jessica in a mocking impersonating tone. Pre-nom talks are pretty much moot because of this new comp, so I'm not following them closely at all. Paul told several of them he has a Secret Plan that he isn't spelling out (probably to flush out Jessica's Hex), and that he isn't gunning for Kevin (yay). He gave Elena a very lengthy talk about Mark being dead weight for her in the game, and she tried to turn that into a counseling session. Rewind, repeat.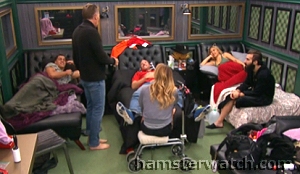 Day 38 Friday 7/28 They were told about Temptation Competition and proceeded to scurry around deciding who would play in it and who wouldn't. It sounded like Alex, Jason, Josh, Mark, Matt were planning to compete but feeds went to Puppycam for the comp before the official roster was decided. Option to play was to be done secretly in Diary anyway - see Links of the Day below for more clarification about both Hex and Temptation Comp rules.

An interesting random convo broke out about Jonestown, with Kevin filling in the blanks for those who only knew about it from dramatizations or documentaries, or not at all. He had a few facts wrong but he told them the overview and talked about the overwhelming numbers and the chilling audio tapes and airstrip video. It was a good demo of why mature people who know some pre-Kardashian history are valuable for the feeds and the franchise, and it was also a subtle allegory of what's kind of going on this season, follow-the-leader wise. Christmas added "a fun association with that" (her words) about a Crossfit offshoot titled "Gym Jones."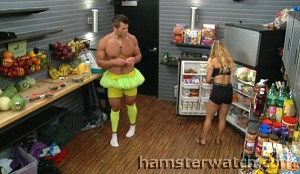 Feeds were down four hours and when they returned, Mark had won safety and Jason had lost and became an automatic nominee. It was the tutu-wearing, spinny-dizzy comp in which they had to spin around and then bowl. Alex and Matt also competed. Mark kept his tutu on for about four hours, and Raven wore Matt's.

Paul had a series of meetings with multiple Plan tiers but he seemed to settle on Cody and Jessica as Plan A, to flush out whether Jessica's Hex gives her block immunity. It doesn't, so Plans B, C, D, X, Y, Z and the rest are moot. Cody and Jessica ran their loops, Mark and Elena ran their loops, and Jason had a few down moments for losing on his wife's birthday. He later told Kevin he'd wept under his blankets this morning for missing her.

Mark and Josh finally had a heart-to-heart of sorts - remember, they were besties til slop came between them. Mark was still in his tutu, and while they didn't really resolve anything (and Josh continued to deny messing up Mark's Have-not bed), they were almost friendly about it. They ended it with a handshake, Mark saying "as far as this house goes, fuck you" and Josh replying "fuck you too." Josh then did another quick round of his little dance and circus tune, clanging his pots 'n pans.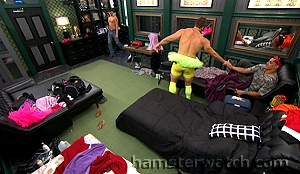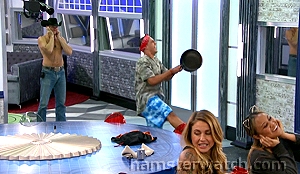 Paul nominated Cody and Jessica as planned (Plan A) and they all discovered her Hex didn't prevent that. Paranoia began anew with most of them wondering what it does do, and does she even have it? Jessica and Cody went to HOH where Jessica told Paul he made a mistake, she'd tried to warn him, he didn't ask her enough questions about her Hex, and the like.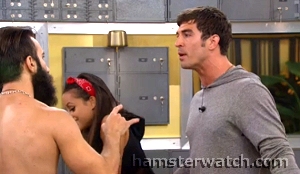 Things escalated rapidly from there: Paul told Jessica to calm down, Cody got very angry at Paul, and Paul told him "leave this room!" multiple times. Cody came back "WTF are you gonna do about it, fuck you!" The two of them were heated enough that they earned themselves a spot on my fights tally - Flashback 7/28 7.24pm.

Cody and Jessica finally went down to the rose room where Jessica lectured Cody about messing up her/their game again, and escalating to shouting "you guys measuring your dicks is RIDICULOUS!" and "I DON'T WANNA FUCKING GO THROUGH THIS AGAIN GODDAMMIT!" earning them a spot on the fights tally as well. He came back with angry victim noises, including "am I gonna have to deal with this in reality too? You really like testing me."


Meanwhile Josh starting up yelling at Mark again, calling him "a joke, a big fat fucking joke, and a bully" and he started his circus tune and pots 'n pans clangs again. Mark (still in his tutu!) jumped up from the table, ran and lunged at Josh, whether to grab the pans or grab Josh is up for debate. Kevin stepped right up and reached between them to prevent any frying pans to any heads, but not before they made a fight tally trifecta.

Jessica and Paul picked up their nominations/Hex convo again with Paul kept repeating all her game problems were because of Cody. Cody ranted to Mark saying things like "if Jessica's default is always blaming me, Elena's is going to be always blaming you" (what?!) and he proceeded to cycle through his stages. Pretty soon he was giggling, saying he can't wait to see this episode, gloating he got under Paul's skin, and he and Jessica wouldn't have worked out anyway. Everything began to settle from there and retells began with a vengeance, and a fair bit of dramatic flair and exaggeration all around

The entire habitat dissolved into bedlam and it was glorious.. GET THE FEEDS - if not now, when?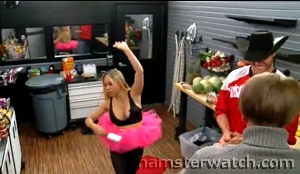 But wait, there's more! Alex, Jason, Kevin had a brief pantry celebration about the chaos, and each commented about the fine entertainment here and there through the night. Paul started lining up Mark as a future target by telling people he grinned or smirked at noms, with Christmas running backup on that. Eventually Paul asked Mark about it, and rather aggressively. Mark hemmed and hawed in response, like he does. Cody and Paul retells included Napoleon and "little man syndrome" about the other, very pot/kettle all around.

Josh started up his circus tune and clanging here and there, and Paul and Christmas told Kevin not to get in the middle if Josh and Mark go at it again. Mark and Elena had another breakup talk of sorts, with Elena over-explaining everything and Mark alternating between stun and hem/haw. Elena later asked Cody to enforce to Mark that she was kind of done with him (but unfortunately she had told Mark she does still have some feelings for him, and that was probably his main takeaway). It sounded like Mark got a formal warning in Diary and he embarked on an apology tour hitting up each of them with a nice speech. When he got to Josh, they had another rehash of history but in the end Josh wouldn't accept his apology. Later Christmas stirred that pot some more by telling Josh he didn't have to accept Mark's apology now, later, or ever.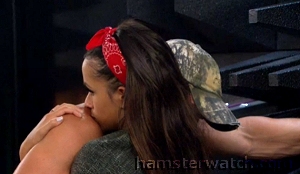 Jessica told Christmas and Elena separately about her Hex and how/when she can use it. Cody packed up and moved into Have-not room again. Jessica followed him after awhile and they had a long, sordid conversation about their game(s) and endless loops about her not wanting to date a hothead and he being who he is and can't change. She glared a lot, he sniffled a bit, and they ended that round with a very long staredown until she eventually left.

Later they went yet another round, again about their basic incompatibility (but without saying so), and he said he should forfeit the game for her since he can't win anyway because they all hate him. She said she wouldn't use her Hex if he wanted to leave, and also that she can't not use it on him. They ended with a long hug and back in the same bed, for now. Meanwhile Paul told his minions they have to "keep mindfucking" both Cody and Jessica all week, and encouraging Josh to do that for them, and to continue encouraging Jessica not to use her Hex this week so they can drop Cody.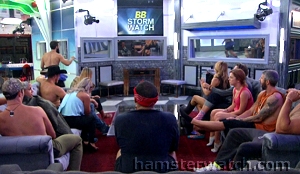 Kevin and Josh finally got to eat at midnight, and they enjoyed it greatly. Kevin shmoozed Paul some about his tremendous BB savvy and said they should start a business together. Around 12.40am they got an alert to gather in the living room and got their first two Storm Alerts, detailed and punny audio clips for the veto comp tomorrow, which will probably have wind and rain distractions again. They all set off to study again, and Paul reminded them that he's played (and won) that comp before, of course. Elena and Christmas reported their Hex data to Paul and crew, and they ran a few eavesdrop runs to see if Cody and Jessica were studying or not - they didn't very much, they went back to cuddling and slurpydurp. They got more storm alerts at 1.53am and 3.26am (the latter behind fishies), and Christmas's bedtime meds kicking in made her studying unintentionally but utterly hilarious.

I had hoped to cut down these daily recaps a bit but believe it or not, all this is just the highlights! It was a tremendous day and night of feeds, and the chaos should continue the rest of the week. Get your feeds so you don't miss out anymore.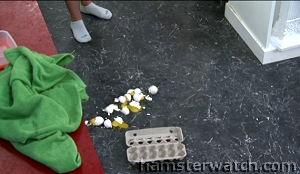 Day 39 Saturday 7/29 They had at least one more Storm Alert around 6.30am, and kept studying through the morning. Paul seleted Alex, Christmas, Elena as Have-not because they hadn't done it yet, plus Mark again for losing last week's double-or-nothing gamble. Veto draws were Kevin and Raven, and Christmas will host. Kevin told Paul he'll get himself eliminated from the comp once Cody and Jessica are out.

Raven dropped a carton of eggs, opening up all kinds of pun windows. Cody showed Christmas how to make the slop and she said she'll be fine, she's lived rough, slept on dirt floors and et cetera. She and Paul ran some pro-Jessica/anti-Cody loops to Jason, and Paul added "you don't have to stab people in the back" to play well. I'd say tell it to Dominique, Ramses, etc, but Paul's game is largely Say It Til They Believe It, and a lot of them keep believing it.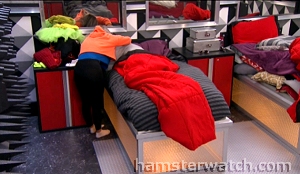 Mark had a moment in his Have-not bed and Elena comforted him for a bit, including some coos, caresses, and kisses, which probably added to his mixed signal problems and confusion. Elena then talked to Cody, where he sounded like he's more concerned about his image out here than he's led everyone to believe, including himself. He and Jessica were back to cuddling, canoodling, and commiserating, almost like last night's fight never happened. Their issues from that fight kept coming up, just more amiably. Jessica also told him she's prone to panic attacks and hope she doesn't get one in there.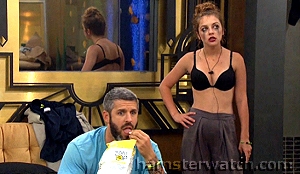 Feeds went to Puppycam at 2.35pm for the veto comp and were down almost five hours. Paul won again, and it was indeed the memory comp where they were given punny weather reporter names and had to come up with answers from their overnight clues while holding umbrellas and being pelted with rain, wind, and flying trash. The players were all drenched and chilled, Raven had another mascara casualty, and Paul was annoyed (or acting like he was) that Cody did as well as he did since he & Jessica didn't study.

Paul made his rounds and told his various minions he'd threaten Jessica that if she uses her Hex, she & Cody would both go soon, he'll do pots 'n pans before the HOH comp, and the like. He also said he'd demand to know its rules from her and/or Diary.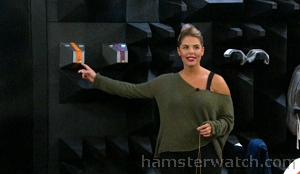 Mark and Elena had yet another long angsty convo, culminating with him saying "okay, see you around" as he exited. He went to the pantry and shed a few tears while muttering to himself, so I guess they broke up again - it's hard to keep track. Elena decided to go for the Have-not double-or-nothing and made a big production of making her choice to an audience of all of them. She chose purple and lost, ensuring she spends the rest of this week in Have-not room with Mark plus an extra week in there and on slop.

Paul shared some HOH beer with Kevin and they compared convos about having heard that Raven wants a Final Five of herself, Matt, Paul, Jason, and Alex. They agreed it was probably Raven lying and trying to sabotage Alex as they said she wouldn't turn against Kevin. But it turns out Alex actually did make that pitch to Raven last night/this morning - Flashback 7/29 4.16am. Later Matt told Raven that Alex is "vicious, with no chill" and has total control of Jason, adding that's the kind of player he wants on his team.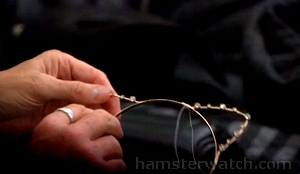 Alex put Vaseline on a bedroom doorknob which Jessica discovered and wasn't happy about. Paul put some Vaseline around too, and he and Jason swapped Cody's coffee with decaf. Jason tossed a pillowcase to Alex and broke her cat ears, and he and Kevin went around looking for tools or supplies to fix them. Dental floss didn't work so they put in a request for superglue. Other than Elena's key selection, Cody & Jessica remained isolated from everyone else and attached to each other, and being dissed by most everyone else in various convos.

Elena made Josh a huge grilled ham & cheese sandwich before bed, which thrilled him, and Mark went sad face again because he was still Have-not and Elena had never made him one. Paul came out of Diary with an announcement (answer to his question) that nobody has guaranteed safety for the next three weeks. That wound him up because Jessica had been saying/hinting otherwise. Not counting Jessica's obvious misleading Kevin when she first told him about it, this is pretty much semantics and a situational misunderstanding, but it will blow up.. wait for it.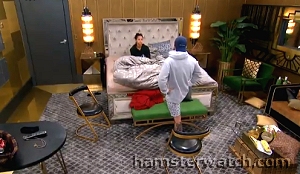 Day 40 Sunday 7/30 A busy morning included Jessica telling Paul that using her Hex means eviction is cancelled, rendering him momentarily speechless. She pitched a proposal to not use it if she's guaranteed two weeks safety and Alex goes. Paul said he could make that happen, but he also told her Cody had aligned with Matt and Mark back in Week 1 to work against the girls, and he reminded her of her issues with Alex back then.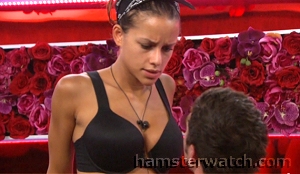 Jessica had a talk with Mark which included him giving her relationship advice(!) and saying "it's guy talk, he knew you for less than a week." Jessica went to Cody and they had another couple fight. He said "you can find somebody else to distrust, I don't give a shit" and his usual don't question his loyalty spiel. (Reminder, Paul & Jason swapped out the coffee with decaf, unbeknownst to Cody.) When Cody left to do an angry workout she said to herself "I didn't sign up to be a fuckin babysitter!" - Flashback 7/30 12.25pm.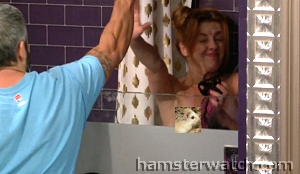 Meanwhile Kevin and Jason had their walkabout and said "we gotta get Paul" because of all his manipulations, and Kevin said he's going to start referring to Paul as Napoleon (ironic as Paul continued to refer to Cody as Little Man Syndrome). Raven and Matt had another whatever-they-do, this time with flour, coffee and condiments flying, along with Raven's boobies - Flashback 7/30 12.46pm.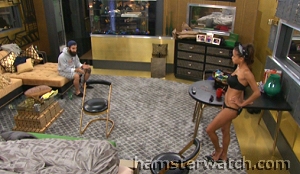 Paul told Jason he's using his veto on him regardless. Paul told Jessica that he'd presented her pitch to most of them and they were okay with it, if Cody goes. He added that Josh, Jason, Alex, Kevin have no idea. Jessica asked for a meeting with everyone to confirm but Paul was way ahead of her. He'd already told Alex and Christmas to fake a fight as a diversion so they could hold that meeting.

Jessica went back to Cody, who said "I just want out." The meeting took place but unfortunately for us, without the Alex & Christmas fake fight. Jessica agreed to not use her Hex and Cody will go, in exchange for two weeks safety for her and they get Alex out. Paul, Christmas, Matt, Raven, Elena, Mark agreed. Jessica mentioned Cody's military service and war experience, and said she doesn't want him to feel abandoned. Jessica went back to Cody again, tried to get him to rally and fight, along with whispers of the "love" word, and they got busy bed-wise --cut to fishies. Paul filled in Kevin and Jason on the meeting and said "the eagle has landed, big fuckin style."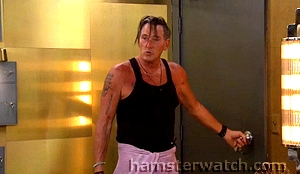 Jessica and Paul continued making will-she-or-won't-she rounds with each other and retells with everyone else. Cody and Jessica made up again and went back to being tragic frogs again (but without the frog suits), while Elena and Mark remained cordial but broken up. Christmas made a production of slop rinsing and boiling, in hopes of curbing the flatulence. She also suggested to Alex that she start one-upping her in public, and Christmas would roll her eyes. I don't think it's because she missed the pre-meeting memo on that; more likely she's using that opportunity to start setting up her own future target ducks. Kevin arranged a pool tournament for the evening, and announced he now loves Radiohead after listening to Paul's OK Computer.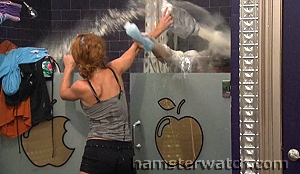 As Mark continued moping here and moping there, Josh and Elena goofed around and Josh said he'd take Elena's two weeks of slop. They went into Diary together to see if they could, and were told they'd be given a decision later. At bedtime Kevin told Josh Elena had gone back to Diary to check, and Josh said it had been a joke. Matt & Raven had their second screech-a-thon of the day, but things really revved up when Jessica sprayed shaving cream at Matt while he was showering. He stepped out of the shower clutching a towel, and Jessica & Raven both collapsed on the floor laughing.

Things escalated quickly from there. Jessica sprayed Matt with hairspray, and baby powder, sunscreen, shampoos and various lotions were flying, and Raven dumped a whole bag of flour onto Matt inside the shower stall. The entire bathroom was coated with muck, Jessica had to detach her stunt hair, the shower stall should be fully clogged by tomorrow, and through it all Raven screeched like a banshee.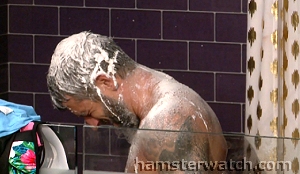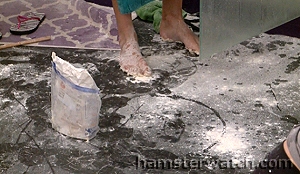 Later Jessica and Elena commented about how loud Raven is and how odd her relationship with Matt is, especially how she's always hitting him when she's talked about an incident or history of abuse (their words: if that was on feeds, I missed it). Meanwhile, Mark and Paul discussed how Matt and Raven go loudly insane every night at midnight. It's all becoming very tedious for them as well as us. Matt retaliated on Raven showering in HOH and more screeching ensued, but then the two of them sat down with Paul to discuss Hex scenarios.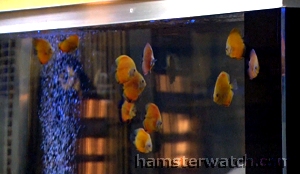 Paul pitched the idea to them about booting Jessica rather than Cody if she doesn't use it, which would accomplish multiple goals of breaking them up and getting one out, but it would also eliminate the better social gamer and send Cody over the edge. He said a downside would be it'd give Cody a jury vote, and Matt said that isn't important right now. Paul disagreed of course, because he's been there, done that, and it didn't end well. Along the way, they agreed Christmas has been getting snippy lately, so her bull's eye is beginning to be drawn as well.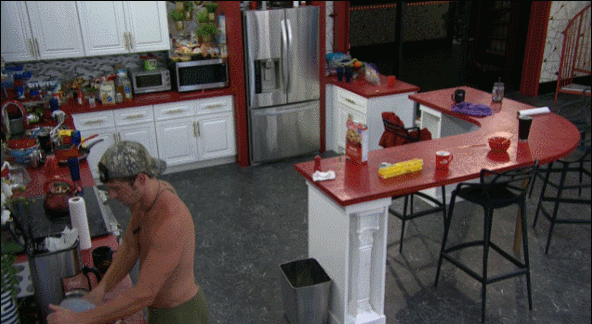 Day 41 Monday 7/31 Cody discovered the Vaseline-covered coffee scoop (placed by Paul), and he didn't appreciate it. He opened a fresh can of real coffee so he wasn't unknowingly running on decaf again. Cody & Jessica laughed about having heard Matt & Raven getting busy in bed last night at the same time they were.

Paul used his veto on Jason so there was no renom, and Cody & Jessica remained on the block. It sounded like neither of them gave a save-me speech, so Jessica's request to and Paul's agreement that he wouldn't trash Cody unless Cody trashed him stood, although Paul later told his minions he did get some digs in. Apparently Jason's speech was a doozy, which Jessica later accused Paul of writing for him and/or urging him to say. We'll see what was and wasn't said on Wednesday.


Jessica walked into a random convo about the veto medallion, general talk about what it's made from and how, and she mistook that for anti-Cody/Jessica gametalk. Jessica jumped on Raven about it, in front of many, then pulled her into the red room and Jessica went off about being shunned, talked about, and plotted against - Flashback 7/31 12.47pm. Raven sputtered and whined that they hadn't been talking about her, but Jessica wasn't convinced.

Jessica retold to Cody who said "I'm so glad you are the queen of controversy," and Raven retold to Jason, Kevin, Paul. Kevin confirmed it wasn't about game, and Paul told Jason to go tell Cody & Jessica that Jess made Raven cry - although she wasn't crying - which he did. Paul eavesdropped on that retell and retold to the others, and Raven - who really was crying by then - retold to Matt and his cereal. Jason told most of the others he'd wanted to tell Cody he wasn't wearing his own dogtags, but he didn't. Raven met with Jessica again, and Cody joined them, for a few rounds of retells and not-really-apologies, and they parted with polite but chilly hugs.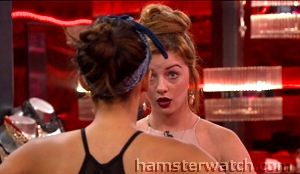 In a surprising turn of events, Matt became the voice of reason by telling everyone "this is not a big deal." Paul and Christmas decided that questioning Cody's military service would be a good way to get him to "crack" before Thursday, so Jess would be willing to cut him loose and not use her Hex. Again, Matt chimed in to Christmas and Raven, saying "we are literally attempting to get a man who has killed other human beings to crack, that is fucking stupid." Christmas got heated at Matt "lecturing" her, and she and Raven had a spat about that.

Along the way, Josh brought up Cody's previous threats to tell everyone out here that Josh is a sexual predator, and he also did a round or two of his circus tune pots 'n pans, now wearing Mark's tutu. Paul and Christmas continued to keep them all wound up about Cody & Jessica, bullying, respect or lack of, usually successfully, and Cody & Jessica continued to bond over their mutual dislike of everyone else, and she told him about the deal she cut if she didn't use her Hex so they could get Cody out.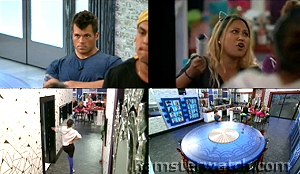 Josh started up baiting Cody, then Paul met with Cody and Jessica in the lounge. Jessica told Paul he's playing a psychological game, and a good one, and he has everyone doing what he wants. That rattled him and he asked for illustrations, which rattled her. They went back and forth awhile, Cody didn't say a word, and Jessica said she'll be using her Hex. Paul retold the psychological game comments to his minions with a mocking tone, trying to downplay the truth of it.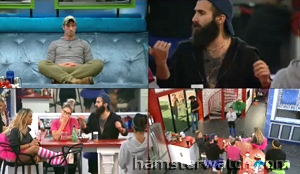 Next Josh joined Cody & Jessica in the lounge with an intro about falling in love, and asked if no save-me speech wasn't a slam to fans of the show. Then Alex started up on Cody in the kitchen about the deal to cut him (and her), which he already knew about. Pretty soon there was shouting down the hallway about that, the cat ears, and details going back to the first week. A house meeting was called, and tutus were retrieved for battle - Flashback 7/31 4.52pm.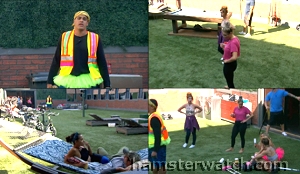 Josh kicked it off with his circus tune and pots 'n pans, and BB opened the backyard, maybe so they'd have more space to dissipate the tension. Shouting match-ups included Jessica vs Alex, Jessica vs Paul, a sidebar about whether Cody has a muzzle or a leash, Jessica vs Raven, and Mark vs Alex. Paul was called to Diary and came back saying they couldn't say anything to directly incite violence or self-eviction.

Jessica's ass-fingering while Cody was gone led down a path of her being the sexual predator rather than Josh, and Christmas brought up some US flag clothing being left on the floor by Cody, a former Marine. Feedmasters blocked the start of her comment to him with fishies. Through it all, Cody & Jessica stayed in their hammock, talking quietly to each other. At that point he told her "they don't know where they're going" and implied backlash would follow out here for taking that route.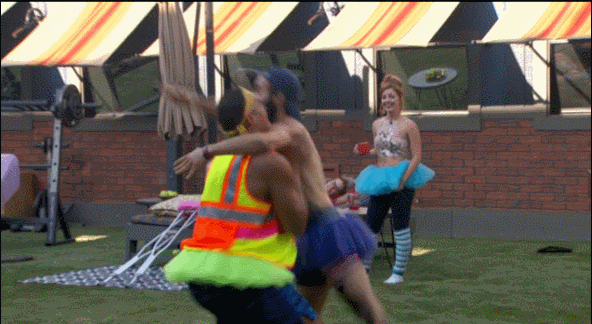 All in all it was one hell of an afternoon, crossing from trainwreck to comedy to ugly to ridiculous to cringey, and back again multiple times. Cody & Jessica seriously discussed and debated quitting the show. Paul suggested they keep up the harassment but within their legal boundaries, and he went around with his jar of Vaseline putting it on doorknobs and the like. They had a wall shouter at 7.12pm and were sent inside where they scattered to their separate corners to psst-psst, study, rehash and retell all of it.

I think they were all pretty much exhausted after all that so it was a relatively quiet evening. Mark made an issue about the military service comments to Paul (and Josh) and the two of them ran their loops at each other for a long time, with Josh tossing in random comments, like he does. Paul finally relented a bit on that point, but no others. He talked for hours to Matt & Raven (and Josh), rewriting history and repeating all his same bullet points ad nauseum, to the point I think he even believed some of his own lies himself. He also went on a rant about being a bigger bully to stop bullies, and he said the word bully about 100 times in the space of a few minutes. Uncle!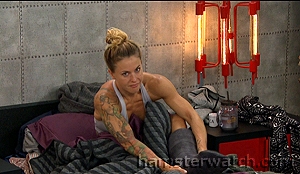 Christmas had a moment alone in Have-not, talking aloud about what a freaking day it was, and looking at the camera and saying how much her foot hurts and has been hurting. That's new for her.. maybe the wall-yeller got her attention as well as some of the others'.

It's round-the-clock bedlam in there: GET THE FEEDS and catch up convo details at Hamsterwatch Forum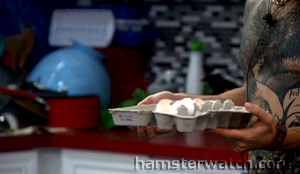 Day 42 Tuesday 8/1 Christmas went off for her check-up and came back with a new cast, still no boot or walking cast, so her scooter's still with us. Cody & Jessica accidentally closed the sliding glass door when she was behind them on her way out and she made a big deal of that as if it were intentional, and that will come up again. Paul wrote his blog and tweets, and the Snapchat goggles came out. He also swapped the coffee for decaf again, and he made a big deal about somebody putting broken shells back in the egg carton. He said he's never heard of anyone doing that but excuse me, he made a big deal about James doing it last year. When he asked Cody about it, Cody said "hold that thought," went outside, and didn't return.

Paul and Christmas continued their mutual anti-Cody agenda by instigating others to keep it alive, despite announced plans to "kill them [Jess & Cody] with kindness" last night. Raven was subliminally recruited and started bringing up Cody's transphobic comments and the sexual predator threats again, and other assorted crimes. Elena told Paul about her late night convo with Jessica, and he set out investigating comments about allegedly overheard convos involving Jessica. Cody and Jessica continued their own agenda of bashing most everyone else.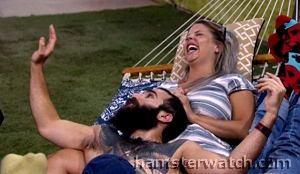 It was a quiet day after yesterday's fights, with just the usual paranoia, retells, future week plans, Us vs Them convos, general chit-chat, and not much else. Jessica said something to Cody about Heimlich or Heisman, but she said hymen. Cody told her that's a female body part, she didn't know what it meant, and he sent her to ask Elena. Elena, Paul, Kevin busted up to find out she didn't know what it was, and they filled her in. Mark and Josh had a few more heart-to-hearts, rehashing their friendship, breakup, and everything else. After a late one, Mark talked aloud to himself about being sad, unloyal, ungrateful, and a basic mess. At first I thought he was talking about himself but he added a spot-on impression of Josh so I guess it was about him.

Alex talked about her mom having rented a barn and pasture from Zsa Zsa Gabor, which was different. Several of them debated the season length and finale week, and they all got it wrong: it's 92 days this time, with finale scheduled for September 20. Paul gave Josh a big peptalk, using his Diary voice, about how far Josh has come since they started and what a great path he's on now. He told him to be Paul's eyes and ears in there, and to pull back his extra and chill if Paul tells him to pull back his extra and chill.. pretty much what Cody said yesterday Paul's been doing all along, which Paul denied for 24 hours, and Josh ate it up. Kevin and Jason told hilarious late night stories but they were withheld from feeds, again.

Yesterday was the tipping point for the usual rabies outbreak to infect much of the fanbase, so be sure to get your boosters and remember it's just a TV show.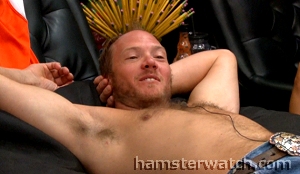 Day 43 Wednesday 8/2 No reason for this screencap, other than I always laugh when the pencil decor knick-knack gives Jason a halo, which it often does. The day held a lot of the usual loops from the usual hamsters, and a lot of general topic convos including street fighting retells, substance abuse issues, and working vs at-home parenting. Issues convos are always interesting to me depending who says what (and more importantly, who doesn't), especially for those whose backstories we know.

Cody and Jessica mingled a bit here and there but mostly maintained their isolation. Matt and Raven got all fired up for awhile, parroting everything Paul had been telling them the last few days as if they'd thought of it themselves. Mark revived his fake chess game strategy, this time with Jason. Mark said he's worried about Matt, Raven, Elena and that Elena had hung him out to dry. Jason agreed. Alex joined them shortly after and they had to actually play chess.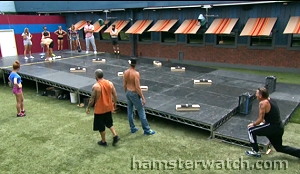 They got a practice apparatus and the giant golf clubs, and were told they could move the obstacles around and they should experiment with bank shots. They were allowed ten practice shots each, and were told everyone should practice. Observant Hamsterwatchers know the outgoing HOH cannot play for HOH if/when Jessica's Hex is used (it will be used tomorrow) so that announcement may have been to throw them off and confuse them, or make them think tomorrow's a double (it isn't), or it may be for Friday's Temptation Comp. Raven did best with three shots; Cody, Kevin had two each; Alex, Christmas, Mark got one each; and the others got none.

Paul had told his minions they should shout and circus-tune and bang pans to distract Cody & Jessica overnight, and he added that they should also shout and distract Cody & Jessica when they take their turns during the comp tomorrow. Matt normally goes along with whatever Paul decrees, but he drew a line (third time this week!) and told Paul "harassing people and mental warfare" are not strengths of his.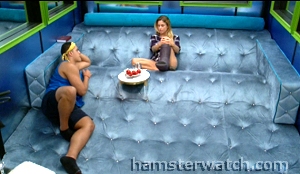 Christmas picked up her solo Have-not talk from the other night and launched a telethon in the lounge, describing a bit of her own backstory, recovery, and reinvention. I predict her next book will be titled Bad Ass Perseverance and she'll draw on her BB-with-a-broken-foot experience in it, plus maybe slop recipes. Josh joined her and said "Elena pulled the plug on Mark and Jessica on Cody" but Jessica screwed herself game-wise by going back to Cody. He also said "all the remarks that Raven was throwing were too intense" regarding Monday's huge fight, and Christmas agreed. Reminder: last night Paul deputized Josh to be his "eyes and ears" and to push various agendas.

Behind? Confused? GET THE FEEDS to watch it unfold and/or to see anything that's come before, and check Hamsterwatch Forum for details and oodles of screencaps.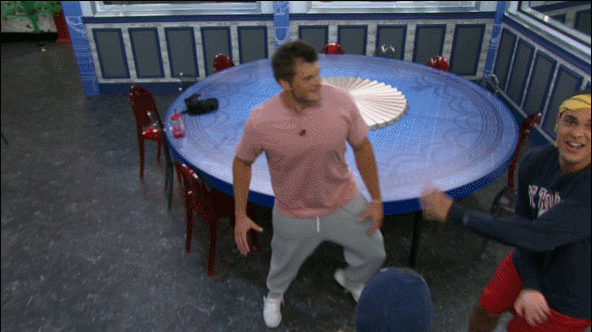 Despite their new "no horsing around" announcement, it continues regularly. Paul goosed Jason and the piece of pizza he was eating flew, hitting a light and splatting onto the high shelf above the kitchen cabinets. Kevin retrieved it and cleaned up most of the pieces, but rest assured the ants will find the rest. Josh and Mark did a couple re-enactments of the famous lunge, mostly in fun but maybe not completely, at least for Mark.

Cody and Jessica brought their PDAs to the living room, where Kevin commented on what he was seeing on the spyscreen in HOH to Jason and Alex: "look at these lovebirds, look! What the fuck is going on there? How do you get that close to someone you met weeks ago?" and "she's giving him a blow job I think." Alex gasped and Kevin said "what, we can't say that?"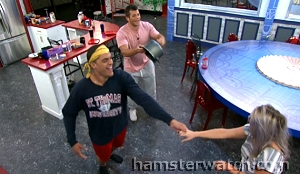 Mark and Elena had another Relationship Talk where he said he misses her and she finally conceded she misses him too, and she allowed him a hug. Mark revived instantly, and said to Josh "grab your pots 'n pans and let's go." Josh did, and Mark did a clumsy waltz with Elena to Josh's circus tune, and Mark then took over the pots 'n pans for Josh to have a spin with Elena. HOH group was watching on spyscreen and laughing, which provided a nice break from the continual paranoia about Jessica's Hex, tomorrow's show logistics, and instructions from Paul to vote out Jessica if she doesn't use it, but if asked, to say they're voting out Cody. Rewind. Repeat. Everlasting.



Ratings - Pivot edition
Ratings are based on entertainment value, kinda




Jefferviews immediately after eviction are all fine and well, but they really need to put them on Feed 4 only, like they did the Live Diaries on OTT. Post-eviction and HOH feeds are among the best every week and we shouldn't be deprived of them for even a few minutes. While we're at it, they should do Live Diaries once a week too. Of all the excellent perks OTT brought to feedsters, one vet in a cast of rookies and no daytime naps were the worst choices to be carried over.





Won: 1st eviction safety
HOH 1 - Veto 1 - Noms 2
VTE Ramses
I still have mixed feelings about her. Good standing up for herself, bad thinking she's Paul's #1 (several of them do), and I run hot and cold with her pranks. It is funny seeing her continuing to paint sleeping Jason's toenails in the wee hours, and she's often a refreshing change from most of the others who dominate the cam time on feeds. Mostly I love that she doesn't take any of it too seriously.





Won: Temptation #2 play in any veto comp
HOH 0 - Veto 0 - Noms 2
VTE Ramses
Downs for encouraging and participating in the nasty agendas while preaching 'integrity' all the time. I should feel some compassion for her pain issues and resulting meds confusion and snippiness, but it can be comical too. And scooting around on her scooter just makes me laugh, especially when she rolls in to serious convos out of the blue. She's starting to irritate a lot of them so we'll see how she copes with that as it escalates, which it will.





Won: 1st eviction safety; 1 week frog; Revival
HOH 1 - Veto 0 - Noms 2
VTE Josh
NOMINATED
I haven't forgotten his problematic comments and he'll never be 'entertaining' in a traditional or even tweaky sense, but he's done an admirable job keeping his cool when everyone's been trying to get him to lose it. His social game is still a disaster but he's become more human during this recent round of isolation with Jessica. Baby steps, I guess. Pretty sure all us coffee addicts felt for him about the decaf swap, whether we like him or not.. non-coffee folks wouldn't understand.





Won: 1st eviction safety
HOH 0 - Veto 0 - Noms 0
VTE Josh
Sometimes I can take her, sometimes I can leave her, and sometimes she makes me want to gag. Her ongoing breakup with Mark has passed the empathy and comedy stages and now we're stuck at some stalled pathetic stage. I get that she doesn't want to hurt her BB game by telling him she's not interested, but Mark would still support her game-wise and it's the only way she'll get him to stop begging. Meanwhile she's in a better position for the long term than most of them, and that isn't accidental. She's a mess in a lot of ways but she's pretty good at BB.





Won: 1st eviction safety; 1 week frog
HOH 0 - Veto 1 - Noms 1
VTE Ramses
He's still one of the fun ones to watch, especially when Kevin. Each of them knows how to tell a story, they both have a wealth of stories to tell, and they never one-up each other during the telling. Jason also comes out with random comedy lines a lot, usually when I'm least expecting them. He knows what's going on with Paul, minions, etc but he's biding his time to do or say anything about it. Maybe he will eventually, or maybe he won't.





Won: 1st eviction safety; 1 week frog; Temptation #3 halt one of four evictions
HOH 1 - Veto 1 - Noms 2
No vote (HOH)
NOMINATED
She's problematic in any number of ways but big ups for taking on the entire house and coming out unscathed, and without gloating about it. None of this will help her in the game going forward but 'it is what it is' and she'll be remembered for it whether she sticks around or not. If getting the Hex goes to her head, so be it and we'll deal with that when we got to it. She hasn't dwelled on it a lot thus far like some would. Never mind that many who voted for her to get it did so to thwart Paul. And it did, and he's over-compensating like crazy.





Won: 1st & 2nd eviction safety
HOH 0 - Veto 0 - Noms 2
No vote (nominee)
Yes he's annoying, idiotic, tiresome, loud, and ridiculous, but he's that random bit of extra that puts the shine on all the chaos. Maybe shine isn't the right word, but he puts it there. I can tolerate him for now, and I think he'll be with us a very long time. He's the perfect finalist to sit next to at the end for anyone who wants the win, and you can be sure Paul and a couple others have thought about that.





Won: $25,027; 1st eviction safety; couldn't be 1st HOH
HOH 0 - Veto 0 - Noms 0
VTE Ramses
Ups all the way, still. This guy can do no wrong in my book and the only problem is he's not on feeds enough. But that's okay, as I think (hope) he'll be with us for a long time to come. Unlike some, I think he's playing a great social game but like BBCan3 Godfrey, it may be too subtle to earn a win at the end. But hey, he's a shoe-in for the viewer favorite $25k which would put him $27 ahead of second place, and he'd get his stipend on top of that. His convo with Jason about the problems his family dealt with when his father was in prison is the kind of Real Talk I live for on feeds.





Won: 1st eviction safety; Week 5 safety
HOH 0 - Veto 0 - Noms 0
VTE Josh
WON SAFETY via Temp Comp
He's exhausting. He's in so far over his head it's bordering on hamster cruelty in a dozen ways. If he can get over Elena just a little bit he might have a chance of recovery, and in fact he made not one but two jokes on Monday. I felt kind of proud of him for those, but then he riled up Christmas and he went on a rant to Paul about the military service agenda, and he doesn't have the slightest clue that those are two people he doesn't want targeting him.





Won: 1st eviction safety
HOH 0 - Veto 0 - Noms 0
VTE Ramses
Solid downs for the towel, the ratty orange shirt/rag I call his Precious, and the screech-a-thons, wrestling, and food/powders/lotions fights with Raven. Not to mention the overwhelming blandness. But he was the voice of reason not once but twice on Monday, so he gets a courtesy upgrade to neutral because we need some of that.





Won: 1st week safety; Temptation #1 safety next 3 evictions
HOH 2 - Veto 2 - Noms 0
VTE Ramses
HEAD OF HOUSEHOLD
WON VETO/USED ON JASON
Big ups for making them do his bidding even while telling them he's been accused of making them do his bidding, and they keep doing it, so that's on them. I don't have to like his villification tactics, repetitive sermonizing, or loud bravado to acknowledge it's all been very effective so far. I don't think it's sustainable but I wouldn't have thought he'd still be pulling it off this many weeks in, so what do I know? However, I wonder if he's stopped to consider how much support he got last year for being the underdog (with Victor) and making his way to the end despite the odds, while being more or less entertaining along the way. His war on Cody has put Cody (and Jessica) in a similar Sitting Ducks position.





Won: 1st eviction safety; Have-not pass
HOH 0 - Veto 0 - Noms 0
VTE Ramses
I can ignore her victim routine and I'm not fooled by her saying she doesn't play victim because she does. Doing it with a smile and quirky getup don't change that, they just disguise it for a minute. I can ignore the growing list of maladies and the flak out here about those, her family, fundraisers, and the rest of it. I'd like to ignore her weird whatever-it-is with Matt but the nightly screech-a-thons are starting to happen more often than nightly, and she's just so damn loud when she starts screeching that it bleeds through to all feeds even if cameras aren't on them. Nope!





Won: 1st eviction safety; Mandatory nominee once
HOH 0 - Veto 0 - Noms 2
EVICTED 7-3
I always have a soft spot if they mention me and he did in a pre-season QA with KFROG - thanks! He was a pleasant guy who came in with the 'superfan' tag, and while he was a relative newcomer to it all, he does have a separate BB Twitter and he follows many in our dysfunctional community. But that wasn't enough and he made dual mistakes of aligning with only Jillian and not staying on top of things. He became the scapegoat for hinky votes, first night $25k, and he was threatened and berated for not throwing a veto comp hard enough when he was on the block. Being there in the first place was an unlucky temptation consequence. So the stars just didn't align for Ramses but he was fun and likable and will be missed.





Won: 1st eviction safety
HOH 0 - Veto 0 - Noms 1
She seemed promising, brainier than most hamsters by far, and she started out well. She earned Mark's devotion over fake chess games and heart-to-hearts, but Christmas and Elena also tugged at him from different directions, and Dominique never got as tight a hold on Josh. Kevin let her host the talk shows, but she was too slick and professional with them, and kind of a drip. That backfired when she put Ramses and then Cody on the spot, and she confessed her job lie to several too early. She brought in more religion than most, and she 'marooned' herself in the lounge, doing a solo telethon for days. She caught on to Paul and told everyone he was a snake, and he made sure she went out the door as a result.





Won: Nothing
HOH 0 - Veto 0 - Noms 2
She gave us a good shockface when Julie spoke her fate, but she hadn't done much to prevent it. She wasn't there long enough to do a lot, but she didn't really do much that was memorable except repeat convos (at lightspeed), plan future shows to be on, and be on the block. Virtually everyone else campaigned their brains out around her while she was at summer camp, so it's no surprise she didn't know who did and didn't vote for her. She wasn't cut out for this game and she also attracted some political attention that nobody needs. Many use BB to escape from that kind of thing for a little while.





Won: 1st eviction safety
HOH 0 - Veto 0 - Noms 1
Like Cameron, there isn't much to say since she left before feeds began. A lot of drama was stirred up by, around, and/or because of her, including a Josh rant we saw on the premiere sans context, and an alleged sabotage lie about a comment Jessica allegedly made about Alex. When Megan got home, she released a statement saying she left because of PTSD from a prior assault. You'd think those things would be discovered and addressed during the lengthy audition process, but who knows? We may never know the entire true story as we'll only have hearsay and edits to go by, but I wish her well.





Won: Nothing
HOH 0 - Veto 0 - Noms 1
What is there to say when they're gone before feeds start, other than it stinks? They were probably wise to get him out because he's a big fan who knows the show, and he's brainy to boot. At least he had not one but two comp-shots to save himself, even though he opted for a third comp to evict rather than the vote that got him the non-coveted first boot spot. He seemed likable enough and he tried some twerkish moves to save himself but alas, it wasn't enough. He dropped a hamster line in Diary which was fun, but anyone going before feeds still stinks.






Lines and Links of the Day
Lines

Thursday
Josh: *bang bang bang* MARK I WANNA BOND WITH YOU! *bang bang bang*

Josh: Seven hours of hell, you signed up for it!

Cody to Mark: I'll rip those pots and pans right out of his fuckin hands dude

Mark: Can we be somewhat civil for the rest of the house?
Josh: No.. we can have fun, I'm never gonna say something offensive, but I want to torture you a little bit
Mark: So we can have fun like old times?
Josh: No

Paul: I don't talk game with most people

Mark: I really want to give you a hug right now
Elena: Please do not touch me, I do not like being touched when I'm pissed

Friday:
Jessica to Cody: I don't think you realize what a poker face is

Jason to Kevin: The twists are designed to fuck up a plan, otherwise it'd be boring as shit and too fuckin easy.. otherwise it'd just go the way Paul wants it to go all the time

Mark: Why am I the only one with my tutu still on?

Cody: We should probably breed just to do the world a favor
Jessica: Let's start

Jessica to Christmas: I feel like I have smiled at people in this house that I don't think deserve my smile

Paul to Mark: Unfuck yourself

Kevin: We're sitting here being entertained for the first time in a fuckin while

Jessica: I don't want to be dating a hothead who I have to worry is going to be getting in fist fights constantly
Cody: I don't think I can balance you out the way you want me to balance you out
....
Jessica: You are always wrong
Cody: That's what I'm saying
Jessica: But that's just fact
Cody: Can I go back to my no talking? 'Cause I was cool the first half of the game

Paul about Matt & Raven: Midnight every night they go fucking ham

Paul: Frank's season, Dr Will, they had this group called Chilltown

Saturday
Cody to Elena: I go in the DR and I'm like 'yep I think we're good to go!' and America's all 'you fucking idiot' - I don't know if they feel bad for me or if they're like 'this guy fuckin sucks'

Sunday
Christmas: I'm gonna follow you on snapchat when I get out
Paul: You should, I just yell into the camera a lot
Christmas: Well, sounds like I'm not gonna follow you

Mark: Oh shit, my dick just completely whipped out, shit! I hate this, please don't show that

Kevin to Paul, if Hex is used: So your HOH meant nothing?

Josh: Mom, do not watch Wednesday or Thursday episode, just don't watch this week

Jessica re Les Moonves: He's Jewish isn't he? I feel like everyone who owns movie production companies is Jewish, they run this town
Elena: That's true
Cody: I don't know his faith!

Paul: Whose fucking full set of hair is this?

Monday
Josh to Cody: Pull a Megan, pull a Megan

Big Brother: Safety first! No horsing around

Raven about Jessica: This bitch ain't gonna break me, I've been through eight surgeries and I have two diseases, TERMINAL!

Josh: I think this season's gonna get cancelled

Mark to Josh: This [being attacked] could happen to you and I still wouldn't like it - I'm kidding

Mark, quoting Christmas: 'Did you eat my slop?' Just listen to that

Kevin about BB18: Who went to Paris?
Jason: That was just the name on the phone

Raven: August is gastroparesis awareness month! All month long, guys

Tuesday
Matt: I'm so glad you two meatheads are friends again
Mark: We hate each other

Jessica: I have a part of my body called a hymen?
Cody: Well you might not have it anymore
Jessica: I don't have it anymore?
Cody: Ask, ask

Christmas: I grew up in the country
Kevin: That's why I was calling you Country for awhile, then I forgot the 'try' and everyone got mad

Wednesday
Mark: Did you guys mess around with baby powder in here?

Kevin: Just send someone home, please.. I hope there's a quadruple eviction

Josh to Mark: You are part of la familia, you're just at the kids' table



Links

GET YOUR FEEDS

Use my links for any Amazon shopping, anytime, at no extra cost - just start your shopping trip by clicking Amazon USA or Amazon Canada

Big Brother OTT might not be dead, but it won't happen this fall by @RealityBlurred

Big Brother 19 The Saga: Episode 4 by @WilHeuser

Raven's stories are actually old Simpsons episodes by @em__BB

Puppycam pups re-enact Josh vs Mark fight by @IsItUpOrDown

Weekly QA with Allison Grodner including Hex and Temptation Comp rules, by Matt Carter

Local news feature about Puppycam/Kittycam




Tally Items
Extracurricular Tally

Fights: 16
6/29 Premiere #2: Josh vs Megan
7/6 live show: Jessica vs Christmas
7/6 HOH comp: Josh vs Cody (not on feeds or show)
7/6 10.10pm: Jessica vs Josh, plus Cody
7/17 3.30pm: Three parter:
Josh vs Mark, plus Josh vs Jessica, plus Dominique vs Christmas
7/28 7.24pm: Three parter:
Cody vs Paul, plus Cody vs Jessica, plus Mark vs Josh
7/30 12.25pm: Cody vs Jessica
7/31 12.47pm: Jessica vs Raven
7/31 5.04pm: Four parter (at least): Jessica vs Alex, Jessica vs Paul, Jessica vs Raven, Mark vs Alex

Revivals: 1
Cody

House meetings: 4
7/15 5.46am
7/17 4.21pm
7/30 2.50pm
7/31 4.52pm

Pinkyswears: 2
Raven and Paul on premiere
Raven and Matt 7/11 7.56pm

Makeout pairings: 3
Cody/Jessica, Mark/Elena, Matt/Raven

Sex events: 6
7/2 3.12am Cody, Jessica
7/6 3.25am Mark, Elena
7/11 2.44pm Mark, Elena
7/26 1.00am Raven, Matt
7/30 3:29pm Cody, Jessica
8/2 1.32am Raven, Matt

Injuries: 3
Mark's dislocated finger in 1st HOH comp
Christmas's broken foot
Raven's stair crash and foot stitches

Better alternatives to Jeffish: 1
Kittycam, Puppycam, Bunnycam featuring Rancho Coastal Humane Society adoptables

Premature (pre-feeds) evictions: 2
Cameron, Megan

Pre-season makeover and photo replacement: 1
Megan

Epic Twitter battles: 2
6/19 Dr Will vs Meech, plus BB18 Natalie, BB14 Danielle, Russell Hantz
6/22 Evel Dick vs James Huling



CBS Goofs

1 Misspelled 'Hitmen'
2 Pop mixed up BB seasons with AD seasons
3 Mistook USA for 'the world'
4 To/too error
5 Too many seasons for Frank
6 Conflicting Christmas ages
7 Pop had a midnight/day problem
8 Misspelled Raven
9 Random things in bikini photos
10 'An New Season'
11 Photoshoot spoilers
12 Leaked two upcoming votes
13 This season is 92 days, not 99
14 Thumbnail on feeds slider shows BB18
15 Misspelled 'receive' on tickets site
16 Misspelled 'replacement' on YouTube
17 Control room monitors on 7/6 live show
18 Day count error on 7/9 show
19 Misspelled 'drinkware'
20 Misspelled Nicole's last name
21 Misspelled Josh's last name
22 Misspelled Ramses
23 Let Jessica into DR when Kevin was there
24 Feeds timestamp 3+ hours wrong
25 Counting error on 7/20 show
26 Listed five, called it six



Season Stats
HOHs in order: Cody; Paul; Alex; Jessica; Paul

Veto winners in order: Alex; Paul; Jason; Jessica; Paul

Evictions in order: Cameron 8-3-2; Megan (quit); Jillian 8-4;

Cody 7-3-0

; Dominique 10-0; Ramses 7-3

Pre-jury Twitters: @CameronHeard210; @MeganAnnBB19; @jilliannicoleww; @CDmAI; @TheBBHomie1







Linking to any page here is fine. Please don't repost content from this site (or any other) without permission, and don't repost or hotlink images.



THE REAL SHOW IS THE FEEDS


NEXT-DAY AIR SHOWS
Live air shows in some areas
BB1 thru BB19 and many other CBS shows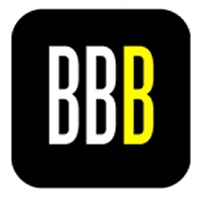 BIG BROTHER BUDDY
Get push notifications for all the big feeds events - iOS or Android


HAMSTERWATCH SWAG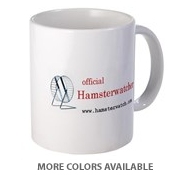 Mugs, shirts, more
Visit my Cafe Press shop






Big Brother 19 SEASON FAQ


Day 1 Move-in was June 21
Day 8 CBS premiere is June 28
Day 9 Feeds begin June 29
Day 92 Finale is September 20

Feeds are streamed by CBS, and Flashback is accessible via All Access subscription. Call 888-274-5343 for account help, including cancellation.

Air shows on CBS (Global in Canada) are Sundays 8pm, Wednesdays 8pm, eviction Thursdays 9pm.

Big Brother After Dark on Pop TV (Slice in Canada) is every night midnight to 3am, except Thursdays 1am to 3am. The aired blocks are live (or recorded earlier the same night, depending on your cable provider).

The CBS app (by CBS Interactive) plays BB air shows and other CBS shows, as well as feeds, or you can use your browser to watch feeds on mobile devices. The same All Access link used to subscribe will lead to the feeds viewing page if you're already signed up.

BB19 prizes are the same: $500k for the winner and $50k for 2nd place. Stipend for the others is $1,000 per week again, including pre-show hotel and jury sequester. Paul is probably getting more, and possibly Christmas as well.

The habitat has 87 HD cameras and over 100 microphones.

The recorded in-house announcements are the voice of producer Don Wollman. He and Julie Chen are the only staffers who have been there since Big Brother 1.