This site is about the Big Brother 19 feeds and contains spoilers! It isn't necessarily thorough: it's what I catch and/or what interests me. It's about watching hamsters: who's doing what and why. Thanks for encouraging my behavior.
Your pal, dingo




Protect your online privacy with HMA
Watch Big Brother UK, Survivor New Zealand, and other non-USA shows






BB19 DRINKING GAME


Take a swig whenever there's a kiss. Take 12 if it's a makeout session so you don't have to listen to it.







VIEWER VOTES


Who should get Halting Hex: stop any one of the next four evictions during live show
Voting is closed







VIEWER VOTE WINNERS


#1 Pendant of Protection: Paul
Consequence: Ramses

#2 Ring of Replacement: Christmas
Consequence: Cody, Jason, Jessica

#3 Halting Hex: TBA
Consequence: TBA








QUICK LINKS & BOOKMARKS



-Get the feeds
-Watch the feeds
-BB19 official site
-Live show tickets

-Feeds updates by @UGotBronx
-My Twitter - my screencaps
-Amazon portal USA or Canada

East coast air shows:
CanadaTV for Roku
$2/month - Global airs BB USA

East coast air show streams:
1 - 2 - 3 - 4 - 5
NO DOWNLOADS NEEDED - BEWARE OF CLICKING POPUP ADS OR WARNINGS

-Dick at Night with @EvelDick

-BB Viewer by @liquid8d
Requires All Access account

-Hamster Twitters
BB USA - BB Canada

-Advice for cast friends/family

-VPN to watch BB UK and/or to protect your online privacy




Donations via Paypal are gratefully accepted!

Click for weather forecast

Watch Big Brother
Seasons 1 thru 19
Plus tons more CBS content






BIG BROTHER SEASONS



CBS All Access
Seasons 1 thru 18

Amazon DVDs BB4 - BB3

Amazon Instant Video
BB18 - BB17
- BB16
- BB15
- BB14
- BB13
- BB12
- BB11
- BB10
- BB9
- BB8
- BB7





BIG BROTHER 19 FEEDS EXCLUSIVELY ON CBS ALL ACCESS
All Big Brother USA seasons + most CBS shows past or present are included
$5.99 PER MONTH INCLUDING 1 WEEK FREE TRIAL or $9.99 AD FREE
COMPUTER - MOBILE - ROKU - CHROMECAST - APPLE TV - ANDROID TV - FIRE TV - XBOX 1/360 - PS4

>> >> >>

>> >> >> >> >> >>

>>

ANY AMAZON.COM PURCHASE CAN BE MADE THROUGH THESE LINKS - NO EXTRA COST TO YOU
Amazon USA
- Amazon Canada
July 6-13, 2017
Power Status
Cody evicted 7-3-0

Alex is Head of Household
Jason won veto/did not use
Dominique, Jessica are nominated
Mark, Jason, Josh, Ramses are Have-not

Paul has safety for one more eviction
Christmas can opt to play in any one veto comp
Raven has a Have-not pass


Upcoming Events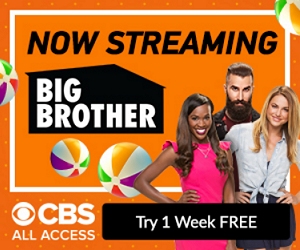 FEEDS ARE A FUN, HOT MESS and they are the real show - sign up now and get a one-week free trial

Feeds might be down Thursday afternoon through Friday night - they were for last year's Battle Back

Friday: Battle Back revival if applicable, nominations
Saturday: Veto comp


Next Shows
Thursday 7/20 9pm - Mark vs Josh fight, Den of Temptation reveal, live eviction
Friday 7/21 8pm Battle Back show
Sunday 7/23 8pm HOH comp, nominations

CBS schedule is Sundays 8pm, Wednesdays 8pm, live eviction Thursdays 9pm, on CBS (Global in Canada). Stream links to watch live online are posted in Quick Links & Bookmarks on the left sidebar. After Dark is every night on Pop (Slice in Canada) - times vary by area and provider.


Other News and Weekly Stats
Battle Back feeds block "Feeds will be down for longer than usual later this week" is the same wording they used last year, which translated to Thursday afternoon thru Friday night

Real-time feeds updates and air show recaps are at Hamsterwatch Forum by @UGotBronx, plus cast bios/photos/links, and fun extras

Diary segment tallies by @clamperls: Through second week

Alliance charts by @89razorskate20: Day 23 - Day 25

Ratings Watch Thursday 7/13 eviction show won the hour with 1.8 rating, 7 share, 6.05 million viewers, ahead of The Wall on NBC with 1.2/5/6.04, Battle of the Network Stars on ABC with 0.7/3/2.71, and Love Connection on FOX with 0.6/3/2.32.

Sunday's show won the hour with 1.8 rating, 8 share, 6.00 million viewers, ahead of Celebrity Family Feud on ABC with 1.1/5/6.09, The Simpsons and Family Guy reruns on FOX with 0.5/2/1.25 and 0.6/3/1.39 respectively, and The Wall rerun on NBC with 0.4/2/2.22.

Wednesday's veto show won the hour with 1.8 rating, 8 share, 6.15 million viewers, ahead of Masterchef on FOX with 1.1/5/3.42, Little Big Shots: Forever Young on NBC with 0.8/3/5.78, and The Goldbergs and Speechless reruns on ABC with 0.6/3/3.01 and 0.5/2/2.18 respectively.

Rating and share: adults 18-49 - Rating: percent of all TV households - Share: percent of households watching TV



Week 3 - Days 23 thru 30 - July 13 thru 20, 2017
Daily and Noteworthy Events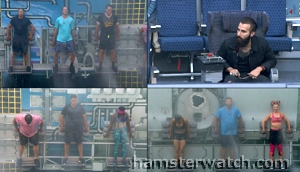 Evicted: Cody 7-3-0
Head of Household: Alex
Have-nots: Mark, Josh, Ramses plus Jason (2nd week)
Have-not Extension: Josh
Original noms: Dominique, Jessica
Veto winner/outcome: Jason/not used
Final noms: Dominique, Jessica
Evicted: Dominique 10-0

Viewer vote #3: Halting Hex: Who should be able to halt/void one of the next four evictions? Jessica
Consequence: TBA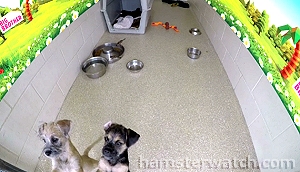 Day 23 Thursday 7/13 Kittycam was replaced by Puppycam, once again sponsored by Rancho Coastal Humane Society and featuring adoptable anipals. The puppies' pen also had a squirrel and some birds in a shining example of casting diversity and/or an open-air habitat.

Josh didn't quite make it through his third day of pickle juice, spewing most of it onto the counter, floor, and various feet & shoes. Christmas hadn't returned yet as of 3.20pm or so when the feeds went to the puppies.

Tonight's HOH endurance comp will be live on the feeds - sign up now to watch it play out! And catch up whatever you missed from Wednesday night's chaos with my previous Hamsterwatch episode and/or Hamsterwatch Forum real-time updates by @UGotBronx.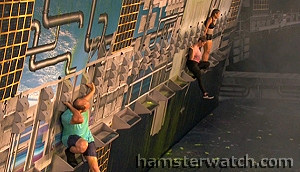 Julie gave them and us a Christmas update, that her surgery was successful but she was still in hospital and she'd be voting absentee. Raven's mishap and foot injury was not mentioned. Cody was evicted 7-3-0 with Jessica, Kevin, Christmas voting to evict Ramses, and nobody voting to evict Alex. Cody stripped off his frog suit before walking the plank, and Julie zinged him by asking if he had any social game. She told him and us that next Friday will be a special Battle Back show for revival among Cameron, Jillian, Cody, and whoever goes out next Thursday. She also told us the hamsters will "get a chance" to stop that Battle Back winner from re-entering the game.

It was a wall endurance with a space theme, titled Space Cadets, with air blasts, cold water, and green slime being shot at them between leanings. They began at 6.3pm and outs and times in order were: Josh 7.12; Mark 7.19; Raven 7.38; Ramses 7.53; Kevin 7.55; Matt 8.05; Jessica 8.18; Dominique 8.18; Jason 8.29; Elena 8.30pm; leaving Alex as the winner. She promised Elena she wouldn't put her up before Elena dropped.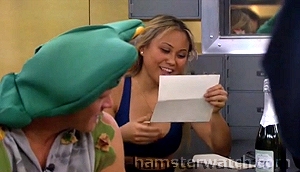 Paul and the growing peanut gallery were abuzz trying to figure out the votes, and they all continued that in various groups after they were let back inside, along with the usual nomination roulette convos.

Alex finally got her room a little after 1am, and they all cooed at her pics and cheered for her food on cue. She read her letter from her mom and dad, and was happy she got a new rosary and a new supply of Coke, along with the usual assortment of groceries and junk food, and music by Meghan Trainor.

She had earlier ordered Jason and Ramses not to conspire or drop names without her, but of course they did and so did everyone else. Alex had said she was going to make a "big move" but she also dwelled on the fact that she'd be in trouble next week if she puts out someone from the other side. So apologies, but I don't know who she's planning on putting up. I'll adjust this if it's made clear before I sign off, otherwise I'll catch up tomorrow.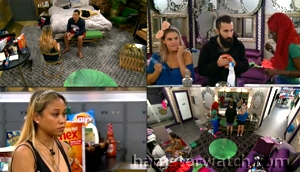 Day 24 Friday 7/14 Nomination meetings raged on, along with meetings about those meetings, like they do. Alex either decided not to name names to anyone or she followed the (once? former? current?) BB rule about same. She did make it somewhat clear she'd be putting up Jessica, but as a pawn and to save face with "the house" wishes, along with Dominique as her real target, I think. Buzz also continued about who the hinky vote(s) were, and that's always fun.

Jason and Jessica were freed of their frog suits, and Josh drank his 4th day of pickle juice without another messy incident. Jessica once again announced ruining her nail polish after using the toilet, but her reintegration back to being a citizen began to show signs of success. Matt joined Christmas and Dominique in the I'm Not Here To Win announcement club, telling Raven he hoped she, Elena or Paul get the money.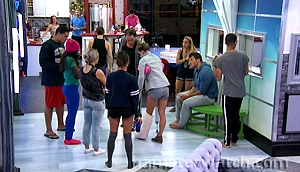 Christmas hobbled back in and told them she'd actually had 10 broken bones plus four dislocated plus torn ligaments, and she broke down when saying her doctor said she'd never regain full mobility, arthritis would set in, and she can expect more future surgeries - Flashback 7/14 3.08pm. Raven got to tell her about her own foot injury, and Christmas said she was "pretty drugged up" when she voted last night.

Jason was clearly gutted by her news, and both Paul and Elena gave him a not-your-fault peptalk. Jason then had a long talk with Christmas, who reiterated the same, adding she'd never told anyone it was his fault (though she had). She also retold some of her Cody convo to him, and she played off to all of them that she was not the third vote to evict Ramses, although most of them had narrowed it down that she had to have been.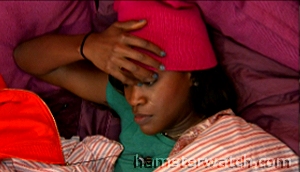 Alex did indeed nominate Dominique and Jessica, and feeds came back to Dominique blanketing. She later told various hamsters God had told her she'd be going up and she went up because she's black, and she told Mark she was "pissed" but it's all for a reason. Mark told her she's his emotional stability in there so he'll be there for hers, and then he said he was going off to be "beyond fake with Elena."

Meanwhile noms reactions and hinky vote paranoia raged on and on, but with a VERY curious twist. Christmas had asked Matt just before noms what the voting order was last night, and after noms she asked Paul the same thing, after admitting to him that she had voted to evict Ramses - Flashback 7/14 7.13pm. Christmas had hinted to both of them that she "might know something" and many leapt to the conclusion that meant Christmas heard Julie say the votes were 3-0-0 for Ramses before she cut to commercial last night. Stay tuned for more on that.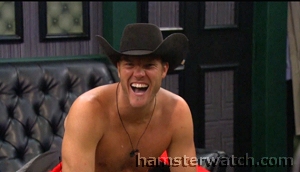 They drew veto players around 8.30pm: Alex, Dominique, Jessica plus Christmas (yep!), Jason, Kevin, with Paul hosting, and they went off to comp at 9pm - After Dark ran CBS show reruns. Feeds came back 3.5 hours later, and Jason had won the veto. Psst-pssting geared up into high speed immediately, with Paul suggesting to Alex she put up Mark to get Dominique out, and then Paul took that to Jason and said it was Alex's idea. Alex and Jason compared notes and both wanted to stick to their Raven as pawn/renom plan, but Mark got word and the four of them had a pow-wow, with Mark losing his mind.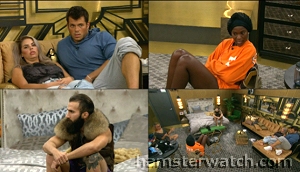 Paul did some further instruction rounds, Christmas and Dominique ran their respective endless loops at each other, Dominique did some further interrogation rounds. Along the way, Josh slipped on the lounge sofa and landed flat on his back, and Matt and Jessica got to eat. Meanwhile, names were called, and everything culminated in a lengthy and heated house meeting with most of them - Flashback 7/15 5.46am.

Paul's hosting outfit looked like a safari pimp and the competitors looked like they might have been wearing the farmer/hayseed type outfits we've seen before. Kevin won $27, but I heard very little about the comp itself. These hamsters are thoroughly exhausting, and rather short on entertainment or solid info.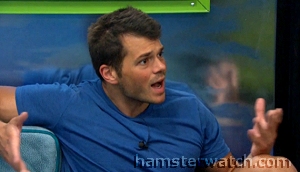 Day 25 Saturday 7/15 Retells of the overnight shenanigans and dawn meeting started up for the few who missed it. Mark continued to lose his mind at the thought of being put up against Dominique, even though he was assured he'd stay. Alex and Jason went back to wanting to keep noms as they are, but then Alex again asked Mark to go up. Rewind, repeat.

Dominique apologized to Jessica for not always saying the best things about her, and not having been sympathetic or empathetic to her situation, and Jessica thanked her. Alex told Jessica that "everyone" had agreed she'd be safe this week no matter what. Matt told Raven he wouldn't mind being a pawn "but this doesn't feel like a pawn situation." Mark told Alex and Jason that Kevin was the first hinky vote (for Jillian), and Paul confirmed that to Alex, adding that Kevin was not one of this week's hinkies.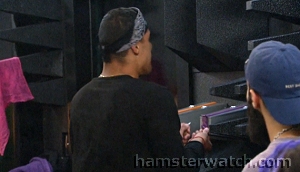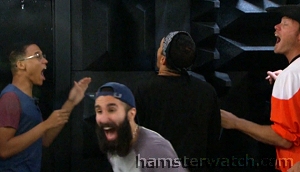 Alex chose Josh, Mark, Ramses as Have-nots to join Jason for his second week, based on drop order off the wall, bypassing Raven with her Have-not pass. Josh and Mark raced to Diary for the double-or-nothing request, and Josh won the drawing between them to select a key. He chose the wrong one, so he will be on slop for two weeks.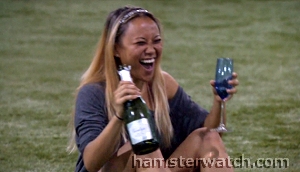 It was a relatively quiet evening, especially compared to 24 hours before, with most of them socializing and goofing off. In a total turnaround from a few days ago, Jessica joined the group activities while Dominique isolated herself in the lounge and talked to us and her occasional visitors about betrayal and "a machete in the back." The Saturday edition of her talk show was cancelled, or perhaps "on hiatus" (a little BB Canada humor).

The backyard finally opened and most of them hung out in the air for awhile, and Alex opened and shared her bottle of champagne. Dominique retired early as did Jason, but his new roomies made a huge ongoing production about moving into Have-not, not surprisingly. Kevin started his laundry loads and griped about Dominique moving into the green room and taking over one of the beds. Paul continued his endless rounds of course, but Christmas eased up her loops a bit, and said her foot was hurting. The latest plan is Jason will use his veto on Jessica and Alex will put up Mark in her place.. keep it in pencil.



Day 26 Sunday 7/16 It was a mostly lazy day of laying around in the sun and eating. Dominique remained isolated but she told some of them separately, including Mark and Jessica, that she was going to blow things up, call out Paul, and the like. She didn't know when the time will be right for that, but later said she'll do it at eviction because the veto meeting can be edited. Paul found out about it of course, and joked about turning into a python when she starts her "speech of destruction."

Mark and Josh bonded for awhile over ex-girlfriends and how different it is to live BB than it is watching on TV. Christmas worked on Mark for awhile, telling him some of her convo with Cody but saying she did not vote for Cody to stay (she did). Kevin kept up his routines about Josh taking his things, and Mark and Elena continued making out and laying on each other all over the habitat. Matt and Raven added themselves to the makeout tally last night, but they did theirs undercovers. Raven, Paul, Christmas continued the real competition of the summer: their ongoing contest to one-up any story on any topic.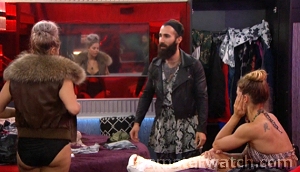 Paul borrowed some of the girls' clothes with snakeskin patterns for the veto meeting and eviction, and he said he'll wear his black face mask with it. The snakeskin is petty and unnecessary but so are most things in BB, but I'm surprised he'd think the mask is a good and hilarious idea. Christmas encouraged the mask, saying if he's going to do anything, he might as well go all the way.

Alex and Jason continued their waffling, but they still seemed set on replacing Jessica with Mark, or Kevin, or not using the veto at all - it changes frequently. In the one of the few bits of comedy we've got left, Alex continued yelling at Jason for saying too much to too many people.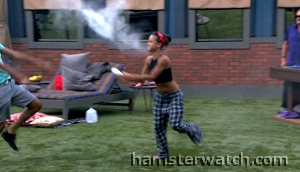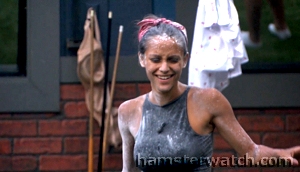 Jessica continued her social reintegration by derailing the evening pool tournament with a ferocious baby powder attack, nailing Ramses and Matt in particular. They retaliated, and she came back again with baby oil. It was the kind of harmless fun that we needed, but Mark was surprised BB didn't give them a "stop that" and he said it probably wasn't sanitary.

Dominique kept up her solo telethon in the lounge, and told Kevin she had one more talk show planned. She asked him to host it as she's a nominee. Paul said he won't go and nobody else would either, and he told Kevin to bail on his hosting duties at the last minute. Dominique told Matt she's actually a government nuclear engineer in DC with master's degree, and that she'd reveal that to everyone at the final talk show.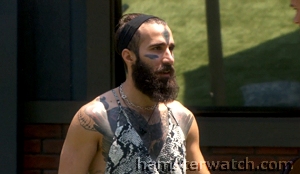 Day 27 Monday 7/17 Jason did not use his veto, so Dominique and Jessica remained on the block. Paul did wear his snakeskin outfit, with diamond face paint rather than full face, but not before TMZ picked up the "blackface" misunderstanding and controversy. Dominique gave a scorcher speech, naming Paul and Elena. Paul said he hissed at her.

There was a small Dominique vs Christmas plus Elena flurry after the meeting, and Elena ranted some about being called out for whatever it was. Jason reaffirmed future safety with Mark since he was kept safe this week. Alex told Jason she's going after Kevin now, apparently because of the first hinky vote, but she also said she was coming for showmances and she didn't.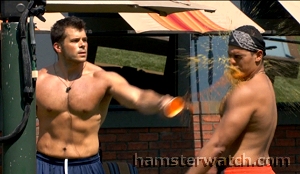 Mark and Josh started up their contentious pool games and bets again. Their game ended with a double-tap scratch and both of them grumping at each other. Mark brought pickle juice and hot sauce for Josh to drink but instead threw it at him - Flashback 7/17 3.30pm. Josh came back with mustard and salad dressing, squirting it all over Mark. They almost looked like they were about to slug it out and BB told them to "stop that" several times.

Both kept ranting and retelling even after they separated, especially Josh, who told Christmas he and Mark aren't friends anymore, and that he'll torture Mark every day til one of them goes home. Christmas told him the pickle juice and hot sauce was "assault" and said they'll talk about it later.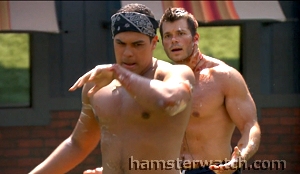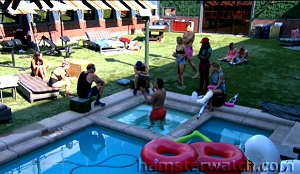 Eventually Mark apologized to Josh, who said "no, don't laugh in my face, you fucked up." Dominique asked Josh what had happened, then Mark joined them. Mark and Josh bypassed pool and condiments and went back to Week 1 voting & game issues and "being a man," and Paul, Alex, Kevin, Christmas joined them around the hot tub.

Before long everyone was in the backyard and Round 2 was Josh vs Jessica with most everyone else watching in stunned silence. Ramses, Alex, Jason were off to one side laughing, like most of us. Josh and Mark went at it again for Round 3, and then Dominique and Christmas had a quick Round 4 to wrap things up before the endless retells began.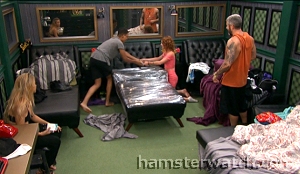 The day began with Paul putting Vaseline on the bathroom door latch and threatening to put it on everything all day, until Josh vs Mark and related shenanigans derailed that plan. Ramses & Raven saran-wrapped Paul's bed, with Alex & Matt cheering them on. Jessica threw some water at Jason, so he poured some hot tub water on her. The spirit of James compels them all.

Along the way, Matt & Raven kept up their weird love/hatemance, with Matt pulling in Jessica to goose Raven, and to rough-house with. Feeds came in late to Paul and Dominique talking, but we caught him telling her she didn't need to apologize to him and the snake stuff was just to be funny. Later in his many retells, he told it all with a mocking tone, making her sound accusatory rather than diplomatic like it seemed from the little bit we saw. Christmas retold her Domininque story several more times as well, with an angry tone and multiple F-bombs.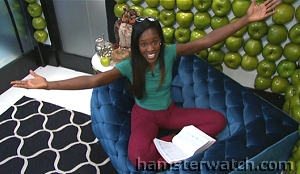 Dominique continued her one-woman telethon, with Orwell still looking over her shoulder. The backyard was visited by a grasshopper and a giant moth, Raven showed off her foot stitches, and Josh and Mark took their individual retells and complaints about the other to whoever would listen. The saran-wrapped bed was discovered but it was Jessica's bed rather than Paul's, for a major prank fail. Jessica attacked Matt in the shower with mustard and baby powder.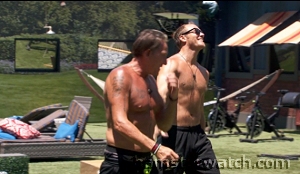 Day 28 Tuesday 7/18 Kevin continued to entertain Jason on their daily walkabout, and us. His tales of beach vacations with seven kids plus their friends had me rolling - Flashback 7/18 1.26pm. Christmas returned from another doctor visit with a new cast, "black like my soul" (her words). She said the doc said she's healing well and "probability for issues" is lower as a result.

She was immediately told about Mark's junk being visible in his spandex workout shorts, with much pointing, which was one of the day's scandals. Others were fallout from last night: Dominique told Josh about Raven calling him a shower peeper a couple weeks ago; Kevin told Elena to grab Ramses' junk and that escalated rapidly; and apparently Josh looked at someone's nip slip so he's back to being labeled "pervert." All that followed extended and detailed anal bleaching and genitalia hair removal descriptions plus posing demonstrations for same.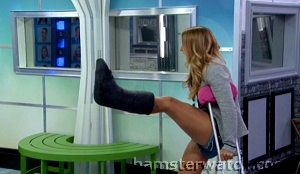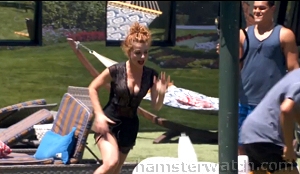 In happier news, Raven ran full-speed for a few yards, so her foot recovery seems nearly complete. That was after the weekly Snapchat goggles came out, inspiring fight sparring, pool deck running and jumping with swans, jumping off/over shoulders, and many, many Stop Thats from BB. Paul announced a pretty big misconception about FedEx "not caring" about interstate pot shipments. Christmas went to work on Raven about various others, which Raven immediately reported to Matt.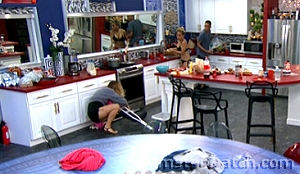 Paul spent a couple hours making fries and bacon, followed by Ramses, Alex, Raven busying themselves over the stove, then Christmas came along and slipped on the greasy floor and went down with a hard crash. She laughed and said she wasn't hurt but said it terrified her - I'm sure it did. Ramses said "let's blame Paul, for funsies." Later Ramses kept doing impromptu live Diaries in the pantry, leaving hot grease unattended on the stove, causing a semi-major kitchen smoke bomb and Jason caught a big grease spatter-pop trying to help.

Cameras weren't on Dominique non-stop like they had been but feeds occasionally checked in with her solo telethon in the lounge, still underway. Josh said he wanted to finish up his week of pickle juice but Paul said he didn't have to. Elena and Jessica did each other's makeup, and Jessica was let into Diary while Kevin was in there, another item for the Goofs Tally below. An afternoon bat fluttered around the backyard and a caterpillar was discovered in the toilet stall. Talk about next week's plans and targets carried on all over, like they do.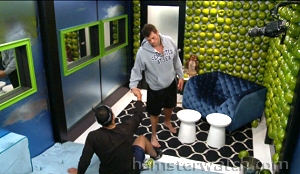 Ramses kept working at his fried slop pickles, even though they all said he should stop because the place smelled like oil smoke. He and Paul had a few contentious/joking banter rounds, Christmas and Paul each made some gametalk/get-along rounds, and Jessica made some campaign/reassurance rounds, especially after Christmas told her she's probably safe but things could change. Matt told Raven she needed to be in top health tomorrow, and when she said she has to get checked out and an all-clear first (stitches removal day) he said "here come the excuses."

Josh and Mark finally talked out their beef from yesterday, both admitting they got more heated than expected and that it had kicked off over dumb stuff. They shook hands and agreed to no more shit-talking, no more letting others wind them up, and no more bets.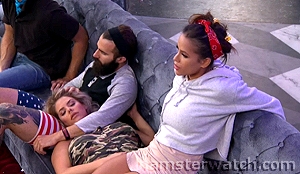 Day 29 Wednesday 7/19 Puppycam ran while they were finally trotted in and out of the Den of Temptation and whatever Pier One decor they filled it with today. They were told the consequence for this one would affect everyone, and speculation ran into overdrive in there and out here. For the record, this current temptation is to stop one of the next four evictions during the live show. The Battle Back competition will happen and will air on Friday, but perhaps the consequence will affect whether the winner is actually revived or not. Julie did say the HGs will get a chance to stop the Battle Back winner from re-entering the game.

All that said, none of them admitted to getting the Halting Hex when feeds returned. Dominique did her toenails silently in her telethon lounge, but Jessica seemed perky, and she asked around a bit for reassurance about tomorrow's votes. She asked Dominique outright if she won it "to see how she'd answer" - Dominique chuckled and said no. Raven whispered something to Paul that could have been "I got it" but I couldn't make it out. She then said she'll talk to Paul about [whatever it is] later.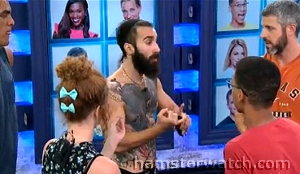 Apparently Paul heard Jessica had mentioned him about something, and he rallied his troops about it. He then confronted her and she said she'd been wondering to others about his vote. This was all during the air show and I haven't gone back to see if there was more to it.

Evening was mostly a lot of shoutouts, and a lot of chit-chat. Dominique's final talk show did not happen.



Ratings - More Popcorn edition
Ratings are Monday's, based on entertainment value




I think they either got very lucky with this cast, or they engineered it to push Paul and Christmas forward to the end. If the latter, both were derailed: Paul by his out of control ego and unfortunate mask plans, and Christmas by broken bones and apparent lingering phone call, so wherever we go from here will be interesting. The timing for Halting Hex reveal, eviction, and Battle Back are suspect for sure, but so what? 'It is what it is' once again, and will be what it will be.





Won: 1st eviction safety
HOH 1 - Veto 1 - Noms 2
No vote (nominee)
HEAD OF HOUSEHOLD
She may have played into Paul's hands but she didn't have much choice, and now he thinks she's on his side rather than her own. She may have forgotten she swore to go after showmances, and she may be setting her sights on Kevin next, but she's been a fun HOH just the same. Whenever she yelled at Jason for saying too much, it made me laugh, especially when that was happening two or three times a day.





Won: Temptation #2 play in any veto comp
HOH 0 - Veto 0 - Noms 2
VTE Ramses via phone
She's every bit as busy and conniving as Paul, she's just quieter about it. I think this season is already boiling down to her versus Paul, but most of them don't realize it yet (nor does Paul). I don't think it's coincidence many of the others tend to be sheeple.. BB16 was similar.





Won: 1st eviction safety
HOH 0 - Veto 0 - Noms 1
VTE Cody
NOMINATED
The whole snake thing was because she told everyone except Paul that he's a snake, he found out about it, and was doing the snakeskin outfit to mock her - nothing more and nothing less. She lost the battle with Elena and Christmas for Mark's BB soul, and she lost the battle with Paul and Christmas for gathering sheep, and now she's a goner. Normally I'd hope she wins the Battle Back for a revival to rub all their faces in it, but isolating herself and preaching to them and us has run its course.





Won: 1st eviction safety
HOH 0 - Veto 0 - Noms 0
VTE Cody
Pretty much all anyone knows about her is she likes to talk dirty, she likes to talk about her body and the guys' bodies, and she likes to be physically attached to Mark at all times. She also jumps into most gossip rounds and now that she's been called out by Dominique, she's very defensive about that.





Won: 1st eviction safety; 1 week frog
HOH 0 - Veto 1 - Noms 0
VTE Cody
WON VETO/DID NOT USE
He's so excitable and so erratic, he makes for very fun feeds. He's very hazardous to his own game, but that's the way it goes. Later on he very well may be that guy everyone wants gone but who keeps saving himself via comps.. here's hoping anyway.





Won: 1st eviction safety; 1 week frog
HOH 0 - Veto 0 - Noms 1
VTE Ramses
NOMINATED
She's done a remarkable job of blending back in but I think if Cody returns, she'll go right back to being his sidekick and all this will have been for nothing. And to be fair, she hasn't really endeared herself to them as much as Dominique became a bigger target. Her baby powder attack was a great tension-breaker and the kind of good fun we need a bit of on the feeds, but then she decided to fight Josh in front of everyone and that won't help her going forward at all.





Won: 1st & 2nd eviction safety
HOH 0 - Veto 0 - Noms 1
VTE Cody
He and Mark have been getting snappy at each other, mostly in fun, but with both of them on slop and Josh for two weeks, he's bound to continue getting pissy at pretty much anything, large or small. More popcorn!
UPDATE Just as I was writing this up, the Monday afternoon fights happened - good thing we had that extra popcorn handy.





Won: $25,027; 1st eviction safety; couldn't be 1st HOH
HOH 0 - Veto 0 - Noms 0
VTE Ramses
He's still the one worth watching for those who remember this is about entertainment and not morality lectures, thanks to his quick wit and snappy comebacks. He might be starting to rise a bit in the targeting pool, but there are a number of others ahead of him so he should stay with us for quite awhile. I hope.





Won: 1st eviction safety
HOH 0 - Veto 0 - Noms 0
VTE Cody
He had a couple bad, no-good, horrible days and even though he escaped the block, he's still a hungry Have-not for awhile longer and he becomes a little more Wreck-it Ralph every day. I've been saying there was a three-way race for his BB soul but now Dominique's been eliminated, so it's down to Christmas vs Elena. I expect Paul to step in any minute and claim ownership (or villify Mark as his next target if he can't own him).
UPDATE See Josh. Monday afternoon pool bets and condiments turned into a roaring good time for Team Fun Feeds.





Won: 1st eviction safety
HOH 0 - Veto 0 - Noms 0
VTE Cody
Pretty much all anyone knows about him is he owns four shirts: two blue, one worn-out orange, and one purple, he likes cereal, and he neither encourages nor discourages Raven hanging on him all the time.





Won: 1st week safety; Temptation #1 safety next 3 evictions
HOH 1 - Veto 1 - Noms 0
No vote (HOH)
He had the season handed to him on a silver platter, with only Christmas to worry about game-wise and Kevin popularity-wise, but he went into megalomaniac mode for no reason, and then made a critical error in judgment with the face paint plans. It wasn't meant racially and he didn't go through with it anyway, but the damage was done and it leaked out beyond our normally insulated BB world. I just wonder if the edits are going to turn on him like they did Paulie, and when.





Won: 1st eviction safety; Mandatory nominee once
HOH 0 - Veto 0 - Noms 1
No vote (nominee)
He was all lined up to be this week's target but he dodged that bullet somehow, and I don't think he even realizes it. Like a kid at summer camp and no cares in the world, he has a lot of fun in the pool.





Won: 1st eviction safety; Have-not pass
HOH 0 - Veto 0 - Noms 0
VTE Cody
She's brought her own offline controversies but feeds-wise she doesn't bring much entertainment in my opinion, which is likely diametrically opposed to her own. Quirky can go a long ways but when it's only about stage makeup, semi-kooky hairdos, and hanging on Matt, something's missing. They never mentioned her near-fatal stairs crash on the show, but they did run one of her gastroparesis segments just before the Halting Hex voting reminder. I expect she'll get this one and avoid any controversy about Dominique getting or not getting it, along with timing questions about whether it's awarded before or after Dominique's eviction.





Won: 1st eviction safety; 1 week frog
HOH 1 - Veto 0 - Noms 1
EVICTED 7-3-0
Matt Iseman said it best in my my pre-season All-Stars impressions when he said this guy has 'trolling levels of apathy.' Cody came in like Grumpy Cat and complaining of 'victim noises' and proceeded to show a severe lack of personality combined with raging HOH-itis and extreme narcissism. He set his targets on Paul and when that backfired, he isolated himself with Jessica first in HOH and then in Have-not. He'd already put himself on slop as HOH, so the frog suits weren't even necessary but they did add a comical touch. He said things he shouldn't have about a pleasure trip to Ferguson MO and transgender people, but it's a safe bet he won't care about the flak or withdraw or apologize for his comments. He went out early and while his presence added a lot of volatility to the game, I hope he stays gone.





Won: Nothing
HOH 0 - Veto 0 - Noms 2
She gave us a good shockface when Julie spoke her fate, but she hadn't done much to prevent it. She wasn't there long enough to do a lot, but she didn't really do much that was memorable except repeat convos (at lightspeed), plan future shows to be on, and be on the block. Virtually everyone else campaigned their brains out around her while she was at summer camp, so it's no surprise she didn't know who did and didn't vote for her. She wasn't cut out for this game and she also attracted some political attention that nobody needs. Many use BB to escape from that kind of thing for a little while.





Won: 1st eviction safety
HOH 0 - Veto 0 - Noms 1
Like Cameron, there isn't much to say since she left before feeds began. A lot of drama was stirred up by, around, and/or because of her, including a Josh rant we saw on the premiere sans context, and an alleged sabotage lie about a comment Jessica allegedly made about Alex. When Megan got home, she released a statement saying she left because of PTSD from a prior assault. You'd think those things would be discovered and addressed during the lengthy audition process, but who knows? We may never know the entire true story as we'll only have hearsay and edits to go by, but I wish her well.





Won: Nothing
HOH 0 - Veto 0 - Noms 1
What is there to say when they're gone before feeds start, other than it stinks? They were probably wise to get him out because he's a big fan who knows the show, and he's brainy to boot. At least he had not one but two comp-shots to save himself, even though he opted for a third comp to evict rather than the vote that got him the non-coveted first boot spot. He seemed likable enough and he tried some twerkish moves to save himself but alas, it wasn't enough. He dropped a hamster line in Diary which was fun, but anyone going before feeds still stinks.






Lines and Links of the Day
Lines

Thursday
Julie to Cody: Did you have a social game?

Josh: Do you get to eat tonight?
Jason: Yeah, if I eat slop

Saturday
Alex about Dominique: Why is she walking around threatening people with metaphors?

Kevin to Jason: What took so long, you were up there fuckin four hours! Did you have drugs?

Mark to Alex: If everyone swears Dom's the target, why even take Jess off?

Kevin about Dominique changing beds: That's my room, I run that section of prison, I don't want her there

Sunday
Paul: I'm gonna show up in a snake costume and make [Dominique] look like a fuckin clown

Monday
Josh to Jessica: Now go to the rooms and start hiding, and start building your story again so you can reinsert yourself again.. NEXT?!

Paul: I feel like me calling out Dominique inspired Josh

Raven to Elena, coming down the stairs: Be careful, that next step, that's where I killed myself!

Jessica to/about Matt: You literally just punched my vagina.. he like raped me, he liked shoved a fistful of fabric into my vagina hole

Jessica to Matt/Raven: I think you should just hate-fuck and get it over with

Kevin about the grasshopper: Don't put it in Jessica's hair 'cause it'll never leave

Tuesday
Kevin: College degree? I want to question that college degree, is it written on toilet paper?

Jason: Ole could pick up a car and flip it over.. the hump on Ole weighs more than Mark

Paul to Ramses: It's legal in California so I'm not gonna get in trouble for trying to send you weed.. FedEx doesn't care, they aren't owned by the government, they don't give a shit

Elena: Do you still think I'm an aphrodisiac?
Mark: Not really, you're really irritating me lately

Paul: Ramses shut your fuckin mouth
Ramses: No one even fuckin asked for your opinion so go back to BB18

Wednesday
Mark to Elena: You can't talk dirty in this house



Links

GET YOUR FEEDS

Use my links for any Amazon shopping, anytime, at no extra cost - just start your shopping trip by clicking Amazon USA or Amazon Canada

Big Brother 19: The Saga Episode 3 by @WilHeuser

Paul's book by @SweetBBfan

Weekly QA with Allison Grodner by Matt Carter

Please tweet me @hamsterwatch for extra good or extra funny things you come across thru the season - thanks in advance!


Tally Items
Extracurricular Tally

Fights: 5
6/29 Premiere #2: Josh vs Megan
7/6 live show: Jessica vs Christmas
7/6 HOH comp: Josh vs Cody (not on feeds or show)
7/6 10.10pm: Jessica vs Josh, plus Cody
7/17 3.30pm: Josh vs Mark, Josh vs Jessica, Dominique vs Christmas

House meetings: 2
7/15 5.46am
7/17 4.21pm

Pinkyswears: 2
Raven and Paul on premiere
Raven and Matt 7/11 7.56pm

Makeout pairings: 3
Cody/Jessica, Mark/Elena, Matt/Raven

Sex events: 3
7/2 3.12am Cody, Jessica
7/6 3.25am Mark, Elena
7/11 2.44pm Mark, Elena

Injuries: 3
Mark's dislocated finger in 1st HOH comp
Christmas's broken foot
Raven's stair crash and foot stitches

Better alternatives to Jeffish: 1
Kittycam featuring Rancho Coastal Humane Society adoptables

Premature (pre-feeds) evictions: 2
Cameron, Megan

Pre-season makeover and photo replacement: 1
Megan

Epic Twitter battles: 2
6/19 Dr Will vs Meech, plus BB18 Natalie, BB14 Danielle, Russell Hantz
6/22 Evel Dick vs James Huling



CBS Goofs

1 Misspelled 'Hitmen'
2 Pop mixed up BB seasons with AD seasons
3 Mistook USA for 'the world'
4 To/too error
5 Too many seasons for Frank
6 Conflicting Christmas ages
7 Pop had a midnight/day problem
8 Misspelled Raven
9 Random things in bikini photos
10 'An New Season'
11 Photoshoot spoilers
12 Leaked two upcoming votes
13 This season is 92 days, not 99
14 Thumbnail on feeds slider shows BB18
15 Misspelled 'receive' on tickets site
16 Misspelled 'replacement' on YouTube
17 Control room monitors on 7/6 live show
18 Day count error on 7/9 show
19 Misspelled 'drinkware'
20 Misspelled Nicole's last name
21 Misspelled Josh's last name
22 Misspelled Ramses
23 Let Jessica into DR when Kevin was there
24 Feeds timestamp 3+ hours wrong



Season Stats
HOHs in order: Cody; Paul; Alex

Veto winners in order: Alex; Paul; Jason

Evictions in order: Cameron 8-3-2; Megan (quit); Jillian 8-4; Cody 7-3-0

Pre-jury Twitters: @CameronHeard210; @MeganAnnBB19







Linking to any page here is fine. Please don't repost content from this site (or any other) without permission, and don't repost or hotlink images.



THE REAL SHOW IS THE FEEDS


NEXT-DAY AIR SHOWS
Live air shows in some areas
BB1 thru BB19 and many other CBS shows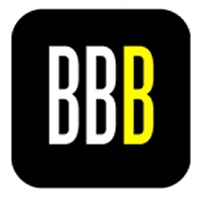 BIG BROTHER BUDDY
Get push notifications for all the big feeds events - iOS or Android


HAMSTERWATCH SWAG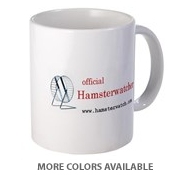 Mugs, shirts, more
Visit my Cafe Press shop






Big Brother 19 SEASON FAQ


Day 1 Move-in was June 21
Day 8 CBS premiere is June 28
Day 9 Feeds begin June 29
Day 92 Finale is September 20

Feeds are streamed by CBS, and Flashback is accessible via All Access subscription. Call 888-274-5343 for account help, including cancellation.

Air shows on CBS (Global in Canada) are Sundays 8pm, Wednesdays 8pm, eviction Thursdays 9pm.

Big Brother After Dark on Pop TV (Slice in Canada) is every night midnight to 3am, except Thursdays 1am to 3am. The aired blocks are live (or recorded earlier the same night, depending on your cable provider).

The CBS app (by CBS Interactive) plays BB air shows and other CBS shows, as well as feeds, or you can use your browser to watch feeds on mobile devices. The same All Access link used to subscribe will lead to the feeds viewing page if you're already signed up.

BB19 prizes are the same: $500k for the winner and $50k for 2nd place. Stipend for the others is $1,000 per week again, including pre-show hotel and jury sequester. Paul is probably getting more, and possibly Christmas as well.

The habitat has 87 HD cameras and over 100 microphones.

The recorded in-house announcements are the voice of producer Don Wollman. He and Julie Chen are the only staffers who have been there since Big Brother 1.