This site is about the Big Brother 19 feeds and contains spoilers! It isn't necessarily thorough: it's what I catch and/or what interests me. It's about watching hamsters: who's doing what and why. Thanks for encouraging my behavior.
Your pal, dingo




Protect your online privacy with HMA
Watch Big Brother UK, Celebrity BB, Australian Survivor, Survivor New Zealand, and other non-USA shows






BB19 DRINKING GAME


Take a swig or two whenever you start taking it too seriously - it's just a TV show







VIEWER VOTES


Who should win $25k viewer favorite prize? Vote at CBS BB site
Hamsterwatch endorses KEVIN
Voting closes 9/20 10am PT







TREE OF TEMPTATION APPLES


#1 Save a Friend: Mark, used on Paul
#2 Nobody picked one
#3 Nobody picked one







VIEWER VOTE WINNERS


#1 Pendant of Protection: Paul
Curse: Ramses self-nom
#2 Ring of Replacement: Christmas
Curse: Cody, Jason, Jessica frogs
#3 Halting Hex: Jessica
Curse: 3 weeks Temptation Comp








QUICK LINKS & BOOKMARKS



-Get the feeds
-Watch the feeds
-BB19 official site
-Live show tickets

-Feeds updates by @UGotBronx
-My Twitter - my screencaps
-Amazon portal USA or Canada

East coast air shows:
CanadaTV for Roku
$2/month - Global airs BB USA

East coast air show streams:
1 - 2 - 3 - 4
NO DOWNLOADS NEEDED - BEWARE OF CLICKING POPUP ADS OR WARNINGS

-Dick at Night with @EvelDick

-BB Viewer by @liquid8d
Requires All Access account

-Hamster Twitters
BB USA - BB Canada

-Advice for cast friends/family

-VPN to watch BB UK and/or to protect your online privacy




Donations via Paypal are gratefully accepted!

Click for weather forecast

Watch Big Brother
Seasons 1 thru 19
Plus tons more CBS content






BIG BROTHER SEASONS



CBS All Access
Seasons 1 thru 19

Amazon DVDs BB4 - BB3

Amazon Instant Video
BB19 - BB18 - BB17
- BB16
- BB15
- BB14
- BB13
- BB12
- BB11
- BB10
- BB9
- BB8
- BB7





BIG BROTHER 19 FEEDS EXCLUSIVELY ON CBS ALL ACCESS
All Big Brother USA seasons + most CBS shows past or present are included
$5.99 PER MONTH INCLUDING 1 WEEK FREE TRIAL or $9.99 AD FREE
COMPUTER - MOBILE - ROKU - CHROMECAST - APPLE TV - ANDROID TV - FIRE TV - XBOX 1/360 - PS4

>> >> >>

>> >> >> >> >> >>

>>

ANY AMAZON.COM PURCHASE CAN BE MADE THROUGH THESE LINKS - NO EXTRA COST TO YOU
Amazon USA
- Amazon Canada
September 14 thru 20, 2017
Power Status
Paul was Head of Household
He nominated Kevin, Josh
Paul won veto/did not use
Kevin evicted 1-0

Paul won Part 1
Josh won Part 2


Upcoming Events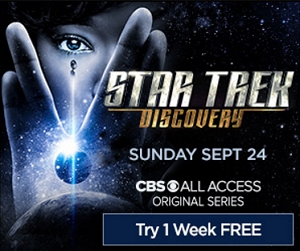 STAR TREK: DISCOVERY premieres September 24 on CBS and All Access, with new episodes every Sunday exclusively on All Access - sign up now and get a one-week free trial

Wednesday morning, probably: Farewell to feedsters and feeds end

Wednesday night backyard interviews after finale:
~ Dr Will Kirby for CBS on Facebook Live (live stream plus posting later)
~ Dana Swearingen for @thebigtime (posting Wednesday night)
~ Rob Cesternino for @RobHasApodcast (posting Wednesday night)
~ Brian Porreca for @THR (finalists & AFP, posting Thursday)
~ Morgan Willett for @afterbuzztv (posting Thursday)

Winter 2018 USA Celebrity Big Brother
Spring 2018 Big Brother Canada 6
Summer 2018 Big Brother 20


One Show Left
Wednesday 9/20 8pm Two-hour finale: Parts 1, 2, 3 final HOH, winner vote, confetti

CBS schedule was Sundays 8pm, Wednesdays 8pm, live eviction Thursdays 9pm, on CBS (Global in Canada). Stream links to watch live online are posted in Quick Links & Bookmarks on the left sidebar. After Dark is every night on Pop (Slice in Canada) - times vary by area and provider.

After Dark was every night on Pop (Slice in Canada) - times vary by area and provider


Other News and Weekly Stats
Celebrity Big Brother USA will air on CBS this winter for the first time. It will have 24/7 feeds and companion After Dark.

Many thanks to those who have gotten feeds with my links or at Hamsterwatch Forum where @UGotBronx updates her brains out, and/or used my shopped Amazon with my portal, and/or made donations! I caught up on my donation acknowledgement emails but many were bounced as spam - talk about a sad comment on the state of the world! I hope donators see this and know how grateful I am!

Gran Hermano Spain's Big Brother began its 18th season with 100 people in the house! Of those 100, producers chose 18, those 18 chose one, and viewers chose one to stay and launch the season.

Australian Survivor new season is underway. Watch outside Australia with HMA on Australia's TEN Network site.

Real-time feeds updates and air show recaps are at Hamsterwatch Forum by @UGotBronx, plus cast bios/photos/links, and fun extras

Diary segment tallies by @clamperls: Through ninth week

Alliance charts by @89razorskate20: Day 61

Ratings Watch Thursday 9/14 live show won the hour with 1.8 rating, 7 share, 6.01 million viewers, ahead of Truth & Lies: Murder of Laci Peterson special on ABC with 1.0/4/4.90, American Ninja Warrior rerun on NBC with 0.9/4/4.00, and Love Connection finale on FOX with 0.6/3/2.16.

Friday's clip show won the hour with 1.2 rating, 5 share, 4.94 million viewers, ahead of America's Got Talent rerun on NBC with 0.8/3/4.00, Shark Tank rerun on ABC with 0.6/3/3.51, and Masterchef rerun on FOX with 0.4/2/1.43.
Rating & share: adults 18-49 - Rating: % of all TV households - Share: % of households watching TV



Week 12 - Days 86 thru 92 Finale - September 14 thru 20, 2017
Daily and Noteworthy Events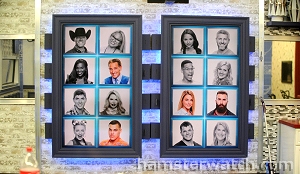 Evicted 4th place: Kevin
Part 1: Paul
Part 2: Josh
Part 3 and final HOH: TBA
Evicted 3rd place: TBA
Runner-up 2nd place: TBA
Season winner: TBA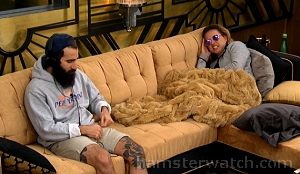 Day 86 Thursday 9/14 Josh made a comment about not having won many comps but he's won the ones he needed to, and he didn't throw any - he said this to Christmas of all people. He was reminded that he did indeed throw two comps. Christmas didn't comment about how many she threw. Paul said "people thought going up as a pawn was like you doing anything in this game - shut the fuck up, like it's not really your choice," referring to Raven specifically, but that kind of summed up the entitlement aspect of his game.

Since the veto meeting will be live on tonight's show, the luggage for all three - Josh, Kevin, Christmas - arrived in the pantry. Josh said to himself "who the fuck is CA?" when he saw the initials on Christmas's, proving he's not always the swiftest, but also highlighting the fact that Paul won't use his veto, and Josh and Kevin will remain on the block.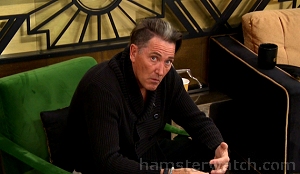 Paul told Kevin that Christmas said she'll keep him (lie: she won't), adding "worse case scenario, I see you in five fuckin days." Well, that actually wouldn't be the worst case scenario for Kevin, and should have been a heads-up to Kevin that Paul was just continuing to cover his own rear, jury votes-wise. But that's where we're at and there wouldn't be anything Kevin could do about it anyway. Josh winning the final HOH and booting Paul is the only thing standing between Paul and the money, and it isn't likely Josh will pull off that final win, but stranger things have happened. We'll find out on Wednesday.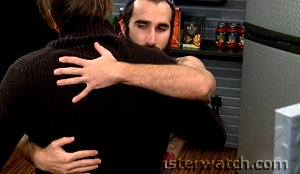 Kevin approached Paul and said he thought they're gonna backdoor him, and he urged Paul to take Josh to finals rather than Christmas. (Nevermind the double-fault for the backdoor term.) He reassured Paul he'd work the jury in his favor, they hugged, and Paul said "thank you for being my friend, man." Ouch. Meanwhile, Paul asked Christmas if she'd packed and she said "huh-uh" nonchalantly. He said her suitcase is there and she should pack "because TECHNICALLY....." meaning she could go up and out, technically. She said her packing's easy and she'd do it. Maybe Paul will do a switcharoo tonight and use the veto, but he told us last night he wasn't planning to. It would be funny to see Christmas walk the plank in a tutu though.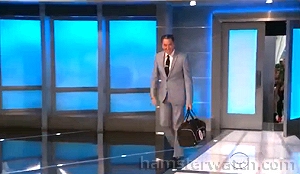 Julie gave us Alex and Raven's jury entrances (with some major shade about Raven's claims about pulling strings), and Cody refusing to participate in some of the catchups. We saw the veto comp which was a steampunk/time machine theme setup for which day did things happen, which Paul won as we knew. He did not use his veto, and Christmas as the sole vote evicted Kevin. He went out with class and style, and he saw Paul's phony farewell saying "Christmas must have gone rogue" if he got evicted, followed by Josh fessing up to his threesome with Paul and Christmas, so that was an interesting wrinkle.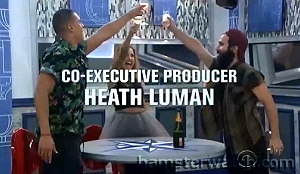 The final three had their champagne toast, with Josh downing a glass before they clinked and getting scolded by Paul over the credits. Feeds gave us Kevin's iPad interview but alas, not Part 1 of the final comp - only the second time we've not seen that. That's not a good new tradition, sigh. Last year feeds came back with the winner known around 10.40pm. It might be earlier this time depending on the comp, because of our finalists' tendency to throw to Paul, especially if Josh is eliminated early, OR they might come back later if they did the champagne memories meal tonight since they don't have much turnaround time for that this year.. we'll find out.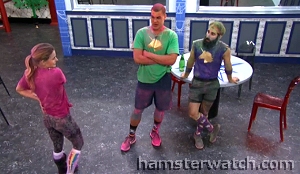 Feeds came back around 12.30am, and they had indeed already done their memories meal, and Paul had won Part 1, so Josh and Christmas will go against each other for Part 2 on Saturday. They were covered in multi-colored powder and glitter, and wearing unicorn shirts. They said it was a difficult comp, and a different one. They were hung on ropes and cables and thrown around, and it sounded like the powder and glitter may have been unicorn farts? Unicorn tears? I don't know. They were all very tired.

GET THE FEEDS watch anything that's come before with Flashback, and catch up anything you missed with my previous Hamsterwatch episode and/or Hamsterwatch Forum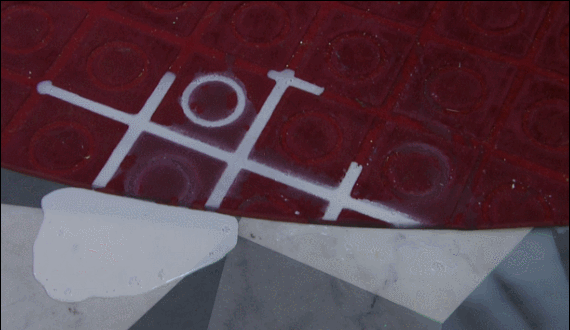 Day 87 Friday 9/15 They slept long, late, and hard, not rising til after 1pm other than for bathroom and batteries. Christmas tossed a carton of milk for some reason, and it exploded, making a large and lengthy mess.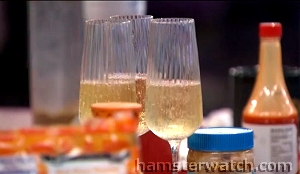 An hour or so later they were given another bottle of champagne, which they added a bit of OJ to for mimosas. So after all these weeks of booze drought, they did some day drinking, along with the requisite gossiping and griping about the evictees, so that's something.

Ever since they went to three-to-finale format, I've missed the fallout on feeds after final two were questioned by the jury. It was usually explosive, with the finalists shocked and resentful that those they'd beaten were bitter rather than congratulatory. I have a feeling these three would have been particularly angry and popcorn-worthy about those confrontations, but we'll just have to use our imaginations and ponder what could have been.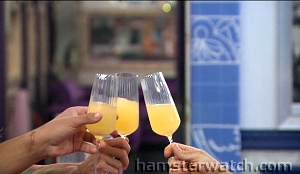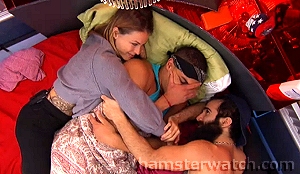 They failed at day drinking and passed out again. Josh finally got up, hungry, and foraged for food between several attempts at getting the other two up to make something, predictably annoying them. Josh put together most of a meal and Paul and Christmas shuffled out to join him, and then came the also predictable rough-housing, "horsing around," and hostage-taking of Josh's two Orwell owls and Paul's floatie, along with pillow throwing and lotion spattering. Christmas alternated between cackling, screeching, tickling, and elbowing Josh, with Josh screaming all the while. At one point Paul and Christmas force-cuddled Josh, still screaming and saying he couldn't breathe. BB threw out a few "no horsing around" announcements but nothing came of them, as usual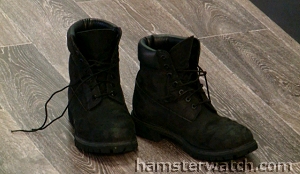 All three went back to bed and sleep and stayed there for After Dark, but the upside was the feedmasters had some fun doing artsy shots of random items and decor, which I love. Josh had a few talks with us as well as a long session staring at the photo wall. I think it's a good possibility he'd cut Paul on Wednesday night if the choice is his, but that's a long shot in itself. I'm pretty sure Christmas would keep Paul if it's down to her, and I think Paul would keep Josh. If it does come down to Paul vs Josh on Wednesday night, I think Josh might have a shot at the win, but I'm also notoriously bad at predicting jury votes. They'll do Part 2 on Saturday and then their one-on-one talks should begin in earnest.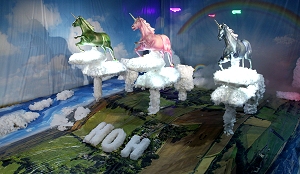 I have to say I was pleasantly surprised by Friday's clip show. It's usually a snore but this one had a lot of new footage including some items I was surprised they added, including the Kevin vs Matt/Raven/Alex fight a couple weeks ago that wasn't on feeds, Kevin's talk with Jason about his father from Week 5, speculation about a Paul and Christmas showmance including her recent greenlight confession about crushing on him, and the rat! Plus a superb Diary montage that began with all of them bitching and ended with all of them crying. Good times indeed. Not to mention glitter-farting unicorns.

GET THE FEEDS watch anything that's come before with Flashback, plus all air shows back to the BB1 premiere - catch up detail convos at Hamsterwatch Forum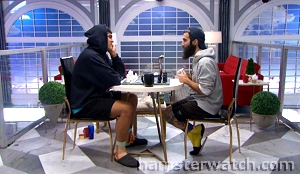 Day 88 Saturday 9/16 They had another sleepy morning and afternoon breakfast as they awaited the Part 2 comp, and they discussed the various evictees and season events again. Christmas had an eye issue, maybe some unicorn fart residue, and there were some lengthy fishies a couple times that may have had to do with that.

Paul and Josh played chess. Paul worked on Josh a bit more during that, pushing him to win today's comp and helping him cram factoids. Josh won the chess game, and Paul tossed out one of those BB/chess analogies that are always fun, telling Josh he'd "tried to bait him with his queen" but it backfired - hmmm.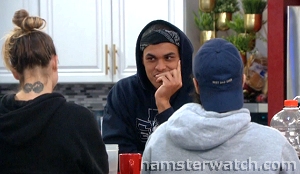 A little birdie told me last night's jury round table was a whole lot of bitter, so much so that only Matt and Raven planned to vote for Paul, should he be in finals. Of course that could change by Wednesday, but it's interesting to say the least. Dr Will hosted the candlelight deliberation again. The only sure thing is regardless who wins this season, the fanbase will riot.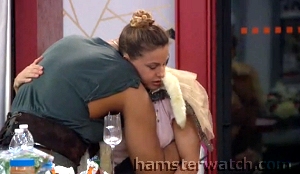 Feeds were down just over six hours(!) and when they returned, Josh had won Part 2. It was an elaborate comp made of several sections, and it sounded like it took at least four hours to play, although we heard Paul announce it was time to start on the feeds just before they went down, and they'd just finished when feeds came back. Paul said it took so long he'd been wondering and worried what the heck was happening, as we were. One section alone took a full hour. Josh gave Christmas a hug and they congratulated each other for a good job: he won by only five minutes.

They were in Game of Thrones type outfits and had to do several stages of selecting hamster answers to questions including HOH wins, veto winners who pulled themselves off the block, and who was on the block on eviction night three or more times. They had to knock down pics with slingshots, darts, bow and arrows, with 10 rounds of ammo each round. One round was "BB Adventure" which was the name/setting for last year's roller-coaster puzzler Part 2. This time they had to fetch and retrieve lost and wasted ammo, which Christmas said was the worst part for her. Both said they cried by the end out of frustrated exhaustion. So it sounded like a nice combo of season facts/trivia, skill, crapshoot, and running/fetching.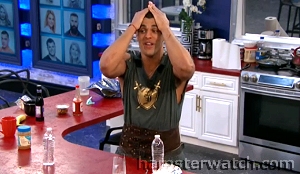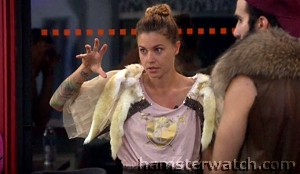 When Christmas went off to prep for her shower, Paul patted Josh on the head and said he'd been afraid Josh was going to lose. Expect Paul to work Josh VERY hard these next few days to ensure Josh will take him to the end, should Josh win Part 3. It'll be interesting to see if Paul cools off on Christmas a bit since she has no power now, although he'll still want her jury vote.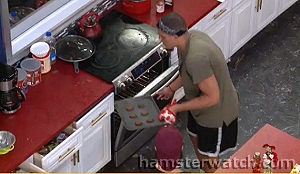 Cookies went into the oven as Christmas went off for what turned out to be a marathon Diary session, asking that the guys take them out while still soft. Paul set to working on Josh, asking about his farewells (Josh said he clowned on everyone), and Paul said they had to get their story together for what to tell Christmas. He also said one of them has to tell Christmas they're cutting her before finale (meaning he hoped Josh tells her first, so Paul can blast him to her). Feedmasters kept reminding us cookies were in the oven by zooming in on it, but they'd totally forgotten. Finally they played the "please clean the window over the stove" announcement but edited for just "the stove" part. The cookies were burnt nubs, so they stayed in the kitchen to bake the replacement batch.

On his own, Paul ran his finals speech quietly a few times. It was the usual only vet, on his own, had to play a different game spiel he's been telling all of them all summer. It might behoove him to fess up finally and go with he played them all and should be rewarded for that, than continuing to play innocent again/still (victim noises, anyone?) but what do I know? He also told Josh he'll be wearing the same shirt to finale that he wore last year. I guess he's not superstitious about that kind of thing.. maybe he should be.

GET THE FEEDS watch anything that's come before with Flashback, plus all air shows back to the BB1 premiere - catch up detail convos plus tons of screencaps at Hamsterwatch Forum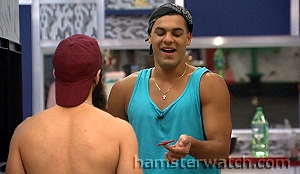 Day 89 Sunday 9/17 They got two - yes two - fidget spinners, so those held their attention for a few minutes. Otherwise it was another very slow start to the day, eating and post-BB plans taking center stage. BB gave Josh a little treat when giving them their noon wakeup call: Josh was already up, and BB called his attention before saying "buenos dias, houseguests." Josh got a kick out of it.

Afternoon was laying around, enjoying the backyard again, with a lot of Paul and Christmas picking on and teasing Josh, and giving him advice about dating, his business, his look, his life. I don't know how he stands it but he does, and he holds up to it well.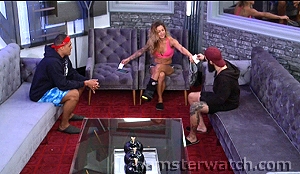 The cycle of laying around/napping/eating/teasing Josh/talking themselves up carried on, with Paul doing a few more run-throughs of his finals speech here and there. When Josh asked him if they give a speech that night, Paul said "umm.. brief." Josh may have been legitimately asking, or he may know well they do give speeches and was just testing Paul to see how he'd answer.

The After Dark viewer questions finally arrived around 9.30pm. All the questions were extreme fluff, disappointing anyone who had hopes of something interesting, let alone meaty. The hamsters smiled, laughed loudly, and answered in Diary voices, and nothing enlightening whatsoever was said. Sigh.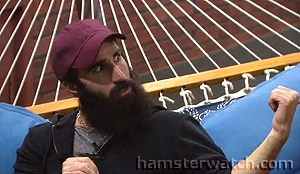 Christmas went for another marathon Diary, and Josh questioned Paul about her. Paul made some comments about how "she needs cuddles" and "you also gotta know how to tame her 'cause she's aggressive, that's what she wants." He didn't mention that he often initiates said cuddles. He also admitted to Josh, out loud, while banging his I-drove-this-season drum, that he turned Alex and Kevin against each other by dropping things in their ears, and that he "made shit up" there.

Paul said Christmas would probably get the $25k viewer favorite money (nope) and that she'd be happy with that. Josh pointed out she's probably getting more stipend because she was a known entity, and Paul seemed shocked by that. And he insisted to Josh that he wasn't getting more stipend than the rest of them - that brought a "stop that." That would fall under the Using Production as Strategy category: surely if Paul was getting the standard $1k per week the rookies are, he'd have hammered that point home all season long.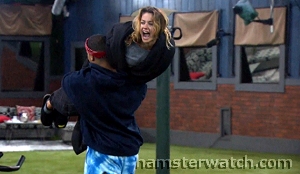 Christmas had a talk to herself/us about her failed season, failed comp, her foot - all the usual. I suspect Diary suggested she talk to the guys about their final two choice so they have some footage to air on finale about that. She told us she'll tell them to take each other.

GET THE FEEDS watch anything that's come before with Flashback, plus all air shows back to the BB1 premiere - catch up detail convos plus tons of screencaps at Hamsterwatch Forum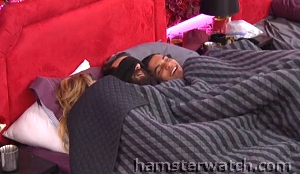 Day 90 Monday 9/18 They rose after noon again, ate a leisurely late breakfast again, and went bad to bed again, together. The final three usually herd together in this end-of-season dead week but these three stay particularly close. The two guys hadn't had their "sorry, you're out" talk with Christmas yet, nor has she made her "don't save me" pitch to them. It'll be interesting to see which comes first, and how that will go. And I don't think Josh has made a definitive announcement to us which of them he'll take if he wins, but even if he does, that could fluctuate, especially as Paul works on him as we get closer to Wednesday.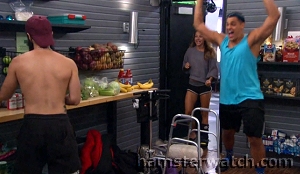 They had another lengthy nap together in the hammock through the evening, then they got a welcome delivery from After Dark: popcorn and candy, dominoes, generic Jenga, cards, and six beers! They were thrilled, and they pigged out on the candy as Paul did card tricks. Eventually they settled in to play Bullshit, which of course got shouty. Feedmasters had some fun doing slow erotic zooms up the horizontal owls, zooming in on empty beer cans then panning to a very out-of-focus sippy Christmas, and several quick cuts between various piles of trash and Paul and Christmas.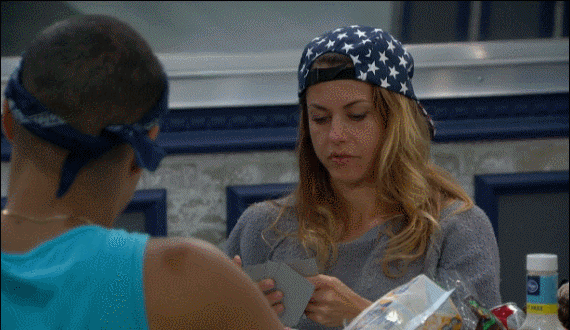 Cards came to an end when a small (3.6) earthquake got their attention around 11.22pm. You can see a little shake of the camera a nanosecond before it registered with them. To their credit, they stayed calm and immediately got up and headed outside under Paul's direction. That's likely their safety protocol for such things (fewer lights etc than inside, and no trees) and they did well. It's happened before on feeds but not often and it was something different. Unfortunately it also sobered them up.

After many marathon Diary sessions these last few days, Christmas finally mentioned finals to Josh, around 11.53pm. Paul was inside running his speech again, and she told Josh "if you win I want you to take who you think you can beat." She went on a bit with mom/mentor-like peptalk and boostering, but that was the gist. Josh didn't commit one way or the other. Paul came out then and asked what they were talking about, and they said just the usual.. hmm.

GET THE FEEDS watch anything that's come before with Flashback, plus all air shows back to the BB1 premiere - catch up detail convos plus tons of screencaps at Hamsterwatch Forum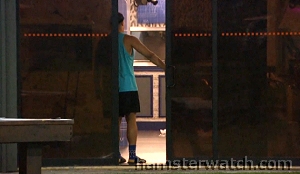 Day 91 Tuesday 9/19 I think the backyard was closed a bit before 2am last night. They'd been hanging out out there again, enjoying the night air after their beer, candy and quake, then after a few minutes of fishies they were going inside and it looked like their garage door was closed by sunrise. If they had a formal farewell to their fun zone, it wasn't on feeds.. a minor but additional item in the still-growing list of problems this season.

Josh told us he'll take Paul to finals if it's up to him. He said he thought he had a better shot against Paul as the jury won't want a vet to win, while they might reward Christmas for persevering, and he said he'd like to see her get the viewer favorite money. It's still a day and a half til we're there, but that's the latest.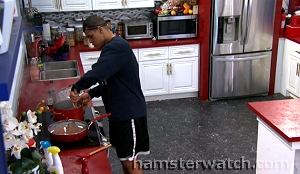 They all napped some more, ignoring many "no napping" announcements. Josh decided to make a nice home-cooked meal for them, beginning with rice, which he'd never made before. He read the package but didn't turn down the heat after adding the rice, he opened the lid and stirred a few times, then when it dried up he added tap water. It actually came out rather rice-like, but a bit soupy. He also chopped a bunch of carrots after washing them, with soap, and fried them in some butter and brown sugar. They burned.

While his food cooked, he talked to us from the lounge, starting on his speech - they were finally all told finale is tomorrow and the finalists will get 90 seconds. Josh reiterated to us that he'll take Paul if it's up to him, because he doesn't think the jurors will vote for a vet to win.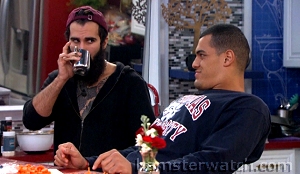 Paul woke up and scoffed at the rice, saying it had no seasonings and he made Josh throw it out. He liked the carrots though, and ate them all while prepping new rice and steak. He asked what Josh what he put in them, and he said butter and brown sugar. To Josh's credit, he was trying to do right by the other two, and didn't know soap wasn't standard or necessary. Josh chopped more carrots, peeled this time rather than washed, and Christmas got up in time to eat. She nibbled one of the remaining carrots and asked why it tasted so weird.


They ate their last dinner at their tiny table. Christmas was doing her hair and told them to go ahead without her, but Josh said it's family dinner and they'll wait, before he tried a couple bites. When she joined them, Josh asked how she straightened her hair so fast. She scolded him and said that's not the way to greet a girl, and she demanded a compliment, which he gave. Paul said grace, which consisted of "friendship, thanks for having my back this season, thanks for being my friend, and for making this summer a little less shitty than last year, and I hope we can be friends forever." Yep, it's time for this to end. After dinner they retired to their bed, together.

GET THE FEEDS watch anything that's come before with Flashback, plus all air shows back to the BB1 premiere - catch up detail convos plus tons of screencaps at Hamsterwatch Forum



How to Pick a Winner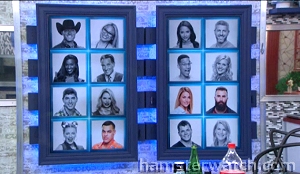 It's time to haul out this

old chestnut

seasonal favorite and gentle reminder again, please to enjoy. I've always maintained it doesn't matter a bit who gets the money unless you're a second cousin or better, but some Hamsterwatchers seem to care who wins, so I once again present the following for your rooting consideration. After all, feedsters are more qualified to make a selection than bitter jurors - we don't see relevant Diary footage anymore since they don't air the meaty stuff, but we've seen far more than the jury, so they too need to use one of these methods:

Played the best game
This is the popular, politically correct method that everyone claims to use, but nobody really does. Paul has a clear advantage here, though Josh did his share of winning comps and anti-social gaming - Christmas, not so much. Socially, each of them had obstacles to overcome: Paul claims he had a veteran bull's eye on his back from the start, but he also had immunity protection for the first four evictions plus one later week. Christmas had her foot and her meds issues, and Josh had his pots 'n pans and volatile personality. But nearly every 'game' falls into one of the other categories, so don't feel pressured to root for anyone through some misguided urge to be PC.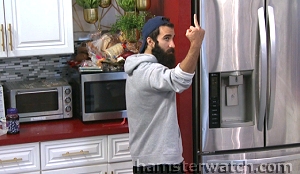 Lied the best/most
This one's a little squirrely as it crosses over into ethical/unethical territory, and that leads to arguments about politics and/or religion, and that leads to flame wars every time. BB2/7 Dr Will is the exception here: he won by skirting the moral issues and flat-out lied about everything except the fact that he was lying, and he was light years more fun & charming about it than most since. Paul is probably the front-runner here, but most of his lies were of the hate-mongering type rather than blatant untruths, but combined with breaking off 'solid' alliances with Alex, Jason, Kevin, Matt, Raven, that was enough to earn him a snake tag from those who think BB can and/or should be played like Sesame Street (pro tip: it can't).

Needs the money most
Please! We all 'need' a half million dollars! Anyone who goes on a tv show to pay their Visa bill or because they can't scrape together the next car payment should consider credit counseling, bankruptcy, gambling, or steady employment - we're all sick of the sob stories. Luckily none of these three have relied on the GoFundMe strategy as much as some of the jurors [cough]. If anything, they've all talked a lot about their financial success and stability.

Cutest/sexiest/dreamiest
Generally a favorite method for feedsters, but more jury members are closet cutest-sexiest-dreamiest voters than they'll admit. All three have their fans among viewers in this regard. I'd say Christmas might have the edge here being the only female, but Paul and Josh have their crush fans too. The problem is they both gross out and annoy just as many, so that's a wash.

Smartest player
A favorite for feedsters and jury alike, it's what most really mean when they say 'best game.' Basically it means 'smarter than me' but given the fact that we're dealing with people who've spent three months pooping on tv, being humiliated for our enjoyment, and making their friends & families ashamed to claim them, most hamsters are eliminated from this category when they complete their BB application.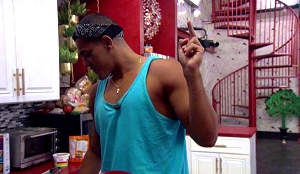 Played like I would
The mack daddy for feedsters who haven't caught on that everyone's different and everyone does different things for different reasons. It's the most popular judging criteria and the dumbest: they aren't you, they haven't seen everything you've seen, and until you're in there for three months of paranoia, daily slander, and Diary messing up your better judgment, you can't possibly know what you'd do in there. Get over it.

Backstabbing revenge
One of the elimination categories, this one's about rooting for anyone except the player who took out your favorite (or yourself, if on the jury). This one usually decides the winner. In gamespeak it's also known as 'nothing personal.' Paul clearly has a disadvantage here.

Creeped me out
Another elimination category and a big one some seasons, this is rooting for anyone except the player who gives you the willies or reminds you of your ex. More popular among feedsters than the jury, which is odd: they're the ones who lived with the creepies - we can shut 'em off. Feel free to cite this one if you need an excuse to abstain from rooting for any of them.

I just like him or her
Hands-down easiest method because it requires no reasons or explanations, making it the best category to avoid involvement in flame wars. However, you might be expected to back it up with something else in most BB chats or social media outlets.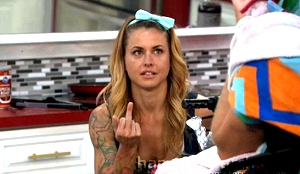 Deserves to win
This usually means you don't know or don't care and are probably just afraid of getting involved in a flame war. Back it up with something or shift over to 'I just like him or her.'

Most entertaining
A personal favorite and while you might say this season it doesn't apply, the feeds have often had something to hold our interest, even if it hasn't been up to par. My Extracurricular Tally is busting at the seams and each of our endgame trio contributed to that. It's been overlooked by many that while this was a disastrously showmance-heavy season, none of our finalists participated in undercovers shenanigans or slurpydurp makeouts. Yet. Paul had a strong lead in this category last year over Nicole and James, but as he himself has said 2,825,543 times, he has played a different game this season.

Played with integrity
This is a nice pipe dream for optimists and romantics, but not much more: in reality tv, the good tend to die young.

I hate them all equally
Most feedsters end up here sooner or later.



Ratings - All Obits edition
All ratings are final, or will be when posted










Won: Temptation #2 play in any veto comp; 48 hours attached to Paul; Outback dinner
HOH 2 - Veto 0 - Noms 2
VTE Kevin






Won: 1st & 2nd eviction safety
HOH 2 - Veto 1 - Noms 3
No vote (nominee)
WON PART 2






Won: 1st week safety; Temptation #1 safety next 3 evictions; Week 8 safety via Mark's Apple #1; 48 hours attached to Christmas; Me Myself & I set visit
HOH 3 - Veto 5 - Noms 0
Won veto/didn't use
No vote (HOH)
WON PART 1






Won: $25,027; 1st eviction safety; couldn't be 1st HOH
HOH 0 - Veto 0 - Noms 4
EVICTED 1-0
He arrived with a hell of a backstory and he shared parts of it with them and us, and sometimes he blurred some lines between movies and reality. But that's what a good storyteller does and he was one of the best we've ever ever had, as well as being a comedian with snappy comebacks and quick one-liners for every occasion. He was one of the most delightful hamsters ever and proof that maturity, life experience, and some music history adds more value than an entire cast of shallow 20-somethings can muster. But he too fell into Paul's first days trap and believed they were solid, and he was unaware of Paul poisoning everyone against him while telling Kevin to keep to himself to ensure their longevity in the game. The final weeks of his shunning under Paul's orders and resulting isolation were especially difficult after he'd been the life of the party and loved by them all. But he reminded them and us to remember to look at the moon, and to appreciate the small but special things.





Won: 1st eviction safety; 1 week camping cookout; Outback dinner
HOH 3 - Veto 1 - Noms 4

She came in a fan who knew the show, but she knew Paul too and instantly fell under his spell, even though she and Jason were just comp vehicles for him. She was never at a loss for words and some of those words were particularly nasty ones, especially when Paul sicced her on Kevin - again, only to further his own game. But Alex took the bait and ran with it, and she lost a ton of viewer support when she did. Before that she'd been a spitfire and a strong competitor, and she lived up to her PETTY hat with many dramas about cat ears, cereal, and poured-out Coke. She was the bratty sister to Jason's reckless brother and it was fun to watch their friendship develop. She did her weiners task like a champ, carting her heavy packs around for a not-so-comfy HOH week, and setting up and tearing down her campsite quick and efficiently every time.





Won: 1st eviction safety; Have-not pass
HOH 0 - Veto 0 - Noms 3

See Matt. She also did zero game-wise, with added ridiculous makeup, ridiculous stunt hair, ridiculously changing accents, and most of all, ridiculous and nonstop impossible stories and medical conditions. There's a fine line between entertainment value of the point 'n laugh variety, and so delusional it's not funny, and she crossed that line daily (usually while screeching). I don't know if she's a grifter or a victim, but I do know she came in with a stated agenda to raise awareness about gastroparesis and instead she gave it a bad name because of her nonsensical claims. So let's fix that with some legit info links from Mayo Clinic and IFFGD an international non-profit for gastrointestinal disorders. She did inspire one of the best things to come out of this less-than-stellar season: Raven's stories are actually old Simpsons episodes by @em__BB.





Won: 1st eviction safety; 1 week frog; 1 week extreme-o-tard; Outback dinner
HOH 2 - Veto 3 - Noms 4

He was mostly likable with constant stories and an engaging and boisterous way of telling them. Most of them went too far or somewhere cringey, and he made a couple comments he shouldn't have and he'll have to face repercussions about those. His game strategy was a mess and he often said the wrong things to the wrong people, but from here that was added comedy, and he did very well on the comps. His relationships with Alex and with Kevin were fun to watch, and the three of them provided a lot of late night silliness until Paul made them both turn on Kevin. He joined the small club of two-time costume wearers and while he was a pretty good sport about the frog, he did the Extreme-o-tard EXTREMELY well and with flair. He brought the first baby announcement to the show, giving us all a delightful moment, and I very much enjoyed hearing him talk about his farm and his animals, and Ole.





Won: 1st eviction safety; Outback dinner
HOH 0 - Veto 1 - Noms 4

We've had some useless hamsters before but nothing like this guy. He spent 72 days cackling at Raven, wrestling with Raven, pouring liquids on and throwing food at Raven, making out with Raven, getting busy undercovers with Raven, encouraging Raven's everlasting screeching, and stuffing his face, usually with cereal. He didn't play the game, he barely played the comps, he ignored his Have-not rules, and he rarely talked to anyone except Raven and occasionally Paul, in whose pocket he lived for his last couple weeks. He wore an orange rag nearly every day that wasn't much more than a ratty cloth necklace, he folded everyone's bath towels on the kitchen floor, displayed his blackened socks on the kitchen counter, and he cleaned the kitchen and dishes with a towel he'd wiped sex off himself with. I used the same pic for him here for seven weeks and nobody noticed - 'nuff said. Good bye and good riddance.





Won: 1st eviction safety; Weeks 5 & 7 safety; Colorado trip; Outback dinner; Temptation Apple #1 Save a Friend (used on Paul)
HOH 0 - Veto 2 - Noms 3

He often had a stunned expression and he cried more on feeds and in Diary than we've seen in a long time. He said coming in that girls are his weakness and that was doubly true with Elena. His moods were largely dictated by whether she was giving him the time of day or not, but by the end, her fluctuations had him flummoxed. Along the way, Dominique and Christmas battled for his BB soul, and he was besties and mortal enemies with Josh - their pickle juice fight will live forever. Gamewise he was in over his head, bouncing between sides, but he couldn't keep his mouth or his movements covert. Advantages came his way but he didn't leverage them well, and in the end he gave his safety apple to Paul and he didn't even try for the Have-not escape his last week, even though he knew he was going. He seems like a nice guy, too nice for this dirty game.





Won: $5,000; 1st eviction safety; Outback dinner
HOH 0 - Veto 0 - Noms 3

She introduced herself as 'abrasive' but that wasn't really the case as much as randy, frisky, and often vulgar, tying Jessica in the Things We Haven't Often Seen From Female Hamsters category. It seemed like she went for shock value but it didn't shock them or us, especially after the first couple days. She paired up with Mark who fell head-over-heels, and their break up/make up cycles became a predictable and painful regular occurrence. She had a good social game for awhile, straddling both sides of the house well, but when the numbers thinned so did her good standing, and she went out because she took $5k cash and left Alex to make hot dogs. She wore a lot of makeup but was a good sport about letting Paul do hers, she talked a lot, she flirted a lot, she flashed a lot, and in a 'no naps' season she had an epic pass-out one day, complete with faceplant and drip-drip-dripping juice straw.





Won: 1st eviction safety; Week 6 safety; 1 week frog; Revival
HOH 1 - Veto 0 - Noms 3

He came in complaining of 'victim noises' and proceeded to have a raging case of HOH-itis combined with extreme narcissism. He set his targets on Paul and when that backfired, he isolated himself with Jessica first in HOH and then in Have-not. He'd already put himself on slop as HOH, so the frog suits weren't even necessary but they did add a comical touch. He said things he shouldn't have about a pleasure trip to Ferguson MO and transgender people, but it's a safe bet he won't care about the flak or apologize for his comments. His social game improved for a minute when he was revived (thanks to Julie pointing out its absence) but that didn't last long, and he went back to isolation first with Jessica, and then on his own. He couldn't get out fast enough the second time, taking a direct route over the coffee table.





Won: 1st eviction safety; 1 week frog; Temptation #3 halt one of four evictions
HOH 1 - Veto 1 - Noms 3

She was problematic in a number of ways but aren't they all? She was fingered by TMZ for butt-poking but only because Paul riled them all up about her, when he and Matt also did their share of poking. Jessica brought crude talk to levels we've rarely heard from female hamsters, though Elena gave her a run for that money. Her hair made her a #Deathrace2017 star due to lack of weave maintenance, visible tracks, and patchy bits. She isolated herself with Cody for most of her time there, putting themselves on the Extracurricular Tally, but she landed solo spots too for fights with Cody as well as Christmas, Josh, Raven, and the entire house on that memorable afternoon. She did pretty well comp-wise, and she did her frog week without much complaint.





Won: 1st eviction safety; Mandatory nominee once
HOH 0 - Veto 0 - Noms 2

I always have a soft spot if they mention me and he did in a pre-season QA with KFROG - thanks! He was a pleasant guy who came in with the 'superfan' tag, and while he was a relative newcomer to it all, he does have a separate BB Twitter and he follows many in our dysfunctional community. But that wasn't enough and he made dual mistakes of aligning with only Jillian and not staying on top of things. He became the scapegoat for hinky votes, first night $25k, and he was threatened and berated for not throwing a veto comp hard enough when he was on the block. Being there in the first place was an unlucky temptation consequence. So the stars just didn't align for Ramses but he was fun and likable and will be missed.





Won: 1st eviction safety
HOH 0 - Veto 0 - Noms 1

She seemed promising, brainier than most hamsters by far, and she started out well. She earned Mark's devotion over fake chess games and heart-to-hearts, but Christmas and Elena also tugged at him from different directions, and Dominique never got as tight a hold on Josh. Kevin let her host the talk shows, but she was too slick and professional with them, and kind of a drip. That backfired when she put Ramses and then Cody on the spot, and she confessed her job lie to several too early. She brought in more religion than most, and she 'marooned' herself in the lounge, doing a solo telethon for days. She caught on to Paul and told everyone he was a snake, and he made sure she went out the door as a result.





Won: Nothing
HOH 0 - Veto 0 - Noms 2

She gave us a good shockface when Julie spoke her fate, but she hadn't done much to prevent it. She wasn't there long enough to do a lot, but she didn't really do much that was memorable except repeat convos (at lightspeed), plan future shows to be on, and be on the block. Virtually everyone else campaigned their brains out around her while she was at summer camp, so it's no surprise she didn't know who did and didn't vote for her. She wasn't cut out for this game and she also attracted some political attention that nobody needs. Many use BB to escape from that kind of thing for a little while.





Won: 1st eviction safety
HOH 0 - Veto 0 - Noms 1

Like Cameron, there isn't much to say since she left before feeds began. A lot of drama was stirred up by, around, and/or because of her, including a Josh rant we saw on the premiere sans context, and an alleged sabotage lie about a comment Jessica allegedly made about Alex. When Megan got home, she released a statement saying she left because of PTSD from a prior assault. You'd think those things would be discovered and addressed during the lengthy audition process, but who knows? We may never know the entire true story as we'll only have hearsay and edits to go by, but I wish her well.





Won: Nothing
HOH 0 - Veto 0 - Noms 1

What is there to say when they're gone before feeds start, other than it stinks? They were probably wise to get him out because he's a big fan who knows the show, and he's brainy to boot. At least he had not one but two comp-shots to save himself, even though he opted for a third comp to evict rather than the vote that got him the non-coveted first boot spot. He seemed likable enough and he tried some twerkish moves to save himself but alas, it wasn't enough. He dropped a hamster line in Diary which was fun, but anyone going before feeds still stinks.






Lines and Links of the Day
Lines

Thursday
Paul: Do you always wear bandanas in real life?
Josh: Nope

Friday
@arisacox: Facts: If Paul wins, he really deserves to win. If Paul loses, he really deserves to lose.

Josh to Paul: I hate that you always analyze what I'm doing but you don't do anything to help, you just bla bla blah.. shut the fuck up!

Josh to self: That's a lot of bacon grease.. I'm gonna burn the house down.. ARRGGHHHH ARRRGGGHHH!!

Saturday
@HeathLuman: I appreciate the fact that at work, I can have an idea like "unicorn glitter farts" and months later it's a reality

Josh: Check.. mate
Paul: Nice.. I tried to bait you with my queen but didn't see your pawn in front of my piece there.. I played myself

Paul: Christmas wraps around me like a fuckin snake at night
Josh: You don't like or you like?
Paul: Christmas is dope but..
Paul: Fool she's 35, I'm 24
Josh: That doesn't mean anything

@OhmaiChai, re Paul's speech: Only vet, vet vet, vetty-vet-vet. Ya boy made it here twice. Friendship.. But also had to play harder and backstab, but still, friendship.

Sunday
Paul to Josh, about Christmas: What did I say.. I can tell, the fact that she needs cuddles, I can tell, what am I gonna say, 'no bitch'? You also gotta know how to tame her 'cause she's aggressive.. that's what she wants

Monday
Josh: I'm gonna clean the kitchen and cook for us - oh fuck no, I ain't cleaning shit, FUCK THESE ANTS! FUCK THESE ANTS!

Tuesday
Paul: Some of these reality 'things' are just filled with cheeseballs, it's so gumpy, like it makes me cringe on every level.. a wide band of shows: Housewives and kitty boo boo shit, Ninja Warriors, the whole fucking nine of these people, MTV, VH1, like am I this? Is that me?



Links

GET YOUR FEEDS

Use my links for any Amazon shopping, anytime, at no extra cost - just start your shopping trip by clicking Amazon USA or Amazon Canada

Celebrity Big Brother Press release - Julie Chen, Allison Grodner, Rich Meehan QA with The Hollywood Reporter

Weekly QA with Allison Grodner by @MattCarterMedia

Big Brother parodies and BB-related alternatives to slow feeds a thread by me

Big Brother/Harry Potter parody by @IdolKnights

Big Brother/Ghostbusters parody by @IdolKnights

Raven's stories are actually old Simpsons episodes continuously updated, by @em__BB

BB19 Spot the Differences another ongoing thread by @em__BB

Shave It Off by @BB11HouseRodent



Tally Items
Extracurricular Tally

Fights: 29
6/29 Premiere #2: Josh vs Megan
7/6 live show: Jessica vs Christmas
7/6 HOH comp: Josh vs Cody (not on feeds or show)
7/6 10.10pm: Jessica vs Josh, plus Cody
7/17 3.30pm: Three parter: Josh vs Mark, plus Josh vs Jessica, plus Dominique vs Christmas
7/28 7.24pm: Three parter: Cody vs Paul, plus Cody vs Jessica, plus Mark vs Josh
7/30 12.25pm: Cody vs Jessica
7/31 12.47pm: Jessica vs Raven
7/31 5.04pm: Four parter (at least): Jessica vs Alex, Jessica vs Paul, Jessica vs Raven, Mark vs Alex
8/8 1.14pm & 2.23pm: Two parter: Cody & Jessica vs Josh
8/11 5.03pm Christmas vs Mark, plus Josh
8/14 5.54pm Christmas vs Mark, plus Josh, Alex
8/14 11.36pm Josh vs Mark
8/15 1.49pm Three parter: Cody vs Alex with Jason, Christmas, Elena vs Josh, Alex vs Elena
8/27 8.49pm Matt vs Raven food fight
8/28 12.00pm Raven, Matt vs Jason
8/28 2.16pm Three parter: Christmas vs Kevin, Josh vs Kevin (plus Raven, Alex vs Kevin on 9/15 clip show/not on feeds)

Alex camp setups and hot dog service rounds: 14

Revivals: 1
Cody

House meetings: 4
7/15 5.46am
7/17 4.21pm
7/30 2.50pm
7/31 4.52pm

Scandals beyond BB world: 4
Paul's snake outfit and face mask plans
Cody's military service questioned
Jessica's 'butt-poking'
Jason's rapey 'joke'

Pinkyswears: 5
Raven and Paul on premiere
Raven and Matt 7/11 7.56pm
Kevin and Jessica 8/10 2.33pm
Alex and Paul 9/7 7.41pm
Kevin and Ramses first clips show

Makeout pairings: 3
Cody/Jessica, Mark/Elena, Matt/Raven

Sex events: 17 (minimum)
7/2 3.12am Cody, Jessica
7/6 3.25am Mark, Elena
7/11 2.44pm Mark, Elena
7/26 1.00am Raven, Matt
7/30 3:29pm Cody, Jessica
8/2 1.32am Raven, Matt
8/3 1.31am Raven, Matt
8/4 1.19am Raven, Matt
8/5 11.00pm Raven, Matt
8/9 12.00am Raven, Matt
8/10 12.45am Raven, Matt
8/10 1.40am Mark, Elena
8/17 12.47am Raven, Matt
8/22 11.31pm Raven, Matt
8/25 1.08am Raven, Matt
8/28 10.12pm Raven, Matt
8/30 10.39pm Raven, Matt

Injuries: 17
Mark's dislocated finger in 1st HOH comp
Christmas's broken foot
Raven's stair crash and foot stitches
Kevin's arm burn from curling iron
Paul's mysterious wrist ailment
Raven's alleged pan-to-the-wrist ailment
Paul's infected nose-ring, again
Raven's chair-banged finger
Raven's 'chipped' tooth
Raven's sore knee from skating comp
Raven's shower door-banged arm
Jason's groin pull from hide/seek veto
Paul's skinned ankle from hide/seek veto
Jason's cut finger from broken glass in the trash
Paul's bonked eye from weights pole
Christmas's sore eye from unicorn fart glitter
Paul's 'broken nuts'

Better alternatives to Jeffish: 1
Kittycam, Puppycam, Bunnycam featuring Rancho Coastal Humane Society adoptables

Premature (pre-feeds) evictions: 2
Cameron, Megan

Pre-season makeover and photo replacement: 1
Megan

Epic Twitter battles: 2
6/19 Dr Will vs Meech, plus BB18 Natalie, BB14 Danielle, Russell Hantz
6/22 Evel Dick vs James Huling



CBS Goofs

1 Misspelled 'Hitmen'
2 Pop mixed up BB seasons with AD seasons
3 Mistook USA for 'the world'
4 To/too error
5 Too many seasons for Frank
6 Conflicting Christmas ages
7 Pop had a midnight/day problem
8 Misspelled Raven
9 Random things in bikini photos
10 'An New Season'
11 Photoshoot spoilers
12 Leaked two upcoming votes
13 This season is 92 days, not 99
14 Thumbnail on feeds slider shows BB18
15 Misspelled 'receive' on tickets site
16 Misspelled 'replacement' on YouTube
17 Control room monitors on 7/6 live show
18 Day count error on 7/9 show
19 Misspelled 'drinkware'
20 Misspelled Nicole's last name
21 Misspelled Josh's last name
22 Misspelled Ramses
23 Let Jessica into DR when Kevin was there
24 Feeds timestamp 3+ hours wrong
25 Counting error on 7/20 show
26 Listed five, called it six
27 Fishies in closing credits 8/3 show
28 Wrong day/date in highlights
29 Leaked Elena Diary snippet
30 Misspelled Big Brother
31 Only posted 2 (of 6) 1st half HOH blogs
32 Fishies in HOH comp 8/10 show
33 Feeds highlights have 8/15 under Cameron
34 Forgot to update feeds outage message
35 Hashtag syntax error
36 ET Canada called Matt Martin
37 Still perpetuating Goof #6 in September
38 Wrong day for voting (some platforms)



Season Stats
HOHs in order: Cody; Paul; Alex; Jessica; Paul; Josh; Alex; Jason; Christmas; Jason; Christmas; Alex; Josh; Paul

Veto winners in order: Alex; Paul; Jason; Jessica; Paul; Mark; Matt; Mark; Jason; Jason; Paul; Josh; Paul; Paul

Evictions in order: Cameron 8-3-2; Megan (quit); Jillian 8-4;

Cody 7-3-0

; Dominique 10-0; Ramses 7-3; (none); Jessica 7-1-0; Cody 7-0-0; Elena 6-1; Mark 4-2; Matt 6-0; Jason 3-2; Raven 2-1; Alex 2-1; Kevin 1-0

Pre-jury Twitters: @CameronHeard210; @MeganAnnBB19; @jilliannicoleww; @CDmAI; @TheBBHomie1; @thejessicagraf







Linking to any page here is fine. Please don't repost content from this site (or any other) without permission, and don't repost or hotlink images.



THE REAL SHOW IS THE FEEDS


NEXT-DAY AIR SHOWS
Live air shows in some areas
BB1 thru BB19 and many other CBS shows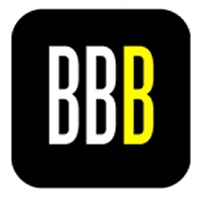 BIG BROTHER BUDDY
Get push notifications for all the big feeds events - iOS or Android


HAMSTERWATCH SWAG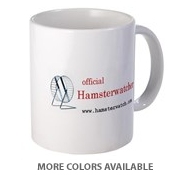 Mugs, shirts, more
Visit my Cafe Press shop






Big Brother 19 SEASON FAQ


Day 1 Move-in was June 21
Day 8 CBS premiere is June 28
Day 9 Feeds begin June 29
Day 92 Finale is September 20

Feeds are streamed by CBS, and Flashback is accessible via All Access subscription. Call 888-274-5343 for account help, including cancellation.

Air shows on CBS (Global in Canada) are Sundays 8pm, Wednesdays 8pm, eviction Thursdays 9pm.

Big Brother After Dark on Pop TV (Slice in Canada) is every night midnight to 3am, except Thursdays 1am to 3am. The aired blocks are live (or recorded earlier the same night, depending on your cable provider).

The CBS app (by CBS Interactive) plays BB air shows and other CBS shows, as well as feeds, or you can use your browser to watch feeds on mobile devices. The same All Access link used to subscribe will lead to the feeds viewing page if you're already signed up.

BB19 prizes are the same: $500k for the winner and $50k for 2nd place. Stipend for the others is $1,000 per week again, including pre-show hotel and jury sequester. Paul is probably getting more, and possibly Christmas as well.

The habitat has 87 HD cameras and over 100 microphones.

The recorded in-house announcements are the voice of producer Don Wollman. He and Julie Chen are the only staffers who have been there since Big Brother 1.