This site is about the Big Brother 19 feeds and contains spoilers! It isn't necessarily thorough: it's what I catch and/or what interests me. It's about watching hamsters: who's doing what and why. Thanks for encouraging my behavior.
Your pal, dingo




Protect your online privacy with HMA
Watch Big Brother UK, Survivor New Zealand, and other non-USA shows






BB19 DRINKING GAME


Take a swig whenever someone says 'we have to save Christmas'







VIEWER VOTES


Who should get Ring of Protection: play in any veto comp this season (including option to take the place of a picked player) + an unknown consequence
Voting closes Friday 10am PT/1pm ET






VIEWER VOTE WINNERS


#1 Pendant of Protection: Paul








QUICK LINKS & BOOKMARKS



-Get the feeds
-Watch the feeds
-BB19 official site
-Live show tickets

-Feeds updates by @UGotBronx
-My Twitter - my screencaps
-Amazon portal USA or Canada

East coast air shows:
CanadaTV for Roku
$2/month - Global airs BB USA

East coast air show streams:
1 - 2 - 3 - 4 - 5
NO DOWNLOADS NEEDED - BEWARE OF CLICKING POPUP ADS OR WARNINGS

-Dick at Night with @EvelDick

-BB Viewer by @liquid8d
Requires All Access account

-Hamster Twitters
BB USA - BB Canada

-Advice for cast friends/family

-VPN to watch BB UK and/or to protect your online privacy




Donations via Paypal are gratefully accepted!

Click for weather forecast

Watch Big Brother
Seasons 1 thru 19
Plus tons more CBS content






BIG BROTHER SEASONS



CBS All Access
Seasons 1 thru 18

Amazon DVDs BB4 - BB3

Amazon Instant Video
BB18 - BB17
- BB16
- BB15
- BB14
- BB13
- BB12
- BB11
- BB10
- BB9
- BB8
- BB7





BIG BROTHER 19 FEEDS EXCLUSIVELY ON CBS ALL ACCESS
All Big Brother USA seasons + most CBS shows past or present are included
$5.99 PER MONTH INCLUDING 1 WEEK FREE TRIAL or $9.99 AD FREE
COMPUTER - MOBILE - ROKU - CHROMECAST - APPLE TV - ANDROID TV - FIRE TV - XBOX 1/360 - PS4

>> >> >>

>> >> >> >> >> >>

>>

ANY AMAZON.COM PURCHASE CAN BE MADE THROUGH THESE LINKS - NO EXTRA COST TO YOU
Amazon USA
- Amazon Canada
June 21 thru July 6, 2017
Power Status
Kevin won $25k and couldn't be first HOH
BB18 Paul joined and was given 1st eviction safety
Paul gave 1st eviction safety to Kevin, Raven, Dominique, Mark, Jason, Jessica, Ramses, Elena
Alex, Josh, Matthew, Megan won 1st eviction safety, and Cody earned it
Cameron, Christmas, Jillian were on the block via comp
Cameron evicted 8-3-2

Cody is Head of Household
Jillian and Megan were nominated
MEGAN WALKED OUT she's gone
Alex and Jillian were nominated
Alex won veto/used on self
Cody nominated Paul but his safety was revealed
Jillian and Christmas were nominated
Jillian evicted 8-4

Jillian, Josh, Ramses were Have-not - now ended
Paul has safety for next three evictions
Ramses has to go on the block one of the next three evictions
Raven has a Have-not pass


Upcoming Events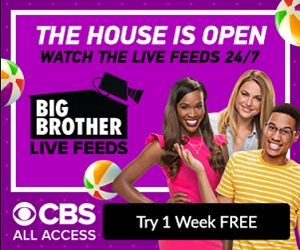 FEEDS HAVE BEGUN and they are the real show - sign up now and get a one-week free trial

Thursday: Feeds blocks for live show setup/rehearsal

Friday night or Saturday: Den of Temptation #2
Friday: New Have-nots, nominations
Saturday: Veto comp

Sunday: Paul Abrahamiam, Da'Vonne Rogers, Caleb Reynolds, Frankie Grande plus four Survivors on Candy Crush premiere, CBS (pre-taped)


Next Shows
Thursday 7/6 9pm - Veto meeting fallout, first live eviction, HOH comp
Sunday 7/9 8pm - Den of Temptation #2 reveal, nominations
Wednesday 7/12 8pm - Veto comp, veto meeting

Regular schedule is Sundays 8pm, Wednesdays 8pm, live eviction Thursdays 9pm, on CBS (Global in Canada) - stream links to watch live online are posted in Quick Links & Bookmarks on the left sidebar

After Dark airs every night on Pop (Slice in Canada) - times vary by area and provider, check your cable guide


Other News and Weekly Stats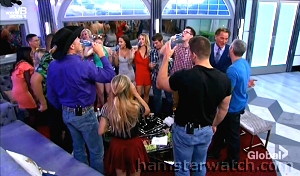 MOVE-IN DAY 1 was Wednesday, June 21.. I'm expecting a 92-day season, with a two-hour finale September 20

Assuming they didn't fiddle with any timing, everything shown on the June 28 CBS premiere happened on that first night, including Paul's arrival, two comps, and Cameron's eviction.. he might be put on ice for possible revival but Julie told him, Christmas and Jillian when they were on the block that whichever of them goes "your shot at winning half a million dollars will be over"

Paul's return had been spoiled last week (by me), and Cameron's early exit had been guessed from individual swimsuit pics sun shadows and faulty photo touchups in the group bikini pics, and Paul's head was also glimpsed in one of the group shots - see Goofs Tally below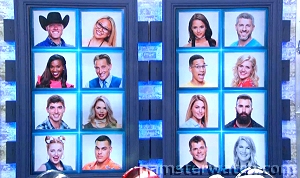 MEGAN QUIT She was gone when the feeds began Thursday night.. details are sketchy and we only have hearsay to go by, but she'd been involved in several confrontations, including an alleged sabotage-lie from her about an alleged racial slur about Alex allegedly made by Jessica.. see Links of the Day below for Megan's side of the story

Real-time feeds updates and air show recaps are at Hamsterwatch Forum by @UGotBronx, and cast bios, photos are in their cast folders

Diary segment tallies by @clamperls: First week

Alliance charts by @89razorskate20: Day 10, Day 14

Ratings Watch Wednesday's premiere won both hours with 1.7 rating, 7 share, 5.86 million viewers, ahead of Masterchef on FOX with 1.0/4/3.50, Little Big Shots: Forever Young on NBC with 0.9/4/6.51, The Goldbergs and Speechless reruns on ABC with 0.5/3/2.63 and 0.5/2/2.11 respectively. Second hour competition was two The Carmichael Show episodes on NBC with 0.7/3/3.51 and 0.6/3/2.79, Modern Family and American Housewife reruns on ABC with 0.6/3/2.58 and 0.6/3/2.79, and The F Word with Gordon Ramsay on FOX with 0.6/3/2.12.

Thursday's show won the hour with 1.6 rating, 7 share, 5.31 million viewers, ahead of The Wall on NBC with 1.0/4/4.65, Battle of the Network Stars premiere on ABC with 1.0/4/4.03, and Love Connection on FOX with 0.7/3/2.44.

Sunday's show won the hour with 1.4 rating, 7 share, 5.23 million viewers, ahead of Celebrity Family Feud rerun on ABC with 0.8/4/4.54, The Wall rerun on NBC with 0.4/2/2.36, and The Simpsons and Family Guy reruns on FOX with 0.4/2/1.23 and 0.5/2/1.30 respectively.

Wednesday's show won the hour with 1.8 rating, 8 share, 6.07 million viewers, ahead of Little Big Shots: Forever Young on NBC with 1.0/5/6.63, The Goldbergs and Speechless reruns on ABC with 0.7/3/3.38 and 0.5/2/2.57 respectively, and Masterchef rerun on FOX with 0.7/3/2.51.

Rating and share: adults 18-49 - Rating: percent of all TV households - Share: percent of households watching TV



"Week 1" - Days 1 thru 16 - June 21 thru July 6, 2017
Daily and Noteworthy Events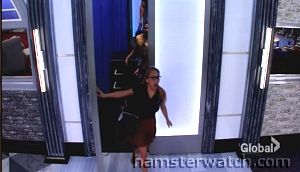 Evicted Day 1: Cameron 8-3-2
Walked out Day 8: Megan
Head of Household: Cody
Have-nots: Jillian, Josh,

Megan

Ramses
Have-not Escape: Paul
Original noms: Jillian,

Megan

Alex
Veto winner/outcome: Alex/used on self
Final noms: Christmas, Jillian
Evicted: Jillian 8-4
Viewer vote #1 Pendant of Protection: Who should get safety for next 3 evictions? Paul
Consequence: Ramses has to go on the block for one of the following three evictions

Viewer vote #2: Ring of Replacement: Who should be able to play in any veto comp of the season?
Consequence: TBA




Day 1 Wednesday 6/21 Move-in per Day 8/June 28 premiere, Alex was the first to enter the habitat, along with Mark, Ramses, Elena, then Jason, Dominique, Kevin, Christmas. Then Julie welcomed and sent in the other eight, with Matt, Raven, Jillian, Cameron entries followed by Cody, Jessica, Josh, Megan.

Garden of Temptation comp: everyone sat in a pod, and Kevin was the first to buzz in when a light turned green, winning himself $25k plus a consequence, which was Paul's arrival. Kevin's win was anonymous, and he has to throw the first HOH comp. Paul had automatic safety, and handed out eight friendship bracelets for first eviction safety to Kevin, Raven, Dominique, Mark, Jason, Jessica, Ramses, Elena.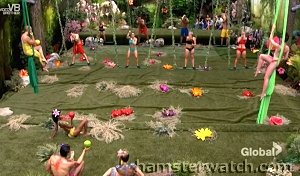 Fruit of Temptation comp: stand on a trapeze endurance. Falls selected a good (safety) or bad (up for eviction) apple, and Julie gave three clues about odds for which color apple to pick. Falls in order were Jillian, Megan, Josh, Cameron, Christmas, Matthew, Alex, leaving Cody as the winner, earning him safety.

Bad apple pickers and up for eviction were Cameron, Christmas, Jillian. They voted in Diary whether to face an eviction vote or comp, with only Cameron opting for a comp.

Cameron was evicted 8-3-2 Votes to evict Jillian were Cody, Mark, Matthew and votes to evict Christmas were Jason, Josh. Paul did not vote.

Den of Temptation viewer vote for Pendant of Protection (safety for next three evictions plus a consequence) was opened after the CBS premiere on June 28.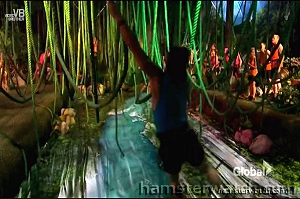 Day 2 or 3 HOH comp per Day 9/June 29 show, BB16/18 Nicole hosted Hangs in the Balance: use hanging ropes to retrieve eight apples. Teams were Yellow (Elena Jillian Josh Kevin), Orange (Alex Christmas Jason Ramses), Blue (Mark, Megan, Paul, Raven), Pink (Cody, Dominique, Jessica, Matt). Mark dislocated a finger during the comp.

Josh picked a golden apple, giving him safety and eliminating his Yellow teamies from the comp. Blue and Pink teams won and selected Paul and Cody respectively to compete in second round, which was to hang seven apples of different weights on a teetery tree. Cody won and become the first HOH.

Josh went off on Megan twice during the episode - it's unclear why. He also apologized to her.




Day 5 Nominations Cody nominated Jillian and Megan for eviction.

Day 8 Megan quit

Day 9 Nomination Cody nominated Alex to take Megan's place.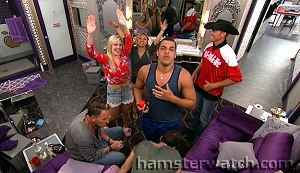 Day 9 Thursday 6/29 Feeds began right on time at 10pm. Megan was gone, Jillian and Alex were nominated, and veto hadn't yet been played. Shoutouts began and carried on, especially by Josh, which annoyed several of them.

Jillian, Josh, Ramses (and Megan) were Have-nots. Cody had asked for volunteers. Have-not room is geometrical with "spike" beds. Showmances were in place, particularly Cody/Jessica, and Elena/Mark and Raven/Matthew also seemed cozy. Many of them are friendly with some and irritated by others, but it's early, and bonds and feuds are still fluid.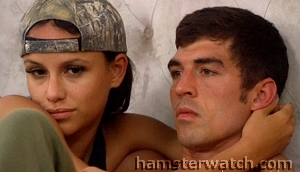 Presumably the winner of the first temptation vote was notified, and they drew cards for a "curse" consequence. It seemed Ramses may have gotten that.

Jason put Christmas in a suitcase and she had a nip slip coming out of it. Elena threw up a few times. There was a lengthy convo about penis sizes, especially Mark's. Kevin entertained them and us with stories and comedy, as hoped.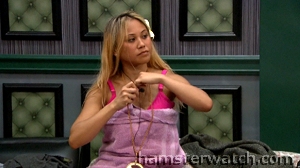 Day 10 Friday 6/30 Veto Comp Alex won the veto, and told us she wants to break up and crush the showmances. Players were Cody, Alex, Jillian plus Jason, Matthew, Raven, with Kevin hosting in a mermaid costume. The comp was timed (but not individually) and involved carrying liquid and stacking stars. Alex won with 16. Kittycam was on feeds instead of Jeffish, featuring cats adoptable from Rancho Coastal Humane Society.

Paul told us he won the viewer vote for three weeks safety, and that the others don't know. Ramses told Alex and Jillian he has a "curse" (likely the consequence for Paul's reward), and Jillian told several others Ramses has it. Kevin told Paul he got the $25k.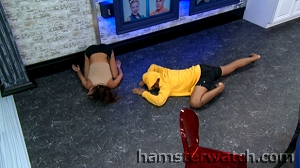 Cody is eating only slop, by choice, and he licked some cleaning spray, also by choice, and he said he went to Ferguson MO "just to see if I could survive" - see Lines of the Day below. Elena had an accidental towel flash. Cody and Jessica dissed each other to whoever would listen but didn't formally break up, and were back to HOH cuddling at bedtime. Jessica and Ramses were surprise creeper/prankster/giggle buddies. Jason told Kevin about Ole and his other animals, and his rodeo act.

Jason or Ramses are potential renoms as of now, or possibly Paul. But I think Paul would have to reveal his immunity if so, and Cody would have to select his fifth name for the block this week.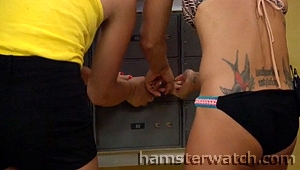 Day 11 Saturday 7/1 Cody told several of them he has a Secret Plan for renom, but he wouldn't say what it was - his options were pretty much down to Paul (who has safety), Jason, or Christmas. Christmas eavesdropped on some of those talks, and she and Jillian discovered a master key for the safe deposit boxes, but BB told them to "stop that". It might be something, but it's probably just decor. There was some talk about Alex possibly using her veto on Jillian, but I think it was just talk. Mark used Ramses as a workout dumbbell. Several of them had an anti-Josh convention but he too has safety, for now. Despite Josh being Public Enemy #1 (or #2 or #3), Dominique put in a lot of time and effort with him, and with Mark and Elena.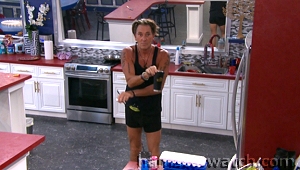 Cody followed up last night's Ferguson story with a speech about "trannies" and his lack of empathy for them. Jason followed up last night's story about saving a cow and her baby calf's lives with one about pooping his pants at an auction. Kevin stories carried on unchecked, to the delight of many of us, including a morning song 'n kind of dance about their new cups à la OTT Justin. Paul vetsplained a lot of things, partly strategy to gain trust in order to mislead later, and partly sincere, especially regarding last season's finals and jury votes. Jessica pulled out a hair extension by mistake, and Raven looked like a new hamster when she took out her twin buns.

Dominique did a talk show that was rather serious and professional, although her guests livened it up a bit: typically funny Kevin in dapper suit and tie, and Mark with a surprise deadpan humor. Their audience derailed things a bit with some comedy and unexpectedly pointed questions. Christmas's in particular, about Mark & Elena showmance, upset Mark for the rest of the night. Psst-pssting carried on all over, and still nobody seemed to know what Cody's Secret Plan is.. could be good feeds on Sunday!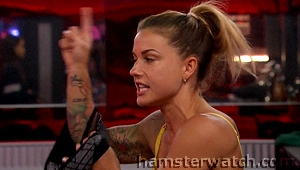 Day 12 Sunday 7/2 Veto Meeting Alex used her veto on herself and Cody tried to put up Paul in her place, but his Pendant for three evictions' safety was revealed, so Cody put up Christmas. Feeds came back to chaos and Christmas was livid. Cody's allies were upset that he hadn't told him his Secret Plan was Paul (Paul was angry about that too), and Paul's allies were upset because he hadn't told them about his safety. Flashback 7/2 12.34pm

Ramses' consequence/curse wasn't mentioned as it hadn't come into play yet. It came out that his curse is he has to go on the block one of the next three (now two) eviction cycles.

This kind of drama and chaos, with an added paranoia bonus from outed secrets, is why we watch feeds! GET THEM NOW so you don't miss out.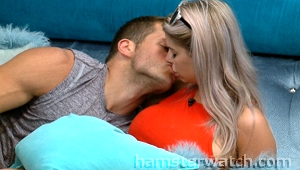 Mark & Elena joined Cody & Jessica as makeout pairings. I don't think Matt & Raven have reached that stage (yet?) but Cody & Jessica went on to third base or home - see Extracurricular Tally below. Cody also told Jessica and Matthew (separately) that he has a daughter, and later he told Jessica he's older than he told them (he said 26, he is 32).

Fallout from the veto/renom/reveal/renom meeting continued through the afternoon and evening with many meetings and much whispering, promising, vote-counting, and some pretty great and individually tailored campaigning by Christmas. I expect an awful lot of waffling this week so I'm definitely not counting votes yet. Ramses accidentally dumped Jillian's stunt hair out of the towel it was drying in when he picked up the towel. Raven told all or most of them, separately, that Josh had creeped and peeped at her in the shower.

Den of Temptation viewer vote #2, Ring of Replacement (option to play in any one veto comp this season, plus a consequence) was opened after the CBS air show.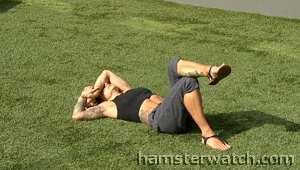 Day 13 Monday 7/3 During wakeup music fishies, Christmas said her foot was broken, and was taken off to have it checked out. According to retells, she'd been "riding" Jason when he slipped on the fake grass. She returned around 2.20pm with a wrapped splint and crutches, saying she has some torn ligaments and will go in for an MRI on Wednesday. Also, Kevin is scheduled to have a bad tooth looked at Wednesday.

Mark and Elena continued their go-rounds from yesterday about who to evict and particularly, can they agree on their decision or can they agree to disagree? Both options seemed unlikely, but Mark now seems prepared to VTE Jillian. Cody wrote his HOH blog and tweets, making Jessica upset because she didn't know why he was acting secretive. She and Raven examined the safe deposit boxes and thought Cody had been given a temptation or twist, but no.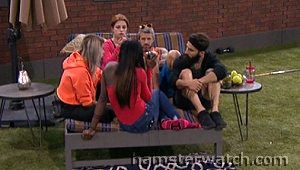 Jessica and Paul had a lengthy convo, and Paul said he won't put her and Cody on the block together. He also told her he hadn't been campaigning for Christmas to stay (untrue). Dominique told Paul she's actually a nuclear engineer with a Master's degree, and she had her nightly fake chess game with Mark (no pieces moved) while she worked on him. Mark then went to Christmas who worked on him some more, including a few tears from her, some shop talk about the fitness industry, and a major breakdown by Mark. He reported back to Dominique, who was proud of his breakthrough.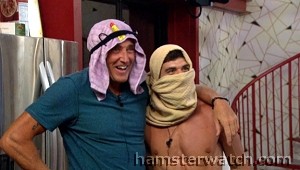 Like Cody before him, Paul now has a Secret Plan he won't tell anyone about, and Jessica got angry because she found out Elena wants to evict Jillian instead of Christmas. The various vote loops kept looping and likely will continue through Thursday, and Kevin and Jason were noticeably absent from feeds much of the evening. Matthew told Raven (with an admonishment to keep it to herself) that Cody had told him he wants to keep Alex and Jason around to get rid of Jessica for him, and Matthew & Raven agreed to break away from Cody & Jessica.

As of now, Jillian is probably going. Have-nots ended at midnight and Jillian, Josh, Ramses greatly enjoyed their pizza and burgers.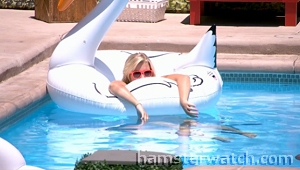 Day 14 Tuesday 7/4 Many of them dressed in stars 'n stripes clothing, and Paul gave feedsters a speech about America, himself, and various other things. He also decreed a No Gametalk rule for the day, but of course that didn't last. Most of them were psst-pssting all over town about the upcoming votes, with the exception of Jillian who was barely involved until Alex told her about a pitch Jessica had made to her to "tie the vote" and Cody would break it to keep Jillian in exchange for safety (next week or forever, I don't know).

Dominique has had Mark in her pocket for awhile but Christmas moved in there with last night's emotional Mark therapy session, and Christmas had a major peptalk with Josh today, putting her slightly ahead of Dominique in the unofficial soldier-sheep gathering event. Paul still has a big lead there, but his stock is falling.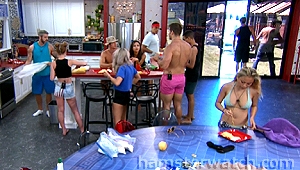 Most of them now know about Ramses' curse, and that he plans on putting himself on the block next week. I don't know who started it (most fingers are pointing to Ramses) but a story circulated about MARK DOM ALLIANCE skywriting. It was actually a HAPPY BIRTHDAY message for someone unrelated, and neither Dominique nor Mark were amused by the "translation".

Another (true) story had been circulating for a couple days about Jason saying he wanted to put Jessica's head in the sink and/or toilet, and blame games about who'd told whom about it. Jason admitted to Jessica that he'd said it jokingly. Earlier, Jason let the "fag" word slip in a hyper gametalk convo to Jessica and while he realized and caught it immediately, and said he didn't mean it in a derogatory way, it kinda sounded that way. Several of them use "retarded" regularly but usually catch themselves immediately too, making me wonder if they were given a list of words to avoid on feeds. If so, it didn't "take".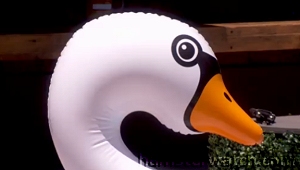 Feeds went to Kittycam at 7.15pm for them to have a Fourth of July party. They had pizza, barbecue, cake, apple pie, and champagne, and feeds came back at 9pm to more talk about the skywriting that didn't happen, which didn't please Mark or Dominique. Unless Ramses can and does clear his name about the skywriting, that might have been a fatal mistake. Mark told Jason that Jillian has to go, and Jason said okay. Kevin promised another storytime but feeds gave us everything but again, including extra-hyper Paul telling everyone what to do, and showmance smackyface and/or angst on all feeds again. I left early.

PS I'm sorry about this unwieldy page. I thought I could do very basic daily recaps like I did for OTT and have my Twitter supplement the snark and play by play, but I seem incapable of streamlining these recaps. It should get better when we get to actual seven-day weeks, I hope.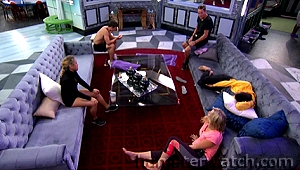 Day 15 Wednesday 7/5 Christmas went off for her MRI around 10.30am, and the rest of them settled into rotating groups of random chat, with Cody and Jessica remaining in their slurpydurp den. Paul boasted some more about himself and last season, bashing James for everything Paul's been doing this season so far. Jillian told Ramses he should put himself up next week because they'll have the votes to keep him, but they aren't aware Jillian will probably be leaving tomorrow.

Josh was still promising his vote to both sides, but he's told the VTE Jillian side that he's been fibbing to the other side. Kevin suggested the name Goon Platoon for himself, Alex, Jason and reaffirmed they'll VTE Christmas. He also told them how he says random things to everyone just to mess with them. Christmas returned a few hours later with a diagnosis of two broken bones, and she opted to stay rather than go home.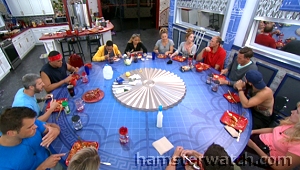 Josh plus Raven made family dinner for everyone, the first since feeds began. They all seemed to enjoy it except Cody and Jessica who arrived late: Cody made a bowl of slop and I don't think Jessica ate anything, and they returned to HOH shortly after. Paul led a plea to BB to stop wasting so much money on fish each week that usually ends up in the trash. Dominique had long talks with Christmas, Mark, Matt, and told Mark about her real job, making two with Paul who know that one.

Christmas gave Josh a peptalk and props for lying so well to the other side about his vote, and told him to keep at it. He immediately went to Jason and Twitter went berserk thinking Jason "strong-armed" Josh into flipping again. Again, this was immediately after he told Christmas he'd keep lying to the others, and it was also right about when After Dark started, so maybe late-comers missed that part, I don't know.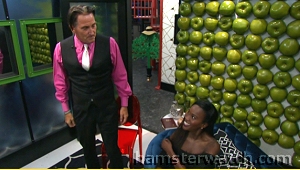 The talk show happened again, with a dapper Kevin introducing Dominique who proceeded to interview both Christmas and Jillian, with a few "audience" questions. Once again it was a little too dry for my tastes, with Diary voices and pre-show interview type answers, but it was something different anyway. Cody and Jessica skipped it, stayed entwined in their lair upstairs again/still. Most of them went back to their psst-pssting and general socializing afterwards. Alex launched pranks, scaring Mark in the pantry and threatening Jason, Ramses sang and danced OTT Justin's "Bout to Have Some Pizza" song, and Jason told stories about deer and rabbit and Carmex, none of which I'll repeat here.

As of now, Jillian will probably be evicted 7-5, and if nothing changes, there should be some good shockfaces when Julie announces that, since the VTE Christmas side are expecting 6-6 with a Cody tiebreaker to boot Christmas. That could still happen, and pretty much anything else could too, since we'll be locked out of much of Thursday day feeds while they do setups and rehearsal for their first live show.



Ratings - Out of the Chute edition
Ratings are based on entertainment value, as of Monday




One of the biggest problems with putting vets in is how they're given a free ride at the start, but 'it is what it is.' The Temptation votes are interesting, at least the three we know about so far, but I'd rather see an old-fashioned food comp on the Sunday shows than watch a steady stream of them reading Nope, It's Not You cards in Liberace's Pandora but again, IIWII. It's unfortunate that of all the many changes they made for OTT, the only two they carried into summer are one vet in the cast and the no napping rule. But the goofs tally is off to a strong start and this cast has massive trainwreck potential, and that's what matters.





Won: 1st eviction safety
HOH 0 - Veto 1 - Noms 1
Day 1: VTE Cameron

Week 1: WON VETO/USED ON SELF
Day 15: VTE Christmas
She's busy, often hyper, and she won the veto when she had to. I think she's got potential to be very good at this game if she doesn't let her catty tendencies get the best of her. Big if there, but meanwhile those same tendencies are good for stirring things up.





Won: Nothing yet
HOH 0 - Veto 0 - Noms 2
Day 1: No vote (on the block)

Week 1: NOMINATED
Day 15: No vote (nominee)
I've been highly impressed with her campaign skills, but they are exhausting and don't do anything for me personally. I'm not crazy about her practically blaming her foot injury on Jason when it was clearly accidental (not to mention nobody forced her to climb on his back) but again, her campaign skills are varied and likely effective. None of these things add to entertainment value, but courtesy upgrade to ups in consideration of her foot and the endless puns with her name.





Won: 1st eviction safety
HOH 1 - Veto 0 - Noms 0
Day 1: VTE Jillian

Week 1: HEAD OF HOUSEHOLD
Day 15: No vote (HOH)
Being arrogant and stoic wasn't enough. He had to toss out his Ferguson pleasure trip story and 'tranny' comments in the first week. It's very early for an empty wheel ignore, and problematic when he's HOH, but it's coming.





Won: 1st eviction safety
HOH 0 - Veto 0 - Noms 0
Day 1: VTE Cameron

Day 15: VTE Jillian
I'm torn. She seems to be playing an effective under-the-radar game, gathering intel and sheep as she goes, but the inspirational quotes and Bible reading aloud aren't why I watch feeds. Still, she shut down Josh without even trying when he was telling us how he was hitting on her (while he was doing so) with 'See, I can't deal with all that extra.' Keep that stuff coming please.





Won: 1st eviction safety
HOH 0 - Veto 0 - Noms 0
Day 1: VTE Cameron

Day 15: VTE Jillian
Speaking of being extra, this girl is the poster child. Going in, she said several times people find her abrasive. I haven't seen abrasive, but I've seen a lot of talkative, gossiping, empathy, vulgarity, and yep, extra deluxe. She and Mark seem totally mismatched to me, and I do not need to see or hear their slurpydurp makeouts, but their constant angst over disagreeing on who to evict is ridiculous and comical.





Won: 1st eviction safety
HOH 0 - Veto 0 - Noms 0
Day 1: VTE Christmas

Day 15: VTE Christmas
I like this guy and I hope he doesn't do anything to change that. I've very much enjoyed his stories about his act, his cows and bulls, and pooping his pants - well, for that last one, it was the way he told it. I'm worried he's moving up more hit lists every minute but I hope he sticks around awhile. When he's with Kevin, they're my favorite hamster comedy duo in ages.
UPDATE He did something to change that on Tuesday, when he dropped the 3-letter F word. To his credit, he caught himself immediately and said 'oop' in the same breath, but he went on to not make it better. Once is once but I've got my eye on him.





Won: 1st eviction safety
HOH 0 - Veto 0 - Noms 0
Day 1: VTE Cameron

Day 15: VTE Christmas
Hooking up with Cody, a very unfortunate weave situation, ongoing genitalia commentary, repeated descriptions of messing up her nail polish from toilet wiping, and farts & belches while doing random bendy, I mean what is going on here? We've grown used to a couple different paths the designated 'hot girl' hamster tends to go down, but this is uncharted territory.





Won: Nothing yet
HOH 0 - Veto 0 - Noms 2
Day 1: No vote (on the block)

Week 1: NOMINATED
Day 15: EVICTED 8-4
She's the forgotten nominee, even though she's been up against three separate co-nominees before we even get to the first eviction, yet she's barely lifted a finger to work to stay even though everyone's madly spinning their hamster wheels about and around her. Buh-bye.





Won: 1st & 2nd eviction safety
HOH 0 - Veto 0 - Noms 0
Day 1: VTE Christmas

Day 15: VTE Jillian
I don't know if he's guilty of the many accusations about him or not, including creeping on Raven's shower, but if he is, he can go sooner than later. But first, he's in nearly everyone's cross-hairs so I'm hoping he wins the next HOH just to watch them all grovel. Also his head would probably explode as a result, making it a win-win.





Won: $25,000; 1st eviction safety; couldn't be 1st HOH
HOH 0 - Veto 0 - Noms 0
Day 1: VTE Cameron

Day 15: VTE Jillian
Early and strong front-runner for Star of the Season, and I don't see anything changing that anytime soon. #ThingsKevinSays is already richer than the California and Klondike gold rushes combined, and I want a dedicated feed on him at all times. This guy is a national treasure and the best thing to happen to our summers in years.





Won: 1st eviction safety
HOH 0 - Veto 0 - Noms 0
Day 1: VTE Jillian

Day 15: VTE Jillian
See Elena. He said going in that his weakness is 'girls' and I'm curious if his 100-pound weight loss meant he grew up a 'fat kid' without a lot of female interaction. That could explain his comfort/awkward cycles with Elena, and his lack of the entitled attitude and overblown ego that hamster bro-jocks usually have. Either way, I don't think he's really cut out for this game, which means he'll probably last a long time in it.





Won: 1st eviction safety
HOH 0 - Veto 0 - Noms 0
Day 1: VTE Jillian

Day 15: VTE Jillian
I like his low-key attitude and his laugh, and his subtle but so far effective social game. I don't know if he's enjoying Raven's over-the-top attentions or if he's merely indulging them, but these things will become clear as we go. I think he's a dark horse with potential to go all the way, but we'll see.





Won: 1st week safety; Temptation #1 safety next 3 evictions
HOH 0 - Veto 0 - Noms 0
Day 1: No vote (special)

Day 15: VTE Jillian
I liked him last year, especially at the beginning when he was leading the Revolution Buffoons (my name) with Victor and Jozea. I also liked him after they left and he upped his BB game like a champ, and he stayed mostly entertaining for the duration. This time he's a constantly campaigning, overly serious, arrogant know-it-all, and nobody needs that. Everlasting thanks to @DrunkEnough for coining the word 'vetsplaining' about Paul 2.0, making it an instant add to our ever-growing BB lexicon.





Won: 1st eviction safety; Mandatory nominee 2nd, 3rd or 4th eviction cycle
HOH 0 - Veto 0 - Noms 0
Day 1: VTE Cameron

Day 15: VTE Christmas
He's usually cute and pleasant enough, and often slightly annoying, and he's disappointed many who thought he'd be the 'superfan' to represent us all. But one look at the hashtag makes it clear that 'superfans' are an extremely varied bunch who rarely agree on anything, especially how to play BB. Like Andy, Ramses pops up in dozens of rooms and gametalks without warning, but I don't know if he's gathering intel like Andy did or if he's just being restless and irritating.





Won: 1st eviction safety; Have-not pass
HOH 0 - Veto 0 - Noms 0
Day 1: VTE Cameron

Day 15: VTE Jillian
I said I'd give her a pass about her medical issues at first and to her credit, she hasn't talked a lot about them on the feeds. However, I didn't give anyone else a pass on her behalf, including Christmas saying she doesn't care about the $500k because she's playing for Raven. That could just be gametalk but still, this is BB and not a charity event. Raven also seems uber clingy but see Matthew - maybe he likes it. She is definitely a busybody and a gossip, spreading things like Josh's alleged shower creeping with lightspeed rather than saying something to him about it.





Won: 1st eviction safety
HOH 0 - Veto 0 - Noms 1
Day 1: VTE Cameron
Day 8: QUIT THE SHOW

Like Cameron, there isn't much to say since she left before feeds began. A lot of drama was stirred up by, around, and/or because of her, including a Josh rant we saw on the premiere sans context, and an alleged sabotage lie about a comment Jessica allegedly made about Alex. When Megan got home, she released a statement saying she left because of PTSD from a prior assault. You'd think those things would be discovered and addressed during the lengthy audition process, but who knows? We may never know the entire true story as we'll only have hearsay and edits to go by, but I wish her well.





Won: Nothing
HOH 0 - Veto 0 - Noms 1
Day 1: EVICTED 8-3-2

What is there to say when they're gone before feeds start, other than it stinks? They were probably wise to get him out because he's a big fan who knows the show, and he's brainy to boot. At least he had not one but two comp-shots to save himself, even though he opted for a third comp to evict rather than the vote that got him the non-coveted first boot spot. He seemed likable enough and he tried some twerkish moves to save himself but alas, it wasn't enough. He dropped a hamster line in Diary which was fun, but anyone going before feeds still stinks.



Lines and Links of the Day
Lines

Julie: This is going to be the biggest, wildest, most tempting summer in the history of the game

Alex to Cody: No offense, but I hope you eat shit

Cody: Half a million dollars, the easy money

Julie to Cameron, Christmas, Jillian: "If you go, your shot at winning the half million dollars will be over

Cameron: I'm not gonna be the first hamster in this cage to go home, no way
----
Cody Diary about Mark & Matt, on Day 2 or 3: I feel like we've been on the same page since Day 1

Cody nominations: Megan, I just don't like you much.. Jillian, I feel your association lies with Megan
----
Alex: Do not do the petty shit.. you want petty shit, go on Oprah

Josh (repeatedly): I'm a human being, I fuck up, I realize my mistakes and I move forward

Christmas: I'm like a dude that likes to be super sexy

Paul: Is everyone just awake right now?
Matthew: I don't think Megan is

Kevin: You think people want to watch those bland people be in the final four? Go watch The WB for that

Kevin: What do you mean take out your hair, WHAT THE FUCK IS THAT

Jillian: You never left Boston?
Kevin: What do you mean, I'm in LA right now!

@DrunkEnough: Paul is vetsplaining how the feeds work
----
Jessica: Pao Pao's getting evicted this week

Alex: I'm coming for the showmances, I'm gonna crush every one of them

Jason: Me and your areolas are one

Paul to Kevin: They can't all be intelligent, they always cast a few potatoheads to fuck you up

Cody: I actually went to Ferguson Missouri for the riots, just to see if I could survive.. the BBC interviewed me, I dressed up like a bum.. everything was lit on fire, like the Walgreens was just lit up, I enjoyed it
----
Cody: How does one tape his dick down? For trannies I guess
Jessica: Oh my god
Cody: Think I give a shit .0000 fuckin 1% of the population is fuckin trannies? I promise they're not expecting me to sympathize with their psychological cause

Dominique: If you really want to know who you are, or who you aren't, apply for Big Brother

Cody: Gosh damn, Jess is smokin' - I can't imagine they could be any happier [about them hooking up]

Jillian: We didn't want to get a dog from a puppy mill, so we bought it online
----
Cody before veto meeting: All we have to do is protect 11 people to jury

Cody after veto meeting, to Paul: Me being the target now is kind of mission accomplished for me

Christmas: I feel bamboozled

Elena: This hands the game to the floaters
----
@Technotronicks: If she's gone.. guys we only got 12 days of Christmas

Jessica, kissing Cody: I love a man that tastes like pickles

Big Brother: Josh, are you wearing someone else's microphone?
Josh: Mine dropped in the toilet so I took a spare

Christmas, about Jason: If that motherfucker breaks my goddamn foot and then flips on me? I will cut his jugular

Matt: What do you have around your neck, bud?
Kevin: Oh, my socks

Matthew to Raven: Cody's a maniac
----
Big Brother: Kevin, please stop singing
Kevin: That was singing? Thank you for the compliment

Jessica to Jason: Me and Cody are gonna break the tie, that's what's going to happen

Jason: I'm not gonna be some fag that just - oop! - lays down and gets rammed.. it's not derogatory, just a visualization
----
Kevin: Snoop was here last week, and Drake's coming next week

Christmas about Cody: Don't poke the bear 'cause I will make the honey badger look like a fuckin hamster

Matthew, when Raven said she watched feeds last year: Dork! Nerd alert! Nerd of all nerd alerts!

Jillian: I'm letting my freak flag fly!

Josh: How many people are in the house right now, 15 or 14?
Kevin: You're staying on top of the game



Links


GET YOUR FEEDS

Use my links for any Amazon shopping, anytime, at no extra cost - just start your shopping trip by clicking Amazon USA or Amazon Canada

Big Brotheer 19 The Saga: Episode 1 by @WilHeuser

Megan on why she left from The Desert Sun

New York premiere party video by @MaddieDockery

QA with Allison Grodner new weekly feature by @MattCarterMedia

More about the twist(s) with Allison Grodner & Rich Meehan, by Brian Porreca for THR

New York Post feature about messy hamsters and their smelly habitat

Dick at Night FREE cast-assessment show featuring Cat Van Zyl, BB13 Keith Henderson, BBCan1 Peter Brown, BB6/7 James Rhine, BBOTT Alex Willett, BB18 Michelle Meyer

Save BB Canada sign the petition

Please tweet me @hamsterwatch for extra good or extra funny things you come across thru the season - thanks in advance!


Tally Items

Season Stats
HOHs in order: Cody

Veto winners in order: Alex

Evictions in order: Cameron 8-3-2

Pre-jury Twitters: @CameronHeard210; @MeganAnnBB19







Linking to any page here is fine. Please don't repost content from this site (or any other) without permission, and don't repost or hotlink images.



THE REAL SHOW IS THE FEEDS


NEXT-DAY AIR SHOWS
Live air shows in some areas
BB1 thru BB19 and many other CBS shows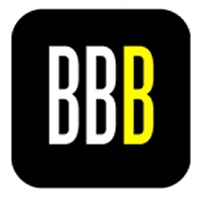 BIG BROTHER BUDDY
Get push notifications for all the big feeds events - iOS or Android


HAMSTERWATCH SWAG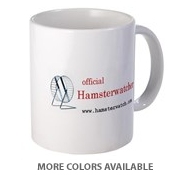 Mugs, shirts, more
Visit my Cafe Press shop






Big Brother 19 SEASON FAQ


Day 1 Move-in was June 21
Day 8 CBS premiere is June 28
Day 9 Feeds begin June 29
Day 92 Finale is September 20

Feeds are streamed by CBS, and Flashback is accessible via All Access subscription. Call 888-274-5343 for account help, including cancellation.

Air shows on CBS (Global in Canada) are Sundays 8pm, Wednesdays 8pm, eviction Thursdays 9pm.

Big Brother After Dark on Pop TV (Slice in Canada) is every night midnight to 3am, except Thursdays 1am to 3am. The aired blocks are live (or recorded earlier the same night, depending on your cable provider).

The CBS app (by CBS Interactive) plays BB air shows and other CBS shows, as well as feeds, or you can use your browser to watch feeds on mobile devices. The same All Access link used to subscribe will lead to the feeds viewing page if you're already signed up.

BB19 prizes are the same: $500k for the winner and $50k for 2nd place. Stipend for the others is $1,000 per week again, including pre-show hotel and jury sequester. Paul is probably getting more, and possibly Christmas as well.

The habitat has 87 HD cameras and over 100 microphones.

The recorded in-house announcements are the voice of producer Don Wollman. He and Julie Chen are the only staffers who have been there since Big Brother 1.