This site is about the Big Brother 18 feeds and contains spoilers! It isn't necessarily thorough: it's what I catch and/or what interests me. It's about watching hamsters: who's doing what and why. Thanks for encouraging my behavior.
Your pal, dingo







BB18 DRINKING GAME


Take a swig whenever one of them talks to the cameras




Watch BBUK live or archive shows on Channel 5 & 5Star
Or any geoblocked content





QUICK LINKS & BOOKMARKS



-Get the feeds
-Watch the feeds
-Feeds updates by @UGotBronx
-My Twitter - my screencaps
-Amazon portal USA or Canada
purchases help me a bit

-BB Viewer by @liquid8d
Requires All Access

-Hamster Twitters
BB USA - BB Canada

-On The Block with McCrae Olson
and Spencer Clawson
-Attwx.com all seasons by @attwx
-Dick at Night with @EvelDick
-Latest alliance chart by @89razorskate20
-Diary tally by @clamperls

-VPN to watch BBUK and other international Big Brother shows

-Big Brother 18 official site
-Live show tickets

-Feeds devices & system req
-Shop Roku or Chromecast







EAST COAST STREAMS



CanadaTV on Roku $2/month
Global Toronto - east coast live
Global BC - west coast replay

NO DOWNLOADS NEEDED:
1 - 2 - 3 - 4 - 5 - 6
7 - 8 - 9 - 10 - 11




Donations via Paypal are gratefully accepted!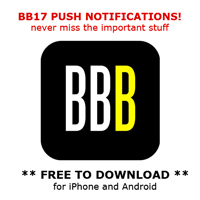 Get Big Brother Buddy app!
Get all the BB18 news plus push notifications of key events as they happen

Watch Big Brother
Seasons 1 thru 18
Plus tons more CBS content






BIG BROTHER SEASONS



CBS All Access
Seasons 1 thru 18

Amazon DVDs BB4 - BB3

Amazon Instant Video
BB17
- BB16
- BB15
- BB14
- BB13
- BB12
- BB11
- BB10
- BB9
- BB8
- BB7




>> >> >>

>> >> >> >>

>>





ANY AMAZON.COM PURCHASE CAN BE MADE THROUGH THESE LINKS - NO EXTRA COST TO YOU
Amazon USA
- Amazon Canada

GET THE FEEDS - NO PROMO CODE NEEDED - $5.99 PER MONTH
COMPUTER - MOBILE - ROKU - CHROMECAST - APPLE TV - ANDROID TV - FIRE TV - XBOX 360
FAQ and season stats

Paulie is HOH
Bronte, Paul, Tiffany* were nominated (*Roadkill nominee)
Paulie won veto, used on Paul
Bronte, Tiffany, Victor are nominated

Da'Vonne, Paul, Zakiyah are Have-not - their supplement is berries

Teams, in order of original picks:
Category 4: Frank, Michelle, Paulie, Bridgette
Big Sister: Da'Vonne, Paul, Zakiyah, (Jozea)
Unicorn: James, Natalie, Victor, Bronte
Freakazoids: Nicole, Corey, Tiffany, (Glenn)


Friday: Nominations, Roadkill comp
Saturday: Veto comp
Monday: Veto meeting, Zakiyah's birthday
Next show is Thursday, July 7 9pm: Live eviction, HOH comp

July 22 8pm: Battle Back special episode


Sunday 8pm, Wednesday 8pm, and live eviction Thursday 9pm on CBS (Global in Canada)


Monday, Wednesday, Friday, Saturday, Sunday midnight to 3am, Tuesday 11pm to 3am, Thursday 1am to 3am on Pop (Slice in Canada)


Nicole; Paulie


Paul; Paulie


Frank; Victor


Glenn (no vote); Jozea 7-4-0



Day 22 - Wednesday, July 6
Feast or famine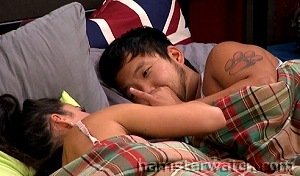 That's usually the way it is with BB feeds and this season's no exception.. Tuesday was the feast, today the famine, with lots of laying around, napping, and retells of yesterday's convos and future plans

About the only noteworthy I've got so far is from James and Natalie pillowtalk.. she was reporting things she's heard and he seemed surprised how much she knew.. she said she'd tell him if she heard about anyone plotting against him, and he asked her to pinkyswear.. she refused, saying she doesn't do that, but she shook hands.. you'll note in the Pinkyswear tally (far) below that she's already on the board with a prior pinky with Tiffany - oops! Maybe she was hoping he'd tell her about Tiffany and Vanessa, or various other secrets she knows

The rest of the day and night was more of the same, plus some armpit waxing, and some brouhaha involving Michelle accusing Bridgette of spying and Frank jumping in to defend Bridgette, but that wasn't on feeds.. I didn't see any campaigning by Bronte or Victor, and what little campaigning Tiffany did was combined with the omnipresent plans for next week.. it's a very safe bet that Victor's still a goner

GET YOUR FEEDS so you can watch it all unfold, click "Previous Hamsterwatch episode" up top to see what's come before, and click Feeds Updates way up top for detailed play-by-play with tons of screencaps by @UGotBronx



Day 21 - Tuesday, July 5
The fuses are lit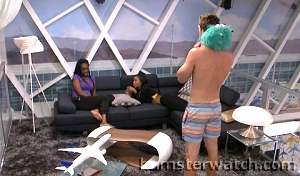 The camera came out and they did some selfies, like they do, and all signs pointed to a sleepy afternoon, but no

Da'Vonne and Nicole had an anti-Frank meeting, followed by Nicole telling Corey that Frank has a number of Final 2, 3, 4 deals.. then Frank joined them and pushed his anti-Tiffany agenda hard, while Corey countered with wanting to boot Bronte before Tiffany (all this was about next week).. Nicole said something about Frank's "queen of Sheba" comment about her, and Corey said they should get rid of girls first because they're too emotional and therefore unpredictable.. Frank said he thought they should tell Paulie about 8 Pack alliance now rather than having him find out later when they'd need him

Nicole reported all this to Da'Vonne and Zakiyah in the Have-not carnival room.. they decided to hold off on telling Paulie for a bit, and they started counting up votes to evict Frank.. meanwhile Frank did tell Paulie about 8 Pack, and Paulie trotted down to the carnival where they did not tell him about it.. Da'Vonne and Zakiyah brought their intel to Tiffany, Corey told Nicole about Paulie knowing about 8 Pack, and Nicole brought her intel to Michelle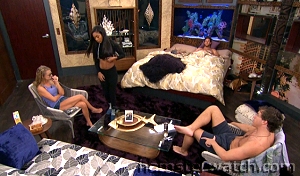 As if all this wasn't enough, the BB interwebs exploded about a comment Frank made to Zakiyah about her slightly disheveled outfit, saying she looked like "a hussy" and his nana would say the same.. it should be noted Frank was shirtless at the time.. that escalated into "Frank called her a slut" and on we go

The rest of the day and night was more of the same, meetings here and meetings there, with Frank featuring in most as either talker, subject, or planned future victim.. he made another joke about Zakiyah, this time saying she was gaining weight - clearly a joke since she's on her second week being Have-not and she was reed-slender to start with, but the BB interwebs went nuts again.. later the two of them did a little shadow-boxing, and he helicoptered her



A death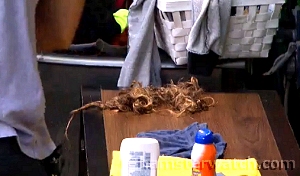 A highlight for #Deathrace2016 fans was Frank telling Michelle her stunt hair had gone through the washing machine.. I thought he was pulling a Frank at first but no, it happened.. Michelle was aghast at the soggy mess and ready to call it a total loss but Natalie stepped in and said it might be salvageable, and she set to work with conditioner and brushes and did what she could

Paul got emotional about not being comfortable with dishonesty, and he told his woes to a series of rotating peptalkers.. Victor took one listening shift but Paul didn't take the opportunity to clue him in about his impending doom.. Tiffany was active in a lot of the round-robin gametalks, but next to none of them were about this week's eviction, and the other nominee Bronte was barely seen at all.. Paulie told Zakiyah he didn't care about not knowing about or being in the 8 Pack.. Corey put a metal cup in the microwave and claimed he didn't know you couldn't do that.. he said he put a cat in a microwave once, but he added "just kidding"

GET YOUR FEEDS so you can watch it all unfold, click "Previous Hamsterwatch episode" up top to see what's come before, and click Feeds Updates way up top for detailed play-by-play with tons of screencaps by @UGotBronx



Day 20 - Monday, July 4
4th of July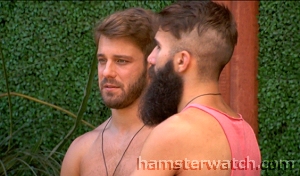 Paulie used his veto on Paul, and put up Victor in his place.. since Victor was the target before original nominations, we now have an actual backdoor scenario (in recent seasons, many have been using the terms renom and backdoor synoymously, but they are not the same thing).. hopefully this will also put to rest the endless questioning about whether Roadkill winner can go up as renom - obviously he or she can: the winner is supposed to be anonymous

Paul thanked Paulie for having his back and keeping his word, and Victor seemed to take it okay, and any hoped-for fireworks fizzled, again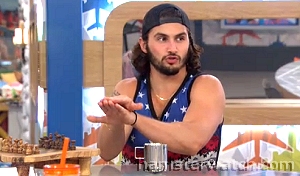 Paul and Paulie said Bronte's speech included what a good competitor she is, and they didn't think that was very wise.. she and Natalie mugged for us, and Bronte hollered "See ya Victor! Bye bye! Paul, you're fucking next!" - little does she know, she's next on many hit lists in there.. Victor went around campaigning in earnest and received a number of (false) vote promises

Frank, James, Nicole, Corey did some day-drinking with last night's stashed booze, and they made sangria.. Frank replenished the poured sangria with Sprite several times.. Da'Vonne spent hours and hours maintaining and redoing her 170 braids.. Frank had a sit-down with Bridgette and extracted a whole lot of info from her, although it wasn't easy.. he was alternately condescending and intimidating, saying they're on the same team and should share info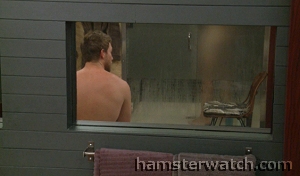 Later, Corey was sitting on the bathtub while Frank was showering and Frank said to stop watching him.. I don't like to assume or announce people's sexuality unless they do, and the whole #NotGayCorey thing has snowballed out of control at this point, but he sure keeps providing ammo

They were locked inside all afternoon for the huge public 4th of July event on the CBS lot, and they griped about that a lot, but BB finally gave them a party for a couple hours, Have-nots included.. feeds could be hopping later



Secrets and confessions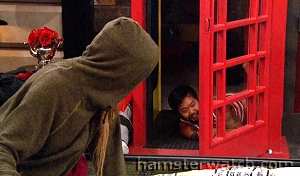 Wrong, the feeds were anything but hopping, but a couple interesting things happened.. James hid in the phone booth as a prank, eavesdropping for a long time on Tiffany and Michelle chatting girltalk mostly, but he also heard about a couple alliances - oops

On top of Tiffany telling Corey about her sister yesterday, today she told Michelle she's indeed a high school rather than middle school teacher, and she told Nicole that she's gay rather than bi.. that one brought mad strobing fishies, but she seemed to hint that it was production's request, perhaps for storylines, perhaps with Paul or Paulie - Flashback 7/4 10.32pm.. I don't know if this is the best time for all these confessions now that she'll be on the eviction couch on Thursday, especially when most of them think she's sketchy anyway - we'll find out.. along the same lines, Victor told Da'Vonne that he won the Roadkill, not knowing that she already knew, and he confessed to [someone, I forget who] that he's the gym ops manager and not [whatever he told them] personal trainer, I think

The HOH guys got rude and crude for awhile, and later joined the girls for relationship chat - the shift was mind-boggling.. Da'Vonne kept working on her braids throughout

GET YOUR FEEDS so you can watch it all unfold, click "Previous Hamsterwatch episode" up top to see what's come before, and click Feeds Updates way up top for detailed play-by-play with tons of screencaps by @UGotBronx



LINES OF THE DAY

Wednesday
Nicole: I had a dream my mom told me to stop putting my hair in a bun

Nicole: I put [Frank] down as my favorite player this year
James: Me too
Nicole: You too?!
James: I'm retracting it

Paul: I attracted all the weirdos at Pepperdine
Michelle: What's Pepperdime, isn't that cookies? Pepperdime Farms?

Tuesday
Frank about Bridgette: If it's an act, GAWD that would be exhausting

Corey: Girls get all freakin emotional, you don't know what they're gonna do
Nicole: OMG that's ridiculous
Corey: No offense
Nicole: I took a lot of offense

Da'Vonne: You know, I just graduated from paranoia school myself

Zakiyah, being helicoptered: My weave! My weave!
Michelle: Trust me, your weave can't get any worse than mine

Da'Vonne: I didn't think we were at that point of the game, I thought we were at the point of hi, my name is...

Natalie: This house is a crockpot of emotions

Natalie: I want a hairless cat
James: You can just shave it

Monday
Bridgette re Tiffany: I don't know why she doesn't tell people.. she looks just like [Vanessa]
Frank: She's trying to fill some shoes

Frank to Bridgette: You think I wanna go to the end with James and Day?!

Frank in shower: Don't look at me right now
Corey: Oh my god
Frank: It's giving me weird feelings bro

Paulie: What nationality are you?
Corey: Caucasian

James: That's what her sister called me last season, chauvinist.. I was the Frank to her



LINKS OF THE DAY

Get the feeds to see the real show

The problem with Big Brother's disingenuous Diary Room interviews by @RealityBlurred

National parks fabric available at Amazon

What we expected and what we got by me

Paulie's HOH blog

Big Brother 18 The Saga Episode 2 by @WilHeuser

On The Block McCrae with Jason Roy and Neda Kalantar

Dick at Nite with Evel Dick Donato, new season is underway

Attwx.com all seasons stats, comps, factoids, and fun stuff by @attwx

Canada TV for Roku for Big Brother 18 east coast airings plus west coast replay, for $1.99 per month

Differences between BB Canada and USA and Confessions of a BB feed watcher articles by me, for Reality Blurred

Big Brother UK
Hide My Ass to watch from outside UK
Air shows live stream
Air show schedule (UK time)
Archive shows
UK TV for Roku for live air shows, for $1.99 per month



Ratings - What you doing, Frank? edition
Ratings are Tuesday's for now, based on entertainment value




Nearly everyone in there is playing Audrey's game, and I feel for the editors who have to whittle it all down into a couple three-minute segments for CBS. They'll probably overlook most of it but they'll need to come up with some footage to explain the nominees and the mysterious bull's eye on Victor.

PS Team Ants is stronger than ever but people keep asking me why production doesn't bring in an exterminator. Ants are a problem in the area but the best pest control expert can't help people who never put food away, empty the trash, or clean up after themselves.






Won: 8 days pixel suit
TEAM CATEGORY 4

I'm ready for her to go all the way, but I wish she wasn't the only one waging war on the ants. This always happens: the ones I hope will work together, never do.






Won: Immunity 1st 2 evictions
TEAM UNICORN

NOMINATED
Yes, that says she's nominated this week. You wouldn't know it from the feeds.






Won: $2,500
TEAM FREAKAZOID

The goat story wasn't funny, and the cat in the microwave joke wasn't funny, and he really just needs to keep his trap shut. How can someone reach 25 years of age, at least some of that in a frat house type whatever, and not know you can't put metal in a microwave?





TEAM BIG SISTER

Easy ups for her marathon braiding session, both for what it was and for how well it let her stay planted in a busy traffic area for an entire day. I think 99.9% of the current anti-Frank movement is her doing, but she won't just plant her seeds and let them take root. Once again, she digs them up and rakes over them and replants until it's a big fat mess. More popcorn for us!






Won: 8 days pixel suit
TEAM CATEGORY 4

He's stirring everyone up like nobody's business, and he's just having a good ol' time about it. I don't know how aware he is about being the new Public Enemy #1 but he knows what some of them may have forgotten: he can comp his way out of most any messy situation he finds himself in.






Won: Immunity 1st 2 evictions
TEAM UNICORN

He's played relatively few pranks the last couple days and that's a good thing, but he got some good intel he wasn't expecting when he hid in the phone booth. I'm rarely a fan of showmances but I think it's kind of cute how much he and Natalie are starting to like each other, and I'm glad it's mutual.






Won: 8 days pixel suit
TEAM CATEGORY 4

For a designated 'superfan' she comes up with the most random BB-ignorant comments, but whatever. She gets extreme ups for killing her own stunt hair by putting it through the wash.. who does that?






Won: Immunity 1st 2 evictions
TEAM UNICORN

See James, plus her 'crockpot of emotions' comment was more accurate than most anything anyone else is saying. She made a valiant effort trying to save Michelle's dead hair, but I don't think it was able to be resurrected.






Won: $2,500
TEAM FREAKAZOID

She's doing pretty well keeping herself in the right loops game-wise, but I wish she'd see what a dip Corey is and stop batting her eyelashes at him.






TEAM BIG SISTER

Even recruits who don't do much research should realize this isn't the place for people who are worried about honesty and integrity. Sure he got screwed over when his messiah pal got the boot, but he should have taken note of that and run with it. He had the perfect opportunity then to rally Victor and round up a few others to take on the Big Bad Vets and Siblings, but instead he's moping around and waiting for his own execution.






Won: 8 days pixel suit
TEAM CATEGORY 4

HEAD OF HOUSEHOLD
WON VETO/USED ON PAUL
He's so arrogant he doesn't even care that all his supposed allies have an eight-person group that doesn't include him. But that's how HOH-itis works.. he could have a hard fall in a few days. I hope.






Won: $2,500
TEAM FREAKAZOID

NOMINATED
She's really done better on the block than I would have expected, but she knows most everybody's after Victor instead of her. Vanessa always freaked out more when she was safe than when she was in jeopardy, so maybe that's yet another shared Rousso trait. She's still on a lot of hit lists but Frank went to #1 with a bullet on Tuesday.. that won't necessarily last.






Won: Immunity 1st 2 evictions
TEAM UNICORN

WON ROADKILL
NOMINATED
Ups for solidarity because I wish he could stay, but maybe he'll be back. Unless Frank or one of the other vets or siblings get the boot before the revival comp, in which case they'll surely win. Paul should have confided in him about what's going on, but he didn't and probably won't.






TEAM BIG SISTER

She's Robin to Da'Vonne's Batman, but Da'Vonne might not stick for the duration at the rate she's going. Paulie aside, Zakiyah's next strongest ally is the stuffed giraffe but hey, the way this season's going, that might be good enough to go all the way.






Won: Nothing
TEAM BIG SISTER

One of the most delusional hamsters ever (and that's saying something), he was convinced he owned the house, he was the messiah of the newbies, the savior, the sanctuary, and the next Mario Lopez. He wore his doggie comp suit for days, but mostly he just wore underpants. His gametalks with Paul and Victor were pure comedy since they had no clue whatsoever how far out of every loop they were, and The Jozea and Paul Talk Show concluded with the two of them roaming the house looking for a camera that worked. Jozea's shtick got old fast for many, but he was feeds gold for trainwreck fans like myself.






Won: $2,500
TEAM FREAKAZOID

I didn't like having to combine an intro with an obit, but that's how the dog biscuit crumbles. He seemed like a fun guy with potential for fun feeds, especially his admission that he'd be 'willing to flirt if necessary' but he also might have gotten into heated political discussions, and BB is not the place for that. He didn't technically get Jodi'd since he got to compete, but gone before feeds is never good, and neither is trial by combat. Too bad the token older/regular person/fan got the first boot but young, pretty, hormonal hamsters are all the rage anymore.









Linking to any page here is fine. Please don't repost content from this site (or any other) without permission, and don't repost or hotlink images.



THE REAL SHOW IS THE FEEDS


NEXT-DAY AIR SHOWS
BB1 THRU BB18 AND LOADS MORE CBS CONTENT


HAMSTERWATCH SWAG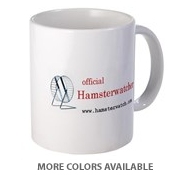 Mugs, shirts, more
Visit my Cafe Press shop





RATINGS WATCH


Wednesday's show won the hour with 1.9 rating, 8 share, 6.10 million viewers, ahead of America's Got Talent rerun on NBC with 1.7/7/8.25, Masterchef on FOX with 1.2/5/3.96, and The Middle and The Goldbergs reruns on ABC with 0.8/3/3.87 and 0.8/3/3.08 respectively.









Big Brother 18 FAQ


Day 1 Move-in was June 15
Day 8 CBS premiere was June 22
Day 9 Feeds began June 23
Day 99 Finale is September 21

Feeds are streamed by CBS, and Flashback remains accessible via All Access subscription. Call 888-274-5343 for account help, including cancellation.

CBS shows are Sundays 8pm, Wednesdays 8pm, eviction Thursdays 9pm (Global in Canada).

Big Brother After Dark is on POP and airs Monday, Wednesday, Friday, Saturday, Sunday midnight to 3am, Tuesday 11pm to 3am, Thursday 1am to 3am. The aired blocks are recorded earlier on the same night.

The CBS app (by CBS Interactive) plays BB air shows and other CBS shows, as well as feeds, or you can use your browser to watch feeds on mobile devices. The same All Access link used to subscribe will lead to the feeds viewing page if you're already signed up.

BB18 prizes are the same: $500k for the winner and $50k for 2nd place. Stipend for the others is $1,000 per week again, including pre-show hotel and jury sequester. Siblings might and veterans definitely get more.

The habitat has 87 HD cameras (up seven) and over 100 microphones.

The recorded in-house announcements are the voice of producer Don Wollman. He and Julie Chen are the only staffers who have been there since Big Brother 1.