This site is about the Big Brother 18 feeds and contains spoilers! It isn't necessarily thorough: it's what I catch and/or what interests me. It's about watching hamsters: who's doing what and why. Thanks for encouraging my behavior.
Your pal, dingo







BB18 DRINKING GAME


Take a swig whenever Nicole redoes her hair




Watch BBUK live or archive shows on Channel 5 & 5Star
Or any geoblocked content





QUICK LINKS & BOOKMARKS



-Get the feeds
-Watch the feeds
-Feeds updates by @UGotBronx
-My Twitter - my screencaps
-Amazon portal USA or Canada
purchases help me a bit

-BB Viewer by @liquid8d
Requires All Access

-Hamster Twitters
BB USA - BB Canada

-On The Block with McCrae Olson
and Spencer Clawson
-Attwx.com all seasons by @attwx
-Dick at Night with @EvelDick
-Latest alliance chart by @89razorskate20
-Diary tally by @clamperls

-VPN to watch BBUK and other international Big Brother shows

-Big Brother 18 official site
-Live show tickets

-Feeds devices & system req
-Shop Roku or Chromecast







EAST COAST STREAMS



CanadaTV on Roku $2/month
Global Toronto - east coast live
Global BC - west coast replay

NO DOWNLOADS NEEDED:
1 - 2 - 3 - 4 - 5 - 6
7 - 8 - 9 - 10 - 11




Donations via Paypal are gratefully accepted!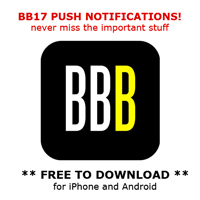 Get Big Brother Buddy app!
Get all the BB18 news plus push notifications of key events as they happen

Watch Big Brother
Seasons 1 thru 18
Plus tons more CBS content






BIG BROTHER SEASONS



CBS All Access
Seasons 1 thru 18

Amazon DVDs BB4 - BB3

Amazon Instant Video
BB17
- BB16
- BB15
- BB14
- BB13
- BB12
- BB11
- BB10
- BB9
- BB8
- BB7




>> >> >>

>> >> >> >>

>>





ANY AMAZON.COM PURCHASE CAN BE MADE THROUGH THESE LINKS - NO EXTRA COST TO YOU
Amazon USA
- Amazon Canada

GET THE FEEDS - NO PROMO CODE NEEDED - $5.99 PER MONTH
COMPUTER - MOBILE - ROKU - CHROMECAST - APPLE TV - ANDROID TV - FIRE TV - XBOX 360
FAQ and season stats

Paulie is HOH
Bridgette, Frank, Michelle have immunity
Victor won Roadkill
Bronte, Paul, Tiffany* are nominated (*Roadkill nominee)
Paulie holds veto

Da'Vonne, Paul, Zakiyah are Have-not - their supplement is berries

Teams, in order of original picks:
Category 4: Frank, Michelle, Paulie, Bridgette
Big Sister: Da'Vonne, Paul, Zakiyah, (Jozea)
Unicorn: James, Natalie, Victor, Bronte
Freakazoids: Nicole, Corey, Tiffany, (Glenn)


Monday: Veto meeting
Monday: Indoor lockdown for 4th of July event at the studio lot, and possible take-out or barbecue later for them

Next show is Wednesday, July 6 8pm: Veto comp, veto meeting

July 22 8pm: Battle Back special episode


Sunday 8pm, Wednesday 8pm, and live eviction Thursday 9pm on CBS (Global in Canada)


Monday, Wednesday, Friday, Saturday, Sunday midnight to 3am, Tuesday 11pm to 3am, Thursday 1am to 3am on Pop (Slice in Canada)


Nicole; Paulie


Paul; Paulie


Frank; Victor


Glenn (no vote); Jozea 7-4-0



Day 19 - Sunday, July 3
Will you...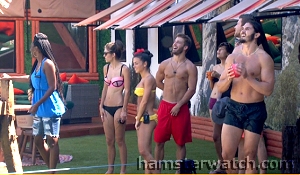 A skywriting proposal got their attention, with the letters WILL YOU revealed before Big Brother shooed them inside, but not without an addition to the Goofs Tally when the lockdown announcement rattled off a roll call of last season's hamster names

Gametalk carried on in isolated pockets here and there, with Frank, James, Da'Vonne, Tiffany in particular planting subtle and/or direct seeds among themselves and the others about cutting various of their members, and Bridgette and Bronte getting into the gametalk game more often on the "other side".. like Frankie when he was in jeopardy, Tiffany confessed to Corey that she's Vanessa's sister.. Corey couldn't place her, even with green beanie reminder and "she was the Derrick of the season" - he said he was watching Clay last year



Dear Diary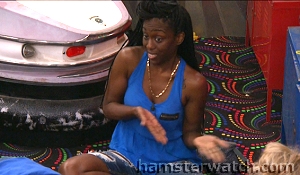 Nicole told Da'Vonne, Michelle, Zakiyah that they should keep Tiffany around since she's the only one who would take out Frank.. then Da'Vonne set Twitter ablaze when she told them she "accidentally" picked up some info from Diary about Tiffany, and she suggested that Tiffany and Paulie could have a secret alliance, with Tiffany working the girls and Paulie working the guys - Flashback 7/3 9.36pm

Naturally people out here ran with that, screaming that Diary's telling her everything that's going on (as if she'd say so, if that were true).. she referenced seeing the siblings having non-chess-playing chats over the chessboard and the like, and we know the siblings are in cahoots, but many out here failed to realize that Da'Vonne figured out switching twins first, and it really wouldn't be hard to figure out quite a few things based on the questions Diary asks and the hamsters they ask them about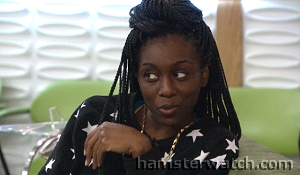 Shortly afterward, Da'Vonne was called to Diary and returned to ask her girls "Do you think, because they had that falling out, that [Tiffany and Frank] would team up because we don't expect them to work together?" Nicole said no and that was the end of that round

But the BB interwebs kept buzzing and shortly after that, Da'Vonne was called in again, and returned with a formal announcement: "I got in trouble.. the DR in no way impacted or hinted anything about Tiffany, as far as strategic reasons - that didn't happen".. of course Day might have made it all up to further her anti-Tiffany agenda, or she may have put two and two together from habitat observations and analysis of Diary questions, but either way it made for an interesting interlude in an otherwise dull evening

They got a small booze delivery but they didn't even drink it, saving it for the holiday - that's how dull this group can get.. as of now, Paulie will (still) be replacing one of his noms with Victor

GET YOUR FEEDS so you can watch it all unfold, click "Previous Hamsterwatch episode" up top to see what's come before, and click Feeds Updates way up top for detailed play-by-play with tons of screencaps by @UGotBronx



Day 18 - Saturday, July 2
Berry clever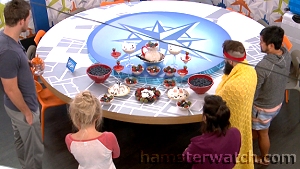 Da'Vonne, Paul, Zakiyah were named Have-nots since their team retrieved the fewest berries in the HOH comp, and they got an assortment of berries and berry dishes as their slop supplement.. I think making a losing comp team Have-nots is great and could reduce some throwing of comps, but it would have been nice to warn them first, especially since Team Big Sister were the first/only Have-nots so far, but they'll likely get a reprieve on Monday for 4th of July


Da'Vonne and Zakiyah were picked to play veto with Paulie, Bronte, Paul, Tiffany, with Corey hosting.. Paul picked Zakiyah as his HG Choice, either because she's on his team or because Diary and/or the 8 Packs got into his ear far enough to make him think that would benefit him over picking Victor

It was a physical plus spelling comp and Paulie won with SUSTAINABILITY, so barring anything unexpected (it's only Saturday), the plan to backdoor Victor will likely be carried out.. the comp was timed and players got splatted/slimed with something.. feeds were down only two-and-a-half hours which isn't bad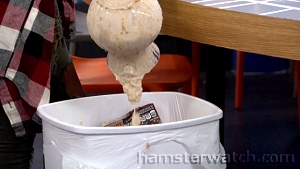 Zakiyah did a BB14 Danielle-esque mirror check, with a variety of facial expressions and boobies checks - Flashback 7/2 9.40pm Feed 3.. she also cleaned up the entire kitchen, including the berry display hours after it arrived, so most of the (probably) decent dishes went into the trash.. Da'Vonne was the first I heard talk about a revival coming up, and before long many of them were discussing the possibility.. Bridgette and Bronte did an info exchange that proved they know more than most realize - Bridgette said she listens to the gametalk while she's baking her cookies, and they ignore her.. Natalie told us she does most of the poop pranks but James gets the blame.. they had a meager booze delivery but nothing came of it and the feeds stayed pretty quiet

GET YOUR FEEDS so you can watch it all unfold, click "Previous Hamsterwatch episode" up top to see what's come before, and click Feeds Updates way up top for detailed play-by-play with tons of screencaps by @UGotBronx



LINES OF THE DAY

Sunday
Paulie: You can't fake flirting, flirting isn't a skill, it's just your personality
Zakiyah: You would know.. I'm joking

James: They didn't bring us here to all be friends

Paul: Bridgette, help me bake!

@LunaCee73:
BB: HGs, you're boring. Have some booze.
HGs: Nah, we're good.

@RaginRawzi re Jodi air freshener: Does it only last a day?

Saturday
Frank to Da'Vonne, Zakiyah: Now that Tiff's on the outs, [Paulie]'s part of the group unofficially right?

Da'Vonne to Zakiyah: What [Frank]'s gonna do, and this is the fucked up part, he's gonna cut all of us off and be sitting next to Natalie 'cause she did shit all season, and that's how he's gonna win this game

Paul: My dad always says 'if you're the smartest person in the room, you're in the wrong room'

Da'Vonne: I think I definitely left my hair outside

Tiffany: Does anyone else feel like they're always coughing up blood after comps? That feeling, that taste in your mouth, tastes like blood

Tiffany: I have a beanie in there, want to put it on?
James: And some glasses?
Tiffany: Oh god, okay Vanessa



LINKS OF THE DAY

Get the feeds to see the real show

Michelle doing the BB16 intro

Week 2 Cast Update by @aubramariebb

On The Block McCrae with BBCanada's Neda Kalantar

Dick at Nite with Evel Dick Donato, new season is underway

Attwx.com all seasons stats, comps, factoids, and fun stuff by @attwx

Canada TV for Roku for Big Brother 18 east coast airings plus west coast replay, for $1.99 per month

Differences between BB Canada and USA and Confessions of a BB feed watcher articles by me, for Reality Blurred

Big Brother UK
Hide My Ass to watch from outside UK
Air shows live stream
Air show schedule (UK time)
Archive shows
UK TV for Roku for live air shows, for $1.99 per month



Ratings - Day's Diary edition
Ratings are based on entertainment value




Since they called out the wrong season's cast on Sunday, maybe it's no surprise that they made a bad situation worse by making Da'Vonne issue a formal retraction. They should have just run 'Da'Vonne, you are not allowed to use production as strategy' but maybe the holiday crew was on duty and didn't realize they have a recording with the right scolding for the situation.

PS Why bother making Have-nots starve if they don't even bother mentioning it in the show?






Won: 8 days pixel suit
TEAM CATEGORY 4

Turns out she's a lot more aware of what's going on than anyone realized, and she listens in on gametalk while making her cookies. I might be pulling for her at this point, but I'm not sure. Her laugh is a little problematic but I'll either get used to and over that, or it'll drive me over the edge.






Won: Immunity 1st 2 evictions
TEAM UNICORN

NOMINATED
She's gaming hard but she does it in such a perky way, she's like the My Little Pony of hamsters. Maybe My Little Hamster can be a thing.






Won: $2,500
TEAM FREAKAZOID

He watched last season but he doesn't know who Vanessa is. How does that even happen? Then he talked about his fan/celeb/athlete charity hookup site for an hour before he spelled out the name. Surely he doesn't think he can win BB, so it's a wonder he's not pimping his stuff 24/7. Massive PR fail.





TEAM BIG SISTER

People who blindly cheer or boo a hamster's every word based on whether they love or hate them are missing out. We may never know the truth/whole truth/nothing but the truth about this one, but Sunday's Diary situation was fascinating on a number of levels, especially when they made her issue a formal retraction. Has that ever happened before?






Won: 8 days pixel suit
TEAM CATEGORY 4

He's playing everyone and half of them are playing him back, or planning to. They say they know but I don't think they really know how hardcore he can be when it comes to saving himself via comps. Good times ahead.






Won: Immunity 1st 2 evictions
TEAM UNICORN

He thinks he's playing everyone but I think he's mostly just playing. People are saying that Natalie's his new Meg but there's a big difference: Meg didn't feel 'that way' about him, and Natalie might.






Won: 8 days pixel suit
TEAM CATEGORY 4

I still don't get her. She's a 'superfan' but she seems like she's here for the souvenirs rather than to play the game. She joked that she might start a BB app called Hamsterwatch and I was ready to riot. But then she said right away no, Hamsterwatch exists already and is a 'BB fan network' (huh?) and 'has good links'.. thanks?






Won: Immunity 1st 2 evictions
TEAM UNICORN

I like that she likes James rather than one of the meatheads BB probably hoped she'd go for, and she said she'd definitely date him after all this. Other than that, she keeps saying she wants to make friends and have fun at jury house. That's nice.






Won: $2,500
TEAM FREAKAZOID

People are down on her and that's okay. I still think she's a breath of fresh 'normal' air among the many who seem to think this is a springboard to show biz success. 'Normal' in quotes because none of this and none of them are entirely normal, obviously.






TEAM BIG SISTER

NOMINATED
He was one of the loudest and most obnoxious last week but he's reeled himself way in after losing his messiah buddy. I'm torn between him and Victor as far as who we lose because then we're just one away from vets and siblings steamrolling to September, BB16 style. That's all well and good, but it isn't the most entertaining feeds.






Won: 8 days pixel suit
TEAM CATEGORY 4

HEAD OF HOUSEHOLD
HOLDS VETO
He's the designated golden boy this season and I'm rarely a fan of those. He could be switching with Cody and I don't think I'd notice.






Won: $2,500
TEAM FREAKAZOID

NOMINATED by Roadkill/Victor
She's handling the block and related paranoia much better than Vanessa, and she's even popped a joke or two about her sister. She was almost to ups, but then she told Corey that Vanessa was 'the Derrick of the season' and that brought her right back down to neutral.






Won: Immunity 1st 2 evictions
TEAM UNICORN

WON ROADKILL
See Paul.






TEAM BIG SISTER

She's coming out a little more and she's even doing a bit of dancing and joking around. I'd said she seems refreshingly unaware of how gorgeous she is, but then she did her mirror check routine and I think she is aware after all. That mirror bit outshone all the mirror routines that have come before, including Danielle Murphree's and Jase Wirey's.






Won: Nothing
TEAM BIG SISTER

One of the most delusional hamsters ever (and that's saying something), he was convinced he owned the house, he was the messiah of the newbies, the savior, the sanctuary, and the next Mario Lopez. He wore his doggie comp suit for days, but mostly he just wore underpants. His gametalks with Paul and Victor were pure comedy since they had no clue whatsoever how far out of every loop they were, and The Jozea and Paul Talk Show concluded with the two of them roaming the house looking for a camera that worked. Jozea's shtick got old fast for many, but he was feeds gold for trainwreck fans like myself.






Won: $2,500
TEAM FREAKAZOID

I didn't like having to combine an intro with an obit, but that's how the dog biscuit crumbles. He seemed like a fun guy with potential for fun feeds, especially his admission that he'd be 'willing to flirt if necessary' but he also might have gotten into heated political discussions, and BB is not the place for that. He didn't technically get Jodi'd since he got to compete, but gone before feeds is never good, and neither is trial by combat. Too bad the token older/regular person/fan got the first boot but young, pretty, hormonal hamsters are all the rage anymore.









Linking to any page here is fine. Please don't repost content from this site (or any other) without permission, and don't repost or hotlink images.



THE REAL SHOW IS THE FEEDS


NEXT-DAY AIR SHOWS
BB1 THRU BB18 AND LOADS MORE CBS CONTENT


HAMSTERWATCH SWAG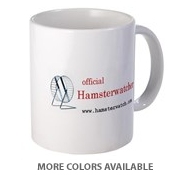 Mugs, shirts, more
Visit my Cafe Press shop





RATINGS WATCH


Sunday's show won the hour with 1.3 rating, 6 share, 4.74 million viewers, ahead of Celebrity Family Feud on ABC with 1.1/5/6.24, Olympic trials on NBC with 0.8/4/3.92, and The Simpsons and Brooklyn Nine-Nine reruns on FOX with 0.5/2/1.12 and 0.4/2/0.93 respectively.









Big Brother 18 FAQ


Day 1 Move-in was June 15
Day 8 CBS premiere was June 22
Day 9 Feeds began June 23
Day 99 Finale is September 21

Feeds are streamed by CBS, and Flashback remains accessible via All Access subscription. Call 888-274-5343 for account help, including cancellation.

CBS shows are Sundays 8pm, Wednesdays 8pm, eviction Thursdays 9pm (Global in Canada).

Big Brother After Dark is on POP and airs Monday, Wednesday, Friday, Saturday, Sunday midnight to 3am, Tuesday 11pm to 3am, Thursday 1am to 3am. The aired blocks are recorded earlier on the same night.

The CBS app (by CBS Interactive) plays BB air shows and other CBS shows, as well as feeds, or you can use your browser to watch feeds on mobile devices. The same All Access link used to subscribe will lead to the feeds viewing page if you're already signed up.

BB18 prizes are the same: $500k for the winner and $50k for 2nd place. Stipend for the others is $1,000 per week again, including pre-show hotel and jury sequester. Siblings might and veterans definitely get more.

The habitat has 87 HD cameras (up seven) and over 100 microphones.

The recorded in-house announcements are the voice of producer Don Wollman. He and Julie Chen are the only staffers who have been there since Big Brother 1.