This site is about the Big Brother 18 feeds and contains spoilers! It isn't necessarily thorough: it's what I catch and/or what interests me. It's about watching hamsters: who's doing what and why. Thanks for encouraging my behavior.
Your pal, dingo







BB18 DRINKING GAME


Take a swig whenever someone says Jozea




Watch BBUK live or archive shows on Channel 5 & 5Star
Or any geoblocked content





QUICK LINKS & BOOKMARKS



-Get the feeds
-Watch the feeds
-Feeds updates by @UGotBronx
-My Twitter - my screencaps
-Amazon portal USA or Canada
purchases help me a bit

-BB Viewer by @liquid8d
Requires All Access

-Hamster Twitters
BB USA - BB Canada

-On The Block with McCrae Olson
and Spencer Clawson
-Attwx.com all seasons by @attwx
-Dick at Night with @EvelDick
-Latest alliance chart by @89razorskate20
-Diary tally by @clamperls

-VPN to watch BBUK and other international Big Brother shows

-Big Brother 18 official site
-Live show tickets

-Feeds devices & system req
-Shop Roku or Chromecast







EAST COAST STREAMS



CanadaTV on Roku $2/month
Global Toronto - east coast live
Global BC - west coast replay

NO DOWNLOADS NEEDED:
1 - 2 - 3 - 4 - 5 - 6
7 - 8 - 9 - 10 - 11




Donations via Paypal are gratefully accepted!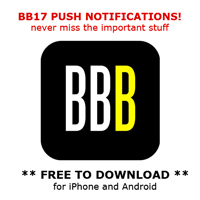 Get Big Brother Buddy app!
Get all the BB18 news plus push notifications of key events as they happen

Watch Big Brother
Seasons 1 thru 18
Plus tons more CBS content






BIG BROTHER SEASONS



CBS All Access
Seasons 1 thru 18

Amazon DVDs BB4 - BB3

Amazon Instant Video
BB17
- BB16
- BB15
- BB14
- BB13
- BB12
- BB11
- BB10
- BB9
- BB8
- BB7




>> >> >>

>> >> >> >>

>>





ANY AMAZON.COM PURCHASE CAN BE MADE THROUGH THESE LINKS - NO EXTRA COST TO YOU
Amazon USA
- Amazon Canada

GET THE FEEDS - NO PROMO CODE NEEDED - $5.99 PER MONTH
COMPUTER - MOBILE - ROKU - CHROMECAST - APPLE TV - ANDROID TV - FIRE TV - XBOX 360
FAQ and season stats

Jozea evicted 7-4-0

Paulie is HOH
Bridgette, Frank, Michelle have immunity
Victor won Roadkill
Bronte, Paul, Tiffany* are nominated (*denotes Roadkill nominee)
Nobody is Have-not

Teams in order of picks:
Category 4: Frank, Michelle, Paulie, Bridgette
Big Sister: Da'Vonne, Paul, Zakiyah, (Jozea)
Unicorn: James, Natalie, Victor, Bronte
Freakazoids: Nicole, Corey, Tiffany, (Glenn)


Saturday: Veto comp
Sunday or Monday: Veto meeting
Monday: Indoor lockdown for 4th of July event at the studio lot

Next show is Sunday, July 3 8pm: HOH comp, nominations, Roadkill comp

July 22 8pm: Battle Back special episode


Sunday 8pm, Wednesday 8pm, and live eviction Thursday 9pm on CBS (Global in Canada)


Monday, Wednesday, Friday, Saturday, Sunday midnight to 3am, Tuesday 11pm to 3am, Thursday 1am to 3am on Pop (Slice in Canada)


Nicole; Paulie


Paul


Frank; Victor


Glenn (no vote); Jozea 7-4-0



Day 17 - Friday, July 1
A backdoor plan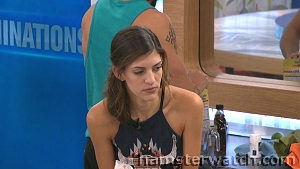 Paulie nominated Paul and Bronte, more or less as planned, with Victor being his true target.. Bronte was tipped off about the Victor plan, and everyone in on it said they have to win Roadkill, they have to win veto, etc to ensure Victor goes up and goes home

Shortly after noms, there was a casualty in HOH: one of the fishies died and the other fishies ate it as the horrified hamsters watched.. a preview of things to come for themselves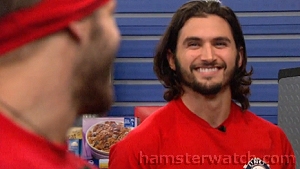 Feeds were down for five hours for the Roadkill comp and when they returned, Victor wasted no time letting some of them know he'd won.. it was a math comp involving a pegboard and numbers, decimals and dollars and I think it may have been based on the game Uno

The telephone game ran around the habitat in record time, including Victor's potential nom choices Tiffany, James, or Nicole.. he nominated Tiffany, and that got around lightning fast as well, including Paulie telling Tiffany.. it didn't help that Paulie told her that Frank had told him, when Frank had just told Tiffany he didn't know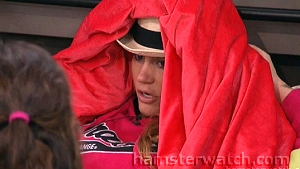 They did their Roadkill nom at midnight as soon as After Dark shut off their switch, and Tiffany was indeed nominated, and crying.. she got the required peptalks and shmoozing, and there was a lot of talk about everyone throwing the veto to ensure Victor goes up as renom

Bronte kept up her own constant shmoozing and explaining everything to Bridgette and Natalie all day, and she seems to be doing a pretty good job of becoming their all-knowing leader even though she's usually three steps behind what's really going on.. Frank and Da'Vonne agreed Tiffany was expendable at this point if it comes to that, and they could bring Paulie into the 8 Pack in her place.. Bridgette kept up her baking, and the ants kept up their easy domination of them all

GET YOUR FEEDS so you can watch it all unfold, click "Previous Hamsterwatch episode" up top to see what's come before, and click Feeds Updates way up top for detailed play-by-play with tons of screencaps by @UGotBronx



Day 16 - Thursday, June 30
First (live) eviction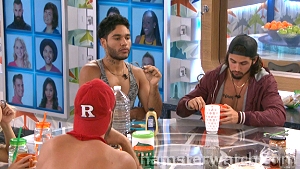 They and we prepared for the first vote and live eviction, with fond memories of Glenn and how he got Jodi'd before his time.. the commercial promised a "shocking surprise" tonight so maybe that'll be about a revival, since Glenn didn't get "live" media questions and hasn't surfaced.. we'll know soon enough

Unfortunately, our anticipated blindside won't be so blind, but Jozea might be dazed when he sits down in Julie's boudoir.. meanwhile the hamsters mingled and ate, primped and prepped for their first live show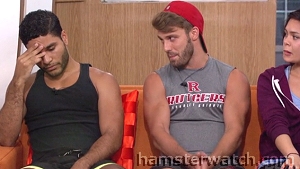 The votes came in 7-4-0 as expected, and when Julie announced the 7-4 tally after saying Bridgette was safe with zero, Paulie smirked at Jozea.. despite his many claims to go out loud and cussing, Jozea went silently with awkward hugs.. he stuck to his "I'm honest, I'm bold" replies even when Julie asked him about his messiah claims, but he added "I am sanctuary" to his list

He suffered through zinger farewells and finally lost his composure a bit and got excited when Julie told him about the new gimmick, Battle Back.. Glenn and Jozea will compete in something, the loser goes home and the winner goes up against the next evictee, and so on for the first five evictees.. the one standing at the end gets revived

Julie said each loser will go home, but they also announced a special episode for Friday, July 22 for presumably all five comps, so either we'll know via social media etc who loses or they'll keep them all on ice until then



A new regime? Not really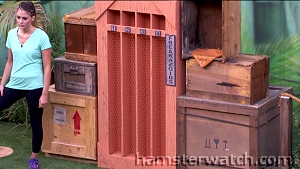 Then Julie sent the rest of them out to play Berry Balanced, in which each team competed relay-style across balance beams.. they had a choice of a longer, easier route or a shorter, wobbly one, and the team that collected 40 berries first won.. that team chose among themselves someone to gather the prize berry, and that one became HOH

Most of us expected this to play out on feeds but alas, it was blocked.. Natalie fell off and thus was disqualified minutes into it.. she said later she fell because she was startled when their speaker came on with Julie announcing she was in the lead - oops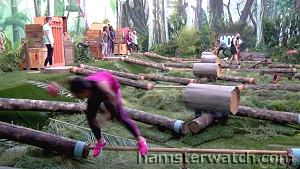 Team Category 4 won, and Paulie is the new HOH.. afterwards they said Bridgette had said she didn't want it, and James told us he threw it in hopes of dumping Victor or Bronte.. early talks were about putting up some combo of Victor, Paul, Bronte, Natalie and any of them could go, but later Frank and James said they wanted to get Paulie to leave Natalie out of it since they thought they could get her to come over to their side

Paul and Victor pitched a Save The Guys campaign to the other guys, so Bronte might be most in jeopardy as of now, but it's very early and there's still Roadkill to go, let alone noms.. Paul banged his head on the edge of the bed and got a big lump, and either played it up or was genuinely concerned about concussion.. Nicole and Bridgette, both RNs, checked him out and said he was okay, but Paul carried on, and on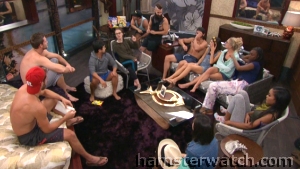 The guys did a quick strip show to wrap up Nicole's birthday - it was blocked from feeds because nobody told the feedmasters the "Happy Birthday" song is finally public domain, but After Dark aired it

Paulie didn't get his room til after midnight, but they all stayed up to traipse up and ooh and ahh over everything.. he read his letter from Cody (of course) which included "stop being soft", his music was Breaking Benjamin, and James grabbed Paul's junk - accidentally, presumably.. everyone stayed well into the awkward stage, and then they shared naughty school stories.. girls from both sides finally went back to the waxing party they'd started earlier, with potential cross-border bonding - stay tuned

GET YOUR FEEDS so you can watch it all unfold, click "Previous Hamsterwatch episode" up top to see what's come before, and click Feeds Updates way up top for detailed play-by-play with tons of screencaps by @UGotBronx



LINES OF THE DAY

Friday
Jozea to KFROG: Being the messiah is not an issue for me

Frank to wall: Quit walking around so loud back there! We're trying to talk in here for crying out loud, we're making a TV show!

Bridgette: Watch what you say to people, these boys think one, two weeks ahead

Natalie to Bridgette: Remember [the vets] know what it's like to get out and be loved, and they know what happens to the people that get out and aren't loved

Bronte about Roadkill: I think people are going to be more open about it.. like last week whoever won it didn't tell a soul

Tiffany, blanketing: I know I'm being laughed at right now on the feeds

Thursday
Jozea: Either way whatever the person's saying, they know that I have the thing to kinda make it happen, it's not gonna happen

Paul: I still sit on my mom's lap

Zakiyah: They'll be calling us for DRs all night long, and probably in alphabetical order

Paul: It's funny how the worst case thing keeps happening
Bronte: It's like the Big Brother universe is against us

Natalie: Do you guys ever feel like you're gonna get kidnapped when you're in the storage room alone?



LINKS OF THE DAY

Get the feeds to see the real show

Week 2 Cast Update by @aubramariebb

Anticipating Jozea's eviction by @NDusini

On The Block McCrae with BBCanada's Neda Kalantar

Dick at Nite with Evel Dick Donato, new season is underway

Attwx.com all seasons stats, comps, factoids, and fun stuff by @attwx

Canada TV for Roku for Big Brother 18 east coast airings plus west coast replay, for $1.99 per month

Differences between BB Canada and USA and Confessions of a BB feed watcher articles by me, for Reality Blurred

Big Brother UK
Hide My Ass to watch from outside UK
Air shows live stream
Air show schedule (UK time)
Archive shows
UK TV for Roku for live air shows, for $1.99 per month



Ratings - Roadkilled edition
Ratings are based on entertainment value
VTE = Voted to evict




They've already figured a way to work around the Roadkill and veto that involves throwing comps. This can't end well. Also, if they did the entire Roadkill comp in three hours, why were feeds down for five? Maybe there was a problem launching Jeff's new show - it was due at 1pm, when feeds went off, but didn't arrive til several hours later.






Won: 8 days pixel suit
TEAM CATEGORY 4

No vote (nominee)
She's so earnest when she thinks she's onto something game-wise that it's kind of endearing, and they're all likely to gain 17 pounds each from her constant baking.






Won: Immunity 1st 2 evictions
TEAM UNICORN

VTE Paulie
NOMINATED
Pre-show interviews are usually lame and plastic, but I keep thinking on hers with KFROG where she outlined her very well thought out behavioral science strategy. She seems to be sticking to it and doing well, except for the tiny detail that she's on the minority side of the house and on the block.






Won: $2,500
TEAM FREAKAZOID

VTE Jozea
He was happy the pantry got restocked.





TEAM BIG SISTER

VTE Jozea
She laid pretty low today, especially when she was half-napping and Frank stage-whispered she'd be going home next. Her sleepy smile was adorable. I'm fine with her working to get Tiffany out but if she works too hard at that, it might end up backfiring on her like last year.






Won: 8 days pixel suit
TEAM CATEGORY 4

VTE Jozea
His one-liners are starting to roll regularly and unlike some hamster jokesters, his are usually fresh and funny. He's also setting himself up pretty well game-wise and without even breaking a sweat.






Won: Immunity 1st 2 evictions
TEAM UNICORN

VTE Jozea
The pranks and shoutouts are getting old. Again. It's just a matter of time til he has them all playing Pot Ball.






Won: 8 days pixel suit
TEAM CATEGORY 4

VTE Jozea
I have no idea what to make of her, but she's spent 17 days in HOH room so she seems to doing okay. It'll be interesting to see what she does and where she hangs when there's a true power shift.






Won: Immunity 1st 2 evictions
TEAM UNICORN

VTE Paulie
Her entire game seems to be based on being cute, and wanting a female - any female - to win, at any cost. Yes it would be nice to have more females win this thing, but when that's the only criteria it's ridiculous. That's The Bachelor.






Won: $2,500
TEAM FREAKAZOID

No vote (HOH)
She whined and worried about possibly getting Roadkilled but it came to nothing, and she's sitting pretty. She choked on water from her Mason jar sippy cup and that shouldn't have been funny, but it kinda was.






TEAM BIG SISTER

VTE Paulie
NOMINATED
The loudest buffoon didn't self-combust after Jozea left and he's adapted to his new situation much more smoothly than anyone expected. Becoming one of the boys before noms was transparent, but continuing after he was put on the block was smart. I don't want to see the big group steamroll the summer so I hope both Paul and Victor end up staying.






Won: 8 days pixel suit
TEAM CATEGORY 4

No vote (nominee)
HEAD OF HOUSEHOLD
He really has to stop lumping all feedsters together as crazies and haters. A lot of us are neither. (And some of us receive the abuse from those crazies and haters for whatever the hamsters say and do while they're safely tucked away in the habitat.)






Won: $2,500
TEAM FREAKAZOID

VTE Jozea
NOMINATED by Roadkill/Victor
Could we please not have another summer of paranoia and selfish tears and needing Reasons for everything? She looks and sounds so very much like Vanessa, it does my head in when she starts running the exact same loops. Same words, same expressions, same voice and inflections, same everything. Luckily Tiffany's loops don't run for quite as long, and I hope that continues.






Won: Immunity 1st 2 evictions
TEAM UNICORN

VTE Paulie
WON ROADKILL
Like Paul, he's done a 180 and gone from being one of the buffoons to one of the boys, and he easily won a comp they were hoping he wouldn't. They're all gunning for him but maybe there will be enough in-fighting by Thursday to let him slip through another week. Or maybe he'll win the veto too and really make them scramble.






TEAM BIG SISTER

VTE Jozea
She and I must keep different schedules or I'm just missing her, but I simply still don't see her very much. I did catch her and Paulie doing their petting/flirting thing for a bit, and I have no idea how much of that is real and how much is game for either of them. I don't know (or want to know) whatever was said by Cody or whoever said it, so I have no comment or answers about that. Point blank period.






Won: Nothing
TEAM BIG SISTER

EVICTED 7-4-0
One of the most delusional hamsters ever (and that's saying something), he was convinced he owned the house, he was the messiah of the newbies, the savior, the sanctuary, and the next Mario Lopez. He wore his doggie comp suit for days, but mostly he just wore underpants. His gametalks with Paul and Victor were pure comedy since they had no clue whatsoever how far out of every loop they were, and The Jozea and Paul Talk Show concluded with the two of them roaming the house looking for a camera that worked. Jozea's shtick got old fast for many, but he was feeds gold for trainwreck fans like myself.






Won: $2,500
TEAM FREAKAZOID

I didn't like having to combine an intro with an obit, but that's how the dog biscuit crumbles. He seemed like a fun guy with potential for fun feeds, especially his admission that he'd be 'willing to flirt if necessary' but he also might have gotten into heated political discussions, and BB is not the place for that. He didn't technically get Jodi'd since he got to compete, but gone before feeds is never good, and neither is trial by combat. Too bad the token older/regular person/fan got the first boot but young, pretty, hormonal hamsters are all the rage anymore.









Linking to any page here is fine. Please don't repost content from this site (or any other) without permission, and don't repost or hotlink images.



THE REAL SHOW IS THE FEEDS


NEXT-DAY AIR SHOWS
BB1 THRU BB18 AND LOADS MORE CBS CONTENT


HAMSTERWATCH SWAG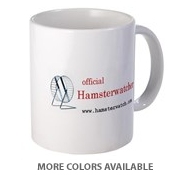 Mugs, shirts, more
Visit my Cafe Press shop





RATINGS WATCH


Thursday's live show placed first with 1.8 rating, 7 share, 5.77 million viewers, ahead of Greatest Hits premiere on ABC with 1.1/5/4.80, Spartan Ultimate Team Challenge on NBC with 1.0/4/3.71, and Home Free on FOX with 0.5/2/1.91.









Big Brother 18 FAQ


Day 1 Move-in was June 15
Day 8 CBS premiere was June 22
Day 9 Feeds began June 23
Day 99 Finale is September 21

Feeds are streamed by CBS, and Flashback remains accessible via All Access subscription. Call 888-274-5343 for account help, including cancellation.

CBS shows are Sundays 8pm, Wednesdays 8pm, eviction Thursdays 9pm (Global in Canada).

Big Brother After Dark is on POP and airs Monday, Wednesday, Friday, Saturday, Sunday midnight to 3am, Tuesday 11pm to 3am, Thursday 1am to 3am. The aired blocks are recorded earlier on the same night.

The CBS app (by CBS Interactive) plays BB air shows and other CBS shows, as well as feeds, or you can use your browser to watch feeds on mobile devices. The same All Access link used to subscribe will lead to the feeds viewing page if you're already signed up.

BB18 prizes are the same: $500k for the winner and $50k for 2nd place. Stipend for the others is $1,000 per week again, including pre-show hotel and jury sequester. Siblings might and veterans definitely get more.

The habitat has 87 HD cameras (up seven) and over 100 microphones.

The recorded in-house announcements are the voice of producer Don Wollman. He and Julie Chen are the only staffers who have been there since Big Brother 1.