This site is about the Big Brother 18 feeds and contains spoilers! It isn't necessarily thorough: it's what I catch and/or what interests me. It's about watching hamsters: who's doing what and why. Thanks for encouraging my behavior.
Your pal, dingo







BB18 DRINKING GAME


Take a swig whenever one of them takes a swig from their Mason jar sippy cups




Watch BBUK live or archive shows on Channel 5 & 5Star
Or any geoblocked content





QUICK LINKS & BOOKMARKS



-Get the feeds
-Watch the feeds
-Feeds updates by @UGotBronx
-My Twitter - my screencaps
-Amazon portal USA or Canada
purchases help me a bit

-BB Viewer by @liquid8d
Requires All Access

-Hamster Twitters
BB USA - BB Canada

-On The Block with McCrae Olson
and Spencer Clawson
-Attwx.com all seasons by @attwx
-Dick at Night with @EvelDick
-Latest alliance chart by @89razorskate20
-Diary tally by @clamperls

-VPN to watch BBUK and other international Big Brother shows

-Big Brother 18 official site
-Live show tickets

-Feeds devices & system req
-Shop Roku or Chromecast







EAST COAST STREAMS



CanadaTV on Roku $2/month
Global Toronto - east coast live
Global BC - west coast replay

NO DOWNLOADS NEEDED:
1 - 2 - 3 - 4 - 5 - 6
7 - 8 - 9 - 10 - 11




Donations via Paypal are gratefully accepted!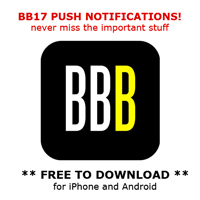 Get Big Brother Buddy app!
Get all the BB18 news plus push notifications of key events as they happen

Watch Big Brother
Seasons 1 thru 18
Plus tons more CBS content






BIG BROTHER SEASONS



CBS All Access
Seasons 1 thru 18

Amazon DVDs BB4 - BB3

Amazon Instant Video
BB17
- BB16
- BB15
- BB14
- BB13
- BB12
- BB11
- BB10
- BB9
- BB8
- BB7




>> >> >>

>> >> >> >>

>>





ANY AMAZON.COM PURCHASE CAN BE MADE THROUGH THESE LINKS - NO EXTRA COST TO YOU
Amazon USA
- Amazon Canada

GET THE FEEDS - NO PROMO CODE NEEDED - $5.99 PER MONTH
COMPUTER - MOBILE - ROKU - CHROMECAST - APPLE TV - ANDROID TV - FIRE TV - XBOX 360
FAQ and season stats

Nicole is HOH
Jozea, Paulie, Bridgette are nominated

Nobody is Have-not
Category 4 pixels are over
Team Unicorn and Team Freakazoid immunity is over

Team Big Sister: Da'Vonne, Paul, Zakiyah, Jozea
Team Category 4: Frank, Michelle, Paulie, Bridgette
Team Freakazoids: Nicole, Corey, Tiffany
Team Unicorn: James, Natalie, Victor, Bronte


Thursday: Nicole's birthday
Friday: Roadkill comp, nominations
Saturday: Veto comp

Next show is Thursday, June 30 9pm: Live eviction, HOH comp, "a shocking surprise"


Sunday 8pm, Wednesday 8pm, and live eviction Thursday 9pm on CBS (Global in Canada)


Monday, Wednesday, Friday, Saturday, Sunday midnight to 3am, Tuesday 11pm to 3am, Thursday 1am to 3am on Pop (Slice in Canada)


Nicole


Paul


Frank


Glenn (no vote)



Day 15 - Wednesday, June 29
The day after, the day before
They had an HOH lockdown and wondered if they were doing eviction today, but it was likely just the tech crew setting up for tomorrow.. Bridgette made a few cookie batches, and Natalie did a pork and bacon fry-up for Victor and Paul.. she'd been glancing at herself in the mirror a lot, and put on sunglasses to finish cooking

Fallout from last night carried on here and there, mostly about the "Victor asked Nicole for a date" lie (which turned out to be not a lie at all, just a big exaggeration by James), and James's pranking in general.. Bronte let a second "kick his ass back to Hong Kong" comment fly, and the BB interwebs exploded on cue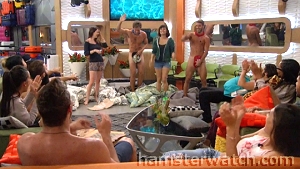 Michelle had a little breakdown about still being in pixels and gaining weight, and Frank comforted her.. shortly after that Category 4 were allowed to shun the pixels with a skit/ceremony: Michelle and Bridgette ripped off blankets to reveal their street clothes, while Frank and Paulie wore considerably less

The Paul and Jozea Show ran an early edition which included bad makeup tutorials.. Da'Vonne did some maintenance on her extension braids, giving her a #Deathrace2016 leg up, and later she gave Tiffany a 50/50 braid 'do for tomorrow's show

Michelle installed some new stunt hair and Natalie installed more.. Frank gave Natalie (and nearby Bridgette) a heads up about tomorrow's blindside which will ruin some of our fun, but if we're lucky that convo will make the show with the stunt hair installations intact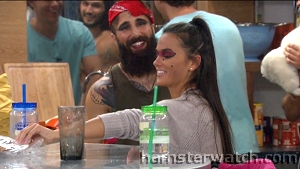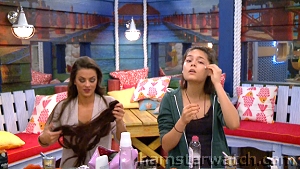 Anybody want cake? Oops, there isn't any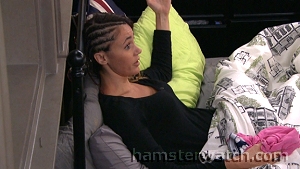 Midnight came and with it Nicole's 24th birthday, the second one she's celebrated in there.. psst-pssting raged on here, there, everywhere as most of them told and retold various bits of info, then told and retold various reactions to that info.. Jozea is still walking the plank Thursday but it probably won't be 7-4 anymore, and at the rate they're going, it's not even going to be a surprise for him or Paul.. rats

Like Keesha's birthday, all hell broke loose after that.. not only were they all running around destroying our blindside glee, but Frank and Tiffany had a spat and Tiffany had a meltdown about it - Flashback 6/30 12.55am.. she looked and sounded more like Vanessa than ever, which several of them commented on, and afterwards she seemed more upset about having cried than she was about Frank, another Vanessa-like quality.. unfortunately, and unlike Keesha's birthday, there wasn't even any cake to wrap it all up with

GET YOUR FEEDS so you can watch it all unfold, click "Previous Hamsterwatch episode" up top to see what's come before, and click Feeds Updates way up top for detailed play-by-play with tons of screencaps by @UGotBronx



Day 14 - Tuesday, June 28
Unicorn shoes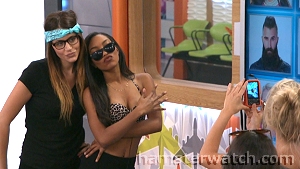 Nicole wrote her blog and tweets, and the camera came out right on cue.. the vets were a lot more excited about it at first than the newbies, but they started coming around when the vets said the pics were "for the internet," especially Jozea

He's still confident about staying this week, and he added savior to his self-appointed resumé items house owner, messiah, mastermind, future Grammys host, and the next Mario Lopez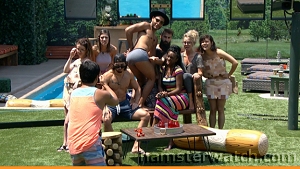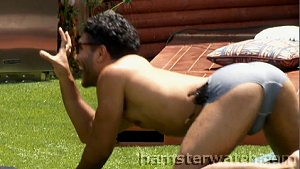 Da'Vonne told Tiffany that James might be starting to question her (Tiffany), and Tiffany took that to Nicole and then directly to James.. they smoothed it over (for now) but her voice and language while parannoying was so like Vanessa it was eerie.. that episode made Zakiyah voice a little concern about Tiffany to Nicole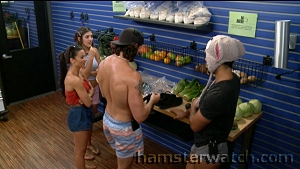 A shoe delivery arrived in the pantry labeled for Bronte, James, Natalie, Victor, and they and others ran around trying to figure out why nobody else got them, and what could it all mean?! Frank finally explained that Team Unicorn were the only ones who didn't play the sand castle comp, and everyone else had their shoes already, adding "bunch of amateurs around here!"

Meanwhile, Nicole and Da'Vonne did a little dance number for everyone, Bronte and Da'Vonne trashed each other to their respective cronies (as did others), Paulie's flirt 'n cuddle rounds carried on, and Jozea and Natalie made chicken dinner for everyone, with only a little drama attached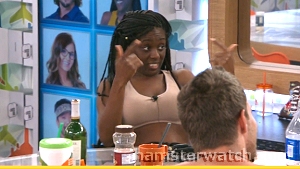 They got a booze delivery and the drinkers got loud, like they do, and they did some rapping.. none of them were too great but when non-drinking Paul showed up and joined in, Da'Vonne's face spoke for all of us

Later they all separated and scattered into their groups and carried on their bitching about the other groups, but a highlight was Bridgette, Bronte, Natalie laughing about Jozea's ridiculous future plans to let people volunteer as tributes when he's HOH - until that, I'd only heard them agreeing with him, so it was good to know that they know he's full of it.. as of now, he's still going Thursday 7-4 (and he and his buffoons still think Paulie's going)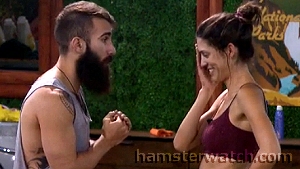 Update There was a bit of late night drama that apparently came out of Victor telling Natalie she ate too much cheese and her pants were dragging on the ground - Flashback 6/29 1.30am.. it was pretty much a non-thing on the surface but Natalie had a minor rant to the girls and Victor apologized to her.. there was also a lie (prank) in there somewhere about Victor asking out Nicole.. Paul blew up about James stirring, Jozea blew up and thought he ran damage control, Bronte ran real damage control, and a good time was had by all

GET YOUR FEEDS so you can watch it all unfold, click "Previous Hamsterwatch episode" up top to see what's come before, and click Feeds Updates way up top for detailed play-by-play with tons of screencaps by @UGotBronx



Day 13 - Monday, June 27
Midweek lull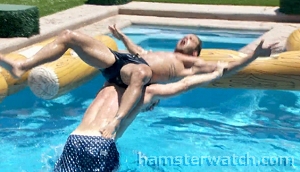 It's the first of the week for most but it's the middle of the BB week when they have nothing to do but sit around, eat, nap, work out, gossip and scheme.. Frank did some more pool wrestling on Nicole and Paulie - he tends to take the game more casually than most, and his get-around social game has improved from last time

The various alliances made future plans, like they do, and bashed various members of the opposition(s) along the way.. most of them are working on their side convos to cover their tracks, but the Jozea/Victor/Paul comedy trio kept up their delusional entitlement.. I'm hoping nobody warns them of the upcoming blindside, and I'm also hoping Paul wins HOH on Thursday so we can have ridiculously fun feeds next week

The phone rang which got feedsters excited, but the hamsters barely noticed, so apparently that potentially fun gimmick ran its course days ago.. that call was James making someone (Frank) walk for it, then hanging up when he answered, and later Nicole called down to ask for James and hung up when he answered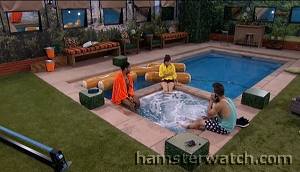 An extended grand comedy show took place between Jozea, Paul, and Bridgette at the hot tub - Flashback 6/27 11.45pm or so and just let it roll.. the three of them, especially Jozea and Paul, again laid out their plan to get to the end by simply winning every HOH and evicting everyone else, and running HOH by having people volunteer to go on the block

Paul announced he watched BB16 and that was all he needed to understand everything about the game, and Jozea said that's all he watched too.. Jozea missed at least one episode though because he didn't know who Zingbot is, and that raised enough of a ruckus on Twitter that Zingbot trended USA for two hours as of this writing, and it's still at #10.. later Natalie asked who Rachel Reilly is and what season she was on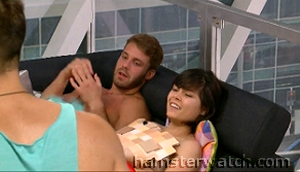 I think we've got four actual applicants this year and Glenn was one, leaving Bridgette, Michelle, and Zakiyah.. Bridgette maybe hasn't seen or studied as much as the other two.. the comedy this brings to the feeds is off the charts, but it annoys an awful lot of people and the shine might wear off before long for the rest of us

Another convo involved Corey and Paul telling dating stories, and it got weird enough that James looked fed up with it all - when dating and sex stuff is too weird for James, it's out there.. meanwhile Paulie kept up his flirting rounds, James kept up his pranking rounds, and Jozea and Paul did a show for us that has to be seen to be believed - Flashback 6/28 2.15am.. the vote still looks like it'll be Jozea meeting Julie 7-4 - fingers crossed we get the blindside we all need and want

GET YOUR FEEDS so you can watch it all unfold, click "Previous Hamsterwatch episode" up top to see what's come before, and click Feeds Updates way up top for detailed play-by-play by @UGotBronx



LINES OF THE DAY

Wednesday
@JulieChen: Are you surprised #BBZakiyah left #BBJozea & #BBJohn so quickly to join the #8Pack? #BB18

Nicole: Our first double eviction was our first two jury members
Tiffany [looks at James]: Yeah, that was ours too

Victor: I haven't lied in this game at all - I mean, not that I know of

Nicole: How does it feel to not be on the block for once?
Frank: Feels great

Bridgette about snickerdoodles: They're so cute, they look like little ant hills

Nicole: I don't get how Bronte can stare so much

Paul to Frank: The joke is going way over my head

Tuesday
Paul: Tiffany keeps trying to fuckin suck on my kindness

James: Everyone smile and look like you're happy to be here

Corey: I like mean girls, my ex was so mean and I freakin' loved it

Natalie: If you're pretty in New York City, you get paid to party - they pay you to go to parties, they pay you to go to dinners

Paulie: I was just thinking what if there was just some sick person who tossed a grenade [over their fence]

Corey: You shouldn't be able to rewind on live feed

Paulie: Being able to read people in this house is important
Jozea: Very important, very very important

Jozea: This is my first block or however you guys call it

Paul: I don't even know who the fuck put me up, they could still be in the house

Bronte: We can't start an HOH competition until someone goes home, right? Because they can't contribute to it

Frank: Would you stop pirouetting please?
Natalie: I can't, it just goes

Nicole: I don't like large groups of people watching me

Monday
BB: Da'Vonne, please go to the Diary Room
Da'Vonne to us: I don't wanna go to the Diary Room (she did)

Nicole: I ate dinner a couple times

James about ants: You just gotta dust them aside, they're family

Michelle to Fatal Five: This is my favorite part of the day
Da'Vonne: We get together like the Golden Girls

Natalie, joking: I was thinking of voting Jozea off
Jozea: On a serious note, I have my secure team of people, I have a hell of a lot of people, they're obviously going to keep me, and we like Bridgette a lot

Bridgette: I wonder what Zingbot will say about me
Paul: Zingbot will tear me a new asshole
Jozea: Who's Zingbot?

Paul to Bronte: You're gonna get a lot of dick pics, a surplus of dick pics, that's the DM life

Paul: I watched season 16, I understood how the game worked, I didn't need to study anymore at all

(from Sunday) Paul: Do nominations make speeches before people put in their votes?



LINKS OF THE DAY

Get the feeds to see the real show

Nicole's HOH blog

Big Brother 18: The Saga Episode 1 by @WilHeuser

Daily Jozeawatch by @jozeasdelusions

Your Cast (updated) by @aubramariebb

Dick at Nite with Evel Dick Donato, new season is underway

On The Block McCrae, Spencer and special guests

Attwx.com all seasons stats, comps, factoids, and fun stuff by @attwx

Canada TV for Roku for Big Brother 18 east coast airings plus west coast replay, for $1.99 per month

Differences between BB Canada and USA and Confessions of a BB feed watcher articles by me, for Reality Blurred

Big Brother UK
Hide My Ass to watch from outside UK
Air shows live stream
Air show schedule (UK time)
Archive shows
UK TV for Roku for live air shows, for $1.99 per month



Ratings - One Liner edition
Ratings are quickies, based on entertainment value




It's a real chess game this time: a load of expendable pawns, a few decent pieces, and a handful of key players to go the distance.






Won: 1 week pixel suit
TEAM CATEGORY 4

NOMINATED
She keeps trying to be part of what's going on but mostly she's just pissing them off with her constant calorie-laden baking.






Won: Immunity 1st 2 evictions
TEAM UNICORN

It's rare that someone lands on practically everyone's hit list in there and out here on the same day.






Won: $2,500
TEAM FREAKAZOID

I have a feeling he'll be going on ignore here pretty soon.





TEAM BIG SISTER

She succeeded in avoiding the drama but starring in the retells, plus speed braiding deluxe.






Won: 1 week pixel suit
TEAM CATEGORY 4

He ruined our blindside, boo.






Won: Immunity 1st 2 evictions
TEAM UNICORN

It was probably his pranking that got him the viewer favorite money last year, and it might be his pranking that gets him the boot this year.






TEAM BIG SISTER

NOMINATED
He said he doesn't like the crows feet on his photo because he doesn't have them, but 'they made him smile too hard'. This guys is feeds gold.






Won: 1 week pixel suit
TEAM CATEGORY 4

Add a costume meltdown to the list of things feedsters should know better about, but that's what happens when they cross over to the other side of the screen.






Won: Immunity 1st 2 evictions
TEAM UNICORN

She figured prominently on Wednesday's recap, but I'm mostly floored by how much stunt hair she wears and how much more she brought with her.






Won: $2,500
TEAM FREAKAZOID

HEAD OF HOUSEHOLD
She isolated herself in HOH since the feeds kicked on but she's going to come out of it fairly clean, and she gave us another memorable hamster birthday fight.






TEAM BIG SISTER

Like his bestie Jozea, his idiocy makes him hilarious and he's promised to 'go Rambo' if Jozea's evicted. I hope he wins HOH because that would be chaos, and chaos makes good feeds.






Won: 1 week pixel suit
TEAM CATEGORY 4

NOMINATED
I just don't see the appeal and I think he'd be gone sooner than later if he wasn't a sibling.






Won: $2,500
TEAM FREAKAZOID

Sometimes you feel like a nut, sometimes you don't.






Won: Immunity 1st 2 evictions
TEAM UNICORN

He's become the third banana of the buffoons but he's about to get promoted to second, and I hope he steps up to his potential.






TEAM BIG SISTER

I just don't see her often enough to have much of an opinion one way or the other yet.






Won: $2,500
TEAM FREAKAZOID

I didn't like having to combine an intro with an obit, but that's how the dog biscuit crumbles. He seemed like a fun guy with potential for fun feeds, especially his admission that he'd be 'willing to flirt if necessary' but he also might have gotten into heated political discussions, and BB is not the place for that. He didn't technically get Jodi'd since he got to compete, but gone before feeds is never good, and neither is trial by combat. Too bad the token older/regular person/fan got the first boot but young, pretty, hormonal hamsters are all the rage anymore.









Linking to any page here is fine. Please don't repost content from this site (or any other) without permission, and don't repost or hotlink images.



THE REAL SHOW IS THE FEEDS


NEXT-DAY AIR SHOWS
BB1 THRU BB18 AND LOADS MORE CBS CONTENT


HAMSTERWATCH SWAG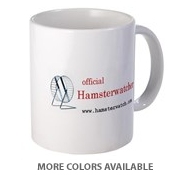 Mugs, shirts, more
Visit my Cafe Press shop





RATINGS WATCH


Wednesday's show placed first with 1.8 rating, 7 share, 6.02 million viewers, ahead of Olympic trials on NBC with 1.2/5/5.67, MasterChef on FOX with 1.1/5/3.93, and The Middle and The Goldbergs reruns on ABC with 0.8/3/3.88 and 0.8/3/3.32 respectively.









Big Brother 18 FAQ


Day 1 Move-in was June 15
Day 8 CBS premiere was June 22
Day 9 Feeds began June 23
Day 99 Finale is September 21

Feeds are streamed by CBS, and Flashback remains accessible via All Access subscription. Call 888-274-5343 for account help, including cancellation.

CBS shows are Sundays 8pm, Wednesdays 8pm, eviction Thursdays 9pm (Global in Canada).

Big Brother After Dark is on POP and airs Monday, Wednesday, Friday, Saturday, Sunday midnight to 3am, Tuesday 11pm to 3am, Thursday 1am to 3am. The aired blocks are recorded earlier on the same night.

The CBS app (by CBS Interactive) plays BB air shows and other CBS shows, as well as feeds, or you can use your browser to watch feeds on mobile devices. The same All Access link used to subscribe will lead to the feeds viewing page if you're already signed up.

BB18 prizes are the same: $500k for the winner and $50k for 2nd place. Stipend for the others is $1,000 per week again, including pre-show hotel and jury sequester. Siblings might and veterans definitely get more.

The habitat has 87 HD cameras (up seven) and over 100 microphones.

The recorded in-house announcements are the voice of producer Don Wollman. He and Julie Chen are the only staffers who have been there since Big Brother 1.