This site is about the Big Brother 18 feeds and contains spoilers! It isn't necessarily thorough: it's what I catch and/or what interests me. It's about watching hamsters: who's doing what and why. Thanks for encouraging my behavior.
Your pal, dingo







BB18 DRINKING GAME


Take a swig whenever someone says 'punch in the face'




Watch BBUK live or archive shows on Channel 5 & 5Star
Or any geoblocked content





QUICK LINKS & BOOKMARKS



-Get the feeds
-Watch the feeds
-Feeds updates by @UGotBronx
-My Twitter - my screencaps
-Amazon portal USA or Canada
purchases help me a bit

-BB Viewer by @liquid8d
Requires All Access

-Hamster Twitters
BB USA - BB Canada

-On The Block with McCrae Olson
and Spencer Clawson
-Attwx.com all seasons by @attwx
-Dick at Night with @EvelDick
-Latest alliance chart by @89razorskate20
-Diary tally by @clamperls

-VPN to watch BBUK and other international Big Brother shows

-Big Brother 18 official site
-Live show tickets

-Feeds devices & system req
-Shop Roku or Chromecast







EAST COAST STREAMS



CanadaTV on Roku $2/month
Global Toronto - east coast live
Global BC - west coast replay

NO DOWNLOADS NEEDED:
1 - 2 - 3 - 4 - 5 - 6
7 - 8 - 9 - 10 - 11




Donations via Paypal are gratefully accepted!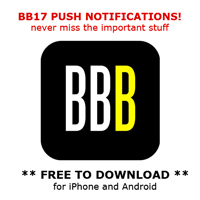 Get Big Brother Buddy app!
Get all the BB18 news plus push notifications of key events as they happen

Watch Big Brother
Seasons 1 thru 18
Plus tons more CBS content






BIG BROTHER SEASONS



CBS All Access
Seasons 1 thru 18

Amazon DVDs BB4 - BB3

Amazon Instant Video
BB17
- BB16
- BB15
- BB14
- BB13
- BB12
- BB11
- BB10
- BB9
- BB8
- BB7




>> >> >>

>> >> >> >>

>>





ANY AMAZON.COM PURCHASE CAN BE MADE THROUGH THESE LINKS - NO EXTRA COST TO YOU
Amazon USA
- Amazon Canada

GET THE FEEDS - NO PROMO CODE NEEDED - $5.99 PER MONTH
COMPUTER - MOBILE - ROKU - CHROMECAST - APPLE TV - ANDROID TV - FIRE TV - XBOX 360
FAQ and season stats

Victor evicted 9-1-0
Bridgette is HOH
Frank won Roadkill
Paul, Tiffany, Bronte* are nominated (*Roadkill nominee)

Nobody is Have-not
Frank, Michelle, Paulie have immunity

Teams, in order of original picks:
Category 4: Frank, Michelle, Paulie, Bridgette
Big Sister: Da'Vonne, Paul, Zakiyah, (Jozea)
Unicorn: James, Natalie, (Victor), Bronte
Freakazoids: Nicole, Corey, Tiffany, (Glenn)


Saturday: Veto comp
Monday: Veto meeting, Zakiyah's birthday
Tuesday: Amazon Prime Day - use my Amazon portal to help me a bit, anytime

Next show is Sunday, July 10 8pm: Nominations, Roadkill comp

July 22 8pm: Battle Back special episode


Sunday 8pm, Wednesday 8pm, and live eviction Thursday 9pm on CBS (Global in Canada)


Monday, Wednesday, Friday, Saturday, Sunday midnight to 3am, Tuesday 11pm to 3am, Thursday 1am to 3am on Pop (Slice in Canada)


Nicole; Paulie; Bridgette


Paul; Paulie


Frank; Victor; Frank


Glenn (no vote); Jozea 7-4-0; Victor 9-1-0



Day 24 - Friday, July 8
Fallout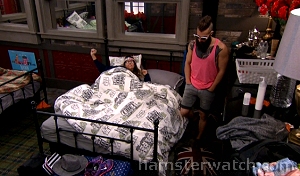 Bridgette nominated Paul and Tiffany as planned.. Tiffany took to her bed, telling Paul "at least we aren't being backdoored" and Paul took it in stride.. last night's ass-slap incident was retold here and there.. Frank told Corey he was just being himself and that it's a sort of term of endearment for him, but that he won't do it anymore in there.. I haven't heard anything on feeds about whether he received a talking-to or warning about it or not, but I would kind of expect that he might have

And with that, they went off for their Roadkill comp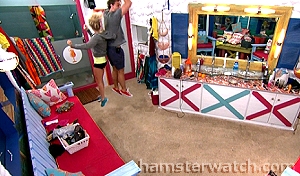 Frank won the Roadkill comp, again, and he and Nicole took a short flight to celebrate.. the rest of the raggged 8 Pack was informed, with the others thinking Paul or Paulie won it.. it sounded like it may have been a memory thing, done in rounds with Frank winning in the second.. Bronte went up as Frank's Roadkill nomination but it wasn't a total surprise - she'd previously told Paul "I'm like you - I'm the person to be put up"

Spy Girls held a meeting plus girltalk, and confessed their respective secrets (Bronte aspiring anti-hacker mathematician, Natalie former NFL cheerleader, Bridgette's doctor boyfriend) and three-way pinkyswore to keep all that between them.. they also agreed to choose Natalie if Bridgette or Bronte gets to pick a veto player, and to use veto on Bronte if they won it.. they also compared notes and agreed Frank's time is up, or should be if anyone could do anything about him

James and Natalie had a lengthy phone call in which James let her know (without saying so openly) that Frank was the Roadkill.. he also told her Tiffany's the target, and asked her to tell Bronte that she's safe and should just lay low.. it was the first extended/secret gametalk I've seen using the phone so far, and they looked and sounded like a newly dating couple having a lengthy chat amid the gametalk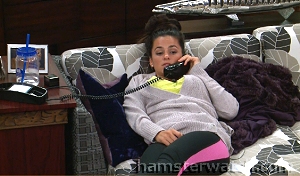 Team Big Sister's Have-not ended at midnight and everyone sat down to eat burgers by Paulie, fries by Paul, mac 'n cheese by Zakiyah, and assorted other eats

GET YOUR FEEDS so you can watch it all unfold, click Previous Hamsterwatch episode up top to see what's come before, and click Feeds Updates way up top for detailed play-by-play with tons of screencaps by @UGotBronx



Day 23 - Thursday, July 7
Punched in the face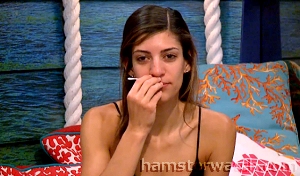 Not really.. Bronte had an above-lip zit for live show day and Nurse Bridgette fixed her up, but she used this season's catchphrase "I got punched in the face" when passers-by asked why she had a towel on her face

Natalie worked out her little trust problem with James by telling him that Tiffany had confessed to her about being Vanessa's sister - maybe now she'll pinkyswear next time he asks.. I don't think Victor had any idea he was about to walk the plank, at least before the feeds cut - I wonder who he thought was going



Whacked on the ass
Sure enough, Victor was evicted 9-1-0.. Paul voted to evict Bronte, and Tiffany got zero votes.. Bridgette won the HOH comp as the last one standing in a team skeeball crapshoot with a tennis theme

Frank asked her who she was thinking of putting up and she said she'd like to "take a hit" at Freakazoids or Big Sister, and she was thinking Nicole and Corey or Tiffany and Corey.. Frank said he wants Tiffany gone, and he nudged for Paul as well.. he told her "no one's aligned with Tiffany" - Bridgette knows otherwise but she didn't let on.. when Paulie joined them, Bridgette was quick to say Frank suggested Tiffany and Paul, and she told Da'Vonne the same thing a bit later.. later still, James told Nicole that Corey would likely be a renom if needed, and she passed that on to Corey

Meanwhile Tiffany went back to her make-a-friend rounds, chatting with Natalie and repeating her gay-not-bi confession, and telling Paul she's Vanessa's sister.. that one backfired, as Paul later told Frank about James about it, and that he doesn't care.. Paul denied being the sole dissenting vote, and he made muffins with Bridgette's help that turned out great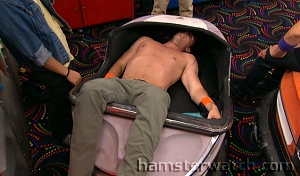 Freakazoids finished last in the HOH comp so they speculated about moving into the Have-not carnival room.. Paul tried to show Corey how to fit into the bumper car beds, but it was a no-go.. Bridgette got her room after midnight when After Dark ended, along with (healthy) snacks, music by Andrew Bird, and a letter from her mom.. she assured Bronte and Natalie they were safe but warned Bronte in particular to lay low this week, as people were mentioning her name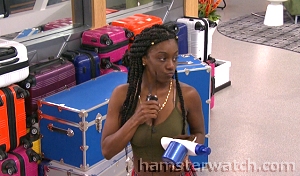 Da'Vonne was crying about Frank again, saying she didn't want to be last year's Da'Vonne but she, Zakiyah and Nicole agreed Frank had been overstepping boundaries with the ass slaps and arm punches, and that he was going to be cocky all week again since he's safe again.. minutes after that, Frank whacked Da'Vonne again and she hollered "stop hitting me on my ass, Frank!" He said "she's not serious" but oh yes she was.. she started crying again and Frank apologized, but she walked out - Flashback 7/8 1.28am.. she went to Diary and later said they told her they'll speak to senior staff about it.. Paulie took Frank aside and told him to knock it off.. James had also been a bit wound up about Frank because he made a comment about not letting him or Da'Vonne get to jury just because they have kids, and James reported that to Da'Vonne later

GET YOUR FEEDS so you can watch it all unfold, click Previous Hamsterwatch episode up top to see what's come before, and click Feeds Updates way up top for detailed play-by-play with tons of screencaps by @UGotBronx



LINES OF THE DAY

Friday
Corey: Floaters are voters

Michelle: I never take off my ring -- oh! where's my ring?

Bridgette to Bronte, Natalie: If [Frank] would just go to sleep, it would be easy

Julie: These newbies are just not that sharp!
Julie: Sorry, Team Unicorn, I am not afraid of you. You have the worst name.. Go home.

Thursday
James: Where the hell is Paul at?
Frank: In the bathroom
James: No, I mean in this game

Michelle: Aquariums are like haunted houses to me




LINKS OF THE DAY

Get the feeds to see the real show

On The Block McCrae with Johnny Mac McGuire and Vanessa Rousso

Julie's three weekly questions from EW.com

The problem with Big Brother's disingenuous Diary Room interviews by @RealityBlurred

National parks fabric available at Amazon

What we expected and what we got by me

Dick at Nite with Evel Dick Donato, new season is underway

Attwx.com all seasons stats, comps, factoids, and fun stuff by @attwx

Canada TV for Roku for Big Brother 18 east coast airings plus west coast replay, for $1.99 per month

Differences between BB Canada and USA and Confessions of a BB feed watcher articles by me, for Reality Blurred

Big Brother UK
Hide My Ass to watch from outside UK
Air shows live stream
Air show schedule (UK time)
Archive shows
UK TV for Roku for live air shows, for $1.99 per month



Ratings - Eggshells edition
Ratings are based on entertainment value
VTE = Voted to evict




Well, the house decor is nice. Too bad they already did the airplane seats Have-not room. Hmm yeah, I got nothing else, except wondering why they cut Bronte saying she's a 'strong competitor' in her veto speech last week, especially since it was (and still is) a pretty big deal in there. Whether they believe she is or not, it's become the go-to excuse to put her on the block.






Won: 8 days pixel suit
TEAM CATEGORY 4

VTE Victor
HEAD OF HOUSEHOLD
She's not under Frank's spell as much as she appears, but she's also treading lightly as long as they're teamies. Dried okra anyone?






Won: Immunity 1st 2 evictions
TEAM UNICORN

No vote (nominee)
NOMINATED by Roadkill/Frank
She took another nomination well, and later confessed to her fellow Spy Girls that she's really an aspiring mathematician. In turn, Natalie confessed she's a former NFL (NY Jets) cheerleader, which several others also know, and Bridgette confessed her boyfriend is a doctor and not just a yoga instructor. They put a three-way pinkyswear on the tally to keep these secrets among themselves.






Won: $2,500
TEAM FREAKAZOID

VTE Victor
It's kind of surprising that nobody's come up with 'Floaters are voters' before, and even more surprising that he's the one to introduce it to the BB lexicon. It's a keeper.





Won: Nothing yet
TEAM BIG SISTER

VTE Victor
I'm glad she finally lashed out at Frank, as he had it coming and then some. She laid low on Friday and who can blame her?






Won: 8 days pixel suit
TEAM CATEGORY 4

VTE Victor
WON ROADKILL
He says he does this stuff to his girlfriend, momma, and nana, and that's between all of them. He should know he shouldn't do it here.






Won: Immunity 1st 2 evictions
TEAM UNICORN

VTE Victor
He did well being the voice of reason, calm and diplomacy during a touchy incident and that's a valuable skill in this environment. His everlasting pranks not so much, but priorities count for a lot.






Won: 8 days pixel suit
TEAM CATEGORY 4

VTE Victor
Out of all the BB fans that apply, I'm still confused why she got the nod. But she comes up with some classic lines and her fake boyfriend story is a classic, so it's all good.






Won: Immunity 1st 2 evictions
TEAM UNICORN

VTE Victor
She's playing a very good get-around game, but she's still in the group that's on the outs with the majority. But she'll probably go far just the same.






Won: $2,500
TEAM FREAKAZOID

VTE Victor
She's set up pretty well but keeps second-guessing her place. You can't really blame her though, she's the only one of them who's already been evicted twice.






Won: Nothing yet
TEAM BIG SISTER

VTE Bronte
NOMINATED
He took another nomination extremely well, and when he made French fries for them all, the fries fought back when they went into the oil. Bring on the grill!






Won: 8 days pixel suit
TEAM CATEGORY 4

No vote (HOH)
He laughed when the slap first happened but to his credit, he bro-talked Frank about it immediately when he saw how upset Da'vonne was.






Won: $2,500
TEAM FREAKAZOID

No vote (nominee)
NOMINATED
She took another nomination pretty well too, and she's finally starting to differentiate herself from her sister a bit. I think she's finally confessed that secret to everyone but maybe too late. Keeping it quiet while Paulie came right out with his sibling secret, especially when most knew anyway, has added to her 'sketchy' rep with some of them. That was probably the first nominee speech to involve a hair straightener.






Won: Nothing yet
TEAM BIG SISTER

VTE Victor
Like Paul and Da'Vonne, she stood up to a second Have-not week very well, and she laid low while Da'Vonne blew up about Frank, even though she'd been just as irate about him a few minutes earlier. Laying low can be a good strategy in BB, but it makes for a tricky tightrope act when things get real.






Won: Immunity 1st 2 evictions
TEAM UNICORN

EVICTED 9-1-0
He wasn't the best and he wasn't the worst, but his roomies decided he had to get gone. He thought being on BB will get him show biz jobs and social media followers, but so are most of them and that's never been a deal-killer in the house before. He was a solid member of The Revolution (buffoons) along with Jozea and Paul, but Paul was the only one who distanced himself from that handicap in time. I don't have much else on Victor since the feeds were almost always on vets or siblings, but he'll get a shot at revival and maybe he'll make it back.






Won: Nothing
TEAM BIG SISTER

One of the most delusional hamsters ever (and that's saying something), he was convinced he owned the house, he was the messiah of the newbies, the savior, the sanctuary, and the next Mario Lopez. He wore his doggie comp suit for days, but mostly he just wore underpants. His gametalks with Paul and Victor were pure comedy since they had no clue whatsoever how far out of every loop they were, and The Jozea and Paul Talk Show concluded with the two of them roaming the house looking for a camera that worked. Jozea's shtick got old fast for many, but he was feeds gold for trainwreck fans like myself.






Won: $2,500
TEAM FREAKAZOID

I didn't like having to combine an intro with an obit, but that's how the dog biscuit crumbles. He seemed like a fun guy with potential for fun feeds, especially his admission that he'd be 'willing to flirt if necessary' but he also might have gotten into heated political discussions, and BB is not the place for that. He didn't technically get Jodi'd since he got to compete, but gone before feeds is never good, and neither is trial by combat. Too bad the token older/regular person/fan got the first boot but young, pretty, hormonal hamsters are all the rage anymore.




EXTRACURRICULAR TALLY

House meetings: 1
6/24 8.54pm - Jozea owns the house

Pinkyswears: 4
Pre-feeds/premiere #1: Michelle, Tiffany
Pre-feeds/premiere #2: Corey, Nicole, Tiffany
6/29 8.29pm Natalie, Tiffany
7/8 9.55pm Bridgette, Bronte, Natalie

Deaths: 4
Michelle's laundered stunt hair
2 fishies on Nicole's HOH
1 fishie on Paulie's HOH

Stuntcasts: 6
Paulie, Tiffany plus Da'Vonne, Frank, James, Nicole

Scandals outside BB world: 1
Corey's old tweets

RIP The Soup



CBS GOOFS

1 Mixed up James and Da'Vonne
2 Highly promoted cast reveal postponed
3 PopTV shows BBAD starting a day early
4 3 days? 4 days? Close enough
5 Whose/who's error
6 Omitted Boogie's winning season BB7
7 Mixed up Michelle and Nicole
8 Wrong dates/links in feeds highlights
9 Tech adjustments on feeds
10 Julie's intern made up a new hamster
11 Wrong show time on Jeffish
12 7/3 3.19pm BB called last year's cast names







Linking to any page here is fine. Please don't repost content from this site (or any other) without permission, and don't repost or hotlink images.



THE REAL SHOW IS THE FEEDS


NEXT-DAY AIR SHOWS
BB1 THRU BB18 AND LOADS MORE CBS CONTENT


HAMSTERWATCH SWAG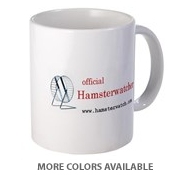 Mugs, shirts, more
Visit my Cafe Press shop





RATINGS WATCH


Thursday's live show won the hour with 1.8 rating, 7 share, 6.04 million viewers, ahead of Greatest Hits on ABC with 1.0/4/3.66, Spartan: Ultimate Team Challenge on NBC with 0.9/3/3.22, and Home Free on FOX with 0.5/2/1.94.









Big Brother 18 FAQ


Day 1 Move-in was June 15
Day 8 CBS premiere was June 22
Day 9 Feeds began June 23
Day 99 Finale is September 21

Feeds are streamed by CBS, and Flashback remains accessible via All Access subscription. Call 888-274-5343 for account help, including cancellation.

CBS shows are Sundays 8pm, Wednesdays 8pm, eviction Thursdays 9pm (Global in Canada).

Big Brother After Dark is on POP and airs Monday, Wednesday, Friday, Saturday, Sunday midnight to 3am, Tuesday 11pm to 3am, Thursday 1am to 3am. The aired blocks are recorded earlier on the same night.

The CBS app (by CBS Interactive) plays BB air shows and other CBS shows, as well as feeds, or you can use your browser to watch feeds on mobile devices. The same All Access link used to subscribe will lead to the feeds viewing page if you're already signed up.

BB18 prizes are the same: $500k for the winner and $50k for 2nd place. Stipend for the others is $1,000 per week again, including pre-show hotel and jury sequester. Siblings might and veterans definitely get more.

The habitat has 87 HD cameras (up seven) and over 100 microphones.

The recorded in-house announcements are the voice of producer Don Wollman. He and Julie Chen are the only staffers who have been there since Big Brother 1.