This site is about the Big Brother 17 feeds and contains spoilers! It isn't necessarily thorough: it's what I catch and/or what interests me. It's about watching hamsters: who's doing what and why. Thanks for encouraging my behavior.
Your pal, dingo







POWER STATUS


Jace evicted 12-1

Liz, Julia are the switching twins
Currently Liz is in

Becky won HOH #1
She nominated Steve, Jason
They won BOB - Becky deposed

Shelli is HOH
Da'Vonne, John are nominated
John won veto
Steve, Jason, Meg, James are Have-not







UPCOMING EVENTS


Saturday: July 4 lockdown
Sunday or Monday: Veto meeting

Next show: Sunday 8pm
Nominations, BOB, Kathy Phone, assorted drama







BB17 DRINKING GAME


Take a swig whenever they start forming new alliances again







QUICK LINKS & BOOKMARKS



-Get/watch the feeds
-Feeds updates by @UGotBronx
-My Twitter - my screencaps
-Hamster Twitters
BB USA - BB Canada
-BB Viewer by @liquid8d
-B3V Viewer by blistering

-Hamsterwatch chatroom
-On The Block with McCrae Olson
and Spencer Clawson

-Amazon portal USA or Canada
purchases help me a bit

-Big Brother 17 official site
-Live show tickets
-Attwx.com all seasons
-Dick at Night with @EvelDick
-Latest alliance chart
by @89razorskate20
-Diary tally by @clamperls

-Feeds devices & system req
-Shop Roku or Chromecast

-East Coast air show streams
1 - 2 - 3 - 4 - 5 - 6 - 7
8 - 9 - 10 - 11 - 12 - 13
NO DOWNLOADS NEEDED




Donations via Paypal are gratefully accepted!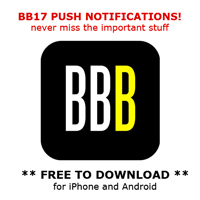 Get Big Brother Buddy app!
Get all the BB17 news plus push notifications of key events as they happen

Watch Big Brother
Seasons 1 thru 16!
Plus tons more CBS content







BIG BROTHER SEASONS



CBS All Access
Seasons 1 thru 16

Amazon DVDs BB4 - BB3

Amazon Instant Video BB16
- BB15
- BB14
- BB13
- BB12
- BB11
- BB10
- BB9
- BB8



>> >> >>
>>
ANY AMAZON.COM PURCHASE CAN BE MADE THROUGH THESE LINKS - NO EXTRA COST TO YOU
Amazon USA
- Amazon Canada
GET THE FEEDS - NO PROMO CODE NEEDED - $5.99 PER MONTH
Day 16 - Friday 7/3
Unofficial Fast Forward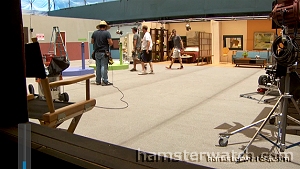 As noted below, everything is sped up this cycle, and another oops was added to the tally (below) when we were given a glimpse of the veto comp being set up

After the late night noms, they played their BOB comp just before dawn.. Steve & Jason won that and Becky was deposed.. the comp had gumballs, piggy banks, wine bottles, Mardi Gras masks, and a medical outfit for the Comp Squirrel - I don't know if all those things were involved in the comp or were just decor, or fodder for a future memory comp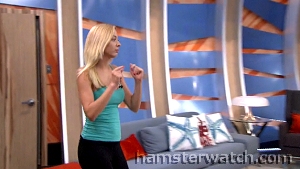 For those keeping track, Liz re-entered the habitat just before noon, and Team Ants scored an easy victory against her almost immediately.. I've added their switches to the tally below, and will try to keep up with who's there currently in Power Status on the left sidebar

Veto players were drawn and Meg, Steve, Clay will play along with Shelli, Da'Vonne, John - Clay was Houseguest Choice by Shelli, surprising no one.. Vanessa hosted

Psst-pssting carried on all over, and Da'Vonne's frustration and anger about her present position came out in small ways to various underlings.. she does that stuff well, and humorously, and I hope she can stick around

John won the veto, a memory affair with various items and pictures including BB14 Jodi, and then they they were off again, with meetings here and meetings there about everything they'd previously decided.. Shelli (and Clay) gave John "two options": to not use his veto, or to use it and name his replacement.. John answered perfectly, telling them he would use it on himself and he didn't care who went up instead.. Clay later gave John instructions on when to talk and when not to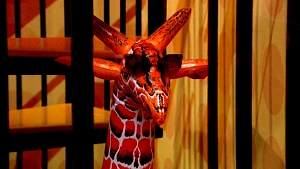 Shelli (and Clay) settled on Lizia as the renom when the time comes, and announced that to her.. twin-wise, you have to wonder if Julia had congratulated Shelli on her HOH win if things would have been different and Liz wouldn't have gotten this news today, but "it is what it is".. she/they were "guaranteed" safety since Da'Vonne is Shelli's (and Clay's) target

Most of them quieted down for naps and layaround after their busy 24 hours.. Da'Vonne did some angry snack chomping for awhile, and side-eyed everyone who passed.. an inflatable giraffe turned up which they dressed up and named Giselle - her legs began to deflate before long.. Audrey remained out in the open for much of the day, and upright.. Austin started planting seeds with Jeff in earnest, reeling him in to do his future bidding

GET YOUR FEEDS to follow all the action! One week free trial - no promo code needed
Remember to click "previous Hamsterwatch episode" at the top of any page for what's come before, and hit the Feeds Updates tab for loads of details and screencaps



Day 15 - Thursday 7/2
There will be blood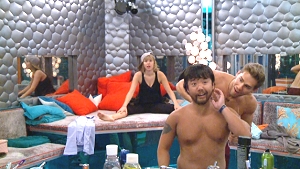 They did their show day HOH lockdown, Audrey finally got out of bed, and James moved downstairs.. primping ensued, like it does, with Clay acting as barber, which included nicking James' ear - oops.. later they swapped and James gave Clay a whole new look, but it didn't get Shelli's seal of approval so she redid it

The revolution will not be televised - at least not yet, since Jace is going after all.. he made umpteen grandstanding speeches to us throughout the day, each more ridiculous than the last.. Jeffish loops switched from pre-show interviews to bad jokes and fluff highlights.. I've got nothing against fluff segments in proper doses (even if I question some of their selections at times), but you'd think they'd include at least a few clips of the massive drama that's taken place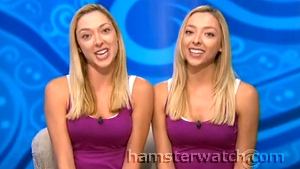 On CBS, Jace indeed walked the plank and gave grandiose speeches in Julie's boudoir.. they showed a taste of the drama including Audrey's "elephant" backyard fight with Jace, which gave her a sympathetic edit since she was telling the truth (that time) but nobody backed her up

The switching twins were finally officially revealed to us to be Liz and Julia, for the eight people who didn't know yet.. they did their fifth switch as they voted together and Julia rotated back into the habitat.. I'll continue to call them Lizia as long as they're playing one hamster, like I did with AdNat (Adria and Natalie) for BB5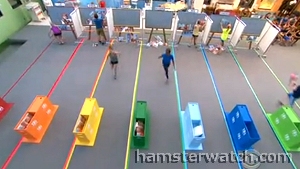 Kathy Griffin gave them all some flack, promoted her new show, and teased them with the week's twist: they were told one would "get the last laugh" at the next eviction, which translates to the hamster who answers the seventh Kathy phone call this week will get to keep three people from voting next Thursday.. the show had a few seconds of dead air silence and Julie had an audio leak, and then they played HOH

The comp was Ginger Fever and was done in two heats.. the hamsters had to race down lanes with puzzle pieces and put them together to form an ad for Kathy's new show.. Becky won the first round, and Shelli won the second



Pep squad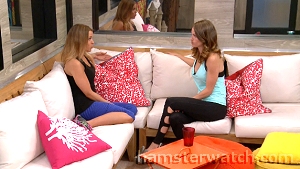 Feeds returned and the hamsters talked off their adrenalin and Have-nots were named (volunteers all):Steve, Jason, Meg, James.. then they got the Nominations Today sign, sending them scurrying like crazy.. this week's events will be sped up because the huge July 4 part on the studio lot takes place when they'd normally be doing the veto comp.. WHO WANTS TO SEE hollering was hollered, HOH rooms were unlocked, and Becky & Shelli read their letters and displayed their goodies

When they sat down for the initial thoughts segment like it felt like a pep squad meeting or fundraiser committee (not only because they're the two who know least about what's been going on), but they soon got down to business, and then meetings took place all over town.. Becky's ultimate target was Audrey and Shelli's was Da'Vonne, and everyone had an opinion as to whether either should go up now or wait til veto renom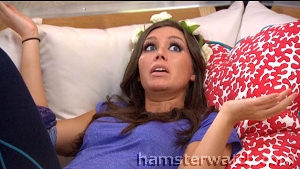 Along the way, Shelli said several times that Liz(ia) was the only one who hadn't said anything to her after she won, and she also started displaying some early signs of HOHitis.. Becky was her usual chirpy self, and agreed with Clay that they want Good People in there.. Audrey was back on rounds, saying she'd been "marooned" in bed and that she'd been set up to vote against the house (thus everyone knew hers was the hinky vote)

Becky finally settled on Steve and Jason for her noms (with Audrey her actual target), and Shelli settled on Da'Vonne and John (with Da'Vonne her target) - with an agreement from John to throw the BOB.. that's what happened, and Da'Vonne was not happy

GET YOUR FEEDS to follow all the action! One week free trial - no promo code needed
Remember to click "previous Hamsterwatch episode" at the top of any page for what's come before, and hit the Feeds Updates tab for loads of details and screencaps



LINES OF THE DAY

Friday
Da'Vonne to James: People in this house are COWARDS! That's why I'm getting put up, I don't tiptoe against anyone

Jeff: Do you think it's better instead of having a set strategy, to just play it day to day?

Shelli: I've set myself up for backlash regardless

James: We need to entertain our feeders, man
John: We just did a whole giraffe!

Shelli: I'm not gonna be the one to send Audrey home

Meg: Just sleeping in my sunglasses, because the BB house has no darkness
James: Oh there's plenty of darkness floating around here

Steve about Jackie: Nothing bad to say about her, but I just can't

Audrey to Jason: I don't want to be 'that TG person' I just want to be Audrey

Lizia: Jeff is creepily obsessed with that fuckin giraffe

Thursday
CBS show: [dead air]
Staff voice: We're on camera 9
Julie: I have no programming in my ear

Jeff: There's too many rumors going around

Audrey: I was marooned in my bed

Audrey: I voted against the house, they set me up again!

Audrey to Clay/Jeff about 'wearing black' alliance: That rumor came out of Day's mouth, she is crazy! Even crazier than I am

Shelli to Vanessa: Liz is the only person who didn't come up to me when I won

Lizia: These ants are EVERYWHERE! These ants ain't loyal

James: How the hell did Audrey not end up on the block?

James: I got fans
Steve: His mom's probably watching
James: My mom passed away



LINKS OF THE DAY

Get the feeds they're starting off with a bang

Big Brother in 2 Minutes 17.2 XL: Ball Crush by @TrashTweetTV

Janelle talks about BB17

Jace's eviction speech/rap/poem that won't happen on live show

Confessions of a BB feed watcher by me! for Reality Blurred



Ratings - Getting to Know You edition
Ratings are Wednesday's for now, based on entertainment value, kind of
VTE = Voted to evict




Ups for the cast are neutralized by the unncecessary twists that are going to clog everything up worse than the hair in the hamsters' shower. If I'm reading it right, this is indeed an All-Star season but a return to 16 seasons' worth of twists rather than rerun faces. We've already got switching twins from 5 and BOB from 16, representing the best and the worst twists respectively, and I figure we'll be getting America's Player, saboteur, fortune teller, Team America (fuck yeah) and all the rest as we go. Maybe Jeff & Jackie qualify as exes, maybe they'll take viewer votes to evict sometime, and maybe they'll make them play as pairs for a week. I guess it's not an awful idea in theory but the bottom line is with this cast, they don't need any of it to make a bang-up season that people will love on CBS as well as those of us on feeds who are already cheering.






VTE Jackie
She's the #1 reason this first week of feeds has been so stellar. Sure she can be exhausting to keep up with, but that's the price we pay for this level of entertainment. Most of them knew she was allied with everyone else, but most of them believed they were her real 'ride or die'. That's BB brilliance right there, except for the fact she did it all too hard and too soon. It worked out well for us anyway, and how: the blowup and anti-Audrey movement were solid gold feeds. If history has taught us anything, she's a shoe-in to win HOH this week.






VTE Jace
He's starting out with a subtle and savvy game style by selecting second-tier hamsters to coach and do his bidding, and he made a very smooth transition from Jace to Lizia as his main 'sidepiece' when Jace proved too volatile to be much use. I love that he wants to rally the 'extras' to form Nerd Herd 2.0 and plow through the louder power players rather than being open about being one of those himself. I hope his revolution happens, but some of those loud power players already have him on their sketchy/don't trust lists. Also, I like that he pegged James as the leader of the anti-Audrey moment - so did I.






VTE Jace
HOH #2 - DEPOSED
Yes, her apparent obliviousness to what's been going on around her is comical, but I find it more endearing than many who have played a summer camp non-game in the past. Maybe it's because the things she talks about instead of game are so very random, or maybe it's just because I've got a soft spot for her because of her train story. Either way, I'm Team Trainwreck Becky all the way.






VTE Jace
He was appropriately named. So far he's been putty in Shelli's, Audrey's, Jeff's, and Austin's hands and probably more, and he probably thinks he comes up with everything on his own. He's also talked all about his football playing after he said he wouldn't. That was a dumb plan to start with, but no lie is a useful lie in BB, once it's outted. In short, he's a font of unintentional comedy and I'm all for that.






VTE Jace
NOMINATED
So far I like everythng about her. She's good at laying low and good at playing hard, and she can be quite funny. She's also volatile, and best of all, she has proven she'll follow up on threats to call people out. Rallying and leading a parade through the habitat to confront Audrey was fabulous in every way, topped only by her pointing to them one by one to verify stories. Also, she hasn't harped about missing her daughter although I'm sure she does. #DaVonneHasADaughter as a hashtag was too good to be true (but it's still early).






No vote (nominee)
Laying low as a nominee is what a pawn should do but she's turned that into an art form. We haven't seen her not on the block yet but I have to admit I'm not hopeful for anything different. So far all she's brought to the table is bikinis.






No vote (HOH)
I'm looking forward to seeing him as a regular citizen, but have to admit he handled his HOH extremely well, especially considering everything that went on. Lesser hamster HOHs would have cracked (and many have). I've got him as one of my top tier power players on spec, largely because I believe he's the one who sent Jeff out to whip up the anti-Audrey army, and then sat back to watch it come to fruition. I wasn't sure if I was giving James too much credit for that or not, but then Austin mentioned his suspicion that James was behind it all too, so I'm sticking with it for now. Unfortunately, James' blog and tweets gave us no insight at all.






VTE Jace
NOMINATED by Becky - WON BOB
He describes himself as a 'BB historian' and he does have the facts and figures, but that doesn't necessarily mean he has the skills to put in practice. For a 'superfan' he should definitely know better than to run a rant loop for hours on end like he did about Audrey. He was headed for a plate of ooey-gooey cookies in his future but Shelli shamed him and others into ending their Audrey shun, causing Jason to apologize to Audrey late Tuesday night. Having one's bad behavior pointed out, and acknowledging it, at this early stage is also not the sign of being self- and game-aware enough to go the distance.






VTE Jace
Just no.






VTE Jace
NOMINATED - WON VETO
He won me over pre-season when I saw his superb guitar and bass videos, because they were such an unexpected counterpoint to his shouty random interviews, on top of being a dentist which obviously takes some smarts. That's a very rare combination of left & right brain abilities that I find fascinating. How that will translate to BB, if at all, remains to be seen. For now he's a pleasant addition to the feeds when he's awake, and I'm looking forward to seeing more of him come out as their numbers start to dwindle.






VTE Jace
Game-wise they're keeping a low profile and seem to be taking Austin's direction much better than Jace did, and better than anyone else's students are. I don't have much else on them yet but major kudos for pulling off the switches so far - can you imagine? With all this activity? By the way, they haven't switched nearly as often as many twin trackers think.






VTE Jace
She's got a strong personality, and a fun one, but I think she's a second tier player here. She's been in on a lot of gaming but not at the forefront and definitely not in the driver's seat - which is just fine at this point. The only time I've seen her get worked up was about Audrey laying around 'giving up' and being shunned. Meg was almost angry about it, saying it's Big Brother, suck it up, etc. Valid, but I think she may fail to see that a) it's strategy for Audrey and b) Audrey does as much gaming from her bed as she does making her rounds.






VTE Jace
HEAD OF HOUSEHOLD
She seems to fancy herself a top tier power player - I don't, but I could be wrong. She's been working hard to solidify herself with Clay of course, and with Audrey, but Clay's proven to be a runaway puppy and Audrey's game went boom. On the entertainment side of things, I'm always amused by the hissy fitters, and she had a good one when she escorted Audrey to the shower and scolded everyone for shunning her. That resulted in apologies, so Shelli's hissy fit was effective - that's rare.






VTE Jace
NOMINATED by Becky - WON BOB
See John. Steve has that same rare blend of left/right brain talents with music and engineering, and he's already changed up his social strategy to adapt to his poor start, and it's working. The BB interwebs went ballistic when Jace harassed him Tuesday night but I think Steve is fine. He rallied well afterward and he accepted Jace's apology gracefully. He's not out of the woods yet because they're all afraid of his smarts, and Austin and Jason have been vocal about that. He'll have to tread lightly for awhile to keep himself on our feeds, but I think he can do it.






VTE Jace
She talks a lot about herself, and her 'former' gambling, and her music, and her girlfriend, and her life trials, but she hasn't talked about her mansion or pricey cars yet at least. She ended up in the center of Audrey vs Da'Vonne and I'm not sure how that happened, but it's definitely not over yet. I think she'll stick around til mid-season but I don't think she'll last to the end.






EVICTED 12-1
Won: Nothing
He was like a parody of all the former surf boys we've had, with all the worst qualities of asshat hamsters past rolled into one. He verbally beat up on Steve a few times but the primetime version earned him viewer loathing, even if his actoring was lousy. He ranted, streaked, flipped us off, and mostly talked about himself, but he promised to save us all someday through music.



SEASON STATS
HOHs in order *denotes surviving HOH for BOB weeks
James*/Jason; Becky/Shelli*

BOB wins in order
Becky/John; Steve/Jason

Veto wins in order
Steve, John

Evictions in order
Jace 12-1









Linking to any page here is fine. Please don't repost content from this site (or any other) without permission, and don't repost or hotlink images.



THE REAL SHOW IS THE FEEDS


NEXT-DAY AIR SHOWS
BB1 THRU BB17 AND LOADS MORE CBS CONTENT


HAMSTERWATCH SWAG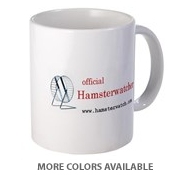 Mugs, shirts, more
Visit my Cafe Press shop





RATINGS WATCH


Thursday's live show won the hour with 1.8 rating, 7 share, and 5.77 million viewers, ahead of Wayward Pines on FOX with 1.0/4/3.31, Mistresses on ABC with 0.6/3/3.07, and Aquarius on NBC with 0.4/2/2.39.









Big Brother 17 FAQ


June 18 was Day 1 move-in. June 24 was CBS premiere, Day 7. Finale will be September 23, Day 98

Feeds are streamed by CBS, and accessible via All Access subscription. Call 888-274-5343 for account help, including cancellation.

CBS shows are Sundays 8pm, Wednesdays 8pm, eviction Thursdays 9pm (Global in Canada).

Big Brother After Dark is on POP (formerly TVGN). It begins Thursday, June 25 midnight-3am. After that the regular schedule is Monday, Tuesday 11pm-2am; Wednesday, Friday, Saturday, Sunday midnight-2am; Thursday 1am-3am.

The CBS app (by CBS Interactive) will play BB air shows and other CBS shows, but not feeds. Use your browser to watch feeds on mobile devices. The same All Access link used to subscribe will lead to the feeds viewing page if you're already signed up.

Liz and Julia have to survive five evictions in order to play separately as individuals. They switch places every few days. They have a limited time in Diary to change clothes, adjust their appearance, and exchange info. The non-playing twin probably stays in hotel sequester.

BB17 prizes are the same: $500k for the winner and $50k for 2nd place. Stipend for the others is probably $1,000 per week again, including pre-show hotel and jury sequester. Austin, Vanessa, Jeff, Jackie might get more.

The habitat has 80 HD cameras (up four) and over 100 microphones.

The recorded in-house announcements are the voice of producer Don Wollman.