This site is about the Big Brother 17 feeds and contains spoilers! It isn't necessarily thorough: it's what I catch and/or what interests me. It's about watching hamsters: who's doing what and why. Thanks for encouraging my behavior.
Your pal, dingo







POWER STATUS


Liz, Julia are the switching twins - Julie will make it official on Thursday

James is HOH
Jackie, Jace are nominated
Austin, Da'Vonne, Liz, Vanessa are Have-not







UPCOMING EVENTS


Next show: Thursday 9pm
Twins reveal (to us), eviction, Kathy Griffin twist delivery, HOH comp, assorted drama







BB17 DRINKING GAME


Take a swig whenever Jace does something cringe-worthy







QUICK LINKS & BOOKMARKS



-Get/watch the feeds
-Feeds updates by @UGotBronx
-My Twitter - my screencaps
-Hamster Twitters
BB USA - BB Canada
-Feeds viewer by @liquid8d

-Hamsterwatch chatroom
-On The Block with McCrae Olson
and Spencer Clawson

-Amazon portal USA or Canada
purchases help me a bit

-Big Brother 17 official site
-Live show tickets
-Attwx.com all seasons
-Dick at Night with @EvelDick
-Latest alliance chart
by @89razorskate20
-Diary tally by @clamperls

-Feeds devices & system req
-Shop Roku or Chromecast

-East Coast air show streams
1 - 2 - 3 - 4 - 5 - 6 - 7
8 - 9 - 10 - 11 - 12 - 13
NO DOWNLOADS NEEDED




Donations via Paypal are gratefully accepted!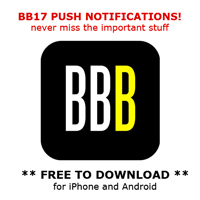 Get Big Brother Buddy app!
Get all the BB17 news plus push notifications of key events as they happen

Watch Big Brother
Seasons 1 thru 16!
Plus tons more CBS content







BIG BROTHER SEASONS



CBS All Access
Seasons 1 thru 16

Amazon DVDs BB4 - BB3

Amazon Instant Video BB16
- BB15
- BB14
- BB13
- BB12
- BB11
- BB10
- BB9
- BB8



>> >> >>
>>
ANY AMAZON.COM PURCHASE CAN BE MADE THROUGH THESE LINKS - NO EXTRA COST TO YOU
Amazon USA
- Amazon Canada
GET THE FEEDS - NO PROMO CODE NEEDED - $5.99 PER MONTH
Day 14 - Wednesday 7/1
Prom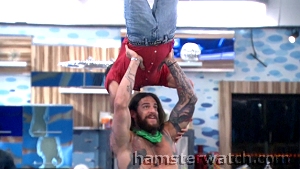 It was a quieter day than most have been, for the most part.. a kooky highlight was John and Meg saying the words "weird situation" in different rooms at the EXACT SAME TIME - Flashback 7/1 4:53pm Quads - that was definitely a weird situation.. Jace started up his Save Me loops here and there, and for a minute it looked like the revolution might actually happen, but it probably won't.. Audrey spent most of the day and night in bed, again, but she made a few rounds and had the usual cycle of visitors

They decided to hold a prom and as usual with such events, the preparations were the fun part.. Clay and Vanessa styled Steve's hair to everyone's approval, and they paired up off to work up skits and dances.. Jace invited Audrey as his prom date but she declined

It was a cute interlude overall: Da'Vonne hosted with tinfoil crown and did a skit with Vanessa, Steve & Jackie did a ballroom-ish dance, Clay & Shelli did a country-ish dance, John & Becky did an oral hygiene/pickup lines skit, Jeff & Lizia did a cheer, Austin tossed Jason to the rafters, Meg & James did a skit, and Jace did the overlong rap they won't let him do on Thursday's show.. Jeff and Meg were named king and queen, and Audrey stayed in bed (with a feed on her)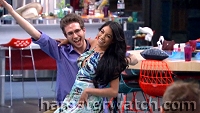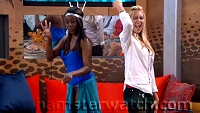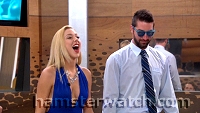 But they got back to their normal shenanigans in no time, with psst-pssting everywhere and Jeff giving Jace a nasty speech to his face including "you're a piece of shit".. Jeff then went around retelling that with glee to whoever would listen (still wearing his tinfoil crown, by the way).. Clay cooked up a huge meal with Becky's help for the Have-nots to feast at midnight, and BB delivered Chinese food as well from the feeds vote.. they ate with gusto, like they do, except Jace who was AWOL, and Audrey who was still in bed - but Shelli brought her a plate and took away her dirty dishes, I kid you not

GET YOUR FEEDS to follow all the action! One week free trial - no promo code needed
Remember to click "previous Hamsterwatch episode" at the top of any page for what's come before, and hit the Feeds Updates tab for loads of details and screencaps



Day 13 - Tuesday 6/30
Battle of the bees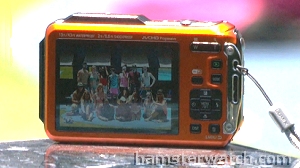 Many if not most of them were up til dawn and their wakeup came around 9am, with retells and rehashes about last night's shenanigans everywhere.. James wrote his blog, and the camera came out and united them for awhile for the happy smiling faces that inevitably come out when it does.. needless to say, that didn't last and within an hour, we had war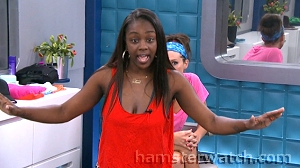 Da'Vonne decided it was time to get to the bottom of things and in attempting to do so with Audrey and Vanessa, she announced "Game on!" and went off to gather up a posse to back her up.. a parade of hamsters followed her through the habit single file to the dentist office, where Audrey had been holding court, and yep, the game was on

Voices were raised, fingers were pointed, F bombs were dropped, and accusations and denials flew about everything from a girls alliance to an alliance of people wearing black to Vanessa's the mastermind of everything.. at one point, Da'Vonne even went around the group one by one asking for their version of these real and fabricated issues, and it was glorious - Flashback 6/30 1.36pm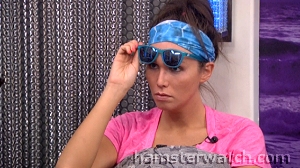 Austin sat the whole thing out, like he does, sharing info and coaching Lizia in the backyard while it was underway.. later he visited Audrey and gathered info while consoling her about her blown game, and he got her attention when he said he might have a way to save her from the torches and pitchforks mob coming for her

Later on, Austin told Jace he should make rounds announcing he was ready to stop campaigning (which he did), but the two of them could gather up all the stragglers and cause a Nerd Herd takeover to boot Jackie (with the promise of a juicy sice versus side scenario for us).. those who haven't been paying attention or didn't do their pre-season homework might not realize what a BB scholar Austin is, and how savvy he is about the subtleties that tend to drive this game



What the mess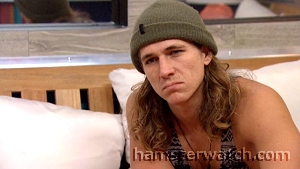 Either Jace didn't understand his directions from Austin or he just went rogue, because he cornered Steve in the parlor and it got ugly

Instead of trying to recruit Steve into a BB takeover that could really work, Jace pressured and insulted Steve for a solid 20 minutes.. the "bully" buzzword burst out all over the BB interwebs and pretty much any probational support Jace had been rebuilding out here was smashed to smithereens

It didn't help Jace's already iffy reputation that this all unfolded in primetime, or that Steve is a fan favorite for many, but the weirdest part was the way Jace delivered his rant: his words, expressions and attitude were right out of a gangster parody with alternating bad Eastwood/De Niro impersonations.. it all felt very fake to me, which only added to the cringing.. the one light bit was when Jace told Steve everyone calls him Geek Squad McGee, and Steve said "Geek Squad Mickey?" - Flashback 6/30 8.40pm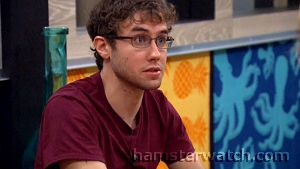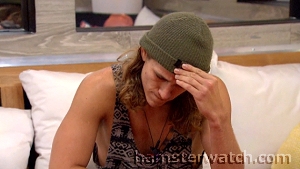 Jace has been strong-arming Steve like this all along and Steve still wanted him to stay (per several announcements to us) because Steve understands BB and knows a hard-to-live-with hot mess like Jace will always a prime target.. I don't know if this convo changed Steve's mind or not, but the fabulous Nerd Herd 2.0 vote split idea doesn't seem like a real possibility anymore - easy come, easy go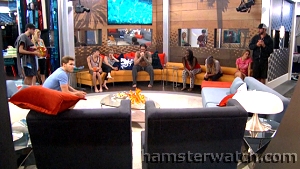 But they weren't done yet, oh no.. Steve and Vanessa had a quick hug and check-in in the pantry, and said the outcasts plan might come along later, if not now.. Steve paid a visit to Audrey's bed for "no gametalk" that led to gametalk, and then Austin did the same, and then it was James' turn

They started up a back and forth about various lies, real and fake alliances, and all the drama.. James got defensive more than once - pretty much a first for him since he's been sitting pretty upstairs for almost two weeks.. Audrey revved up a few new loops, but also admitted she's made "a couple mistakes".. the kicker here was that nearly all the others were gathered around the corner listening in.. and on it all went into the wee hours again

GET YOUR FEEDS to follow all the action! One week free trial - no promo code needed
Remember to click "previous Hamsterwatch episode" at the top of any page for what's come before, and hit the Feeds Updates tab for loads of details and screencaps



Day 12 - Monday 6/29
Vibes and vibes alone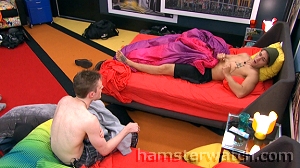 Jace continued his campaign rounds, hoping for a flip before Thursday but acknowledging it isn't likely.. when he hit up John, he said people were telling him they're "voting with the house" and he wondered how people know how the house is voting.. John's reply was perfection: "it's just like vibes, I guess.. I don't know"

Last night while talking to Austin, Julia slipped and mentioned Liz in the third person - oops! Austin didn't bat an eyelash, furthering my belief that he knows a hell of a lot more than he lets on - I hope I'm right on that one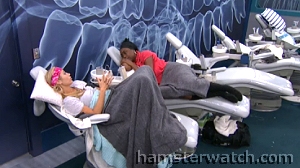 In the Have-not dentist office, Vanessa and Da'Vonne had an unintentionally hilarious convo about gambling and poker.. once again, Vanessa's enthusiasm amped up tenfold as she talked about the ins and outs of gambling and how casinos work.. Da'Vonne reeled her in masterfully, nodding and saying "okay, okay" for every tidbit like she was soaking it all up.. Da'Vonne asked Vanessa if, as a good player, she'd ever considered dealing poker, and Vanessa told Da'Vonne she'd be a great poker player.. feeds gold

Steve told us that he's letting his beard scruff grow out because his "cute little kid" strategy had failed and he hadn't been invited into the big early alliance like he'd hoped and expected.. as promised, Audrey laid relatively low for the day, and James kept working his anti-Audrey campaign to/with Meg, Jason, Da'Vonne, and particularly Jeff, who proceeded to run with it all day long to this, that, and the other one.. eventually he got around to Clay, and that's when things began to heat up



Smackdown (no BBQ required)
The dullish day and evening blew up for late night once again, with round robins all over the habitat.. Jeff and Jace kept up their respective rounds; assorted twos, threes, and fours held meetings and compared notes; and Audrey received various visitors and news bulletins at her bed.. eventually she got up and made her rounds, culminating with a tag-team smackdown on Clay by her and Shelli in an attempt to reel him back into the dwindling fold.. Audrey literally ran upstairs to wake up James and urge him to fess up to Jace that he'd been the backdoor plan all along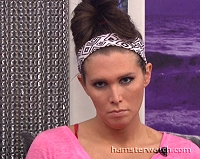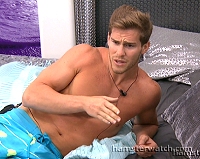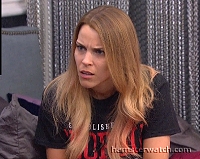 The main event began when Audrey confronted Jace, with witnesses (including James), and told him he was the original plan, Five Alive alliance was fake, and etc etc.. Jace didn't believe her and argued back like a busted guilty teenager, and none of the witnesses said anything to back up the fact that Audrey was actually telling the truth on this one since they'd all decided she's the real Public Enemy #1 - Flashback 6/30 3.25am.. fallout continued until dawn and then some

The ultimate beauty of all this was that Audrey took the heat for all of them about this particular truth, giving her a possible future bargaining chip, and Jace guilt-tripped them all without even realizing it.. meanwhile, I'm giving credit to James for getting Jeff to sabotage himself by carrying out James' anti-Audrey campaign for him - it seems to have worked, and Jeff's now established himself as an irritating busybody with virtually all of them

GET YOUR FEEDS to follow all the action! One week free trial - no promo code needed
Remember to click "previous Hamsterwatch episode" at the top of any page for what's come before, and hit the Feeds Updates tab for loads of details and screencaps



LINES OF THE DAY

Wednesday
Da'vonne Diary about Jeff: I am livid! All of the Inglewood is about to pop out of my system, LIVID! Momma Day's gone, Day-Day's here, that's the chick from Inglewood, she here

Audrey Diary: Time to start lining the troops

Meg Diary about alliance meetings: Like a weird secret book club
Audrey: I had another comp dream...

Tuesday
Jeff: I'm sure you know Jace is going home
John: Yeah, I vibed that out

Da'Vonne: Game on, because you know that's false, game on

Audrey: Time will tell
Da'Vonne: Time has told

Audrey: I feel like a martyr

Clay, out of Diary post-fight: Awkward diverse session
Jason: Oh you found it awkward? I loved it, LOVED it

Clay: Why didn't you tell me this?
Shelli: I'm telling you, I'll get there

Jace: There's an underground group that's trying to get me out

Audrey: It looks like I'm playing Who Framed Roger Rabbit, and I'm Roger Rabbit

Audrey to Austin: You have to choose a side - that was my downfall, I was trying to keep everyone happy

Austin to Lizia about the anti-Audrey movement: But who's the leader of it, is it James?

Jace: Every single one of them calls you Geek Squad McGee
Steve: Geek Squad Mickey?

James: Y'all know what empirical means? she keeps using empirical with me

James: ..and then all shit hell broke loose, I dunno what happened from there
James: You blew up your game and now you're all I'm gonna play Saint Mary Joseph and be the good person
James: When I talked to Jace, I tried to deflectionate
Audrey: I might have made a couple mistakes

Monday
Jace to Vanessa: If I were you, I'd go up on the block as much as I can

Jace to Meg/Audrey: I had a dream that potentially was a message from God

Da'Vonne to Vanessa: My uncle always said a great poker player usually becomes a poker dealer, have you thought about that?

Vanessa: I wonder if they [production] do deep-cleaning now and then? If they don't, we should do that

James to Meg: Every little piece of information I think, if it deals with Audrey, is definitely worth [spreading]

Becky: I drown well, but I don't swim well

Austin to Jace, Lizia: There's underground movements starting, the revolution begins tonight

Jeff to Jackie: It always comes down to us being on Amazing Race.. I knew this would be a fucking ordeal coming into this house, these people are IDIOTS!

James: We're the Brady Bunch during the day and the Manson family by night



LINKS OF THE DAY

Get the feeds they're starting off with a bang

James' HOH blog

Janelle talks about BB17

Jace's eviction speech/rap/poem that won't happen on live show, transcribed by @UGotBronx

BB17 Saga, Episode 1 by @WilHeuser

On The Block McCrae and Spencer dive into the new season

AM 2 PM Andrew & Pete Monaghan on BOB's return, twins twist

Confessions of a BB feed watcher by me! for Reality Blurred



Ratings - Getting to Know You edition
Ratings are based on entertainment value, kind of




Ups for the cast are neutralized by the unncecessary twists that are going to clog everything up worse than the hair in the hamsters' shower. If I'm reading it right, this is indeed an All-Star season but a return to 16 seasons' worth of twists rather than rerun faces. We've already got switching twins from 5 and BOB from 16, representing the best and the worst twists respectively, and I figure we'll be getting America's Player, saboteur, fortune teller, Team America (fuck yeah) and all the rest as we go. Maybe Jeff & Jackie qualify as exes, maybe they'll take viewer votes to evict sometime, and maybe they'll make them play as pairs for a week. I guess it's not an awful idea in theory but the bottom line is with this cast, they don't need any of it to make a bang-up season that people will love on CBS as well as those of us on feeds who are already cheering.






She's the #1 reason this first week of feeds has been so stellar. Sure she can be exhausting to keep up with, but that's the price we pay for this level of entertainment. Most of them knew she was allied with everyone else, but most of them believed they were her real 'ride or die'. That's BB brilliance right there, except for the fact she did it all too hard and too soon. It worked out well for us anyway, and how: the blowup and anti-Audrey movement were solid gold feeds. If history has taught us anything, she's a shoe-in to win HOH this week.






He's starting out with a subtle and savvy game style by selecting second-tier hamsters to coach and do his bidding, and he made a very smooth transition from Jace to Lizia as his main 'sidepiece' when Jace proved too volatile to be much use. I love that he wants to rally the 'extras' to form Nerd Herd 2.0 and plow through the louder power players rather than being open about being one of those himself. I hope his revolution happens, but some of those loud power players already have him on their sketchy/don't trust lists. Also, I like that he pegged James as the leader of the anti-Audrey moment - so did I.






Yes, her apparent obliviousness to what's been going on around her is comical, but I find it more endearing than many who have played a summer camp non-game in the past. Maybe it's because the things she talks about instead of game are so very random, or maybe it's just because I've got a soft spot for her because of her train story. Either way, I'm Team Trainwreck Becky all the way.






He was appropriately named. So far he's been putty in Shelli's, Audrey's, Jeff's, and Austin's hands and probably more, and he probably thinks he comes up with everything on his own. He's also talked all about his football playing after he said he wouldn't. That was a dumb plan to start with, but no lie is a useful lie in BB, once it's outted. In short, he's a font of unintentional comedy and I'm all for that.






So far I like everythng about her. She's good at laying low and good at playing hard, and she can be quite funny. She's also volatile, and best of all, she has proven she'll follow up on threats to call people out. Rallying and leading a parade through the habitat to confront Audrey was fabulous in every way, topped only by her pointing to them one by one to verify stories. Also, she hasn't harped about missing her daughter although I'm sure she does. #DaVonneHasADaughter as a hashtag was too good to be true (but it's still early).






NOMINATED
Not only is he a parody of all the former surf boys we've had, but this guy has all the worst qualities of all the obnoxious asshat hamsters past rolled into one. He could have saved himself if he campaigned against Jackie since she's got a built-in teamie, and because she's already had her 15 minutes of fame. He did bring up the 15 minutes angle a couple times but he let it drop in favor of being an ass. His Tuesday night primetime attack on Steve wasn't the fun kind of smackdown at all, but it wasn't the first time he's done it - just the first time most saw it. Jace wants to save the world with music, but instead he's going to face a hefty backlash when he gets out.






NOMINATED
Laying low as a nominee is what a pawn should do but she's turned that into an art form. We haven't seen her not on the block yet but I have to admit I'm not hopeful for anything different. So far all she's brought to the table is bikinis.






HEAD OF HOUSEHOLD
I'm looking forward to seeing him as a regular citizen, but have to admit he handled his HOH extremely well, especially considering everything that went on. Lesser hamster HOHs would have cracked (and many have). I've got him as one of my top tier power players on spec, largely because I believe he's the one who sent Jeff out to whip up the anti-Audrey army, and then sat back to watch it come to fruition. I wasn't sure if I was giving James too much credit for that or not, but then Austin mentioned his suspicion that James was behind it all too, so I'm sticking with it for now. Unfortunately, James' blog and tweets gave us no insight at all.






He describes himself as a 'BB historian' and he does have the facts and figures, but that doesn't necessarily mean he has the skills to put in practice. For a 'superfan' he should definitely know better than to run a rant loop for hours on end like he did about Audrey. He was headed for a plate of ooey-gooey cookies in his future but Shelli shamed him and others into ending their Audrey shun, causing Jason to apologize to Audrey late Tuesday night. Having one's bad behavior pointed out, and acknowledging it, at this early stage is also not the sign of being self- and game-aware enough to go the distance.






Just no.






He won me over pre-season when I saw his superb guitar and bass videos, because they were such an unexpected counterpoint to his shouty random interviews, on top of being a dentist which obviously takes some smarts. That's a very rare combination of left & right brain abilities that I find fascinating. How that will translate to BB, if at all, remains to be seen. For now he's a pleasant addition to the feeds when he's awake, and I'm looking forward to seeing more of him come out as their numbers start to dwindle.






Game-wise they're keeping a low profile and seem to be taking Austin's direction much better than Jace did, and better than anyone else's students are. I don't have much else on them yet but major kudos for pulling off the switches so far - can you imagine? With all this activity? By the way, they haven't switched nearly as often as many twin trackers think.






She's got a strong personality, and a fun one, but I think she's a second tier player here. She's been in on a lot of gaming but not at the forefront and definitely not in the driver's seat - which is just fine at this point. The only time I've seen her get worked up was about Audrey laying around 'giving up' and being shunned. Meg was almost angry about it, saying it's Big Brother, suck it up, etc. Valid, but I think she may fail to see that a) it's strategy for Audrey and b) Audrey does as much gaming from her bed as she does making her rounds.






She seems to fancy herself a top tier power player - I don't, but I could be wrong. She's been working hard to solidify herself with Clay of course, and with Audrey, but Clay's proven to be a runaway puppy and Audrey's game went boom. On the entertainment side of things, I'm always amused by the hissy fitters, and she had a good one when she escorted Audrey to the shower and scolded everyone for shunning her. That resulted in apologies, so Shelli's hissy fit was effective - that's rare.






See John. Steve has that same rare blend of left/right brain talents with music and engineering, and he's already changed up his social strategy to adapt to his poor start, and it's working. The BB interwebs went ballistic when Jace harassed him Tuesday night but I think Steve is fine. He rallied well afterward and he accepted Jace's apology gracefully. He's not out of the woods yet because they're all afraid of his smarts, and Austin and Jason have been vocal about that. He'll have to tread lightly for awhile to keep himself on our feeds, but I think he can do it.






She talks a lot about herself, and her 'former' gambling, and her music, and her girlfriend, and her life trials, but she hasn't talked about her mansion or pricey cars yet at least. She ended up in the center of Audrey vs Da'Vonne and I'm not sure how that happened, but it's definitely not over yet. I think she'll stick around til mid-season but I don't think she'll last to the end.








Linking to any page here is fine. Please don't repost content from this site (or any other) without permission, and don't repost or hotlink images.



THE REAL SHOW IS THE FEEDS


NEXT-DAY AIR SHOWS
BB1 THRU BB17 AND LOADS MORE CBS CONTENT







RATINGS WATCH


Wednesday's show won the hour with 1.8 rating, 7 share, and 5.84 million viewers, ahead of MasterChef on FOX with 1.4/6/4.30, America's Got Talent rerun on NBC with 1.1/4/5.35, and The Middle and The Goldbergs reruns on ABC with 0.7/3/3.83 and 0.7/3/3.17 respectively.









Big Brother 17 FAQ


June 18 was Day 1 move-in. June 24 was CBS premiere, Day 7. Finale will be September 23, Day 98

Feeds are streamed by CBS, and accessible via All Access subscription. Call 888-274-5343 for account help, including cancellation.

CBS shows are Sundays 8pm, Wednesdays 8pm, eviction Thursdays 9pm (Global in Canada).

Big Brother After Dark is on POP (formerly TVGN). It begins Thursday, June 25 midnight-3am. After that the regular schedule is Monday, Tuesday 11pm-2am; Wednesday, Friday, Saturday, Sunday midnight-2am; Thursday 1am-3am.

The CBS app (by CBS Interactive) will play BB air shows and other CBS shows, but not feeds. Use your browser to watch feeds on mobile devices. The same All Access link used to subscribe will lead to the feeds viewing page if you're already signed up.

BB17 prizes are the same: $500k for the winner and $50k for 2nd place. Stipend for the others is probably $1,000 per week again, including pre-show hotel and jury sequester. Austin, Vanessa, Jeff, Jackie might get more.

The habitat has 80 HD cameras (up four) and over 100 microphones.

The recorded in-house announcements are the voice of producer Don Wollman.