This site is about the Big Brother 17 feeds and contains spoilers! It isn't necessarily thorough: it's what I catch and/or what interests me. It's about watching hamsters: who's doing what and why. Thanks for encouraging my behavior.
Your pal, dingo







POWER STATUS


Currently Liz is in

Shelli is HOH
Da'Vonne, John are nominated
John won veto
Steve, Jason, Meg, James are Have-not







UPCOMING EVENTS


7 Kathy Griffin phone calls

Monday: Veto meeting

Next show: Sunday 8pm
Nominations, BOB, assorted drama







BB17 DRINKING GAME


Take a swig whenever they start forming new alliances again







QUICK LINKS & BOOKMARKS



-Get/watch the feeds
-Feeds updates by @UGotBronx
-My Twitter - my screencaps
-Hamster Twitters
BB USA - BB Canada
-BB Viewer by @liquid8d
-B3V Viewer by blistering

-Hamsterwatch chatroom
-On The Block with McCrae Olson
and Spencer Clawson

-Amazon portal USA or Canada
purchases help me a bit

-Big Brother 17 official site
-Live show tickets
-Attwx.com all seasons
-Dick at Night with @EvelDick
-Latest alliance chart
by @89razorskate20
-Diary tally by @clamperls

-Feeds devices & system req
-Shop Roku or Chromecast

-East Coast air show streams
1 - 2 - 3 - 4 - 5 - 6 - 7
8 - 9 - 10 - 11 - 12 - 13
NO DOWNLOADS NEEDED




Donations via Paypal are gratefully accepted!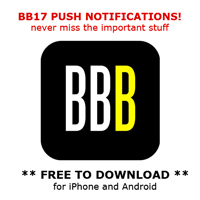 Get Big Brother Buddy app!
Get all the BB17 news plus push notifications of key events as they happen

Watch Big Brother
Seasons 1 thru 16!
Plus tons more CBS content







BIG BROTHER SEASONS



CBS All Access
Seasons 1 thru 16

Amazon DVDs BB4 - BB3

Amazon Instant Video BB16
- BB15
- BB14
- BB13
- BB12
- BB11
- BB10
- BB9
- BB8



>> >> >>
>>
ANY AMAZON.COM PURCHASE CAN BE MADE THROUGH THESE LINKS - NO EXTRA COST TO YOU
Amazon USA
- Amazon Canada
GET THE FEEDS - NO PROMO CODE NEEDED - $5.99 PER MONTH
Day 18 - Sunday 7/5
At the end of the bloody hands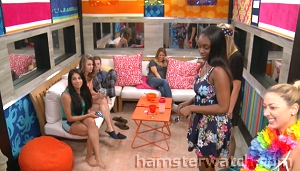 They did their first photobooth pics, with a few Hawaiian leis and boas provided, plus the old standby crown.. they didn't seem too interested at first but once they got going, they snapped up a giggly storm and they lined up in the parlor to get their turn - it was like the waiting room to go along with the dentist office

In an overnight update, the ADC After Dark Crew "alliance" was formed, consisting of Jason, James, Meg, and Jeff.. and on it goes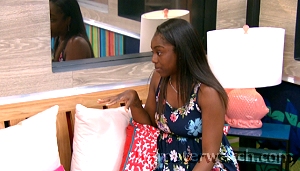 Da'Vonne made a calm (and logical) pitch to Shelli to put up Audrey "and let the house battle it out" but to no avail: Shelli told Lizia a few minutes later that she's still planning on Meg.. the giraffe deflated some more and pretty much drowned in the pool.. Audrey continued her get-to-know-you conversational questions but I think they're all suspicious of hidden agendas there - so am I, which is a pretty cynical view of things, but last week wasn't that long ago

Otherwise it was a pretty quiet day overall.. Meg told several of them how she has met Frankie, Cody, and Amber at NYC events.. Da'Vonne told Jason that Diary dropped the name "Hurricane" to her, but the fishies cut her off before we could hear if they were referring to her or Audrey, or someone else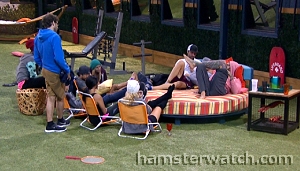 The Austin & Jeff talk show started up again a little past midnight - Austin had previously announced it was a little too edgy for Pop TV (he also called After Darkers "freeloaders" and told them to get the feeds).. the show wasn't quite as cringeworthy as last night's (which isn't saying much) but it had some interesting moments, including a cute James & Meg kiss.. I suspect Austin sets these shows up in order to gain insight, and to allow the hamsters to drop subtle bombs about themselves and each other, and he pushes buffoon Jeff out front as his co-host to disguise the fact that Austin's really working

Shelli finally told Meg she'll be going up, shockingly adding that nobody else knew this plan except Clay - Flashback 7/6 2.08am.. Meg took it as well as could be expected, but she was clearly shocked.. Shelli summoning Meg, Jeff, James for The Telling got Da'Vonne's attention in a big way, and Jackie, Becky, John each dropped in awkwardly during The Telling and each were comically shooed away by Shelli.. the Kathy Phone still hasn't shown up

GET YOUR FEEDS to follow all the action! One week free trial - no promo code needed
Remember to click "previous Hamsterwatch episode" at the top of any page for what's come before, and hit the Feeds Updates tab for loads of details and screencaps



Day 17 - Saturday 7/4
4th of July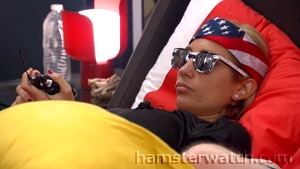 Several of them dressed for the day, and most of them griped about being locked in all afternoon & evening because of the giant public party on the lot .. Steve confided in John about having done some damage in there socially, and asked John to give him a signal if he makes a social blunder.. Shelli's HOHitis continued to escalate, gradually, resulting in things like telling Vanessa to "speak up and stop whispering" while gametalking in HOH

Audrey remained upright and even got around some, socializing and gaming in her roundabout way.. she might think they're all pussyfooting around her while they wait to backdoor her, but she really isn't the target - how quickly things change.. Da'Vonne, who is Shelli's target, kept a low profile for the most part.. Austin and Liz pitched a plot to Shelli and Vanessa to think about putting up Meg as the renom rather than Lizia, which could be very interesting for us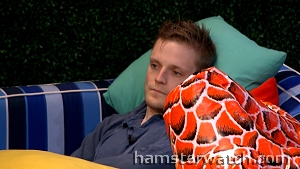 That led to yet another "alliance" being formed, consisting of Jeff, Clay, Shelli, Jackie, John.. Shelli stayed in HOH most of the day and night, receiving various visitors for gametalk, mostly.. Audrey paid a call to Shelli and rehashed a ton of past history.. Clay found a Tupperware in the fridge with a small amount of "a substance" he said looked and smelled like semen, and he went around asking everyone to smell it.. they had a food and booze delivery but alas, it was withheld from us.. most of them did a late night talk show Spiritual and Sexual Healing, it had some cute moments, some cringeworthy moments, and a lot of awkward

GET YOUR FEEDS to follow all the action! One week free trial - no promo code needed
Remember to click "previous Hamsterwatch episode" at the top of any page for what's come before, and hit the Feeds Updates tab for loads of details and screencaps



LINES OF THE DAY

Sunday
Audrey Diary: I thought people were buying everything I was selling them but yeah, it didn't work out like I hoped

John Diary: You just want to throw me up there as pawn every week? I don't even play chess

Shelli: Being HOH is hard

Audrey to Jason: The less pictures of me on the internet, the better

Liz to Jeff: You don't realize.. I'm the twist

Jeff to Jason: I feel like you're gonna be the drunk uncle that ruins Christmas for everyone

Saturday
Meg to Jeff: All I can hear when you talk is the number of times you say dude

Clay: You'd never throw us under the bus?
Audrey: Never

Audrey: Austin's fashion is always on point

Becky: Do you want to play chess?
John: Okay
Becky: Do you know how to play chess? I don't

Jackie to Jeff: I'm not a fucking bottle server! What the fuck, chill out!

Jeff: Please the live feeds not be on tonight, I've had a potty mouth



LINKS OF THE DAY

Get the feeds they're starting off with a bang

Live like a hamster! Habitat items available from Amazon:
Blow-up giraffe - duckie chlorine dispenser - whale pillow

Duck at Nite 17.01: Time to Move On by @BB11HouseRodent

Big Brother in 2 Minutes 17.2 XL: Ball Crush by @TrashTweetTV

Confessions of a BB feed watcher by me! for Reality Blurred



Ratings - For the Lulz edition
Ratings are based on entertainment value, and entertainment value alone




So far they're delivering on the promise they always make but don't always keep. Let's hope they can keep that up.






She's nowhere near the level of entertainment she provided last week, but she's revving up again, slowly and gradually. Everyone else's reactions to her are everything.






I think he's got oodles of promise but for now he's laying low, doing his workout and trainer thing, letting others take the limelight, and cooking and eating. A lot. It's early days yet and I think he can bring it, and I'm patient.






I'm glad CBS aired her train story, and a pre-feeds version we hadn't seen. She tells it with such smiles and no hint of a pity party whatsoever, so it's all win. #BeckyUpdate has become one of the best Twitter side games of the early season.






Unintentionally hilarious most of the time.






NOMINATED
I love her attitude and her side-eye, and I'd love it if she blows up the place when Shelli doesn't put up Audrey against her. She'll probably keep her cool, but we can hope.






Who?






I'm still torn about him. He can be as much of a pig as Jeff (and often is), but he often does it with humor and he seems to understand the difference. Or maybe not.. time will tell. I'd like to see him without Jeff around to urge him on and see what he's about.






His snarky snippy commentary can be funny much of the time, but he does get stuck there sometimes. I don't hold it against him that he keeps sort of bashing this site, but I do get tired of him speaking for all feedsters as often as he does.






I don't think I've ever put anyone on Hamsterwatch ignore and given them a premature empty wheel this early before, but he's headed there.






NOMINATED - HOLDS VETO
He's the master of random and I'm a huge fan of random.






I love the switching concept and I can't imagine how they transfer this much info to each other in such a short time, but they aren't really bringing much else to stand out as of now.






She's still a bit too perky for my usual tastes, but slop has tempered that somewhat. Actually it seems to have tempered her perky a lot - almost every time I see her she's either horizontal or leaning on something. I can't figure how she can hang out with and encourage Jeff and James as much as she does, but she has a problem with Steve?






HEAD OF HOUSEHOLD
Like Clay, she's bringing a lot of unintentional humor thanks to a growing and soon-to-be raging case of HOHitis.






He's everything a smart, slightly socially awkward superfan who got onto the show should be. It's just too bad most of the others have it in for him.






She's just not doing it for me, entertainment wise, not yet anyway. She talks an awful lot about herself and she isn't displaying much of a sense of humor yet, that I've seen. Hopefully that will change as we go.






Won: Nothing
He was like a parody of all the former surf boys we've had, with all the worst qualities of asshat hamsters past rolled into one. He verbally beat up on Steve a few times but the primetime version earned him viewer loathing, even if his actoring was lousy. He ranted, streaked, flipped us off, and mostly talked about himself, but he promised to save us all someday through music.



SEASON STATS
HOHs in order *denotes surviving HOH for BOB weeks
James*/Jason; Becky/Shelli*

BOB wins in order
Becky/John; Steve/Jason

Veto wins in order
Steve, John

Evictions in order
Jace 12-1









Linking to any page here is fine. Please don't repost content from this site (or any other) without permission, and don't repost or hotlink images.



THE REAL SHOW IS THE FEEDS


NEXT-DAY AIR SHOWS
BB1 THRU BB17 AND LOADS MORE CBS CONTENT


HAMSTERWATCH SWAG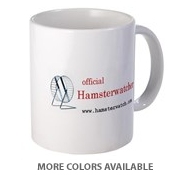 Mugs, shirts, more
Visit my Cafe Press shop





RATINGS WATCH


Sunday's show dropped back to second for the hour with 1.6 rating, 5 share, and 5.06 million viewers, behind women's soccer on FOX with 6.4/24/20.35, and ahead of Celebrity Family Feud on ABC with 1.5/5/6.94, and NASCAR on NBC with 0.8/3/3.62.









Big Brother 17 FAQ


June 18 was Day 1 move-in. June 24 was CBS premiere, Day 7. Finale will be September 23, Day 98

Feeds are streamed by CBS, and accessible via All Access subscription. Call 888-274-5343 for account help, including cancellation.

CBS shows are Sundays 8pm, Wednesdays 8pm, eviction Thursdays 9pm (Global in Canada).

Big Brother After Dark is on POP (formerly TVGN). It begins Thursday, June 25 midnight-3am. After that the regular schedule is Monday, Tuesday 11pm-2am; Wednesday, Friday, Saturday, Sunday midnight-2am; Thursday 1am-3am.

The CBS app (by CBS Interactive) will play BB air shows and other CBS shows, but not feeds. Use your browser to watch feeds on mobile devices. The same All Access link used to subscribe will lead to the feeds viewing page if you're already signed up.

Liz and Julia have to survive five evictions in order to play separately as individuals. They switch places every few days. They have a limited time in Diary to change clothes, adjust their appearance, and exchange info. The non-playing twin probably stays in hotel sequester.

BB17 prizes are the same: $500k for the winner and $50k for 2nd place. Stipend for the others is probably $1,000 per week again, including pre-show hotel and jury sequester. Austin, Vanessa, Jeff, Jackie might get more.

The habitat has 80 HD cameras (up four) and over 100 microphones.

The recorded in-house announcements are the voice of producer Don Wollman.