This site is about the Big Brother 16 feeds and contains spoilers! It isn't necessarily thorough: it's what I catch and/or what interests me, and it isn't necessarily about who will win, who should win, who's cute or who's horrid. It's about watching hamsters: who's doing what and why. Thanks for encouraging my behavior.
Your pal, dingo







QUICK LINKS & BOOKMARKS



-View or buy BB16 live feeds

-Live feed updates
-Hamsterwatch chatroom
-McCrae Olson videos & blog
-Amazon portal USA or Canada
-VPN for international viewers
-Hamsterwatch Twitter - Twitpic
-BB16 official site
-Hamster Twitters
BB USA - BB Canada
-East Coast air show feeds
1 - 2 - 3 - 4 - 5 - 6 - 7 - 8 - 9







POWER STATUS


Derrick is Head of Household
Caleb, Jocasta are nominated
Donny won veto, for Jocasta
Nicole's a frog for 1 week
Have-nots are Amber, Devin, Caleb, Hayden

Donny, Derrick, Frankie are Team America (fuck yeah)
Task 1: Get three retells of fake rumor Zach's related to Amanda
Results: Nicole to Christine







UPCOMING EVENTS


Monday: Veto meeting

Monday midnight: Team America task deadline
Tuesday: HOH pics, tweets, blog

Next show
Wednesday 8pm: Veto comp, veto meeting, assorted drama



Save 20% on orders over $29 with coupon code AFFILIATE20
Big Brother plus other CBS shows - shop now!





BB16 DRINKING GAME


Take a swig whenever one of them changes clothes




Donations via Paypal are gratefully accepted!






BIG BROTHER SEASONS



Amazon DVDs BB4 - BB3

Amazon Instant Video BB15
- BB14
- BB13
- BB12
- BB11
- BB10
- BB9
- BB8





BB16 FAQ


Feeds are streamed by CBS.

Call 877-211-4367 for account help, including password reset or to cancel subscription.

CBS shows are Sundays 8pm, Wednesdays 8pm, eviction Thursdays 9pm (Global in Canada).

Big Brother After Dark is on TVGN (Slice in Canada) three hours Mon/Tues starting 11pm, two hours Wed/Fri/Sat/Sun starting midnight; and two hours Thurs starting 1am.

BB16 prizes are the same: $500k for the winner and $50k for 2nd place. Stipend for the others is $1,000 per week, including pre-show hotel and jury sequester. Frankie might get more.

The habitat has 76 cameras (up 11, and now high def) and 100 microphones (up 2).

The recorded in-house announcements are the voice of producer Don Wollman.





>> >> >>
>>
ALL AMAZON.COM PURCHASES MADE THROUGH THESE LINKS HELP SUPPORT THIS SITE
Amazon USA
- Amazon Canada
Four-three-two-one (Sunday 7/13)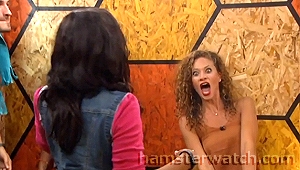 Sunday was a lot of not much for both gametalk and goony stuff.. they did their photobooth selfies and they did their napping - this cast has more overnighters than we've ever had before

I don't think any new progress was made on the Team America (fuck yeah) task.. Derrick suggested Frankie step it up a bit there but he said he thought he'd wait a bit "until it spreads" - umm memo to Frankie: that's not how it works, you are supposed to earn the $5,000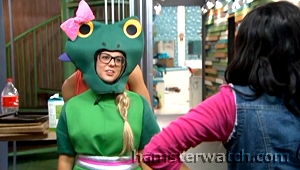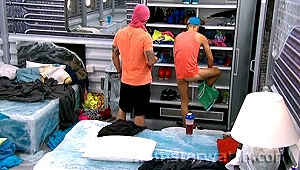 In other/lesser news, Jocasta recovered and rejoined the others.. Brittany spent a long time fighting her hair, upping her standing in Deathrace 2014.. Nicole had a pink bow and belt added to her frog, making it even cuter if that's possible.. Frankie got nekkid at least three times today, two of them while chatting with Caleb.. Have-not Devin took a cold shower outside, lathering up and scrubbing all his parts in excruciating close-ups, whooping and hollering the whole time.. the ants continued their relentless assault, sacrificing a few to the frozen foods so they could take over the garbage - Victoria was actually surprised by that and wondered why they'd be in the trash.. the horrendous mess in the kitchen got cleaned up again in a group effort by a few of them - it won't last.. still no booze deliveries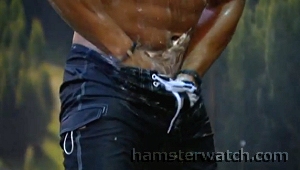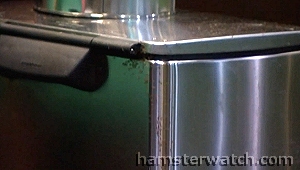 As always, @UgotBronx has a lot more detail of all this and more in the Updates section, or you can get the feeds
to watch it unfold for yourself



Luck of the doomed (Saturday 7/12)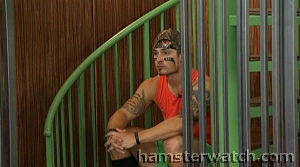 Against all odds (but par for the course with BB), Devin was picked to play for veto, along with Donny and Christine.. Jocasta was still weak and under the weather, so Donny played for her

We haven't seen so much serious prep for a veto comp for quite awhile: Derrick and Caleb both painted anti-glare on their cheeks, and Frankie helped add a Bible reference to Caleb's and the initials of Derrick's wife & daughter to his.. Devin paced and sat, glaring at cameras and making at least one let's get going/hurry-up type hand gesture at them.. Christine and Donny both seemed relatively relaxed.. the rest of them primped and joked, like they do - Amber and Cody shared a good, hard, squeezy hug at one point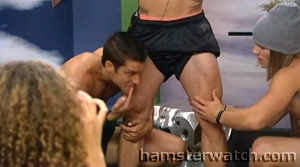 Donny won the veto in another puzzle-type comp with points - it sounded like the giant dice apparatus I posted awhile back.. a crowd gathered around Jocasta's bed to give her the good news, and Cody did a little strip tease for her.. that led to a muscle/beefcake show with Cody, Caleb, Frankie, Hayden plus Zach as emcee.. it was silly fun with the usual phony accents and homoerotic humor these guys are becoming known for.. Zach kept referring to Caleb as "Beast Mode Cowboy" just to rub it in a bit - Flashback 7/12 4.25pm

They got their delivery of offal burritos - offal being tripe in this case - and Amber, Devin, Caleb, Hayden volunteered for Have-not duty.. Derrick tried to get the Team America (fuck yeah) task underway by telling Victoria that he heard Zach is Amanda's cousin, but Victoria ran off on so many other tangents, I don't think it sunk in.. Donny tried to kick it off with Nicole, who didn't seem impressed.. other than that, the evening was pretty much more of the same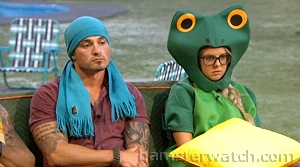 The quiet late night exploded unexpectedly when Nicole told a few of them that Donny had told her "something" odd, leading them all to agree that Donny's sketchy and Victoria swearing he's "America's Player".. a few minutes later Nicole told Christine the "something" was the (fake) Zach/Amanda story

At the same time, Zach got all wound up and told Frankie that Donny wasn't going to use his veto, and Frankie ran that right upstairs to Derrick, who'd been sleeping.. Derrick then told us how gullible and paranoid this group is.. meanwhile, the ants launched not one but two major assaults on the kitchen today - hamsters never stand a chance against them

Remember to click "previous Hamsterwatch episode" up top for what came before.. @UgotBronx has all the play-by-plays in the Updates section, or you can get the feeds
to watch it unfold for yourself



Ratings - Calm to Chaos in 60 Seconds edition
Ratings are Saturday's, based on entertainment value




I get that they have BOB comps now to run on the Sunday shows, but they still stick with the tiresome Have-not thing for no real reason. Remember when they had food comps for various food groups or days of the week? That worked okay. I'm all for making the hamsters suffer, up to a point, but this one's really run its course. Also, is this Big Brother Boardwalk Empire? Bring back the booze deliveries, please.






I can't take much more of her everlasting monotone complaints about who she doesn't talk game with. She has no game that I can see, except hanging onto Caleb's coattails for 'protection' while she complains about his unwanted attention in the next breath. Now she seems to be encouraging Cody, so we might get that in duplicate.






She keeps saying she shouldn't keep talking about her personal business as she continues to talk about her personal business. I know more about her life than any of the others, and I barely pay attention to her.






NOMINATED
Beast Mode done failed him, again, and this time he might go home because of it. He couldn't get Amber's attention doing handwalks and flips for the midnight crowd, and he doesn't even notice that she goes out of her way not to notice him, or the fact that he's usually wearing something of hers.






She's in the background far too much, but she's funny when we do see her. Her laugh is delightful and it travels through the feeds to whatever convo they've chosen for us to watch.






He perked up some today by doing a strip tease for Jocasta and by being a big participant in the muscle pageant with the boys. He and Amber are getting cozy on a regular basis lately but it never lasts for long. Maybe they'll step it up and soon: they can go off and be pretty together and we'll get Caleb's head exploding.






TEAM AMERICA
HEAD OF HOUSEHOLD
He tried to get the TAFY task off the ground with Victoria, but that derailed and he ended up listening to her dating problems and Bomb Squad paranoia instead. Later, Frankie woke him up to deliver some Zach paranoia, and Derrick dove right into gametalk without missing a beat. And then he talked to us, like a good feedster-turned-hamster should.






The cheese stands alone.






TEAM AMERICA
HOLDS VETO
Super big ups for another veto win, especially when both Devin and Caleb needed it so badly and swore they'd win it. Everyone loves an underdog champ, and this guy just keeps rubbing their arrogant noses in it.






TEAM AMERICA
He doesn't seem to be taking not being the center of attention all the time as well as some of the others. He remains liked by all of them, as far as I know, but he stirs up more shit than anyone, including Devin. Derrick and Donny both tried to launch their assigned TAFY task, but I don't think Frankie did.. what's up with that?






Good sport, fun and funny guy, aware of most things going on in there but laying relatively low.. he's a keeper.






NOMINATED
She spent most of the day horizontal but finally started to roam around a bit, still looking a bit green, but more or less upright for a few hours. She might be the first nominee to be saved by being sick in bed.






Won: 1 week frog
I thought she'd told the late night hammock group about the Zach/Amanda story, but she just told them that Donny told her 'something', and that's ideal to keep them wound up and paranoid. Later she told Christine the actual fake rumor, so TAFY's one third of the way there.






Derrick came right out and told her this isn't a dating show, but I don't think she gets it yet.






He was a good emcee at the muscle pageant but more than that, he got Frankie all wound up about Donny not using his veto, and for no apparent reason that I know of. He's a bit much most of the time he's awake, but he's invaluable when it comes to stirring them up and keeping them spinning their little wheels for us.






Evicted 10-2
Won: Nothing
I kept hoping for the spitfire she plays on Twitter & Instagram to show up but it didn't until the veto meeting blowup. She was well on her way to being a perma-pawn but she stressed about not being able to win comps, and then Devin happened and out she went. She had a lot of entertainment potential and while we were robbed of most of it by her early exit, we'll always have CALTORU.






TEAM AMERICA FAIL
Won: Nothing
She blew up her game prematurely and spectacularly, and then her alter ego Alex and his 'big ass balls' sealed the deal. Supposedly she beat someone with 150k Twitter followers (plus 15 million backup) in a public vote, but that went splat just like BB12's saboteur Annie. Joey was lively and personable, a worthy member of the first out club, and she easily leads the pack of hamsters with unnatural hair colors.







Linking to any page here is fine. Please don't repost content from this site (or any other) without permission, and don't repost or hotlink images.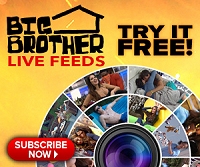 The real show is on the feeds





TEAM AMERICA VOTE


What should Team America do? Polls are closed
Get two hamsters to kiss and then spread rumors they're a showmance
> Get three hamsters to spread a rumor that someone in the house is related to a former







FEEDSTER VOTE


What food supplement should the Have-nots get? Polls are closed
> Offal burritos (50%)
Baddy melt (50%)







RATINGS WATCH


Sunday's show won the hour with 2.1 rating, 7 share, and 6.66 million viewers, ahead of America's Funniest Home Videos rerun on ABC with 1.5/6/6.13, Wipeout on ABC with 1.3/4/4.48, and The Simpsons reruns on FOX with 0.9/3/2.14 and 1.1/4/2.44 respectively.








Clicky: caps sorted by day - all caps

SEASON STATS
HOHs in order, *indicates the surviving HOH
Frankie/Caleb*, Amber/Devin*, Nicole/Derrick*

BOB wins in order
Brittany/Victoria, Hayden/Nicole, Amber/Donny

Veto wins in order
Donny, Devin, Donny

Evictions in order
Joey 13-0; Paola 10-2

Evictees on Twitter: @JoeyVanPelt1, @paolashea



BBQ Smackdown Scorecard

Big Brother 15
Round 1: BBQ 1, Helen 1, Jessie 0
Round 2: BBQ 1, Helen 0, Jessie 0
Round 3: BBQ 1, Spencer 0
Round 4: BBQ 1, Spencer ½, Judd 0, McCrae 0

Big Brother 14
Round 1: BBQ ½, Dan 0

Big Brother 13
Round 1: BBQ ½, Adam ½, Rachel 0
Round 2: BBQ ½, Adam 0
Round 3: BBQ 1, Rachel 0

Big Brother 12
Round 1: BBQ ½, Brendon 0
Round 2: BBQ 2, Britney 0, Lane 0
Round 3: BBQ 1, Lane 0, CBS 0

Big Brother 11
Round 1: BBQ 0, Jeff 0
Round 2: BBQ 0, Jeff ½
Round 3: BBQ ½, Kevin 0, Michele 0


Big Brother 10
No title events

Big Brother 9 Winter Edition
Round 1: BBQ ½, Ryan 0
Round 2: BBQ ½, Adam 0
Round 3: BBQ ½, Ryan 0

Big Brother 8
Round 1: BBQ 1, Dick 0
Round 2: BBQ ½, Zach 0
Round 3: BBQ 0, Dick 1

Big Brother 7 All-Stars
BBQ training sabbatical

Big Brother 6
Round 1: BBQ 1, Ivette 0
Round 2: BBQ 0, Howie 0

Big Brother 5
Round 1: BBQ 1, Cowboy 1, Drew 0
Round 2: BBQ 1, Drew 0, Diane ½
Round 3: BBQ 1, Cowboy 1, CBS 0, Nakomis 0



EXTRACURRICULAR TALLY
House meetings - 4
First eight, on premiere #1
Joey's, semi-formal 6/28 5.56pm
Devin's 7/2 11.18pm
Devin's Bomb Squad 7/5 5.47pm

Fights - 3
Devin vs Brittany 6/29 12.21am
Devin vs Caleb 7/5 3.06am
Zach vs Paola 7/7 3.10pm

Pinkyswears - 7
Paola & Devin 6/29 1.35pm
Paola & Devin 7/4 12.15am
Paola & Donny 7/4 8.06pm
Devin & Victoria 7/6 10.49am
Jocasta & Amber 7/10 7.57pm
Derrick & Victoria 7/12 8.37pm
Nicole & Christine 7/13 1.24am

The Soup mentions - 2
-Donny's smarts
-Donny's America + Devin/Caleb cuddling

Almost literal asshats - 1
Zach 7/5 6.08am

CBS goofs - 9
- Happends
- Jill, for the 2nd year
- Premiere 2 wasn't live
- Misspelled Jocasta 6/29 show
- Flashback calendar's off
- Joey left before trackers came but got 1st place anyway
- Forgot TA results 7/10 show
- Pointless edit amputated Caleb's toes 7/10 show
- Misspelled Jeff's name 7/10 show