This site is about the Big Brother 16 feeds and contains spoilers! It isn't necessarily thorough: it's what I catch and/or what interests me, and it isn't necessarily about who will win, who should win, who's cute or who's horrid. It's about watching hamsters: who's doing what and why. Thanks for encouraging my behavior.
Your pal, dingo







QUICK LINKS & BOOKMARKS



-View or buy BB16 live feeds

-Live feed updates
-Hamsterwatch chatroom
-McCrae Olson videos & blog
-Amazon portal USA or Canada
-VPN for international viewers
-Hamsterwatch Twitter - Twitpic
-BB16 official site
-Hamster Twitters
BB USA - BB Canada
-East Coast air show feeds
1 - 2 - 3 - 4 - 5 - 6 - 7







POWER STATUS


Devin is HOH
Devin veto'd Brittany
Paola, Zach are nominated
Victoria, Brittany, Zach, Derrick are Have-not

Donny, Derrick, Frankie are Team America (fuck yeah)







UPCOMING EVENTS


Friday?: Nominations, BOB comp
Saturday?: Veto comp
New comp schedule is still unclear

Next show
Thursday 9pm: Veto meeting fallout, live eviction, HOH comp



Save 20% on orders over $29 with coupon code AFFILIATE20
Big Brother plus other CBS shows - shop now!





BB16 DRINKING GAME


Take a swig whenever a new alliance is proposed




Donations via Paypal are gratefully accepted!






BIG BROTHER SEASONS



Amazon DVDs BB4 - BB3

Amazon Instant Video BB15
- BB14
- BB13
- BB12
- BB11
- BB10
- BB9
- BB8





BB16 FAQ


Feeds are streamed by CBS.

Call 877-211-4367 for account help, including password reset or to cancel subscription.

CBS shows are Sundays 8pm, Wednesdays 8pm, eviction Thursdays 9pm (Global in Canada).

Big Brother After Dark is on TVGN (Slice in Canada) three hours Mon/Tues starting 11pm, two hours Wed/Fri/Sat/Sun starting midnight; and two hours Thurs starting 1am.

BB16 prizes are the same: $500k for the winner and $50k for 2nd place. Stipend for the others is $1,000 per week, including pre-show hotel and jury sequester. Frankie might get more.

The habitat has 76 cameras (up 11, and now high def) and 100 microphones (up 2).

The recorded in-house announcements are the voice of producer Don Wollman.





>> >> >>
>>
ALL AMAZON.COM PURCHASES MADE THROUGH THESE LINKS HELP SUPPORT THIS SITE
Amazon USA
- Amazon Canada
Get to steppin' (Wednesday 7/9)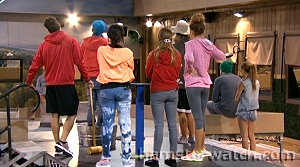 Much of the day was status quo and getting along, with Devin more or less isolating himself, which means it's a safe bet Paola will go tomorrow without much argument among the others.. they were given activity trackers to monitor their daily steps, Fitbit brand from the sound of it, but I'm calling them tracker jackers.. they also got a practice apparatus for the HOH and/or BOB comp, a croquet type setup with obstacles to shoot around

That's about all I got, but @UgotBronx has much more for you in the Updates section.. you really should get the feeds
and watch it unfold for yourself: the CBS version can't even come close to covering everything going on with this group



Antiquing Amber (Tuesday 7/8)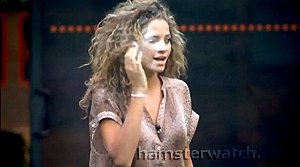 Most of the day was spent vote counting and waffling.. you know I don't count votes until Wednesday night for weeks like this, and sometimes not even then.. they had a shenanigans outbreak when some of the girls went after the guys with condom water balloons, and the guys retaliated with packets of flour - Flashback 7/8 7.31pm.. Caleb got Amber good

Derrick turned Caleb to keeping Zach and that made its way through the ranks.. Frankie reported it to Devin, who said he's out of the squad and will be going ahead solo (for his daughter, dontcha know).. Devin went around and outted Bomb Squad to Donny, and Brittany.. it's still a long time til they vote



Your attention, please (Monday 7/7)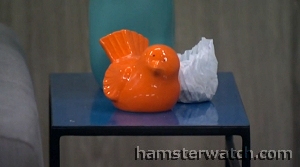 In yet another stroke of unintentional hilarity, Devin rehearsed his lengthy veto speech to the room furnishings.. for the most part, they appeared riveted - Flashback 7/7 11.03am

Meanwhile, Paola was rehearsing her own speech for the others outside, the anti-Devin one she'd like to give.. Devin had woken her up earlier and demanded she go talk to him after the meeting.. earlier, Zach & Cody decided to secede from the Bomb Squad, and Devin's house of cards continues to crumble

Devin veto'd Brittany off the block and replaced her with Zach, per plan, and the habitat imploded on cue.. Zach blew up at the meeting, putting Frankie "on blast" - which he later said he regretted, but Frankie had already gone swirling off the deep end, fretting to everyone.. Zach filled in Hayden about the Bomb Squad, and that got around fast to the few who didn't know about it yet, and on it went

Catch up: click the "previous Hamsterwatch episode" link up top for what's come before
Keep up: real-time updates, caps and Flashbacks in the Updates section thanks to @UgotBronx
Yuck it up: get the feeds already!

Ratings - Devin Has a Daughter edition
Ratings are Sunday's for now, based on entertainment value




Are they really going to run the same loop of clips all season? I think it's shorter than the trivia loop. As for Sunday's show, I'm glad they finally got it across that Devin has a daughter, because a lot of people are confused about that. As for the rest of the Sunday show, sequencing and continuity aren't important anyway.






Remember when the cast was revealed? They said she's an esthetician. Maybe she's undercover, like Derrick.






I didn't think she was much of a presence until her masterful handling of the veto situation with Devin, although I'm not thrilled that it took over an hour to happen. She only seems to sleep three hours a day so she's a keeper for that alone: she's almost a guarantee that somebody's always up, no matter what time it is.






I don't think CBS is getting the biggest bang for their buck with this guy. They've glossed over the whole creepy Amber soap opera, and Caleb's bromance with Frankie is six times more bizarre and amusing than Zach's. I don't think they've even touched on him being miraculously healed by a random tongues-speaker when he was four.






I like that she's a genuine person, and she brings more than her quota of funny stories. I'm not holding out a lot of hope that Team Nicotine will go the distance, with or without Hayden, but I'd like to see it happen.






I'm not really seeing enough of him yet to know what he brings to the table.






TEAM AMERICA
His cop skills keep coming in handy, whether it's undercover investigation or "good cop" interrogation, and his game seems perfect at this point. But it's very early, and he might be playing too hard too fast.. we'll see. He's one of us and he knows we love the drama: whenever it breaks out, I think he'd make the popcorn for us if he could.






HEAD OF HOUSEHOLD
USED VETO ON BRITTANY
Sure he's got a lethal case of HOHitis and he repeats himself like an echo machine, but right now he's bringing all the drama, all the crazy, and nearly all the unintentional comedy, and that's what I'm here for.






TEAM AMERICA
They treat him like he's like their mascot or pet. I really like his casual attitude and one-liners but we keep vastly different hours so I miss a lot of them.






TEAM AMERICA
I'm not a fan of the ones who have visible 'on' switches, but it's better than leaving their entire pre-season personality outside and laying around the whole time, and he usually reels it in just in time before I've had enough. Frankie as Frankie seems like a pretty cool guy, and I'm looking forward to more of that and less accents and characters. Like Derrick, his game at this point appears flawless.






See Frankie, but with a lot less game.






She's been surprising me a lot lately and I'm really starting to enjoy her. She's hilarious when she gets going, and I think she might have a very, very good read on everyone there. I'd love to find a clip of her March appearance on 'The Talk' but have been unable to, so far.






TEAM AMERICA FAIL
Won: Nothing
She blew up her game prematurely and spectacularly, and then her alter ego Alex and his 'big ass balls' sealed the deal. Supposedly she beat someone with 150k Twitter followers (plus 15 million backup) in a public vote, but that went splat just like BB12's saboteur Annie. Joey was lively and personable, a worthy member of the first out club, and she easily leads the pack of hamsters with unnatural hair colors.






Some are comparing her to Jessica/Jordan, but I think she's her own character, and a breath of much-needed fresh air. Plus her hair is an early front-runner for #Deathrace2014 champ.






NOMINATED
She isn't on the feeds very much but she's got some good lines when she does show up. I'm waiting for the mouthy spitfire she plays on Twitter to show up.. maybe she just plays that on Twitter.






A minute ago Zach swore he was going to put all his energy into making her life miserable, and now they're snuggle buddies in the Have-not room. She's wondered how she's coming across on TV but the CBS show has barely acknowledged she's there. More princessy tantrums would help.






NOMINATED
He's got all the lines but he doesn't seem to get it. It's like he got Dr Will's playbook and he only read the chapter titles. Or maybe he got some pre-season Facebook coaching but didn't really grasp it.







Linking to any page here is fine. Please don't repost content from this site (or any other) without permission, and don't repost or hotlink images.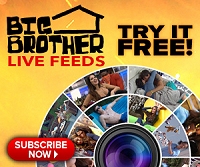 The real show is on the feeds





TEAM AMERICA VOTE


What should Team America do? Polls are closed
Get two hamsters to kiss and then spread rumors they're a showmance
Get three hamsters to spread a rumor that someone in the house is related to a former







FEEDSTER VOTE


What food supplement should the Have-nots get? Polls are closed
> Offal burritos (50%)
Baddy melt (50%)
currently: The 'Wurst BLT







RATINGS WATCH


Wednesday's show won the hour with 1.9 rating, 7 share, and 6.11 million viewers, ahead of America's Got Talent rerun on NBC with 1.5/5/5.97, So You Think You Can Dance on FOX with 1.2/4/3.71, and The Middle and The Goldbergs reruns on ABC with 1.0/4/4.18 and 1.0/4/3.39 respectively.








Clicky: caps sorted by day - all caps

SEASON STATS
HOHs in order, *indicates the surviving HOH
Frankie/Caleb*, Amber/Devin*

BOB wins in order
Brittany/Victoria, Hayden/Nicole

Veto wins in order
Donny, Devin

Evictions in order
Joey 13-0



BBQ Smackdown Scorecard

Big Brother 15
Round 1: BBQ 1, Helen 1, Jessie 0
Round 2: BBQ 1, Helen 0, Jessie 0
Round 3: BBQ 1, Spencer 0
Round 4: BBQ 1, Spencer ½, Judd 0, McCrae 0

Big Brother 14
Round 1: BBQ ½, Dan 0

Big Brother 13
Round 1: BBQ ½, Adam ½, Rachel 0
Round 2: BBQ ½, Adam 0
Round 3: BBQ 1, Rachel 0

Big Brother 12
Round 1: BBQ ½, Brendon 0
Round 2: BBQ 2, Britney 0, Lane 0
Round 3: BBQ 1, Lane 0, CBS 0

Big Brother 11
Round 1: BBQ 0, Jeff 0
Round 2: BBQ 0, Jeff ½
Round 3: BBQ ½, Kevin 0, Michele 0


Big Brother 10
No title events

Big Brother 9 Winter Edition
Round 1: BBQ ½, Ryan 0
Round 2: BBQ ½, Adam 0
Round 3: BBQ ½, Ryan 0

Big Brother 8
Round 1: BBQ 1, Dick 0
Round 2: BBQ ½, Zach 0
Round 3: BBQ 0, Dick 1

Big Brother 7 All-Stars
BBQ training sabbatical

Big Brother 6
Round 1: BBQ 1, Ivette 0
Round 2: BBQ 0, Howie 0

Big Brother 5
Round 1: BBQ 1, Cowboy 1, Drew 0
Round 2: BBQ 1, Drew 0, Diane ½
Round 3: BBQ 1, Cowboy 1, CBS 0, Nakomis 0



EXTRACURRICULAR TALLY
House meetings - 4
First eight, on premiere #1
Joey's, semi-formal 6/28 5.56pm
Devin's 7/2 11.18pm
Devin's Bomb Squad 7/5 5.47pm

Fights - 3
Devin vs Brittany 6/29 12.21am
Devin vs Caleb 7/5 3.06am
Zach vs Paola 7/7 3.10pm

Pinkyswears - 4
Paola & Devin 6/29 1.35pm
Paola & Devin 7/4 12.15am
Paola & Donny 7/4 8.06pm
Devin & Victoria 7/6 10.49am

The Soup mentions - 2
-Donny's smarts
-Donny's America + Devin/Caleb cuddling

Almost literal asshats - 1
Zach 7/5 6.08am

CBS goofs - 5
- Happends
- Jill, for the 2nd year
- Premiere 2 wasn't live
- Misspelled Jocasta 6/29 show
- Flashback calendar's off