This site is about the Big Brother 16 feeds and contains spoilers! It isn't necessarily thorough: it's what I catch and/or what interests me, and it isn't necessarily about who will win, who should win, who's cute or who's horrid. It's about watching hamsters: who's doing what and why. Thanks for encouraging my behavior.
Your pal, dingo







QUICK LINKS & BOOKMARKS



-View or buy BB16 live feeds

-Live feed updates
-Hamsterwatch chatroom
-McCrae Olson videos & blog
-Amazon portal USA or Canada
-VPN for international viewers
-Hamsterwatch Twitter - Twitpic
-BB16 official site
-Hamster Twitters
BB USA - BB Canada
-East Coast air show feeds
1 - 2 - 3 - 4 - 5 - 6 - 7 - 8







POWER STATUS


Devin is HOH
Brittany, Paola are nominated
Devin won veto
Victoria, Brittany, Zach, Derrick are Have-not

Donny, Derrick, Frankie are Team America (fuck yeah)







UPCOMING EVENTS


Monday: Veto meeting

Next show
Wednesday 8pm: Team America, veto comp, veto meeting, assorted drama



Save 20% on orders over $29 with coupon code AFFILIATE20
Big Brother plus other CBS shows - shop now!





BB16 DRINKING GAME


Take a swig whenever one of them disses another - take two if it's to their face




Donations via Paypal are gratefully accepted!






BIG BROTHER SEASONS



Amazon DVDs BB4 - BB3

Amazon Instant Video BB15
- BB14
- BB13
- BB12
- BB11
- BB10
- BB9
- BB8





BB16 FAQ


Feeds are streamed by CBS.

Call 877-211-4367 for account help, including password reset or to cancel subscription.

CBS shows are Sundays 8pm, Wednesdays 8pm, eviction Thursdays 9pm (Global in Canada).

Big Brother After Dark is on TVGN (Slice in Canada) three hours Mon/Tues starting 11pm, two hours Wed/Fri/Sat/Sun starting midnight; and two hours Thurs starting 1am.

BB16 prizes are the same: $500k for the winner and $50k for 2nd place. Stipend for the others is $1,000 per week, including pre-show hotel and jury sequester. Frankie might get more.

The habitat has 76 cameras (up 11, and now high def) and 100 microphones (up 2).

The recorded in-house announcements are the voice of producer Don Wollman.





>> >> >>
>>
ALL AMAZON.COM PURCHASES MADE THROUGH THESE LINKS HELP SUPPORT THIS SITE
Amazon USA
- Amazon Canada
Crescent fresh (Sunday 7/6)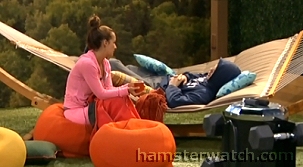 A lot of folks complain about hamsters who haven't seen the show but they bring an awful lot of comedy, plus they go off script a lot, which is refreshing.. witness Brittany this morning: she pitched an idea to Derrick about declining the veto Devin has promised to use on her, in order to expose how tight Devin & Paola are.. she had already asked Diary if she could do that, and they said they'd get back to her about how it would work.. it may be a dumb idea or it may be brilliant, it's the kind of thinking that's fresh and innovative, and it'll be incredibly entertaining if it comes to pass - Flashback 7/6 4.58am


In other news, Devin's latest plan was to put up Zach in Brittany's place.. despite all the everlasting "don't tell anyone" warnings, everyone heard about that, like they all hear about everything.. Devin and Zach had a sit-down where Devin ran his wacky loops about thing getting back to him and it's an individual game but they have to play as a team, and Zach said to go ahead and put him up, he wants to go home anyway.. Devin admitted he grew a crush on Brittany when she got upset and emotional with him last night

They did their photobooth thing, and they got the cornhole game and the grill - already! Derrick said "the beast is back"


Derrick & Frankie were told they're Team America (fuck yeah!), and later Derrick met with Donny about it, including "we have no choice, we signed the paperwork - we're Team America".. Derrick seemed especially excited and proud that viewers chose them, and he hinted to both of other guys that there are things in his background (the fact that he's a cop) that he can't divulge to them that might have been a factor in his being selected.. I'd like to think Derrick being a feedster was a factor, but it probably wasn't - more likely, he was voted for his game and his personality.. the round robin continued again as Donny & Frankie had a meeting - I don't think I'd ever seen them talk before



The wurst (Saturday 7/5)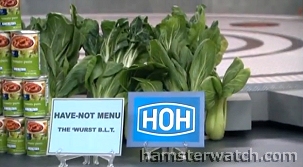 Fallout from the Friday night follies continued to rain down, like it does.. Devin didn't completely hibernate in his room as promised, and most of them continued their re-nom scenario/panic loops even before they played for veto.. Amber, Zach, and Derrick were picked for that, with Donny hosting

They got their Have-not supplement, "The 'Wurst BLT" as voted by feedsters - Bok choy, Liverwurst, and Tomato paste.. Devin selected Victoria, Brittany, Zach, and Derrick for that - the latter two had volunteered.. Victoria had baby-stepped her "can't share a room with males" by sharing with Frankie last night, but Zach's another story.. this was the first ever feedster-only vote, but Devin's instruction card said the BLT was "voted by America" which implies CBS viewers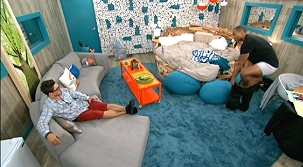 Caleb paid a visit to HOH and apologized to Devin and his underpants for last night's blowup.. Devin thanked him for that and started running his loops, basically pushing for a Bomb Squad redo, and more or less telling Caleb to wait until after the show to pursue anything with Amber.. they went a few rounds about whether to keep Brittany or Paola and agreed they'd see what the rest of the Squad wanted to do about that - Flashback 7/5 5.12pm

Maybe it wasn't a complete reconciliation but it was going pretty well until Devin said he'd never put up anyone from their alliance except maybe Amber, and Caleb said "everybody" had been saying Devin should be the next to go.. as if that wasn't enough, they called an emergency pre-veto Squad meeting, and tried to pass it off to the non-Squad as nothing they need worry about - Flashback 7/5 5.47pm



Waterworks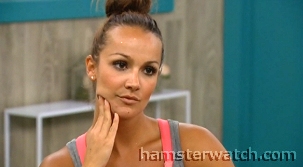 Devin won the veto in something involving balls and points - I didn't hear much about the comp itself because they were all so busy running what-if scenarios.. Devin said he wanted to meet with "everyone" about what to do, and after a few quick in-n-out visits, it was Brittany's turn

This one wasn't a quickie: it lasted over an hour, kicking off (and staying too long) with rehashes of their various spats with each other.. neither said anything the way the self-help books and Dr Phils of the world say to, so it was a very long marathon of resentful brick wall versus resentful brick wall plus endless loops about integrity, loyalty, and daughter/kids ad nauseum, plus a whole lot of unintentional but hilarious comedy

Finally Devin hinted that he might use the veto on Brittany if he thought he could trust her, and she gave her word "100% on my kids" that if he did, she wouldn't put him up should she win HOH.. eventually she teared up a little and he promised to use his veto on her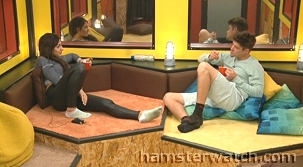 Next it was Victoria, the planned/probable replacement, but I couldn't really tell you what they said - my eyes glazed over when Devin said she's got a "sense of entitlement" and she said "what's entitlement?" Her takeaway from that came later in her retell to Frankie: "you entitle people to do things? or something"

The odd couple syndrome of this season carried on when mortal enemies Zach and Victoria bonded over being Have-nots, or so it appeared, and the rest of them wandered in and out of various group chats talking game, sex, gossip, and the usual hamsterly topics, including Derrick suggesting to some that they boot Paola to damage Devin's game, and keep either Brittany or Victoria.. Derrick also got the deal story out of Brittany that none of the others could - his cop skills are coming in handy

If you're behind, you've missed a lot but you can catch up: click the "previous Hamsterwatch episode" link up top for quickie versions of what's come before, and/or get the play-by-play with lots of caps and Flashbacks in the Updates section thanks to @UgotBronx.. but you really should get the feeds already!

Ratings - Devin Has a Daughter edition
Ratings are based on entertainment value




Are they really going to run the same loop of clips all season? I think it's shorter than the trivia loop. As for Sunday's show, I'm glad they finally got it across that Devin has a daughter, because a lot of people are confused about that. As for the rest of the Sunday show, sequencing and continuity aren't important anyway.






Remember when the cast was revealed? They said she's an esthetician. Maybe she's undercover, like Derrick.






NOMINATED
I didn't think she was much of a presence until her masterful handling of the veto situation with Devin, although I'm not thrilled that it took over an hour to happen. She only seems to sleep three hours a day so she's a keeper for that alone: she's almost a guarantee that somebody's always up, no matter what time it is.






I don't think CBS is getting the biggest bang for their buck with this guy. They've glossed over the whole creepy Amber soap opera, and Caleb's bromance with Frankie is six times more bizarre and amusing than Zach's. I don't think they've even touched on him being miraculously healed by a random tongues-speaker when he was four.






I like that she's a genuine person, and she brings more than her quota of funny stories. I'm not holding out a lot of hope that Team Nicotine will go the distance, with or without Hayden, but I'd like to see it happen.






I'm not really seeing enough of him yet to know what he brings to the table.






TEAM AMERICA
His cop skills keep coming in handy, whether it's undercover investigation or "good cop" interrogation, and his game seems perfect at this point. But it's very early, and he might be playing too hard too fast.. we'll see. He's one of us and he knows we love the drama: whenever it breaks out, I think he'd make the popcorn for us if he could.






HEAD OF HOUSEHOLD
HOLDS VETO
Sure he's got a lethal case of HOHitis and he repeats himself like an echo machine, but right now he's bringing all the drama, all the crazy, and nearly all the unintentional comedy, and that's what I'm here for.






TEAM AMERICA
They treat him like he's like their mascot or pet. I really like his casual attitude and one-liners but we keep vastly different hours so I miss a lot of them.






TEAM AMERICA
I'm not a fan of the ones who have visible 'on' switches, but it's better than leaving their entire pre-season personality outside and laying around the whole time, and he usually reels it in just in time before I've had enough. Frankie as Frankie seems like a pretty cool guy, and I'm looking forward to more of that and less accents and characters. Like Derrick, his game at this point appears flawless.






See Frankie, but with a lot less game.






She's been surprising me a lot lately and I'm really starting to enjoy her. She's hilarious when she gets going, and I think she might have a very, very good read on everyone there. I'd love to find a clip of her March appearance on 'The Talk' but have been unable to, so far.






TEAM AMERICA FAIL
Won: Nothing
She blew up her game prematurely and spectacularly, and then her alter ego Alex and his 'big ass balls' sealed the deal. Supposedly she beat someone with 150k Twitter followers (plus 15 million backup) in a public vote, but that went splat just like BB12's saboteur Annie. Joey was lively and personable, a worthy member of the first out club, and she easily leads the pack of hamsters with unnatural hair colors.






Some are comparing her to Jessica/Jordan, but I think she's her own character, and a breath of much-needed fresh air. Plus her hair is an early front-runner for #Deathrace2014 champ.






NOMINATED
She isn't on the feeds very much but she's got some good lines when she does show up. I'm waiting for the mouthy spitfire she plays on Twitter to show up.. maybe she just plays that on Twitter.






A minute ago Zach swore he was going to put all his energy into making her life miserable, and now they're snuggle buddies in the Have-not room. She's wondered how she's coming across on TV but the CBS show has barely acknowledged she's there. More princessy tantrums would help.






He's got all the lines but he doesn't seem to get it. It's like he got Dr Will's playbook and he only read the chapter titles. Or maybe he got some pre-season Facebook coaching but didn't really grasp it.







Linking to any page here is fine. Please don't repost content from this site (or any other) without permission, and don't repost or hotlink images.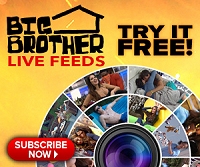 The real show is on the feeds





FEEDSTER VOTE


What food supplement should the Have-nots get? Polls are closed
Vegan S'mores (43%)
> The 'Wurst BLT (57%)







RATINGS WATCH


Sunday's show won the hour with 1.8 rating, 6 share, and 5.98 million viewers, ahead of Wipeout on ABC with 1.0/4/3.59, The Simpsons reruns on FOX with 0.8/3/2.13 and 1.1/4/2.53 respectively, and American Ninja Warrior on NBC with 0.6/2/2.63.








Clicky: caps sorted by day - all caps

SEASON STATS
HOHs in order, *indicates the surviving HOH
Frankie/Caleb*, Amber/Devin*

BOB wins in order
Brittany/Victoria, Hayden/Nicole

Veto wins in order
Donny, Devin

Evictions in order
Joey 13-0



BBQ Smackdown Scorecard

Big Brother 15
Round 1: BBQ 1, Helen 1, Jessie 0
Round 2: BBQ 1, Helen 0, Jessie 0
Round 3: BBQ 1, Spencer 0
Round 4: BBQ 1, Spencer ½, Judd 0, McCrae 0

Big Brother 14
Round 1: BBQ ½, Dan 0

Big Brother 13
Round 1: BBQ ½, Adam ½, Rachel 0
Round 2: BBQ ½, Adam 0
Round 3: BBQ 1, Rachel 0

Big Brother 12
Round 1: BBQ ½, Brendon 0
Round 2: BBQ 2, Britney 0, Lane 0
Round 3: BBQ 1, Lane 0, CBS 0

Big Brother 11
Round 1: BBQ 0, Jeff 0
Round 2: BBQ 0, Jeff ½
Round 3: BBQ ½, Kevin 0, Michele 0


Big Brother 10
No title events

Big Brother 9 Winter Edition
Round 1: BBQ ½, Ryan 0
Round 2: BBQ ½, Adam 0
Round 3: BBQ ½, Ryan 0

Big Brother 8
Round 1: BBQ 1, Dick 0
Round 2: BBQ ½, Zach 0
Round 3: BBQ 0, Dick 1

Big Brother 7 All-Stars
BBQ training sabbatical

Big Brother 6
Round 1: BBQ 1, Ivette 0
Round 2: BBQ 0, Howie 0

Big Brother 5
Round 1: BBQ 1, Cowboy 1, Drew 0
Round 2: BBQ 1, Drew 0, Diane ½
Round 3: BBQ 1, Cowboy 1, CBS 0, Nakomis 0



EXTRACURRICULAR TALLY
House meetings - 4
First eight, on premiere #1
Joey's, semi-formal 6/28 5.56pm
Devin's 7/2 11.18pm
Devin's Bomb Squad 7/5 5.47pm

Fights - 2
Devin vs Brittany 6/29 12.21am
Devin vs Caleb 7/5 3.06am

Pinkyswears - 4
Paola & Devin 6/29 1.35pm
Paola & Devin 7/4 12.15am
Paola & Donny 7/4 8.06pm
Devin & Victoria 7/6 10.49am

The Soup mentions - 1
Donny's smarts

Almost literal asshats - 1
Zach 7/5 6.08am

CBS goofs - 5
- Happends
- Jill, for the 2nd year
- Premiere 2 wasn't live
- Misspelled Jocasta 6/29 show
- Flashback calendar's off