This site is about the Big Brother 15 feeds and contains spoilers! It isn't necessarily thorough: it's what I catch and/or what interests me, and it isn't necessarily about who will win, who should win, who's cute or who's horrid. It's about watching hamsters: who's doing what and why. If they aren't entertaining, get rid of 'em! Thanks for encouraging my behavior. Your pal, dingo







BB COMMUNITY HELP


Please send your thoughts and prayers to Britney Haynes whose newborn Tilly was diagnosed with cancer, and to DogDave who had a massive stroke in January. Funds have been set up for each - please donate if you can at Together for Tilly, and Paypal to BB4DDave (at) yahoo.com for DogDave







POWER STATUS


Andy won Part 3 & final HOH
Andy evicted Spencer
Andy won BB15 7-2







UPCOMING EVENTS


It's a wrap!

Dick at Night with Evel Dick Donato:
Sept 25: Dan Gheesling, Arisa Cox
Sept 26: McCrae Olson, Amanda Zuckerman
Sept 27: Elissa Slater, Rachel Reilly

October 20: Last day of flashback access

October 24-25: Howard, Jeff, Elissa, Rachel, Brendon on Bold & Beautiful

October 30-31: Elissa, Rachel on Bold & Beautiful

February 2014: Big Brother Canada 2

Summer 2014: Big Brother 16







BB DRINKING GAME


Take a swig whenever someone complains about the BB15 winner, finalists, cast, or season









BIG BROTHER SEASONS



Amazon DVDs BB4 - BB3

Amazon Instant Video BB15
- BB14
- BB13
- BB12
- BB11
- BB10
- BB9
- BB8


iTunes BB15 -
BB14
- BB13
- BB12
- BB11
- BB10
- BB9
- BB7 All-Stars





BB15 FAQ


Feeds were streamed by CBS.

Call 877-211-4367 for account help including password reset or to cancel subscription.

CBS shows were Sundays 8pm, Wednesdays 8pm, eviction Thursdays 9pm (changed from Tuesdays, live Wednesdays, Sundays).

Big Brother After Dark was on TVGN for two hours every night starting at midnight/9pm BB time (1 hour later Thursdays), and is censored. Beginning July 19, BBAD runs three hours on Fridays.

Canada ran the TV episodes on Global, and After Dark on Slice, uncensored.

Jury will be nine members, with two finalists.

Weeks 1, 2, 3: The MVP (Elissa) selected the third nominee, privately, and she didn't have to tell anyone she was MVP. If the MVP's nominee won veto, MVP selected the replacement.

Weeks 4, 5, 6: The MVP vote was to name the third nominee directly. If the viewer pick was HOH or and HOH nominee, the third nominee spot went to next highest vote getter.

BB15 prizes are the same: $500k for the winner and $50k for 2nd place. Stipend for the others is $1,000 per week (up from $750), including pre-show hotel and jury sequester. Elissa gets more.

The habitat has 65 cameras (up 12) and 98 microphones (same).

The recorded in-house announcements are the voice of producer Don Wollman.






>> >> >>
>>
ALL AMAZON.COM PURCHASES MADE THROUGH THIS LINK HELP SUPPORT THIS SITE
Now it's a wrap (Wednesday 9/18)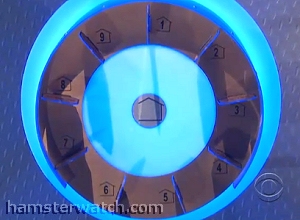 Andy won Part 3 and thus the final HOH, and he gave Spencer the boot, citing a Day 1 deal with GinaMarie - observant Hamsterwatchers will have noted on my Extracurricular Tally that they referenced a "pinky promise" way back on June 30, and that it had been made days before that

Dr Will did his jury tampering, and Andy blew GinaMarie out of the water with their speeches and questions.. he won the season on a 7-2 vote and the glitter cannon erupted again.. Aaryn and Judd were the two votes for GinaMarie

Elissa got the $25k viewer favorite, not surprisingly, and Judd and Howard were second and third in that race

Jeff backyard interviews on CBS scroll all the way down the page - on Youtube

OMG Insider piece Aaryn gets some news

Big Brother Network
Zap2It (text) links to others are up top
Rob Cesternino (text + audio)
ET (text) click right arrows for more
Entertainment Weekly (text + audio)

Big Brother 15: The Saga, Episode 12 Finale by @WilHeuser - see Links of the Day way down below for all of them, one of the best things to come out of this season



Euthanasia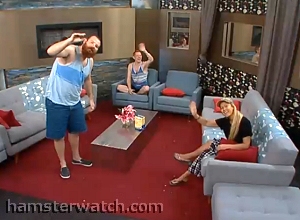 The trio of remainders were told to bid us feedsters farewell just before 10am and they did so dutifully, interrupting their bashing rounds with perky Diary voices and happy love-filled good-byes before going back to their loveless sniping, and that was that: the Big Brother 15 live feeds were finally over

Flashback for the season remains accessible through October 20.. as I understand it, monthly subscribers will get billed once more unless they cancel, but season pass subscribers will not - call 877-211-4367 for account questions

Jeff's backyard interviews are supposed to stream live tonight after the finale at the link on the left sidebar.. I'll post a short finale recap and interviews from other outlets here tonight and Thursday, so check back.. my Amazon link atop the page is good all year for a handy way to help me out a bit without costing you anything extra - many thanks! Scroll on down for a short season wrapup and more gushy thank you notes



Co-Stars of the Season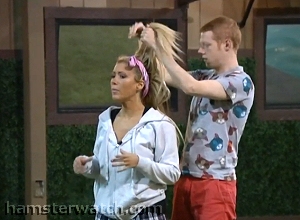 Usually selecting the Hamsterwatch Star of the Season is a no-brainer: there's always one who stands out as being consistently entertaining but as with so many things, that isn't the case this year (although Judd came close).. still, there is a winner - two actually, only this time they were more outside the habitat rather than in

BB15 Co-Stars of the Season are the hashtag games #Deathrace2013, a random name I picked out of the air back in early July to cover the various hair & fake hair disasters, and #AndyHoldingThings, begun by @IdolKnights who was the first to realize how often Andy gets handy.. the two themes collided on August 27 when Andy held GinaMarie's hair - I guess it was inevitable that would happen sooner or later

Permanent archives of each are in place with my caps for Deathrace 2013, and @IdolKnights' caps of Andy holding things - you can click any/all of the thumbnails in either gallery for enlargements and captions.. for now, you can also hit the Twitter hashtags which include contributions and commentary by many lovely folks: #Deathrace2013 and #AndyHoldingThings

Thanks to everyone who played along and/or got a chuckle from these lighter sides of BB15, especially those who sent me your own GinaMarie-style do's! Honorable mentions and gratitude go to @vincerob91 and @CeeMonkeyDo for many superb contributions to both themes



It's a wrap, almost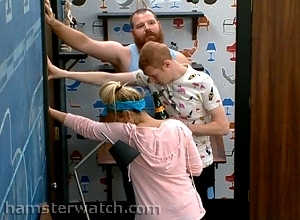 They billed this as the biggest BB ever and while they started with 16 hamsters twice before, they've never run this long.. Julie also said the MVP twist would make it a "no-floater summer", but most agree we ended up with three of them at the end

Since BB feeds are literally all I do from premiere to finale, the usual 75 days is too long for me, but 90 days was a test of everyone's endurance.. the controversies this season spread far beyond our normally insulated world, and the ugly speech on the feeds combined with the lackluster hamster personalities to whip the flames of many "fans" into a frenzy of hatred like I've never seen before, ruining much of the fun for the rest of us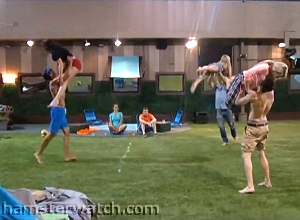 Still, we did have the often-demanded cast of newbies, with a partial Elissa exception, we had a few just for fun shenanigans, and we definitely had our fair share of drama, kooky stuff, and "only on BB" quotes, as illustrated here and on Twitter day after day.. we also had a higher than usual tally of sex events, pinkyswears, and our first literal asshat

As always, it takes a village: thanks and high five to my fellow BB sites, especially Attwx.com as always; and updaters, especially @IdolKnights and @vincerob91 again, as well as @Clio_the_Leo, @ashes2ashes13, @MissCleo_BB15, @UgotBronx, and @Dee_Dea_; ALL my Hamsterwatch chatters; super big ups to @89razorskate20 for helpful alliance diagrams once again; @realityblurred for being a voice of reason & for just being there; and special shoutout and thanks to @TheJenge, @CrazyReed, @AntmanReality, @Joseb19_, @MelissaMeek, @mamafox, @cnmsaga, @smellykelley, and @ODedOnRealityTV for special contributions to this site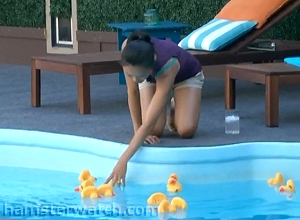 Also as always, hats off and big ups to The Powers That Be for fueling our summer crack addiction - no matter how much we bitch, we keep coming back for more, and to each of the hamsters for putting themselves out there for our amusement, especially McCrae and Judd for the shoutouts and love - it's mutual.. repercussions for many of them this season will hit harder than most years, and I hope those who have spread the hate and rabies will back off now and let them all get back to, rebuild, and live their lives after the credits roll

My biggest thanks go out to you Hamsterwatchers for reading and supporting the site, to all my Twitter followers and (former) Facebook subscribers, especially all those who got the jokes and didn't take out hamster hating on me, and to Loosee & iTrixie for going above & beyond.. thanks for encouraging my behavior once again



Ratings - It's Over edition
VTW = Voted to win



They packed too much into the finale again, robbing us of the much desired fallout again. The big scales set for Part 3 was dramatic but probably not necessary - having pieces from the various comps around the backyard was always fun. They brought in Dr Will for jury tampering and then skipped two jurors' questions - the same two who voted for GinaMarie, coincidentally or not. Then the glitter bomb blew and that was that, and none too soon.

Many say every season is the worst by the end, and maybe this one was - time will tell as we get some distance and everything falls into perspective - but it was definitely the most scandalous, surpassing even BB9 which pretty much had it all scandal-wise, until now. With eight of them, half the cast, in the Things Nobody Should Say club, you have to ask how that happened. How did so many of them slip through the exhaustive audition and casting process without them knowing? Especially when most of those eight started slipping their slips in the first two weeks of feeds. Did they know? We never will.

BB15 was lacking some staples for sure, and I don't know if that's good or bad. We had one luxury comp that was colorful but silly, the giant balloon pop. We had no movie comp, no clothes comp, no field trips and no Pandoras. They were given very few activities to keep them occupied, and most of those were from the kiddie aisle again. Unfortunately we did have the dreaded slop and Have-nots, even though most of the food vote reveals didn't even make the air show. It's time to put the whole Have-not concept to bed and go back to whole house food comps. They also need to follow Canada's lead (and every other country's BB) and introduce tasks and more important, penalties.

The new feeds were technically pretty good, not counting the on & off quads quality problem and the flashback timestamp problem. And while they have always controlled the content as far as what was and wasn't seen on the feeds, there were a lot less fishies blocks this year, and that's something. This could be the first year the hamsters got more hate than TPTB, and it was definitely a new low for rabid 'fans' blaming the messengers. I thank them for letting my shoutouts go out on the feeds and I'm still floored they didn't bleep me on CBS. In the end, it's our guilty summer pleasure and they delivered once again.





Won: $500,094.83
WON PARTS 2 & 3 - FINAL HOH
WON BIG BROTHER 15 7-2

He played a good social game but an odd one, popping into every early gametalk session like he had a private radar system, which made him look more like a busybody than a gamer. He was in more alliances than most could keep track of but he got away with it better than most double- and triple-dippers (not easy to do), and he avoided nomination and enemy-making via comp wins for many weeks. He humanized robotic Elissa in the early weeks with their ongoing banter, but he turned on her and his other teamies to stand with Exterminators-less-Judd. He also bashed her & all the evictees brutally after their exits, all of which helped develop his 'rat' rep. But he popped some good funnies and was a fun drunk guy, and he'll be remembered for his Garanimals wardrobe and for relentlessly holding things.
My pre-season prediction:
-Most likely to have a memorable freakout about slop.
- Check, more so than most anyway





Won: $50,000, 48 hr cone of shame, 24 hr shackled to McCrae
WON PART 1

Where to begin? Easily one of the most memorable characters we've ever had, from her unique vocabulary to her many injuries, pinkyswears, fights, and self-confessed eating disorder. She was a frequent contributor to Bigotgate, although hers seemed to come from a place of ignorance rather than malice, however flimsy an excuse that might be. She was an unexpected comp beast and a very good sport about her cone of shame, making it one of the best costume punishments yet. She's as tough as she is fragile, and she gave us more WTF moments than most. Her funeral for and later obsession with Nick was bizarre to say the least, but he owes her big for keeping his memory alive long after he'd otherwise have been forgotten. Her ever-changing hair, fake hair, and roots situation made her the inspiration for and clear winner of Deathrace 2013.
My pre-season prediction:
-Most likely to inspire colorful catlady commentary.
- Check, although many others did too





Won: $10,000, Bahamas trip, 24 hr megaphone,

48

36 hr chicken
VTW Andy
He was the everyman hamster, not expected to do well or last long by most, but growing out his beard and flying to an open call in Maine so he'd stand out at auditions proved he had more smarts than expected. He was a savvy gamer but came across otherwise, especially during the long period between the Moving Company collapse and the Exterminators setting up shop, since he spent most of that time on the block, breaking the all-time record formerly tied by six. He was a good sport and comical with his megaphone and chicken suit, and he kept things normal with a lot of movie chat amid everlasting gametalk. He was often likable and funny but invariably went too far and made everyone cringe, like the drunken uncle at Thanksgiving, and we often ate our pie in awkward (or outraged) silence. His main offenses were sexual in nature, peaking with his bad joke into McCrae's mic which made headlines beyond our little BB world, and he might have the first greenlight obit pic for his cameras interruptus event on the sex tally.
My pre-season prediction:
-Most likely to be the victim of many Yukon Cornelius chops
-Check, but really this first one said it all





Won: $5,000, 24 hr shackled to GinaMarie
VTW Andy
He's the first hardcore feedster we've had in there, and the first regular from Hamsterwatch chat! Seeing his name was a shocker but a nice one when the cast was revealed. Then he proceeded to make one newbie mistake after another, from winning the first HOH to getting sucked into a showmance, but surprisingly neither of those hurt him as much as they should, nor did being a member of the early doomed Moving Company. Unfortunately he laid around with Amanda for nearly the whole season rather than entertaining us as he promised in the first days, but maybe they'll live happy ever after, so who are we to question? He was a fun hamster when he was upright, a good sport most of the time, and he was liked by most in there and many out here (without his other half anyway). He didn't notice the Exterminators had taken over and he went out just after reaching the tiny table milestone. Thanks to McCrae, it was delivery and DiGiorno's, and he'll be remembered for creative bandanas, Olson family Christmas stories, 'nyeeah' & 'I dunno', plus sections in my Extracurricular Tally and Attwx.com's BB15 page. I'm proud to call him my pal.
My pre-season prediction:
-Most likely to make my day and annoy others with Hamsterwatch shoutouts.
-Check, plus two for my dog!





Won: $5,000, 24 hour solitary, revival,

48

36 hr chicken, 24 hr exercises
VTW GinaMarie
He was one of the most liked and funniest hamsters we've had in ages and his first eviction blindsided us as much as him. He seemed to be in over his head after his revival but he lasted longer than many returnees, and his Slutty Chicken was a treat. Amanda's paranoia about MVP did him in the first time, along with his own real and fake alliances, plus Helen realizing that he was on to her. J-U-Double-D Party Daugherty will be fondly remembered for becoming King Judd with his HOH, his quick wit and constant one-liners, his lucky bear shirt, and his distinctive way of speaking. He was one of two Hamsterwatchers on the same season which was beyond cool for me, but his first eviction was the reality equivalent of the Red Wedding.
My pre-season prediction:
-Most likely to be a sleeper fan favorite: hated at first, loved later
-Maybe not so hated except by those who needed a decoder ring, but definitely loved later





Won: $25,000, Sit out 1 veto comp
VTW Andy
She came in as the only casting twist but proved that she's nothing like her sister, as she was mostly unemotional and robotic. Her extensions weren't as bad as some but they landed her in #Deathrace2013 a few times anyway, and a few more times for her peculiar eyelash situation. She often made it seem like she was above it all as she talked about her wonderful life, and she was barely on the show until Helen left. Then she stepped it up and won a couple serious comps, including a Rachel-esque OTEV and a miracle save on the baseball wall. She'll be remembered for doing her yoga, including random bendy in the middle of serious convos and Candice's house meeting, her odd cadence when speaking, and for doing a classic spit-take when being harassed by Amanda. Mmm-hmmm.
My pre-season prediction:
-Most likely to duckface in HOH and/or photo booth pics, and most likely to outlast her shelf life.
Check and check - the first is fact, the second is just my opinion





Won: 50 shades of orange
VTW Andy
She played a good game but got got by the underdogs she'd overlooked. She was loud, volatile, and shared way TMI at every opportunity, but she also brought humor and was able to laugh at herself. Sometimes. She sucked McCrae's head right out of the game but also served as a shield for him with her mouthy attitude, and she featured in most of the fights, fake rumors out here, and sex events. Most of her explosions were when she was perfectly safe, and she was often the epitome of a sore loser. She won them over one by one with brilliant people skills but then lost them with lousy social skills, and she might want to look into anger management and/or meds adjustment after this. She was extra paranoid and lousy at comps but she got spray-oranged, BB engaged, and BB married twice.
My pre-season prediction:
-Most likely be Diary's favorite.
-Check





Won: Nothing
VTW GinaMarie
She was Bigotgate's poster girl as it spread as far as USA Today, NY Times and international news outlets. Flipping Candice's bed didn't help, nor did her continual denial of having said anything wrong. The fact that Howard & Helen were evicted under her HOHs didn't help her rep, but they were as much game-related group decisions as they were personal. She lost most of her teamies early but she rallied and stuck til jury, largely due to winning four HOHs, making that record a six-way tie, as well as Amanda winning her over to do her dirty work. She had a fit about having her hat sat on, she drank nail polish remover, was a #Deathrace2013 contender for both roots & extensions, and her friend Clownie had a dedicated overnight feed many nights along with five suicide attempts.
My pre-season prediction:
-Most likely to give mirror-face, most likely to waste away on slop, and most likely to either be booted early for no reason, or go to finals against someone they all hate and win
-Fail on all counts, but I don't think anyone expected what we got





Won: 2 night curfew, BBQ party
VTW Andy
She started out okay but once she won HOH, she got a raging case of HOHitis that never cleared up. Her political background helped her manipulate them but she played it too heavy, and that was her undoing with both hamsters and feedsters. She learned about teabagging and dental dams this summer, but someone needs to tell her dentists use them too. She held nail parties, orchestrated activities, cried way too many fake tears and a few real ones, reminded everyone she's a mom more than BB9 Sheila Kennedy, and she overused 'I love you' like a teenage boy trying to get laid. #STFUHelen became a thing on Twitter for a few weeks, and it even trended on her eviction show.
My pre-season prediction:
-Most likely to talk too much and too long.
-Check and double-check





Won: Nothing
VTW Andy
She was a non-entity for most of the season other than crying over Helen's BBQ party (then going anyway) plus a knockdown drag-out with Amanda, until she got wind she was about to be evicted. Then she revved up Tropical Storm Jessie and swore she'd turn them all against each other after she left. That was fun for an afternoon and would have made her one of the most memorable hamsters of all time if she'd kept it up but alas, she fizzled, apologized, and will fade into obscurity with so many others. She had the reputation of being a man-izer but most of that happened before the feeds, and all we got was a 2-day sHOwmance with Judd.
My pre-season prediction:
-Most likely to find herself without an alliance.
-Check, repeatedly





Won: $5,000, 1 week clown suit
VTW Andy
She laid around with Howard until he left, and then she mostly laid around by herself. She still managed to figure in many of the fights, including one during the veto comp and one during her own eviction. I think a lot of their problems with her started before the feeds did, but it's fair to say she egged it on as well. She'll be remembered for tragic life stories, being the Mad Hatter sitting on hats (or not), Keepin' It Real With Candie, her crab shack story, meeting Julie in a clownitard, and the #BlameCandice hashtag game.
My pre-season prediction:
-Most likely to say she's there 'for the experience'
-I don't know if she said that much or not





Won: Nothing
He was eloquent and animated in Diary but we didn't get that guy on the feeds. Instead he mostly laid around with Candice, held Bible study in the coach seats, and prayed in the photo booth. He isolated Candice and himself, killing both of their games, and their combined lack of awareness foiled any chance for his 11th hour save plan to succeed. He gave sudden speeches that few understood, but he wore Candice's tassel earrings and Judd's crown equally well.
My pre-season prediction:
-Most likely to parannoy, eventually
-Fail - others freaked out for no reason more than he did





Won: Nothing
She was a caboose for the mean girl train and when she wasn't straddling Jeremy, she was laying around making out with him, including in her bestie's HOH bed whenever Aaryn stepped away. She took being widowed better than GinaMarie, but she had several days to prepare for it and seemed almost proud of making 'Big Brother history' by using her veto. Otherwise she brought eyebrow adventures, and apologies when she mouthed off, which is more than some.
My pre-season prediction:
-Most likely to be intimidated, taken advantage of, and blindsided
-Fail, although Jeremy's eviction did blindside her.. taken advantage of is subjective





Won: Permanent Have-not pass
He claimed 1/16 Cherokee but he besmirched that heritage regularly, along with many others. He caused and starred in the big Winegate fight, smooched with Kaitlin while laying his hand on Aaryn's leg, wore a diaper, and mistakenly boasted he'd win every comp. He was a boy in a man's body, but his tattoos were nicer looking than most heavily tatted hamsters' have been. He'll be most remembered for being the asshat of BB15.
My pre-season prediction:
-Most likely to get in a fight
-Check





Won: Nothing
He came in saying he hoped for stardom but it probably won't happen as a result of this show. Overnighters got to know his blue hoodie & cap well, and he was usually the last one to go to bed. That's usually good strategy but it didn't help him. The over-the-top character he played in pre-season interviews gave him a rough start with most, but he didn't stick long enough for us (me anyway) to get to know what he's really about.
My pre-season prediction:
-Most likely to namedrop and be generally annoying
-Subjective, but I'll take it





Won: Nothing
He didn't bring much to the feeds and he seemed oblivious about how the show works, but those types are the ones who get blindsided and we always like to see that. The Aaryn & David Comedy Show was fun for a minute but all the controversy she fed took the fun out of that, so it's just as well he got gone early. Back to the beach and watching BB on the couch with mom.
My pre-season prediction:
-Most likely to climb on stuff and be told 'Stop that!'
-Check, first night of feeds







Linking to any page here is fine but please do not repost any content from this site (or any other) without permission, and do not repost or hotlink to any images


!! THIS MEANS YOU !!









RATINGS WATCH


Wednesday's finale placed second for the hour with 2.4 rating, 7 share and 6.73 million viewers, behind America's Got Talent on NBC with 2.5/7/11.34, and ahead of The X Factor on FOX with 2.2/7/6.56, and Modern Family and Nashville reruns on ABC with 1.5/4/4.10 and 0.7/2/2.56 respectively.









VIEWER VOTE


Who should win $25k as viewer favorite?
> Elissa




I can't recommend this show highly enough

Click for exclusive interview with executive producer
J Holland Moore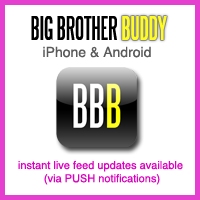 Big Brother Buddy mobile app
Available for Android or iPhone/iPad



Clicky: caps sorted by day - all caps



NEWS & UPDATES
Andy Herren won Big Brother 15, and GinaMarie Zimmerman was the runner-up - congrats to both!

HOHs: McCrae, Aaryn, Helen, Judd, Aaryn, GinaMarie, Aaryn, Andy, Aaryn, Elissa, GinaMarie, McCrae, Spencer, Andy, Andy

Veto wins: McCrae, Jeremy, Kaitlin, Elissa, Spencer, Jessie, Aaryn, Andy, Elissa, Amanda, McCrae, Judd, McCrae, Andy

Evictions: David 7-5-0; Nick 7-4-0; Jeremy 9-1-0; Kaitlin 9-0-0; Howard 7-1-0; Candice 7-0-0; Judd 7-0; Jessie 6-0; Helen 4-1; Aaryn 5-0; Amanda 3-2; Elissa 3-0; Judd 2-0; McCrae 1-0; Spencer 1-0

MVPs: Elissa, Elissa, Elissa, viewers, viewers, viewers

Big Brother has been renewed for Summer 2014, along with After Dark on TVGN.

Jury was nine members beginning with August 8 double eviction of Candice and Judd. Judd was revived into the game on August 22.

Flashback remains accessible for subscribers through October 20 to rewatch anything from the season.

Finalists Twitters: @AndyHerren, @ginamariez, @SpencerBClawson

Juror Twitters: @candiestewart, @JessieClaire88, @HelenKimFitz76, @aaryneliza, @TheRealAmandaZZ, @ElissaReillyS, @JUDDNATION, @mccraechum

Pre-jury Twitters: @davidgirton2, @nickuhas, @JeremyDMcG1, @twitRless_kb, @RealHOverbyBB15

Bigotgate oozed farther beyond our insulated BB world more than any prior scandal, going all the way to TMZ, CNN, The New York Times, and international news & media outlets. Aaryn Gries and GinaMarie Zimmerman were fired from real world jobs as a result of bigoted remarks on the BB15 feeds, Aaryn from two modeling contracts and GinaMarie from her pageant company. Spencer was investigated by local law enforcement for his bad joke, and his employer Union Pacific issued two statements about him. (Spencer is a union employee.)

Evel Dick Donato's Dick at Night show is back this summer on Vimeo, and he'll have special guests, former hamsters, plus a Catladies Corner segment with @Clio_the_Leo and @Catvanzyl!

Congrats to Sam Evans, 22-year-old hearing-impaired Welsh store assistant, for winning Big Brother UK on August 19! Congrats also to reality personality Charlotte Crosby, who won UK's Celebrity Big Brother on September 13! Dustin "Screech" Diamond and plastic surgery poster girl/scandalous teen bride Courtney Stodden were also on the celebrity version.

Big Brother Canada is accepting cast applications for its second season. Big Brother Australia started up again July 29.

Brenchel will be on the next season of The Amazing Race (again), taping this fall



Donations via Paypal are gratefully accepted!

If the button doesn't work, Paypal to hamster (at) neonpages (dot com)

Thanks for your support!



BBQ Smackdown Scorecard

Big Brother 15
Round 1: BBQ 1, Helen 1, Jessie 0
Round 2: BBQ 1, Helen 0, Jessie 0
Round 3: BBQ 1, Spencer 0
Round 4: BBQ 1, Spencer ½, Judd 0, McCrae 0

Big Brother 14
Round 1: BBQ ½, Dan 0

Big Brother 13
Round 1: BBQ ½, Adam ½, Rachel 0
Round 2: BBQ ½, Adam 0
Round 3: BBQ 1, Rachel 0

Big Brother 12
Round 1: BBQ ½, Brendon 0
Round 2: BBQ 2, Britney 0, Lane 0
Round 3: BBQ 1, Lane 0, CBS 0

Big Brother 11
Round 1: BBQ 0, Jeff 0
Round 2: BBQ 0, Jeff ½
Round 3: BBQ ½, Kevin 0, Michele 0


Big Brother 10
No title events

Big Brother 9 Winter Edition
Round 1: BBQ ½, Ryan 0
Round 2, BBQ ½, Adam 0
Round 3, BBQ ½, Ryan 0

Big Brother 8
Round 1: BBQ 1, Dick 0
Round 2: BBQ ½, Zach 0
Round 3: BBQ 0, Dick 1

Big Brother 7 All-Stars
BBQ training sabbatical

Big Brother 6
Round 1: BBQ 1, Ivette 0
Round 2: BBQ 0, Howie 0

Big Brother 5
Round 1: BBQ 1, Cowboy 1, Drew 0
Round 2: BBQ 1, Drew 0, Diane ½
Round 3: BBQ 1, Cowboy 1, CBS 0, Nakomis 0


Free Game of Thrones Ice Wall mousepad
with any HBO Store order over $20

EXTRACURRICULAR TALLY
Major fights - 9
-7/1 Winegate 12.22am Jeremy vs Have-nots, Jeremy vs Amanda, Jeremy vs Kaitlin, Jeremy vs Candice, Aaryn vs Candice
-7/11 Bedgate 9.20pm 10.09pm, 10.39pm, 10.50pm GinaMarie vs Jessie, Jessie vs Kaitlin/Aaryn, mega Candice vs Aaryn/GinaMarie, Amanda vs most
-7/30 Amanda vs Spencer 12.30pm
-8/2 Underpants 12.29am, 1.16am, 1.55am Amanda vs Jessie, Amanda vs Candice, Helen vs Candice, mega Amanda vs Jessie
-8/3 Amanda vs Candice veto comp (8/7 show)
-8/8 Candice vs GinaMarie live show
-8/12-13 Jessie vs Helen 11.23pm, 11.33pm, 12.40am, 1.12am, Aaryn vs GinaMarie 2.52am
-8/30 5.20pm Amanda vs GinaMarie
-9/4 9.20pm Amanda vs GinaMarie

House meetings - 5
-7/24 8.00pm
-7/26 11.26pm
-7/30 2.55pm
-7/31 12.15am
-8/13 2.57am

Broken bones - 1
GinaMarie's toe, also bonus 9 knee stitches

Nominee speech scorchers - 1
Candice

Blindside evictions - 3
David
Nick
Judd

Julie smackdowns - 1
Aaryn

Hamster revivals - 1
Judd

Beyond BB scandals - 2
BigotGate
Spencer's bad joke

Literal asshats - 1
Jeremy 7/2 6.55pm

Makeout pairings - 6
Jeremy & Kaitlin
McCrae & Amanda
David & Aaryn
Howard & Candice
Judd & Jessie
Judd & Aaryn

Sex events - 13+
(some subject to interpretation)
Jeremy & Kaitlin 6/28 3.21am
McCrae & Amanda 6/29 5.40am
McCrae & Amanda 6/30 1.11am
Jeremy & Kaitlin 7/3 1.20am
Jeremy & Kaitlin 7/8 12.01am
Jeremy & Kaitlin 7/9 11.15pm
McCrae & Amanda 7/18 2.55am and 3.40am
McCrae & Amanda 7/21 off feeds
McCrae & Amanda 8/4 2.05am
McCrae & Amanda 8/8 12.50am
Spencer (funny) 8/8 1.07am
McCrae & Amanda 8/10 2.26am
McCrae & Amanda 8/12 2.05am
Too many more to count

Pinkyswears - 16
GinaMarie & Andy 6/30 2:43am
GinaMarie & Nick 7/2 9.57pm
GinaMarie, Jeremy, Nick 7/5 1.02am
GinaMarie & Nick 7/5 8.16pm
GinaMarie & Aaryn 7/7 8.25pm
GinaMarie & Nick 7/8 approx 8pm
GinaMarie & Andy 7/9 6.47pm
GinaMarie & Nick 7/10 3.37am
Andy & Candice 7/11 11.28am
McCrae & Amanda 7/12 1.26am
GinaMarie & Helen 7/12 5.04pm
Judd & Elissa 7/29 2.19pm
GinaMarie & Spencer 8/8 8.20pm
GinaMarie & Helen 8/17 9.28pm
GinaMarie & Elissa 8/25 1.46am
GinaMarie & Aaryn 8/25 3.33pm

Dingoisms used by McCrae - 10
- Feedsters
- HOHitis (on CBS)
- Fishies (on CBS)
- This is Big Brother, I'm here for the entertainment
- Slurpydurp
- BBQ Smackdown
- Willie's key-hos & corn-ho
- The parlor
- Revive-a-Hamster
- Ups, downs, neutral

The Soup mentions - 6
- 7/3 Veto guest sarcasm plus McCrae about Howard on premiere
- 7/10 BigotGate
- 7/17 GinaMarie funeral plus Jeremy Diary rant
- 7/24 GinaMarie's froyo
- 9/4 GinaMarie's 'dynamic'
- 9/18 GinaMarie's Nick shoutouts on finale

CBS goofs - 40
- BB site shows two premiere times
- Jill? on feeds signup page
- Misspelled Judd's last name
- Feeds launch Y2K type midnight problem
- Peculiar trivia goof
- Misspelled Kaitlin
- Omitted GinaMarie
- Included GinaMarie, wrongly
- Wrong show time on trivia
- Forgot to update vote dates
- Julie said Helen's Chinese on The Talk racism segment
- Wrong show teaser pics
- Your/you're error
- Wrong day on MVP vote
- Typo in Help scroll
- Interesting grammar
- Still wrong day on MVP vote
- Wonky timestamps
- Help scroll still unresoved
- STILL wrong day on MVP vote
- No signal for 40 minutes 7/27
- Whose/who's error
- Forgot to update after Wednesday show
- 8/1 show: Julie's team forgot to tell her McCrae/Amanda got BB engaged (and BB married)
- Forgot to update after Thursday show
- Update fail
- No signal for 60 minutes 8/6
- Menu on F3
- 8/15 show: Julie said Aaryn's 4th HOH was her 3rd
- 8/15 BBAD: log-in error on the info scroll
- Brandon?
- 8/22 show: Adam/Jennifer
- Again, Aaryn's 4th HOH
- Another update fail
- Mixed up Andy & Judd
- Used BB14 clip to tease BB15 Zingbot (see Dan & Ian?)
- Cassie s/b Cassi on trivia
- McCrae gender confusion
- 9/18 finale: GM audio leak during Spencer's eviction interview
- Easy word typo on CBS main page